If you want glitz, glamor, gambling, and things to do at all hours of the day and night then you go to Las Vegas. This is literally the city that never sleeps, and it's a bright and colorful city where you can enjoy some amazing days and nights. If you love to shop, to party, to gamble, or just love to people watch, then Las Vegas should be on your travel list.
But Las Vegas isn't all bright lights and 24-hour fun. Because of its ongoing nightlife, the city also has some problems with drugs and prostitution and has become known as a party town. As a result, some travelers who don't enjoy that kind of scene try to avoid the city as much as possible. And this is a pity because Las Vegas has attractions, landmarks and activities for every taste and budget. So, if you're looking for the places to visit in Las Vegas that suit your travel tastes, here's a list that holds something for everyone.
And if you need more ideas for places to stay in Las Vegas, consider checking out a vacation rental that allows you to spread out and feel like your at home.
There are a lot of places in Las Vegas to stay besides the strip…and we've got the full low down for you! If you are feeling at all overwhelmed by this big city, be sure to check out where to stay in Las Vegas before opening the doors to the casino's waiting for you below!
#1 – The Rio Wine Cellar and Tasting Room – An unknown (but awesome!) place to see in Las Vegas!
Why it's so awesome: If you're looking to put something high-class and delicious on your Las Vegas itinerary, then this is the place to do it. This Tasting room is hidden beneath the Rio and is usually ignored by most tourists. But it's the place to go if you enjoy wine and want to try some of the best wine ever made.
What to do there: This is the place to try some of the tastiest and most expensive wine in the world. You can't pop the court, but you can try as many or as few of the options available as you want. The collection includes a bottle of Madeira from Thomas Jefferson's personal stash as well as a vertical collection of Chateau d'Yquem, so you'll be spoiled for choice.
#2 – The Life is Beautiful Outdoor Art Gallery
Why it's so awesome: The Life is Beautiful Festival is one of the best festivals in Vegas. It launched in 2013 and as part of the festivities a variety of street artists were encouraged to blanket the city's walls with color. Over the years, the paintings have been added to, refreshed or replaced, so walking through the streets is a real treat.
What to do there: The art left behind by this festival means that, when you travel to Las Vegas, you absolutely must spend some time during the day wandering through the downtown. The best place to start is on Ogden Avenue, where you'll be surrounded by 15 blocks of large-scale murals. Walk towards Steward Avenue and N6th Street to see artwork by Belgian artist ROA, which squirts blood. And just around the corner is a piece by Irish street artist Maser. But there's a lot more to see, so make sure you set aside a whole afternoon for wandering and picture taking!
#3 – Akhob – One of the most underrated places to see in Las Vegas
Why it's so awesome: If you enjoy art then this is one of the best places to visit in Las Vegas. Created by James Turrell, this art installation is located on the top floor of a French luxury goods store. Commissioned in 2013, the installation was deliberately hidden in a hidden space of the Louis Vuitton outpost. The installation uses light and color to create the effect of giving your eyes a cool and soothing bath.
What to do there: This is a hidden Las Vegas must-see, so you need to know about it before you go shopping. Call ahead to make an appointment for admittance to the space and tell the employees about your appointment when you arrive at the Louis Vuitton store. Tours are limited, so make sure you book well ahead of time and let the employees whisk you away to the shop's secret floor!
#4 – Pinball Hall of Fame
Why it's so awesome: Despite the popularity of the internet and high-tech computer games, there's still something satisfying about playing the old-style pinball games. And that's why this venue is popular amongst locals and travelers alike. It contains a dizzying variety of pinball games including sports games, space games, and the traditional 'get the ball in the hole' game. And you can play them all for as little as 10 cents to a dollar depending on the game.
What to do there: Indulge your inner child when you visit this Las Vegas must-do. It's usually filled with bright lights, ringing bells, and people of all ages enjoying some old-fashioned fun so just leave behind your adult life and join in! The current location opened in 2009, and after the running costs, all the money in the machines goes to charity, so don't be afraid to splurge a little.
#5 – The Neon Museum
Why it's so awesome: Las Vegas has a bad habit of destroying buildings that are past their prime, which is why everything looks shiny and new. But that also means that you miss out on the glitz and glamor from the past. That's why the Neon Museum was created. It gives visitors a chance to glimpse the city of yesteryear, which is why it's one of the most popular places to visit in Las Vegas.
What to do there: Book in a tour to see some of the iconic neon signs that you've seen in old movies. You'll be able to take pictures and listen to stories of the millionaires and eccentric characters that once made up this slightly crazy city.
#6 – Cirque du Soleil – A great place to visit Las Vegas at night
Why it's so awesome: If you enjoy watching the best acrobats, strongmen and aerialists in the world, then you must see this show while you're in Las Vegas. This city has long been the home of this internationally famous show, with 7 resident shows in theaters all over the Boulevard. You'll marvel at the sets, the skills, and the cleverness of the show and probably want to see another one!
What to do there: Find out what shows are on while you're in the city and make sure you get your tickets. The shows are pretty popular, so book ahead of time for good seats. One of the best places to see a show is at the Bellagio, but there are other locations in the city as well, so find one that's close to where you're staying and enjoy the spectacle!
#7 – National Atomic Testing Museum – A fascinating educational place to visit in Las Vegas
Why it's so awesome: Las Vegas is fairly isolated which once made it the perfect place to carry out nuclear tests. From 1951 forward, the Nevada Test Site was very busy and produced some of the most iconic images and photos from the nuclear area. And you can get a first-hand look at the relics from that history just 65 miles northwest of the Strip.
What to do there: Most tourists ignore this side of Las Vegas, but for people who like to delve deeper into places they visit this is where to start. The museum has more than 12,000 artifacts and is a sobering reminder of the history of Nevada and the impact of nuclear testing on the surrounding communities. So, while you're there, explore the photos, the culture that sprung up around the site, and how it changed the face of the region forever.
#8 – Frankie's Tiki Room
Why it's so awesome: The kitschy tiki aesthetic was popular in Las Vegas for a long time, but it's gone somewhat out of fashion over the last few years. Most of the bars dedicated to it have vanished, with only a few remaining that celebrate this style. Frankie's Tiki Room opened in 2008 with thatch and bamboo decorations and pufferfish lighting fixtures. It's determinedly camp and wonderful because of it!
What to do there: You absolutely must try some of the drinks when you're visiting this Las Vegas must see. The bartenders create a blend of classical and creative tiki drinks and the number of skulls on the drink indicate their booze content. The drinks with 5 skulls are absolute killers, so only try them if you have a really high alcohol tolerance!
#9 – Burlesque Hall of Fame
Why it's so awesome: Burlesque dancing has long been a part of Las Vegas and this is a museum that celebrates the art and the history of it. The collection was once part of an establishment known as Exotic World, and when it was taken over by Dixie Evans, herself once a dancer, she worked hard to preserve the historic collections documenting the history of the dance. And because she did that, you can now learn more about it when you're visiting Las Vegas.
What to do there: You'll be surprised by how much there is to the history of the dance. The display includes thousands of costumes, stage props, personal effects and photographs tracking the history of famous dancers and producers across the last century. So, if you want to gain a new appreciation for this performance art, take some time to explore the displays and acknowledge the power of this dance form.
#10 – The Stratosphere – Cool place to see in Las Vegas with friends!
Why it's so awesome: This building is the tallest in Nevada, so you'll get some great views from the top. But the real reason why this is a Las Vegas must-do is the fact that some of the best and scariest rides are located at the top of the building.
What to do there: You need to be an adrenalin junkie to really enjoy this building. Not only will you get the chance to take pictures from high up, you can also jump from the building from 829 feet up. The SkyJump is a controlled free fall ride that will send you hurtling towards the earth. Also, try the Big Shot, X-Scream and Insanity, rides that are just as scary as they sound.
#11 – Lonnie Hammargren's House
Why it's so awesome: Lonnie Hammargren was a powerful man in Las Vegas and he was also a dedicated collector. On Nevada Day every year, he opens his home to visitors so they can explore everything he's collected over the year. He has an ever-growing collection of memorabilia ranging from an underground mind to a mini Taj Mahal and everything in between. So, if you travel to Las Vegas at the right time of year, it's worth showing up with the thousands of others who line up to explore his collection.
What to do there: When you book your trip, check to see if they coincide with Nevada day, and definitely show up to see the display if you can. Nevada day is in October, though the dates vary every year. And once you make it there, just explore. You'll see a T-rex replica, animatronic tiger, and an Egyptian burial chamber in the basement. It contains a golden sarcophagus, where Hammergren intends to be buried once he passes.
#12 – The Mirage Casino – One of the nicer places in Las Vegas to sightsee!
Why it's so awesome: Like with most casinos in Las Vegas, the best thing to do at this location is to explore everything that it has to offer. The Mirage has gained a reputation as one of the best places on the Strip to gamble, and it has lots of other entertainment options as well. There's also a free firework show twice a night, every night, and a lot of family-friendly attractions that everyone will enjoy.
What to do there: Try your luck with the games and then if you're looking for something else, explore the rest of the casino as well. This casino has an aquarium, a fake volcano, numerous bars, shops and shows, so find something that interests you and just have a great night! The Cirque du Soleil show 'Love' is particularly good. It was inspired by the Beatles and includes all of the death-defying acrobats and great music of other shows at the same time. If trying your luck with the games ends badly, Las Vegas's best hostels might be a cheaper option for your accommodation needs.
#13 – Fremont Street
Why it's so awesome: When you travel to Las Vegas, you might feel as if you could spend your entire trip in a single street and never get bored. But that means you would miss out on the fun to be had on Fremont Street. This street has had a makeover recently and is now a close rival for the Strip as well as a great place to enjoy the nightlife.
What to do there: This street has everything you could want for a great night out. It's lined with food stalls and souvenir shops and even has a zip line that transports people along the street 10 stories above the pedestrian walk. It's also lined with casinos, so you can try your luck somewhere new!
#14 – The Hoover Dam
Why it's so awesome: Everyone' heard of the Hoover Dam and it should be on everyone's bucket list as well. This dam is a legend, and all the stories don't actually capture the sheer scale and size of it. The 726 foot high curving cement façade makes for some of the best views in the city, so make sure you have your camera with you.
What to do there: The Hoover Dam is one of the most popular hotspots in the city, so there are lots of ways to see it. You can take a guided tour if you want to get some in-depth knowledge of the landmark, walk out onto the bridge or even see it from a boat on Lake Mead. Whichever way you choose to see it, you'll be astounded at the scale and power of it. If you take an RV to Vegas, then you can turn this into an epic adventure.
#15 – The Mob Museum
Why it's so awesome: Living outside of Las Vegas, you've probably heard a lot of stories about how the mob-controlled it for so many years. So, while you're in the city, you should stop by this museum and explore the reality behind those stories. This museum chronicles the history of the mob in Vegas and around the world, and it's the best place to put faces and facts to the stories.
What to do there: You'll need to put aside part of the afternoon to really explore this museum properly. It contains not only a vintage electric chari and a piece of the St. Valentine's day Massacre war, but also images about the activities of the mob in past Las Vegas and law enforcement's efforts to combat it. This makes for an exciting if slightly unsavory display for anyone who's interested in recent history.
#16 – The High Roller – Cool place to see in Las Vegas with friends!
Why it's so awesome: This wheel was actually designed to be part of the larger Linq shopping development. It immediately beat out the Singapore Flyer to become the largest wheel in the world at 550 feet tall and 520 feet in diameter. The wheel can carry over a thousand passengers at once spread out amongst the 28 passenger pods, each of which spin on their access so that guests are always upright and completely stable.
What to do there: This wheel is rigged to be part of the party that is Las Vegas. There are neon lights flashing patterns and colors and as you approach the bar you walk past a collection of bars. Basically, the wheel is designed for people who want to party all the way around and take in the view with a drink in hand!
#17 – Caesars Palace
Why it's so awesome: Caesars Palace is still an icon that represents Las Vegas. It's one of the last properties that retains its old-world atmosphere and style, and it's one of the most popular amongst tourists as well. While you're there, you can gamble, watch shows, or just have a few drinks and enjoy the madness.
What to do there: It's a casino so what else are you going to do than hand over some of your hard-earned money in the hope of a bigger payout! You can play poker, slots, or virtually any other game you enjoy. Just make sure that you limit your money and do your research about the game beforehand because you'll be up against some real pros at this casino.
#18 – The Venetian Casino and Grand Canal
Why it's so awesome: Las Vegas is sometimes over the top, often kitschy, and always amazing and this casino has attractions that show why. You may as well stay in a penthouse style Airbnb to top off the experience! It replicates some of the highlights of Venice, complete with a canal and gondolas as well as singers and stilt walkers who do their best to replicate what you'd see when walking through this legendary European city.
What to do there: This is first and foremost a casino, so make sure you explore the floor and try some of the games they have on offer. The casino at the Venetian is considered to be one of the best places to visit in Las Vegas for a wide variety of games as well as a good atmosphere, so this should be your first stop. And then, take a gondola ride along the river and imagine yourself in another place.
#19 – The Bellagio Casino
Why it's so awesome: Everyone's heard of the Bellagio. For years this casino has been featured in movies and TV shows about Las Vegas, so you mustn't pass up a chance to see it for yourself. But there's more than gambling available. Like most casinos, the Bellagio goes all out to attract guests and gamblers with an art gallery, botanical garden and several restaurants on site.
What to do there: When you travel to Las Vegas, you could literally choose one hotel and stay there the whole time. Every hotel has a range of features to draw in tourists, and the Bellagio does this right. Explore the garden, watch the Cirque du Soleil show, try some of the games, play poker, or just explore the many restaurant options. And if you want to see the fountains at their absolute best, there's a light show on every 15 to 30 minutes that's simply spectacular.
#20 – MGM Grand Casino
Why it's so awesome: There's a casino in Las Vegas for everything, which is why this one shouldn't surprise you. It's dedicated to everything about the entertainment industry, which is why it hosts some of the best concerts in the city. But, as with most of the casinos, that isn't all that this location offers. It also contains some great restaurants and nightlife venues as well as some entertainment options for kids.
What to do there: Before you arrive in Las Vegas, make sure you check what shows are on and buy tickets for the ones that interest you. Most of the biggest shows sell out fast, so get in early for good seats. During the day, spend some time in the Wet Republic Ultra Pool, where you can dance, swim, or just relax in cabanas. And at night, try the Hakkasan nightclub, which is one of the most famous places in Las Vegas for a great night out.
#21 – Mandalay Bay Casino, Aquarium and Beach
A very cool place in Las Vegas to go for a day
Why it's so awesome: If you're interested in a more laidback atmosphere, then where better to go then the beach? This casino stays away from the kitschy feel of some other options and focuses on a relaxed vibe that's popular amongst travelers who need a break from the frenzy of the Las Vegas nightlife. This casino has a man-made beach with 2,700 tons of sand and a huge wave pool so you can sit out and relax. And if you're traveling with the kids, this casino also has a variety of pools and water attractions for every age group.
What to do there: If you aren't staying at this casino, then you will need to rent a cabana to get entrance to the beach and pools. But once you're there, sit out by the beach, relax and work on your tan. And when you're nicely brown, you can always go back inside and try your luck at the tables or eat at one of the casino's great restaurants.
#22 – Caesars Palace Casino and the Forum Shops – A great place in Las Vegas if you love to shop!
Why it's so awesome: Sometimes, you just want to experience a classic location and Caesars Palace is the equivalent of Las Vegas royalty when it comes to casinos. You've probably seen it in movies and there's nothing quite like gambling in a room that looks like it could have been built in Roman times, with columns and frescos staring down at you. The attached Forum is also one of the best shopping attractions in Las Vegas.
What to do there: You absolutely need to do a bit of gambling in the Roman-inspired casino, but there's a lot more to do at this location. There are more than 160 specialty stores in the Forum if you want to drop some serious money as well as a Fall of Atlantis animatronic show and aquarium. Some of Las Vegas' best nightclubs are also located on-site including Omnia, formerly known as Pure. Whatever you decide to do, just know that your visit won't be cheap. This is one of the most upscale casinos in the Strip, so everything from drinks to cover charges is correspondingly higher than normal.
#23 – Red Rock Canyon Conservation Area – A must visit place to visit in Las Vegas on the weekend!
Why it's so awesome: When you're in Vegas, it can feel as if the whole world is bright lights and flashing machines. That's why taking day trips out of that artificial world is so important. Located only 17 miles southwest of the city, this conservation area offers a 13 mile car route through the desert as well as numerous hiking and biking trails. And the surrounding Mojave Desert and its signature red hills are just as spectacular as they look in photos.
What to do there: You can take the scenic route by car through the area if you don't feel like doing anything too strenuous, but the park is best seen more slowly. There are lots of biking and hiking trails through the desert. Plan your hike ahead of time, particularly if you're not a strong hiker as some of the trails are quite strenuous. Make sure you get a map of the area so you can find your way around and take plenty of water in a backpack because it can be baking hot depending on what season it is. And then, just have fun exploring the red hills!
#24 – Paris Hotel and the Eiffel Tower – Great place to visit in Las Vegas for couples!
Why it's so awesome: The best way to see a city is from up high and this resort offers the best chance to do that. The Eiffel Tower Experience is an observation deck that's 46 stories above the city and offers 360 views. So, if you want to get photos of the city, this is the best place to take in everything. This hotel also has a restaurant that's famous for its great food and romantic mood, so if you're looking for a quiet meal with someone you love then this is the perfect venue.
What to do there: Make sure that you take your camera up to the top of the Eiffel Tower Observation Deck and take in the city. For some really amazing photos, go at dusk or at night so you can capture the lights of the city or the sunset. And when you're done, head down a floor to the romantic Eiffel Tower restaurant, where you can eat looking out over the Strip.
#25 – Vegas Indoor Skydiving
Why it's so awesome: If you've always wanted to skydive but could never quite muster up the courage to jump out of a plane then you can try indoor skydiving. Basically, you go into a wind tunnel in special gear and once the fan turns on, you'll float up off your feet. It's easy to do and much safer than leaping from a perfectly good plane!
What to do there: This fun activity is held at Las Vegas' convention center and it's safe for all ages but the very young. You don't need an airplane or parachute and it's much safer than the outside version of skydiving. It's also a lot of fun too!
#26 – Madame Tussaud's – Quite the quirky place in Las Vegas!
Why it's so awesome: This Madame Tussaud's is a little different to other locations as it focuses on celebrities who are or were connected to the city. Don't forget your camera! You can take pictures of yourself next to slightly eerie, lifelike figures like Elvis, Bradley Cooper and Sofia Vergara as well as many other celebrities linked to Las Vegas and its history.
What to do there: Take your camera with you and have a great few hours mugging for photos. There's no point in being embarrassed in a place like this, you just need to put aside your inhibitions and really play it up!
#27 – Las Vegas Motor Speedway
Why it's so awesome: Located about 15 miles away from the Strip, the Las Vegas Motor Speedway is a 1,200 acre complex that's dedicated to fast cars and fast races. It's home to the NASCAR races as well as other popular competitions, so when you're trying to work out what to do in Las Vegas, check the website to see what's on while you're in the area.
What to do there: A lot of racing events are held at this location, so find out what's on while you're in the city and buy your tickets. There are also several restaurants at the venue, so you can grab a meal before or after the races. And if you don't feel like going back to the city afterwards, there are camping locations available so you can have a relaxing night under the stars.
#28 – The 'Welcome to Las Vegas' sign
Why it's so awesome: The 'Welcome to Fabulous Las Vegas, Nevada' sign is one of the most popular spots in the city for selfies. It's located at the south end of the Las Vegas Boulevard and was designed by Betty Willis. Since 1959, it's welcomed visitors to the city and been captured on souvenirs of all descriptions. It was added to the National Register of Historic Places in 2009, so it's actually a historic landmark in this city obsessed with adopting all the latest trends and fashions.
What to do there: Take out your selfie stick and take a picture of yourself with the iconic, neon sign in the background. The site was also used as a memorial for the mass shooting at the country music concert in 2017, so you can also pay your respects to the victims while you're there.
#29 – The Park
Why it's so awesome: This is the place to get away from all the neon and enjoy something that feels a little more grounded. This oasis stretches from the Las Vegas Boulevard to the T-Mobile Arena. Brick walkways wind their way past lots of restaurants and water features and it's a quieter place where you can enjoy a meal without the noise and crush of the casinos.
What to do there: Take a stroll along the brick pathways. There's a walk-through water feature modeled on the story of parking the red sea as well as a 14-foot statue of a dancing woman. But mostly, just enjoy the relative peace of this part of the city. And then choose a restaurant so you can sit out in the warm air and eat something tasty.
Get insured for your trip to Las Vegas!
ALWAYS sort out your backpacker insurance before your trip. There's plenty to choose from in that department, but a good place to start is Safety Wing.
They offer month-to-month payments, no lock-in contracts, and require absolutely no itineraries: that's the exact kind of insurance long-term travellers and digital nomads need.
SafetyWing is cheap, easy, and admin-free: just sign up lickety-split so you can get back to it!
Click the button below to learn more about SafetyWing's setup or read our insider review for the full tasty scoop.
Find out what people want to know about the best places to visit in Las Vegas
You can make your stay in Las Vegas everything you want it to be. If you want great nightlife and lots of parties, you'll definitely find that. But you can also fill in your time with interesting activities, shows, and sights that have nothing to do with alcohol if that's more to your tastes. Whatever you enjoy doing, there are great places to visit in Las Vegas that will suit your tastes and leave you with bright, colorful, and happy memories. With this list, we've tried to show you some of the variety you'll enjoy in this city, and hopefully inspired you to book your trip!
---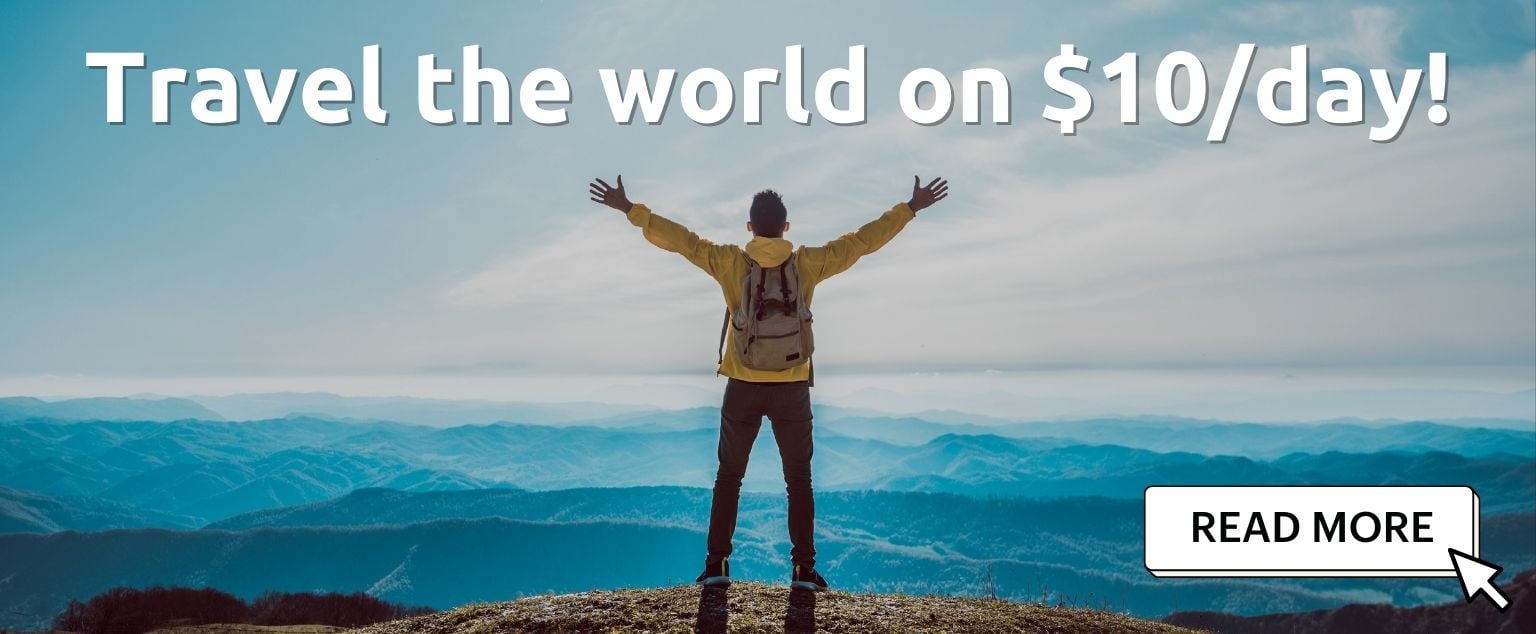 And for transparency's sake, please know that some of the links in our content are affiliate links. That means that if you book your accommodation, buy your gear, or sort your insurance through our link, we earn a small commission (at no extra cost to you). That said, we only link to the gear we trust and never recommend services we don't believe are up to scratch. Again, thank you!