Ahh yes! We all know what happens in Vegas stays in Vegas, yet we've broken this sacred vow to bring you some of our insider tips from years of abusing our bodies in the name of travel research!
So, you're heading to Las Vegas … AKA, sin city, AKA, lost wages, AKA, your SO's worst nightmare! Well, there's a heap of awesome activities to get involved in… and not all of them involve debauchery and regrets!
Thankfully for you, we've been to Vegas enough times to grow out of thinking it's all booze and blackjack. Now we've finally grown up we've been able to explore the many different sides to this city to bring you this comprehensive guide to the top things to do in Las Vegas. 
So, whether you're looking for a "Hangover" style wild weekend, a trip out into nature or catching an unbeatable show, there's a lot more to Vegas than loosing money at the roulette table! There's even plenty of family friendly activities too!
Let's see what Las Vegas has in store!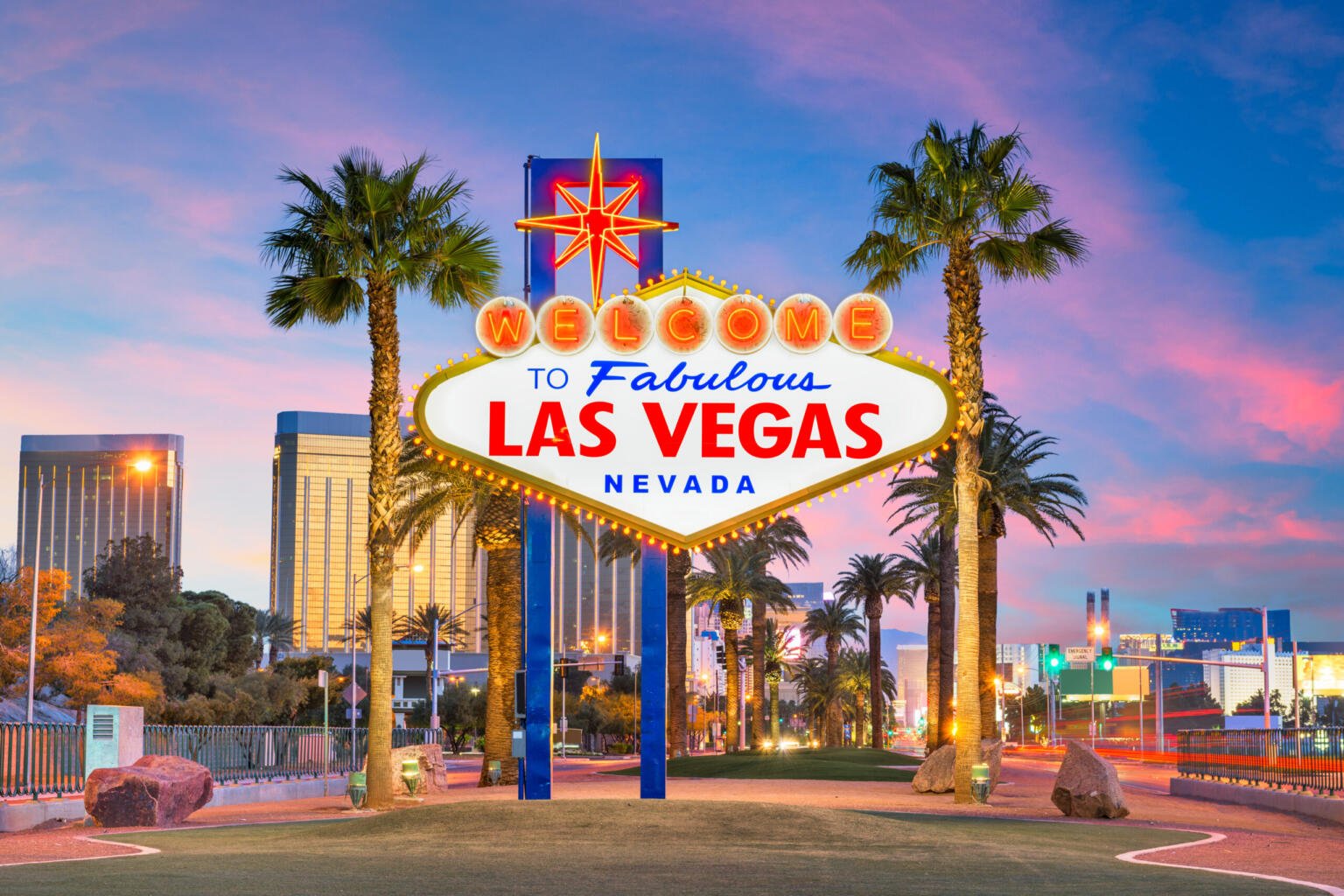 Unlock Our GREATEST Travel Secrets!
Sign up for our newsletter and get the best travel tips delivered right to your inbox.
The Top 10 Things to Do in Las Vegas
Vegas hits harder than Mike Tyson (and his tiger), so be prepared. It is a lot to take in, and it's easy to get swept up in the glamour. Okay, without further mothering, let's bulk up that Las Vegas Itinerary!
1. Cruise the Las Vegas Strip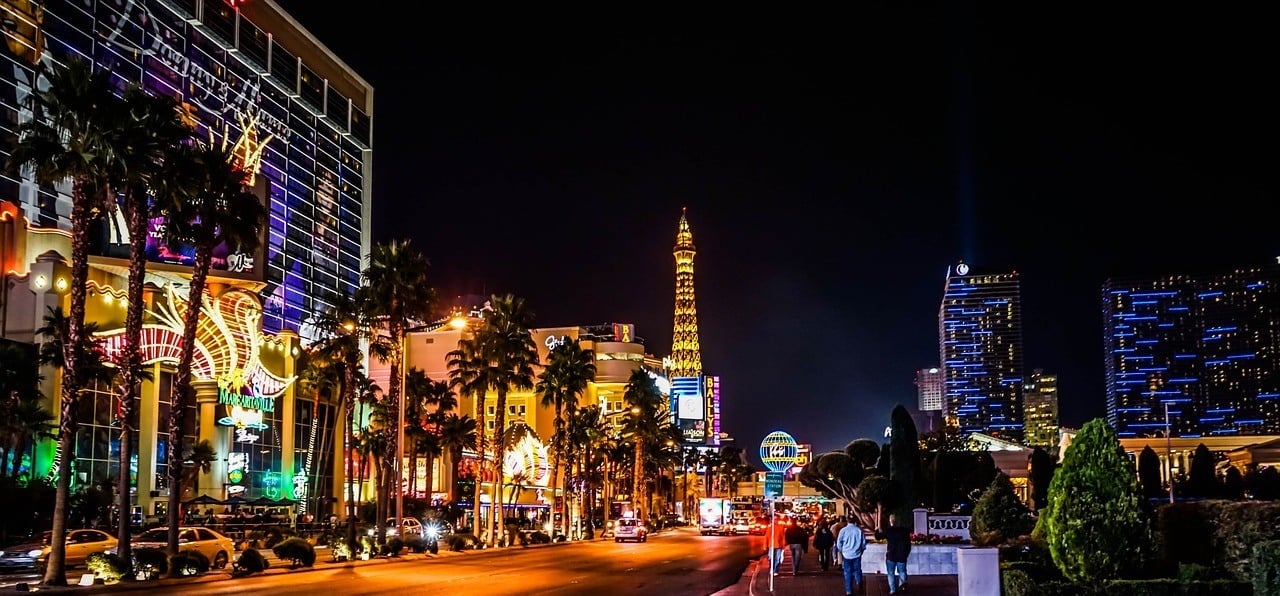 Cruising the Strip is a must. Check out the Bellagio, Caesar's Palace and the rest of the entertainment capital's glorious neon buzz. The atmosphere is one of the most incredible anywhere in the world, and you get to locate some of the biggest attractions straight off the bat! It doesn't matter how many times I come to Vegas, I always have to spend time exploring the Strip and soaking in all that atmosphere!
Rating: All ages
Cost: Free
My Personal Opinion: You'll end up doing this when you arrive, but give it a walk too. It's iconic!
But it's not all about the Strip – head to the more historic Fremont Street where you can see the old neon signs in action. If you are staying in Vegas, you'll want to be near the strip. There's a huge array of electric signs going on here, giving you a real taste of a Las Vegas of the past in all its retro glory. There's other stuff to lap up too, like the Praying Mantis sculpture, and the classic cowboy sign of Vegas Vic.
2. Embark upon a Sensational Night Out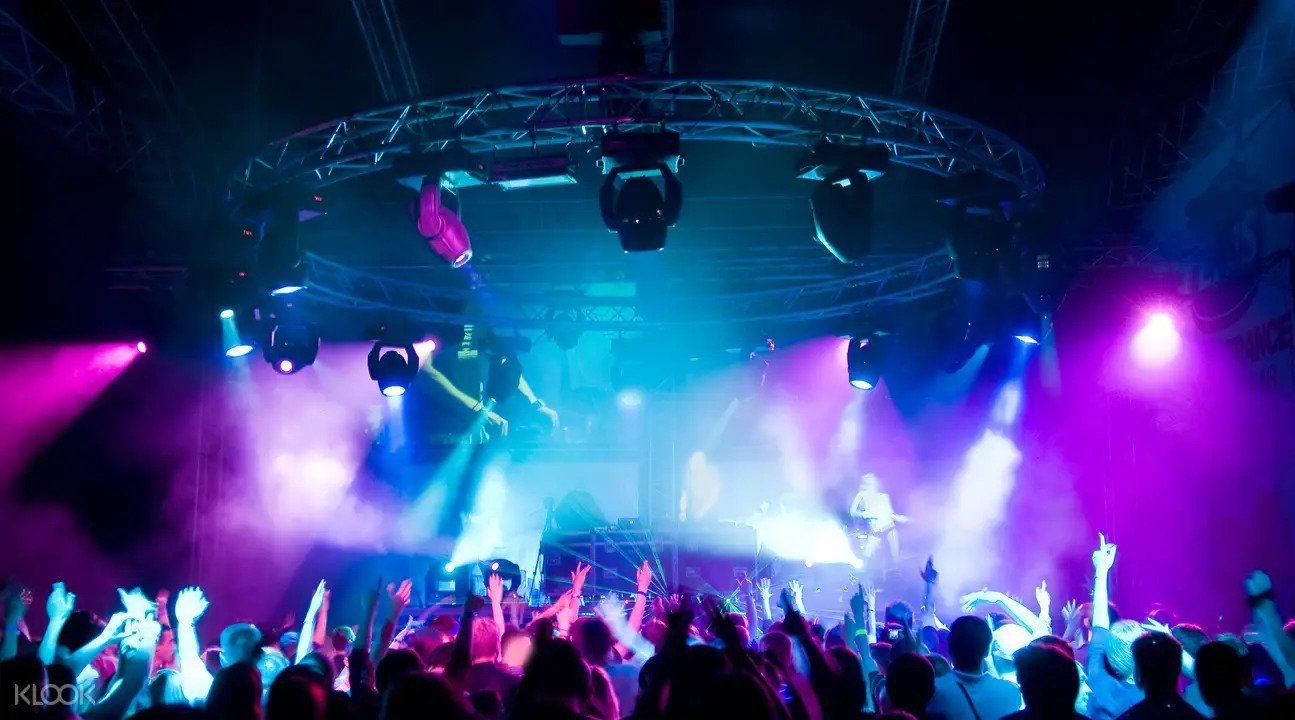 Next to gambling, soaking up the nightlife in the city is one of the best things you could be doing in Las Vegas. Yes, you can create your very own Hangover sequel (probably not as crazy), with hundreds of venues for you to party the night away in, meaning that a bar crawl is very much in order. Why stay at one bar or club when there are countless others to experience?
Rating: 18+
Cost: $$$$. I'd advise setting a limit.
My Personal Opinion: Spenny if you want to go really wild. Avoid getting married if possible.
Making a weekend out of Vegas? Then why not see a show too? The Cirque du Soleil is often hailed as the best prequel to a night of hedonistic debauchery, so try and include it in your night! Booking onto a pub crawl is another awesome way to do a night out here too, trust me, I've done it enough times … even if I don't recall all the details!
3. Ride a gondola at the Venetian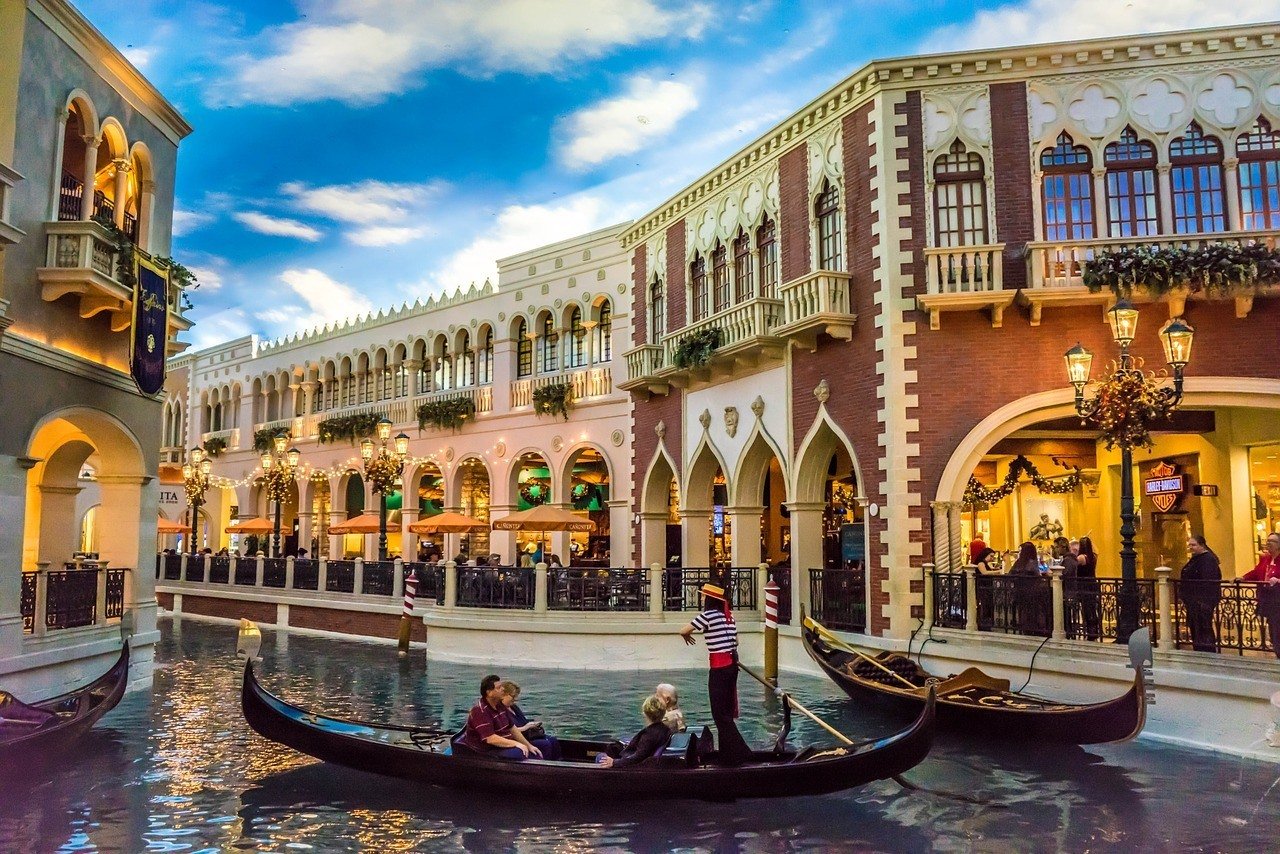 Yes, this is definitely one of the most tourist-y things to do in Las Vegas, but it's got to be done. The casino hotels in this city are pretty awesome, to be fair, and some of them are really, really worth visiting. The Venetian has the added benefit of not just looking like a replica of Venice and its canals – but you can even get a gondola ride here. It might be a bit tacky, but personally, I just love how fun it is and if you're in Vegas you've got to embrace the kitsch instead of resisting!
Rating: All ages
Cost: $$$
My Personal Opinion: Touristy, but enjoyable. Romantic if you can swing it in the evening.
The gondoliers here even sing to you as you pass by all the shops on either side. It's a pretty unusual thing to do in Las Vegas, simply because of how weird it is to be able to feel like you're in Venice, and yet be in the middle of the American desert. It's classic, it's cheesy and it's fun; just sit back and watch it all go by. Costs are about $16; open 10am to 11pm (midnight on the weekend).
4. Explore The Grand Canyon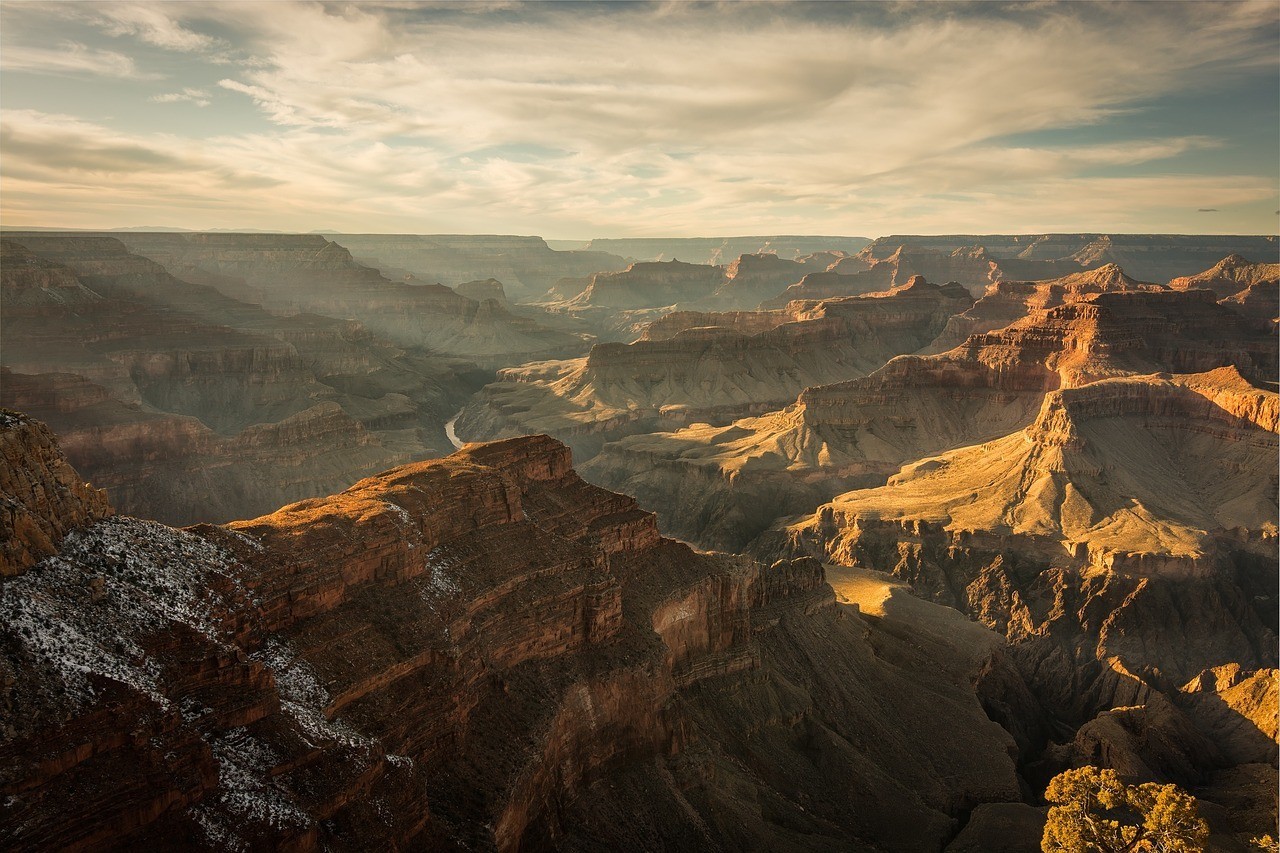 Las Vegas is all glitz and glamour and admittedly, this is a lot of fun. However, another great perk of basing yourself in this desert city is being able to see one of the natural wonders of the world: The Grand Canyon. Getting yourself over to see this spectacle of nature is easily one of the best day trips from Las Vegas, for sure.
Rating: All ages
Cost: $$ to $$$$ (entrance fee)
My Personal Opinion: Bring sun protection! Bloody good fun.
The Grand Canyon National Park is easily reachable from the city. That may seem long but trust us: it's worth it. If you don't have your own wheels, jump on one of the many coaches or tour buses that leave from all over Las Vegas regularly. You won't regret it, because the Grand Canyon is unreal.
5. Las Vegas Desert Quadbiking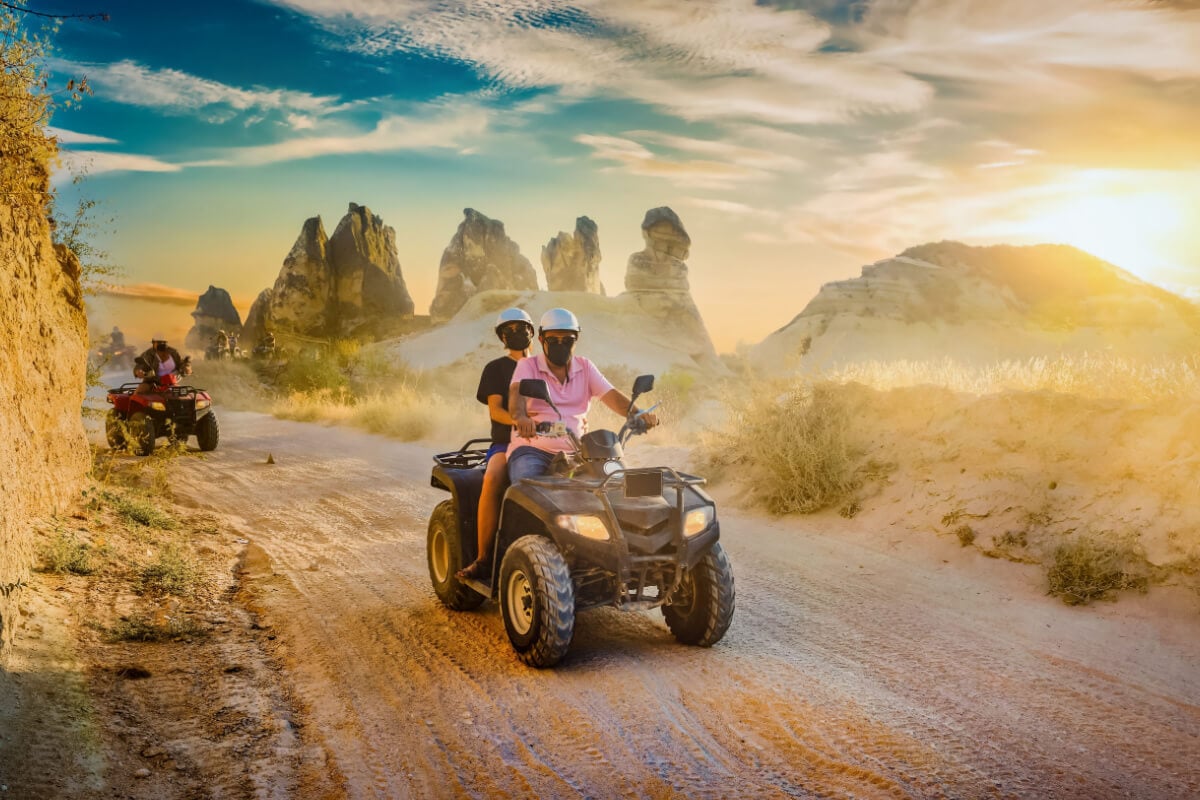 Head out onto the Las Vegas dunes for some serious ATV action! There's nothing better than blasting around in the middle of a dusty desert with your pals. If you've exhausted the attraction of the city, there can be no clearer choice for filling your day. Very popular with teenagers and young adults, and you never know, the oldies might enjoy it too ;).
Rating: 16+ (with valid driver's license)
Cost: $$$
My Personal Opinion: Bring sun protection! Bloody good fun.
When you pack for Vegas, it's worth bringing some clothes you don't mind getting dusty, so you can fully enjoy the adrenaline of this experience. The Mojave desert is pretty wild, so just getting out to see it is a treat in itself!
6. Red Rock Canyon Excursion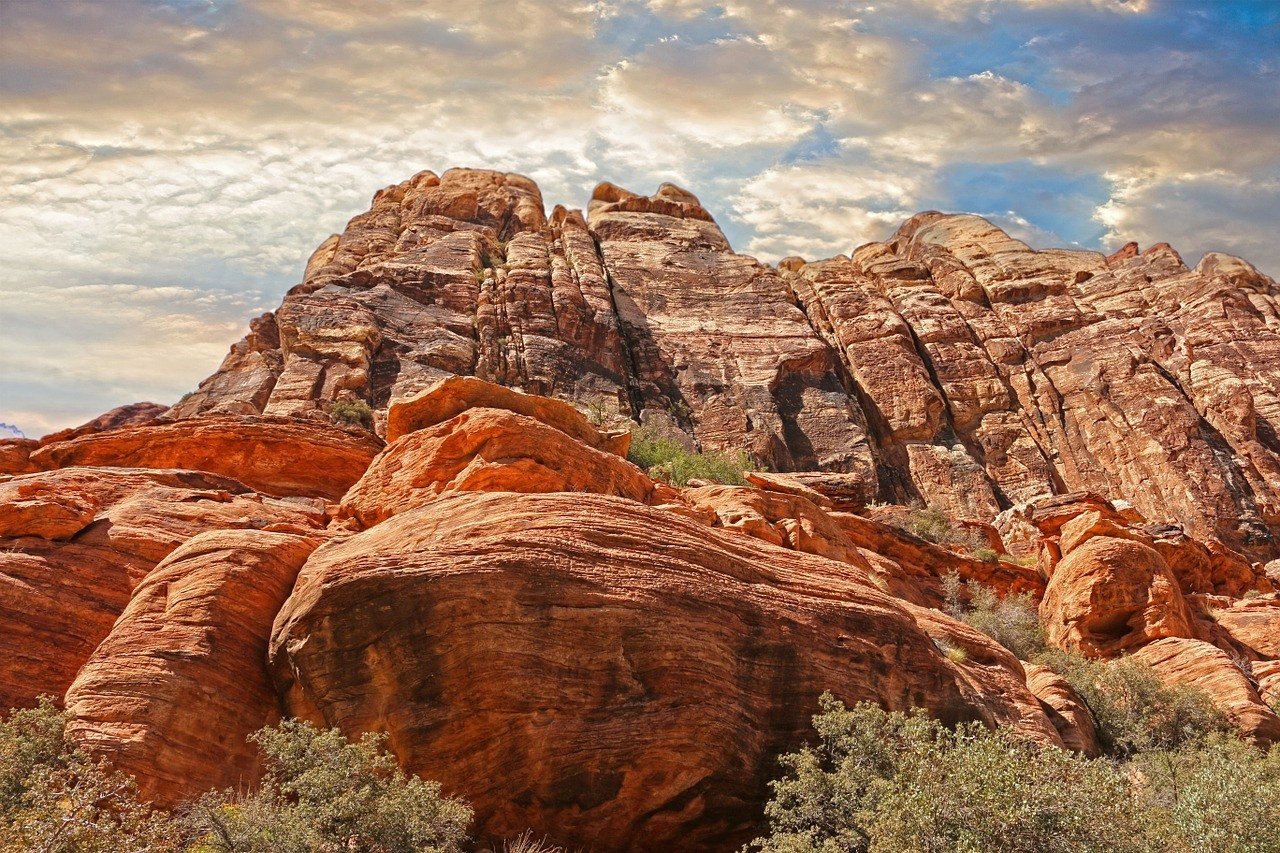 If you don't have the funds to take you to the Grand Canyon itself, then a trip to Red Rock Canyon is pretty cool. Soak up some dramatic landscapes and mountain scenery. You can cycle, walk, and even horseback-ride your way around.
Rating: All ages
Cost: $$
My Personal Opinion: The Red Rock Canyon is not to be missed. While in Vegas, take the time!
While this is another day-trip type activity, you've got to make the most of that Vegas location! There is nothing more satisfying than a bunch of big rocks and stunning views. Don't let this one slip past ya!
7. Take a trip to the Seven Magic Mountains
Nope, this isn't an outdoors activity: Seven Magic Mountains is actually more like, well, an Instagram hotspot. This desert-based art installation consists of seven totem-like poles of rock arranged in stacks and coloured for a rainbow-like result. It creates a pretty cool colour pop in the middle of the scrubland of the Ivanpah Valley.
Rating: All ages
Cost: $
My Personal Opinion: Worth a look, especially when combined with the Red Rock Canyon. On its own, might not be worth it.
Sort of a cross between giant Play Doh sculptures and misshapen, outsized Lego figures, the Seven Magic Mountains does still require you to get out of the city and into the desert surroundings. It's only a 40-minute drive from the centre of town, making for a pretty simple but very cool thing to do in Las Vegas. You can also combine the Seven Magic Mountains with the Red Rock Canyon – it's a nice little day trip!
8. Learn How to Gamble like the Pros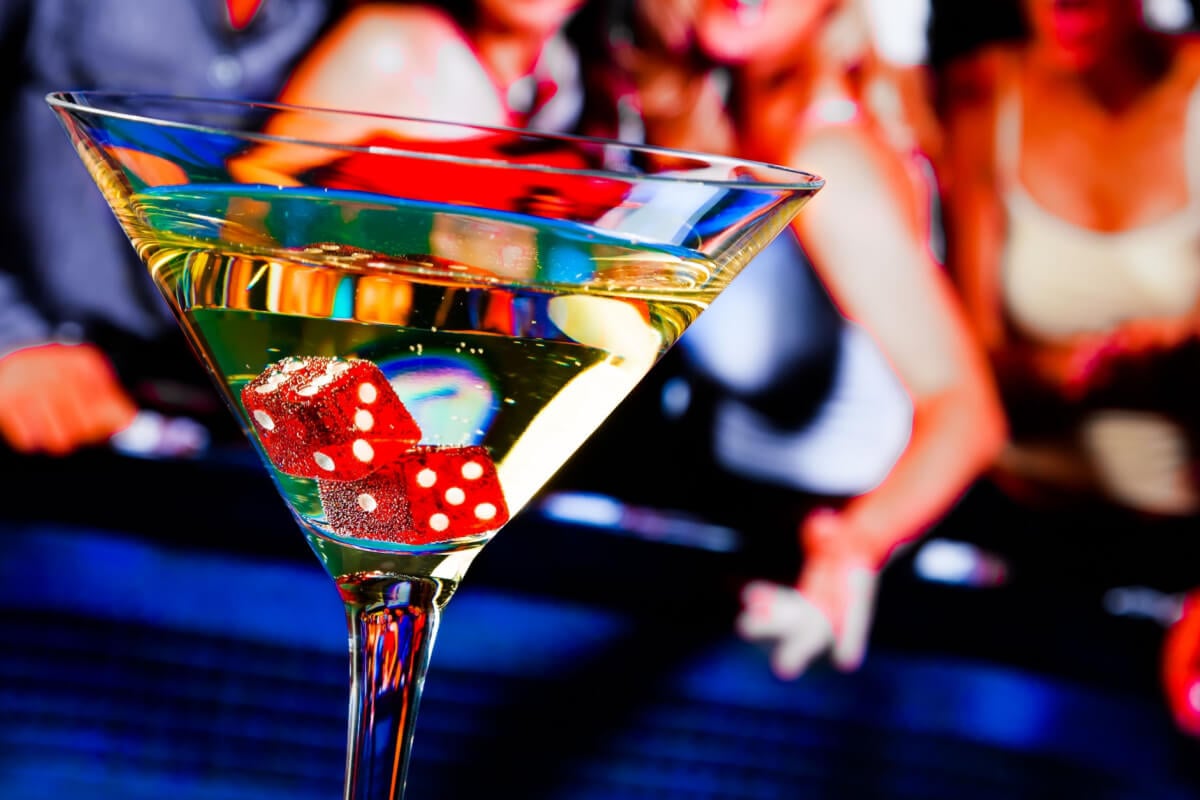 Have you ever wondered what it is like to be a professional gambler? Do you want to learn how to tackle casinos the right way? Then this is a great way to start a trip to Vegas. Get some top tips from professionals, learn how to handle gambling the right way, and maybe even have a drink or two while you're at it!
Rating: 21+ (with valid ID)
Cost: $$
My personal opinion: If you aren't familiar with casino games, this is a great activity! All the excitement, none of the risk.
Starting in the lobby of the Plaza Hotel & Casino, you then explore the main gambling floor, where your guide will take you through some of the most popular casino games. While in Vegas, hey?
9. Go up to the top of the Eiffel Tower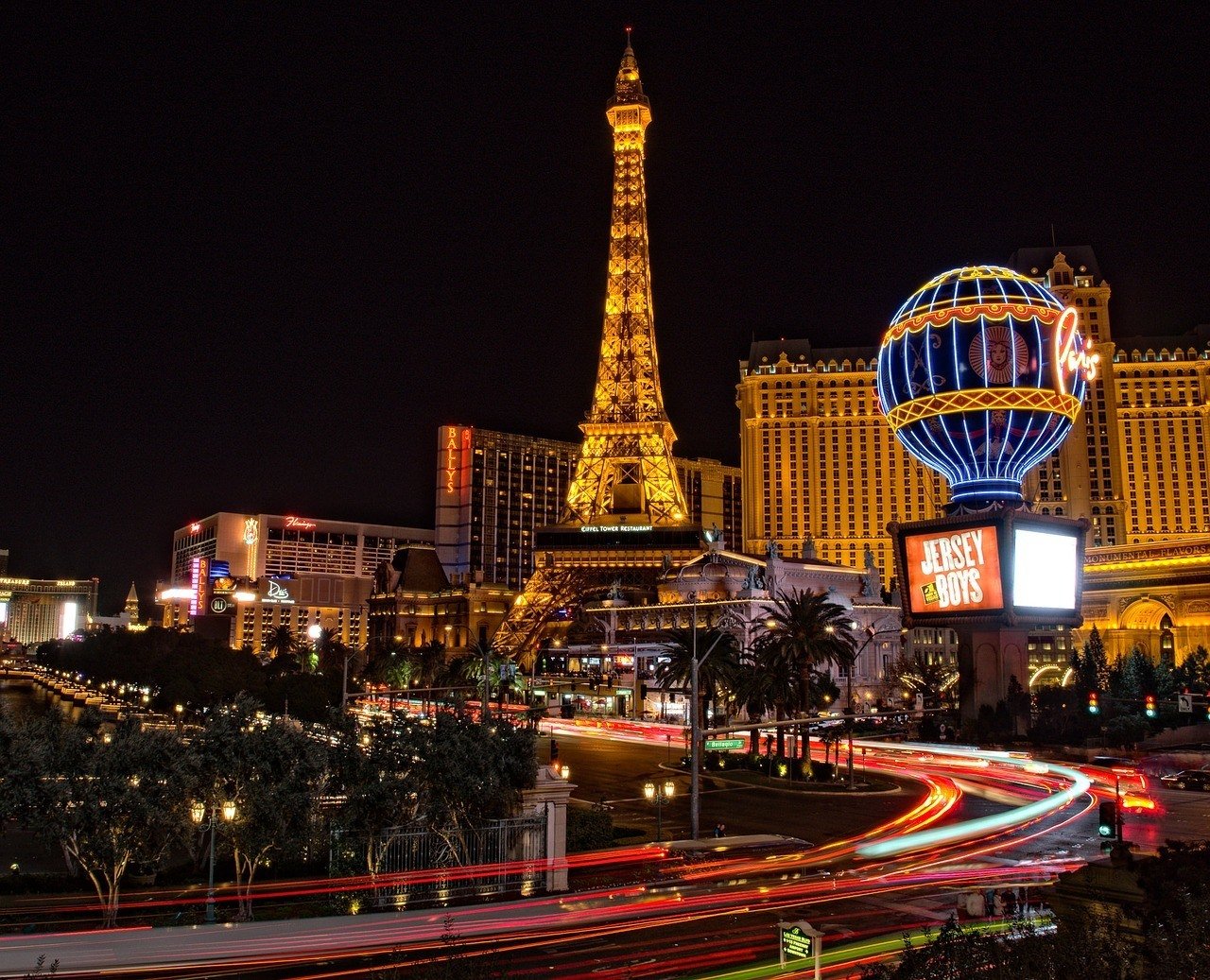 That's right. Vegas has its very own Eiffel Tower; I mean, duh. It's got its own Venice canal, so why wouldn't it also have an Eiffel Tower? (There's even an Arc de Triomphe). And what's more, you can go up it too, for one of the best things to do in Las Vegas (at night, preferably).
Rating: All ages
Cost: $$
My Personal Opinion: Pretty touristy, not going to lie, I'd personally spend my bucks elsewhere.
The top of this impressive half-scale replica is reachable via a pretty speedy glass elevator (complete with views as you go up, of course), that takes you 460 feet in the air. Here you'll have all-round views of the city, from the fountains of The Bellagio to the other sights and sounds of the city. Tip: there's an illumination show of synchronised twinkling of the Tower every half hour.
10. Desert Picnic Date Night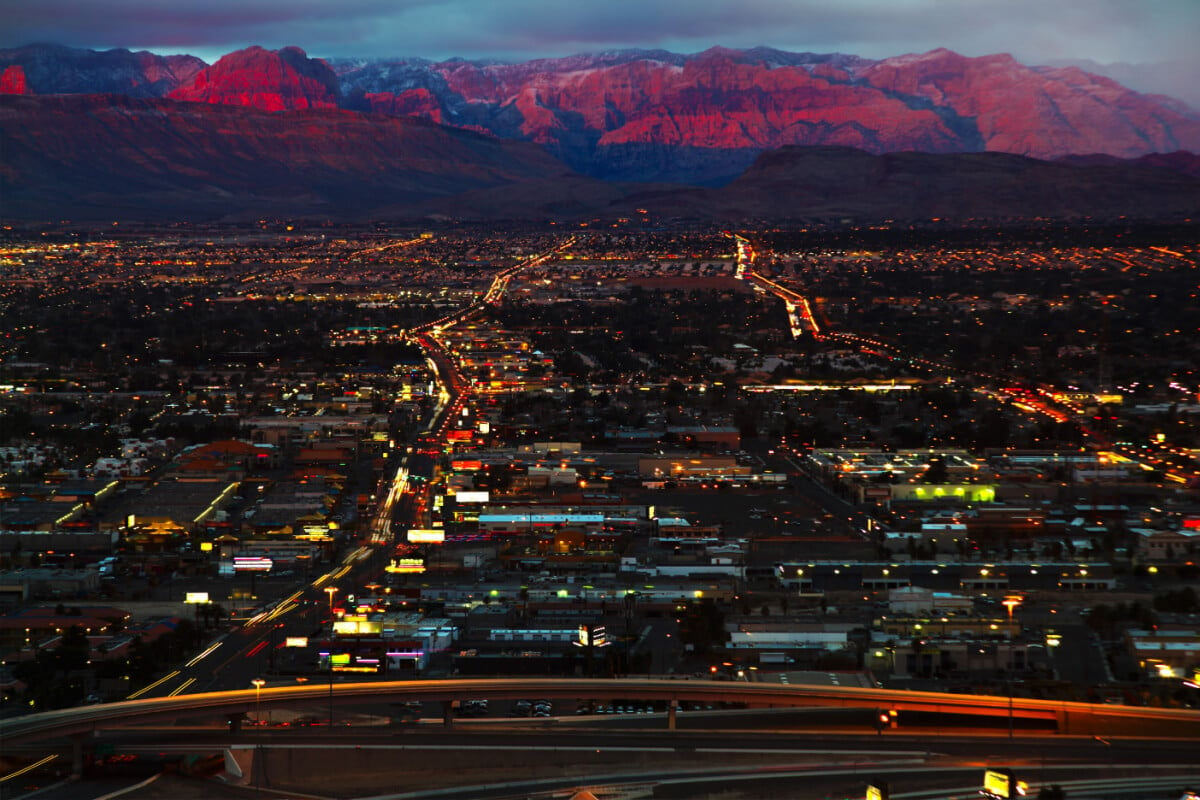 Sometimes falling in love is easy, and where easier than with sunset views over Las Vegas, and a scenic picnic? In fact, it's probably reasonably difficult not to have a great time. This is why a desert picnic has made it into my top ten. Turn up the Romance!
Rating: Steamy
Cost: $$$
My personal opinion: 10/10, no regrets will be had (unless you arrive too early and get dehydrated)
Bring your own picnic and drive up to a viewpoint, or have someone set it up for you! There's no better way to end a full day, or start a hectic evening, than with a sunset picnic.
11. Try To Escape From The Escape Game!
If you are after something challenging, immersive but totally then then the Las Vegas Escape Game may be just what you are looking for. The Escape Game features a variety of different rooms which participants (that's you and your crew) must try to escape from by working as a team, solving clues and completing puzzles.
Rating: All Ages
Cost: $$
My personal opinion – 8/10, loads of fun
All of their games are designed to be suitable for everybody, from first-time players to experienced escapologists. No matter which one you decide to play, you're sure to have an absolute blast!
Bonus Activities in Las Vegas Nevada
Ok, I've laid out some essentials, now it's time to get into some of the more unique Las Vegas attractions (like taking an epic and tasty food tour). Think less tours, casinos and Las Vegas shows, and more…
Pinball Hall of Fame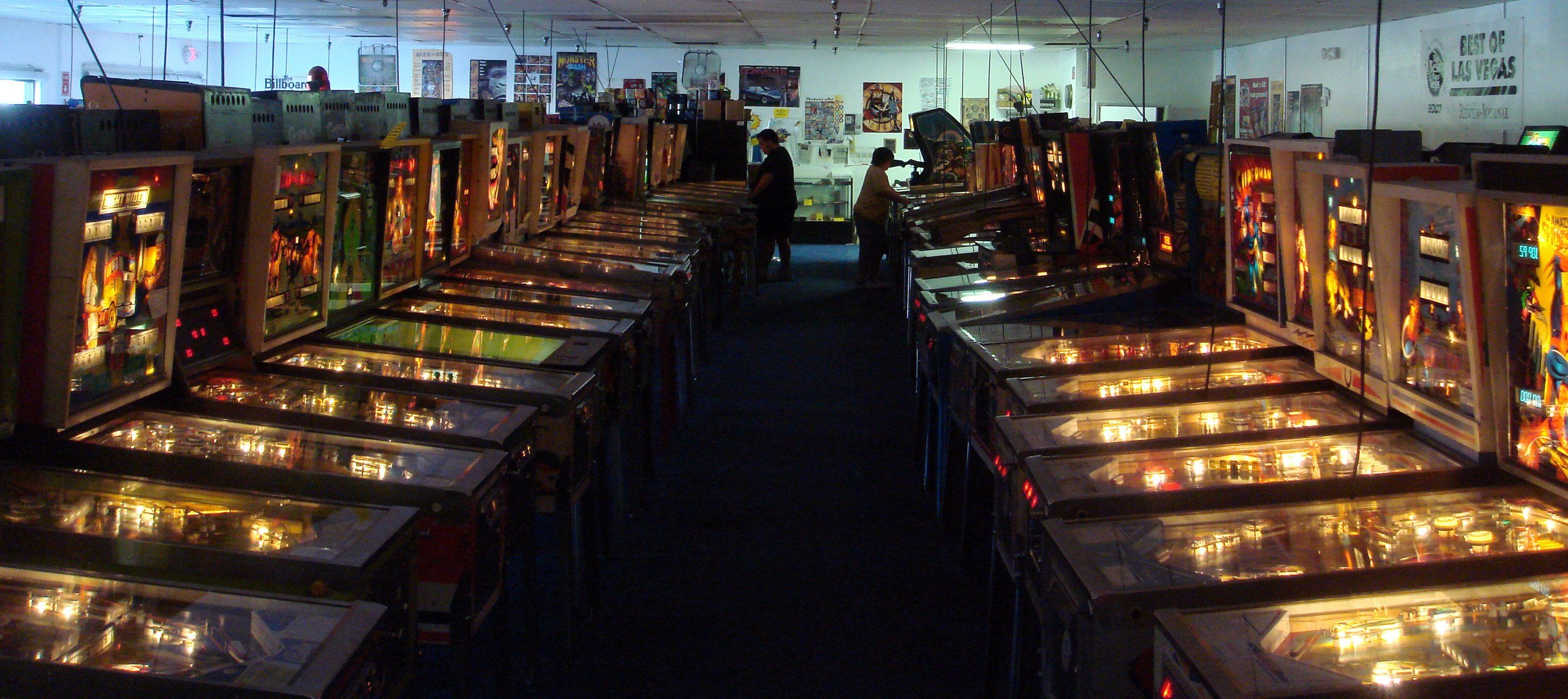 When it comes to the more weird, wacky and unique things to do in Las Vegas, they don't get much cooler than getting to play some retro pinball machines. And you can do that over at the purpose-built pinball haven, the Pinball Hall of Fame.
Run by members of the Las Vegas Pinball Collectors Club (obviously), the machines here range from the 1950s to the 1990s for 10,000 square feet of pure pinball pleasure. It's not for profit, too: any extra cash goes to charity.
And it's also easy on the wallet – 25 cents a pop. A much better way to have fun with a machine than staring at blankly at a one-armed-bandit. Personally, it's one of my favourite spots in Vegas for a bit of off the beaten track fun.
Eat your way around the city
Eat? In Las Vegas? Yes, that's right: this city is packed full with some amazing restaurants, making it a surprise for foodies whenever they visit. You might think it's all gambling and bars with old time-y music, but it's much more than just that.
Eating your way around this city will give you a real insight into the history and local life of the area. If you fancy something high-end then check out Gordon Ramsey's restaurant. For something low-key then there are the Asian eateries in the unofficial Chinatown off the west side of the Strip (hit up Ichiza for late-night Japanese small plates). You can eat pretty much anything from all over the world here – and it's good.
Have drinks at Frankie's Tiki Room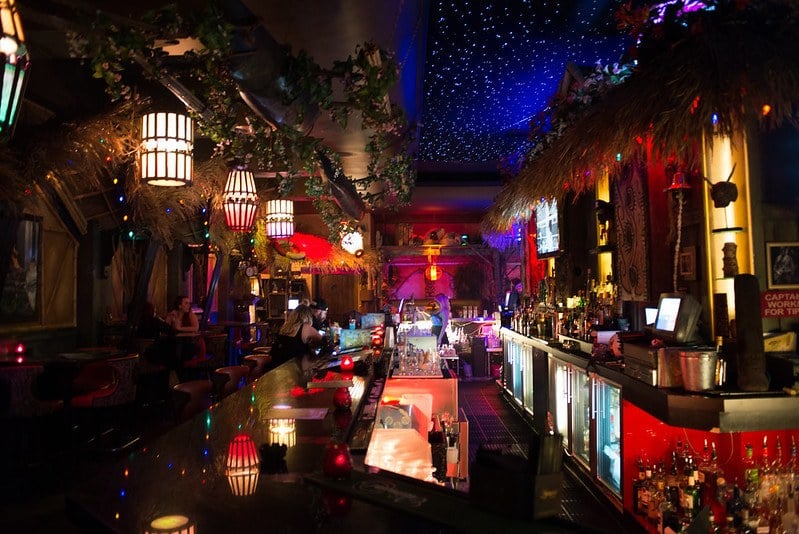 Just what you want in a drinking hole in Las Vegas, this cute and very kitsch tiki bar is where you should be going for some fun drinks in the city. Sitting here for a few hours, with some crazily coloured cocktails constitutes one of the coolest things to do in Las Vegas at night.
Find your place amidst the 1950s decor, surrounded by bamboo and coconut thatch, and enjoy sipping your drink under the light of pufferfish lights (actual dried pufferfish). Tip: the menu comes with a handy "skull" system, with the number of skulls next to each drink denoting just how alcoholic it's going to be. Don't you just love the sound of this place?
Tour around on an open top bus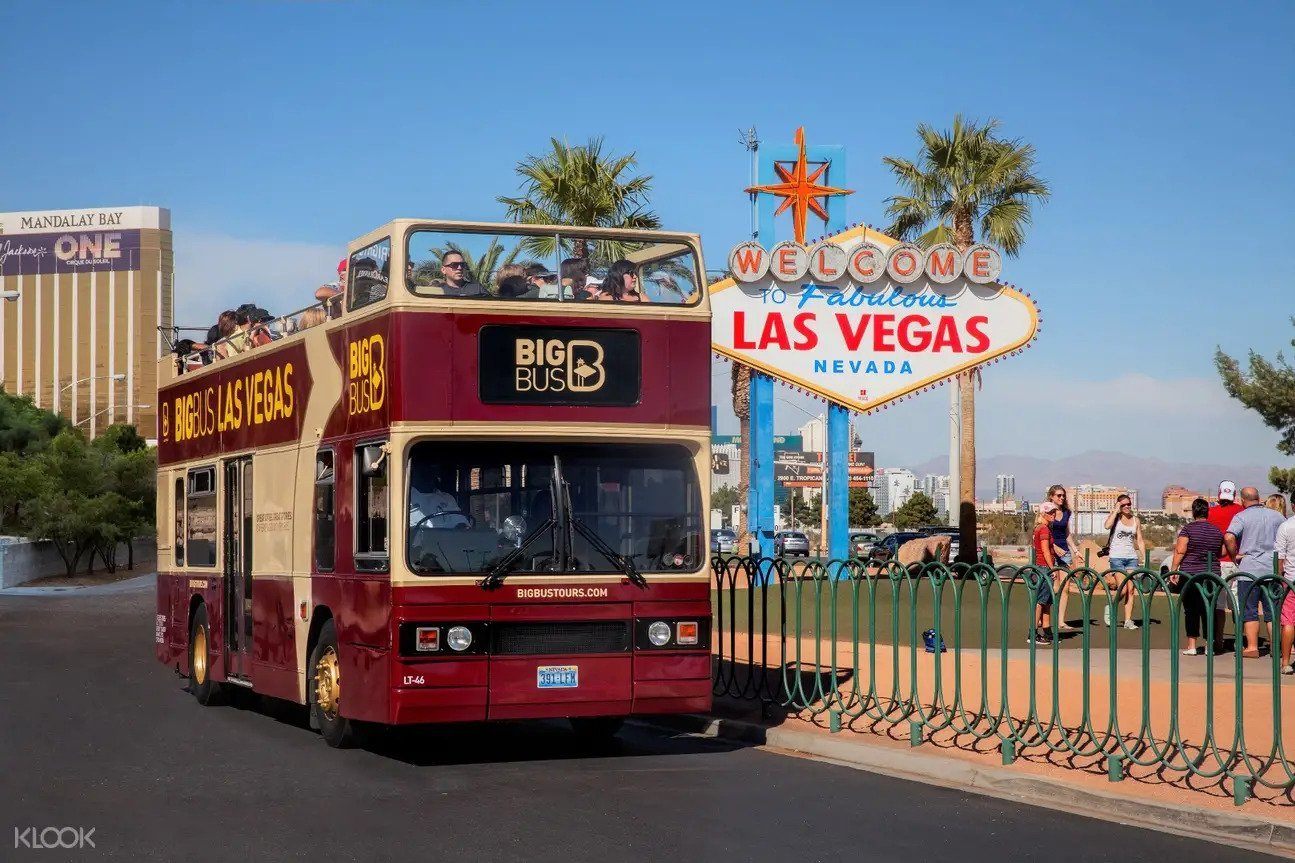 Going around on an open-top bus in the day time in Las Vegas, let's be real – it doesn't sound like much fun. First of all, and mostly, it will just be hot. You'll get sunburnt, dehydrated, and you'll be squinting your eyes the whole time. After dark, on the other hand, is the perfect time to clamber aboard for an open-top bus.
To be honest, this will also be your best time to see the city because it's when all the lights will be glittering and shining – which is pretty much the only time you should be doing anything like this. It looks awesome, it feels like that one scene from Austin Powers, and it's one of the best things to do in Las Vegas at night.
Wander around the Arts District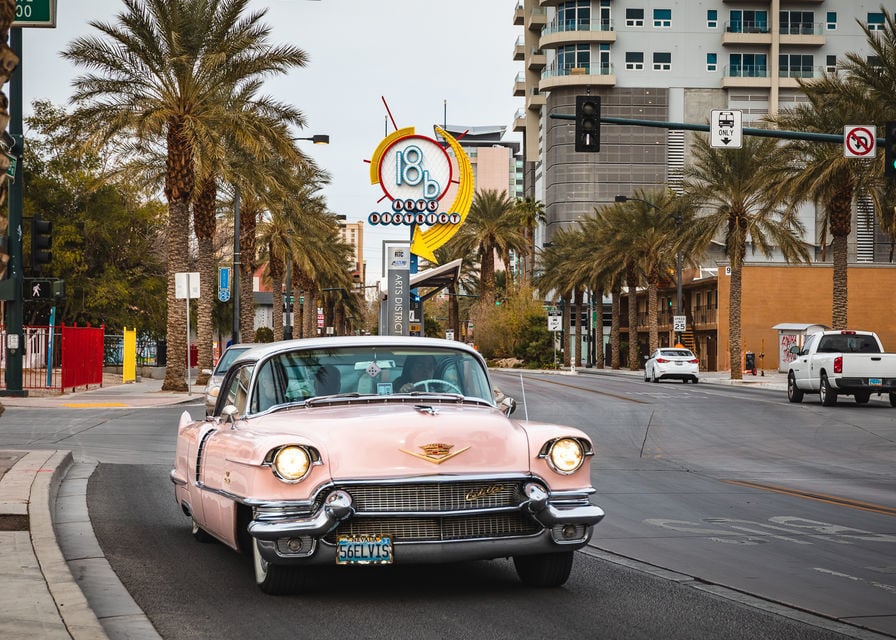 Often totally overlooked by tourists more interested in fountain shows and losing hundreds of dollars on poker tables, the Arts District is where you will find the actual locals of the city – you know, the people who live here. Developed over 20 years, this district is where locals go to get creative (hence the name).
First of all, make a beeline for the Boulder Plaza, where you'll see street art, then you can see behind the scenes with artists at work in the Arts Factory – a converted warehouse turned communal studio and gallery space. It's interesting, it's underground, and it's one of our favourite off the beaten track things to do in Las Vegas. There's even vintage shops here – hit up Antique Row along Main Street.
Go and have fun at The Peppermill
The Peppermill is a must-do, one of those unmissable things to do in Vegas. Like, if you don't go to The Peppermill while you're in town, have you even been to Vegas? And if you don't know what it is, The Peppermill is a neon-lit restaurant, a Vegas institution that serves up breakfast 24 hours a day, complete with reflection pool and flames.
There's a retro casino vibe going on here, where you can sit in crescent-shaped booths and enjoy live music that calls to mind Frank Sinatra and Dean Martin. Who knows what this place is really: it exists in its own realm of time of space and makes for one of the very best things to do in Las Vegas.
Go and see a star perform
One of the big-ticket things to do in Las Vegas is to go and see one of the stars in residence perform a show. There have been many over the years, from Britney Spears and Lady Gaga to Barry Manilow, Andrea Bocelli and even Mariah Carey, to name just a few. They'll be "in residence" at one casino and one casino only, playing almost nightly shows.
Sure, it won't be a very budget-friendly thing to do in Las Vegas, but if you've got the money and feel like splashing out on something special, this will definitely be a memorable way to spend your time. I've been lucky enough to see some awesome artists perform in Vegas and I can say there's just nowhere else like it.
Watch the Bellagio Fountain show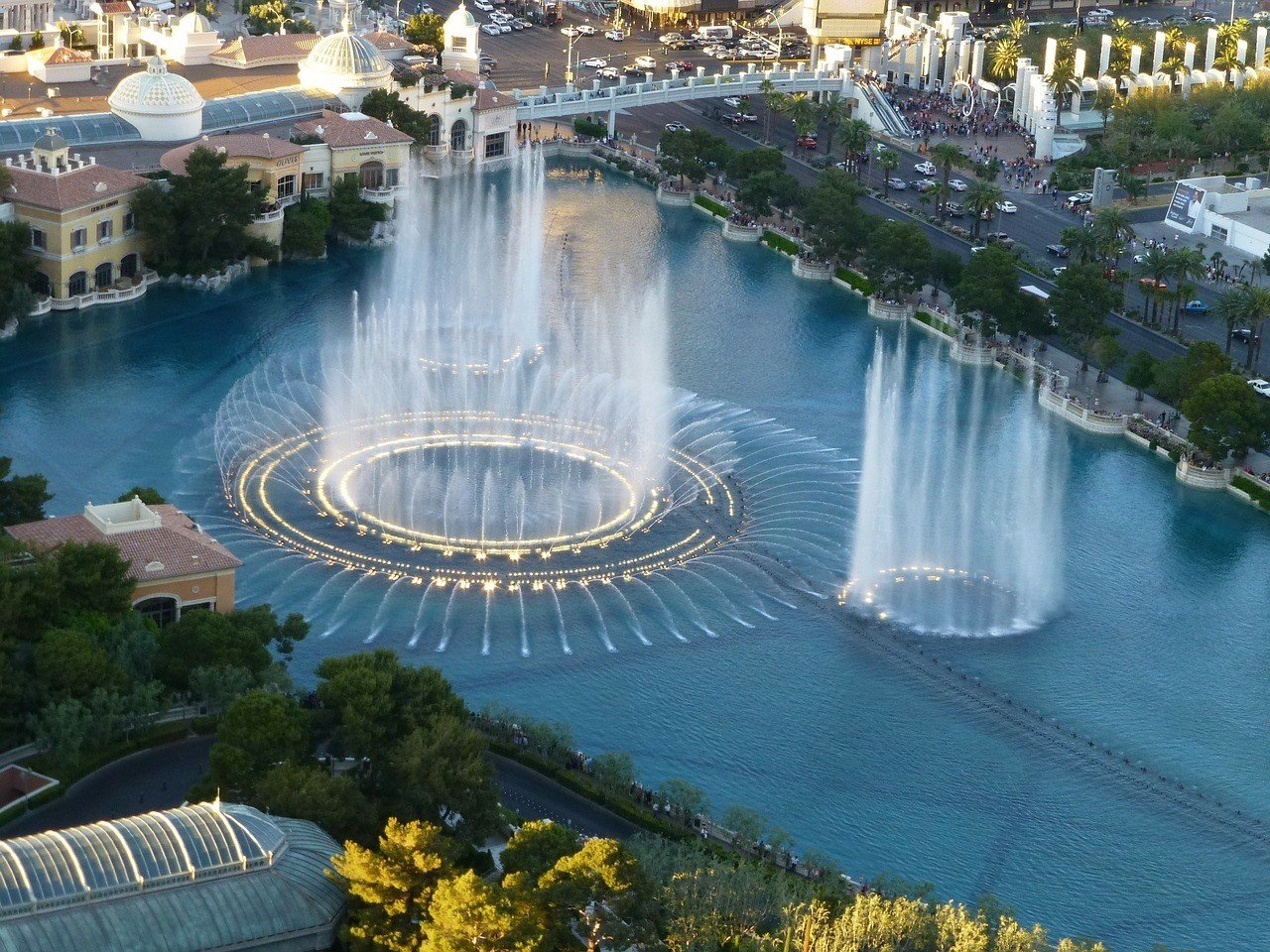 If you're strapped for things to do in Las Vegas, partly because you're on a shoestring budget, then you might want to consider just heading on down to The Bellagio and waiting for its fountain show to start. Yes, it's touristy, but actually this is pretty impressive.
And it's free. Running every half an hour for 10 minutes in the afternoon, and then from 8pm till midnight showing every 15 minutes, this light-and-sound show combined with choreographed jets of water is definitely worth it. Take pictures, be wowed, and then move on. Simple. Fun fact: it's so vast that it would take a year to fill up the lake with a regular garden hose.
Watch a show in Fremont Street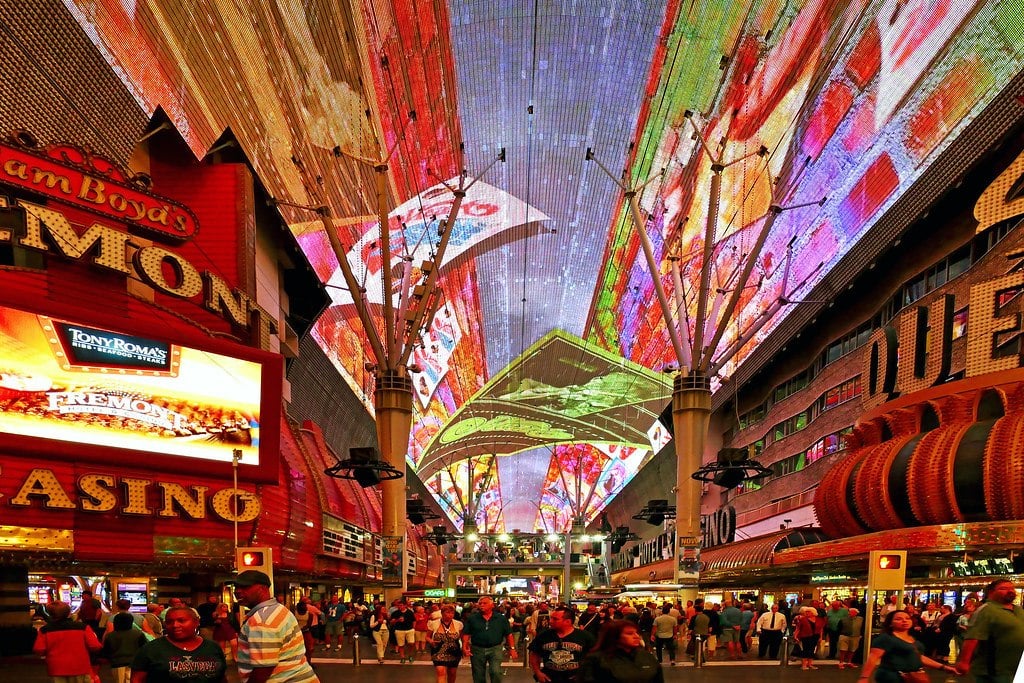 Fremont Street, as we already established, is where the old heart of Las Vegas used to beat. It is home to retro facades, historic buildings and neon signs. It's essentially an open-air mall and there is always, always something going on here. We guarantee it. And is there isn't, then why don't YOU do something? Maybe you could quack like a duck or run around with your pants on your head?
Anyway… for a good thing to do in Las Vegas on a budget, make a beeline for Fremont Street and hang around. There are a regular series of free concerts that happen here, completely and 100% free, and it comes complete – in true Vegas fashion – with a light show, too. Aside from that, you'll find various street performers galore along this street, in the daytime especially. It is polite to throw them at least a few coins.
Take a snap with the Las Vegas sign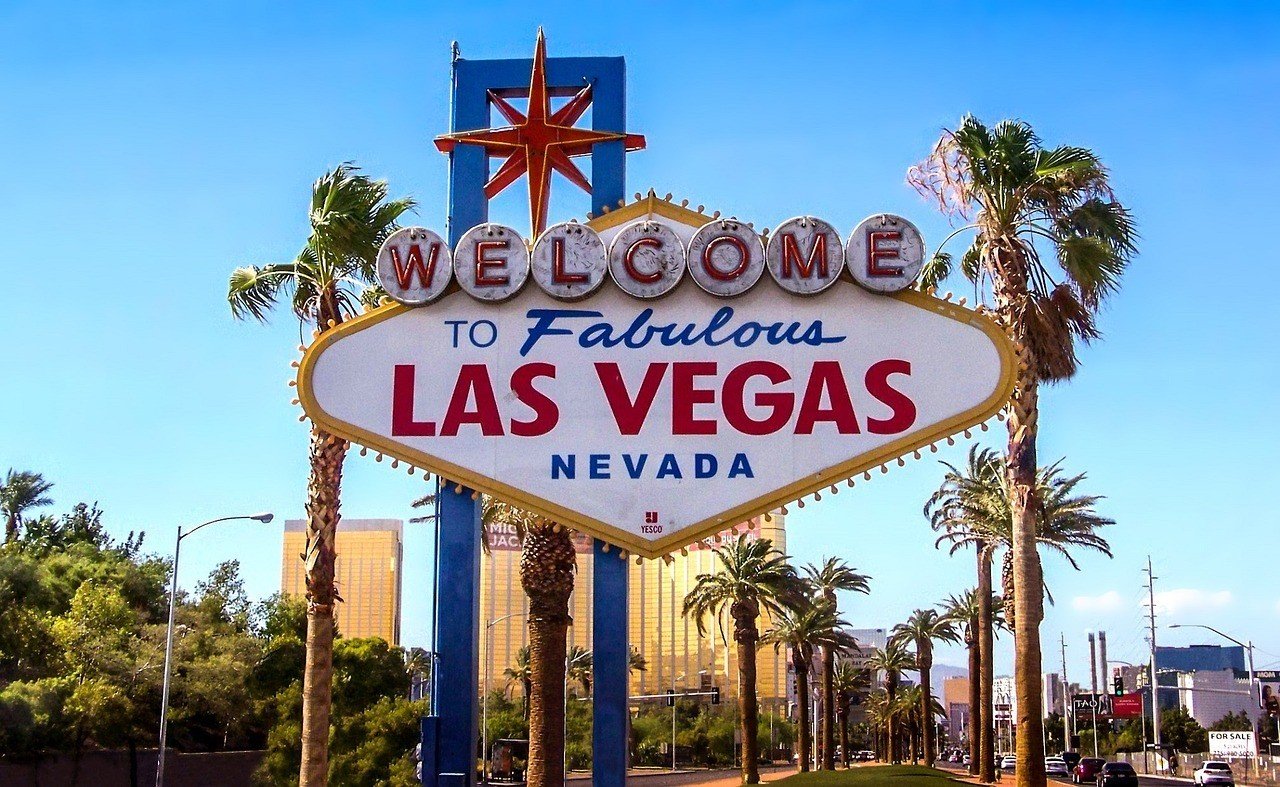 An unmissable thing to do in Las Vegas, having your photo snapped as you stand next to the "Welcome to Fabulous Las Vegas" sign is a great little memory to have on film. Erected in 1959, it's located just south of the Las Vegas Strip and is actually a slice of the city's history, in all its Googie architecture glory.
In true US fashion, there's a car park located right next to it, making it extra easy for you to go and take a photo. Fun fact: On the other side, which is less often photographed, it says "Drive carefully / Come back soon".
Ride the Wheel (High Roller)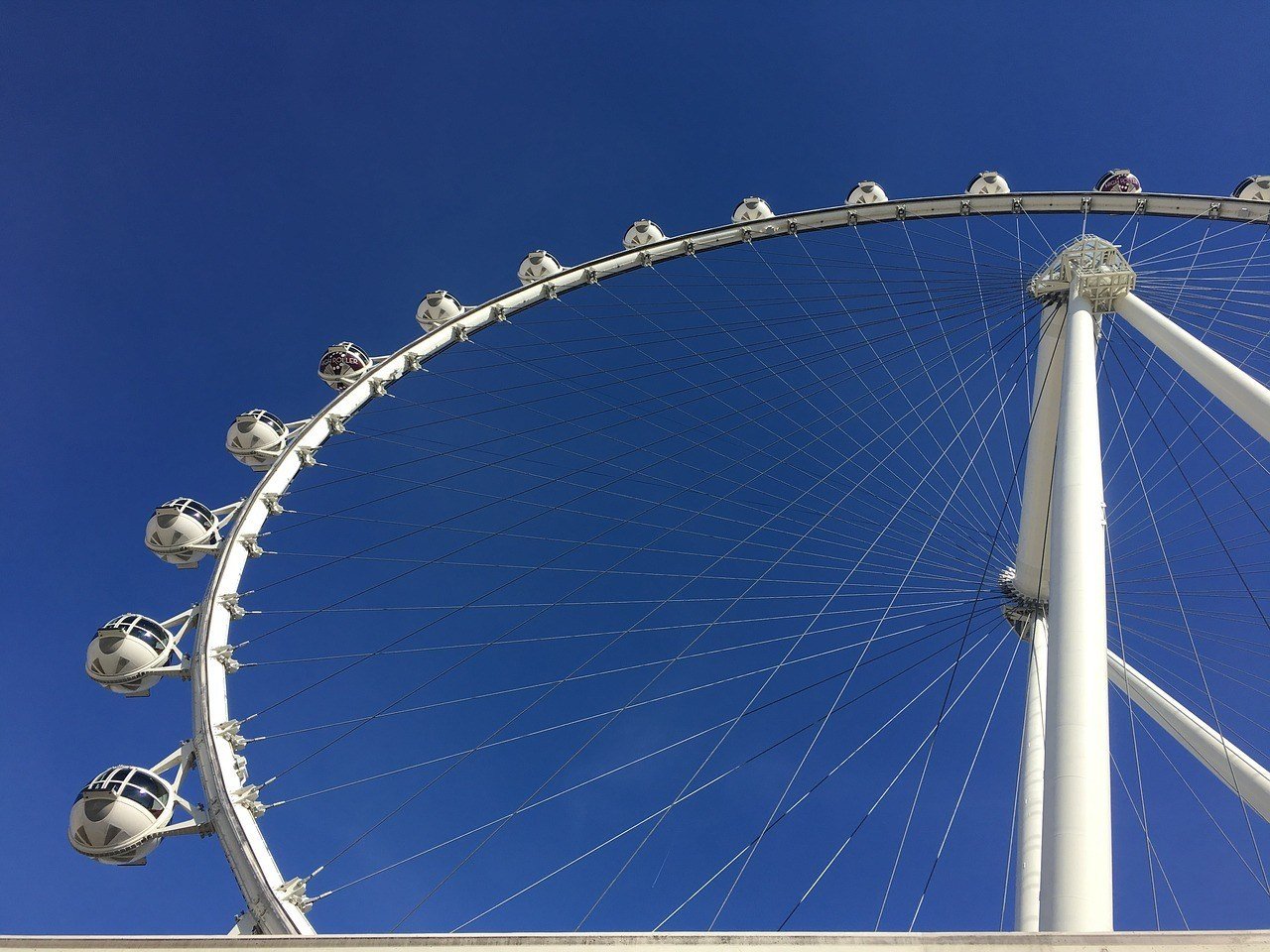 The aptly named High Roller ferris wheel is a 550 foot "observation wheel". It is currently the tallest ferris wheel in the world (though by 2020, it will be the Dubai Eye – over 100 feet taller than the High Roller).
It's all about family fun on this ride though, making it a pretty cool thing to do in Las Vegas with kids in tow. Grab your spot in one of the pods and be prepared to be amazed at the sights of the city below from above. It's open day or night, so if you've got smaller children you can take them in the day, but older children will be suitably wowed by the night vista of the city.
Go swimming at Mandalay Beach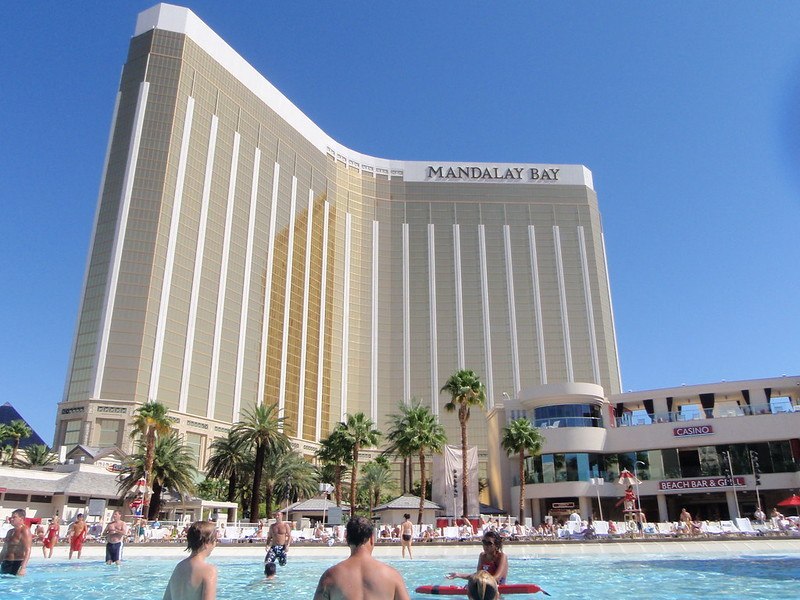 The family-friendly pool at Mandalay Beach is part of th 43-storey Luxor Resort and makes for one of the best things to do in Las Vegas with kids. Suitable for all ages and all the family, this swimming pool is more than just a pool – more like a waterpark, with 11 acres of fun to be had.
We're talking bobbing around in the wave pool, floating in a tube on the lazy river, and lounging around the lagoon; there are even themed beach bars and grills to enjoy. Open from 9am to 6pm, this is an awesome thing to do in Las Vegas when it's hot – we can't think of a better way to cool down in this desert city! Fun fact: there are 2,700 tons of real sand here.
Visit The Hoover Dam
Part of the period of great public works constructions in 1930s, mid-to-post-Depression USA, the Hoover Dam is an icon of American history. And if you feel like seeing this feat of engineering in all its concrete glory, no sweat: it's just a 40 minute drive from Las Vegas to the dam itself.
Still in action today, visiting the dam offers up views not only of the construction itself, but also of Lake Mead – one of the largest man-made lakes in the world (apparently). Tip: head to the Visitors Center to get yourself on a tour of the interior of the dam and the power plant itself, which is pretty cool. Easily one of the best day trips from Las Vegas.
Visit the Mob Museum
Historically, wherever gambling goes, organised crime follows; that's exactly the story of Las Vegas (and many other parts of the States, as well to be fair). The "mob" as the gangsters here are referred to, have had a big impact on the city and it's development and certainly warrant a museum dedicated to their inner workings.
This history museum in Downtown Las Vegas tells the story of the mob and their influence on politics and wider society – not just in Las Vegas but in other parts of the US, as well. You'll get to learn about their role and rise during the Prohibition era as well as famous happenings, like the Valentines Day Massacre. Tip: Swing by the speakeasy in the museum for a post-education drink.
Get freaked out at Area 51
Do aliens exist? Don't ask me: I literally have no idea. But if you're at all curious, or even excited, about the prospect of little green (or grey) men having a home somewhere out there amongst the stars, then somewhere like Area 51 is really going to capture your imagination.
Unfortunately, but probably best for your safety, Area 51 is off-limits to the public. However, there are plenty of tours available in relatively nearby Las Vegas that can offer you some kooky insight into the world of aliens, and how the CIA and FBI have a role in keeping it all under wraps. Allegedly. Note that if you do actually try to enter Area 51 you risk been arrested or possibly shot.
Day Trips From Las Vegas
If you're spending more than three days in Las Vegas, a day trip can be a fun way to experience areas outside of the crowded casinos and busy streets. These day trips are a great addition to your Las Vegas itinerary, and there are lots of fun options to choose from!
Grand Canyon National Park – South Rim with Snacks & Lunch
On this fifteen-hour tour, you'll travel to the south rim of the Grand Canyon National Park! En route to the canyon, you'll stop at the historic Hoover Dam for a quick photo opportunity. Enjoy scenic views of the spectacular southwest desert as you travel by comfortable coach.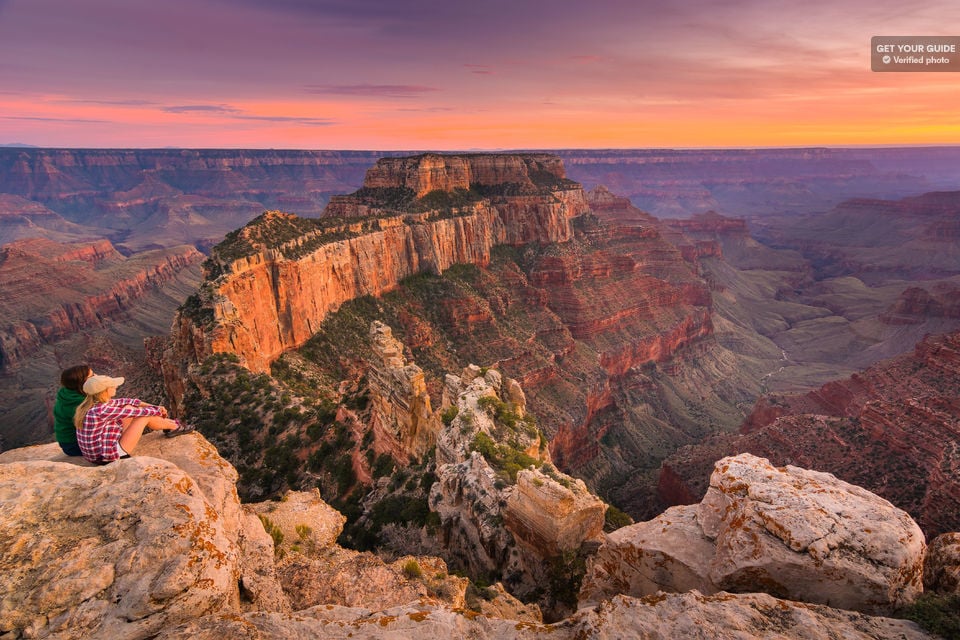 You'll pass through Seligman, the town mimicked in the movie "Cars". After lunch, you'll enter into the Grand Canyon where you'll spend approximately three-hours. If you're spending four days in Las Vegas, this trip is a wonderful addition to your itinerary!
Grand Canyon Helicopter Landing Tour
This four and a half hour tour takes you all the way to the bottom floor of the Grand Canyon! Enjoy a thrilling helicopter ride that descends 3,500 feet below the canyon's rim. Admire the breath-taking views of Nevada and Arizona's vast landscape as you travel from Las Vegas to the Grand Canyon.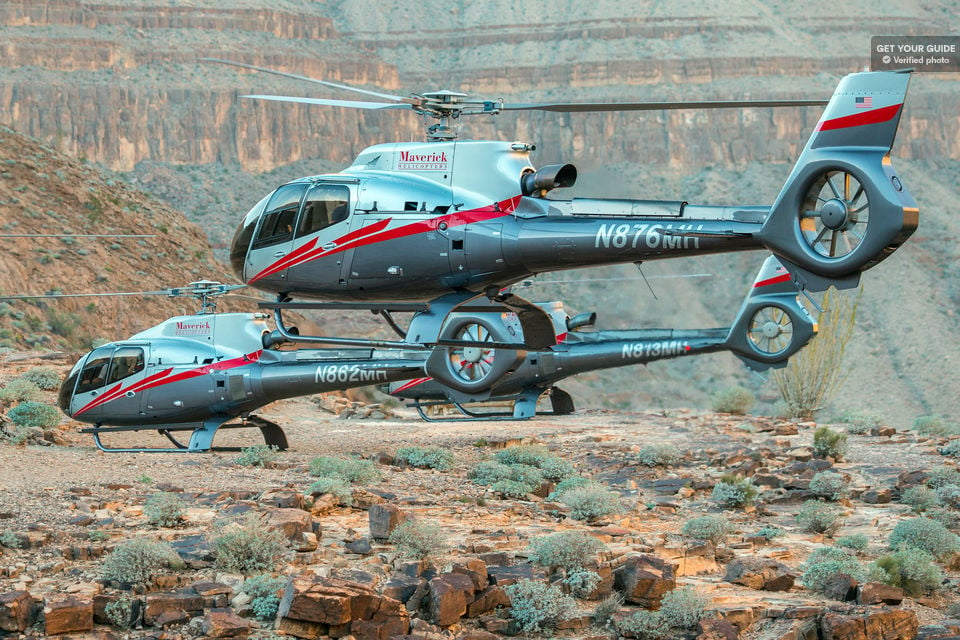 Once you land at the bottom of the canyon, you'll be served champagne and refreshments while overlooking the Colorado River. You'll spend thirty minutes on the floor of the canyon before returning back to Las Vegas. For thrill seekers, this is one of the most exciting day trips from Las Vegas you can take!
Antelope Canyon and Horseshoe Bend Tour
On this fourteen-hour tour, you'll visit Antelope Canyon, the most famous slot canyon in the world! The small group setting of this tour will provide you with a more personalized experience. You'll be led by an experienced driver as well as a Navajo guide!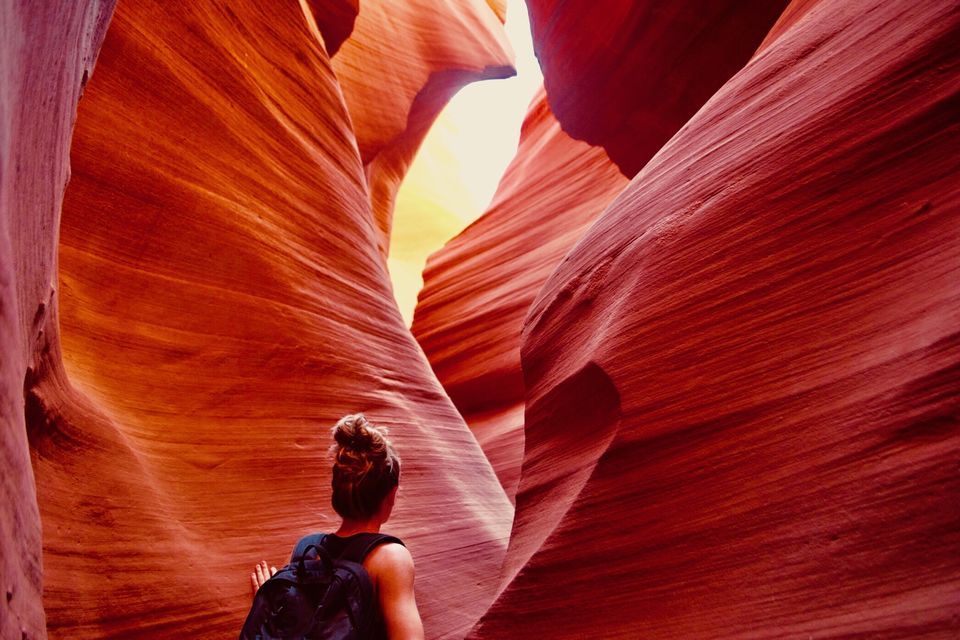 Take in the stunning views of Horseshoe Bend, a unique incisor-shaped bend in the Colorado River. See Glen Canyon Dam, an arch-gravity dam, as you travel off the beaten path. Learn about the history and unique geology of this iconic sight. For nature lovers, this tour perfectly compliments a multi-day itinerary in Las Vegas!
Don't Forget Your Travel Insurance for Las Vegas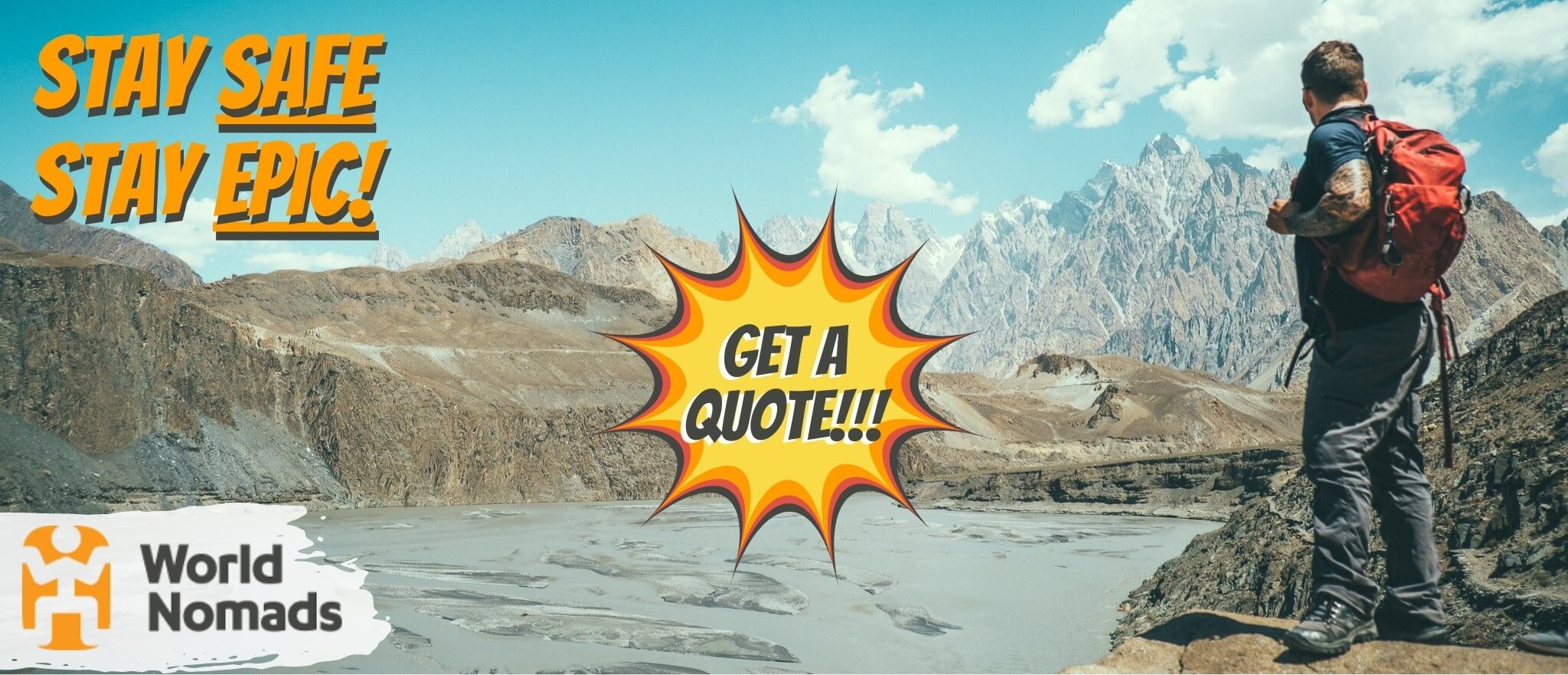 World Nomads' mission is to support and encourage travellers to explore their boundaries. They offer simple & flexible travel insurance, and safety advice to help you travel confidently.
They've been doing it since 2002 – protecting, connecting, and inspiring independent travellers just like you.
Get a quote below or read our in-depth review!
World Nomads provides travel insurance for travelers in over 100 countries. As an affiliate, we receive a fee when you get a quote from World Nomads using this link. We do not represent World Nomads. This is information only and not a recommendation to buy travel insurance.
FAQs about Things to Do in Las Vegas
Here are some quick answers to common questions about what to do and see in Las Vegas.
Final Thoughts
Las Vegas is so famous that it feels as though you wouldn't really be able to get off the tourist trail here. But this town is zany and offbeat enough to offer up a whole plethora of interesting sights to see that easily make up some of the best off-the-beaten-path things to do in Las Vegas.
Hopefully, some of the suggestions I've made here have stuck, so get involved, walk around, and enjoy the outlandishness of this awesome city!
---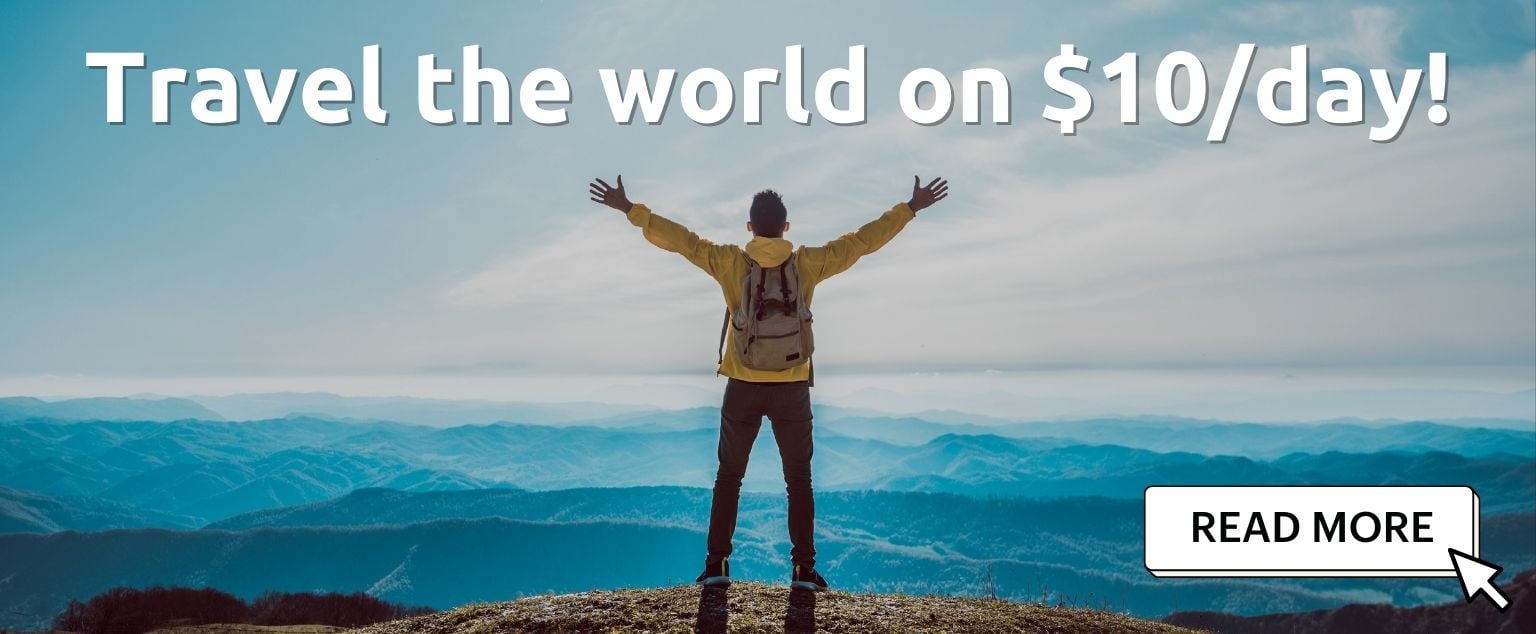 And for transparency's sake, please know that some of the links in our content are affiliate links. That means that if you book your accommodation, buy your gear, or sort your insurance through our link, we earn a small commission (at no extra cost to you). That said, we only link to the gear we trust and never recommend services we don't believe are up to scratch. Again, thank you!