The Grand Canyon is one of the most magnificent natural wonders in the United States. It has spectacular landscapes, boasts incredible views and is bursting with outdoor adventures. The Grand Canyon is, without a doubt, a must-see for anyone visiting the USA.
But the area is massive and knowing where to stay is super important, which is exactly why I wrote this guide for where to stay in Grand Canyon. From taking on the skywalk  at Grand Canyon West to hiking the famous Grand Canyon South Rim trails, you're going to want to be in the right spot to do as much as you can here.
This article breaks down the towns and cities near the Grand Canyon into easy to digest bites. Organised by interest, you'll be able to easily identify which area is right for you and where stay at the Grand Canyon.
So whether you're looking to save a little money, see the best sights or party all night long, you've come to the right place to find the perfect Grand Canyon lodge. From an overnighter from Las Vegas to an extended hiking vacay, there's plenty of place for everyone.
Let's jump into where to stay in Grand Canyon, Arizona.
Looking for a specific place to stay at the Grand Canyon?
These are our highest recommendations for places to stay in Grand Canyon. Whether you're backpacking around the USA or you're on a flash vacay, there's something for every budget and style of trip.
Whether you're looking for a Grand Canyon hotel with an indoor pool or a free shuttle bus to a simple dorm to bunk up for the night, look no further!
This gorgeous little home is ideal for couples visiting the Grand Canyon. The house is cosy and quaint and comes. with a kitchen, a garden, free parking, and wifi it's a great place to stay at the Grand Canyon. It's just a short walk from downtown Flagstaff, providing an ideal base from which to explore the area.
With low prices, comfortable dorms, and basic décor, this hostel is the best budget option in the city. Located off the world-famous Route 66, this Flagstaff hostel is close to wonderful shops and great restaurants. There are laundry facilities and a supermarket a short walk away. Guests can enjoy a spacious common room and free wifi.
The Baby Quail Inn is a comfortable three-star hotel located in the centre of Sedona. It has spacious and well-equipped rooms with kitchenettes and free wifi. There's also a beauty centre, an outdoor pool, and a golf course on site. All of this combined makes this our pick for the best hotel in Grand Canyon.
The Grand Canyon is one of the most recognisable natural wonders in the world.
Located in northern Arizona in the western USA, the Grand Canyon comprises several distinct areas, including the national park itself. A haven for hikers, explorers and outdoor adventurers, the Grand Canyon is bursting with sights to see, trails to climb and attractions to explore.
Picking the right place to stay is crucial for planning a trip to the Grand Canyon and getting the full scope of this extraordinary specimen. There are several towns and villages within the park that are well-established and set up for hosting tourists, however, these hotels and lodges often fill up quickly. Thankfully, there's a myriad of options outside of the park for travellers to stay in.
This guide will examine the five best areas to stay in and around Grand Canyon.
Grand Canyon Village: Beginning, of course, with Grand Canyon Village. The most popular gateway to the park, Grand Canyon Village is home to a great number of historic buildings and landmark attractions including the Grand Canyon Skywalk at Grand Canyon West. It's also where the Grand Canyon railway is located.
Tusayan: Heading south and you'll pass through Tusayan. A small town set just over three kilometres from the park's entrance, Tusayan is where you can combine your desire to explore nature with shopping, dining and nightlife options. It's also the closest town to Grand Canyon airport and is a great spot for exploring the South Rim.
Williams: As you continue travelling south you'll arrive in Williams. A small but vibrant city, Williams is packed with family-friendly attractions and restaurants.
Flagstaff: Set to the east of Williams is Flagstaff. Surrounded by nature, Flagstaff is where you can enjoy stunning scenery, interesting activities and a good variety of budget accommodations and some of the best low cost Grand Canyon hotels.
Sedona: Finally, set south of Flagstaff is Sedona. A city famous for its striking and serene setting, Sedona has a vibrant arts community, excellent dining, and lively nightlife offerings. If you're looking for some Grand Canyon hotels with more amenities closeby, this is a great spot.
You even have the option of finding a place to stay in Las Vegas, soaking up Sin City's madness, and do the Grand Canyon as a day trip if you are short on time. Combining a trip to the Grand Canyon with a visit to Las Vegas or vice versa is the ideal way to see two very different sides of the US.
Still not sure where to stay in Grand Canyon? Don't worry, we've got you covered!
Now, let's take a look at the five best places to stay in Arizona to see the Grand Canyon. Each is a little different from the last, so be sure to pick the one that's the right fit for you.
1. Grand Canyon Village – Where to Stay when Visiting Grand Canyon for the First Time
Grand Canyon Village is a small town bursting with charm and character. Located within Grand Canyon National Park, this town's main focus is catering to tourists visiting the area. With its historic buildings and famous landmarks, this centrally situated town is our recommendation for where to stay at the Grand Canyon on your first visit.
Here you'll find the main visitor centre and you'll be super close to the action at Grand Canyon West and the incredible Grand Canyon South Rim trail.
This rustic retreat is ideal for hikers, bikers and trekkers. Grand Canyon Village is located within walking distance of some of the Grand Canyon's most famous trailheads. Whether you're looking for great views or a good workout, Grand Canyon Village is perfect for a first-timer exploring one of America's most famous national parks. Here you'll find a good mix of Grand Canyon lodging options for all budgets.
This home is exactly what you need coming into the area. There are so many cool things to say about this home, but one memory you won't forget is how incredible star-gazing is staying here — minimal light pollution and surrounded by a warm fire pit! The home has two living rooms and 5 bedrooms so it's perfect for a large family or a group of friends. It's super close to the south rim so you can get straight into the action right from the off!
Located in nearby Tusayan, this bungalow is a fantastic base for your time in Grand Canyon. The kitchen comes decked out, and it can sleep up to 6 people comfortably meaning there's room for the whole family! This Grand Canyon lodge also boasts an incredible location close to the free shuttle bus but with easy access to nature and plenty of trails.
Best Budget Accommodation in Grand Canyon Village: Grand Canyon Lodge
Undoubtedly your cheapest bet for staying in Grand Canyon National Park is the park's largest lodging facility. It's located in the pinon and juniper pygmy forest and is super close to the canyon itself whilst also having unbeatable amenities both onsite and within walking distance including a cafeteria.
Best Hotel in Grand Canyon Village: Arizona Luxury Expeditions – Grand Canyon
Well, it's glamping, but at a certain point luxury, glamping just becomes a hotel. Besides… with a breakfast like this, who can complain anyway! The beds and tents are super cosy and decked out with all the trimmings to feel like a little fur cabin, and you'll be touring the Grand Canyon in style from right on its doorstep!
Things to See and Do in Grand Canyon Village
Hike the Cape Final Trail.
Take in the incredible views of the canyon from Eagle Point Skywalk at Grand Canyon West.
Drive the Hermit Road and views the incredible vistas of the canyon.
Have your cameras ready, you won't want to miss the chance to snap pictures of the unforgettable view from Grandview Point.
Drive along the rim of the canyon on the South Kaibab Trail.
Explore the stunning surroundings on the Grand Canyon South Rim Trail.
Trek the spectacular Bright Angel Trail.
Hop in a helicopter and enjoy a bird's eye view of the breathtaking national park.
Dine on delicious American fare at the Phantom Ranch.
2. Flagstaff – Cheap Place to Stay near the Grand Canyon on a Budget
Set 90 minutes south of Grand Canyon is Flagstaff. Nestled between the mountains, the desert and a dense pine forest, this city seamlessly combines nature and modern conveniences. Staying in Flagstaff means you can enjoy all the benefits of the city with the incredible views of the countryside.
Flagstaff is also where you'll find the best options for budget accommodations. Home to the best hostel as well as a handful of inexpensive and cost-conscious hostels, Flagstaff is our recommendation for where to stay if you're balling on a budget. Alternatively, there are also heaps of beautiful cabins in Flagstaff if you're wanting a bit more privacy and luxury.
It's also perfect for those who are keen to cap off the day with a good glass of beer. Flagstaff is home to numerous brewpubs and microbreweries that serve up tasty and refreshing local ales, lagers, stouts and porters.
In the heart of Flagstaff's historic centre is this charming little cottage just built for the romantic pair (or single adventurer). The bathroom ceiling is a bit low-hanging for the basketball players among us, however, past that the place is perfect with an outdoor chilling area and a fully stocked kitchen. The (very lovely) host even provides some basic condiments and an assortment of snacks upon arrival. It's one of the lovliest Grand Canyon lodges.
A great location, wonderful staff and a fantastic restaurant are just a few of the reasons this is one of the best hotels in Flagstaff. You'll enjoy free wifi, a swimming pool, and luggage storage. A short drive to the national park, this Grand Canyon hotel is ideally located for exploring the region.
The Little America Hotel is one of our favourite hotels in Flagstaff. The hotel rooms are spacious and spotless, and each is equipped with a flat-screen TV and a refrigerator. This hotel also comes complete with a stunning swimming pool, a relaxing Jacuzzi and a modern gym.
Things to See and Do in Flagstaff
See millions of years of geological history at Walnut Canyon National Monument.
Marvel at the panoramic views from Humphrey's Peak.
Visit the remains of ancient volcanic peaks at the San Francisco Peaks.
Explore the spectacular Coconino National Forest with its incredible red rock structures.
Wander throughout Wupatki National Monument, an ancient pueblo.
Dive deep into the history of this unique region at the Museum of Northern Arizona.
Enjoy a slice of fresh and delicious pizza at Nimarco's.
Sip a cappuccino as you enjoy a filling bowl of tasty oatmeal at MIX on the Square.
Drink great craft beer at The Annex Cocktail Lounge.
Grab a pint at Mountainaire Tavern.
3. Sedona – Best Town to Stay near the Grand Canyon for Nightlife
An hour outside of the Grand Canyon is the city of Sedona. Set against the backdrop of Arizona's incredible Red Rocks, Sedona bursts and buzzes with charm and flair. With its vibrant arts community and incredible outdoor adventures, Sedona is where to stay to enjoy the best of both worlds.
Sedona is also our pick for where to stay if you're looking for nightlife near Grand Canyon National Park. Here you'll find a good selection of bars and pubs, as well as a few fun nightclubs and dance halls.
Love to eat? Then Sedona is for you!
Sedona boasts an excellent selection of delicious and decadent restaurants perfect for any taste, style or budget. So whether you're craving pizza, burgers, steak or Szechuan, Sedona has something for every palette.
Not keen on stuffy hotels? Find the cutest cabin getaways in Sedona for something a little bit closer to nature too!
From the moment you walk through the door, you will feel a wave of serenity. The home is perfect for couples wanting a little bit of peace after a long night of checking out the nightlife and activities in Sedona. Just lay in the hammock and take in the view of the chimney rock. Once you take a footstep in the garden, you'll understand why this is the perfect home in Sedona to stay!
This charming two-star hotel is a great option for budget accommodations in Sedona. Surrounded by exquisite nature, this hotel is well-positioned for exploring the region. It has 15 comfortable rooms with modern amenities. There's also a great swimming pool for guests to enjoy.
Situated in scenic Sedona, this two-star hotel is close to a good selection of restaurants and cafes. The Bell Rock Inn has clean and comfortable rooms outfitted with coffee makers, fridges and spa bathtubs. There's also free wifi and a BBQ area.
The Baby Quail Inn is a comfortable three-star hotel located in the centre of Sedona. It has spacious and well-equipped rooms with kitchenettes and free wifi. There's also a beauty centre, an outdoor pool, and a golf course on site. All of this combined makes this hotel our pick for where to stay in Sedona.
Things to See and Do in Sedona
See towering Cathedral Rock.
Hike the beautiful Broken Arrow Trail.
Marvel at the gorgeous views of Bell Rock.
Explore the beautiful red rocks, streams and waterfalls of the Oak Creek Canyon.
Eat well at the family-owned Oak Creek Brewery.
Enjoy delicious Mexican and American fare at the Red Rock Café.
Kickstart your day with a filling breakfast at Casa Sedona Restaurant.
Grab a pint and sip a cocktail or two at Mooney's Irish Pub.
Hang out and spend a rowdy night at Full Moon Saloon.
Head out late at night and enjoy gazing up at the incredible star-filled sky.
4. Tusayan – Coolest Place to Stay near the Grand Canyon
Tusayan is far and away the best town near Grand Canyon. Not only is it located less than 3.5 kilometres from the park's entrance, but it boasts a number of fun and exciting outdoor activities and adventures.
Keen shutterbugs and avid photographers will adore making their base in Tusayan. This small town is close to the Hermit Train and Guano Point, which offer amazing panoramic views of the magnificent Grand Canyon.
Tusayan is also where you can combine your love for the outdoors with great food, shopping and drinking. With charming shops and delicious restaurants, there's plenty to see, do and experience in Tusayan as part of your Grand Canyon itinerary.
located 1 mile south of the Grand Canyon National Park's south rim entrance this cute bungalow is in the perfect spot for exploring all the epic spots the area has to offer. The property is nestled in Ponderosa Pines with a porch where you can sit back and relax after a day of exploring. There's also a fully equipt kitchen and a comfy ottoman as well as a washing machine and dryer.
There aren't many cheap accommodations in Tusayan, but at least this one has free breakfast! This delightful hotel has a range of great features, including an indoor swimming pool and a hot tub. It has large and modern rooms with private bathrooms, tea and coffee facilities, and a flatscreen TV for vegging out after hiking.
Conveniently located near Grand Canyon National Park, this fantastic hotel is a great base for exploring Tusayan. It has a number of wellness features, including a Jacuzzi, an outdoor pool, and a sauna. There's also a beauty centre, a bowling alley and a restaurant on-site.
This modern and elegant hotel is our recommendation for where to stay in Tusayan. It has an indoor pool, a Jacuzzi and a great fitness centre. Its rooms feature stylish décor, private bathrooms, and free wifi. There's also a fantastic on-site restaurant that serves cuisine from around the world.
Things to See and Do in Tusayan
Experience the history and ancient relics at the Tusayan Ruin Walk.
Enjoy great views as you tackle the incredible Hermit Trail, one of the best hikes in Arizona.
Learn all about the Grand Canyon at the National Geographic Grand Canyon Visitor Center.
Stop by the Little Colorado River Overlook and take in the spectacular canyon views.
Visit Guano Point for a panoramic view of the Grand Canyon.
Stop for a quick swim at The Chains.
Snack on a delicious sandwich from RP's Stage Stop.
Eat good food while enjoying great views at the Desert View Trading Post.
Dine on delicious American dishes at the cosy Coronado Room.
Shop for souvenirs at the Tusayan General Store.
Check out the historic Tusayan Ruins, a Native American settlement dating back 800 years.
5. Williams – Best City to Stay near Grand Canyon for Families
Williams is a small and bustling city set just one hour's drive from Grand Canyon National Park. Home to a good range of restaurants, shops and homestyle diners, Williams has a lively community feel combined with good old western hospitality.
Our pick for where to stay for families visiting Grand Canyon, Williams is packed with activities and things to do that kids of all ages will love. From exploring the historic Route 66 to encountering wild goats, bears and bison in their natural environments, Williams is where your family will create memories that will last a lifetime.
This home will you the feeling that you just walked into Africa. Seriously, the shower curtain has the potential to bring out the Lion inside of you! Sleeping at about ten, mostly children, this is the spot to stay during your excursions around the area. And if it's not too cold, make sure you walk down to the local restaurant and listen to the live music they have every night!
With low prices, comfortable dorms, and basic décor, this hostel is the best budget option in the city. Located off the world-famous Route 66, this hostel is close to wonderful shops and great restaurants. There are laundry facilities and a supermarket a short walk away. Guests can enjoy a spacious common room and free wifi.
Our choice for where to stay in Williams, this hotel is close to Williams Depot, with great restaurants and the stunning Santa Fe Lake. It boasts a range of premium features, like an indoor pool and free wifi. The rooms are well equipped with modern amenities and air conditioning.
The Rodeway Inn is a quaint and charming hotel set at the heart of Williams. It is a short walk from restaurants, shops and the town's top attractions. This hotel boasts a range of facilities, and guests can also enjoy fishing, hiking and water activities.
Things to See and Do in Williams
See animals in their natural habitats as you explore Bearizona Wildlife Park.
Ride the historic Grand Canyon Railway from Williams through to the canyon.
Visit the Williams Depot, a train station dating back to 1908.
Walk, feed and interact with deer at the Grand Canyon Deer Farm.
Wander throughout the Downtown Historic District of Williams.
Trek to the viewpoint at the top of Sycamore Canyon.
Eat spicy, savoury and delicious food at Kicks on the historic Route 66.
Satisfy your appetite with a range of delightful offerings at Pine Country Restaurant.
Sip a great coffee and indulge in a tasty treat at Grand Canyon Coffee and Café.
Here's what people usually ask us about the areas of the Grand Canyon and where to stay.
You can never be too prepared. Having good insurance is rule number 1.
ALWAYS sort out your backpacker insurance before your trip. There's plenty to choose from in that department, but a good place to start is Safety Wing.
They offer month-to-month payments, no lock-in contracts, and require absolutely no itineraries: that's the exact kind of insurance long-term travellers and digital nomads need.
SafetyWing is cheap, easy, and admin-free: just sign up lickety-split so you can get back to it!
Click the button below to learn more about SafetyWing's setup or read our insider review for the full tasty scoop.
The Grand Canyon is one of the most incredible natural wonders in the United States. Whether you're someone who wants to explore the canyon rim, scale the trails, take in the views, or watch the sunset, the Grand Canyon is a destination that will enchant every visitor.
Whether you're here on an extended hiking trip or just popping over from Las Vegas, you've got to pick the right spot to make the most of your time.
In this article, I've highlighted the five best places in the Grand Canyon area to stay. If you're still not sure where to stay, here is a quick recap of my favourite Grand Canyon hotels, hostels and rentals.
Grand Canyon International Hostel is located close to bars, shops and restaurants in central Flagstaff. It has a TV lounge, laundry facilities, and a delicious breakfast.
Our recommendation for the best hotel is Baby Quail Inn because it has incredible amenities and features, including a pool, beauty centre and a golf course.
Do you own an awesome hostel, hotel or apartment? Want to be featured on our list? Email [email protected] to find out how.
---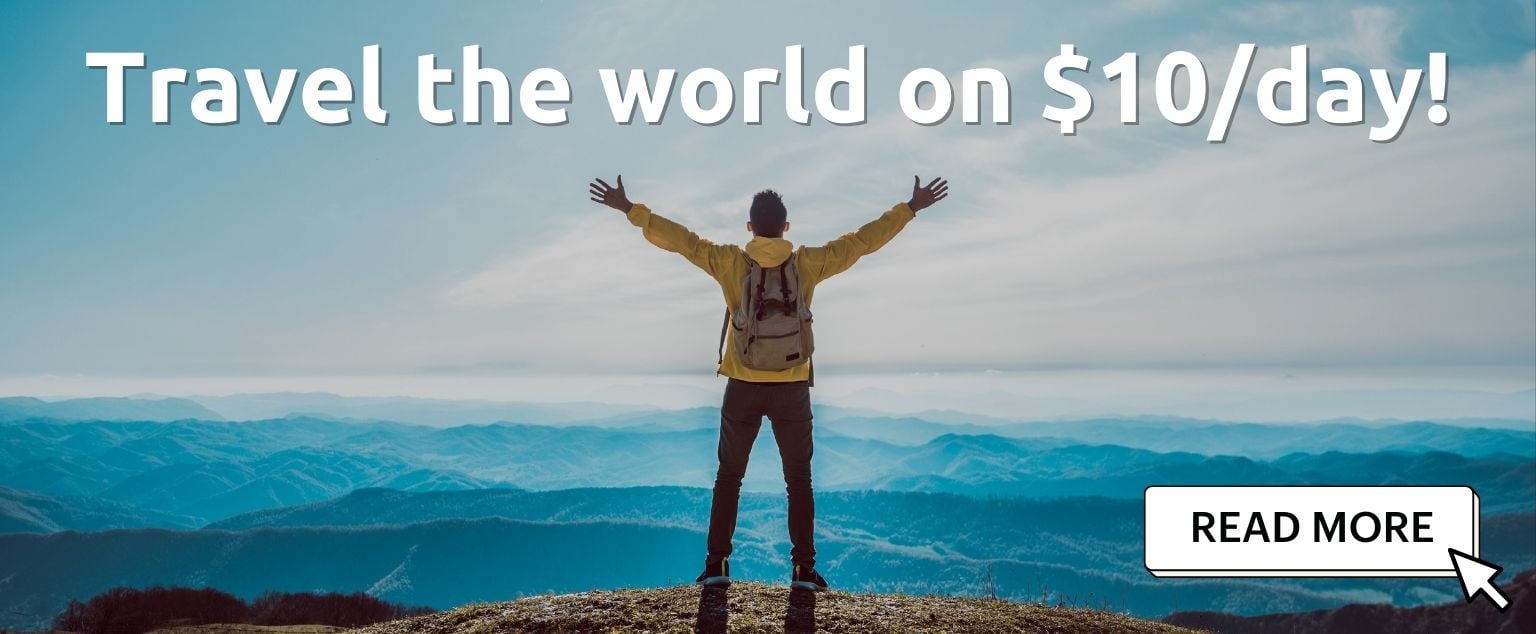 And for transparency's sake, please know that some of the links in our content are affiliate links. That means that if you book your accommodation, buy your gear, or sort your insurance through our link, we earn a small commission (at no extra cost to you). That said, we only link to the gear we trust and never recommend services we don't believe are up to scratch. Again, thank you!