The red rock landscapes, breathtaking canyons, and beautiful pine forests of Sedona are complemented by the cool, contemporary vibe in the city center which is full of fun shops, spas, and art galleries. It's a ready-made vacation destination whether you're looking for a wild adventure or a relaxing break from it all!
Of course, it's fairly easy to find a basic hotel room in Sedona or the larger nearby city of Flagstaff, but where's the fun in that? For a true experience of the amazing Arizona landscape, you're better off staying in one of the great Cabins in Sedona – a unique accommodation in Sedona.
To give you a kickstart on your vacation planning, we've put together this list of the best cabins in Sedona. Each of these awesome properties is like your own personal ticket to an incredible and unforgettable trip to the southwestern magic of Arizona!
In a Hurry? Here's Where to Stay in Sedona for One Night
FIRST TIME IN SEDONA
No Roughin' It Cabin with Excellent Views
You'll have a picture-perfect photo opportunity right from the porch of this charming little cabin. Well equipped with modern comforts, the cabin also maintains the atmosphere of a southwest adventure waiting to happen!
NEARBY ATTRACTIONS:
Red Rock State Park
Cathedral Rock
Oak Creek Canyon
Is this amazing Sedona Cabins booked for your dates? We've got your back with our other favorite properties below!
Staying in Cabin in Sedona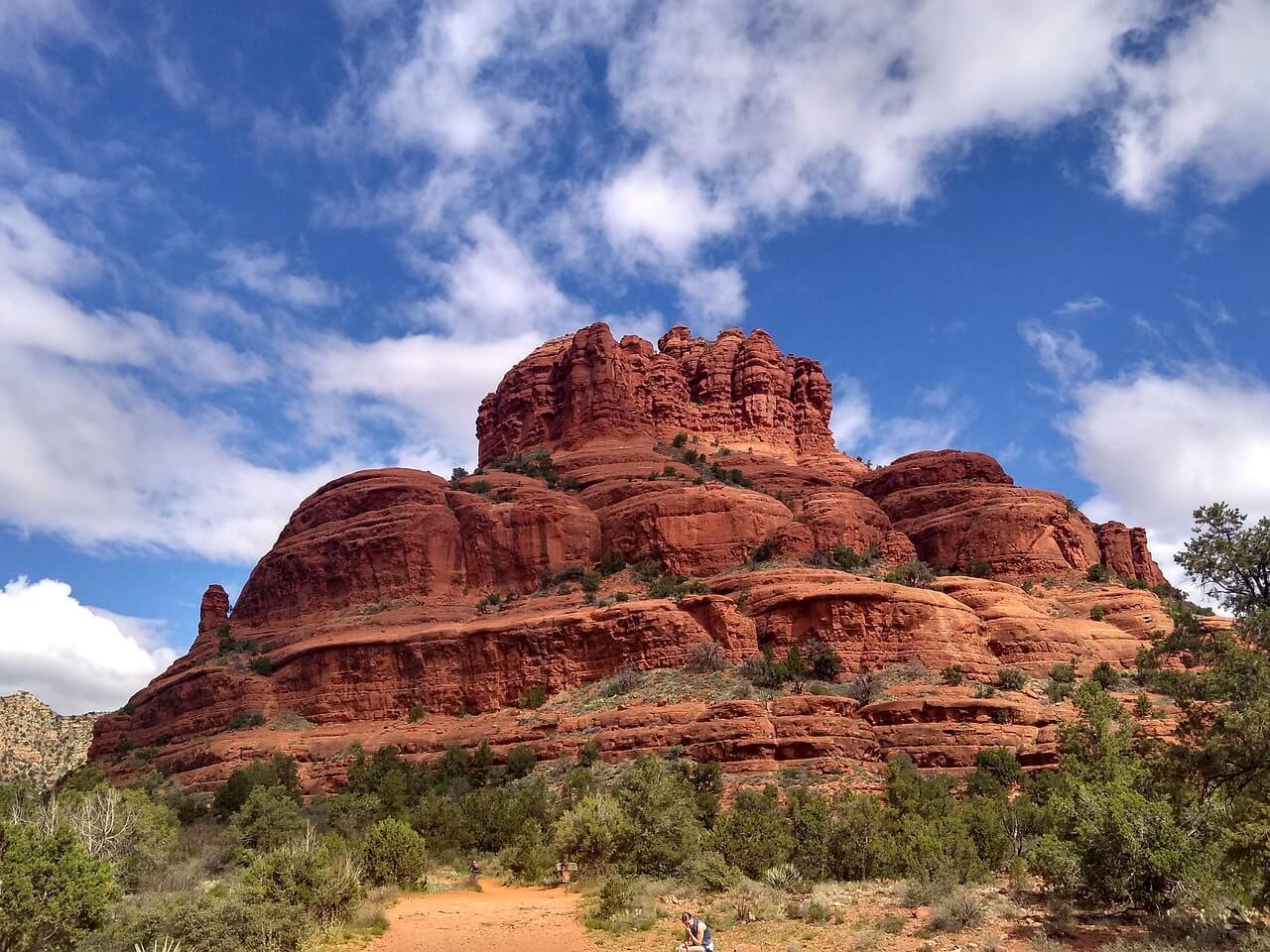 Sedona itself is a fairly small city, but it certainly has a big character and amazing neighborhoods and areas. With places like Red Rock State Park for your backyard, there are endless possibilities for places to explore. There are plenty of cabins to choose from in the area, either right in the downtown area or farther removed if you prefer more peace and quiet.
No matter which cabin you pick, all the best cabins in Sedona offer some truly breathtaking wilderness experiences. You might wake up with a view of a canyon or possibly have a secluded feeling surrounded by a dense pine forest!
Even the more remote cabins are still within easy driving distance of downtown Sedona. It's recommended to have your own vehicle when visiting Sedona, since public transportation in the area and around the parks and canyons is limited.
Cabins are great options for people who want more privacy than you'd typically get at a hotel, but still have modern comforts and conveniences. It's like the perfect balance between a camping experience and a luxury vacation combined in one!
What to Look for in a Cabin in Sedona
Sedona is home to some of the coolest cabins in Arizona, but there are some things you should look out for when selecting the right cabin for you. Since there are lots of properties to choose from, you can find a range of prices to fit any budget without losing value or comfort.
You can find tiny, studio-size cabins or large luxury house-style properties so there's a place to fit solo backpackers or big families! No matter the size, you'll usually have the entire space to yourself and you won't have to worry about annoying, loud neighbors like you would at most hotels.
Location is everything when it comes to Sedona, and thankfully cabins are spread out so you can pick a spot that's close to the Sedona attractions that interest you most. If you prefer to be close to shops and conveniences, you'll want to find a property closer to downtown, while other more remote cabins have access to certain trails or views of the canyons you wouldn't otherwise have access to.
To compare cabin prices, location, and amenities, you can check out search platforms like Airbnb and Booking.com. Sedona is a popular place to visit, so you'll want to book a cabin in advance to make sure you reserve your favorite spot before it's taken up by someone else!
THE OVERALL BEST CABIN IN SEDONA
THE OVERALL BEST CABIN IN SEDONA
No Roughin' It Cabin with Excellent Views
> $
> 2 Guests
> Hot tub
> Fire pit
THE BEST BUDGET CABIN IN SEDONA
THE BEST BUDGET CABIN IN SEDONA
Kylie's A-frame Kabin
> $
> 2 Guests
> Equipped kitchen
> Spacious deck
THE BEST CABIN FOR COUPLES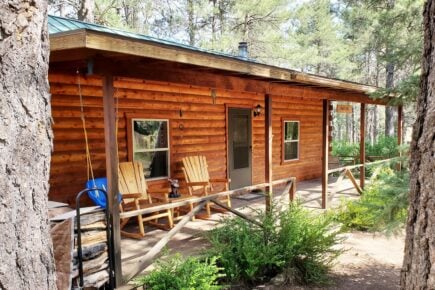 THE BEST CABIN FOR COUPLES
Lazy Bear Cabin
> $
> 2 Guests
> Hot tub
> Kitchen
THE BEST CABIN FOR A GROUP OF FRIENDS
THE BEST CABIN FOR A GROUP OF FRIENDS
Buffalo Trail Treetop Retreat
> $$
> 6 Guests
> Equipped kitchen
> Indoor sauna
OVER-THE-TOP LUXURY CABIN
OVER-THE-TOP LUXURY CABIN
Spacious Sedona View Cabin
> $$$$
> 6 Guests
> Equipped kitchen
> Hot tub
THE BEST CABIN FOR FAMILIES VISITING SEDONA
THE BEST CABIN FOR FAMILIES VISITING SEDONA
Cozy Cabin Mountain Retreat
> 4
> 6 Guests
> Equipped kitchen
> Outdoor BBQ
THE BEST CABIN FOR BACKPACKERS
THE BEST CABIN FOR BACKPACKERS
Studio Cabin on Oak Creek
> $
> 2 Guests
> Kitchenette
> Large deck
The Top 10 Cabins in Sedona
Ready to start your southwest adventure? Finding the right place to stay is step one, and hopefully, after reading through our list of the best cabins in Sedona, you'll be ready to make a reservation and get on the road!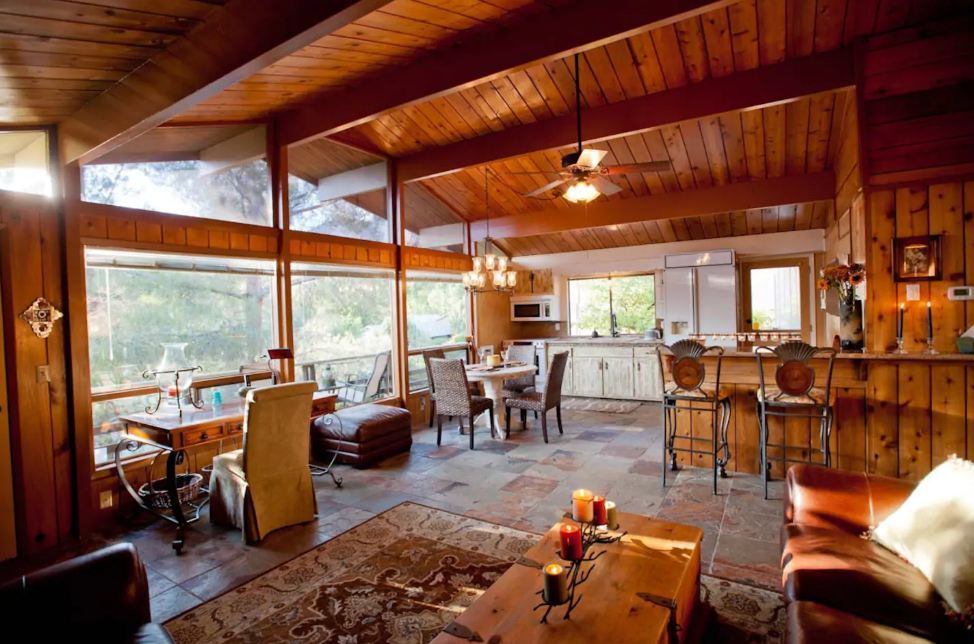 Conveniently located close to the town conveniences of West Sedona, the No Roughin' It Cabin lets you enjoy the beauty of Arizona in style! The private cabin has a large porch with lounge chairs, a hot tub, and home-style amenities like a kitchen and laundry.
Movie theaters, shops, and restaurants are all within a 2 mile radius as well as top outdoor attractions like biking paths and hiking trails. You can park your own vehicle onsite, or there is also convenient public transportation with the Sedona Trolly and a bus system.
$
2 Guests
Equipped kitchen
Spacious deck
No need to break your bank on a trip to Sedona! This awesome woodland cabin is practically a dream come true. You'll still have excellent modern amenities like a kitchen, central heating, and smart TV as well as possible sightings of elk, coyote, fox, and deer right from the cabin.
Having a car with 4 wheel drive is recommended especially in winter, but if necessary it's possible to use Uber and Lyft. There are plenty of hiking options right near the cabin and within a short drive, you can find shops, restaurants, ski areas, and other cool activities.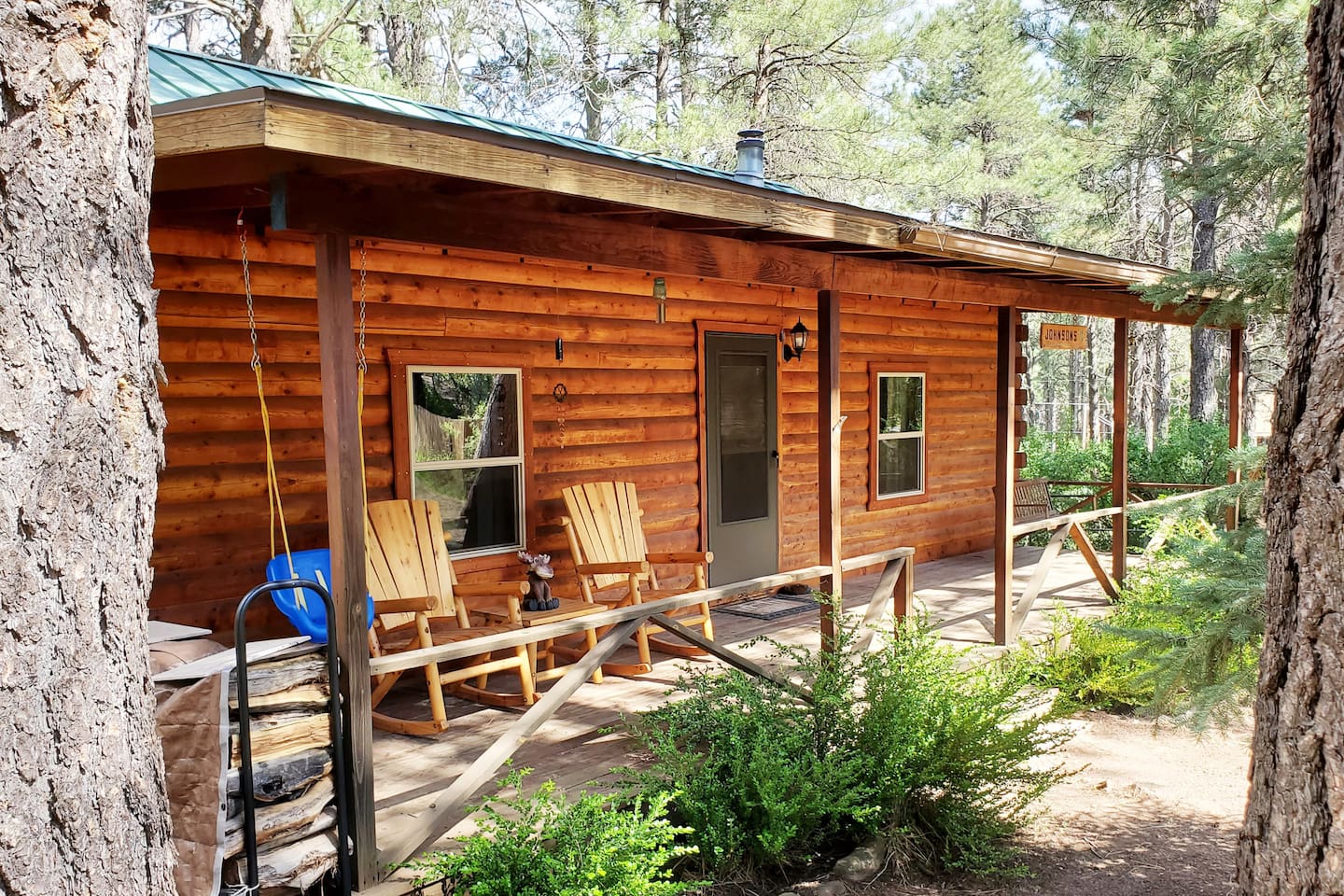 If your own private cabin in Sedona sounds like the perfect romantic getaway then you'll love the Lazy Bear Cabin! Just a short 10 minute drive from the shops and restaurants in Flagstaff, the cabin still has a totally secluded feel with scenic views and trailheads right on the property.
The cabin comes equipped with all the comforts of home, plus an outdoor hot tub and a wood stove for an extra-cozy feel during the winter. After a day of exploring the parks or mountain biking, you can relax around the outdoor fire pit, sit back, and watch the stars!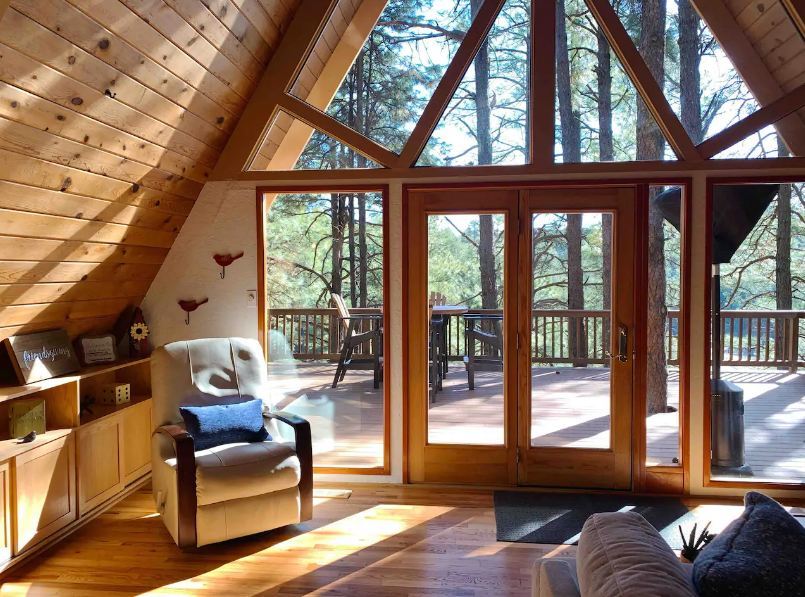 $$
6 Guests
Equipped kitchen
Indoor sauna
With huge windows overlooking the forest, this cabin has everything a group of friends needs for a memorable trip to Sedona. You'll feel totally secluded in the woods, but it's less than 30 minutes by car to Sedona and only a few minutes to shops and restaurants in Flagstaff.
The cabin comes equipped with luxuries like an indoor sauna, equipped kitchen, laundry, and two bathrooms, plus a huge spacious deck with picnic furniture. There are trail heads right at the property for you to go out hiking and exploring all day long!
Is This the Best Travel Backpack EVER???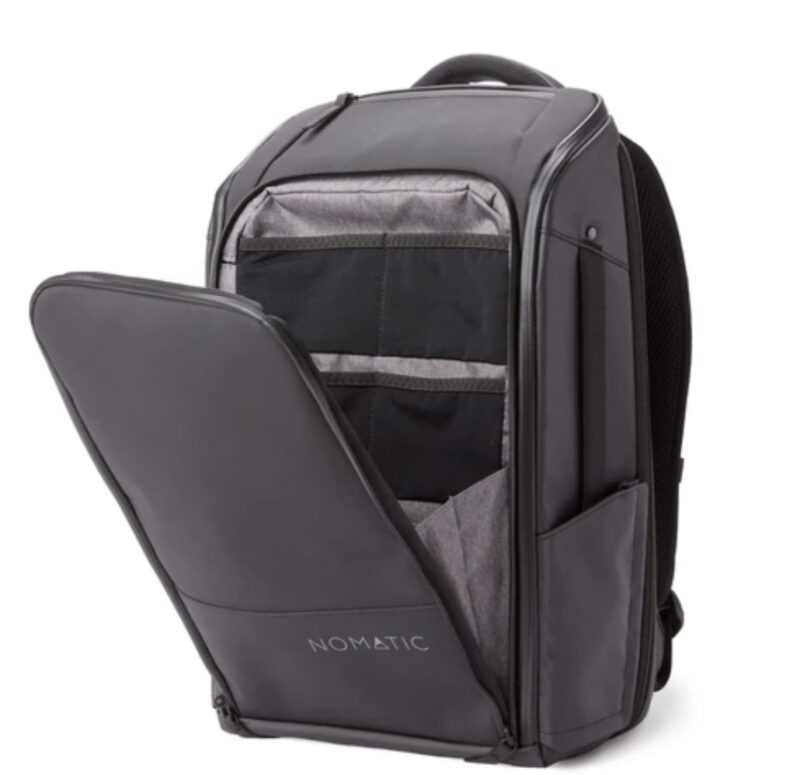 $$$
6 Guests
Equipped kitchen
Outdoor BBQ
Look at the pictures yourself, this Cabin is a real treat. Stylish, luxurious, and spacious, you'll get the ultimate relaxation in this beautiful cabin. Watch the stars from your terrace at night and enjoy the little onsite fire pit while the sun goes down.
The cabin is located in Munds Park just outside of Sedona, where there are lots of options for fun family activities like hiking trails, museums, and famous landmarks like Bell Rock and Chapel of the Holy Cross or you can take a day trip to the Gateway to the Grand Canyon!
$$$
6 Guests
Equipped kitchen
Hot tub
Staying at this ranch style cabin is like staying at your own private resort! Not only will you have amazing views and home-style comforts, but also cool luxury features like a large hot tub where you can relax and stargaze after a day of hiking and exploring the nearby parks.
It's just 5 miles to reach downtown Sedona, and in the area, there are endless options for fun activities like swimming holes, golf shops, and hiking trails. The cabin is spacious enough for big families, but won't feel overwhelming for smaller ones. Kids can play outside the big property while parents can enjoy a nice drink in the garden.
$
2 Guests
Kitchenette
Large deck
Located in Sedona and just next to the famous Oak Creek Canyon, this historic cabin has everything a backpacker needs for a fun and successful trip. In addition to the cozy bed, there's also a small kitchenette, beautiful deck with a view, and private access to the creek from the property.
The Indian Gardens Cafe is within walking distance if you want to go to a restaurant, or you can drive a few moments into town to pick up groceries. It's a great place to relax, unwind, and reconnect with nature while traveling!
$$
4 Guests
Hot tub
Equipped kitchen
Just a block away from the main stretch of Uptown Sedona, you'll be walking distance from shops, grocery stores, and restaurants but also have a spectacular view of the landscape! The large private deck is a perfect place to sit, relax, and take in the surroundings.
There are lots of activities nearby like hiking, jeep tours, and biking, but the cabin is also a great place to just chill and relax. With a big hot tub, comfy living room with a TV, laundry, and kitchen, you'll have everything at hand for an awesome trip!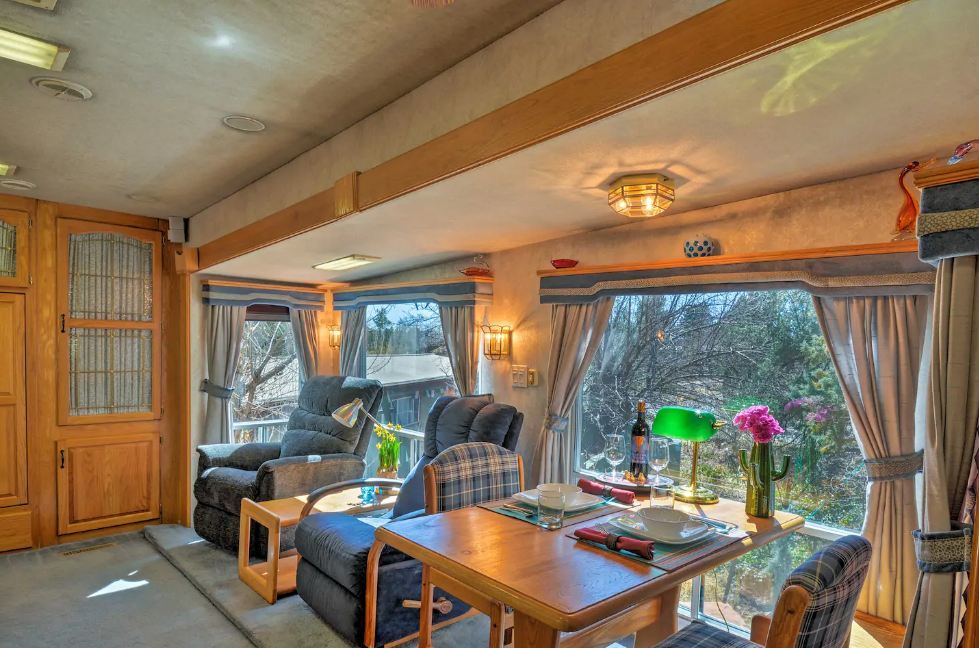 $$
2 Guests
Outdoor grill
Panoramic views
Even among choices for cabins, this place definitely ranks near the top of the list for unique accommodation in Sedona! This 5th wheel rec unit has been remodeled to pass all expectations and provide a special and romantic escape for a traveling couple.
Just because it's small doesn't mean you have to go without modern comforts. There's a well-equipped kitchenette, outdoor BBQ and fire pit, laundry, Wi-fi, TV, heating, and air conditioning! And of course, spectacular views of notable rock formations and access to numerous hiking trails nearby.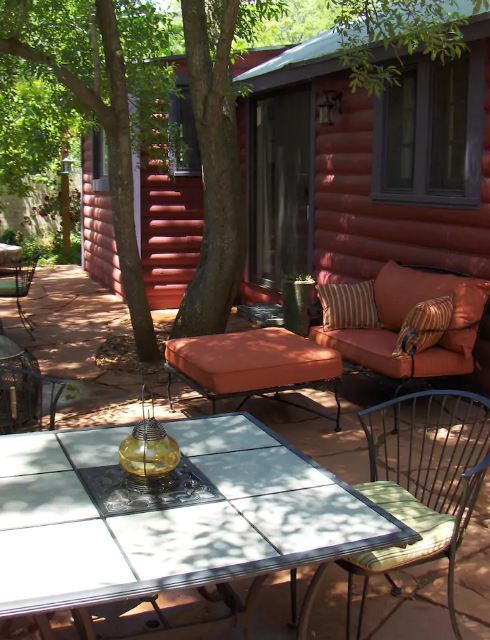 $$
2 Guests
Hot tub
Patio and picnic furniture
Right next to Oak Creek and only a short drive from town attractions and conveniences of Sedona, this cabin is a prime spot to spend a weekend getaway! You'll have a peaceful, woodland setting while still being close to the center of Sedona.
The cabin has an awesome, luxury hot tub where you can relax after a day of hiking and exploring the nearby parks. There are plenty of restaurants just a few minutes away by car, or you can have a cookout on the grill or use the kitchenette to prepare your own meals.
Check out these other great resources
We have loads more information to help you plan your trip.
FAQ about Cabins in Sedona
Here's what people usually ask us when they look for vacation homes in Sedona.
Final Thoughts on Cabins in Sedona
Whether you're just stopping by Sedona for a few nights as part of a larger trip or planning a long vacation to explore the incredible landscape of Arizona, you won't want to waste a single moment of your vacation time!
Staying at one of the great choices for unique accommodation in Sedona is a great way to not only live each moment to the fullest, but also give you a chance to have more authentic and local experience. Now that you've gotten some ideas about where to stay from our list of the best cabins in Sedona, all that's left for you to do is make a reservation and get on the road!
To be prepared for any trip, it's a good idea to get traveler's insurance. Places like Sedona have great opportunities for awesome outdoor adventures, but there's always a chance for an accident, and having good insurance can save you a lot of difficulty in the long run.
And have you thought about getting Travel Insurance for your trip? We've put together a roundup of Travel Insurance for backpackers – check it out here, or if you're low on time, get a quote from World Nomads, our favorite travel insurance provider.
Getting an estimate from World Nomads is simple – just click the button or image below, fill out the necessary info, and you're on your way!

---
Find out how YOU can support the site.
We work hard to put out the best backpacker resources on the web for free! It's all about helping out our tribe of awesome backpacker readers (that's you!). Please visit the link to find out how you can help keep the site going 🙂
For the sake of transparency, some of the links in our content are affiliate links. This means that if you book your accommodation, buy a piece of gear, or sort your insurance through our link, we earn a small commission at no extra cost to you. We only link to stuff that members of the Broke Backpacker team has actually used and never endorse products or services that are not up to scratch. Thanks for your support!