Camping can be as simple as opening your backyard door. You don't have to make a big effort or drive halfway across the country; and if Arizona is what you open your door to every day, you'll be pleased to know that prime camping is right at your doorstep.
Have you ever camped in a desert? Or in the red rocks of Sedona? Maybe you feel like pitching a tent at the Grand Canyon, and luckily for you: it's all there.
We're here to help you navigate the world of camping in Arizona. Whether you're 100% new to camping or just never considered Arizona a viable option, our guide is packed with all the info you'll need to get started.

Do You Want to Travel FOREVER??
Pop your email in below to get a FREE copy of 'How to Travel the World on $10 a Day!'.
Why Camp in Arizona?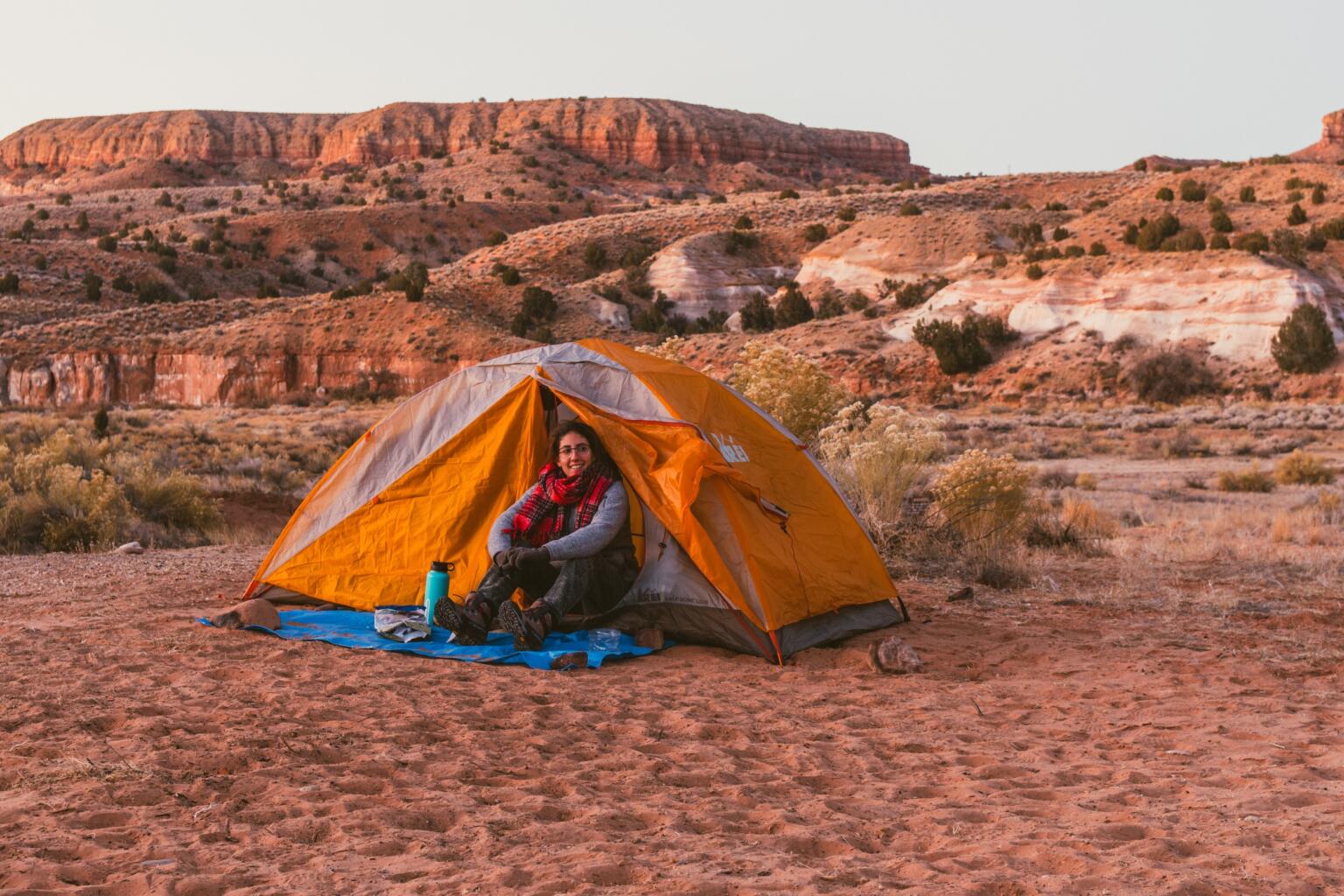 In Arizona, you get deserts in the south and pine forests in the north. Mountains, canyons, and wide-open spaces fill up the spaces in between. If that doesn't sound like an adventure waiting to happen, we don't know what does!
Spread out over 113,000 square miles, Arizona is the 6th-largest state in the US and that leaves you plenty of options to choose from. Its nickname is a dead giveaway to one of its most famous natural wonders – the Grand Canyon State. Yep. That's not a bad place to start at all.
Grand Canyon National Park is just one of Arizona's three national parks. The other two? Petrified Forest National Park and Saguaro National Park. Boom. Add to that six vast national forests and a ton of state parks, and you have a whole lot to explore in Arizona.
Some of Arizona's natural sights are wildly popular across the nation (and the globe), which means crowds are a thing here. Camping, however, means that you'll have a lot more options. Can't get much more early-bird than waking up a stone's throw from the Grand Canyon, right?

Sort out your rental before you arrive to get the best price. RENTALCARS.COM simplifies the process at a lower cost and can match you with the right vehicle for your adventure.
Primitive Camping in Arizona
If adventure is your thing, you're going to love it out here. With truly vast stretches of nature, the options for primitive, or dispersed camping, can seem pretty endless.
You can camp fairly freely in Arizona's national forests (there are six), which have many semi-developed sites as well as developed options if you're looking for stability. There is also the option for dispersed camping on BLM (Bureau of Land Management) land, and you can find the guidelines for that online.
State parks may not offer complete backcountry camping, but on the Arizona government's website for state parks you'll find that "showers are available at all parks with camping." So it's off-grid, sort of, with a few facilities.
If you want it as raw as it gets, the best option is to head to one of Arizona's national forests. The forest belongs to everyone, as they say, but some rules need to be respected – for your safety, as much as for the preservation of nature.
You can camp almost anywhere in the national forest, unless otherwise signposted, and as long as you follow the guidelines…
Do not camp in parts of a national forest that are within city limits, or too close (¼ of a mile) to wildlife watering holes and water tanks that serve it.
Dispose of human and pet waste in a hole at least 7 inches deep.
Do not camp on open meadowlands or drive through them; it really scars the landscape.
Check for campfire restrictions in the area you plan to camp in. Having campfires in the backcountry can cause a lasting impact. And do not leave it unattended.
Bring at least six gallons of water with you. This is needed to fully extinguish your campfire.
Do not use the forests for "residence". Wild camping is limited to 14 days within a 28-day period. You can move camp after that if you stay outside a 25-mile radius of your previous site.
As a rule of thumb, you should leave no trace behind. And as long as you stick to the rules, you won't have any trouble exploring the back-of-beyond in Arizona's national forests.
Some areas in the national forests have been specifically designated as dispersed campsites. These sites are pre-cleared, open and accessible, but are quite popular because they're fairly easy to reach.
Other areas are closed to primitive camping, such as Sedona and Oak Creek Canyon; some are temporary, some have fire restrictions. It's a good idea to check the list of prohibited sites.
You shouldn't have an issue with that, because Tonto and Coconino National Forests alone provide almost five million acres of natural wonderland to play around in. There's no way you'll need more!
However, if you like your campsites developed, your showers warm, and your toilets clean, fear not; there are some great campgrounds outside the backcountry options…
2000+ Sites, Unlimited Access, 1 Year of Use – All. Absolutely. FREE!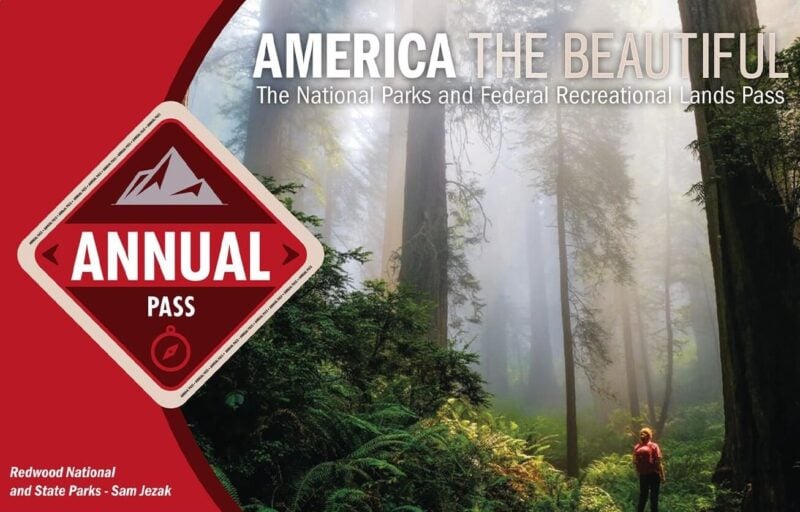 The USA is blisteringly beautiful. It's also blisteringly expensive! Visiting two national parks in day can run you $70+ in entry fees.
Orrrr… you kick those entry fees to the curb, buy an annual 'America the Beautiful Pass' for $79.99, and get unlimited access to ALL 2000+ federally managed sites in the States totally FREE!
You do the math. 😉
Buy the Pass!
10 Best Campsites in Arizona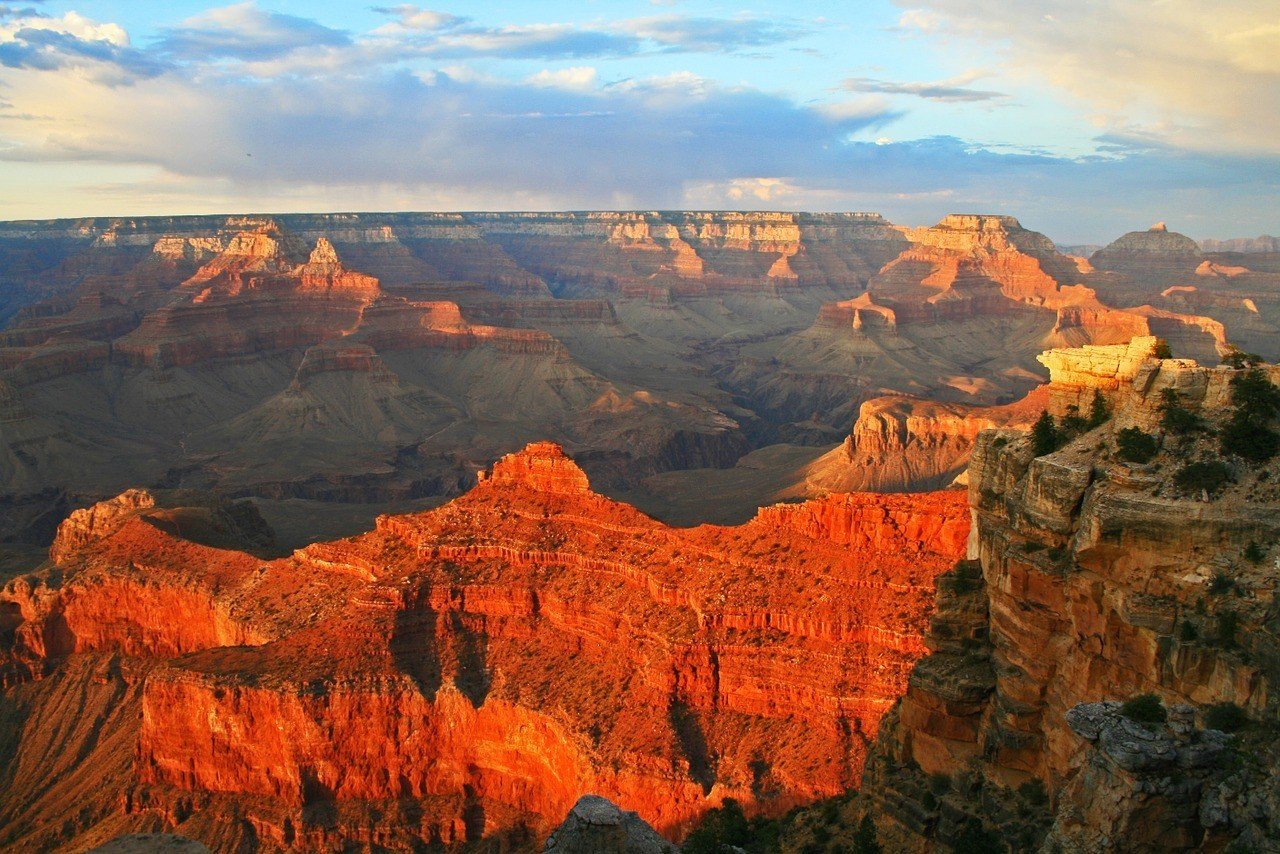 As much as we love primitive camping in Arizona, sometimes it's nice to have a little more comfort. If you like your camping with toilets and showers in the mix, there's plenty of campsite options for you.
To give you some inspiration on where to start, we've listed some of the best campgrounds in Arizona. Grab a pen and note 'em down; from the newbie to the camping wizard, there's something here for every type of camper.
1) Patagonia Lake Campground – Patagonia Lake State Park
Situated in southern Arizona, this state park is centered around the 250-acre Patagonia Lake. It's surrounded by rolling hills and home to white-tailed deer, great blue heron, and an abundance of fish and birds. Naturally, it's as popular for boating and fishing as it is for hiking and birdwatching.
Staying here means you can linger for a while longer than the daytrippers, of course. Camping at Patagonia Lake Campground offers up lakeside camping, with plots right next to the water. Compact in size, it's the perfect start for camping beginners. There are plenty of facilities, and it has a laid-back, friendly atmosphere.
Amenities: Campfires allowed, Toilet available, Pets allowed, Potable water available, Showers available, Picnic table available
Campsite fee: From $25 per campsite per night.
2) Ten X Campground – Kaibab National Forest
Kaibab National Forest is proper wilderness. It's a big place – like 1.6 million acres big – and it's filled with some amazing geological wonders. One of the biggest selling points is that it borders both the North and South Rim of the Grand Canyon.
The forest has a campground that neighbors the Grand Canyon, but as you can imagine it gets pretty hectic. The Ten X Campground may not be as close, but because of that, it's much quieter. It's shaded, has well-spaced plots, and is still within a reasonable distance of the canyon. Easy access too!
Amenities: Campfires allowed, Toilet available, Pets allowed, Potable water available, Picnic table available
Campsite fee: From $20 per campsite per night.
3) Lake Havasu Campground – Lake Havasu State Park
One for the beach-lovers. Lake Havasu State Park offers the chance to have beach days right in the middle of the desert. Situated in Mohave County, time runs slow around here and main duties revolve around chilling out.
You'll get to roam around Lake Havasu's areas and its beautiful trails, or take a boat out to explore the lake.It's a year-round spot that's best experienced with a stay at Lake Havasu Campground.
The campground is situated pretty much on the lake's shore and the 47 plots are a nice mix of primitive and more developed areas. Whether you're looking for a rougher stay or a bit more camping luxury, it's a safe bet here. Stargazing here is also primo.
Amenities: Campfires allowed, Toilet available, Pets allowed, Potable water available, Showers available, Picnic table available
Campsite fee: From $35 per campsite per night.
4) Roper Lake Campground – Roper Lake State Park
Roper Lake State Park has a real Wild West feel to it. Here you get a good mix of hiking trails in desert landscapes with fishing and boating on the water. For the weary-footed, there's the chance to soak those tired feet in a natural stone hot tub.
Just a stone's throw from Roper Lake, this relaxing campground is easily accessible from Highway 191, and it's very popular among fishing enthusiasts. You can also opt to stay in a cabin if you feel like a little bit of a plush experience – or if you forgot your tent.
Amenities: Campfires allowed, Toilet available, Pets allowed, Potable water available, Showers available, Picnic table available
Campsite fee: From $20 per campsite per night.
5) Alderwood Campground – Tonto National Forest
Tonto National Forest is one of the grand-daddies of American national forests. It's the fifth-largest in the country and the largest in Arizona. But aside from the size, the landscape itself is truly iconic. Think deep-cut gorges, geological formations, and stretches of pine forest in a super rugged environment that stretches for 2,873,200 acres.
You can take your pick of any of the numerous campgrounds. But the best, for us, is Alderwood Campground. It's a blend of everything, with wildflowers, canyons, and swimming holes at easy reach.
The campground itself is peaceful and all about solitude. With plenty of shady spots to pitch up, you won't find it hard to relax here after an action-packed day in Tonto.
Amenities: Campfires allowed, Toilet available, Picnic table available
Campsite fee: From $16 per campsite per night.
6) Lynx Campground – Prescott National Forest
You'll find Prescott National Forest in the mountains southwest of Flagstaff. It's another vast stretch of wilderness with awesome opportunities for camping in Arizona.
The scenery here is beautiful beyond belief, with desert dustiness and rocky ridges mingling with brown scrub and Ponderosa pines. And not a lot of people come here to camp!
For us, Lynx Campground is one of the best. There's a mild climate here, with plenty of shaded plots to rock up, set up, and chill out.
It's a popular spot with anglers, photographers, and birders alike. Unfortunately, there's no swimming in the lake, but there is a great trail that loops around it.
Amenities: Campfires allowed, Toilet available, Pets allowed, Potable water available, Picnic table available
Campsite fee: From $18 per campsite per night.
Is This the Best Backpack EVER???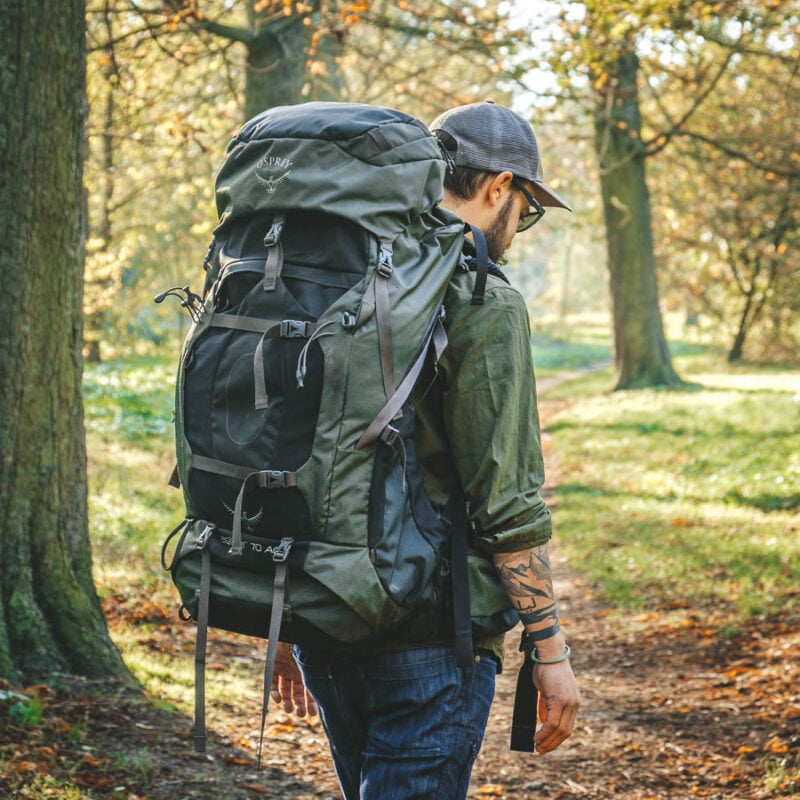 7) Mather Campground – Grand Canyon National Park
Situated in the one-and-only Grand Canyon, this right here might just be one of the best places to camp in all of Arizona.
The Grand Canyon is without a doubt one of the best places to visit in the USA. It is often touted as one of the world's wonders, and we tend to agree. An overnight trip under canvas here does require some planning, though.
There's a couple of campgrounds choices, but we reckon Mather Campground is where you should start. The more popular North Rim Campground can get super busy, and you need to book far in advance.
It's got a forest setting and shaded plots, super clean facilities, and even a park shuttle that takes you almost right to the Rim. You may even see an elk or two wandering around the site.
From here, you're set to explore everything the Grand Canyon has to offer.
Amenities: Campfires allowed, Toilet available, Pets allowed, Showers available, Picnic table available
Campsite fee: From $18 per campsite per night.
8) Cave Spring Campground – Coconino National Forest
The 1.8 million-acre Coconino National Forest is a great place to base yourself to explore the surrounding scenery of North Arizona. From here, you can check the spectacular red rock formations, which is just one of many great things to do in Sedona.
The area is surprisingly diverse and boasts ten different wilderness areas, including the summit of the San Francisco Peaks.
One of the best campsites in Arizona, and definitely the most popular in Coconino, Cave Spring is the place to be. Cut through by Oak Creek, which lazily makes its way through the site, it's dotted with giant Ponderosas and has views of Sedona's charming rugged cliffs.
You'll be perfectly situated for hikes around West Fork Canyon and Slide Rock, to name just a couple of great spots.
Pro tip: Come in autumn for a blaze of fall foliage.
Amenities: Campfires allowed, Toilet available, Showers available, Picnic table available
Campsite fee: From $22 per campsite per night.
9) Lost Dutchman Campground – Lost Dutchman State Park
Despite the ominous name, there's nothing spooky about this state park – even if it is located near the Superstition Mountains. It actually takes its name from Lost Dutchman Goldmine, which is steeped in tales of the Old West. The craggy park itself – coated in cacti and looped by mountain bike trails – is practically an adventure playground.
The campground here is great. It's got 134 plots spread between primitive and modern (developed) sites, all of which are well connected with trails. If you're lucky, you may even bag yourself a spot with unreal views of the Superstition Mountains. Be careful; in summer, things do get really hot here. If you can't take the heat, come later/earlier in the year.
Amenities: Campfires allowed, Toilet available, Pets allowed, Potable water available, Showers available, Picnic table available
Campsite fee: From $25 per campsite per night.
10) Catalina Campground – Catalina State Park
North of Houston, Catalina State Park is set on the western slopes of the Santa Catalina Mountains. Veined by lazy creeks and lakes, It's got some seriously dramatic landscapes on offer, with super high ridges. It's also a haven for desert-lovers and wildlife enthusiasts, with more than 150 species of birds living here.
Staying a night (or a couple) at the friendly and affordable Catalina Campground is your best bet. It's spacious, with 120 plots to choose from, and it's very well-maintained: it's got some of the most sparklingly clean bathrooms and showers we've ever seen. If you like forward planning, you'll be pleased to know that most plots can be reserved ahead of time.
Amenities: Campfires allowed, Toilet available, Pets allowed, Potable water available, Showers available, Picnic table available
Campsite fee: From $20 per campsite per night.
Save $$$ • Save the Planet • Save Your Stomach!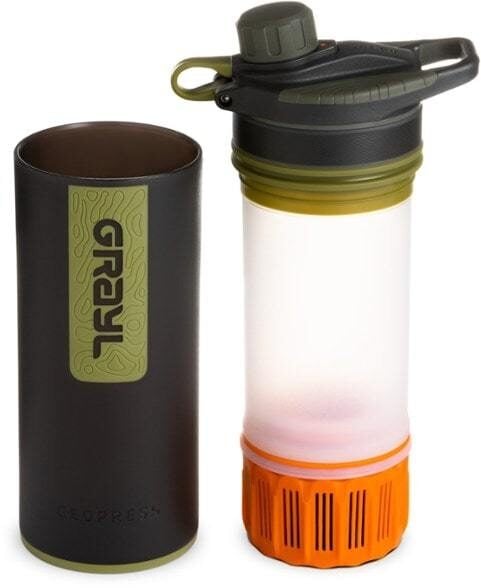 Drink water from ANYWHERE. The Grayl Geopress is the market's leading filtered water bottle protecting your tum from all the waterborne nasties. PLUS, you save money and the environment!
Single-use plastic bottles are a MASSIVE threat to marine life. Be a part of the solution and travel with a filter water bottle.
We've tested the Geopress rigorously from the icy heights of Pakistan to the tropical jungles of Cuba, and the results are in: it WORKS. Buy a Geopress: it's the last water bottle you'll ever buy.
Buy a Geopress!
Read the Review
The Best Glamping Sites in Arizona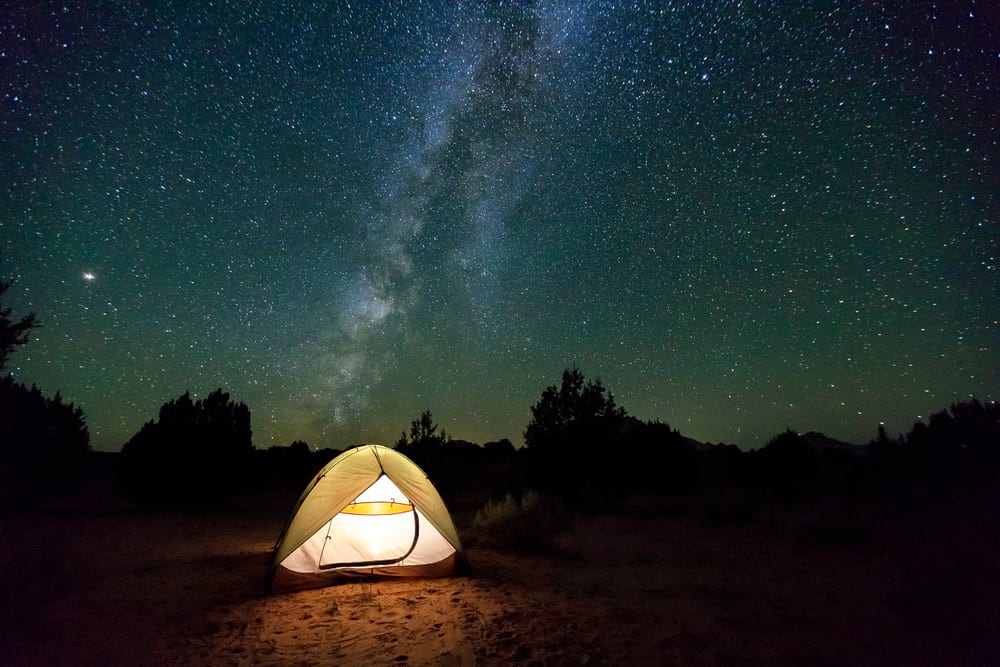 If our all-time favorite campsites in Arizona didn't make the cut for you, then about something a bit more luxurious?
Glamping mixes glamour with camping, allowing you to be close to nature without having to sleep on the actual ground. Canvas may be present, but so will beds and modern conveniences.
If that definitely sounds like your thing, then keep reading. We've put together a few spots that make up for great glamping in Arizona to give you an idea of the sort of thing to expect. Drum rolls, please!
1) Grand Canyon Fireside Yurt Village – Williams
For some classic glamping in Arizona, look no further than a yurt! It's a nice step above camping. Here you get to arrive at a pre-erected tent that boasts an outside deck strung with fairy lights. There's also a grill, icebox, and cooking equipment. Electricity included!
With a prime location, just off of Route 64 and on the way to Grand Canyon National Park, it's a great way to escape into nature without getting your hands too dirty.
Back at the yurt village itself, you'll have clean, modern bathroom facilities to use so that you can take a much-needed shower in peace after a day at the canyon.
2) Million Dollar Views from a Tiny Glamping Cabin – Sedona
Set in Sedona, this cool Arizona VRBO consists of tiny little cabins with all the mod-cons you could ever need. The aesthetic is all about being quaint and small, so it makes for a pretty charming place to stay.
Here you get your own outdoor patio where you can soak up those red rock views. Inside, it's all modern and clean, with a full comfy bed, kitchenette with basic equipment. The floor to ceiling windows will let the scenery outside do the talking.
Small Pack Problems? 😉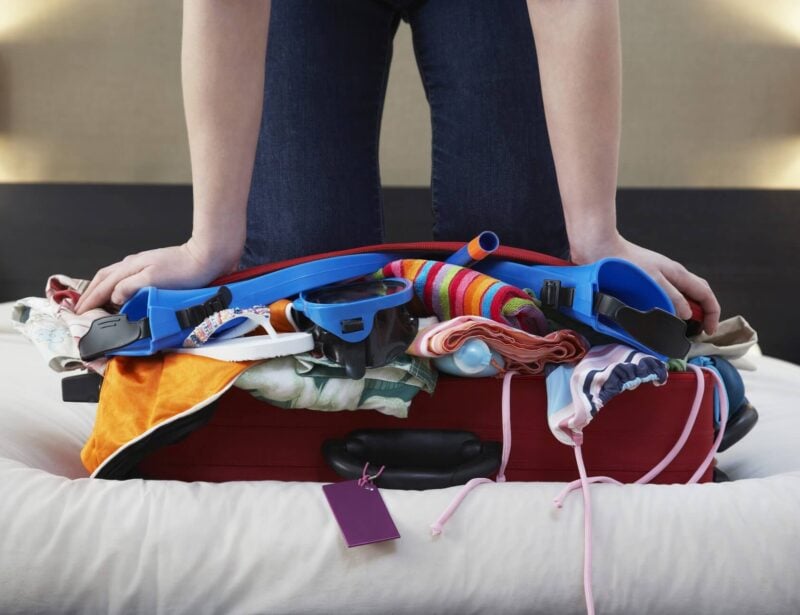 My missus travels with all her clothes in ziplock bags: don't be like my missus. UP YOUR PACKING GAME!
Packing cubes for the globetrotters and compression sacks for the real adventurers – these babies are a traveller's best kept secret. They organise yo' packing and minimise its volume too so you can pack MORE.
Or, y'know… you can stick to ziplock bags.
View Our Fave Cubes
Or Check Out the Sacks!
3) Incredible Stargazing Dome House – Williams
This is like something out of Star Wars. It's a neat little pod with a clear roof for perfect stargazing opportunities.. On clear nights, you'll be able to see shooting stars and the Milky Way.
Inside the dome itself, it's super comfy and pretty chic. There's a clean basic bathroom to use, plus a deck and a couple of seats. And all just 35 miles from the South Rim of the Grand Canyon.
If you're doing a road trip in Arizona, it's a fun place to stay and offers some of the best glamping in the state.
Too cold? Try out the heated mattress pad!
4) Sahuaro Ranch Hideaway – Tuscon
With its typical ranch feel, surrounded by cacti and secluded in the Tucson Mountains, you'll feel like you're part of the landscape staying at this cool Arizona VRBO. Here you'll get to stay in privacy and comfort, yet still be able to get lost in the vast natural scenery that surrounds you.
Location-wise, Tucson Mountain Park is a minute's hike away, while Saguaro National Park is a 20-minute drive away.
5) Chic Cabin with Private Stargazing Hot Tub – Sedona
A cute and very nicely decorated cabin, this cool Airbnb in Arizona feels tremendously luxurious.
It's a tiny home that makes great use of space: each corner has been thoughtfully crafted and filled with clever storage solutions. Somehow, it's even got an oven and its own bathroom.
The property also comes with an outdoor terrace, which is where you'll find THE hot tub. This means you'll be able to get some awesome views of the Sedona Mountains while soaking in utter bliss. You'll wake up every morning excited for the next adventure.
DON'T DIE OUT THERE! …Please 🙂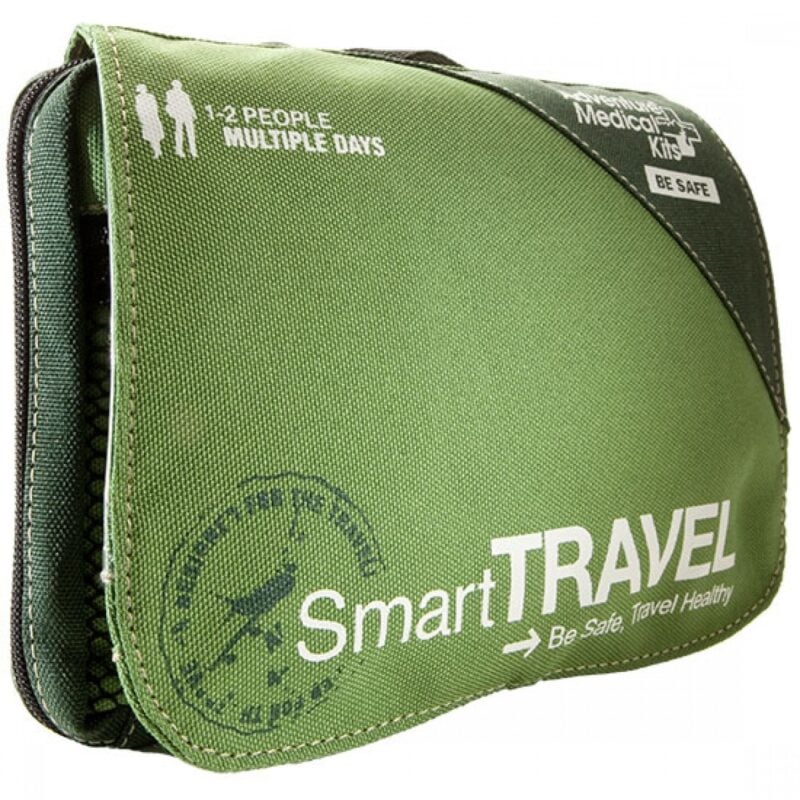 Things go wrong on the road ALL THE TIME. Be prepared for what life throws at you.
Buy an AMK Travel Medical Kit before you head out on your next adventure – don't be daft!
Buy on REI
Camping Packing List for Arizona
Wowza. Arizona is packed with amazing places to camp. How could you not want to go camping right next to the Grand Canyon, or among the succulents in Sedona?
Before you get the motor running and head out on the highway, though, you should get your head around what you need to take with you.
Arizona's vast and diverse landscape is ripe for adventures, but the landscape here can be pretty unforgiving. Camping in the desert is awesome, but this means soaring daytime temperatures and chilly nights spent under clear skies.
If you want to go primitive and fancy a spot off-grid, you'll need to make sure you bring along enough provisions to keep you safe and well-hydrated in the heat. Those of you opting for a more developed site might want to think about packing a few more creature comforts, like pillows and fresh coffee (hell yeah).
Whatever type of camping you do, you'll definitely need to consider the weather. Torrential downpours during the summer can all but wash-out some campsites, and pitching up in the baking sun without any shade is a surefire way to ruin a trip.
So, here's our round-up of the absolute essentials to pack…
1) Camping Essentials
If you're going camping in Arizona, make sure you have everything you need. Forgetting a piece of camping gear is super annoying, especially if you're miles from civilization. Use this handy list to double-check if you need to buy any camping essentials.
A good sleeping bag – Temperatures drop out in the desert at night time. You should make sure you pack a sleeping bag with a good enough tog, maybe even a camping blanket for good measure.
Head torch – A camping essential. A head torch will lead the way in the dark and leave your hands free for other important stuff – like going to the bathroom.
Reliable tent – This is wild nature, and you'll need a tent that will stand up against the elements. Investing in a good quality tent will save you money in the long run.
Bottle opener/ corkscrew – Just in case you want to open a tin of beans or crack open a beer or two after a long day of hiking.
Microfiber towel – Dry yourself off after a shower with this towel, and it'll be dry in no time. It's so super lightweight and packs easily into a backpack.
Cooking equipment – Get your cook on around the campsite and feel at home in the great outdoors.
Washing line – Super handy to have stashed in your pack, a travel washing line is perfect for drying out wet clothes and bathing suits.
Sunshade – Not all camping spots come with great shade, and even if they do, it might still move throughout the day. Your own sunshade will give you a break from the sweltering sun.
2) Hiking Essentials
The trails here are just begging to be hiked. It would almost be rude if you didn't do some hiking in Arizona! You should make sure that you're properly prepared for the hike you're attempting, however. With this tick-list of must-haves to make sure you've got everything you need.
Good hiking shoes – Only hike in shoes that are appropriate for the terrain. Opt for shoes or boots with a good tread and a secure, comfortable fit. It's a good idea to test them out before a hike – blisters halfway up a mountain are no fun at all.
Daypack – A comfortable, lightweight daypack is a must-have for a hike. Go for a model that lets your back breathe and has straps that fit you well.
Trail snacks – Keep up that much-needed energy with a selection of snacks, nuts, and dried fruits. This works very well and won't melt in the heat.
First Aid Kit – Better to be safe than sorry. Bring along a well-stocked first aid kit just in case.
Sunhat – Protect your head and neck from the strong sunshine in Arizona. This piece of equipment is easy to forget but can actually make a big difference when hiking.
Filter water bottle – Hydration is huge when hiking. Attempting a hike without enough water can actually be life-threatening, so make sure you come prepared with enough liquid. Bring along a filter water bottle, and you'll have easier access to clean drinking water.
Sunglasses – Keep your eyes shaded from the sun and help you take in the beauty of the environment you're in.
3. Toiletries Essentials
Toiletries may not be at the top of your camping packing list, but don't overlook them! Even if you're going primitive camping, you should still pack a few essentials. Here's what you should take with you in your bag…
Sunscreen – This one is a must if you don't want to get burnt to a crisp. Go for a factor 50 or above, and make sure to reapply. The sun should be respected!
Toilet paper – Don't expect to always find toilet paper when you need it. Keep a roll or two in your backpack just in case.
Toothbrush and toothpaste – Easy to forget, but your toothbrush should come along for the trip, too. Keep your mouth nice and fresh.
Insect repellent – Swarms of mosquitoes can really ruin a camping trip; make sure you're not feasted upon by packing a good insect repellent.
Shampoo and conditioner bar – Super useful for packing light, these eco-friendly bars can double up as soap. Also good for washing out underwear or smelly socks.
Deodorant – All that hiking in the desert will require antiperspirants. You don't want your fellow campers to smell you from across the campsite, do you?
Camping Tips for Arizona
We've covered a ton of information so far about camping in Arizona, but there are a few more things you might need to know. Get to grips with these rules and camping tips so that you stay safe and have the best time possible.
Arrive with enough daylight – Plan your journey so that you turn up at your campsite within daylight hours. This will give you enough time to find a secure camping spot and set up your tent before it gets dark.
Check the weather before you leave home – The weather changes can be dramatic in this part of the country. Make sure to keep up to date with the weather, so you know exactly what to be prepared for.
Respect the sun – Know how to look after yourself in the heat and how to spot the signs of heatstroke. Hydration is vital.
Know about fire safety – Only build campfires in safe or designated spaces. Make sure you never leave a fire unattended and that the fire is extinguished properly after use.
Leave no trace – We've said it before and we say it again. Clean up after yourself and try to camp in a place where you don't disturb nature.
Phone ahead – It's a good idea to get in contact with the park ranger (or whoever is in charge of the campsite) before you arrive, so you can find out any information you might need to know. This is a good idea, especially if you haven't booked the campsite ahead of your arrival.
Respect the natural environment – Be very careful not to disturb or destroy any flora or fauna. Keep a safe distance from any wild animals, and do not try to feed them.
Don't go hiking or swimming alone – This can be dangerous, especially in the heat. If you plan to attempt a trail by yourself, make sure to let somebody know your plans beforehand, but we'd strongly recommend hiking with a buddy.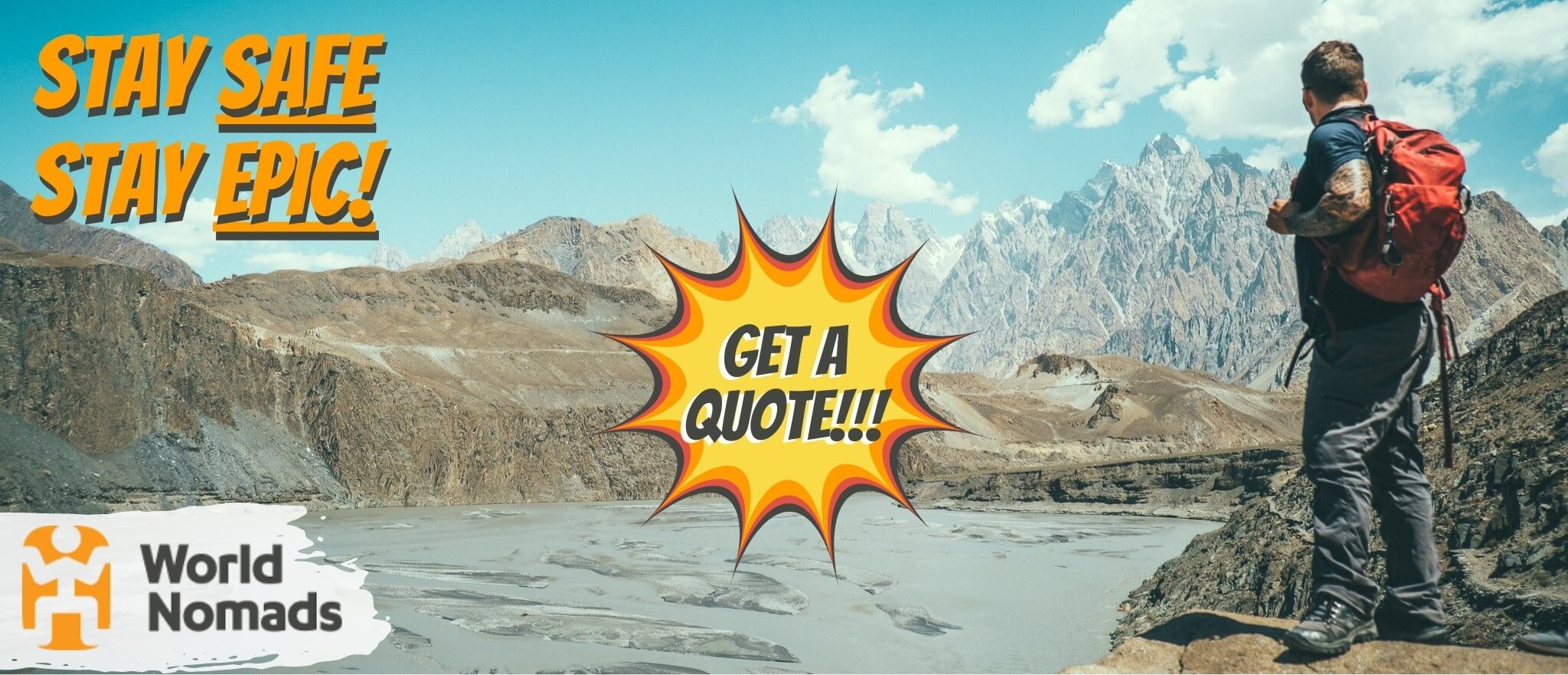 World Nomads' mission is to support and encourage travellers to explore their boundaries. They offer simple & flexible travel insurance, and safety advice to help you travel confidently.
They've been doing it since 2002 – protecting, connecting, and inspiring independent travellers just like you.
Get a quote below or read our in-depth review!
Final Thoughts on Camping in Arizona
That's that – the end of our guide to camping in Arizona. By now, we hope you're pumped to head out on adventure here.
There's a whole load of primitive camping, glamping, and regular ol' camping options to suit just about any sort of traveler to the Grand Canyon State. No one is left out.
Make sure you choose a campsite that looks like it could be your home away from home for a few days and don't miss out on some of the most astounding scenery in the whole USA.
---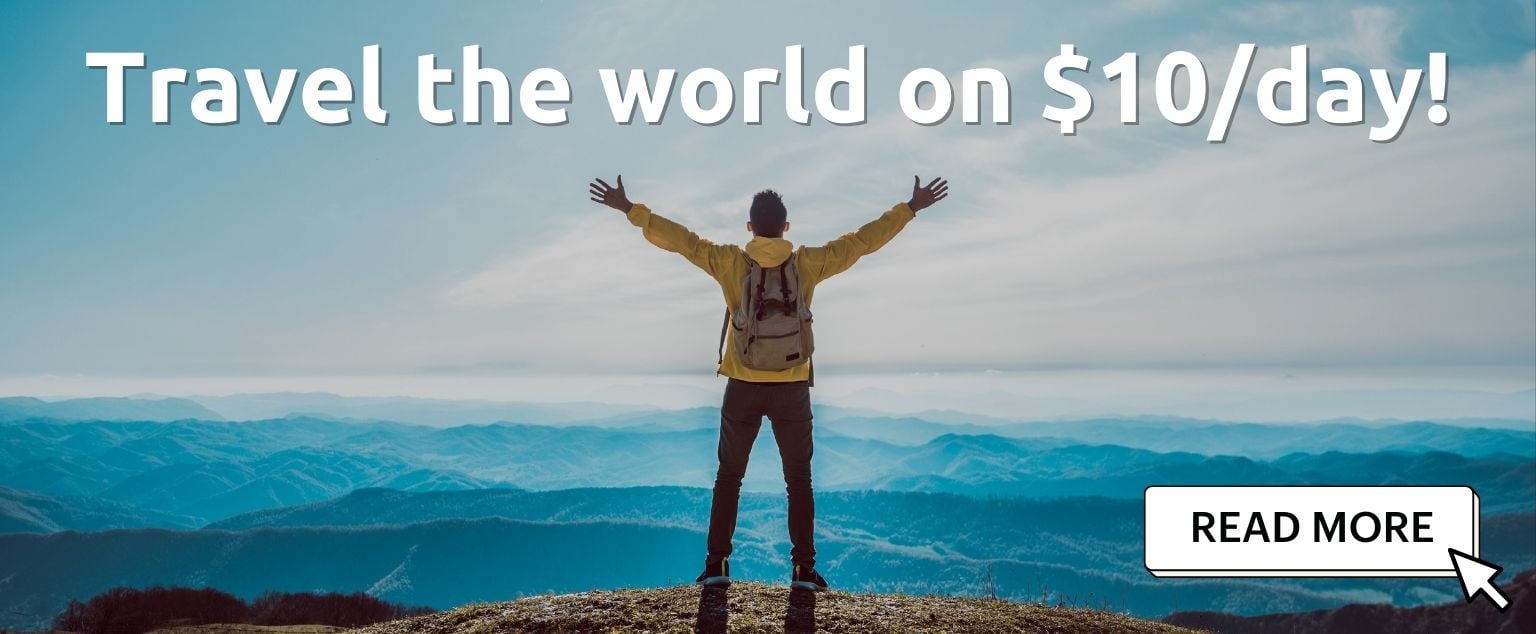 And for transparency's sake, please know that some of the links in our content are affiliate links. That means that if you book your accommodation, buy your gear, or sort your insurance through our link, we earn a small commission (at no extra cost to you). That said, we only link to the gear we trust and never recommend services we don't believe are up to scratch. Again, thank you!