What do you picture when you think about hiking in Arizona? Barren deserts and scorching heat? Well, this is just the tip of the [canyon] when it comes to the scenery along Arizona's best hikes.
There is so much natural beauty to be experienced in this state, from the depths of the Grand Canyon to the waterfall oases surrounding it, the red cliffs of Sedona, and pine tree forests around Flagstaff.
In this state, you can explore waves, hoodoos, cliffs, and slot canyons formed by millions of years of wind and water erosion, and yes, even the barren deserts and towering cacti down south.
While it was difficult to narrow down this list, I am going to cover the 10 best hikes in Arizona below.
I'll discuss everything from the "best day hikes near Phoenix", "best hikes in the Grand Canyon," lesser-known trails throughout the Public Lands, the most epic overnight backpacking trips or best road trips in Arizona too.
Whatever type of adventure you're chasing, Arizona has more than enough hikes for you.

Do You Want to Travel FOREVER??
Pop your email in below to get a FREE copy of 'How to Travel the World on $10 a Day!'.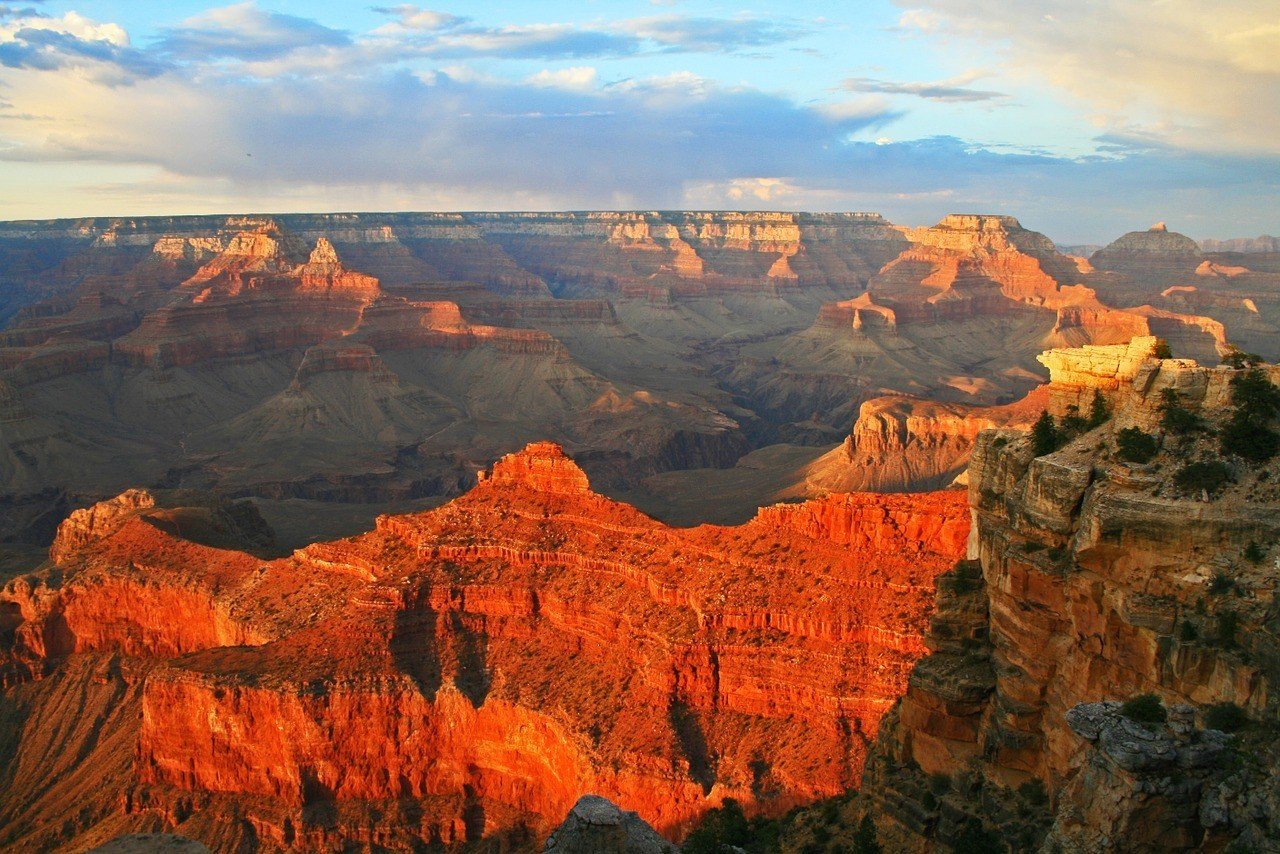 Keep in mind that many of the best hikes in Arizona are located in the elements. While it's definitely a unique experience you can have while backpacking the USA, it can also be pretty rough. You will be exposed to scorching heat on exposed trails, especially in the summer. You should also be prepared for rain and snow storms, wind, and flash floods, depending on the season.
You don't want the weather to ruin a great trek, or worse, put your life in danger. To be prepared for the weather, elements, and potential mishaps, you should hike with the right equipment…!
At the Broke Backpacker, we take outdoor supplies very seriously. We've spent hundreds of hours testing, reviewing, and abusing gear that we hike and travel with for years on end.
Below is a series of gear reviews that will put you in touch with everything you need for a fun, enjoyable, and successful hiking trek.
Invest in quality items and you'll find that the best hikes in Arizona will only get better.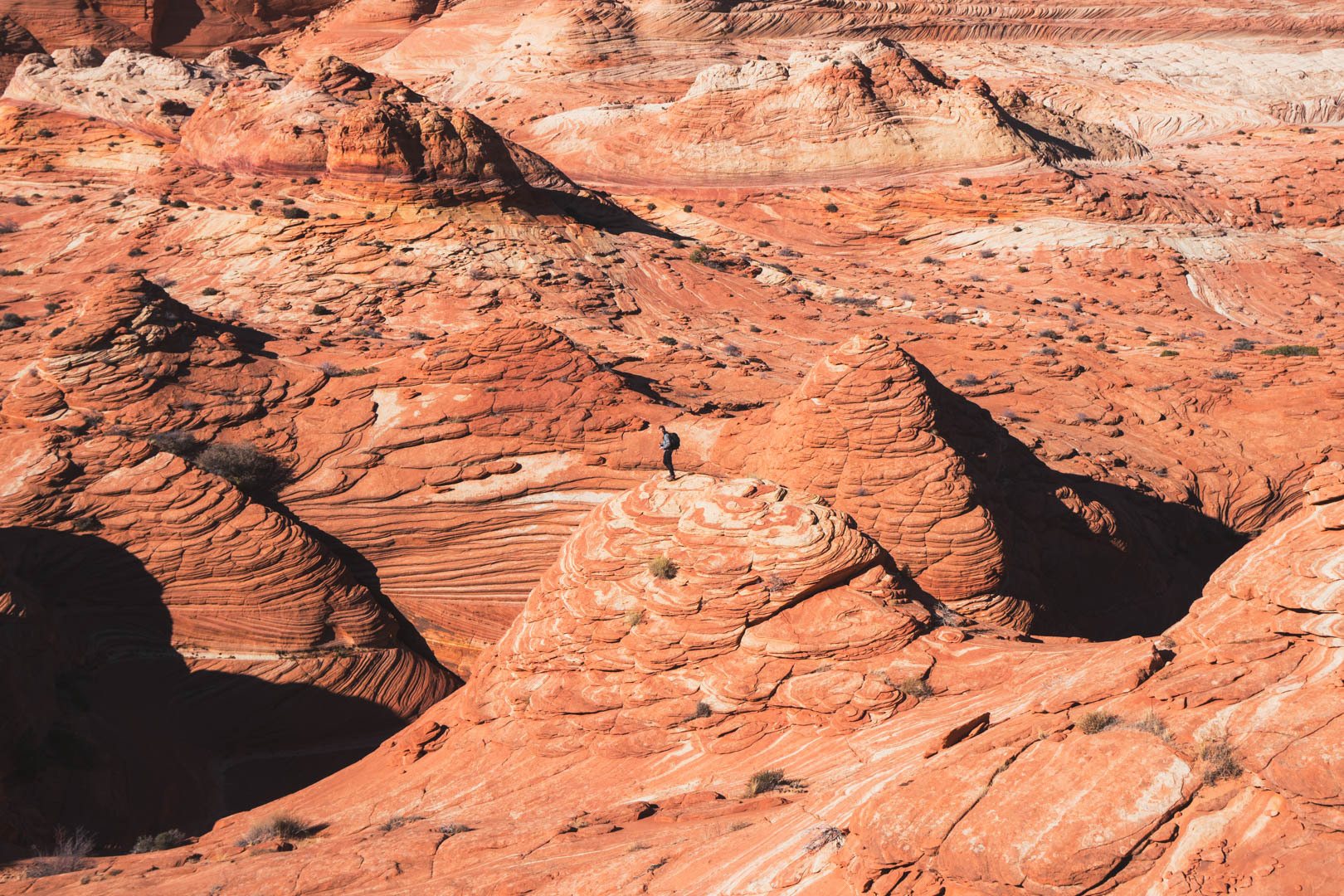 Choose the Right Gear for Hiking in Arizona
Being a Responsible Hiker in Arizona
Before we get to the good stuff – my list of the best hikes in Arizona – we want to remind you to be a responsible hiker. Posting a list that discusses some of the most beautiful places in Arizona means that some of these hikes will be more exposed to humans and foot traffic than before.
Do your part to help keep these trails clean and beautiful, and always practice leave no trace principles when camping or trekking in the backcountry.
Wherever your hiking path leads you, please be respectful to the environment along the way. Always hike out your own trash and any trash you find along the way. Leaving no trace also means respecting the surrounding nature. Often times there is a reason you must stick to the trails, especially in protected reserves, parks, and lands. Don't trample all over the vegetation, etc.
And always remember to reduce, or better yet eliminate, your amount of single-use plastic. Pick up a water bottle and/or a water filter and use them!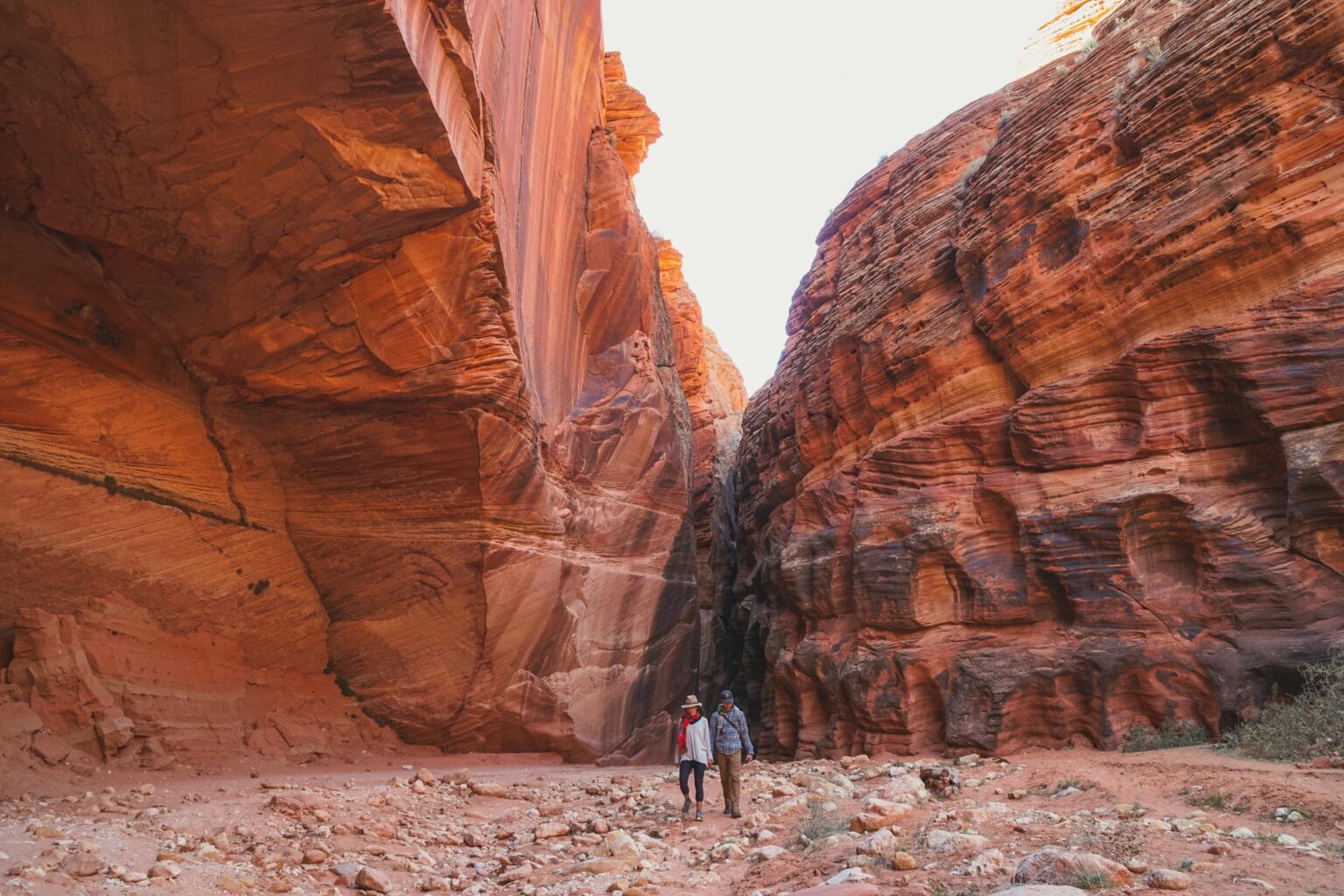 Most backpackers understand this, but it may bear repeating. If you love, respect, and spend a lot of time in the outdoors, do your part to keep it pristine.
And finally, I want to reiterate that weather and climate can be quite extreme in Arizona. Summers can be dangerously hot and winters well below freezing. We went camping in Arizona during the winter and it was bitter cold, way colder than we expected!
Flashfloods are common in the summertime and have claimed many lives. You should be prepared to cancel a hike, especially into slot canyons when rain is in the forecast.
2000+ Sites, Unlimited Access, 1 Year of Use – All. Absolutely. FREE!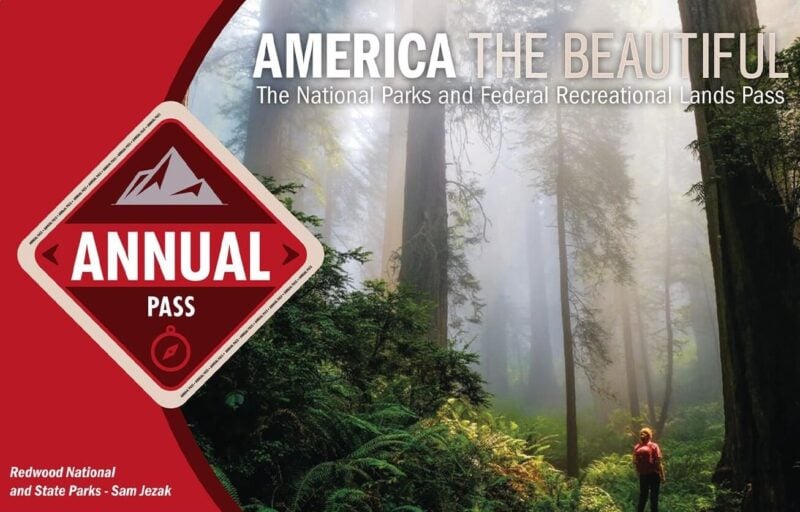 The USA is blisteringly beautiful. It's also blisteringly expensive! Visiting two national parks in day can run you $70+ in entry fees.
Orrrr… you kick those entry fees to the curb, buy an annual 'America the Beautiful Pass' for $79.99, and get unlimited access to ALL 2000+ federally managed sites in the States totally FREE!
You do the math. 😉
Buy the Pass!
1. Rim-to-Rim Trail, Grand Canyon
Distance: 47-miles round trip or 24-miles one way
Elevation Gained: 10,414 Feet (!!!)
Nearest Town: Tusayan
Days Required: 3-5 days
When to go: Spring, Autumn
Type: Point-to-point, or out-and-back
The Rim-to-Rim hiking trail is one of the best hikes in the Grand Canyon, as you have the opportunity to explore the canyon from within as well as from both the north rim and south rim (which are about a 5-hour drive from one another).
This is an extremely strenuous hike and coupled with exposure and heat it is not to be taken lightly, but if you know what to expect and prepare for this 3-5 day hike, it will be one of the best hikes of your life!
Start at the North Kaibab Trail on the North Rim. We'd suggest staying the night before in the closest city Tusayan, which offers great accommodation. Drive your car to the North Rim trailhead early in the morning. From there you will descend 14.3 miles and 5,761 feet in elevation to Bright Angel Campground at the bottom of the canyon. Keep in mind that North Rim might not be accessible during winter.
If you want to camp at Bright Angel Campground, you should reserve a permit for this campsite months in advance, as it fills up quickly due to its amenities and link-up to the Bright Angel Trail. Plus, there is an on-site Phantom Ranch Restaurant.
On the way to Bright Angel Campground, you'll pass by Supai Tunnel, Roaring Springs, the Cottonwoods Campground, and Ribbon Falls.
Hiking in the canyon, I seriously recommend hiking with trekking poles, as this type of descent can be unforgiving on the knees.
From the Bright Angel Campground, you begin your second day and see the greatest change in elevation (4,380 feet up and down), ascending about 9.5 miles out of the canyon to South Rim (and then back again).
That's right, today is a 19-mile hiking day. If you need an extra day, try to reserve a camping spot at the top of South Rim.
It might go without saying, you'll want to begin this day before sunrise to beat the heat.
Once you reach the South Rim, I recommend checking out a few of the viewpoints for different vantage points of the canyon you just hiked through and taking a well-needed lunch break. From here, you'll hike back down to the Bright Angel Campground.
TIP: If you only hike one-way and decide to end your hike here, you will need to arrange a shuttle service back to your car!
On the third day of the rim-to-rim hike, you'll hike back out towards the North Rim via the North Kaibab Trail. It's 14 miles and 5,760 feet of elevation gain.
Once you reach your car, give yourself a pat on the back for completing one of the hardest overnight backpacking trips in Arizona! I also recommend having a couple of your favorite snacks and fresh water waiting at your car… just saying.
Should you not want to hike rim-to-rim, you can also consider solely the Bright Angels Trail, which leaves from the South Rim and leads hikers to the Colorado River to the campground. I have covered the hike in more detail below.
2. The Wave, Paria Canyon
Distance: 5.5 miles round trip
Elevation Gained: 10,414 Feet (!!!)
Nearest Town: Kanab
Days Required: 1 day
When to go: Spring, Fall, Winter
Type: Out-and-back
This is one of my favorite hikes in the USA! Located on the Colorado Plateau, near the Utah and Arizona border, the Wave is a gallery of sandstone, waves, and canyons within Paria Canyon, which sits at the bottom of Utah's Grand Staircase-Escalante National Monument and at the upper section of Arizona's Paria Canyon-Vermilion Cliffs Wilderness area.
Did you get that?
Basically, the Wave is in the middle of tons of National Monument and protected land. You could truly spend your life exploring these wild lands, slot canyons, arches, etc. and not see it all. I urge you to explore and to of course remember leave no trace principles.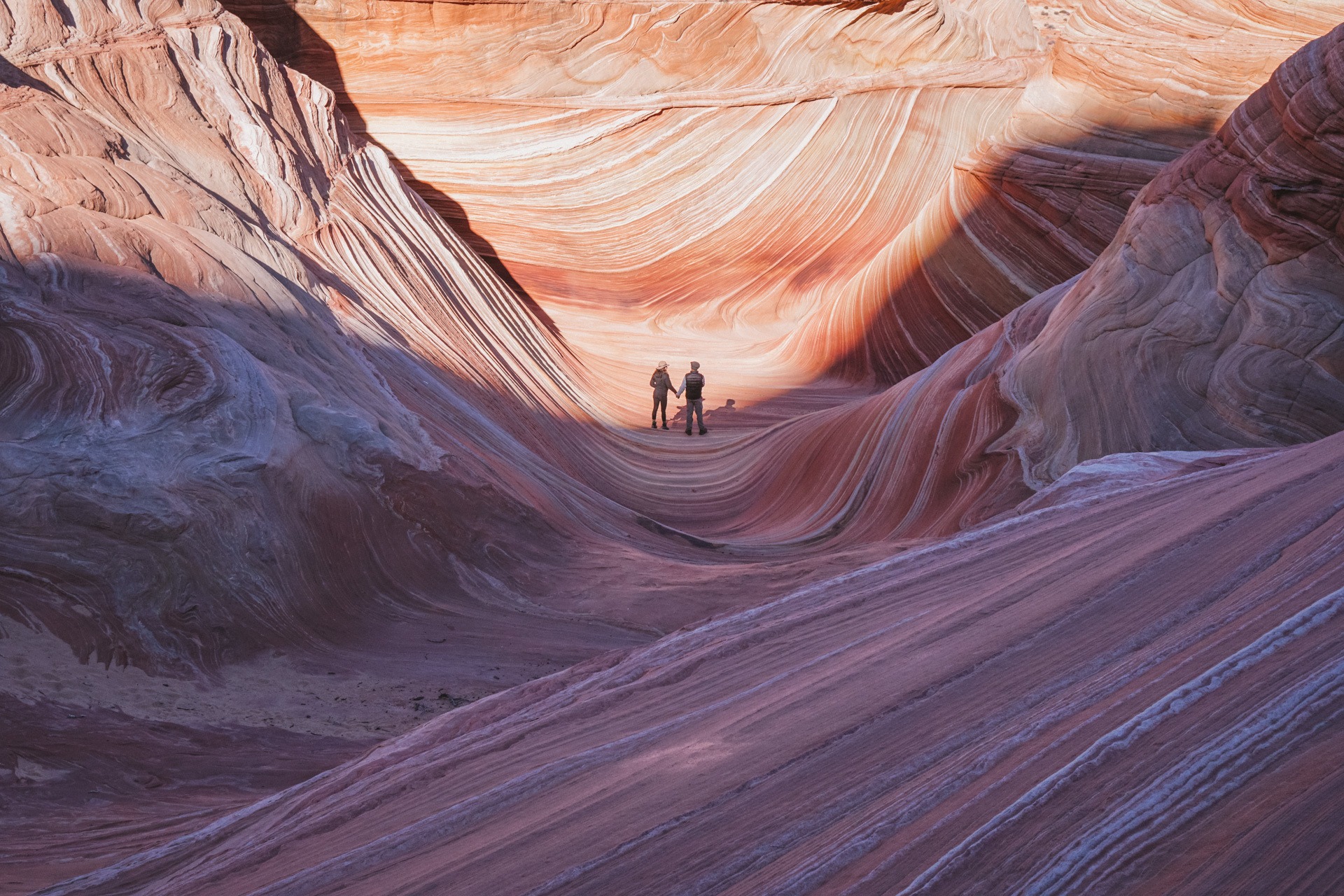 Now, the show-stopping headliner in this area is known as The Wave, which is so popular that an extremely competitive lottery system has been put in place to make sure only 20 people visit per day.
I happened to win 2 of 10 spots in a last-minute lottery system, but we were the last two names called… on a Tuesday… in December… in a room filled with hundreds of people.
Honestly, my advice is to try to get a lottery ticket, and if you don't win, explore the Vermilion Cliffs and Grand Escalante Areas instead. There are some incredible hikes around here like Buckskin Gulch.
Should you be a lucky winner, you get to take on the Wave, a 6-mile round trip hike. Plan to spend a couple hours exploring the areas around the Wave too.
The beginning of the hike essentially starts in a dry river bed wash. Look for a signed path (can be hard to find) on the right to exit the wash.
The trail will eventually disappear; much of this hike is off-trail and will require certain topography and land formations as landmarks. The Kanab visitor center provides a map to do so, though some may feel comfortable with the GPS coordinates as well.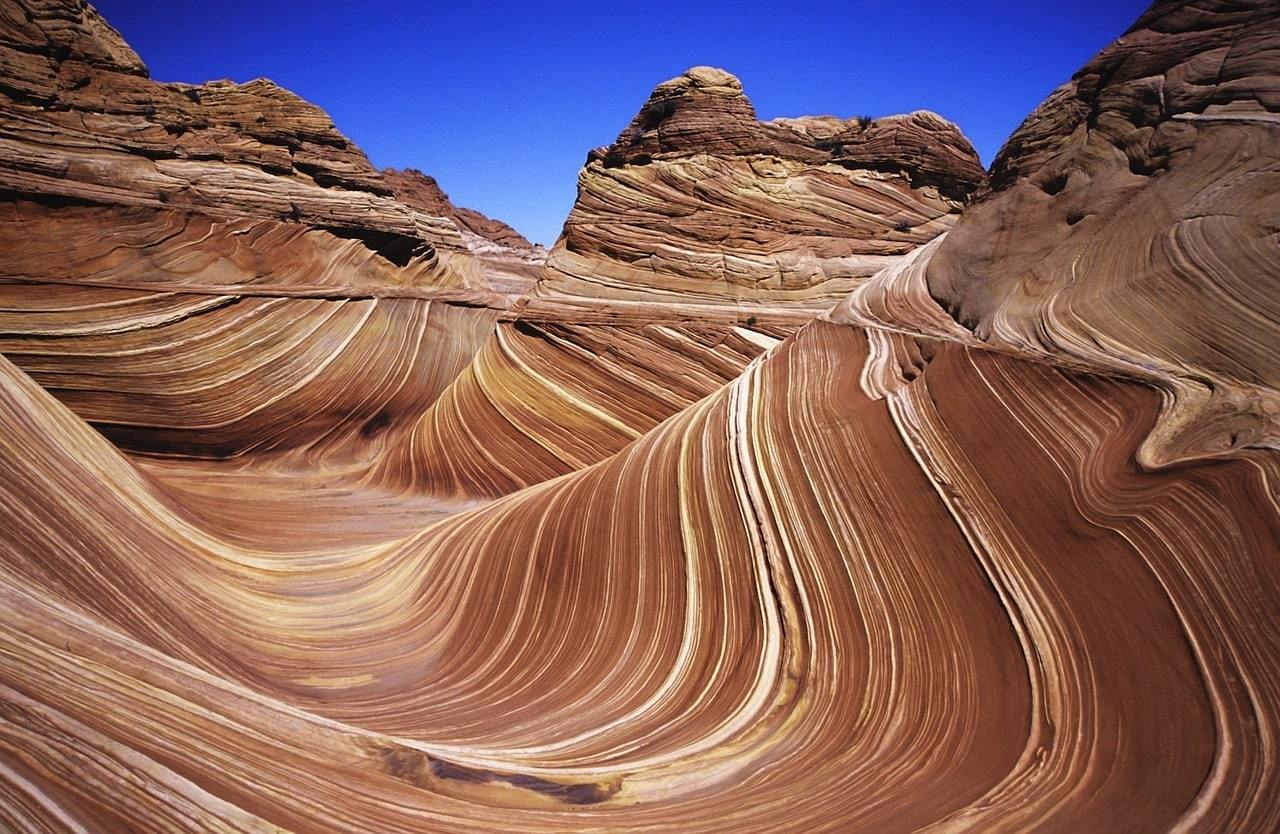 Aside from the navigation skills required, this hike is relatively moderate, though it will prove more difficult in the beating sun.
As I mentioned above, only 20 people are allowed to hike per day: ten walk-in hikers and ten reserved hikers via the online/mail application.
With the online/mail permit system you choose three possible dates and submit the request along with a non-refundable fee. Reservations can be made four months in advance.
To get to the hike, you'll drive from Kanab east on Highway 89. Then you turn onto House Rock Road, a dirt-wash road that can become impassable if wet. Continue for several miles until you reach the Wire Pass trailhead parking lot. Make sure to display your parking permit!
ALWAYS sort out your backpacker insurance before your trip. There's plenty to choose from in that department, but a good place to start is Safety Wing.
They offer month-to-month payments, no lock-in contracts, and require absolutely no itineraries: that's the exact kind of insurance long-term travellers and digital nomads need.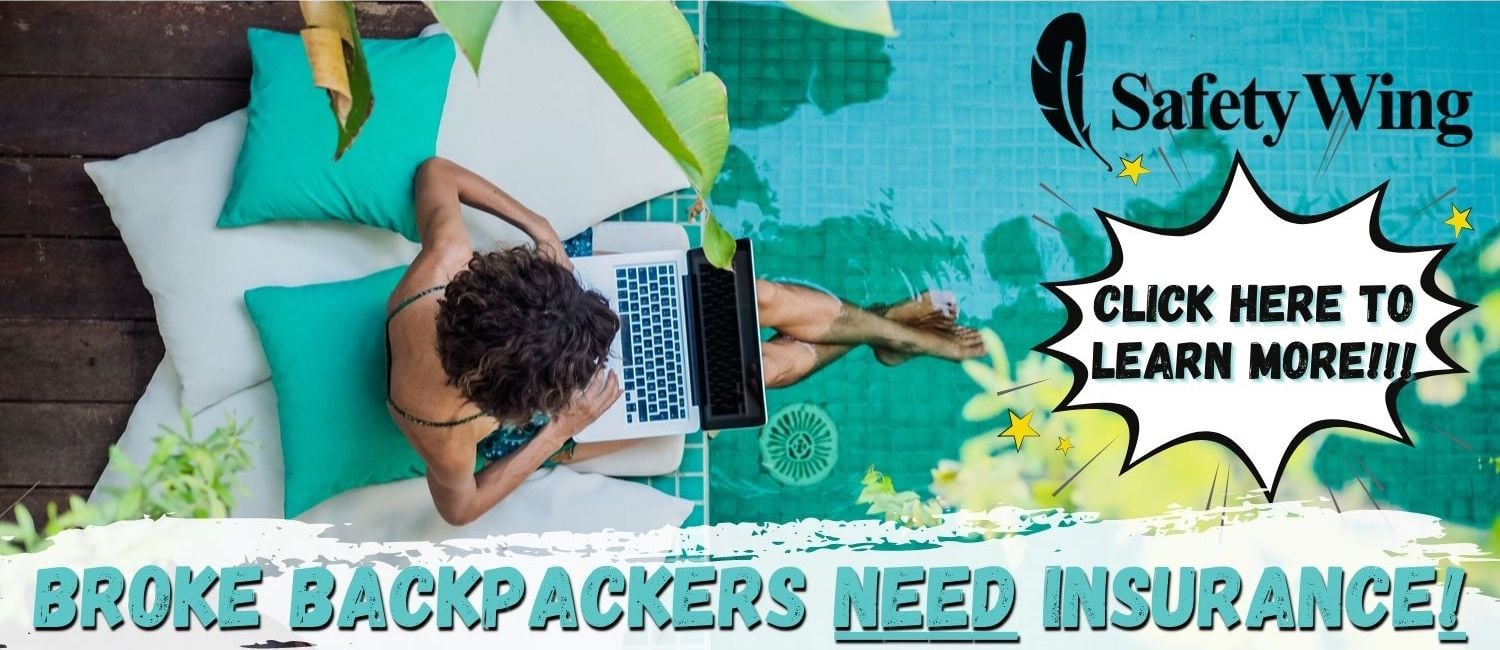 SafetyWing is cheap, easy, and admin-free: just sign up lickety-split so you can get back to it!
Click the button below to learn more about SafetyWing's setup or read our insider review for the full tasty scoop.
3. South Kaibab Trail, Grand Canyon
Distance: 3.1 Miles
Elevation Gained: 1158 Feet
Nearest Town: Grand Canyon Village/Tusayan
Days Required: Day Hike
When to go: Year-round
Type: Out-and-back
If the Rim-to-rim trail is too strenuous/daunting/long for you, then tackle this hike instead! There are a lot of amazing hiking routes in the Grand Canyon, but this is the best bang for your buck, as many of the others require at least 10 hours and a lot of elevation change.
The South Kaibab trail is easily accessible from the South Rim, and features incredible views for such a short day hike, making it one of the best day hikes in Arizona!
You must take a shuttle to the trailhead because there is not a parking lot next to it. Buses provide transportation between the Grand Canyon Visitor Center, Mather Point, the Yavapai Geology Museum, South Kaibab Trailhead, and Yaki Point. From the trailhead, you will descend down several steep switchbacks (this is expected when hiking in the Grand Canyon) until you reach Ooh Ah point.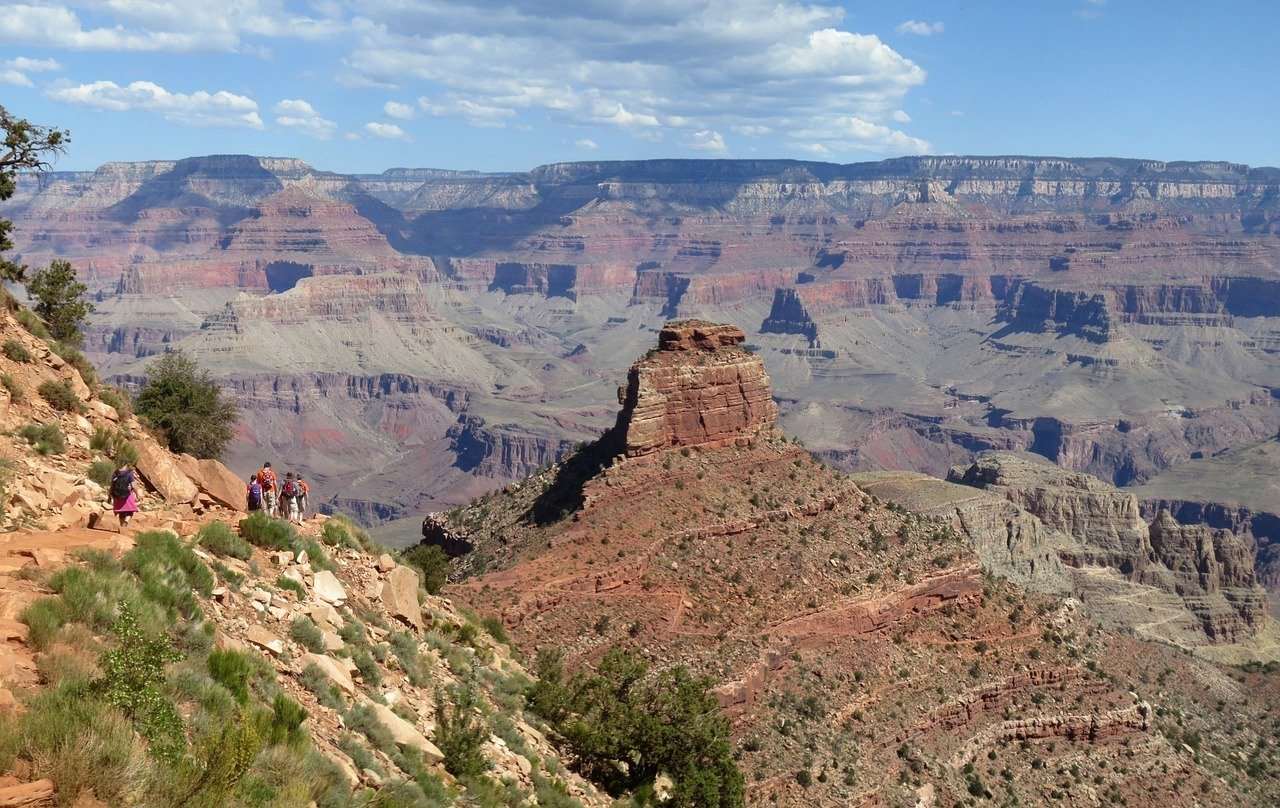 From Ooh Ah point, hike to Cedar Ridge. Then head back to the start of the trailhead.
While I mentioned that this hike can be attempted year-round, I would favor spring and fall for moderate day temperatures. If you are hiking in the summer, bring a lot of water, always.
Hikes are always exponentially harder in the heat, and the hardest part of this hike is at the end (climbing out of the canyon).
4. White Rock Springs, Superstitions Mountains
Distance: 23 Miles
Elevation Gained: 3000 Feet
Nearest Town: Apache Junction, Gold Canyon
Days Required: 3 Days
When to go: Spring, Autumn
Type: Figure 8 Loop
This hike is one of the best ways to explore the Superstition Wilderness (162,000 acres of stunning land) and get away from the crowds found in the Grand Canyon! Pack in your backpacking tent and take it as fast or slow as you'd like to get the full experience.
On this hike, you will be backcountry trekking to White Rock Springs. First, make sure to register at the First Water TH. To get to the trailhead, you can easily take your car since there are enough parking lots available. Depending on where you're staying in the area, use your GPS to get to AZ-88 E/N Apache Trail and continue for 3.4 miles. Make a right onto N 1st Water Rd and the trailhead parking lot will be on your left after 2.6 miles.
The first day will be about 7 miles, taking you through Weaver's Neele and crossing Dutchman's Trail. From this junction, you will begin to climb closer to the mesa. Some of these sections can be quite steep. You'll meet up with the Dutchman's Trail again after 1.5 miles – stay straight! Follow the Calvary Trail to reach White Rock Springs itself or continue to the right for a number of excellent backcountry sites
On the second day, you will be hiking 10 miles in a giant loop from your base camp. This means you can leave your camp for another night.
On day 3, pack up camp and then head back to the trailhead. On this day, you will again reunite with Dutchman's and take it all the way back to the First Water TH. This way you make a figure 8 out of the whole trip.
5. Coal Mine Canyon, Tuba City
Distance: 1 Mile
Elevation Gained: 300ish Feet
Nearest Town: Tuba City
Days Required: Day-Hike
When to go: Year-round
Type: Out-and-back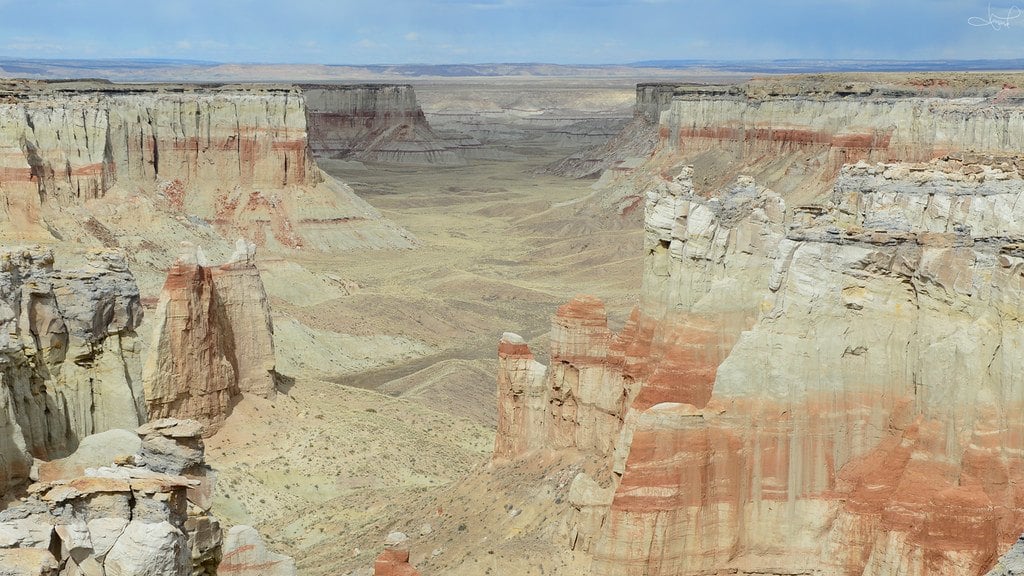 This is a bit of a different hike than the other ones. If you want to go on a hiking adventure, visit the Coal Mine Canyon borders the Hopi and Navajo Indian Reservation about 15 miles from Tuba City.
It's named after the various coal deposits spread throughout the canyon. There isn't a well-marked, obvious and direct trail here. Rather, you'll see some trails on the canyon floor, but they will probably require some off-trail scrambling to get to.
Furthermore, you may be required to get a permit to hike down.
I am recommending this hike as one of the best hikes in Arizona for those who are willing to put in the extra time and effort to get off the beaten path. If you are willing to drive down dirt roads out in the middle of nowhere, you will be greeted with views spires, hoodoos, cliffs, and unworldly colors… without the crowds.
For camping or hiking into the canyon permits, you may need to contact Navajo or Hopi Nation at (928) 679-2303 for more information. Hiking along the rim requires no permit.
Small Pack Problems? 😉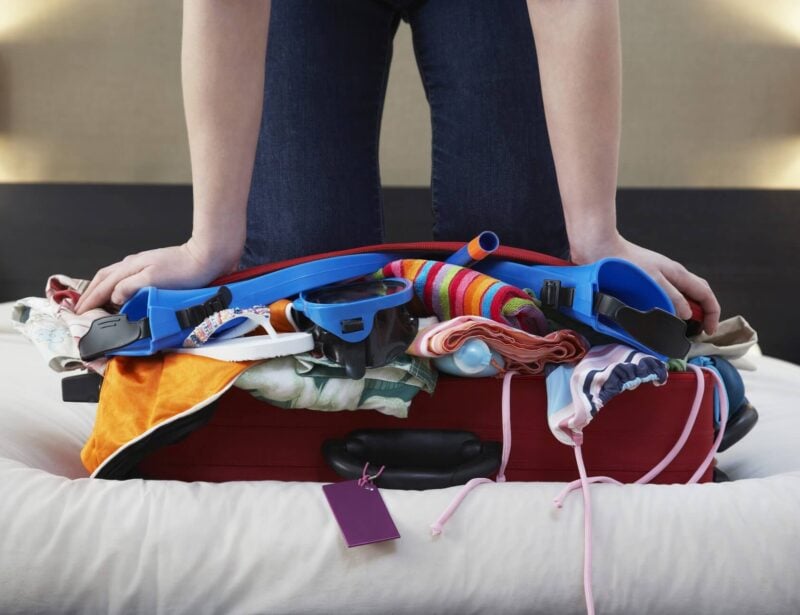 Wanna know how to pack like a pro? Well for a start you need the right gear….
These are packing cubes for the globetrotters and compression sacks for the real adventurers – these babies are a traveller's best kept secret. They organise yo' packing and minimise volume too so you can pack MORE.
Or, y'know… you can stick to just chucking it all in your backpack…
Get Yours Here
Read Our Review
6. Echo Trail to Camelback Mountain, Phoenix/Scottsdale
Distance: 2.5 Miles
Elevation Gained: 1,300 Feet
Nearest Town: Phoenix or Scottsdale
Days Required: 1-2 hours
When to go: Not summer!
Type: Out-and-back
For the best hike around Phoenix, look no further than a hike up Camelback Mountain. You'll be able to spot this iconic mountain from multiple city vantage points, but the best view is most definitely from the top. This hike is one of the top things to do in Phoenix, so it's definitely not one to skip.
Start the hike at Echo Canyon Trailhead, and quickly begin the steep climb to the top. It is only a 1.2-mile hike, but with 1,300 feet in elevation gain, it can feel quite steep.
The first part of the hike is relatively moderate, but as it climbs the hike can get more difficult.
Don't underestimate this hike, as much of it is exposed in the sweltering heat, and heat exhaustion is a real concern. This hike sees more rescues per year than any other hike in a metropolitan area in the US, mostly because people are unprepared.
The entire hike should only take you a couple hours, so it makes for a great early morning hike before exploring the rest of the nearby cities.
This is one of the most popular things to do in Scottsdale and one of the major hikes near Phoenix, so expect many city folk and students on the weekends. If you are visiting Arizona on a vacation, consider tackling this hike on a weekday.
Because of the heat, it is recommended you hike early in the morning or late afternoon, so if you need somewhere to stay, check out these vacation rentals in Scottsdale.
7. Wildcat Trail, Monument Valley
Distance: 3.2 Miles
Elevation Gained: –
Nearest Town: Mexican Hat
Days Required: 1 day
When to go: Fall, Winter, Spring
Type: Out-and-back
This hike is the only way you can explore the Monument Valley area without being accompanied by a Navajo guide, so you know it's going to be epic. Moreover, this is an easy hike that will only take a couple of hours, so it is suitable for all ages and fitness levels.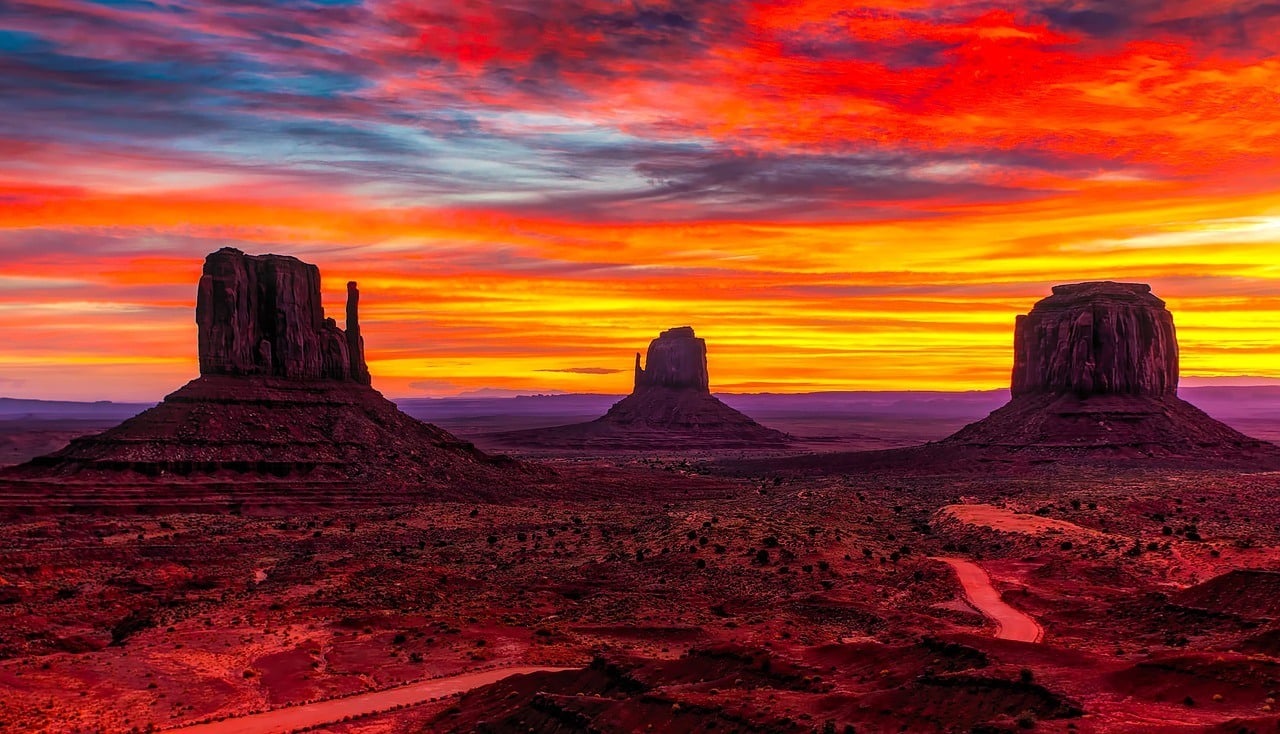 Start the hike at the campground. The trail will take you through juniper trees and formations as you descend to the valley floor.
To get to the trailhead, if you start from Mexican Hat, Utah drive west on US 163 for 20.5 miles to Monument Valley Road. Turn left (southeast) onto Monument Valley Road and drive 3.9 miles to the visitor center parking area and park in the northwest corner of the lot. The trailhead is just a short walk on Indian Route 42.
A couple things to note: you have to pay to enter this trail ($20) and weekends can get crowded.
Save $$$ • Save the Planet • Save Your Stomach!
Drink water from ANYWHERE. The Grayl Geopress is the worlds leading filtered water bottle protecting you from all manner of waterborne nasties.
Single-use plastic bottles are a MASSIVE threat to marine life. Be a part of the solution and travel with a filter water bottle. Save money and the environment!
We've tested the Geopress rigorously from the icy heights of Pakistan to the tropical jungles of Bali, and can confirm: it's the best water bottle you'll ever buy!
View on REI
Read the Review
8. Brights Angel Hike, Grand Canyon
Distance: 19 Miles
Elevation Gained: 4980 Feet
Nearest Town: Grand Canyon Village/Tusayan
Days Required: 1-2 Days
When to go: Spring, Autumn
Type: Out-and-back or Loop
If you don't feel like tackling the entire rim-to-rim trail highlighted above, the Bright Angel Trail in an excellent, and still challenging, alternative. Located on the South Rim, the trail begins just west of Bright Angel Lodge.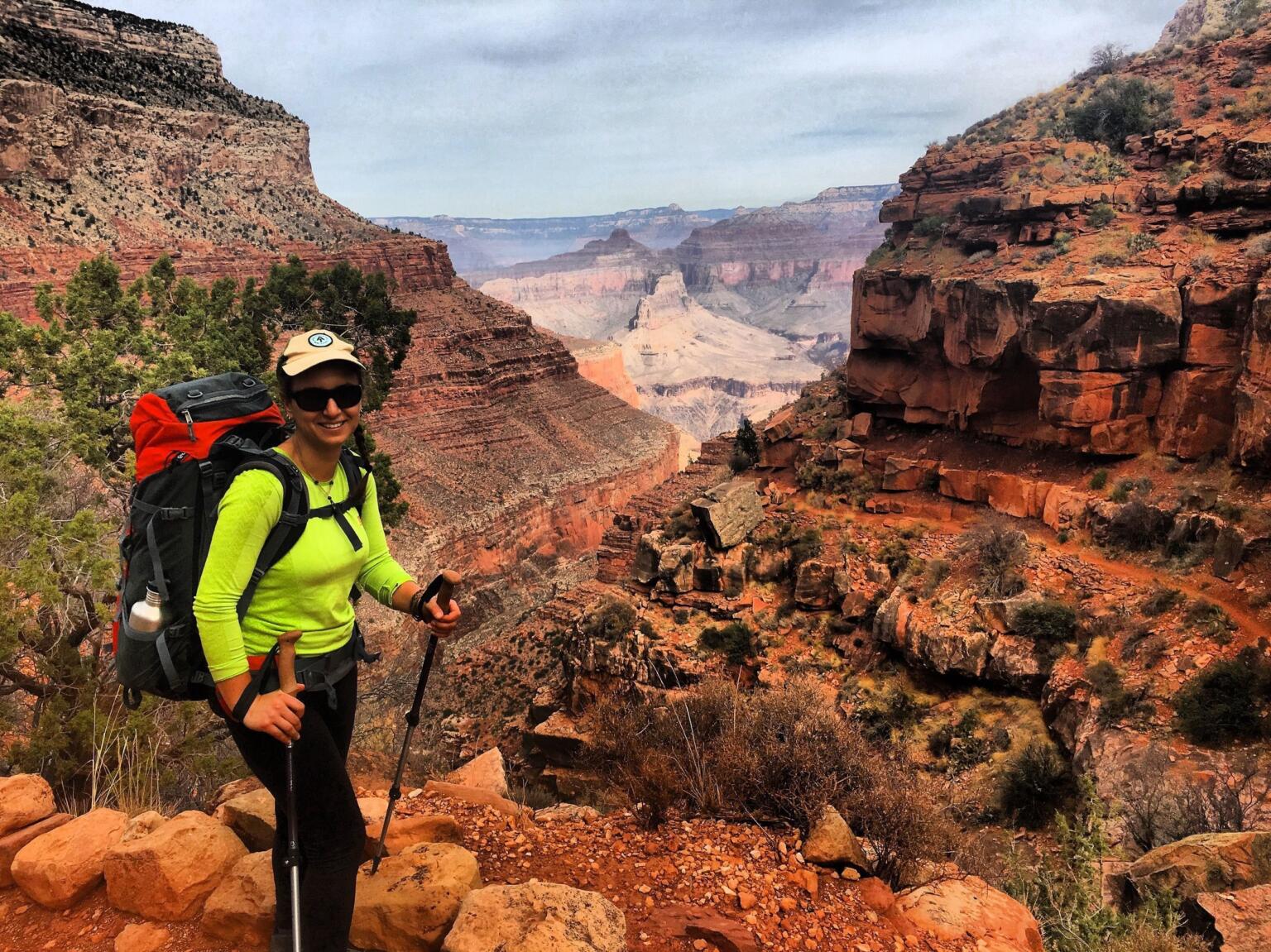 This hike takes you from the edge of the South Rim down into the canyon and back. On the first day, you will hike down to the Colorado River (about 9-10 miles) until you reach the Bright Angel campground.
You can decide to camp here and make this an overnight hike, rather than a grueling day hike, but as I've said it is a competitive campground. Make a reservation!
Several points along the trail can serve as turning points if you want this to be a day hike, as the full hike is 19 miles out-and-back. Rather than tackle this out-and-back, you have the option to take the South Kaibab Trail back to the rim.
If you want to give the whole trail a go, make sure to carry enough water and food with you. The hike is not as challenging as the rim-to-rim one, but can still take out unprepared backpackers.
9. Cathedral Rock, Sedona
Distance: 2 Miles
Elevation Gained: 600 Feet
Nearest Town: Sedona
Days Required: 1 Day
When to go: Year Round
Type: Out and back
If you are staying at the alternative, new-age town of Sedona nestled amongst towering red rocks then you can't miss this hike. The trailhead for the hike is half a mile along the paved Back of Beyond Road, which forks westwards off AZ 179, 3.4 miles south of the US 89A junction. The parking lot is relatively small, so make sure to arrive early, otherwise you'll have to park your vehicle on verges or a rocky streambed further down the road.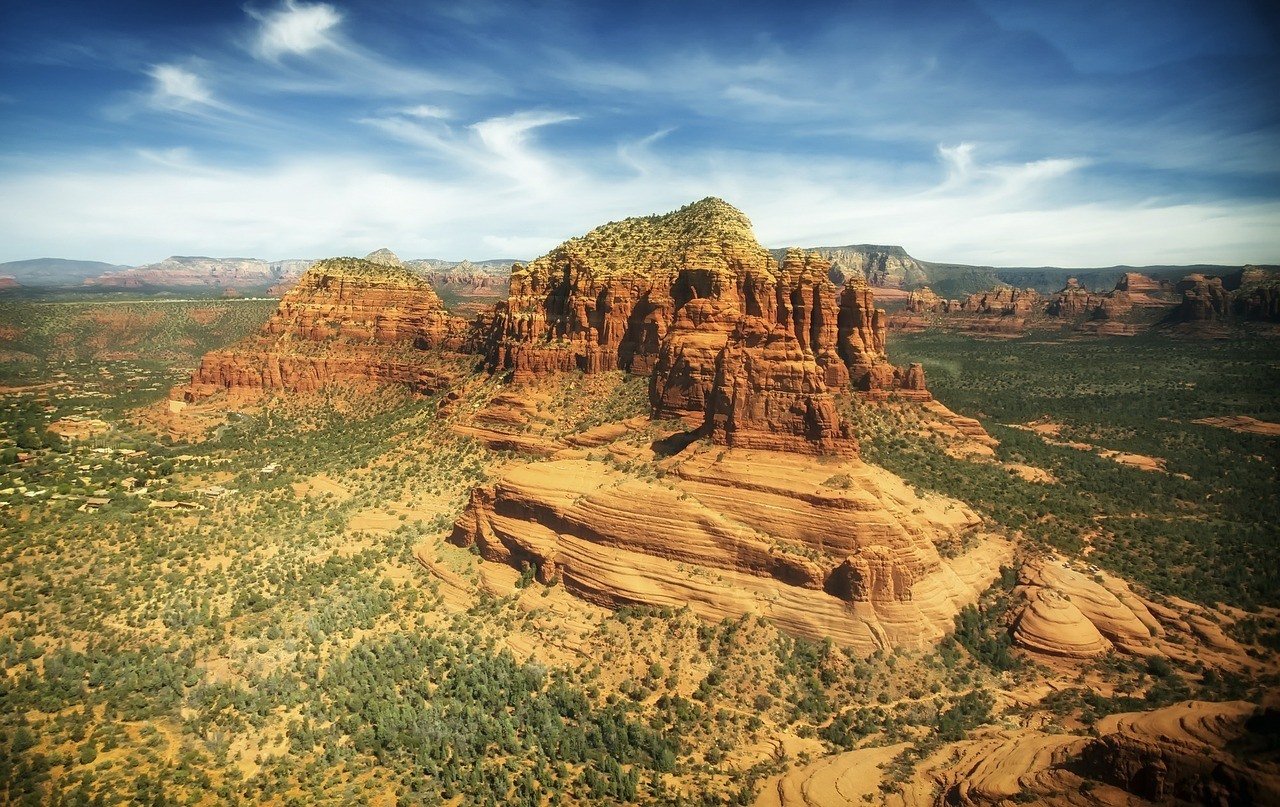 I have hiked Cathedral Rock multiple times now, and it is easily one of my favorite day hikes in Arizona. The hike requires some scrambling but is relatively easy and well worth the view at the top, especially for sunset.
Cathedral Rock is one of the best Arizona day hikes in my opinion, alongside Devil's Bridge, but they are quite popular on weekends!
DON'T DIE OUT THERE! …Please 🙂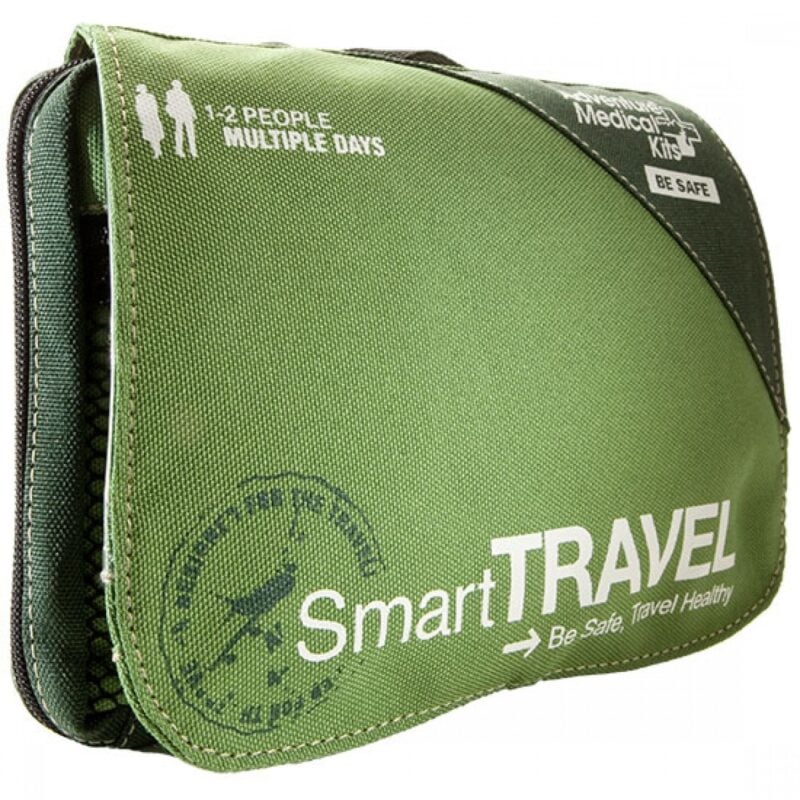 Things go wrong on the road ALL THE TIME. Be prepared for what life throws at you.
Buy an AMK Travel Medical Kit before you head out on your next adventure – don't be daft!
Buy on REI
10. Echo Canyon Trail, Chiricahua National Monument
Distance: 8 Miles
Elevation Gained: 2,000 Feet
Nearest Town: Echo
Days Required: 1 Day
When to go: All year!
Type: Loop
The Chiricahua Mountains are the remains of a volcanic eruption, in which the ash eroded into balancing rocks and hoodoos. This is what the Southwest is all about!
In this land of rock pinnacles and unworldly hoodoos high above the desert, you will discover canyons and stone structures superbly unique to Arizona. The best hike or at least the most popular hike in this area is known as Echo Canyon or "Big Loop" as it loops you around the Chiricahua National Monument park.
You start at the Echo Canyon Trailhead after driving along the park's 8-mile scenic drive.
Once you begin, the trail is well-marked and takes you along an 8.3-mile loop, though you can make the loop longer or shorter by venturing onto other trails. Find a trail map here.
The trail will run you through slot canyons and along mountainsides until you eventually end up back at the parking lot. This is one of the top hikes in Arizona due to its diversity and views without the crowds.
Keep in mind that there is no nearby accommodation, and you should consider camping near this park instead. Refer to our gear section above for some advice on what to bring on your Arizona trip!
Honorable Mentions for Best Hikes in Arizona:
1. Antelope Canyon (Upper and Lower), Page: This canyon has become insanely popular thanks to the 'Gram, but there are plenty of other slot canyons in Northern Arizona that you can discover. That said, Antelope Canyon is undeniably one of the most beautiful places in Arizona. Both the upper and lower canyons are more of a stroll than an actual hike. Keep in mind you must pay and enter Upper and Lower canyon with a guide. Reservations are recommended.
2. Horseshoe Bend, Page: Again, this is more of a quick stroll than a hike, but the canyon is beautiful. It would be more beautiful if the tour buses didn't flood by the dozens.
3. Havasu Falls: While this used to be one of my favorite hikes in Arizona, it has become so increasingly popular that it now requires an arm and leg and balling budget to reserve. All understandable because the land must be preserved and protected. Nevertheless, it's a seriously epic waterfall that's unlike any others in the continental USA.
4. Devil's Bridge, Sedona: Tied for popularity and epic views with Cathedral Rock, this is another one of the best day hikes in Arizona for that matter.
5. Rainbow Rim Trail – For a strenuous, rewarding, and lesser-visited hike, consider this trail along the north rim of the Grand Canyon. It is about 18 miles with a 3,100 elevation gain! Much of this trail is accessible for bikers as well.
6. Boynton Canyon Trail, Sedona – Another great hike in Sedona. This is 5 miles total, and a pretty easy, year-round hike.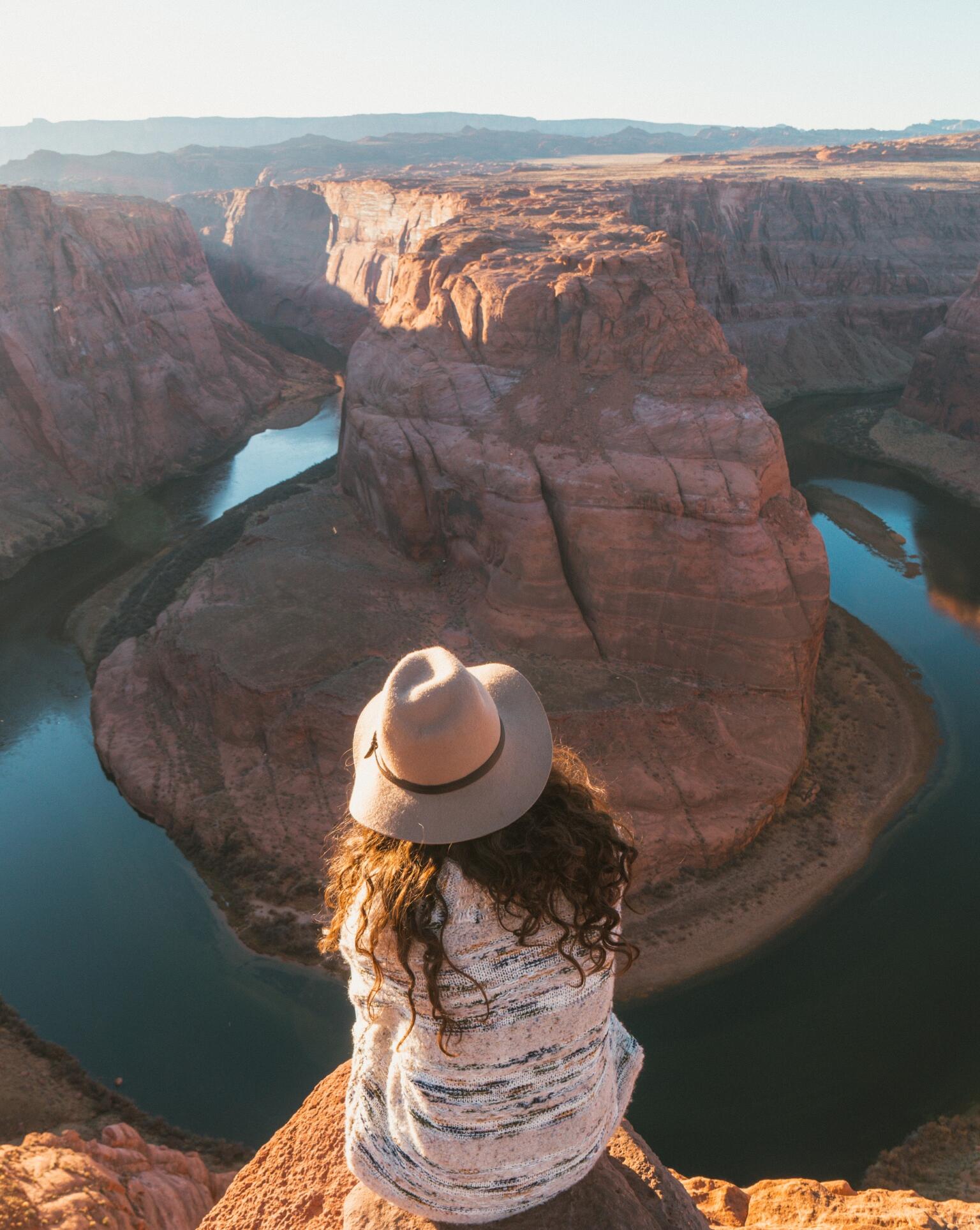 Books to read on the Best Hikes in Arizona
To get you inspired and well-informed, check out these books on hiking in California. Get to know some of the state's beautiful landscapes and hikes in greater detail:
The Devil's Highway: A True Story – This true story is about a group of Mexican immigrants lost in the Arizona desert. This book was a Pulitzer Prize finalist and national bestseller, so if you read any book set in Arizona make it this one.
The Monkey Wrench Gang – Okay this book is equally of importance and a great novel to better understand the Southwest and complexities between saving our wild places from the strip miners, clear-cutters, and the highway, dam, and bridge builders. In The Monkey Wrench Gang, angry environmentalists aim to save the Southwest natural habitats, peaceful coexistence be damned!
Weird Arizona: Your Travel Guide to Arizona's Local Legends and Best Kept Secrets – The title says it all.
Final Thoughts on the Best Hikes in Arizona
There you have it, our top 10 hikes in Arizona – hopefully we were able to help the planning of your trip or give you some inspiration to grab your backpack and head out on another adventure. It doesn't matter how experienced you are when it comes to hiking, you'll be able to find the right trail for you!
Keep in mind that no matter which trail you decide to tackle, always bring enough water and food with you. Some trails offer spots where you can refill your water bottle and some even get patrolled by rangers, but relying on that would be incredibly naive. You want to stay hydrated, especially during the summer months.
And one last tip: ALWAYS plan ahead. Don't just rock up at the trailhead and head down blindly, you want to know exactly what to expect and how to be properly prepared.
By now, you should be well informed about the best hikes in Arizona. If we've missed anything, let us know in the comments below!
---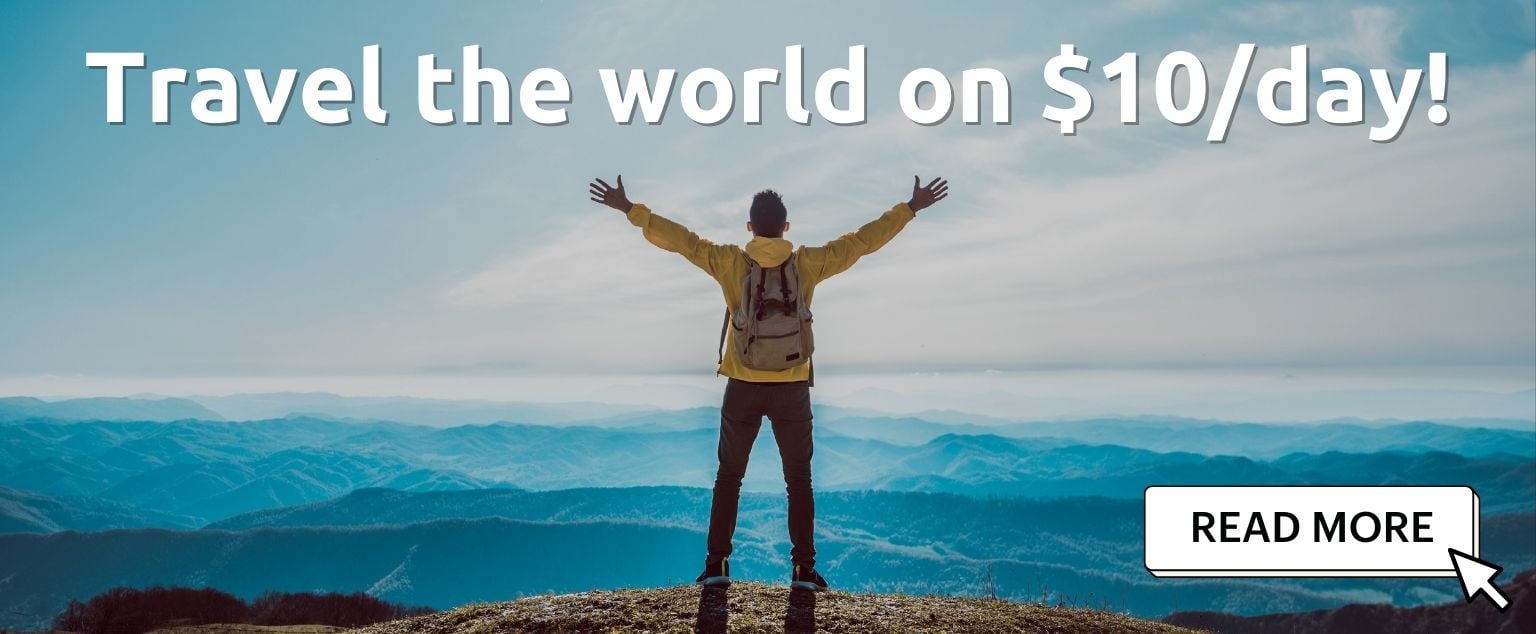 And for transparency's sake, please know that some of the links in our content are affiliate links. That means that if you book your accommodation, buy your gear, or sort your insurance through our link, we earn a small commission (at no extra cost to you). That said, we only link to the gear we trust and never recommend services we don't believe are up to scratch. Again, thank you!