Ahh Pheonix, the capital city of Arizona. Steeped in Native American culture, the city is brimming with ancient sites, desert-fringed highways, and, of course, a permanently sunny disposition! It should therefore come as no surprise that the Valley of the Sun is a popular US destination to visit.
After all, as locals usually say, 'It's always sunny in Phoenix!'.
With dry creeks and rivers being the norm, and the tap water nearly always comes out warm, you can expect the weather to always be in your favor when you're browsing for things to do in Phoenix.
Now, there's always plenty, and I do mean plenty, of Phoenix attractions to explore so first-time visitors tend to get overwhelmed. To make things a bit easier for you, I've put together a guide that will help you discover the city's highlights, plus a few hidden gems, so you can put your itinerary together with ease.
So when you're ready, let's take a look at some fun attractions in Pheonix!

Unlock Our GREATEST Travel Secrets!
Sign up for our newsletter and get the best travel tips delivered right to your inbox.
1. Visit the Desert Botanical Garden
Let's kick off with one of the most popular things to do in Phoenix, shall we? With a whooping number of plants – around 50,000 if not more – the Desert Botanical Garden is especially known for its massive collections of agaves and cactuses.
I would totally recommend that you visit later in the day to see certain flower species bloom at twilight. In the evening, the cactuses are illuminated in atmospheric lighting, so you'll certainly have plenty of excellent photo opportunities!
In case you get peckish during your visit, rest assured that the Botanical Garden does have an on-site restaurant. There's also a souvenir shop where you can stock up on plenty of themed goodies to bring back home!
Entrance: $12-$25
Hours: 7am – 9pm daily
Address: 1201 N Galvin Pkwy, Phoenix, AZ 85008, United States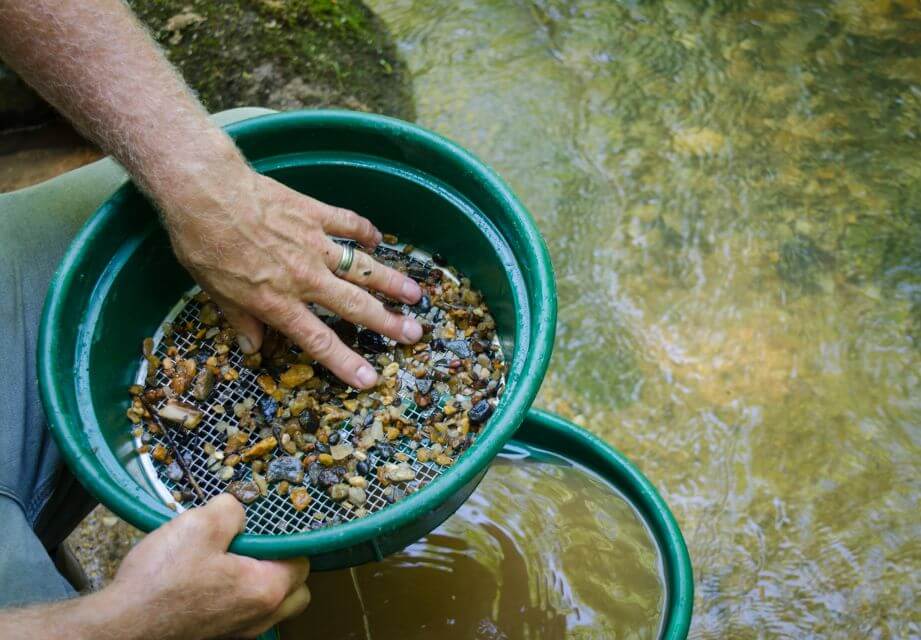 Yes, the odds of you actually stumbling across this highly-coveted precious metal are low. But gold panning is an integral part of the local culture and believe me when I say there's nothing quite like immersing yourself in this super fun experience.
Ideal for those who would like to familiarize themselves with Phoenix's gold-speckled past, this activity starts off with a hike through the Bradshaw Mountains which used to be the most gold-filled mountain ranges in Arizona.
Once you reach the Agua Fria River, you'll be taught how to pan for gold in the water before trying your luck out! And who knows? If fate's on your side that day, you might just head home with your pockets full of gold!
Entrance fee: $57
Hours: 7am – 8.30 p.m daily
Address: 61112 Black Canyon Fwy, New River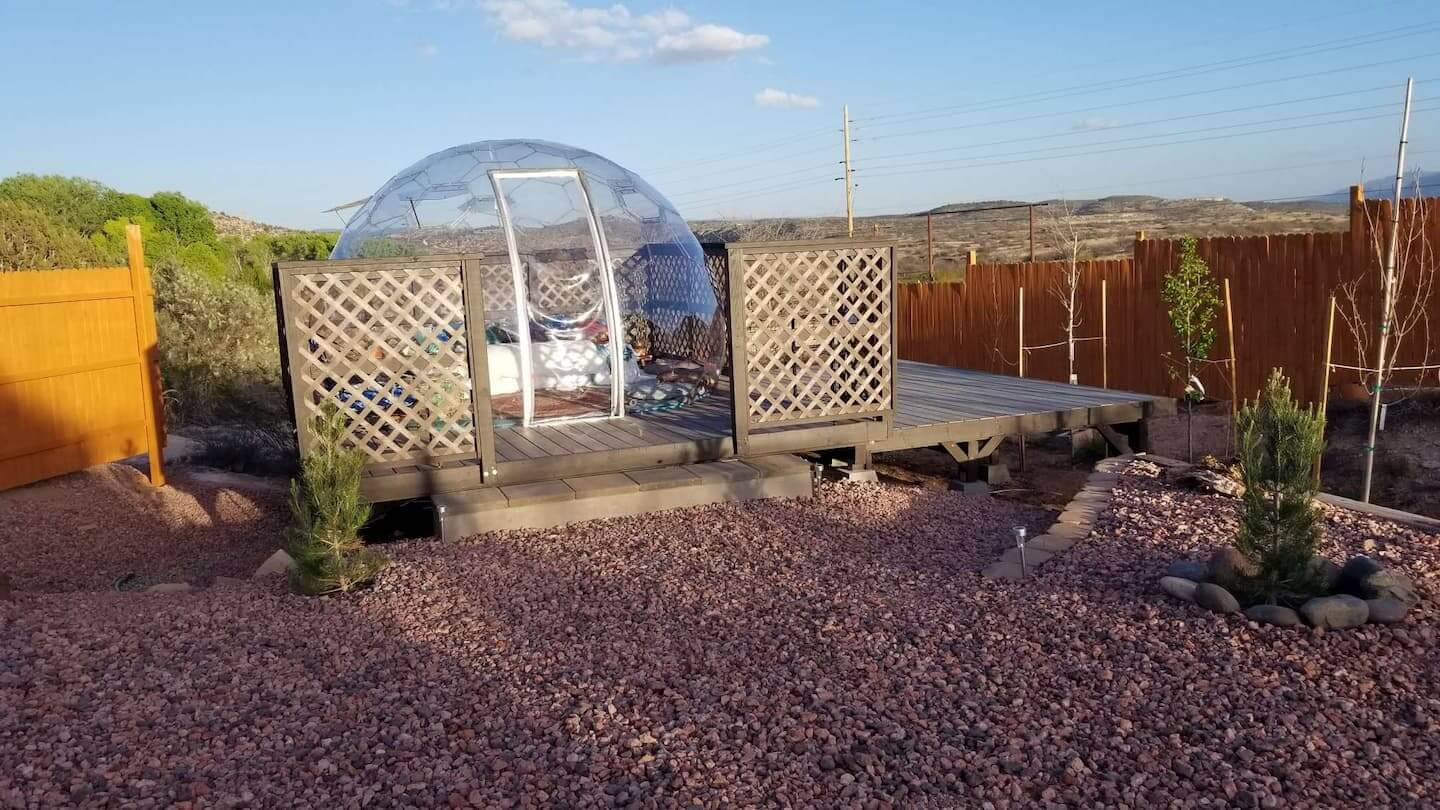 If there's one thing the Arizonian wilderness is known for, it's the many celestial sights that pepper the sky every night. Whether or not you're into astronomy, this unique vacation rental in Phoenix provides the ideal setting for enjoying Phoenix's balmy evenings.
Best of all, this beautifully concealed desert paradise lies on the outskirts of Phoenix, not far from ancient ruins and hiking trails. In fact, you'll be less than two miles from the spot where Oak Creek and Verde River meet.
This Airbnb includes access to a beautifully furnished shed with a bed and kitchenette. As the day winds to a close, burrow in the dome's comfy blankets and enjoy comet showers or unblemished views of the full moon while sipping on a glass of local wine.
Entrance: $120 per night
Hours: Depending on booking.
Address: Cornville, Arizona
4. Dine in the Desert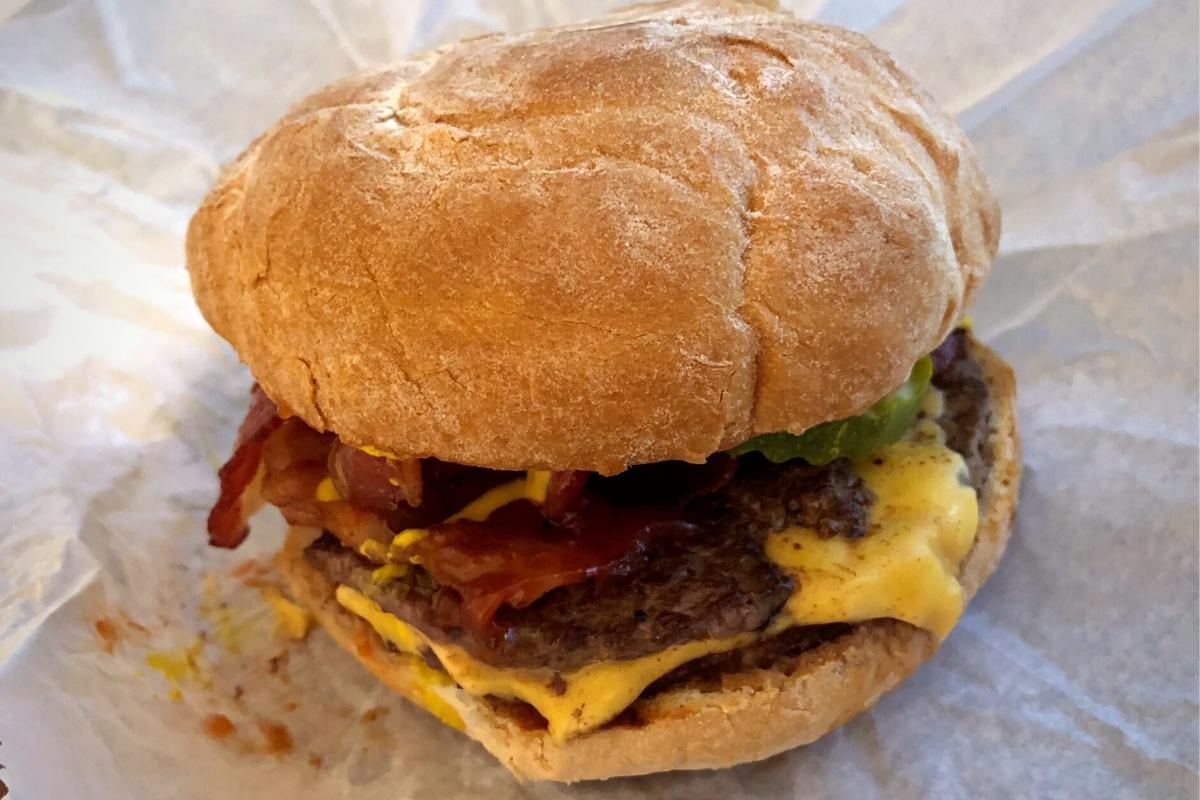 If you're looking for the most romantic things to do in Phoenix, you really can't go wrong with dinner under the twinkling desert stars! While you can always pack a picnic and find yourself a cozy spot by a sand dune, there are plenty of eateries offering lavish menus right there in the desert.
A firm favorite among locals is Gertrude's Restaurant, known for its classic Arizonan dishes sourced from seasonal ingredients. You can even dine Al-Fresco on the patio while gazing out at the rugged landscape that stretches for miles.
I can highly recommend their Green Chili Bacon Cheeseburger washed down with a refreshing glass of True Nopales Cactus Water.
Entrance fee: Free
Hours: 10.30 a.m. to 8 p.m. (Monday to Friday), 8 a.m. to 8 p.m. (Saturday and Sunday)
Address: 1201 N Galvin Pkwy
5. Attend First Friday
One of the best artsy things to do in Phoenix, First Friday basically refers to an art extravaganza that takes place on the first Friday of every month. On this occasion, you'll get to explore around 80 of the best studios and galleries located in the Downtown area.
Contrary to popular belief, this is not just an artsy walk down a portrait-lined street: you'll find plenty of live musicians, outdoor vendors, and street performers participating in this unique event!
Getting there is quite easy since there'll be complimentary hop-on/hop-off buses picking people up from Mid-Town Phoenix, the Warehouse District, Grand Avenue, and Roosevelt Row.
Entrance fee: Free
Hours: 6 p.m. – 10 a.m.
Address: 333 E Roosevelt St
6. Catch a Game at the Salt River Fields
Nothing screams Phoenix Culture more than kicking back with an ice-cold bottle of Cactus Water while enjoying a baseball game at the Salt River Fields stadium. In fact, around 20 teams fly into the Greater Phoenix area to start training for the new season in April.
Whether you're into baseball or not, believe me when I say that it's worth attending a game just for the experience: after all, Salt River Fields was literally the very first MLB park that was built on Native American land
A few quick tips if you're planning on catching a game no alcoholic beverages or external food are permitted at Salt River Fields – although, you'll find plenty of concession stands offering scrumptious goodies.
Entrance fee: $19-$57 (depending on the game)
Hours: 8 a.m. – 5 p.m.
Address: 7555 N Pima Rd, Scottsdale
Small Pack Problems? 😉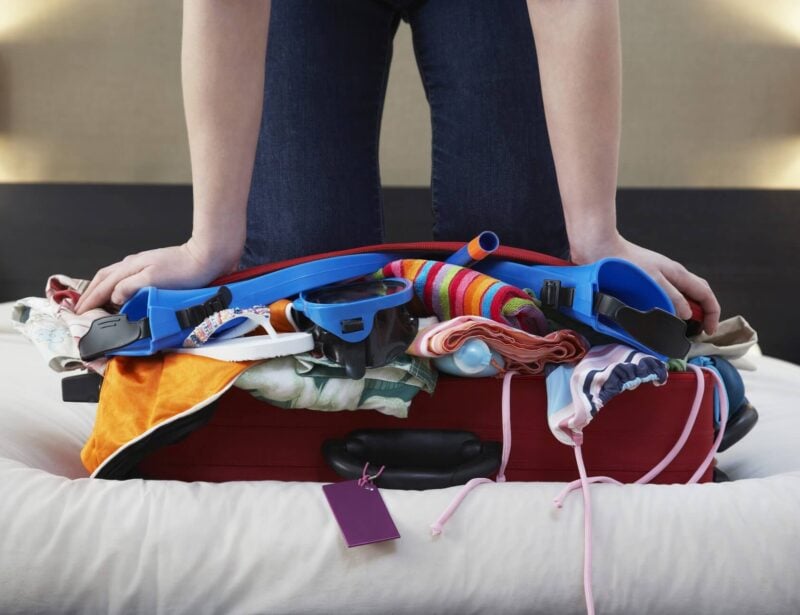 My missus travels with all her clothes in ziplock bags: don't be like my missus. UP YOUR PACKING GAME!
Packing cubes for the globetrotters and compression sacks for the real adventurers – these babies are a traveller's best kept secret. They organise yo' packing and minimise its volume too so you can pack MORE.
Or, y'know… you can stick to ziplock bags.
View Our Fave Cubes
Or Check Out the Sacks!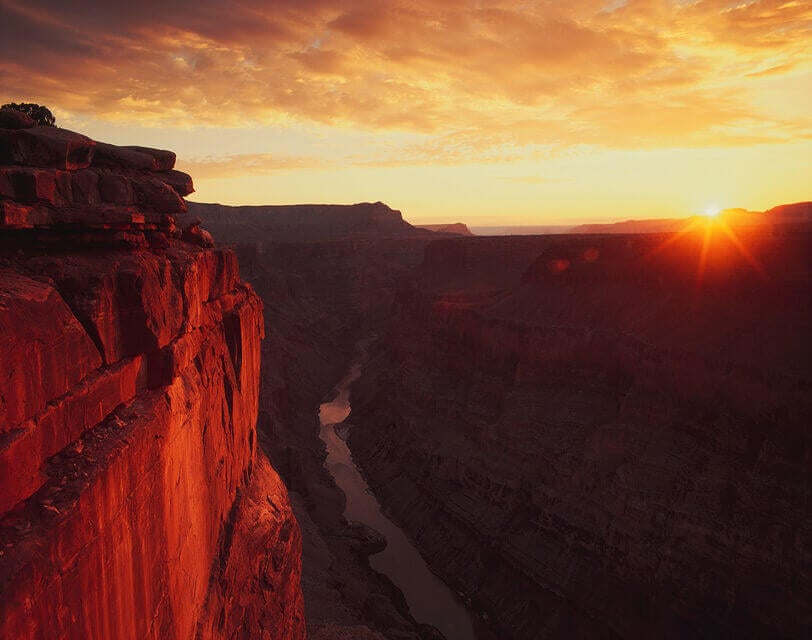 Ask any local and they'll tell you that one of the unmissable things to do is to take a day trip from Phoenix down to the Grand Canyon, located a little over three hours away. Believe me when I say there's nothing quite like the dramatic vistas that await you over there!
More importantly, it's possible to book a full-day package that will take you across both the Grand Canyon and Route 66 on the same day. These just so happen to be two of the most iconic destinations in Arizona, so you'll certainly be in for a treat!
Best of all, this particular tour includes a scenic drive through the Coconino National Forest and the Sonoran Desert.
Entrance fee: $204 per person
Hours: 6 a.m. to 7 p.m.
Address: Pickup from your accommodation in Phoenix
Whether you're looking for things to do in Phoenix by yourself, with your family, or with friends, I can assure you that this experience isn't going to disappoint!
If you've never gone rafting before, you'll be glad to learn that the Salt River is considered Class 1 on the international scale of difficulty. Very light paddling is required, so you'll have ample time to sit back, relax and soak up Tonto National Forest's beautiful sights.
Here comes the best part: after a relaxing rafting session, you can take a plunge in the refreshing water to cool off. In the summer, the river's temperature hovers around a pleasant 80 degrees F, perfect for beating that notorious Arizonian heat!
Entrance fee: $160
Hours: 1.30 p.m. – 5.30 p.m.
Address: Mesa, Phoenix Metropolitan Area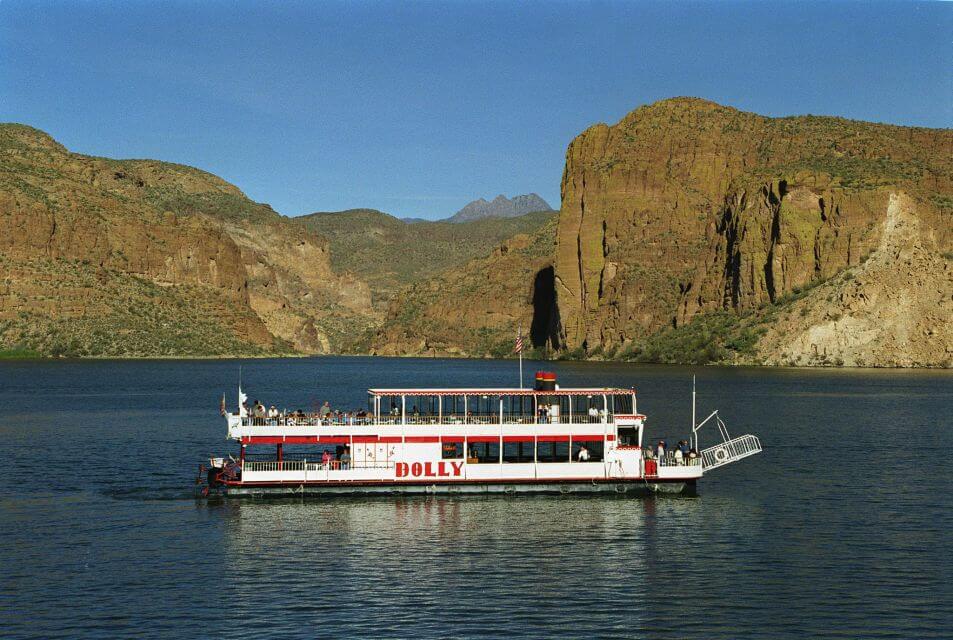 Officially known as Arizona Route 88, the Apache Trail basically refers to a stretch of mountain-fringed road that kicks off at East Phoenix and winds for nearly 40 miles.
Rest assured that this is not just another scenic-yet-boring drive: on the contrary, the Apache Trail houses plenty of highly coveted attractions, including Canyon Lake.
Loaded with history, the Apache Trail was originally built in the early 1990s and offers quite a spectacular cluster of rock formations, rugged pockets of desert landscape, and saguaro-covered hills.
If you're short on time, you can always book a guided tour to explore the Trail's best attractions in just one day- and yes, that includes a Dolly Steamboat cruise through Canyon Lake!
Entrance fee: $135
Hours: 8.30 a.m. – 3.30 p.m.
Address: Pickup from Phoenix Metropolitan area
10. Explore the Casa Grande Ruins National Monument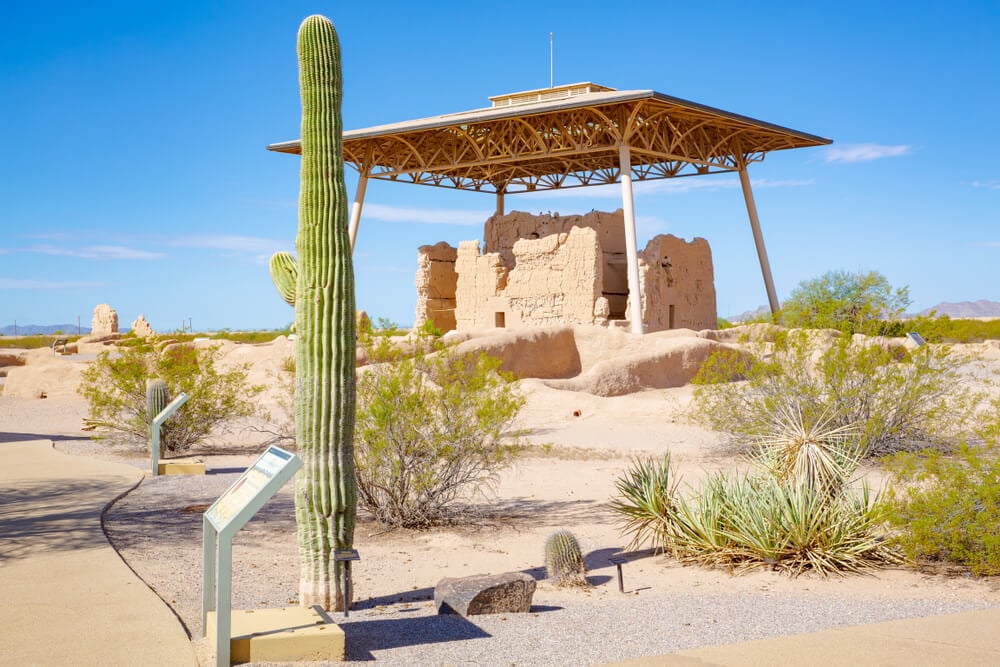 There's something quite humbling about standing in front of this majestic monument that's loaded with history. A riveting testimony to the ancient Puebloan Hohokam culture, the Casa Grande Ruins lie south of the Phoenix Metropolitan area.
The monument houses a four-story building that apparently dates all the way back to the 14th century. After touring the place, you can always take a stroll in the surrounding desert which is practically teeming with Hedgehog Cactuses, Palo Verde, and Ironwood.
If you're lucky, you may even get to spot some elusive Great Horned Owls as well as those exceptionally adorable Round-Tailed squirrels that have elected the ruins as their home.
Entrance fee: Free
Hours: 9 a.m. – 4 p.m.
Address: 1100 W Ruins Dr
Is This the Best Daypack EVER???
11. Get Boozy with the Locals at the Culinary Dropout
In my opinion, the easiest way to mingle with the locals is to spend Friday evening at the Culinary Dropout, a vibrant gastropub that, unlike its name, serves up the very best drinks in Phoenix!
With a relaxed ambiance and uniform-free staff, this place also specializes in hard-to-find cheeses and meats. I should probably warn you that it's found smack in the middle of a renovated motorcycle garage, something that only adds to its soulful vibe.
You won't find a lot of tourists there since it's mostly frequented by locals looking for a place to chill after work. Oh, and happy hour is from 3-6 p.m.!
Entrance fee: Free
Hours: 11 a.m. to 10 p.m.
Address: 5632 N 7th St
12. Take a seat at the Capitol Museum's House Chamber
If you ask me, a guided tour of the Arizona Capitol Museum is one of the coolest things to do in Phoenix alone. Museums don't usually rhyme with cool, but believe me when I say that this place offers some pretty impressive exhibits!
Instead of the overly-stuffy attitude that you usually encounter at most museums, this one actually encourages patrons to get up close and personal. You can even take a seat at the House Chamber or tour the Secretary of State and Governor's original offices.
One of the Capitol's best exhibits is no doubt the 'Merci Train' which showcases an impressive array of gifts received by France. More importantly, the museum is entirely free to visit!
Entrance fee: Free
Hours: 8 a.m. – 4.30 p.m.
Address: 1700 W Washington St
13. Check out the Arizona Science Center
Travelers looking for fun things to do in Phoenix with kids will no doubt be thrilled with a visit to the world-famous Arizona Science Center!
This hands-on science center covers four levels, and you can be sure to find plenty of exhibits aimed at both kids and adults.
Now, if you're not traveling with children, fret not: you can sign up for the Center's unique 'Science With a Twist' program which is only aimed at those over 21. Why, you ask? Well, that's because there's plenty of drinking and dancing after the live scientific activities!
Entrance fee: $19.95 for museum entry, $12 for the Science With a Twist program
Hours: 10.30 a.m. – 4 p.m.
Address: 600 E Washington St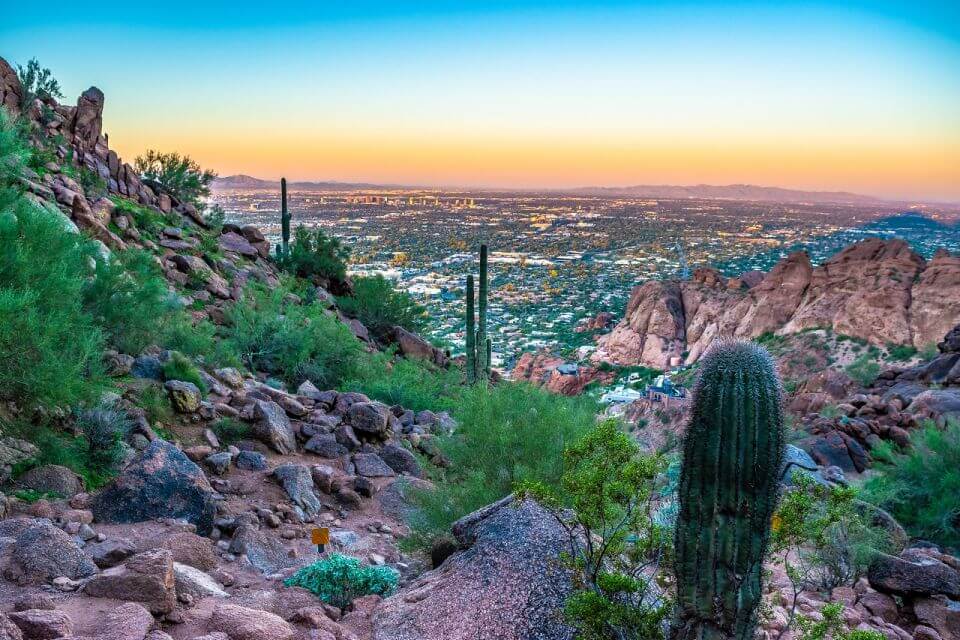 Okay, you really can't leave the Valley of the Sun without checking out the legendary Camelback Mountain! Undeniably hiking in Arizona is not for everyone, but among the most popular things to do in Phoenix, is the Camelback hike. Tours are ideal for travelers who are not comfortable hiking alone or are looking for unique photo ops.
This mountain earned its name because of its camel hump-shaped summit that towers at 1,420 feet. According to geologists, this hump is an absolute mystery because the earth rose upwards to give this mountain its trademark shape.
I do have to point out that this challenging climb is best suited to experienced hikers. If you do manage to make it to the summit, you'll be greeted by an awe-inspiring, 360-degree view of Phoenix and other neighboring cities.
Entrance fee: $100
Hours: 6 a.m. to 9 p.m.
Address: E McDonald Dr, Phoenix
Travel with peace of mind. Travel WITH a security belt.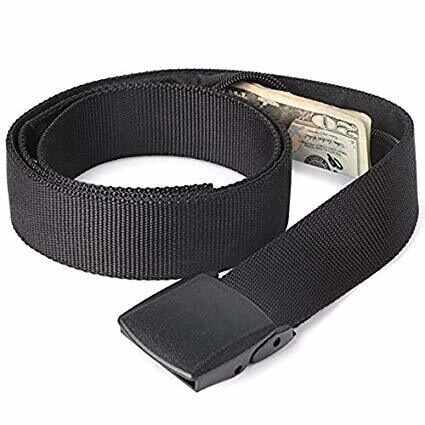 Get your cash stashed with this awesome Pacsafe money belt. It will keep your valuables safe no matter where you go.
It looks exactly like a normal belt except for a SECRET interior pocket perfectly designed to hide a wad of cash or a passport copy. Never get caught with your pants down again! (Unless you want to.)
Hide Yo' Money!
15. Watch the World Championship Hoop Dance Contest
Travelers seeking non-touristy things to do in Phoenix will certainly revel in this lively contest that aims at promoting Native American traditions. Hosted by the Heard Museum, this two-day event takes place every winter.
You'll get to see dancers and musicians using brightly-colored hoops to create various symbols associated with Native Americans, such as baskets, eagles, rare insects, flowers, and more. What makes this experience unique is that they deftly create their hoop symbol to the beat of traditional live music.
If you'd like to attend this festival, it's not a bad idea to arrive early. Like, way early. This is one of the most popular contests in Arizona and it can get quite packed!
Entrance fee: Free
Hours: N/A
Address: Libby Amphitheatre, Heard Museum, 2301 N Central Ave
16. Beat the Desert Heat with a Spa Day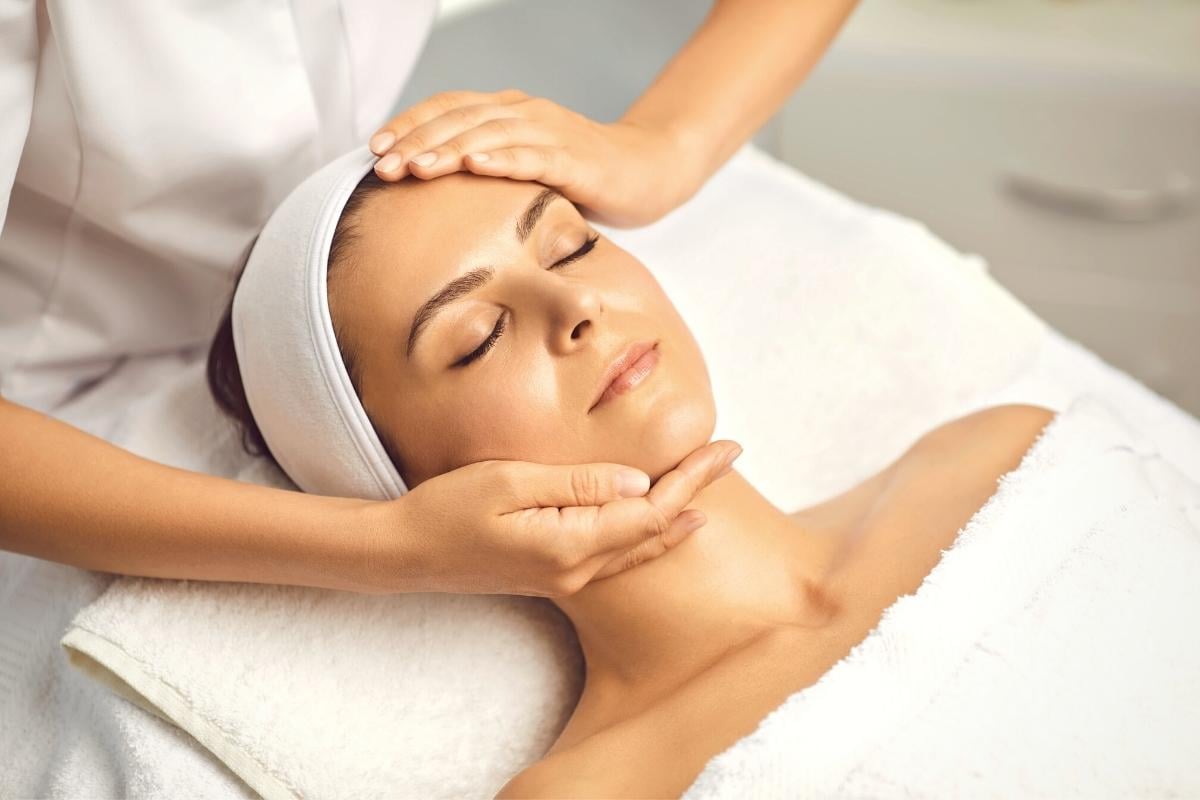 The sheer bliss of soothing body treatments in air-conditioned comfort on a sweltering day in Phoenix is something that everyone must experience at least once!
Do you want to know the good news? The city is brimming with a wide array of spas to suit just about every budget so if you're still wondering what to do in Phoenix, go ahead and pamper yourself at a wellness center!
My personal favorite is the Circadian Bath Ritual at the Arizona Biltmore's Tierra Luna Spa. This place also offers mud wraps, facials, Couples Rituals, and of course, the quintessential mani-pedi.
Entrance fee: $45-$980, depending on the treatment
Hours: 9 a.m. to 7 p.m.
Address: 2400 E Missouri Ave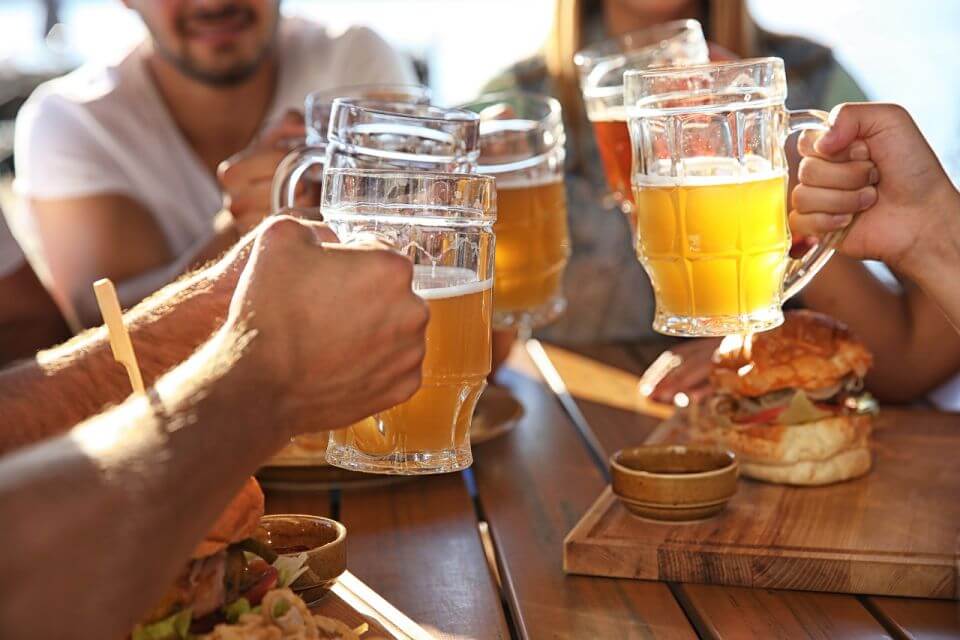 Owing to its terrific climate, the Valley of the Sun is often associated with desert expeditions and outdoor adventures, but did you know that the Phoenix Metropolitan area also produces some of the best beer in the country?
If this is something that interests you, you can always book an activity that combines the best of both worlds: mountain biking through Scottsdale's McDowell Sonoran Preserve followed by a tour of the local brewery, complete with dinner and beer tasting.
Because the trail is quite easy, it's suitable for first-time mountain bikers as well. Yes, it does kick off early but then again, there's nothing quite like watching the early morning sun climb higher in the sky from that gorgeous mountain!
Entrance fee: $250
Hours: 6.30 a.m. – 12.30 p.m.
Address: Pickup from your accommodation in Phoenix
18. Treat Yourself to a Meal at a Vintage Diner
There's certainly an assortment of adventurous things to do in Phoenix, but foodies will be thrilled to learn that the city also boasts an extensive range of eateries.
Ultra-contemporary restaurants with teeny tiny portions served on sleek slate plates are all in the rage right now but if you feel like doing things the old-fashioned way, you can check out MacAlpine's which houses one of the last soda fountains in the country.
You can choose from over 100 flavors at the retro soda fountain and yes, that includes anything from red velvet to bubblegum or even pickle (don't knock it until you've tried it!). They also serve hearty old-fashioned sandwiches, meatloaf, and the likes.
Entrance fee: Free
Hours: 11 a.m. to 7 p.m.
Address: 2303 N 7th St, Phoenix
Forget boring accommodation… book yourself an EPIC STAY!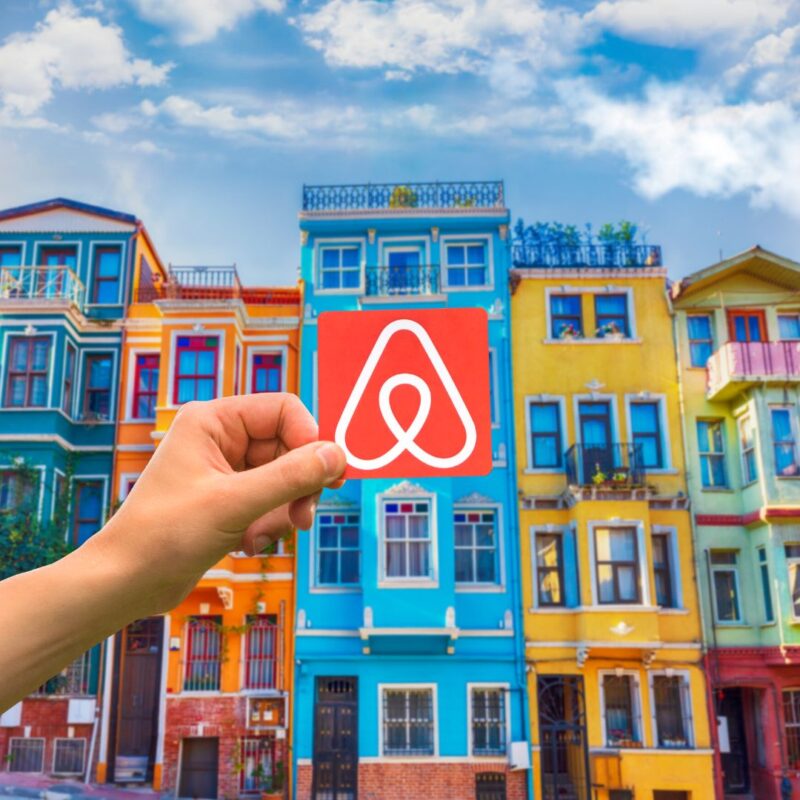 Why stay in a naff hotel when you can stay in a cosy, stylish local house instead? And for half the money too!
Stay somewhere EPIC and save your hard-earned dollars — from houses to barns to castles and caves, there is an Airbnb for every occasion!
Book an EPIC Stay
19. Take a Picture of the Anthem Veterans Memorial
You've probably seen pictures of the Veterans Memorial floating around on social media. If you're visiting Phoenix on Veteran's Day, you'll certainly have your own chance at capturing this unique phenomenon in all its glory as it aligns with laser-like precision to reflect the U.S. seal.
Do remember that this is a classic blink-or-you'll-miss-it moment though: the shadows align for exactly one minute and then the seal disappears until the following year.
Don't worry if you miss the sunlight show though: the monument is stunning enough on its own, even without the seal. More importantly, there's no entry charge, so it's absolutely perfect for budget travelers!
Entrance fee: Free
Hours: 1.11 p.m. every 11th of November
Address: 41703 N Gavilan Peak Pkwy
20. Find Serenity at the Japanese Friendship Garden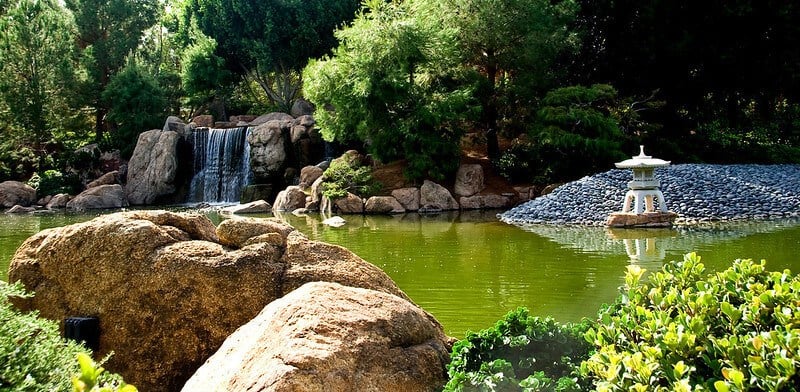 I know; we're talking about Phoenix here and not Japan. But this is the best place where you can unwind and recover from the desert heat. As the name suggests, the space is modeled around Japan's classic gardens, but with a few Arizonian touches sprinkled throughout.
Located in the downtown area, this garden also offers activities such as a traditional tea ceremony and tai chi classes. Couples who are looking for romantic attractions in Phoenix will absolutely revel in a serene sunset stroll in this picturesque garden while live music plays softly in the background.
Entrance fee: $10
Hours: 9 a.m. to 4 p.m. (Tuesday to Sunday)
Address: 1125 N. 3rd Avenue
21. Get Obliterated in the Dancing Fireflies
Even if you're not into art, I would really recommend the Phoenix Art Museum as a must place to visit in Phoenix. If only to check out a mesmerizing Avant-Garde piece known as 'You Who Are Getting Obliterated in the Dancing Swarm of Fireflies.'
Yes, I know, it's quite a mouthy title but locals can attest to the fact that this is easily the most famous artwork in the city. Painted by Yayoi Kusama, this piece basically consists of mirror-lined walls, ceilings, flooring, and LED lights that come together to create a positively ethereal experience.
Most people say that it almost feels like standing in the complete wilderness with fireflies swarming around. This piece can only be viewed in Phoenix since it's been permanently acquired by the city.
Entrance fee: $12 for adults, $6 for children (6 to 17)
Hours: 10 a.m. to 5 p.m. (Tuesday through Saturday)
Address: 1625 N Central Ave
Are you looking for a comfortable yet affordable place to stay in Phoenix where you can wind down after a full day of exploring Phoenix's many nooks and crannies? Of course, you are!
Since Phoenix is one of Arizona's most visited cities, you can expect plenty of accommodation options to suit various budgets. Here are some of my personal favourites:
This one hands-down gets my vote for the comfiest Airbnb in Phoenix! With one bedroom to accommodate two guests, this place features classic home comforts such as a well-equipped kitchen. Outside, you can make full use of the complex's many facilities, including two pools, a gym, a putting green, a shared hot tub, and even a clubhouse for when you want to socialize. Nearby, you can cheer on the Sun Devils at the nearby Arizona State University before taking a tour of Tempe Town Lake. The Airbnb also offers proximity to Old Town Scottsdale.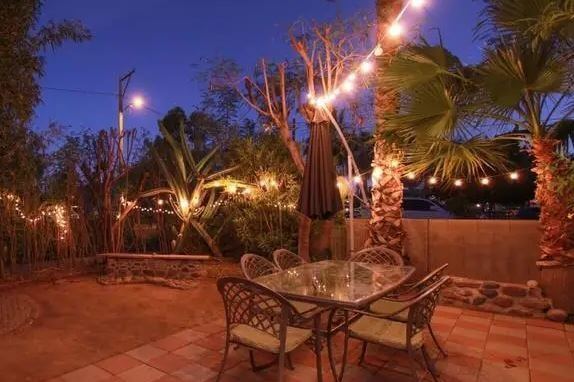 Commanding an excellent location in the Roosevelt Row Arts District in the Downtown area, The Metcalf House easily ranks among the most affordable hostels in Phoenix. With free and fast Wi-Fi this hostel even has a rooftop patio, hammocks, and meditative gardens. You'll even be treated to a complimentary continental breakfast every morning! This hostel places you just five minutes from the Local Art Districts and its many exhibitions. Nearby, you can also check out Papago Park and the Pueblo Grande Museum Archeological Park.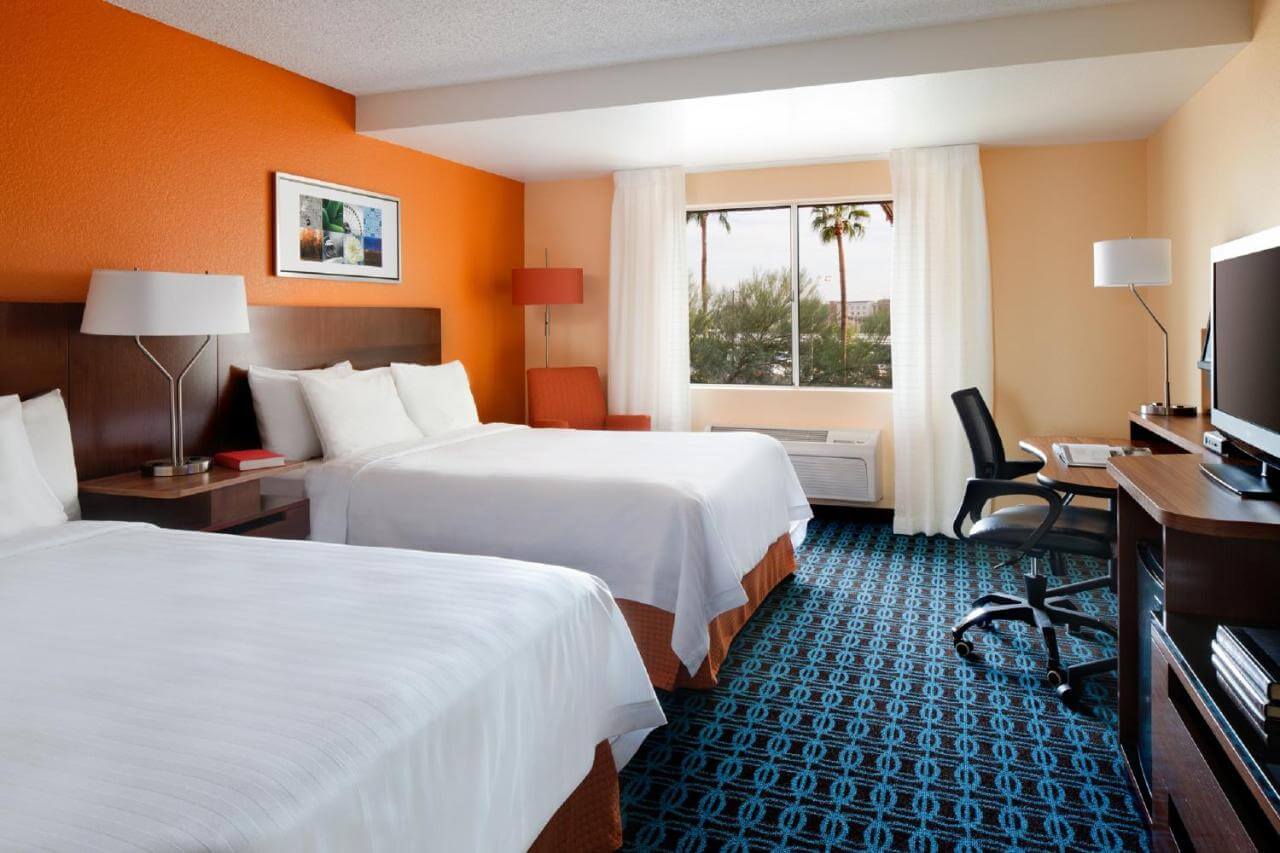 Offering deluxe rooms that comfortably accommodate up to four guests, this hotel lies close to Phoenix Sky Harbor International airport. Guests can enjoy plenty of perks such as free airport shuttle services and daily breakfast. With a 24-hour front desk, Country Inn & Suites also has a vending machine with plenty of goodies for those late-night snacks! At this hotel, you'll be less than 10km from the Desert Botanical Gardens and the Historic Heritage Square.
Here are a few things that you may wish to keep in mind when exploring Phoenix!
Invest in travel insurance! You never know what may happen on the road.
Dress for the Weather. Phoenix is known as the Valley of the Sun- literally! This city sees ample sunshine all year long, so you'll want to properly slather on the sunscreen when exploring the many attractions in Phoenix. If you're visiting in summer, it's crucial to stay hydrated and carry a water bottle with you. Be sure to pack your caps, sunglasses with UV protection, and adequate shoes. No flip-flops unless you want to burn the skin off your feet!
Bring a good water bottle with you and avoid buying single-use plastic ones!
Take Advantage of Summer Specials. Because it's such a touristy place, Phoenix can be a bit on the pricier side. If you visit during summer, however, you'll find plenty of excellent deals in terms of rental cars and accommodation, perfect for those on an Arizona road trip.
Book in advance! While there's no shortage of things to do in Phoenix in summer, it's recommended to make your bookings in advance because everything sells out pretty quickly in peak season.
Venture Outside the City. Since you're already in Phoenix, you might as well explore the many wondrous sights that beckon just outside the city. With magnificent desert landscapes and towering mountain ranges filled with history, the outskirts of Phoenix effortlessly cater to fans of the great outdoors.
Rent a Car or Get an Uber. As awesome as Phoenix is, it, unfortunately, doesn't have a great public transportation system. There's a light rail system that runs from East to Northwest Phoenix, but that's about it. Most buses only cover residential areas and private taxis can get very expensive so your best bet would be to either rent a car or use an Uber to go around. If you're looking for outdoor things to do in Phoenix, you may also wish to check out the city's bike-sharing programs.
Don't forget your travel insurance for Phoenix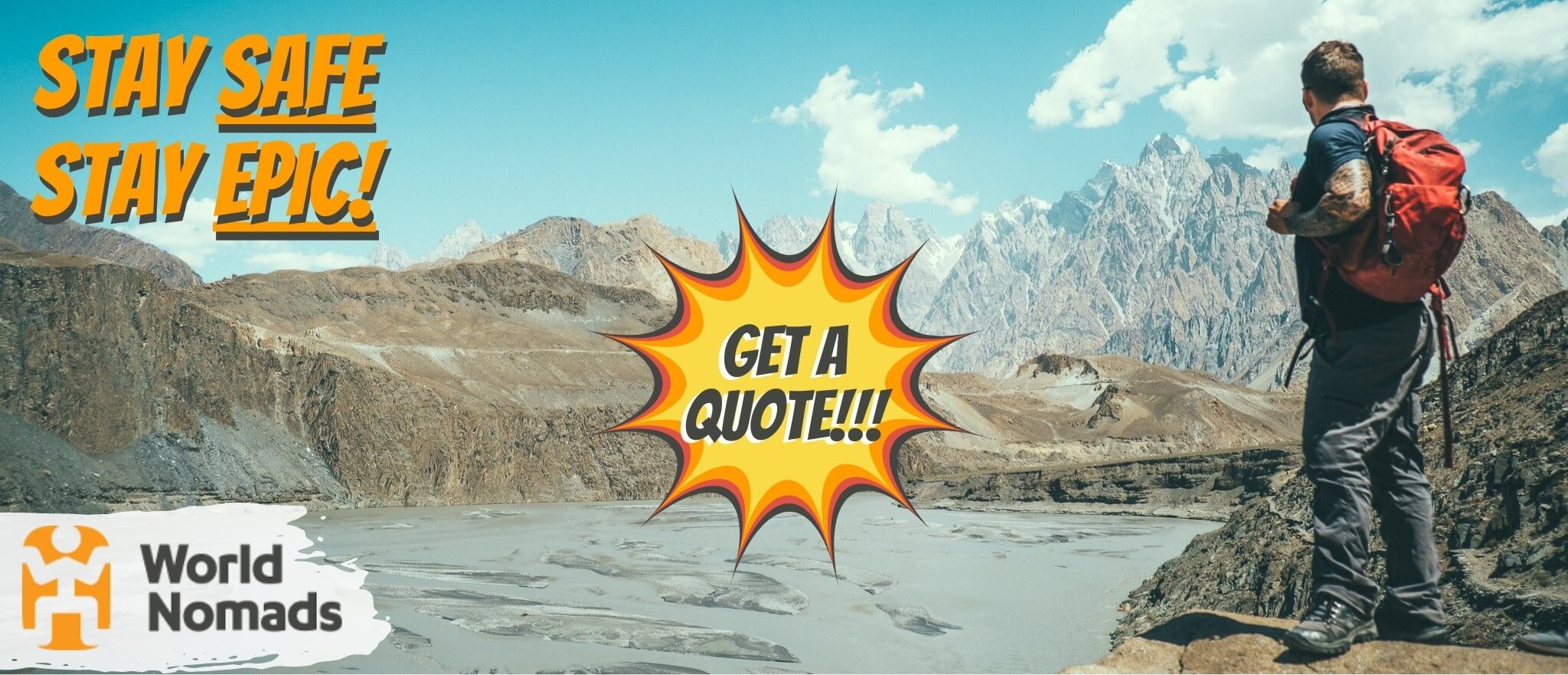 World Nomads' mission is to support and encourage travellers to explore their boundaries. They offer simple & flexible travel insurance, and safety advice to help you travel confidently.
They've been doing it since 2002 – protecting, connecting, and inspiring independent travellers just like you.
Get a quote below or read our in-depth review!
World Nomads provides travel insurance for travelers in over 100 countries. As an affiliate, we receive a fee when you get a quote from World Nomads using this link. We do not represent World Nomads. This is information only and not a recommendation to buy travel insurance.
Final Thoughts on Things to Do in Phoenix
It's easy to see why this perpetually sunny city draws tourists, digital nomads, and backpackers from all around the world. There's so much to see and do, knowing what to do in Phoenix can be overwhelming.
With an abundance of historical sites, outdoor adventures, and the kind of sights you'll only see in Arizona, Phoenix is no doubt a traveler's dream come true – so don't be surprised if you find yourself returning to this incredible city over and over again!
I hope that all the Phoenix attractions I've shown you in this guide give you enough inspiration to put your itinerary together. If you think I've missed anything, don't be a stranger, let me know in the comments!
---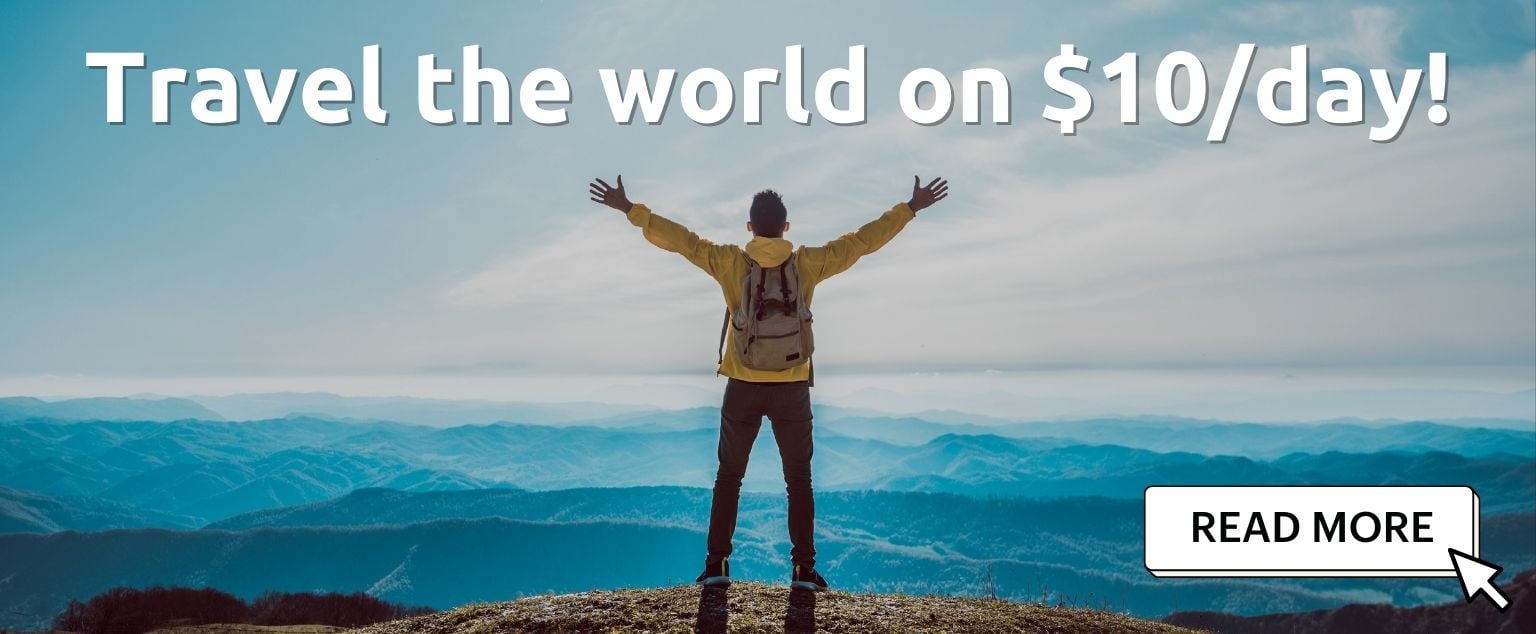 And for transparency's sake, please know that some of the links in our content are affiliate links. That means that if you book your accommodation, buy your gear, or sort your insurance through our link, we earn a small commission (at no extra cost to you). That said, we only link to the gear we trust and never recommend services we don't believe are up to scratch. Again, thank you!