Welcome to the Valley of the Sun! As the capital of Arizona, Phoenix is one of the USA's most populated cities. However, it's also scattered with dramatic natural desert features and otherworldly scenery. When we put these together, a vibrant big city with extraordinary nature and year-round sunshine makes for a top vacation destination.
The dynamic city has a bustling art scene, rich Native American history, and classic southwestern charm. Let's not forget the Grand Canyon just a few hours north of Phoenix!
The metro area includes the cities of Phoenix, Mesa, and Scottsdale. Phoenix is the best area for sightseeing and is dotted with hotels and resorts in convenient locations. Old Town Scottsdale is home to charming condos and vacation homes.
Just outside this region, you'll find Sedona, Prescott, and Jerome. Ideal for hikers, mountain bikers, and golfers, there are many large estates and vacation rentals in these outdoorsy districts.
We have put together a list of all the best vacation rentals in Phoenix for a memorable stay. Check it out!
Quick Answer: These are the Top 5 Vacation Rentals in Phoenix, Arizona
Overall Best Value Vacation Rentals in Phoenix
Overall Best Value Vacation Rentals in Phoenix
4 Bed Desert Oasis with Pool
> $$
> 10 Guests
> Ranch House in North Scottsdale with stunning views
> Hacienda landscape designed home with rooftop deck
Best Budget Vacation Rentals in Phoenix
Best Budget Vacation Rentals in Phoenix
Basic Contemporary Studio for 2
> $
> 2 Guests
> Hidden in the historic FQ Story neighborhood in downtown Phoenix
> Industrial style studio with patio and outdoor shower
Best Vacation Rentals for Couples in Phoenix
Best Vacation Rentals for Couples in Phoenix
Basic Townhome with Swimming Pool
> $$
> 4 Guests
> Located out of the city center in Camelback East
> Simple home with access to parking, a swimming pool, and a patio
Best Vacation Rentals for Families in Phoenix
Best Vacation Rentals for Families in Phoenix
Contemporary 3 Bed Family Home
> $$
> 8 Guests
> Walking distance to Grayhawk, Kierland, and Westworld
> Family home with modern and eclectic interiors and outdoor pool
Over-the-Top Luxury Vacation Rentals in Phoenix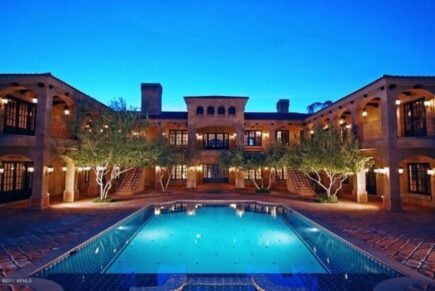 Over-the-Top Luxury Vacation Rentals in Phoenix
8 Bed Spanish Style Mansion
> $$$$
> 25 Guests
> Located in North Scottsdale
> Cactus clad home with theatre, bar, library, and games room

Unlock Our GREATEST Travel Secrets!
Sign up for our newsletter and get the best travel tips delivered right to your inbox.
Types of Accommodation in Phoenix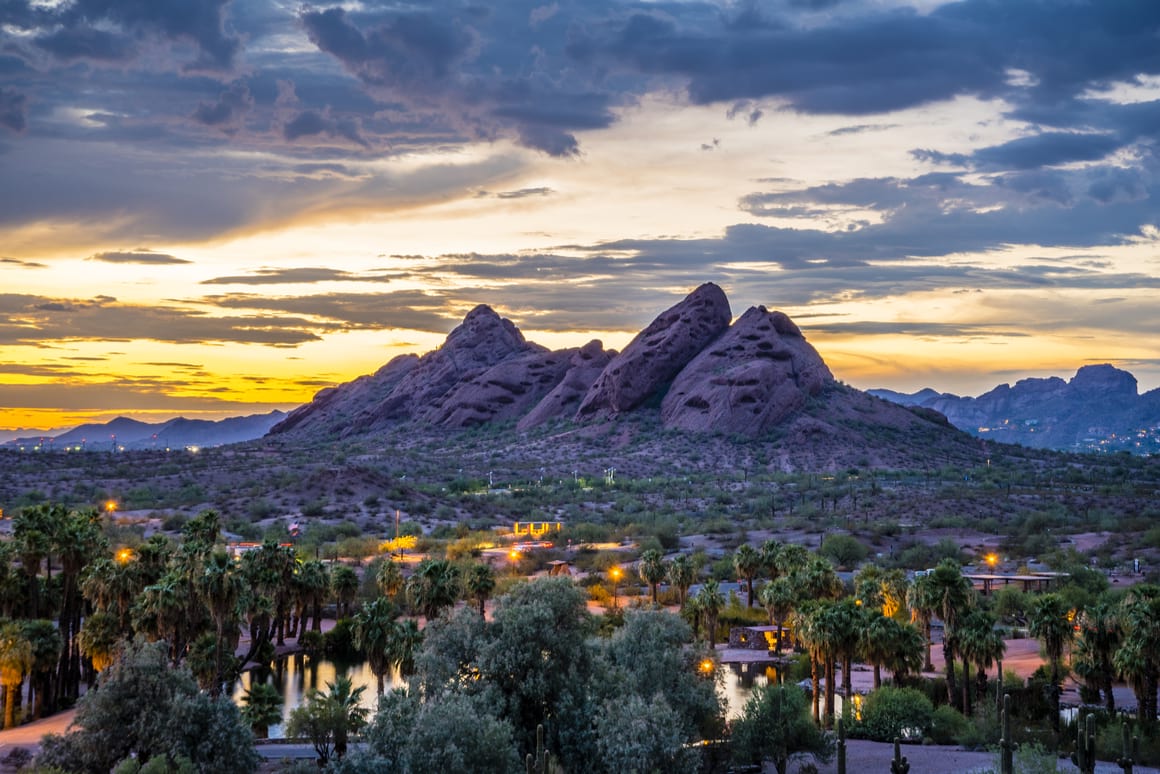 Apartments and Condos
Downtown Phoenix is flooded with residential apartment blocks. From small lofts to condos to penthouse apartments, you'll find a bunch of options ranging from basic to luxury vacation rentals in Phoenix. City apartments and condos are well located for guests hoping to spend their days exploring the city's many museums, browsing quaint Old Town boutiques, and tasting classic southern food.
Whether you're a couple looking for an exciting tourism-based vacation, a digital nomad searching for a spot to set up a desk, a small family, or a wheelchair user with accessibility requirements, the perfect apartment is waiting for you in Phoenix.
Resort Rental Units
Like other desert oasis cities, Phoenix is home to an array of hotels and resorts, which rent out separate condos and units to private guests. Ranging from basic to luxury, some of these resorts include access to shared swimming pools, gardens, gyms, restaurants, shopping arcades, BBQ areas, and other amenities.
You might even enjoy a shared water park or golf course, depending on your budget! Many also offer hotel-level services such as housekeeping, concierge, and babysitting.
If you're visiting Phoenix for a short vacation, are traveling with young kids, or are looking for that resort feel combined with a private holiday home, resort rental units are the way to go.
Estates and Holiday Homes
Phoenix and its surrounding desert and canyons are best known for their hiking trails, bike trails, and golf courses. If spending time outdoors in nature gets you excited, you'll appreciate the seclusion and scenery of the residential holiday homes and estates on the outskirts of Phoenix.
From conservative family homes to outlandishly large estates with basketball courts and cinemas, there are houses for every personality and budget in Phoenix. Other than outdoor lovers, these spots are ideal for large families and groups of friends looking for a more peaceful and private sanctuary.
Top 20 Vacation Rentals in Phoenix
Whether you're visiting the area for an extended period of time or are looking for a home-away-from-home when on vacation, check out these self-catering vacation rentals in Phoenix.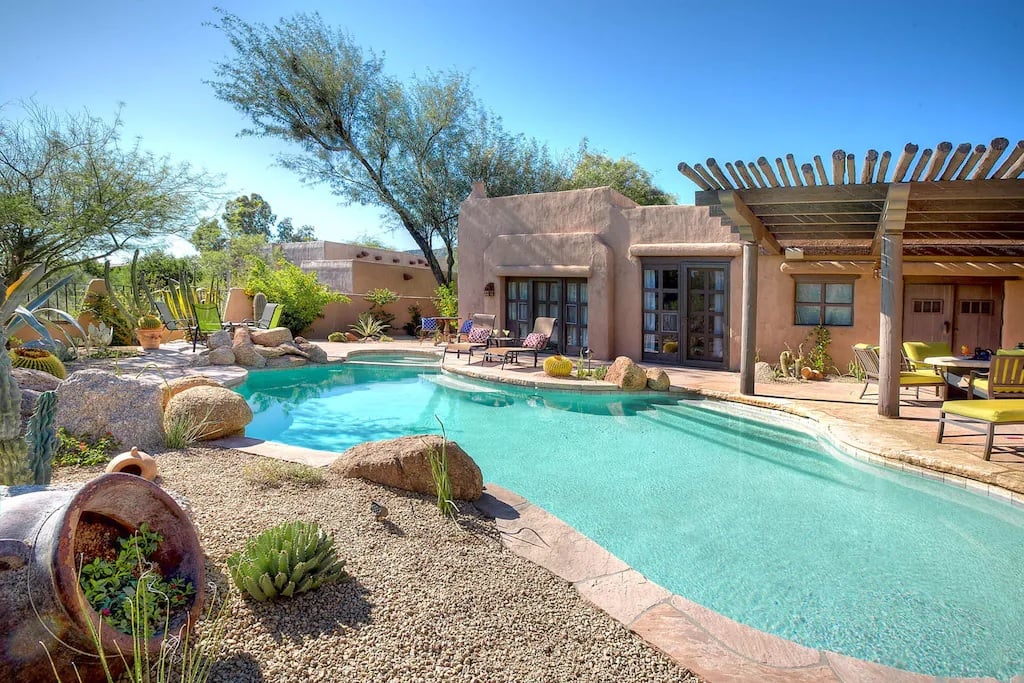 $$
Ranch House in North Scottsdale with stunning views
10 Guests
Hacienda landscape designed home with rooftop deck
This gorgeous family home was inspired by Native American Adobe architecture. A yellow clay exterior, organically shaped pool and cactus-filled garden do well to blend this home into its arid surroundings.
A crowd favorite, the kitchen has a huge island with both a gas burner and a wood-burning pizza oven built into it. It's the perfect addition to a family vacation home. What's more, you'll be able to eat your homemade pizza in a stunning courtyard lit by dim lights or at the pool deck, overlooking the desert vistas.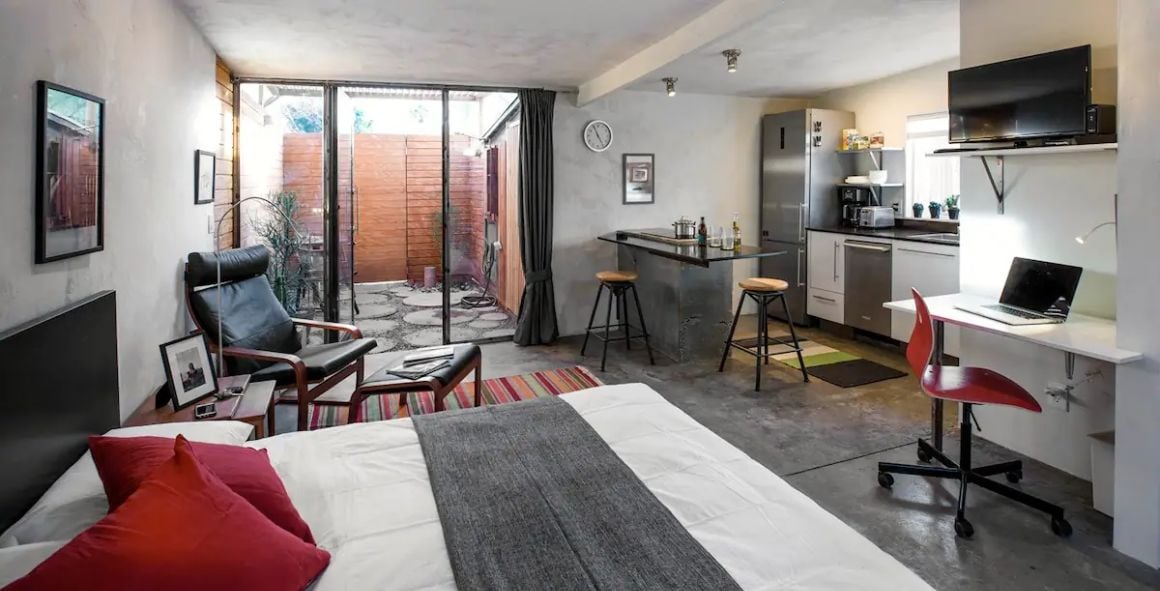 $
Hidden in the historic FQ Story neighborhood in downtown Phoenix
2 Guests
Industrial style studio with patio and outdoor shower
There are a few things that make a great budget holiday home in Phoenix. Firstly, a great location. This home sits in a historic central neighborhood, within walking distance of almost anything you might want to see in the city.
Second, it's well-equipped with everything you might need to cook up a healthy on-the-go budget meal. After all, eating out is usually the second-highest expense after accommodation.
Finally, this spot is spacious, simply decorated, and spotlessly clean. It even has a secluded outdoor shower and patio area, making it one of the best vacation rentals in Phoenix for those on a budget.
$$$$
Located in a private resort in North Scottsdale
12 Guests
Southwest designed home with lush garden, pool and Jacuzzi
This home perfectly blends the stark landscapes of desert and lush tropics. The outdoor yard is dotted with palm trees, cacti, evergreen trees, and a huge lawn.
While the inside is beautiful, you'll definitely want to spend most of your time in the impressive garden. You'll have access to a fully-kitted outdoor kitchenette and BBQ area with a bar table overlooking the glistening city. There is even a 14 seater outdoor dining table beside a wood-burning fireplace with a flat-screen TV. Talk about luxury!
Is This the Best Backpack EVER???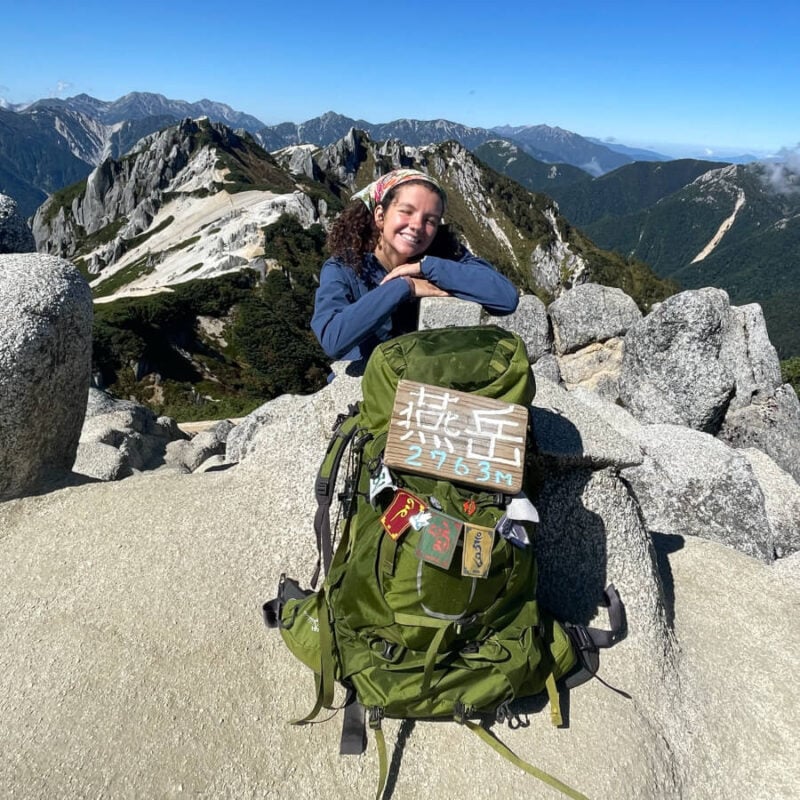 $$$$
Located in North Scottsdale
25 Guests
Cactus clad home with theatre, bar, library, and games room
Luxury in Phoenix is by no means understated, and this home has all the bells and whistles you could possibly wish for. From the delicate chandeliers and intricately carved wooden cabinetry to the grand double-story entrance hall and the valuable antique furniture and carpets, everything about this home screams luxury.
The most impressive thing about this place is its architectural grandeur. It almost looks like a castle, and is perfectly symmetrical from every side. Each room opens up onto large rounded balconies overlooking either the expansive grounds or the swimming pool.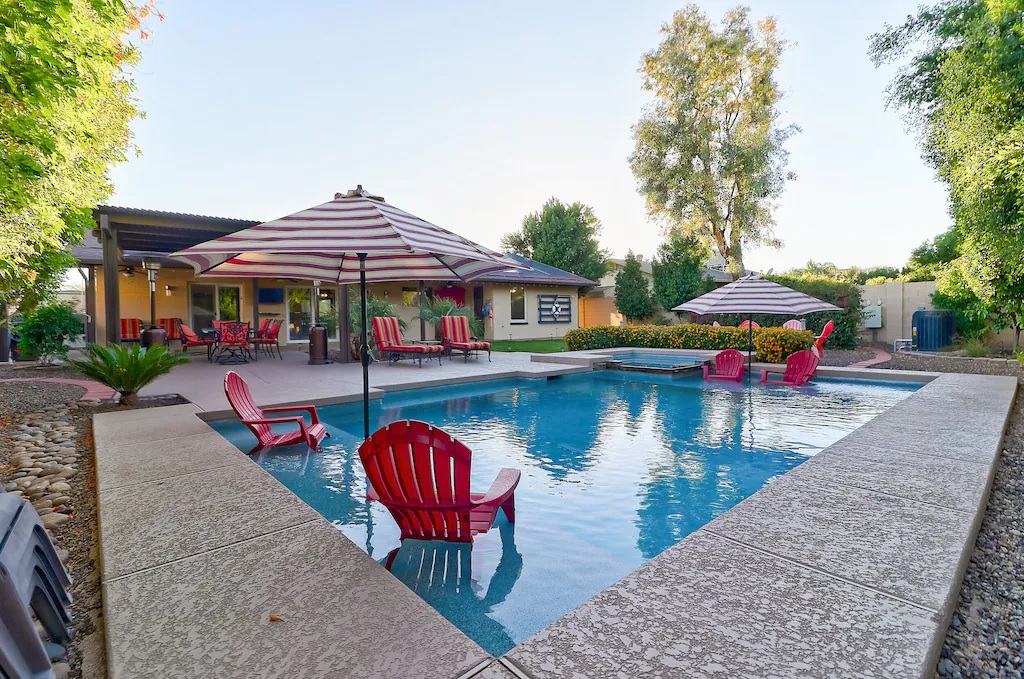 $$
Walking distance to Grayhawk, Kierland, and Westworld
8 Guests
Family home with modern, eclectic interiors and outdoor pool
This contemporary yet quirky home is well kitted for a family vacation. It has a huge outdoor living area with a TV, dining area, lounge, and BBQ space in addition to the fully-equipped indoor kitchen. The best part of the space is the landscaped yard leading to the crystal blue pool and Jacuzzi, which are surrounded by comfortable loungers and chairs.
Mom and dad will feel right at home in the master bedroom which has a double vanity sink and a walk-in closet. There is even a secluded office space in this Phoenix vacation rental, ideal for a digital nomad.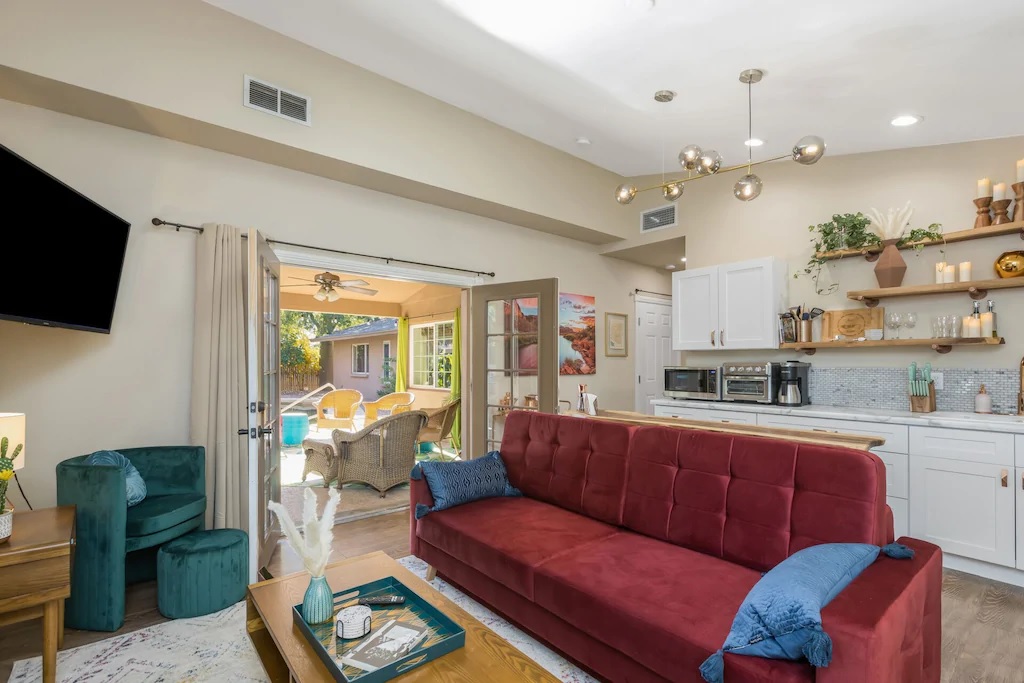 $$
In the residential Gilbert neighborhood, 7 miles from Sloan Park
3 Guests
Spacious and colorful home with yard, BBQ area, and huge patio
This gorgeous boho one-bedroom house is perfect for a weekend escape to the desert. The last thing you want to do during a short stay is spend precious time commuting to the city. This spot is located just outside the buzz in a residential neighborhood yet is conveniently close to the city center.
It is fitted with an ultra-comfortable king-sized bed in a private bedroom with a dedicated workspace and air conditioning. If you need to squeeze an extra guest in, the large sleeper couch will come in handy.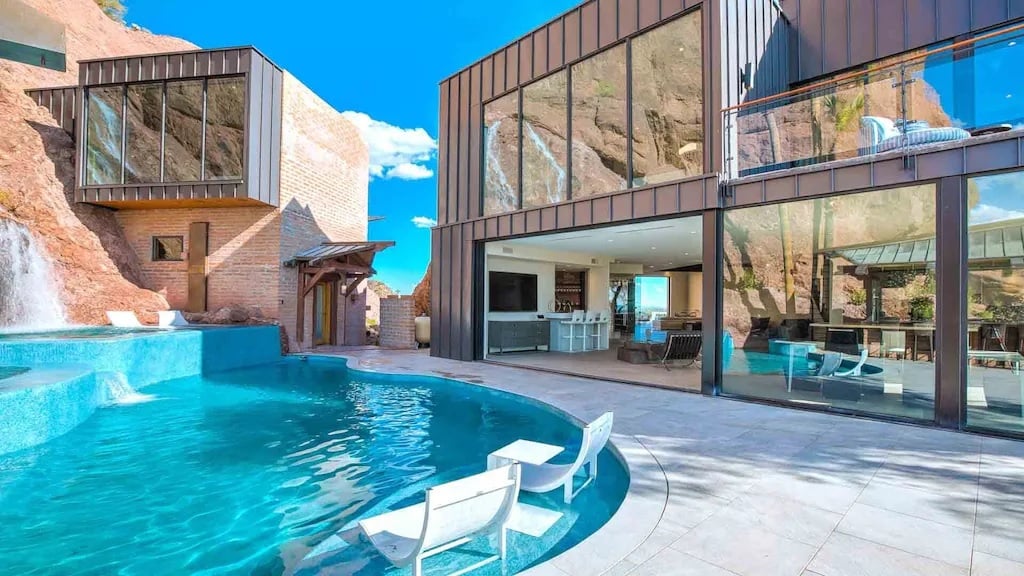 $$$$
Overlooking Phoenix valley from Camelback East
14 Guests
Extravagant home built into the natural landscape with pool
With year-round sunshine and scorching hot desert heat, a pool and Jacuzzi setup are almost paramount for a holiday home in Phoenix. This luxurious spot includes a multi-tiered swimming pool and Jacuzzi feature with a waterfall and submerged seating.
Built into the rock formations around it, the modern style blends perfectly with the exposed rock faces found throughout the home. It truly looks like something out of a movie! Overlooking gorgeous views, you'll feel like you're floating above the city from the lush lawn to the private bedroom balconies.
$
Bright and comfy step-free condo with grab bars for accessibility
4 Guests
Over 50 shops and restaurants within one mile of the condo
This bright and spacious condo is located in a super convenient spot in Phoenix. With wide passageways, no steps, and bathroom grab bars, it's the best vacation rental in Phoenix for wheelchair users and others with limited mobility. Included in your stay, you'll have access to washer-dryer facilities, a high chair, and a crib – perfect for those with young kids.
Large windows fill the condo with bright natural light, and comfortable furniture and pastel details give the home a welcoming feel. This city condo even includes access to a shared pool, Jacuzzi, and gym.
$
Located in central Phoenix, close to restaurants, and shops
4 Guests
Spacious modern home
You know what they say – location, location, location. This home sits just north of the center of Phoenix city, within walking distance to tons of eateries, markets, and boutique shops. It's a super spacious home for being so central and affordable, and even has a city aesthetic including a face-brick feature wall in the shared living room.
Best of all, this home has a large yard and tons of windows letting natural light flow freely into the house. Unusual for such a central home, you'll get the best of both worlds in this residential-gone-city rental.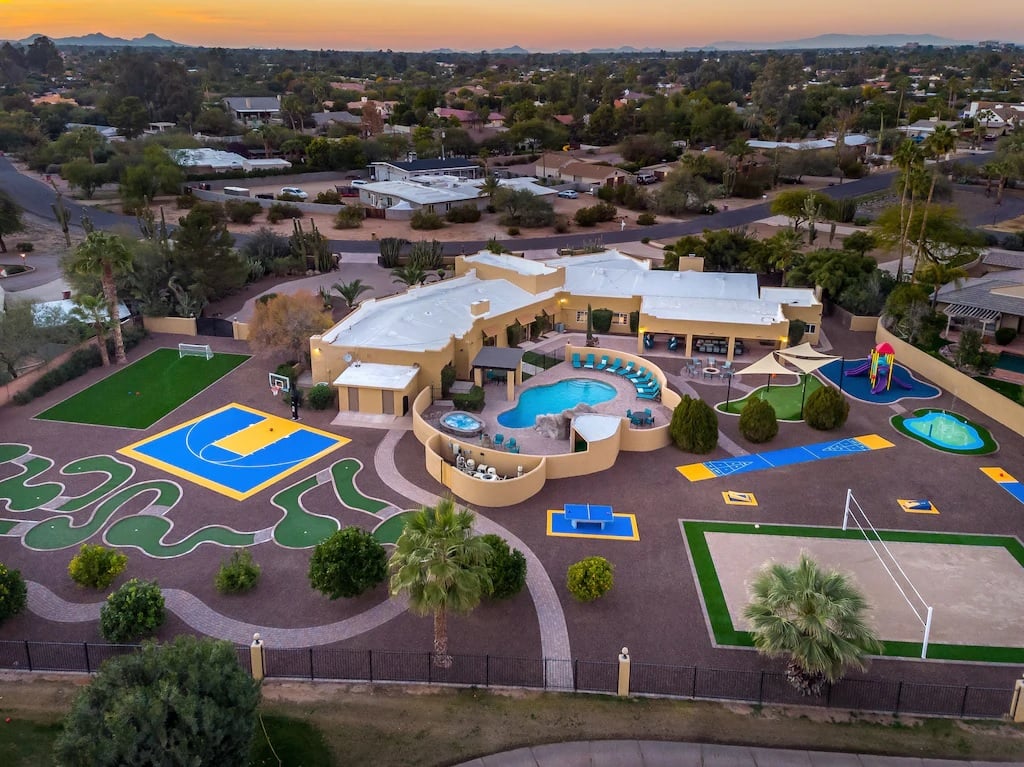 $$$$
Located in prestigious Scottsdale country club
15 Guests
Playground, bowling, volleyball, golf, soccer, basketball, and pools
Have a large budget and an even larger family? This six-bedroom estate will certainly not disappoint. The yard is designed for fun and games, and will keep guests of all ages busy from dawn till dusk. Mini-golf, basketball, volleyball, table tennis, hopscotch, soccer, and bowling included! There is even a small waterpark, playground, and (of course), a swimming pool and Jacuzzi. You name it, this home has it.
Perfectly designed for a huge family get-together, adults will enjoy the private bar, poker table, and firepit. Would you believe me if I told you this house even has a private art gallery?
$$$
7 miles from Old Town Scottsdale, with mountain views
10 Guests
1-acre estate with pool and waterslide, BBQ, and firepit
This is the perfect luxury vacation rental in Phoenix for a gathering with friends. It's large enough that you'll have your own space in the private bedrooms while still being able to enjoy each other's company in the living areas. The home boasts an immaculate indoor and outdoor shared living space, ideal for spending time together. The full kitchen has everything you might need to cook a wholesome 'family meal' with your friends. There's even a coffee and tea station for added convenience.
My favorite part about this home is the stone-clad bathtub in the master bedroom which is surrounded by glass windows opening into a private garden. I can already feel the warm water swirl around me after a busy day socializing with friends.
$
Located in the hills above Phoenix with great views
2 Guests
Modern interior with a boho dome exterior
On the outskirts of the city, overlooking the desert hills and twinkling city lights, you'll find an urban dome oasis up for rent. Constructed in a geometric shape, this spot meshes urban contemporary style with boho architecture perfectly.
The best part about this spot is the multitude of windows which invite masses of natural light into every inch of the home. Clean white cabinetry and contemporary furnishings are complemented by splashes of color throughout the dome, giving it a super modern yet homey feel.
$$
Located in Mesa in a quiet cul-de-sac
4 Guests
Farmhouse with garden, full kitchen, and stocked pantry
This quaint farmhouse is the perfect spot for a romantic vacation or honeymoon. Why? Well, it's designed using lots of open space and includes a fully-equipped kitchen. The simple home is scattered with comfortable furniture and cushions, top-quality linen, and tasteful art.
My favorite part about this home is the quiet garden space with a lawn, vegetable garden, and outdoor seating which gives it a French-Provence feel. Even more exciting, the kitchen is fitted with a well-stocked walk-in pantry with tons of pickles and sauces to make use of.
$$
Downtown Phoenix near bars, and restaurants
2 Guests
Eclectically furnished apartment with full kitchen and balcony
As you might expect, the best nightlife in Phoenix can be found downtown. This trendy apartment is in a residential street right beside the city making it easily walkable to all the top things to do in Phoenix as well as nearby bars and nightclubs.
The home itself is a sanctuary to retreat to after a night out on the town. It's fitted with homey furnishings and personal touches making it truly feel like a home-away-from-home. It's one of the best vacation rentals in Phoenix for a reason. Enjoy a cold drink under the outdoor gazebo or on your private balcony before heading out for a festive evening.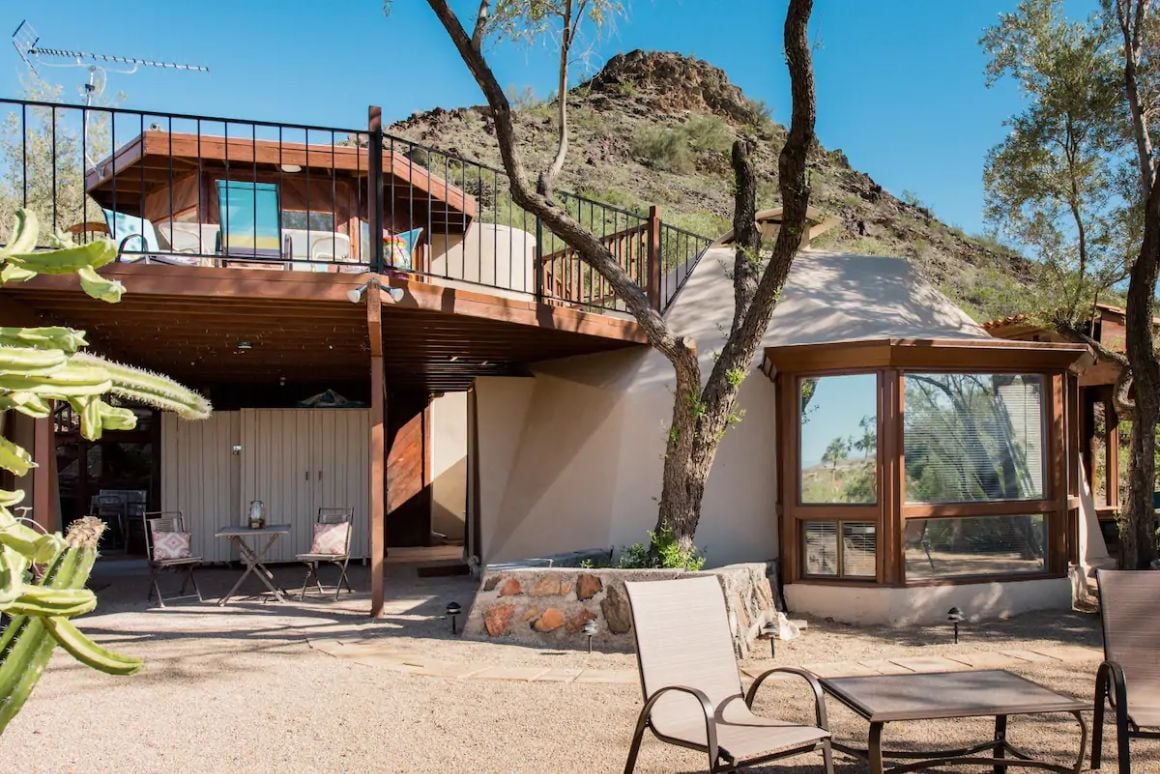 $$
Located near Ocotillo Hills with sweeping mountain and desert views
3 Guests
Unique yet contemporary space with a rooftop deck
Another dome home in Phoenix, this one overlooks the vast desert, mountain, and city views from its panoramic rooftop deck. Understated boho-inspired interiors including pink Persian carpets, Awasaka fabrics and details, and exposed rock walls bring a rustic feel into the home.
The best room in this dome is without a doubt the bedroom which is surrounded by floor-to-ceiling sliding windows and doors. It makes you feel like you're out in nature, even from the comfort of your bed.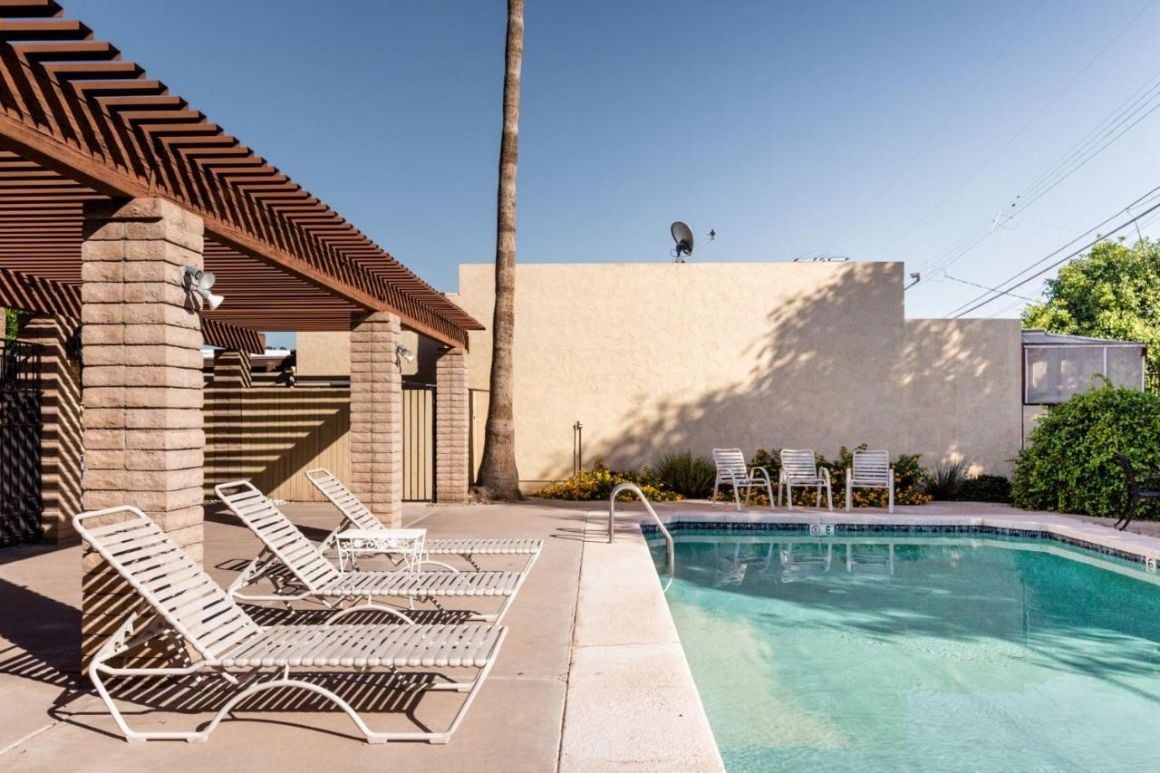 $$
Located out of the city center in Camelback East
4 Guests
Simple home with access to parking, a swimming pool, and a patio
Perfect for two and spacious enough for four, this trendy townhouse sits just outside downtown Phoenix in a quiet residential neighborhood. The home embraces minimalism showcasing muted colors, simple furnishings, and minimal decorations.
The fully-contained home is the ideal self-catering vacation rental in Phoenix. It has a washing machine and dryer, a well-equipped kitchen, and access to a peaceful shared swimming pool. What more do you need for a romantic vacation with your loved one?
$
Located nearby top Mexican restaurants in North Scottsdale
5 Guests
Eclectic home with unique furniture, decor, and art
A personal favorite and all-around charmer, this eclectic Phoenix cabin-style apartment is dotted with fascinating decorations and trendy furniture in every direction you look. The shell of the home has been recently remodeled and boasts a clean and contemporary style.
You'll find wooden feature walls and barn-style doors, a gorgeous open-plan kitchen with a marble center island, and inviting lighting fixtures across the home.
However, the details are the shining stars here. Put your feet up on a feathered ottoman as you read through a book from the library. Admire the gallery wall filled with art and portraits, and warm up by the unique tiled fireplace on a winter's evening.
$$
Located in Biltmore with a mountain view
4 Guests
Resort-style condo with large workspace and pool access
A suitable vacation rental for a digital nomad needs three things. This home is fitted with a reliable internet connection as well as a comfortable home office space.
The condo is fully equipped with all the kitchen amenities you could wish for. Make yourself at home in this brand new kitchen fitted with top-of-the-range appliances. There's even a gas fireplace and a washer-dryer for long-stay visitors.
Located in a secure resort with shared swimming pools, gardens, and BBQ areas, essential for a break between meetings or after work. With stunning views and close to restaurants and grocery shops, it's the perfect spot to set up camp.
$$$
Located out of the hustle in Sand Flower, North Scottsdale
8 Guests
Ranch style home with a rooftop deck and large covered patio
From the rooftop deck to the western-style kitchen and the spacious private bedrooms, this home has everything you need and more. The main drawing point to this luxury vacation rental in Phoenix is no doubt the shared outdoor living space. An undercover patio hosts a large dining and lounge area in front of a fireplace.
Take a dip in the organically shaped swimming pool which is surrounded by comfortable loungers. There is even a secluded fire pit and BBQ area as well as a rooftop deck with 360-degree views of the surrounding desert.
$$
Located in the Boulders Resort with golf course and mountain views
6 Guests
Modern Spanish home with BBQ patio, pool area, and full-kitchen
If you're bringing your dog along on your desert vacation, this is the perfect oasis. This family home is designed to look like a traditional Native American Adobe home with clay finishes and rounded walls.
The true gem of the house, however, is the large yard. With a swimming pool and Jacuzzi, a spacious paved outdoor living area, and a shaded cacti garden overlooking the private lush golf course, there is plenty of room for your pup to run and adventure.
The home also includes a golf cart to use on the golf course and bounders area. I can't think of a better way to spend a day than enjoying an open-air joy ride through the desert scenery.
Don't Forget Your Phoenix Travel Insurance
ALWAYS sort out your backpacker insurance before your trip. There's plenty to choose from in that department, but a good place to start is Safety Wing.
They offer month-to-month payments, no lock-in contracts, and require absolutely no itineraries: that's the exact kind of insurance long-term travellers and digital nomads need.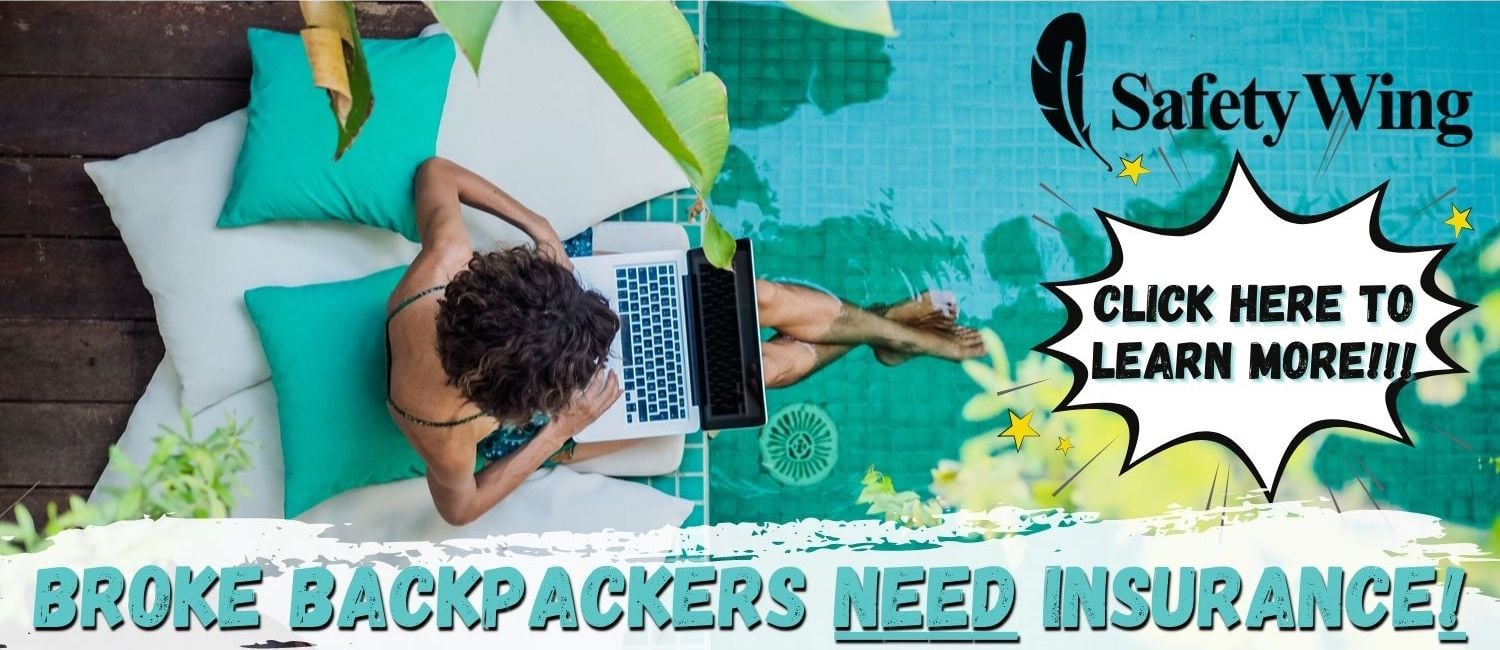 SafetyWing is cheap, easy, and admin-free: just sign up lickety-split so you can get back to it!
Click the button below to learn more about SafetyWing's setup or read our insider review for the full tasty scoop.
Final Thoughts
Phoenix is home to some of the most extraordinary natural scenery in the USA. From lush golf-course greenery to dry cacti gardens, it's not your average vacation spot. Filled with unique homes that draw influence from historic Native American tribes and ancient building techniques, it's no wonder so many people are choosing to relocate to this dynamic city.
From opulent estate homes with basketball courts to private city center condos and mountainside dome houses, there's something for every type of traveler here in Phoenix.
---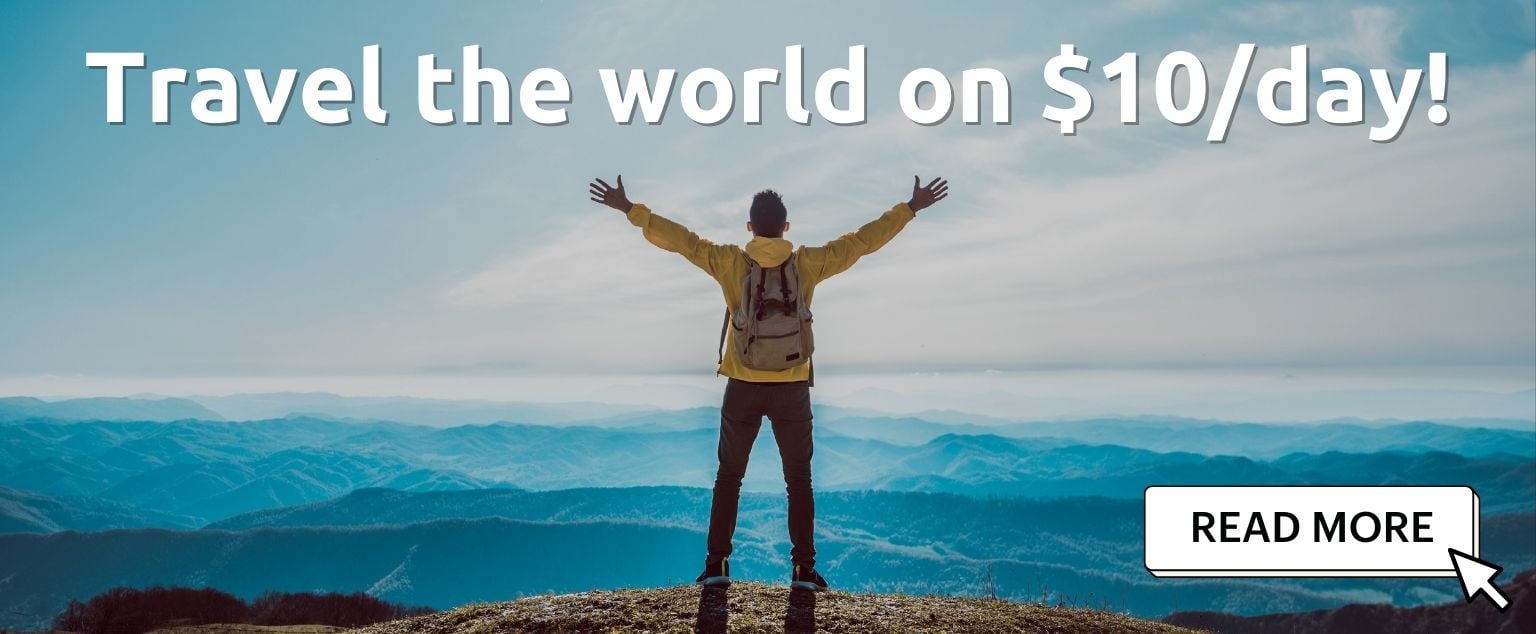 And for transparency's sake, please know that some of the links in our content are affiliate links. That means that if you book your accommodation, buy your gear, or sort your insurance through our link, we earn a small commission (at no extra cost to you). That said, we only link to the gear we trust and never recommend services we don't believe are up to scratch. Again, thank you!