Sedona is considered by locals to be 'the most beautiful place on Earth', and they certainly have a point. The town is set amid spectacular rock formations in brilliant hues of red and orange, earning the area the title of Red Rock Country.
Here, hundreds of miles of trails weave through the magnificent landscapes, built for hikers, bikers, and 4×4 drivers to enjoy. The trails immerse visitors in the depths of some of Earth's most enchanting scenery. So it's no wonder that hiking and 4x4ing are amongst the most popular things to do in Sedona, AZ.
The area also has a rich and far-reaching Native American history, with a range of incredibly well-preserved cliff dwellings and rock art easily accessible from the town. Sedona offers glorious views in abundance, alongside stunning restaurants, unique attractions, and one of the most spectacular night skies on the planet!
We've put together this travel guide to help you make the most of your trip to this beautiful town.
Top Things to Do in Sedona, Arizona
If you're wondering what to do in Sedona, Arizona, these activities are a great place to start and we think should be at the heart of any exploration of the region.
The Honanki Heritage Site is tucked away in a desert valley. It preserves the remnants of a pre-Columbian civilization that called this area home over 700 years ago. The site comprises an ancient cliff dwelling that was once occupied by a Sinagua tribe.
Between the bold Red Rock cliffs and boulders, you'll find hundreds of archaic works of rock art. These pictographs and petroglyphs show snippets of the life once lived by the Native American inhabitants of the area. Wander through the ruined walls and historic rooms, admiring the rich significance of the site.
2. Hike the Cathedral Rock Trail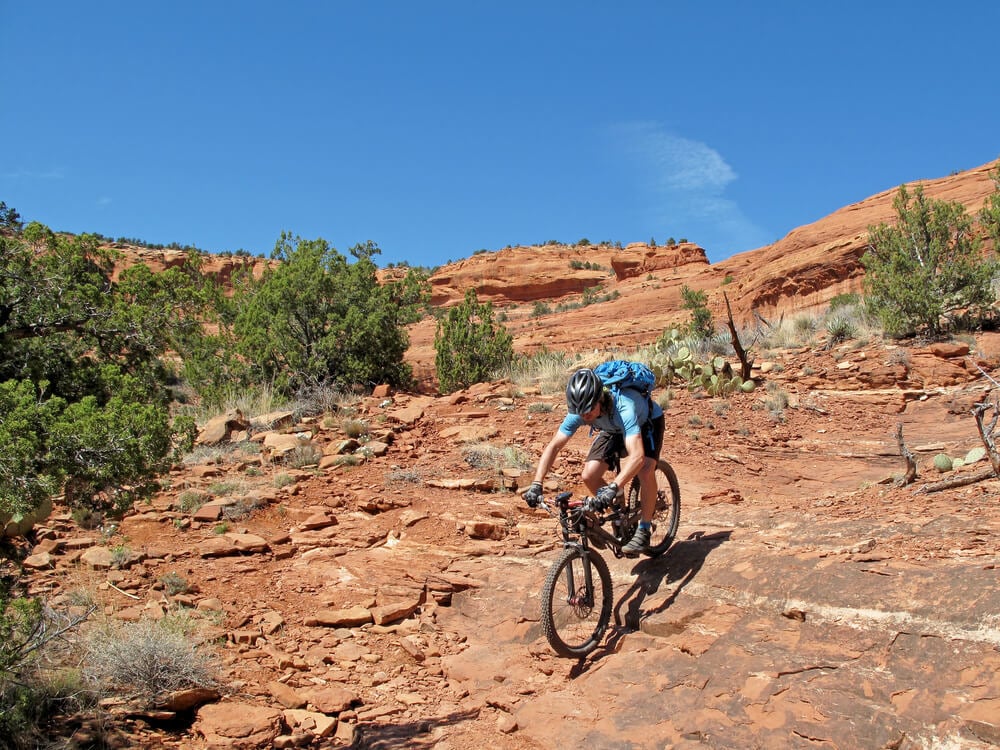 Sedona is famed for its incredible hiking trails. They weave through the rugged rocky terrain and transport hikers to some of the best vantage points in the area. The hike up to Cathedral Rock, a dramatic sandstone butte, is amongst the most popular of these trails. The trail is relatively short at only a mile long, but you'll gain close to 600 feet of elevation.
Between smooth, sloping rocks, steep inclines, and a rugged crevasse, it's a bit of a scramble in sections. But all the trickier parts are incredibly fun and challenging in all the right ways. It's a pretty moderate hike on the whole, and although pretty tiring, it is appropriate for kids.
The hike culminates among the magnificent rocky columns and pinnacles that make up Cathedral Rock, with spectacular views of its surroundings.
FIRST TIME IN SEDONA
West Sedona
The town of Sedona is divided into two sections: Sedona and West Sedona. West Sedona is larger and sees a bit more action. But Sedona is small, so you can comfortably stay in either part of town.
Places to visit:
Tlaquepaque Arts and Crafts Village
Airport Mesa Lookout
Chapel of the Holy Cross
A concrete bridge snakes its way up to the Chapel of the Holy Cross. Undoubtedly one of the most spectacular buildings in the state, the chapel is built right into the rock. It's tall and narrow, with one wall almost entirely made out of glass. This glass wall is where the cross stands, forming the striking facade of the building.
From the inside, these same windows offer breathtaking views out across the valley. It's surprisingly small and quaint inside, but certainly a spectacle. No matter one's religious views, it's well worth heading up to the chapel to absorb the views and striking architecture.
Located on a pioneer farmstead, the Sedona Heritage Museum immerses visitors in the rich history of the town. Learn about the pioneers who founded Sedona and what life was like there over 100 years ago. Hear stories of the folks who founded it, and learn all about the town's incredible cinematic history.
Over the decades, Sedona has been the setting for many dozens of feature films. During the golden age of Hollywood, most Western movie stars shot a film there at some point in time! Be sure to visit the heritage museum for an in-depth look at the town's history, which will provide plenty of fascinating context to your explorations.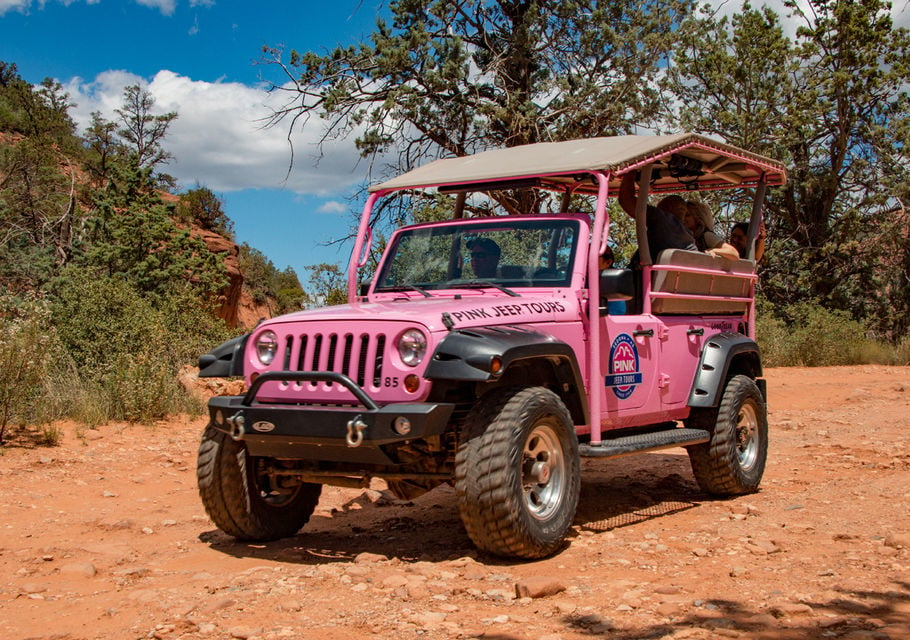 Discover the diversity of Sedona's backdrop on a 4×4 trail that takes you high above the valley floor. The drive is a scramble up over 2,000 vertical feet to the upper reaches of the Mogollon Rim, offering up spectacular views of the surrounding area.
The Red Rock formations can really be appreciated throughout the journey, from the lowlands to the rugged mountain tops. Between the Ponderosa pine forests at altitude, and the dusty deserts below, the diversity of the area really comes to life.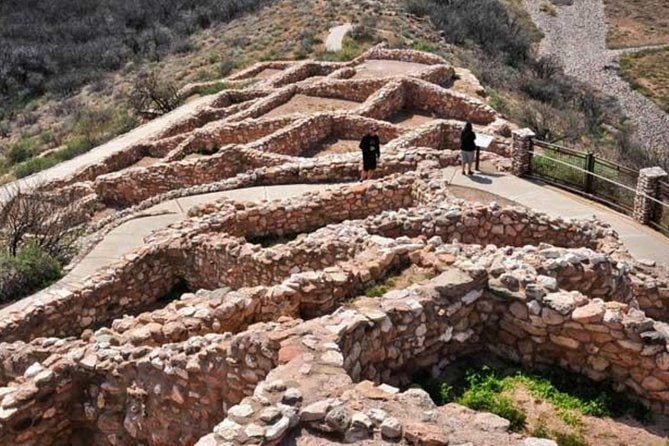 Montezuma Castle is an ancient building, set into a limestone cliff just a short drive from Sedona. It was constructed by the Sinagua people that inhabited the area about 800 years ago.
The remarkably well-preserved structure took around three centuries to complete, is five floors tall, and contains dozens of rooms. It's an incredible piece of human history, that tells the story of a group of people surviving in a desolate desert many centuries ago.
While the site is protected and visitors can't venture inside, it's well worth driving out to see and appreciate the building and its surroundings. To learn more about Montezuma's Castle, head over to Travel Notes and Beyond and read more about the ancient Amerindian ruins of Arizona.
Small Pack Problems? 😉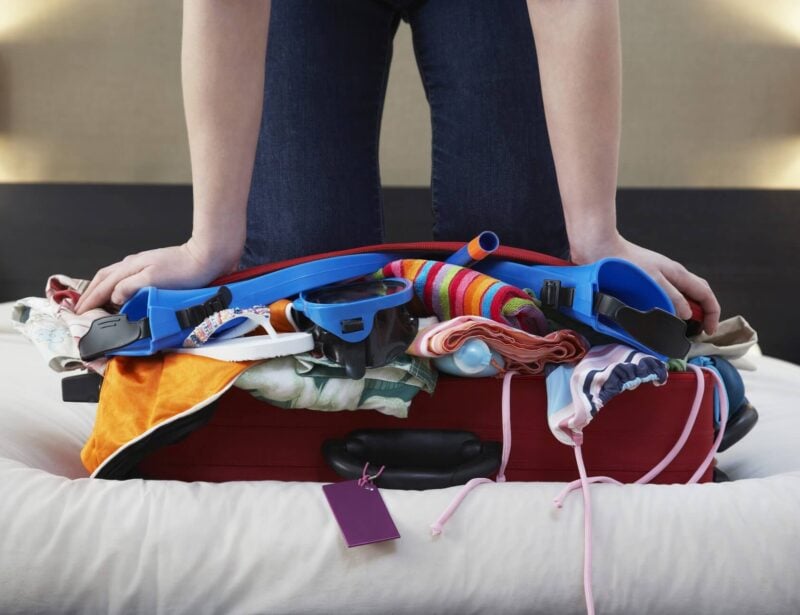 My missus travels with all her clothes in ziplock bags: don't be like my missus. UP YOUR PACKING GAME!
Packing cubes for the globetrotters and compression sacks for the real adventurers – these babies are a traveller's best kept secret. They organise yo' packing and minimise its volume too so you can pack MORE.
Or, y'know… you can stick to ziplock bags.
View Our Fave Cubes
Or Check Out the Sacks!
Unusual Things to Do in Sedona
Absorbing the vibe and sightseeing in Sedona and are worthwhile endeavors no matter how you choose to do them, but some ways are quirkier and more unique than others.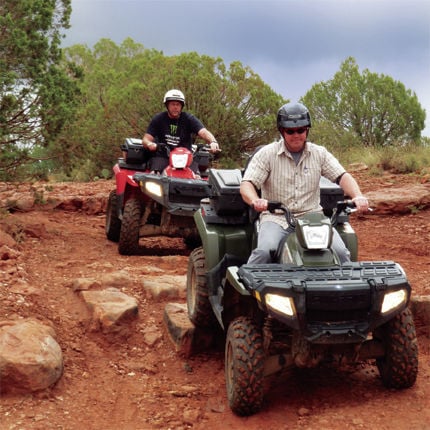 One of the most unique and exciting ways to discover Sedona's scenic surroundings is on an ATV. Cruising on a quad bike may be a bit pricey, but it allows you to take the adventure into your own hands, with each person driving their own.
Crawl over rocky trails and race across open plains. You'll be out in the elements, entirely surrounded by some of the most spectacular natural landscapes in the country. Sedona and its surroundings have been featured in almost 100 films throughout cinematic history, and an ATV drive through the valley allows you to spot these filming locations.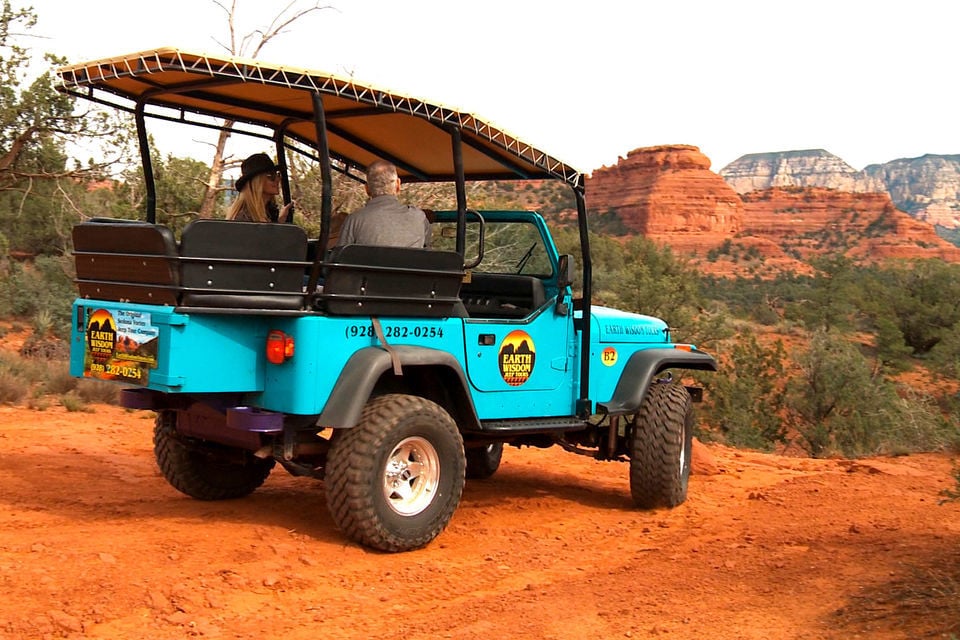 Sedona is thought (by some of the more spiritual locals and travelers) to be a place of healing energetic forces. Known as a 'vortex', these sites are spread throughout the town and its surroundings. They're thought to be sacred, swirling centers of energy that have various healing properties.
Whether or not you believe that such a thing could be true, touring the sites is certainly an interesting experience. You can pick up a map detailing their location and information from the Sedona Visitor Center.
Cruise through Sedona's stunning surroundings, learning about the natural landscapes and the story behind the vortices. You'll also likely come across people practicing yoga and meditating at some of the hotspots.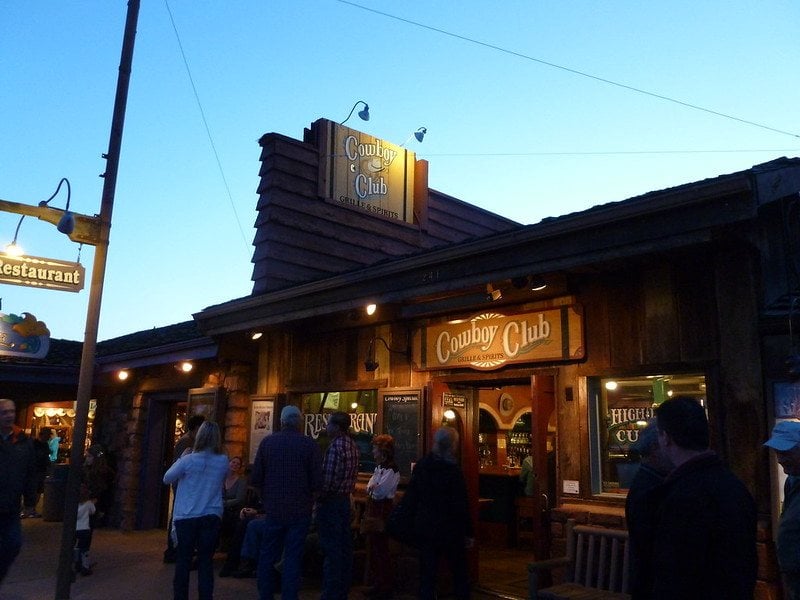 Encapsulating the spirit of a classic Wild West tavern, Cowboy Club offers an authentic Arizonian dining experience. The restaurant was originally the town's local tavern and holds on tightly to its roots.
Here, you'll find delicious 'high desert' cuisine, including some quirky favorites. Amongst the tastiest locally-inspired dishes are the Cactus Fries with prickly pear sauce and the North American Bison Burger. We also recommend ordering a few rounds of local beer. It was the town's tavern after all!
It's a Western-themed wonderland for those who are interested in immersing themselves in classic cowboy culture while enjoying a meal and a drink.
Safety in Sedona
On the whole, Sedona is a remarkably safe town, and crime is pretty much non-existent. But we do advise that you're cautious when hiking and exploring. Don't do anything careless next to cliffs or big drops and be sure to pack plenty of water! We also always recommend getting travel insurance when traveling.
Read our tips for traveling safely before you fly and always get travel insurance. Check out our roundup of the best travel insurance.
Travel with peace of mind. Travel WITH a security belt.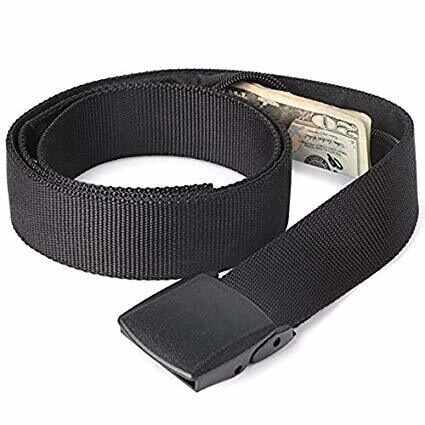 Get your cash stashed with this awesome Pacsafe money belt. It will keep your valuables safe no matter where you go.
It looks exactly like a normal belt except for a SECRET interior pocket perfectly designed to hide a wad of cash or a passport copy. Never get caught with your pants down again! (Unless you want to.)
Hide Yo' Money!
Best Things to do in Sedona at Night
Sedona is a sleepy town, with a less-than-rowdy nightlife. But the evenings offer an enchanting range of things to see in Sedona.
10. Airport Mesa Overlook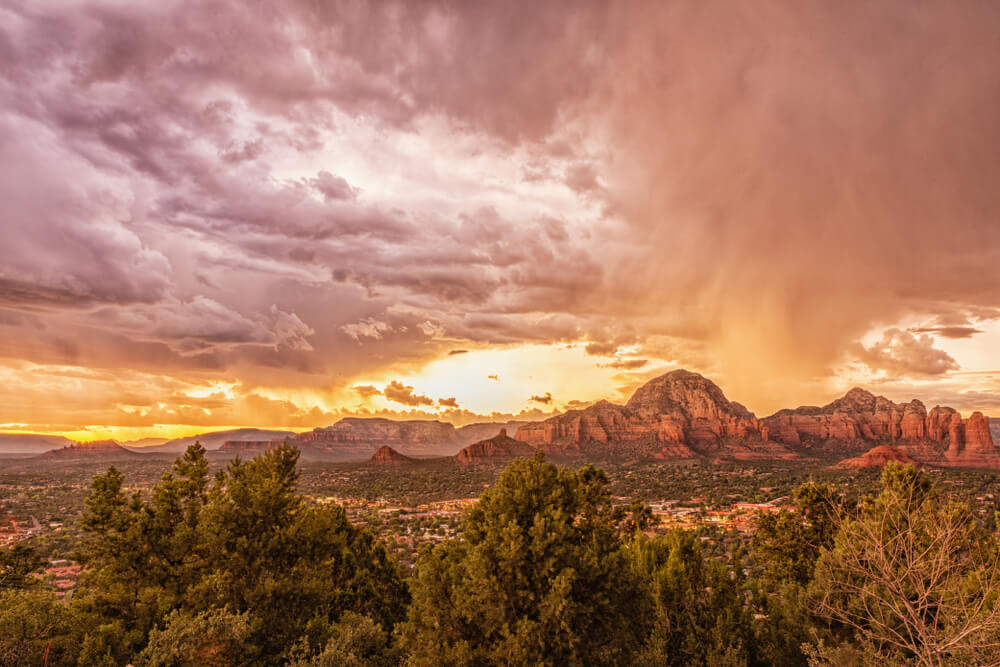 Sedona sees some pretty spectacular sunsets, with golden hour light deepening the hues of the rock and filtering through the dramatic pinnacles. There's no better place to catch one than Airport Mesa. It's the sunset spot in Sedona.
Perched above West Sedona, near the airport, the lookout point is just a short up-hill drive from anywhere in town. It offers spectacular views of Sedona, Coffee Pot Rock, and the scenic surroundings at any time of day or night. But of course, the interlude is most spectacular, so grab a bottle of wine and head on up at sunset.
It's also worth hiking halfway up Airport road, where you'll find a rocky hill, offering more dramatic vistas and a natural setting.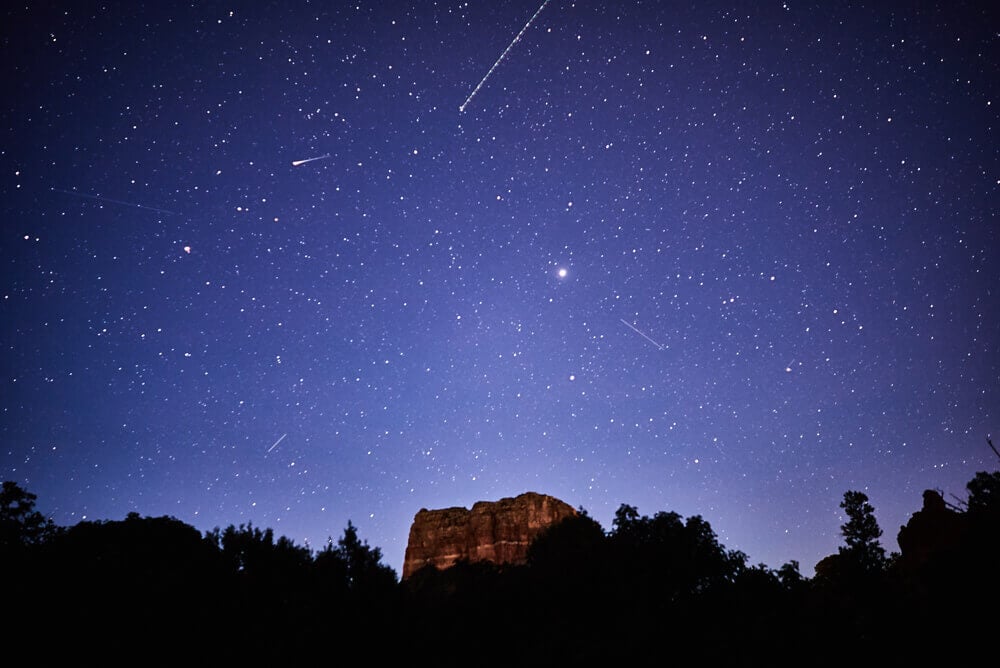 Being far from the light pollution cast by large cities, Sedona offers a spectacular nighttime treat. As the sun fades away, the sky erupts with thousands of stars. A night sky so full of stars is rare to find in the developed world, so grab the opportunity to check it out.
Sedona is one of the few certified Dark Sky Communities on Earth and consistently aims to keep light pollution to a minimum. The milky way regularly beams across the sky and under certain conditions, you can even spot Saturn.
For those wondering what to see in Sedona, the stars should be top of your list. Just pick your night carefully, and be sure to check the forecast!
Where to Stay in Sedona
Deciding where to stay in Sedona? Our top picks will get you started! You might also find some calming USA yoga retreats in Sedona for those looking to combine wellness with travel.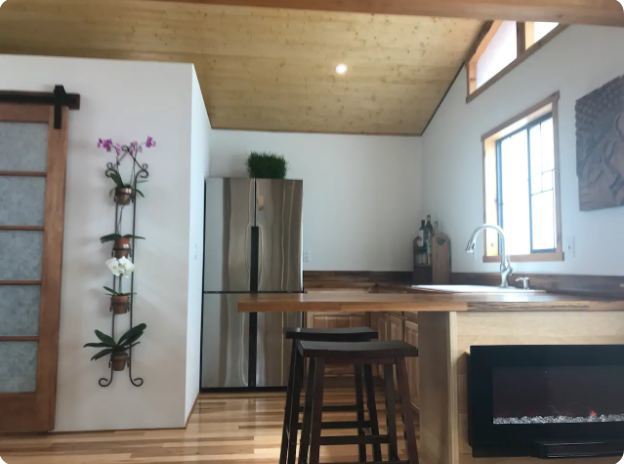 This cozy cabin is a perfect Sedona retreat. It's small yet comfortable, with a mezzanine-style bedroom, a fireplace and even a whirlpool tub. Situated in the heart of West Sedona, you'll find plenty of restaurants and stores close by. There are even some gorgeous red rock views from the windows.
Accommodation doesn't come cheap in Sedona, but Sugar Loaf Lodge offers a really comfortable stay and good bang for your buck. Enjoy an onsite pool and hot tub, as well as the homely BBQ facilities. The rooms are all clean and well equipped, with en suite bathrooms and air conditioning.
Romantic Things to Do in Sedona
Visiting with your partner? These are some of the most romantic things to do and places to visit in Sedona.
12. Dine with a View at View 180
Grab an outdoor table at View 180 for the most panoramic dining experience in Sedona. The atmosphere is truly romantic, with warm mood lighting and spectacular rock formations as a backdrop.
Be soothed to the smooth sounds of Native American music, while you and your partner enjoy a delicious meal and drinks. Plan for a sunset visit; that's when the restaurant is at its most romantic and beautiful. Just be sure to book far in advance as it can be tough to get a reservation on short notice.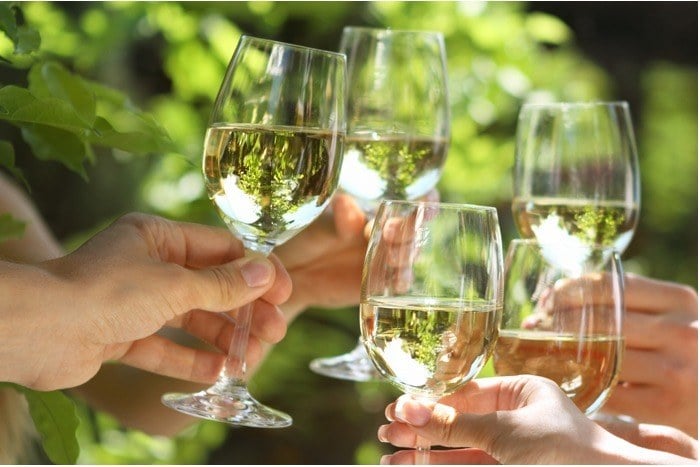 When one pictures Arizona, visions of verdant wine valleys aren't the first to pop into mind. The state is almost synonymous with cacti, desert, and dusty rock towers. But amid the banks of sand and dry heat, there are pockets that exhibit ideal grape-growing conditions. Sedona is lucky enough to be surrounded by one of these oases.
For centuries, the town has been growing and producing fine wines, that are well worth a taste. Even better is to visit the production facilities themselves. Sedona specializes in small, quaint wineries, ideal for an intimate and authentic visit. Amongst the best of Sedona's wineries are Page Springs Cellars, Echo Canyon Vineyard and Winery, and Alcantara Vineyards.
Best Free Things to Do in Sedona
If you're strapped for cash, that doesn't mean you can't enjoy yourself during a trip to Sedona. These activities will help you make the most of the city and its surroundings without busting the bank.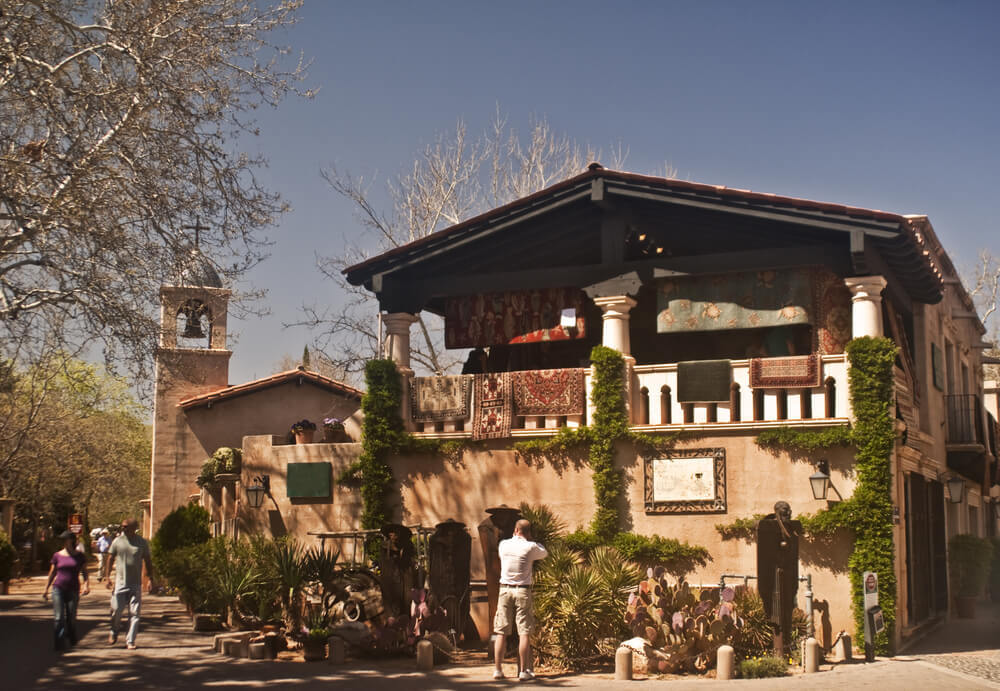 Nestled on the banks of the gorgeous Oak Creek and built amongst the sycamore trees, Tlaquepaque is one-of-a-kind. It was built in the 1970s as an artist community but has since transformed into a unique space for shopping, dining, perusing galleries, and watching local artisans immersed in their craft.
It was modeled after a traditional Mexican village and carries an aesthetic that suggests it's been there for many hundreds of years. A tangle of cobblestone lanes and squares, ivy-covered balconies, fountains, and sycamores, the space is incredibly peaceful and welcoming.
You'll often hear the hums of live music floating through the warm air as you wander through the village, dropping into artisanal shops, galleries, studios, and restaurants. The perfect place to spend a few hours perusing and soaking up the atmosphere.
Is This the Best Daypack EVER???
15. Revel in Sedona's Beauty on the Red Rock Scenic Byway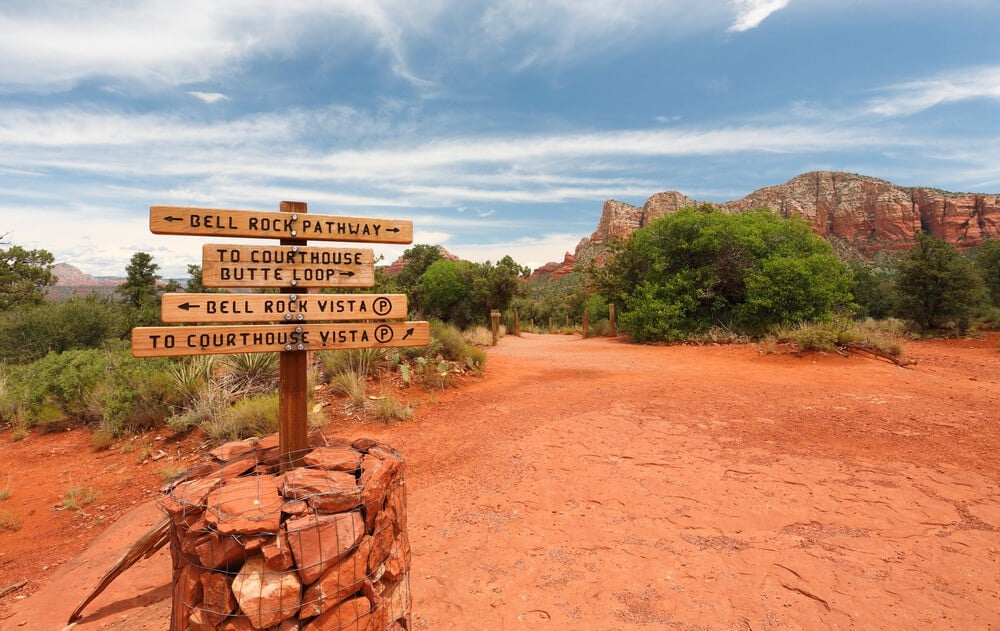 If you're only in Sedona for a short amount of time, or simply passing through, the Red Rock Byway is a must-visit. It's the best fast-track Sedona experience, offering an easy way to immerse yourself in the famous Red Rock Country.
Driving along the 14-mile byway takes you right through the core of Sedona, passing some of the town's most revered natural sights. Along the way, you'll see some otherworldly rock formations, including Cathedral Rock, Courthouse Butte, and Bell Rock.
Books to Read in Sedona
Catcher in the Rye – One of the quintessential tales of growing up. Follows a young boy from Pennsylvania who runs away to New York in an open act of rebellion.
Gone with the Wind – An American classic and an epic about the Civil War and its consequences as told from the perspectives of two Southern lovers.
East of Eden – One of Steinbeck's masterpieces, considered his magnum opus by many. Explores the relationship between two families in the Salinas Valley in the early 20th Century.

Unlock the The Broke Backpacker's GREATEST Travel Secrets!
You pop your email here, and we promise to send you only travel content that's actually relevant — sounds like a pretty good deal to us!
Fun Things to Do with Kids in Sedona
4×4 drives are one of the most popular things to do in Sedona. And it's easy to see why. The town is surrounded by many miles of rugged off-road tracks, that weave through the splendor of Red Rock Country.
The Broken Arrow trail is a 4×4 track that takes you on a captivating journey, culminating at Chicken Point with stunning views.
The trail winds through thick bush and over steep banks of smooth rock, all to the backdrop of some of America's most spectacular rock formations. The kids will love the action-packed adventure even more than you will! Stop along the way to stretch your legs and admire the view across the valley.
17. Discover Devil's Bridge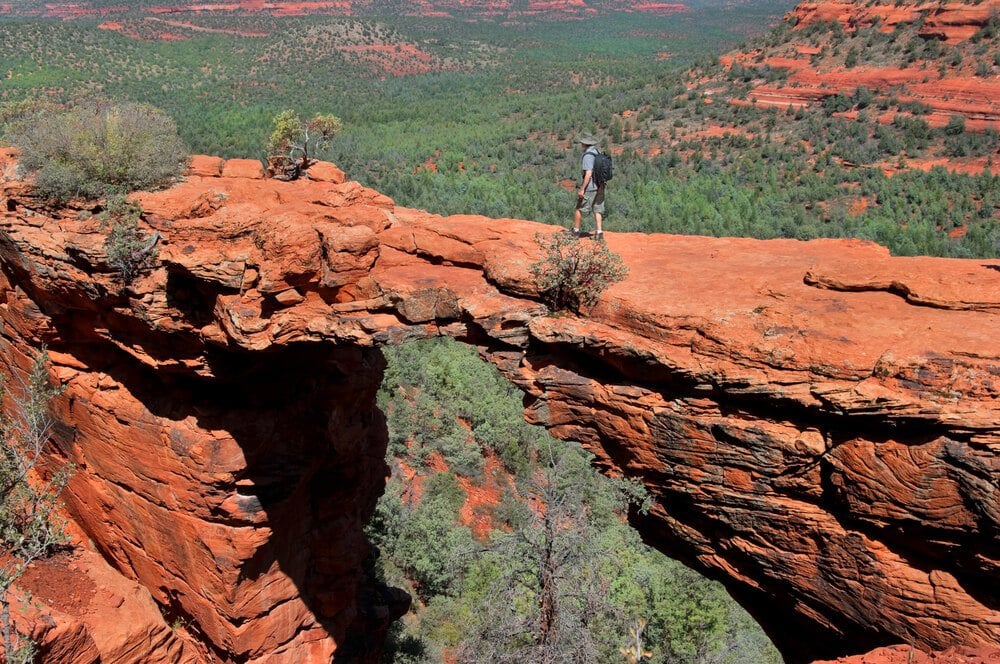 The trail to Devil's Bridge is another one of Sedona's most popular hikes. Devil's Bridge is a geological marvel. It's an enormous, naturally-occurring, sandstone bridge that arches 50 feet above the ground below. Adventurous hikers can choose to walk out onto the bridge, with a sheer drop-off on either side. Just be careful!
It's about a 4-mile roundtrip and a bunch of easy-going fun for kids as well as parents. Most of the trail is a gentle path leading up the hill, and transforms into a set of steep rocky stairs as you approach the summit.
It's a good idea to start the hike as early in the morning as possible, as the trail can get busy and the parking lot has limited spaces.
Day Trips From Sedona
After you've seen the Sedona sights, it's worth expanding your horizons to other parts of Arizona. The state has plenty of natural beauty to be admired.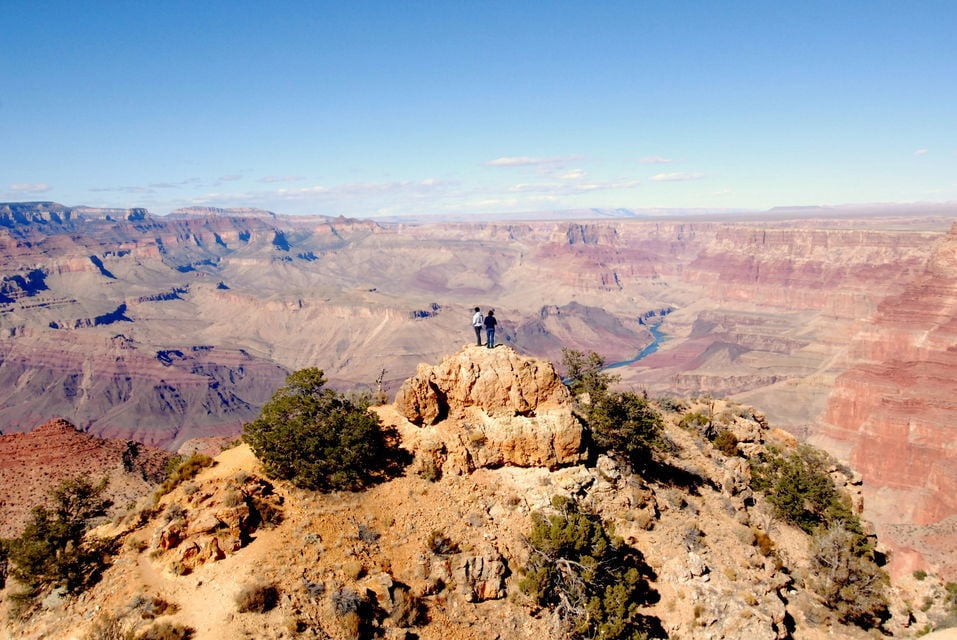 Without a doubt, the biggest attraction near Sedona is the Grand Canyon. Extending hundreds of miles across the state, the Grand Canyon is one of the Seven Natural Wonders of the World. It would be a real shame to miss it when you visit Sedona.
The sites you will encounter on the journey from Sedona to the canyon form part of the attraction. It passes through Red Rock Country, Oak Creek Canyon, Ponderosa Pine Forests, and a Navajo reservation. And the journey culminates at the Grand Canyon, with some of the most spectacular vistas on Earth.
Sedonia is a great spot if you're looking at where to stay for the Grand Canyon.
Antelope Canyon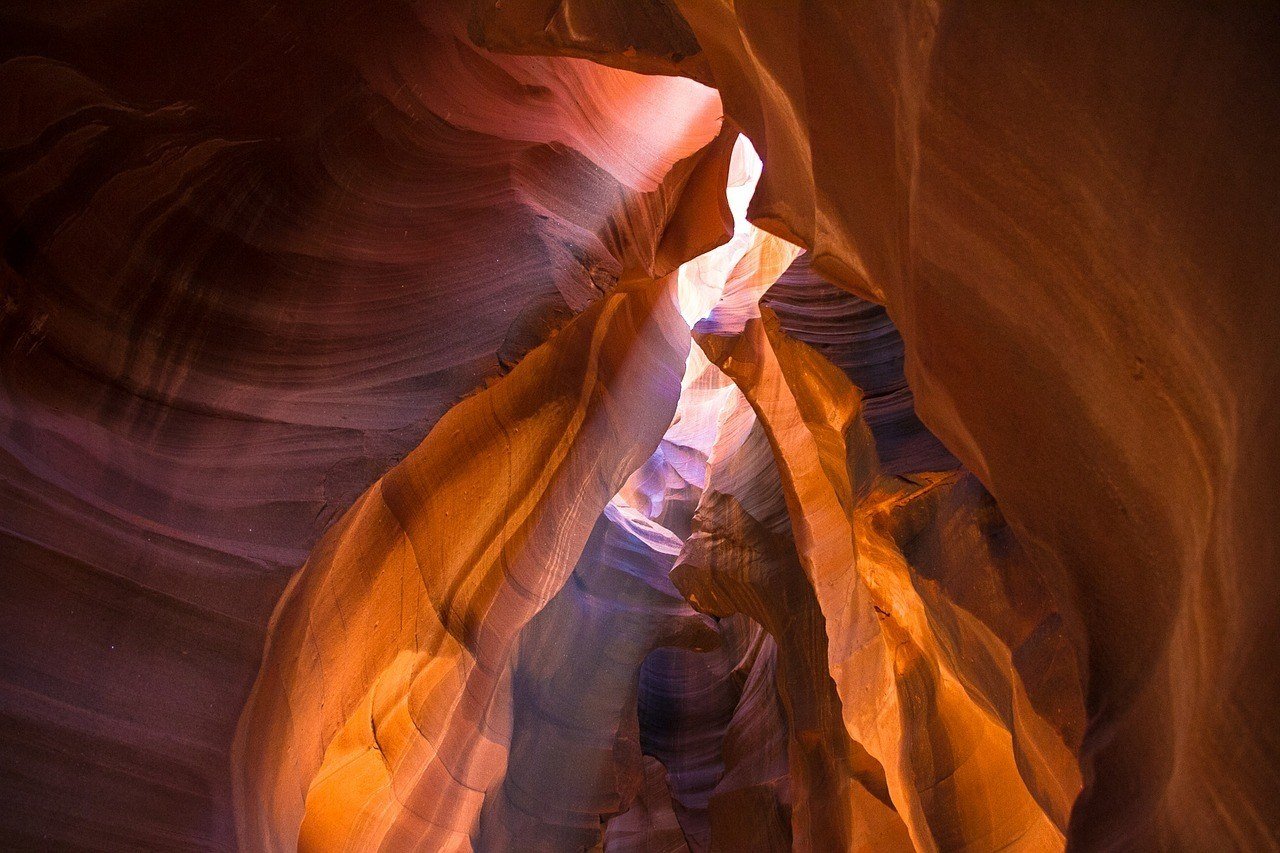 For thousands of years, relentless torrents of water have carved their way through the Navajo Sandstone of Antelope Canyon. It rushed through narrow passageways, curling and flowing, to create the characteristic lines and curves of a slot canyon.
The inside of these deep, winding slot canyons are some of the most mystical places on Earth. The sun slips through the top and dances off swirling orange walls. It's certainly an 'Apple wallpaper' worthy scene (indeed, Apple has actually featured the canyon as one of their stock wallpapers). And Antelope Canyon is an easy day trip from Sedona; just a couple of hours drive to the north.
Save $$$ • Save the Planet • Save Your Stomach!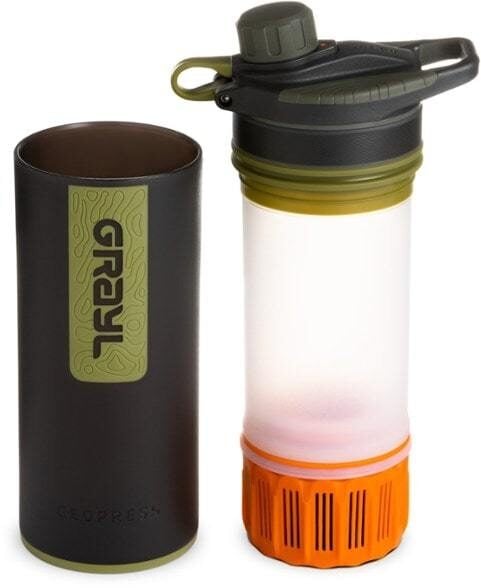 Drink water from ANYWHERE. The Grayl Geopress is the market's leading filtered water bottle protecting your tum from all the waterborne nasties. PLUS, you save money and the environment!
Single-use plastic bottles are a MASSIVE threat to marine life. Be a part of the solution and travel with a filter water bottle.
We've tested the Geopress rigorously from the icy heights of Pakistan to the tropical jungles of Cuba, and the results are in: it WORKS. Buy a Geopress: it's the last water bottle you'll ever buy.
Buy a Geopress!
Read the Review
3 Day Itinerary in Sedona
You might be getting a sense now for just how much there is to see and do in Sedona, but that doesn't need tobe overwhelming. Here's a simple three-day plan that will help you get the most out of Sedona.
Day 1 – Settle Into Sedona
Start your first day off with a trip to the Sedona Visitor Center. It's open from 8:30 am daily and offers a host of useful information that will help you get acquainted with the area.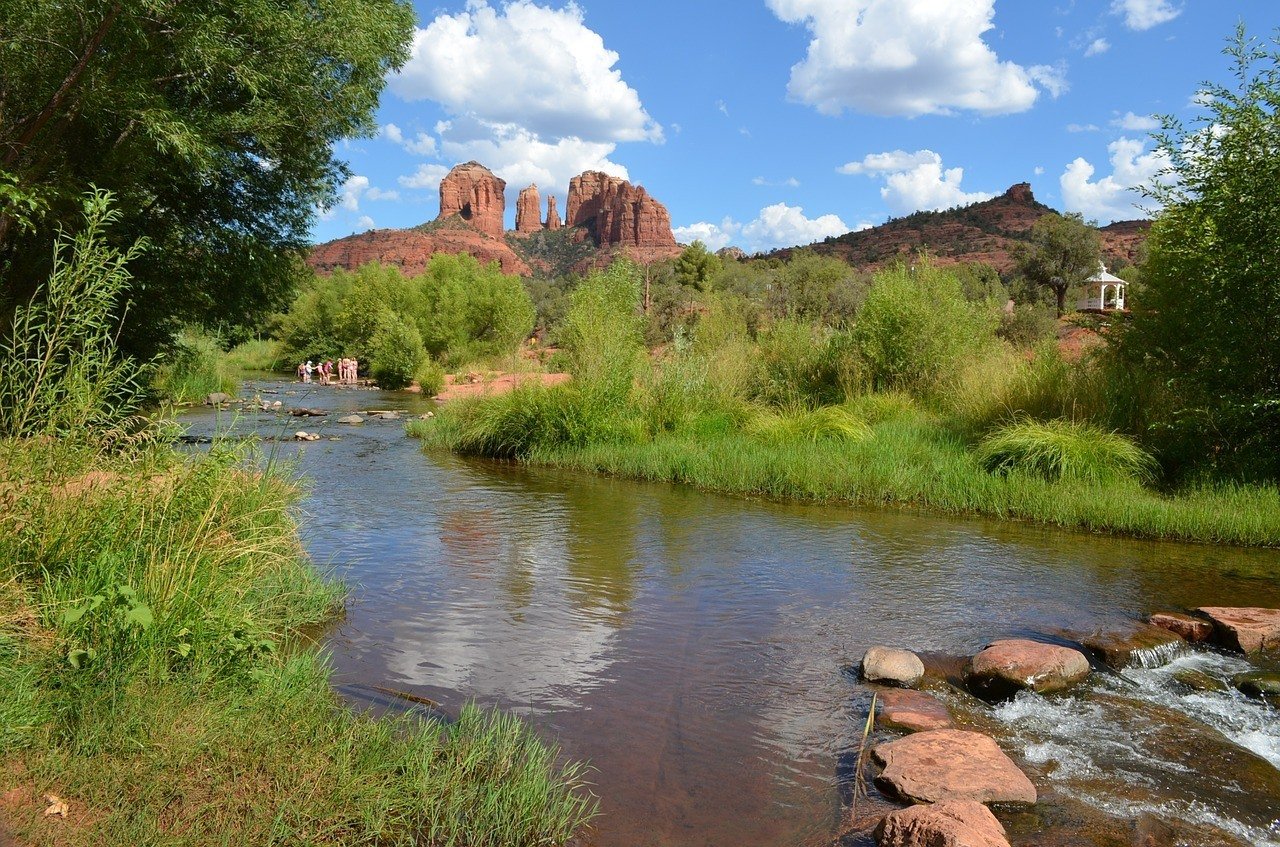 The staff will be able to direct you to the trailhead for the Cathedral Rock, a 10-minute drive to the South. From here, you can set off on the incredibly beautiful hiking trail and get your first real taste of Red Rock Country.
On the drive back to town, be sure to stop off at the Chapel of the Holy Cross. It's just a couple-minute detour to the East and is a truly spectacular sight. Take a few hours to relax, shower, and get ready for the evening. Then head out to Airport Mesa overlook for an incredible sunset!
Day 2 – History and the Red Rocks
Get an early start and head straight for the Sedona Heritage Museum to absorb the facts, stories, and fascinating histories of the town and its surroundings. Carry this information with you to add some context to the rest of your explorations.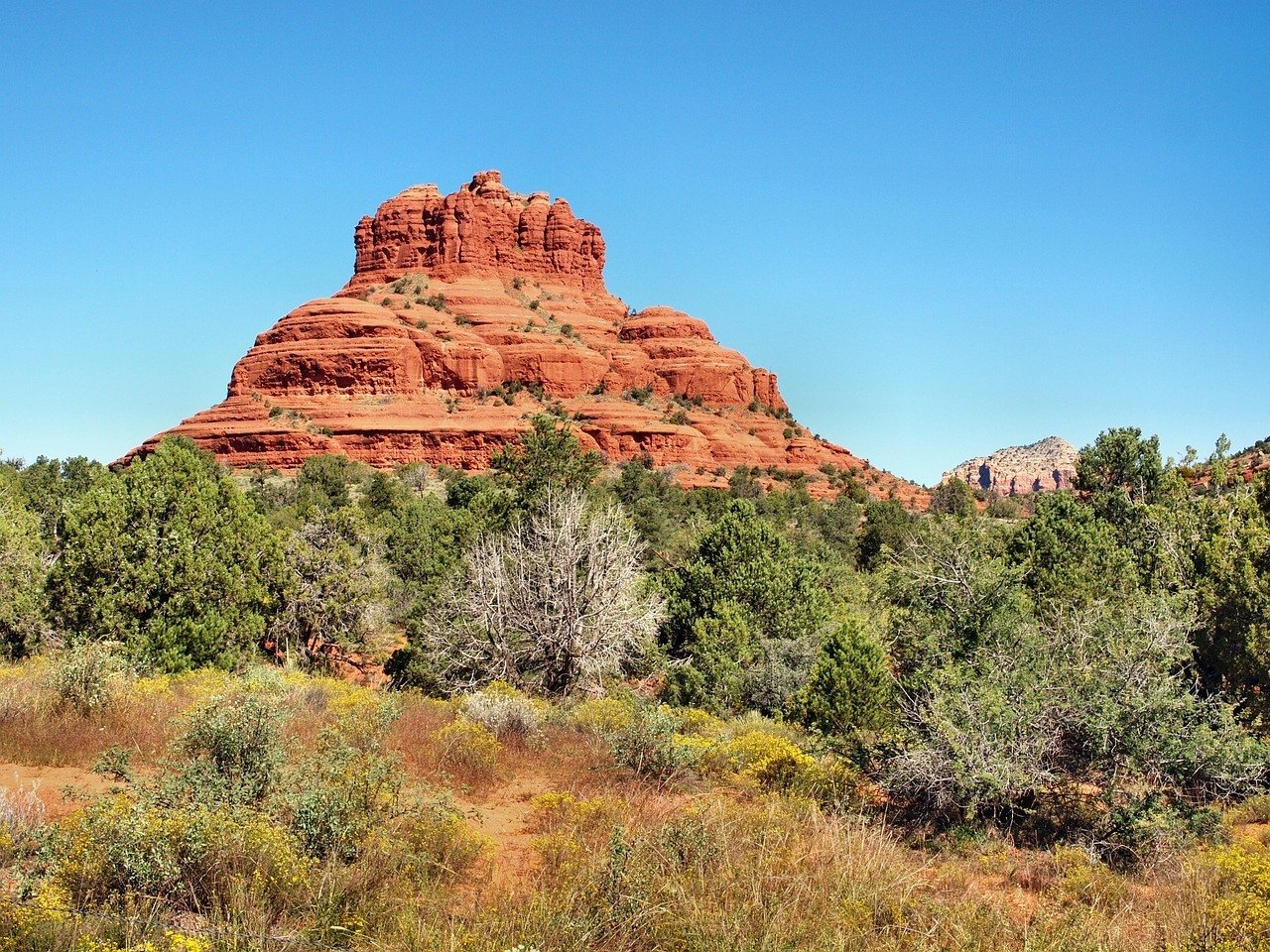 Your next stop will be Honanki Heritage Site, where you'll discover a more distant history, that will leave you in awe. The site is about a 40-minute drive from town. Make your way back to town for some lunch before heading to the Devil's Bridge trailhead. Hike up and enjoy the incredible splendor of the Red Rocks.
After a busy day, kick back for a relaxed evening at the View 180 restaurant. Enjoy fine wines and delicious foods with a uniquely stunning view.
Day 3 – Arts, Crafts, and Stars
Get ready for a morning trip full of art, crafts, and tranquility at the Tlaquepaque Arts and Crafts Village. Wander around enjoying the atmosphere before dipping into one of the restaurants or cafes for an early lunch.
Next, head to Montezuma Castle, around a 40-minute drive to the south. Soak up the significance of the ancient ruins and explore the area. Then, head back to town for some rest and a shower.
Grab a relaxed bite to eat at the Cowboy Club and get ready to see the stars. For the best stargazing experience, jump on a guided tour. You'll get the best viewing spot and a detailed explanation of the night sky.
Don't forget your travel insurance for Sedona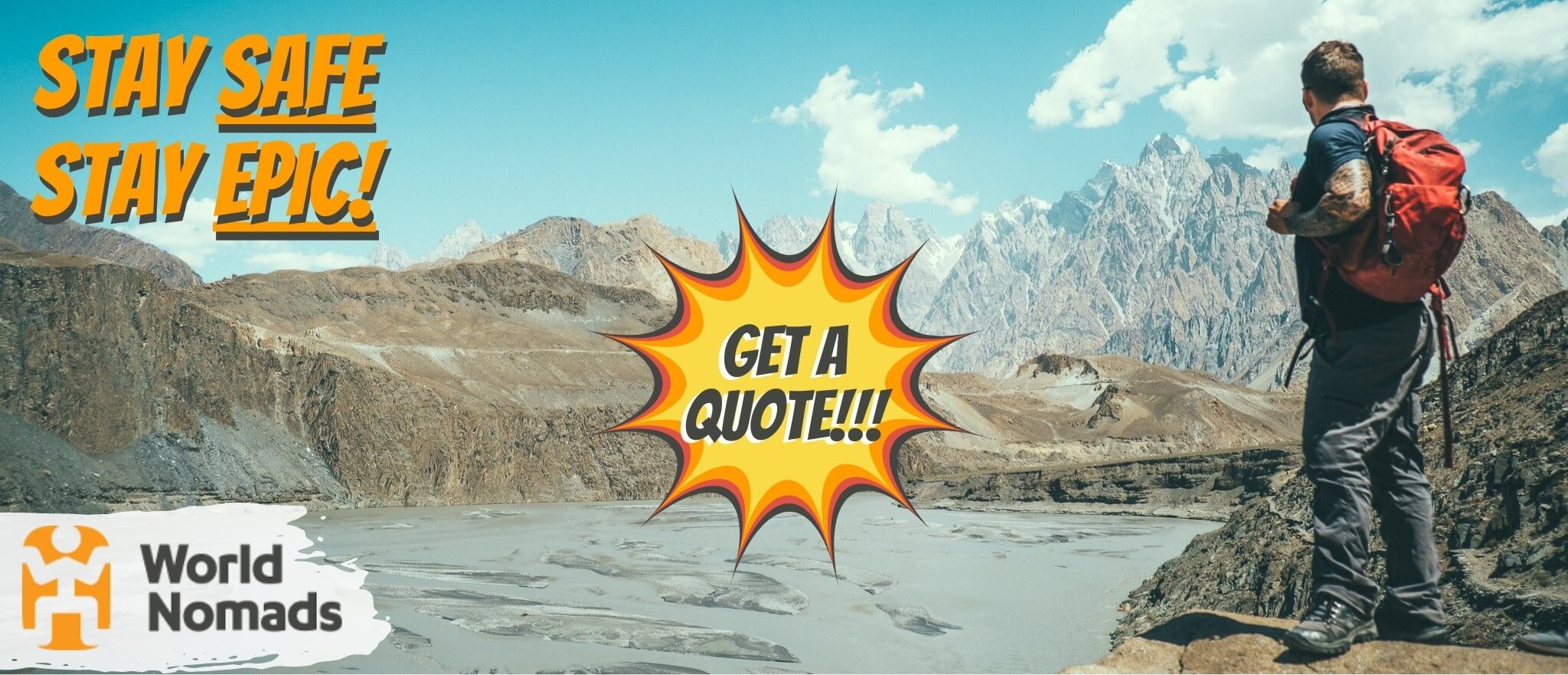 World Nomads' mission is to support and encourage travellers to explore their boundaries. They offer simple & flexible travel insurance, and safety advice to help you travel confidently.
They've been doing it since 2002 – protecting, connecting, and inspiring independent travellers just like you.
Get a quote below or read our in-depth review!
FAQ on Things to Do in Sedona
Here are some quick answers to common questions about what to do and see in Sedona.
Conclusion
Sedona is a simple, laid back town, with so much to offer those who visit. It's beautiful, tranquil, and awe-inspiring – perfect for a nature-filled retreat. Whether you wish to soak up stunning views, be humbled by distant histories, tackle adventurous trails, or simply enjoy some peace, Sedona will bring you joy.
This guide breaks down the best that the town has to offer. We've made sure to include a diverse range of Sedona attractions and activities, that will keep any kind of traveler satisfied and smiling. We hope it's helped you kick start your adventure, and that you have an incredible trip!
---
Bye for now, but not forever!
If you want MORE top-tier Broke Backpacker content like this, then sign up for our weekly newsletter below to get the latest and greatest!
And for transparency's sake, please know that some of the links in our content are affiliate links. That means that if you book your accommodation, buy your gear, or sort your insurance through our link, we earn a small commission (at no extra cost to you). That said, we only link to the gear we trust and never recommend services we don't believe are up to scratch. Again, thank you!