Planning a trip to Northern Arizona? Flagstaff is the perfect place to enjoy a historic town whilst still having the chance to explore the great outdoors. Nearby, you have the Walnut Canyon National Monument which is incredible for hiking, Arizona Snowbowl which is awesome for skiing, and Lowell Observatory if you want to gaze at the stars. Not only that, but the world's largest Ponderosa Pine Forest is just a hop, skip, and a jump away!
With so much to do, you might be wondering where to stay in Flagstaff? Well, there is plenty of unique accommodation here, so it makes sense to think outside the box. Rather than a dreary hotel or a noisy hostel, how about staying in a cabin in Flagstaff? These accommodation options are a great way to truly entrench yourself in the gorgeous natural surroundings, ensuring an experience like no other.
With that in mind, we've decided to help you out. In this post, we'll be taking a closer look at the best cabins in Flagstaff. We've taken into account your personality, travel style, and budget. So, let's take a closer look!
In a Hurry? Here's Where to Stay in Flagstaff for One Night
FIRST TIME IN FLAGSTAFF
Log Cabin near Downtown
You'll have the best of both worlds at this genuine log cabin in Flagstaff. Get to know the lovely historic old town while still having easy access to the hiking trails which are just behind the property.
NEARBY ATTRACTIONS:
Walnut Canyon National Monument
Arizona Snowbowl
Lava River Cave
Is this amazing Flagstaff Cabin booked for your dates? We've got your back with our other favorite properties below!

Unlock Our GREATEST Travel Secrets!
Sign up for our newsletter and get the best travel tips delivered right to your inbox.
Staying in a Cabin in Flagstaff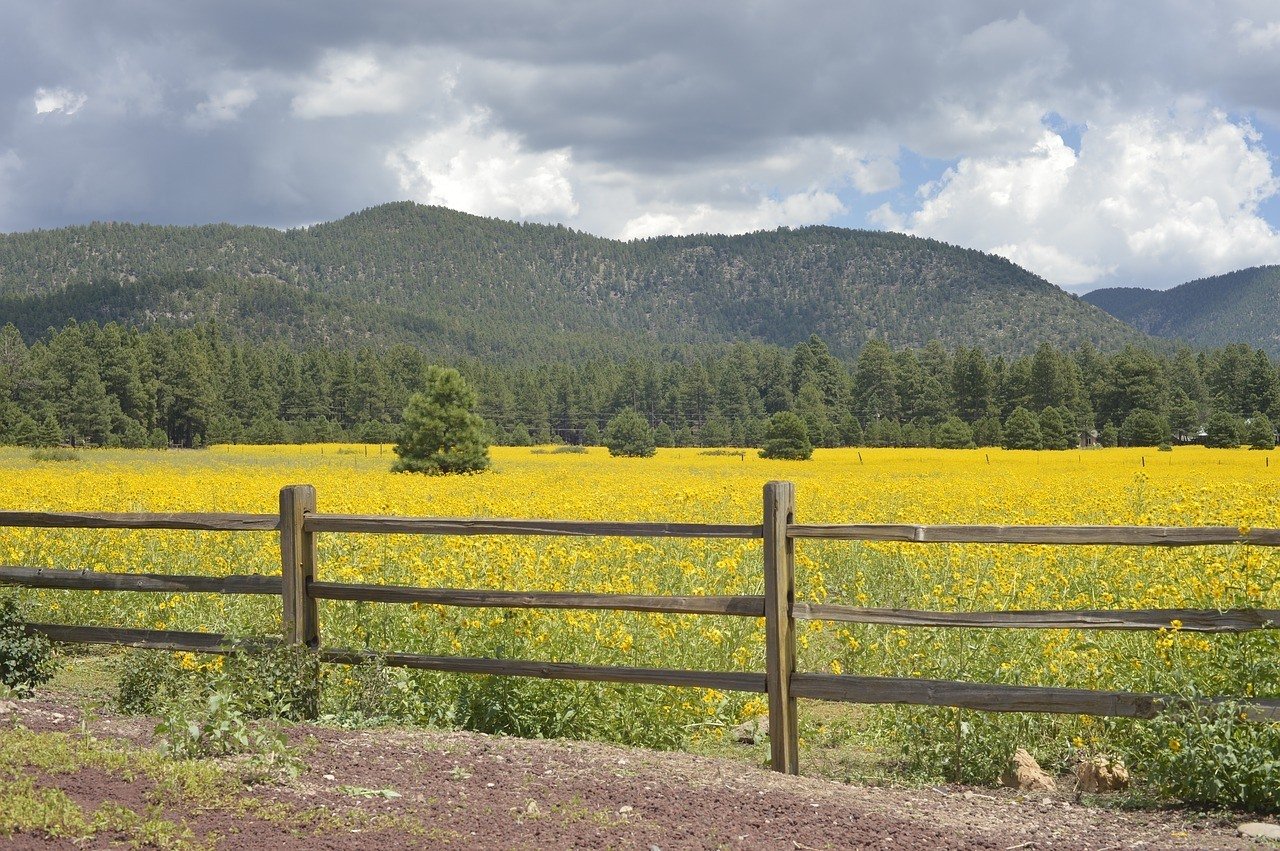 When it comes to unique accommodation in Flagstaff, cabins should be right up there at the top of your list. There's so much choice, and they're available to suit all budgets! Not only that, but they offer tons of character when compared to other property options in the area. Most of the best cabin options can be found on Flagstaff's Airbnb list, which will guarantee you an easy and reliable booking process. Even Flagstaff VRBO has a selection of cabins to choose from.
But it's not only the affordable price that makes staying in a cabin such an appealing prospect here. This awesome type of unique accommodation in Flagstaff allows you to get close with nature and gives you a chance to really connect with the forests around you!
Just imagine returning home from a strenuous hike – You're hot, sweaty, and exhausted. What's better than getting into a hot shower (or bath) and then curling up in a cosy living room with a movie, or enjoying a well-earned meal out on a terrace with panoramic views. Answers on a postcard, please!
What to Expect from a Cabin
What you can expect from your cabin in Flagstaff depends on your budget. At the lower end of the scale, you'll probably find a smaller cabin that's more rustic. Despite this, it will still offer basic features such as a kitchen and perhaps a living room too!
At the other end of the scale, if you have a bit more cash to spare, you'll be able to splurge on a luxurious cabin that will include hot tubs, modern spaces, and high-end features. So, let's jump right into it with our list of the 15 best cabins in Flagstaff!
OVERALL BEST VALUE CABIN IN FLAGSTAFF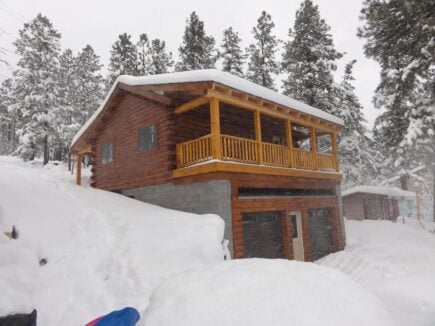 OVERALL BEST VALUE CABIN IN FLAGSTAFF
Log Cabin near Downtown
> $$
> 5 Guests
> Forest setting
> Large outdoor decks
BEST BUDGET CABIN IN FLAGSTAFF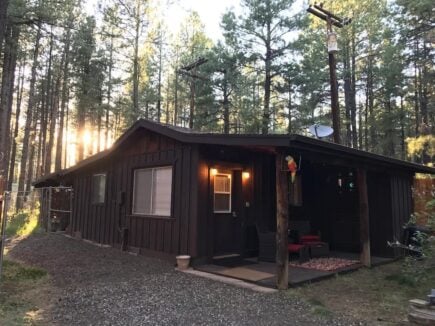 BEST BUDGET CABIN IN FLAGSTAFF
Flagstaff Cabin Retreat
> $
> 3 Guests
> Incredible location
> BBQ grill available
BEST CABIN IN FLAGSTAFF FOR COUPLES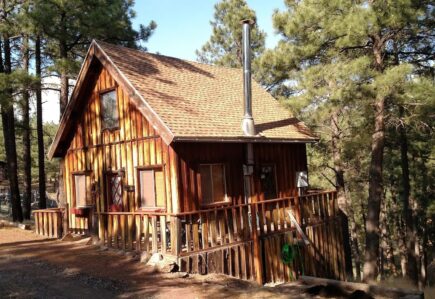 BEST CABIN IN FLAGSTAFF FOR COUPLES
Rustin Cabin In The Woods
> $$
> 2 Guests
> Continental breakfast provided
> Simulated fireplace
BEST CABIN FOR A GROUP OF FRIENDS
BEST CABIN FOR A GROUP OF FRIENDS
Burning Tree Lodge
> $$$
> 12 Guests
> Outdoor dining area
> Spectacular mountain views
OVER-THE-TOP LUXURY CABIN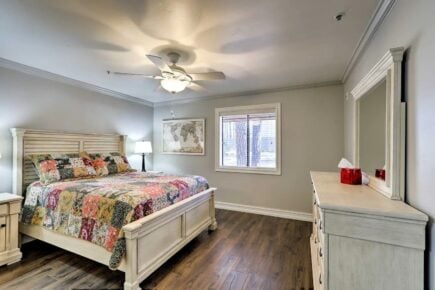 OVER-THE-TOP LUXURY CABIN
Home with amazing views and sauna!
> $$$$
> 10 Guests
> Fire pit in the yard
> High-end luxury steam room
BEST CABIN FOR FAMILIES VISITING FLAGSTAFF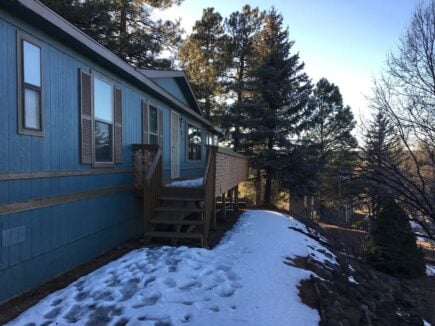 BEST CABIN FOR FAMILIES VISITING FLAGSTAFF
Canyon Cabin in Town
> $$
> 6 Guests
> Close to downtown Flagstaff
> Light and airy rooms
BEST CABIN FOR BACKPACKERS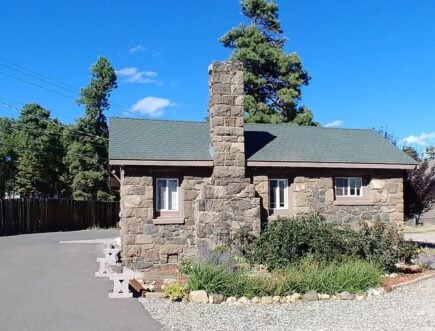 BEST CABIN FOR BACKPACKERS
Cosy Private Cabin in city limits
> $$
> 5 Guests
> Great location
> Hiking trails nearby
The 15 Top Cabins in Flagstaff
So, we've introduced Flagstaff, and given you some help with what to expect from a cabin here. All the admin is covered, so now, let's get to the bit you've all been waiting for – the 15 best cabins in Flagstaff! We're sure you'll find something to suit your personality and budget.
$$
5 Guests
Forest setting
Large outdoor decks
Let's kick off our list of the best cabins in Flagstaff with this gem. Here, you'll have the best of both worlds. You can get to know the lovely historic old town of Flagstaff, while still having access to the hiking trails that the area is famed for.
This really is a home-away-from-home. The genuine log cabin has gorgeous high ceilings with wooden trusses and there's plenty of space for either couples or families visiting Flagstaff. If your clothes get dusty, there are laundry facilities onsite and you can prepare dinner in the open plan kitchen. If you've arrived with your own transport, you'll be delighted to know that this place comes with a heated garage too.
$
3 Guests
Incredible location
BBQ grill available
Are you looking to stretch your money when finding accommodation in Flagstaff? What a silly question, of course you are! With this cabin, you won't have to make any compromises and the biggest selling point is not only the affordable price tag, but also the fact that you'll have access to the national forest directly from the cabin.
When it comes to winter, you have the chance to snowshoe and in summer you can go hiking and biking! This cabin is perfect for a small group of friends or a couple who are travelling on a budget. If you're looking for a secluded escape among the trees, this is the place for you.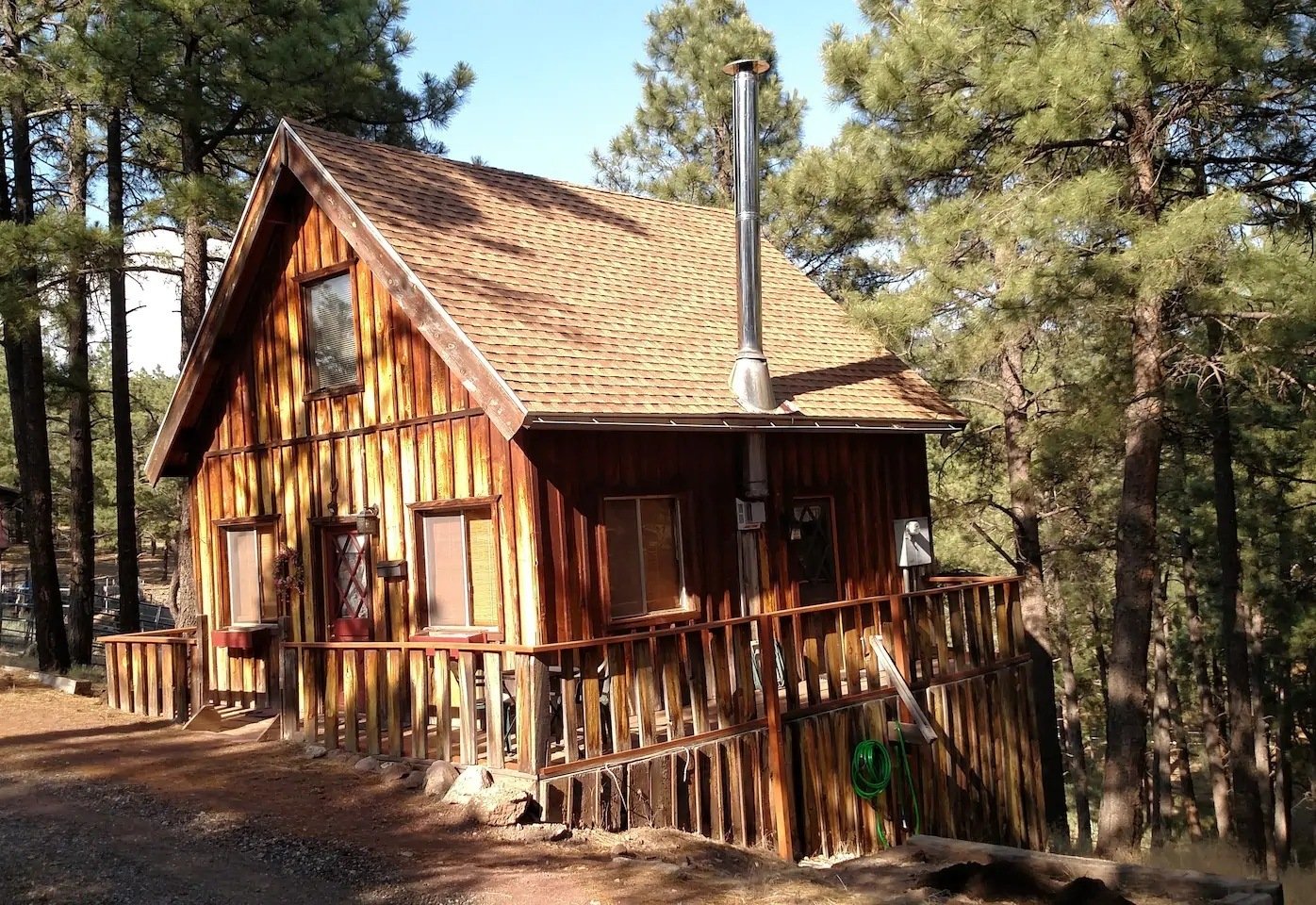 $$
2 Guests
Continental breakfast provided
Simulated fireplace
If you're travelling with your partner, there are plenty of cosy and romantic properties to choose from but this rustic Flagstaff cabin is the perfect spot. Situated between pine trees and close to Coconino National Forest, it's ideal for couples who are looking for an exciting outdoor adventure
One thing we love is that the hosts provide breakfast ingredients, allowing you to whip up your own continental breakfast each morning. Within two hours of the cabin, there are 7 national parks and monuments. So, use this as your base to explore then come back to chill in front of the simulated fireplace in the evening.
$$$
12 Guests
Outdoor dining area
Spectacular mountain views
We know the price may look scary at first. However, the Burning Tree Lodge is one of the best examples of unique accommodation in Flagstaff – and one of the biggest too! Yep, this place can fit you and 11 of your best friends. It's also great for a family celebration so no matter the occasion, pack your bags and get ready for an experience of a lifetime.
This cabin has everything you need from 4 gorgeous bedrooms to a superb, fully equipped kitchen and large open plan living areas. The outdoor spaces include a front porch and backyard where you'll find a BBQ grill and a dining table with chairs. There's even a fire pit, which is great for sitting around and having a laugh over a few beers!
An Eco-Friendly Traveller NEEDS an Eco-Friendly Backpack!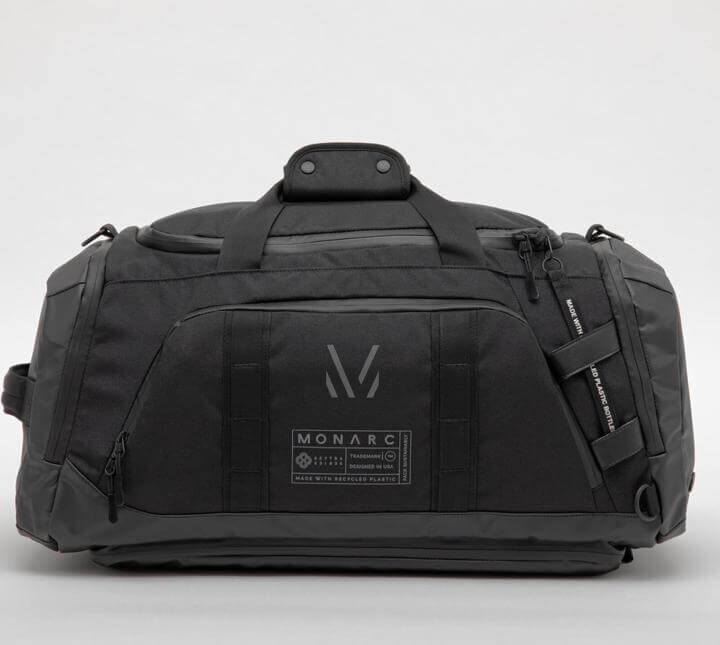 50 recycled plastic bottles – that's what goes into every Monarc Settra: the world's MOST SUSTAINABLE backpack.
Whether you're rocking duffel mode or backpack mode, if you're a traveller that gives a flying hoot about their environmental impact, then there's only one backpack you should consider – the plastic-negative Monarc Settra.
Learn More Now!
$$$$
10 Guests
Fire pit in the yard
High-end luxury steam room
If you're planning on visiting Flagstaff and money's no object, let's take a closer look at one of the most luxurious cabins we've found! Inspired partly by a farmhouse, this property has got plenty to get excited about. The cabin comes with 4 tastefully decorated rooms and modern spaces, perfect for your weekend getaway to Flagstaff.
The fire pit in the backyard is an awesome spot to roast marshmallows or enjoy a few drinks. After a long day on the slopes or hiking, you can relax those aching muscles in the luxury steam room inside! Sometimes luxury is just about having time to yourself, so enjoy the unspoiled mountain views from the deck.
Best Cabin for Families visiting Flagstaff – Canyon Cabin in Town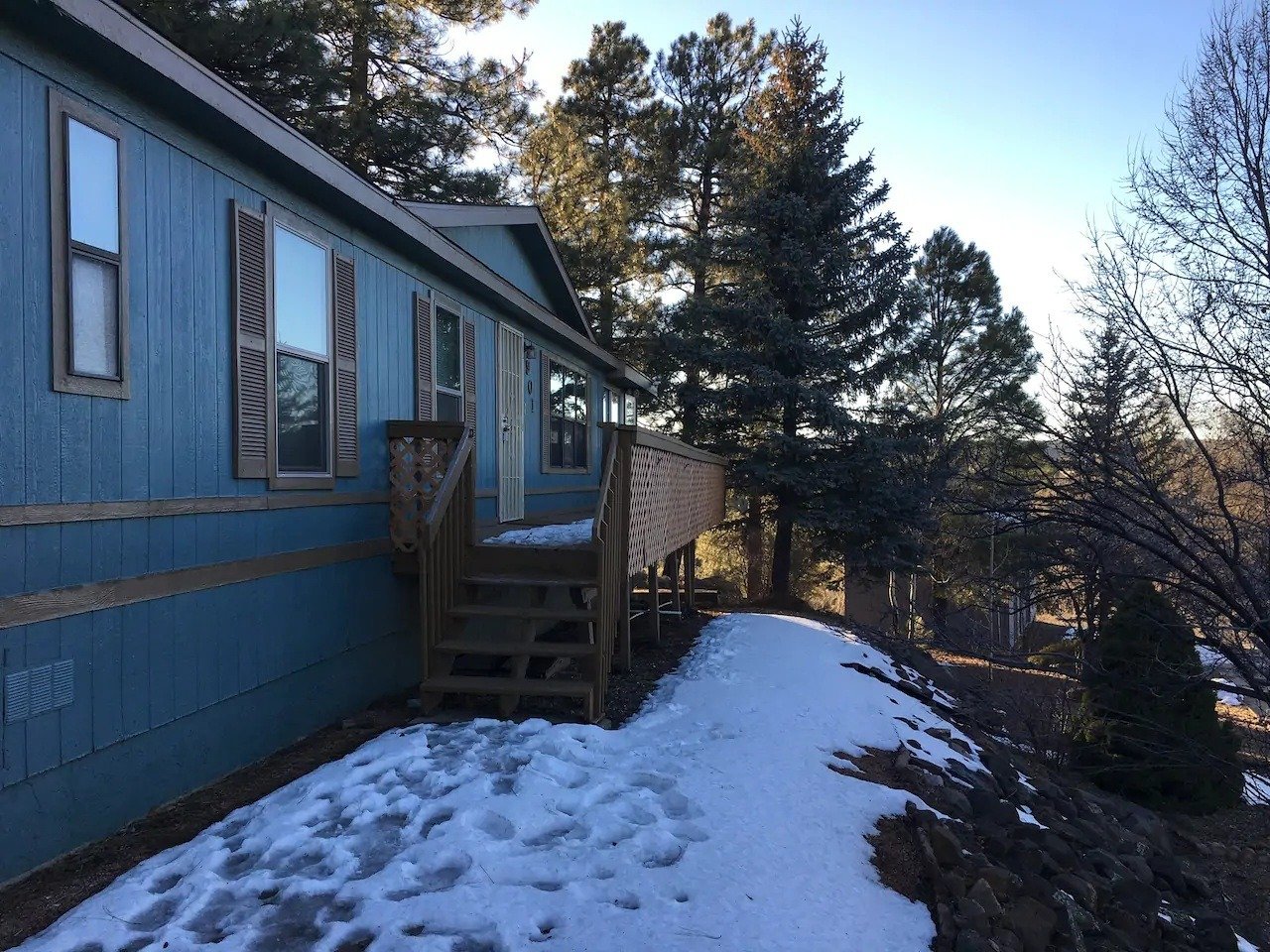 $$
6 Guests
Close to downtown Flagstaff
Light and airy rooms
Planning a family celebration? Well, how about this place! We think it's one of the best cabins in Flagstaff, especially if you're travelling on a budget. It's just two miles away from downtown Flagstaff, which means you're just a short drive away from several restaurants, bars, and shops.
The cabin has 3 bedrooms and the living area is filled with natural light thanks to the large wrap-around windows. In fact, this is one of the best cabins for families with young children. There are children's books and toys on-site, so that should keep the kids entertained if you choose to have a lazy day in.
$$
5 Guests
Great location
Hiking trails nearby
When it comes to backpacking, you have to be careful with your budget, especially if you're travelling long-term. So, don't be tempted by one of those huge properties that will decimate your bank account – even if it does have a hot tub. Instead, this cosy private cabin has room for 5 (with a squeeze) but it means you can keep your costs down and be close to downtown Flagstaff.
Prepare your meals in the fully equipped kitchen or admire the mountain views from the front door. Perhaps you'd prefer a night in? You'll be pleased to know there's a Roku Streaming Device you can enjoy from the comfort of your woodsy cabin.
$$$$
6 guests
Fully stocked kitchen
Indoor fireplace
Are you looking for a truly memorable place to stay with your family? Okay, well here's another option we found for you! The Hidden Hollow Log Cabin in Flagstaff is set up for guests of all ages, but the kid's treehouse is the feature that will really turn families' heads in the direction of this awesome spot!
There are a couple of things to be aware of before you go ahead and book. Unfortunately, no pets are allowed and if you want to visit in winter, it's probably best you have experience of driving in the snow. However, all the other incredible amenities make up for this.
$$
4 Guests
Private hot tub
10 minutes from downtown
Spending a whole weekend here? That could work out to be quite expensive! Unless, of course, you do your research and get a great budget cabin in Flagstaff! Lazy Bear Cabin is an affordable option with all the luxuries you'd expect from a high-end property, including a hot tub and a large outdoor deck with a grill.
It's just ten minutes from downtown so you've got no excuse not to explore everything Flagstaff has to offer, or you can simply enjoy the relaxing vibe of the forest around you. Visiting in the winter? There's a wood stove that will keep you warm at the coldest times in the year!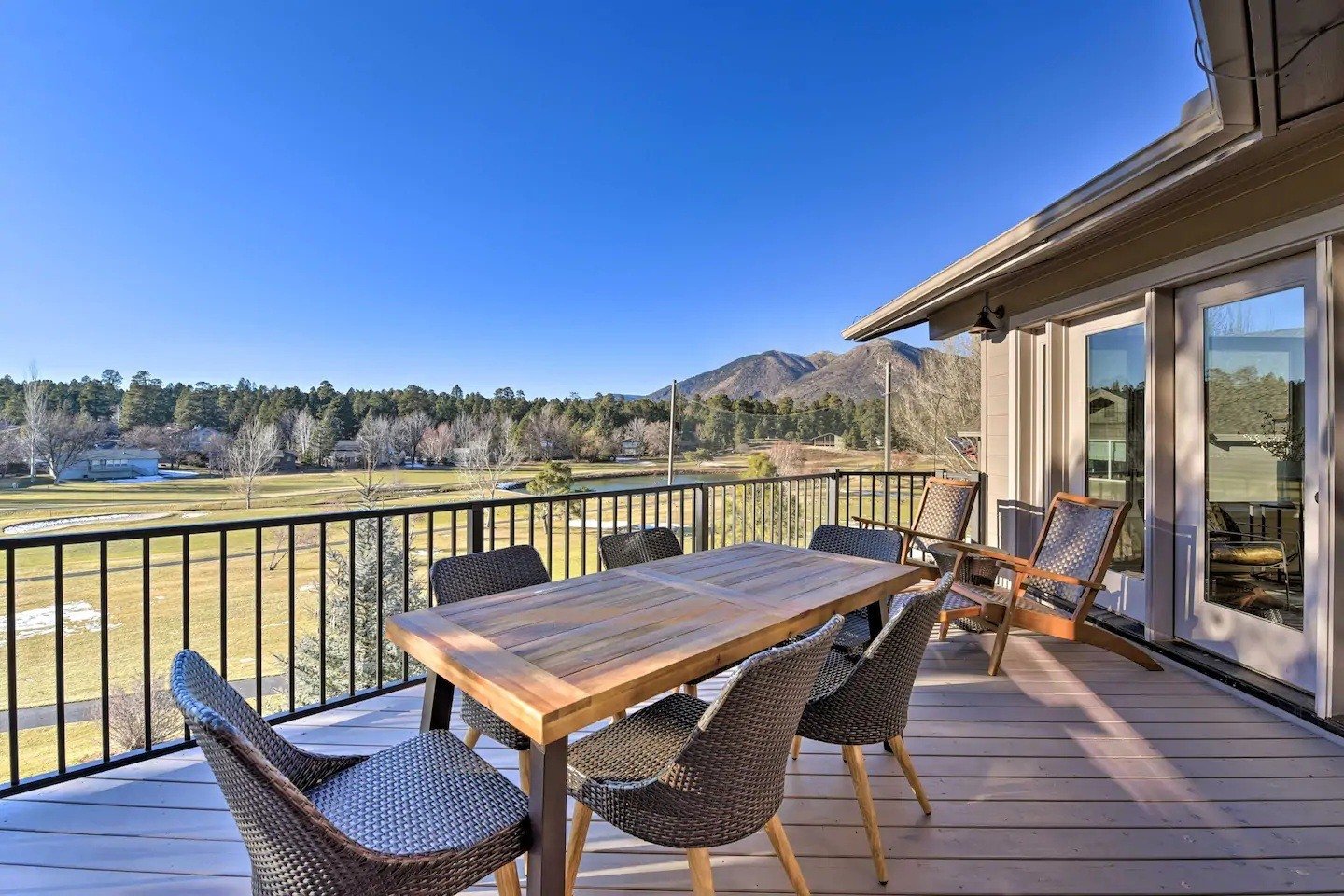 $$$$
13 Guests
Hot Tub and Pool
Deck with mountain views
One of the best examples of unique accommodation in Flagstaff, this cabin really has that wow factor. It's absolutely gorgeous inside and out! Just look at that architecture – lots of space and delightful decor in the huge kitchen, cosy living room, and gorgeous bedrooms. The bathrooms even come with tubs, and this is just one of the many features we love about this cabin.
Although, you might prefer to head out onto the deck, where you can jump into the outdoor hot tub! From there, you'll be able to see the stunning surroundings of the cabin.
$$$$
12 Guests
Hot tub
Serene atmosphere
Flagstaff has its fair share of luxury cabins, and while they might be out of budget for the average traveller, this is a great option for a group of friends or family travelling together as it has enough space for up to 12 guests!
The interior is tastefully decorated and we love the large windows which allow lots of natural light into the rooms. It's 5 minutes from downtown Flagstaff, but still has the air of exclusivity and serenity as it's in one of the most prestigious neighbourhoods near town – The Continental Country Club!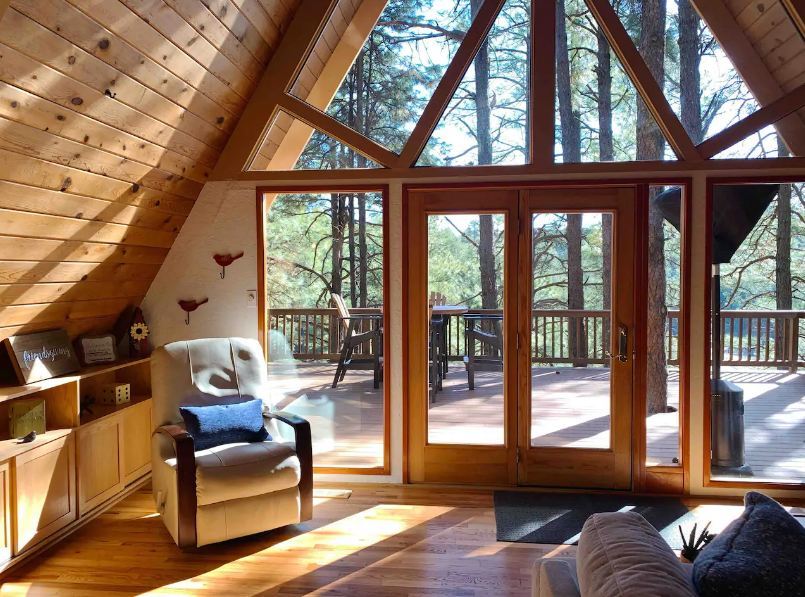 $$$
7 Guests
Indoor Sauna
Large deck
Flagstaff has loads of great cabins for big groups, and this one is one of the coolest cabins in Arizona overall! This cosy A-frame property has three bedrooms that can sleep up to seven people. After a long day of hiking, biking, or skiing, we're sure you'll want to come back to a cabin which is incredible both inside and out!
Soak up the mountain air on the deck, or relax those aching muscles in the indoor sauna. Want to keep your costs down when it comes to food? You'll be pleased to know there's a spacious fully-equipped kitchen where you can whip up your favourite meals!
$$$$
10 Guests
Excellent location
Outdoor BBQ
It's impossible to deny the beauty of Flagstaff, but many of the cabins are so deep in the woods that you can only really see… trees. Not the case at this awesome cabin in Flagstaff, which has an outdoor deck and big windows so you can see the surrounding mountains!
It's quite pricey, but you won't have to worry too much about that as you can split the cost between ten of you. Choose between making dinner in the fully equipped kitchen or out on the deck with the BBQ – either way, we know you'll love this spot.
$
4 Guests
Great for hiking
Pet-friendly
Here, we have the cutest A-Frame in town which we know backpackers and budget travellers will love! This cabin is an authentic wooden property that's warm, clean, and cosy and comes with an awesome open plan living area.
It's a great spot if you want to watch wildlife, as there are elk, deer, foxes, and coyotes in the nearby area. And if you're travelling with your own pet, you can add that in, as pets are allowed here.
The Absolute Cheapest Cabin in Flagstaff – Daisies and Denim
$
3 Guests
Laptop-friendly workspace
Wildlife sightings
If you've been reading through our list and everything's still a little out of your price range, don't worry! We're closing our choices of the best cabins in Flagstaff with one of the cheapest options out there. Okay, you don't get the entire cabin to yourself – you're actually staying in a private room at the Patton Ranch.
However, you'll get all of the lovely surrounding views while having more money at your disposal for the activities and nights out that really matter. You're free to make use of all communal spaces including the kitchen, living room and outdoor patio. Digital nomads will love it here as it offers a laptop-friendly workspace!
Check out these other great resources
We have loads more information to help you plan your trip.
FAQ about Cabins in Flagstaff
Here's what people usually ask us when they look for vacation homes in Flagstaff.
Don't Forget Your Flagstaff Travel Insurance
ALWAYS sort out your backpacker insurance before your trip. There's plenty to choose from in that department, but a good place to start is Safety Wing.
They offer month-to-month payments, no lock-in contracts, and require absolutely no itineraries: that's the exact kind of insurance long-term travellers and digital nomads need.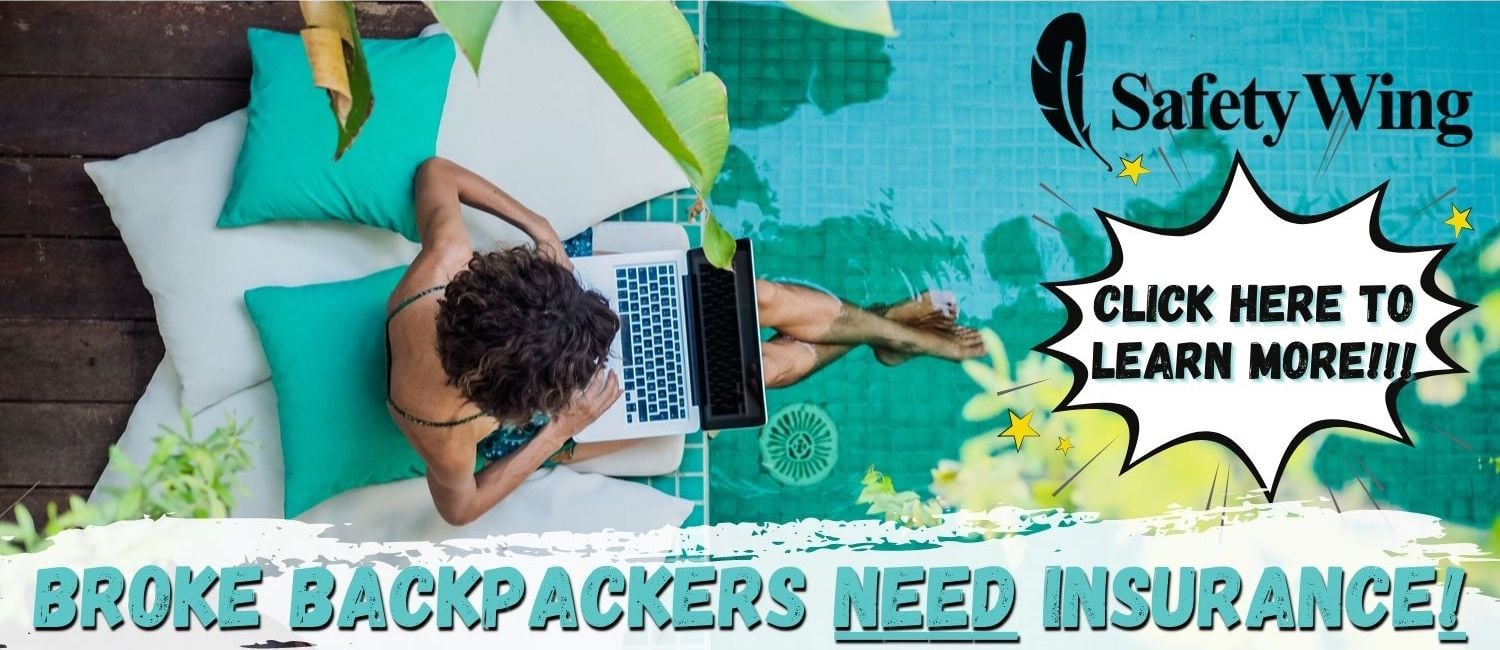 SafetyWing is cheap, easy, and admin-free: just sign up lickety-split so you can get back to it!
Click the button below to learn more about SafetyWing's setup or read our insider review for the full tasty scoop.
Final Thoughts on Cabins in Flagstaff
So, that concludes our list of the best cabins in Flagstaff. No matter your reason for visiting Flagstaff – be it the incredible hiking trails or a family getaway, we know you'll love the natural beauty of the area. Whether you want a place to host all your friends for a big event, a super cheap room in someone else's cabin, or you want an over the top luxurious option, there's a cabin in Flagstaff for you!
We just hope we haven't overwhelmed you with how much great choice there is when it comes to this awesome type of unique accommodation. If that's the case, just go for our overall best cabin in Flagstaff – Log Cabin near Downtown. Not only does it boast a great location, but it also offers excellent value for money and plenty of features to make your stay comfortable and memorable.
Now that we've helped you plan for your vacation in Flagstaff, our work here is done. All that's left is for us to wish you an incredible trip to Arizona!
Want some more options, especially if you're on a budget? Check out the best hostels in Flagstaff instead.
---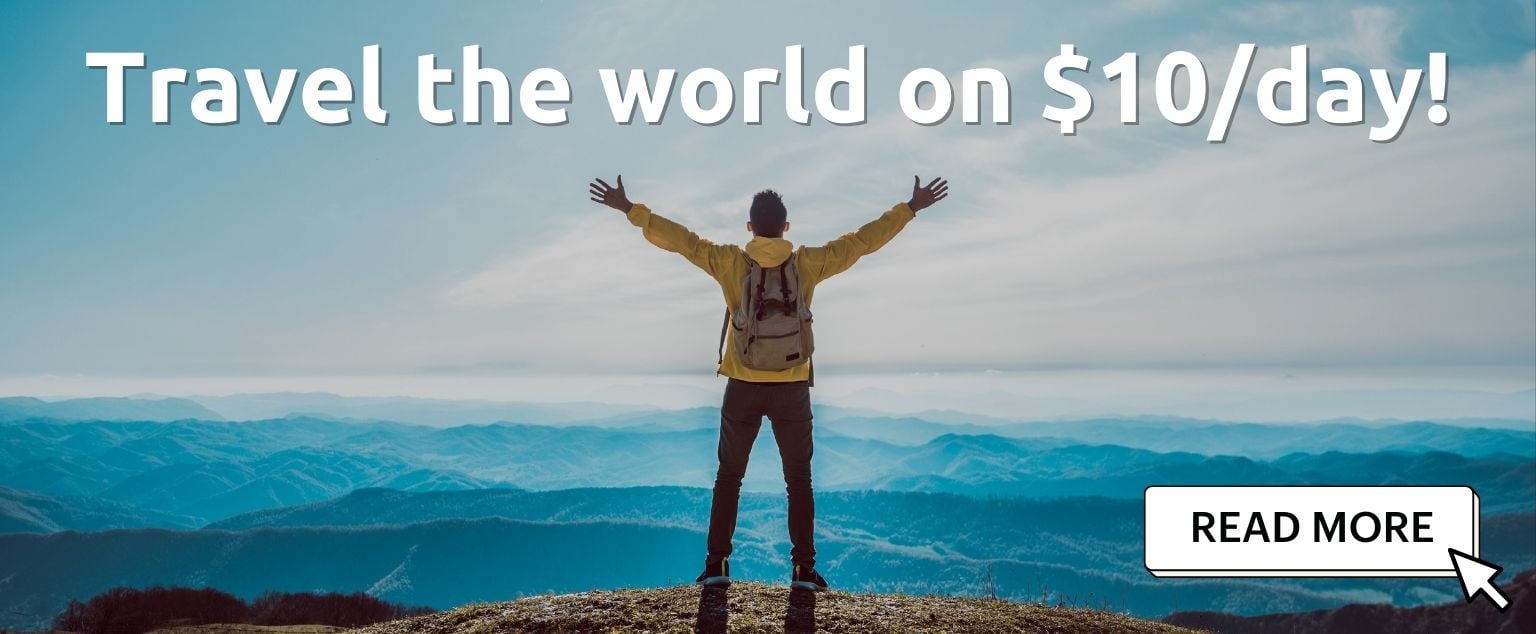 And for transparency's sake, please know that some of the links in our content are affiliate links. That means that if you book your accommodation, buy your gear, or sort your insurance through our link, we earn a small commission (at no extra cost to you). That said, we only link to the gear we trust and never recommend services we don't believe are up to scratch. Again, thank you!