Flagstaff, Arizona is one of the best destinations to travel to for an action-packed vacation in the United States. It has everything you need from a big city without the crazy bustle but with a cool vibe and feel of adventure.
VRBO's in Flagstaff are packed with the amenities you need for a great time away with those you love or that perfect solo trip. Dotted all around the region, you can find rentals in Flagstaff in a location that suits the type of vacation you are after.
With so many rentals available, you will no doubt be able to find the best one for you in Flagstaff.  Here we break down this wonderful location including our top 20 VRBOs in Flagstaff, Arizona.
Quick Answer: These are the Top 5 VRBOs in Flagstaff
Overall Best Value VRBO in Flagstaff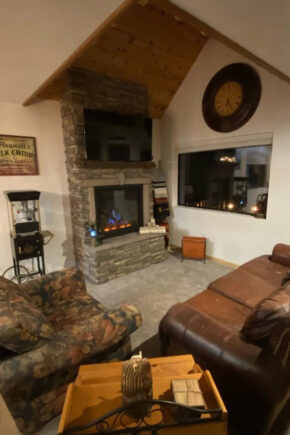 Overall Best Value VRBO in Flagstaff
Log cabin nestled in the pines
> $$
> Sleeps 8
> Hot tub and fire pit
> Vintage arcade machine and popcorn maker
Best Budget VRBO in Flagstaff
Best Budget VRBO in Flagstaff
Quaint little studio fit for two
> $
> 2 Guests
> Convenient and close to everything you need 2 Guests
> Basic kitchenette
Best VRBO for Couples in Flagstaff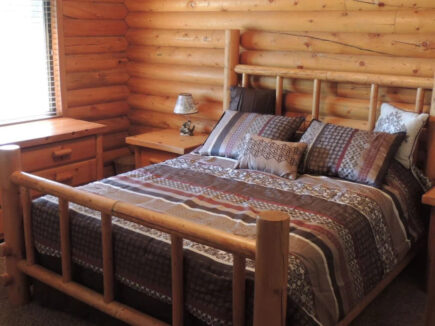 Best VRBO for Couples in Flagstaff
Hidden log cabin
> $$$
> 2 Guests
> Secluded cabin
> King bed
Best VRBO for Families in Flagstaff
Best VRBO for Families in Flagstaff
Stunning home with a treehouse
> $$$
> 6 guests
> Treehouse with Smart TV
> Board games and sandbox
Over-the-Top Luxury VRBO in Flagstaff
Over-the-Top Luxury VRBO in Flagstaff
Family cabin in the mountains
> $$$$
> Sleeps 9
> Game room with pool table
> Media Room

Unlock Our GREATEST Travel Secrets!
Sign up for our newsletter and get the best travel tips delivered right to your inbox.
What to Expect from VRBOs in Flagstaff
VRBOs in Flagstaff are mainly home-style accommodations. They aren't as varied as they are in other destinations but a homely feel comes with each option. 
Depending on where you want your rental in Flagstaff will determine your options. Whether you are looking for a rental near the mountains or a family house near the downtown area, you are guaranteed to find everything in your VRBO that you need. 
When selecting the best VRBO in Flagstaff consider the reason you are there and the types of activities you want to do during your visit. Most are self-contained with their own kitchen and cooking facilities.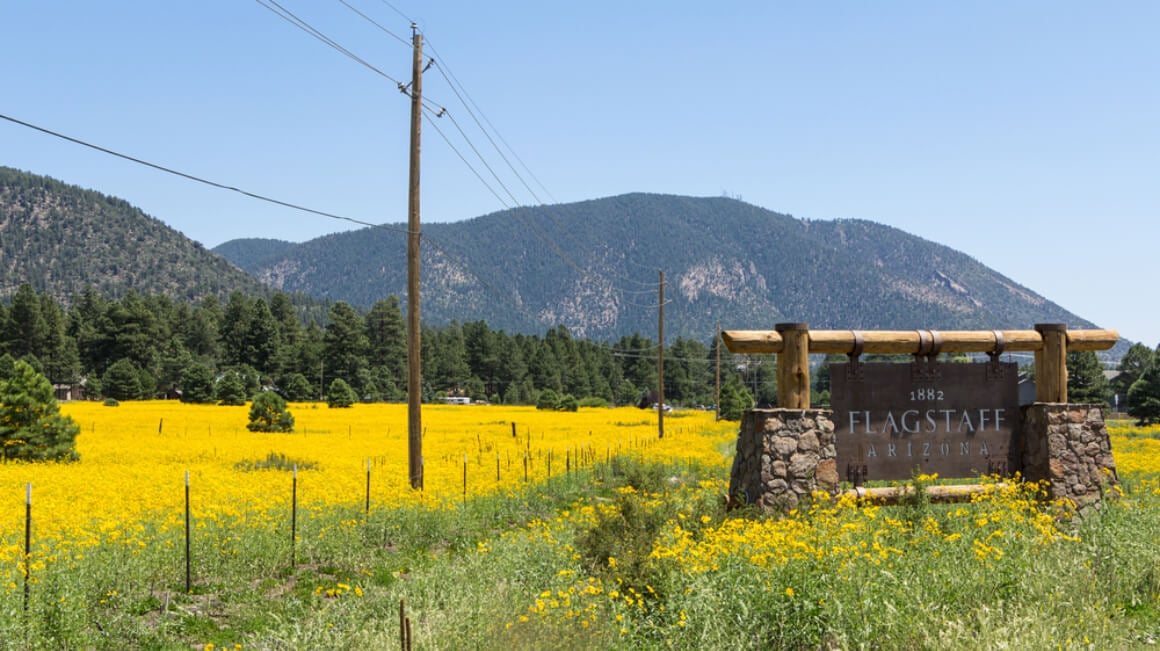 Apartments/Condos 
There are many self-contained apartments available around Flagstaff. Often situated near the downtown area (sometimes referenced as Flagstaff City Hall), these styles of accommodation are suited for those who are looking for a home away from home while on vacation. 
An apartment or condo can be suitable for families especially those with young children as they usually have laundry facilities available and are within walking distance to shops and cafes. 
There are many apartments available near the Continental Country Club and for those wanting a more luxurious stay, some condos are a part of it so guests can use the facilities. 
Check out the apartment/condo rentals in Flagstaff here:
Cabins
If you are looking for something unique and don't mind a smaller space, then a mountainside cabin is the perfect VRBO for you. With some available to rent near downtown, you can have the look of a cabin in the heart of the action.
This type of accommodation is just right for solo travelers, couples coming to hike or to be near the mountains, or families who want space for the children to run around. 
Most VRBO cabins in Flagstaff offer cozy fireplaces and make you feel like you are in the middle of nowhere but with the modern perks of Wi-Fi and satellite tv. 
Check out the cabin rentals in Flagstaff here:
Chalet
Settle in the mountainside in a wonderful chalet, surrounded by trees and forests. With many VRBOs in Flagstaff being situated in nature, choosing a chalet provides access to walking trails and peace and quiet. 
These often secluded and private properties are the perfect getaway option for digital nomads needing the serenity to work or couples wanting a romantic getaway. 
Most of the VRBO chalets in Flagstaff cater for larger groups so can be the perfect solution for larger families or the ideal destination for a reunion or work retreat. 
Check out the chalet rentals in Flagstaff here:
Why Stay in an VRBO
Everyone wants a worry-free yet fun vacation. After all, we are getting away because we need a break from everyday stress. And that is why choosing the best VRBO is so important. Booking a VRBO has many benefits, such as: 
Local Experience: You are renting from a local so you know if they say a restaurant is great or which is the best hiking trail for a family, then it probably is.  
Unique Properties: VRBOs have that unique charm in the architecture and often tailor the decor to the property or the preferred type of guest. 
Privacy: VRBOs often have the option of self check in and you have the option to rent whole houses allowing space and privacy away from other guests
Affordability: As owners can set their own prices, you will find that a VRBO can be cheaper than a hotel. 
Safety: Even though owners advertise their property themselves, the VRBO team vets the owner of the property and has a 24/7 call center you can contact if there are any issues. 
Staying Long-Term: Unlike hotels, VRBO hosts often provide a discount to those travellers wishing to stay long term in the same property. 
Last-Minute Booking: Hosts can set their final available time to book for the night. If you're rolling into your destination late and haven't found something, VRBO will let you know what properties are still available for booking.
The 20 Top VRBOs in Flagstaff
Flagstaff is a destination for everyone. You can relax and unwind in nature or pack your time full of active adventure. However or whoever you travel with, you will find the best VRBO in Flagstaff suitable for your needs and style.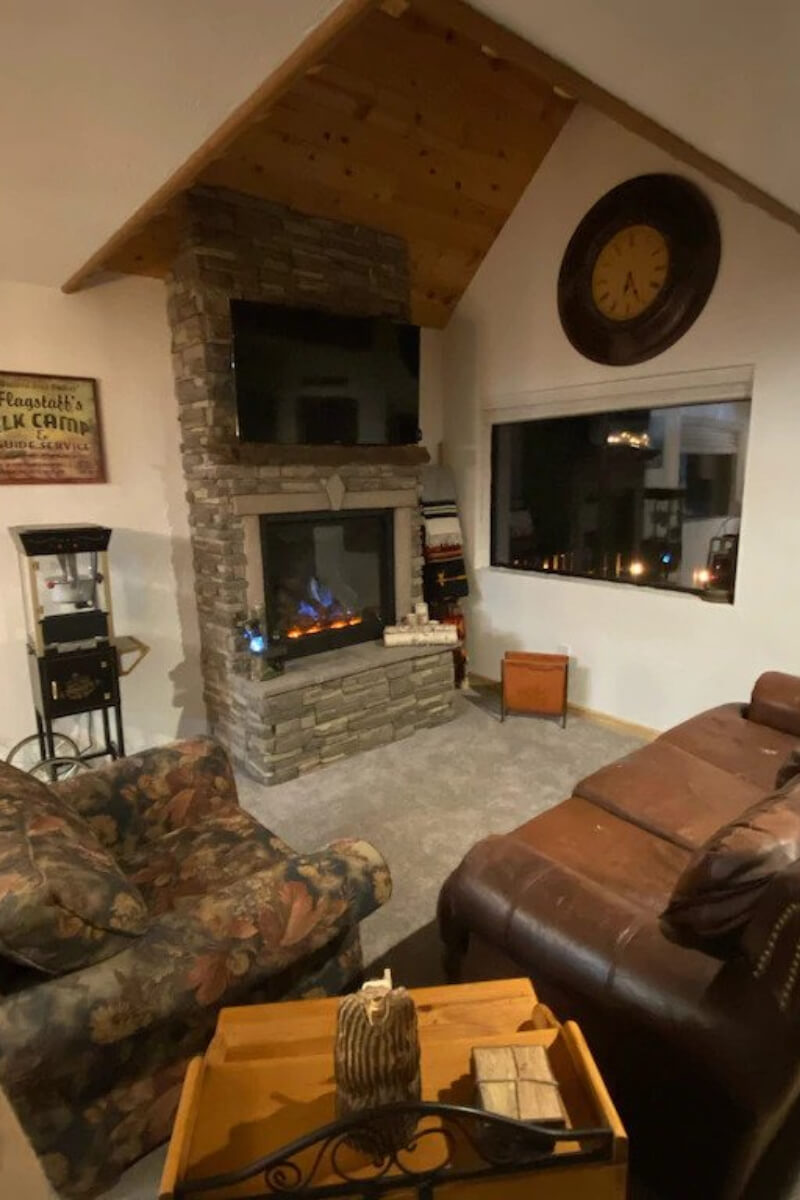 8 Guests
Vintage arcade machine and popcorn maker
Go straight from the hot tub to the fire pit in this gorgeous log cabin nestled in the pines. Once you are done with the outdoor relaxing, watch a movie in front of the fireplace after making fresh popcorn from the funky popcorn maker, or treat yourself to a gumball!
With stunning views surrounding the house, this property is perfect for both summer and winter. There are plenty of nooks to cozy up inside with a book after using the fully equipped kitchen to prepare your favorite meal. 
The highlight of this VRBO in Flagstaff would be the vintage arcade machine. Take turns fighting it out for the top score.
Places to visit nearby: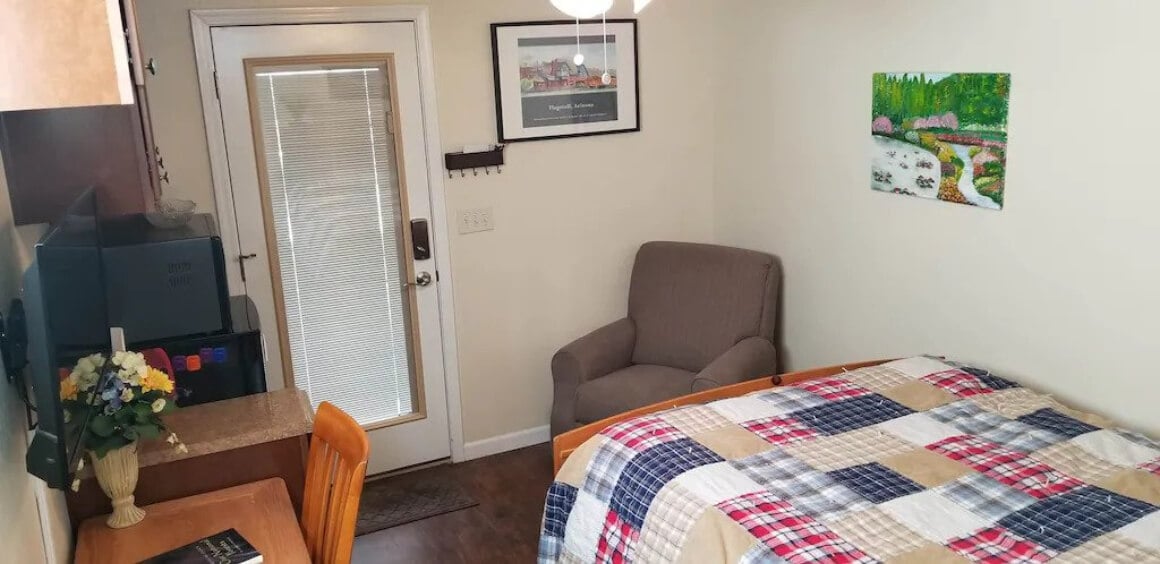 $
Convenient and close to everything you need
2 Guests
Basic kitchenette
Basic but brilliant, you cannot go wrong with this charming little studio that is close to everything you need. Affectionately referred to as 'The Nook', the studio is the best VRBO in Flagstaff for convenience; being walking distance to shops and restaurants, and with access to the highway to see the sites. 
Even though there is no stove available in the equipped kitchenette, after a day of sightseeing, microwave some popcorn and cozy up with the cable tv and chilled wine.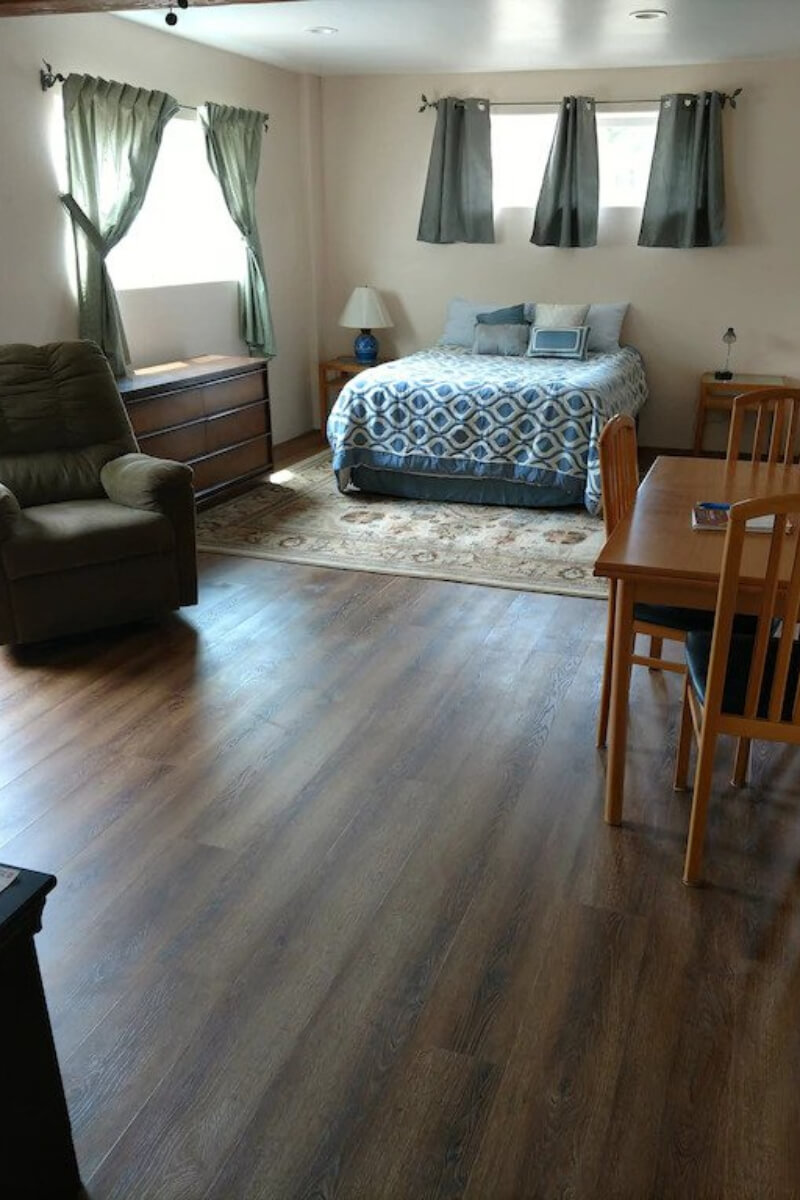 Find everything you need in this idyllic location. Surrounded by nature and located at the base of the San Francisco Peaks, this studio is a perfect base for day trips, hiking, and skiing. 
With your own fully equipped kitchen and fireplace, you will feel welcome in this private little hideaway for one.  
Fancy being active during your stay? The host has bikes available to use. You will also have access to the hot tub. Whether a solo retreat or a working weekend away, this is the perfect place to spend time with yourself.
Is This the Best Travel Pack EVER???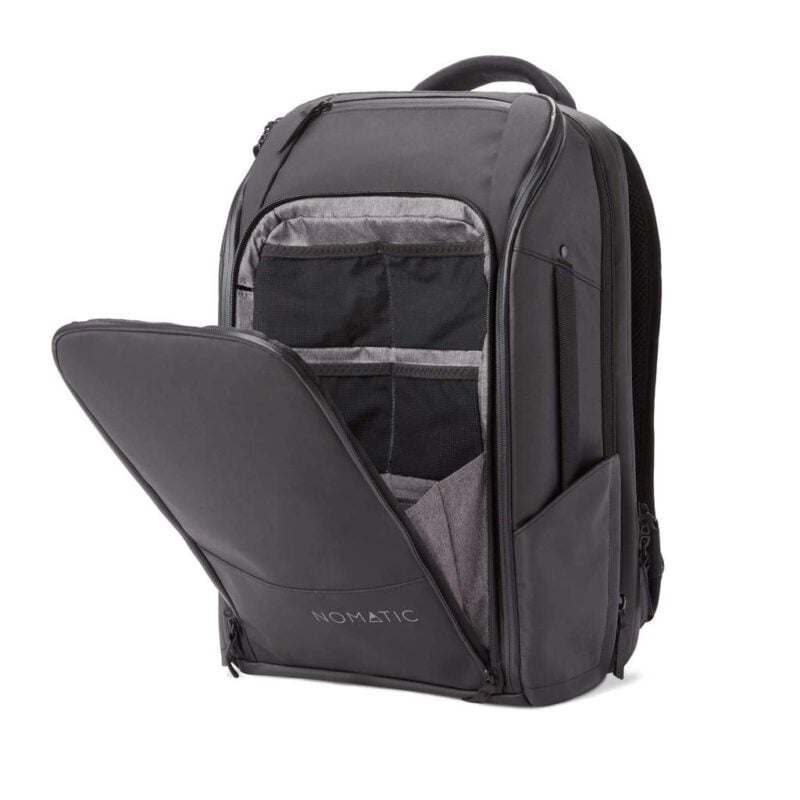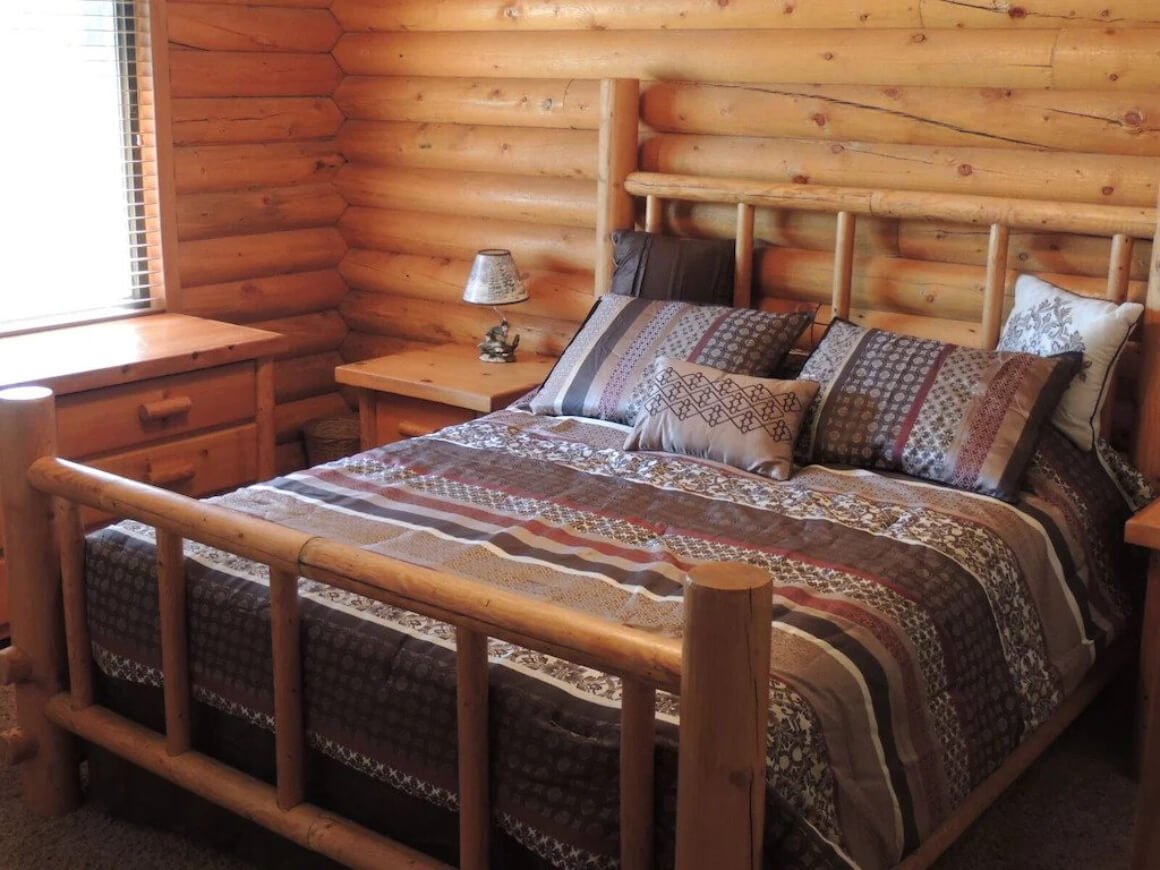 Perfect for a romantic weekend away, this secluded log cabin was lovingly handmade by the owners on their 5-acre property. 
Enjoy the space and privacy as you admire the landscape from the hot tub at the end of the day. The kitchen is fully equipped so once you are back to the cabin, cook a romantic meal for two and relax.  
With stunning detail and decor matching the elk country location, be sure to embrace the peace and quiet while you watch for wildlife.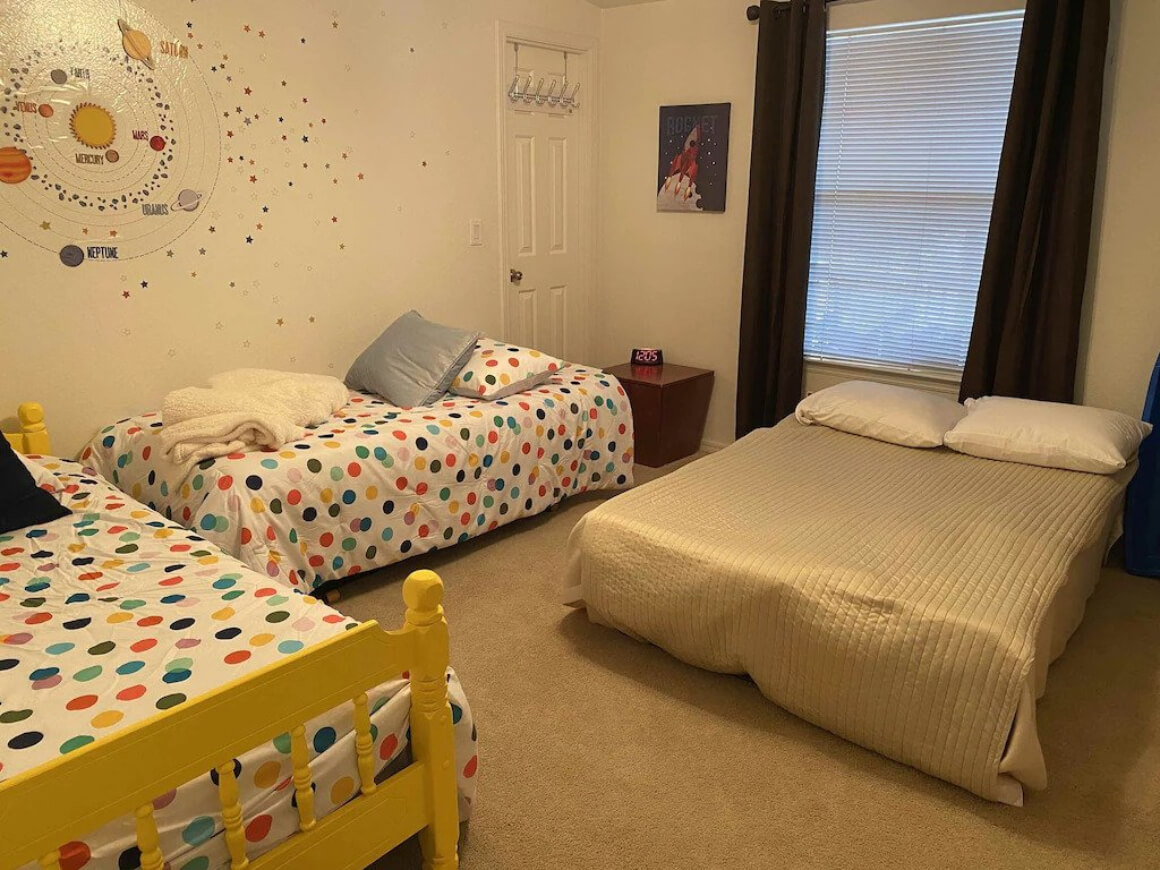 $$$
Treehouse with Smart TV
6 Guests
Board games and sandbox
You cannot get a more perfect home for families! Kids will never want to leave this house! Stay here during the summer months for the children to enjoy a movie night in the treehouse and take advantage of the sandbox and outdoor equipment. 
Booking your stay during winter? Not to worry. Indoor movie and games nights will be the perfect way to end your day of sledding and building snowmen. 
With plenty of space for parents and kids, this home is just what is needed for a relaxing family getaway. 
$$$$
Game room with pool table
This property is so perfect, it has even been on TV! Rustic, yet contemporary this cabin oozes mountainside character and is equipped with everything you need for a vacation. As one of the best VRBOs in Flagstaff, this cabin comes with a games room and media room, with the added bonus of a kids retreat and board games; so it is suited for weekends away with both families and a group of friends. 
If the inside isn't enough entertainment for you, cook outside and admire the view and hopefully see some local wildlife. Continue this while relaxing in the outdoor hot tub or enjoying the fireplace. 
Best Mountain Lodge on VRBO in Flagstaff | A Home Away from Home
$$$
Fully equipped kitchen
Be nestled in the pines when staying at this stunning mountain lodge. This home has everything you need to cook an amazing meal during your stay, but is also close by to many restaurants for nights out.
You will instantly feel relaxed with the airy and spacious feel inside, especially with the open landing upstairs. At night, choose whether to cozy up by the fireplace inside or out. 
For more mountain homes, check out Airbnbs in Flagstaff!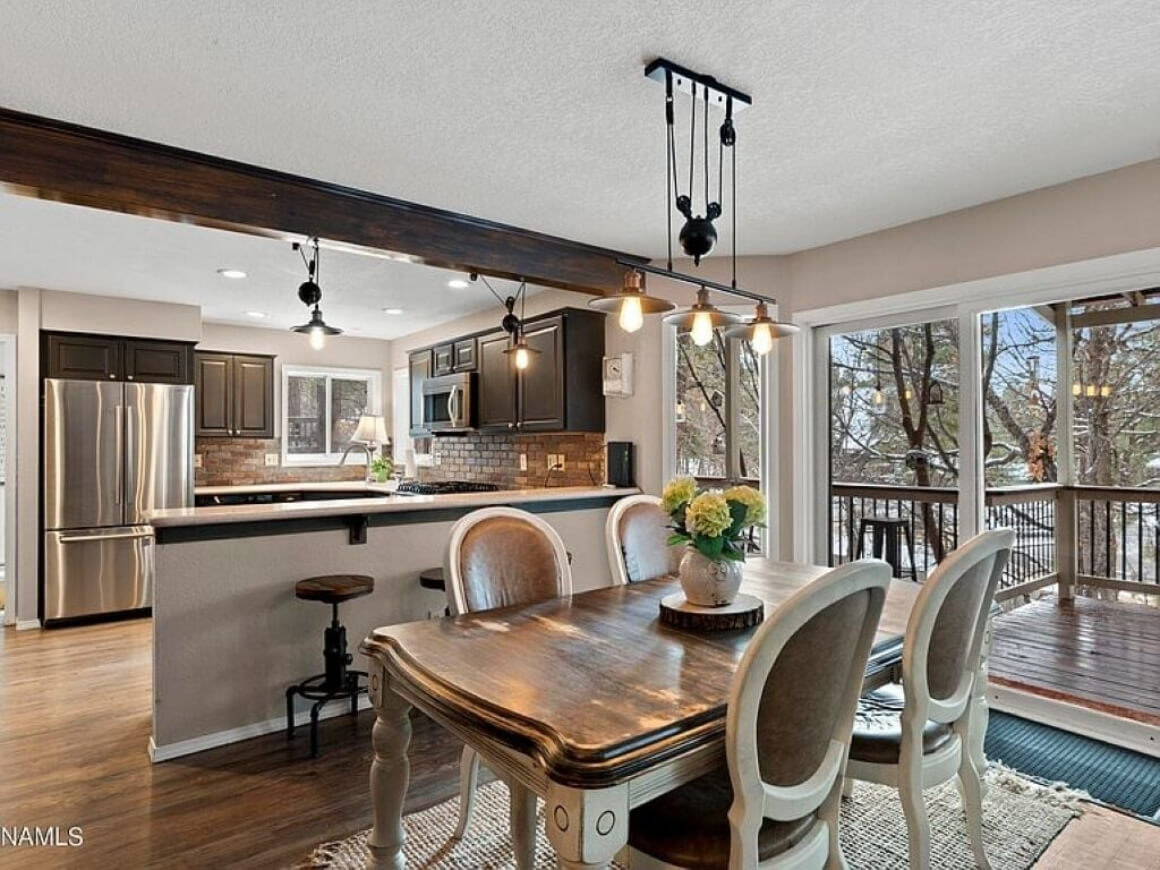 $$$
Minutes from town; seconds from nature
12 Guests
Work among the mountains
In the age of working remotely, this stunning farmhouse-style home is perfect for those digital nomads traveling with a family. There is plenty of space for everyone if you choose to stay here with a group of friends or family.
There is an outdoor living area with forest views surrounding the deck. Grill, dine, and then relax in the hot tub outside. This home is beautifully decorated, making you feel like you are staying in pure luxury. There is even a hot tub inside! 
3 Guests
Ranch style decor
This ranch guest house is serenity at its finest. It is the perfect VRBO in Flagstaff to stay to get completely offline and away from the hustle and bustle of life. 
The decor matches the location of the property perfectly, you will think you are on a movie set. The hosts are happy to arrange a meeting with their horses and there is a professional photographer on site to take your vacation snaps at this unique property. 
$
Stunning views from the Jacuzzi
This VRBO in Flagstaff has the best view, and even better it's from the Jacuzzi!
Unwind in this small but perfect accommodation after exploring nearby downtown. The kitchen has everything you need, and there is room to eat and drink out on the deck near the Jacuzzi. While this accommodation is best suited for two, there is a pull-out bed in the main area, complete with a memory foam topper for the comfort of an extra two guests. 
The accommodation is also only a short distance to Snowbowl during the ski season. 
$$
5 minute walk to downtown nightlife
Built in 1915 as part of the original townsite, this cute bungalow is the ideal location for those wanting to be close to the restaurant and nightlife scene without the need to drive or take a taxi. 
With the ability to sleep 6 comfortably and a full kitchen, this VRBO in Flagstaff is just what you need for a weekend away with friends. 
No matter what time you get home from downtown, there is a hot tub waiting for you in the backyard, to unwind.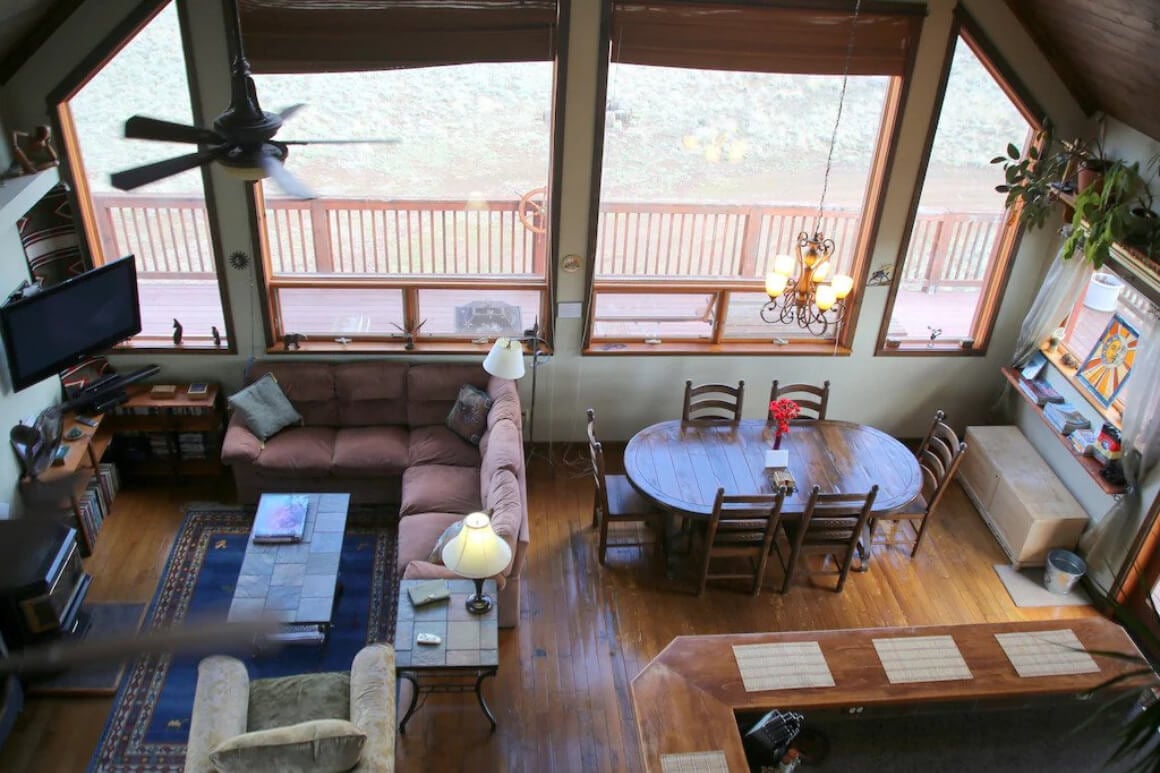 $$$
2 story wrap around deck
6 Guests
In the heart of Coconino National Forest
Known as the 'Mountain Star', in this award winning property everywhere you turn is a spectacular view. An added extra to this special house, there is a music room and gym equipment. You can create in the 'craft and hobby' room, or borrow a yoga mat for some breathtaking zen. 
The Grand Canyon is only an hour away and when you get back to the accommodation, choose a DVD from the DVD library for a movie night, relax in the indoor tub, or take in the view of the stars over the mountains from the deck. 
$$
Wifi with designated workspace
This property is a digital nomad's dream. Set up at the designated workspace or opt to work outside on the deck, overlooking the tranquil garden. 
With plenty of space inside and a fully equipped kitchen, digital nomads can bring along their family so you can create the perfect work-life balance. When you are not working hard, head out to see the sights, which are all located in easy access from this VRBO in Flagstaff. 
$
No need for a car from this property
4 Guests
Experience everything like a local
Located on one of the main streets, this freestanding carriage house-style studio is the best VRBO in Flagstaff to stay if you want to live like a local. You are so close to restaurants, you will only want to use the full kitchen to heat leftovers. 
This studio is decorated with music lovers in mind and pays tribute to local shows in its decor. Board games are available for you to use as well as an outdoor patio and BBQ.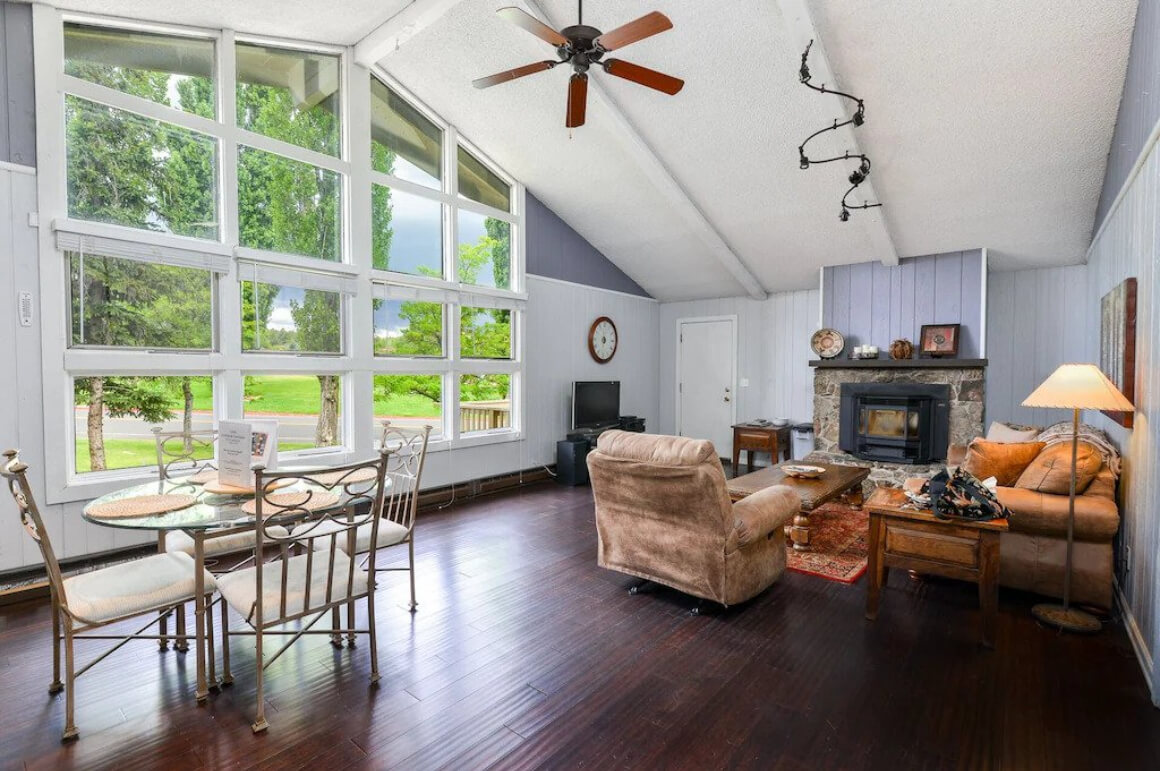 4 Guests
Laundry facilities
This comfy townhouse is exactly what you need when looking for a short-term stay. With a full kitchen, washing machine and dryer, this is an idyllic space to call your home away from home. 
Guests who rent this property for more than 30 days have the opportunity to use the Country Club facilities for a small fee, and the Flagstaff Athletics club allows day passes to use their gym and pool. 
$$
Perfect for the active weekend away
4 Guests
Walk to historic downtown
There is so much to fit into a weekend in Flagstaff, this VRBO is the perfect gateway for skiing during the winter or biking in summer months. It is only a short walk from the restaurants and galleries in historic downtown so you won't be wasting your weekend away with travel time. 
No matter how you choose to spend your day, you will be able to relax in this cozy accommodation with a soak in the bath at the end of the day.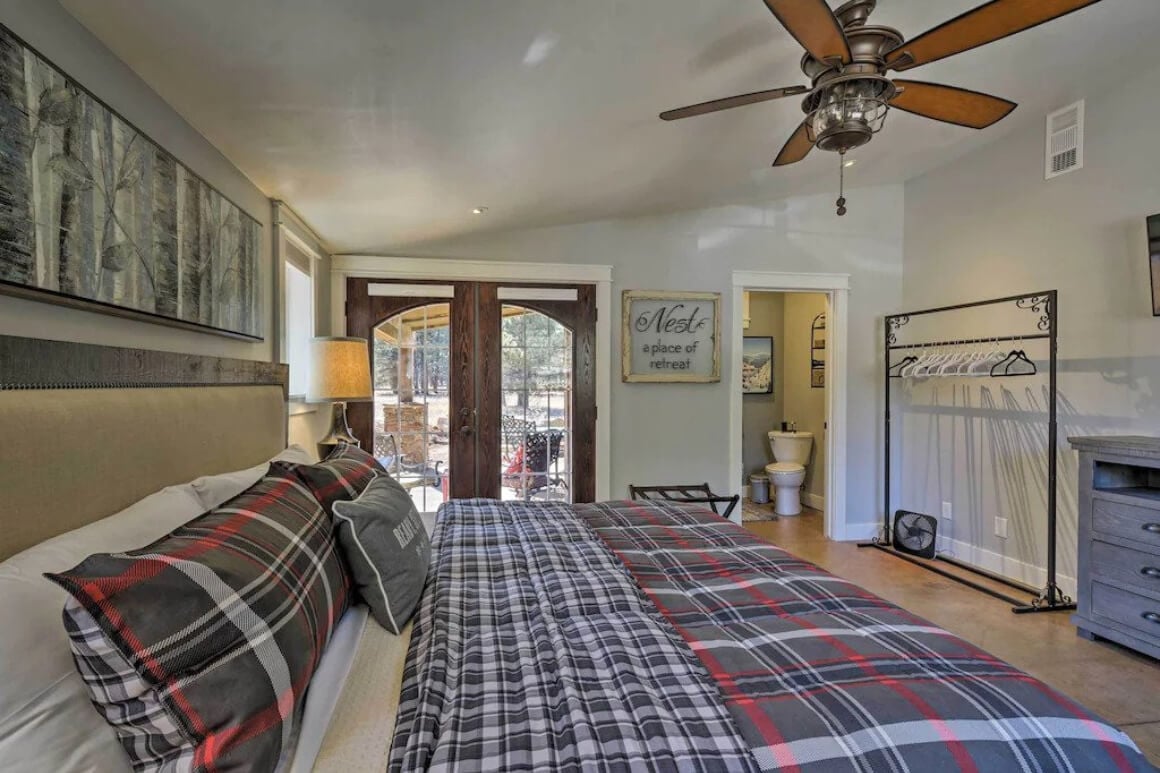 $$$
Serene mountainside surrounds
This stunning rustic country home is one of the most beautiful VRBO's in Flagstaff. A private oasis, this home has an outdoor living space perfect for spending time as a newly married couple. Enjoy the private hot tub and listen to the birds as you wake after a restful night's sleep in the king bed. 
Pop open the champagne and celebrate your marriage – either in front of the indoor fireplace or the outdoor fire pit. 
This beautiful accommodation has everything you need to have the best honeymoon and see the local sites. 
Best VRBO in Flagstaff for a Group of Friends | Unique Chateau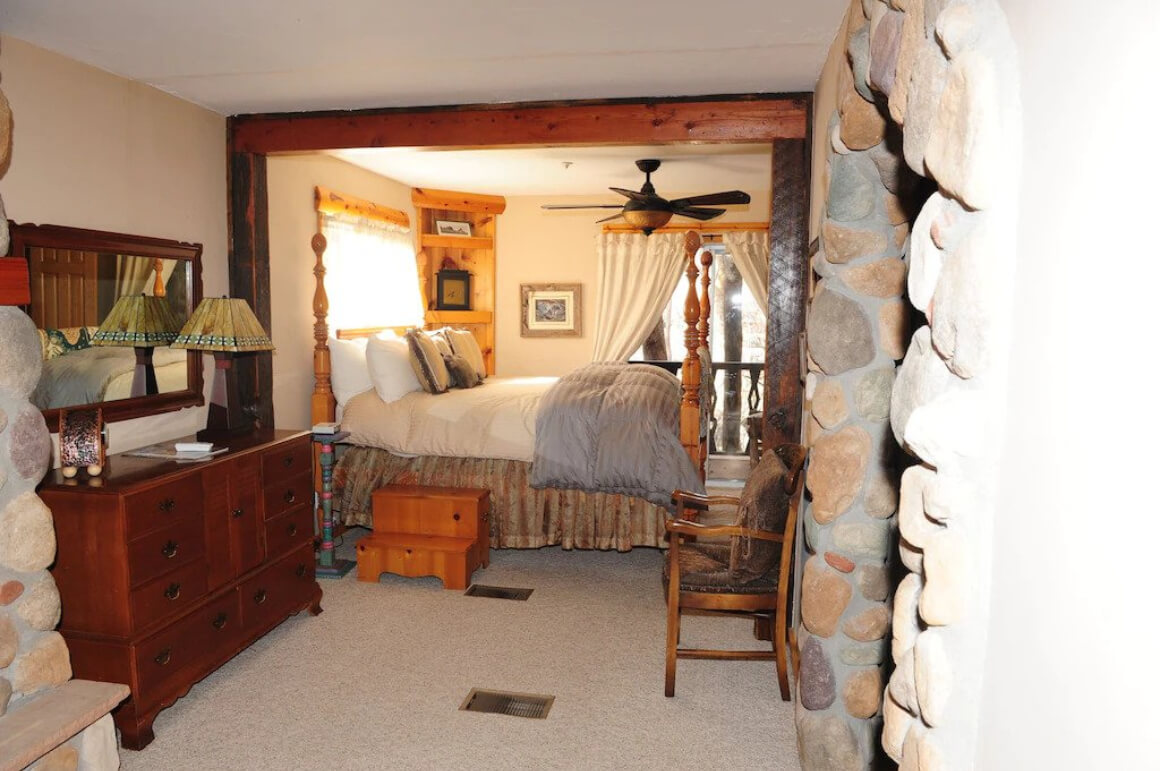 $$$$
Like a castle straight outta Disney
10 Guests
Lawn games and a giant chess set
Equipped with all the lawn games you could possibly want as well as a giant chess set in the garden, you will have nothing but laughs and fun with this unique stay in Flagstaff. The home has direct access to Oak Creek for swimming and fishing, and the hot tub is located outside near the outdoor entertaining area. 
With so much to see and do at the property and with everyone being able to have their own space but still come together for meals, you really don't need to think about leaving.  
2 Guests
Close to hiking trails
This gorgeous room is located near all the best hiking trails Flagstaff has to offer. The host, who also lives on the property, cannot wait to help you find the best one and let you know the best restaurants to go too. 
With your own private entrance, this room comes with tea and coffee options, and the host provides snacks. Cozy and cute this gay-friendly property has a variety of books to choose from to accompany your evening snuggling up on the armchair.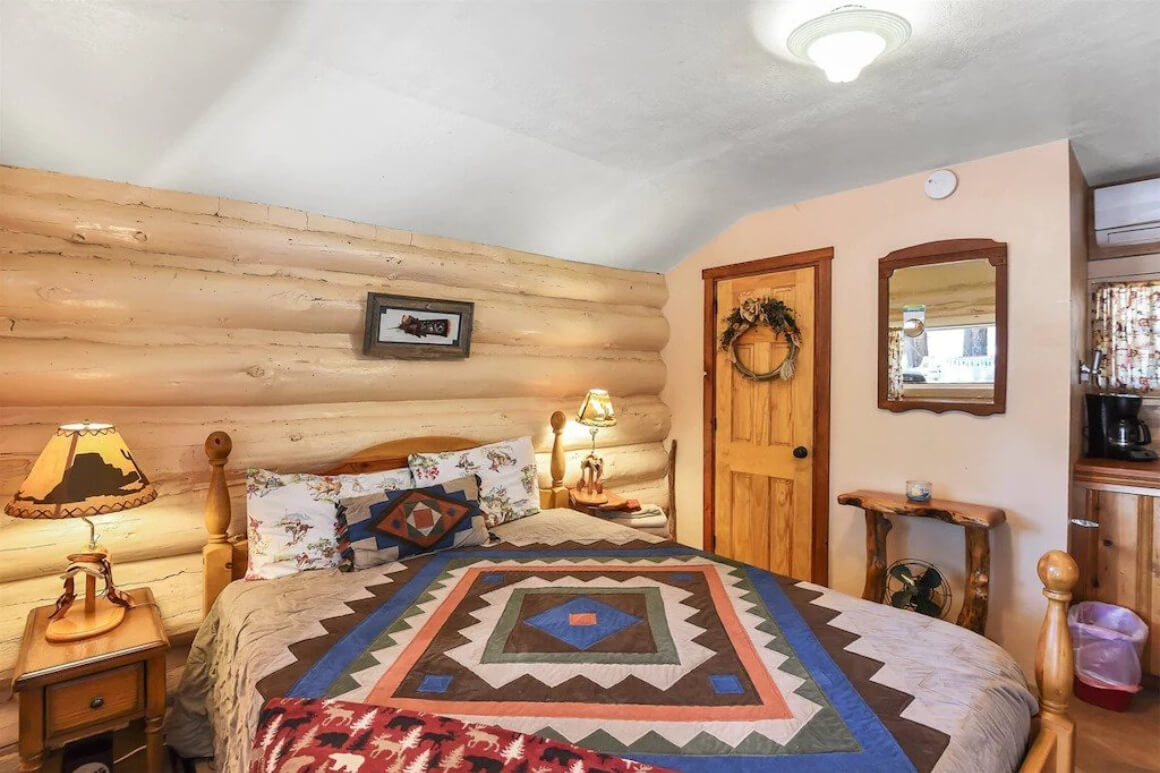 This rustic log cabin surrounded by nature is known as 'Rogers Cabin'. Sitting on the edge of the Kaibab National Forest, it is a great spot to call home while you enjoy a vast variety of activities.
There is not a TV available at this property as there is so much to do! In the evenings, cook outside on the grill and sit on the patio, waiting for the stars to come out. 
Don't Forget Your Flagstaff Travel Insurance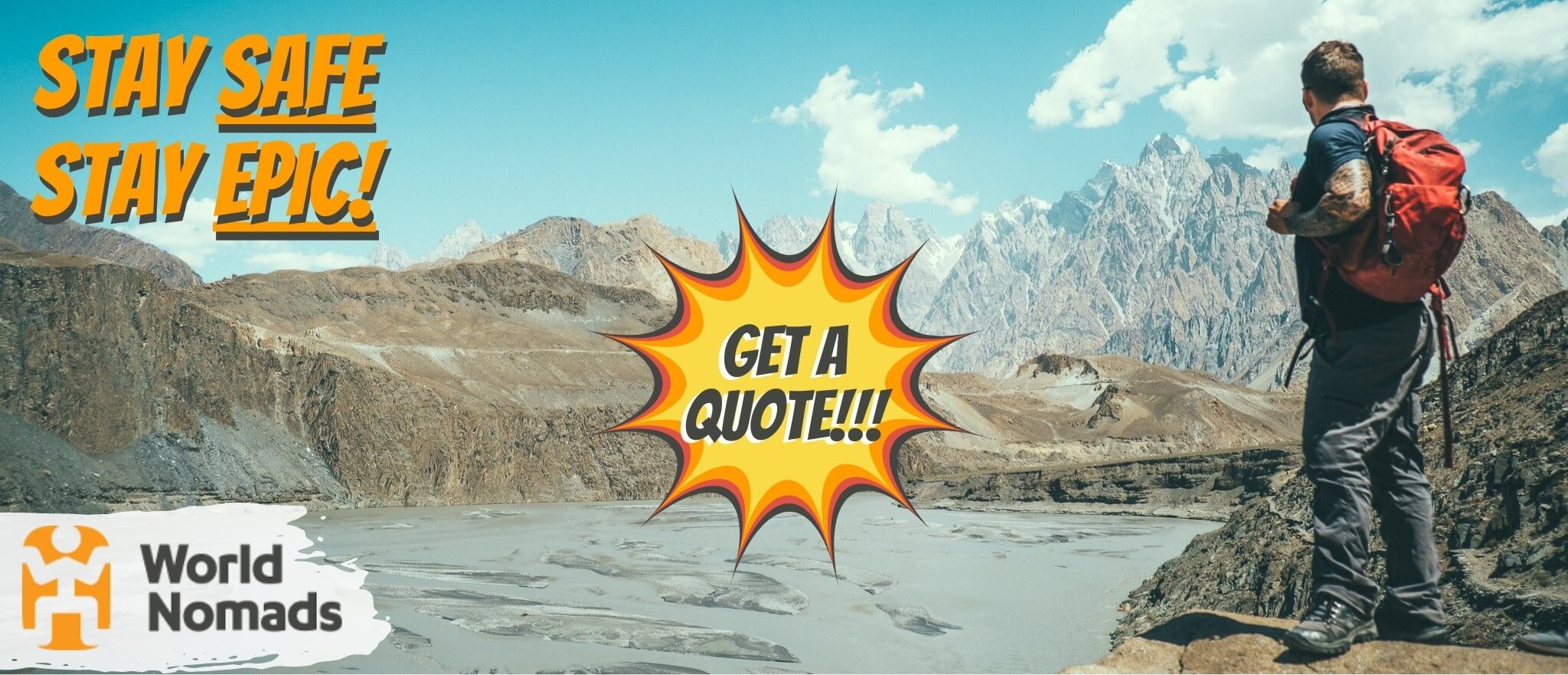 World Nomads' mission is to support and encourage travellers to explore their boundaries. They offer simple & flexible travel insurance, and safety advice to help you travel confidently.
They've been doing it since 2002 – protecting, connecting, and inspiring independent travellers just like you.
Get a quote below or read our in-depth review!
Final Thoughts on Flagstaff VRBOs
As one of the most stunning landscapes in the US, Flagstaff will leave you rested yet energized after your stay. VRBOs in Flagstaff may not be the most unique VRBO listings, however, you are guaranteed to find the perfect one for you in the right location for your time away. 
On a budget? Have a look at the Flagstaff hostels instead.
---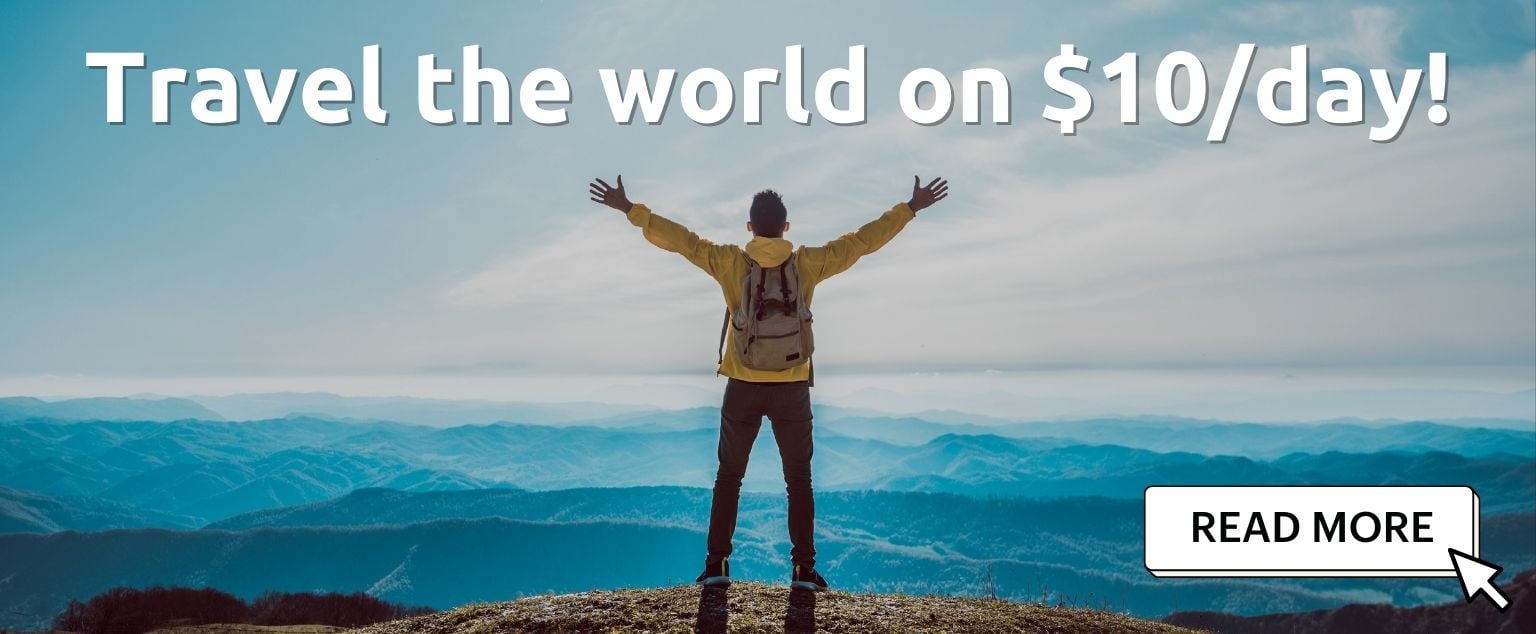 And for transparency's sake, please know that some of the links in our content are affiliate links. That means that if you book your accommodation, buy your gear, or sort your insurance through our link, we earn a small commission (at no extra cost to you). That said, we only link to the gear we trust and never recommend services we don't believe are up to scratch. Again, thank you!