Ah, Vegas – The Entertainment Capital of The World!
Almost every traveller wants to travel to Las Vegas at least once in their lifetime. And I don't blame them. There's nothing quite like Vegas. No city can come quite close in terms of the glitz and the scale of entertainment, nightlife, gambling, and dining that Vegas offers.
But it's more than that, there is fun for all the family – including the tallest observation tower in the USA, a free water and light show of the Bellagio fountains, and my personal favourite activity, taking a scenic drive through the Red Rock Canyons.
If you're planning a trip to Sin City, you want to get the best out of your Las Vegas vacation. So, while you plan the itinerary, we'll handle the accommodation. While there are innumerable hotels and resorts out there, you may not necessarily want to deal with the multiple valet fees or resort fees.
So, in this list of vacation rentals in Las Vegas, you can find the perfect place to stay that won't have you waiting in long lines at receptions.
Quick Answer: These are the Top 4 Vacation Rentals in Las Vegas
Best Budget Vacation Rentals in Las Vegas
Best Budget Vacation Rentals in Las Vegas
Save by Renting This 2 BR Home
> $
> 4 Guests
> Clean, well-designed space
> 10-minute drive to the Strip
Best Vacation Rentals for Couples in Las Vegas
Best Vacation Rentals for Couples in Las Vegas
2 BR Remodelled Home
> $
> 4 Guests
> Newly remodelled, comfortable home
> Close to the Strip
Best Vacation Rentals for Families in Las Vegas
Best Vacation Rentals for Families in Las Vegas
3 BR Bungalow in a Quiet Neighbourhood
> $
> 11 Guests
> Recently upgraded modern home
> 3.8 miles from the Strip and Convention Centre
Over-the-Top Luxury Vacation Rentals in Las Vegas
Over-the-Top Luxury Vacation Rentals in Las Vegas
Stunning 5 BR Mansion
> $$$
> 10 Guests
> Custom built home with modern luxuries
> Located in a quiet neighbourhood
Types of Accommodation in Las Vegas
The vacation rentals we have chosen are a far cry from the crowded hotels and resorts that Las Vegas is typically associated with. While exploring these options, you will find that there are predominantly three types of vacation rentals in Las Vegas.
Let's take a look at them.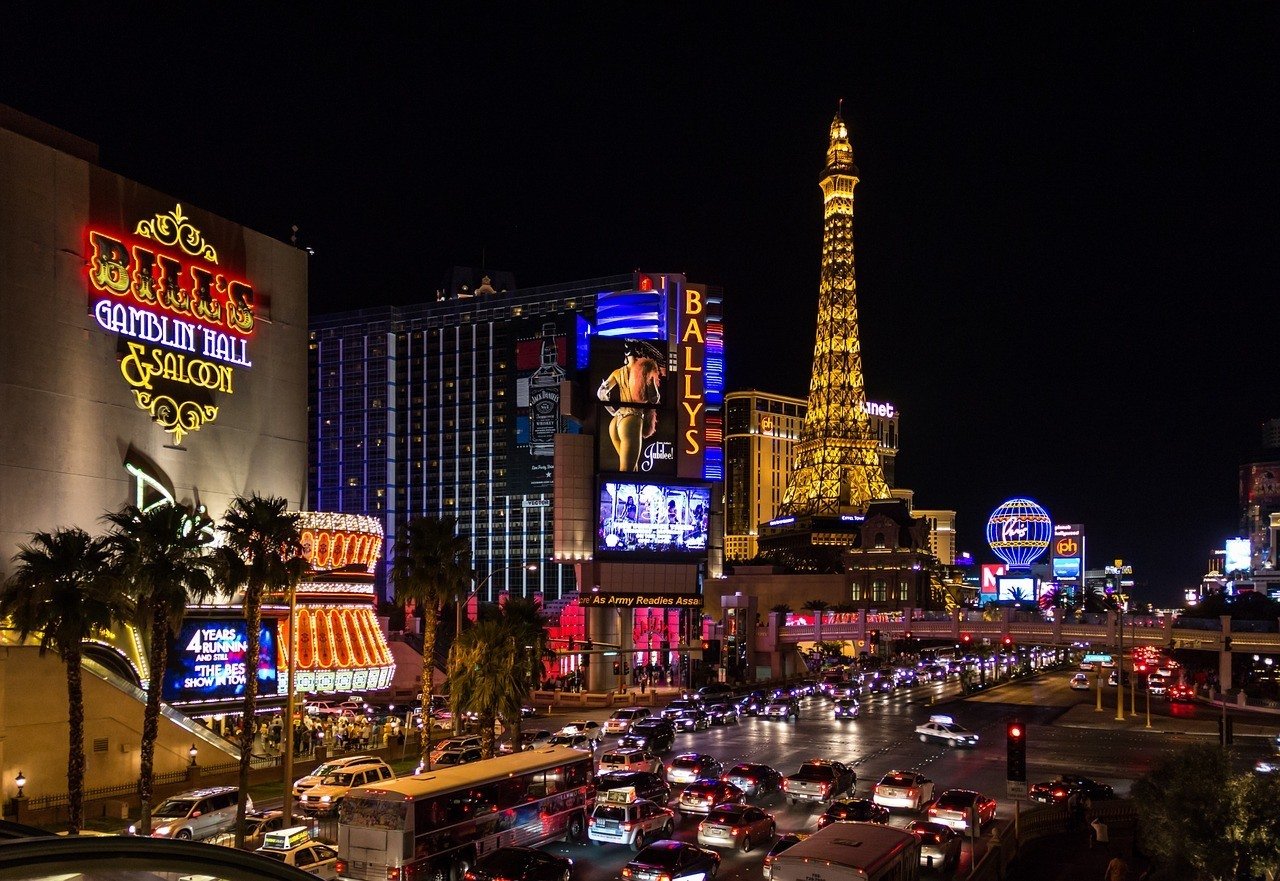 Budget Options
While Las Vegas is not a city most would think of visiting with a strict budget in mind, this isn't to say that it is impossible. In fact, many travellers scrimp on accommodation costs, so that they can spend more money in casinos and on watching the variety of shows that Vegas offers.
Budget options do not necessarily mean that you need to stay in a dark and dowdy place that has no amenities in sight. Vegas offers several cheaper options, like apartments units that won't burn a hole in your pocket. Depending on the neighbourhood you choose, you could find several studios, houses and private suites for an affordable price.
Family Friendly Options
While many people wouldn't necessarily travel with children to Las Vegas, there's so much to do in this city apart from gambling and drinking. It may not necessarily be appropriate to always stay with kids in the fancier hotels that often have casinos in them, so a vacation rental is a much better choice.
Vacation rentals are perfect for families as they also offer more freedom to come and go as you please, as well as offer cooking and laundry facilities. Some vacation rentals also include pools and Jacuzzis which are ideal for the kids to play in, and necessary in the Vegas heat.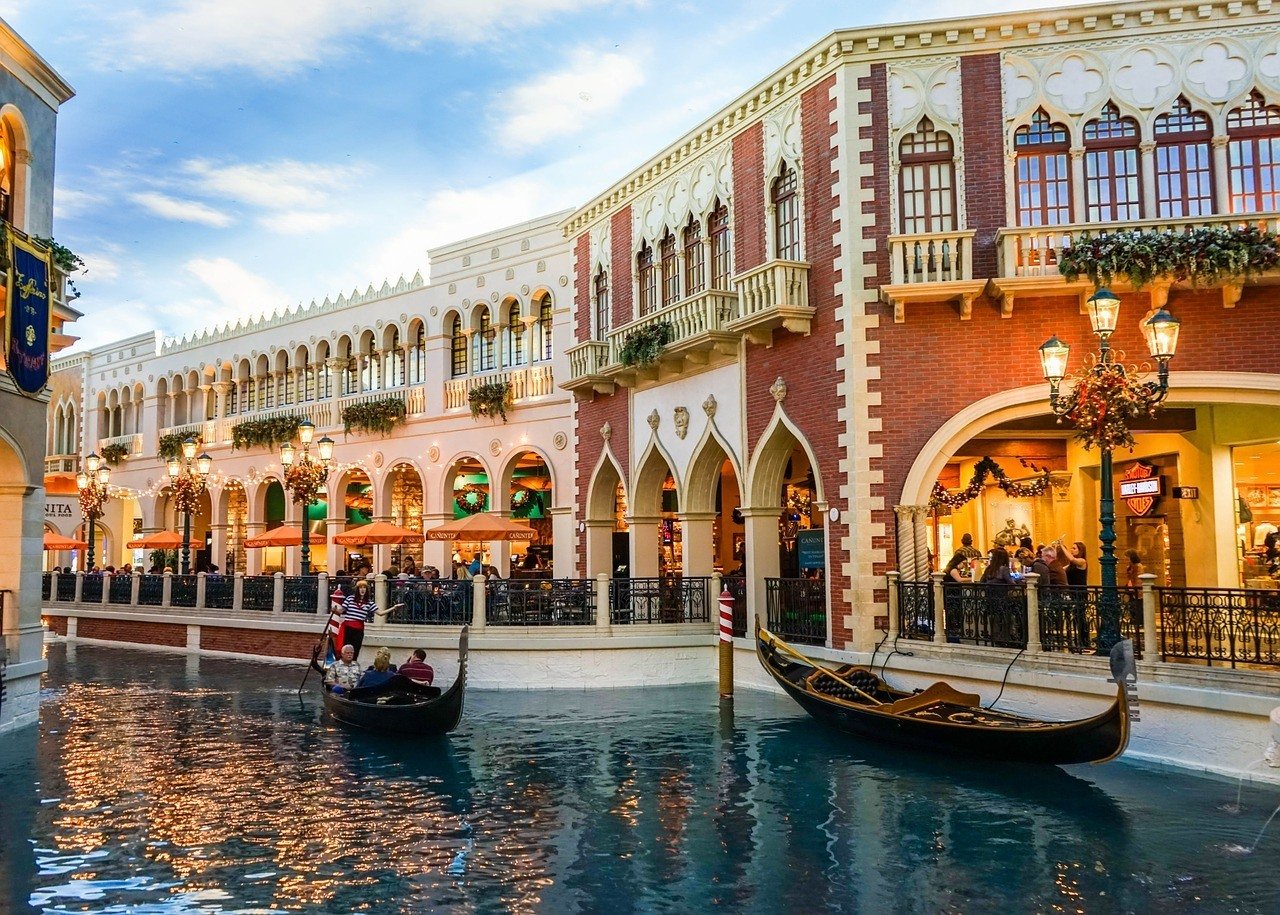 Large Groups
Travelling to Vegas for a tournament, or a bachelor/bachelorette party? You'll probably need a larger vacation rental with quite a few rooms. Easy! Find some of our top choices in the list below.
When it comes to Vegas, large groups of friends travelling together are super common. Because of this, it is relatively easier to get a large holiday rental compared to a rental for a couple or a single person.
That is to say, they are more expensive than hotel rooms, but split between eight or more people, it works out to be quite reasonable.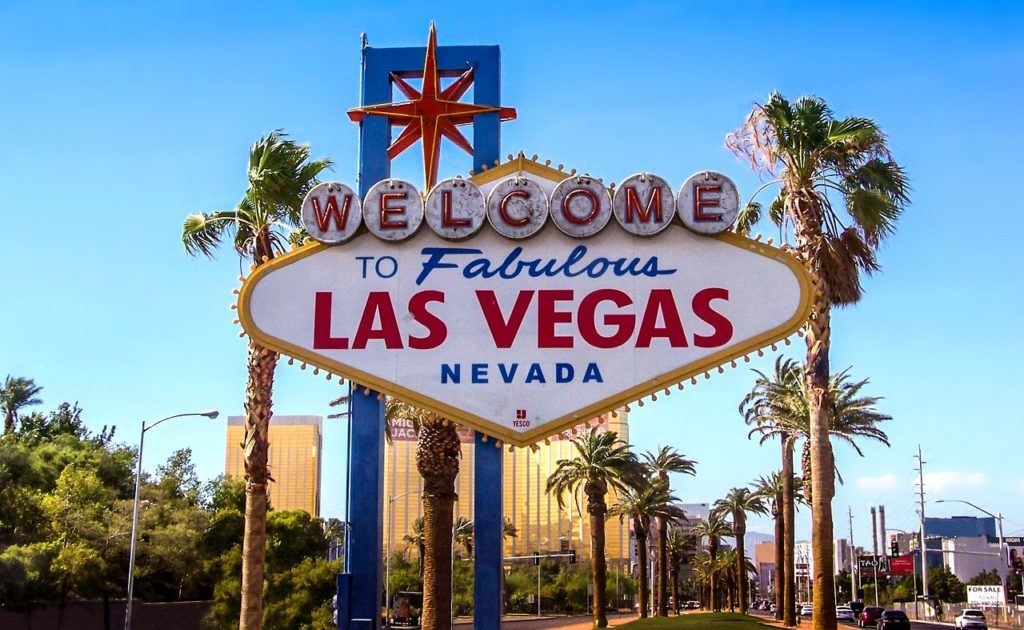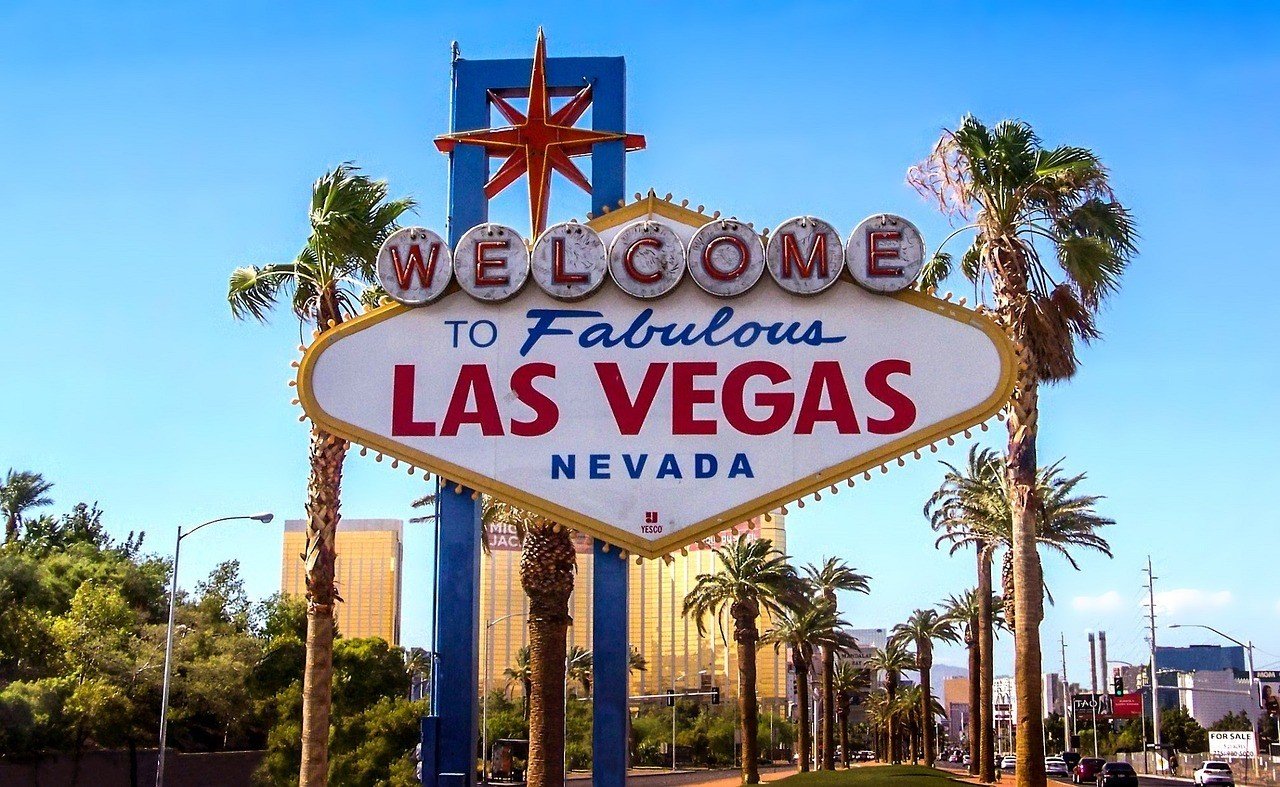 Travel with peace of mind. Travel WITH a security belt.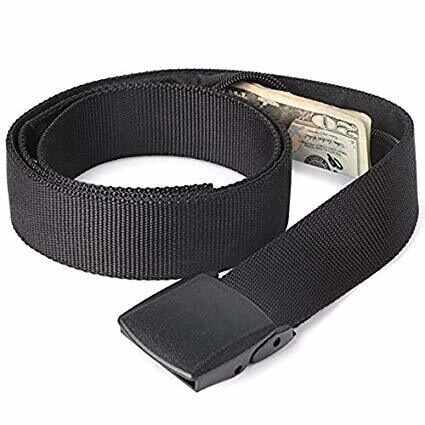 Custom-designed BY the Broke Backpacker FOR broke backpacking, the Active Roots Security Belt will keep your valuables safe no matter where you go.
It looks exactly like a normal belt except for a SECRET interior pocket perfectly designed to hide a wad of cash or a passport copy. Never get caught with your pants down again! (Unless you want to.)
Check on Amazon
The Top 20 Vacation Rentals in Las Vegas
Now that you know the different types of holiday rentals in Las Vegas we can jump right in to our top 20 recommendations for you.
Best Family Holiday Rental in Las Vegas | Home W/ Private Pool
$$
Waterfall and water slide for the kids
10 Guests
Located 2 miles from the Strip
With five bedrooms, all containing king beds, space will not be an issue for the family in this Las Vegas vacation rental.
There's something for both kids and adults in this house. The children will love the waterfall and waterslide by the huge pool. There's also a five-hole putting green and a basketball court to keep them occupied.
The adults in the group will enjoy the spa whirlpool and the tastefully decorated interiors. There's also a pool table and a BBQ grill outside. In case any emergency laundry needs to be done, there are two washers and two dryers provided too.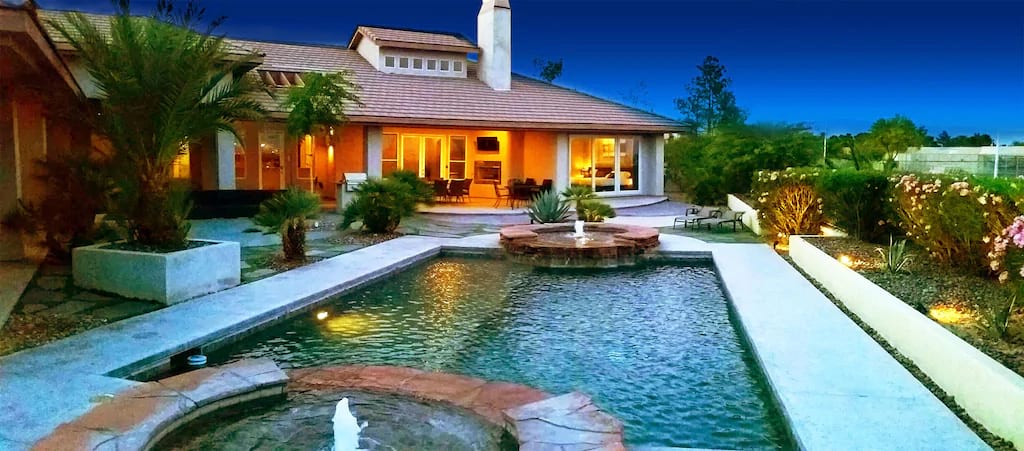 $$$
Amenities that will wow you
12 Guests
15-minute drive away from the Strip
This huge, 3,500 square ft home is an absolute stunner! If the picture of the pool hasn't got you convinced, the rest of the amenities this vacation rental offers surely will. Think luxury Egyptian cotton sheets, Italian leather sofas, Italian floors, Jacuzzi deep soaking baths, and custom walk-in closets in all the four bedrooms.
There's fast and reliable Wi-Fi and six smart TVs with over 150 channels. The house also has a pool table and an outdoor BBQ for you to use, as well as a game room that includes a 30ft shuffleboard, and a poker table.
Best Budget Family Vacation Rental in Las Vegas | 3 BR Bungalow
11 Guests
3.8 miles from the Strip and Convention Centre
In a quiet and safe neighbourhood, this 2,300 square foot home can easily sleep up to 11 guests with enough room for everyone to spread out comfortably. Though the rental price of this accommodation is quite high for one person, split between 11 people it works out to be a super affordable stay, even after cleaning and service fees.
With the kind of amenities that this rental offers, such as pool, parking, three bedrooms, and an open-plan kitchen and dining area, there is nothing this vacation rental is missing for a comfortable stay.
The beautiful Jacuzzi and spa pool in the backyard is by far the highlight of the home, but it is also conveniently located close to multiple restaurants and supermarkets if you don't want to go to the Strip.
Most Accessible Holiday Rental in Las Vegas | Single-Storey Home
$$
Well-suited for wheelchair users
6 Guests
Located in a quieter neighbourhood
This three bedroom vacation rental in Las Vegas is perfect for wheelchair users, because it is a single level home. There are no stairs at the entrance to the house, or to the rooms, and the corridors are wide and open.
The house also has a huge backyard with a pool and spa. The kitchen is fully-equipped and there is a cozy living space for the whole group to relax in.
There is everything you can think of in this home, including sunscreen and a drinks cooler. There's heaps of space making it super accessible and easy to navigate.
Is This the Best Travel Backpack EVER???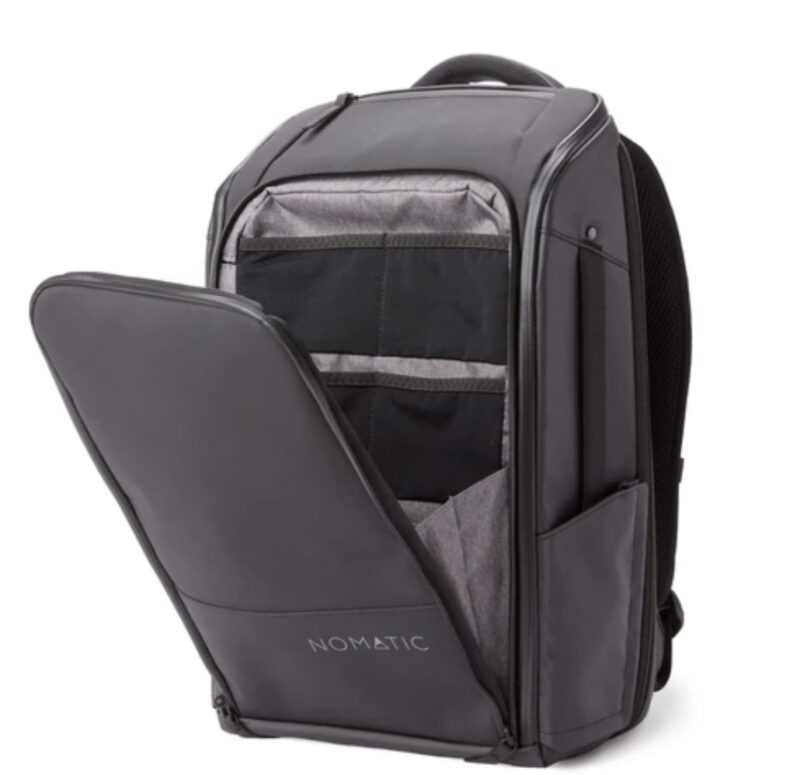 Best Vacation Rental in Las Vegas Near the Strip | Quirky 60's Home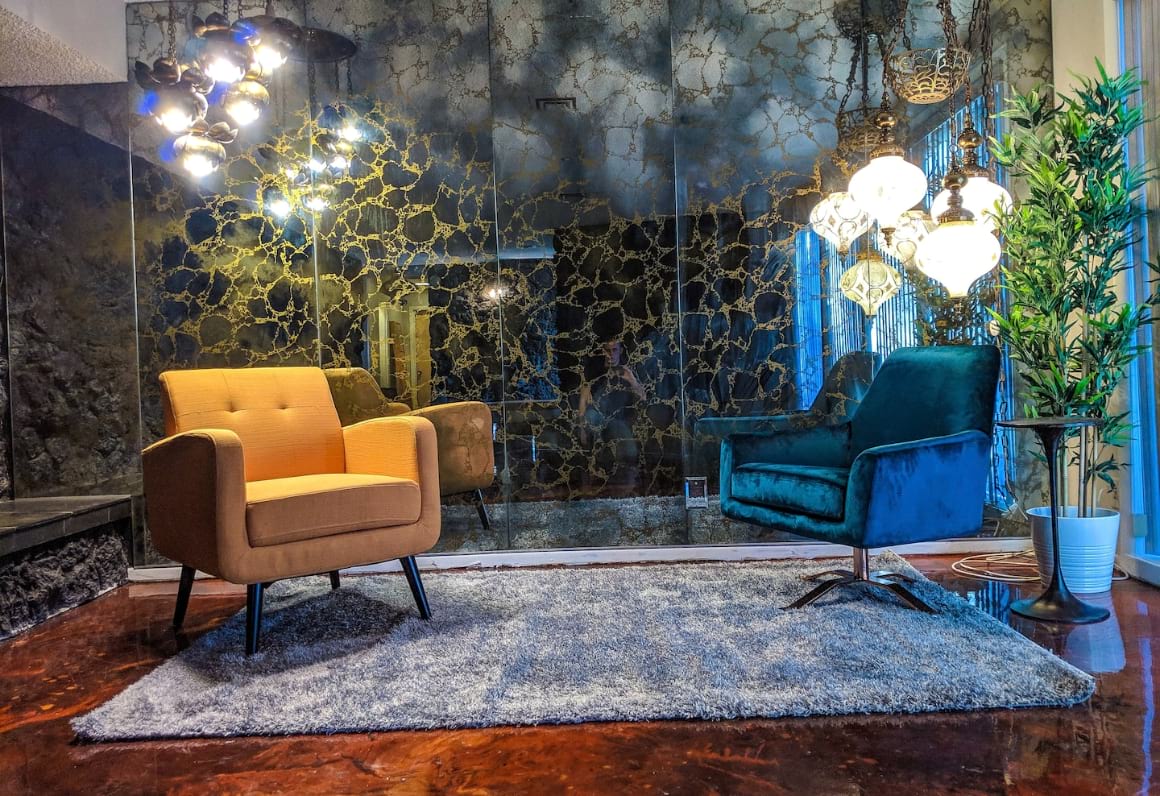 $
Interesting interiors with eclectic décor
8 Guests
One Minute To Las Vegas Blvd
Built in 1962 and renovated by a Cirque du Soleil acrobat, this stunning home is a blend of new mid-century furniture, local art, and modern amenities.
The house itself measures over 3,300 square feet, giving everyone ample space and privacy. The backyard has a pool with a massive wet deck and a hot tub to relax in after exploring all the attractions on your Vegas itinerary.
This rental is really close to the Strip – you can see The Strat while seated in the hot tub. Perfect for those who want to be close to the Strip without actually being on the Strip!
Best Holiday Rental for a Weekend in Las Vegas | Bungalow on 1 Acre Land
12 Guests
10 minutes to the Strip
Built on a large 1-acre property, this 3,600 square ft Rancher-style home is a great vacation rental for a Las Vegas weekend. The grounds are dotted with fig, apple, pear, olive trees, tall palms, and multiple rose bushes.
If you don't want to step out in the Vegas heat, there's always the swimming pool to cool you down, as well as a spa pool for the adults.
The house itself has all the modern conveniences one requires to have a comfortable holiday, including a well-stocked kitchen and four huge bedrooms and three bathrooms.
Most Affordable Luxurious Vacation Rental in Las Vegas | HUGE Mansion
$$
5500 square foot of property
18 Guests
10-minute drive to the Convention Centre
This home needs to be seen to be believed! Although it has some stunning interiors and exteriors, this rental is the epitome of affordable luxury. With six huge bedrooms, rest assured there's enough space for everyone.
There's also a sparkling blue pool in the backyard, along with an outdoor cooking area, complete with a gas BBQ grill.
The interiors of this mansion include a formal dining room and a large family room that has an Olhausen pool table, a 55-inch flat screen TV, and a fireplace. Check out this recommendation of ours for more stunning pictures.
Located just ten minutes away from the Strip, it is also ideally located near to all the top things to do in Las Vegas.
$$$
Unbeatable views from the Jacuzzi
8 Guests
Located close to The Strip
You honestly won't get views better than this vacation rental in Las Vegas! I'm almost willing to stake my life on this claim.
This 2 bedroom penthouse suite overlooks the Strip and is luxury defined! You can relax on the oversized custom couch, sip some wine and relax in front of the fireplace or in the movie room that has a 55- inch Smart TV and a PlayStation.
There is a fully-equipped kitchen, but let's face it – with views like this, who's going to cook?! Located in a quiet neighborhood off the Strip, close to the Orleans Arena, you will find many delicious and highly-rated restaurants and bars.
Best Vacation Rental in Las Vegas for a Big Group | 12 BR Luxury Estate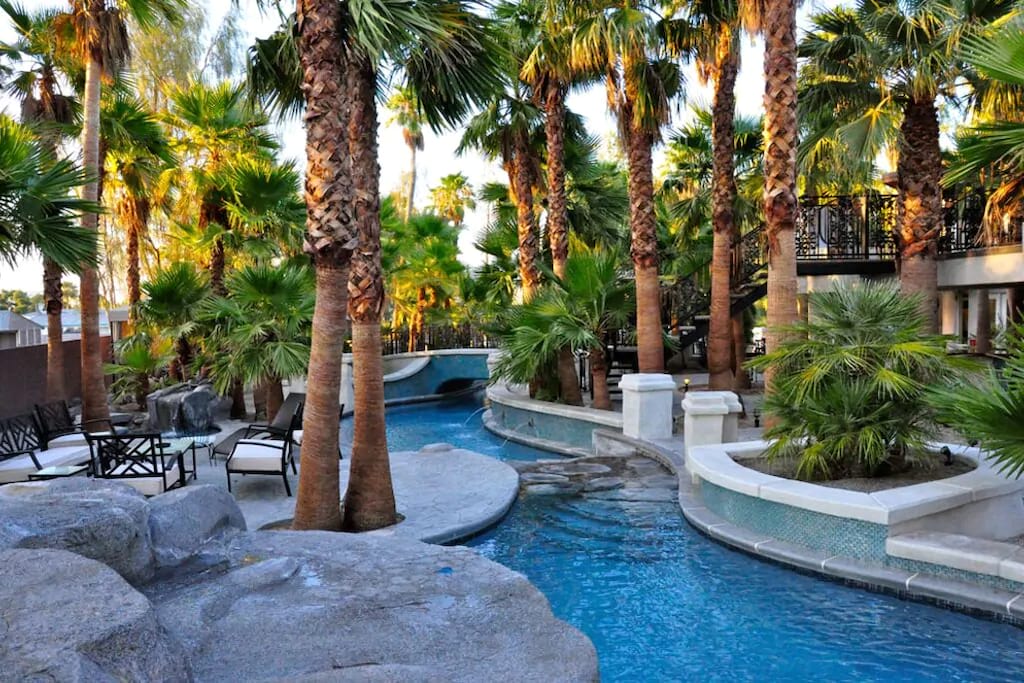 $$$
Private resort style vacation rental
30 Guests
Five minutes away from the Las Vegas Strip
With a holiday home rental like this, you will be sure to have the epic party of a lifetime with 30 amazing mates! In fact, with a massive 12 bedrooms, this vacation rental in Las Vegas could even be considered your own private a resort.
The awe-inspiring outdoors include two mosaic-tiled catwalks, grotto-style enclaves, a huge swimming pool, and a tropical paradise with a real white sand beach area. Talk about stunning! Inside the home, there are nine bedrooms, six bathrooms, and a separate games house.
So if you have a giant friends or family reunion or gathering, this is the perfect rental for you!
Most Beautiful Vacation Rental in Las Vegas | 4 BR Home
$$$
Modern interiors with lush outdoor space
8 Guests
A short drive away to Red Rock Canyon National Conservation Area
This 4 bedroom vacation rental in Las Vegas is perfect for those visiting Vegas for its outdoor activities, rather than Casinos. There's a large backyard, complete with lush foliage, mature trees, a swimming pool with a waterfall, and a spa that can be heated. The outdoor space also includes a vineyard area.
The indoors are beautifully decorated, with each bedroom following a different decor theme. Set in a secluded area just a few miles out of Red Rock Canyon, yet close to grocery stores and pharmacies, this home is perfect if you want a more low-key Vegas vacation.
Best Villa Type Vacation Rental in Las Vegas | 7 BR Mansion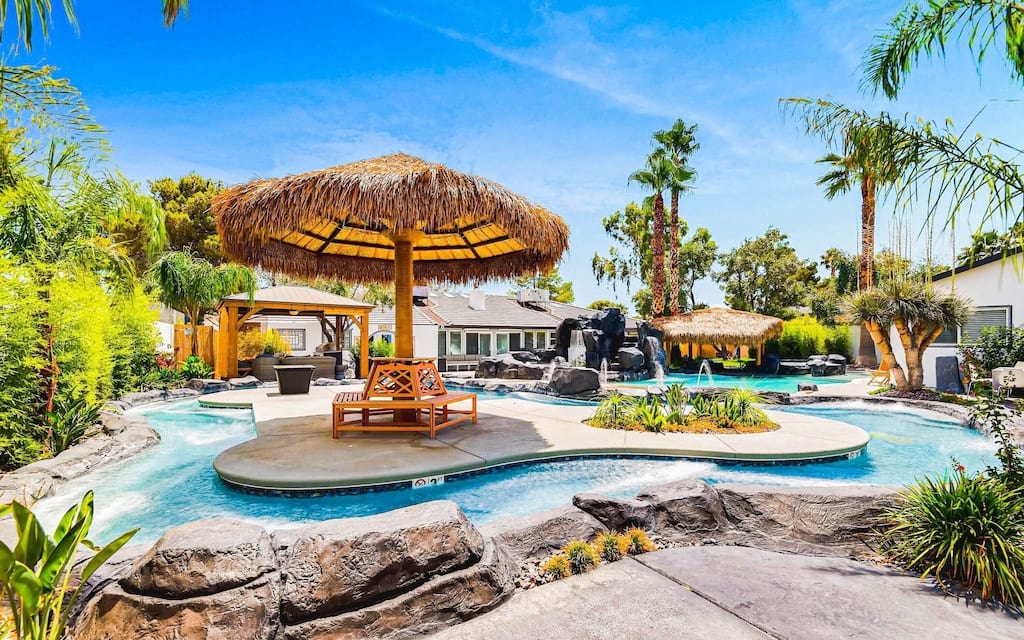 $$$
Gorgeous villa with striking interiors
16 Guests
Located in Rancho Oakey
What do you get if you combine the facilities of a resort with the privacy of a vacation rental? You get this stunning home!
With two huge resort pools connected by waterfalls, a grotto, swim-up bar, and Hawaiian style Palapa shades, you'll be tempted to stay home all day. The pools also have a remote controlled rain system, with built-in foggers and mist jets.
Inside this mansion, there are stunning bedrooms, complete with marble, limestone and pebble stone bathrooms. The kitchen boasts a dozen burners, three ovens, and a 16 feet long island – so if you're into cooking, this is the kitchen of dreams. There's also a 70" TV in the kitchen in case you get bored!
Best Vacation Rental in Las Vegas for a Big Family | HUGE Luxury Home
$$
Incredible 52-foot luxury pool
Up to 50 Guests
10-minute drive to the Strip
Honestly, the first thing that struck us about this listing was the price! Depending on the season, this rental averages a nightly rate of about USD$500 excluding cleaning or service fees. Isn't this a steal for a home that can sleep up to 50 people in its 7 bedrooms, including the air mattresses in each room?! That's $10 each!
The outdoor space has a 52 feet long pool, complete with a spa located in the middle of the massive sized wet deck.
There's also a game room for older kids. For the adults, a 120″ projection screen in the living room creates the perfect space to watch a game or movie. The kitchen is fully stocked, as are the bathrooms and laundry room.
Best Budget Vacation Rental in Las Vegas | 2 BR Home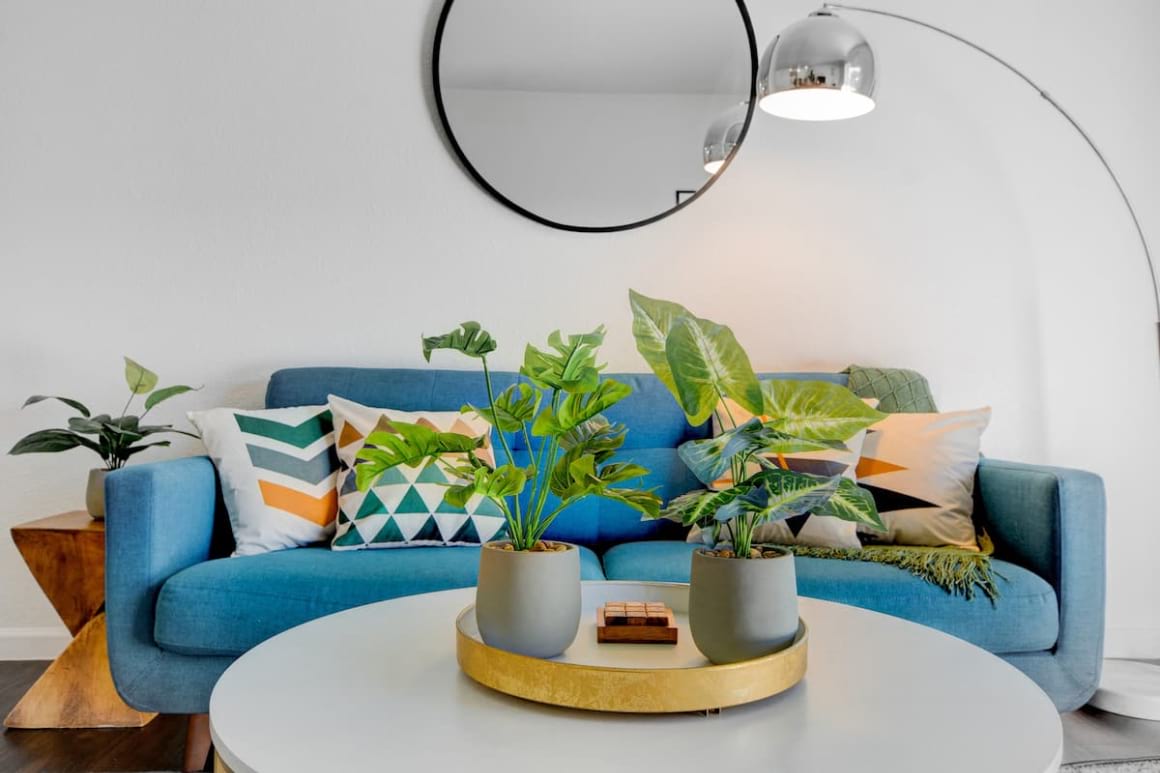 $
Clean, well-designed space
4 Guests
10-minute drive to the Strip
If you have to stick to a strict budget on your Las Vegas holiday, this rental might just be the perfect choice. With all the basic necessities, this modern 2 bedroom condo is the perfect base to explore the rest of Vegas from. The condo also comes with one pre-designated parking spot and access to a shared pool and hot tub.
The kitchen contains most of the basics – a coffee maker, microwave, oven, stove, dishwasher, cooking utensils, and a fridge. Like I said, this is a basic, clean space that will help you save money on your Vegas holiday.
Best OTT Luxury Vacation Rental in Las Vegas | 5-BR Mansion
$$$
Custom built home with modern luxuries
10 Guests
Located in a quiet neighbourhood
If you're celebrating a special occasion and are looking for a vacation rental that is super luxurious, look no further! With 4 of the 5 bedrooms being master suites, there's more than enough room for everyone to spread out and have plenty of space.
The backyard has a huge private pool and spa, a covered patio with outdoor furniture, a Ping Pong Table, and Grass Volleyball Court.
The interiors are made of high-end marble and granite, and include amenities like a full kitchen with state of the art appliances, and there is a games room with a poker table, a pool table, smart TVs, and many more modern luxuries.
Best Tiny Home Holiday Rental in Las Vegas | Cosy Couples Retreat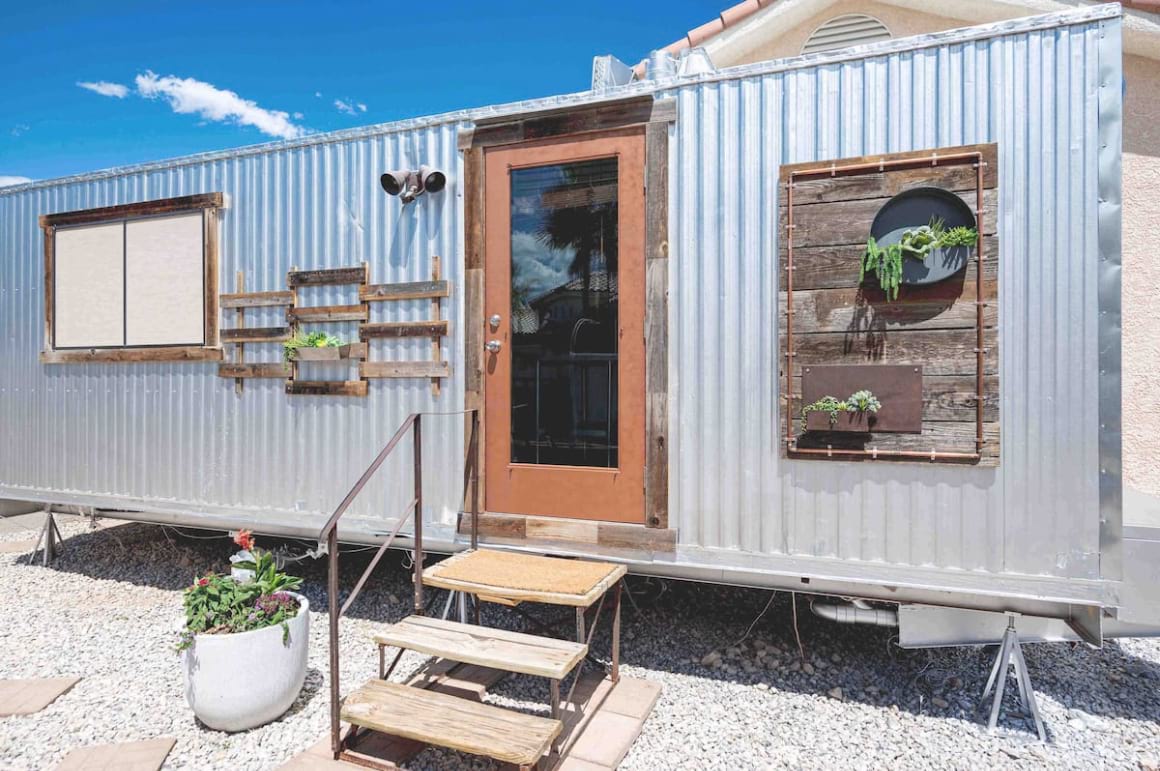 $
Tiny Home with all necessities
2 Guests
Close to Red Rock State Park
Ever lived in a tiny home? It is a different experience altogether! This vacation rental is super cosy and well designed. It has everything you might need for a comfortable vacation, including a comfortable queen-sized bed, a flat screen television, and a reasonably equipped kitchen.
The bathroom is located outside, but comes with a dismounting shower head and a flushing toilet, instead of the composting toilets that one finds in tiny home setups.
A beautiful tiny home awaits you if you choose to book this vacation rental for your Vegas holiday.
Most Conveniently Located Vacation Rental in Las Vegas | 3 BR Home
$
Spacious home with a fabulously convenient location
6 Guests
Close to the Strip & Downtown Las Vegas
This three bedroom home is a short drive to both the Strip and Downtown Las Vegas. Spacious and roomy, all three bedrooms have queen-sized beds, perfect for groups of friends who need space to themselves.
The interiors of the house are vibrant and have cheerful pops of colour throughout. The backyard has a BBQ grill for your use, as well as a small seating area.
The house has air-conditioning in all the rooms to combat the Vegas heat. This is a well-designed home whose location is one of its best features.
Best Modern Holiday Rental in Las Vegas | 2 BR W/ Private Pool
$$
Cosy and beautifully decorated home
4 Guests
7 minute drive to the Strip
Located in a quieter part of Las Vegas, this 2 bedroom mid-century modern home has beautiful interiors and a gorgeous outdoor space.
The interiors are tastefully decorated in shades of gold and metallic accents, with all modern amenities provided for a comfortable stay. The outdoor space has a well-maintained pool and a sitting area.
The kitchen is fully-equipped and includes all necessary appliances. The rental has complimentary Wi-Fi too. There is plenty of parking, and the house is close to supermarkets, pharmacies and cafés like Starbucks etc.
Best Vacation Rental in Las Vegas for Friends | Private 3 BR Home
$$
Includes a Pool and Jacuzzi
6 Guests
Located South of the Strip
Travelling with friends to Las Vegas and need a vacation rental that is private and comfortable? This is probably the rental you were looking for!
With an affordable nightly rate, this three-bedroom home that comfortably sleeps six, is equipped with everything you might need for a comfortable stay.
The house includes a pool and a Jacuzzi for your use. It is also conveniently close to the airport, but because it isn't in the flight path, there aren't any loud noises of planes taking off or landing. This is the perfect choice for a quick getaway with friends to enjoy Sin City.
Best Vacation Rental in Las Vegas with a View | 50th Floor Apartment
$$
Outdoor pool and hot tub on the 6th Floor
2 Guests
Located close to the Strip
While I did say that the options on this list were all non-hotel rooms or parts of resorts, this luxury spa suite is in Palms Place, which is technically a hotel. However, because this suite is privately rented out and it has such good views, without the usual resort fees, I could not help but include it in this list.
The suite has a king-sized bed and a small kitchenette for your basic cooking. The views are obviously the best part of the suite. Because it is located on the 50th floor, it has some amazing Instagrammable views of the city.
Oh, and did I mention that the suite also comes with free parking? bonus!
Best Vacation Rental in Las Vegas for a Budget Couple | 2 BR Home
$
Modern and comfortable home
4 Guests
Close to the Strip
Ifyou and your partner are travelling with another couple and are looking for something affordable and yet comfy, this vacation rental might just be the perfect fit. Having been renovated with all the state-of-the-art fittings, the house now includes the most modern amenities and comes with beautifully decorated interiors.
Both bedrooms are large with attached private bathrooms. The showers are big and have marble floors. The property is also pet-friendly, so if you wish to bring your fur baby along, all you need to do is mention this during the time of booking!
Final Thoughts
There's so much to do in Vegas that you might lose track of the days you've spent there! And if you need more inspiration about what to do and how to get around, consider checking out our Las Vegas Travel Guide which will answer most of your questions.
I hope this list has been useful in helping you sort out your vacation rental in Las Vegas. Do you have a favourite vacation rental from this list? Let us know in the comments.
And don't forget to take out Travel Insurance for your trip! I have been using World Nomads for some time now and made a few claims over the years. They're easy to use, professional and relatively affordable. They may also let you buy or extend a policy once you've started your trip and are already abroad which is super handy.
If there's one insurance company I trust, it's World Nomads. To find out why I use World Nomads, check out my World Nomads Insurance review.
Getting an estimate from World Nomads is simple—just click the button or image below, fill out the necessary info, and you're on your way!

---
Find out how YOU can support the site.
We're a big site with a big team and this job isn't always easy. But we do it because we love it – we love providing epic and free content. We love the knowledge that our content keeps you adventuring. We don't ask for money, but if you'd like to find out how you can help the site in more organic ways, click the button below.
Thank you for your support 🙂
And for transparency's sake, please know that some of the links in our content are affiliate links. That means that if you book your accommodation, buy your gear, or sort your insurance through our link, we earn a small commission (at no extra cost to you). That said, we only link to the gear we trust and never recommend services we don't believe are up to scratch. Again, thank you!