Festival season is right around the corner, and if you're looking for the perfect place to experience culture and fun, Amsterdam is the place to be!
Regardless of the festivals, the city is beaming with energy and vibrancy daily. This makes the city perfect for any type of adventure. Whether you're on a girl's trip, couples retreat, family holiday, or budget backpacking, Amsterdam is never a bad choice. Biking around the canals, stopping to admire the colorful houses, and drinking a beer in the park all make you feel like you've stepped into a dream world.
But it's during festival season that Amsterdam really comes alive! From flower parades to music festivals, the city goes all out to celebrate the local culture and traditions.
Dutchies are some of my favorite people in the world. They are fun and friendly, and they have a great spirit and energy that is evident in all the festivals they host.
Festivals in Amsterdam
When visiting Amsterdam, you'll have the chance to experience some of its most popular festivals, including Kings Day and Holland Festival. And even at the smaller events, you'll get a huge taste of the music, street parties, and traditional Dutch customs.
So let's jump into the best festivals in Amsterdam!
Tulp Festival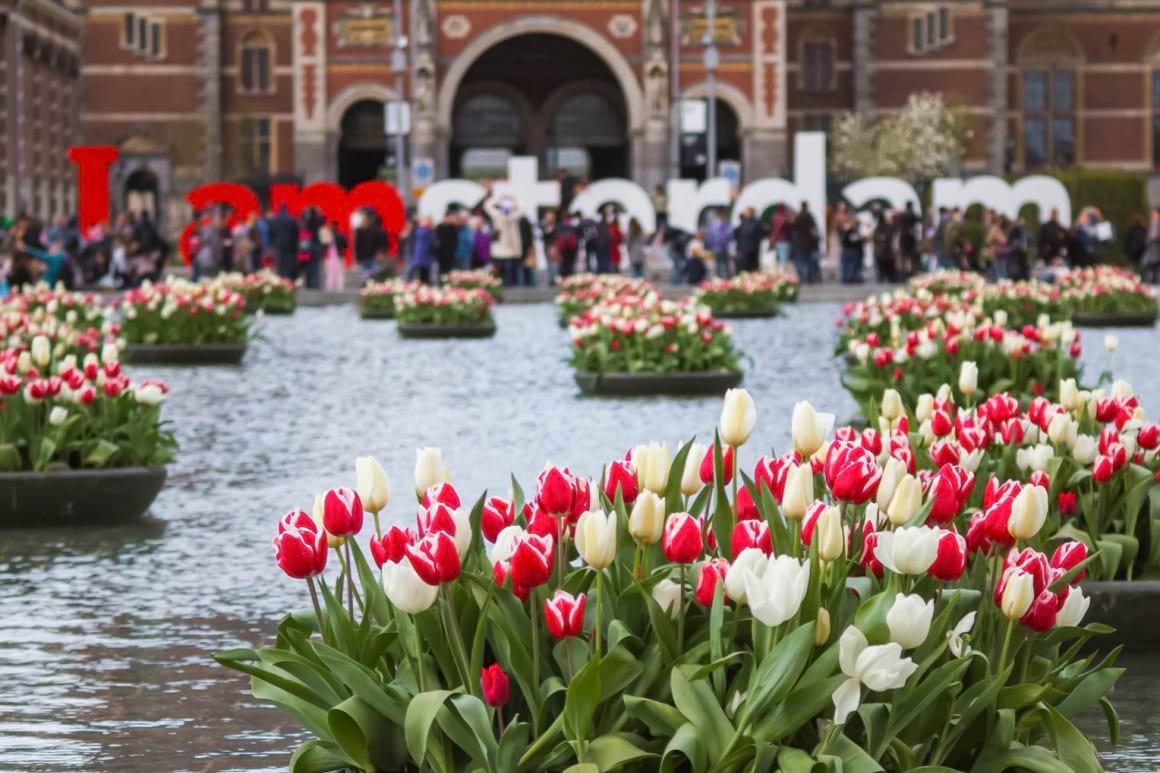 When: April
Where: Amsterdam
It feels like I've always associated Amsterdam with Tulips, and after experiencing Tulp festival, I know it was for good reason. During the springtime, tulip mania runs wild in the city when thousands of blooms light up the public parks, and it's one of the most beautiful sights.
The Tulp Festival (or Flower Parade) is a flower frenzy extravaganza where the entire city turns into one big bouquet of flowers. Pinks, yellows, and purples — oh my! The parade consists of creative floats made of tulips that you can get up close and personal with.
The event takes place in April when thousands of tulips bloom, I've seriously never seen anything like it; it's stunning! In over 85 places around the city, you can find flower stalls, blooming gardens, and even a few flower museums.
The public displays are all free, making it one of the best things to do if you're on a budget, or just want to spend the day walking around. There are also a few displays in hotel gardens that may have a small entry price, but they still aren't too expensive.
One of the best gardens to visit is the Keukenhof, which is known as the world's largest flower garden. The display features over seven million bulbs, and it's simply breathtaking!
Overall, Tulp Festival is a must-do when you're in Amsterdam. It's free and fun for all ages, making it the perfect way to spend an afternoon in the city.
Where to Stay: This suite is located near the Keukenhof, making it ideal for solo travelers or couples. It's located right next to the gardens as well as easy access to public transportation for reaching the city center.
Kings Day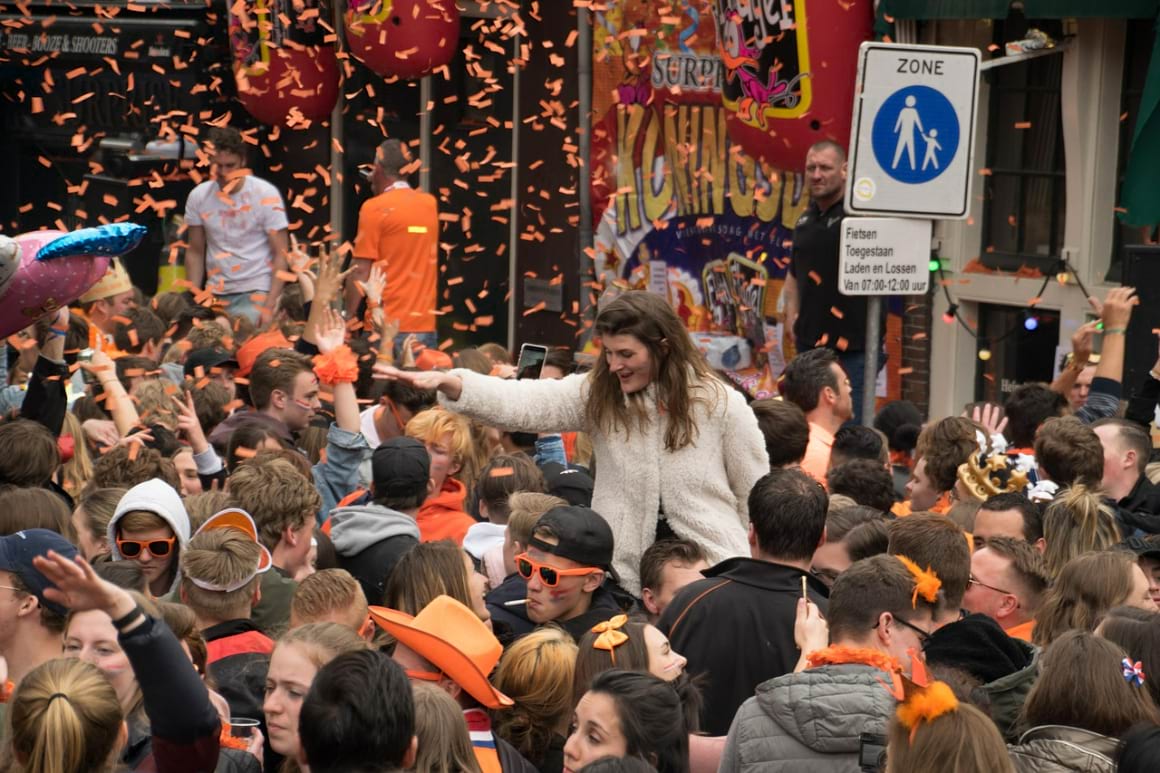 When: April 27th
Where: Amsterdam
No matter where in the world a dutchie is, on April 27th, they'll be wearing orange and celebrating Kings Day. This is a huge national event that's celebrated with lots of dancing, drinking, and general merriment.
But the best place to celebrate this day is obviously Amsterdam. The entire city turns into a giant carnival with hundreds of street stalls and activities for all ages.
Kings Day celebrates the birthday of King Willem-Alexander, and you'll see lots of people dressed in orange, singing, dancing, and celebrating. There are different music stages scattered throughout the city along with flea markets with traditional Dutch foods and secondhand items.
You can hop on one of the boats in the canal and join in the festivities with a Dutch beer. Pretty much everyone is drinking more than usual, and all the bars are open until late. This is the perfect festival for people looking to party in Amsterdam.
I've experienced Kings Day in multiple cities around the world, but I can assure you Amsterdam always has the best vibe and energy. There's something really special about this city when it comes to festivals, and Kings Day is no exception.
It's a great way to experience Dutch culture and have a whole lot of fun at the same time! This is definitely one festival you won't want to miss out on.
Where to Stay: For a day full of partying, all you really need is a bed and great people to spend the day with. Stay at this budget-friendly hostel along the canals for easy access to the festivities.
DGTL
When: March
Where: Amsterdam
Calling all my electronic music lovers to the stage! DGTL is one of Europe's biggest electronic festivals, and it brings together some of the hottest talents from around the world.
DGTL Amsterdam is a popular underground electronic music festival. It is part of the well-known DGTL brand that organizes exceptional events across the world, you've likely heard of some of their other festivals.
With thousands of attendees every year, DGTL Amsterdam is their main event. It offers a platform for both established and up-and-coming artists, making it an ideal place to enjoy your favorite musicians and discover new talents.
One of the most loved things about this festival aside from the music is its sustainability initiatives. DGTL takes pride in being an environmentally conscious festival by using solar energy to power the event, utilizing biodegradable materials in their production, and serving organic food.
Along with some of the best electronic music around, DGTL Amsterdam also features stunning visuals and lots of interactive art. They aim to connect cultures and create groundbreaking art projects. Their art installations are essential to the overall DGTL festival experience, and they prioritize art as much as music.
Where to Stay: For the ultimate experience, stay at DGTL's campgrounds. The campsite offers various options to suit different preferences and budgets. You can opt to rent a tent spot, tent, or cabin depending on your requirements.
It's in north Amsterdam and is just a short bus ride from the festival, don't worry a lot of people will be coming and going. Along with the campsite, there are also dining facilities, a laundromat, and clean bathrooms.

Do You Want to Travel FOREVER??
Pop your email in below to get a FREE copy of 'How to Travel the World on $10 a Day!'.
Rolling Kitchens
When: May
Where: Amsterdam
Who doesn't love a good food festival? Rolling Kitchens is an amazing one that takes place in Amsterdam every May, and it's one of the top events to attend if you're into awesome street eats.
Rolling Kitchens brings together some of the best street chefs from around Europe to create a fantastic culinary experience for everyone. The entire event is held outdoors, and the food is served from brightly colored trucks that move around the city.
Make sure to take your time and maybe get a little bit of everything because there are so many cuisines to choose from! In one day you can easily have Mediterranean food, Indian food, Mexican tacos, and much more.
And like any Dutch event, you'll want to check out the different bar trucks that are serving up some of the best local craft beers and cocktails.
Rolling Kitchens is a great opportunity to try out all the unique flavors from Europe and have a delicious day out with friends or family. It's definitely the best culinary festival in Amsterdam.
Where to Stay: Stay in Westpark near the Rolling Kitchens and be surrounded by some of the best restaurants in Amsterdam. From top-notch Vietnamese to traditional Dutch cuisine, you might need to buy some bigger pants.
Holland Festival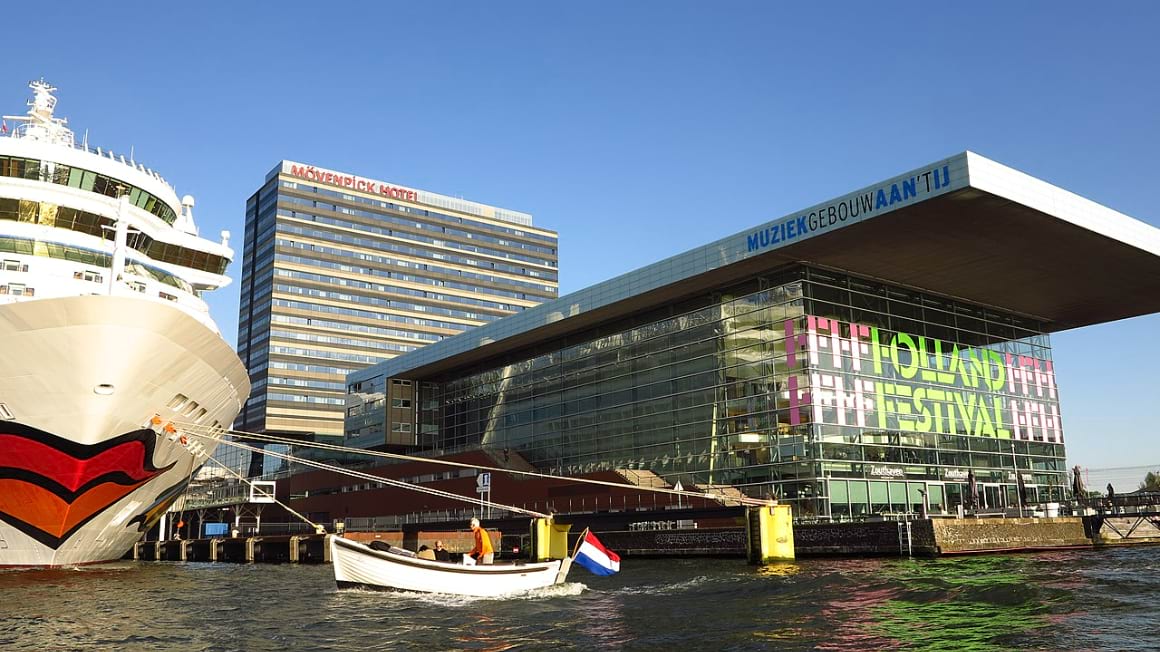 When: June
Where: Amsterdam
Holland Festival is an annual celebration of music, theatre, dance, and art worldwide. It's been running since 1947 and continues to consistently produce some inspiring performances each year.
The main focus of the event is on innovative new work that fuses different styles and media into something completely unique. You can expect to find some of the freshest new work from both established and emerging artists.
It takes place in different locations across the city and showcases both Western and non-Western pieces in various languages. It's also notable for supporting modern and non-classical contemporary music and innovative forms of musical theatre. So it's perfect for all ages from five to 95!
Holland Festival also puts on workshops, seminars, and Q&A sessions with participating artists. This is a great way for you to learn more about their creative process and get insight into the world of these talented people. It's the largest performing arts festival in The Netherlands and lasts for the whole month of June. Many performances are free to the public while others require tickets. Make sure to check the program and book in advance if you don't want to miss out!
Where to Stay: Amsterdam is not the cheapest city in Europe, but their subway system is really efficient, and you can easily get to the different venues even if you're staying outside of the city center. The Outside Inn is a great option for a budget-friendly stay with private modern rooms.
Amsterdam Roots Festival
When: July
Where: Amsterdam
For 40 years, Amsterdam has been celebrating its cultural diversity with the Amsterdam Roots Festival.
Amsterdam Roots believes that cultural traditions hold significant value. Music genres like hip-hop, flamenco, and reggaeton have their origins deeply rooted in traditions that have been passed down for years, even centuries. They aim to promote the significance and the beauty of these traditions through the medium of performing arts and stories.
The Amsterdam Roots Festival is open to everyone, regardless of where they are from, their lifestyle, age, or background. It brings people together from the neighborhood, the city, nearby areas, different parts of the Netherlands, and beyond. The event welcomes both long-time city residents and newcomers to enjoy the festivities. Seriously, everyone will feel right at home at this cultural festival in Amsterdam.
Amsterdam Roots offers a platform for artists to showcase their cultural heritage through various art forms such as music, circus, dance, theater, conversations, and spoken word. The event acknowledges both traditional and contemporary art from around the world and showcases local talent.
The festival recognizes the emerging new generation of artists who incorporate their multicultural backgrounds into their art. I really love how, regardless of whether your roots are Dutch or Ghanaian, or Brazilian, everyone is invited to celebrate. With free admission for most of the performances, this is an event that you won't want to miss out on.
Where to Stay: Take a break from the hustle and bustle and stay at Tribe Amsterdam City. With great city views from their modern rooms, it'll be hard to leave this place behind. Plus, they have an amazing breakfast buffet, so you can fuel up for all the festivities!
Have you sorted your accommodation yet?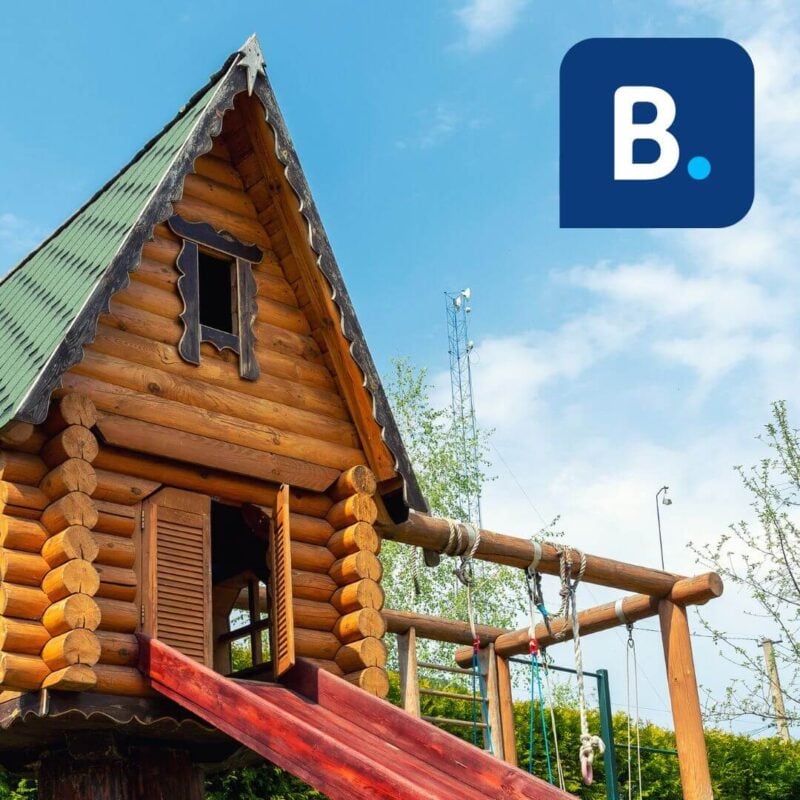 Get 15% OFF when you book through our link — and support the site you love so dearly 😉
Booking.com is quickly becoming our go-to for accommodation. From cheap hostels to stylish homestays and nice hotels, they've got it all!
View on Booking.com
Mysteryland
When: August
Where: Amsterdam
Mysteryland is an all-out electronic music festival that takes place every summer in the Netherlands. It's one of the oldest festivals of its kind in Europe, and it attracts high-caliber performers from around the world.
The event has been running since 1993 and has become hugely popular among fans of electronic music, drawing in people from all over the world. It's a great opportunity for music lovers to come together and enjoy some of the best talent in the industry.
The festival is known for its unique atmosphere, with plenty of decorations, art installations, and interactive experiences that keep visitors entertained throughout the day.
There are 22 stage hosts and over 300 artists performing. You can find a variety of music from electronic music genres, including House, Big Room, Bass, Techno, Deep-House, Trance, Trap, Minimal, Hardstyle, Hardcore, RnB, and Hip Hop.
For those that want to have the full experience, I recommend staying on their camping grounds. You can bring a camper or stay in a tent, and enjoy the extensive facilities. It's a great way to make friends with fellow music lovers and get into the festival vibe right away!
Where to Stay: https://www.mysteryland.nl/camping
Gay Pride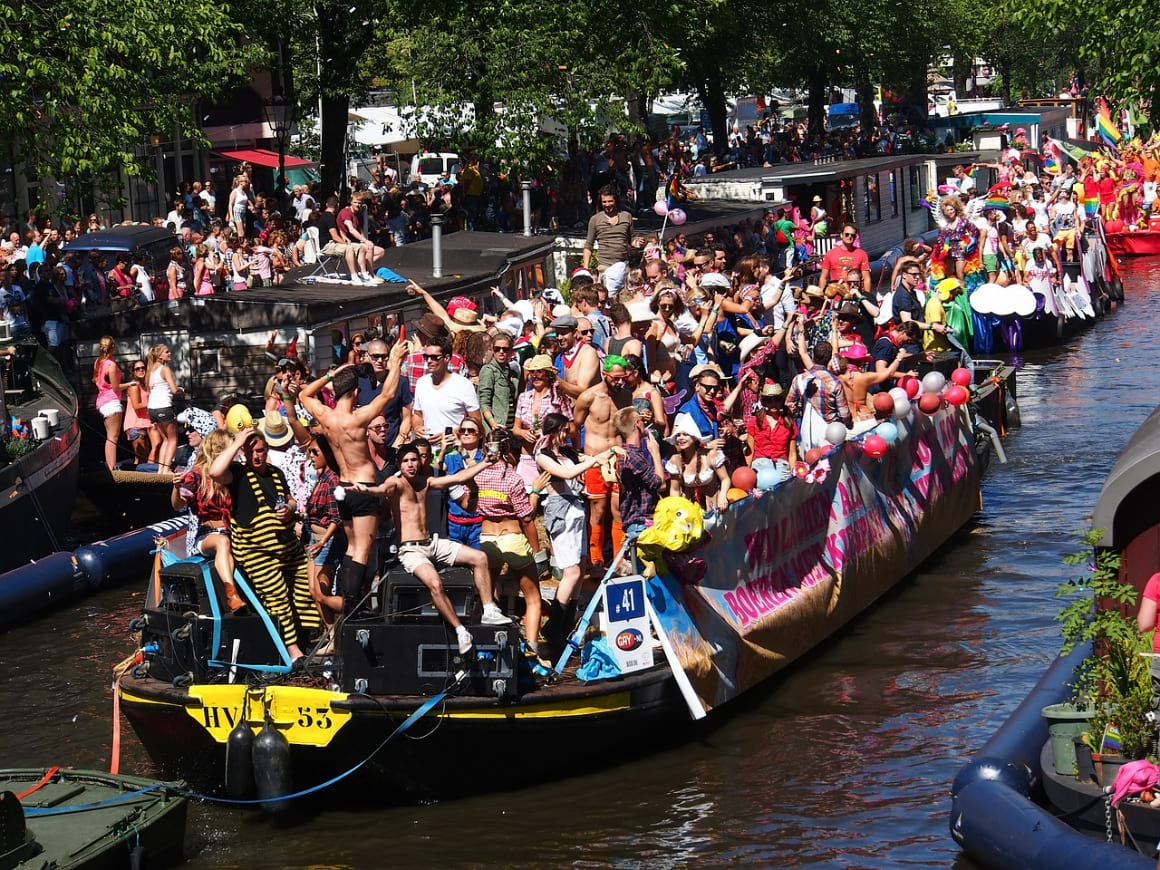 When: August
Where: Amsterdam
Imagine the canals of Amsterdam filled with rainbow flags and people dressed in colorful costumes as they march through the city streets and float along the river. That's exactly what happens every year during Amsterdam Gay Pride.
The event is held annually to celebrate love and diversity regardless of age, gender, or orientation. It's a day to embrace who you are and for everyone to come together in peace and acceptance. The parade is perfect for expressing yourself, with creative costumes, wild floats, and loud music.
A few hundred thousand people come to the event every year, making it one of Amsterdam's most popular festivals. Plenty of activities and events are taking place around the city that week, from film screenings to boat parties and outdoor picnics.
The main attraction is, without a doubt, the pride parade. It's an incredibly moving experience to be surrounded by so many people joining in the celebration of love and acceptance. Amsterdam Gay Pride is one of the best pride events in the world, the country itself has become a beacon of queer culture and provides a safe haven for LGBTQ people from all around the world. So, if you're an LGBTQ traveler, or just looking to have an unforgettable experience, then Amsterdam Gay Pride is the place to be.
Where to Stay: Splurge a bit and stay right on the canals at Canal House. You'll have easy access in and out when you need a little cat nap from all of the Pride festivities!
AMF
When: October
Where: Amsterdam
One night, one epic music event in Amsterdam. The AMF stands for Amsterdam Music Festival, and it's the ultimate event to get your fill of electronic music.
The festival runs for one day in October each year, with more than 150 artists performing at various venues throughout the city. It's a great opportunity to experience some of the best new talent from around the world in one of Europe's most vibrant cities.
The AMF has grown into one of the biggest music festivals in Europe, and it continues to draw thousands of people each year worldwide. It's also known for its unique atmosphere, with plenty of art installations and interactive experiences that keep visitors entertained throughout the day.
The show was canceled for two years, but 2022 it returned with a vengeance and had 2,000 shows across 200 venues. AMF is a huge part of the ADE (Amsterdam Dance Event) that lasts five days and is the perfect opportunity to explore great music and killer dance moves.
The festival also has several stages dedicated to different genres, such as techno, house, and trance. With so much variety on offer, there's something for everyone at AMF!
Where to Stay: Out all day and up all night, just snag a dorm bed at Stayokay. You'll be able to save a few dollars and meet some other travelers!
Is This the Best Daypack EVER???
Amsterdam Light Festival
When: November
Where: Amsterdam
The city becomes a beacon of light in the cold winters of Amsterdam with the arrival of the Amsterdam Light Festival. This unique event celebrates light and art, transforming the city into an illuminated wonderland.
The festival features inspiring works from local and international artists, light sculptures, interactive installations, and other amazing displays. You'll be able to explore the city in a new way and see it in a completely different light. Ha, get it!
The festival lasts for two months, from the end of November to the start of January. Hundreds of thousands of people flock to Amsterdam to experience its magical atmosphere during this time. It's a must-see event for anyone who loves art and enjoys exploring the world in new ways. And plus, it really gets you in the Christmas mood!
The beautiful installations span across canals and bridges, creating an unforgettable journey through the city's history and culture. The Amsterdam Light Festival is an incredible experience that will leave you with an unforgettable memory of its vibrant colors, sights, and sounds.
Where to Stay: It doesn't get much better than staying in the city center at the citizenM during the light festival! Every night as the sun goes down, you'll be able to see all of the beautiful art installations light up right from your room.
Final Thoughts
Amsterdam is such a vibe and will have you having the time of your life the next time you visit. Bike your way home from the bar, or explore the streets and canals as you make your way to one of these unique festivals.
Whether it's the Pride Parade, AMF, or Amsterdam Light Festival, there is always something going on in Amsterdam that will have you constantly looking for more.
If you're still unsure of which Amsterdam festival to attend, I will say as someone who loves culture, loves a good party, and loves thrifting, you HAVE to make it to Amsterdam for Kings Day. A day full of dutchies, orange, and plenty of little street vendors to get your fill of Dutch treats. You're gonna love it!
ALWAYS sort out your backpacker insurance before your trip. There's plenty to choose from in that department, but a good place to start is Safety Wing.
They offer month-to-month payments, no lock-in contracts, and require absolutely no itineraries: that's the exact kind of insurance long-term travellers and digital nomads need.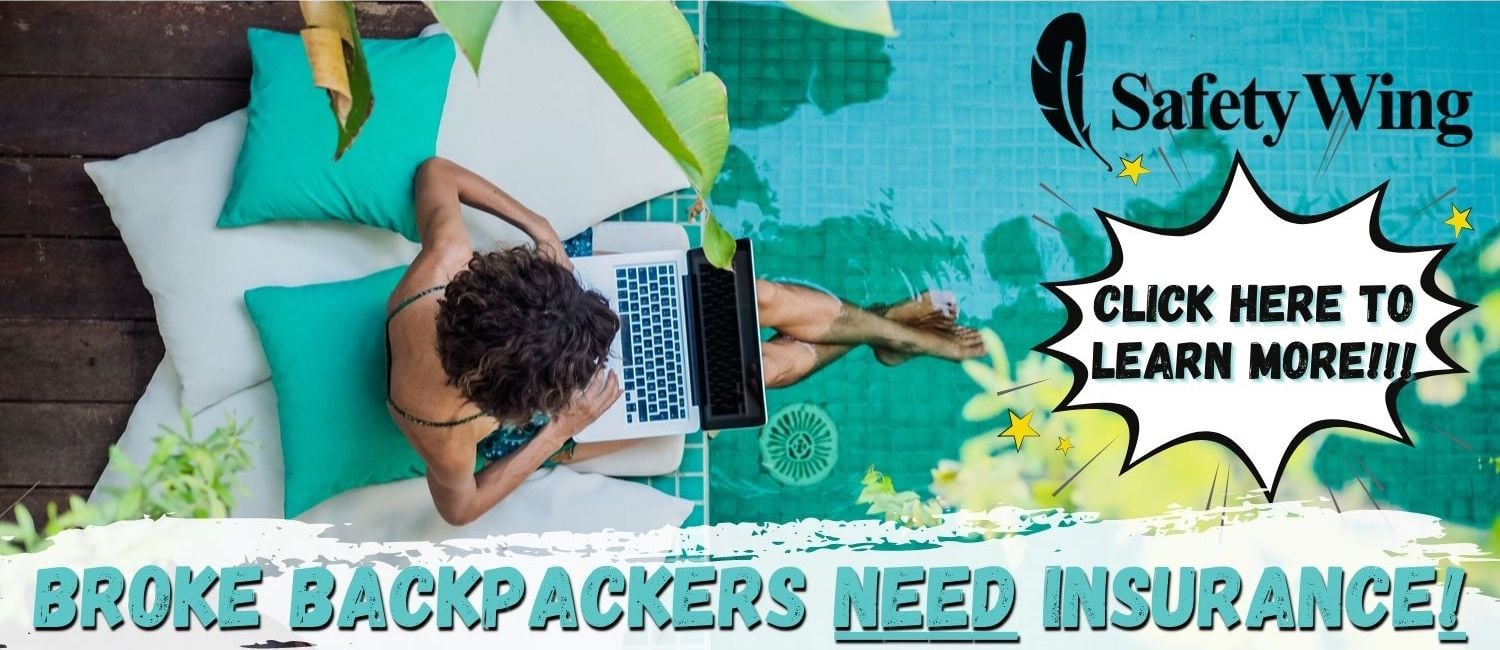 SafetyWing is cheap, easy, and admin-free: just sign up lickety-split so you can get back to it!
Click the button below to learn more about SafetyWing's setup or read our insider review for the full tasty scoop.
---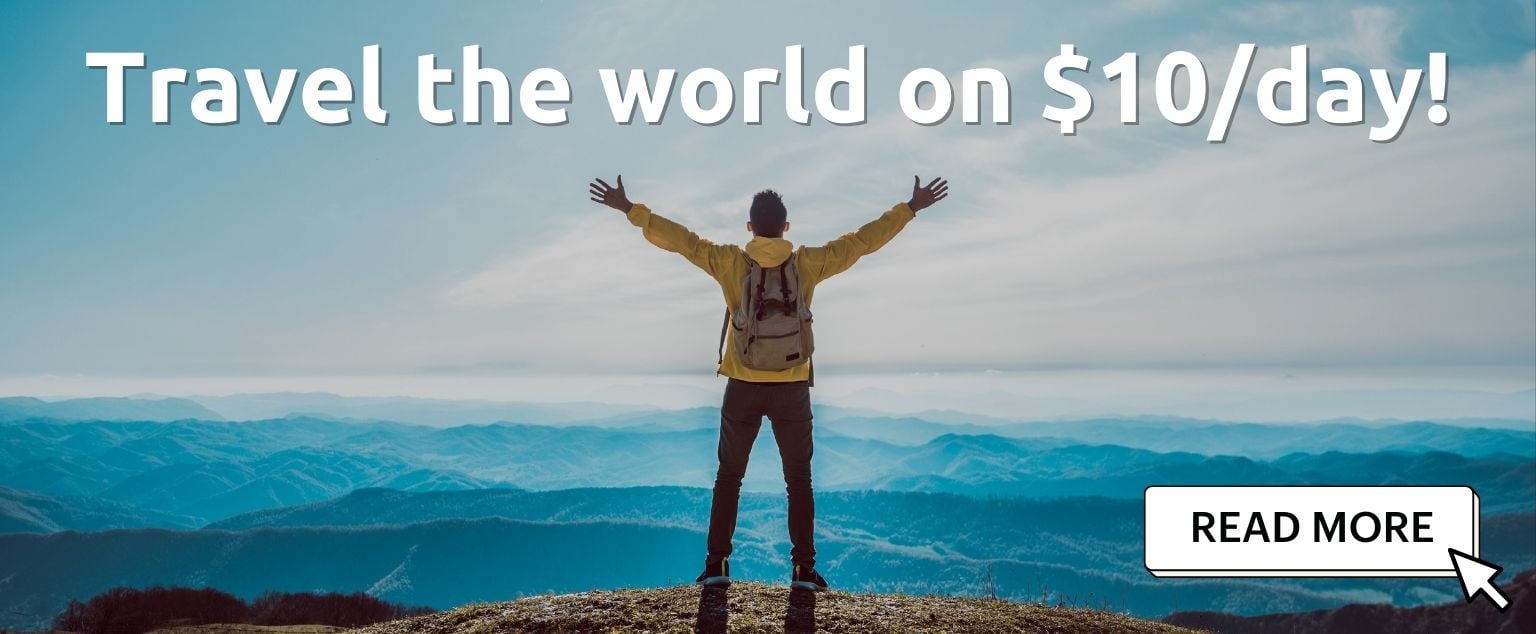 And for transparency's sake, please know that some of the links in our content are affiliate links. That means that if you book your accommodation, buy your gear, or sort your insurance through our link, we earn a small commission (at no extra cost to you). That said, we only link to the gear we trust and never recommend services we don't believe are up to scratch. Again, thank you!