Culture, culture, culture, and some more culture; Amsterdam is where it's AT when it comes to culture. A whole host of museums and art galleries, an army of cafes and restaurants, canals to stroll around and parks to sit in – not to mention all those historic buildings…
But, of course, Amsterdam is MAINLY known for two things: weed and sex. Both things are regularly bought and sold here and shady elements may be behind some of it. Truckloads of tourists arrive for the fun and become perfect targets for petty crime.
So you may ask, "is Amsterdam safe?" With all these drugs and shady happenings going on.
Don't you worry – I have created this epic insider's guide on staying safe in Amsterdam so you can have the best time possible without falling into the traps that some tourists fall into. We're all about smart travel at The Broke Backpacker – and you should be, too!
I'll be going into a whole lot of detail and covering a load of topics. From whether or not Amsterdam is safe for solo female travellers, all the way to whether it's safe to bring your family here – those and just about everything else.
So you may be wondering if it's safe to drive in Amsterdam – what with all those bicycles – or you may just be wondering if it's safe to visit at all (maybe you've heard some horror stories about the Red Light District)… Whatever your concerns, I'm here to help you out!
There is no such thing as a perfect safety guide, and this article is no different. The question of "Is Amsterdam Safe?" will ALWAYS have a different answer depending on the parties involved. But this article is written for savvy travellers from the perspective of savvy travellers.
The information present in this safety guide was accurate at the time of writing, however, the world is a changeable place, now more than ever. Between the pandemic, ever-worsening cultural division, and a click-hungry media, it can be hard to maintain what is truth and what is sensationalism.
Here, you will find safety knowledge and advice for travelling Amsterdam. It won't be down to the wire cutting edge info on the most current events, but it is layered in the expertise of veteran travellers. If you use our guide, do your own research, and practise common sense, you will have a safe trip to Amsterdam.
If you see any outdated information in this guide, we would really appreciate it if you could reach out in the comments below. We strive to provide the most relevant travel information on the web and always appreciate input from our readers (nicely, please!). Otherwise, thanks for your ear and stay safe!
It's a wild world out there. But it's pretty damn special too. 🙂
Updated September 2023
Is Amsterdam Safe to Visit Right Now?
Travelling to Amsterdam is so in. It's the place to be for party animals and Instagram fans alike.
An elegant city – of canals and bridges – as much as it is a liberal one – filled with debauchery and radical attitudes. It's all pretty cool. But with all that fun sometimes comes a darker side.
The city is rife with pickpocketing and general petty crime. There is also some more serious crime in Amsterdam. There are also drugs in Amsterdam that can be purchased VERY freely, leading (sometimes) to mayhem and stupidity.
In particular, the Red Light District is pretty dangerous (not gonna lie), especially at night. Overall, it may not be absolutely perfect, but it's still a very safe time to visit Amsterdam.
This densely packed city only has a population of 850,000 but in 2018 an estimated 8.5 million tourists visited. That is literally ten times as many tourists as inhabitants. By 2025 that's expected to rise to 23 million – that's insane.
It's actually getting out of hand. The city has become so overrun with tourists that the government decided to take down the iconic I Amsterdam sign located outside the Rijksmuseum, calling it "a symbol of mindless mass tourism." Strong words, but I get it. The amount of selfies that get taken in front of this sign is literally mental.
Safety in Amsterdam is an interesting situation. According to The Economist, Amsterdam is the 6th safest major city in the world and number 1 in Europe. That being said, I still think Amsterdam is the least safe city in the Netherlands.
Regardless of whatever the numbers say, Amsterdam still has criminal elements (every major city does). Gangs make a lot of money both controlling prostitution in the Red Light District AND selling drugs. Opportunist thieves make use of the semi-lawlessness of this area, too.

Unlock Our GREATEST Travel Secrets!
Sign up for our newsletter and get the best travel tips delivered right to your inbox.
Safest Places in Amsterdam
When choosing where to stay in Amsterdam, a bit of research and caution is beneficial. Whilst most of Amsterdam is safe to visit and stay in, I've just dropped a couple of examples of the safest places in the city below.
The Canal Belts (Western and Southern)
The Western and Southern Canal Belts are some of the safest places in Amsterdam. They are busy, well-lit, have police walking around and are generally awesome. Be careful when walking around intoxicated though, try not to fall in!
Oud-Zuid (Museum Quarter)
This is a hotspot for tourism (obviously). Now, this comes with both positives and negatives. On the positive side, many tourists means safety in numbers and a thriving backpacker scene. On the negative side, it's a hotspot for petty crime in Amsterdam as thieves target clueless tourists. Be wary of this and you'll be fine.
Places to Avoid in Amsterdam
Most places in Amsterdam are pretty safe, and to be honest I wouldn't say you need to avoid anything really. BUT, you need to be careful and aware of your surroundings pretty much anywhere you go in the world, and the same goes for visiting Amsterdam. To help you out, I've listed a couple of caution areas below:
Amsterdam-Zuidoost is the most dangerous area of Amsterdam. It's some distance from Amsterdam though, so I can't see how you would end up here by mistake.
The City Centre (Centrum/Binenstad) – Whilst it's perfectly safe when navigated correctly, it can be dangerous. As with any major city, traffic and petty crime are abundant. Oh, and be careful when intoxicated and alone.
Bijlmermeer (Bijlmer) – is knowns as the 'hood' of Amsterdam. Watch out for dodgy folk here and keep to yourself.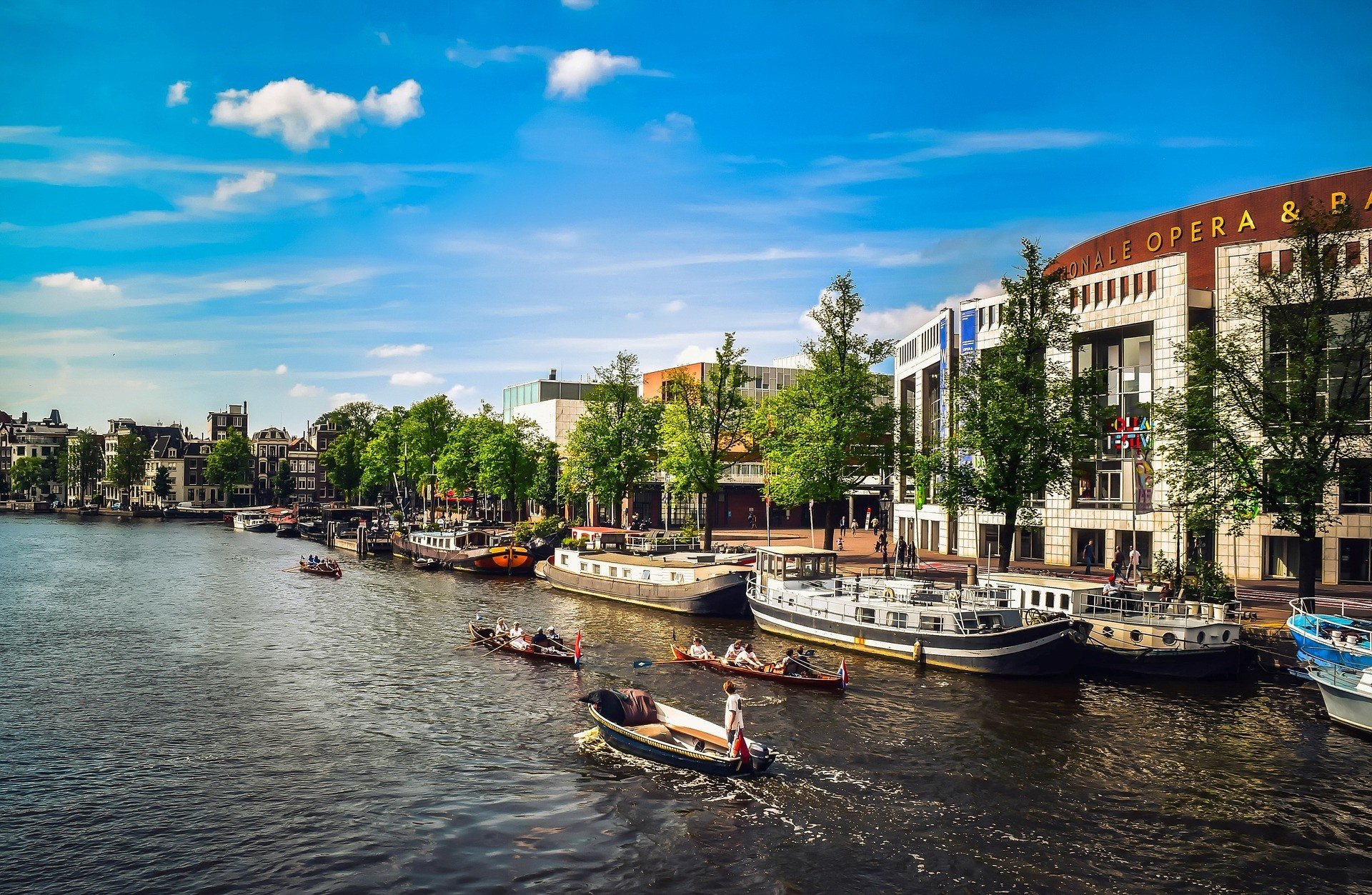 Amsterdam may rank highly when it comes to being a very safe city, but, to be honest, it's not always safe. Being pickpocketed, or worse, is a real danger in some parts of Amsterdam. Really late at night, the city can take on a pretty dodgy atmosphere as well.
You can avoid all of this though. Simply follow some of my safety tips for visiting Amsterdam and learn to travel safely and smartly. Do this and you're bound to love exploring this place.
Don't venture down quiet streets at night time – not all areas are sketchy but beware.
Just be careful in the Red Light District – it's a cool neighbourhood to visit but be vigilant.
Go easy in the coffee shops – smoking = all good. But if you're not used to cannabis, I wouldn't recommend going hard on it. You could have a TERRIBLE time.
Don't cocktail or crossfade – weed + alcohol + mushrooms = actually dangerous. Pick one poison and try not to mix.
Avoid taking photos in the Red Light District – they don't like it. You may have your camera confiscated, or you could actually get roughed up.
DON'T BUY ILLEGAL DRUGS – Weed may be fine here, but other stuff isn't cool. It could be fake and the people you buy it from are going to be pretty shady.
And if you do, don't upset the dealers – keep a cool head and watch your back. People have been known to be attacked.
Smoking outside prohibited areas is actually illegal – so stick to the coffee shops.
Don't use "hotel runners" – these guys hang around Central Station and go "get" you a hotel. This is illegal and the accommodation they do reserve for you is often hideous.
Watch out for fake police – basically, if a police officer is asking you for cash, then they're not legit. Can you imagine that? In the Netherlands? Plainclothes police DO exist but they're not after your cash. If you're not sure, ask to see their ID.
Careful on trains/trams – especially from Central Station to the airport – a prime spot for bag snatchers and pickpockets.
Keep your valuables close to you – on the train or ANYWHERE. Don't hang your bag on a chair at a restaurant on the street.
Stick to your lane – Don't walk in bike lanes and watch out for tram lines.
Those tricky canals – people actually die from being too drunk and falling into the canals. This is a serious statistic. I have witnessed this first-hand! The falling in part, not the dying part.
Don't take your passport out with you – this is the last thing you want to lose or get stolen.
I don't mean to paint Amsterdam as a scary place – 90% of the time, it's truly fine. There are shady elements here but if you keep aware of your surroundings, and resist the temptation (if there even is one) of hard drugs, you should be fine.
Basically, it's all about travelling smart. Pay attention to your surroundings, don't get yourself mixed up in dodgy situations, and keep our safety travel tips for Amsterdam in mind when you're there!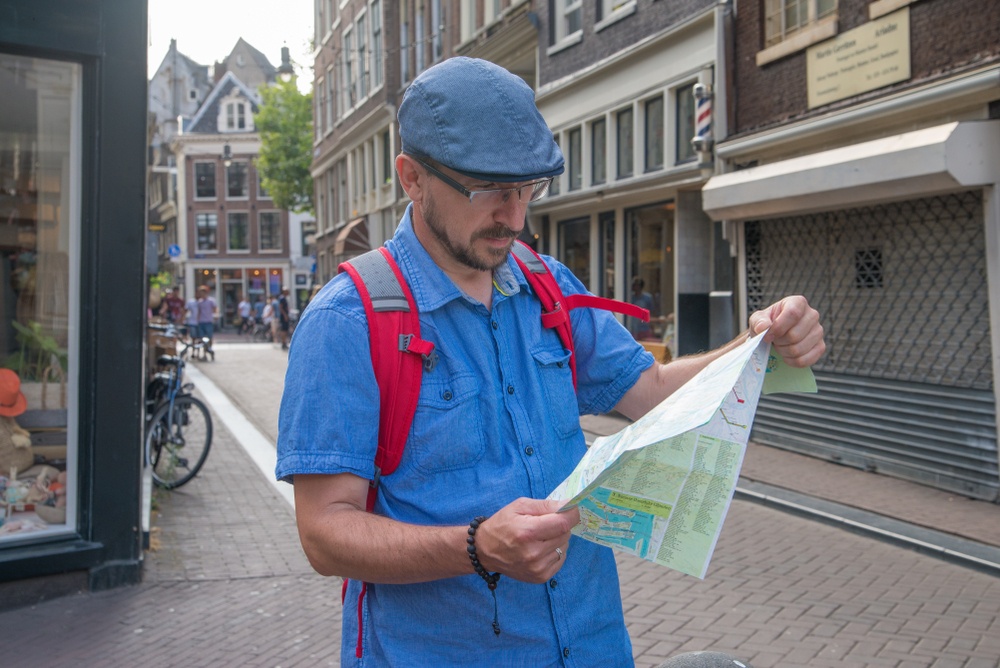 We're totally into solo travel here at The Broke Backpacker. But as with pretty much anything ever, there are good points and bad points to it. The cool part is doing YOUR OWN thing, which is both challenging and enlightening. The bad part is that one may become lonely or even lose touch.
At the end of the day, the cultural hub of Amsterdam is SAFE to travel alone. You can walk around pretty safely, do whatever you want, and all without too much of a worry. I do have a few safety tips for travelling solo in Amsterdam and for avoiding any sort of bad vibes, so listen up…
You should know your limits. Don't get crazy wasted even though you're in a very safe city that's FAMOUS for partying. This just isn't a good idea, especially since you don't even know the city.
And on that note, don't take all your valuables with you on a night out e.g. passport, cards, money. The more stuff you take out, the more stuff there is to lose. If you lose all of that stuff and can't get home you're pretty much done for.
Hey, you know what? There's more to do in Amsterdam than drinking and smoking. This city is packed with culture – go out and get drunk on that instead. There are museums galore, beautiful cafes (NOT coffee shops), and a whole load of other stuff to keep you entertained that isn't naked ladies in windows.
Learn to PACK LIGHT. Having to lug around a huge bag or whatever is NOT fun.
Keep in touch with friends and fam back home. It's a good way to keep yourself grounded and stop you from feeling the solo travelling blues. Plus, it's always better that somebody knows where you are and what you're up to rather than nobody knowing at all.
When it comes to choosing a hostel in Amsterdam (or wherever you choose to stay) you should definitely be hitting up well-reviewed places. Read the reviews and see if it's right for you. Basically, I'd recommend a sociable hostel. I've had some great times at The Flying Pig Hostels.
Despite the petty theft and stuff that CAN happen, Amsterdam is safe. As I said earlier, it is LITERALLY one of the safest cities in Europe.
That doesn't mean you can just wander into any area of the city at any time of day. Like anywhere, bad stuff happens in dodgy places. It all comes down to travelling smart. Just make sure you keep your wits about you and it's going to be all good.
Is Amsterdam Safe For Solo Female Travellers?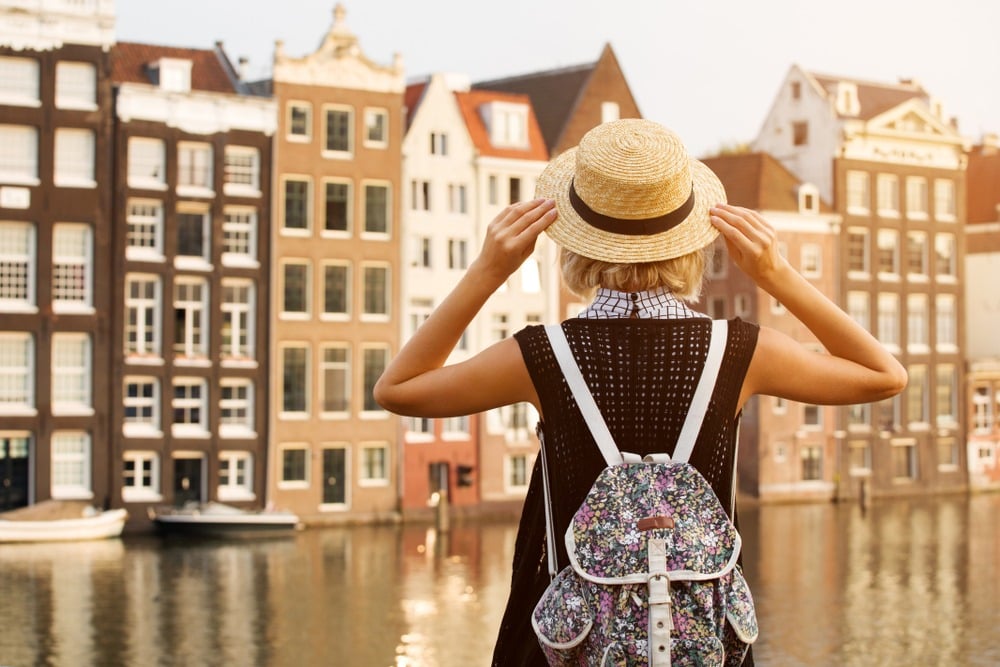 Generally, Amsterdam is safe for solo female travellers, as are most European cities. It's a popular tourist destination for solo female travellers as it's a very safe city overall.
Of course, there are things you shouldn't do and places you shouldn't really go after dark. But for the most part, this is a super-visitable city for pretty much anybody.
It always pays to have a few extra tips and some information when it comes to travelling alone as a woman, so here are some of our top tips for travelling safely in Amsterdam as a solo female traveller…
There is on the whole very little harassment in the streets but sometimes it DOES occur. Basically, stick to what you'd usually do in your own country: avoid poorly lit streets and quiet areas where there aren't many people around.
Some specific areas to avoid at night are Kolen, Kit, Buurt, Overtoomse Veld, Amsterdam-Zuidoost, and Osdorp. These places MAY be fine during the day, but at night time they can be more sketchy.
It's absolutely ok to visit the Red Light District if you want. But if you go at night, try to remember this is a place of prostitution. Some people here may be unsavoury and you'll probably want to avoid eye contact with drunken, lecherous men. Go with a friend if you feel uncomfortable.
Find yourself a well-reviewed hostel in Amsterdam with female-only dorms. There are even some female-only hostels for you to stay at if you like – Hostelle is a good example of one of these.
Do not leave your drink unattended. This applies if you head out to a bar or club alone or in a group. Drink spiking DOES happen and can be super nasty. DON'T accept drinks from strangers, either.
On a similar note, don't get crazy drunk or stoned if you need to get home by yourself. It's not nice. And if you're stoned, just remember that "paranoia will destroy ya."
Try to meet fellow travellers! Take a class, go on a walking tour, rent bikes with some hostel buddies, and see the city with other people. It'll be a cool experience.
Is Amsterdam Safe to Travel For Families?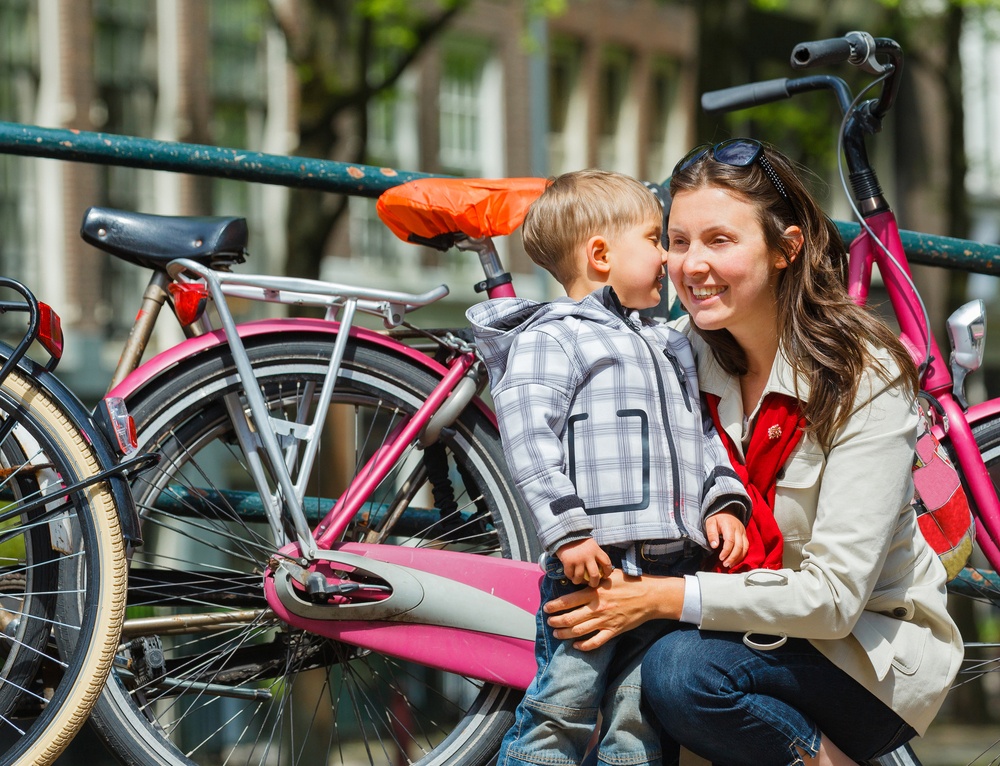 Believe it or not., Amsterdam is a really child-friendly city. Obviously, the Red Light District isn't an appropriate place to be taking your children, but the rest is fair game.
Like I said before: there's TONS of stuff to do here – there is a huge load of parks, playgrounds, canals, and other family-friendly spaces to stroll around.
If you grab yourself the I Amsterdam card you get free admission to LOADS of attractions like the Artis Zoo, NEMO Science Centre as well as the Van Gogh Museum. This also gives you access to FREE public transport. These are a great way to get the most out of Amsterdam if you visit with your family.
There are SOME concerns, however…
Traffic, trams, and crowded bike lanes can be a bit of a hindrance, if not dangerous for youngsters.
Though it's a great place for a holiday, a lot of young Dutch couples are moving out of the city once they start their families – 40% of them in fact.
The city CAN get rowdy after dark – almost anywhere.
All that said, there are a lot of family-friendly places to stay, loads of cultural sites to visit, and an endless list of things to do. So if you and your family want a city trip that's all about culture and fun, Amsterdam is an amazing place for all that.
In conclusion, yes, Amsterdam is safe to visit for families.
Getting Around Amsterdam Safely
Right off the bat, let's talk about cycling in Amsterdam. Amsterdam has to be one of the most cycling-friendly and safest cities in the world. If you've been there before, you know how small and winding the streets can be. Therefore, getting around with a bicycle is the best, safest and fastest option you can find (plus it keeps you in shape).
Is Amsterdam dangerous to cycle in? Nor really, since almost every citizen owns a bike and you can find designated bike lanes everywhere around the city. These lanes are marked in white, and you have to follow the rules, just like when you're driving a car.
Whilst it's SAFE to drive in Amsterdam, it's a real headache. Don't bother. If you don't know what you're doing, you could end up with some hefty fines. Traffic laws are strict in Amsterdam; that means no using your phone whilst driving, being mindful of speed cameras and being very careful when parking.
The actual licensed taxis are also safe in Amsterdam. But, not every taxi is licensed. In fact, there are an estimated 2,000 illegal taxis driving around Amsterdam. That's A LOT of unlicensed cabs.
You should really avoid taking one. Especially from the airport – which is where they like to operate. Taking an unlicensed taxi comes with significantly more risk. So, now you're wondering, "Well, how do I spot a LICENSED taxi then?" Good question.
A REGULAR licensed taxi has:
A blue numberplate
A light on the roof with the taxi company's name
If you must get around by car, an Uber is probably a better option. Is Uber safe in Amsterdam? Yup.
Amsterdam is a haven for public transport fans. The bus, the trams, the trains, the metro, the ferries; there's a lot to choose from. All the public transport in Amsterdam is safe but here are a couple of things of note:
Trams, buses, and the metro ALL run from 6 in the morning till 12:30 AM.
Public transport doesn't accept cash at all so you'll have to get an OV-chipkaar. Having one is actually good since you won't be fumbling around for change all the time. You can use this on ALL public transport through the Netherlands.
The trams and trains that go from the Central Station to the airport are a favourite for petty thieves. I actually witnessed an attempted robbery on my 2019 visit. Luckily the victim noticed!
There's also the ferry that goes across the River Amstel to Amsterdam Nord. You can catch a ferry from the new jetty behind the Central Station and it's free.
Crime in Amsterdam
Generally, Amsterdam has a pretty low crime rate. There is the standard threat of petty crime that comes with most of the world's major cities, but more violent or serious crime is uncommon.
In 2022, there were 84,793 registered criminal offences in the Amsterdam-Amstelland area (according to the NL Times). This is an increase compared to 2012, but less than 2019. Most of this is of course non-serious crimes such as pickpocketing, but tourists should be aware of the fact that they are prime targets for this activity.
Of course, there are also complex drug rules in Amsterdam which also need to be adhered to. Unfamiliar tourists don't want to be caught with any drugs in Amsterdam, even weed. Smoke in the coffee shops and not in public guys.
Is Amsterdam safe at night though? Hmm, tough one to call.
As you could probably expect, most of the crime happens at night. It occurs in areas such as the Red Light District where sex-related crimes are recently increasing. If you have your wits about you and don't involve yourself in the wrong crowd, it shouldn't be an issue though.
The US Travel Advisory suggests that Amsterdam is safe for American tourists. It classifies the Netherlands as Level 2 and advises visitors to exercise increased caution.
Amsterdam Travel Insurance
If you're worried about safety, the best plan of action is to ensure you've got your own back with some good quality travel insurance for The Netherlands.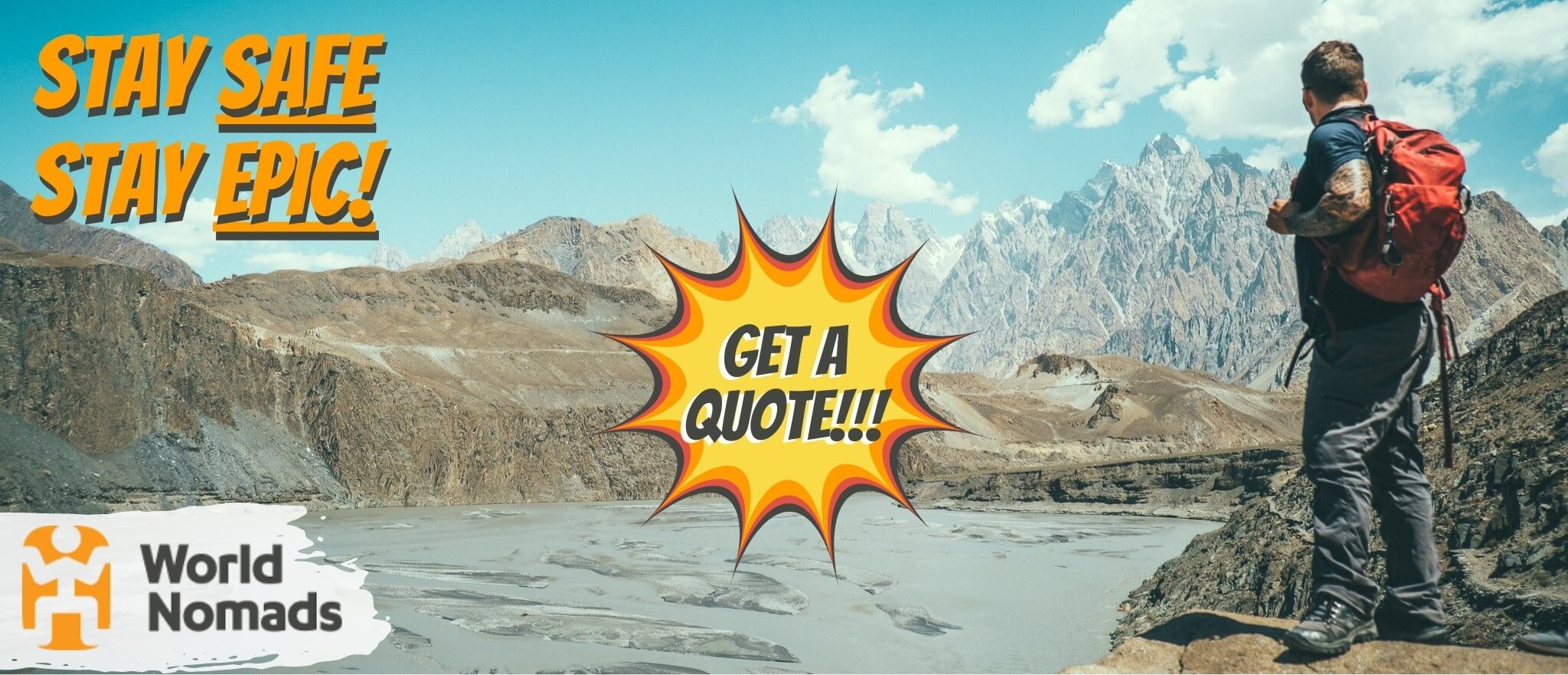 World Nomads' mission is to support and encourage travellers to explore their boundaries. They offer simple & flexible travel insurance, and safety advice to help you travel confidently.
They've been doing it since 2002 – protecting, connecting, and inspiring independent travellers just like you.
Get a quote below or read our in-depth review!
World Nomads provides travel insurance for travelers in over 100 countries. As an affiliate, we receive a fee when you get a quote from World Nomads using this link. We do not represent World Nomads. This is information only and not a recommendation to buy travel insurance.
FAQs on Amsterdam's Safety
I've listed and answered the most commonly asked questions on safety in Amsterdam below.
So, How Safe Is Amsterdam?
The stats kind of speak for themselves – Amsterdam is one of the safest cities in the world. And with that achievement, it also tops all other European cities, too. Amsterdam LITERALLY gets ten times the amount of tourists versus the population of the actual city itself. That's truly A LOT.
With so many tourists, petty crime in Amsterdam also rises. Crowded areas and touristed tram routes are hotspots.
Let's not forget the notorious Red Light District. It might be a bit of fun, but honestly, even the Amsterdam government feels that this area is out of their control. It's definitely the seedy side of Amsterdam and is devoid of all of the culture, sparkling canals, and chocolate box buildings.
A lot of the unsafe stuff in Amsterdam comes about from your own choices. If you make good decisions and keep aware of your surroundings (pickpockets, trams, etc), you'll be safe. In case the shit really hits the fan, having some travel insurance will help protect you.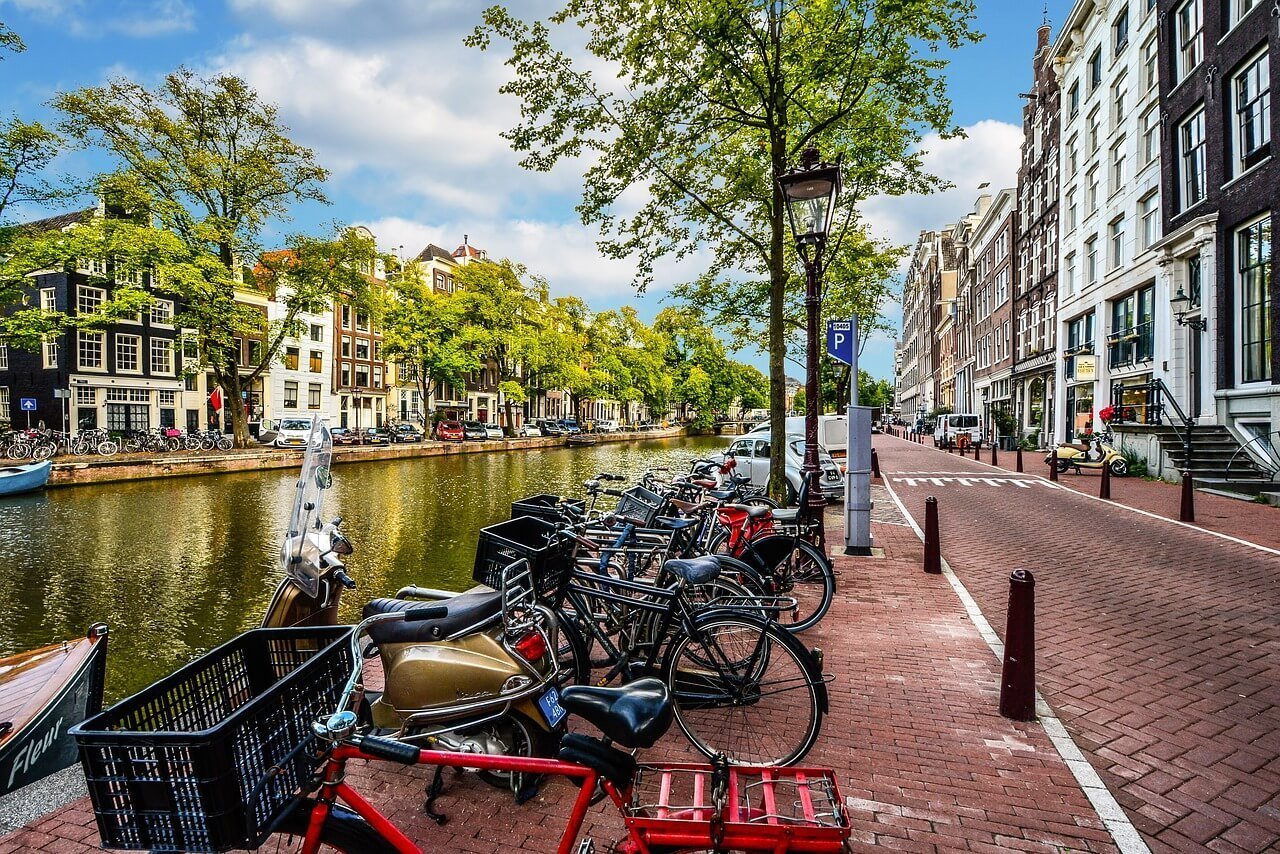 Disclaimer: Safety conditions change all over the world on a daily basis. We do our best to advise but this info may already be out of date. Do your own research. Enjoy your travels!