The Netherlands is often called one of the most beautiful countries in the world. It's also one of the smallest countries, yet it packs a punch when it comes to the sheer variety of natural landscapes on offer.
While you're in the Netherlands, you'll get the chance to explore the desert, shiver in glacial winds, and traipse through dense forests. And if you're a beach bunny, then don't miss out on the chance to explore this country's beachy national park!
Whether you just want to get closer to nature, see some local wildlife, or stretch your legs, you're bound to love the national parks in the Netherlands. So, let's take a look at which one you should see first!
What are National Parks?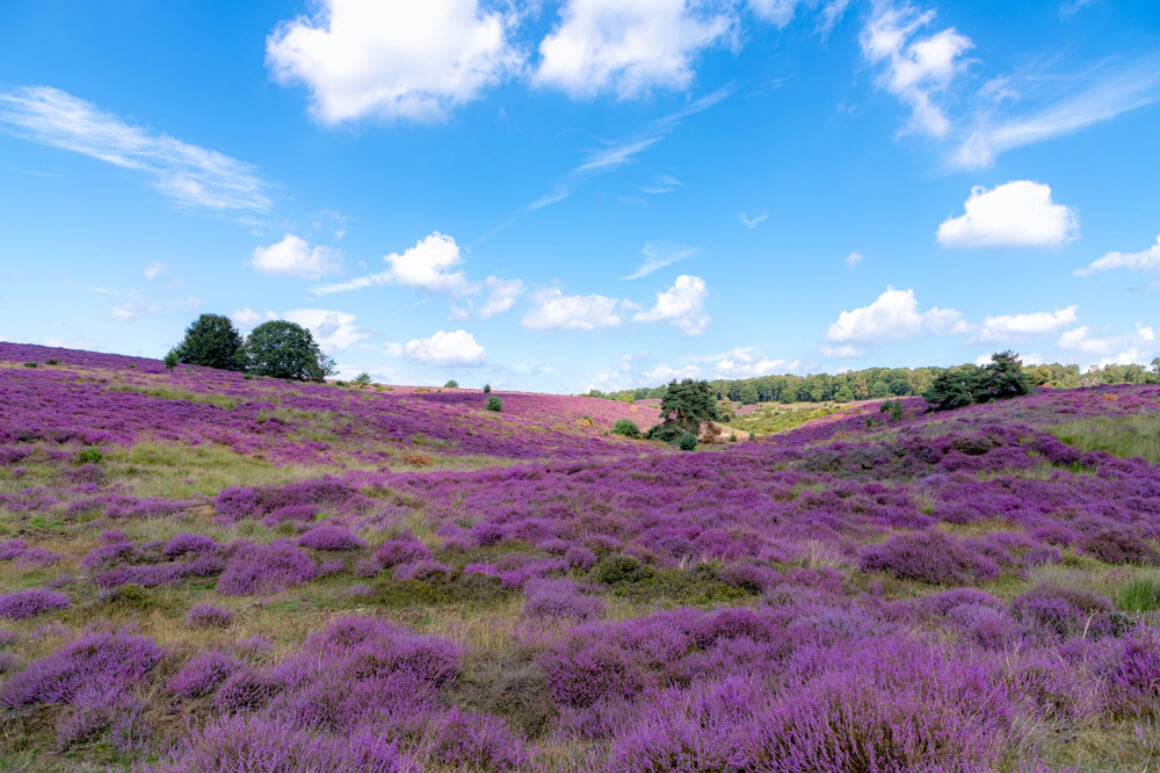 There are 21 national parks in the Netherlands as of 2021 and the rules and guidelines that protect these parks are similar to those that you'll find in other countries. The parks typically contain a unique mix of cultural and natural attractions, which usually include rare or protected animals or plant life. You can visit these protected lands and do activities, but you still need to be very careful how you treat the land and anything you find in it.
The parks in the Netherlands highlight the wide variety of natural landscapes that this country is so famous for, protecting these precious natural jewels so that they can be enjoyed today and in the future as well.
This variety is what you'll really notice, and probably love, while you're visiting the Netherlands. The Netherlands is small, even smaller than a lot of US states, yet the variety of natural landscapes it boasts is truly bizarre.
You'll be able to go from the beach to the mountains and then to the desert and into a forest while you're in the Netherlands, all within a couple of days. If you're the type who enjoys variety, then this will make for the ideal outdoor vacation.
National Parks in the Netherlands
Eager to explore some of the most beautiful landscapes that the Netherlands has to offer? Then we recommend that you see at least one, if not more of these parks!
Hoge Veluwe National Park
Size: 5,400-hectare
Location: Gelderland province
Cost of Entrance: Adults € 11,30 , Children € 5,65
The Hoge Veluwe National Park offers more than beautiful landscapes, because, of course, its woodland, heartland, and dune environments are truly breathtaking. But this is one of the national parks in the Netherlands that is known for its history and art as well.
The park was originally owned by Anton and Helene Kröller-Müller. Anton was an avid hunter and Helene an art collector and they created the park to suit both of these hobbies. The end result is a wild, natural area that's filled with red deer, wild boar, mouflon, and most recently, wolves and also has a famous museum filled with works of art that fit with the wild landscape on all sides. In the museum, you'll find works by Van Gogh, Signac, and Seurat as well as a truly spectacular sculpture park.
Cycling is one of the most popular activities in the park and there are free bike stations throughout as well as at the Schaarsbergen, Otterlo, and Hoenderloo entrances. You can also take a safari through the park, as organized at the visitors' center, or stay the night for some animal spotting under the stars. And of course, horse riding, hiking, camping, and fishing are absolutely first-rate as well.
Best of all though is the lakeside Kröller-Müller Museum, which has the largest private collection of Van Goghs in the world, as well as pieces by Pointillists like Seurat, Signac, and Henri Edmund-Cross, and a dreamlike sculpture park.
Where to Stay Near Hoge Veluwe National Park
This cozy cottage home sleeps two people and is within walking distance of the national park as well as Otterlo. It's small and private and was newly furnished in 2021, so it has all the amenities you'll need for a quiet, tranquil holiday including a fully equipped kitchen, laundry, and a private yard where you can enjoy the natural beauty all around you.
De Biesbosch National Park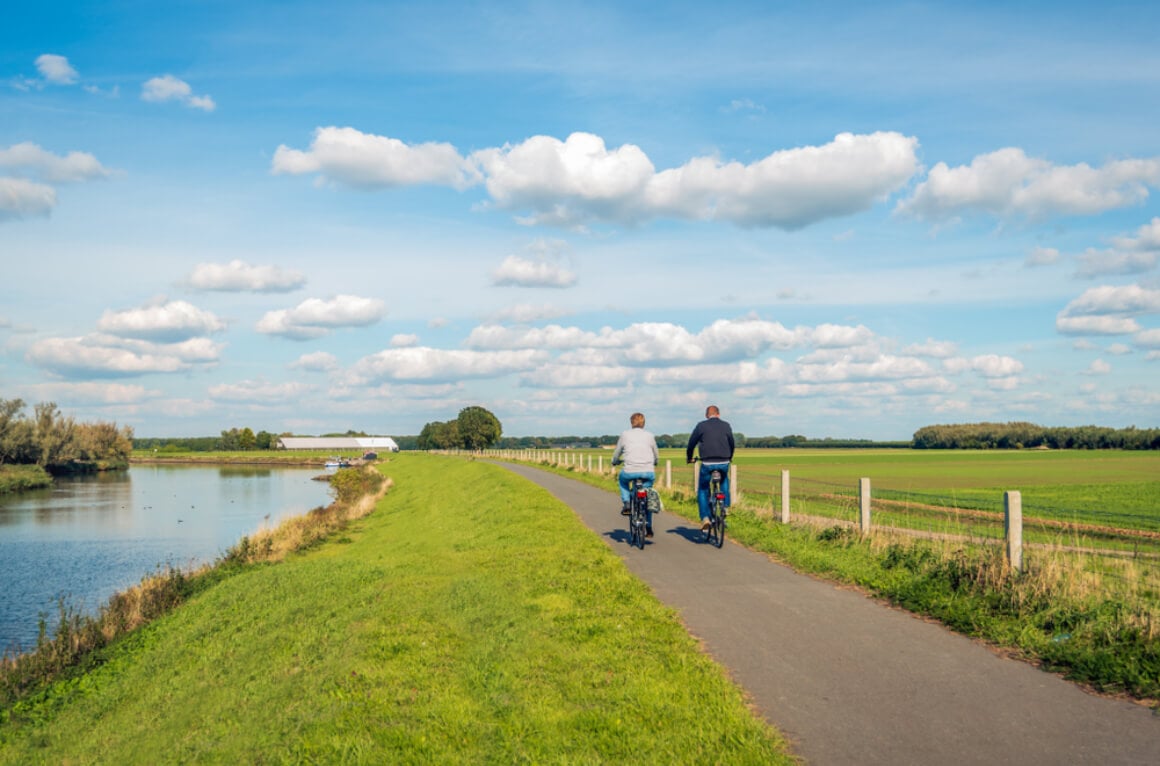 Size: 8,000 hectares
Location: Just outside Dordrecht
Cost of Entrance: Free
De Biesbosch is one of the largest of the Netherlands national parks and it's also one of the wettest, which is why it's best seen via canoe in the summertime. Located at the mouth of the Rhine and the Meuse rivers, the water in the park has tides like the ocean and is strewn with smaller rivers and creeks.
This is an uncompromisingly wild area that is pivotal for education and preservation purposes. It's home to lots of different species from industrious beavers to adorable deer and foxes, to majestic birds of pre like the osprey and white-tailed eagle. If you're an animal lover, then this park is definitely for you.
Apart from the animal spotting opportunities, the park boasts almost endless outdoor activities. Just for starters, you can go walking, fishing, bird spotting, cycling, or take walking tours through the park. And if you get tired of doing all that, then rent a canoe and explore on your own, go night fishing, or make a booking to dine in the park to enjoy the night atmosphere. The park also has a very busy events calendar, so make sure you check out what's on while you're there.
Where to Stay Near De Biesbosch National Park
Have you ever wanted to stay in a tiny home? Then this is your chance! Perfect for two people who want lots of privacy, this tiny home has its own bathroom and kitchen and is located in the middle of a lovely green area, so you can sit on the veranda and enjoy the private garden. It's also close to the national park, so you can easily get out and enjoy more of what nature has to offer.
Alde Feanen National Park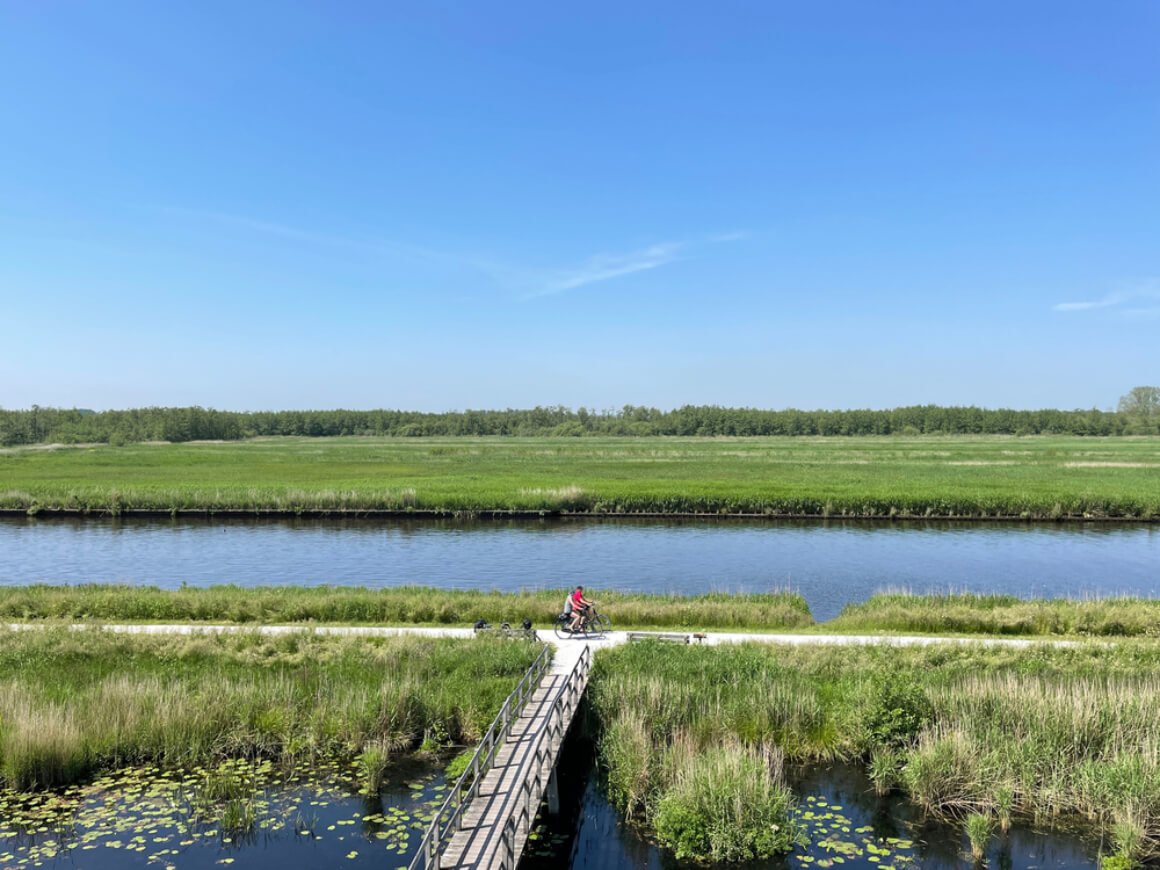 Size: 4,000 hectares
Location: Friesland
Cost of Entrance: Free
Are you a gardener or the type of person who gushes and is inspired by plants and the gorgeous colors of new flowers? Then you'll love spending time in this national park.
Alde Feanen National Park is 4,000 hectares of fenland, which is low, marshy ground that varies between lakes, grassland, and peat bog. What you'll notice first about this park is the variety and density of the plant life, with more than 500 species of plants growing happily in the park, as well as several orchid species.
Even if you aren't such a big fan of plants, the park puts on an incredible lush, green display. And of course, all that vegetation also brings in lots of wildlife, with 100 breeding birds, Shetland ponies, and waders all calling the park home and ready to pose photogenically for you!
The best way to see the park is of course by water and you can cruise the lakes on a motorboat or move slower in a canoe or rowboat. And if you'd prefer that someone else take the wheel, don't forget to ask about the park's cruises. This is also one of the best of the Netherlands' national parks for hiking, cycling, and camping as well, so if you're more active then check out these options.
Where to Stay Near Alde Feanen National Park
Do you want to be away from everything? To enjoy perfectly dark nights and peaceful days in the middle of nowhere? Then this cozy lodge is for you. Suitable for two guests, it's a tiny home on the waterfront with its own kitchen, Wi-Fi, and working space so you can focus on the silence or on your work and really get things done during your stay.
De Maasduinen National Park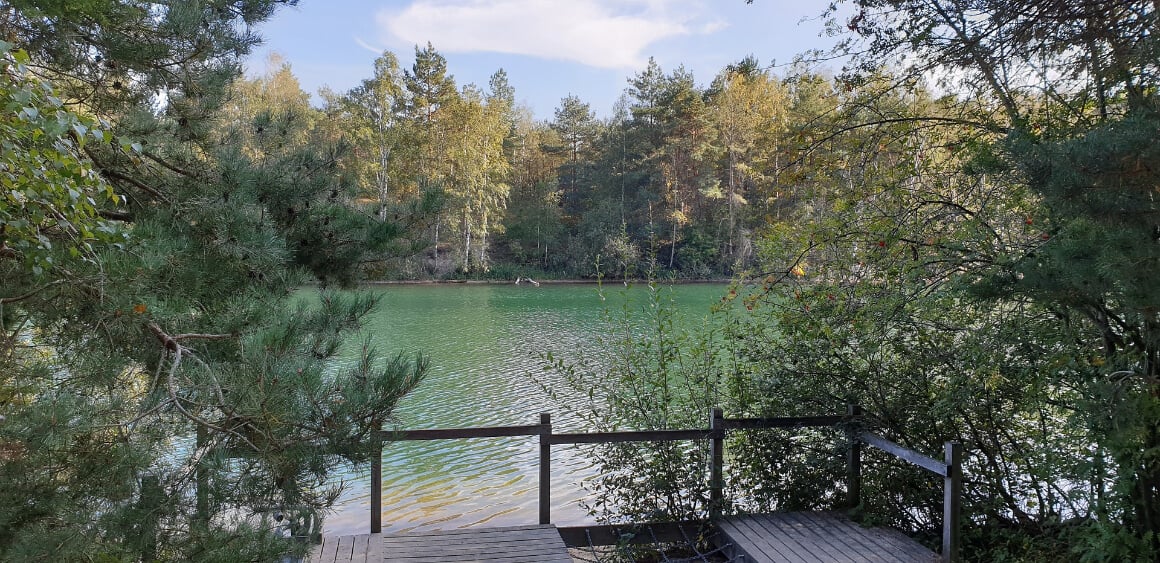 Size: 45 km²
Location: North Limburg region
Cost of Entrance: Free
Are you looking for a place where you can get away from the busyness and noise of the modern world? Then you'll love spending time in De Maasduinen National Park.
This is one of the best national parks in the Netherlands if you want to relax in perfectly tranquil surroundings where you'll be surrounded by rolling countryside and the longest river dune belt in the entire country. The combination of the river, lakes, heather-covered lands, and forest will help you to detoxify from your busy life and sink deeply into the natural world once more.
The sand dunes are one of the highlights of this park. Not only are they amazingly beautiful, but they were also formed in the last ice age, around 100,000 to 10,000 years ago.
While you're in the park, you can enjoy a variety of outdoor activities from horse riding to hiking and cycling along the trails. And keep your eyes out for some of the local wildlife while you're enjoying the outdoors as well as the park is known for its beavers, butterflies, buzzards, and bats as well as its varied plant life.
Where to Stay Near De Maasduinen National Park
You can't get any closer to the national park than when you stay at this lovely little bungalow. Suitable for two guests, it's within 500 meters walk of the park and has a large, private garden with lots of outdoor seating. The bungalow is furnished with high-quality materials to help you feel pampered during your stay and There's also a driveway where you can park your car.
Texel National Park
Size: 17 square miles (43 sq km)
Location: Texel Island
Cost of Entrance: Free
Located a short distance from Den Helder and across the Wadden Sea, this island is a true gem if you're looking for one of the beachy Netherlands' national parks. More than a quarter of the island consists of the Dunes of Texel National Park and it's great for a weekend trip if you're the outdoors type.
The island is known mostly for its outdoor activities. The cycle and hiking paths are first-rate and will take you past valleys, marshes, woodland, and dunes. You can even go horse riding on some of the paths if you'd prefer a more exciting way to explore.
While you're walking, hiking, or cycling, you should also keep your eyes open for the island's unique flora. The plant life on the island varies widely across the different environments, from marram grass around the dunes to rarer plants like early marsh orchids and Parnassus in the dune slacks.
The island is also home to a huge variety of different bird species and is a refuge for seals and porpoises. You should also take the time to visit the park's visitor center, where you'll find a dune park, bird sanctuary, and a museum where you can get up close and personal with some of the island's wilder residents.
Where to Stay Near Texel National Park
This lovely cottage is suitable for up to four guests and has some real rustic charm, with a fireplace and lots of stone and wood furnishings. It's also perfectly positioned within walking distance of the beach and of the center of Koog, where you can get everything you'll need for your stay.
Have you sorted your accommodation yet?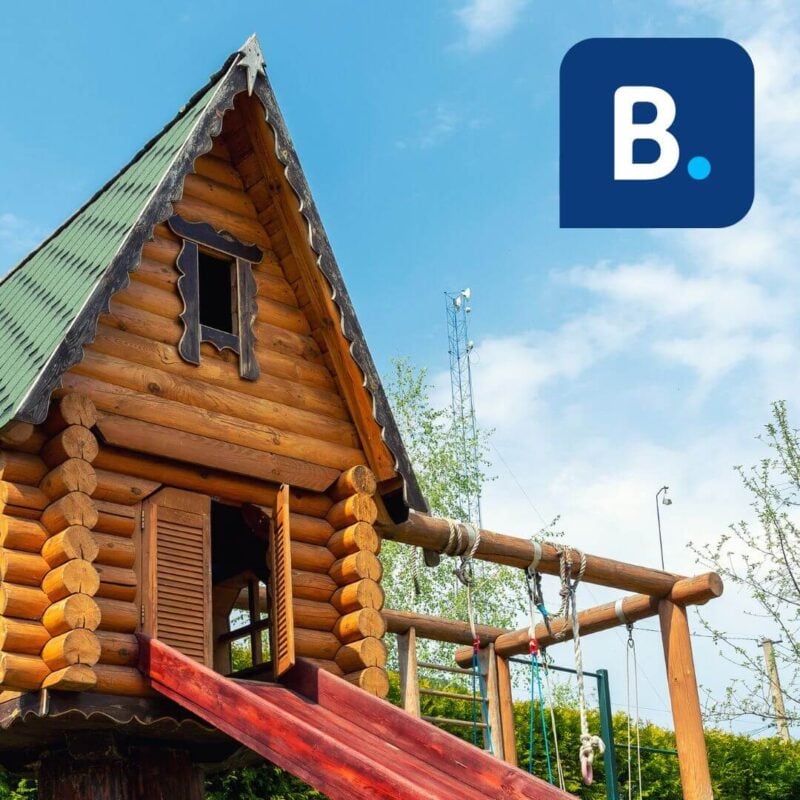 Get 15% OFF when you book through our link — and support the site you love so dearly 😉
Booking.com is quickly becoming our go-to for accommodation. From cheap hostels to stylish homestays and nice hotels, they've got it all!
View on Booking.com
Lauwersmeer National Park
Size: 60 km²
Location: Friesland and Groningen provinces
Cost of Entrance: Free
There are two main reasons why we recommend you visit Lauwersmeer National Park. The first is the bird life. Lauwersmeer is home to over 100 species of birds and is also an amazing place to enjoy spring and autumn bird migrations. If you're on the island in autumn and spring, then watching the barnacle geese sail across the sky is one of the best things to do in the Netherlands national park.
The park is also a breeding ground for bird species like bearded reedlings, bluethroats, red-necked phalaropes, and Montagu's harriers. If you're a birdwatcher, then you can enjoy watching the bird migrations from one of the special huts that have been built on the grounds.
The second reason why you should visit the park is the stargazing. Lauwersmeer is a designated Dark Sky Park, where there is little light pollution, so the views at night are some of the most beautiful that you'll ever see and are worth the trip on their own! Be sure to pack your binoculars.
If you're still looking for more at this park, then you can enjoy walking or cycling over beautiful, sprawling meadows, looking for wild Konik horses and highland cattle, and marveling at meadows strewn with orchids.
Where to Stay Near Lauwersmeer National Park
The best thing about this holiday chalet is the view. You can spend your time just relaxing in your private space and looking over the lake, watching the view change from moment to moment. The chalet has space for up to four guests as well as a fully equipped kitchen. It's also close to some great local restaurants, so you'll never go hungry!
Drentsche Aa National Park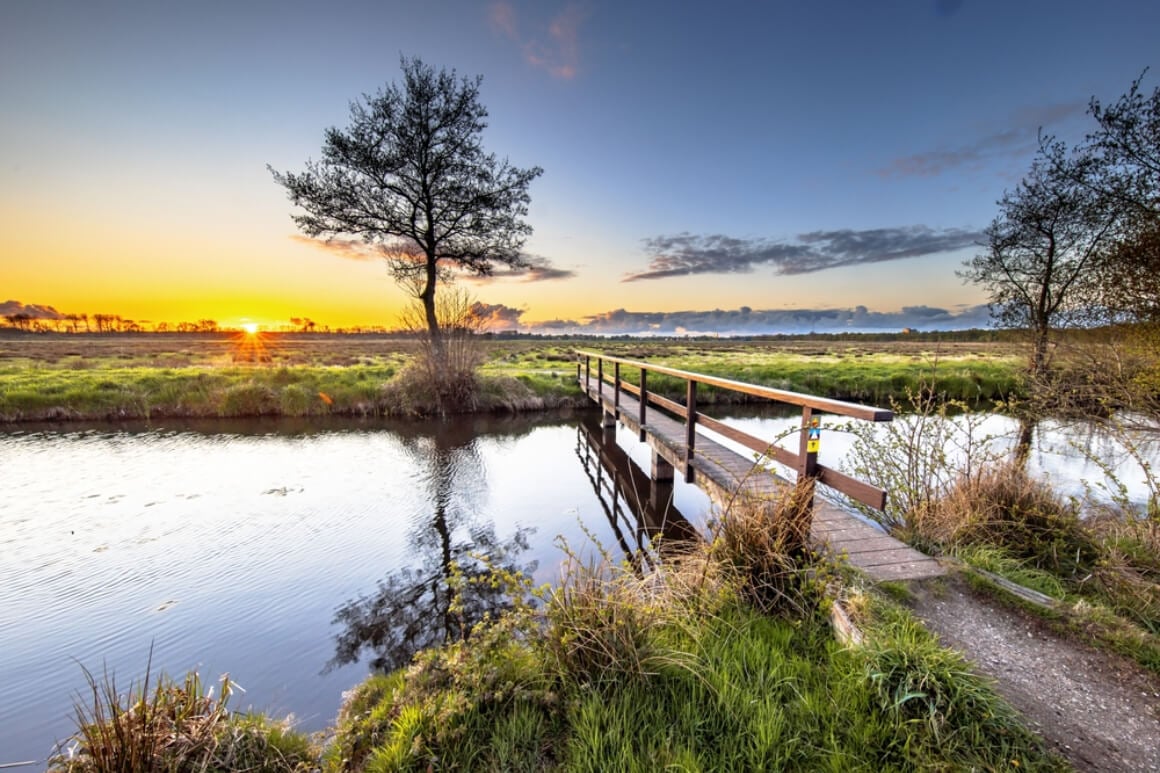 Size: 10600 ha
Location: Drenthe province
Cost of Entrance: Free
Located between the cities of Gieten, Assen, and Glimmen, this park is a stream valley landscape and was created by nature and people. This is one of the more unusual of the Netherlands' national parks as it contains farmland and even a residential area. When the national parks were set up in the Netherlands, this park had to be handled differently so that it could keep its unique composition.
Around one-third of the park is a natural reserve, which doesn't sound like much until you realize that the park itself covers more than 10,000 hectares. In the park, you'll find lots of interesting prehistoric remains such as burial mounds, where you can explore the history of the park and how it interacted with early humans. The park is also home to several dolmens, which are megalithic tombs that are usually found in France and Britain.
One of the top activities in Drentsche Aa National Park is to visit one of the esdorpen communities. These are small villages in the traditional sense of the word, with old farmhouses and churches set out around a village green and the obligatory windmill somewhere close. Seeing these villages is quite literally like being thrown back into the past and an experience not to be missed.
If you're more interested in the natural features, then you'll love the serene landscape, replete with forests, sand lakes, heath, and fens. The park also has great hiking and cycling, and these are the best way to see the park.
Where to Stay Near Drentsche Aa National Park
Want to feel as if you're back in the olden days times without having to live without indoor plumbing? Then you'll love this nostalgic cottage in the woods. It was built in 1916 but was renovated in 2012 to include all modern amenities. It's located on a private estate where you'll get lots of peace and quiet and just a few meters from the forest, near great cycling and hiking areas.
Veluwezoom National Park
Size: 50 square kilometers
Location: Gelderland province
Cost of Entrance: Free
This is the oldest of the Netherlands' national parks and was first established back in 1931. It's one of the hilliest parks in the country and rises up to 110 meters at the tallest point, which are peaks that date back around 150,000 years. This makes some of the views in the park simply stunning.
During your visit, you absolutely must head up to the Posbank, which is 90 meters above most of the park. The view of the purple flowers among the heather in the park is really beautiful and will probably be a high point of your visit.
If you're the active type, then you'll enjoy the park's outdoor activities. So, make sure that you take the chance to hike some of the roads and paths or move a little faster and explore on the back of a horse or bike!
One of the top sites in the park is the wildlife, particularly the red deer. The red deer mating season is between September and October and watching the males roar to impress females is unmissable. In most cases, there is no best time to visit national parks in the Netherlands, but if you want to see the red deer mating season, then you'll need to time your visit properly.
You should also take the time to explore the southern part of the park outside of Arnhem, where you'll find grand country houses and huge estates along with historical country houses and parks. If you have the time to explore this area, then make sure that you see Heuven and Rhereroord in particular.
Where to Stay Near Veluwezoom National Park
Want to get completely away from the modern world during your stay? Then why not try this quirky hideaway? With one bedroom and one bathroom, it's suitable for two guests, and it's located right in a private forest – so close to nature that you'll probably get to see animals pass by while you're sitting on your sofa. The home was personally designed to blend into the forest and has central heating and other modern luxuries.
Utrechtse Heuvelrug National Park
Size: 100 km²
Location: Utrecht province
Cost of Entrance: Free
This park is located right in the center of the Netherlands, making it really convenient if you're exploring the country, and for the locals. It has high environmental value and is a popular spot for locals who need a brief break and want to explore the diverse countryside and culture.
This is a beautifully scenic park that boasts the second-largest forest in the Netherlands and parts of the forest are evocative of ancient, post-glacial forests. This gives them an eerie atmosphere that makes the forest seem much older than you might expect.
Once you move from the forest into the west, you'll find sweeping meadows and heaths punctuated by beautiful lakes. You can explore the lake on horseback or go cycling or hiking, and while you do it, make sure that you keep your eyes open for the park's foxes, deer, birds of prey, and prey birds.
If you have a little extra time when you're visiting Utrechtse Heuvelrug National Park, then why not experience more of the area's history? Nearby, you'll find old farming buildings as well as Huis Doorn, where Kaiser Wilhelm II lived from 1919 to 1941.
Where to Stay Near Utrechtse Heuvelrug National Park
This quiet, peaceful home is located in Doorn, which is right in the middle of the national park and the Netherlands as a whole. It's a garden home that sleeps two people and is close to several popular local hiking trails, including the Trekvogelpad. The inside is spacious with a fully equipped kitchen and bathroom and a private garden and veranda where you can enjoy the sun and the greenery all around you.
Final Thoughts
The national parks in the Netherlands are truly not to be missed. They're beautiful, huge, and home to some of the country's best plants and wildlife, so make sure that you check them out if you enjoy spending time in nature.
If you want the ideal combination of activities, wildlife, and lush plant life, then Alde Feanen National Park absolutely must be on your travel list. Spending time in this park will leave you in awe at just how beautiful nature can be and will encourage you to relax and spend your time in alignment with the natural rhythms around you. So, make sure you enjoy it!
---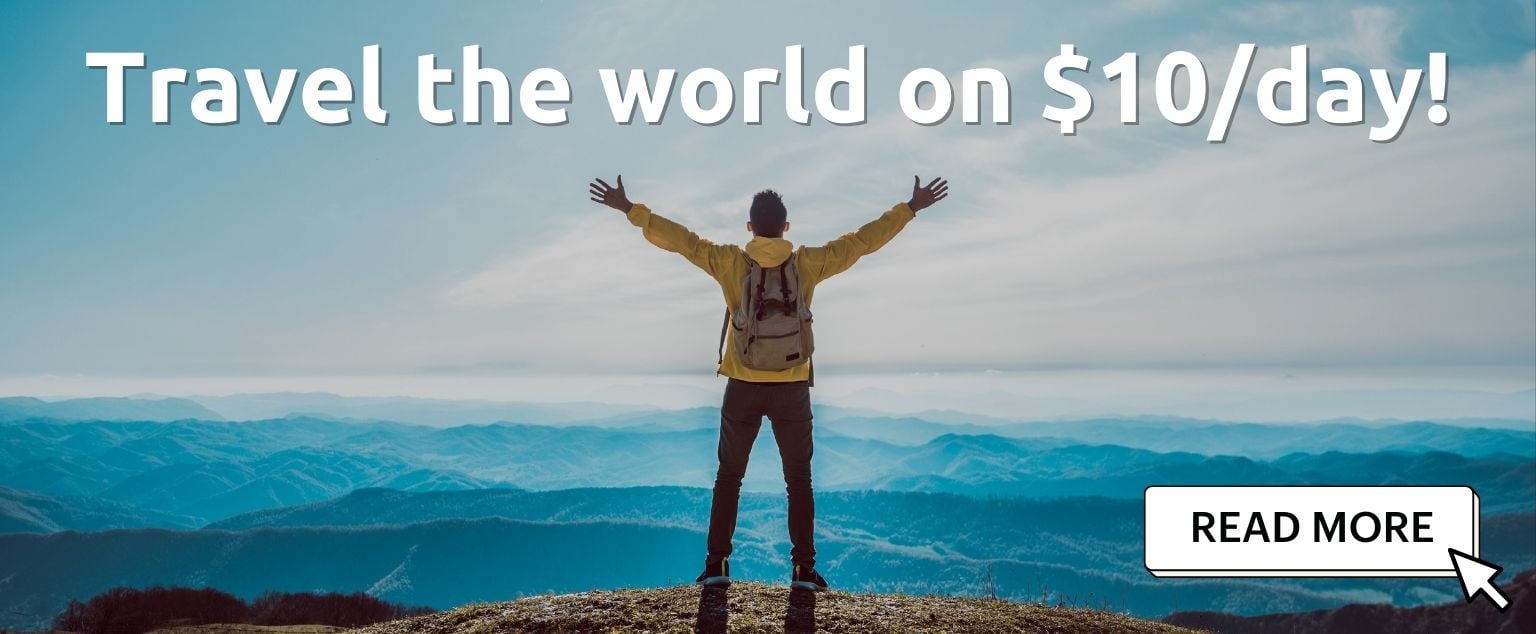 And for transparency's sake, please know that some of the links in our content are affiliate links. That means that if you book your accommodation, buy your gear, or sort your insurance through our link, we earn a small commission (at no extra cost to you). That said, we only link to the gear we trust and never recommend services we don't believe are up to scratch. Again, thank you!