Getting a bit bored of your life at home? Wish there were more things to do in your local area? Looking for a better work/life balance? Sometimes you just need to go for something a bit different to keep life fresh and exciting. Moving abroad might seem drastic, but for many people, it's exactly what they need.
Amsterdam is a fantastic city to move to if you're looking to change things up. This eclectic metropolis throngs with creative events, vibrant nightlife, and hip meet-up spots. The city is constantly changing, so you'll never run out of new things to discover.
We certainly won't sugarcoat it though – moving abroad isn't easy. You have to take care of visas, finding a job, and creating a budget. Thankfully we can help you with the latter. In this post, we'll take you through a breakdown of the cost of living in Amsterdam to help get things moving.

Do You Want to Travel FOREVER??
Pop your email in below to get a FREE copy of 'How to Travel the World on $10 a Day!'.
Why Move to Amsterdam?
Amsterdam is a massive transport hub in the heart of Western Europe. Millions of tourists pass through its airport every year – and a big chunk of them opt to spend some time in the city. With fascinating museums, quaint canals, and a progressive spirit it's no wonder it's the top of many people's bucket lists. There's also a wealth of amazing day trips from Amsterdam to take too. But what's it like to actually live there?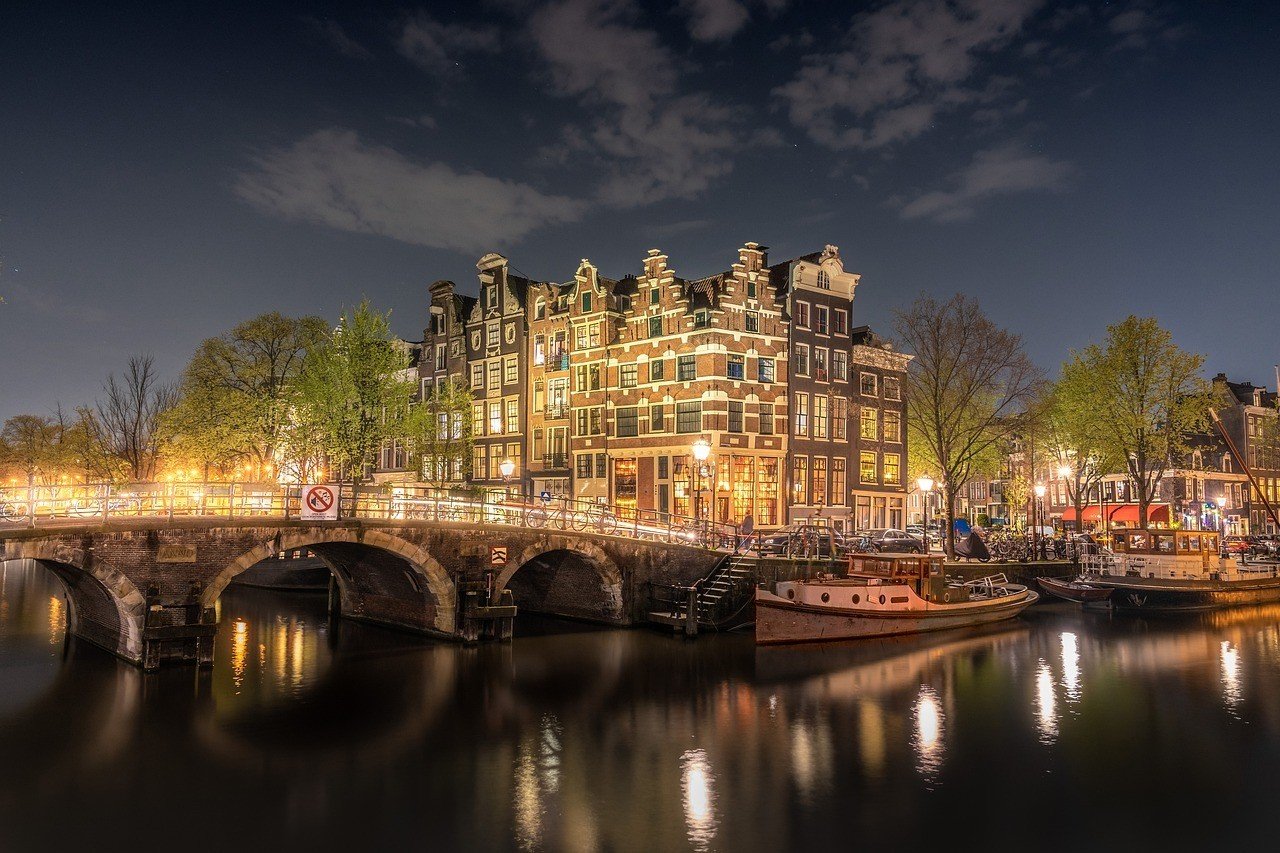 That progressive spirit has turned Amsterdam into a creative hub in the Netherlands. People enjoy an excellent work/life balance, with lots of events happening across the city each week. The fantastic public transport and active travel options make it really easy to get around, whilst the central train station is perfect for those wanting to explore the rest of Europe.
On the other hand…it really depends on what you want out of a destination! Amsterdam isn't known for having great weather, and the high taxes may come as a shock to some people. This may take some getting used to, but it's all part of the package and the welfare system is booming as a result. You'll need to balance out the pros and cons before making up your mind about moving there.
Cost of Living in Amsterdam Summary
Might as well get the bad news out of the way – Amsterdam is an expensive city! It should come as no surprise that it's the most expensive place to live in the Netherlands – but even by Western European standards, the cost of living is sky-high. Despite that, citizens also enjoy an excellent quality of life.
In general, the cost of living will fluctuate depending on your lifestyle. Rent is high across the board – but what about eating out? You can save a lot of money by cooking your own meals at home, but this also means you miss out on an important aspect of local culture. It's all about getting that balance right.
The table below gives a breakdown of some of the most common costs associated with living in Amsterdam. We've gathered user data from a variety of sources to give you average costs across the city.
Cost of Living in Amsterdam

| Expense | $ Cost |
| --- | --- |
| Rent (Private Room vs Luxury Villa) | $1000 – $5000 |
| Electricity | $100 |
| Water | $30 |
| Mobile Phone | $30 |
| Gas (gallon) | $7.75 |
| Internet | $57 |
| Eating Out | $12 – $130 |
| Groceries | $150 |
| Housekeeper (Less than 10 hours) | $190 |
| Car or Scooter Rental | $430 (Scooter) – $1000 (Car) |
| Gym Membership | $55 |
| TOTAL | $2054+ |
What It Costs to Live in Amsterdam – The Nitty Gritty
The table above goes over some of the most common costs involved with living in Amsterdam – but that isn't the entire story. Let's take a closer look at all of the costs involved with moving to the city.
Rent in Amsterdam
Rent will definitely be your biggest expense – but that's usually the case wherever you are in the world. Nevertheless, rent in Amsterdam can easily exceed more than half of your income, so you'll need to budget effectively. There are a few ways you can lower the costs.
Your chosen living arrangement will have the biggest impact on how much you spend on rent. Renting a room in a shared apartment is really common in the city, especially amongst young people in the city centre. It's also an excellent way to get to know new people. If you really don't want to compromise on location, then sharing is your best chance to avoid sky-high rents.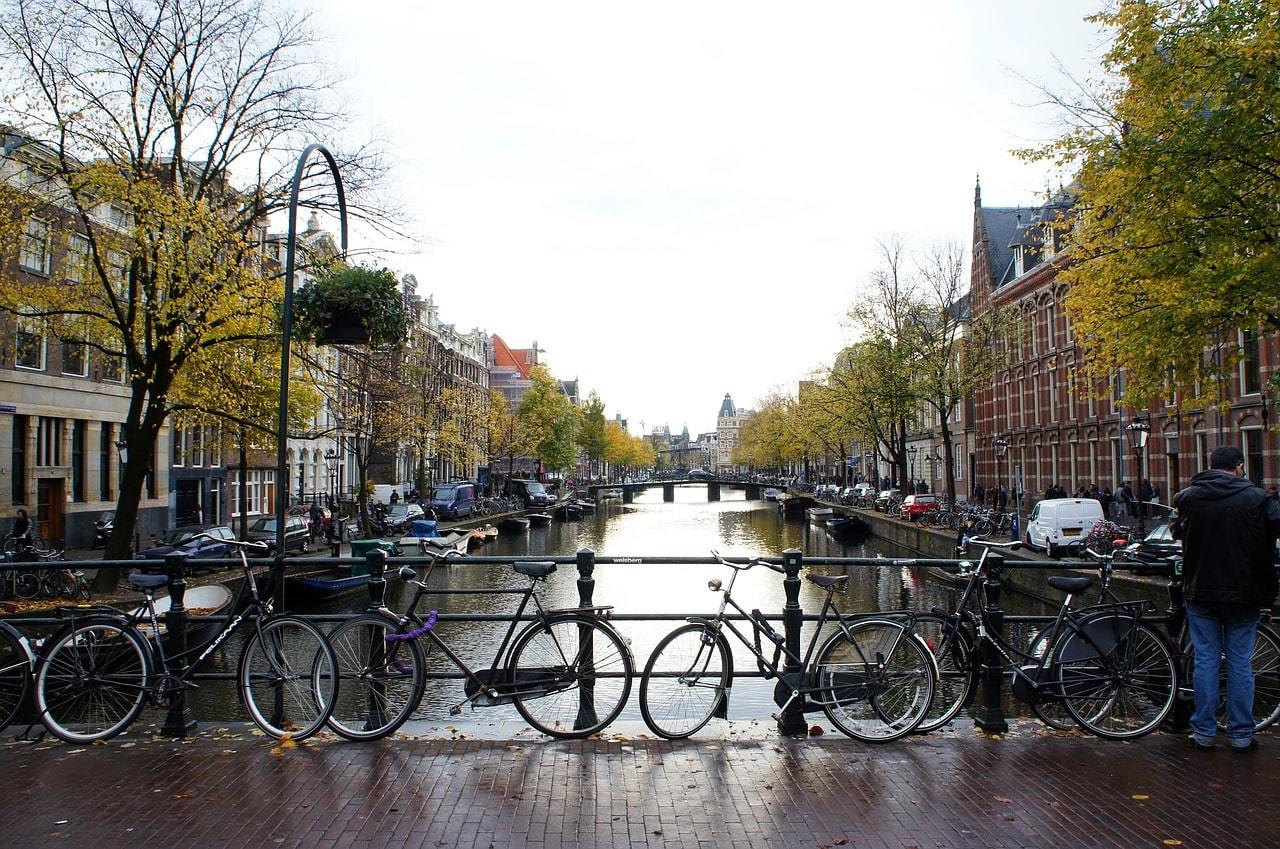 On the other hand, families and couples might prefer to have their own apartment. Prices will vary depending on where you live or stay in Amsterdam, but it's usually cheapest in the outer suburbs of the city. Basically everywhere in the Netherlands is within an hour of Amsterdam by train, but you don't have to go to the other side of the country for decent rent. Take a look at prices north of the IJ in particular which are normally considerably cheaper. These neighborhoods also have regular ferry connections to the city center.
Finding an apartment in Amsterdam can take some time. There is a huge social housing stock in the city that is reserved for Dutch citizens. Private rentals, on the other hand, only account for around 5-10% of all properties in the city. You'll need to have some patience. Funda is the best website as most letting agents list their properties there.
Room in a flatshare in Amsterdam – $1000-1500
Private apartment in Amsterdam – $1500-3000
Luxury apartment in Amsterdam – $2000-5000
You'll need to be prepared for finding an apartment to take a while. To take some of the pressure off it's worthwhile booking an Airbnb in Amsterdam for a couple of months until you have everything sorted. This way you get to live like a local without having to worry about getting a lease straight away. Accommodation isn't cheap, so staying in a hostel is another good option.
Amsterdam charges taxes for both property owners and tenants. You'll have to pay 0.1293% of the listed value of the property in local taxation. It's uncommon for utilities to be included with the rental but this still occurs occasionally. Always check the terms of the lease before signing. We know it can be tempting to take the first thing that comes along, but sometimes it pays to just wait a little bit longer.
Need a Crash Pad in Amsterdam?
Need a Crash Pad in Amsterdam?
Home Short Term Rental in Amsterdam
This fully furnished apartment sits centrally in the Jordaan neighborhood. It's the ideal place to base yourself temporarily while you gather your bearings in Amsterdam.
Transport in Amsterdam
Amsterdam has one of the best public transport systems in the world. It consists of buses, trams, metropolitan light railways, and even ferries! The metro system radiates from the city centre in four directions – although it's not as commonly used as the tram system. You can get a tram pretty much anywhere in the city. You'll need to get an OV-chipkaart (public transport card) when you arrive.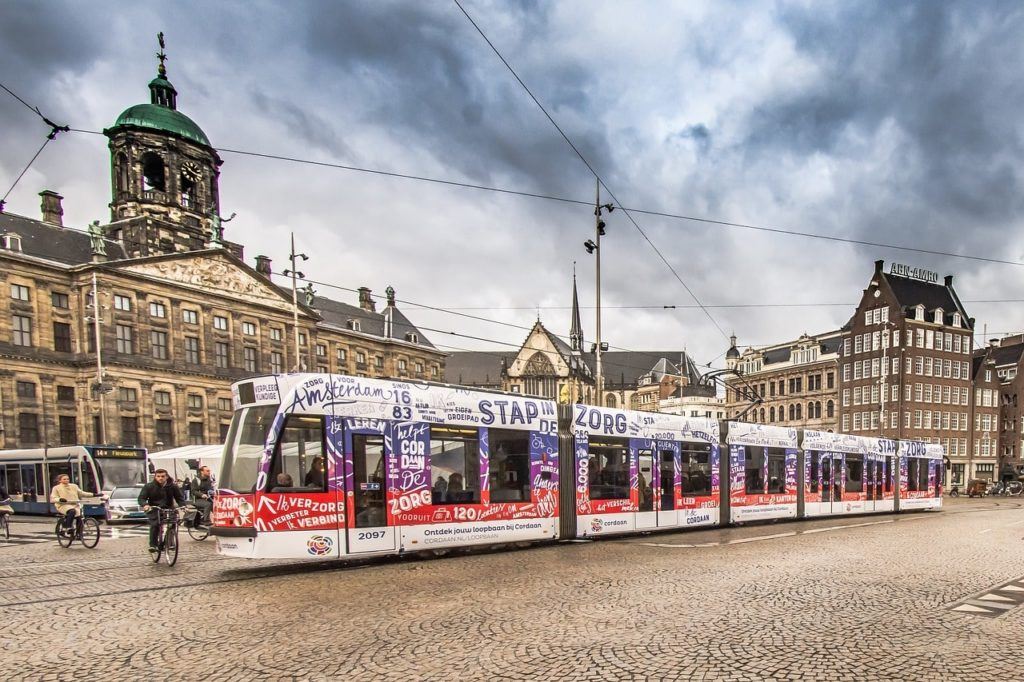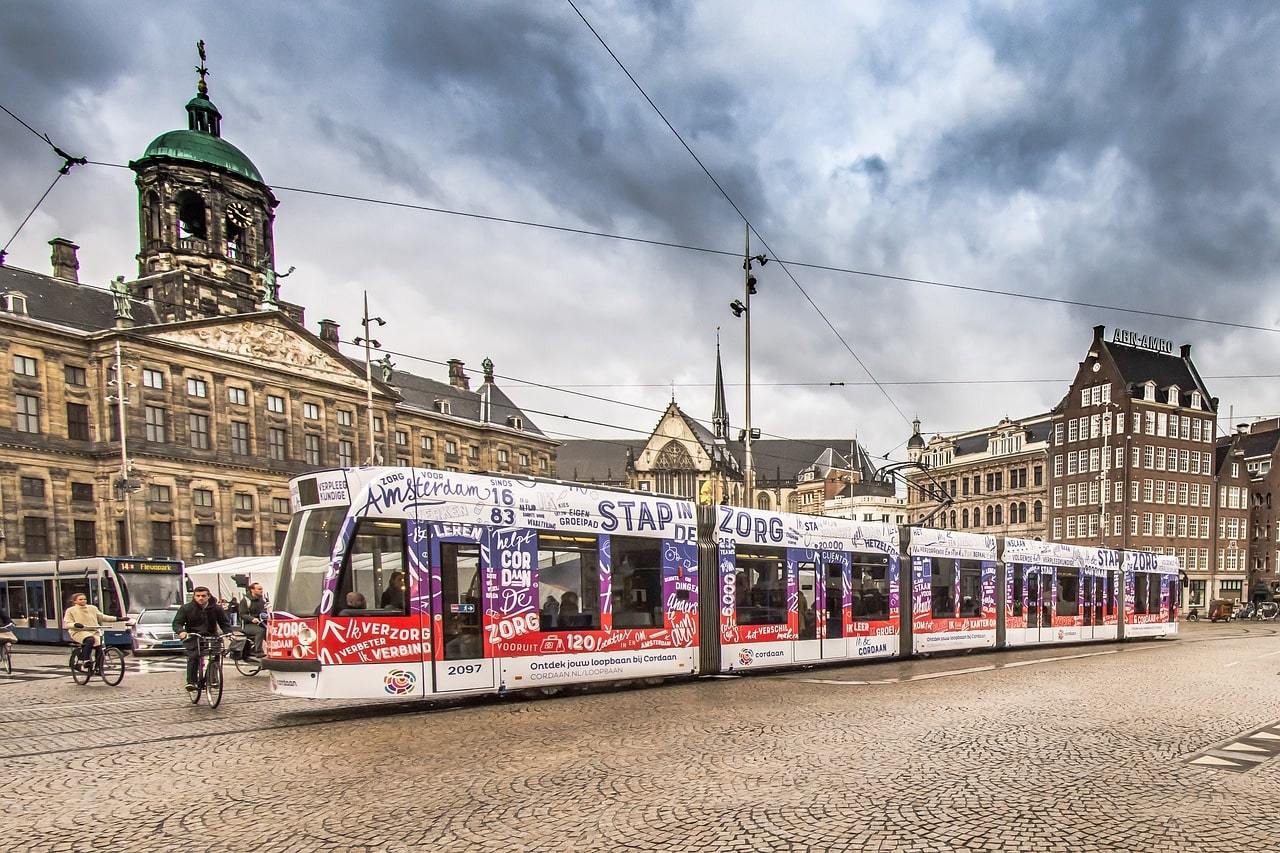 Amsterdam is big on active travel so you'll find a substantial portion of the population opting to cycle or walk to where they need to be. There are bike hire shops all over the city but it's also pretty inexpensive to buy one. Most locals pick up a second hand bike and fix it up themselves.
Driving really isn't very common in Amsterdam. The city is centred around canals and public transport, so getting around with a car is difficult. The train network provides fast connections across the Netherlands – and even further afield to Belgium, Germany and Luxembourg. For the cost of buying (or renting) a car you're better off just getting the tram.
Train (airport to city) – $6.60
Seven day transport pass (with OV-chipkaart) – $45
IJ Ferry – Free!
Food in Amsterdam
The Netherlands is known for its hearty cuisine. Like most of Northern Europe it is very carb-heavy, but no one's complaining. Poffertjes (mini pancakes), Bitterballen (breaded meat stew balls), and fries are all available across the city. The Netherlands is also known for quality ingredients like cheese and cured meats.
When it comes to eating out you'll need to strike a balance. Even the cheapest restaurants can end up breaking the bank. Once or twice a week is common. That said, most people enjoy a coffee every morning and the snack machines are a rite of passage for any expat in Amsterdam. We won't comment too much on certain more infamous types of coffee shops, but they also provide social spaces that are somewhat popular locally – just don't overdo it!
Albert Heijn is easily the most popular supermarket in Amsterdam. You'll find it all over the city – both large supermarkets and smaller metro stores. Spar and Lidl also operate within the country with the latter offering great options for budget shoppers.
Milk (gallon) – $5.10
Cheese (1lb) – $6
Bread (loaf) – $2
Eggs (dozen) – $3.40
Potatoes (1lb) – $0.90
Beef (1lb) – $7.10
Stroopwafels (dozen) – $2
Bitterballen (5, restaurant) – $8
Drinking in Amsterdam
Amsterdam has nightlife to suit every taste. Whether you're into the latest hits or underground techno, you're sure to find something for you in the city. You will need to keep in mind that alcohol is quite expensive at bars. A small beer usually costs around $5.50 but can exceed $8.50 in some parts of the city. Vodka and coke can easily set you back between $7-20. It's really important you drink in moderation as much as possible as this can easily blow your entire budget.
When it comes to water quality, the Netherlands is actually ranked second in Europe. This means the tap water is incredibly high-quality (often better than the 'fancy' bottled water), so you'll want to bring a good water bottle with you. You will be charged an annual water bill based on your usage – but this usually works out around $30/month for an average household.
Why Should You Travel to Amsterdam with a Water Bottle?
Whilst there's a lot that we can do when it comes to traveling responsibly, reducing your plastic consumption is one of the easiest and most impactful things you can do. Don't buy one-use water bottles, don't take plastic shopping bags, and forget straws. All of this just ends up in landfill or in the ocean.
Keeping Busy and Active in Amsterdam
As we mentioned in the transport section, Amsterdam residents are big on active travel. You'll need to buy a bike eventually as it's the easiest way to get around most of the city centre. There are plenty of cycle paths around the city and these usually take priority over motor vehicles. Cycling aside, Amsterdam is super walkable and offers excellent gyms and sports groups.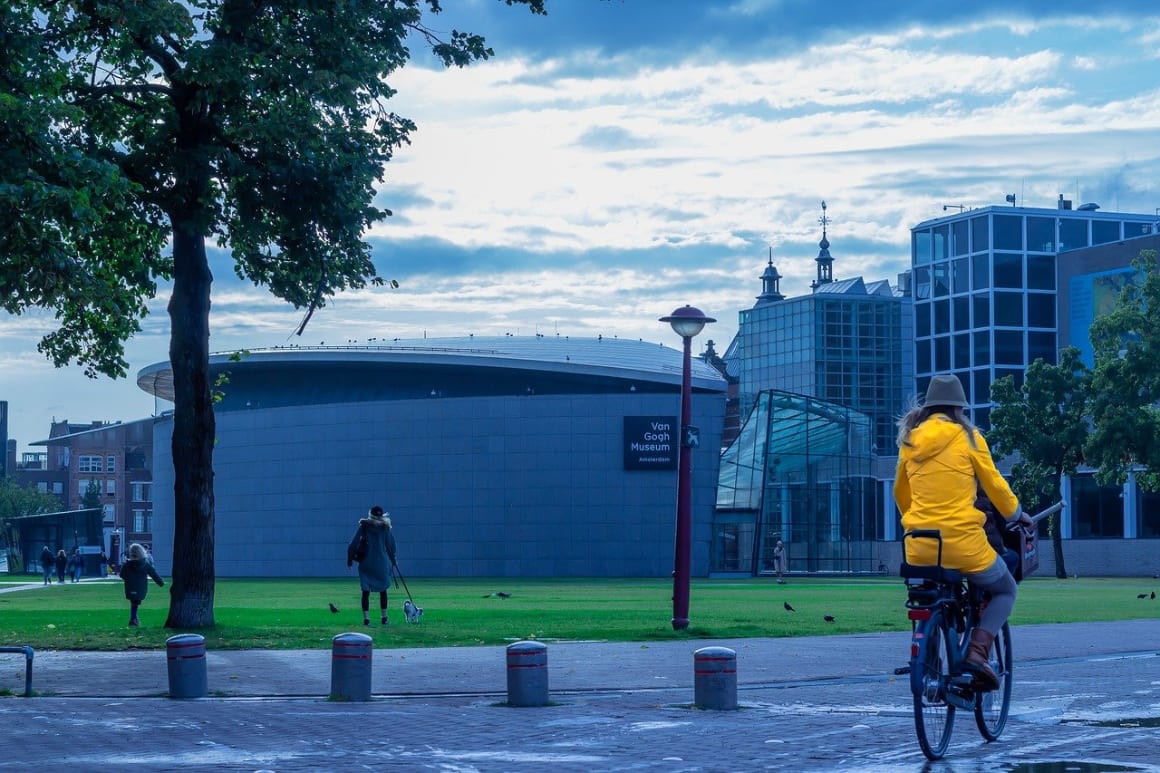 The galleries and museums a big pull for anyone visiting Amsterdam – but they're also equally enjoyed by locals. Amsterdam is a creative city with many different exhibitions, festivals, and performances pretty much daily. Always check the local listings to make sure you're not missing out on something cool.
Gym membership – $55
Sports group – $30
Bike hire (24 hours) – $13
Second hand bike purchase – $150-200
Museum entry – $12-18
Canal boat ride – $30
School in Amsterdam
The Netherlands has an excellent public school system that is open to expats. Most schools provide education in Dutch – which is usually fine for young kids, but can make things a bit difficult for older children who aren't used to the language. The government has recently opened up a few bilingual schools that teach in both Dutch and English – and most of these are located in Amsterdam.
If you're staying in the country for a short time it might be better to enroll your kid in an international school. These offer Dutch, English, American, and a variety of other national qualifications. Some also offer the international baccalaureate, but these schools tend to be more expensive. In the Netherlands, these can easily cost around $40-50k per student per year.
Is This the Best Travel Pack EVER???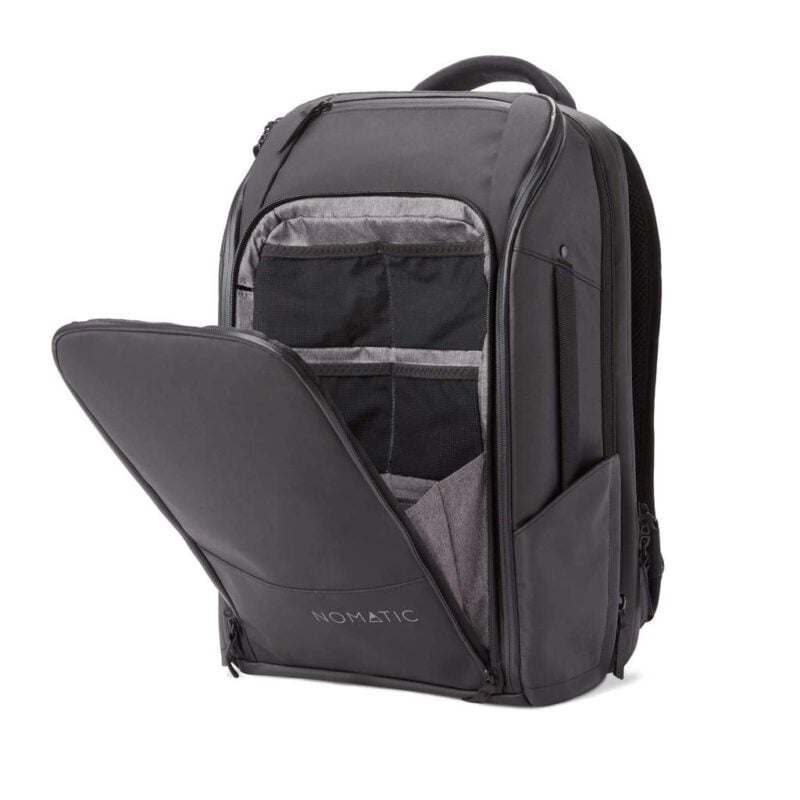 Medical Costs in Amsterdam
Citizens of the Netherlands enjoy one of the best public healthcare systems in Europe. It is managed by the government, however it's still mandatory for people to hold some kind of health insurance when accessing the service. Some people are exempt from the service but most expats earn enough to cover their own insurance. This comes to around $150/month.
You can also opt for private healthcare – but this is pretty expensive and doesn't really give you much more than the state healthcare insurance. For this reason, the vast majority of citizens and expats go for the state option. Anyone who lives in the country is entitled to do so.
The only people exempt from health insurance costs are EHIC card holders from the EU/EEA – but this is only for a short stay. If you plan to live here as a full time resident then you will need to get healthcare insurance.
Want to make sure you're insured from the day you arrive? SafetyWing offers a monthly healthcare plan which covers digital nomads, expats, and long-term travellers. We have been using it ourselves for a while now and find them to provide great value.
Visas in Amsterdam
There are a number of visa options for people that want to live and work in the Netherlands. The most common is the GVVA (Single Permit), which gives you permission to work in the country for five years. In order to obtain this, you'll need to have a job offer and the company will need to prove that they couldn't hire a Dutch/EU citizen in your place.
The easiest visa to obtain (if you have the skills) is the highly skilled migrant permit. The government keeps a record of skills that are scarce in the country – and those with qualifications and experience can then apply for a visa in this category. You'll still need a job in advance but the company doesn't need to prove that they tried to hire a Dutch/EU citizen. Once you've worked for a full year with either this or the GVVA visa you won't need a work permit to continue living in the country.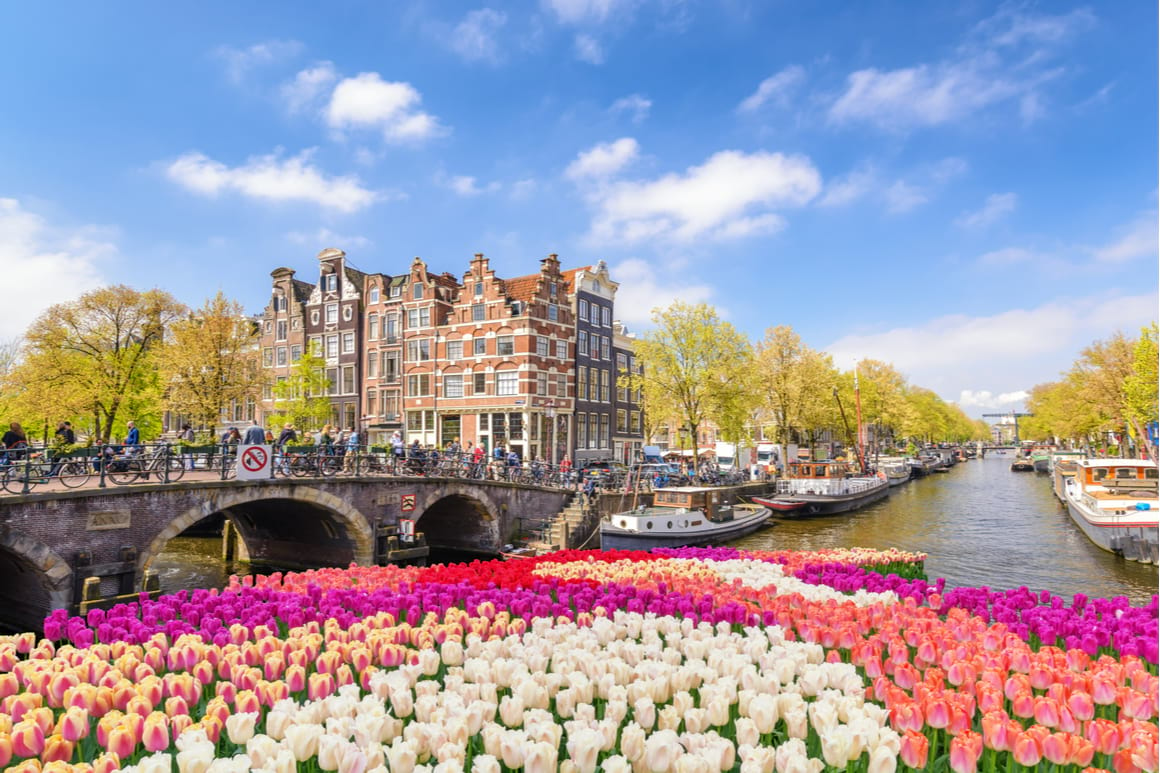 The Netherlands also offers an Orientation Year visa for graduates of the top 150 universities in the world. This gives you a year to find work in the country and can act as a path to citizenship once you have found a job. Beyond this citizens of Australia, Canada, and New Zealand can also apply for a one year working holiday visa – though you will need to find a job within your first six weeks in the country.
Tourist visas are granted under the terms of the Schengen Area. Those from outside the EU/EEA/Switzerland will be able to stay within the entire region for up to 90 days within a 180 day period. Your time starts from midnight on the day you arrive. After your 90 days are up you will have to leave the Schengen Area until the full 180 day period has lapsed.
Banking in Amsterdam
Opening a bank account in the Netherlands is fairly simple. You will need to head into the branch with your BSN (a number given to citizens), passport, proof of address, and residency permit. Once you've got all of this it should only take about half an hour to open your account. You'll need to have money to put in it, but there's usually no charge for keeping the account open.
The most popular banks are ABN AMRO, Radobank and ING. Online banks are also increasing in popularity – with N26 and bunq providing services in English. These are generally comparable to Monzo and Revolut in the UK.
The Netherlands is a highly digitized society so it's important you get a card as soon as possible. Online payments are done through iDeal – an online e-identification system. If you need a bank card to tide you over before your account is opened, Payoneer gives you the option of a pre-loaded Mastercard. You can also use the service to transfer funds to your new account.
Taxes in Amsterdam
The Netherlands have a high level of taxation. There is no tax free allowance so you are charged on everything you earn. Bands start at 36.65% for income lower than €20k, increasing to 51.75% of any income you make over €68.5k. This is one of the highest levels of taxation in Europe – but it also means you get to enjoy fantastic public services.
In many cases, your income tax is withheld from your paycheck by your employer, but there are a few cases where you might need to submit a tax return. As with most countries, the self-employed regularly file their own taxes. You also have to fill out a tax return if you're married, have a mortgage, or want to deduce things like education and healthcare costs.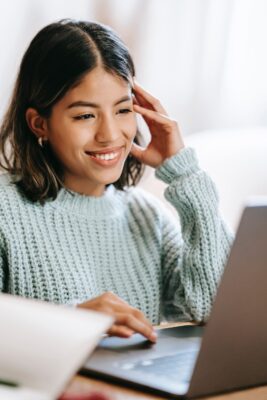 Earn $$$ ONLINE Whilst Travelling the World!
Keen to live the digital nomad dream while travelling the world? Who the hell isn't?
Teaching English online is a surefire method to earn a consistent income on the road. Work from anywhere, change some lives, and earn some dollaridoos while you do it!
Check out this detailed article for everything you need to know to start teaching English online.
It's inevitable that you'll encounter some hidden costs when you move to a new country. Knowing exactly how much you're going to spend is impossible until you're actually living there. That being said, there are a few measures you can take to ensure you're not caught by surprise. We recommend bulking up your budget a little bit to account for these costs – think about how much you would save for a rainy day fund and include it.
Goods and services are pretty expensive across the board so you need to be aware of the costs of replacing these. Things like mobile phones and laptops are around 25% more expensive in the Netherlands than they are in the United States. Keep stock of items you'd need to replace quickly in the event they might break and include their value in your budget.
Flights can also get pretty expensive – especially if you're leaving Europe. Amsterdam Schiphol is served by budget airlines but landing fees keep the prices above levels in similar airports in other countries. You can save some money by crossing the border to Germany – but you'll still need to keep a fund for any emergency trips home.
Insurance for Living in Amsterdam
Amsterdam is really safe. In fact, it was rated the safest city in Europe by the Economist in 2019 – and the fourth safest in the world overall. There's no denying that the city has come on leaps and bounds in the past couple of decades. They have a low crime rating and the lack of traffic makes road accidents pretty uncommon. That being said, you're better safe than sorry, and getting insurance should still be a priority.
SafetyWing covers digital nomads and expats that need health insurance in their new country – but what other kinds of insurance should you get? Contents insurance will protect your belongings at home, and if you do end up driving a car you should insure your vehicle. You don't know what could happen!
Month to month payments, no lock-in contracts, and no itineraries required: that's the exact kind of insurance digital nomads and long-term traveller types need. Cover yo' pretty little self while you live the DREAM!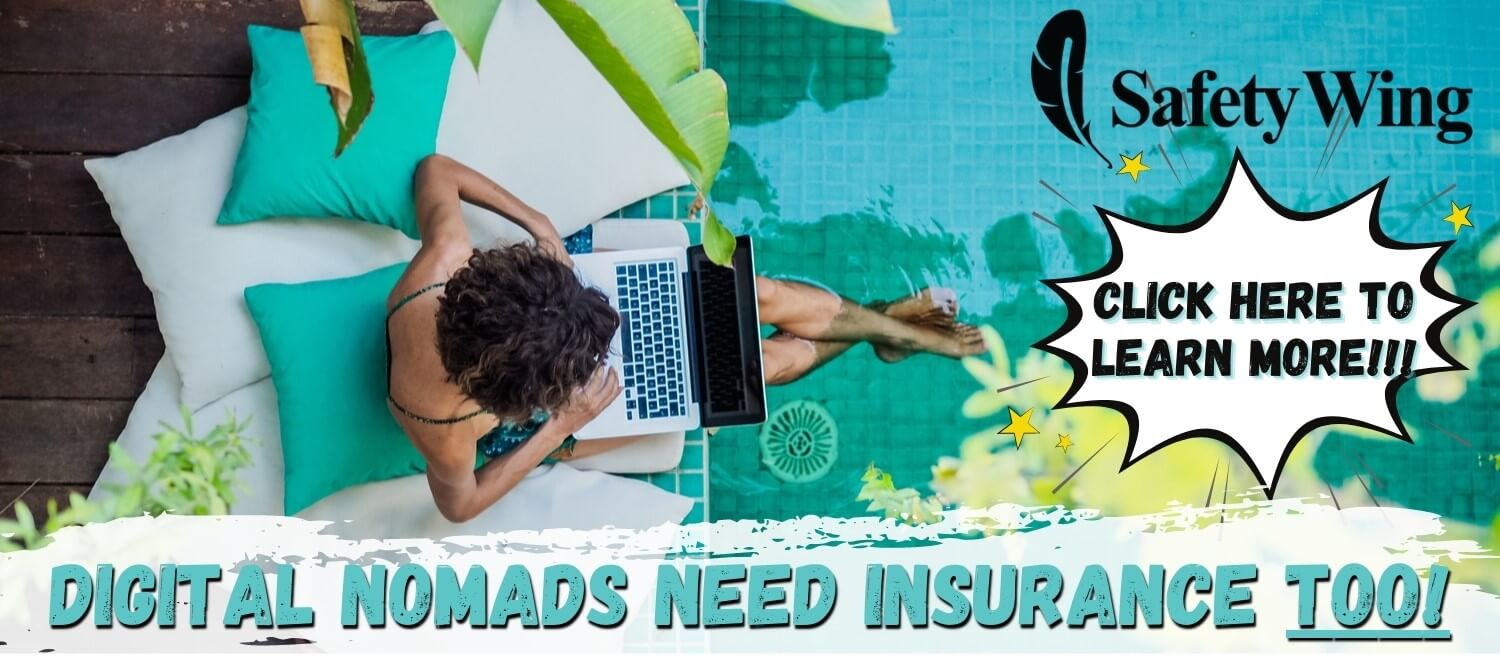 SafetyWing is cheap, easy, and admin-free: just sign up lickety-split so you can get back to work! Click the button below to learn more about SafetyWing's setup or read our insider review for the full tasty scoop.
Moving to Amsterdam – What You Need to Know
So now that we've seen how expensive Amsterdam is, let's take a look at some of the other aspects of living in the city. It might cost you a pretty penny but there are many things about living there that make it totally worth it.
Finding a job in Amsterdam
The Netherlands has a thriving job market and Amsterdam is particularly packed with employment opportunities. Of course, some companies would prefer to hire Dutch/EU citizens due to the visa requirements, but there are plenty of roles where international expertise is preferred. If you're looking for someone to sponsor a visa you'll need to look online.
Nationale Vacature Bank, Linkedin, and Intermediair are the most popular job boards – though the first one only lists jobs in Dutch. If you're looking for English-speaking jobs check out the iamsterdam website which has plenty of listings.
Amsterdam is a creative city so there are always plenty of opportunities in things like graphics, sound production and advertising. The creative industries have their own board with the visa authorities so you can also get yourself a highly skilled migrant permit in this category.
What about those from the EU/EEA or on a working holiday visa? There are some great networking opportunities held across the city on a daily basis. Most applications are still done online but it's worth getting your name out there so your CV stands out from the crowd. It's a thriving jobs market – but it's still competitive.
Where to Live in Amsterdam
Amsterdam is a relatively small city by Western European standards – but it's spread out across a number of canals. Thankfully it is well connected, so even if you don't get much of a say on what neighborhood you end up staying in you'll still get to visit your favorites as many times as you want. Try to keep this in mind during the apartment hunting process.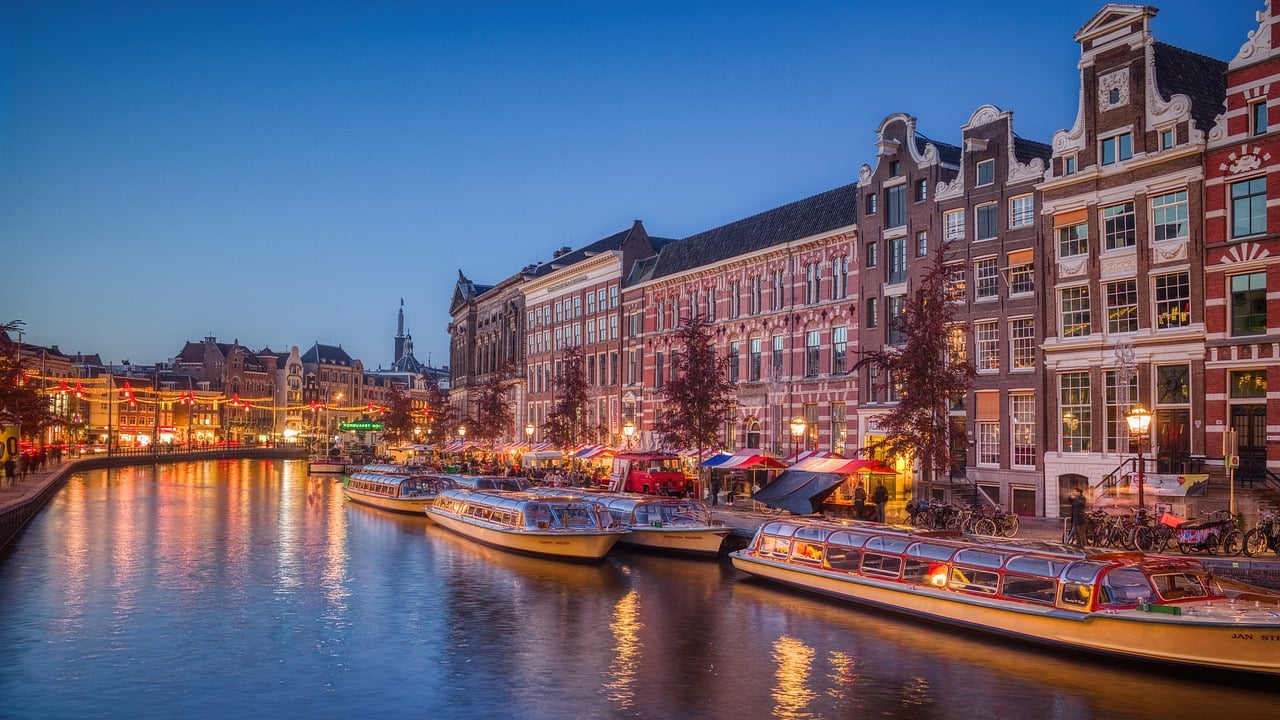 That very process means you probably won't get to choose the neighborhood you stay in. Location is the first thing most people compromise on when it comes to staying in Amsterdam. That being said, if you do have a choice over neighborhoods, it's worth thinking about what each has to offer. Here are four of our favorites.
De Wallen
Right in the heart of the city, De Wallen is one of the oldest neighborhoods in Amsterdam. It's an area of contrasts – with plenty of historic churches and architecture, as well as the infamous Red Light District. Staying in De Wallen means you get to stay right in the heart of the action, with much of the biggest nightlife venues only a short walk away. It's also the best connected part of the city thanks to Centraal station.
History and Nightlife
History and Nightlife
De Wallen
De Wallen paints a classic picture of Amsterdam. It's home to the city's largest Red Light District, so you'll never be too far from top bars and awesome nightlife. During the day, you'll find historical buildings, cafes, and quirky shops to explore.
Jordaan
Jordaan is the hippest neighborhood in Amsterdam. Once the home of the city's working class it is somewhat more gentrified these days. Every square inch of the region oozes hipster cool with modern cafés, independent art galleries, and trendy boutiques. The neighborhood is home to Amsterdam's most radical politics and updated dive bars. This is the perfect pick for younger expats or digital nomads in the Netherlands.
The Coolest Place in Amsterdam
The Coolest Place in Amsterdam
Jordaan
Jordaan is one of the most interesting areas of Amsterdam. Despite being close to the city center, its smalltown vibes make it feel worlds away from everything else. It's the place to come if you love music, art, and thrift stores.
Museumkwartier
As you can probably guess from the name, this is Amsterdam's Museum District. This is the cultural heart of the city and is where you can find the biggest museums – from contemporary art to Van Gogh. It's a pretty touristy neighborhood for obvious reasons – but there are still plenty of locals that call the place home. Restaurants and shops are a little more upmarket here, making it a good option if you want to revel in luxury.
Culture and Luxury
Culture and Luxury
Museumkwartier
This is one of the more upmarket areas of the city due to its world-class museums and huge tourist appeal. It's still a very popular place to live in and is always bustling with things to do.
Eastern Docklands
In the northeast of the city, the Eastern Docklands offer something a little more laid-back than the city centre. This is where the country's maritime history really shines – with a couple of museums going over the city's seafaring past. This is an excellent neighborhood for families with plenty of kids activities and events – including swimming in the IJ! It's also becoming one of the trendiest neighborhoods thanks to all of the warehouse conversions that keep popping up.
Family-Friendly Neighbourhood
Family-Friendly Neighbourhood
Eastern Docklands
The Eastern Docklands area is situated slightly outside the city centre and is a lot quieter as a result. There's still plenty to explore here, but it's not as much of a tourist trap.
Amsterdam Culture
Amsterdam is such an eclectic city that you're sure to find something to cater to your tastes. From underground raves to board game meet-ups, there are plenty of opportunities to connect with locals and expats alike. Whilst locals can seem a little insular to begin with after time you'll find it easy to get to know them.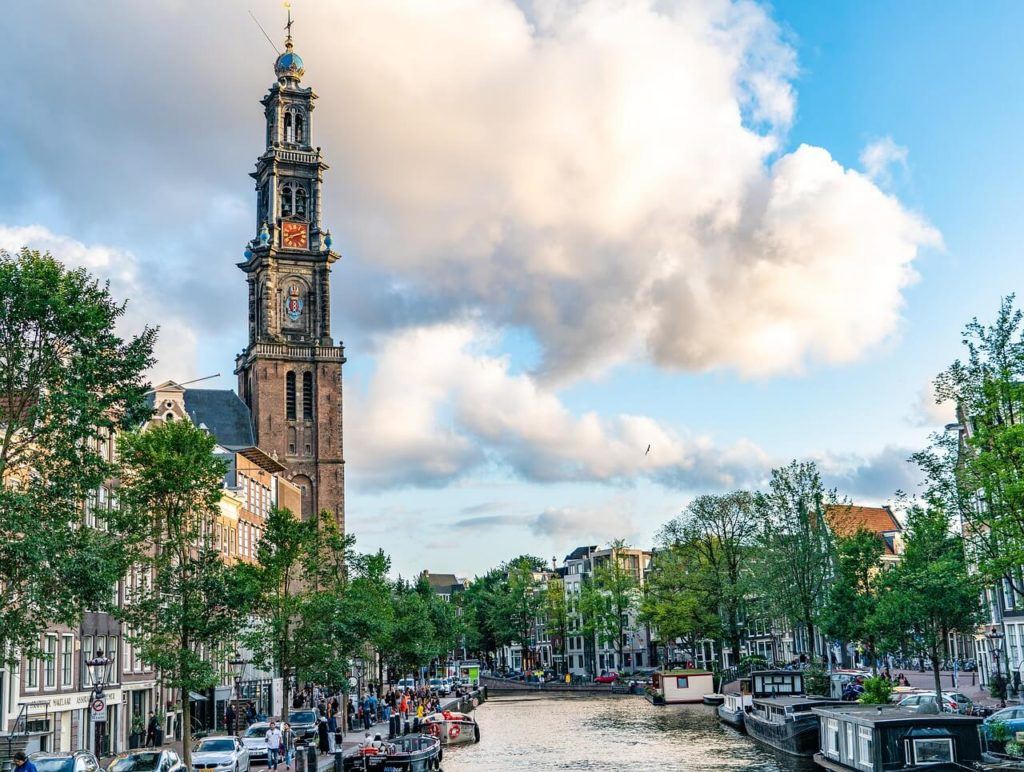 Amsterdam prides itself on having a progressive and creative culture. This goes beyond just legalised cannabis and art galleries. The city tackles its challenges in new ways – whether that involves building canals to fight the sea or coming together to bring massive events to Amsterdam. This is easily the most noticeable part of culture in the city.
Pros and Cons of Moving to Amsterdam
Amsterdam is a vibrant city and there's always something to do – but that doesn't mean it's perfect. Just like with every other major life decision, moving to Amsterdam comes with its pros and cons. It's important to have a realistic idea of what it's like to live in the city before you move there. Here are some of the key points to keep in mind.
Pros
Creative atmosphere – Amsterdam has a long history as a radical and progressive hub – and that has translated into a super creative vibe these days. The art galleries and museums draw tourists from across the world, but for those that live there it's all about those hip boutiques and bustling events. There's always something to do in Amsterdam.
Well connected – Amsterdam is a great spot for traveling further afield on the continent. Amsterdam Schiphol is one of the busiest airports in the world – keeping Europeans connected with Asia, Africa, and the Americas. The train network is also excellent and connects to the networks of all of their neighbors.
Good work/life balance – There's no point in moving to a creative hub if you're going to spend all of your time at work! Thankfully Dutch employers understand the importance of a good work/life balance. When the workday is done you are not expected to continue the work at home, and working hours are tightly regulated. This gives you more time to enjoy the city.
Excellent transport network – The local transport network is second to none and really adds to the work/life balance. You're never more than 30 minutes away from any other part of the city. It's also a haven for cyclists who will find expansive cycle lane networks and affordable facilities. Amsterdam is really easy to get around and it makes life so much less stressful.
Cons
Expensive place to live – There's no denying that Amsterdam is one of the most expensive cities on the continent. Rental rates are through the roof and eating out can take up a substantial part of your budget. If you're earning an income from abroad this is even more noticeable as the Euro is one of the strongest currencies in the world.
Hard to find accommodation – Speaking about high rents – that only becomes a problem once you actually find somewhere to live! Demand outstrips supply when it comes to housing in Amsterdam and it can get really frustrating trying to find somewhere to live. The more requirements you have the harder it will be – so you need to be prepared to compromise a little.
High taxation – Once you're earning a Dutch income the high cost of living won't be as noticeable – but the high taxation will! At 36.65% for the lowest tax band this is one of the most heavily taxed nations in the world. Given you also have to pay for health insurance it's easy to be annoyed at how much you're having to fork out.
Awful weather – People really underestimate just how bad the weather is in the Netherlands. The country fighting against the sea is in a losing battle when it comes to the rain. They experience more rainfall on average than London and the winters are bitterly cold. Make sure you bring enough clothes to keep you warm and dry all year round.
Living as a Digital Nomad in Amsterdam
Amsterdam is pretty expensive so it puts a lot of digital nomads off – but that's really not the entire story. Within the city, you will find thriving remote worker communities, creative coworking spaces, and plenty of events. Once you can get over the price it's really the perfect city for digital nomads to base themselves in.
The city has put a lot of work into attracting the growing digital nomad crowd. Massive investments have been made in the internet and infrastructure to make the city a desirable place to live and work. You might only be able to afford a couple of months, but it's a great stopover point to kick back and recharge.
Internet in Amsterdam
The Netherlands enjoys the highest download speed in Europe! Almost every business and household has fibre optic connection – keeping you connected with the rest of the world. Amsterdam, in particular, has internet access basically everywhere you go. Even the mobile internet is high speed and 5G launched in April 2020.
That being said, staying connected is super expensive. The average household broadband cost is $57 – almost double the price in other parts of the continent. Mobile data is a little bit cheaper but if you want a 5G connection -you'll need to spend around $30. Currently, VodafoneZiggo is the only company offering this level of connectivity.
The Future of the SIM Card is HERE!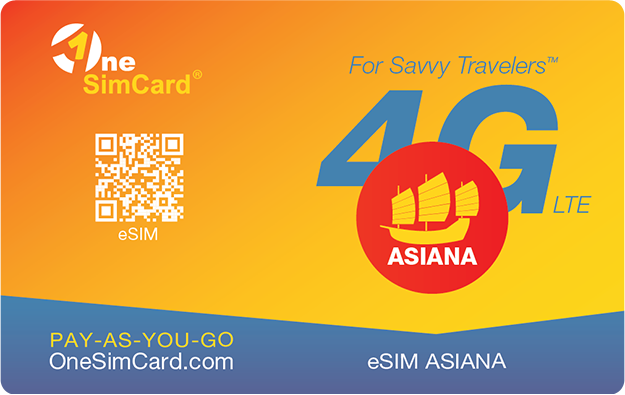 A new country, a new contract, a new piece of plastic – booooring. Instead, buy an eSIM!
An eSIM works just like an app: you buy it, you download it, and BOOM! You're connected. It's just that easy.
Is your phone eSIM ready? Read about how e-Sims work or click below to see one of the top eSIM providers on the market and ditch the plastic.
Buy an eSIM!
Digital Nomad Visas in Amsterdam
The Netherlands has a freelancer visa but it isn't quite as straightforward as Digital Nomad Visas elsewhere in the world. When you apply for a self-employed visa you'll have to submit a full application detailing your experience, qualifications, and business plan (this is required for both freelancers and start-up owners). Your application is then scored by an independent body depending on how useful they believe you will be to the local economy.
This is quite a rigorous visa process – and it isn't even the entire story. You'll already need to have some clients that are based in the Netherlands. It's quite an expensive visa but it permits you to stay in the country for five years – after which you will be able to work under the same terms as citizens. If you get a regular job you'll need to apply for a different type of visa.
Most digital nomads visit the country on a tourist visa. It's a bit of a grey area on whether you can work remotely on this visa or not – but as long as you're working for a company based outside of the EU and receive money in a foreign bank account then you'll be fine. Keep in mind that this visa applies for the entire Schengen Area, so you'll be limited on where you can go to afterwards.
Co-working Spaces in Amsterdam
Amsterdam is a major hub for start-ups and digital nomads – so it makes sense that the city is full of coworking spaces. Jordaan, in particular, is a great area for communal working facilities. Amsterdam has such a big coffee culture that most of these co-working spaces even come with their own café offering third-wave brews.
WeWork is the most popular co-working space but it's also pretty pricey. C&C and Bocca are actually cafés but they cater to the digital nomad crowd with dedicated workspaces and regular events. StartDock is a great option for startups, and Volkshotel gives creative co-workers access to hotel facilities.
Living in Amsterdam – FAQ
Final Thoughts on Amsterdam Living Costs
So, should you move to Amsterdam? It really depends on what you want out of life. It's a fantastic destination if you want to stay somewhere that has regular events, a great work/life balance, and a creative spirit. On the other hand – if weather or low cost of living is a priority, then it's not the place for you. We hope this guide has helped you make up your mind about moving to this charming city in the Netherlands.
---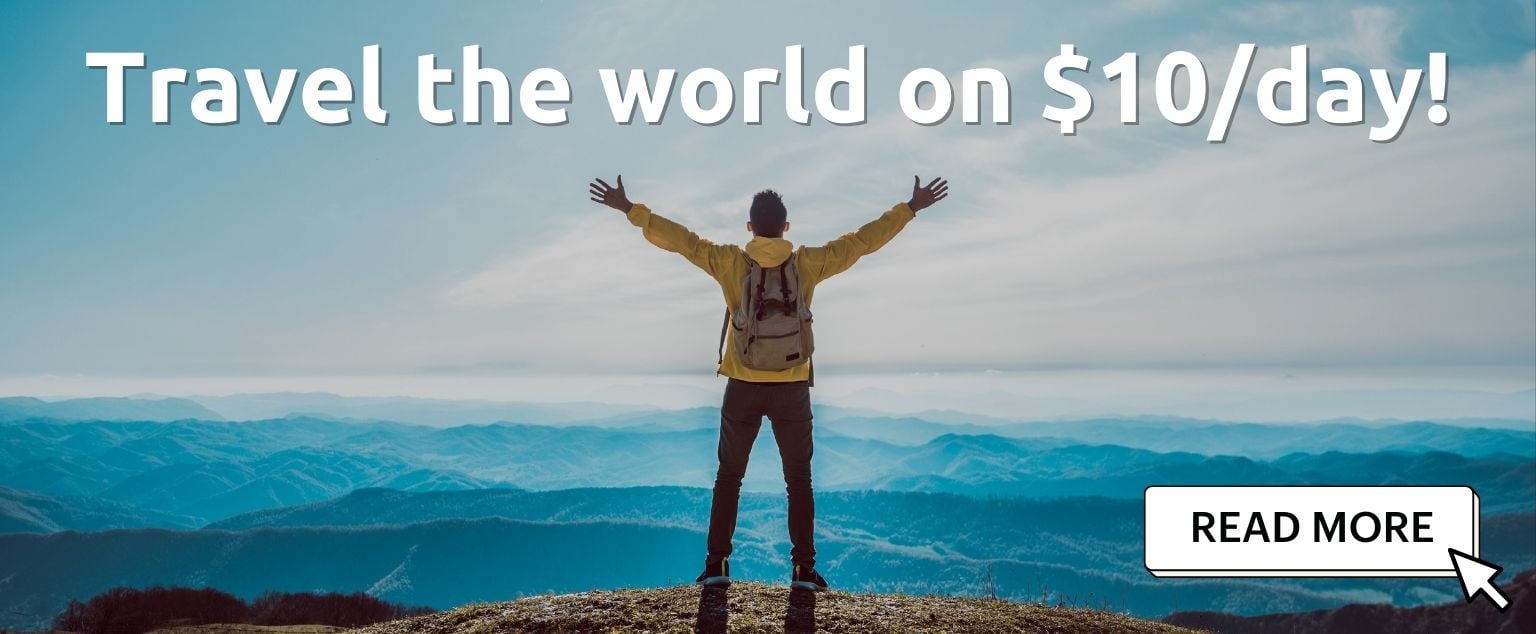 And for transparency's sake, please know that some of the links in our content are affiliate links. That means that if you book your accommodation, buy your gear, or sort your insurance through our link, we earn a small commission (at no extra cost to you). That said, we only link to the gear we trust and never recommend services we don't believe are up to scratch. Again, thank you!