An adventure to Amsterdam is an essential when you're visiting Europe. The city goes well beyond its stereotypes of pop culture. Sure, you can live it up in coffeeshops and go to some *cough, cough* infamous shows, but don't miss out on the best parts of the Dam experience.
Among the magic of this city, the best way to experience it is with your own vacation rental. Live like a local, but enjoy like it's your last night on Earth. 
The local culture embraces the modern world but celebrates Amsterdam's beautiful history. Complex canals, rows of century old buildings and distictive architecture give the city a vibe unlike any other.
Here you have the most bicycle-friendly city; locals move around on two wheels and the best way to explore is to follow suit. Canal side cafe patios are packed with people, and phenomenal museums spread throughout the city.
And don't forget the parks to people-watch. They'd be the best place to people watch (if it wasn't for the red light district). 
By staying in a VRBO in Amsterdam, not only will many attractions be within walking distance, but you will stay in some of the city's oldest buildings. So here's your sign to check out the best vacation rentals in Amsterdam below and have yourself an unforgettable, authentic experience.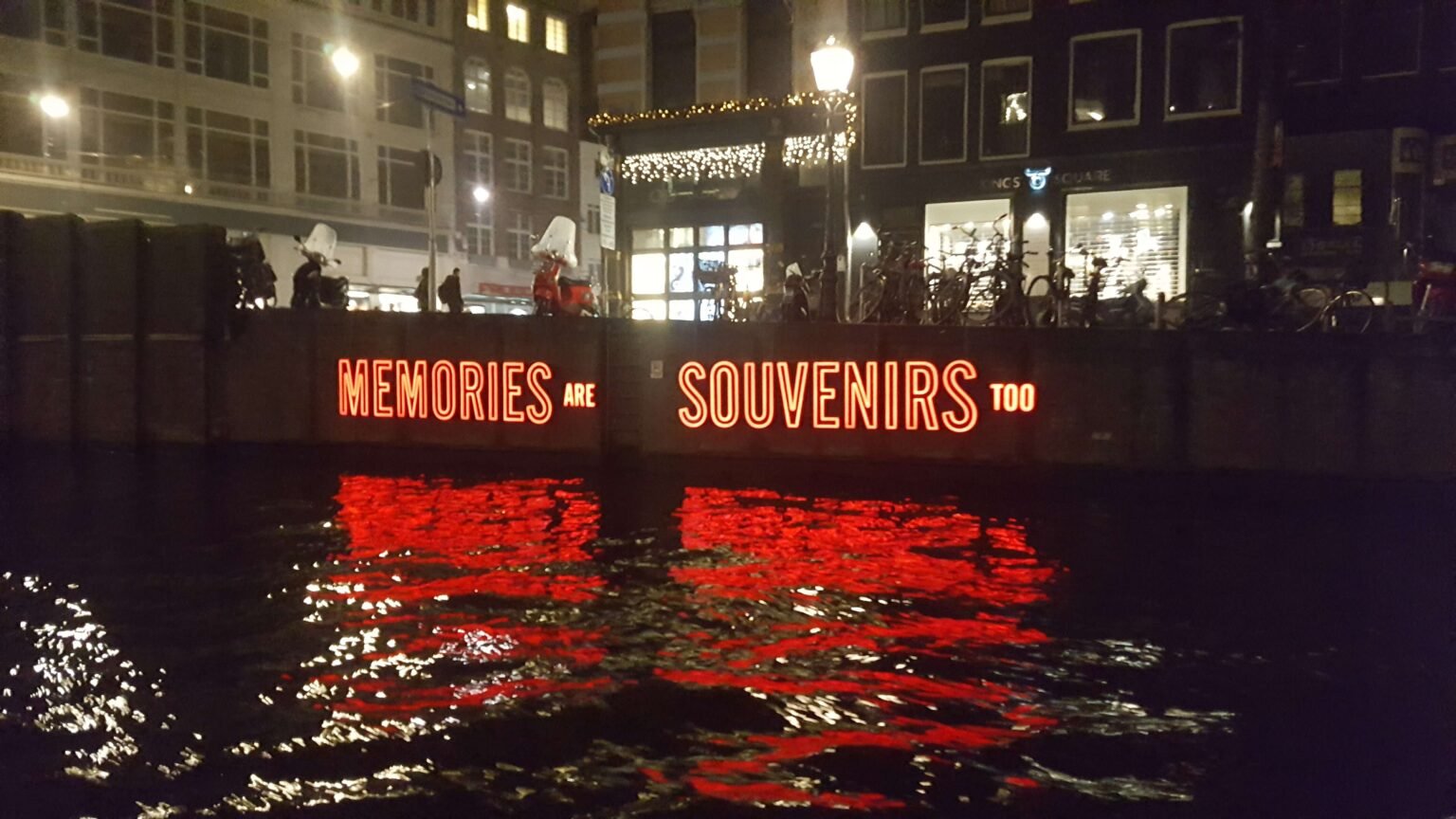 Quick Answer: These are the Top 5 VRBOs in Amsterdam
Overall Best Value VRBO in Amsterdam
Overall Best Value VRBO in Amsterdam
Canal House Apartment
> $$
> 2 Guests
> Courtyard
> Central Amsterdam
Best Budget VRBO in Amsterdam
Best Budget VRBO in Amsterdam
Tiny Studio
> $
> Private garden
> 2 guests
> Connected to Downtown
Best VRBO for Couples in Amsterdam
Best VRBO for Couples in Amsterdam
Canal District Signature Studio
> $$$
> 2 Guests
> Bright & Modern
> King-size bed
Best VRBO for Families in Amsterdam
Best VRBO for Families in Amsterdam
Parkside Home
> $$$$
> 4 guests
> Vondelpark
> Queen bed + twin beds
Over-the-Top Luxury VRBO in Amsterdam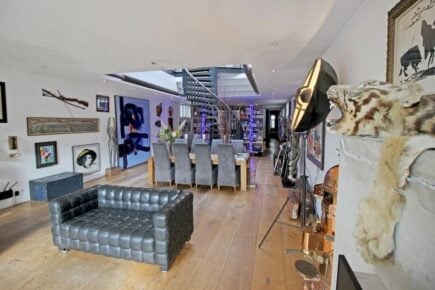 Over-the-Top Luxury VRBO in Amsterdam
Loft Home in City Center
> $$$$$
> 6 Guests
> Butler
> Roof Garden

Unlock Our GREATEST Travel Secrets!
Sign up for our newsletter and get the best travel tips delivered right to your inbox.
What to Expect from VRBOs in Amsterdam
VRBOs in Amsterdam come in all shapes and sizes. In the popular parts of the city, apartments and houseboats are the most common, while homes become more prevalent as you move away from the busy central area.
Budget options can be scarce in the more expensive parts of the city and along the famous canals. However, the majority of budgets will still be able to land you a sweet apartment downtown for your stay, especially if you can split costs between friends. As a minimum, most vacation rentals tend to come with internet access, a full kitchen and flexible check-in.
A trip to Amsterdam isn't exactly famous for being cheap, but through VRBO you can stretch your budget much further. If you want to stay within the walls of a 17th-century building and wake up to the smell of coffee emanating from the cafes below, you can do it with a VRBO vacation rental.
As for those that really want to save a dollar or have a larger group in tow, stay on edge of the city. You can enjoy the windmills that dot the countryside, and it's only a short journey to the heart of the action.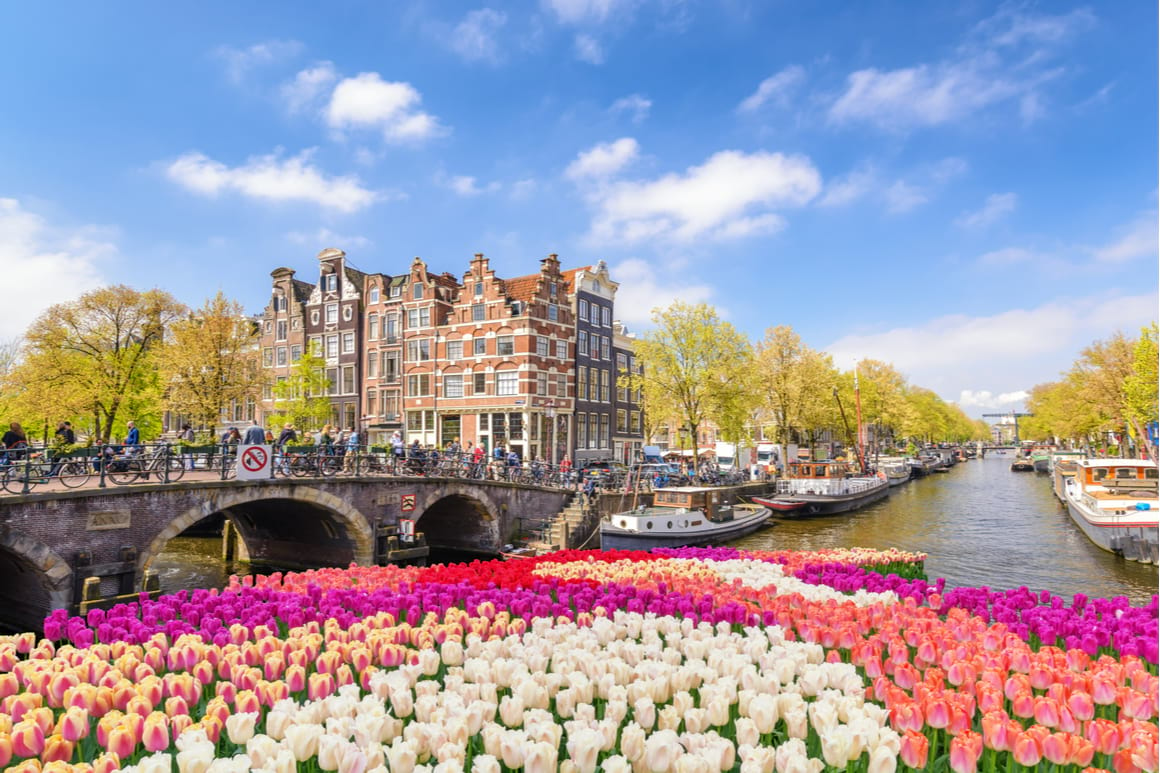 Apartments
The most common option on VRBO throughout the city are apartments. You can grab yourself a slice of the good life, and have a private space all to yourself.
Enjoy a full kitchen spread, your own living space and private bathrooms – it can be a welcome change of pace from the busy Amsterdam hostel environment.
Some apartment rentals have been broken down into studios that allow multiple travelers to check in – don't let that scare you off! You can still find ones that have their own entrances, so that your hideout stays yours.
A lot of the best VRBO apartments in central Amsterdam are along the classic canals. The surrounding colorful buildings have so much history to share. Aside from the interesting architecture and home decor that you may find, you'll also have amazing city views from your window.
Step out the door as if you are a local, and immediately be surrounded by museums, restaurants, and the city's best nightlife.
Boathouses
The 'Venice of the North', is home to over 160 canals. All connected they cover the length over 60 miles (100 kilometres). Along many of these canals you will find houseboat after houseboat, with many locals taking advantage of the city's historic waterways.
Lucky for us, many of them are listed on VRBO. They range in price from moderate to expensive, but it's not hard to see why.
Some of the least expensive houseboats are still very close to the city and provide glamorous views of the skyline. However, they pale in comparison to the houseboats that are docked right in the heart of the city close by to all the best things to do. Either way, expect to enjoy cozy to luxurious studio-style accommodation, and amazing views of the boats rolling by.
For those downtown, you'll have houseboat neighbors so you can get to know others living this unique lifestyle.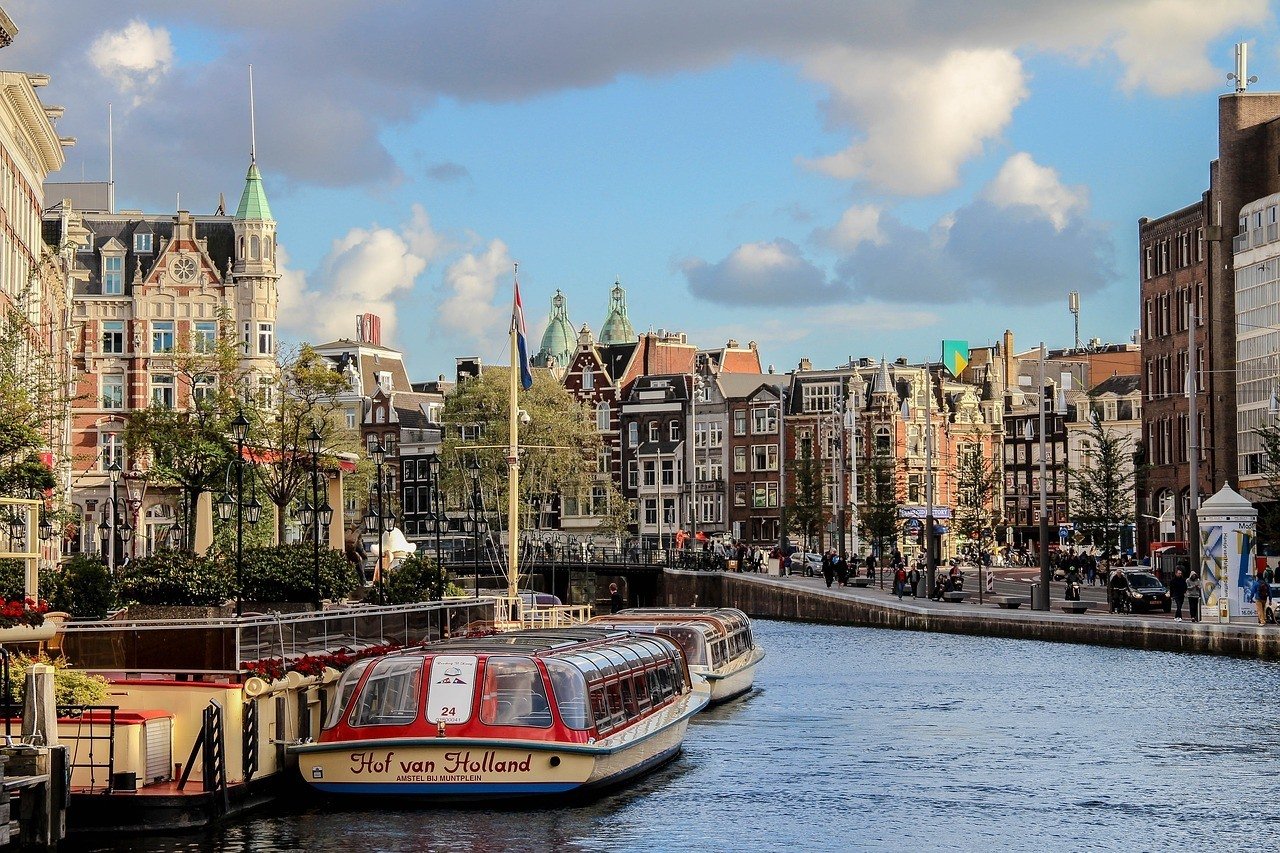 Homes
Homes are a great option for those travelling in a group, or families who need some more space for their young ones. It is certainly possible to snag yourself a spacious downtown VRBO, but sometimes the best places to stay in Amsterdam with backyards and quiet streets are a short commute away.
Homes around the city's edge often come with plenty of dining and living space to enjoy. The kitchens are designed for families or bigger crews and you may be able to score a pool.
The quiet neighborhoods will give your group a chance to see a different side of Amsterdam. Located in residential areas, away from the tourist traps, you'll be seeing the world through the eyes of locals.
By timely public transport, you can make a quick journey into the city for a day of exploring.
Why Stay in a VRBO?
That's a great question, here are our top 5 reasons to choose a VRBO for your getaway.
Local Experience: Going from hostel to hostel where you meet the same type of travelers can get boring. Stay where the locals stay and get insider tips from your hosts.
Unique Properties: Some of the VRBOs listed below are centuries old with ancient walls and beams. Staying in a VRBO is a chance to experience living, in a different way.
Privacy: Tired of sharing your room with strangers? For the same price, often cheaper, have your own private room, apartment or property.
Staying Long-Term: VRBO hosts offer discounts for weekly and monthly stays. It is the perfect solution for those that have fallen in love and want to bring down the cost of living in Amsterdam.
Last-Minute Booking: Just got to Amsterdam? Pull up the VRBO website and it will immediately show you what's available with a wide variety of accommodation types.
The 20 Top VRBOs in Amsterdam
Whoo! We made it, now it's time for us to spill the beans. Read on!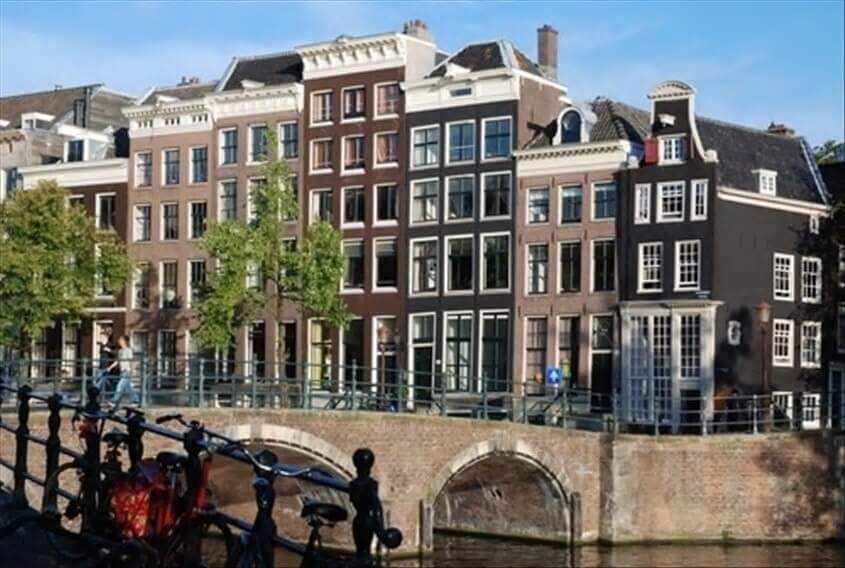 2 Guests
Central Amsterdam
This Amsterdam home is located directly behind the beautiful Leidseplein Square. From such a central location you have easy access to amazing sights, amenities and must-see spots.
With views that look out to Museumplein and a quiet courtyard to relax in, you don't need to go out to enjoy the city.
Each evening you can retreat to your own private space, with a fully-equipped kitchen to save on eating out every night. In the morning make a cup of coffee using the apartment's Nespresso machine, and dream about the day's coming adventures.
3 Places to Visit:
Anne Frank House
Greenwoods Keizersgracht
2. Best Budget VRBO in Amsterdam | Tiny Studio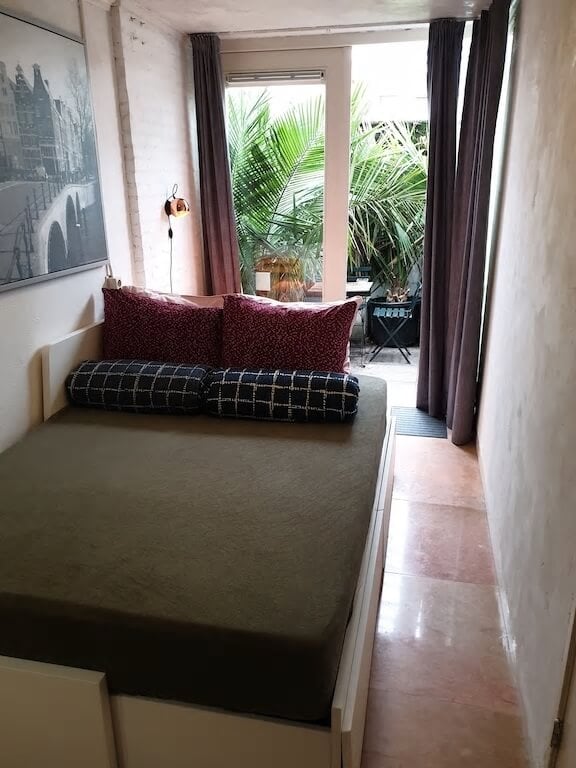 2 guests

Connected to Downtown
For those looking to stay on the cheap, this tiny studio VRBO in Amsterdam will do the trick! The studio is located only a 10-minute drive from Downtown Amsterdam, giving you easy access to all of city's highlights.
At the studio you can enjoy a tranquil private space, with a kitchen to prepare easy meals and an outdoor garden to relax in. This little hideaway won't take away from your Amsterdam budget, leaving you more money to spend roaming the canals during the day and the bars at night.
3 Places to Visit:
Is This the Best Backpack EVER???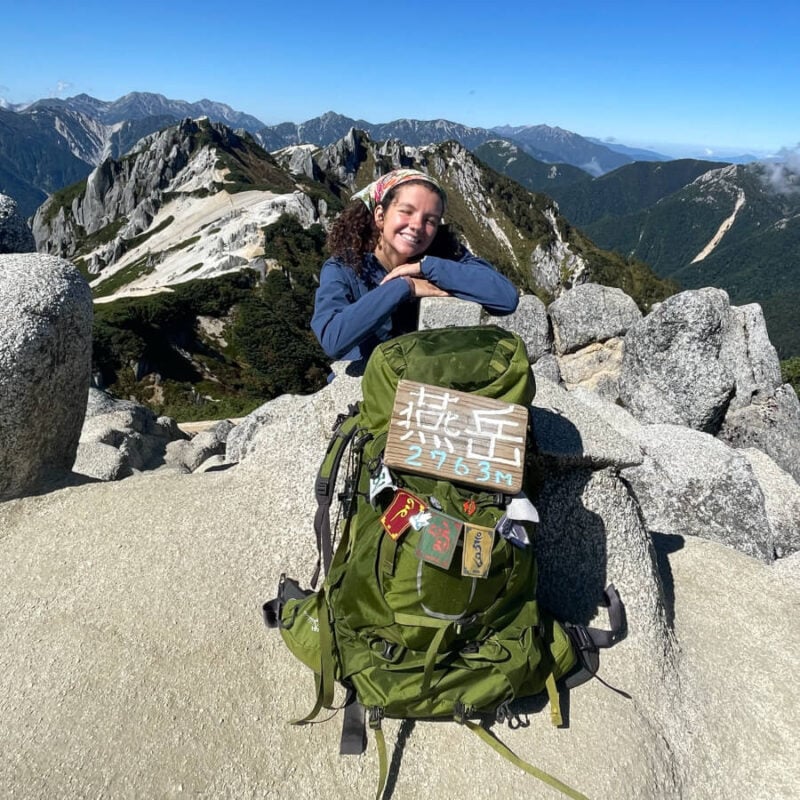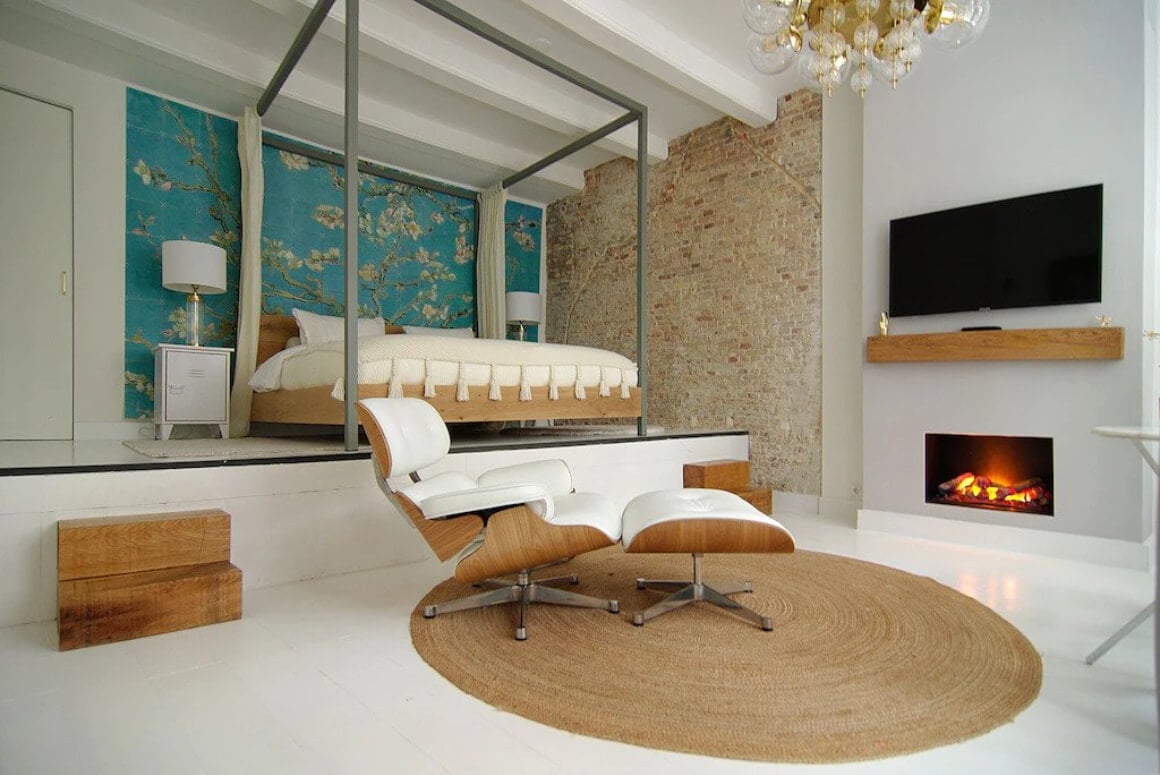 For couples heading to the city center, why not check out this VRBO in Amsterdam? Modern, bright and warm, the interior will have you feeling at home right away.
For your next vacation, wake up each morning to the sun's rays splashing against the canals, before enjoying the complimentary breakfast. Once you have freshened up, you are just a short walk to Central Station and right around the corner from Anne Frank House.
For an average price, you'll have a perfect location – right in the city center. If you stay here, your neighborhood will be among the wonderful Browersgracht and Herengracht canal ring and through the amazing old streets of Haarlemmerstraat.
For date night, why not rent out a boat and cruise the canals? Don't forget the wine and cheese!
3 Places to Visit:
3 Places to Visit:
Royal Palace
Anne Frank House
The Pantry
4. Best VRBO in Amsterdam for Families | Parkside Home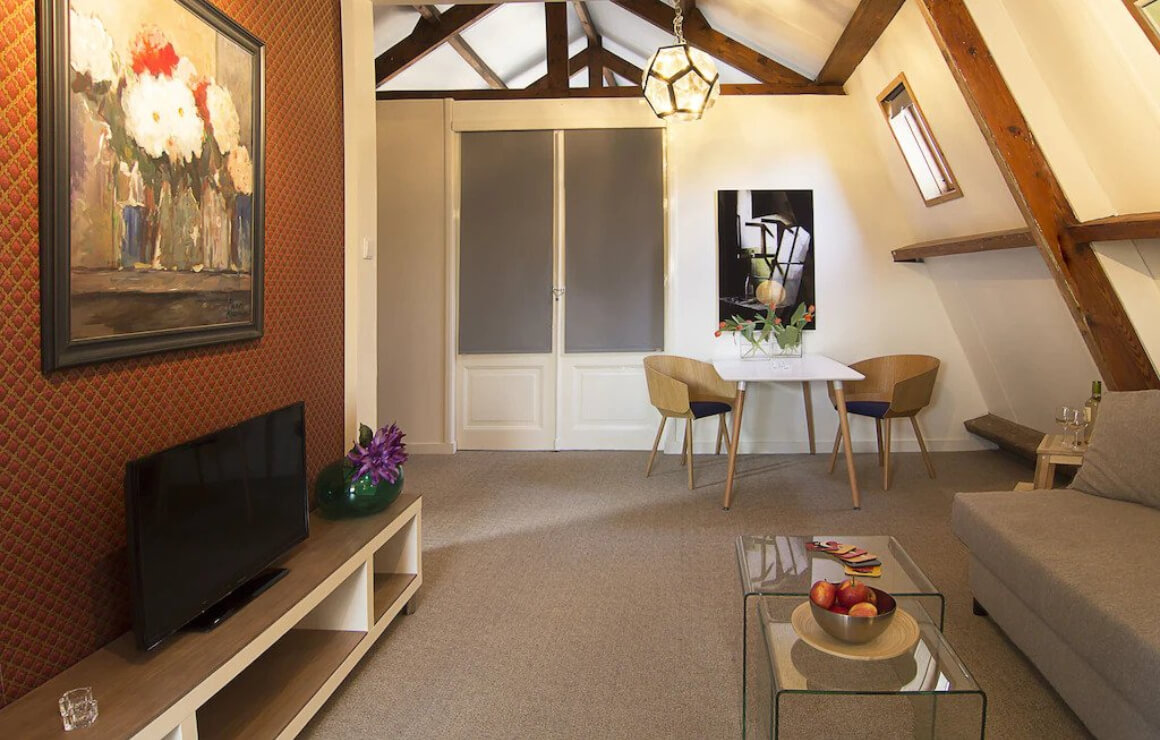 4 guests

Queen bed + twin beds
For a family with children, finding a spacious home in the city that has easy access to the attractions can be tricky. This kid friendly VRBO in Amsterdam has everything you need in the most incredible location!
The home features two bedrooms, including a twin room – and a baby cot is also available. The fully-equipped kitchen is great for cooking family meals, and the living room is big enough to keep the young ones entertained.
This incredible Amsterdam vacation rental is in one of the most sought-after locations in the city, on the edge of the famous Vondelpark. Famous museums are just a few museums walk away at the Museumplein. Here you'll find some of the best places to visit in Amsterdam like Rembrandt Museum and Van Gogh Museum.
Don't stress about getting around the city as several tram stops are on your doorstep. Moreover, there are an abundance of restaurants, shops, and cafes all in a short walking distance.
3 Places to Visit:
Vondelpark
Van Gogh Museum
NEMO Science Museum
One of the best VRBOs in Amsterdam when it comes to extravagance and luxury, this industrial building-turned-loft has it all.
The 24 hour butler host can help you to arrange meals, organise your itinerary, and act as a driver for the day.
When you aren't exploring the fabulous Utrechtsestraat neighborhood (with it's old cafes, opera theaters and museums), hang out with friends and family on the rooftop. Fire up the BBQ, or grab a book from the loft's library and enjoy the afternoon sun with a page turner.
This unique VRBO even has a fireplace, Bose sound system and guitars. And let's not forget, the master bedroom has its own Jacuzzi!
6. Perfect VRBO for Solo Travelers | Central Studio
Placed within the Haarlemmerbuurt neighborhood, a lively part of Amsterdam, this studio has a diverse selection of restaurants, boutiques and shops right on the doorstep.
The private studio will be your home away from home during your stay, offering cozy comforts and a quiet base.
Just ten minutes from the Central Station with access to trams and trains to get around, the studio is ideally located to explore all of the city's must-visit spots.
The area is joined by the famous Jordaan neighborhood to the south, which comes complete with old Dutch cafes, brick-oven pizzerias and the ancient church, Westerkerk.
3 Places to Visit:
7. Best Houseboat on VRBO in Amsterdam | Relax on the Canal
There are many houseboats on VRBO in Amsterdam. They place you all around the city's famed canals and offer a unique experience that won't break the bank.
This one stands out among the rest as it has the extra privacy of being slightly out of the city.
Featuring a cozy bedrooms, a kitchenette and homey amenities, it is a perfect place to relax with your partner. There is even free guest parking!
Public transport is within walking distance, and it is just a couple of stops from Central Station, which makes it ideal for taking day trips from Amsterdam.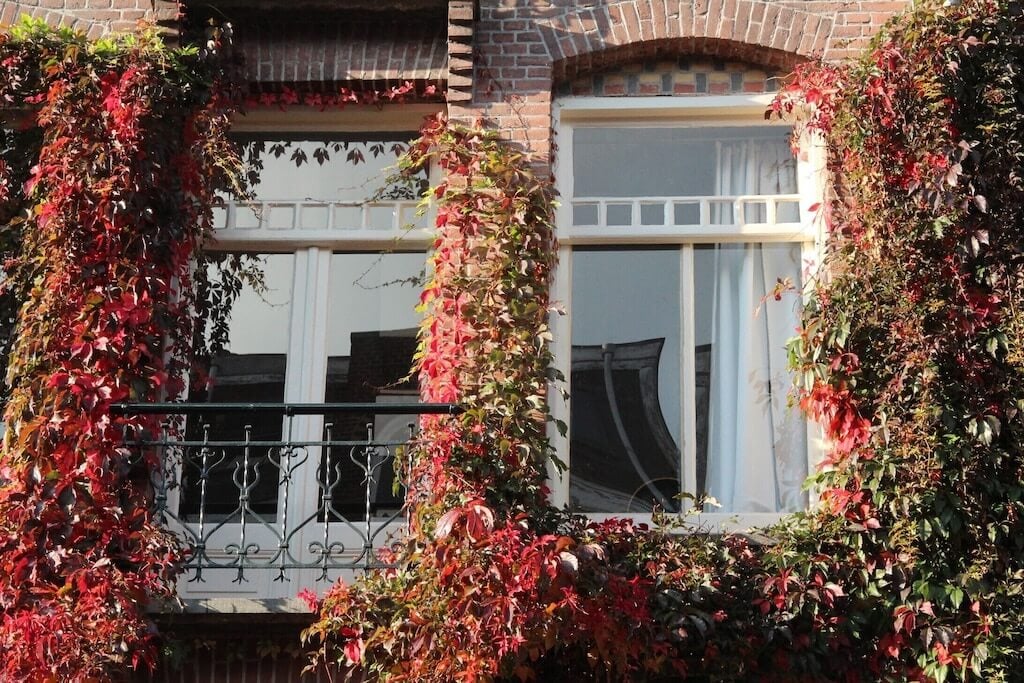 $$$
Cremerbuurt Neighborhood
Surrounded by the scenic Vondelpark, museums, and classic cafes in every direction, you will love this apartment VRBO in Amsterdam. The bright and inviting space is a wonderful base for Amsterdam adventures.
Featuring an open dining space and full kitchen, you can rest and unwind after a day of exploring before cuddling down into the double-bed.
Start and end each day walking along the iconic canals, eat out at trendy restaurants right by your apartment and find hidden gems among the tree-lined streets full of centuries-old buildings.
On a lazy day, just hang out on the balcony that looks down to the streets below.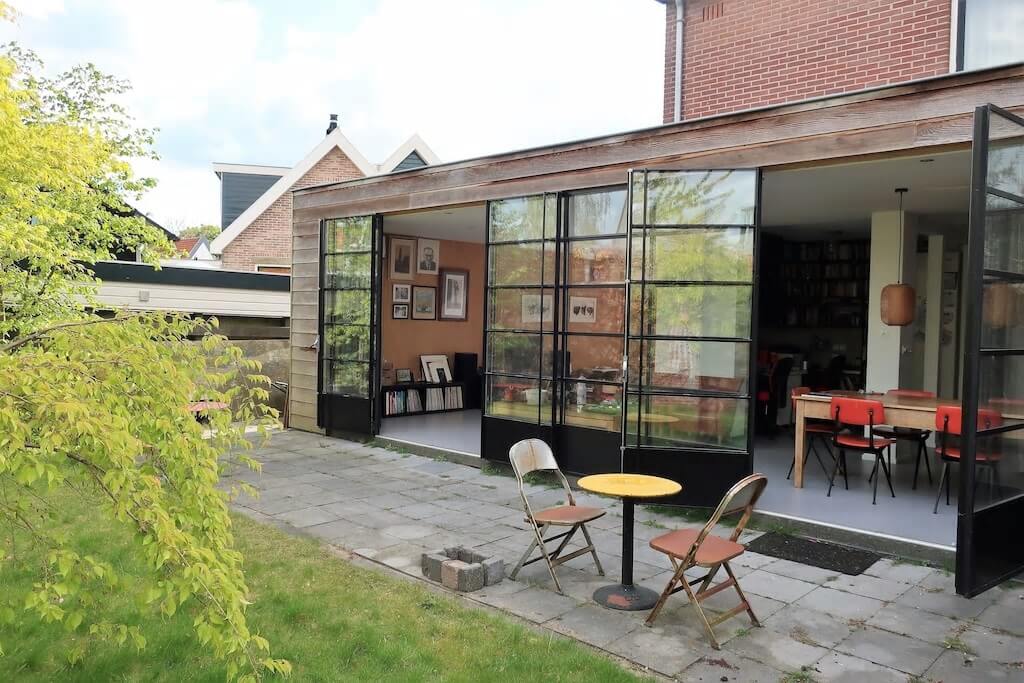 4 Guests
Close to Countryside
Being close to the countryside and minutes from the hustle and bustle of downtown makes this Amsterdam's best home on VRBO.
Enjoy a quiet and relaxing residential neighborhood away from the tourist traps of the city. You can experience life among locals and be able to see Holland's beautiful windmills.
The region might feel rural, but it is a quick car journey from the city. You can even take advantage of the free ferry, and get shuttled to the action.
With a spacious lawn, two big bedrooms and a roomy living space, this home gives you the best of both worlds.
$$$$$
Century Old Houseboat
Experience the height of houseboat luxury while staying on one of Amsterdam's most beautiful canals.
Wake up every morning immediately in the heart of the city, hear the sounds of bikes riding by and feel the waves as boats head along the canal.
There may be no better experience than heading to the top of your very own luxury houseboat. Where you can watch the world go by from the hammock, and if you can bring yourself to leave, you won't be far from wherever you want to go.
When the night arrives, light up the fireplace and kick back in warm luxury.
11. Best VRBO on Prinsengracht | Prinsenboat
When it comes to enjoying Amsterdam's most famous canal, there's no better way than spending your nights on it. Located along the Prinsengracht canal, and close to many local attractions to plan your Amsterdam itinerary, this studio houseboat will provide everything you need.
From your cozy floating home you will be able to look out at 17th-century buildings that line the canals edge. The canal itself is now on the UNESCO World Heritage list!
The boat's sleek interior could be from a high rise building, and is complete with all modern amenities.
At night, enjoy the sounds of the city as you float off to sleep.
Imagine a cozy, modern apartment complete with an office working space, now place that on the water. Boom!
It should be no shock that the best VRBO in Amsterdam for digital nomads is on the tranquil city canals.
Check in to this houseboat and immediately be inspired by your surroundings. You can tick off the daily tasks with ease. When you're done, kick back, relax on the outdoor terrace and watch the boats roll by.
Leave your floating home, and step onto the old streets of Amsterdam with a bevvy of restaurants to choose from. With being so close to everything, you won't have to worry about commute times cutting into your already busy day.
2 Guests
Historical Building
Within the bounds of a historic building lies this VRBO in Amsterdam. Located in the De Wallen neighborhood it sits among the city's famed nightlife.
Perfect for a couple, the colorful and artsy interior has a double bed, full kitchen and a private entrance.
In a city full of culture, history, and beauty, you will love having this central studio as your starting point each morning. And then, at the end of the night, you don't have a long journey home from wherever you end up.
Central Station is right next door, while museums, restaurants, and bars line the local streets.
OK, so you want to stay in Amsterdam a while? We don't blame you. Grab yourself a sweet short-term discount at this VRBO in Amsterdam!
Located in the Old City, you will wake up each morning surrounded by culture, history and beautiful architecture. At the same time, the noise doesn't quite reach this hidden studio creating a peaceful escape from the hustle and bustle below.
Walk along 17th-century canals, and visit museum after museum, shop at local delis and eat at hole-in-the-wall restaurants.
Jump on the tram to explore further afield, and end your day near home at Leidseplein. The Old City is home to myriad unique bars, cinemas, clubs, and discos.
15. Most Beautiful VRBO in Amsterdam | Sunlit Studio
There may not be a VRBO in Amsterdam that sums up its history and architecture quite like this studio.
As you walk in you will fall in love with the original brick walls that have been in place for centuries.
An elevated living area boasts wooden floors that are bathed in the rooms' natural sunlight. The wooden beams that line the ceiling bring all the colors together to create a stunning place to stay.
When you leave this home you will be in one of the oldest parts of Amsterdam. From your first step you will glide pass cafes, and houseboats that dot the canals.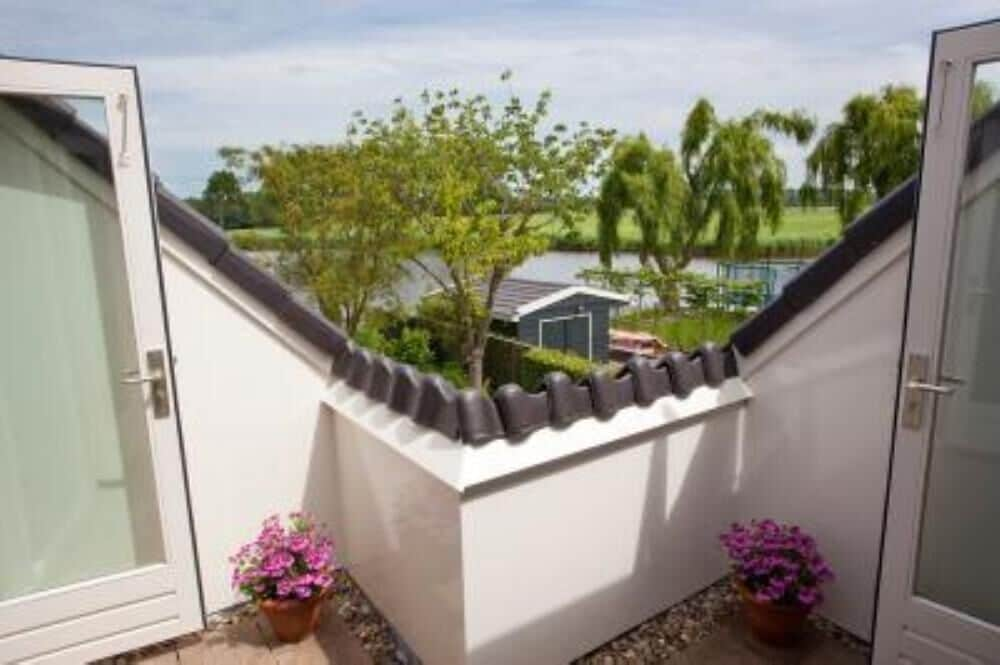 For honeymooners looking for a change of pace, head to this romantic home located alongside a canal.
From the terrace balcony you can bask in the stunning canal views, and cuddle up under the stars at night. Relax in the garden, and let the day go by reading a book and spending peaceful moments with your partner.
You aren't far from the city when you are ready to explore. You will get a unique look into Dutch life being so far off the beaten path.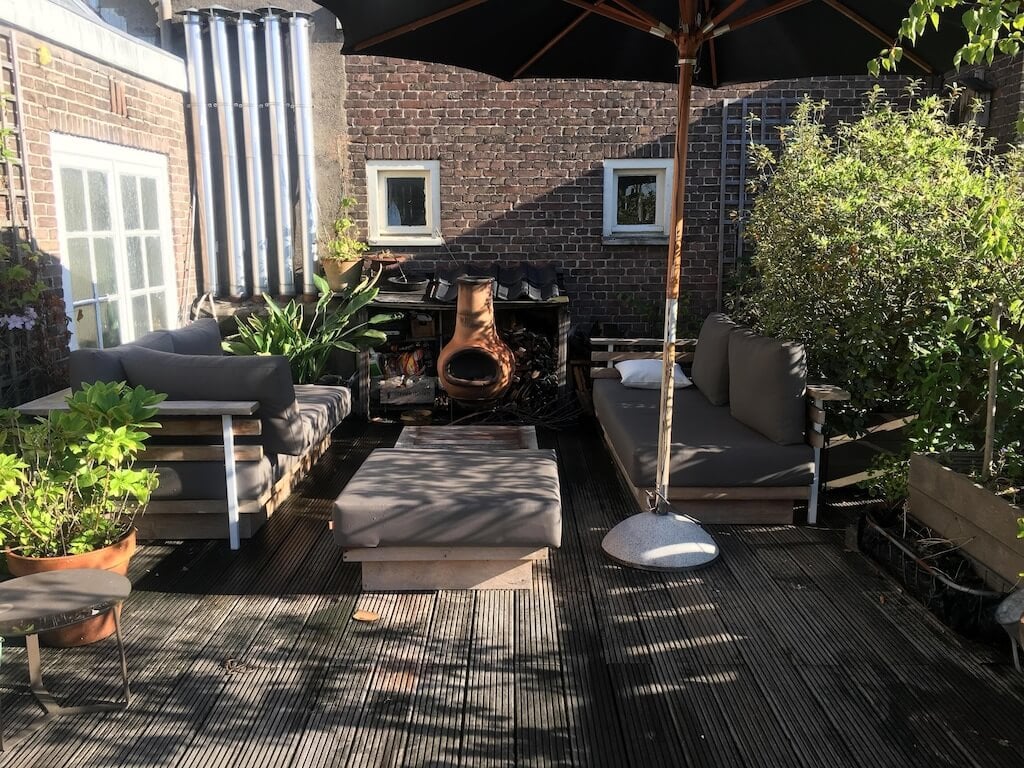 This spacious apartment is the perfect place for you and your friends to base yourself while in Amsterdam. With three bedrooms, and a large living space, there will be plenty of room for everyone.
Take advantage of the open kitchen to cook up brunch for the group, and tunes play from the bluetooth speakers placed throughout the home.
You can spend your free time hanging on the rooftop terrace, cooking group dinners on the BBQ, and enjoying the fresh air.
Within the Rivierbuurt neighborhood, it is just a quick two minute walk to lovely restaurants and bars.
18. Best VRBO Party House in Amsterdam | Party in a Windmill
6 Guests
Garden Dining Space
The best VRBO in Amsterdam for the ultimate party experience is inside an original windmill. The windmill is located in the countryside, just a 20-minute train ride to downtown Amsterdam
Each night rest your weary head in one of the three lush bedrooms, complete with king, queen and double beds. You'll enjoy having complete privacy to hang out with your friends and get the good times rolling. Afterall, the nearest neighbor is a great distance away.
Aside from taking in a classic Holland windwill, you can relax outside on the sprawling lawns. Have brunch on the patio and watch the cows roam the distant fields.
Right by Dam Square, this vacation rental in Amsterdam will help make your trip to the city easy and stress-free.
Your room is within sight of Amsterdam Central, which is connected to the city's international airport and all districts in Amsterdam through a simple train, tram and bus network.
As for the apartment, its located in a quiet neighborhood, by Amsterdam standards. With large windows letting in plenty of light and a cozy space to relax at the end of each day.
The bed looks out to the buildings beyond giving you a lovely view to wake up to each day.
20. Most Unique VRBO in Amsterdam | Crane Hotel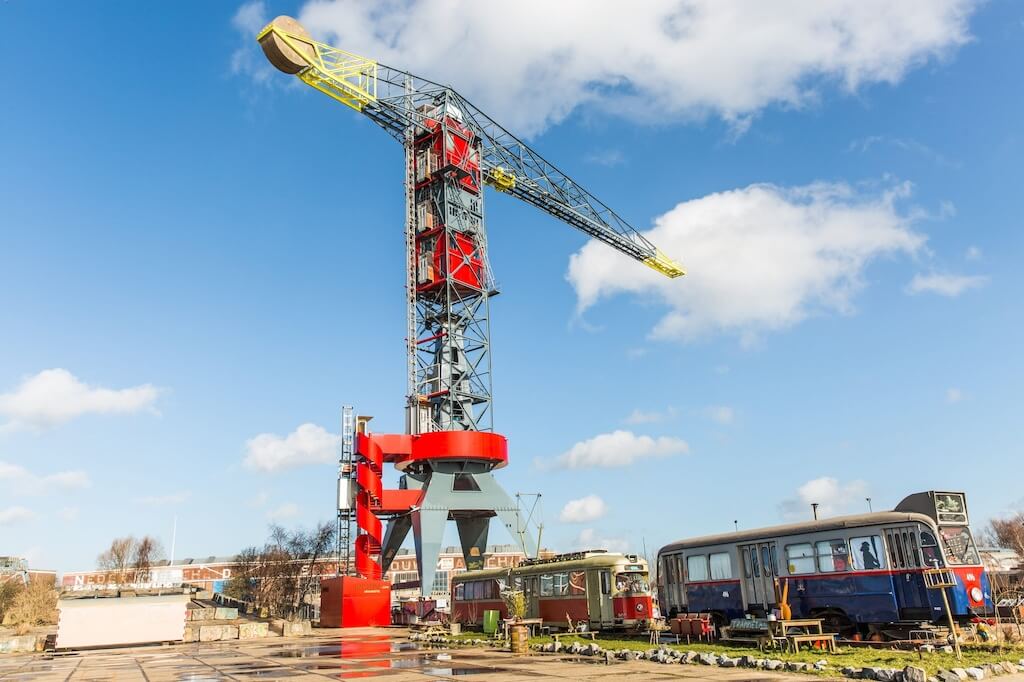 Say what?! Yes you read that correctly. Thanks to VRBO you can stay inside a crane.
Don't worry, it doesn't move, but this unique project will give you an otherworldly experience on your travels to Amsterdam.
Within the room you will have a setup that makes you feel like you're living in the future. At the top of the crane is an outdoor Jacuzzi which has unbeatable views of the city!
Come stay at this award-winning VRBO for an experience that will stay with you for a long, long time.
FAQs About Amsterdam VRBOs
Don't Forget Your Amsterdam Travel Insurance
Before you plan any trip, make sure you're putting your safety first. Always prepare yourself with good travel insurance for the Netherlands.
ALWAYS sort out your backpacker insurance before your trip. There's plenty to choose from in that department, but a good place to start is Safety Wing.
They offer month-to-month payments, no lock-in contracts, and require absolutely no itineraries: that's the exact kind of insurance long-term travellers and digital nomads need.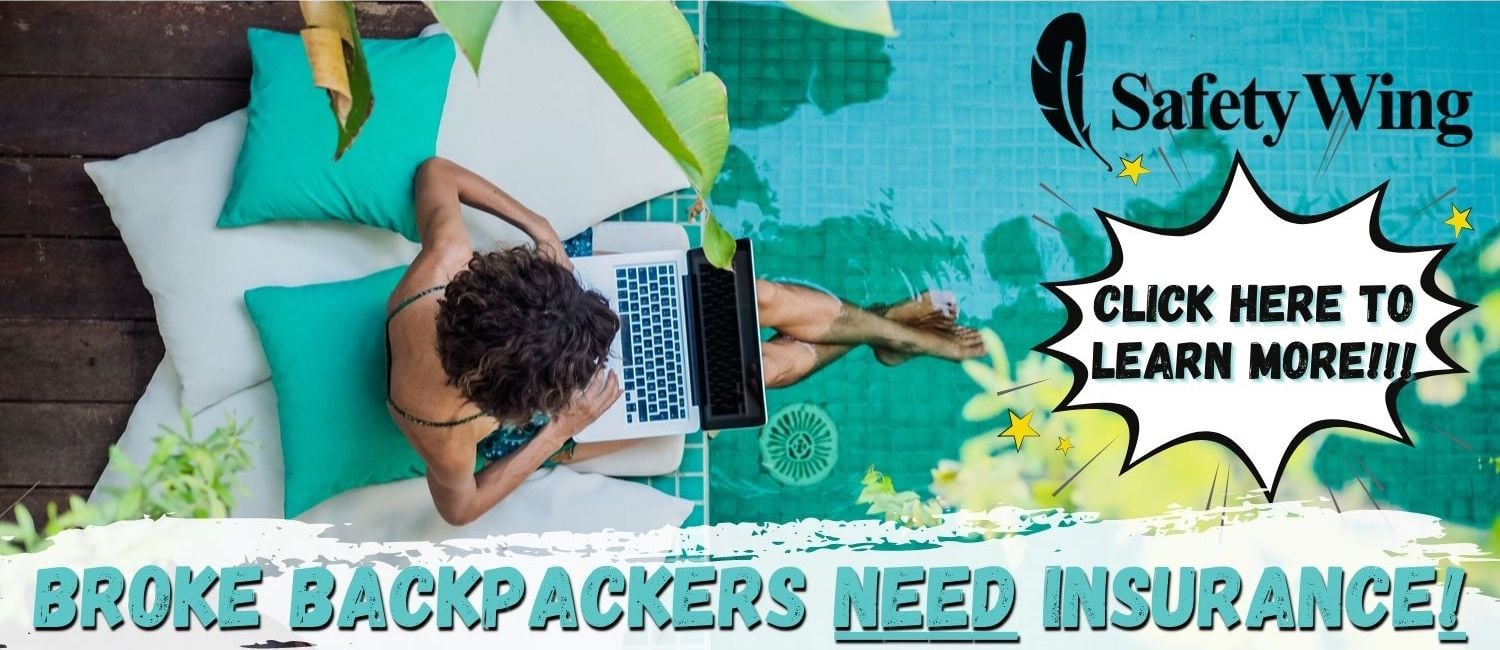 SafetyWing is cheap, easy, and admin-free: just sign up lickety-split so you can get back to it!
Click the button below to learn more about SafetyWing's setup or read our insider review for the full tasty scoop.
Final Thoughts on the Best Amsterdam VRBOs
Well, there you have it folks, the best VRBOs in Amsterdam. What better way to experience a city of culture, beauty, and nightlife than to be right in among the action in your very own Amsterdam vacation rental?
By staying at a VRBO in Amsterdam you will have what makes this city so special right on your doorstep.
Wake up to the sounds of the city life, spend all day exploring the canals by bike and check out the many museums on your journey. Be so close to the nightlife that you can wander home when it's time to hit the hay.
Whether your VRBO is an apartment in a historic building, a home in the countryside or a boat on the canal, you'll enjoy a uniquely authentic Amsterdam experience.
---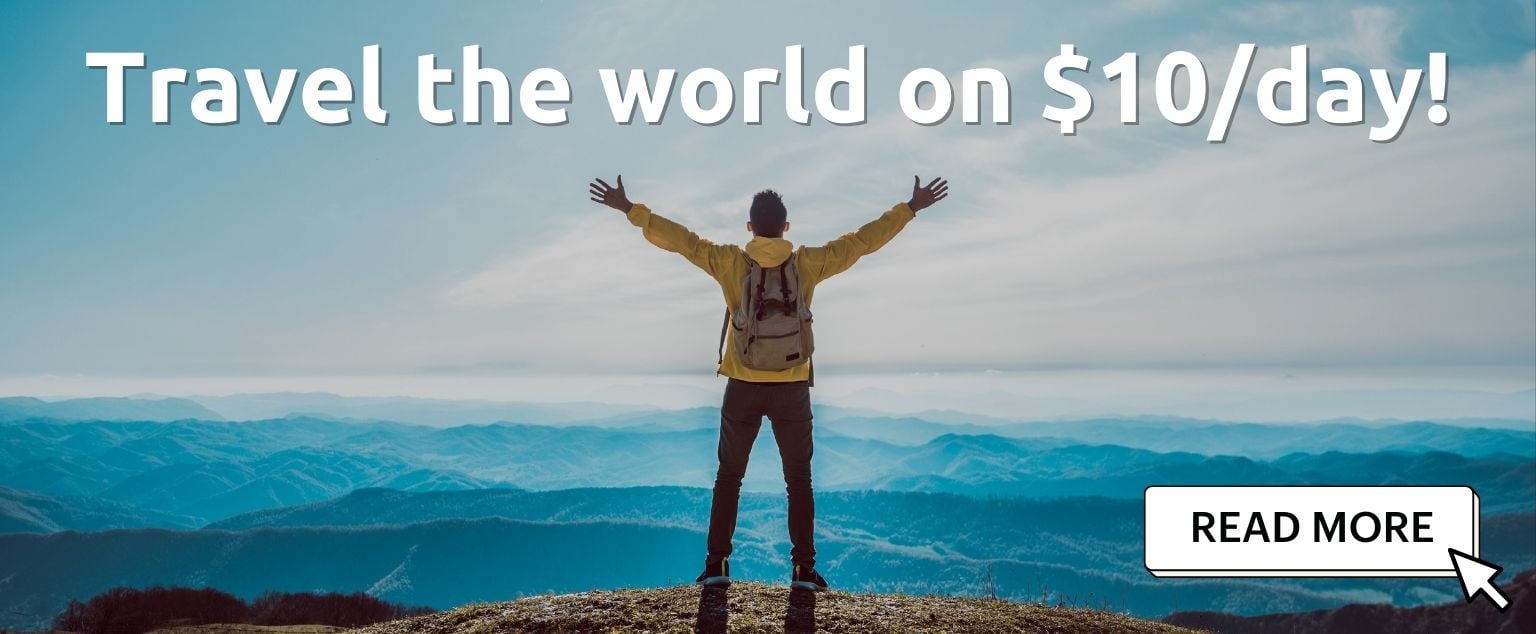 And for transparency's sake, please know that some of the links in our content are affiliate links. That means that if you book your accommodation, buy your gear, or sort your insurance through our link, we earn a small commission (at no extra cost to you). That said, we only link to the gear we trust and never recommend services we don't believe are up to scratch. Again, thank you!