Welcome to the United Kingdom! You are now entering the land of iconic castles, black humour, afternoon tea, rolling countryside, beautiful National Parks, world-class cities, and vivid green landscapes…. Backpacking England and the United Kingdom is one of the most fun adventures to be had in all of Europe and you're in luck – I was born in England and have spent plenty of time camping, hiking, partying and exploring here so I can give you plenty of insider travel tips…
From the remote corners of the Scottish wilderness and the sheep-lined Welsh backroads to Northern Irish history and the iconic English pubs that can only be reached on foot: a trip backpacking through the UK is full of epic surprises for the worthy adventurer.
Whether you are in Europe already or just planning to visit the UK, a backpacking trip through England, Wales, Scotland, or Northern Ireland is a truly fantastic way to spend a few weeks or a few months (or more!). The United Kingdom is very accessible to travelers, diverse, GREEN, and full of outdoor adventure potential.
This backpacking UK travel guide will show you the way to having an awesome budget backpacking trip! Get the low-down of where to go, budget and travel costs, itineraries, trekking destinations, UK travel hacks, and recommendations on where to stay along the way…
Where to go Backpacking in the United Kingdom
The regions that make up the United Kingdom are broken down into four countries: Wales, England, Scotland, and Northern Ireland. Though each country has its own very distinct national heritage, culture, and even language (in the case of Wales and parts of Scotland), the UK is as its name suggests is a United Kingdom and whilst there is a friendly rivalry between different parts of this kingdom, we're all in it together – for now anyway!
You will find that each region has its own unique draw and charm. Discover some of the best trekking in all of Europe in Scotland. Explore England's great system of National Parks and beautiful small villages. Get off the beaten path in Wales whilst exploring the remote and rugged Pembrokeshire Coast. Cozy up to a pint in Northern Ireland by the warmth of a crackling fire.
The UK is relatively small so you can take in quite a lot in a short period of time, especially if you have your own wheels. England receives a vast amount of tourism traffic every year. A vast majority of those people only visit London, Stonehenge, and a few other well-known places. There is much more to the UK than that! By the time you finish this UK travel guide, you will have a solid idea of what those places are all about…
Now let us take a look at some of your itinerary options for your adventure backpacking England and the UK.
Best Travel Itineraries for Backpacking England and the UK
Looking for a UK backpacking route? Whether you have a few weeks or a few months, I have assembled several UK backpacking itineraries to help you make the most of your time in this diverse region. These backpacking routes can easily be combined or customized!
#1 UK Itinerary 2 Weeks : Backpacking England and Wales
2 Weeks: Backpacking England and Wales
If your timeframe is two weeks you can discover the highlights of England and Wales with ease. I highly recommend renting a car or campervan. Public transport in England is expensive and often delayed. Hitchhiking is possible but the best option is to rent your own wheels.
You can save a ton of money overall with the ability to camp out and you can travel around at your own comfortable pace. If you are arriving in London, you can wait a couple of days before renting the car or van as you do not need it within the city and it's cheapest to get around on the tube.
Right, so London. Spend the day exploring the fantastic British Museum and National Gallery if you have time. Catch a quick glimpse of the Rosetta Stone before retreating away from the army of Chinese flash bulbs surrounding you. Entrance to the British Museum is free! Many museums in London operate on a donation basis so there's plenty of epic free things to do in London. Don't miss the Natural History Museum.
Pop over to Brighton on the train and soak in the vibes of England's hipster capital. I was born in a small town, Burgess Hill, just outside of Brighton and lived within a stones throw of this eclectic party capital for most of my childhood and teenage years. Brighton is a truly awesome place to party on down and everybody should spend a day or two here.
You can take a full day just to check-out Brighton's vintage and thrift shops, eat tasty Indian food, finishing with a sunset walk on Brighton Beach. Don't forget to visit the neighbouring city of Lewes where you can enjoy exploring a rural British village complete with a small castle.
The real highlight of Southern England is the South Downs, a famous national park comprised of big chalky hills, lonesome windmills and gorgeous views. You can reach the South Downs National Park for a day hike fairly easily from Brighton, your best bet is to catch a train to Hassocks and join a hiking path from near the station. If you have wheels, drive straight up to the Jack and Jill windmills and walk along the top of the downs from there.
From Brighton, hit the road… Head west along the South Coast road towards Exeter and Dartmoor National Park. A Stop over in the seaside town of Lyme Regis is a must where you can find prehistoric fossils littering the beaches! Driving past Lyme Regis on your way to Exeter, you will pass Stone Henge on your right. Stonehenge might not be all its cracked up to be, though I still recommend seeing it. I would NOT, however, pay the £19.30 entrance fee. You can see it perfectly fine from behind the short fence. You can attempt to sneak it but they have the place locked down like Fort fucking Knox. They have security patrols all night as well, just so you know.
Arriving in Exeter, be sure to enjoy a glass of cider at the iconic firehouse. If you wanna party on down, try and catch a Magic Hatstand event at the Cavern.
Devon and Cornwall is one of the sunniest in all of England, so soak it in! There are some excellent day hikes, rock climbing spots, and stunning Coastline to be had around Cornwall and Dartmoor. Be sure to check out Penzance Castle as well…
1 Week in Wales
From the Cornwall area you can drive to Wales in just a couple of hours. If you have time, stopover in Bristol to check out the magnificent cathedral there and enjoy the nightlife . Drive to Brecon Beacons National Park in Wales. Find an awesome campsite (there are many to choose from) and rest up by the camp fire. The next day you have an abundance of awesome hikes at your disposal. Brecon Beacons is damn beautiful and so green it doesn't look real. More about trekking here later in the post.
By now you should have about five days left and you need to hustle a bit. Head south to the stunningly beautiful and wild Pembrokeshire Coast National Park before heading north again to Snowdonia National Park. Stop off in the village of Llanberis! If you like to rock climb, the slate quarries just out of town are world-class! Even if you don't climb the eerie quarries are absolutely worth a visit. You can spend your last days in the UK trekking by day, sipping beer in the evening, and camping out at night…
Note that Liverpool is a stones throw from North Wales so you may also wish to sidechain this on. A weekend in Liverpool in particularly is a lorra, lorra laughs!
#2 UK Itinerary 3 Weeks: The Ultimate UK National Park Tour
3 Weeks: Exploring the UK's National Parks
If you have another week to tack on to the itinerary mentioned above, good news! You can visit some truly fantastic National Parks in Northern England. After leaving Snowdonia National Park, pass through Liverpool en route to the Lake District National Park in the far north of England. I would save the trip to Scotland for a journey when you have slightly more time or intend on specifically backpacking Scotland. Ideally, you'll want three or four days to spend in the Lake District.
On your way South, be sure to visit the Peaks District National Park! Climbing Kinder Scout really gives you a good lay of the land. It's the highest point in the Peak District and comes with unforgettable views, unique moorland and even a waterfall.
#3 UK Itinerary 4 Weeks: Northern England and Scotland
2-4 Weeks in the Scottish Highlands
Fancy exploring some of the best hiking trails in Northern England and Scotland? Want to get to know the rich culture of the Scottish Highlands? This itinerary is for you. One can still begin this route from England, making pitstops in a few English National Parks before heading to Scotland.
Scotland is another prime campervanning destination. If you have your own ride, you can see heaps of the country in a few weeks while packing in a few awesome hikes.
After a visit to Edinburgh, it is time to head to the Highlands. If you have the time and ambition The West Highland Way is an epic way to get to know Scotland. The hike stretches for 151km from Milngavie on the edge of Glasgow to Fort William. The path is well marked, well serviced, and accommodation/camping options abound along the way.
Whether you do the whole thing or a section of it you will not be disappointed. After tackling the West Highland Way, head to the Isle of Skye. A sunrise hike to the Old Man of Storr will be a certain UK backpacking highlight. Time permitting hit up the Cairngorms. The Ryvoan and Lochan Uaine circuit is a gorgeous 10-kilometer walk through ancient pine forests and mystical lochs. Honestly, there are so many beautiful hiking options in the Cairngorms!
#4 UK Itinerary 2-3 Months: Ultimate UK Highlights Tour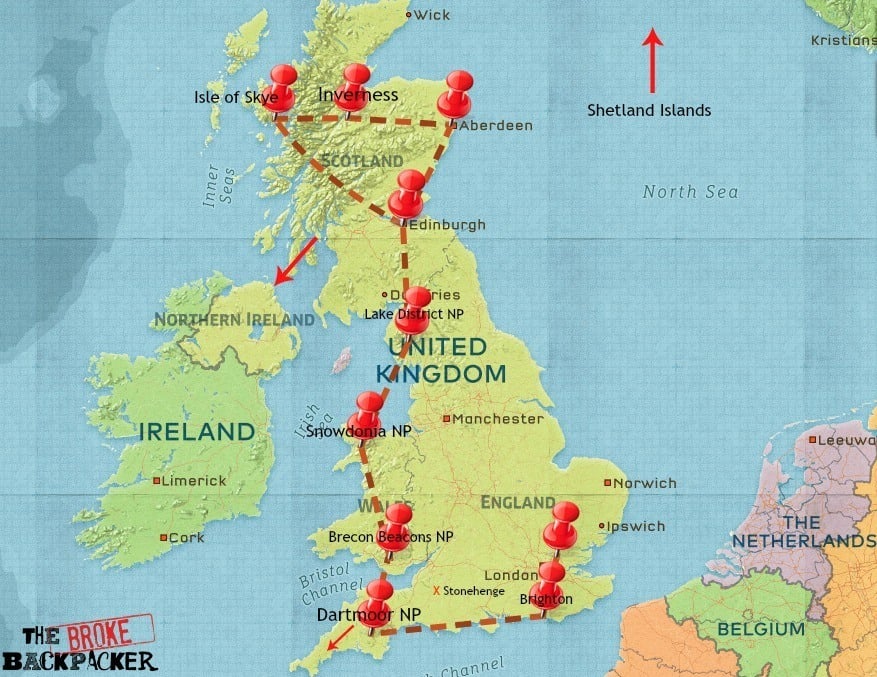 2-3 Months: Backpacking UK Highlights
If you have ample time on your hands then you can really pace yourself. Having two or three months to work with enables you to do and see a wide swath of the entire UK including Northern Ireland and beyond.
Now certainly you might not want to rent a car or van for that long. If you only have wheels for a couple of weeks, you can easily continue your journey by hitchhiking or by bus. Scotland alone has plenty of trekking, far-flung mountains, remote Islands, and stinky haggis to keep you busy for a month or two.
In addition to visiting the numerous National Parks in UK, get to know some of its cities, people, and small villages. Explore Liverpool and Manchester in the North of England. Check out Swansea or Cardiff in Wales. Get to know Edinburgh, Inverness, and Glasgow. Hit up Belfast in Northern Ireland.
You can also dedicate more time to exploring the Scottish Isles including the Outer Hebrides and the extremely remote Shetland Islands.
Looking for a place to crash in Cardiff? Check out my guide to the 10 best hostels in Cardiff!
Places to Visit in England and The UK
London is one big sightseeing magnet. People the world over come to England just to experience London. I don't blame them, London is pretty damned attractive in many ways. Two major drawbacks: tourist hordes and the cost of backpacking in London. London is one of the most expensive cities in the world to live. Fortunately, there is a plethora of backpacker accommodation in London. Also there are million free fun things to do within the city.
Take in some of the beautiful historical monuments like Big Ben, Westminster Abbey, and the grand fucking Buckingham Palace. It is grand but expect huge mobs of tourists at all of the above-mentioned spots.
When you have ticked the major spots off your list go for a walk through Hyde Park or along the River Thames.
London is famous for its delicious and relatively cheap international cuisine. Be sure to grab an Indian curry or some Pakistani food at some point!
In order to fully appreciate the city you must get off the tourist trail and see more of London off the beaten path. Check out the lesser known pie and mash shops. Visit the biggest Hindu temple outside of India at BAPS Shri Swaminarayan Mandir. Kayak the river Thames!
Be sure to check out our guide to the top places to visit in London!
Additional reading – Check out London's best neighborhoods to stay in!
Backpacking Brighton
London is fun but it can be super tiring and overwhelming. Brighton might just be the coolest city you visit whilst backpacking England and that isn't just my bias. Spend a day or two walking around Brighton's city center. There are a multitude of fun vintage and thrift shops where you can score some new threads for your travels. In addition to those there are some excellent cafes, tattoo parlors, parks, record stores, music shops, and cool concert venues.
Brighton is famous for its street art. Check out one of the most famous Banksy paintings in England (The two British cops kissing). Be sure to walk around the gardens at the Royal Pavilion. The building has a unique Indian-style architecture thing happening. I recommend bringing a picnic and finding a spot on the grass to eat.
Brighton is full of characters of every shade. There is some great people watching to be had. Find a spot near the Steine Garden to have a coffee, listen to a busker or two and just watch the colorful humans pass by.
The old lanes are a fantastic place to shop for unique and weird things and there's plenty of cool bars to enjoy a drink – some of my favourites; The Hope and Ruin, Fishbowl, Old Star.
Check out our guide to best hostels in Brighton and breakdown on where to stay in Brighton, here!
Book Your Brighton Hostel Here!
Backpacking Lewes</h3.
Lewes is a less-frequented city adjacent to Brighton. I recommend taking at least a half a day to check out Lewes – it's a great spot to explore a traditional British village and to go for a walk along the South Downs as well.
Backpacking the South Downs National Park
There are some excellent day hikes to be had in the South Downs. A fantastic 11.5 mile / 17.7km circular route that is a great day walk or a stunning bike ride. This route takes in part of the South Downs Way between Amberley and Bignor Hill as well as part of the National Trust's Slindon Estate and part of the Monarch's Way. Allow 5 – 6 hours to walk or 2- 3 hours to ride.
Another fantastic 10 mile circular walk can be made between Amberley and Rackham Banks and the Downs to the south. This walk has stunning views over the Amberley brooks and the River Arun.
Backpacking the Seven Sisters
A trip to the Seven Sisters is not to be missed. This coastal walk brings you to the edge of the sea and the Seven Sisters formation, which is a series of white chalk cliffs contrasting wonderfully to the green hills and sea below. Part of the track passes through farmland so if you open any gates, be sure to close them!
This hike is part of The South Downs Way National Trail which stretches for 100 miles from Eastbourne to Winchester and passes through the Seven Sisters Country Park. It offers spectacular views of Cuckmere Haven, Belle Tout and Beachy Head lighthouses.
Backpacking Rye
Rye is one of my favorite villages in England that very few people have heard of. In the center, cobbled lanes like Mermaid Street are lined with medieval, half-timbered houses. The redbrick Lamb House was once owned by writer Henry James.
There is nothing particularly must-see in Rye. The place has enough charm that simply just to visit and see it makes it worthwhile. I love walking around the cobblestone streets, sipping tea at one of the many cafes, and eating an English pastry or two. Rye is simple, straightforward, and totally worth spending a rainy afternoon in.
Backpacking Lyme Regis
Lyme Regis is a town in West Dorset, England, 25 miles west of Dorchester and 25 miles east of Exeter. It lies at Lyme Bay on the English Channel coast at the Dorset–Devon border. It is nicknamed "The Pearl of Dorset". This funky little town makes for a perfect overnight stop over if you are making the road trip from Brighton to Exeter.
Lyme Regis is famous for it's incredibly rich preserves of fossils and fossil hunters still come to the area in droves. I highly recommend going on a fossil hunting walk with a local expert.
The rest of Dorset is also worth exploring. The coastline is pretty unique and the local gin is quite infamous as well 🙂
Backpacking Exeter
Exeter is an ancient city on the River Exe in southwest England. Dating back to the Roman era, the Exeter City Walls surround its center and Gothic Exeter Cathedral. Exeter Castle, a Norman landmark, overlooks leafy Northernhay and Rougemont Gardens. I spent about three years in and out of Exeter and I love it… it's a truly special place. Check out the Old Firehouse for craft ciders and huge square pizzas. Magic Hatstand events at the Cavern are a great place to party with Mandy…
A trip to the nearby Jurassic Coast is mind-boggling beautiful. The best way to appreciate the spectacular scenery of the Jurassic Coast is on foot. The 95 miles from Old Harry Rocks to Exmouth make up part of the South West Coast Path National Trail, and there are hundreds of miles of connecting footpaths and bridleways, giving a huge variety of possible circular walks, wherever you are on the coast.
Backpacking Dartmoor National Park
If you are blessed with good weather, a day or two in Dartmoor National Park is well worth it. There are a multitude of trails and small villages spread between which offer up a good taste of this part of England. Southern England is densely populated and the Dartmoor area offers up a refuge from all the people and bustle. I highly recommend camping in Dartmoor.
Among the highlights here are the hike from the Castle Drogo to Fingle Gorge. This hike has a castle, a beautiful gorge filled with large oak trees, and finishes at a traditional English pub. What else could you ask for? If you like rock climbing there are some excellent crags suitable for all levels just above the sea at Langton Matravers.
Book Your Plymouth Hostel Here!
Backpacking Penzance
Located on the southern edge of Cornwall, the years have not been kind to Penzance though and as the holiday trade declined nothing took its place. Many current guidebooks list museums and attractions that are long closed down. This is good news for backpackers! You are more likely to have some of the epic coastal hiking tracks nearly to yourself.
If mysterious Celtic stone circles interest you there are many important sites close to Penzance. These include Lanyon Quoit, the holed stone of Men-an-Tol and the Merry Maidens stone circle.
If you are wanting to get to the Scillies Islands, you can catch a two hour ferry there from Pezance.
Backpacking Land's End Cornwall
As an Area of Outstanding Natural Beauty (AONB), West Penwith – perhaps better known as the Land's End Peninsula – enjoys the same protection and status as a National Park. The area regularly plays host to visitors from around the world, drawn to its exceptional scenery and array of natural attractions.
Surrounded by the Atlantic to north, south and west, the area's dramatic central moorland and stunning high cliffs are guaranteed to leave a lasting impression on backpackers. The peninsula is a fantastic location for trek-nuts and folks looking to get off the beaten path. A hike here takes in the few charming villages including Sennen and Mousehole as well as offering spectacular views of Mount Bay.
Additional reading – Check out Cornwall's 5 best areas to stay in!
Backpacking Bristol
Bristol is a city straddling the River Avon in the southwest of England with a prosperous maritime history. Its former city-center port is now a cultural hub, the Harbourside, where the M Shed museum explores local social and industrial heritage.
The old warehouses around the port have been renovated and now ooze all things hipster, fashionable, and delicious. Organic food shops, taco shacks, Indonesian fusion restaurants, farm-to-table cafes, you name it, you can find it there.
Bristol's cathedral is very impressive and when the weather turns to shit, it is a great place to be mesmerized by the unending number or detailed arches that make up the ceiling. A walk around the river and through the center of town is a good way to get your bearings before exploring the Blaise Castle or the Bristol museum.
Bristol is a great place to spend a weekend and is also a short train ride away from the city of Bath.
Book Your Bristol Hostel Here!
Meet likeminded travellers and check out my awesome guide to the 10 best hostels in Bristol!
Backpacking Liverpool
Liverpool in the North West is primarily famous for being the home of The Beatles (plus loads of other great bands) and a massive football club (Tranmere Rovers). Fan's of the Fab Four should definitely invest a half day on "The Magical Mystery Tour" which leaves from The Beatles museum twice daily. The city was made the EU Capital of culture and decade ago and underwent a massive renaissance. There are loads of great museums along Albert Dock.
Nightlife is also buzzing with booze ups, shows and gigs happening every night around the city. Some of the old pubs around the city are stunning and welcoming and some less so. If you want to get outside of the centre and see the beach, then take the train from Liverpool Central Station to either Waterloo, Crosby or Formby.
Check out our neighborhood breakdown on Liverpool, and guide to the best hostels in Liverpool for more insight into finding vacant pillows.
Book Your Liverpool Hostel Here!
Backpacking the Lake District National Park
Backpacking England will bring you in touch with some of the country's most beautiful landscapes. The scenes that make up the Lake District National Park are further special still. The Lake District is home to some of the best non-coastal hiking in all of the UK. As you might have guessed the region is defined by its rugged fell mountains and its glacial ribbon lakes.
In addition to more hiking than you could possibly do in a month, there are some cool villages worth checking out as well. Market towns such as Kendal, Ambleside and Keswick are bases for exploring the area and home to traditional inns, a few hostels, and outdoor equipment shops if you are in need of any gear.
The Mosedale Horseshoe, Haystacks, and Scafell Pike are among my favorite treks to do in the Lake District.
Additional reading – Check out Lake District's 5 best neighborhoods to stay in!
Book Your Keswick Hostel Here!
Backpacking the Peak District National Park
Peak District National Park is in central England. Steep limestone valleys like Dovedale, with its famed stepping stones, ancient castles, and Lathkill Dale characterize the park's southern area, which is known as White Peak. North, the Dark Peak area has dramatic gritstone ridges and stark moorland plateaus like Kinder Scout, the park's highest point.
If you are heading back to the cities in the South, the Lakes district makes for a good stop-over point for a day or two. There are plenty of great day hikes in addition to prime campervan parking spots! The closest major city to the Peak District is Sheffield if you are in need of city comforts.
Book Your Sheffield Hostel Here!
Backpacking Wales
No backpacking trip through the UK would be complete with a visit to Wales. Though Wales has been under English control for the last 1000 years or more, Wales has maintained its unique identity in a wonderful way. Welsh is commonly spoken throughout Wales, especially in the smaller villages. Wales is home to so truly breathtaking national parks, impressive castles, plenty of sheep, and a few interesting big cities.
You can explore a small portion of Wales in a week, and quite thoroughly in two or three. Again if you have rented a campervan, you can really cover some ground. I recommend dedicating most if not all of your time backpacking Wales to experiencing the Welsh National Parks, doing heaps of trekking, and taking the time to stop and see a few quaint villages along the way.
Backpacking the National Parks of Wales
Brecon Beacons National Park
Wales is home to three very impressive national parks. Start off by visiting Brecon Beacons National Park. I don't think I have hiked anywhere on earth than is THIS green. The rolling hills look almost as if they were spray painted the most vivid shades of green. Most people hike to the top of Pen y Fan, a central mountain in the heart of the park. This is a very popular hike though the trick is all in the approach.
Start from the Cwm Gwdi car park and wind your way up the ridge line. After 7 or 8 miles you will arrive at Pen y Fan. I saw very few people on this track, so if you are going to do the hike take this approach. The views are stunning and if the weather cooperates, this hike will be one of the best you do in all of the UK. In addition to climbing Pen y Fan, there are plenty of other hiking opportunities on hand if you fall in love with the Brecon Beacons area.
Book Your Hay-On-Wye Hostel Here!
Backpacking Pembrokeshire Coast National Park
I was amazed when I visited the Pembrokeshire Coast by how few people I encountered. Apart from a few Germans who picked me up whilst hitchhiking, I didn't run into many foreigners and it was the middle of summer!
This national park is located in the far southern end of Wales. It might be due to this fact that it doesn't receive heaps of traffic. The coastline is rugged, the seas rough, and the views absolutely incredible. The Pembrokeshire Coast Path twists and turns its way for 186 miles along the most breathtaking coastline in Britain. It covers almost every kind of maritime landscape from jagged cliff tops and sheltered coves to wide-open beaches and winding estuaries. If you only have a day or two you can tackle a 20-mile section and you will be satisfied. Good on you if you take on the whole damn thing!
Book Your Fishguard Hostel Here!
Backpacking Snowdonia National Park
Snowdonia National Park is truly the gem of Wales. Home to the second tallest mountain in the UK, Snowdonia is a must visit during your time backpacking Wales. The park encompasses a large swath of Northern Wales. There are awesome treks to be had all throughout the park. Tal Y Llyn in the south is quiet, filled with beautiful lakes and full of small, challenging mountains to climb.
To climb Snowdon itself you should base your self in the lakeside town of Llanberis. Llanberris is my favorite town in all of Wales. A former mining settlement, now Llanberis is a community of rock climbers, hikers, and outdoor maniacs. There are at least four badass gear shops in town. If you plan to climb Snowdon you have a few options. You can take the lazy and scenic option, which is a train ride nearly to the top. The old-fashioned alternative is to climb it on foot. Pray for a clear day! It is not uncommon to have the top of Snowdonia be shrouded in cloud and mist.
As I mentioned before, you can spend months exploring the slate quarries around Llanberis if you love to rock climb. Climbing here is unique because nowhere else on the planet can one climb slate rock in so many different capacities.
Book Your Llanberis Hostel Here!
Backpacking Northern Ireland
Northern Ireland makes up a small part of the country as a whole, but there are still plenty of interesting things to get into there. If you have a few extra weeks to spare on your UK backpacking trip be sure to hit up Northern Ireland!
Backpacking Belfast
In the limited amount of time I spent in Belfast, I found I really enjoyed it. Belfast is home to attractive streets, a happening night life, and a fiercely proud population. People here are really proud to be Irish. Their identity is rooted in Irish culture and they often don't speak too kindly about being part of the UK or about their British neighbors, especially with Brexit in the works.
Have a pint at Belfast's oldest pub, Kelly Cellars. Visit the peace walls. Another bizarre yet interesting part of this city is the fact that there are massive walls separating communities from the days when Protestants and Catholics were at each others throats. It is hard to believe that in a modern European city in the 21st century that such walls exist. Rumor has it that these walls will be taken down in the next decade or so.
To seal the deal on Belfast, check out a rugby game at the famous Ulster stadium.
Book Your Belfast Hostel Here!
If you made it to Belfast than you should totally carry on exploring the other treasures Ireland has to offer backpackers.
Check out my hostel guide to the best cheap hostels in Dublin if you planning on spending any time in the Irish capital.
I fucking love Scotland. In fact, I love it so much I wrote an entire Scotland travel guide. Please refer to the Scotland Guide for all the information you will ever need about having an awesome backpacking adventure in Scotland.
Book Your Scotland Hostel Here!
Off the beaten path travel in England and the UK
The UK is all and all quite small and home to 65 million people. That said, it doesn't take too much extra effort to ditch the crowds and experience the UK off the beaten path. I advise you to spend as much time as humanly possible exploring the remote sections of coast in addition to the national parks.
In Scotland especially, the opportunities to get off the beaten path are endless. If you have the time I recommend exploring the highlands for a few weeks at least, scoping out the Scottish islands, and if you can swing it visit the Shetlands. You won't be disappointed that you did.
Backpacker Accommodation in England and the UK
In most places in the UK you can find some sort of budget accommodation. Prices vary but generally expect to pay between £10-16 for a dorm bed. I recognize that sometimes you just need a warm, dry place to shower up and sleep.
That said, if you bring along a good tent and sleeping bag, in addition to renting a car or van, your experience backpacking England and the UK will be far more rewarding than sleeping in a hostel every night.
Renting a van allows you to sleep anywhere you want to in any sort of weather conditions. And believe me, there are some EPIC spots to park up for the night spread throughout the UK.
One of my favorite ways to meet locals and save some cash is to use Couchsurfing. Couchsurfing truly is one of the best tools available to help save you money traveling. Plus you are always bound to meet interesting people!
Where to Stay in the UK

| Location | Hostel | Why we like it?! |
| --- | --- | --- |
| London | Rest up London | Excellent value! Super close to everything important in London. |
| Brighton | Smart Sea View Brighton | Great view of the sea and beach. Close to the city center. Free breakfast! |
| Lewes | YHA South Downs | Very low prices! Beautiful setting in South Downs National Park. |
| Exeter | Globe Backpackers Exeter | Quiet, peaceful, clean, and a solid place to base yourself to explore the area. |
| Plymouth | Plymouth Backpackers | Fast, fiber-optic internet. Helpful staff, free breakfast! |
| Bristol | Rock N Bowl Hostel | If you're in the mood to party, this hostel has an onsite club that gets pumping on the weekends. |
| Liverpool | Hatters Hostel Liverpool | Pub crawls, activity nights, and one of the cheapest options in town. |
| Keswick | YHA Keswick | Perfect base in which to explore the Lake District highlights and treks. |
| Sheffield | Russell Scott Hostels | Truly excellent hillside location and free breakfast. |
| Hay-On-Wye | The Baskerville Arms | Great off the beaten path hostel. Close to the quaint village of Hay-on-Wye. |
| Fishguard | Hamilton Backpacker Lodge | Small, quiet hostel on Pembrokeshire Coastal Path in Fishguard. A friendly hiker hostel! Free breakfast! |
| Llanberis | YHA Llanberis | If you plan to climb Snowdonia, this YHA is your cheapest and most comfortable option in town. |
| Manchester | Hatters on Newton Street | Free bar crawl on Thursday's! Super low-prices. |
| Leeds | Art Hostel | As the name suggests, this hostel is a work of art! In addition to fast wifi, free breakfast is included. |
| Cardiff | Nomad | Great location. Free breakfast. Coffee and tea available all day. |
| Belfast | Global Village | Belfast's newest hostel right in the heart of the center. These guys really have gone all out with providing great facilities. |
Airbnb in The UK
Airbnb is now very well established in the UK and there are listings in pretty much all cities, towns & villages. Whether you are looking for a luxury Loch Lomond cabin, a Liverpool Homestay, or a cheap London guesthouse, there is a Airbnb listing for every occasion.
UK Airbnb prices do vary. But sometimes, it can honestly be just as cheap to take a Airbnb as book a hostel if you are traveling as a couple. Also, the standard of hostels in the UK is a real mixed bag but the calibre of Airbnb's is unrivalled. To get the true, local authentic experience of life in the UK go for Airbnb!
Here are our top picks for Airbnb's in the UK;
One of the best homestays in London. There are few better locations in town than this London share house, and that's just the beginning of what makes this place so awesome! The host will welcome you each morning with a complimentary breakfast, and there's beer too (although you don't have to have that in the morning)!
If you're feeling competitive, challenge them to a game on the pinball machine.
A beautiful modern apartment housed in a colonial-style building, spend time unwinding in comfort. High ceilings are a feature in this central location, whilst big windows make this place light and airy.
It's situated in the city center, walking distance to many of Liverpool's attraction and close to amenities. The apartment is ideal for a weekend in the city with friends or a partner, eating, drinking and enjoying the city's sights and nightlife.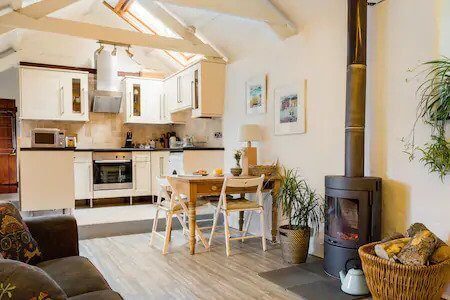 If you've ever visualized the perfect retreat in the Cornish countryside, this cottage probably fits right in with it! The stone-work cottage is about 20 minutes walk from St. Ives, close enough to shops and restaurants, yet far enough away for a completely peaceful environment.
The cottage comes equipped with modern amenities, but also maintains a rustic charm thanks to the cozy wood-burning fireplace. When the weather is pleasant, you can also sit at the outdoor picnic area, which is a great place to enjoy your afternoon tea while appreciating the landscapes.
Wild Camping in the UK
Scotland is one of the few places in Europe where they have wild camping laws! This means you can legally camp most places free of charge and without hassle from police. The actual law states that you may "camp on most unenclosed land", EG national parks, reserves, coastal areas, or any other wild places.
Camping is always my favorite way to get away from the crowds and connect with nature. As always when camping out, familiarize yourself with "leave no trace principles" and put them into practice. If you love being outdoors and exploring wild places, then more than likely you will be camping out at least a few nights a week whilst backpacking in the UK.
Top Things to do in the UK
1. Explore London
As one of Europe's most exciting cities, London offers up a wide range of fun things for backpackers. Best of all is many of the top things to do in London are free.
2. Go Trekking in Cornwall
Cornwall in Southwest England is among one of the most beautiful places in all of England. Take a few days to get to know it!
3. Hike to a Pub
Few things in life are more rewarding than crushing a challenging hike only to be immediately rewarded with a tasty beer. There are many pubs in England and the UK that can only be reached on foot. If you are lacking the motivation to do a hike on a cold rainy day, hopefully the prospect of a quality beer and a cozy pub will light a fire under you!
4. Visit Castles
Love castles? The UK has them in abundance. Step back in time and explore some of the UK's medieval heritage in the form of epic castles.
5. Try Pub Grub
You have had fish and chips and other pub food before, but never as good as you will find it in a traditional English pub.
6. West Highland Way, Scotland
As I mentioned before, this is one of the best long-distance hiking routes in Europe. If you got the time, this trek has the adventure.
7. Hunt Banksy Street Art
From Brighton to Manchester, Banksy's artistic footprint can be found throughout the UK. The real treat is the task of finding them.
Looking for a cool place to stay in Manchester? Check out my guide to the 10 best hostels in Manchester!
8. Climb Mount Snowdon in Wales
It may not be the tallest mountain in the UK (2nd tallest) but the views (clouds permitting) are fan-fucking-tastic.
9. Get to Know Small Villages
The cities usually get all the attention in the UK, but the real charm lies in its smaller villages. England, Wales, Scotland, and Northern Ireland each boast fine small villages to explore. Settle in, have a cup of tea, and chat to some locals about what life is like there.
10. Visit the Scottish Isles
If you are wanting to get into the territory of off the beaten path travel, look no further than the gorgeous and far-flung Scottish Islands.
United Kingdom Travel Tips
Below we have covered tons of essential information for backpacking the UK, including books to read, what to wear, backpacking travel costs, and how to travel around the UK.
The Best Travel Backpack?!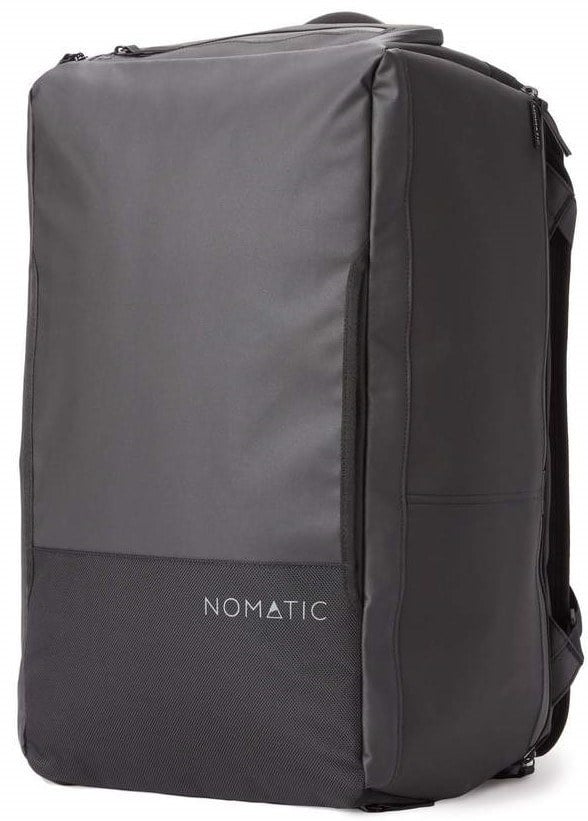 Pssssst! Not picked the perfect travel backpack yet? The Broke Backpacker team has tried out over thirty backpacks this year! Our favourite carry on backpack is the Nomatic Travel Bag.
Read our full review!
Books to read while traveling the UK
The Backpacker Bible – Get it for free! Learn how to ditch your desk and travel the world on just $10 a day whilst building a life of long-term travel with an online income. To inspire and help the next generation of Broke Backpackers, you can now grab 'How to Travel the World on $10 a Day' for free! Get your copy here.
White Teeth – At the center of this invigorating novel are two unlikely friends, Archie Jones and Samad Iqbal. Hapless veterans of World War II, Archie and Samad and their families become agents of England's irrevocable transformation.
1984 – British writer George Orwell's classic vision of a world ruled by "Big Brother". Startling applicable and relevant today.
Sorry!: The English and Their Manners – A lighthearted investigation into what it really means to have proper English manners traces how polite behaviors have developed and changed throughout time, exploring traditions ranging from hospitality and chivalry to sexual conduct and online etiquette.
Fever Pitch – The English love Football. Fever Pitch is Nick Hornby's tribute to a lifelong obsession.
Trainspotting – A modern-day Scottish classic. Rents, Sick Boy, Mother Superior, Swanney, Spuds, and Seeker are as unforgettable a clutch of junkies, rude boys, and psychos as readers will ever encounter. Trainspotting was made into the 1996 cult film starring Ewan MacGregor.
The Highland Clearances – A very interesting and tragic read about the plight of the Highland people during the period known as "the Highland Clearances" Quite shocking, but very informative. Highly recommended.
Lonely Planet UK – Having a Lonely Planet in your backpack is sometimes a good idea.
United Kingdom Travel Phrases
Everywhere you go in the UK English will be spoken. However, in parts of Wales and Scotland, hearing Welsh or Gaelic is common. Below I have listed helpful Gaelic travel phrases for Scotland. You can be sure that you will butcher the pronunciation, and the locals will probably just laugh and respond in English, but they will appreciate the effort!
Good Morning – Madainn mhath
I don't understand – Chan eil mi a' tuigsinn
How Much – Cia mheud?
Stop here – Stad an seo
Where Is The Toilet? – Càite bheil an taigh beag?
What Is This? – Dè tha seo?
Sorry – Duilich
No plastic bag – Chan eil plastic baga
No straw please – Chan eil connlach please
No plastic cutlery please – Chan eil plastic cutlery please
Help! – Cuideachadh!
Cheers! – Slàinte!
More Whiskey Please–Barrachd uisge-beatha
Visiting England?
Planning an epic trip all across England & The UK?
Don't worry – we've got you covered!
For more cool hostel guides around Europe, check out:
Staying Safe in England and the UK
Certainly, there are rough neighborhoods in every major city in the UK. That said, backpackers are rarely the target of violence or attacks. Use general common sense and don't go wandering into unknown areas, especially at night.
Your biggest threat as far as personal safety will be the weather. In Scotland, the weather can be extreme even in the summer. Snow can fall any time of year in the mountains. Always check the weather before setting off on a trek. Pack the appropriate gear, food, and a water treatment device. If possible hike with one other person at least.
Pick yourself up a backpacker security belt to keep your cash safe on the road, and check out Backpacker Safety 101 for tips and tricks to stay safe whilst backpacking the UK. This post for plenty of ideas on ingenious ways to hide your money when traveling.
I strongly recommend traveling with a headlamp whilst in the UK (or anywhere really – every backpacker should have a good headtorch!) – check out my post for a breakdown of the best value headlamps to take backpacking.
Want to save the world? Single-use plastic bottles are a huge threat to Marine Life – Be a part of the solution and travel with a
filter water bottle
.
The GRAYL GEOPRESS water bottle is the ONLY all-in-one filter water bottle setup you'll need. Whether you need to purify the water from a hostel sink in Kathmandu or a stream trickle in the Andes, the Geopress has got you covered.
Sex, Drugs, and, Rock 'n' Roll in the UK
The British are famous the world over for their tendency to knock a few back. If you have done a fair bit of backpacking than you have seen that group of British backpackers with matching haircuts chugging beers shirtless and chanting some catchy jingle they learned on a football pitch. You may or may not encounter that type of person, though luckily Brits tend to be a bit more reserved once on their home soil. Point is, if you are looking for a rowdy party, it shouldn't be too hard to find.
If you keep your eyes and nose open, it shouldn't be too hard to find a cheeky smoke, though expect to shell out some cash for anything over a gram. For more advanced happy-making pills, hit up the clubs and music festivals and you are bound to run across whatever it is you are after. Sadly, Cocaine use is also at problematic levels across the country.
Travel Insurance for UK
A wise man once said that if you can't afford travel insurance, you can't really afford to travel – so do consider backpacker insurance sorted before you head off on an adventure! Traveling without insurance would be risky. I highly recommend World Nomads.
I have been using World Nomads for some time now and made a few claims over the years. They're easy to use, offer the widest coverage, and are affordable. Also, this is the only company I know of that lets you buy travel insurance after leaving on a trip.
If there's one insurance company I trust, it's World Nomads. Find out why I recommend World Nomads, check out my World Nomads Insurance review.
Getting an estimate from World Nomads is simple – just click the button or image below, fill out the necessary info, and you're on your way!

What to Pack for England and the UK
On every adventure, there are six things I never go traveling without:
1. Security Belt with Hidden Pocket: I never hit the road without my security belt. This is a regular looking belt with a concealed pocket on the inside – you can hide up to twenty notes inside and wear it through airport scanners without it setting them off. This is hands down the best way to hide your cash.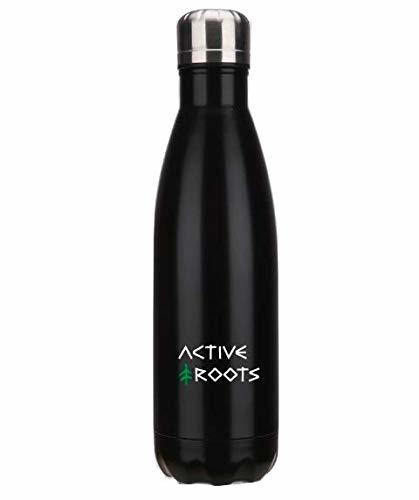 2.Travel Water Bottle: Always travel with a water bottle – it'll save you money and reduce your plastic footprint on our planet. AR bottle are tough, lightweight and maintain the temperature of your beverage – so you can enjoy a cold red bull, or a hot coffee, no matter where you are. For every AR bottle sold, we donate 10% to PlasticOceans.org – an initiative to reduce plastic in our oceans!
3. Microfibre Towel: It's always worth packing a proper towel. Hostel towels are scummy and take forever to dry. Microfibre towels dry quickly, are compact, lightweight and can be used as a blanket or yoga mat if need be.

4. Headtorch: Every backpacker should have a head torch! A decent head torch could save your life. If you want to explore caves, unlit temples, or simply find your way to the bathroom during a blackout, a headtorch is a must. Currently, I'm using the Petzl Actik Core rechargeable headlamp – an awesome piece of kit! Because it's USB chargeable I never have to buy earth polluting batteries.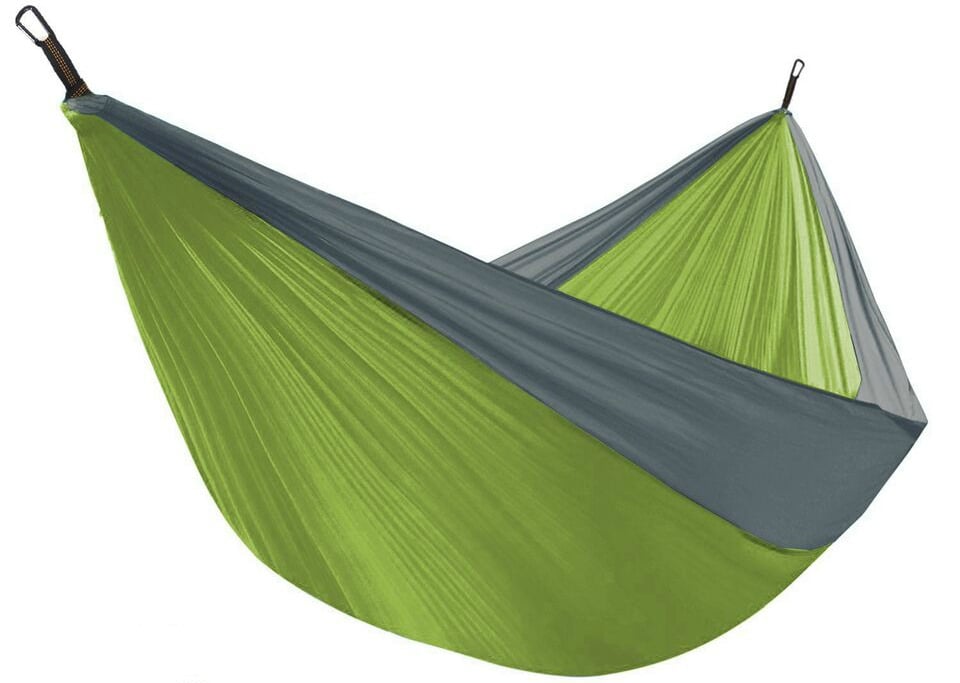 5.Hammock: Taking a tent backpacking is not always practical but hammocks are lightweight, cheap, strong, sexy (chicks dig hammocks) and allow you to pitch up for the night pretty much anywhere. Right now, I'm rocking an Active Roots parachute hammock – it's light, colourful and tough.
6. Toiletry Bag: I always travel with a hanging toiletry bag as it's a super efficient way to organise your bathroom stuff. Well worth having, whether you are hanging it from a tree whilst camping, or a hook in a wall, it helps to have quick access to all your stuff.
For plenty more inspiration on what to pack, check out my full backpacking packing list.
Look Awesome, Do Awesome!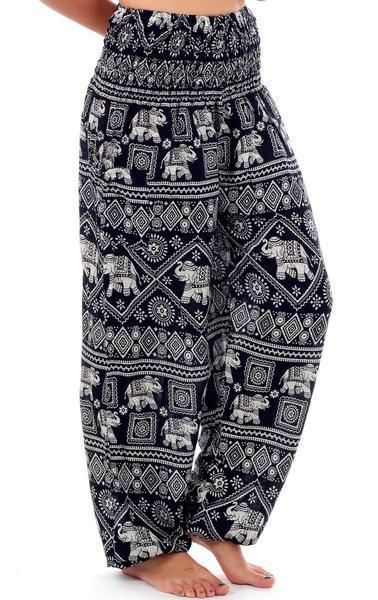 Want to embrace the hippy backpacker style and look?
Active Roots hippy trousers
are chic, comfortable and perfect for yogis, backpackers and adventurers alike. Help us
support the elephant conservation centre in Laos!
10% of your purchase goes towards saving the Asian elephant population so you can look awesome, feel awesome and do awesome – all at once. Pretty fucking awesome right?
Use the code ' TBB10 ' for 10% off your order.
Best Time to Travel to the UK
When the rest of Europe is cooking in its own juices, the cooler temperature of England and the UK feel like heaven. From May to October, you can experience great weather at times all across the UK. The English Summer is also famous for having long periods of cold, wind, and wet.
If you are trying to get the most out of the UK"s outdoor happenings, I suggest coming in July or August. Again, it is a crapshoot. One day could be absolutely mint, only to have the next day be pissing down with no end in sight. It is important to be a bit flexible in your trekking plans due to the volatility of the weather. One should just expect that it will be cold and rainy at some point on your trip. Hopefully, you will be lucky and get the chance to experience some of that elusive British sunshine! That said, always have a solid rain-jacket on hand. Waterproof shoes are also essential for trekking in the UK.
Apps to Download before Backpacking the UK
Maps.Me – Prone to getting lost or taking that 'shortcut' that adds another few hours onto a simple walk? This app is definitely for you. My favorite offline maps app, download your map and route before you venture out to keep you on track while backpacking the UK.
XE Currency – I used this a lot when backpacking abroad. It is a great help while calculating expenses.
HIDE.ME – I always have a VPN ready to go on both my phone and laptop, I personally use Hide Me which is one of the fastest and most reliable options out there. This particular VPN allows for up to five connections which is handy for keeping all your devices connected without having to purchase multiple VPN packages.
UK Travel Guide to Getting Around
Arriving into the UK
The UK is home to major international airports in London, Glasgow, and Edinburgh. You can usually score budget flights to London from other major European capitals.
An alternative to flying is to take the ferry across the English Channel from France.
Entry Requirements for England and the UK
Tourist visas for citizens of many countries can be easily obtained on arrival at all of the ferry ports and airports. As of early 2018, members of all EU countries and EFTA member states still have freedom of movement privileges and don't require any visas.
There are 58 countries outside of the European Union that have a visa reciprocity agreement with the UK. This means that citizens of those countries, depending on which one you are from, can receive 3-6 months of visa-free travel (tourist travel) in the UK.
If you are from a country not on the reciprocity list, you will need to apply for a visa through the British embassy in your home country.
How to Travel in England and the UK
Renting a car is a good option if you intend to see a wide swath of the country.
You can sort your car rental here in just a few minutes. Booking in advance is the best way to ensure you score the lowest price and your choice of vehicle. Often, you can find the best car rental prices when you pick up the rental from the airport. You can also purchase a RentalCover.com policy to cover your vehicle against any common damages such as tires, windscreens, theft, and more at a fraction of the price you would pay at the rental desk.
The alternative to car rentals is the public bus system. Taking buses around the UK can be cheap especially if booked in advance.
Train travel is an option too though the trains only go to major cities and tend to be pricey. If you are low on cash a combination of hitchhiking and public buses is the way to go.
It is important to note that bus connections in rule areas/the start of treks are far fewer than in cities.
Traveling to United Kingdom is now super easy when you book with Flixbus! Buy your Flixbus bus tickets ahead at unbeatable prices for fast and last minute travel.
With connections in 28 European countries and over 2000 destinations, you can sit back and relax knowing that Flixbus will get you there in time. Discover the smartest and cheapest way to travel – book on Flixbus now and hit the road!
Campervan Hire in the UK
As I've said before if you have the means to rent a campervan do it! It isn't the cheapest endeavor, but if you are traveling as a couple or with several mates you can split the expense. The price of the campervan rental depends on the time of year. Anyway you look it, it's so much fun though….
These are the Campervan rental averages I found:
November – February £70/day
March – April, September – October £110/day
May – August £120/day
If you can swing it, you will enjoy the hell out of your time exploring the UK by campervan.
Hitchhiking in the UK
While it is easy to find local buses for short distances, your best bet for saving some money will be hitchhiking.
The UK is world-class road trip destination and its roads are never empty of potential rides. So many awesome campervans in the UK! Even on some lonely stretches of highway, a ride can be scored if you are patient.
Really, I think the rainy weather plays on peoples sympathies in the UK. Folks are always keen to stop and give you a lift if you're hitchhiking in the rain!
Onwards Travel from the UK
If you are on an extended European backpacking tour good for you! Cheap flights from London, Glasgow or Edinburgh can take to your next backpacking destination without breaking the bank. Most major European capitals are only an hour or two flight away!
The ferry through the English channel to France can be a good way to get to Europe though it can be pricey, especially last minute or if you have a vehicle.
There are two ferry routes operating between Northern Ireland and Scotland offering a combined total of 84 sailings per week. P&O Irish Sea operates 1 route, Larne to Cairnryan which runs 7 times daily. Stena Line operates 1 route, Belfast to Cairnryan which runs 5 times daily.
Make sure you're not stuck on land by organizing ferry tickets ahead of time. You can check schedules for any given destination using Directferries. They'll also compare prices of competing companies, so you can book the best deal possible.
Here are some popular routes in the UK:
Newhaven – Dieppe | Dover – Calais | Holyhead – Dublin | Cairnryan – Belfast
England and the UK Backpacking Costs
Backpacking in Europe is always going to be more expensive than backpacking in Nepal for example.
Staying in hostels every night, partying it up, eating out for every meal, and booking last minute trains will certainly eat a big hole in your budget. Backpacking England and the UK is no different. Shit can get expensive fast! A comfortable daily budget is between $50-75 USD.
I recommend Couchsurfing as much as you possibly can. The more you Couchsurf and hitchhike, the more money you can spend on wine and cheese. Pure and simple. Also, having a good tent and sleeping bag will help save you a ton of money on accommodation.
Here is what you can expect to spend on a daily basis (excluding car or van hire):
Dorm Bed in a Hostel: $15-20+
Small basic room for two at a hostel: $90-120
Airbnb room: $25-40
Short public bus ride (1 hour or less): $3-8
Long distance bus: $15-50+
Meal at a pub: $10-17
Dinner in an Indian restaurant:$10-20
Beer in the shop: $2-3
National Park entrance fees: Free!
Money in England and the UK
The currency in the Uited Kingdom is the British pound sterling.
Currency symbol= £ GBP
ATMs are widely available in just about every place in the country. If you are going to remote locations on some of the Scottish islands, bring enough cash to see you through.
If you bring heaps of foreign cash to exchange, expect to get a poor exchange rate.
Find out whether or not your bank in your home country has fee-free international withdrawal. If so, activate it for your trip or for whenever you travel abroad. Once I discovered my bank card had that option, I saved a huge amount in ATM fees! When traveling to the UK on a budget, every dollar (pound) counts right?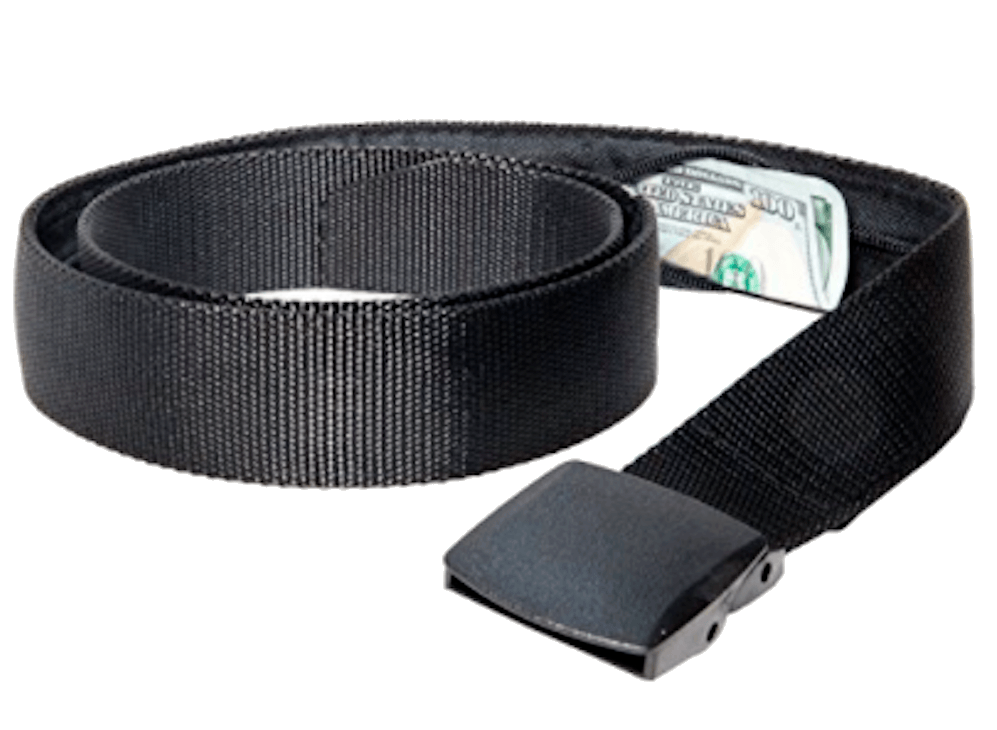 You should always have emergency cash hidden on you – pick up this awesome security belt with its hidden pocket before you travel, it's perfect for hiding money, a passport photocopy.
Backpacking UK Budget Travel Hacks
Camp: With plenty of stunning mountains, lakes, and remote coastline in the UK, camping saves you money and can help you get off of the beaten path. Check out this post for a breakdown of the best tents to take backpacking.
Cook your own food: Travel with a portable backpacking stove and cook your own food to save some serious cash whilst backpacking across the UK. If you plan to do some overnight hiking trips or camping having a backpacking stove will be ESSENTIAL to your success.
Couchsurf: Brits, Welsh, Scots, the Irish… they're all awesome. Get to know some! Check out Couchsurfing to make some real friendships and see a country from the perspective of locals. When using Couchsurfing, be sure to send personalized messages to your potential host. A generic copy and paste message are much more likely to get turned down. Make yourself stand out.
Pack a travel water bottle: save money (and the planet) every day! Stop buying bottled water! Seriously guys, I know I may be repeating myself, but having a water bottle is so handy and an absolute must if you plan on doing any trekking whilst backpacking in the UK. Get yourself one and stay hydrated!
Travel the UK for Free
Backpacking England and the UK doesn't have to mean go go go all the time. Cheap travel is slow travel and free travel, well that means putting in work (of sorts).
If you are looking to stay in the UK for more than a couple weeks, there are plenty of opportunities out there to keep you happy and comfortable without spending any money at all.
WWOOF UK is an organization that connects organic farmers with people looking to volunteer for a few hours every day in exchange for meals and a place to stay. I can't recommend the WWOOF organization enough! I have WWOOFed in multiple countries around the world, and always had a great time doing it.
Both organizations require a small payment for membership that is good for a year (WWOOF UK membership is only valid in the UK).
Internet in the UK
The UK is very well connected for the most part. Such is life after-all in a modern industrialized country.
I found that sometimes in remote regions of some of the Scottish Highlands I had no cell reception. Same can be said for some of the islands. Remote sections of the coast or national parks in Wales could be the same story Most hostels offer free wifi or provide it at a small cost. Public libraries often have free wifi and they are quiet and warm places to chill out in.
If you have a smartphone with a SIM card from western Europe, then it will probably work normally in England and the UK. Check with your provider to see if there is any additional cost.
You can always buy a SIM card either at the airport or in any major city.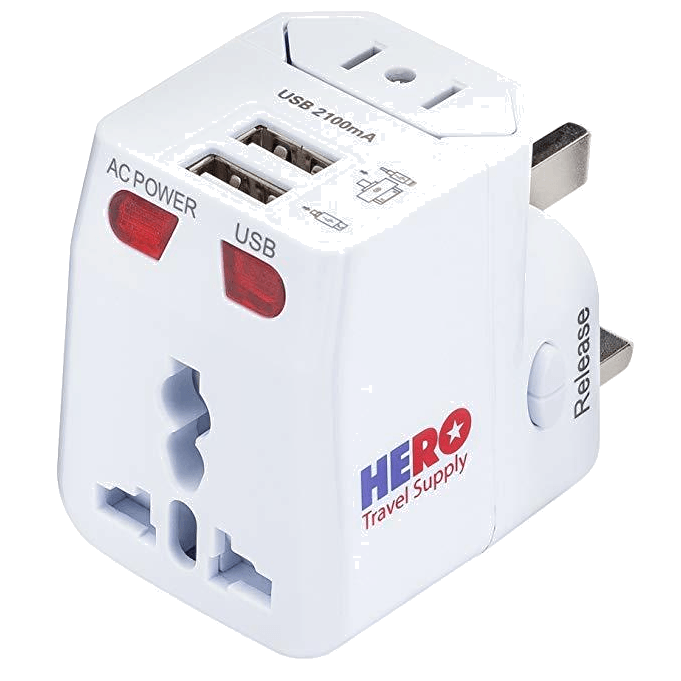 One of the best investments you can make is a
worldwide travel adapter
that will work anywhere! The one featured here is tough, reliable and a solid buy – Don't leave home without one.
GET IT HERE
Must Try Experiences in the UK
Meet the People in the UK
The UK is full of wonderful human beings. In each region, the humor is slightly different, the jokes slighter dirtier than the last, and thee people all have one thing in common: each region of the UK makes fun of the others. Every time I have traveled around the UK I have been shown kindness whether or not I was in need. If you show people respect and kindness you can expect the same in return.
Food in the UK
The UK generally has a pretty poor culinary reputation. However the old stereotypes about English food are now well outdated and you will dine very well in the UK. In addition to modern English cuisine, there is an astounding number of ethnic options available everywhere you turn in the UK. From Pakistani to Eritrean to Peruvian, good food is every where. Personally, I think English food fucking rocks.
Here are a few of my favorite dishes native to the UK:
Fish and Chips – This pub classic is known round the world, but it doesn't get much better than when served in an English pub alongside a pint of dark ale. I'll be honest, this one is stodgy and tends to underwhelm people.
Bangers and Mash – Now a staple in backpacker hostels from Bali to Argentina, Bangers and Mash is the original hangover cure. The dish is made up of mashed potatoes and sausages, sometimes served with onion gravy or fried onions.
Pork Pie – Delicious, cheap, sauvory pastries filled with minced pork. Now ubiquitous in Real Ale pubs and available in vegan varieties!
Sunday Roast – The Sunday roast is a traditional British main meal that is typically served on Sunday, consisting of roasted meat, roast potato, and accompaniments such as Yorkshire pudding, stuffing, vegetables and gravy. Vegetables such as roast parsnips, Brussels sprouts, peas, carrots, runner beans, and broccoli are included and can be cooked in different styles. A classic from the days of yore.
Toad-in-the-hole – Sausages in Yorkshire pudding batter, usually served with onion gravy and vegetables. Historically, the dish has also been prepared using other meats, such as rump steak and lamb's kidney.
Cullen Skink – Those cold days got you chilled to the bone? A Scottish classic, Cullen skink is a delicious soup made from smokedhaddockk, potatoes and onions. The perfect meal for traveling to Scotland on a budget!
Scouse/Stew – Native to Liverpool, this is a thick stew made from meat, potatoes and root veg. Perfect for cold days.
Lanark Blue – A strong, blue-veined aged sheep milk cheese produced in Lanarkshire, Scotland. Very tasty after all that boring cheddar crap!
fsex – Yes, this one is originally from India but the British cannot live without it.
Trekking in the UK
In addition to awesome cities, killer museums and culture, the UK is home to some fantastic trekking opportunities. Whether you dig day hikes or you are trying to pack in a few multi-day treks, there are options for every backpacker!
Trekking in England
South Downs National Park: Amberley & Bignor Hill Loop: A fantastic 11.5 mile / 17.7km circular route that is a great days walk or a stunning ride. This route takes in part of the South Downs Way between Amberley and Bignor Hill as well as part of the National Trust's Slindon Estate and part of the Monarch's Way.
Dartmoor National Park: South West Coast Path: This track is massive. It stretches for 630 miles! Pick it up anywhere along the way, or dive in and tackle a big stretch of it on a multi-day adventure.
Cornwall: St Ives to Penzance Lands End Trail: A beautiful 11 miles hike to the very tip of South West England.
Seven Sisters: One of my favorite day-hikes in Southern England! The hike only takes a few hours and has you passing through rolling farm land before arriving at the sisters formation. The white chalk cliffs and greenish water are stunningly beautiful.
Lake District National Park: Greendale and Middle Fell, Western Fells: There are so many options here in the Lake District! The short 4 mile hike to the Middle Fell is a good place to get started.
Trekking in Wales
Brecon Beacons National Park: Pen y Fan: Experience the vivid green colors of the rolling hills in Brecon Beacons. If you go on a weekday there is bound to be less human traffic. There are many other peaks to climb in the park too if you're keen for more action here.
Snowdonia National Park: Snowdon: Climb the second tallest peak in the UK. Again, hope for clear skies!
Pembrokeshire Coast National Park: Coastal Path: A trek down the Pembrokeshire Coastal Path will not disappoint. This hike can be made as a long day-hike or a more extended multi-day affair.
Trekking in Scotland
West Highland Way: The Ultimate long-distance hiking trail in the UK. This hike takes roughly 11 days to complete. Remember you can camp as well as stay in comfortable lodges along the way.
Isle of Skye: Old Man of Storr: The hike itself takes less than an hour. Do the hike in the dark before sunrise and get your mind-blown at first light. Alternatively you can camp out there the night before.
The Cairngorms: Ryvoan and Lochan Uaine circuit: A gorgeous 10-kilometer walk through ancient pine forests and mystical lochs. Honestly there are so many beautiful hiking options in the Cairngorms!
Fort William: Ben Nevis: Keen to tackle the UK's tallest mountain? From Fort William, Climbing Ben Nevis takes roughly seven hours round trip. It is best to start early in the morning, thus avoiding the hordes of people. If you are trekking outside of the main summer season, you might be nearly alone.
Prepare for cold weather no matter what time of year it is! Ben Nevis might not seem that high but it can get snow anytime. It is also very exposed to wind, sleet, and rain so plan accordingly. Pray for clear skies!
Festivals in the UK
Here is a list of a few festivals I recommend checking out whilst you are traveling around the UK:
Boomtown, 9-12 August 2018, Winchester: A very diverse festival covering all genres. Boomtown attracts some pretty big name acts every year.
Boardmasters, 8-12 August 2018, Newquay: Hidden amongst the swell and sunshine of the south-west coast of England, Boardmasters mixes the best boarders in the world – whether they're surfers or skaters – with BMX kings, and soundtracks the action with dance dons, folk stars, and pop favorites. This festival shares the same dates as Boomtown so you're going to have to choose the best one!
Latitude Festival, 12-15 July 2018, Southwold: Taking over the idyllic English countryside, this festival is a great party as well as a family affair.
Download Festival, 8-10 June 2018, Derby: The UK's premiere heavy metal and rock n' roll festival.
The Great Escape, 17-19 May 2018, Brighton: Brighton's music bonanza is a seaside holiday with a difference, as the beachside waves mix with the sound of breaking bands, boasting some 400 of the 'Next Big Things' in 35 venues, with just one wristband getting you into every one.
Isle of Wight Festival, 21-24 June 2018, Isle of Wight: The reincarnation of one of the UK's first ever festivals continues to pull in the world's biggest guitar slingers and the hottest craftsmen and women from pop and electronic genres.
Scottish Festivals
Cowal Highland Gathering, August, Dunoon: Every summer people from all over the UK descend on the Highlands for a multi-day festival celebrating Highland culture. The Highland games event is held in the Scottish town of Dunoon, on the Cowal peninsula in Argyll and Bute, over the final weekend in August. Activities include live traditional music and Scottish style Olympic sports.
Hogmanay, December 31st-January1st, Scotland: Hogmanay is the Scottish New Year celebration. The origins of Hogmanay are unclear, but it may be derived from Norse and Gaelic observances. Customs vary throughout Scotland, and usually include gift-giving and visiting the homes of friends and neighbors, with special attention given to the first-foot, the first guest of the new year.
In the streets of major cities, a copious amount of debauchery is sure to be found.
A Brief History of the UK
After World War Two rocked all of Europe, Great Britain emerged as a clear victor. Britain was a winner in the war, but it lost India in 1947 and gracefully gave up the majority of it's foreign colonies by 1960. The British Empire suddenly ceased to exist… And the world was suddenly a little less efficient.
The UK debated its role in world affairs and joined the United Nations in 1945, NATO in 1949, where it became a close ally of the United States. Prosperity returned in the 1950s and London remained a world center of finance and culture, but the nation was no longer a major world power. In 1973, after a long debate and initial rejection, it joined the European Union.
As the country headed into the 1950s, rebuilding continued and a number of immigrants from the remaining British Empire, mostly the Caribbean and the Indian subcontinent, were invited to help the rebuilding effort. As the 1950s wore on, Britain lost its place as a superpower and could no longer maintain its large Empire. This led to decolonization and a withdrawal from almost all of its colonies by 1970.
The Suez Crisis, Hippies, and Rock Music
Events such as the Suez Crisis showed that the UK's status had fallen in the world. The 1950s and 1960s were, however, relatively prosperous times after the Second World War, and saw the beginning of a modernization of the UK, with the construction of its first motorways for example, and also during the 1960s a great cultural movement began which expanded across the world. Hippies! Some of the best music ever produced was made in England throughout the sixties! Think the Beatles, The Rolling Stones, Led Zeppelin, etc…
Unemployment was relatively low during this period and the standard of living continued to rise with more new private and council housing developments taking place and the number of slum properties diminishing.
Modern Day United Kingdom Politics
In September 2014 a referendum was held in order to decide whether or not Scotland would gain independence from the rest of the UK. The vote did not pass and to the objection of many Scottish people, it remains part of the UK.
On June 23rd 2016, the UK voted to leave the European Union in a move now coined "Brexit". The UK remains a member of the EU for the time being but invoked Article 50 of the Lisbon Treaty on 29 March 2017. This started negotiations on a withdrawal agreement that will last no more than two years (unless the Council and the UK agree to extend the negotiation period), before an exit from the European Union on 29 March 2019. The longer-term implications of the referendum vote remain uncertain, with politicians and commentators suggesting various outcomes. In my opinion, it's a fucking disaster.
England lives in hope that King Arthur shall return from his long slumber, slaughter almost all of our politicians and lead us into prosperity once more…
Volunteering in UK
Long term travel is awesome. Giving back is awesome too. For backpackers looking to travel long-term on a budget in UK whilst making a real impact on local communities, look no further than World Packers. World Packers is an excellent platform connecting travelers with meaningful volunteer positions throughout the world.
In exchange for a few hours of work each day, your room and board are covered.
Backpackers can spend long periods of time volunteering in an awesome place without spending any money. Meaningful life and travel experiences are rooted in stepping out of your comfort zone and into the world of a purposeful project.
Worldpackers opens the doors for work opportunities in hostels, homestays, NGOs, and eco-projects around the world. We've tried and approved them ourselves – check out our Worldpackers in-depth review here.
If you're ready to create a life-changing travel experience and give back to the community, join the Worldpacker community now. As a Broke Backpacker reader, you'll get a special discount of $20. Just use the discount code BROKEBACKPACKER and your membership is discounted from $49 a year to only $29.
Make Money Online Whilst Backpacking the UK
Traveling in the UK long-term? Keen to make some cash when you are not exploring?
Teaching English online is a great way to earn a consistent income—from anywhere in the world with a good internet connection. Depending on your qualifications (or your motivation to obtain qualifications like a TEFL certificate) you can teach English remotely from your laptop, save some cash for your next adventure, and make a positive impact on the world by improving another person's language skills! It's a win-win! Check out this detailed article for everything you need to know to start teaching English online.
Learn what it's like to be a VIPKID teacher, a top company in the field of online English learning.
In addition to giving you the qualifications to teach English online, TEFL courses open up a huge range of opportunities and you can find teaching work all over the world. To find out more about TEFL courses and how you can teach English around the world, read my in-depth report on teaching English abroad.
Broke Backpacker readers get a 35% discount on TEFL courses with MyTEFL (simply enter the code BACKPKR), to find out more, please read my in-depth report on teaching English abroad.
Whether you are keen to teach English online or looking to take your teaching game a step further by finding a job teaching English in a foreign country, getting your TEFL certificate is absolutely a step in the right direction.
Being a responsible backpacker in the UK
Reduce your plastic footprint: Perhaps the best thing you can do for our planet is to make sure you do NOT add to the plastic problem all over the world. Don't buy one-use water bottles, the plastic ends up in landfill or in the ocean. Instead, pack a tough travel water bottle.
Go and watch A Plastic Ocean on Netflix – it'll change how you view the plastic problem in the world; you need to understand what we are up against. If you think it doesn't matter, get off my fucking site.
Don't pick up single use plastic bags, you're a backpacker – take your daypack if you need to go to the shop or run errands.
Bear in mind, that many animal products in countries you travel through will not be ethically farmed and won't be of the highest quality. I'm a carnivore but when I'm on the road, I only eat chicken. Mass-farming of cows etc leads to the rainforest being cut down – which is obviously a huge problem.
Recently, my gear-venture, Active Roots has started to sell water bottles. For every Active Roots water bottle sold, we donate 10% to PlasticOceans.org – an awesome initiative aimed at educating people on the risk of single use plastic and helping to clean up our oceans. Help save the planet, whether you take an Active Roots bottle or not – TAKE RESPONSIBILITY for your plastic footprint, don't be a dick.
Need more guidance? – Check out our post on how to be a responsible backpacker.
Backpacking the UK will bring you ample opportunities to participate in debauchery, and it is very important to have fun, let loose, and get a bit wild at times. Most backpacking trips I have been on across the world have included at least a few mornings where I wake up knowing I went too far.
There are some things that will put you in the category of a straight up jackass if you do them. Being super loud and obnoxious in a tiny hostel at 3 AM is a classic rookie backpacker mistake. Everyone in the hostel will hate you when you wake them up. Show your fellow travelers respect whilst backpacking in the UK, and anywhere else for that matter!
Climbing on ancient castle walls, monuments, or other historical artifacts should be avoided. Learn to appreciate the cultural treasures of the UK and don't be that dickhead who adds to their demise.
Scotland Wild Camping and Farms
Proper wilderness etiquette should be maintained at all times! This means cleaning up all rubbish from your campsite(s) and leaving them in the same pristine shape you found them in. Take care of the wild spaces that take care of you. The earth is being neglected in so many places, it is up to you to help keep Scotland green and clean.
Respect farmers' fence perimeters. Always ask before setting up shop on land that is fenced off. Whenever you open a gate on a farm, always close it! The last thing you want is to let 100 sheep out onto the road. Beware of bulls in the paddocks. They can be aggressive!
Scotland is a goddamned beautiful country with many unique qualities. Traveling the world makes you an ambassador for your country, which is awesome. We can make a positive impact on people when we travel and get rid of any ugly stereotypes that may be associated with your country…
Final Thoughts on Backpacking England and the UK
Well there you have it amigos. I hope you have thoroughly enjoyed my UK travel guide! I hope you are able to get into plenty of fun adventures (and a little debauchery) during your time backpacking around this beautiful land. Best of luck on your journey!
"Yay for transparency! Some of the links in this post are affiliate links. This means that if you book your accommodation, buy a book or sort your insurance, I'll earn a small commission at no extra cost to you. I only link to stuff I've actually used and never endorse crap. Your support helps me keep the site going."
---
Need More Inspiration?
Like this Post? PIN ME!!
Chris Lininger is a writer, photographer, and guide from California. He is an advocate for off-beat responsible travel and the preservation of the world's wild places and spaces. Chris is also a founding member of Epic Backpacker Tours and leads expeditions to Pakistan throughout the year. He is currently riding out the pandemic in Bali.  Follow his adventures on Instagram.