Considering a staycation this year? Look no further than Cornwall! They have beaches, surfing, heritage – and a vibrant visual arts scene to boot. Thanks to its Celtic past, it's also full of fascinating cultural artifacts.
The Duchy of Cornwall is small, yes, but totally packed with charm. Every town and village has something unique on offer – from surfing to cheesemaking and everything in between. Planning a bigger trip within Britain? Cornwall is a terrific starting point.
We get it; planning a road trip can be time-consuming. Luckily for you, we've done some of the hard work and arranged three thrilling itineraries. Using local expertise, we've pinpointed some of the must-see destinations around the Duchy and beyond.
So pack the car and hit the road!
Land's End, the southernmost point in Great Britain, has cemented Cornwall as a popular road trip destination. That being said – you don't have to travel all the way to John O'Groats for an awesome road trip; this gorgeous region has plenty of its own attractions.
Here are some of the reasons we think Cornwall is a top summer road trip destination:
Cultural attractions. The South West of England is known for its eclectic arts scene. Cornwall, in particular, has some excellent visual arts galleries.
Unique history. Did you know Cornwall is the best place in England to discover Celtic history? While Scotland, Wales, and Ireland are better known for Celtic culture, Cornwall has some cool artifacts dating back to the pre-Roman era.
Beautiful scenery. Cornwall's long coastline will leave you speechless with its jaw-dropping beauty. The beaches are among some of the most popular in Britain, and the interior is known for its vibrant plant life.
Decadent cuisine. Britain, in general, isn't known for having the best food – but Cornwall will completely change your mind! Everyone knows about Cornish Pasties, but you have to try some of the other goodies on offer in their many bakeries.
Great weather. Cornwall isn't exactly the Costa del Sol, but it does see more sunshine than most other regions in Britain. The Southwest location also means the temperatures are milder. It's the year of the staycation, so this is your best bet for outdoor adventures.
With such a diverse array of attractions, it's no wonder Cornwall is a firm favorite with Brits getting to know their homeland. So, how do you get around?
Now that we've got all the boring (but essential) stuff out of the way, let's jump right into the three best Cornwall road trips!
Cornish Loop – 4 days (or 5 days if you include the Isles of Scilly)
From: Plymouth
To: Bude
Total Distance: 262km (163 miles)
Days: 4 (or 5 if you include the Isles of Scilly)
Top Road Trip Stops: Eden Project; Penwith Heritage Coast; Newquay
Only got a few days? This is our most basic itinerary – and our top pick for a minibreak. We've recommended a 4-5 day itinerary, but you can easily cover this in a shorter period. You'll get to take in the whole Cornish coast – and discover some awesome cultural attractions along the way.
This trip is the one with the most beaches – so check the weather and pack your trunks! The Duchy of Cornwall is also part of the Crown Estate. You have the Queen's blessing to explore the delightful heritage attractions on offer.
You'll see we've started the trip to Plymouth. This is located just outside Devon, but really, you can start from anywhere in Southern England. We love the coastal vibes and laid-back culinary scene in Plymouth though, so definitely consider a night there before heading off. Plymouth Backpackers and Duke of Cornwall Hotel are our favorite accommodation picks in the city.
The beauty of this trip is that it can be easily combined with our two other itineraries. The first half also features in our White Cliff Way tour, while the second half kicks off the Celtic Coasts.
There are short distances between stops on this trip to give you plenty of time to explore each place. This is definitely one for those that want something laid-back.
Road Trip Highlights:
Discover the Eden Project – one of the most ambitious conservation projects in the world! This stunning attraction is sometimes called the Eighth Wonder of the World. Why? It's home to flora and fauna from across the globe.
Munch on Cornish Pasties, clotted cream scones, and other mouthwatering treats from the many bakeries. The Duchy is full of tantalizing dinner stops.
Gaze in awe at the stunning scenery at Land's End – the Southernmost Tip of Great Britain.
Catch some waves at one of the best surfing spots in the UK.
Sample some cheddar cheese at Davidstow – the home of the world-famous dairy delicacy.
Day 1: Plymouth to Mevagissey (2 hours)
Rise and shine – it's time to start your road trip! It's only two hours from point A to point B, but we recommend getting up nice and early so you have time to explore. The Eden Project will take you a few hours. An early start also gives you the chance to munch a hearty breakfast down at the Barbican in Plymouth. Trust us; you don't want to miss the food here.
Variety is the spice of life, so we have two primo options for stopovers on the way! The Eden Project really is a must-see. It's home to the largest greenhouses in the world, hosting plant species from across the globe. Be sure to arrive early to beat the queues.
More interested in adventure travel? We got you; Adrenaline Quarry really lives up to its name. We love the heart-racing rope swings. You can probably do both, but save Adrenaline Quarry for the afternoon.
Mevagissey is only a short drive from the Eden Project. You'll have to double back on yourself if you're doing both attractions – but it's totally worth it. Mevagissey is a stunning fishing village with plenty of great bakeries to choose from. In the summer, you can take a fishing trip in the harbor with a local – so that's dinner sorted!
Best Stops: Eden Project; Adrenaline Quarry; Roseland Heritage Coast
Where to Eat: The Fisherman's Chippy; Tea on the Quay, Martin's Bakery
Where to Stay: Mevagissey Bay Hotel ($); Enchanting Cottage ($$$)
Day 2: Mevagissey to Penzance (2 hours)
You're going to want to get up early again so you can stop at Flambards Theme Park on the way. Hop on a couple of rides, munch on some candy floss, and soak up the atmosphere of the typical British fairground.
You'll want to drive through Penzance so you can reach Land's End. No ifs or buts – you have to stop here! Iconic sign aside, it's a gorgeous location for getting your next best 'gram shot.
Take a trip around Penwith Heritage Coast to check out the gorgeous beaches. Stretch your legs and breathe in that seaside air on one of the coastal walks.
Penzance itself is a pretty standard town during the day, but there are some quality restaurants and pubs in the evenings. If you're taking the boat the next day, you won't need your car – so let your hair down and enjoy a couple of pints with the locals.
Day 3: Penzance to the Isles of Scilly (3 hours)
This is an easy trip; hop on the ferry in Penzance and enjoy the 2 hour, 40-minute long journey to the Isles of Scilly! This is a passenger ferry, so make sure you have a secure place to leave the car.
The Isles of Scilly are packed with scenic viewpoints, interesting culture, and fascinating history. They are said to be where King Arthur originated. There are some great boat tours available once you get there; we love the island hopping tours that run through the summer.
If you're short on time, you can skip this part of the trip. Ideally, we'd recommend spending the night on Scilly so you can enjoy the local pubs. Day trips are a bit cheaper though, so we totally understand if you want to spend an extra night in Penzance.
Best Stops: Abbey Gardens; Cromwell's Castle; St Mary's Old Town
Where to Eat: The Beach; Scilly Burger
Where to Stay: The Atlantic ($$); Star Castle Hotel ($$$)
Day 4: The Isles of Scilly (or Penzance) to Newquay (3-4 hours)
The drive from Penzance to Newquay is only around an hour, so you can easily make the trip including the ferry ride from the Isles of Scilly. If you opted to stay in Penzance, have a lie-in. You'll need the energy before heading to the surfing capital of Cornwall.
There are some great boutiques along the way. St Ives is a wee bit of a detour but is home to the Tate Gallery – perfect for art lovers. We also recommend Redruth to learn about the history of tin mining. It's more interesting than it sounds – Cornwall once ran entirely on this industry.
Got your culture fix? Now it's time to catch some waves at Newquay – the most popular surfing spot in the UK! Adventure travelers will be over the moon with the other water sports on offer. Kayaking is great for beginners. If you want to stay longer, there are some awesome hostels in Newquay too, making it super easy to stay on a budget.
Day 5: Newquay to Bude (or Plymouth) (1.5 – 3 hours)
It's the final stretch – and our personal favorite part of this trip! Head to Pentire Point first to take in spectacular sea views and gorgeous cliffside scenery. Still a bit exhausted from surfing? Cheddar makes it beddar at Davidstow. Learn about the history of the cheese and grab some samples for the road.
Bude is our final stop. Here you can enjoy the quintessential British seaside resort. It also has a great golf course, and the surfing here is a bit more chill than Newquay.
You can opt to end your trip in Bude, but we recommend continuing to our Celtic Coast route if you have more time. Otherwise, it's only one and a half hours back down to Plymouth.
Don't want the journey to end? Keep going along our Celtic Coasts route!
From: Penzance
To: Anglesey
Total Distance: 858km (533 miles)
Days: 10
Top Road Trip Stops: North Cornwall Coast; Pembrokeshire; Lleyn Peninsula
Cornwall is pretty small – but it isn't alone when it comes to beautiful scenery and vibrant cultural sights. Combine Celtic Cornwall and Wales to discover one of the oldest cultures in Great Britain.
From Penzance to Bude, you will stop at Cornwall's best beaches. Bristol is a creative hub in the Southwest, while Cardiff is Wales' Capital of Cool. The fun doesn't stop in South Wales; the coast offers some gorgeous scenery. In the north, you will be able to take in towering mountains and go on thrilling adventures.
Of the three tours in this guide, this is the most diverse. We reckon this is a great way to check out a little bit of everything Britain has to offer. Both Wales and Cornwall are unique destinations, so those visiting from abroad will get to enjoy something a bit more off the beaten path.
For the full local experience, consider staying in a Cornish cottage or opting for a spacious lodge in Cornwall!
Road Trip Highlights:
Dr. Who fan? Explore Wales' South Coast beaches and filming locations
Marvel at the stunning scenery and flourishing creative scene of Bristol
Soak up the fiercely independent spirit of Wales at Aberystwyth
Grab your hiking boots – it's finally time for outdoorsy types to get their nature fix in Snowdonia
Gaze with wonder upon the natural beauty of the beaches in Pembrokeshire National Park
Day 1: Penzance to Bude (2 hours)
This segment largely follows the second half of our Cornish Loop route, so check that out for more detail! We love the North Cornish Coast for its unspoiled beaches and quaint villages.
The entire route only takes two hours non-stop – but you should take it slow. You have plenty of time to really take in the outstanding scenery. St Ives is the art capital of Cornwall, while Newquay has a great beach and surfing spot. You'll find some of Cornwall's best hostels in these areas, which are ideal if you want to extend your stay here.
Chow down on some cheddar at Davidstow before unwinding in breezy Bude. The town is also known for its stunning beaches – so make sure to arrive before sunset!
Days 2-3: Bude to Bristol (3 hours)
The scenery along the River Severn is unmissable! The Quantocks, in particular, come with gorgeous hiking trails if you want to get out and stretch your legs.
Interested in alternative nightlife and independent galleries? Take a couple of days in Bristol. In particular, it's a great stop for young couples. The Clifton Suspension Bridge provides gorgeous views over the city, and there are plenty of great day trips in the region.
You can also opt to stay in Weston-super-Mare, a chilled-out coastal resort with unbeatable fish and chips.
Best Stops: The Quantocks; Weston-super-Mare; Clifton Suspension Bridge
Where to Eat: The Waterfront Fish Bar (Weston); St Nicholas Market (Bristol)
Where to Stay: YHA Bristol ($); Art-Filled Flat ($$$)
Days 4-5: Bristol to Cardiff (1 hour)
Plan a few detours along this short journey. The Wye Valley is a real hidden gem with luscious forest scenery. You might recognize it from the hilarious Netflix show, Sex Education!
Cardiff is the Welsh capital and a cultural hub in the south of the country. The River Taff is lined with hip bars and restaurants, as well as some independent art galleries. For this reason, we recommend spending a couple of days in the city.
British TV addicts will also enjoy some of the attractions in the area. The Dr. Who Exhibition takes place a couple of times a year, and Barry Island (location of Gavin & Stacey) is only a short drive away. BBC Wales is the drama hub for the broadcaster, so check out their location guide before your trip. You can also book for a quick tour around the studios.
Best Stops: Severn Bridge; Cardiff City Centre; Barry Island
Where to Eat: Zerodegrees Microbrewery; The Clink Cymru
Where to Stay: NosDa Hostel & Bar ($); Rhydlafar Farm ($$)
Days 6-7: Cardiff to Pembrokeshire (2 hours)
Most of the Welsh population live in the south, so taking a road trip around the different towns is a great way to discover the local culture! Head deep into the valleys at the Brecon Beacons, or hug the coast for quaint beach towns.
Swansea provides an interesting insight into industrial Wales. The Gower Peninsula has some gorgeous beaches, with the Mumbles offering an array of hip cafés and bars.
Pembrokeshire Coast National Park is often regarded as one of the most beautiful spots in the country. Take it all in by spending an extra night there and make a day trip around the region. You can cover this leg in one day if you want to reduce the time.
Best Stops: Brecon Beacons; the Mumbles; Tenby, Aberreiddy, Green Bridge of Wales (Pembrokeshire)
Where to Eat: The Mermaid (the Mumbles); Pembroke Carvery
Where to Stay: The Chapel House Hostel ($, Swansea); Hamilton Backpacker Lodge ($, Pembrokeshire Coast)
Days 8-9: Pembrokeshire to Pwllheli (4 hours)
Like the previous route, you can do this in one day. Central Wales has a small population, so getting around is quick and easy. That being said, you shouldn't sleep on Aberystwyth.
Aberystwyth is a university town – and considered the home of the Welsh independence movement. Here you can learn about Wales' struggle for autonomy, and what sets it apart from other parts of the UK. In the evenings, head to the pubs for cheap drinks and friendly vibes.
Bring your hiking boots, because next up is Snowdonia! This mountain range is home to the tallest mountain in Wales, and there are hikes to suit all levels.
Finish up this leg in the Lleyn Peninsula. Laidback beach resorts and local villages provide the perfect setting to rest your feet after tackling the mountains. It's also a great place to hear native Welsh speakers.
Best Stops: Aberystwyth; Snowdonia; Pwllheli
Where to Eat: The Hut (Aberystwyth); PONTOON Pwllheli
Where to Stay: Victorian Guest House ($$, Aberystwyth); Mur Cwymp ($$, Llanbedrog)
Day 10: Pwllheli to Anglesey (1 hour)
Last but not least, Anglesey is a hugely popular area for Britons going on holiday in North Wales. Home to the longest place name in the country, the island has so much to offer.
Anglesey is packed with castles and lighthouses waiting to be explored. The main town, Beaumaris, is a UNESCO World Heritage Site – an exciting stop for history lovers.
Bangor is just before Anglesey and is a major university town in the region. Come for cheap and cheerful grub. Stay for the best nightlife in North Wales.
Best Stops: Bangor; Llanfairpwll…; Beaumaris
Where to Eat: Blue Sky (Bangor); The Bull (Beaumaris)
Where to Stay: Ty Glyndwr (Caernarfon) ($); Trecastell Hotel ($$)
Well, wasn't that a lot to take in? If you still have it in you, it's only a couple of hours from Anglesey to Liverpool. Alternatively, you can drive on to the ferry to Ireland for more Celtic adventures.
From: Penzance
To: Dover
Total Distance: 614km (382 miles)
Days: 9
Top Road Trip Stops: Dorset; Isle of Wight; White Cliffs of Dover
The White Cliffs of Dover are known across the world – but did you know that there are white cliffs along the entirety of the South Coast? You'll have ample opportunity to discover them on this tour across the breadth of England.
This nine-day Cornwall road trip also includes some time on the Isle of Wight, a popular destination for English tourists. It's a little more upmarket than other seaside destinations – but has some truly gorgeous scenery. You can take this part out if you only have a week, but it's well worth the time.
With a stopover in trendy Brighton, laid-back Southampton, and the Dorset Area of Outstanding Natural Beauty, this road trip will leave you spoiled for choice. It's also great for those departing from London – you just have to do it backwards!
Road Trip Highlights:
Hit up the vibrant nightlife and bustling alternative scene in Brighton – a popular destination for English youth
Take in the sheer beauty of the White Cliffs of Dover – a significant landmark at the end of this route
Marvel at the six Areas of Outstanding Natural Beauty along the way!
Discover English history at Hastings and learn about the battle that changed the country forever
Unwind in the Isle of Wight – one of the best places in Southern England to splurge
Day 1: Penzance to Plymouth (2-3 hours)
This section of the trip follows the same route as the first half of the Cornish Loop route – so check that out for more details! Cornwall's South Coast is the cultural hub of the region.
Head to Mevagissey for authentic Cornish culture, but make sure you leave time for the Eden Project.
You'll need to stretch your legs – and what better place than the Roseland Heritage Coast? Once you arrive in Plymouth, head straight to the Barbican district for dinner with a view.
Day 2: Plymouth to Dorset (2.5 hours)
Dorset is home to three Areas of Outstanding Natural Beauty. Slow down – this is the best leg for scenery. If you're a keen photographer, make sure your batteries are fully charged. You'll need them!
The Jurassic Coast area is a UNESCO World Heritage Site. If you have time, take a detour up to quintessentially English Shaftesbury.
Best Stops: Jurassic Coast; Shaftesbury; Dartmoor National Park
Where to Eat: Anstey's Cove Cafe (Torquay); Callaway's Fish and Chips (Dorchester)
Where to Stay: BHP Weymouth ($); Best Western Wessex Royale ($$, Dorchester)
Day 3-5: Dorset to Southampton (1+ hours)
We recommend three days for this leg as there are some great day trips close to Southampton. The port town itself is also awesome for indulging in some retail therapy.
The Isle of Wight is a must-visit, and you can get a ferry from Southampton (with car options available). It's a good spot for watersports and yacht hire if you really want to splurge. You can also spend the night in the actual Spice Bus from Spice World. You'll wish it was Viva Forever!
Day 6-7: Southampton to Brighton (1.5 hours)
Brighton is the coolest city in England. It's only a short journey from Southampton, but you should spend a couple of days here.
Brighton is a major hub for alternative culture. There are some dazzling independent art galleries, offbeat live music venues, and regular cinema events. The huge pavilion area comes with typical British seaside vibes.
The city is known for its LGBTQ+ community and pulsing alternative nightlife. The bars and clubs here have a more intimate atmosphere than those in London, solidifying Brighton as a popular getaway destination for those in the capital.
Day 8-9: Brighton to Dover via Hastings (3 hours)
You're on the final stretch! There are some great coastal resorts along this part of the route, like Bexhill, Eastbourne, and Folkestone. The town of Dover itself is home to the world-famous White Cliffs.
If you're interested in history, Hastings is a must-visit. This is where the famous battle occurred, kick-starting the Norman invasion of England. We've given you two days to complete this, so you have plenty of time to get to know the area.
If history isn't your thing, you can complete this route in one day – or take a detour for some awe-inspiring scenery. The High Weald Area of Outstanding Natural Beauty is great for cyclists.
Best Stops: Hastings; High Weald Area of Natural Beauty; White Cliffs of Dover
Where to Eat: Blue Dolphin Fish Bar (Hastings); La Scala (Dover)
Where to Stay: OYO Eagle House Hotel ($$, Hastings); The Pizza Hut ($$, Dover)
Congratulations! You've just driven right across England's South Coast. You can stop here, continue to London, or even hop on a ferry to France. Allons-y!
If you're from out-of-town, read below for the need-to-knows of renting and driving in the UK.
Renting a Vehicle in Cornwall
We'll start with the good news: renting a car in the UK is pretty simple. The rules are the same across the country. You'll find car rental places in most major cities and airports. Newquay is the only airport serving the region. Penzance, Truro, and neighboring Plymouth also have plenty of options.
If you're hiring a car in the UK, you'll need at least one year of driving experience.
Age Surcharge: Only those over 22 years can rent a car in the UK. Some rental companies will also have age limits on specific vehicles. There isn't an age surcharge, but prices are higher for those with less driving experience.
Bond/Deposit: The average deposit is £250, which will be returned to you when you drop the vehicle off.
Additional drivers charge: Sharing the wheel with your mates? You'll have to let the company know in advance. This usually comes at an extra 50% charge per driver if you book online. It can cost even more if you request in person.
In the United Kingdom, all drivers must have insurance: including additional drivers. This is why it can be so expensive. Most rental car companies include this if you don't already have it.
Rentalcover.com offers some great options: especially if you only need insurance for this trip. You should definitely book this before hiring a car; trust us, your wallet will thank you.
Road Rules in Cornwall
Road rules are consistent across the UK – bar a few differences in Scotland. Cornwall is easy to get around; despite the coastal location, there aren't any cliffside roads.
You probably won't be pulled over by the police in Cornwall (unless you're acting really dodgy!). That being said, UK authorities are strict with speed limit enforcement. All speed cameras are marked. We've designed our itineraries to give you plenty of time to see the best spots to visit in Cornwall – so please keep yourself and others safe by sticking to the speed limit.
One of our suggested trips includes some time spent in Wales. The road rules here are exactly the same as Cornwall, but you might notice bilingual road signage. Caerdydd and Cardiff are the same places! Lots of visitors find these signs fascinating, but if you're worried, just bring a SatNav.
There are a few rules to keep in mind when driving anywhere in the UK:
Always keep to the left. Even when on a motorway, the middle and right-hand lanes are reserved for overtaking. Stick to the left lane when cruising. It's not just the law – it also prevents road rage!
Parking on the side of the road is common in Cornwall. There are a few laws restricting this at night. Always park your car facing the flow of traffic if you're planning on leaving it there overnight.
Did you know it's actually illegal to splash pedestrians when driving past in the rain? Drivers can be fined up to £100 for being inconsiderate.
The Brits take road safety very seriously, so swearing at other drivers, blaring loud music out your windows, and not restraining pets can all carry fines up to £1000!
Heading on the Celtic Coasts itinerary? Wales has different lockdown measures than England. Your accommodation can help you out but double-check online before booking anything.
Insurance in Cornwall
We know insurance is boring – but it's necessary! In the UK, Third Party Liability insurance is a requirement. If you already have insurance, you can upgrade it to include this. Otherwise, most car rental companies will automatically include the minimum required.
If you have to drop off the car outside of regular hours, take some photos. This is just some extra protection against false damage claims, but hopefully, you won't need it.
ALWAYS sort out your backpacker insurance before your trip. There's plenty to choose from in that department, but a good place to start is Safety Wing.
They offer month-to-month payments, no lock-in contracts, and require absolutely no itineraries: that's the exact kind of insurance long-term travellers and digital nomads need.
SafetyWing is cheap, easy, and admin-free: just sign up lickety-split so you can get back to it!
Click the button below to learn more about SafetyWing's setup or read our insider review for the full tasty scoop.
If you're not careful, United Kingdom's wilderness will smack ya to next Monday. There are six road trip essentials I never go traveling without:
1. First Aid Kit: Even if you don't plan on doing anything extreme on your trip, like hiking, climbing, or other extreme sports, you never know what could happen. You could cut yourself while cooking, smash a finger in a car door, or burn yourself on a hot radiator. A first aid kit will be able to handle most of these minor situations.
2. Aux Cord: One of the only things to do on a long car ride by yourself is to listen to music or a podcast. Since most people use their phones as an MP3 player these days, an auxillary cord is crucial to preserving your sanity. If there is no auxiliary port in your car, buy a radio transceiver or use a portable speaker.
3. Phone mount: It's very dangerous to be looking down at your phone while driving. If you need to have access to your phone, for maps and what-not, buy a mount for it. This way, you can keep your eyes on the road and your phone won't be far from your field of view.
4. Headtorch: Every backpacker should have a head torch! A decent head torch could save your life. If you want to explore caves, unlit temples, or simply find your way to the bathroom during a blackout, a headtorch is a must. Currently, I'm using the Petzl Actik Core rechargeable headlamp – an awesome piece of kit! Because it's USB chargeable I never have to buy earth polluting batteries.
5. Roadside Emergency Kit: Just like you never know what could happen to yourself, one never knows what can happen to their car. A vehicle can mysteriously fail, break, run into a ditch; all that and then some. Most emergency kit include a pair of jumper cables, a tow rope, a set of essential tools, and ties.
6. Toiletry Bag: I always travel with a hanging toiletry bag as it's a super-efficient way to organise your bathroom stuff. Well worth having, whether you are hanging it from a tree whilst camping, or a hook in a wall, it helps to have quick access to all your stuff.
For plenty more inspiration on what to pack, check out my full road trip packing list.
Cornwall is a gorgeous staycation location in Southern Britain! Those visiting from abroad will enjoy the off the beaten path nature of the region. The history, culture, and heritage will leave you wanting more.
Cornwall is also well connected to the South of England and Wales – giving you plenty of great road trips in the vicinity.
We'll spare you the Corn-y joke on this one – it's time to hop in the car and get exploring!
---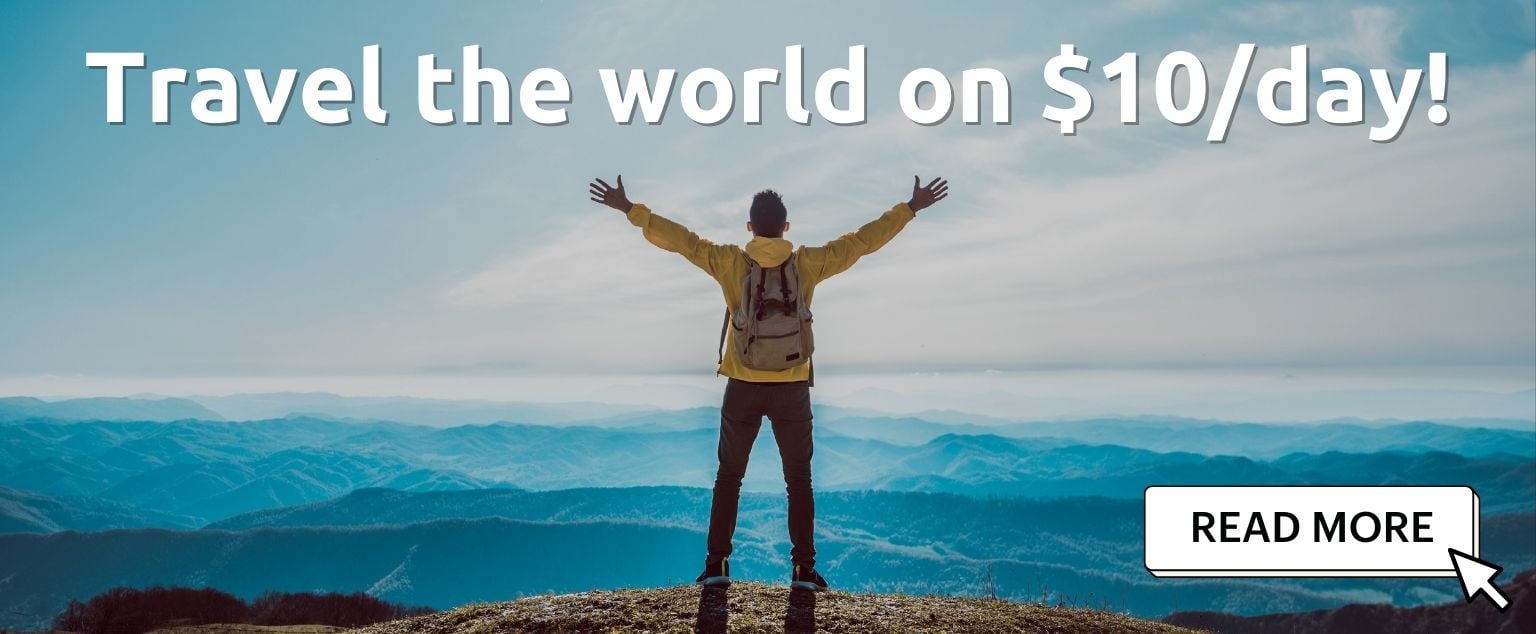 And for transparency's sake, please know that some of the links in our content are affiliate links. That means that if you book your accommodation, buy your gear, or sort your insurance through our link, we earn a small commission (at no extra cost to you). That said, we only link to the gear we trust and never recommend services we don't believe are up to scratch. Again, thank you!