If towering coastal cliffs, stunning wild moorland, and charming seaport villages all sound like a great vacation to you, then look no farther than Cornwall. This peninsula on the southern tip of England has everything you need for a great trip, from amazing scenery to fascinating historic sites.
To add a special touch to your journey, it's best to look for unique accommodation in Cornwall so you're not stuck in a stuffy hotel room despite being surrounded by incredible scenery. If staying in a beachside property or a spot overlooking the moorland sounds appealing to you, then we've got the perfect options!
In this list, we've put together our top picks for the best lodges in Cornwall. Whether you're looking for a luxury lodge for a romantic honeymoon or a budget alternative if you're a backpacker, we've included a variety of choices for many travel styles and budgets.
In a Hurry? Here's Where to Stay in Cornwall for One Night
Is this amazing Cornwall Lodge booked for your dates? We've got your back with our other favorite properties below!
Staying in a Lodge in Cornwall
Since the landscape of Cornwall is the most captivating feature of the area, you'll want to find accommodation where you can appreciate the beautiful moors and incredible seaside cliffs. Lodges are a great option if you want modern comforts combined with a natural vibe and great location.
Most lodges in Cornwall have a remote feel, but towns and cities are never far off; you can easily drive or sometimes walk to nearby restaurants, shops, and convenience stores. You can also count on spectacular views at most lodges with postcard-worthy sights of Cornwall right outside your window!
Since lodges come in a variety of sizes and prices vary quite drastically, it's possible for solo travelers as well as big groups to find a property that works for them.
If you're in search of a great lodge in Cornwall, using platforms such as Airbnb and Booking.com are good options to narrow down your selections to find properties that fit your budget and have your preferred amenities included.
What to Look for in a Lodge
There's some variation between the best lodges in Cornwall, but there are a number of common features that most properties have. You can count on your own private space, whether you have an entire lodge to yourself, or one room in a larger building which will serve more like a bed and breakfast.
Most lodges have home-style amenities like kitchens, Wi-Fi, and TV's, and some properties have additional conveniences like swimming pools, and they may even include breakfast. For long-term travelers and families, these features may be necessary, for others, they could just be a nice-to-have.
Since most lodges are family businesses that are locally owned, you can get some great insider tips about the best activities to do in the area as well as recommendations for amazing restaurants nearby. You might even find something that the guidebooks miss and only locals know!
Usually, having your own vehicle is the best way to get around the Cornwall area. If you don't have a car and you'd prefer not to rent one, some lodges are closer to big cities so you can use taxis and public transportation.
THE OVERALL BEST LODGE IN CORNWALL
THE OVERALL BEST LODGE IN CORNWALL
Wheal Dream
> $$
> 2 Guests
> Indoor fireplace
> Ocean views
THE BEST BUDGET LODGE IN CORNWALL
THE BEST BUDGET LODGE IN CORNWALL
Cornish Seaside Cottage
> $
> 2 Guests
> Delicious breakfast included
> Charming property with stone design
THE BEST LODGE FOR COUPLES
THE BEST LODGE FOR COUPLES
Poldown Cottage
> $$
> 2 Guests
> Tranquil atmosphere
> Stunning coastal views
THE BEST LODGE FOR A GROUP OF FRIENDS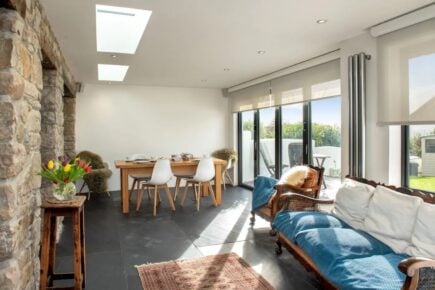 THE BEST LODGE FOR A GROUP OF FRIENDS
South West Coast Path Lodge
> $
> 5 Guests
> Gorgeous open spaces
> BBQ and terrace
OVER-THE-TOP LUXURY LODGE
OVER-THE-TOP LUXURY LODGE
The Stone Barn
> $$$$
> 12 Guests
> Log burner
> Private nature trails
THE BEST LODGE FOR FAMILIES VISITING CORNWALL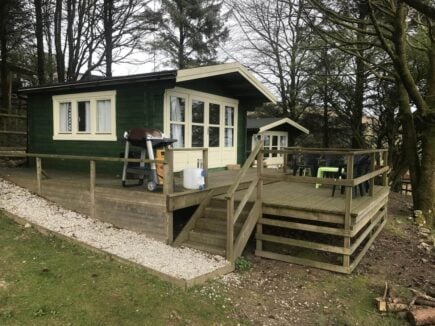 THE BEST LODGE FOR FAMILIES VISITING CORNWALL
Wheal Tor
> $$
> 2-6 Guests
> Deck with barbecue
> Nature setting
THE BEST LODGE FOR BACKPACKERS
THE BEST LODGE FOR BACKPACKERS
The Little House
> $
> 2 Guests
> Large bathtub
> Private balcony
The 7 Top Lodges in Cornwall
Now that you have an idea about what makes unique accommodation in Cornwall so cool, read on to learn about the best lodges where you can enjoy both the amazing landscape and high-quality service during your stay!
The Overall Best Lodge in Cornwall – Wheal Dream
$$
2 Guests
Indoor fireplace
Ocean views
The Wheal Dream overlooks Bamaluz Beach and provides great views of the sunrise and coast from the large bay windows. You can fall asleep listening to the sound of the waves and spend the day exploring the beaches and historic sites of the area.
The large room is tastefully decorated and thanks to the indoor fireplace, you'll stay cozy at any time of year. Top attractions and beaches are within walking distance and the friendly hosts will be more than happy to give suggestions on where to go including the best restaurants in the area.
$
2 Guests
Delicious breakfast included
Charming property with stone design
If you enjoy seaside walks and ocean views, then this budget option is the perfect place to stay during your Cornwall vacation. Not only is a complimentary breakfast included, but the hosts are extremely hospitable and friendly, and will go out of their way to ensure you have a memorable visit.
After a day of hiking, surfing, or checking out the historic attractions, you can enjoy an evening meal made upon request or alternatively, there are plenty of restaurants nearby where you can eat out. The setting of this charming property is hard to beat, and if you're looking for a local and authentic experience, look no further.
$$
2 Guests
Tranquil atmosphere
Stunning coastal views
This cozy and romantic property is perfect for couples who want to enjoy beach-side walks and panoramic views during their trip to Cornwall. Not only is the lodge located right next to great walking trails and cliff paths, but you'll also wake up to unspoiled coastline views from the huge windows.
Start your day with breakfast in your room or outdoors if the weather is good, then head out to explore local antique shops and historic sites. Plus, if you're feeling adventurous you can hire surfboards and take a surf lesson during your stay!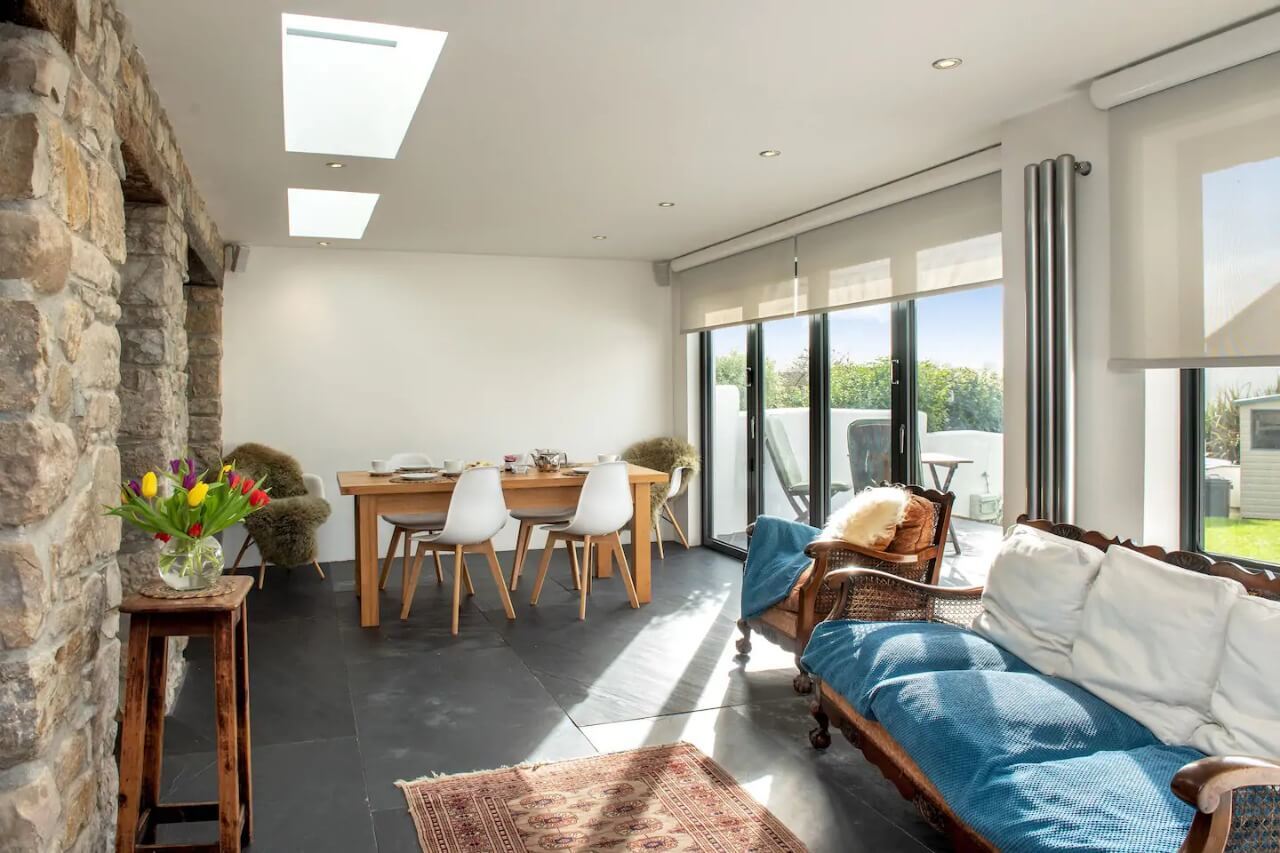 $$
5 Guests
Gorgeous open spaces
BBQ and terrace
If you're planning a trip and looking for the perfect spot for you and all your friends, then this little seaside lodge in Cornwall is the solution. With a fully equipped kitchen and modern home appliances, you can vacation in comfort while still enjoying traditional Cornish charm.
The 3 bedrooms can accommodate 5 guests and the large living area is fitted with a log burner for those cold winter nights. The lodge has its own private terrace and BBQ for evening cookouts, plus there are lots of restaurants and shops in the area.
Is This the Best Travel Backpack EVER???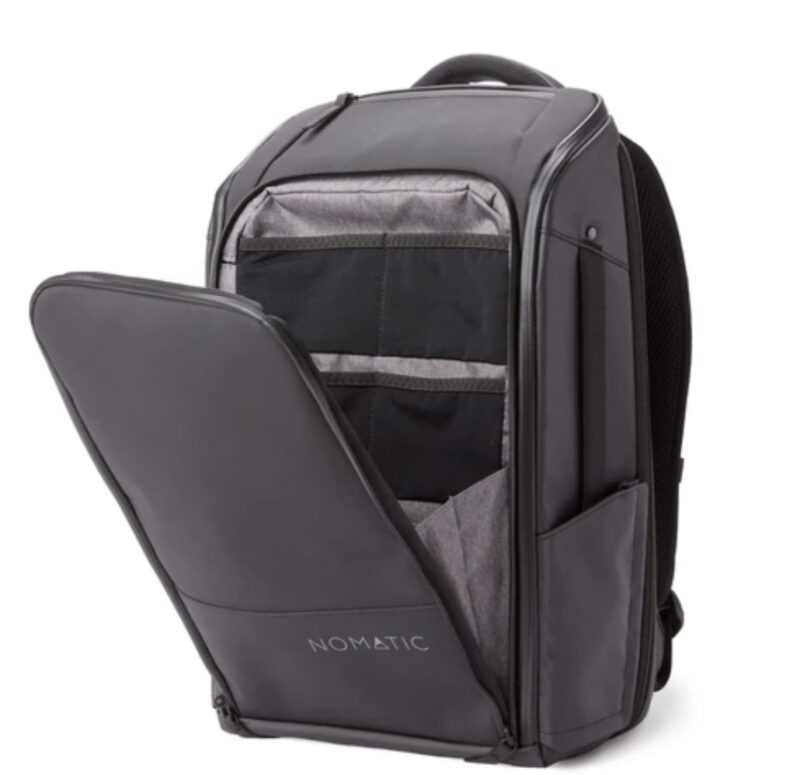 $$$$
12 Guests
Log burner
Private nature trails
This stunning renovated barn is more like a private high-end hotel than a farmyard building! You can enjoy a beautiful countryside setting along with great home-style amenities like an open plan kitchen, underfloor heating, enclosed garden, and an indoor fireplace.
Whether you're visiting for a summer vacation or a cozy winter retreat, the lodge is suitable for large groups. In addition to the other natural attractions of Cornwall, you'll also have access to private trails right next to the lodge.
The Best Lodge for Families visiting Cornwall – Wheal Tor
$$
2-6 Guests
Deck with barbecue
Nature setting
Families traveling to Cornwall will love the great setting of the Wheal Tor lodge. The lodge is one of the highest properties in Cornwall, and has spectacular views of the coastline and green landscape of the peninsula!
Each private room has a bathroom with a coffee and tea maker, and you can book rooms with or without breakfast, depending on your preferences. The lodge organizes a variety of activities like hiking, biking tours, fishing, and horseback riding, and there's a bar and restaurant onsite where you can have a local meal at the end of the day.
The Best Lodge for Backpackers – The Little House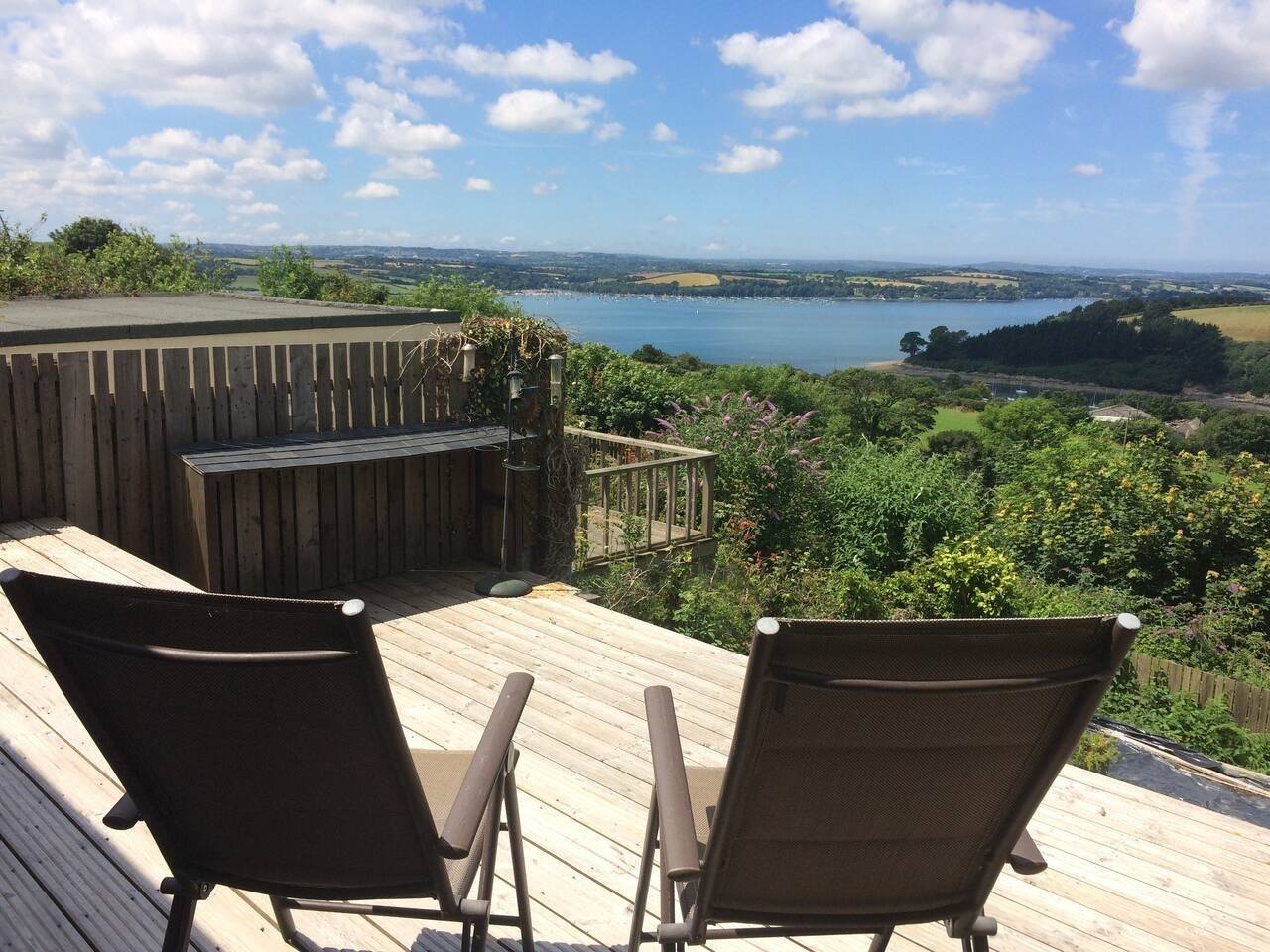 $
2 Guests
Large bathtub
Private balcony
For backpackers traveling around Europe or the United Kingdom, this little lodge is a great place to stay if you need budget accommodation but are tired of staying at crowded and noisy hostels. Located in St. Just in Roseland, the lodge is next to a small creek and has a very peaceful setting.
For the price, you'll be super impressed with what you get! The light and airy feel of this lodge in Cornwall offers a peaceful retreat. Light breakfast ingredients are included in the room price, and there's a refrigerator where you can store leftovers or picnic foods. The lodge is also accessible by taxi and public transportation and is close to bus stops and ferry ports.
Check out these other great resources
We have loads more information to help you plan your trip.
FAQ about Lodges in Cornwall
Here's what people usually ask us when they look for vacation homes in Cornwall.
Final Thoughts on Lodges in Cornwall
Whether you're looking for a place with adventurous outdoor activities or a spot just to relax and enjoy the coastline, Cornwall certainly fits the bill! And the best way to enjoy all the special aspects of this peninsula is by finding cool and unique accommodation in Cornwall.
After looking through this list of all the best lodges in Cornwall, hopefully, you have a better idea of the relaxed atmosphere and beautiful setting of all these properties! Lodges are perfect, whether you're staying in Cornwall for just a few days or looking for a spot to stay for a longer retreat. If you'd prefer to continue your search, have a look at these charming cottages in Cornwall – they may be better suited to what you're looking for.
Whenever you're traveling, it's important to remember that there's always a lot of uncertain factors. Even though Cornwall is considered a very safe and secure place to visit, it's a good idea to purchase travel insurance before you set out, especially if you'll be traveling internationally.
And have you thought about getting Travel Insurance for your trip? We've put together a roundup of Travel Insurance for backpackers – check it out here, or if you're low on time, get a quote from World Nomads, our favorite travel insurance provider.
Getting an estimate from World Nomads is simple – just click the button or image below, fill out the necessary info, and you're on your way!

---
Find out how YOU can support the site.
We work hard to put out the best backpacker resources on the web for free! It's all about helping out our tribe of awesome backpacker readers (that's you!). Please visit the link to find out how you can help keep the site going 🙂
For the sake of transparency, some of the links in our content are affiliate links. This means that if you book your accommodation, buy a piece of gear, or sort your insurance through our link, we earn a small commission at no extra cost to you. We only link to stuff that members of the Broke Backpacker team has actually used and never endorse products or services that are not up to scratch. Thanks for your support!