Located in the southwest of England, Cornwall is a popular UK holiday destination. The county boasts long stretches of coastline, gorgeous natural scenery, a Celtic heritage, and many fascinating cultural, historical, and archaeological attractions. From its major towns to its small villages, there's plenty of fun to be found in Cornwall!
Cornwall's popularity is both a blessing and a curse, however. In the summer months, the beaches can be exceptionally crowded, it can be tough to book last-minute accommodations, and tourist sites can be heaving.
Don't worry! There's no need to skip your Cornish vacation. If you know where to look, there are still plenty of quieter places and offbeat gems to enjoy as well as the more famous places in Cornwall. Plus, you can always dodge the biggest crowds by booking to visit in the shoulder season. We've researched in depth to create this fantastic list of the best places to visit in Cornwall to make your travel planning a breeze.
Warning: Some of the best places to visit in Cornwall are sure to surprise you!
Need a place quick? Here's the best neighbourhood in Cornwall:
BEST AREA IN CORNWALL
St Ives
This vibrant and busy seaside town is also where you can excite your senses and dine on some of the best seafood in the UK. Whether it's a plate of fish and chips or a bowl of fresh mussels, St Ives is a town where you can eat very well!
Places to visit:
Choose from a wide selection of beers at Pilchard Press Alehouse Micropub.
Go coasteering and explore the stunning cliffs around St Ives.
Surf or lounge at spectacular Porthmeor Beach.
After those recommendations and tips, here are the best places to visit in Cornwall:
These are the BEST Places to Visit in Cornwall!
Don't take a bite of your cornish pasty just yet…you're going to need accommodation for your trip! Be sure to check out where to stay in Cornwall, book yourself somewhere quaint and cosy, and then scroll on down into the fun below.

Unlock Our GREATEST Travel Secrets!
Sign up for our newsletter and get the best travel tips delivered right to your inbox.
#1 – Truro – Possibly one of the most important places to visit in Cornwall
Capital of Cornwall and the county's only city
Former market town
Great place for shopping
Striking architectural landmarks
Why it's awesome: Truro is Cornwall's only city and it is also the county's capital. A small and pleasant city, it is fairly easy to explore by foot, with a number of top attractions close to each other. It offers some of the best shopping in the county too, with a variety of shops and more goods than can be found in other places around Cornwall. Many city centre areas are pedestrianised. Truro was originally a bustling market town next to a busy port, and it saw a large growth during the tin-mining period. The city boasts beautiful buildings from various eras, including Georgian, Victorian, and Regency. There are also museums, art galleries, plenty of eateries, religious buildings, cultural venues, and more.
What to do there: Visit Truro Cathedral, one of the most incredible religious attractions in Cornwall. The exterior of the magnificent Gothic Revival church is fairly unique in that it has three towering spires. Take a free guided tour to learn more about the art, architecture, and symbolism of the church. The Rose Window is especially impressive. Other architectural jewels include Coinage Hall, now home to several businesses including beautiful tea rooms, Princes House, Mansion House, and Walsingham Palace.
Admire the splendid 17th-century home of Tregothnan and book a tour of the private gardens, which are among the first places in the country to grow tea. Other lovely gardens in Truro where you can relax amid nature include the Victoria Gardens and the Poppy Cottage Gardens. See the Lander Memorial; the two brothers came from the area and they are known for finding the source of the River Nile. Take a scenic boat ride along the River Fal, shop in the market at Lemon Quay, learn more about Cornish heritage at the Royal Cornwall Museum, sample local brews at Skinner's Brewery, and watch a performance at the Hall for Cornwall.
#2 – Newquay – Cool place to see in Cornwall with friends!
Surf capital of the UK
Lively nightlife and youthful air
Great beaches
Varied attractions and activities
Why it's awesome: Positively buzzing with life during the summer months, Newquay has long been a popular seaside tourist resort. Known for being the surfing heart of the UK, there are many surf shops and surf schools throughout the area. Visitors who don't want to hit the waves will still find plenty of pretty beaches to enjoy swimming, sunbathing, and relaxing. Newquay is also famous for its vibrant and youthful atmosphere, with plenty of clubs and bars to cater to different tastes. The town is easy to get around on foot and there are many awesome Newquay hostels, places to eat, explore, and shop.
What to do there: Book some surf lessons and learn how to harness the power of the waves. Or, if you're already a pro, grab your board and dive right in! If you're not feeling energetic, relax on the sandy shores and watch skilled surfers impressively ride the ocean. Take a dip in the sea and sunbathe on the sands of popular beaches like Fistral, Great Western, Holywell, Crantock, Watergate, and Towan. Discover more about the underwater world at Blue Reef Aquarium and observe a variety of animals at Newquay Zoo, two of the best family-friendly points of interest in Cornwall.
Play a few rounds of golf at Newquay Golf Club, take a walk around the harbour, enjoy diverse outdoor activities and leisure at Trenance Gardens, soak up the views from the 14th-century lookout point of Huer's Hut, have a swashbuckling time at Pirate's Quest Newquay, and step inside the Most Holy Trinity Church if you're in need of some peaceful time for prayer and reflection. In the evenings, throw yourself into the exciting bar and club scene with gusto!
#3 – Land's End – A perfect place to visit in Cornwall if you are on a budget!
Scenic clifftop walks
Nature spotting
Why it's awesome: Land's End is one of the most famous hotspots in Cornwall. It's the most south-west point of the UK and is at one end of the well-known walk/drive between Land's End and John O'Groats (the most northern point of the mainland UK). The picturesque coastal area has jagged cliffs, excellent walking trails, and scenic views. There are plentiful opportunities to take amazing photos too. There is no charge to visit Land's End and follow the always-open trails, and there are several attractions in the locale (some paid and some free).
What to do there: Follow in the footsteps of tourists for over three centuries and soak up the splendid views from Land's End. Be sure to snap a selfie in front of the marker signpost too. If you want to splash the cash you can have your picture done by a professional photographer in front of the sign with it showing your home town. Walk along pretty coastal paths, stroll to Sennen Cove, spot varied bird species (including gannets, razorbills, gulls, and shags), keep your eyes peeled for dolphins, seals, and sharks, see the natural sea arch, and learn more about the local legends about Lyonesse, a mythical lost world.
Aviation enthusiasts should visit Land's End Airport for pleasure flights and trial flight lessons, and rock-climbing fans can tackle the rugged and dramatic rocks. Close to hand, the valley of Porthcurno played a significant role during the Second World War.
#4 – Rame Peninsula – A nice non-touristy place to visit in Cornwall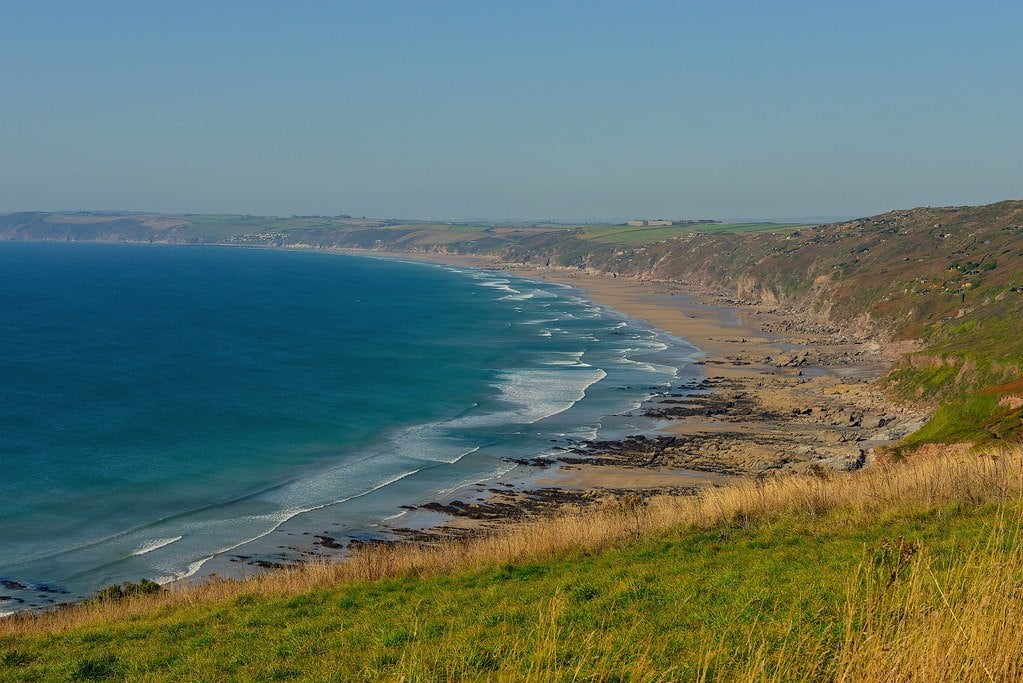 Lesser-visited destination
Scenic beauty
Traditional fishing villages
Wildlife-filled woodlands
Why it's awesome: Located in an area known as the Forgotten Corner of Cornwall. The Rame Peninsula borders the English Channel, Plymouth Sound, the River Lynher estuary, and the stretch of water known as the Hamoaze. Listed as an Area of Outstanding Natural Beauty, there are several small settlements across the picturesque peninsula. Few visitors visit the Rame Peninsula, making it one of the best-hidden gems in Cornwall and a place where those who do make the trip can enjoy glorious nature in peace and quiet. Rolling pastoral lands, verdant country parks, burbling tidal creeks, and scenic sandy beaches add to the rugged appeal and beauty.
What to do there: Visit the charming neighbouring fishing communities of Kingsand and Cawsand and wander through the narrow hilly streets as you reflect upon the area's past as a favourite hangout for smugglers. Stop by the quaint creek-side fishing village of Millbrook and call into one of the excellent seafood restaurants for a fresh and tasty bite. The Mount Edgcumbe estate is a must-see when visiting Cornwall's Forgotten Corner. You can explore wildlife-filled woodlands, watch deer frolicking, soak up the seaside vistas, and stroll through the gorgeous gardens. Relax on quiet beaches and escape the crowds.
#5 – St Ives – Great place to visit in Cornwall for couples!
Popular place for artists
Award-winning seaside town
Great beaches and water sports
Home to Cornwall's oldest inn
Why it's awesome: The small coastal town of St Ives is a popular place to visit and is home to some of the best cottages in Cornwall. The town has a long history and local legends say that an Irish saint (Ia of Cornwall) arrived here in the 5th century. St Ives has long been a favourite spot of artists and it's a fabulously romantic place for couples to add to their Cornwall itinerary. Cute cottages line the streets in the town centre and there are several excellent craft stores and art galleries. Previously named the Best UK Seaside Town, St Ives has featured in a number of literary works and TV productions.
What to do there: Take a romantic stroll around the town, taking care not to skip the cobbled Fore Street (often referred to as the town's prettiest street). Pause to peek inside art galleries like the Tate St Ives, the New Millennium Gallery, the Wills Lane Gallery, and Leach Pottery. Another artistic point of interest in Cornwall's St Ives is the Barbara Hepworth Museum, complete with its interesting sculpture garden. Visit the local church, watch the boats bobbing in the harbour, and ride along the short coastal railway line.
Bask on the sands at Porthminster Beach, Carbis Bay, and Porthmeor Beach, enjoy activities like surfing, swimming, fishing, boating, and rock climbing, and watch a magical sunset with your sweetheart. In the evening, enjoy a few drinks in the town's traditional pubs; the Sloop Inn is especially cool, widely believed to be the county's oldest inn.
#6 – Tamar Valley – A beautiful and scenic place to check out in Cornwall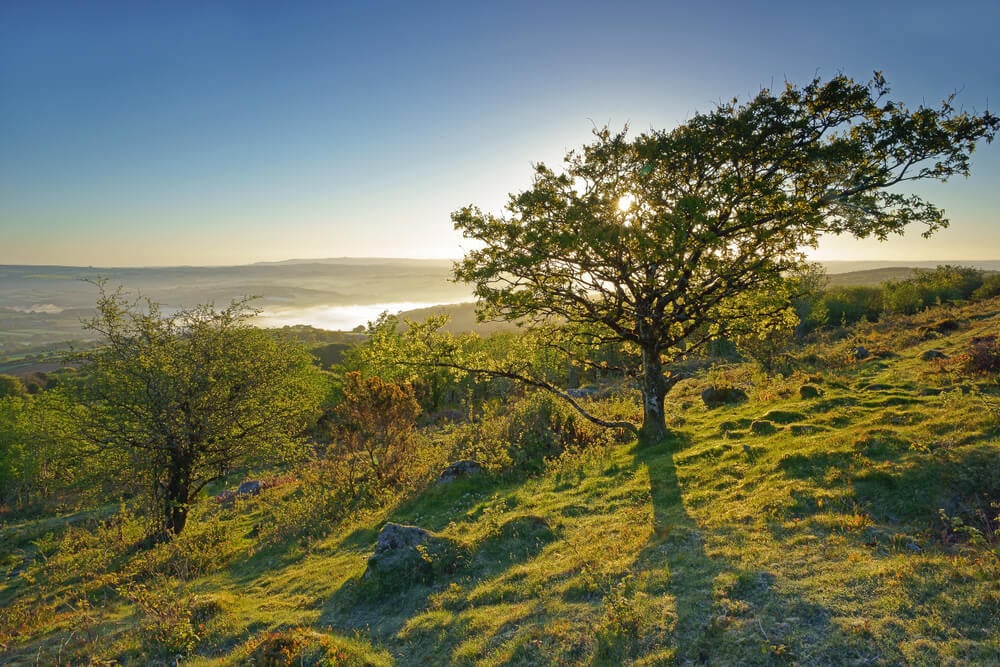 Many natural and heritage attractions
Excellent photo opportunities
Peaceful and quiet
Excellent Victorian period living museum
Why it's awesome: A gorgeously scenic area that spreads across the land in both Cornwall and the neighbouring county of Devon, the Tamar Valley has a rich history and an abundance of things to see and do. Once an important mining area, it is thought to have been the site of the biggest copper mine in the world. At one point in time, there were around 100 mines along the waterways and visitors can still see the remains of old chimneys and other mine buildings.
Covering some 195 square kilometres (75 square miles), there are four major towns along with numerous small villages to explore. The estuary is a top place to spot diverse wildlife and there are many beautiful roads to drive and paths to walk. A number of local businesses are making moves to protect the planet and follow sustainable tourism practices.
What to do there: Follow walking trails and cycling paths through gorgeous landscapes, complete with the remains of ancient castles and hill forts, hidden creeks, fields, moors, beaches, and woodlands. You can enjoy a variety of activities at the three main rivers of the Tamar, the Lynher, and the Tavy, including fishing, wildlife watching, and boating. Cross the bridges that span the rivers for lovely views; the Royal Albert Bridge at Saltash is a Cornwall must-see.
Appreciate the views and nature at the estuary and look out for the different creatures, like birds, butterflies, and frogs, that call the area home. Follow the Saltash Heritage Trail, admire beauty in the different splendid gardens, visit the Tudor gem of Cotehele, stand on the lonely hilltop of Kit Hill, walk Calstock's ancient road, watch the views change through the windows on the Tamar Valley Line, and leap back to the Victorian era at Morwellham.
#7 – Tintagel – A great place to see in Cornwall if you love architecture
Splendid ruins of a once-mighty castle
Steeped in local legends
Breath-taking views
Stunning waterfall
Why it's awesome: Surrounded in myths of old and set high up on the cliffs overlooking the Atlantic coast, the pretty village of Tintagel is a Cornwall must-do for anyone interested in beautiful buildings, history, and legends. Some places have been listed as World Heritage Sites. There are fantastic places of natural interest too as well as cool beaches and pretty flower-filled gardens. Visitors can try a diverse array of activities as well, including walking, biking, swimming, surfing, and boating.
What to do there: Don't miss visiting Tintagel Castle, one of the most striking landmarks in Cornwall. Constructed partly on the mainland and partly on a rugged headland, the now-ruined site dates back to at least the 1200s, with beliefs that the site was occupied even earlier. Built on the orders of Richard, Earl of Cornwall, it was built not as a place of protection and defence, but rather, based on legends. The site and surrounding area has strong links with Arthurian legends.
Go down onto the beach to find Merlin's face etched into the rocks. Visit Camlann Battlefield, the place where King Arthur met Mordred for his final battle. The Arthurian Centre helps to bring legends of old to life, and you can also see an ancient engraved stone, which is often said to be King Arthur's Grave. Pass by the nearby town of Camelot, thought by some people to have been the site where Camelot was located. Follow the looped walk on the cliffs for great views, nature, and historic ruins. See the quaint buildings of Tintagel Church and Tintagel Old Post Office. Relax in a tranquil and serene setting at St. Nectan's Glen and admire the beautiful waterfall of St. Nectan's Kieve.
#8 – Boscastle – Quite the quirky place in Cornwall!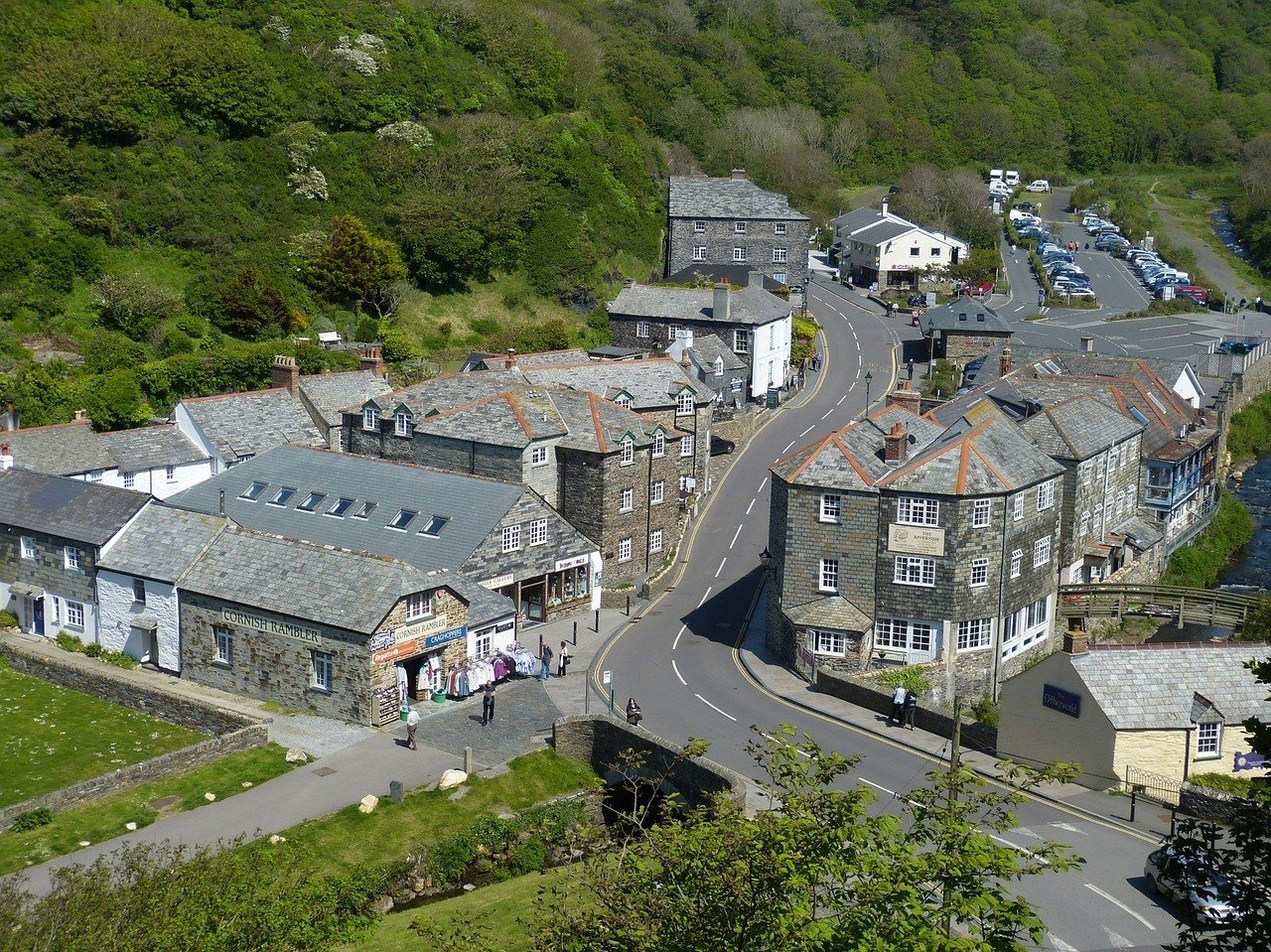 Charming fishing village
Amazing museum about witchcraft
Pretty harbour
Fantastic coastal walkways
Why it's awesome: Boscastle is a small fishing village within the stunning Cornwall Area of Outstanding Natural Beauty. It's also a good spot to access the South West Coast Path, a popular walking route with amazing views and plenty of nature. The village's harbour is protected by two large walls that date back to the 1580s. It was named after a nearby castle, though only ruins remain of the fortress today. While a quaint village in its own right, Boscastle is home to one of the most unusual things to do in Cornwall: a huge museum dedicated entirely to witchcraft! There are also lots of cosy lodges to stay in dotted around the area.
What to do there: Call into the visitor centre at the Old Smithy to discover the village's delights. Take a walk through the pretty harbour and visit the charming local churches. Pop into the pottery shop to browse and buy and find unusual souvenirs in Uncle Paul's Emporium. Walk parts of the South West Coast Path (with a reusable travel water bottle) and explore the surrounding scenic terrain. One of the main things to do in Boscastle is visit the fascinating Museum of Witchcraft. This really is a Cornwall must-do for fans of the strange and quirky! You'll find the biggest collection of items (more than 3,000!) related to magic, sorcery, witchcraft, the ethereal, and the occult of anywhere else across the globe!
#9 – Pendeen – One of the most underrated places to see in Cornwall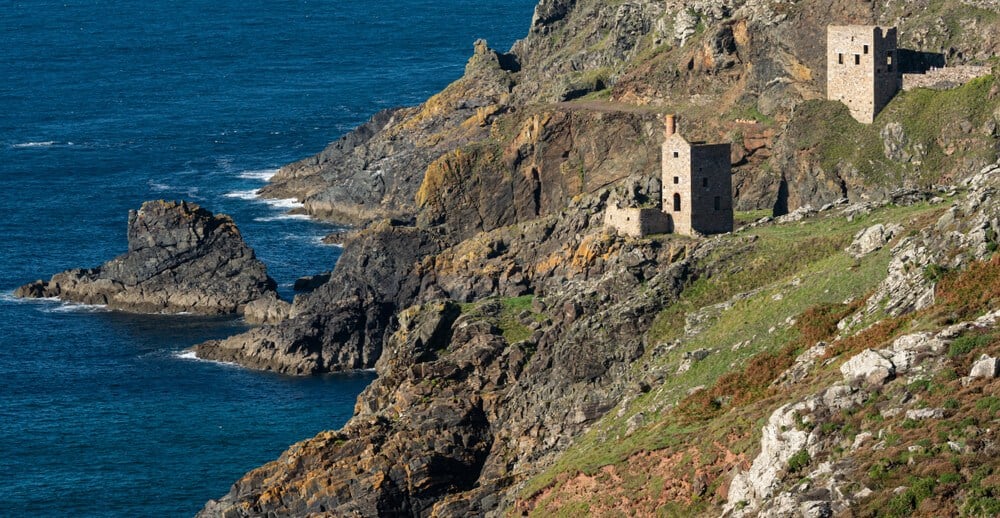 Explore ancient sites
Picturesque walks
Visit an old tin mine
Easy access to the wild and rugged moors
Why it's awesome: The pretty village of Pendeen can be found within the Cornwall Area of Outstanding Natural Beauty and at the bottom of Carn Eanes hill. Stories of smuggling surround the area. There are several well-maintained footpaths that let visitors explore and enjoy the natural splendour and the village's buildings are quaint and atmospheric. There's an old tin mine close to the village, and mining has believed to have taken place in the area for around three millennia. Many of the village's homes were built to accommodate mine workers. There are fascinating ancient sites close to hand and many visitors are surprised by the diversity the small village offers.
What to do there: Admire the granite Church of St John, built in the mid-1800s, and see other heritage buildings and landmarks like the 16th-century Pendeen Manor Farm, Pendeen Lighthouse, and the vicarage. Look into the swirling waters beneath the lighthouse and you may be able to see parts of The Liberty, a ship that sadly wrecked on the shores. The nearby rocks are popular spots for fishing. Descend underground and experience mining life in the extensive Geevor Tin Mine. You'll find abandoned mining buildings in an overgrown area of The Craft too.
Relax on lovely beaches and enjoy peaceful small coves like Boat Cove and Potheras Cove. Feast your eye on Carn Kenidjack, an interesting rock formation that has many legends attached to it. Step back in time at Chun Quit, a well-preserved Neolithic monument. Marvel at the mysterious Tregeseal Dancing Stones, standing stones that have long been abandoned. Explore the west Cornwall Moors to find even more interesting ancient sites.
Is This the Best Daypack EVER???
#10 – Lost Gardens of Heligan – One of the nicer places in Cornwall to sightsee!
Forgotten for many years
Huge complex with diverse gardens
Family-friendly attraction
See a vast array of botanical species
Why it's awesome: Situated close to Mevagissey, the gorgeous Lost Gardens of Heligan are among the most beloved botanical gardens in the UK. A great place for couples, families, and friends, the extensive gardens date back many years. Various people have made their mark on the gardens and they display different styles, ideas, and designs. The gardens fell into disrepair during the war and were restored to their former splendour in the 1990s. They feature many species of plants and flowers, water features, statues, gardens, lakes, and much more. The gardens host regular special events to add to the diversity and they are open throughout the year.
What to do there: Plan to spend a whole day exploring the magnificent Lost Gardens of Heligan—they cover around 200 acres (81 hectares)! Stroll along historic walkways through jungles, ancient woodlands, and numerous delightful gardens. Travel back in time at the Victorian gardens, pass under bamboo arches, and learn more about plants from across the planet. You can travel the world too, with gardens themed after areas in New Zealand, Italy, India, and other destinations.
You'll also find the only pineapple pit to remain in Europe among the beautiful landscapes. Take pictures of the large statues of the Giant's Head and the Mud Maid, as well as many other sculptures and statues. Walk next to the dazzling lakes, spot nature, toss a coin into the wishing well, come face to face with farm animals, follow the adventure trails, stop for refreshments at the tea rooms, and have a terrific day out!
#11 – Bodmin – One of the more unique places to visit in Cornwall!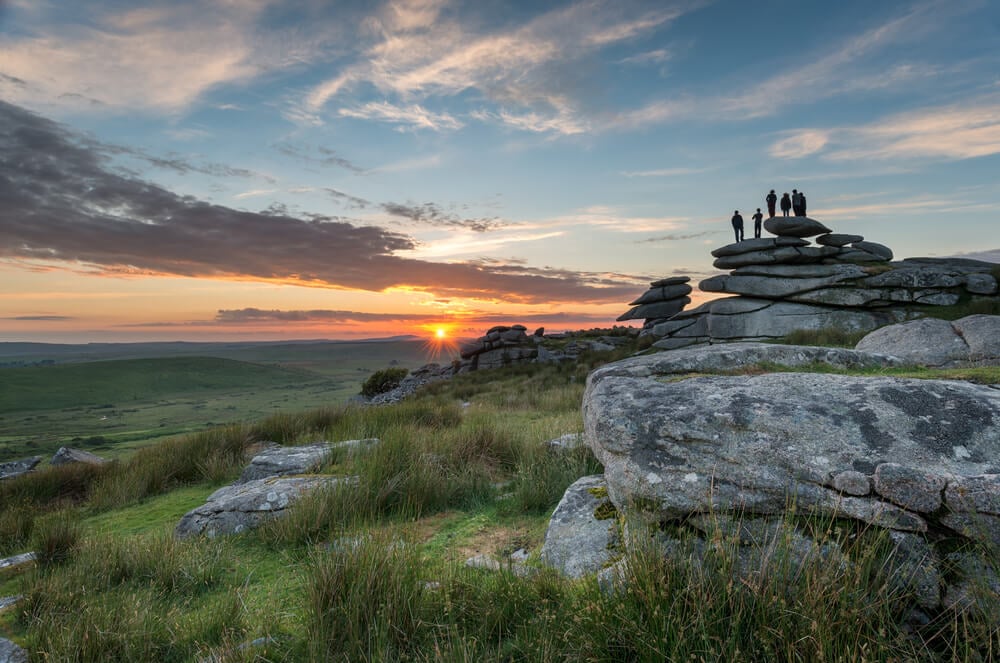 Many legends and stories
Lovely architecture
Wild moors
Outdoor activities
Why it's awesome: Sitting at the edges of Bodmin Moor, the small town of Bodmin was once the capital of Cornwall. The granite town was built largely on the back of the local mining boom and they are lovely buildings that house museums, art galleries, shops, eateries, and, of course, residential homes. There are grand country manors and ruins of castles close to hand, and the rugged expanses of Bodmin Moor have even more fascinating sights. The Camel Valley is a top wine-growing area. Activities in and around Bodmin include hiking, biking, and surfing, and the town has a few unusual and quirky places to enjoy too.
What to do there: In town, experience life as a detainee in the Victorian era with a visit to the imposing six-floor Bodmin Jail. Feel a shudder down your spine as you stand in the execution room, peer into dank cells, and see where prisoners were hanged. It's no surprise that the jail is surrounded in ghost stories! See where criminals learnt their fates at the immersive and interactive Victorian Shire Hall, complete with costumed actors to take you through the court system of times gone by.
Admire the religious art within St. Petroc's Church, one of the oldest and biggest churches in Cornwall. Travel back in time at glorious period homes like Lanhydrock House and Pencarrow House, and learn more about the town at the interesting Bodmin Town Museum. Spend time exploring the vast and eerie wilderness of Bodmin Moor—be sure to read up about The Beast beforehand! Follow walking trails through marshland and heather scrub, climb Rough Tor and Brown Willy (the two highest peaks in Cornwall), visit the Neolithic King Arthur's Hall, and stumble across many remains from prehistoric times, including Stripple Stones Henge, Trethevy Quoit, and Hurlers stone circles.
The moors are also home to the county's highest church—St. Breward Church—and a number of other structures from the medieval epoch. Enjoy outdoor pursuits and nature spotting in Cardinham Woods and water sports at Siblyback Lake. Don't miss Dozmary Pool, once thought to be bottomless and the legendary place where King Arthur returned his sword of Excalibar to the waters and saw the Lady of the Lake. Kids are sure to enjoy a ride on the scenic Bodmin and Wenford Railway and adults can sample locally made drinks at Camel Valley Vineyard.
Get insured for your trip to Cornwall!
ALWAYS sort out your backpacker insurance before your trip. There's plenty to choose from in that department, but a good place to start is Safety Wing.
They offer month-to-month payments, no lock-in contracts, and require absolutely no itineraries: that's the exact kind of insurance long-term travellers and digital nomads need.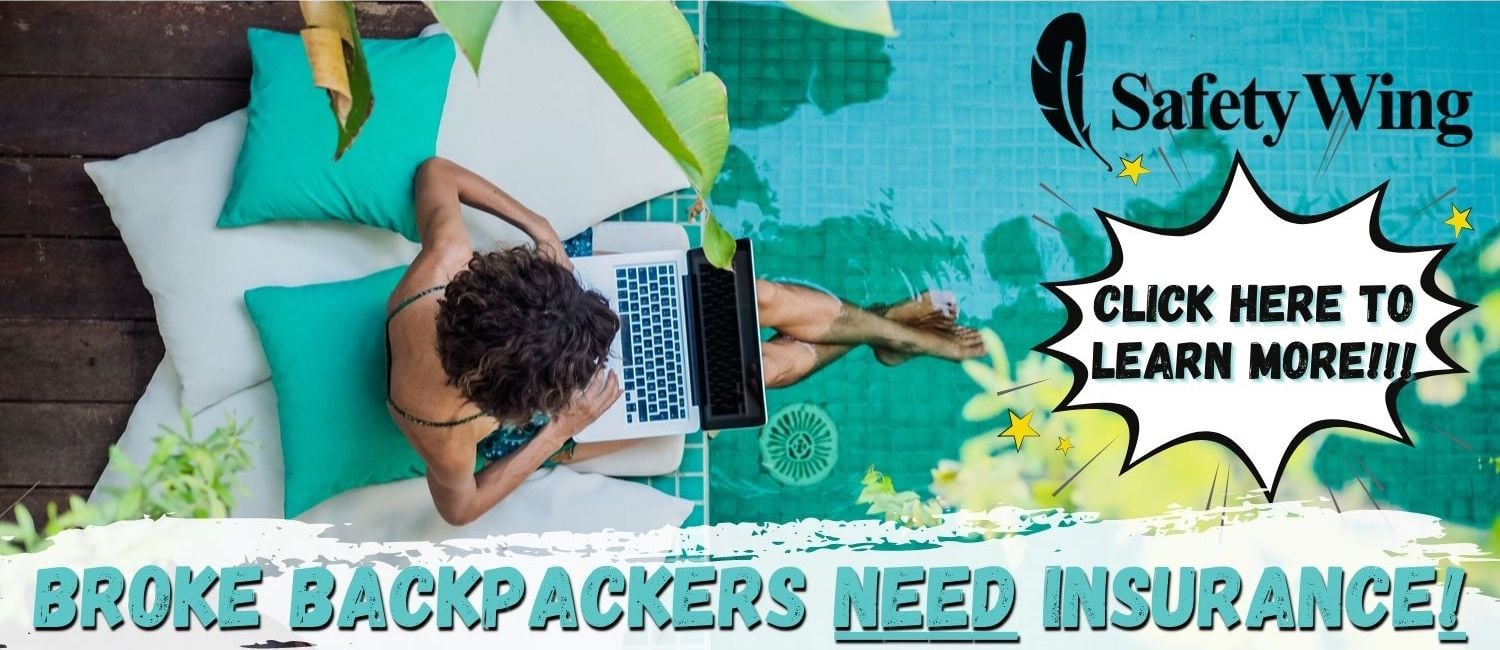 SafetyWing is cheap, easy, and admin-free: just sign up lickety-split so you can get back to it!
Click the button below to learn more about SafetyWing's setup or read our insider review for the full tasty scoop.
FAQ on the Best Places to Visit in Cornwall
Find out what people want to know about the best places to visit in Cornwall
Some more of the best places to visit in Cornwall
Cornwall really is an amazing UK county with tons of fabulous things to enjoy. Get off the beaten track and explore Rocky Valley, an unknown (but awesome!) place to see in Cornwall! Spend a day at the incredible Eden Project, home to huge bio-domes that replicate the tropics, lovely gardens, and a wealth of fun experiences for people of all ages. Discover the treasures of Launceston, an old Cornish capital, and places like Penzance, St. Austell, Bude, Redruth, Penryn, Wadebridge, and St. Mawes. Admire the scenic harbour at the unusually named Mousehole.
Unwind on a multitude of beaches, finding those that are busy and those that are hidden from the masses. Take kids to Heartlands, wonder at nature's glory at Golitha Falls Nature Reserve, which is one of the most incredible free places to go to in Cornwall, explore the awesome St. Michael's Mount, and discover what makes Cornwall such a sought-after vacation spot. Check these best places to visit in Cornwall off your list for a magical and memorable holiday in the southwest of the UK.
---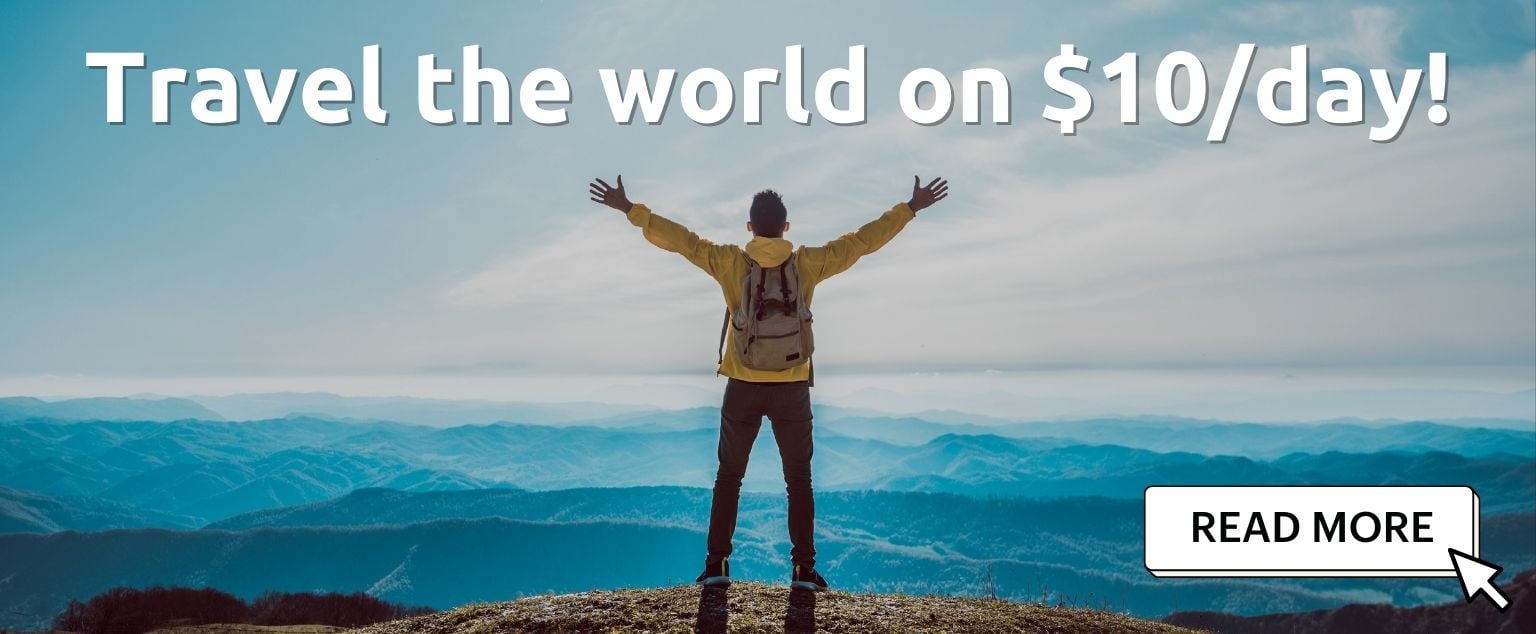 And for transparency's sake, please know that some of the links in our content are affiliate links. That means that if you book your accommodation, buy your gear, or sort your insurance through our link, we earn a small commission (at no extra cost to you). That said, we only link to the gear we trust and never recommend services we don't believe are up to scratch. Again, thank you!