Ahh Football, the beautiful game, it's a sport that unites people all across the globe (except in the US of course…). No matter where I go in the world (and that's nearly 100 countries) the locals always, without fail, ask me about the English Premier League and many of them beam with joy when I tell them I used to live 15 minutes from Anfield Stadium in Liverpool. In many cultures, football now pretty much serves as a proxy religion and allows fans to forge a tribal identity.
If this all sounds a bit too grandiose for a ball game, then you are right, it is. And yet it is not just about the game itself, it's also about the electrifying atmosphere, the passionate fans, and the iconic stadiums where the magic happens.
Whether you're a football enthusiast or somebody simply looking to get under the skin and enter into the true working-class culture of a city, then visiting the local football (soccer) stadium is not a bad way to spend an afternoon.
Football stadiums are more than just architectural marvels; they hold the collective memories and emotions of fans worldwide. Each stadium has its own unique charm, history, and cultural significance. Whether you're a supporter of Barcelona, Manchester United, or any other team, exploring these stadiums will give you an insight into the heart and soul of the beautiful game.
In this post, we are going to look at the best football stadiums in the world to visit.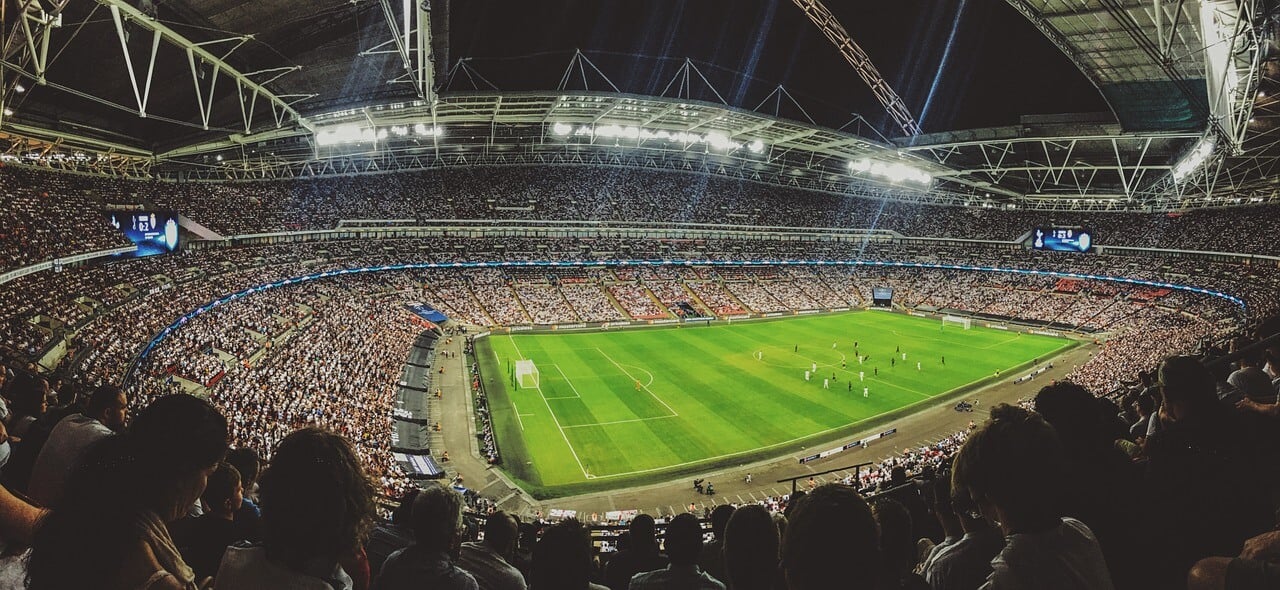 The Ultimate Football Stadiums Tour
There are thousands of different football stadiums on Earth. Some are humble, maybe even a tad ramshackle, whereas others are modern marvels of architecture tantamount to neo-colosseums.
In this post we have handpicked the 15 best football stadium tours on earth that you good, good people can visit.
Camp Nou – Barcelona, Spain
Camp Nou (or the New Camp) presumably needs little introduction. Located in Barcelona, Spain, it's the largest football stadium in Europe and home to one the most successful clubs on earth, FC Barcelona.
With a staggering seating capacity of over 99,000 spectators, the atmosphere is frantically fevered on match days, especially when Real Madrid are in town. On non-match days, the stadium offers a guided Nou Camp Tour where visitors can explore the players' tunnel, the pitch, and even the team's dressing room. The Nou Camp Tour concludes at the on-site museum which showcases the club's rich, rich history and displays countless trophies, including the 5 prestigious Champions League titles. It's one of the best places to visit in Barcelona if you want to get to know what makes the locals tick.
Old Trafford – Manchester, England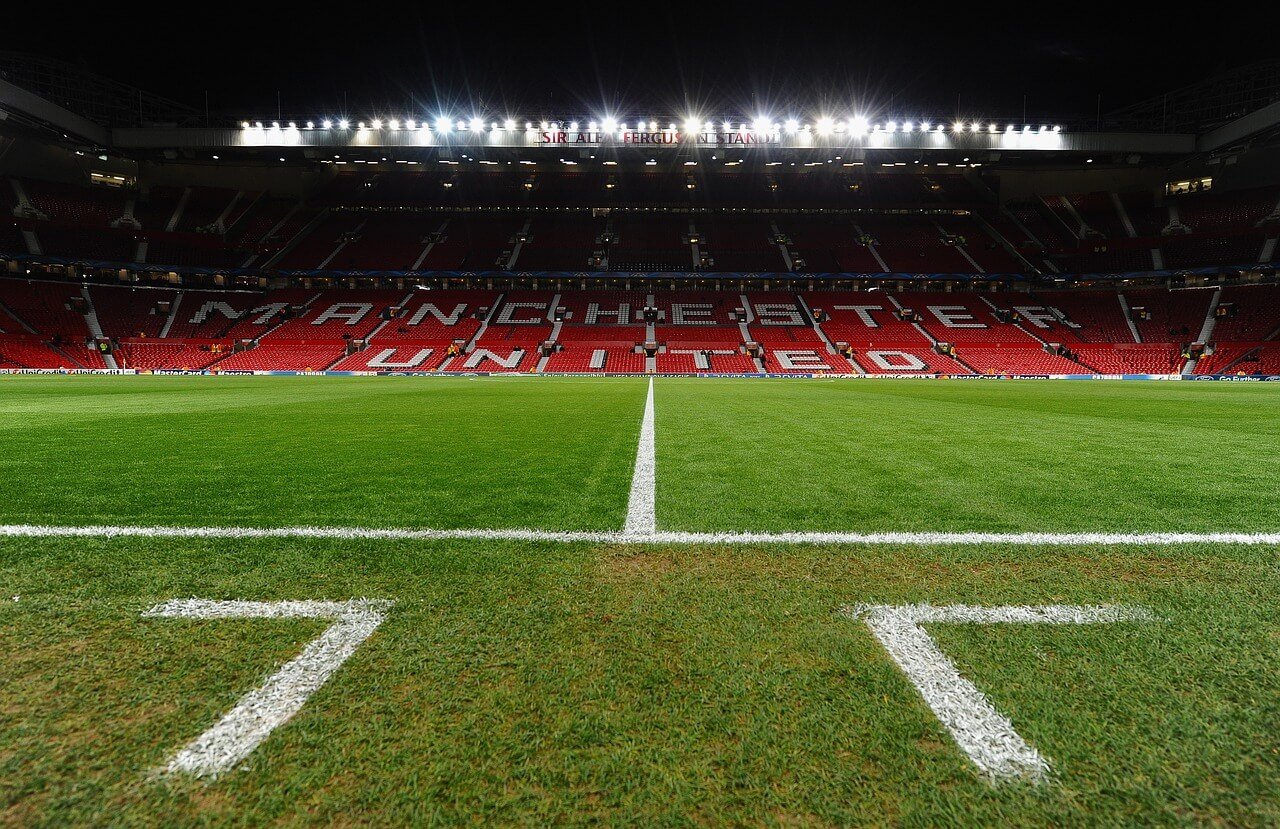 Old Trafford is another iconic stadium, this time situated in Manchester, England. It is of course home of the legendary Manchester United, a club with an unparalleled sporting legacy who have successfully branded itself as the most widely supported and recognised football club in the world (an old joke used to say that United had more fans in Hong Kong than they had in Manchester).
Visitors to Old Trafford can take a guided tour to witness the stadium's impressive architecture and delve into the club's storied past, it has to be one of the coolest things to do in Manchester for sure. The museum within the stadium premises houses an extensive collection of memorabilia, allowing fans to relive historic moments.
The serious football aficionados among you also have the option of touring Manchester City's Etihad Stadium and the UK Football Museum located close to Manchester Victoria train station as part of your Manchester itinerary.
Maracanã Stadium – Rio de Janeiro, Brazil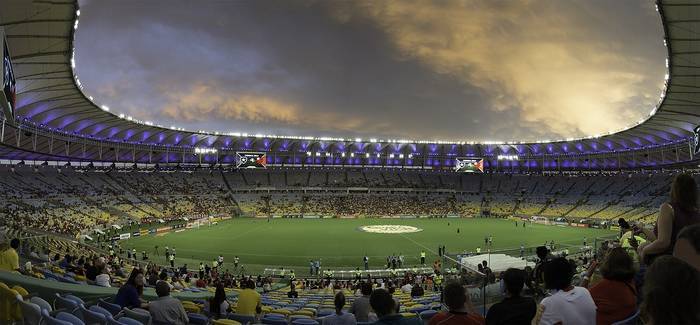 Maracanã Stadium in Rio de Janeiro, Brazil, is widely hailed as the temple of football. This historic venue has witnessed some of the most unforgettable moments in football history, including 2 FIFA World Cup finals. Visiting this incredible place is a must-do when you go backpacking around Brazil!
A tour of Maracanã takes visitors through its remarkable history, and the museum exhibits artefacts that encapsulate the passion and spirit of Brazilian football including a section dedicated to Brazilian football legend Pele who is still hailed as the greatest player the game ever produced.
Wembley Stadium – London, England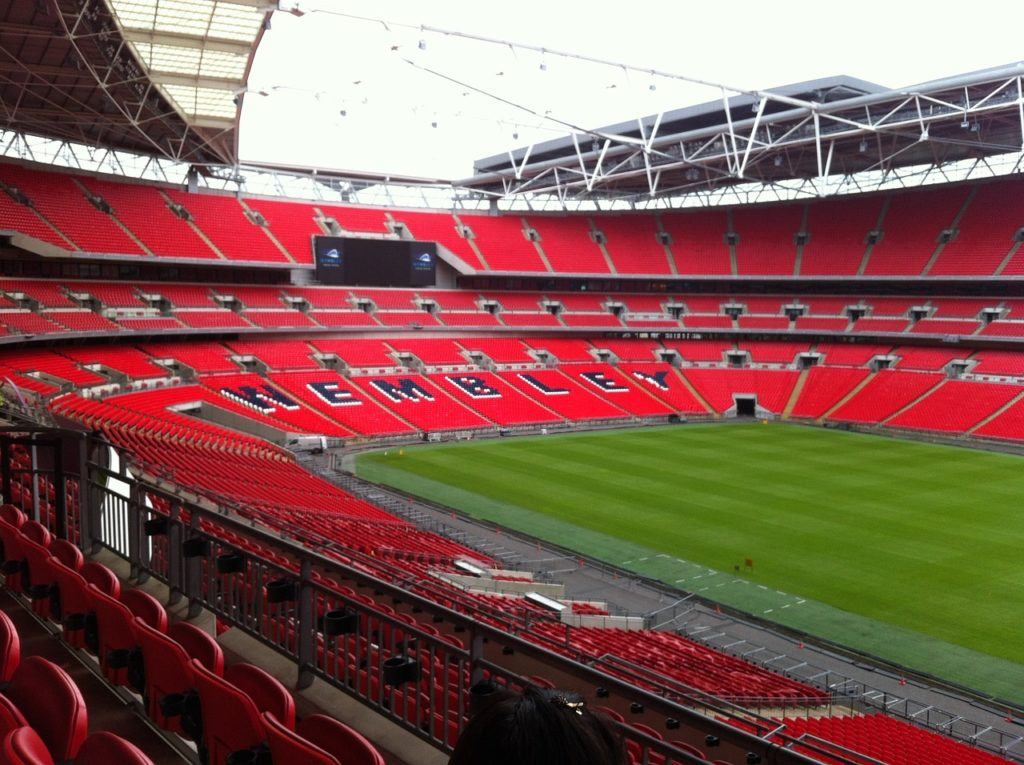 Wembley Stadium, located in London, England, is a truly iconic symbol of British football – it was here in 1966 when England won their one and only World Cup title. So if you're a football fan, it's one of the top things to do in London for sure.
This state-of-the-art stadium (rebuilt in 2007) hosts major domestic and international competitions, including the FA Cup final and England national team matches. Visitors can take guided tours to explore the stadium's impressive facilities and learn about its illustrious past. The Wembley Stadium Tour also offers an immersive virtual reality experience where visitors can step into the shoes of their favorite players and experience the thrill of walking out onto the hallowed Wembley turf.
Allianz Arena – Munich, Germany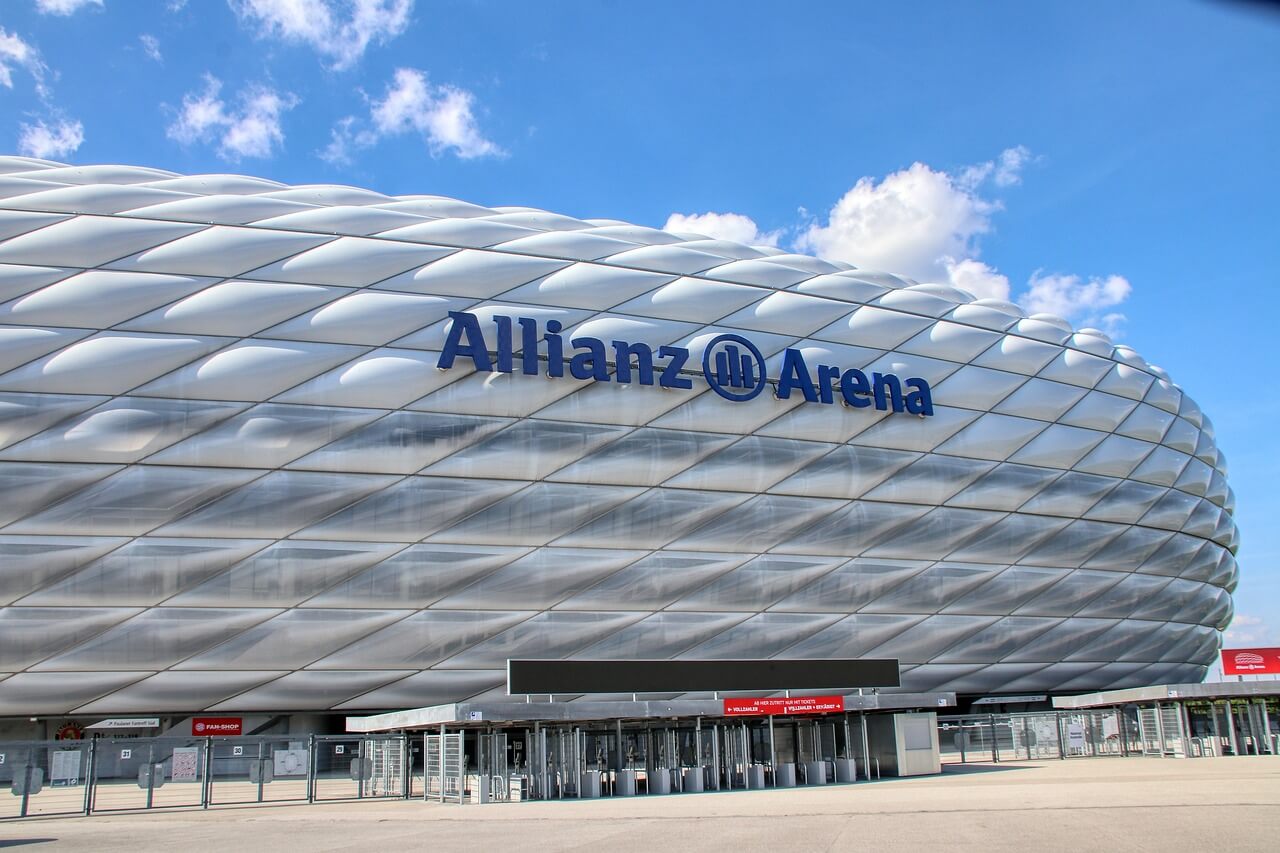 Allianz Arena is a modern masterpiece located in Munich, Germany. This architectural marvel is the home stadium of the mighty FC Bayern Munich who have been kicking arse in the German Bundesliga for decades now.
The stadium's unique feature is its exterior, which can change colors to reflect the team playing inside. Guided tours provide access to the stands, changing rooms, and the press conference area, allowing visitors to immerse themselves in the world of German football. If you're a footie fan then you can't miss this when visiting Munich.
If you want to catch a match during your visit, the good news is that Bayern tickets are significantly cheaper than those of other European titans.
Is This the Best Backpack EVER???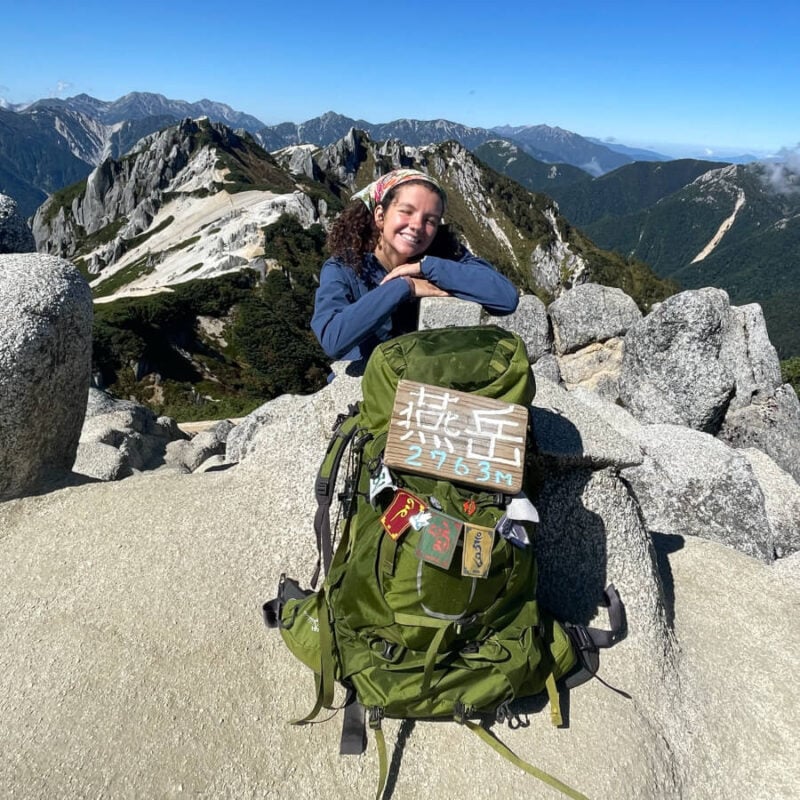 San Siro – Milan, Italy
San Siro is an iconic stadium situated in Milan, Italy. It is home to not one but two of Italy's most successful clubs, AC Milan and Inter Milan (stadium sharing is kinda commonplace in Italy by the way). So it's one of the most interesting places to visit in Milan.
The stadium, officially known as Stadio Giuseppe Meazza, offers guided tours that take fans behind the scenes, including visits to the players' tunnel and the pitchside area. The museum inside the stadium showcases the rich history and fierce rivalry between the two Milanese giants.
Be sure to visit soon too, because there are plans afoot for a new mega stadium in Milan.
Emirates Stadium – London, England
The Emirates Stadium has been the iconic home of Arsenal FC since they left Highbury in 2006. Situated in North-west London, the stadium's sleek design and modern amenities provide an excellent matchday experience for fans. It's a great day trip whilst in London.
Emirates Stadium guided tours offer a chance to explore the stadium's key areas, including the dressing rooms and the pitchside, while also providing insights into Arsenal's rich history and heritage. Note that London and its boroughs are home to 14 different professional, English league football grounds so if you are in London you stand a strong chance of actually bagging some match tickets.
If you do want to catch a game, why not head over to Go Sport Travel and see if they can hook up with some match tickets?
Estadio Santiago Bernabeu – Madrid, Spain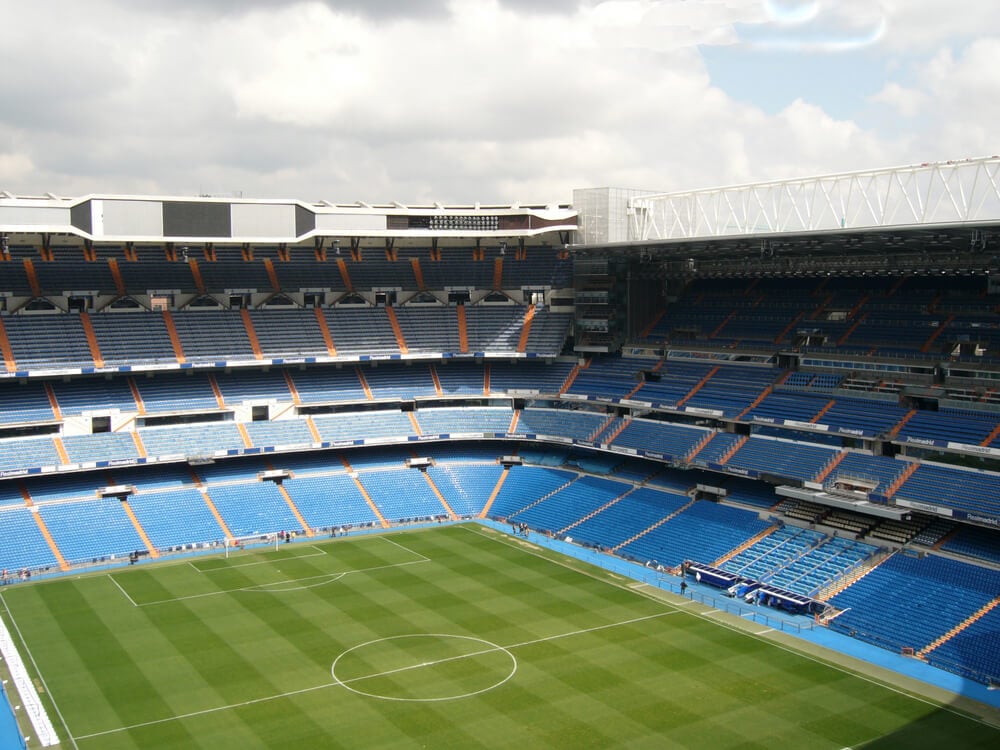 Estadio Santiago Bernabeu, located in Madrid, Spain, is the legendary home of Real Madrid. This majestic stadium has witnessed countless historic moments in football, including numerous UEFA Champions League triumphs.
If you're wondering whether to pick Madrid or Barcelona when it comes to footballing history, it can be a difficult decision … so do both if you can!
Guided tours allow visitors to explore the stadium's impressive architecture, walk through the players' tunnel, and get a glimpse of the club's trophy room, which showcases the team's remarkable achievements and it's a real fun thing to do in Madrid. However, note that the tour may gloss over Real Madrid's problematic history with Spain's Fascist Dictator General Franco.
Signal Iduna Park – Dortmund, Germany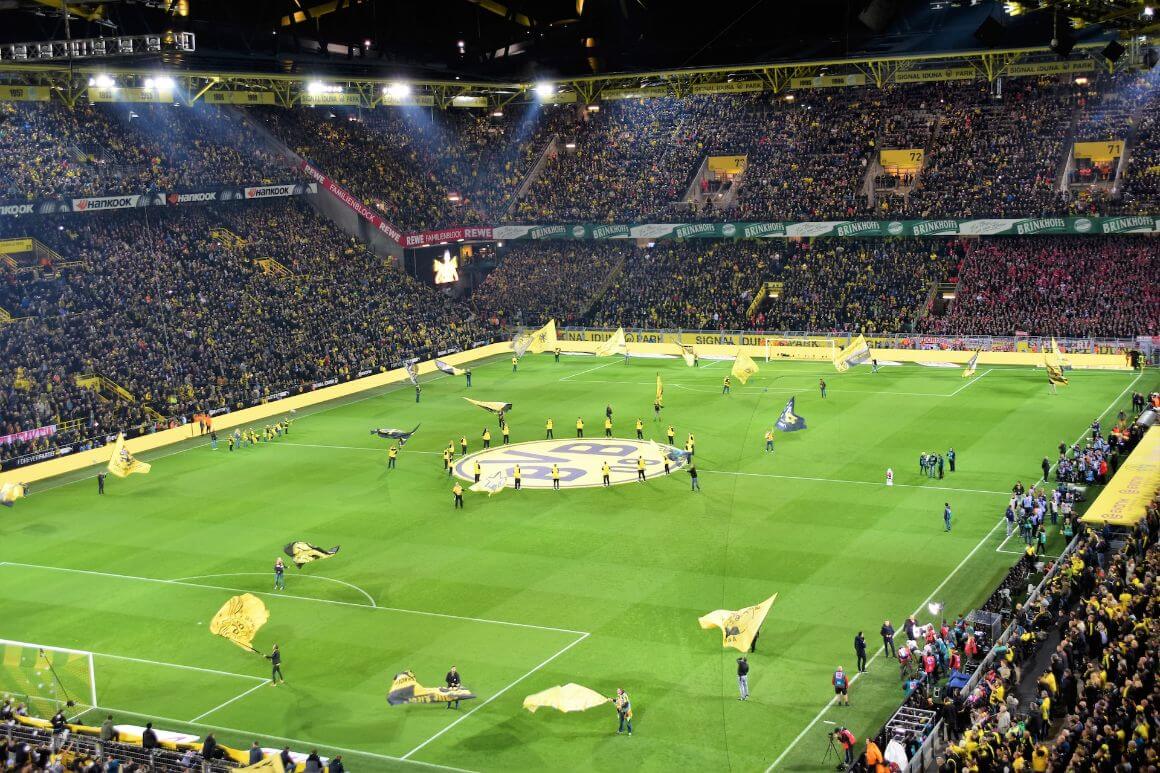 Signal Iduna Park, located in Dortmund, Germany, is home to Borussia Dortmund, one of the most passionate and fervent football clubs in Europe. If Bayern Munich are the poster boy of German football, Dortmund are its edgier but cooler rival.
This atmospheric stadium, also known as "The Yellow Wall," boasts the highest average attendance in European football. Guided tours allow visitors to experience the electrifying atmosphere of the South Stand, explore the stadium's facilities, and learn about the club's loyal fan culture. Be sure to visit Germany during the winter if you want to catch a game.
The Future of the SIM Card is HERE!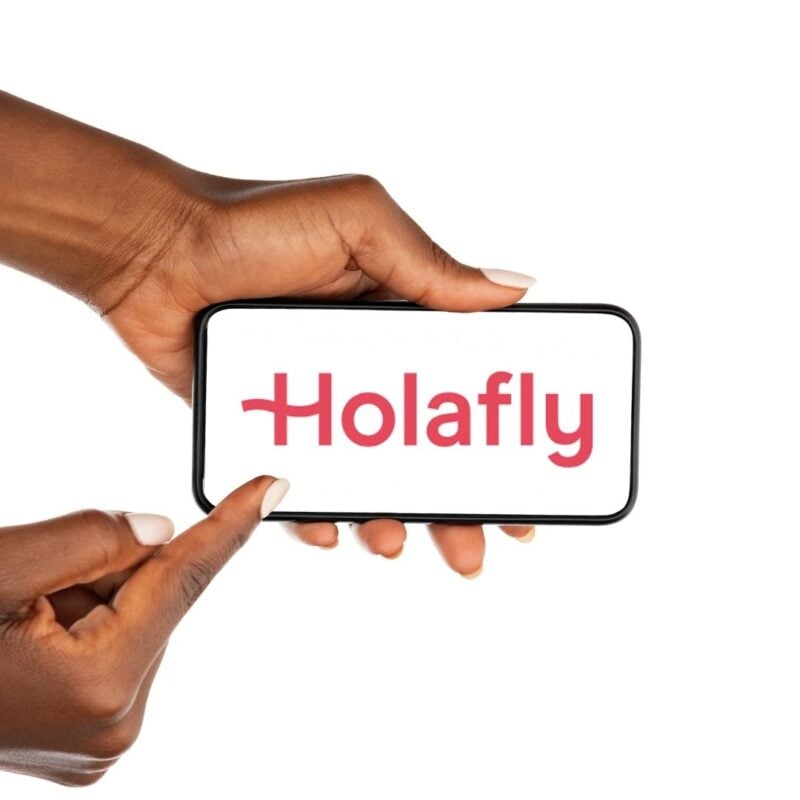 A new country, a new contract, a new piece of plastic – booooring. Instead, buy an eSIM!
An eSIM works just like an app: you buy it, you download it, and BOOM! You're connected. It's just that easy.
Is your phone eSIM ready? Read about how e-Sims work or click below to see one of the top eSIM providers on the market and ditch the plastic.
Grab an eSIM!
Azadi Stadium – Tehran, Iran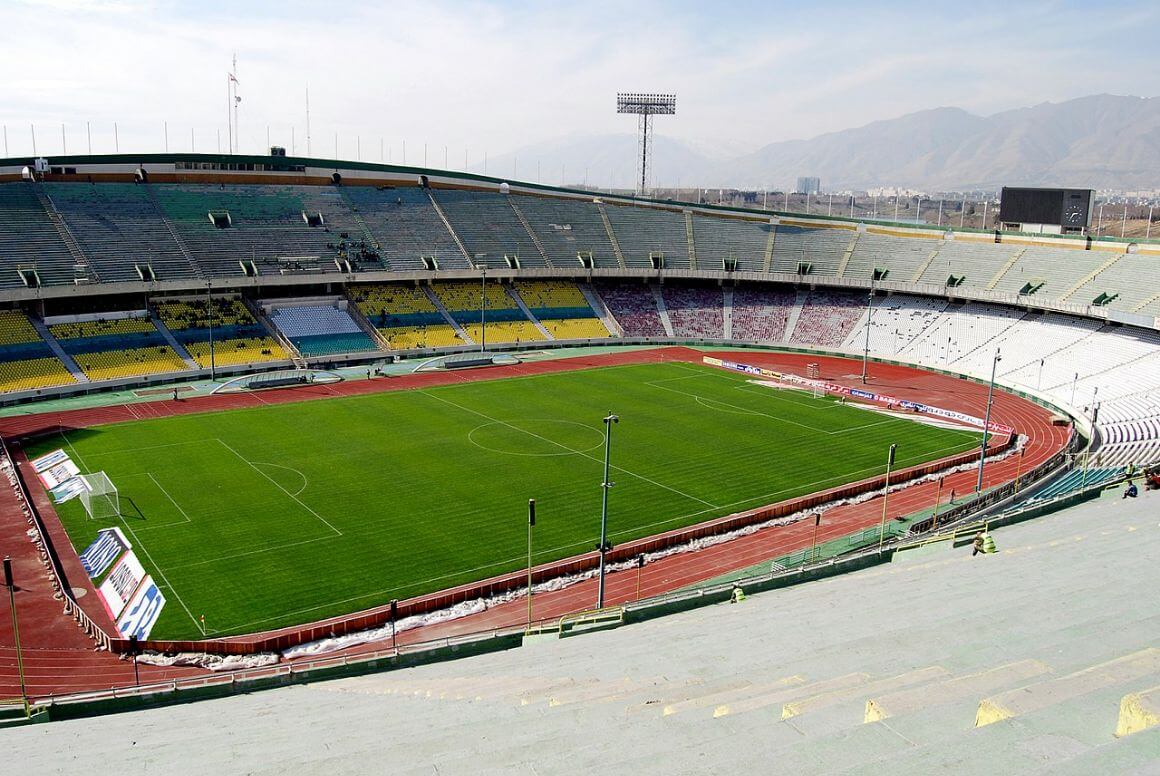 Azadi Stadium in Tehran, Iran, is not only one of the largest stadiums in the world but also holds immense cultural significance. As the home of the Iran national football team, it has witnessed countless historic matches and is one of the most fun and interesting things to do in Tehran.
Visitors can take guided tours to learn about the stadium's architecture and its role in shaping Iranian football culture. For an insight into how important soccer is in the "complicated" modern Iranian culture, check out the award-winning 2006 film Offside.
Stadio San Paolo – Naples, Italy
Stadio San Paolo in Naples, Italy, is the legendary home of SSC Napoli, the club synonymous with football icon Diego Maradona and to a lesser extent the Italian Mafia. This stadium has an electric atmosphere, fueled by passionate (see sometimes violent) fans known as the "Tifosi."
Guided tours are a great thing to do in Naples and offer a glimpse into the club's history, including Maradona's unforgettable era, and allow visitors to appreciate the intense football culture that thrives in Naples.
Soccer City Stadium – Johannesburg, South Africa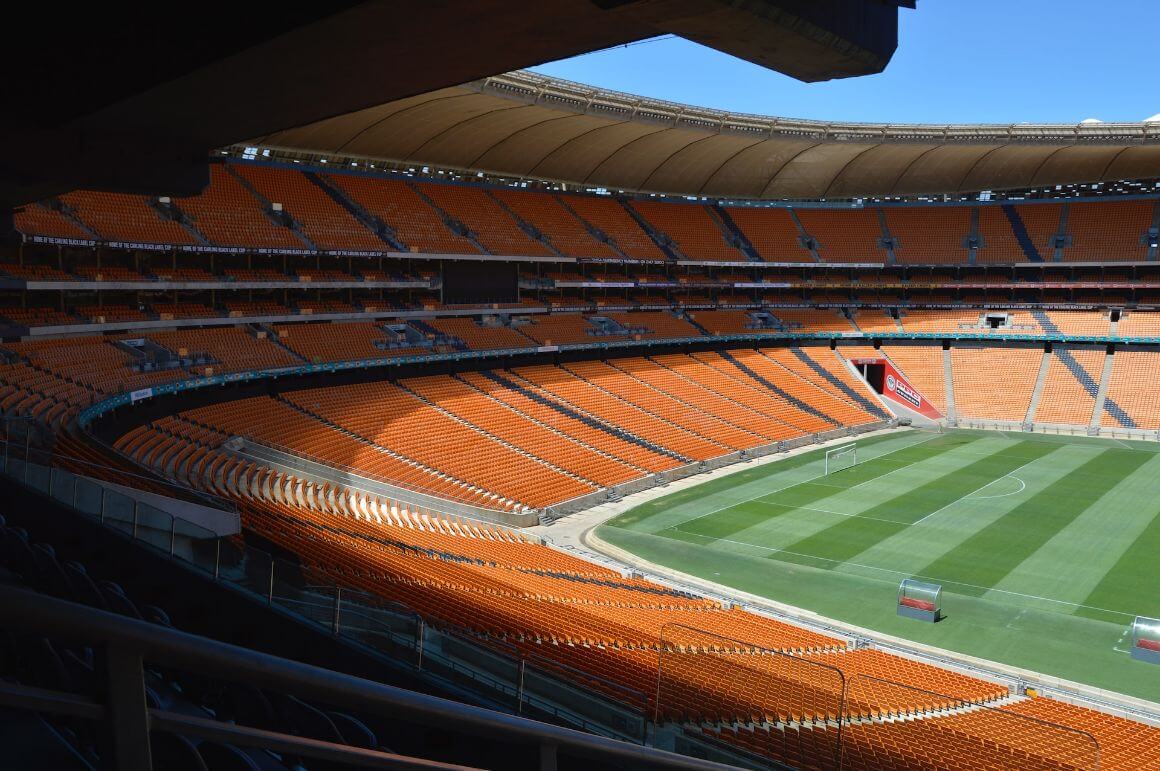 Soccer City Stadium in Johannesburg, South Africa, is a symbol of pride and unity for the nation. It hosted the memorable 2010 FIFA World Cup final and has since become an architectural landmark.
Visitors to Soccer City Stadium can explore the stadium's vibrant surroundings, appreciate its unique design, and learn about the significant role it played in South African football history. If you're wondering whether to visit Cape Town or Johannesburg, this stadium might just throw the balance in Joburg's favour!
Estadio Monumental – Buenos Aires, Argentina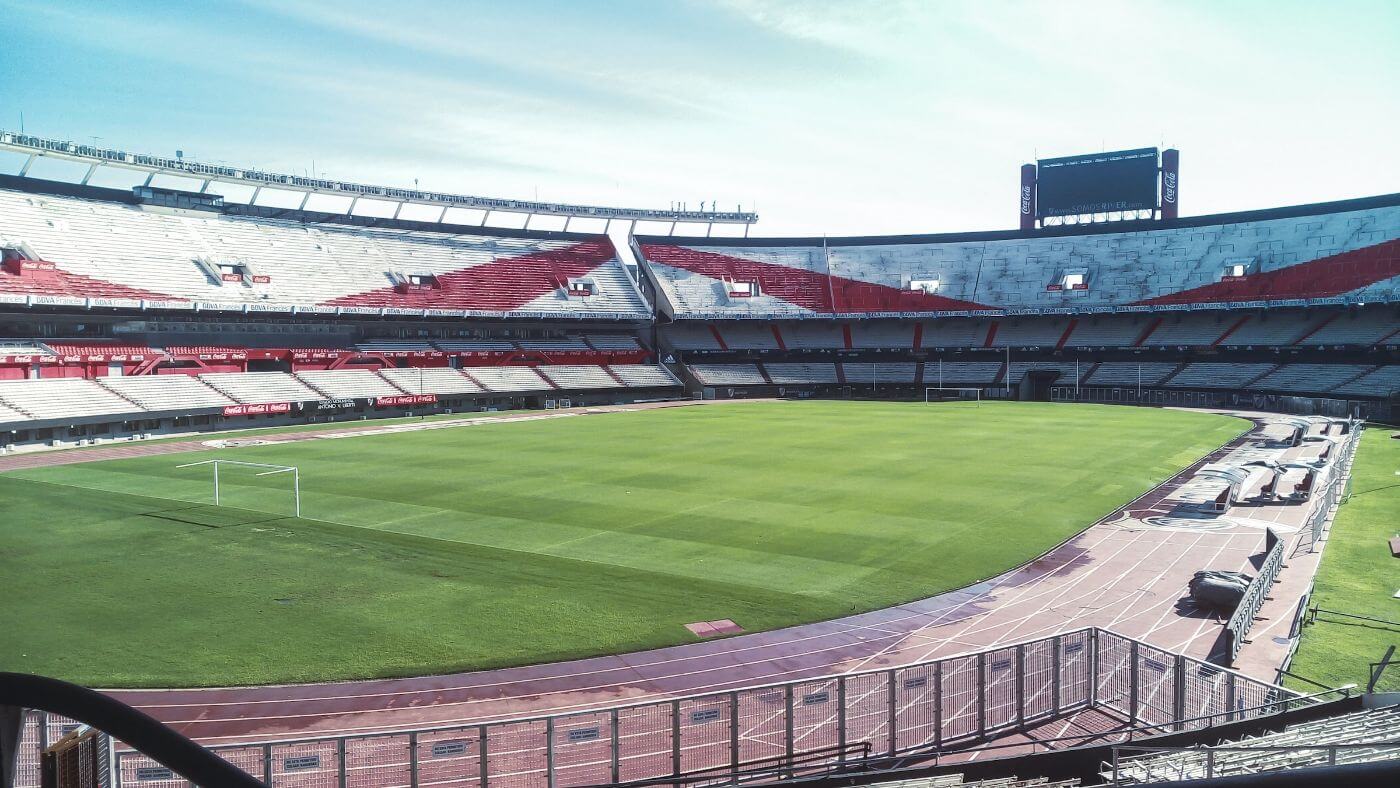 Estadio Monumental, located in Buenos Aires, Argentina, is the revered home stadium of Club Atlético River Plate. It is known for its intense atmosphere and passionate fans – if you ever make it here when they play rivals Boca Juniors then it will be an unforgettable experience on any Buenos Aires itinerary.
Guided tours take visitors through the stadium's impressive facilities, including the pitch, the players' tunnel, and the trophy room. The stadium's museum showcases the club's rich history and honors its legendary players.

Our GREATEST Travel Secrets…
Pop your email here & get the original Broke Backpacker Bible for FREE.
Anfield – Liverpool, England
Anfield is the historic home of Liverpool FC, one of the most successful clubs in English football and one of the most loved football teams on earth. Situated in inner city Liverpool, this iconic stadium holds a truly special place in the hearts of football fans worldwide and is a must-do when visiting Liverpool.
Guided tours of Anfield allow visitors to soak in the rich history and traditions of the club. From the famous "This is Anfield" sign to the revered Kop Stand, visitors can explore the stadium's key areas, including the dressing rooms and the players' tunnel. The museum at Anfield showcases the club's glorious past, with exhibits dedicated to legendary players and unforgettable moments.
If you fancy doing the Scouse double, then Everton's Goodison Park stadium is a short bus ride from Anfield – that is until they move into their new, highly controversial city centre stadium sometime in 2024.
Civitas Metropolitan Stadium – Madrid, Spain
Civitas Metropolitan Stadium in Madrid, Spain, is a modern architectural gem and the home of Atlético Madrid. Known for its unique design and impressive facilities, this stadium offers a remarkable matchday experience.
While Atletico are nowhere near as big or successful as their rivals Real, they are widely considered as the peoples club as opposed to their "Royal" neighbours and are of course free of the problematic links with General Franco. If you happen to be in Madrid over a weekend when they are playing, then you'll have a much more authentic experience if you manage to catch a game too.
Guided tours of Civitas Metropolitan Stadium provide visitors with a behind-the-scenes glimpse into the inner workings of the club. From the state-of-the-art dressing rooms to the pitchside area, fans can witness the stadium's grandeur up close. The museum within the stadium showcases the club's achievements and celebrates its passionate fan base and former greats.
ALWAYS sort out your backpacker insurance before your trip. There's plenty to choose from in that department, but a good place to start is Safety Wing.
They offer month-to-month payments, no lock-in contracts, and require absolutely no itineraries: that's the exact kind of insurance long-term travellers and digital nomads need.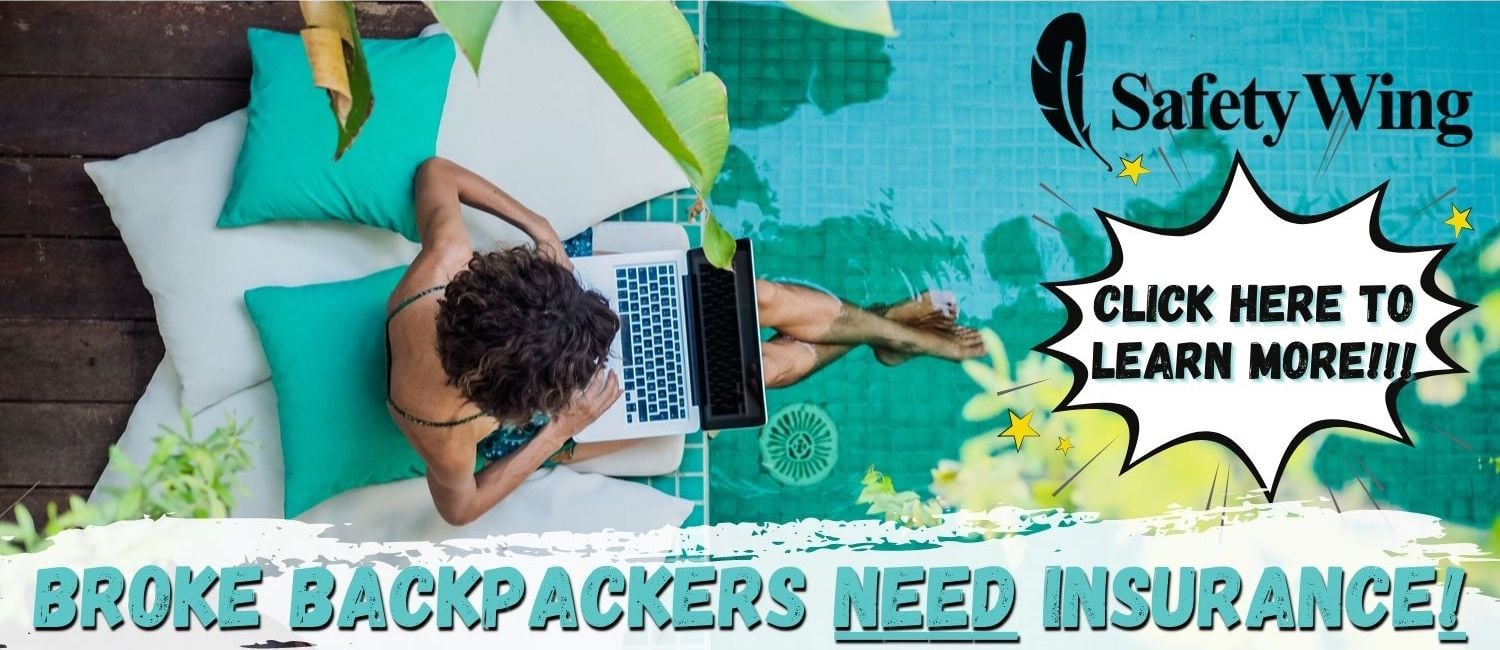 SafetyWing is cheap, easy, and admin-free: just sign up lickety-split so you can get back to it!
Click the button below to learn more about SafetyWing's setup or read our insider review for the full tasty scoop.
FAQs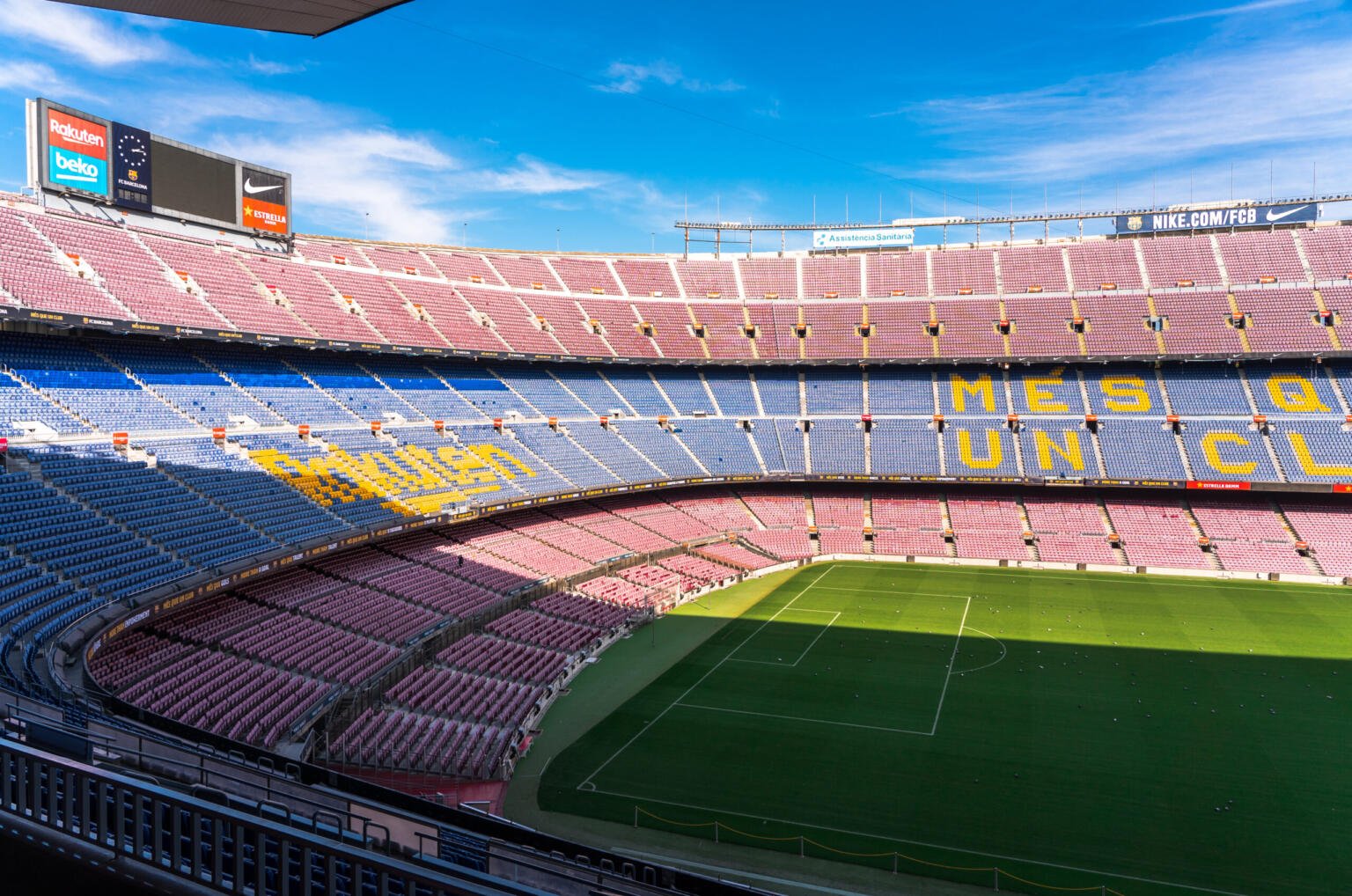 Final Thoughts
Well, exploring the best football stadiums around the world is a dream come true for any football aficionado. These mighty soccer stadiums offer not only thrilling matches but also immersive tours replete with fascinating museums that provide a deeper understanding of the sport's history and cultural significance.
From the colossal Camp Nou in Barcelona to the historic Maracanã Stadium in Rio de Janeiro, each stadium has its own unique story to tell and captures the essence of football and the local community in its own way.
How was that? Have you visited any of these stadiums? Did we miss your favourite? Let us know in the comments below!
---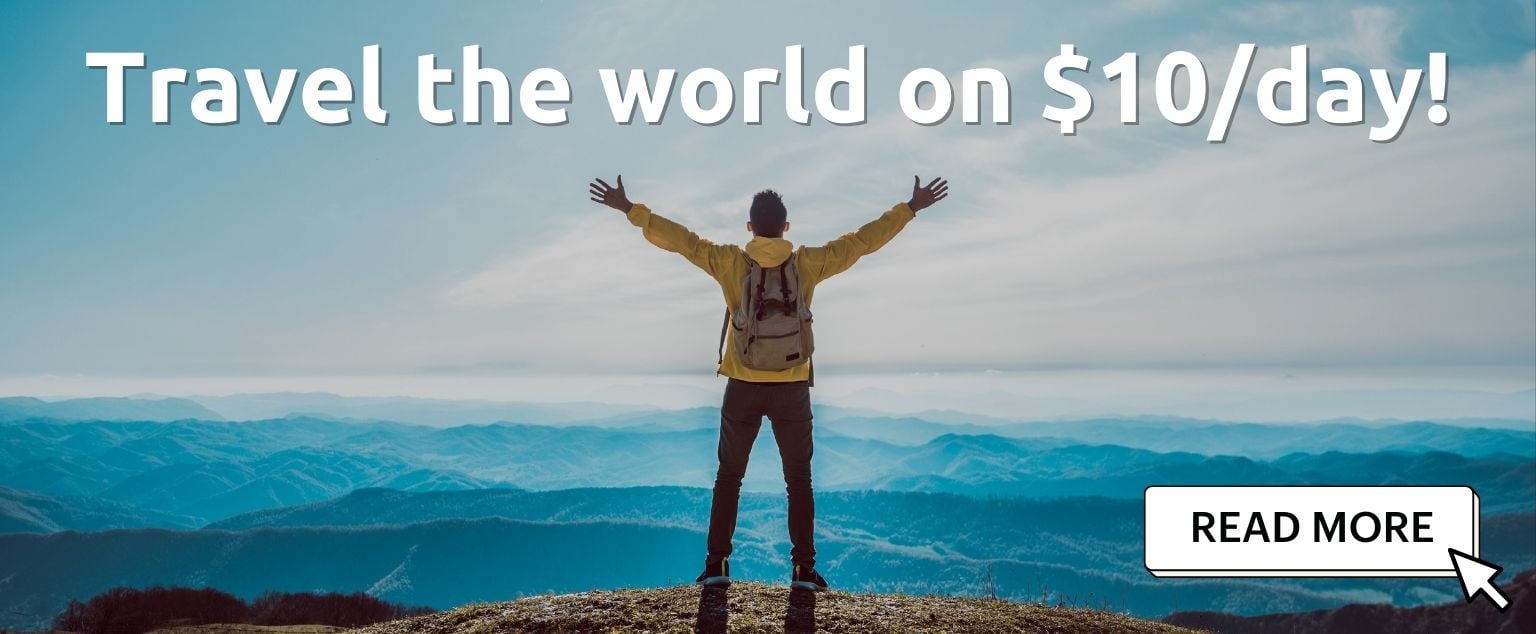 And for transparency's sake, please know that some of the links in our content are affiliate links. That means that if you book your accommodation, buy your gear, or sort your insurance through our link, we earn a small commission (at no extra cost to you). That said, we only link to the gear we trust and never recommend services we don't believe are up to scratch. Again, thank you!