The capital of German Bavaria, Munich is a lively city with a modern and forward-thinking attitude combined with a historic appearance. It is known for its splendid architecture, especially the charming Old Town that has been reconstructed to appear almost exactly as it did at the end of the nineteenth century. It is also one of the most cultural cities in all of Germany and hosts the yearly Oktoberfest beer festival, which draws large crowds from all over the world. There are definitely plenty of reasons to travel to Munich.
Munich is a large and sprawling city. As Germany's third-biggest city, it can take a long time to figure out your Munich itinerary—there is simply so much to see and do and the distances are large.
There's no need to lose tons of time planning your trip, though. We've created this awesome list of the best places to visit in Munich to help you out. Your travel planning will be a breeze and you won't need to miss any of the hotspots in Munich, even if time is limited.
Warning: some of the best places in Munich are certain to surprise you!
Need a place quick? Here's the best neighbourhood in Munich:
BEST AREA IN MUNICH
Schwabing
Schwabing is one of the most eclectic and coolest places to stay in Munich. It is Munich's artistic quarter as well as its wealthiest and most desirable district. This contrast is what makes Schwabing quite unique.
Places to visit:
Enjoy pints in the sun at Aumeister, one of Munich's best beer gardens that's located at the north end of Englischer Garden.
Pack a picnic and enjoy an afternoon on the lawns of the stunning Englischer Garten.
Rent a bike and cruise along the trails that weave throughout this gorgeous neighbourhood.
These are the BEST Places to Visit in Munich!
We've got one more travel tip for you before we start: make sure to figure out where you want to stay in Munich. Choosing the area wisely will guarantee a great trip! A bit of research is essential. Now let's get to it…

Unlock Our GREATEST Travel Secrets!
Sign up for our newsletter and get the best travel tips delivered right to your inbox.
#1 – Marienplatz – A great place to see in Munich if you love architecture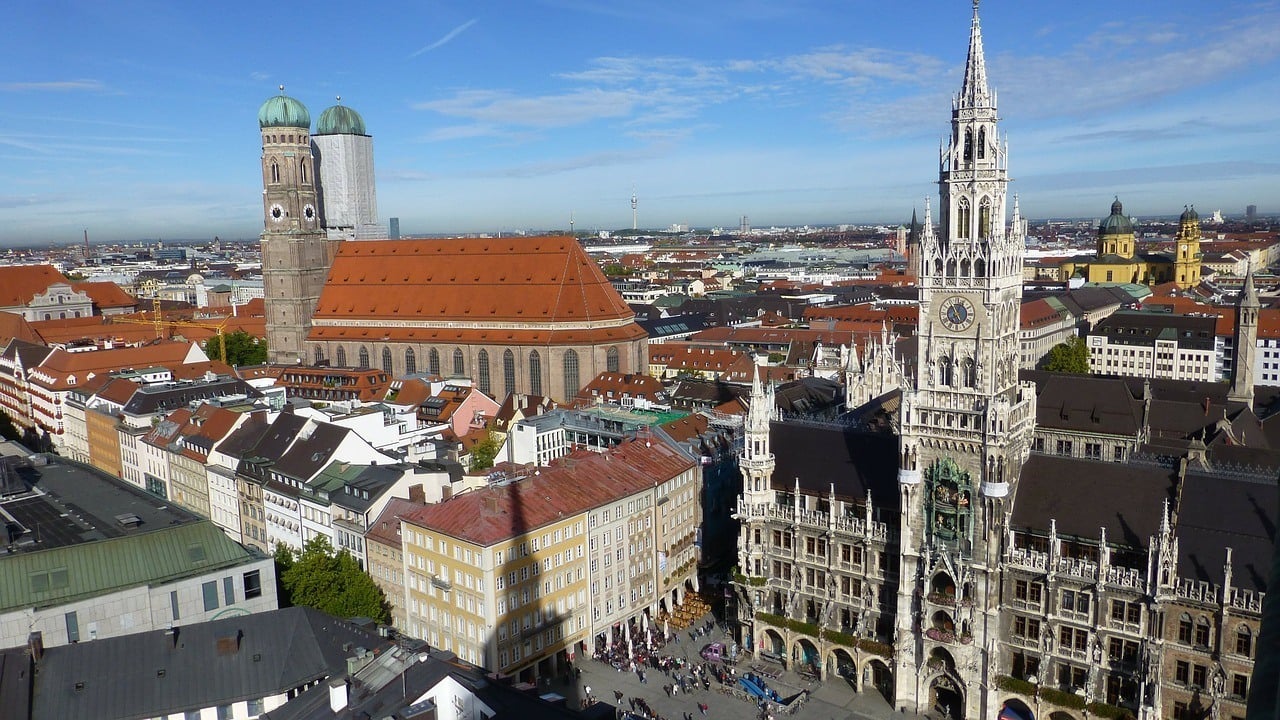 Historic area
Olde-worlde vibe and appearance
Gorgeous architecture
See one of the quirkiest attractions in Munich
Why it's awesome: Located in the Old Town, or Altstadt, one of the oldest neighbourhoods in Munich, Marienplatz was a market in the late 1150s. The whole Old Town area is a historical monument on the Bavarian historical monument list. While lots of the historic buildings were destroyed during World War Two, the area has been rebuilt in keeping with its former appearance.
Fairytale-like buildings line the medieval-style streets and it is home to many of the most famous places in Munich. The appearance is very different to many other cities around Germany and visitors can spend several hours simply wandering around and admiring the pretty sights. Marienplatz is definitely an Old Town highlight.
What to do there: Stand in Marienplatz and marvel at the stunning and impressive Neues Rathaus (New City Hall). The Munich must see is a neo-Gothic treasure and you can take the elevator up the tower for splendid city views. Don't miss watching the delightful Glockenspiel in action with its charming dancing and jousting figures. See the Altes Rathaus (the Old Town Hall) at the other side of the elegant square and gaze up at the Mariensäule column, dedicated to the Virgin Mary.
In the heart of the square, you can admire the handsome Fischbrunnen, which is surrounded by old bronze figures. Afterwards, discover the many gems of the Old Town, noting the remains of the old city walls and three of the original city gates: Karlstor, Isartor, and Sendlinger Tor. If you visit in December, you'll definitely want to add this stop to your Munich itinerary, and you can browse in the jolly Christmas Market that breathes even more life into the picturesque square.
#2 – Englischer Garten – A beautiful outdoor place to visit in Munich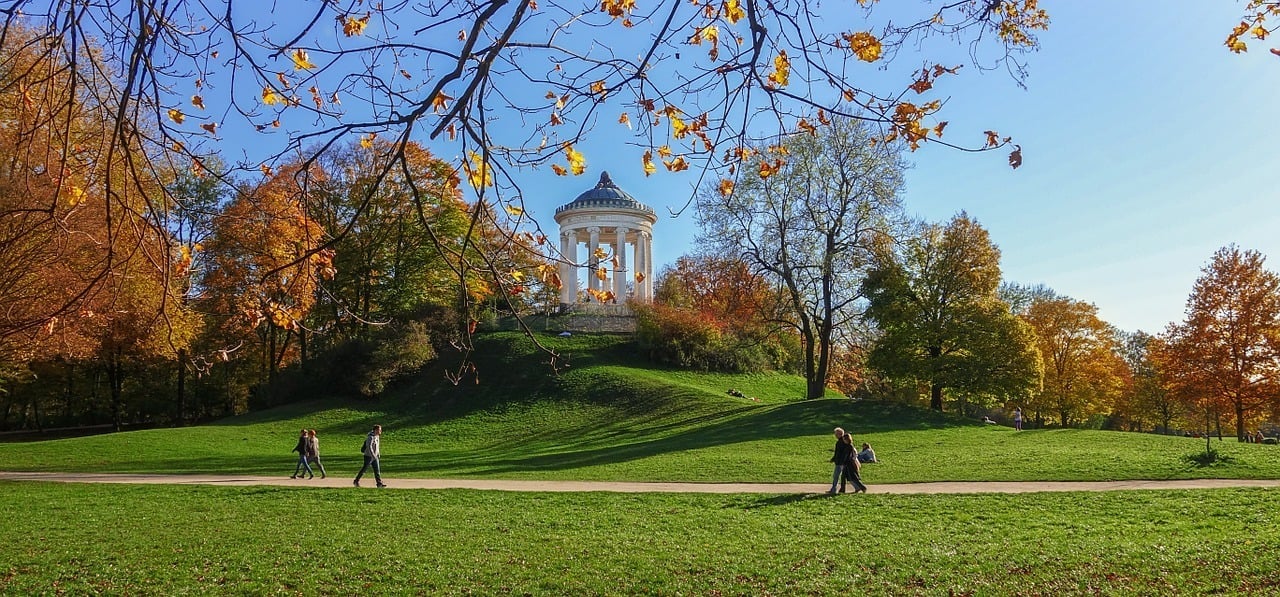 Expansive public park
Dazzling lake
Interesting structures
Various leisure and relation options
Why it's awesome: A huge public park in the heart of the city, the Englischer Garten is a gorgeous spot to enjoy time outdoors when visiting Munich. Created in the late 1780s, it is spread across 910 acres (370 hectares) and is one of the biggest urban parks in the world. It features sweeping lawns, tree-shaded pathways, a lake, meadowlands, and various structures and statues. It's a top place to visit in Munich with kids and can also be a great place for a romantic afternoon. There's no admission fee.
What to do there: Get away from the crowded city streets and spend a few hours exploring the Englischer Garten. Sunbathe on the grass, sit on a bench, stroll around the lake, go boating on the water, walk along wooded pathways, and wander through the wildlife-rich meadows. If you want an all-over tan check out the Schönfeldwiese; the grassy field is known for nude sunbathers. Have a go at one of the most surprising activities in the park—surfing on the Eisbach River!
See the 18th-century Chinese Tower, visit the 1838 Greek-style temple, and relax in the Japanese tea house. If you fancy something a bit stronger there are also several beer gardens throughout the park and you'll also find a number of restaurants where you can keep hunger at bay.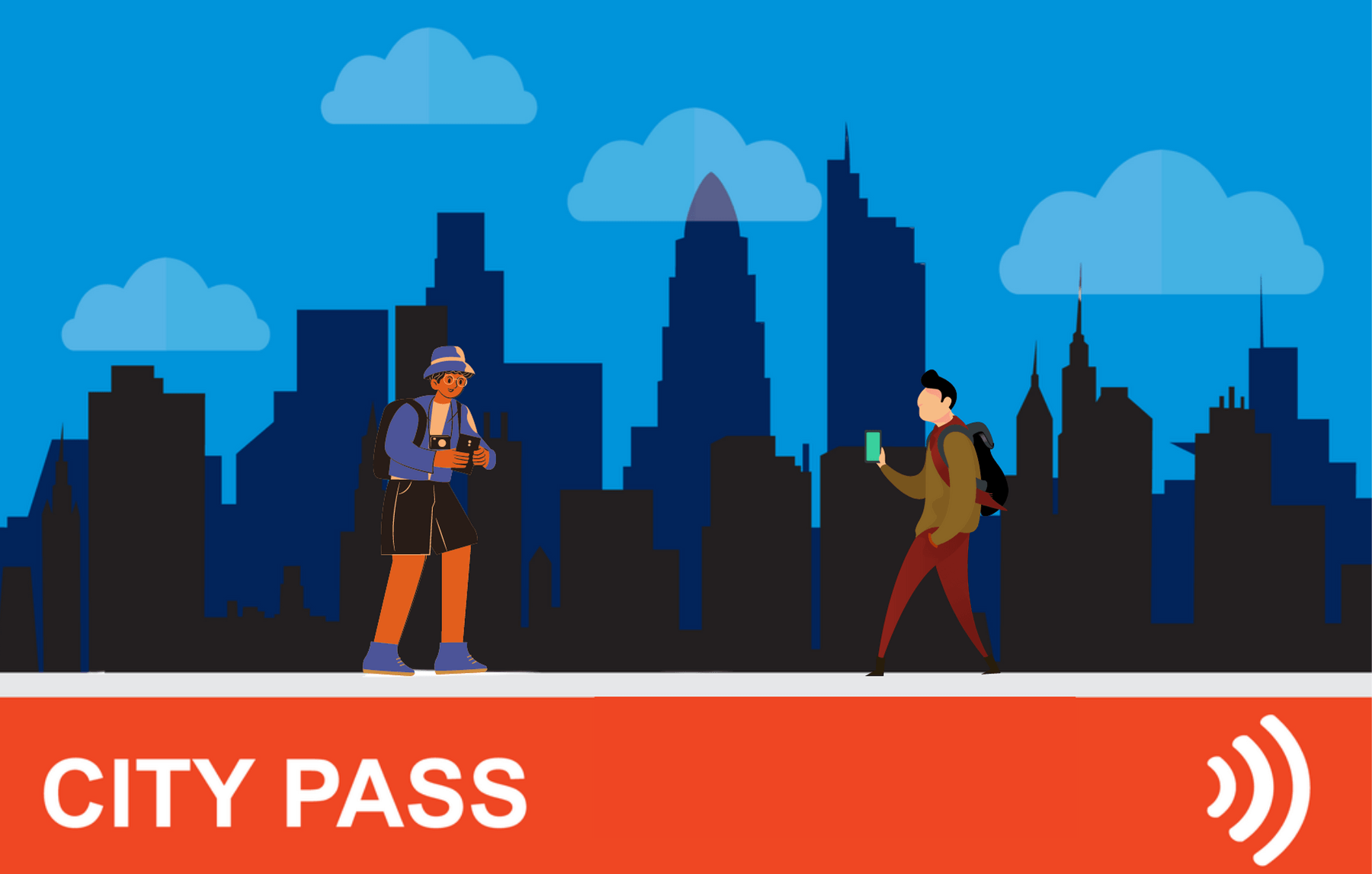 Travelling to Munich? Then plan yo' trip the smart way!
With a Munich City Pass, you can experience the best of Munich at the CHEAPEST prices. Discounts, attractions, tickets, and even public transport are all standards in any good city pass – be sure invest now and save them $$$ when you arrive!
Buy Your Pass NOW!
#3 – Au-Haidhausen – A great place to visit in Munich at night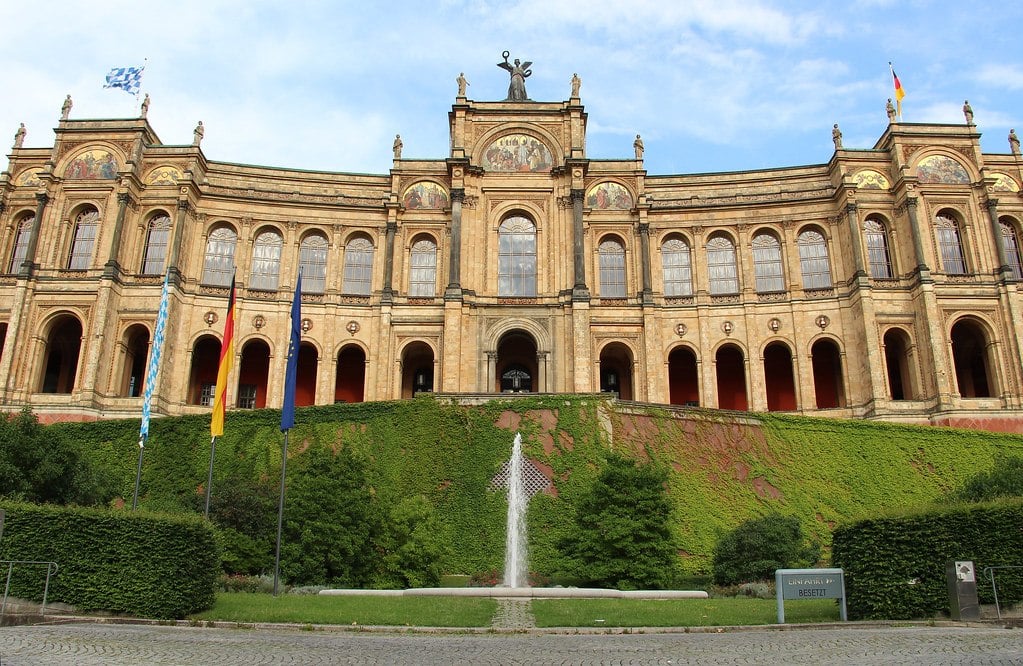 Wide choice of places to eat
Diverse bars
Exciting nightclubs
Interesting buildings
Why it's awesome: Au-Haidhausen is one of the most famous nightlife neighbourhoods in Munich. Once an area of cheap accommodations for tradespeople, the riverside area also featured a number of breweries. Over the years many bars and clubs have sprung up, and there are cute side streets where a strong sense of history still prevails. It's a multicultural area with a youthful vibe.
What to do there: Take a walk through the narrow lanes and admire the charming buildings and visit the French Quarter with its lovely buildings and streets named after places where battles occurred during the German-French War. Get dressed up and head to Au-Haidhausen in the evening for a fun night of partying. You can start your night with a tasty meal in one of the many restaurants before hopping between energetic bars. End your night dancing in one of the numerous discos and nightclubs.
#4 – Volkssternwarte München – An unknown (but awesome!) place to see in Munich!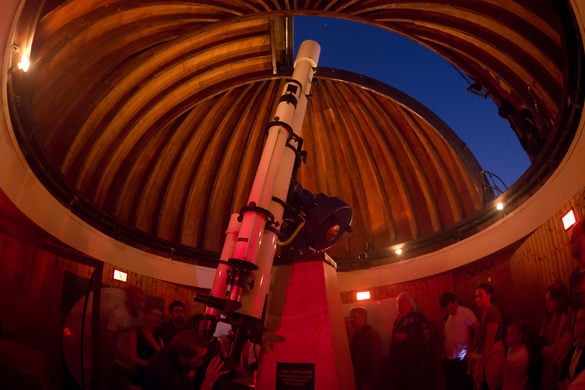 Lesser-visited attraction
Historic planetarium
Fascinating displays
Gaze at the skies
Why it's awesome: Volkssternwarte München is among the cool but unknown attractions in Munich. Hidden away, the lesser-visited observatory and planetarium see few visitors—meaning that those who do visit can enjoy an unhurried air. It's an especially great place for fans of astronomy when visiting Munich. Demonstrations are conducted in German on most days, though English talks are held too on certain days of the week. There are several large telescopes from throughout the ages as well as exhibits and displays related to the skies.
What to do there: Discover the fascinating meteor collection and be awed by the astronomical photos on display and see the impressive collection of telescopes, some of which are several decades old. Join a daily tour and cast your gaze skywards as you peer through telescopes to study the stars and planets. The planetarium is old school, operated manually and built in the 1950s. The equipment offers terrific views of the skies and you can observe planets, the Milky Way, and more, with day and night views available.
#5 – Frauenkirche – One of the most religious places to see in Munich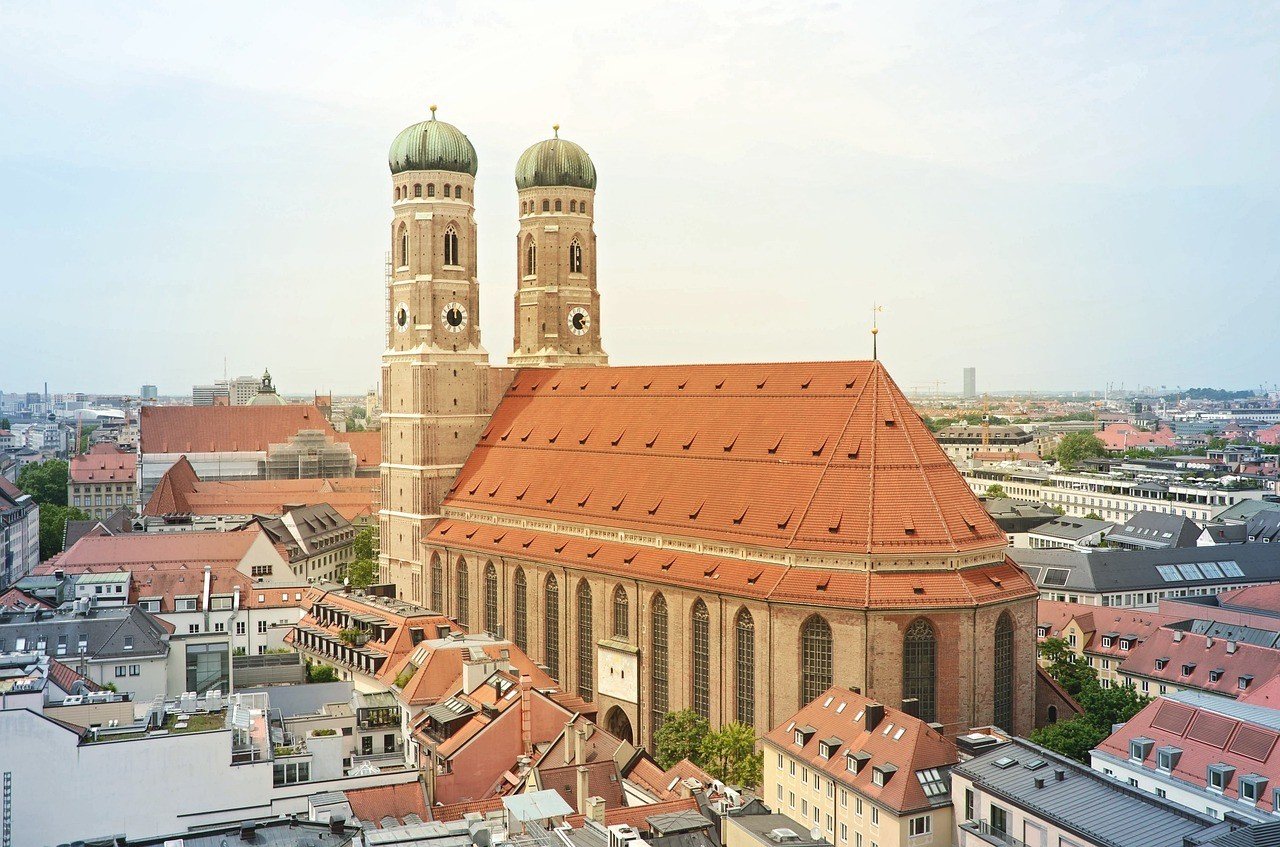 Symbol of Munich
Eye-catching building
Religious air
Amazing views
Why it's awesome: One of the major points of interest in Munich, the huge Frauenkirche is a striking symbol on the city skyline. The red-brick Gothic beauty dates back to the 15th century, standing on the site of an older, and smaller, church. The soaring dome-topped towers can be seen from far and wide, towering over the landscapes at almost 100 metres (325 feet) tall.
Although fairly simple in its exterior design, the church is still statuesque and impressive. The insides are also quite remarkable and it houses the tombs of several eminent people from the city's past. There are also some unusual features. It remains an active place of worship today.
What to do there: Admire the building from the outside before entering through the large doors to be wowed by the size of the hall, complete with splendid pillars and elegant arches. There are many religious statues and carvings to see too, including wooden busts of saints, apostles, and prophets and a huge statue of St Christopher.
Pay your respects in the small chapels, gaze upon the beautiful stained glass window behind the altar, and see the bronze reliefs of Mother Theresa, Kaspar Stanggassinger (a revered German priest), and Rupert Mayer (a German priest known for his opposition against the Nazis). Climb to the top of one of the towers for soaring city views. Don't miss seeing the footprint embedded in a tile, now known as the Devil's Footstep.
#6 – Olympiapark – A perfect place to visit in Munich if you are on a budget!
Sporting history
Great views
Observation tower
Free summer concerts
Why it's awesome: Olympiapark is among the most famous landmarks in Munich and is a popular place for locals and tourists alike to visit and hangout. There's no fee to enjoy the park either, making it a great choice for budget travellers who want to enjoy being outdoors and mingle with locals. Built for the Summer Olympics in 1972, it was put to good use after the world-famous sporting event and is used today for various social, cultural, sporting, and leisure activities.
What to do there: See the buildings that were used for the Olympic Games, including the main stadium, Olympic Hall, and small hall. There are various sporting facilities throughout the site (additional fees apply), including a swimming pool and an ice rink. One of the most popular things to do in the Olympic Area is to go up the Olympiaturm. Standing at 290 metres (951 feet) tall, there are two viewing platforms from where you can enjoy splendid vistas.
There's also a revolving restaurant if you wish to stay for longer and soak up the views over a meal. Alternatively, climb the hill in the park for more sweeping views. In the summer there are often free concerts on top of the hill too. Relax alongside the sparkling lake and enjoy nature and fresh air.
#7 – Deutsches Museum – A fascinating educational place to visit in Munich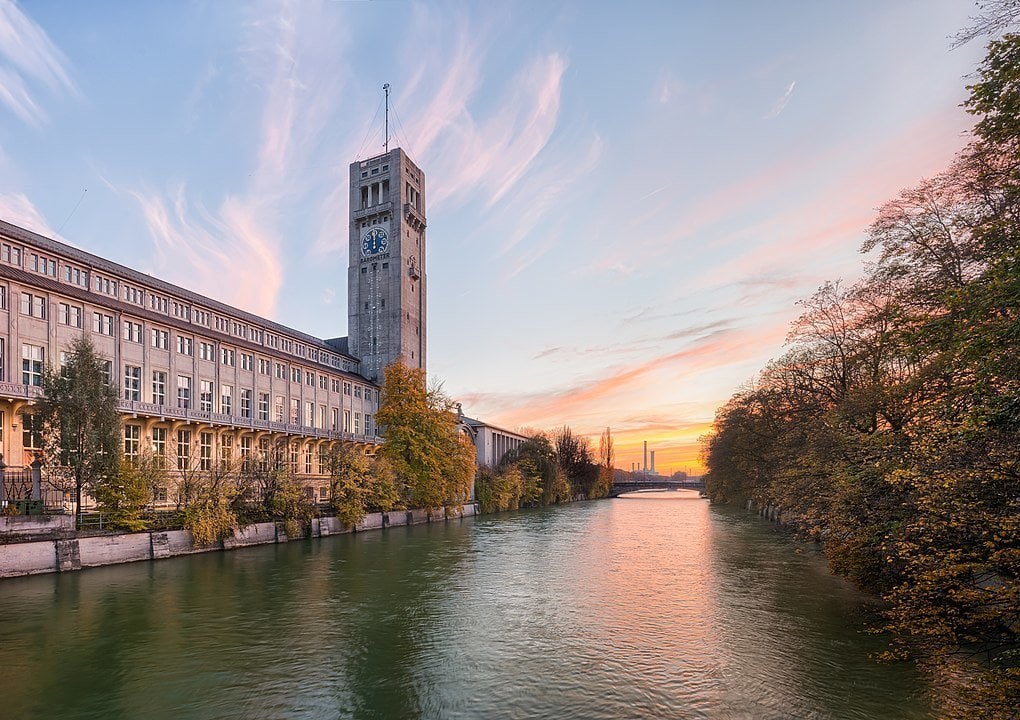 Fascinating science and technology museum
Many exhibits
Great for people of all ages
Learn lots of fun things
Why it's awesome: The gigantic Deutsches Museum is one of the biggest science and technology museums across the globe, with more than 25,000 items on displays. Open since 1903, it's a Munich must-do for anyone with a curious mind. The main museum building is located on an island in the River Isar, and there's a further location in the city centre. There are exhibits related to astronomy, machines, aerospace, agriculture, electronics, chemistry, pharmaceuticals, hydraulics, glass, mining, and more.
What to do there: Learn tons of new things as you view the huge array of exhibits in the popular Deutsches Museum. See how humans have made massive leaps and bounds over the years when it comes to technological developments and feel impressed as you see inventions, tools, and machinery. From robots and space probes to windmills and ships, there are so many things to inspire your interest. Furthermore, there are hidden underground mines to explore too. It's a fabulous Munich attraction for old and young alike.
#8 – Königlicher Hirschgarten – Cool place to see in Munich with friends!
Delicious cuisine
Relaxed ambience
Gigantic beer garden
Deer park
Why it's awesome: The fun Königlicher Hirschgarten has one of the biggest beer gardens in the world. There are indoor dining areas too, where visitors can savour an assortment of delectable Bavarian dishes along with specialities from other parts of the country too. The establishment has a long history, having originally been used as a hunting lodge. The restaurant dates back to the late 1700s and was a popular place for important societal functions and special events. Serving lunch and dinner, patrons are also free to visit the Königlicher Hirschgarten for just a drink in the lovely outdoor setting.
What to do there: Take a seat in one of the restaurant's six classy dining rooms, each decorated and furnished to a high standard for both comfort and visual appeal. Peruse the menu and order tempting dishes made from fresh, seasonal produce. Alternatively, dine and drink outdoors in the expansive beer garden—it can seat almost 8,000 people! If you plan to spend an afternoon or evening drinking you can also take your own favourite snacks along with you to enjoy with tasty brews from brewhouses like Herzogliches Brauhaus Tegernsee, Schloßbrauerei Kaltenberg, Tegernseer Ducal Brewery, and King Ludwig. You can also catch all the happening sporting action on the big-screen TVs and see the deer in the adjacent deer park.
#9 – Viktualienmarkt – A must-see for foodies!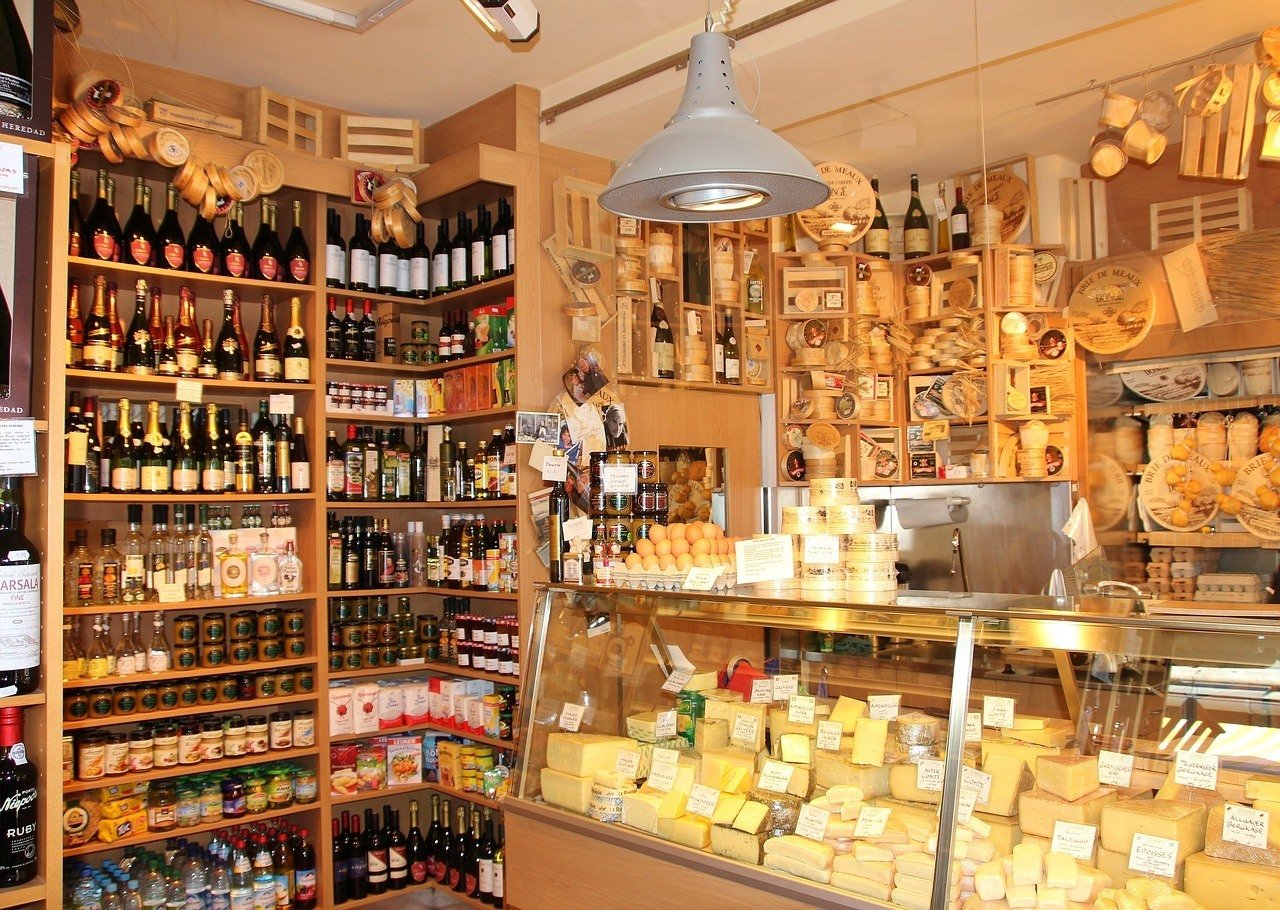 Historic marketplace
Huge selection of food and drink
Beer garden
Sample Bavarian cuisine
Why it's awesome: Open each day and located in the heart of the city, Viktualienmarkt is the oldest farmers' market in Munich. Trade has been taking place here since the early 1800s. It has expanded lots since its early days when it mainly focused on fresh produce, and today sells meats, pastries, cheeses, sweets, fish, snacks, ready-to-eat dishes, fruit juices, and much more too. There are also a number of stalls that sell fresh-cut flowers and plants as well as sit-down restaurants. The market is one of the best places to eat in Munich for an authentic local experience, the vibe is lively, and there are many great photo opportunities.
What to do there: Make sure you're hungry when you explore Munich's vibrant Viktualienmarkt as there are many things that are sure to catch your eye and appeal to your taste buds. Sample a range of delicious Bavarian items; whether you grab something to go from one of the stalls, sit down for a more formal meal in a restaurant, or take your purchases to enjoy over a mug of beer in the beer garden, you're sure to be more than satisfied. Immerse yourself in local life and take plenty of cool pictures to brighten up your Instagram feed. Don't miss seeing the central maypole adorned with figures that display local crafts and trades and the lovely fountains throughout the market.
Is This the Best Daypack EVER???
#10 – Bavaria Film Studios – Easily one of the most fun places to check out in Munich
Cool 4D cinema
Learn more about producing films and shows
Go behind the scenes
Interesting displays
Why it's awesome: One of the coolest attractions in Munich for families and groups of fun-loving friends, the large Bavaria Film Studios has been in operation for almost a century, producing movies and popular TV shows. The complex has large indoor studios and various sets. Tours take people behind the scenes to learn more about the production process and see various items from the big screen. There's also a 4D cinema where you can throw yourself right into the action.
What to do there: Join a 90-minute tour to step into the world of movies and TV. Your backstage tour will include studios, sets, props, outfits, and furnishings, post-production studios, and workshops. Your knowledgeable guide will tell you lots of stories about productions made onsite, anecdotes, and the history of the studios. Engage your senses in the exciting 4D cinema and take part in various interactive activities.
#11 – Neuhausen-Nymphenburg – A nice non-touristy place to visit in Munich

Lesser-visited part of the city
Food and drink
Relaxing neighbourhood
Palace and gardens
Why it's awesome: Neuhausen-Nymphenburg is one of the most laid-back neighbourhoods in Munich. It sees relatively few tourists when compared with other parts of the city, yet there is plenty to please those who do make the trip. There are plenty of places to shop, including charming small boutiques with unique finds and one-off items, and a wealth of places to eat and drink. From quaint cafes to high-class restaurants and lively bars, there's something to suit most moods. The area also has good sightseeing opportunities too.
What to do there: Stroll through the pleasant and relaxing neighbourhoods, being sure to stop at the attractive districts of Gern and Neuwittelsbach with their elegant villas. Visit the Baroque Nymphenburg Palace, a former summer residence that's now one of the architectural hotspots in Munich. The gardens are colourful, peaceful, and pretty. The botanical gardens are also lovely and a great place to go with that special someone for a romantic afternoon. Looking for a spiritual experience? Why not visit BuddhaHaus, a Buddhist meditation centre? There are beer gardens, restaurants, cafes, bars, and nightclubs to enjoy throughout the day and night too.
#12 – Tierpark Hellabrunn – Awesome place to visit in Munich with kids!
Family-friendly attractions
Many animals
Petting zoo
Conservation programs
Why it's awesome: Located on the banks of the River Isar, Tierpark Hellabrunn is a large zoo that spans some 99 acres (40 hectares) and houses animals from around the world. It's a favourite destination for families with kids when they travel to Munich and has been rated as one of the best zoos in Europe. It first opened in 1911 and was among the world's first geo-zoos, where animals from the same parts of the world are kept together.
Many of the animals roam semi-freely, with moats rather than cages to stop them from escaping. Enclosures try to replicate, as much as possible, the natural habitats of different creatures. The zoo is actively involved in conservation programs, educational activities, and breeding efforts.
What to do there: Wear comfortable shoes to walk around the large zoo and observe more than 750 fascinating species. Some of the creatures housed in the zoo are rare or endangered, and you can learn more about how the zoo tries to breed certain animals to ensure survival and growth of different species. Call by Hellabrunn's Species Conservation Centre for more information. Diverse animals that call the zoo home include elephants, tigers, gorillas, giraffes, monkeys, alligators, zebras, penguins, polar bears, kangaroos, and wolves.
Aviaries contain interesting avian species and there are watery displays of aquatic animals. You can watch various creatures being fed, including fearsome piranhas, and attend talks to learn more about your favourite animals. The petting zoo is often popular with younger members of the family, and you'll find a good choice of places to eat, drink, and pick up souvenirs.
Small Pack Problems? 😉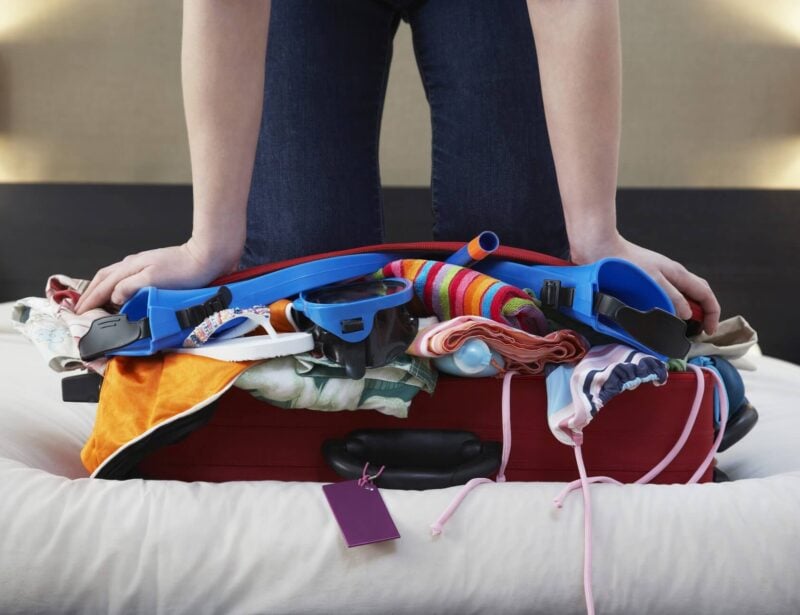 Wanna know how to pack like a pro? Well for a start you need the right gear….
These are packing cubes for the globetrotters and compression sacks for the real adventurers – these babies are a traveller's best kept secret. They organise yo' packing and minimise volume too so you can pack MORE.
Or, y'know… you can stick to just chucking it all in your backpack…
Get Yours Here
Read Our Review
#13 – Munich Residenz – One of the most amazing places in Munich!
Huge palace
Stunning architecture
Beautiful art-filled interiors
Fascinating museum
Why it's awesome: One of the most breath-taking and spell-binding landmarks in Munich, the Residenz is an old royal palace. It's Germany's biggest city palace. The large architectural marvel has around 130 rooms and ten beautiful courtyards. The earliest palace buildings were constructed in the 1380s, with many additions made over subsequent years. There are three main sections to the palace: the Old Residence, the Festsaalbau, and the Königsbau. Other features include a church, a concert venue, royal stables, and a theatre. The grounds are stunning and inside there is a terrific museum that includes several unusual items.
What to do there: Explore the huge complex, with its various buildings, fortifications, and splendour. You'll likely note several architectural and artistic designs, including Baroque, Renaissance, Neoclassicism, and Rococo. The interior details are sure to dazzle, with lashings of gold, colourful walls, an abundance of art, opulent chandeliers, and myriad treasures. Walkthrough the splendid Antiquarium, a former grand banqueting hall filled with marble busts. Peek inside former private quarters, see where royalty used to entertain their guests, and look inside formal rooms. Admire the huge collection of antiques and antiquities, and don't miss visiting the reliquary room.
One of the most unusual things to do in Berlin, the room contains various human remains, including what is said to be the skull of John the Baptist! Marvel at the many jewels in the Treasury; spread over ten halls there are crowns, goblets, gold, royal symbols, swords, and lots of other precious regalia. After enjoying the many interior charms, take a walk around the gorgeous gardens and courtyards.
#14 – Asam Church – One of the more unique places to visit in Munich!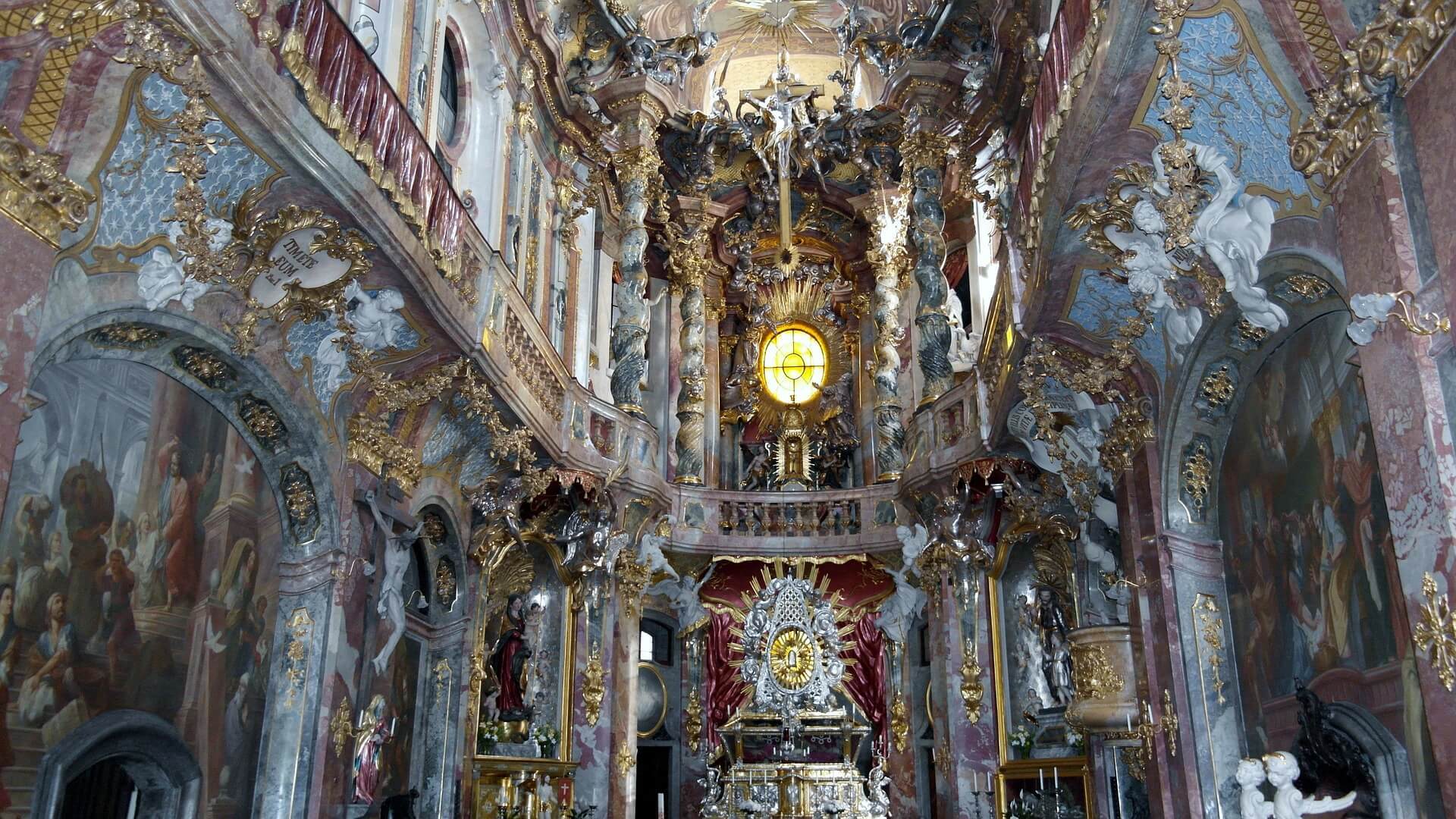 Interesting back story
Feast for the eyes
Spiritual ambience
No charge
Why it's awesome: Built in the mid-1700s, the Asam Church is a gleaming Munich must-see. While the exterior it elegant, it gives away little clue as to the richness and opulence that is hidden inside. Nestled between homes along the bustling Sendlingerstraße, the place of worship was created by two devout brothers seeking a closer connection with the divine. Originally intended to be used as a personal chapel, the creative brothers adorned every interior surface with stunning statues and paintings.
The church may be small but the excellent use of space and lighting makes it appear much larger than it actually is. It also contains a number of confessional areas. There's no charge to look inside the church. Although visitors can't walk around, it's easy to admire the beauty through the railings.
What to do there: Notice the significance of light in the chapel: the seating area is darker, representing earthly suffering, the middle section is brighter, created in honour of the Emperor, and the upper section is positively radiant, the bright lighting symbolising God and heaven. Feast your eyes on artistic and religious splendour, including a marvellous ceiling fresco, statues that represent the trinity, the ornate altar, many allegorical scenes, angels, stunning reliefs, and more. It's difficult to know where to look first when admiring the colourful and detailed interiors.
#15 – Alte Pinakothek – A great place to visit in Munich if you are alone/traveling solo

Elegant building
Rich collection of art
See works by Masters
World-renowned collection
Why it's awesome: Open since the 1830s and established to house the rich collection of art owned by royalty, the Alte Pinakothek is among the world's oldest art galleries. When built, it was also one of the largest. The Neo-Renaissance building houses many grand works of art, including those by well-known masters. The collection itself is older than the building, having been started in the 1500s. Works include those commissioned by royalty, pieces taken from places of worship, and items obtained from elsewhere.
What to do there: Marvel at striking art from throughout the ages. Take time to view the extensive collection of paintings by early masters, with German, Flemish, Dutch, Spanish, French, and Italian among the artists represented. Indeed, the collection is seen as being one of the most important across the globe for historic European art. Feast your eyes on work by leading names like Rembrandt, Da Vinci, Albrecht Dürer, and Peter Paul Rubens.
Get insured for your trip to Munich!
ALWAYS sort out your backpacker insurance before your trip. There's plenty to choose from in that department, but a good place to start is Safety Wing.
They offer month-to-month payments, no lock-in contracts, and require absolutely no itineraries: that's the exact kind of insurance long-term travellers and digital nomads need.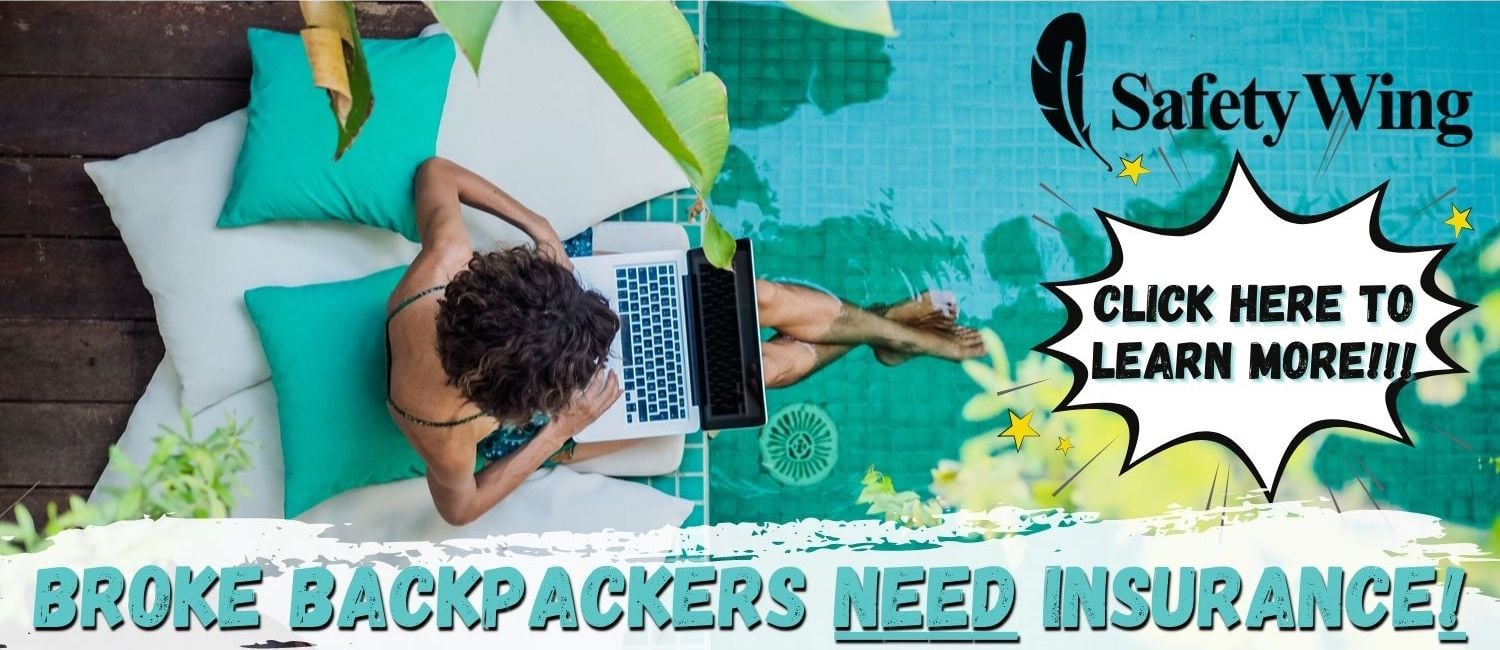 SafetyWing is cheap, easy, and admin-free: just sign up lickety-split so you can get back to it!
Click the button below to learn more about SafetyWing's setup or read our insider review for the full tasty scoop.
FAQ on the Best Places to Visit in Munich
Find out what people want to know about the best places to visit in Munich
More awesome best places to visit in Munich
There are many marvellous places to visit in Munich, with something to appeal to most interests. Spend a fun-filled day at the nearby Allgäu Skyline Park, home to rollercoasters, water rides, and other attractions. Admire Munich's many glorious churches, including the Theatine Church of St. Cajetan, St. Peter's Church, and Michaelskirche. Pay homage to the local automotive industry at the BMW Museum, and soak up different artistic genres at art museums like the Lenbachhaus, the State Gallery of Modern Art, the Neue Pinakothek, and the Glyptothek. Watch a performance at the National Theatre, and take day trips to nearby places like the moving Dachau Concentration Camp, Nuremburg, Herrenchiemsee, and the amazing Neuschwanstein Castle.
Armed with this list of the best places to visit in Munich, you're sure to have a memorable time in one of Germany's most enchanting cities.
---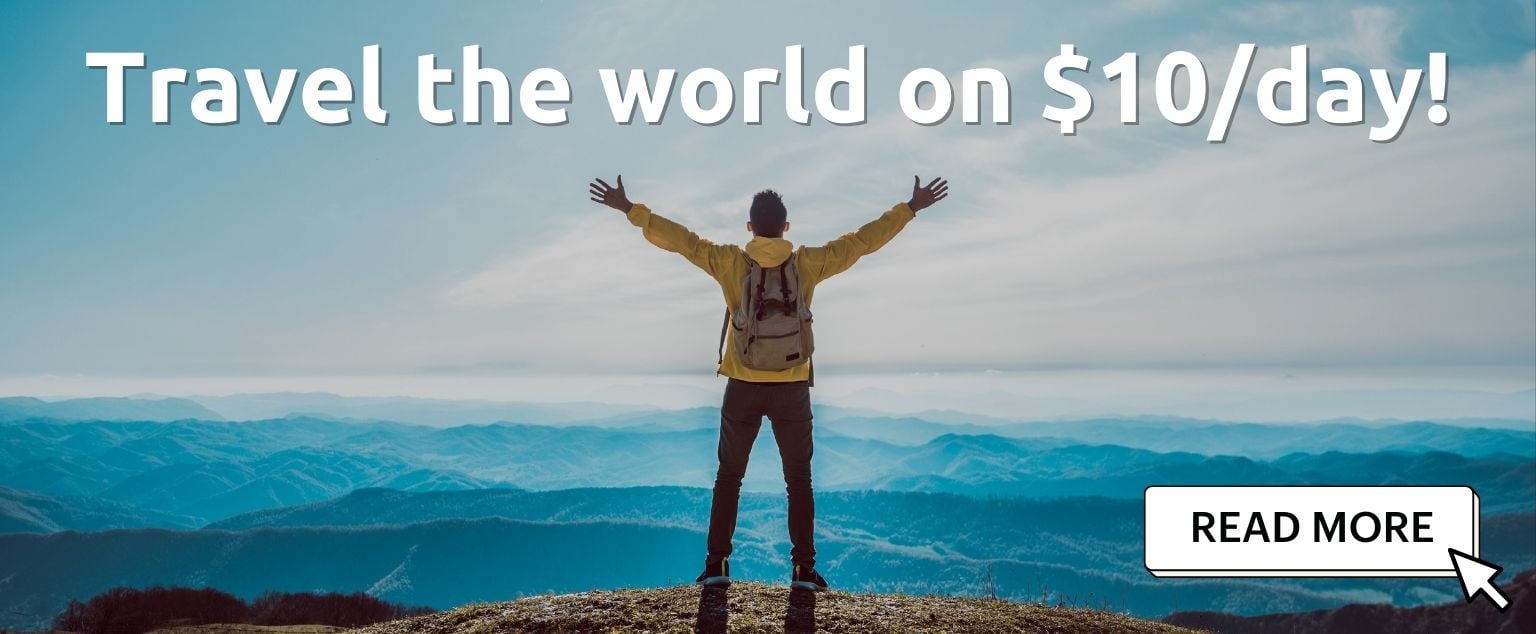 And for transparency's sake, please know that some of the links in our content are affiliate links. That means that if you book your accommodation, buy your gear, or sort your insurance through our link, we earn a small commission (at no extra cost to you). That said, we only link to the gear we trust and never recommend services we don't believe are up to scratch. Again, thank you!