The major port city of Naples is Italy's third-largest city. It's also large in history, culture, art, architecture, and delicious food, as one would expect from an Italian city.
The city is crammed full of famous landmarks, as is the gateway to the city of Pompeii, the picturesque Amalfi Coast, the island of Capri, and a plethora of ancient Greek and Roman archeology sites.
It would take more than a lifetime to see all the amazing attractions in Naples. So, planning a trip here is no easy task, as you do need to consider what is a must-visit and what can be missed off the itinerary. When your time in the city is limited, it's important to know all the best things do to in Naples so you can make the most out of your trip.
This guide offers you the most unmissable things to do in Naples (and some hidden gems) to help anyone planning a trip get the most of their time in the city.

Unlock Our GREATEST Travel Secrets!
Sign up for our newsletter and get the best travel tips delivered right to your inbox.
The Top Things to Do in Naples
If you're short on time, then these five unmissable things to do in Naples should be at the top of anyone's Naples itinerary. These experiences represent the quintessential experience of this historic city.
One of the most popular things to do in Naples is to visit the ruins of the ancient Roman city of Pompeii. As you wander the ancient streets, you'll learn about life before the massive eruption that preserved the entire town beneath volcanic debris.
Mount Vesuvius, the active volcano responsible for the eruption, is one of Naples' top landmarks. Explore the crater and learn about volcanism from a professional volcanologist to complete the experience. The views over the city from here are nothing short of spectacular.
Entrance: $117.49
Hours: Tour times vary
Address: To be arranged on booking
2. See Ancient Roman Artifacts at the National Archeological Museum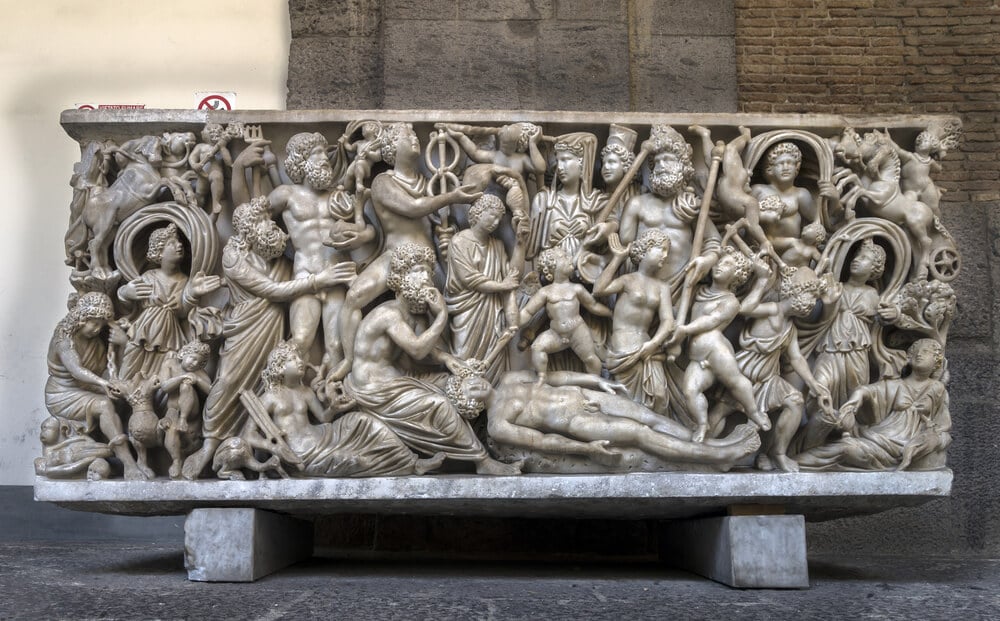 For anyone visiting Naples in search of history, a visit to the National Archeological Museum is a must. Explore one of the richest museums in the world to see ancient mosaics, wall paintings, frescoes, and an astounding variety of exhibits. The exhibits include the world's largest collections of ancient Egyptian artifacts and a Gladiator exhibit with over 150 objects on display.
As visiting this museum is one of the more popular things to do in Naples, it's a good idea to visit early in the day or later in the afternoon to skip the crowds. Also, there's plenty to see, so give yourself at least two hours to see it all.
Entrance: $18
Hours: 9:00 to 19:30 (Wednesday to Monday)
Address: 19 Piazza Museo, Naples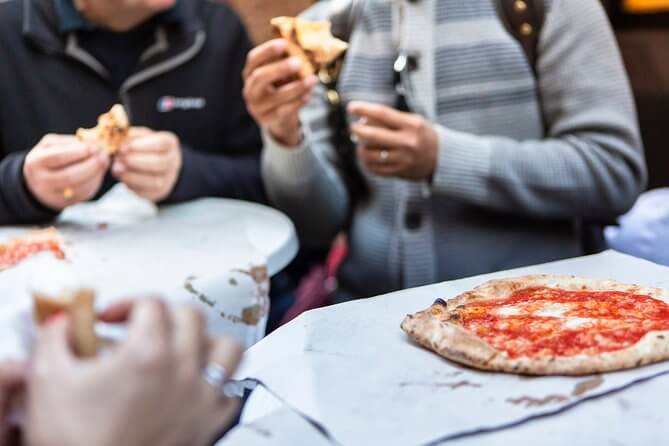 If you're a foodie fan visiting Naples, be prepared to eat well. The city is one of Italy's true culinary capitals with plenty of unique regional options to enjoy and traditional favorites like pasta and pizza aplenty.
As you explore the top attractions and walk the city streets, sample the many street food options along the way or stop in at hidden eateries to try local delights. Don't pass up an opportunity to try some sweet treats and pastries.
Entrance: $39.51
Hours: Tour times may vary
Address: Departs from Piazza Bellini
4. Explore an Imposing Medieval Fortress at Castel Nuovo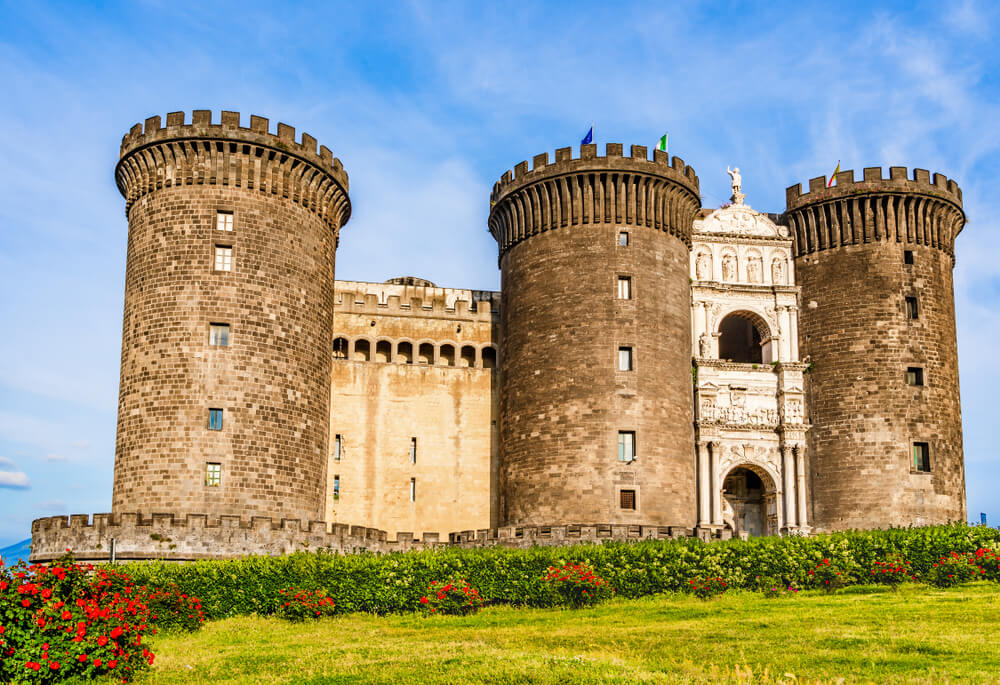 Visible from a great distance, the towering fortress of Castel Nuovo (meaning New Castle) is one of the top places to visit in Naples. Originally built in the 13th Century under French rule, the fortress was later rebuilt by the Spanish in the 15thCentury.
The fortress, also known as Maschio Angioino, features five round towers and thick stone walls. Visitors can see historic frescoes, Roman ruins, and a fantastic collection of artwork by Neapolitan painters dating as far back as the 17th century.
Entrance: $6
Hours: 8:30 to 18:00 (Monday to Sunday), 10:00 to 13:00 (Sunday)
Address: Via Vittorio Emanuele III
5. Shop and Dine at Galleria Umberto I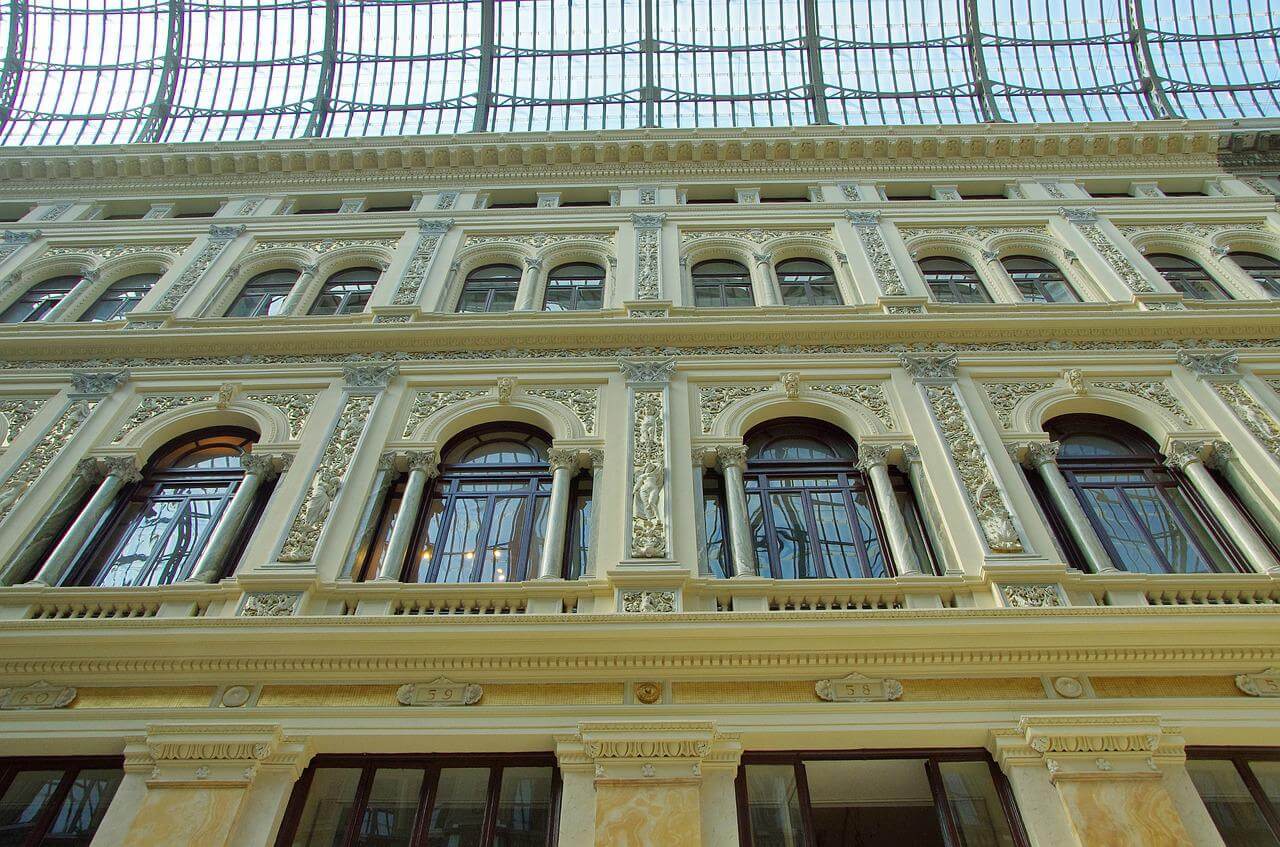 When you visit anywhere in Italy, you can expect three things: plenty of art and history, exceptional food and wine, and good shopping. In Naples, the place to be for a good shop-a-thon is Galleria Umberto I.
The Galleria was built in the late 19th century as a way of reviving the district, which had become run-down and crime-ridden. With its elegant murals, sculptures, and glass-domed ceilings, the Galleria is a beautiful escape from the bustle of the city.
Entrance: N/A
Hours: N/A
Address: 15 Via San Carlo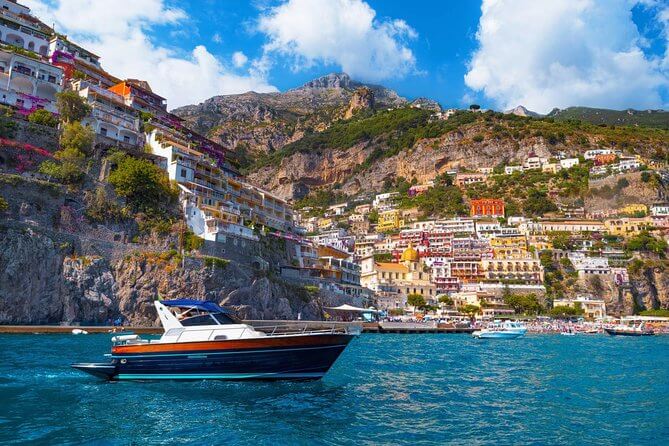 The Amalfi Coast is famous worldwide for being one of the most beautiful coastal areas. Rugged cliffs studded with colorful homes clinging impossibly to the rock face overlook hidden beaches and romantic coves.
Not for nothing is Amalfi listed as a UNESCO coastline and one of the most popular things to do in Naples.
Visiting this coastal region by land is gorgeous, with incredible ocean views, but visiting by boat offers a new perspective of this picturesque region. Visit the postcard-perfect towns of Amalfi and Positano and go swimming and snorkeling.
Entrance: $157.02
Hours: Depart at 8:30
Address: Depart from 91 Piazza Garibaldi
Small Pack Problems? 😉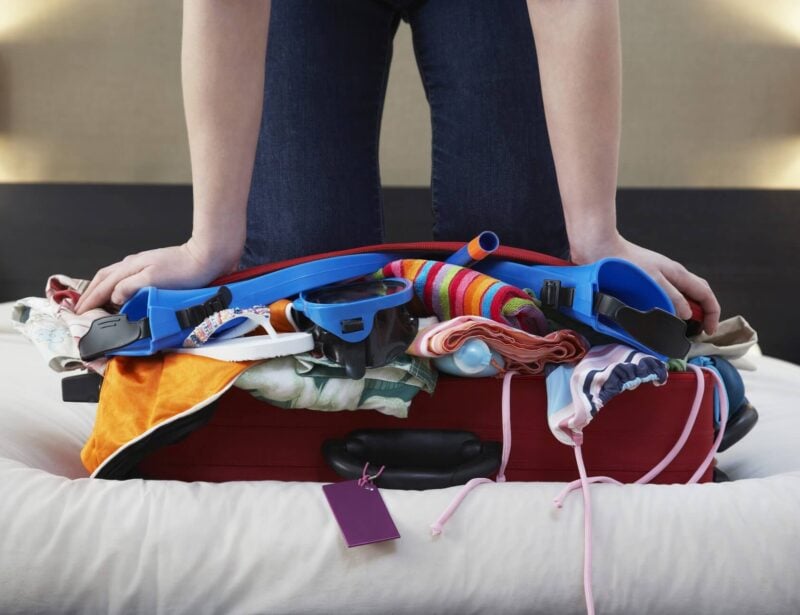 Wanna know how to pack like a pro? Well for a start you need the right gear….
These are packing cubes for the globetrotters and compression sacks for the real adventurers – these babies are a traveller's best kept secret. They organise yo' packing and minimise volume too so you can pack MORE.
Or, y'know… you can stick to just chucking it all in your backpack…
Get Yours Here
Read Our Review
7. Experience artistic heritage at Sansevero Chapel Museum
Located in the historic heart of Naples, the Sansevero Chapel Museum is a popular attraction in Naples. The chapel features intricate and delicate marble statues, astounding murals, and frescoes.
The highlight here is the Veiled Christ – famous for the realism achieved in marble – which assumed pride of place in the center of the chapel.
Other sculptures include the Statues of the Virtues, which portray "Modesty", "Sincerity", and "Decorum". At the same time, the 18th-century architecture itself is a feast for the eyes.
Entrance: $8
Hours: 9:00 to 19:00 (Wednesday to Monday)
Address: 19 and 21 Via Francesco de Sanctis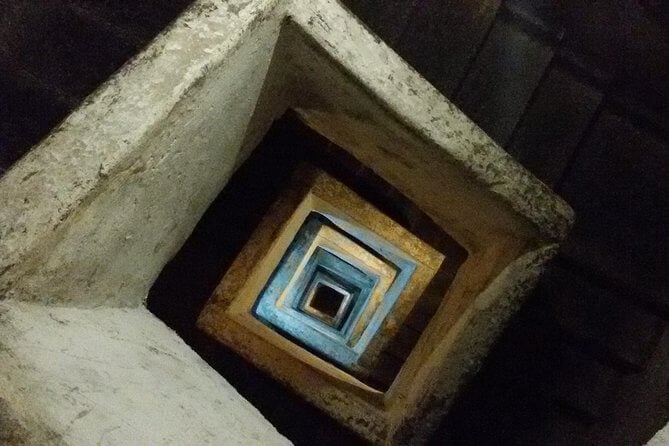 Beneath the city's bustling streets lies a buried history that dates back almost 3000 years. Head below ground to delve into this fascinating history.
See the ancient ruins, aqueducts, and water cisterns beneath the city. During World War II, these doubled as air raid shelters for the city's residents. The trained guide accompanying you will share plenty of history and entertaining stories as you go.
Make sure you bring along something warm to wear – it can get cold in the tunnels.
Entrance: $12.48
Hours: Tour times vary
Address: Departs from 52 Vico S. Anna di Palazzo
9. Travel Through Time at the Royal Palace of Naples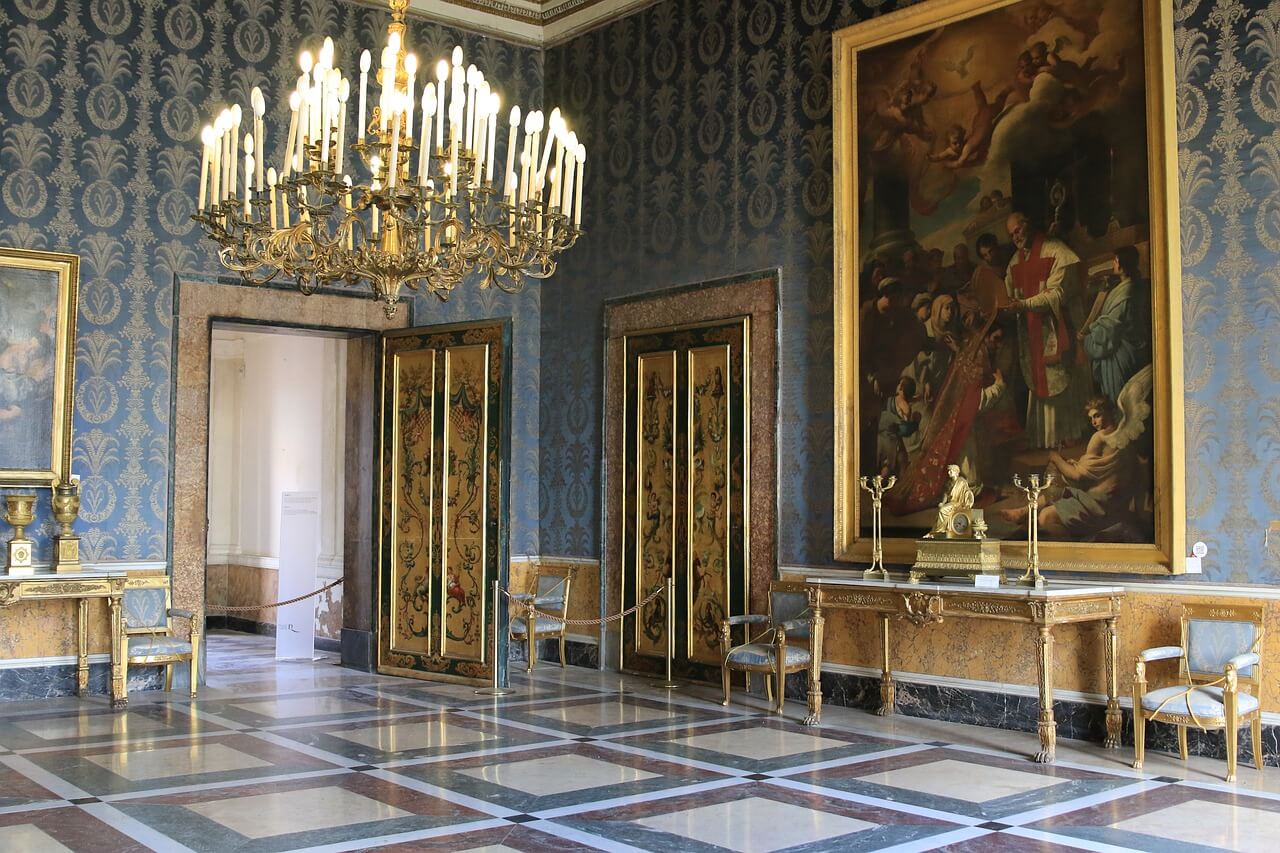 Built under Spanish rule, Palazzo Reale (Royal Palace) is one of four royal residences in the city. Construction began on this lavish palace in the 1600s, and over time there have been many restorations and additions.
Explore the lives and history of Naples' monarchs as you walk through the sumptuous apartments, theatre, and chapel. In addition to being well preserved, the rooms contain magnificent art and antique furniture typical of the period. The throne room, in particular, is not to be missed.
Entrance: $6.10
Hours: 9:00 to 20:00 (Thursday to Tuesday)
Address: Piazza del Plebiscito
10. Hang Out in Piazza Bellini
One of the best things to do in Naples at night is hanging out in the vibey Piazza Bellini. This leafy square is lined with bars and cafes and is where the young and beautiful people of Naples hang out, grab a drink, and socialize.
In the center of the square, you'll find excavated ruins of ancient city walls dating back to the 4th century. A common tourist thing to do is visit Intra Moenia – a café with famously postcard-lined walls – where it's customary to purchase a postcard to send home.
Entrance: N/A
Hours: N/A
Address: Via Santa Maria di Constantinopoli
Is This the Best Daypack EVER???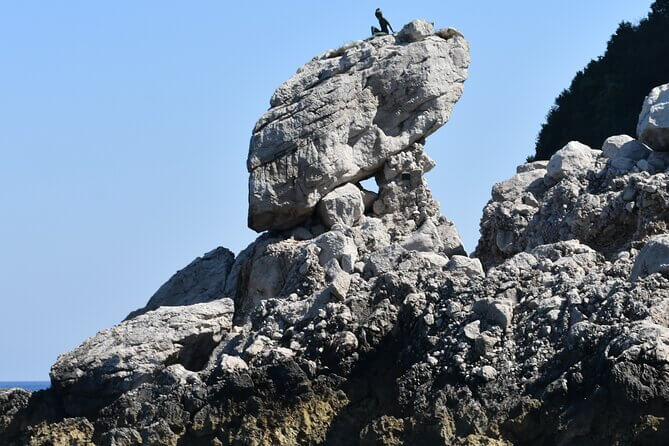 Arguably one of the most popular attractions in Naples is the small island of Capri, which lies within the bay. It takes around two hours to get to the island by boat, but your efforts are rewarded with charming villages, rugged coastlines, and beautiful hidden caves.
One of the ways to get there is to rent a boat in Naples, but if you've never driven a boat before then a guided tour will ensure you hit all the top spots on the island while you're here. This includes visiting the incredible Blue Grotto and visiting both Capri and Anacapri for some sightseeing.
Entrance: $146.22
Hours: Tour times vary
Address: Various departure locations
12. Taste the Best Pizza in Town on Via Dei Tribunali
With its roots dating back to Neapolis's Ancient Greek and Roman city, the Via Dei Tribunali is one of the most popular neighborhoods in Naples for its cuisine. It also provides access to the vast network of underground tunnels known as Napoli Sotteranea.
Walking along this cobbled street, you'll pass by more than twenty churches, restaurants, cafes, and shops. According to locals, this is where you'll find the best pizza at either the world-famous Sorbillo, Di Matteo, or Figlio del Presidente restaurants.
Entrance: N/A
Hours: N/A
Address: Via Dei Tribunali
13. Enjoy seafood and scenery at Castel dell Ovo
This imposing fortress is perched on a small island connected to the mainland by a bridge. It looms over the marina and has, throughout its life, been both a royal residence and a prison. Its name means Egg Castle, referring to the legend that the Roman poet Virgil hid a magical egg in the foundations.
There's not much to see inside the fortress, but the views from here are impressive. The nearby marina is ideal for a seafood lunch after.
Entrance: Free
Hours: 9:00 to 19:00 (Monday to Friday), 9:00 to 13:00 (Sunday)
Address: 3 Via Eldorado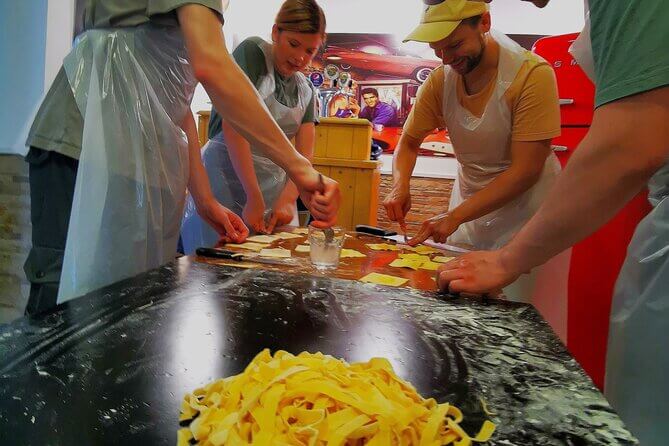 If you come to Italy and fall in love with the food (which you will), consider learning the skill for yourself to replicate when you get home. Learn traditional Neapolitan recipes, how to make ravioli and fettuccine by hand, and have a great time doing it. You'll even get to nibble on some tasty cheese and cold meats.
This small-group, hands-on workshop will ensure you can go home a show off your new skills, recreating a bit of your trip for your friends and family.
Entrance: $51.18
Hours: Tour times vary
Address: 54 Piazza Municipio
Travel with peace of mind. Travel WITH a security belt.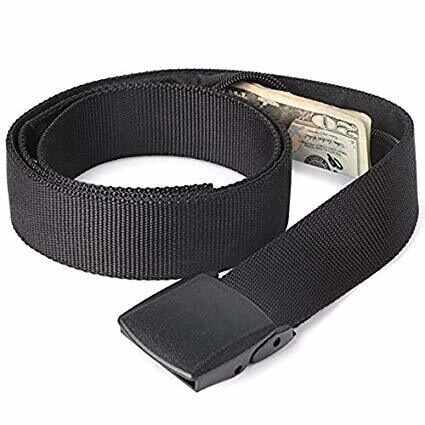 Stash your cash safely with this money belt. It will keep your valuables safely concealed, no matter where you go.
It looks exactly like a normal belt except for a SECRET interior pocket perfectly designed to hide a wad of cash, a passport photocopy or anything else you may wish to hide. Never get caught with your pants down again! (Unless you want to…)
Hide Yo' Money!
15. Check Out Modern Art at Museo d'Arte Contemporanea Donnaregina (MADRE)
In Italy, there's a lot of history. From ancient Roman ruins to art through the centuries, it can sometimes feel like everything is ancient. If you want to enjoy something a bit modern in contrast to the rich history, stop at the Museo d'Arte Contemporanea Donnaregina to enjoy some modern art.
Artists on display include big names like Jeff Koons and Anish Kapoor, and collections include a range of mediums. There are three floors to explore, as well as a sculpture on the roof terrace not to be missed.
Entrance: $8.10
Hours: 10:00 to 19:30 (Monday, Wednesday, Thursday, Friday, Saturday), 10:00 to 20:00 (Sunday)
Address: 79 Via Settembrini
16. Dive into History Beneath the Waves
The Archeological Marine Park of Baia offers visitors the chance to snorkel and dive among the ruins of an ancient Roman resort. Baia was a Vegas-style holiday playground for the wealthy and powerful Roman elite, where they would come to revitalize in the healing volcanic hot springs.
Later, the city was abandoned and left to sink beneath the waves – a consequence of the volcanism that gave it its allure, to begin with. Explore the ruins on a dive, a snorkeling adventure, or on a glass-bottomed boat.
Entrance: Diving and scuba packages vary
Hours: Tour times vary
Address: 165 Via Miliscola, Pozzuoli
17. Watch a Show at the Teatro Di San Carlo
What could be more authentic than spending a night at the opera at Teatro di San Carlo? This is not only the oldest opera house in Europe, but the building itself is an exquisite masterpiece of red velvet and ornate gold finishing dating back to 1737.
Some of the world's best performers have appeared here, from soloists to dancers and world-class conductors. Whether you take in a show or just want a tour of the theatre, this is one of those unmissable things to do in Naples.
Entrance: Ticket prices vary
Hours: 10:00 to 18:00
Address: 98F Via San Carlo
18. Take in the Treasures of San Gennaro
Certainly, one of the most spectacular attractions in Naples is the Museum of the Treasure of San Gennaro. This art collection of art includes jewelry, sculptures, fabrics, and paintings collected as donations over centuries.
The museum is housed below the Chapel of the Treasures, which contains paintings and frescoes by famous artists. The most jaw-dropping item in the collection is arguably the jeweled miter (Bishop's hat) encrusted with diamonds, rubies, and emeralds.
Entrance: From $10
Hours: 9:30 to 18:30 daily
Address: 149 Via Duomo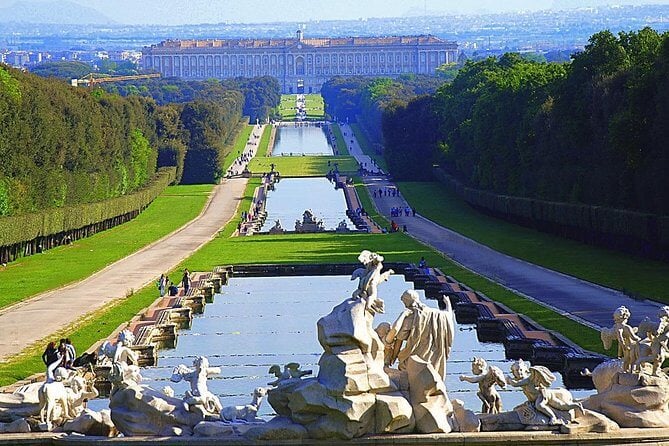 Visiting the exquisite Caserta Royal Palace is a popular day trip from Naples. The palace and its magnificent gardens are a shining example of Italian Baroque, covering a staggering 11 acres in total.
It is, in fact, the largest royal residence on earth and a UNESCO World Heritage Site. Appreciate the telescopic effect of the pools and basins that stretch out more than a kilometer from the palace, terminating in a waterfall in the nearby forest. Make sure to visit the Venus Bath located within the English Garden.
Entrance: $94
Hours: Tour departs at 9:00
Address: Departure from Starhotels Terminus, Piazza Giuseppe Garibaldi
Have you sorted your accommodation yet?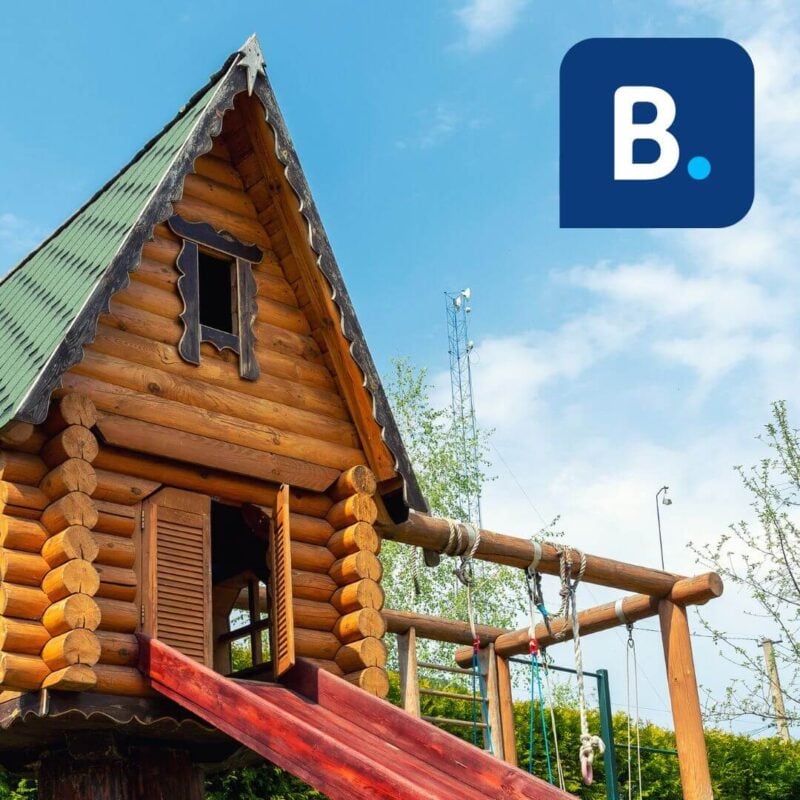 Get 15% OFF when you book through our link — and support the site you love so dearly 😉
Booking.com is quickly becoming our go-to for accommodation. From cheap hostels to stylish homestays and nice hotels, they've got it all!
View on Booking.com
20. Browse for Handcrafted Figurines on Via San Gregorio Armeno
This picturesque alley in central Naples is also known as Christmas Alley. The reason for this is that in the past, it was known for its handcrafted statuettes commonly purchased as part of nativity scenes (known as Presepe in Italian).
The origin of this dates back to classical times when the alley housed a temple where devotees would bring small, handmade terracotta figurines. Today, these artisanal wares and statuettes include characters from popular culture, celebrities, sports stars, and even politicians.
Entrance: N/A
Hours: N/A
Address: Between Spaccanapoli and Via Dei Tribunali
21. Pay a Visit to the Doll Hospital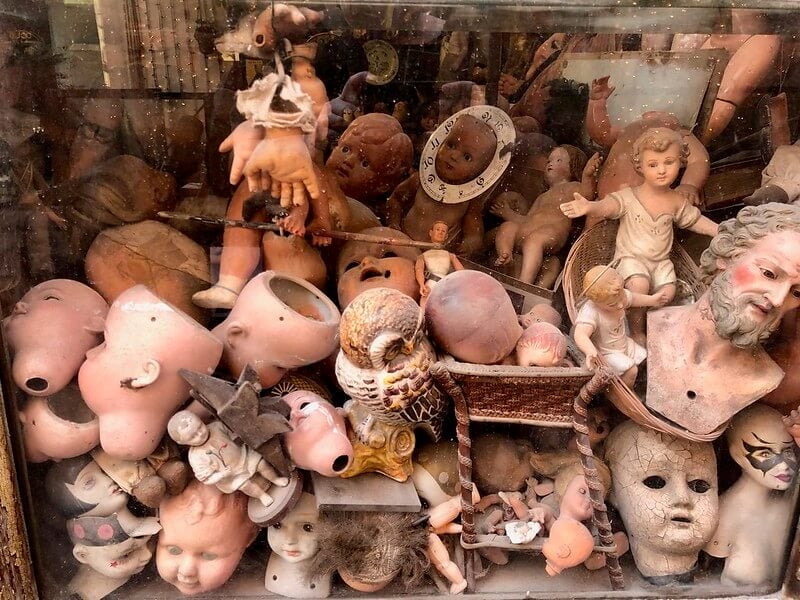 This hidden gem in Naples is a charming experience for adults and children. The Doll Hospital museum offers an immersive and magical experience of a doll restoration center and museum.
The doll's hospital, or Ospedale delle Bambole, has on display various dolls and teddy bears, some dating as far back as the 18th century.
Important work is carried out here to revive and restore precious childhood memories, from nose transplants, stuffing and limb replacements, and even cleaning delicate fabrics and furs.
Entrance: $4
Hours: 9:00 to 13:00 and 16:30 to 19:30 (Monday to Saturday), 16:00 to 19:00 (Sunday)
Address: 39 Via San Biagio dei Librai
Where to Stay in Naples
A visit to this city doesn't only present a wealth of options of things to do in Naples, but it also offers a variety of places to stay. From budget-busting hostels to opulent hotels and even a range of welcoming homestays, you'll be spoiled with choices on where to stay in Naples.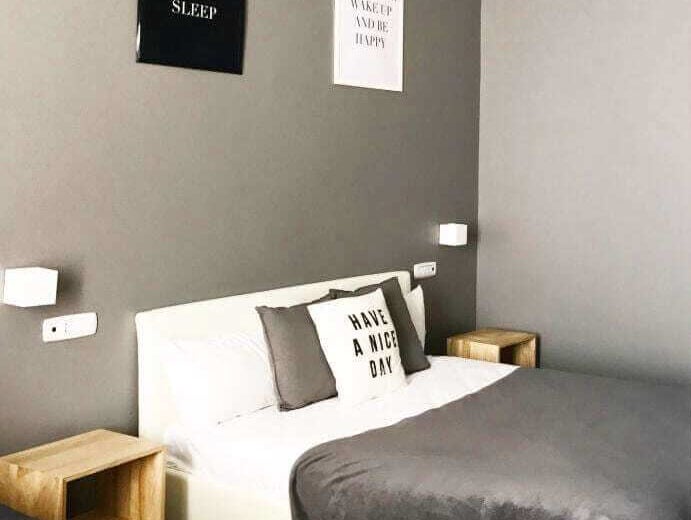 Located in the heart of the city, Serendipity B&B is the ideal hostel in Naples for those wishing to be within walking distance of the top attractions in Naples. This is an ideal base of operations for an exploration of the city. Each room has a private bathroom, flat-screen TV, Wi-Fi, and shared access to a comfortable lounge.
Arteteca 4 is a modern apartment in Naples with easy access to the city's historic district. The apartment features contemporary design and modern amenities like fast Wi-Fi and a well-equipped kitchen. A small balcony allows guests to enjoy the quiet location after a busy day of exploring.
From its central location on one of the city's main thoroughfares, the Toledo Boutique Rooms offers easy access to all the popular things to do in Naples. In addition to its excellent location, the hotel offers excellent accommodation at great value. Stylish rooms, helpful staff, and excellent amenities make this a superior option.
Some Additional Tips for Visiting Naples
Before you pack your bags and zip off to Naples, I have just a few more words of advice before you visit…
Visit at the end of the month. If you're visiting Naples on a budget, you can save a bunch on top attractions by planning your visit for the first Sunday of the month when access to the state-run museums and gardens is free.
Hire a Vespa. Getting around Naples is a cinch with plenty of public transport. Buses, trams, funiculars, and taxis make this an easy city to navigate. Get the authentic Italian experience by hiring a Vespa to get around.
Dabble in street food. Street food is both affordable and delicious in Naples. Spaccanapoli is where it's at when it comes to sampling the best street food that the city has to offer.
Keep an eye on your valuables. Naples is safe, but busy locations and top tourist spots tend to attract pickpockets – keep your valuables close and be aware.
Don't forget your travel insurance for Naples
ALWAYS sort out your backpacker insurance before your trip. There's plenty to choose from in that department, but a good place to start is Safety Wing.
They offer month-to-month payments, no lock-in contracts, and require absolutely no itineraries: that's the exact kind of insurance long-term travellers and digital nomads need.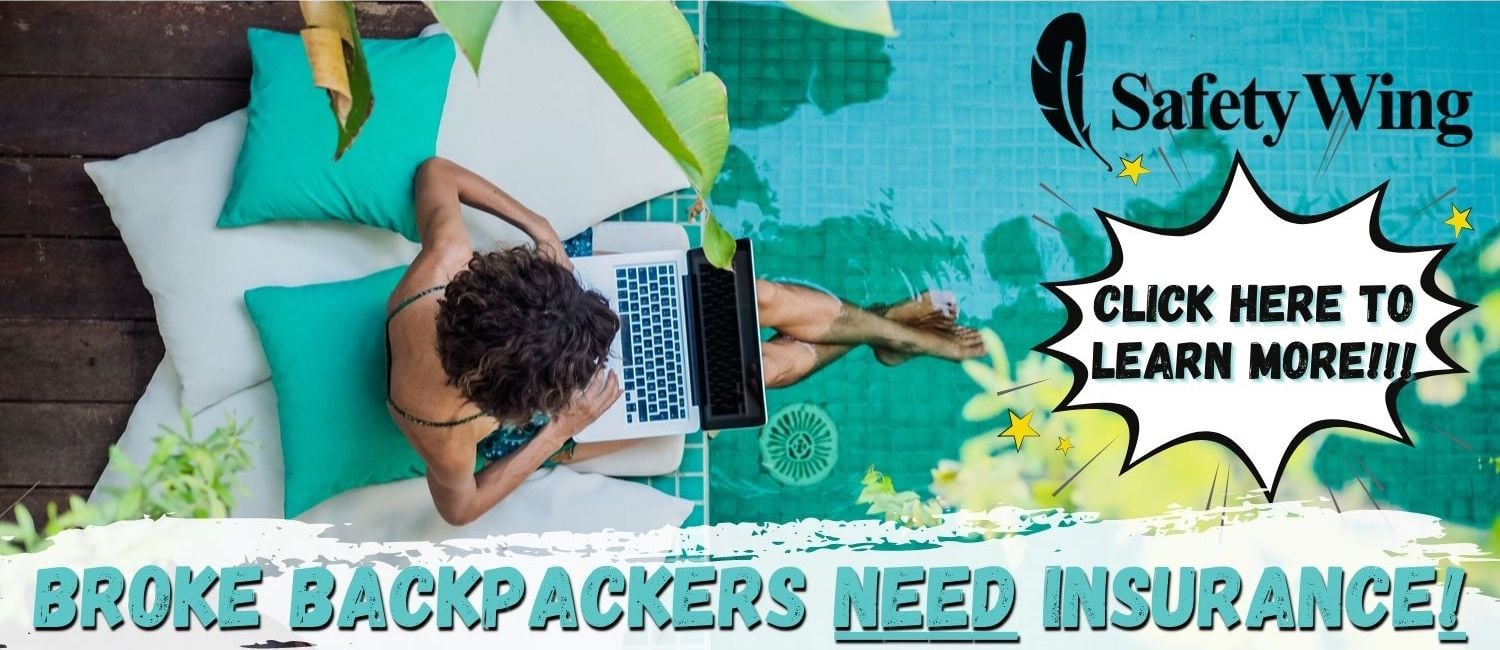 SafetyWing is cheap, easy, and admin-free: just sign up lickety-split so you can get back to it!
Click the button below to learn more about SafetyWing's setup or read our insider review for the full tasty scoop.
Final Thoughts on Things to Do in Naples
Naples' intoxicating mix of Old World Charm and vibrant Italian zest has long attracted travelers to the bay.
Tucked between the port and Mount Vesuvius, the city houses more than enough art, archaeology, and architecture for visitors to see and plenty of things to do in Naples.
Add to that the natural beauty of this rugged coastline and the exceptional cuisine, and you've got the kind of destination that you can return to again.
---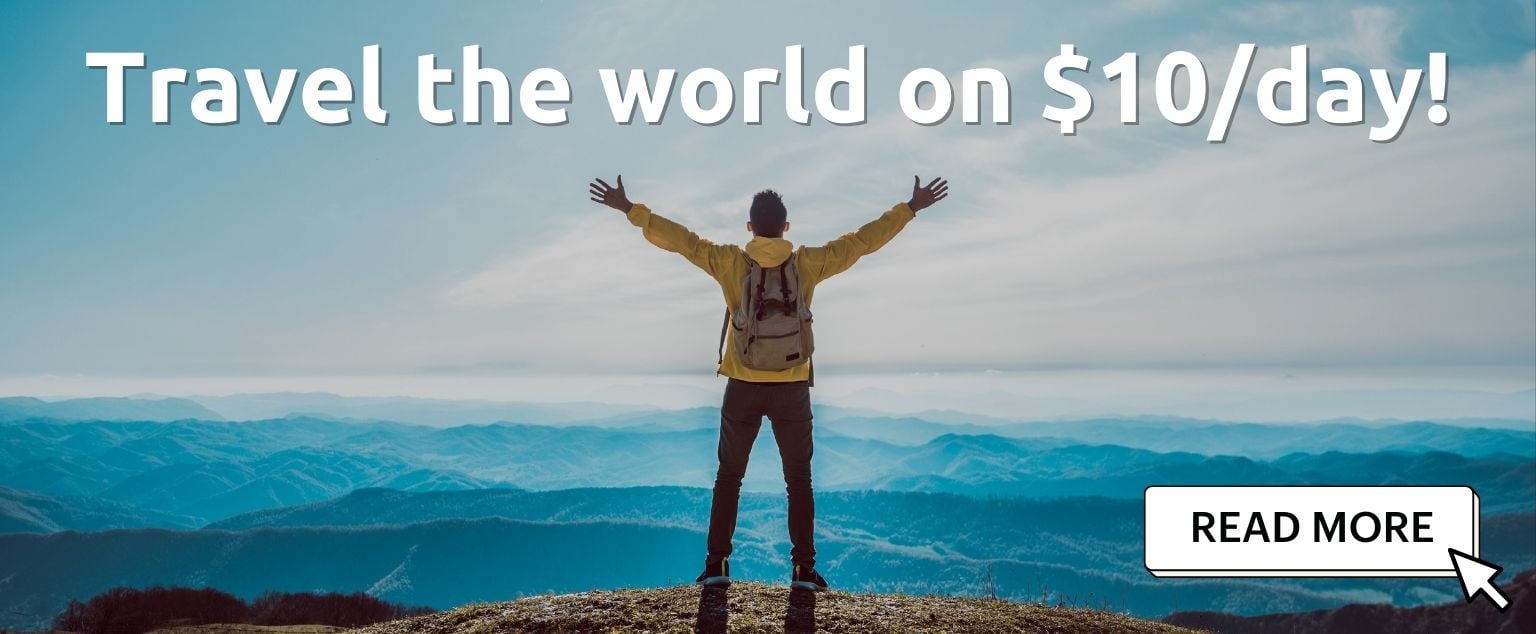 And for transparency's sake, please know that some of the links in our content are affiliate links. That means that if you book your accommodation, buy your gear, or sort your insurance through our link, we earn a small commission (at no extra cost to you). That said, we only link to the gear we trust and never recommend services we don't believe are up to scratch. Again, thank you!