One of the most distinctive Italian cities, Naples is the place to witness a proper, working urban environment with a traditional Italian feel. Rome may be the heart of this European country, but Naples – people say – is its soul.
With that, however, comes a less attractive element: organised crime. Not only that, but the city's petty crime is something that's also visible – especially to unsuspecting tourists. Couple this with some traffic and the small, yet existing, threat of a volcanic eruption and you've got an Italian city that certainly seems like a potentially unsafe place to be. That's exactly why we've created this guide to staying safe in Naples.
This safety guide is not limited to the do's and the don't's. We're all about travelling smart and we think you should be too, so there's a ton of information in this guide to help you get around Naples trouble-free. Whether you're a solo female traveller, planning a family trip, a food lover, someone who feels like driving, or if you want the pure, unadulterated facts and figures behind the safety of the city, our truly epic insider's guide to staying safe in Naples has you covered.
How Safe is Naples? (Our take)
Staying in Naples puts you in striking distance of Pompeii, which is pretty cool, but the city itself is a good place to soak up the famous local atmosphere; even though it's a big urban sprawl, Naples retains a sense of rough and ready authenticity.
In addition, there's Vesuvius. This is an active volcano, meaning it's not a case of if but when it will erupt again. Earthquakes are also possible, so it's best to keep an eye on the news and see if your travel plans will be affected. Knowing what to do in the case of an emergency is always also a good idea.
Brimming with attitude and characters, it's a super interesting city to explore, but sometimes it can be shady, like any other big cities. So, you need to be sure to know where to stay in Naples to avoid the dodgy areas!
There are certain situations in which you may face petty crime and theft – we're talking pickpocketing.
Then again, the city hasn't got the best reputation when it comes to crime in general, with organised crime (the Camorra or Mafia) being still influential here.
However, this shouldn't put you off visiting the bustling piazzas of Naples, sipping wine in small bars and getting to grips with the real life of the city. Naples is generally very safe to visit and it is unlikely you will have any problems.
There is no such thing as a perfect safety guide, and this article is no different. The question of "Is Naples Safe?" will ALWAYS have a different answer depending on the parties involved. But this article is written for savvy travellers from the perspective of savvy travellers.
The information present in this safety guide was accurate at the time of writing, however, the world is a changeable place, now more than ever. Between the pandemic, ever-worsening cultural division, and a click-hungry media, it can be hard to maintain what is truth and what is sensationalism.
Here, you will find safety knowledge and advice for travelling Naples. It won't be down to the wire cutting edge info on the most current events, but it is layered in the expertise of veteran travellers. If you use our guide, do your own research, and practise common sense, you will have a safe trip to Naples.
If you see any outdated information in this guide, we would really appreciate it if you could reach out in the comments below. We strive to provide the most relevant travel information on the web and always appreciate input from our readers (nicely, please!). Otherwise, thanks for your ear and stay safe!
It's a wild world out there. But it's pretty damn special too. 🙂
Is Naples Safe to Visit Right Now?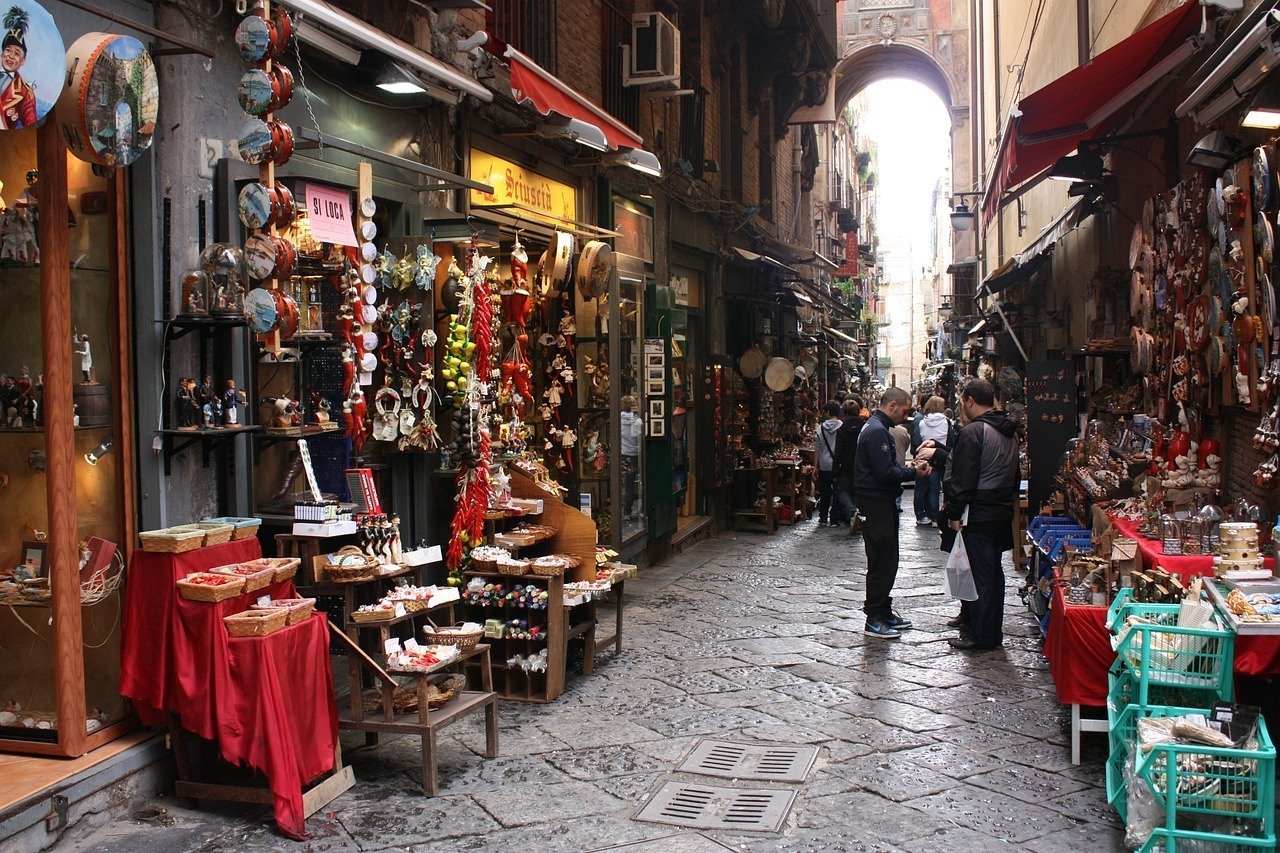 Naples does have a bit of a reputation for crime – organised crime being its most famous facet. The Camorra, Italy's largest and oldest (400 years) criminal gang. However, they probably won't give you a headache as a tourist in Naples.
People, as a result, tend to think that Naples is a pretty dangerous place. However, this is a bit of a silly notion really as the organised crime syndicates are not interested in tourists as they have much bigger fish to fry.
The most common crime in Naples is often just petty theft, typically in crowded areas and on public transport – the kind of crime you get in many cities. Many, if not most, parts of the city are very safe.
Obviously, there are some areas that are safer than others, but that's just big cities for you: diverse. But more on that later…
With all that in mind, we can confidently say that Naples is pretty safe to visit right now. Obviously, there are some issues, but that's the case with any big city. As long as you keep your wits about you, you'll have a great – and a safe – time in Naples.
Safest Places in Naples
When choosing where you'll be staying in Naples, a bit of research and caution is essential. You don't want to end up in a sketchy area and ruin your trip. To help you out, we've listed the safest areas to visit in Naples below.
Centro Storico
Naples' Centro Storico, or Old Town in English, is the true heart of Naples. Its charm comes from the narrow cobbled streets and the old medieval houses, which have been very well preserved. The Centro Storico has been a UNESCO World Heritage site since 1995.
While walking around, you will be able to find hundreds of small shops and restaurants serving traditional Italian food, including the world-famous and envied Naples pizza. On sunny days, you can also take a moment to look at the Italian mamas hanging their laundry high up in the sky in between houses!
Quick site note: Popular tourist places mean higher police presence and therefore more safety. However, more visitors also mean higher risk of pickpcoketing. So be sure to keep an eye on your belongings.
The Old Town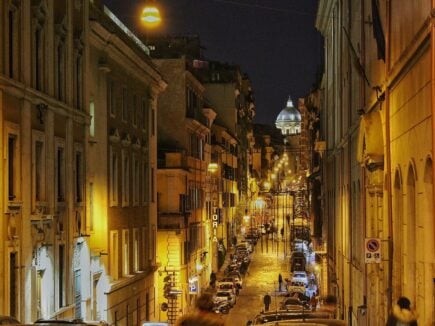 The Old Town
Centro Storico
The Centro Storico, also known as the Old Town, boasts very well preserved historical buildings and was added to the UNESCO Work Heritage list in 1995. Today, you can still wander around the small cobbled streets lined with buildings dating back from as far as the Medieval times.
Chiaia
Chiaia is an upscale neighbourhood of Naples. While it is a bit further away from the historical centre, Chiaia is considered to be the trendiest area of Naples. Here, the streets are lined up with Italian designer fashion stores and artsy boutiques, making it the coolest neighbourhood in Naples.
Of course, a cool neighbourhood does not come without hip and trendy cafés and restaurants. In Chiaia, the traditional coffee and pizza often come with a more upscale twist, in order to satisfy the local clientele.
Chiaia, thanks to its location away from the main bustle of the city, also provide a good alternative to find some peace and a quiet place to stay. Whatever your Naples itinerary entails, this is a good base for it.
Upsclae and Hip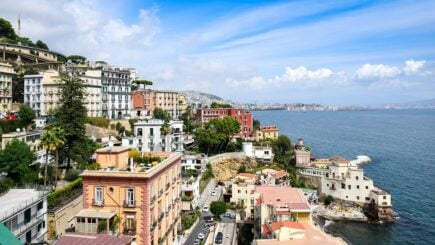 Upsclae and Hip
Chiaia
Chiaia is a bit further off from the centre and the main attractions, but that means it is a great place to stay for some peace and quiet. It is filled with Italian designer shops and luxurious apartments.
Vomero
The Vomero neighbourhood is located in a hilly part of Naples and one of the upscale areas of the city. From there, you will get fantastic views over the Centro Storico and the city centre, the Gulf of Naples and the Vesuvius standing tall in the background.
While prices in Vomero are higher than the rest of the city, the neighbourhood remains a hip and artsy cluster, where smart nightlife is going on almost every day of the week. However, higher prices and more luxury also means more security and CCTV cameras. Therefore, it's a pretty safe area. 
During the day, wander the hilly streets to shop for some vintage Italian fashion and designer clothes, or go learn about the political history of Naples at the Castle of St Elmo, which was built in 1275.
Ideal for Nightlife
Ideal for Nightlife
Vomero
Just as upscale as the previous neighbourhood, Volmero is a great place to feel safe AND enjoy some fun nights out. With plenty of nightlife and entertainment venues, you won't get bored here.
Places to avoid in Naples
Unfortunately, not all places in Naples are safe. You need to be careful and aware of your surroundings pretty much anywhere you go in the world, and the same goes for visiting Naples.
Be careful of walking around at night in certain areas – particularly the area of Museo and Garibaldi Square can be sketchy after dark; Garibaldi Station has some intimidating characters too, despite the police presence.
There are some pickpockets, especially around Spaccanapoli, as well as unscrupulous characters asking for "donations". The most important thing is to be vigilant and know a scam when you see one!
It's important to know that Naples is a pretty safe place, but a bit of caution and research before you start your travels will go a long way. If you want to increase your safety during your stay, read on for our insider travel tips. Stick to those and you won't have a single issue in Naples.
Naples Travel Insurance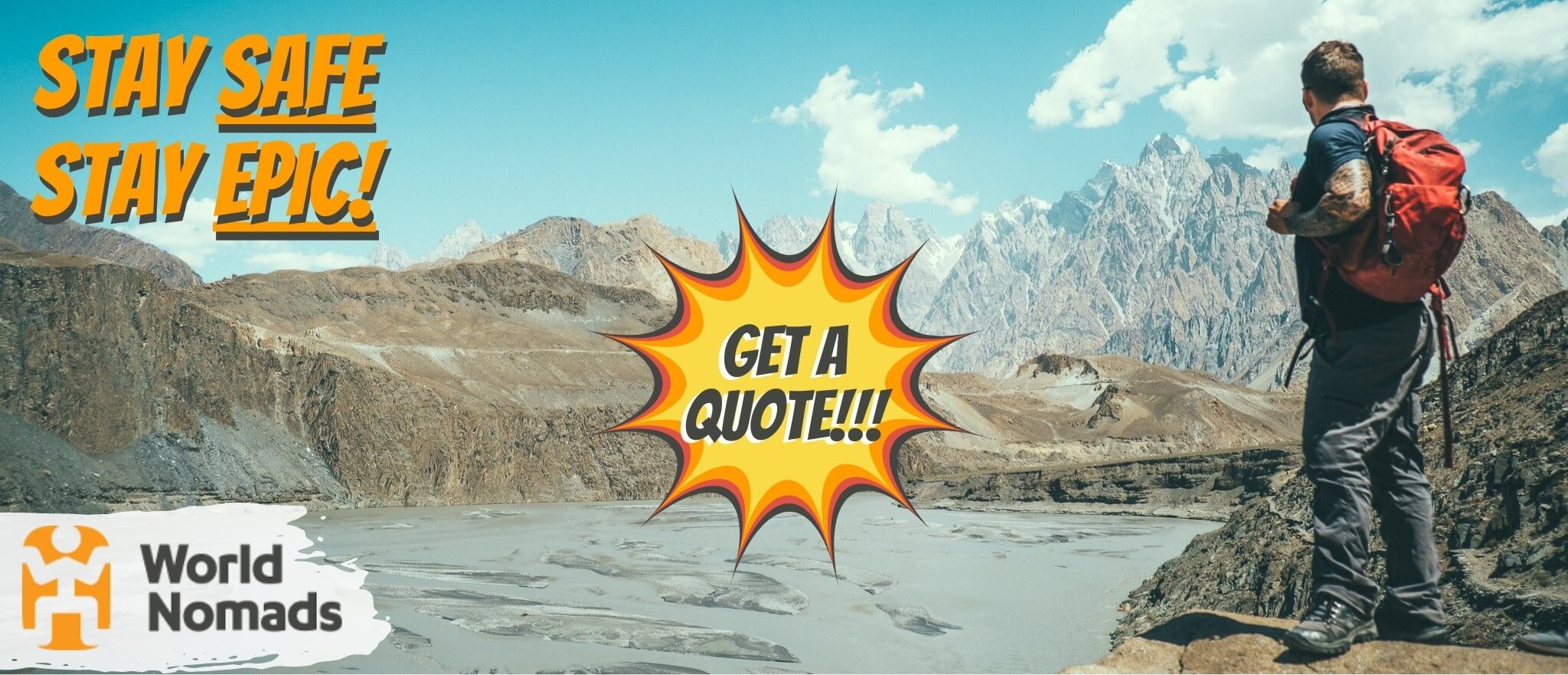 It's good to get lost sometimes, but it's also good not to get too lost. There are people that want you home in one piece.
There's one travel insurance provider The Broke Backpacker trusts for all his wildest shenanigans… World Nomads!
Click the button below to get a quote on your insurance or read our in-depth review of World Nomads' coverage. And then… let the shenanigans begin. 😉
Naples is actually a safe place to visit – for the most part. However, it is always best to have some knowledge under your belt about how best to avoid crime. Here are some of our best safety tips for travelling to Naples to make sure you can travel smart whilst still having an awesome time experiencing everything this cool city has to offer you.
Don't wander around in secluded places by yourself – stick to where there are families and people; less risk of petty crime.
Leave valuables locked up in your hotel – ideally in a safe. Important documents, your passport, bank cards, that sort of thing.
Have copies of those important things handy – just in case any one of them goes missing
Wander Naples only with a small amount of cash – the more you have, the more you can lose. Better yet, use a money belt.
Be careful of your belongings on public transport – pickpockets operate quite commonly on Naples public transport, so stay alert and keep your bag close to you.
Don't leave your bag somewhere easy to grab – like hanging off the back of your chair, or next to your chair, at a cafe.
Careful of how you wear your bag – off the shoulder? That's easy for motorbike thieves who do snatch bags in the blink of an eye. Keep it across your body.
Look like you know where you're going – don't be on your phone constantly as you will seem like even more of a target.
Be aware of your surroundings at all times – being oblivious and unsuspecting isn't smart.
Try not to look too much like a tourist – big SLR, wearing things that make you stand out, big Osprey daypack: these things make you stand out.
Don't leave anything valuable in the front of your backpack – if you do wear one.
And don't look like a target – looking wealthy, wearing expensive clothes and lots of jewellery, will single you out as a target for petty criminals.
Keep an eye on your luggage – at the airport, ticket counter at the train station, even in your hotel lobby. It could go missing.
Be very wary of those parking people – if you don't want to pay the money, just find somewhere legitimate to park.
Know what to do in the event of a disaster – it's unlikely, but Vesuvius will erupt again. The Neapolitan government has evacuation measures in place, so you should know your stuff too. Earthquakes can happen, too, by the way.
When you park your car don't leave anything valuable on display – very tempting for thieves.
Watch out for scams – with credit cards, and also being bamboozled by swapping money when people give you change.
Beware of touts posing as legitimate guides – this happens at historic sights; the pushier the tout, the faker the guide.
Learn some Italian – just a few phrases will really help you get by. We've got some tips on how to learn a new language here.
Naples is an amazing city, it's got famous streets, great markets, but you should be vigilant of your surroundings.
Insider Safety Tips from the Broke Backpacker Team
Travel SAFE and Make a Difference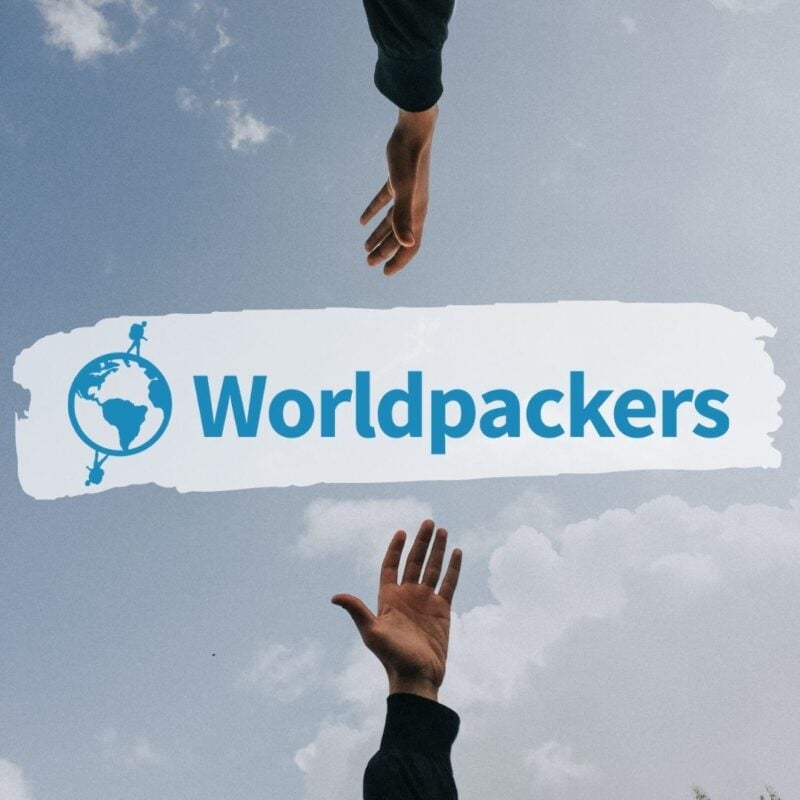 Worldpackers connects travellers with hostels, schools, NGO's and many more for work exchange opportunities. Chat with your host before you arrive to have a soft landing and then experience your destination differently! Local connections make your trip a lot safer – and open up a whole new culture experience.
Worldpackers trips are insured! They'll help you find a new host and cover up to 7 nights in a hostel so you're not left on your own if a host falls through.
Use the discount code BROKEBACKPACKER for a $10 discount. Plus, get 3 free months on your membership during their summer promo!
TRAVEL BETTER NOW
We here at The Broke Backpacker are all about solo travel. There's a whole lot of good stuff you can get out of seeing the world by yourself, not least the benefits of having to challenge yourself and reaping the rewards of personal growth as a result – and then there's the freedom!
And the good news is that it's safe to travel Naples alone – and here are some handy insider tips to keep you even safer.
Don't isolate yourself. If you're feeling low or out of it, phone someone back home for a chat – no doubt they'll want to hear from you anyway.
Ask the staff at your accommodation about safety tips. They'll know what areas are safe to wander around and explore by yourself. Not only that, but you could also simply ask them for some local tips on how your itinerary in Naples ought to look.
Try not to drink too much! The best way to no longer be aware of what's going on around you is to get completely drunk.
Having said that, don't be afraid to go out by yourself in the city. Head to Piazza Bellini and join in the buzz of the weekend crowd; sit in one of the small bars with some wine and enjoy the live jazz. For something more informal you could try out a night at Piazza del Gesu, a relaxed place to have a cheap drink.
Travel around with your hotel or accommodation's business card. In case you need to get back from a night out, you're further than walking distance, or you're just plain lost.
Be aware of your surroundings when you're walking around the city. Being by yourself, you'll have no one to tell you that a particular road seems sketchy. Use your common sense.
If somebody does try to take your phone, wallet, or whatever, by force, don't resist. Stay calm and hand it over. It's not worth getting into a fight or a dangerous situation over anything material you might be carrying around.
Don't let yourself be the one who ends up losing all your cash for you. We're talking spread the wealth – don't keep all your money and bank cards in one wallet, because if that one wallet goes missing it's not fun at all.
Try to travel light. You won't want to be lugging several bags through Naples, we can tell you that much.
Be gentle to yourself. It's important to be aware also that not everything's going to go to plan, not everything's going to be amazing. If something doesn't work out, don't be hard on yourself.
So whilst you're in Naples, the most important thing really is to have fun. Don't worry about hitting up all the sights that you can possibly see, but also don't sweat the petty crime. Chances are you'll avoid it and it won't be an issue – if you travel smart, that is.
Travel with peace of mind. Travel WITH a security belt.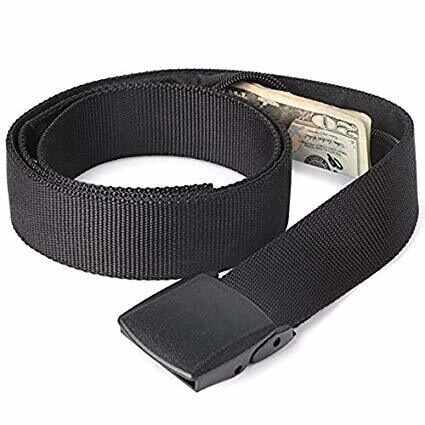 Get your cash stashed with this awesome Pacsafe money belt. It will keep your valuables safe no matter where you go.
It looks exactly like a normal belt except for a SECRET interior pocket perfectly designed to hide a wad of cash or a passport copy. Never get caught with your pants down again! (Unless you want to.)
Hide Yo' Money!
Is Naples safe for solo female travellers?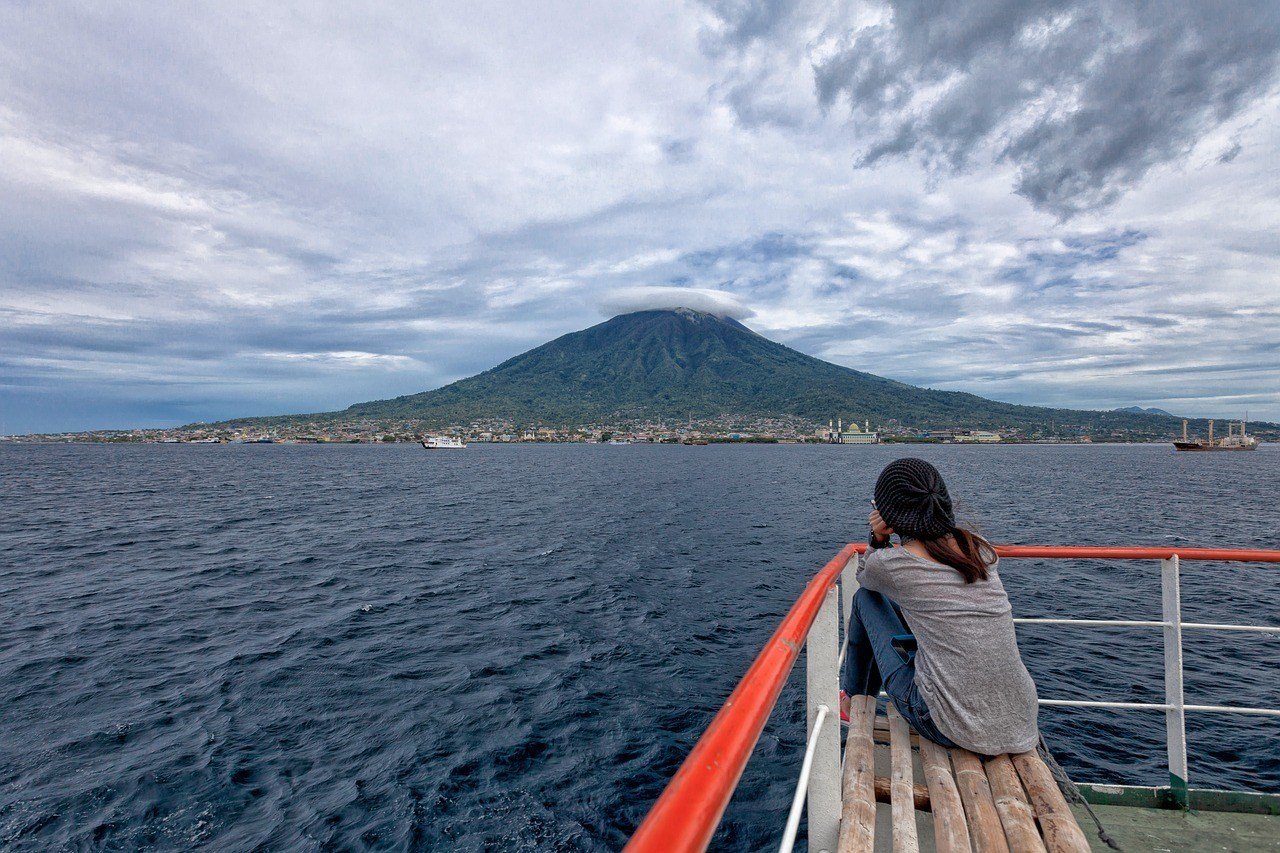 Obviously, as a woman by yourself, there are some things to be aware of. We've gathered together some of our best tips for solo female travellers in Naples so that you can level up your travelling smarts and explore the authentic city streets totally trouble-free and no stress.
Know that cheap is not always best. Do your research, read reviews from fellow female travellers and book yourself a comfortable hotel or hostel in Naples, friendly and secure.
Don't leave your drink unattended, whether it's a bar or just a restaurant. Drink spiking does happen  in Naples. Keep an eye on your beverage and don't let random strangers buy you drinks, either.
Don't feel like you have to tell every person you meet everything about you – where you're staying, where you're from, where you're going next if you're married or have a boyfriend. Strangers don't need to know this! It's safer to just make something up.
Make sure you know how to get home after a night out. Plan your route home, have a taxi ready, or if you go with people, meet them all before heading back to your accommodation.
Keep your handbag safe, secure and close to you. Handbags are often a target for thieves, because of how they're usually worn dangling off the shoulder, so don't be the person who gets their handbag snatched in Naples – be smart and wear it cross-body style.
If you're travelling around the city by yourself, don't be afraid to ask for help or directions. You don't have to wander around lost all the time, relying on your sense of direction. It's ok to look at you phone maps every now and then.
Joining a tour is totally fine. In fact, we would recommend joining a tour especially if you're relatively new to solo travel as a woman. It's a great way to learn about the city's history and culture, actually, get acquainted with the streets, and even get talking to some other travellers.
Try to blend in with what you're wearing. Look at the other ladies around you and how they're dressed and then try to follow suit.
Share your itinerary. Online, or with your friends and family back home. It's always safer that people have at least a rough idea of what you're going to be getting up to.
There you have it. Travelling as a woman comes with added risk when compared to your male counterparts, so it is important to be aware of different things, including drink spiking, getting your bag snatched, and men getting too close for comfort; this is the case in Naples.
Whilst, Naples may not be the safest city in Italy, you are most likely going to have a completely trouble-free time on a trip here. As in most places in the world, safety often depends on you and your judgement calls. Trust your gut, use your common sense, and you'll be fine.
DON'T DIE OUT THERE! …Please 🙂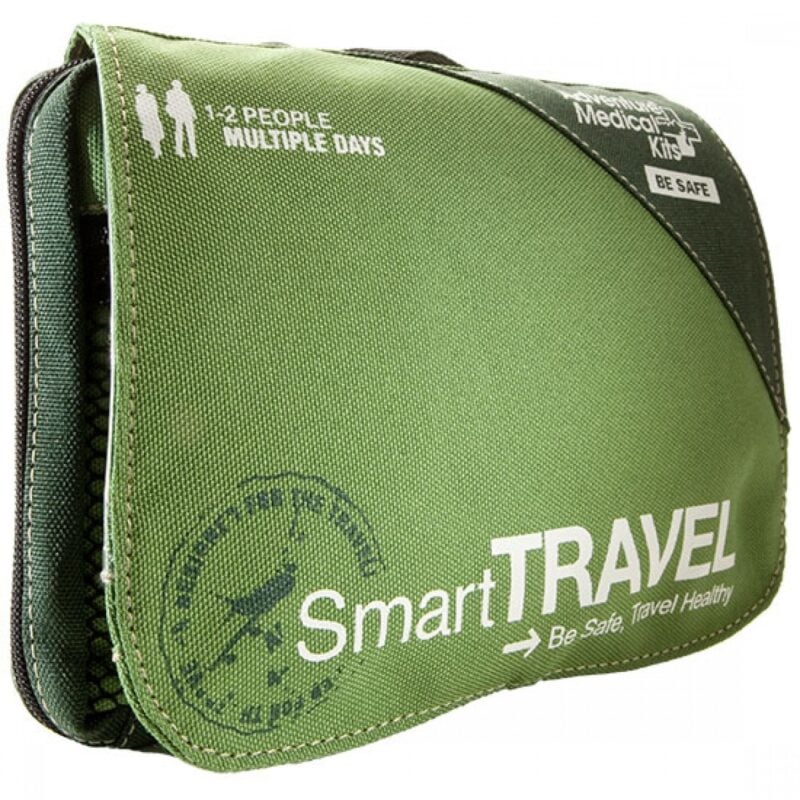 Things go wrong on the road ALL THE TIME. Be prepared for what life throws at you.
Buy an AMK Travel Medical Kit before you head out on your next adventure – don't be daft!
Buy on REI
More on Safety in Naples
We've covered the main safety concerns already, but there are a few more things to know. Read on for more detailed information on how to have a safe trip to Naples.
Is Naples safe to travel for families?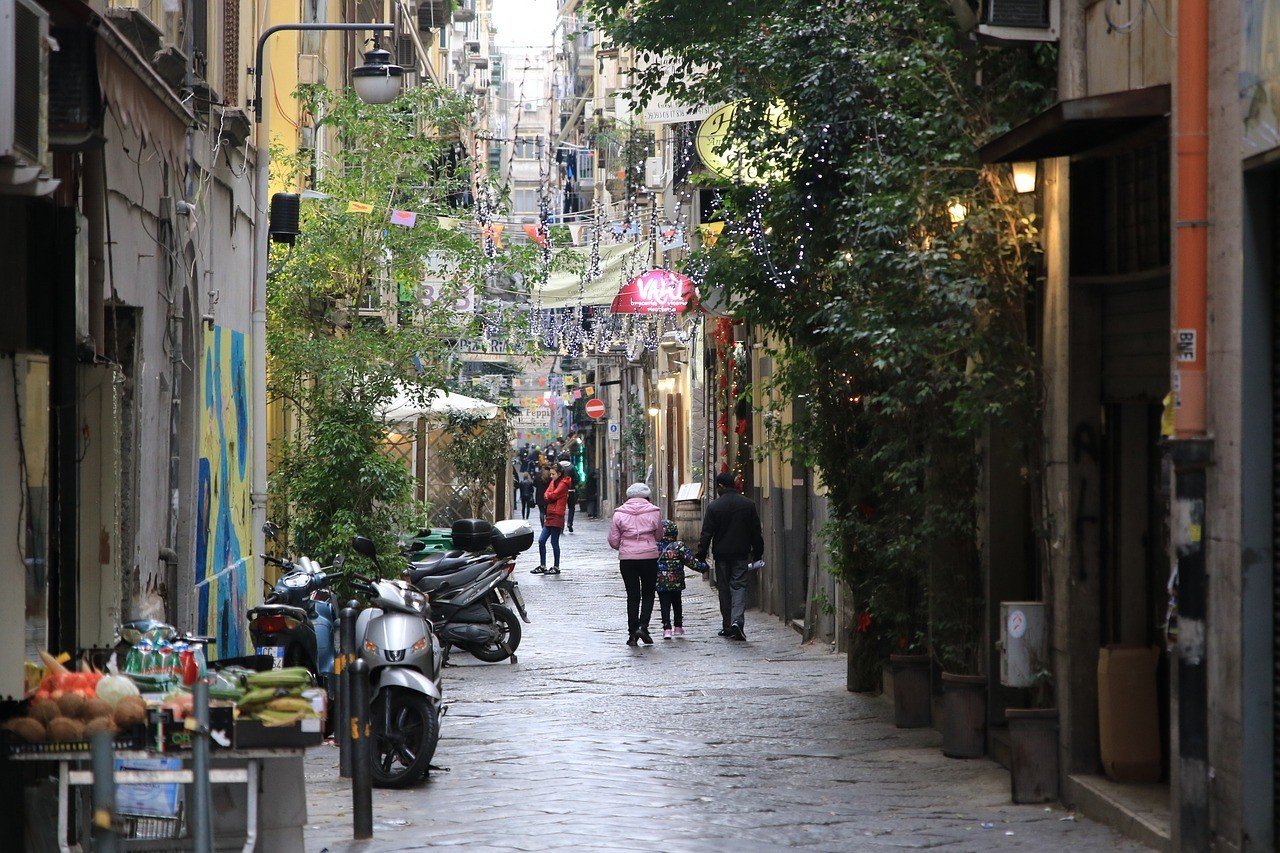 Families and children are a major part of life in Italy, and Naples is no different. It's actually a super exciting place to travel with children in tow.
However, there also are some downsides. For example, the streets aren't exactly pram friendly, there's a lot of traffic, and there aren't exactly loads of child-friendly activities.
Families are welcome in most places around the city; you should be totally fine taking them to restaurants. Don't expect to find children's menus, but most kids are going to be just fine tucking into a bowl of pasta or a Margherita pizza, though! However, families in Naples eat late and it's normal for them to head out at 9 PM and stay out way past midnight for dinner.
Basically, though it's not 100% geared towards family-friendly travel, Naples is still a safe and exciting place to travel with your family. You should hit up the website Napoli Per Bambini (Naples for Children). It's in Italian, but just translate and you'll find a wealth of things to do in the city!
Is it safe to drive in Naples?
Italy is famous for its mad driving. The historical centre of Naples can be completely jammed, which makes it a huge challenge to actually get around by car.
Drivers here aren't aggressive, but they aren't always keen on rules. A red light, for example, means more of a possibility of stopping than an outright command of 'STOP!'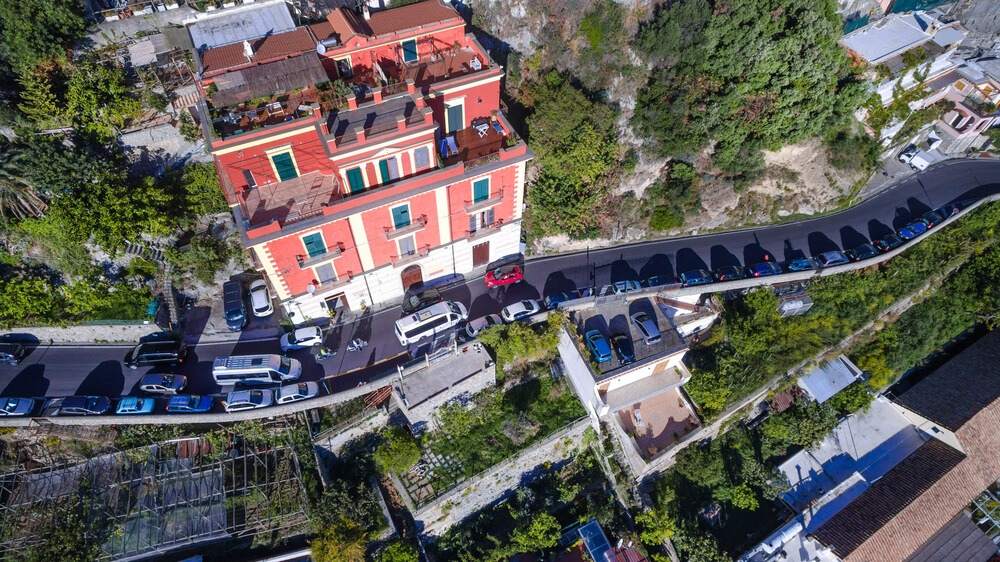 When it comes to parking in Naples, you may have to be careful. For one thing, there aren't many actual carparks in the city, and then there's the whole thing with illegal parking touts that can happen.
If you are driving to Naples, make sure you arrive in the daylight hours; things get more stressful after dark. Even then the traffic can still be busy, chaotic and pretty fast.
But none of that really matters because non-residential vehicles are banned in the centre of Naples anyway!
There you have it: driving in Naples will be more of a headache than anything else. Unless you're arriving in the city by car, there's no advantage to driving around Naples. The parking situation alone makes it feel sketchy.
Is Uber safe in Naples?
Uber is available in Rome and Milan, but not in Naples.
This is a bit of a shame, but oh well. You're going to have to rely on the taxi drivers.
You're not missing out all that much, to be honest: Uber rides in other Italian cities tend to be more expensive than taxi fares anyway.
Are taxis safe in Naples?
Taxi drivers in Naples are actually pretty friendly, and scams aren't too common.
That said, overcharging is a common problem in Neapolitan taxis. The best way to avoid this is to make sure (i.e. insist) that the meter is on, and – before you start going – ask the driver around what price it's going to be. To be extra careful, you can do some research beforehand.
Only use licensed taxis. They're usually white, have an orange TAXI sign on the roof, the company name on the door, and a meter inside. Pick them up at official taxi ranks, which are to be found at big places like Piazza Garibaldi and Piazza Municpio. Ask your accommodation if you need a number for a reputable taxi company.
If you arrange for a radio taxi to come and collect you, be aware that when they arrive there will already be money on the meter. This isn't a scam; in Italy, the meter is started from when the taxi driver gets the call.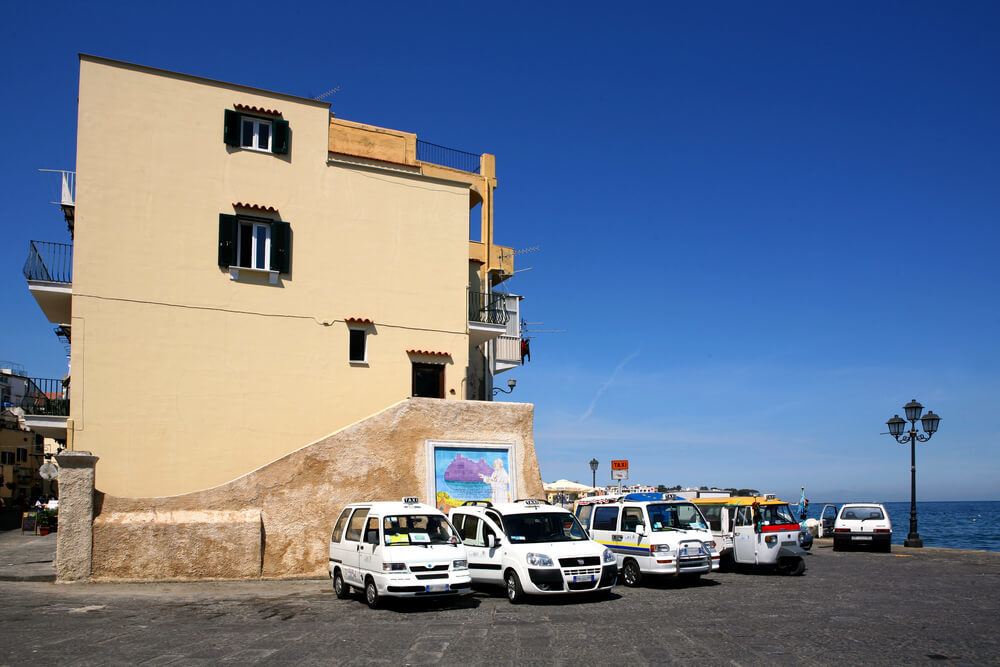 Using a small change will help you not getting shortchanged. Be smart and make everyone's life easier by carrying around small denominations. Don't be freaked out if your fare isn't what you thought it would be. This isn't overcharging, but there are often small charges added. These include a late-night charge, a luggage charge – extra inconveniences for the driver, basically.
Taxis in Naples are a safe, affordable and relatively straightforward way of getting around the city.
Is public transportation in Naples safe?
For an even cheaper way to get around Naples than by taxi, there's the city's public transport. It's budget-friendly, modern and pretty easy to use once you get your head around the system.
There's also a wide selection when it comes to transport – all of it run by one organisation, which helps it to flow much better.
First off there's the metro. It comprises of three lines: Line 1, Line 6 and the Naples Aversa Metro. It's easy to use, but it's not that comprehensive and gets a lot of pickpockets.
There's also funicular railways. There are three lines connecting central Naples with Vomere and a fourth that connects Mergellina to Posillipo. All lines run from 7 AM to midnight.
Naples also has a big fleet of buses and a load of bus routes to get around. It might be a little bit confusing to figure out the routes, bus stops and which buses go where at first, but pick up a map and you'll have it down in no time.
There is no central bus station in the city, but you can pick up most buses at Piazza Garibaldi. They run from 5:30 AM till roughly 11 PM and many don't run on Sundays. Night buses are marked with an 'N' which are handy if you're going out late.
You'll also get to use a tram network in Naples. Opened in 1875, it's a cool, classic way to see the city.
In conclusion, public transport in Naples is safe. You can even get a travel pass that runs between any time duration from mere hours to annually. If you don't have a pass or a ticket that's been stamped, you could get fined.
Bum bags aren't just for Adidas lads and super dads!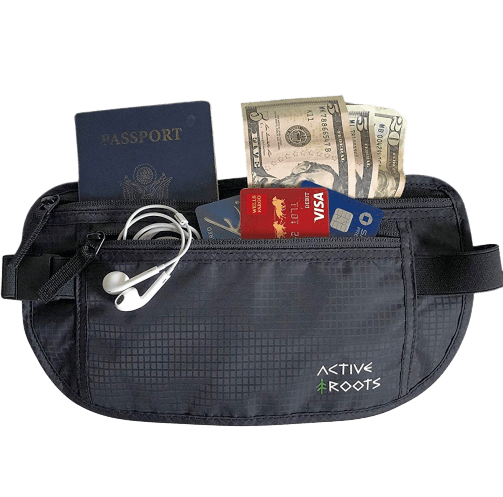 Seriously, once you enter the travel belt life, you never go back. You can NEVER overstate just how useful having all your most important valuables right around your waist is.
A full-sized travel belt stays tucked under your shirt and keeps your valuables – documents, passport cash, headphones, lip balm, illicit goodies 😉 – organised and on-hand for moment's notice.
Hide Yo' Money!
Is the food in Naples safe?
Food in Italy is delicious – of course, it is, it's Italian food. Naples, luckily, is no different. You will get to eat some delicious food in this city. In fact, easily the best way to explore the city is to do it by hopping from bar to restaurant to hole-in-the-wall eatery and beyond!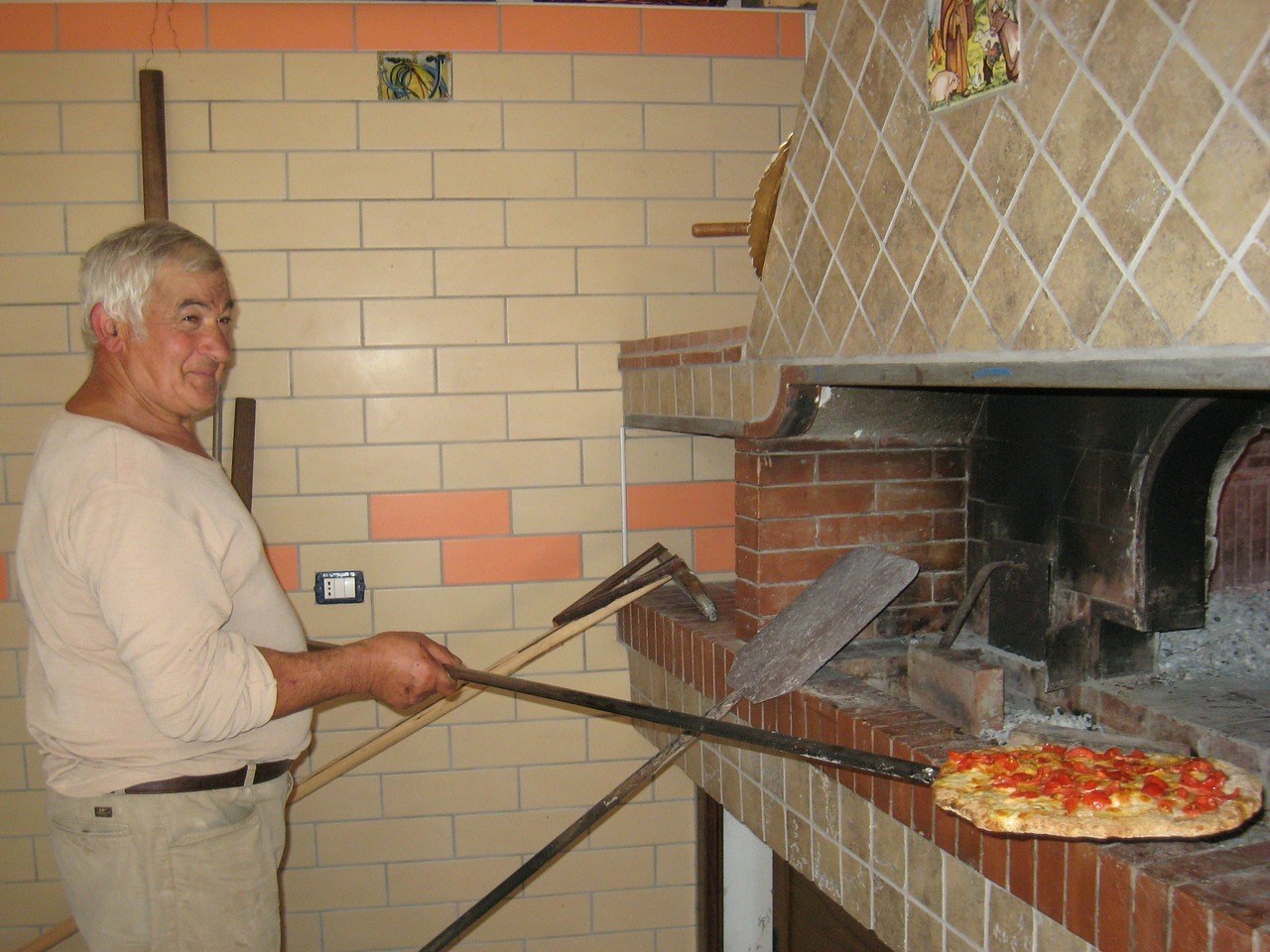 So much Neapolitan culture and history can be discovered by eating your way around the city; with influences still, present thanks to the city's Greco-Roman roots. The cuisine here will blow you away, but it's best to do it with some insider knowledge, so here are some tips…
Experiment. The food is as vibrant as the culture in Naples and you shouldn't be afraid to duck into local places to learn more about the city. Even if it hasn't got an English menu, don't be worried – in fact, it's more likely that the place will be better.
If it's busy with locals, then the chances of it being pretty tasty are going to be high. The general rule of thumb here is if it's popular, that's got to be for a reason – and it's probably not going to give you a bad stomach, either.
For less of a chance of a bad stomach, head to a local trattoria at peak lunchtime, around 12:30 PM. As a traveller, you'll probably want to "avoid the crowds" or whatever, but going at lunch to one of these places will mean the food will be fresh and not have been sitting around.
Naples is an amazing place for somebody with a sweet tooth. Many of the delicious pastry shops here will be open late into the night, too. You simply have to try out the rich and flaky riccia sfogilatelle. In-credible.
Neapolitan pizza, of course, is a must-try when you're in the city. Be aware of tourist traps in this instance, which will mean you're getting a second-rate pizza. Go somewhere real and local and you'll be treated to the real deal; seriously, the method of Neapolitan pizza-making is UNESCO-designated!
In general, steer clear of tourist traps. You'll know these from touts trying to get you inside and glossy English menus out the front. They will be much more focused on making money than serving up amazing food or caring about hygiene.
Seasonal, local food is best. Winter in Naples means a broccoli variety called friarelli, for example. Similarly, if you're going to try the seafood (you should), make sure it's fresh. There's no food poisoning quite like eating bad seafood, trust us – it's horrible.
If you're a coffee lover then you should really be thinking about trying out the coffee in Naples. It's part of the everyday life of the city. Small, quick espressos may not be the norm where you're from, but try it out! Alternatively, go linger over a cup of coffee at a terrace cafe.
With all that tasty food on offer, it's probably a good idea to not eat too much right away. Overeating can really take its toll on your stomach, especially the rich, cheesy, deep-fried morsels on offer in Napoli, so really: go easy on it.
Last but not least… wash your hands! Walking around a city all day can make your hands accumulate a lot of dirt, so make sure you give them a quick scrub before you head out for the day.
Naples is quite literally a mad foodie's city. We mean, in a place where the humble pizza has UNESCO World Heritage Status, you're going to find a lot of pretty good stuff to eat, right? There is just so much to try here, from fried mozarella sandwiches to spaghetti vognole.
Can you drink the water in Naples?
The water in Naples is completely fine to drink.
A lot of locals don't drink it, however, and just stick to bottled water.
To save the planet, bring a refillable water bottle and fill it up wherever you want. If you don't have one, we've put together a list of the best travel water bottles to help you out.
Save $$$ • Save the Planet • Save Your Stomach!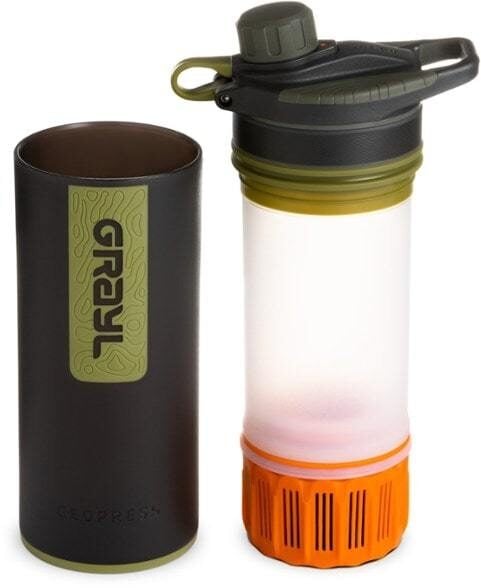 Drink water from ANYWHERE. The Grayl Geopress is the market's leading filtered water bottle protecting your tum from all the waterborne nasties. PLUS, you save money and the environment!
Single-use plastic bottles are a MASSIVE threat to marine life. Be a part of the solution and travel with a filter water bottle.
We've tested the Geopress rigorously from the icy heights of Pakistan to the tropical jungles of Cuba, and the results are in: it WORKS. Buy a Geopress: it's the last water bottle you'll ever buy.
Buy a Geopress!
Read the Review
Is Naples safe to live?
Naples is safe to live in. The expats and immigrants that find themselves here meet up with friends in crowded bars, get chatting to locals, try new food and walk around enjoying the life of the city.
When it comes to petty crime, tourists are the targets and being a resident, you'll begin to blend in more and won't hit up the tourists sight too much either. There are many reports that try to paint Naples out as a crime-ridden city when there's so much more going for it than that.
There are an exciting music and theatre scene, and artists such as Toto, Massimo Trosi and Eduardo di Filippiwere all born and raised in the city. It's not just cuisine and crime: it's culture, too.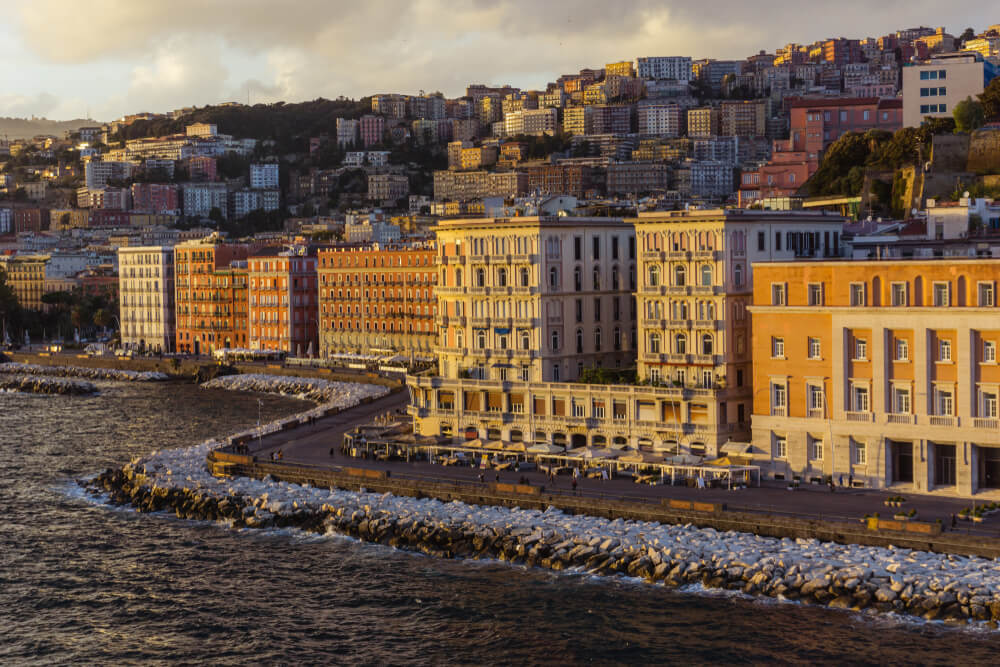 However, there are some things that will put a dampener on life in the city, like the traffic and cars double parked (illegally). That though is outweighed by good public transport. Also, though it still remains the 4th largest economy in Italy, the unemployment rate is high.
Made of 30 quatieri, some of the best ones to live in as a newcomer to Naples include the family-friendly Pozzulli, the trendy area around Piazza Bellini, or the vintage shops and cool bars of Vomere.
People's feedback on moving to Naples tends to be on the positive side. There may be a problem with the Camorra and rubbish piling high in the streets sometimes, but for the most part, it's in Naples where you'll enjoy 2-hour long lunches, siestas and wrapping up your day with drinks and live music as the sunsets.
The Future of the SIM Card is HERE!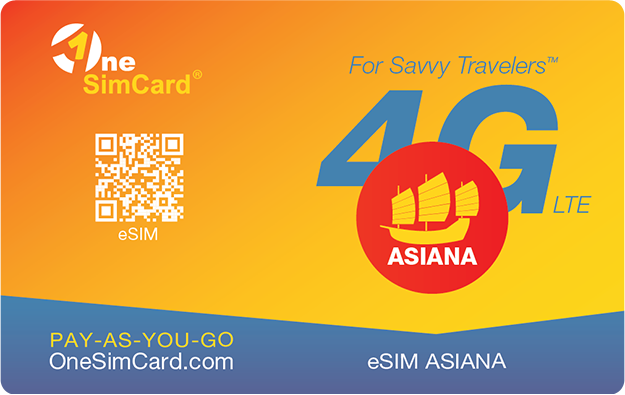 A new country, a new contract, a new piece of plastic – booooring. Instead, buy an eSIM!
An eSIM works just like an app: you buy it, you download it, and BOOM! You're connected. It's just that easy.
Is your phone eSIM ready? Read about how e-Sims work or click below to see one of the top eSIM providers on the market and ditch the plastic.
Buy an eSIM!
Is it safe to rent an Airbnb in Naples?
Renting an Airbnb in Naples is a great idea. And it's perfectly safe, as long as you read the reviews. Staying at an Airbnb during your trip will also open up new possibilities and options to experience the country. The local hosts are known to take great care of their guests and give the absolute best recommendations of what to do and what to see. Local knowledge always goes a long way, so be sure to reach out to your hosts if you're unsure about how to fill up your Naples itinerary!
On top of that, you'll stay safe with the reliable Airbnb booking system. Both hosts and guests can rate each other which creates a very respectful and trustworthy interaction.
Is Naples LGBTQ+ friendly? 
While you will probably get some stares from the older generations, Naples is perfecty safe for LGBTQ+ travellers, even when showing public affection. Of course, always make sure to stay respectful of the local culture and don't go over the top. 
Especially in the nightlife district, you can find gay bars and even a few hostels that are targeting LGBTQ+ members and promoting a very welcome and safe stay. If you're visiting with your partner, you'll have a great time in Naples.
FAQ about Staying Safe in Naples
Here are some quick answers to common questions about safety in Naples.
So, is Naples Safe?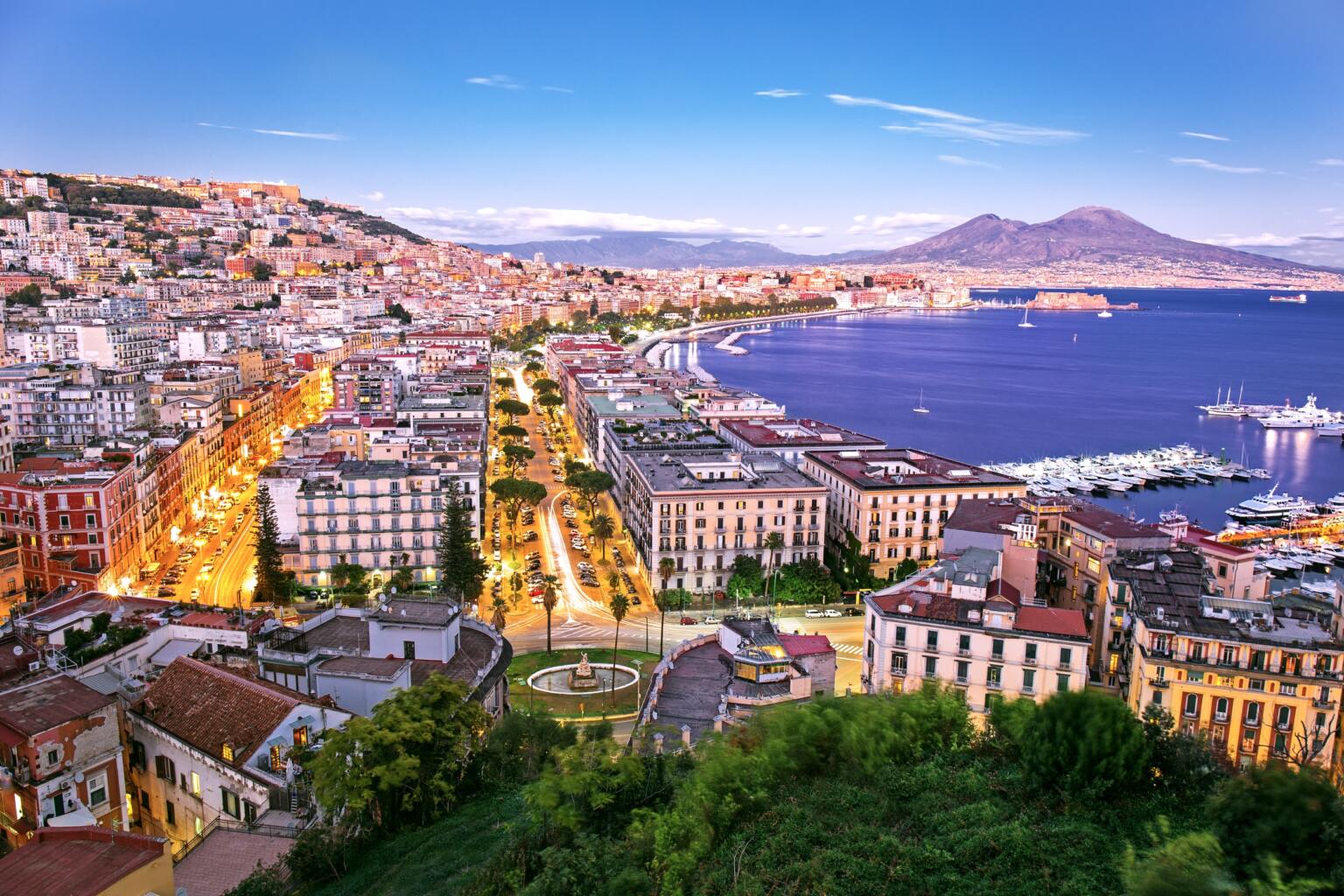 The prospect of a trip to Naples could seem like a pretty unsafe one. With organised criminal activity, as well as the potential for petty crime and pickpocketing, brimming in the streets of the city, we can see how you'd be worried about your visit.
However, we don't think there's anything to worry about. Being safe anywhere in the world is often all about your own judgement, which means being aware first.
Having at least some knowledge about the issues, current politics and crime levels in a place you're about to visit is a good thing. The facts aren't here to scare you, they're to stop you doing stupid stuff.
Because you know the city can be riskier in certain areas, you know not to visit. Pickpockets operate, so you don't carry a bulging wallet. It's pretty simple – and it's the very basics of travelling smart.
When it comes to Naples, being smart is key. Blend in, look as little like a tourist as possible, don't have stuff in your pockets to steal, and stay away from sketchy areas. You'll be totally fine.
Don't Forget your Naples Travel Insurance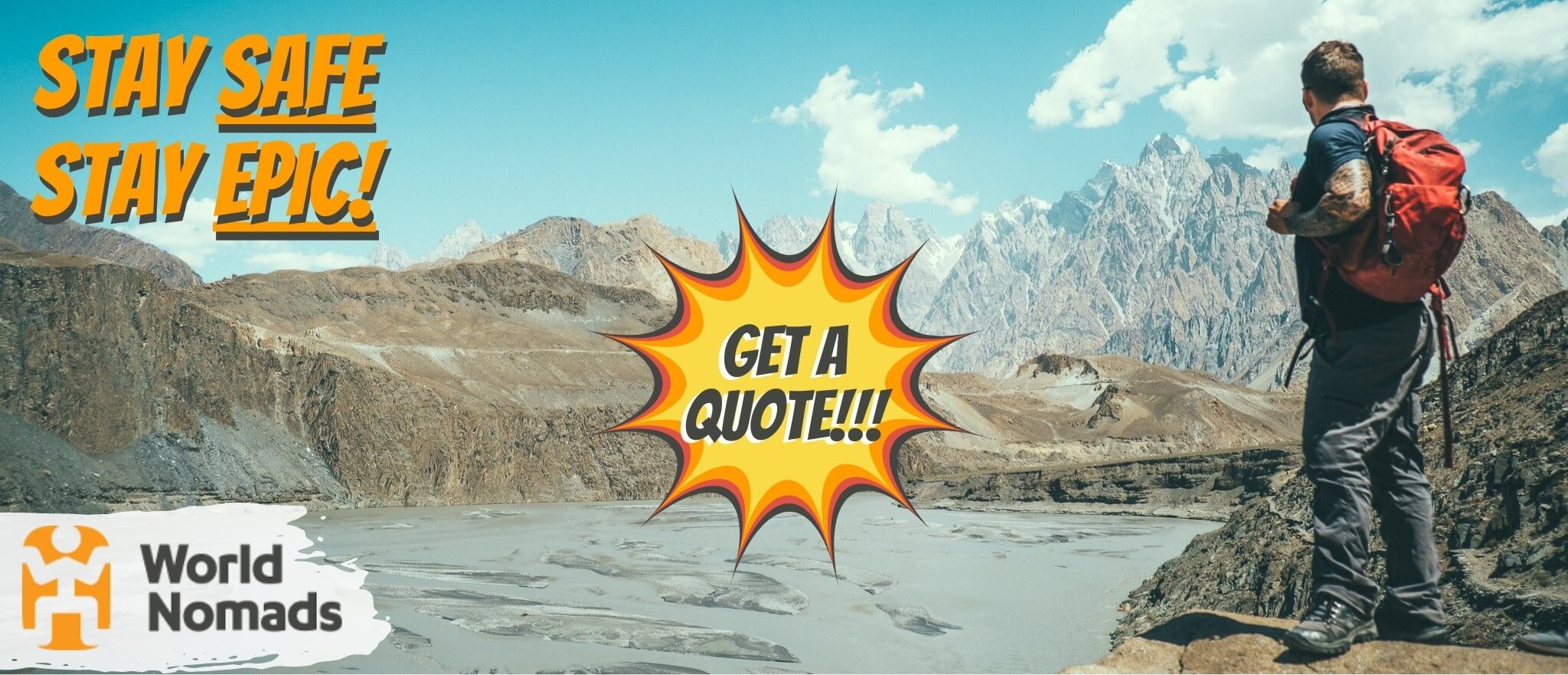 It's good to get lost sometimes, but it's also good not to get too lost. There are people that want you home in one piece.
There's one travel insurance provider The Broke Backpacker trusts for all his wildest shenanigans… World Nomads!
Click the button below to get a quote on your insurance or read our in-depth review of World Nomads' coverage. And then… let the shenanigans begin. 😉
Disclaimer: Safety conditions change all over the world on a daily basis. We do our best to advise but this info may already be out of date. Do your own research. Enjoy your travels!
---
Bye for now, but not forever!
If you want MORE top-tier Broke Backpacker content like this, then sign up for our weekly newsletter below to get the latest and greatest!
And for transparency's sake, please know that some of the links in our content are affiliate links. That means that if you book your accommodation, buy your gear, or sort your insurance through our link, we earn a small commission (at no extra cost to you). That said, we only link to the gear we trust and never recommend services we don't believe are up to scratch. Again, thank you!