Ischia is a spectacular volcanic island located in the Gulf of Naples, Italy. This small island is home to only around 70,000 permanent residents and is best known for its mineral-rich thermal waters, which often manifest themselves as hot springs – especially at stunning Maronti Beach, in the south of the island.
As one of the Azzurri's most picturesque islands, it forms part of the Campanian Archipelago and is also notable for its jaw-dropping scenery of flowing hills and rocky beaches.
In the eastern parts of the island, historic Roman ruins reside majestically below the waves at Cartaromana Beach as the imperious medieval Aragonese Castle looks on in the background. Linked to Ischia by a rustic stone bridge, it's a must-see island on anyone's itinerary.
If you are thinking of visiting this wonderful island, you are going to need to find somewhere to stay that is comfortable, equipped with a wide range of amenities, and centrally located to all the area's best attractions.
To help you out, I have put together this guide to where to stay in Ischia and a list of the best accommodation options and things to do in each area.
Looking for a place to stay in Ischia but don't have much time? Here are my top overall recommendations of the coolest places.
This fabulous Ischia apartment lies within the historic center of Ischia Ponte. Located on the second floor, the bright and airy accommodation offers fabulous views that directly overlook the magnificent Aragonese Castle. Something which is best seen on its large terrace that boasts a table, chairs, and sun loungers.
You will love the cosy feel of the space which includes a double bedroom, as well as a large living room that has a sofa bed. There is also a small kitchen here for those who want to self-cater while the bathroom is well equipped too. The presence of air conditioning and a washing machine makes this property an excellent option for any visitor!
This lovely Ischia hostel has been an institution in town for over 20 years! Situated right in Forio's historic center, just five minutes from the port, this accommodation provides exceptional value for money. Rooms here range from private en suite accommodation for between one to eight people, as well as dorm rooms for between two and 12 people with shared bathrooms.
All rooms are themed and come with linen, as well as free breakfast, free use of the kitchen, and also free Wi-Fi! They also have multi-lingual staff here to provide advice and guidance about the town, as well as a pool table, ping pong table, and even guitars if you fancy a group singalong!
Of all the fabulous hotels in Ischia, this one stands out as a real gem. Situated just a 12-minute stroll to the beach, this deluxe five-star hotel showcases incredible panoramic views of the town, Naples, Mount Vesuvius, and the Sorrentine peninsula which will mesmerize you for hours! You will also love the thermal pool and natural sauna that is located onsite, as well as the fantastic spa and wellness centre, which will totally rejuvenate your mind and soul, should you decide to book in for a treatment.
In addition, the property also has two outdoor swimming pools, and an indoor Kneipp pool, as well as five hot tubs that overlook San Montano bay. There is also a world-class restaurant on site too, which dishes up some of the best cuisines in the Campania region.
Ischia is a popular destination amongst Italians taking a day trip from Rome. The Italians perceive it as being more 'authentic' because it's not overrun with international visitors. Due in part to the fact that it doesn't have an airport.
As it is a volcanic island most people come here for its thermal baths which are believed to have healing properties, but it also has a fascinated history, as represented by its architecture and museums too.
One of the main areas to stay in is Ischia Porte. Both the island's major port and capital, this is by far the busiest part of the island. It has a lovely harbour, which features a number of fabulous restaurants that offer delightful options for al fresco dining.
As well as some great beaches and the impressive thermal waters at the Negombo Thermal Spa and Centro Termale O'Vagnitiello. Hikers will also love this area for the excellent views they get along the Bosco Di Zaro To Punta Spaccarello.
Nestled in between Lacco Ameno and Ischia Porto on the island's northern coast is Casamicciola. It's a stunning region you will definitely want to check out. It is home to a number of lovely, quaint villages, as well as a charming waterfront promenade. It also features therapeutic thermal springs at the Castiglione Thermal Park and O Vagnitiello Thermal Park, as well as some terrific beaches, and an eclectic mix of shops, restaurants and bars.
Those wanting a quieter Ischia holiday should head to Sant'Angelo. An area completely closed to traffic, it is the perfect place for families and couples to relax on its splendid beaches, and rejuvenating thermal parks. There are also a quaint collection of shops to peruse and fabulous restaurants and cafes too.
When deciding where to stay in Ischia, also consider Forio too. It is the island's largest town and has its best nightlife as well. There are also lots of excellent beach options, as well as a number of interesting places to visit to keep you entertained during the day.
Now you have a rough idea of what's going on in each area of Ischia, let's take a look at each neighborhood in more detail.
1. Ischia Porto – Where to Stay in Ischia for your First Visit
Ischia Porto is the main port and capital of Ischia. Situated on the North-East part of the island, many ferries come here from Naples and the surrounding islands of Procida or Capri.
The busiest town on the island, there is plenty to see here and do here for the visitor, including wonderful beaches, beautiful architecture, and other notable landmarks that will take up space on your Instagram wall.
The shops, cafés, restaurants, and bars are all very good here, as is the overall vibe, whilst the standard of hotels and other holiday accommodation in Ischia Porto is amongst the best on the island.
If you are looking for a place to stay in Ischia Town then this apartment-come-villa is a fabulous option. Located within a short walking distance of the port, it is a great choice for families or a group of friends on account of its three bedrooms and two bathrooms.
Surrounded by beautiful gardens, this property also boasts a large living room with a well-equipped kitchen for those who want to self-cater. There is a washing machine and dryer on site too, which is very handy, while free Wi-Fi is also a bonus. For those wanting to explore the town, the property is very close to all the main shops, restaurants, and attractions too. So it acts as a great base for your vacation.
This refined Mediterranean-style residence is a lovely place to stay on your Ischia holiday. Open all year round, it is situated just 10 metres from the iconic thermal park, Castiglione, which offers 10 pools at various temperatures, as well as a sauna and the sea.
Which makes it a place you will definitely want to visit. The rooms here are bright, and airy, with air conditioning and a minibar. You will be pleased to discover there is no curfew either, while breakfast is also offered daily. Conveniently, you will also find laundry facilities onsite too, as well as a 24-hour reception, in case you need assistance.
If you are looking to treat yourself to a splurge during your stay in Ischia then this luxury five-star rated hotel is an excellent option for you. Situated just a minute's walk from the beach, this stunning property not only provides wonderful views of the sand but also overlooks the magnificent Aragonese Castle too. Set within a gorgeous ancient villa, it features stylish period furniture and elegant hallways decked out with art.
You will feel like royalty when you see your luxe Mediterranean-inspired rooms, and you will eat like it at the fantastic onsite restaurant too. Best of all, the hotel also features a wonderful onsite spa which includes a Turkish bath, hydrotherapy pools, and hydro massage showers, as well as thermal baths that are kept at a constant temperature of 36°C, which are something you will definitely want to indulge in!
Things to See and Do in Ischia Town:
Explore the rocks and coves along Spiaggia di Cava Grado
Enjoy al fresco dining with magnificent sea views at the Ristorante Deus Neptunus Ischia
Check out the spectacular volcanic rock beaches of Le Fumarole Di Maronti
Treat yourself to a session at the Negombo Thermal Spa or the Centro Termale O'Vagnitiello
Take a day trip to Procida by vintage boat.
Hire a boat To Spiaggia San Pancrazio to see The Grotta Verde
Visit the imperious Castello Aragonese D'Ischia
Treat yourself to an aperitivo at the 'Il Terrazzo' A The Castello Aragonese
Hike the wonderful Bosco Di Zaro To Punta Spaccarello
2. Casamicciola – Where to Stay in Ischia on a Budget
Casamicciola is a beautiful region that is tucked in between Ischia Porto and Lacco Ameno on the island's northern coast. A popular point of connection for ferries and hydrofoils from Naples, it is home to a collection of small and very quaint villages like Piazza Maio, La Rita, Castiglione, Perrone, Piazza Bagni, and La Sentinella. Its marina also accommodates some glamorous yachts as well.
Best known for its therapeutic thermal springs, which include the likes of Castiglione Thermal Park and O Vagnitiello Thermal Park, this fabulous destination also has a lovely waterfront promenade, as well as some lovely beaches, a nice mix of shops, and some lovely bars and eateries.
In case you are worried about the nightlife keeping you away, everything closes at around midnight here, so you should be able to enjoy a nice evening out and a good night's sleep. Because the price of accommodation is a little cheaper here, it's perfect for those backpacking Italy.
Best Studio in Casamicciola: Casa Donè
Nestled within the central Piazza Marina, directly in front of both the Port of Casamicciola Terme and the beach, this lovely holiday home is perfect for those who want an authentic Ischian accommodation experience.
Beautifully maintained, this cosy home features a bedroom that has a really cool attached mezzanine level that is furnished with a sofa and armchairs. You'll love to cook up a storm in the large kitchen/dining room, while you will also want to spend a lot of time chilling out in the living room, which showcases fabulous sea views, and the large terrace which presents the Procida and the Campania coast.
Merging an excellent location with fabulous amenities and facilities, this cool hotel in Casamicciola has really got it going on! Showcasing panoramic views of the beach and Ischia Harbour, which is just a 15-minute stroll away, the property is just 500 metres from the thermal spas of Castiglione Parco Termale. So it makes it a brilliant place to stay during your time in Ischia.
Offering indoor and outdoor pools, as well as a free shuttle to and from both the harbour of Casamicciola Terme and the Ischia town centre, rooms at the Hotel Grifo are chic, thoughtfully designed, and full of character. They all also come with either a patio or balcony which are lovely places to sit and relax.
Best Apartment in Casamicciola: Apartment / app. for 4 guests
Enjoying a lovely location on top of a hillside that is surrounded by vineyards and chestnut trees, you will instantly fall in love with this property. Boasting terraces that convey the magnificent panoramic views of the marinas of Lacco Ameno and Casamicciola Terme, as well as the sea, this very homely residence offers a quaint and charming vibe.
Fed by its own natural spring the property features its very own thermal water pool and adjacent sauna. It also offers stunningly furnished rooms with double beds, a private bathroom with a small tub and shower, and a kitchenette. Very conveniently, if you don't fancy cooking for yourself you can even book breakfast, half-board, or full board here too!
Things to See and Do in Casamicciola:
Stroll around the lovely the waterfront promenade
Watch the ferries come into port from other islands and the mainland
Check out the magnificent luxury yachts in the port
Sunbathe and swim at the Spiaggia Della Marina and Bagnitiello beaches
Enjoy a relaxing session at the Parco Termale Oasi Castiglione thermal spas
Marvel at the wonderful 1900s Art Nouveau architecture that lines Piazza Bagni
Take a guided walking tour around the island.
Enjoy a meal or drink at one of the locals' restaurants and bars
3. Sant'Angelo – Where to Stay in Ischia for Families
Sant'Angelo is one of the quieter parts of the island and is completely closed to traffic. So if you are looking for a place to stay in Ischia to completely chill out and relax then this is a very good option.
The perfect spot for families, as well as young couples that want a romantic break, Sant'Angelo is close to some wonderful beaches, and thermal parks. It also has lovely shops to browse in, as well as a good selection of cafes and restaurants.
Offering wonderful views of the Mediterranean, this part of Ischia also lies within easy reach of the rest of the island, for days you want to venture further afield.
Best Apartment in Sant'Angelo: Neruda home
As locations go the one on offer from this apartment is very hard to beat. Situated just a five-minute walk to the Sant'Angelo centre, as well as being very close to the thermal parks and Maronti's beach, you will be spoilt for choice when it comes to places to go!
The property has been designed to reflect a pure Italian style with impressive accents and furnishings that you will absolutely adore. This has made the rooms here very cosy and comfortable, whilst the views on offer from the balcony will hold you in awe for hours, especially when the sun starts to set.
It kind of hints it in its name, but undoubtedly the Maison de Charme is one of the most charming places to stay in Ischia. Tucked away in a small and tranquil fishing village, basing yourself here will give you a fascinating insight into local life.
Perfectly set up for a relaxed and quiet Italian holiday, accommodation here is warm, inviting, and furnished with love. The property is close to a nice range of shops and restaurants, whilst the locals are very friendly and only too happy to chat if you can speak Italian!
One of the best hotels in Sant'Angelo, the four-star rated San Michele Hotel & Spa puts you just a stone's throw from Maronti beach! So it is perfect for those who love to stay along the coastline.
If you manage to secure one that has a balcony that presents frontal views of the Mediterranean Sea, you're in luck! For those looking to completely unwind and relax, the hotel hosts a wonderful wellness centre that features an outdoor swimming pool and solarium. There are also massages and beauty treatments available as well, which will make you feel like a million dollars!
Things to See and Do in Sant'Angelo:
Immerse yourself in the ambiance of this small fishing village on a walk around it
Marvel at colourful and picturesque houses that overlook the sea
Check out the phenomenon of the volcanic dark sand beaches as well as other more traditional golden sandy beaches
Visit the magnificent Archangel Michael's church
Reinvigorate your soul at the Parco Termale Romantica thermal and wellness swimming pools
Take a cab boat to nearby islands from the small, local port
4. Forio – Where to Stay in Ischia for Nightlife
Forio is the largest town on the island, so if you are looking to party and generally enjoy evenings out this is where you should base yourself, as there are quite a few bars and nightclubs here.
By day there are plenty of tourist attractions you can visit too, as well as a number of stunning beaches. While there is also always some kind of event happening, which provides lots of opportunities to meet locals.
The port here has direct ferry connections to and from Naples, it also runs a number of boat tours to the surrounding islands, for those who are keen on exploring further afield.
Looking for a home away from home? Then this entire rental unit is a fabulous option. Located within the peace and tranquillity of a beautiful garden setting, that also features an olive grove and citrus food orchard, the property is one of the most romantic places to stay in Ischia.
Rooms here are furnished with a comfortable double bed which is the perfect place to rest after a busy day of sightseeing. The accommodation also has a lovely terrace, as well as a number of porches and flower-adorned courtyards to enjoy al fresco dining and sunset drinks.
Tucked away in one of the most picturesque corners of the islands, this fantastic Italian villa overlooks the stunning bay of S. Montano. Offering you a location that is close to the beach, as well as the Thermal Park Negombo, both of which are within easy walking distance, this villa has plenty of room for your family or groups of friends to holiday in comfort.
Boasting three bedrooms and four bathrooms the spacious property also features a delightful lounge, fully equipped kitchen, and well-maintained bathroom. It is also surrounded by beautiful gardens, which is a lovely place to stroll around.
Italy is known for the exceptional quality of its luxury hotels and this property is right up there with the top echelon of them. Offering a range of deluxe amenities, guests are presented with two outstanding à la carte restaurants, well as an elegant piano bar lounge.
The property also has an excellent outdoor swimming pool and sun terrace that showcases views across Naples, whilst its Thermal Spa and wellness centre is renowned for being one of the best in Italy. Rooms here are air-conditioned and elegantly furnished. For your privacy, they are also set in different parts of the property, most of which showcase views of the sea or gardens.
Things to See and Do in Forio:
Stroll around the charming port of Forio
Visit some of the area's stunning beaches
Explore the exhibits on display at the See Visconti Museum and Museo Civivo del Torrione
Stroll around the beautiful gardens of the Giardini la Mortella
Take in the magnificent structures of the Church of the Madonna del Soccorso and the Soccorso Church
Pamper yourself at one of the many thermal spas in the area.
Enjoy a meal at one of the many quaint restaurants around town
World Nomads' mission is to support and encourage travellers to explore their boundaries. They offer simple & flexible travel insurance, and safety advice to help you travel confidently.
They've been doing it since 2002 – protecting, connecting, and inspiring independent travellers just like you.
Get a quote below or read our in-depth review!
World Nomads provides travel insurance for travelers in over 100 countries. As an affiliate, we receive a fee when you get a quote from World Nomads using this link. We do not represent World Nomads. This is information only and not a recommendation to buy travel insurance.
As the number one place to go to for a relaxing Italian holiday, Ischia is one destination not to miss off any Italy itinerary.
Blessed with a fabulous coastal location, a rich history, and a number of notable landmarks there is plenty to entertain you during your time here.
As you can see, Ischia has accommodation options for every type of traveller, no matter what you are interested in or what your budget may be. I hope that this guide has helped you decide where to stay in Ischia for your next trip.
Did you find what you were looking for? Let me know in the comments!
And while you're planning your Italian adventure, it might be a good idea to think about travel insurance. You never need it until you don't have it, so make sure you travel with peace of mind and check out the best travel insurance deals.
---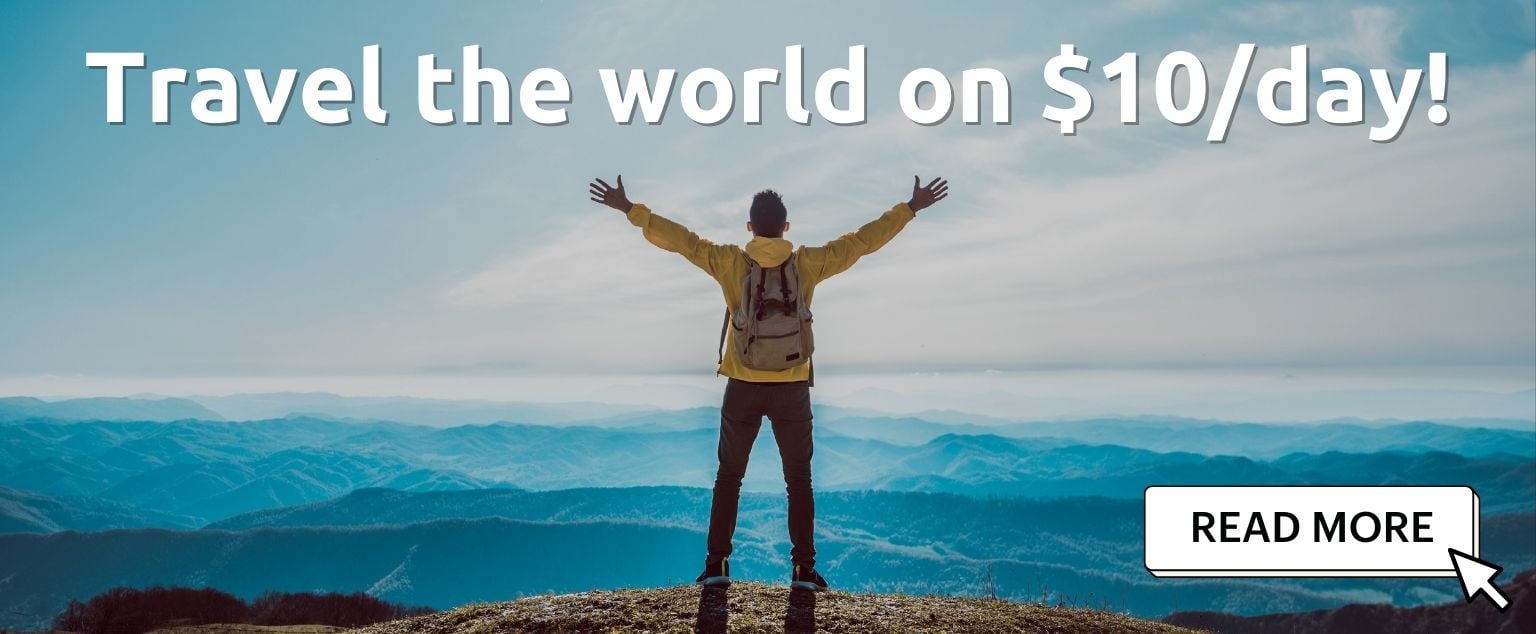 And for transparency's sake, please know that some of the links in our content are affiliate links. That means that if you book your accommodation, buy your gear, or sort your insurance through our link, we earn a small commission (at no extra cost to you). That said, we only link to the gear we trust and never recommend services we don't believe are up to scratch. Again, thank you!