Beautiful beaches, stunning nature, and the most unforgettable people you'll ever meet during your travels – backpacking Brazil will have a special place in your heart. The amazing country is drawing in backpackers from all over the world and that's for a good reason. Brazil is a fascinating country, no matter where you go!
Yeah, it might be an intense place too, but that's also what makes it so enjoyable. Backpacking Brazil can be an amazingly enriching experience!
Traveling through Brazil without a plan usually ends up in a little disaster. That's why my team and I created this Backpacking Brazil Travel Guide, filled with useful tips and tricks, itineraries, and the best of Brazil's hotspots. No matter your budget, this guide will help you make the most out of your trip.
Come with me amigo! Let's go backpacking through Brazil!
Where to Go Backpacking in Brazil
The first thing that people overlook when backpacking Brazil is the sheer size of it. Brazil is a huge country, and there is a ton to do there. Backpacking through South America is only complete with having spent some time in Brazil. A lot of travelers just spend a couple of weeks in the Southeast or Northeast. Those areas are totally worth seeing, and I have included itineraries for them. There is so much more to experience though!
States like Rio Grande do Sul, or Minas Gerais are so often neglected. Truly, they deserve our attention. I have crafted a few backpacker routes including some of these fringe destinations for those who are feeling more adventurous.
Of course, you can backpack the whole of Brazil, which would require months. Nevertheless, I doubt anyone will struggle staying so long in such a beautiful place!
Before discussing actual travel routes for Brazil, I'm going to briefly outline the manner of accommodation in Brazil. Much of the lodging will resemble the youth hostels in Europe. Some will feel totally different from anything you've done before.
Best Itineraries and Routes for Backpacking Brazil
Below are four itineraries that cover the majority of Brazil's attractions. The duration of these range from 2-6 weeks. The first two are very common backpacker routes and are a great way to see the best of Brazil. The last two itineraries are meant to show a different side of Brazil that few travelers actually get to experience.
Backpacking Brazil 2 week Itinerary #1: The North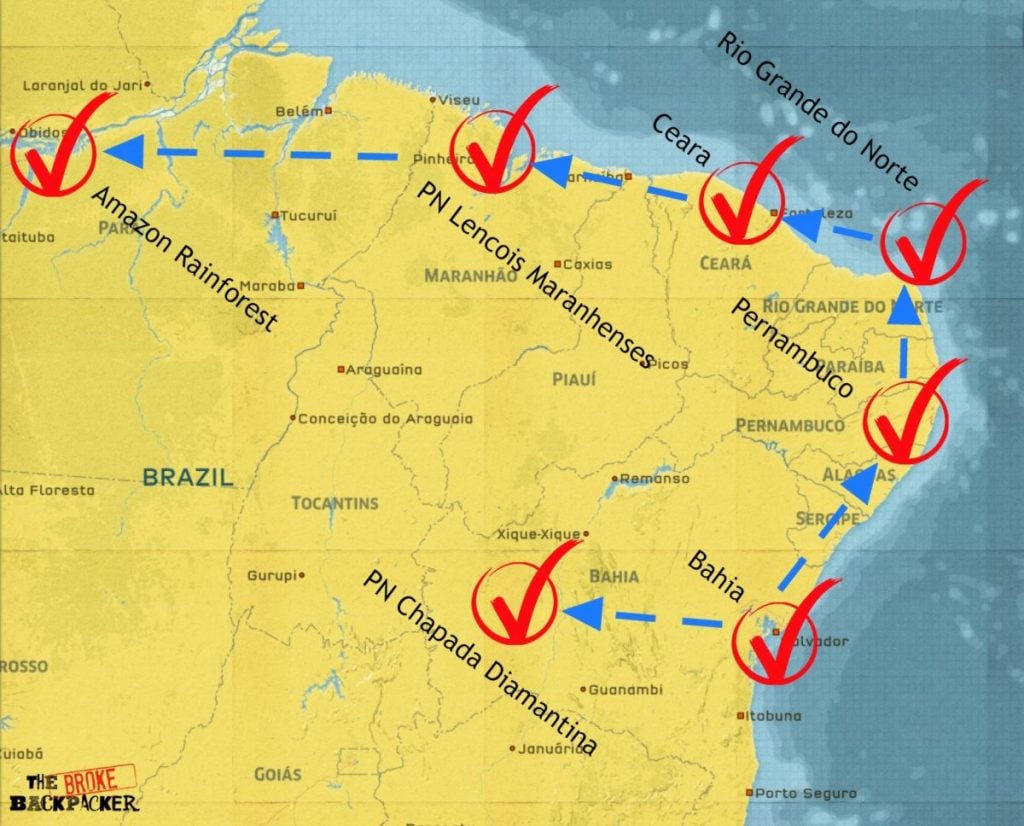 2 weeks: The North
With this itinerary, you're going to be seeing a lot of one thing: sand, the good kind that is! The northeast has some of the best beaches in Brazil. You're going to see the best of them!
Start off this Brazilian backpacking route in Salvador de Bahia, and dive into the colonial history of the city. A quick trip out to Morro de São Paulo will be a nice respite when you need it. After Salvador, head towards Chapada Diamantina for a little hiking and waterfall chasing. When you've had your fill of the outdoors, head back to Salvador and catch the first bus north!
Arriving in the state of Pernambuco, you will head straight to Recife. If you're not feeling the city though, you can head out to the beach towns of Pipa or Porto Galinhas for some fun in the sun. Making your way north towards Fortaleza, you'll have a chance to stop in Genipabu and Canoa Quebrada along the way as well.
Don't forget to stop in Jericoacoara and Lençóis Maranhenses either! These are some of the Northeast's greatest destinations.
Your final stop will be the Amazon Rainforest. Charter a boat in either Manaus or Belém and cruise up the Amazon River in style.
For those who want to make the ultimate beach trip, trying combining this itinerary with Brazil travel itinerary #1. Between the two, you're sure to see all the best beaches that Brazil has to offer.
Backpacking Brazil 3 week Itinerary #2: The Southeast
3 weeks: The Southeast
The southeast of Brazil is home to some of Brazil's most famous attractions! This 3-4 week itinerary will give you a taste of the big ones. There's a lot to see, so some backpackers may want to extend their trip.
This backpacking route through Brazil begins in glorious Rio de Janeiro. Enjoy the city beaches, and have a good time out in Lapa. Leaving Rio de Janeiro, you'll travel along the coast and experience the Mata Atlântica. Cariaco getaways, like Paraty and Ilha Grande, are hidden in this forest.
The next stop is sprawling São Paulo. Stare in awe at the vastness of the concrete jungle, and then party in the Pinheiros district.
You'll probably be feeling a little haggard after all those long nights out in São Paulo and Rio de Janeiro. How about some more beach time? Head to Florianopolis in Santa Catarina for a little R&R. Stop by Curitiba on the way there to see the gardens, and really decompress.
Once you've gotten your fill of Florianopolis, head back to Curitiba and catch the first bus to Iguaçu Falls. It's a long ride, but it'll be worth it. You'll sleep in Foz de Iguacu, and visit the park from there. Feel the power of the world's widest waterfall!
Finally, we head straight to Mato Grosso do Sul and the Pantanal. Stay in Bonito and take day trips out to the wetlands. You're sure to see wildlife there!
Backpacking Brazil 3 week Itinerary #3: History and Culture
3 weeks: History and Culture
Let's take a walk through Brazil's storied past. On this 3 week Brazil travel itinerary, you'll visit some of the country's most culturally significant attractions and sites.
Starting in Rio Grande do Sul of Brazil, you'll journey from Porto Alegre to the ruins of São Miguel das Missões. São Miguel was a Jesuit mission founded for the salvation of the Amerindian locals. Now it's a UNESCO Heritage site.
From Rio Grande do Sul we head north to Santa Catarina. Special attention will be paid to the German settlement of Blumenau and the Italian Joinville. The south of Brazil hosts one of the largest concentrations of European immigrants in Brazil.
After Santa Catarina, we continue north to Rio de Janeiro. Rio was once the capital of imperial Brazil. Over the passing years, Rio kept up with whatever was contemporary. For this reason, Rio de Janeiro is full of many different architectural styles. Also important is the city as a whole, which has been deemed a UNESCO Heritage site for its harmonious relation with the landscape.
Next stop is Minas Gerais. The mining towns of Ouro Preto and Diamantina cannot be missed! They are some of the best examples of colonialism in Brazil and are huge attractions.
Moving on from Minas Gerais and the past, we enter Brasília and the future. Brasília is Brazil's new capital, and full of utopian ideals. Take a walk up the "fuselage" of the city and see all the main sites. Try and imagine what the founders were thinking when they envisioned Brasília.
Finally, we head northeast and back to the origins of Brazil. Salvador and Olinda are both ground zero for the birth of Brazil. Inside them are wonderful examples of colonial architecture. It'll be hard not to stumble across something historical in either.
Backpacking Brazil 4-6 week Itinerary #4: The National Parks
4-6 weeks: The National Parks
See the best national parks that Brazil has to offer! This is definitely a side that only a few have experienced. Make no mistake either: this backpacking route can be a long one!
Start in Rio de Janeiro and visit the parks of Serra dos Órgãos and Itatiaia. Órgãos offers lots of climbing opportunities. Itatiaia is meant for more conventional hiking, through the Mata Atlântica and the highlands of Rio de Janeiro.
Next, catch the long bus to Iguaçu Falls. It's one of the most majestic sights in the world! After Iguaçu, head north to the Pantanal for some wildlife, and a chance to swim in the crystalline waters of the wetlands. Depart from Mato Grosso do Sul to Campo Grande and the northern Pantanal.
In Campo Grande, you will be able to visit the rugged highlands of Chapada dos Guimarães. Check out the awesome falls, and hike up to the top of São Jerônimo Hill for an amazing view.
From Mato Grosso, head east towards the state of Goiás and Chapada dos Veadeiros. Swim in the many rock pools, and marvel at the surreal geology. Keep heading east from Goiás and arrive at Chapada Diamantina in Bahia. Trek around the canyons, and see how many secret grottos you can find.
Leave Chapada Diamantina, and catch a flight in Salvador to the remote Fernando de Noronha. This is heaven! Trek around the islands and visit the many secluded beaches. Catch another flight back to the mainland, and then bus it to the surreal Lençóis Maranhenses. Wander among the bleached dunes, and take a dip in one of the many cerulean pools during the rainy season.
Finally, ride a boat through the Amazon Rainforest! Along the way, you'll visit the Parque Nacional do Jaú, which offers classic amazonian experiences.
Places to Visit in Brazil
Backpacking Rio de Janeiro
A cidade maravilhosa (the wonderful city) is what the locals say. It's actual name literally means "River of January." Rio de Janeiro. A city that seems blessed, as if that giant Christ statue on the hill was put there by God himself. There are so many things to do in Rio!
Rio is the capital of the state of the same name and is the most likely part of your travels. There are many interesting neighborhoods in Rio, each of them with a different vibe. The CBD (Centro) itself is fairly uninteresting, except for a few museums. The nearby districts of Santa Teresa and Lapa are more noteworthy. Santa Teresa is a lovely artist's neighborhood, and Lapa is the place where you'll most likely end up partying.
The real action is in the south of Rio, where the beaches are located. The best hostels in Rio de Janeiro are here too. Flamengo, Botafogo, Leme, Copacabana, Ipanema, and Leblon run back to back to one another and form a substantial strip of sand. My personal favorite is Ipanema, which is the best beach by far. Be sure to hang around Posto Nove when you're there.
Rio is infamous for its favelas or "shanty towns." Some are pacified, and some are actively dangerous. You can visit a favela, like Rocinha or Vidigal, but you always need to check the state of the neighborhood. Power among gangs is constantly shifting. A favela may be safe one month and a warzone the next.
Be sure and visit other destinations throughout the state of Rio de Janeiro, like Ilha Grande, Paraty, and the national parks. Paraty is an old colonial town that specializes in the distilling of cachaça (Brazilian rum). Ilha Grande has some of the best beaches in the country.
Book Your Rio de Janeiro Hostel Here
Backpacking São Paulo
If there is one word to describe São Paulo, or Sampa, it's "sprawl." São Paulo is big. I mean really f*cking big. There are nearly twenty million people living in metropolitan area. You could walk around the city for weeks and come nowhere near seeing all of it. If you find your niche though, it can be hugely fun.
Due to its gross proportions, São Paulo is one of the most energetic and lively cities in the world. The art is unparalleled, the nightlife is never-ending, and action is constant. Luckily, the best parts of São Paulo are located in the central and western districts.
Downtown is the oldest part of Sampa. Walk around and admire the baroque, and neoclassical architecture that was thrown up by the founders. Check out Catedral da Sé, Theatro Municipal, and the Praça da República for examples of Sampa's stylistic diversity.
Next to Downtown São Paulo is the much newer, and more dynamic Western District. You'll find lots of São Paulo's best hostels here. Jardim Paulista is one of São Paulo's flashiest neighborhoods. There you can walk up the Avenida Paulista, which one of São Paulo's most important throughways. Pay a visit to Sampa's own Manhattan as well, which is conversely named Brooklin Novo.
The real reason to visit São Paulo is to be a part of the raucous social scene. A night in Vila Madalena and/or Vila Olímpia is a must. These neighborhoods are magnets for the young, the successful, and the passionate. Hell, anyone with a beating heart goes out for a good time in Madalena and Olimpia. Expect more pubs in the former, and clubs in the latter.
Book Your São Paulo Hostel Here
Backpacking Paraná
By the time you finish with Rio and Sampa, chances are you'll be looking for a more laid-back environment. Enter: Curitiba, the capital of Paraná. The city of Curitiba is a stark contrast to the rest of Brazil: composed, safe, and chilly – even snowy sometimes! Curitiba is recognized as one of the most innovative cities in the world, and has one of highest standards of living in Brazil.
Curitiba is most known for its lush public spaces. The Jardim Botânico is Curitiba's pride and joy, and resembles most the gardens of French royalty. Barigüi Park, Barreirinha Park, and the German Wood are other green spaces of interest. Visit one of the many parks, and take a moment to breath after all that ruckus in Sampa and Rio.
Once you travel this far south, you will notice that things begins to look increasingly European as well. Southern Brazil is where the vast majority of Europeans settled. German and Italian are the dominant heritages here. Aside from the urban spaces, look at the people, and see how their features begin to change.
Honestly, you'll probably be done with Curitiba in a few days. The rest of Paraná is lovely though, and deserves to be visited.
Book Your Paraná Hostel Here
Backpacking Santa Catarina
Rio has serious competition. The capital of Santa Catarina is Florianópolis, and it may be the closest thing to perfection. Florianopolis, or Floripa, is located on a large island connected to the mainland by a single bridge. Life in Floripa is very easy. The beaches are pristine, the pace is relaxed, and amusements are everywhere. Floripa can be more resort than city sometimes, but no really cares or notices.
Florianopolis areas can be broken down roughly into three sections: the North, Central, and South.
Northern Floripa is mostly developed, full of resorts, and the island's most popular nightclubs. Travel south towards Barra da Lagoa and things become less upscale. Barra is more laid back, and is the hub for most backpackers. Nearby Praia Mole is a beach popular with surfers.
West of Barra da Lagoa is Central Florianopolis where most of the offices are located. There's not much reason to hang out here, besides catching a bus.
The far south of Floripa is totally undeveloped. You can find beaches that are literally abandoned because they require a hike to get to. Lagoinha do Leste is the best example of this phenomenon. A two hour walk will give you access to one of the best beaches in the country. Odds are you'll be one of only a handful of people as well.
Do try to see the rest of Santa Catarina state though. Balneário Camboriú is a party city just north of Floripa. World famous Warung Beach Club and Green Valley are located just outside of BC.
Joinville is the largest city in the region, and predominantly Italian. Blumenau is a city of German heritage that hosts the world's second largest Oktoberfest.
Book Your Santa Catarina Hostel Here
Backpacking Bahia
Ask Brazilians where the "real" Brazil is, and they'll most likely say "Salvador de Bahia." Salvador is the current capital of the state of Bahia, and the former capital of the original Portuguese colony. The city is a treasure filled with remnants from the days of colonialism, and stories of Brazilian independence.
First: the touristy stuff. The historical district, called the Pelourinho, is a bit of tourist trap but still worth visiting. Be sure to see the important religious sites as well – the Cathedral Basilica of Salvador, Nossa Senhora do Rosário dos Pretos, and Nosso Senhor do Bonfim. Round out your long day sightseeing by catching the sunset at the Baía de Todos Santos. You can relax on the promenade, or ride the very popular Elevador Lacerda for the best view.
Salvador hosts the world's largest Carnaval celebration! Every Carnaval is different, but many say that Salvador's Carnaval tops even Rio's and Recife's. Bahian Carnaval is arranged in a giant parade. Floats/trucks troll the streets all night long surrounded by people dancing. Each truck forms a bloco, which is separated from the others by a rope that encircles the crowd. The effect is a giant, moving dance floor, forming one of the world's largest street party! You'll want to make sure to book your Salvador hostel well ahead.
Outside of Salvador you'll find plenty of natural beauty. Morro de São Paulo and Itacaré are wonderful beaches. Locals and tourists alike flock to these to relax and get away from the madness of the city.
Also worth seeing is Chapada Diamantina to the east of Salvador. This national park is one of Brazil's outdoor jewels, and worth visiting for a couple of days. See the Trekking section for more details.
Backpacking Northeast Brazil
You're in Northeastern Brazil now. Here, the climate and culture are distinctly different from the south of Brazil. Like Bahia, the ethnicity is predominantly African, the sun is almost always shining, and the beaches are abundant.
I'd love to speak about each of the northeastern states individually, but for the sake of time, I've combined them into one section. Most of these states will offer similar experiences. I'll point out certain exceptions along the way.
Pernambuco and its capital Recife are the first stops. Recife is one of the most historically significant cities in Brazil and offers amazing hostels for backpackers to rest their head.
The Old City and nearby Olinda are wonderful examples of Dutch and Portuguese Colonialism. Street walkers will notice the many canals that weave throughout the city as well. The locals have dubbed their city Veneza Brasileira (Brazilian Venice) because of these waterways. The city beaches of Reife are also fantastic.
Outside of Recife, there are lots of beach towns to check out. Porto Galinhas, Itamaracá, and Cabo de Santo Agostinho are all wonderful examples.
Next up is Natal and the state of Rio Grande do Norte. Natal is more laid-back city than Recife. The economy of Natal developed more slowly than the rest of the Northeast. What it lacks in vibrancy and historical significance, it makes up for with a higher quality of life and public safety. The beaches surrounding Natal are some of the best in the Northeast. Pipa and Genipabu are both loved dearly by Brazilians, for (what else?) the perfect sand and water.
Feel free to stop by the other states not mentioned in this section, including: Sergipe, Alagoas, and Paraíba.
Book Rio Grande do Norte Hostel
Backpacking Jericoacoara
Jericoacoara. The beach. The myth. The legend. For many unknown reasons, Jericoacoara is the promised land for backpackers and hippies in the north. I've known many backpacking Brazil who have travelled so far north based only upon a rumor. Upon arriving and discovering that this El Dorado does indeed exist, they quickly disappear into the depths of it's pleasures.
The fame of Jericoacoara isn't undeserved though. The beach is (obviously) fantastic. Time is seemingly non-existent. The streets are none to speak of – just white sand and stones. People lounge in hammocks that rise picturesquely out of the shallows. Ah, Paradise.
Aside from kitesurfing, for which Jericoacoara is famous for, there's not a whole to do here besides laying on the beach or maybe claiming one of those hammocks. You can walk around the nearby National Park as well as the Pedra Furada but neither of these take up more than a half day.
Those wanting to visit Jericoacoara will most likely pass through Fortaleza, the capital of Ceará and last big city in Northeastern Brazil. Fortaleza is not quite as clean as Natal, and not quite as rich as Recife. It's a bit behind in a lot ways compared to other big Brazilian cities, but it still has its charm. The performing arts – specifically comedy, and a local dance style called forro – are apparently quite strong in Fortaleza. The nightlife is also booming, but just be careful.
Book Your Jericoacoara Hostel Here
Backpacking Iguaçu Falls
Iguaçu Falls is not to be missed! It is truly one of the most awe-inspiring sights in the world.
Iguaçu Falls is composed of nearly 275 falls that range between 200 and 270 ft in height. It is the world's widest waterfall, and probably it's most engrossing. There are walkways that put you literally in the middle of the canyons where you'll be surrounded on three sides by waterfalls. You will get wet, and you will love it.
Iguaçu is actually split between Brazil and Argentina. Both sides will give you a different experience. The Brazilian side skims the edge of the falls and gives a better panoramic view of them. The Argentinian side traverses the top of the falls, and gives a more up-close and personal experience. From the Argentinian side you get to stare down into A Garganta do Diabo (The Devil's Throat), which is pretty fucking cool.
There's a hot debate about which side is better. I think they're both equally enjoyable. Note that if you want to see the Argentinian side, you'll have to go through the usual customs process.
Accommodation wise, you'll be staying in the sleepy town of Foz de Iguacu. The town pretty much serves only as a gateway for the falls. There's not much else to do. Find the right hostel though, and your stay could be a lot of fun.
Book Your Iguaçu Falls Hostel Here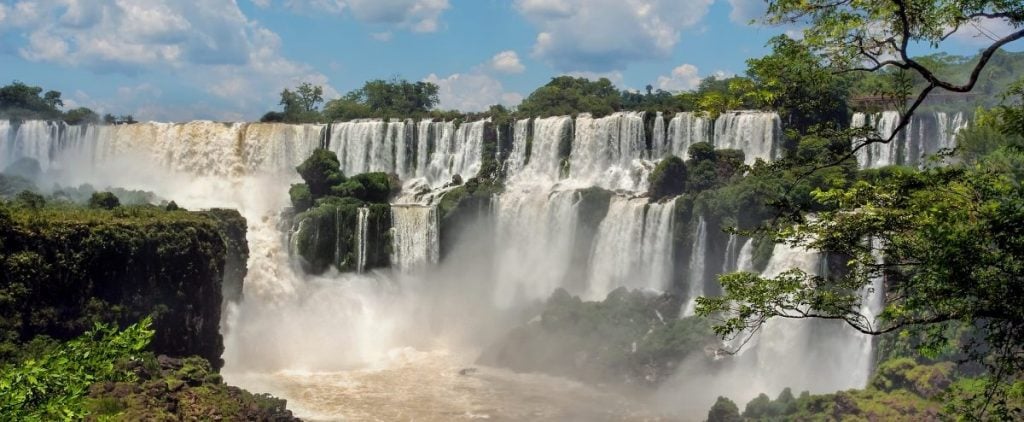 Backpacking Pantanal
The Amazon isn't the only place where you can spot wildlife in Brazil. In the south of Brazil, there is the Pantanal wetlands. The Pantanal is actually considered the biggest freshwater ecosystem in the world. The chances of seeing animals are huge here; reportedly even better than the Amazon actually. Local wildlife include capybaras, giant anteaters, rheas, jaguars, and lots more!
Given its size, there are several ways to access the Pantanal. The two most popular entryways are via Cuiabá of Mato Grosso, and Campo Grande/Bonito in the southern state Mato Grosso do Sul. Those coming from Iguaçu Falls will probably find Campo Grande to be a more convenient gateway.
Campo Grande is a large, modern city that is well-known for its cattle industry. Visit a local churrascaria for some grilled meats. Though Campo Grande gives access to the Pantanal, the real jewel is Bonito. Bonito is an eco-tourist destination that offers way more activities. Snorkel in the crystal clear Rio da Prata, or visit one of the local caves. Marvel at how blue the water is.
Cuiabá is a small but vibrant city, and very close to the northern Pantanal. There's actually a road, the Transpantaneira Highway, that runs directly into the Pantanal from the city. Motorists will be have lots of opportunities to see breeding and feeding grounds on the side of the road.
Cuiabá is also a very convenient base to explore the nearby national park Chapada dos Veadeiros. Veadeiros is a stunning area, known for its ecological diversity, unique geology, and stunning landscape. Rent a car in Cuiabá, and visit both the park and the Transpantaneira in a few days.
Book Your Pantanal Hostel Here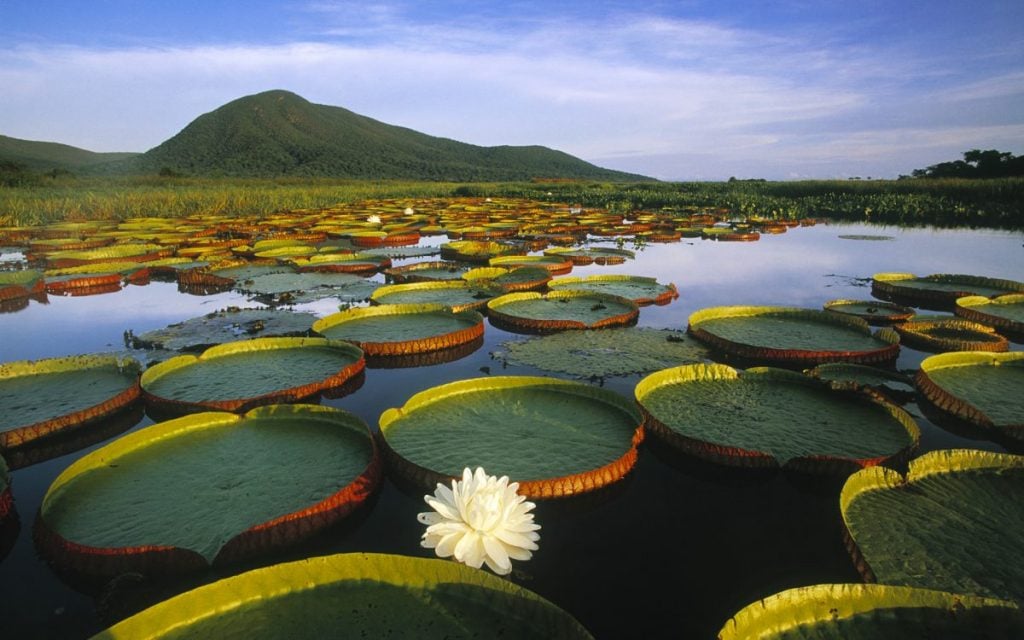 Backpacking The Amazon
The Amazon Rainforest is tied with the beaches as the most recognizable feature of Brazil. The Amazon is the largest rainforest in the world. There are reportedly over 400 billion individual trees there. That is more than fifty times the world's human population (7.6 billion). There are tribes of indigenous people that have never even seen white people before. You get the idea.
Navigating such a large area is no doubt daunting, but your main gateway is going to be Manaus. Belém is sometimes considered a jumping off point, but it's far east and closer to the coast. A boat trip from Belém to Manaus maybe worthwhile to some, as trips are reportedly quite lazy and relaxing.
From Manaus you can charter a boat to take you up the Amazon River. While cruising the river, keep an eye out for all of those critters you grew up reading about – the pink river dolphin, three-toed sloth, and piranha! The nearest national park is called Jaú, and it's located very close to Manaus.
You may even have the chance to try Ayahuasca while visiting the Amazon. This powerful hallucinogenic drug has long been used to purge users of toxic mental deficiencies. You can join an expensive healing lodge, or just hang out and wait for some to show up.
Adventurous folk can ride the rivers all the way to the borders of Colombia or Peru. Heading towards the former on the Rio Negro, backpackers will have the chance to stop and see Pico da Neblina. Neblina is the highest mountain in Brazil, and has a very distinct profile.
Book Your Amazon Hostel Here
Backpacking Minas Gerais
I never visited Minas Gerais and it's capital, Belo Horizonte, while I was backpacking Brazil. I have friends from here that swear it's the best city in Brazil though. They said it has the best nightlife in Brazil, and that I'd instantly fall in love should I ever visit.
Upon further research, I indeed learned that Belo Horizonte is the "bar capital Brazil." Thousands – twelve thousand, if you believe the local reports – of bars line the city streets, and every night they fill up. Locals come to just shoot the shit, and touch glasses. The scene must be a striking contrast to the hedonistic revelry found in Rio and Sampa.
I encourage everyone to visit Belo Horizonte. Don't make the same mistake of skipping it as I did!
Drinking aside, Minas Gerais is also famous for its colonial towns. Most are remnants from the days when the state was a center for the mining industry. Painstakingly preserved, these villages are a lovely journey back in time. Ouro Preto is probably the most famous of these villages. Tiradentes and Diamantina are also worthy destinations.
Book Your Minas Gerais Hostel Here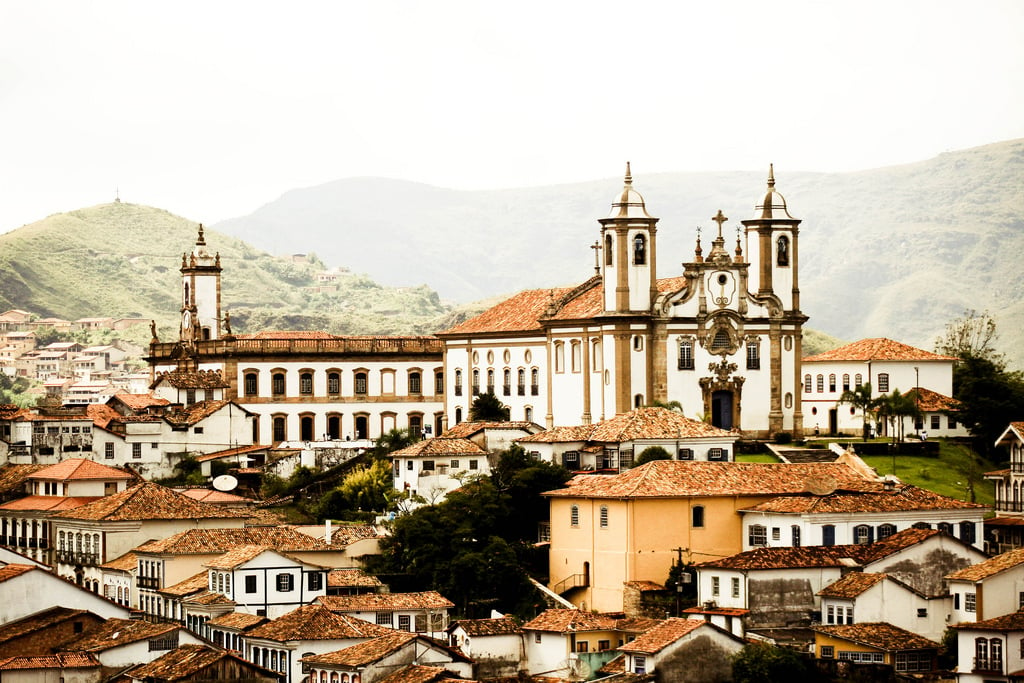 Off the Beaten Path Travel in Brazil #1 – Backpacking Brasília
The federal capital of Brazil is Brasília. A planned city, Brasília was only completed in 1960. It's completion was meant to be a message to the rest of world that Brazil was a modern nation.
The city is full of ultra-modern buildings. Famed architect Oscar Niemeyer designed several spectacular projects that have become some of the city's most recognizable sites. Examples are the National Congress of Brazil, Cathedral of Brasilia, and Palácio do Planalto. When viewed from above, the city looks like a bird or an airplane. Reactions to Brasilia's design range from "utopian" to "soulless."
Because of it's economically neutral position, Brasília is a little bit out of the way. Diehard fans of architecture, and those interested in Brazilian politics will enjoy Brasília for a few days. Those looking for a good time will probably think that the city is a waste of time though. Brasília is intensely professional, and most businesses close early. Nightlife suffers as such.
Off the Beaten Path Travel #2 – Backpacking Rio Grande do Sul
Few backpacking Brazil find a reason to visit Brazil's southernmost state, Rio Grande do Sul. Such a shame. It's capital Porto Alegre is one of my favorite cities in Brazil. It's a quiet place, and there aren't many attractions. Like Curitiba, Porto Alegre has one of the higher standards of living in Brazil.
But the people! Good lord, the people of Porto Alegre make the visit worth it. They are absolutely gorgeous. Close proximity to Argentina combined with the region's own immigrant history makes the genome of Porto Alegre the most European in Brazil. The people of Porto Alegre benefit from the best of both worlds: fuller figure from Africa, and more delicate features from Europe. Simply walking down the street will make you weak.
Admiration of the locals aside, there are a few other places to see in the state. Aparados da Serra is a cool canyonland to the north of Porto Alegre with lots of hiking opportunities. To the west, São Miguel das Missões is one of Brazil's most important heritage sites.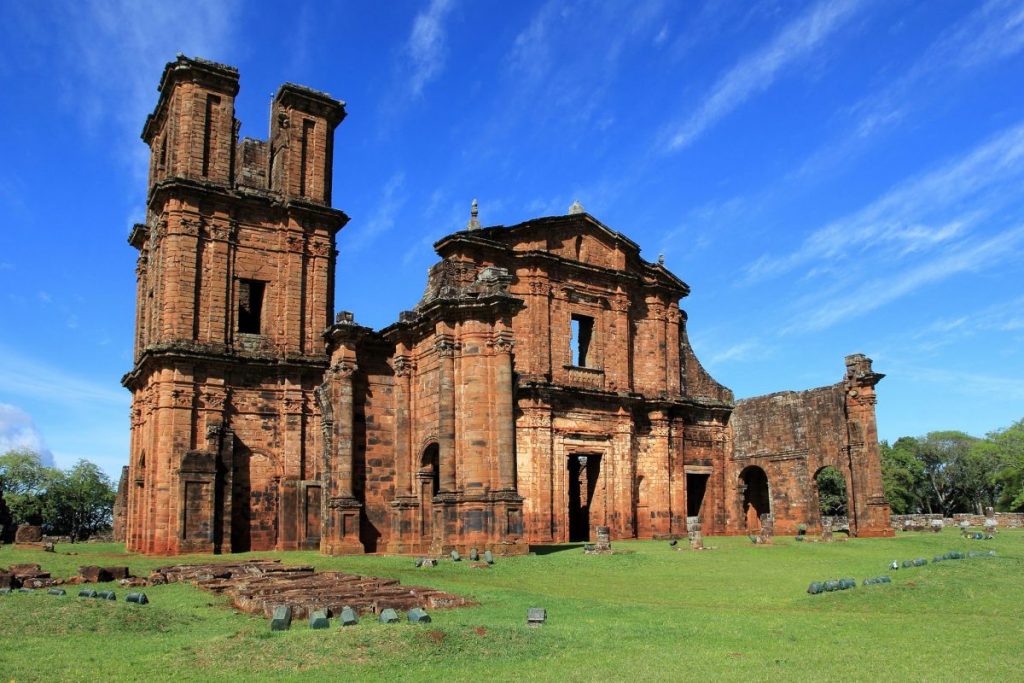 Off the Beaten Path Travel #3 – Backpacking Maranhão
The state of Maranhão gets little attention compared to it's southeastern neighbors. The beaches are not quite so nice, and the historical landmarks are not as grand as those in Ceará, Rio Grande do Sul, and Pernambuco. But Maranhão does have one BIG thing going for it: Lençóis Maranhenses National Park.
Lençóis Maranhenses is one of the most beautiful places in the world. The park mostly consists of bleach white sand dunes. The sands are worth seeing, but there's more. During the short rainy season of the region (May-September) the dunes fill with rainwater, and small landlocked lagoons are formed. From a good vantage point, it's a surreal experience; elegant sheets of sand (lencois means "bed sheets" in Portuguese) are painted with the cerulean colors of the lagoons. The scene definitely resembles a painter's easel.
Accessing Lençóis can be done via the capital of Maranhão, São Luís, or via Ceará. There is public transport from the latter but it's a long two day journey. Most people travel to Lençóis with private companies who have their own 4x4s. Note that, except for these tour operated 4x4s, there are no vehicles allowed in the park.
It is possible to trek in Lençóis Maranhenses, but definitely plan on doing it during the rainy season when there's water.
Backpacker Accommodation in Brazil
Hostels are very common in Brazil. Only in the most remote places will you need to resort to some other form of accommodation.
A good hostel should run you about $10-$15 in all of the major cities. You could find a bed for less than $10, but I would never pay more than $15 unless forced.
Many of the lesser-visited destinations – the beach towns, and especially the northeastern cities – will usually be cheaper. Also common in these places are pousadas. Essentially, a pousada is a local guesthouse, and these are fairly similar to others worldwide.
Note that all accommodation is subject to seasonal rates. This trend is very noticeable when backpacking Brazil. Rates could double or triple based on the time of year.
When you're in the wild, you'll have to find some other way to rest your head. Fazendas are local ranches that essentially serve as a guesthouse and a farm at the same time. These can be a lot of fun! Camps and lodges are very common in the jungle as well. Expect lots of these in places like the Amazon, Pantanal, and national parks.
Finally: be aware of the "motels" or moteis while backpacking Brazil. These are almost always exclusively used for sex, and most people only stay an hour or two, for obvious reasons.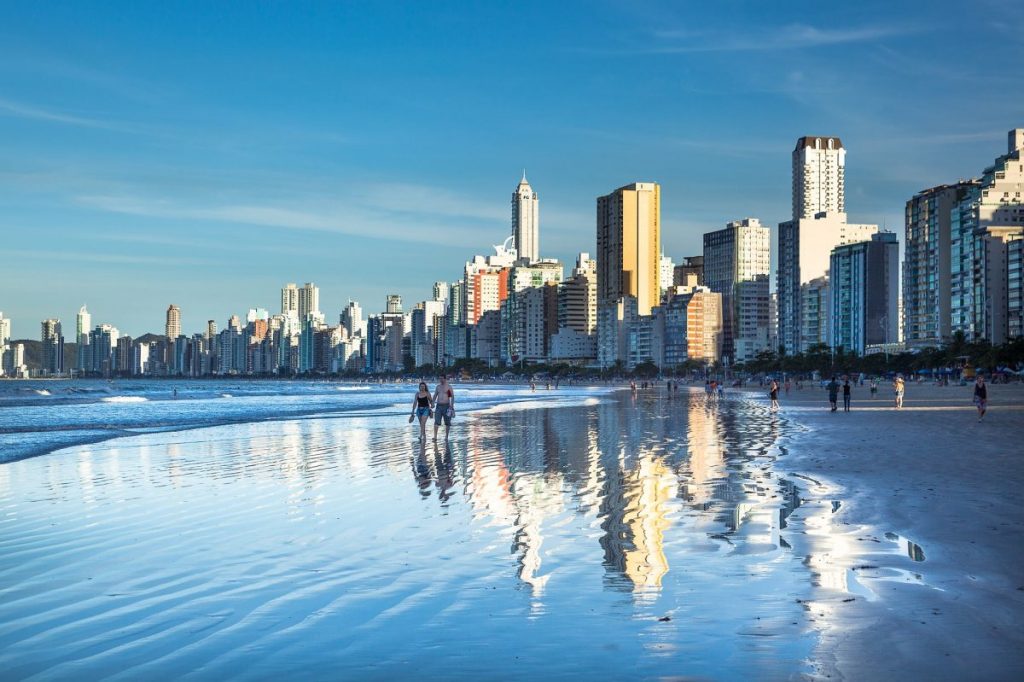 Top Things to Do in Brazil
1. Carnaval
Be a part of the biggest party on Earth! Nearly the entire country shuts down for a week while everyone gets their last kicks in before Lent.
2. Visit a National Park
Brazil's beaches get all of the attention, but its landscape is just as spectacular! Visit one of the national parks, and see a more rugged side of the country.
3. Fall in Love
Brazilian people are some of the most beautiful in the world! You'd have to be an amoeba to not feel a little flushed around these intoxicating people.
4. Play on the Beach
Brazil has more than 4,600 miles of coastline! Go surfing, swimming, play volleyball, and more while enjoying the massive amounts of sunshine.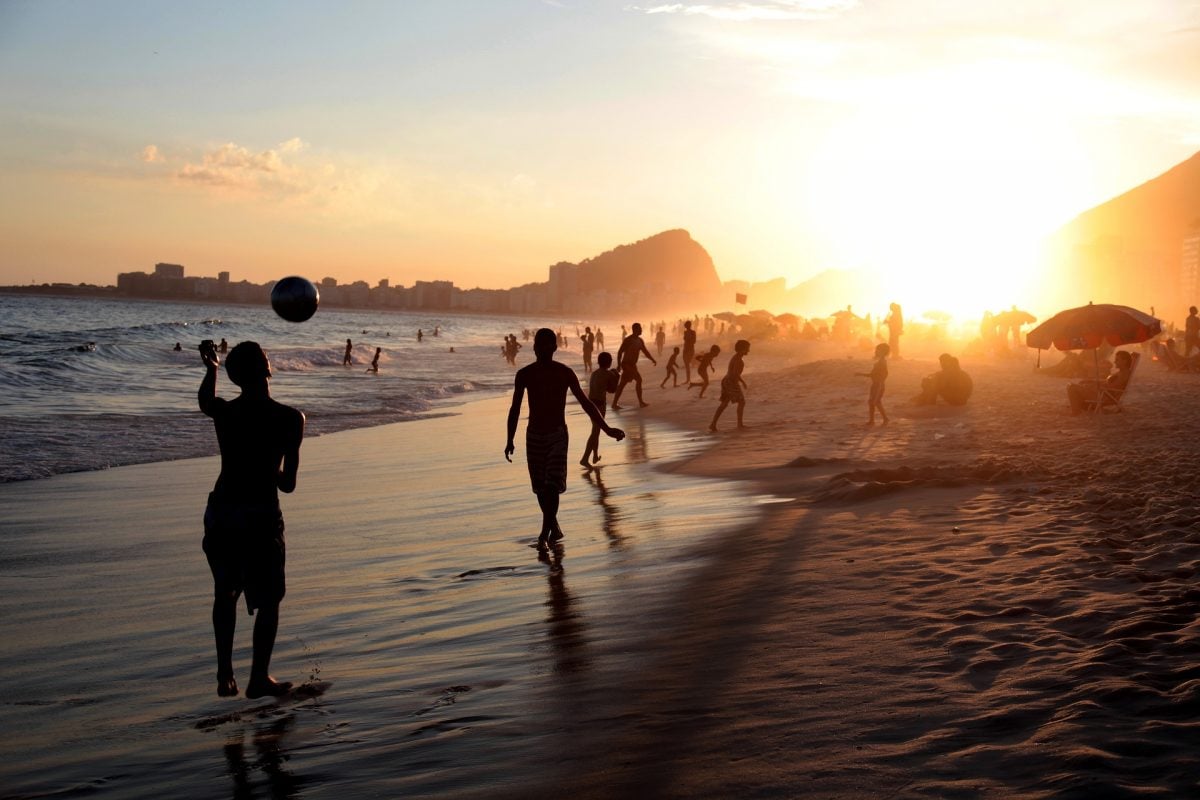 5. Drink a Caipirinha
Brazil's national drink is shockingly drinkable and deceptively strong. Grab a fresh one from the local barra.
6. Be Humbled by Iguaçu Falls
There are few sites in the world that are as mighty as Iguaçu Falls! Feel the power as tons of water spill over the edge and into the void.
7. Go to a Football Game
Brazil is crazy for football! Sometimes it can be a little too crazy, but that's what makes the experience so thrilling!
8. Visit the Amazon, or Pantanal
Brazil is not only home to the world's largest rainforest, but the largest wetland as well! You're guaranteed to see all kinds of unique wildlife between the two.
9. Learn Portuguese
Portuguese is a gorgeous language. Stick around the country for a while and learn a bit of it. You'll be one of the locals in no time.
10. Visit a Lesser-known City
Rio and São Paulo are great, but try visiting a lesser known city like Belo Horizonte or Porto Alegre. You may be surprised at how fun they are.
The Best Travel Backpack?!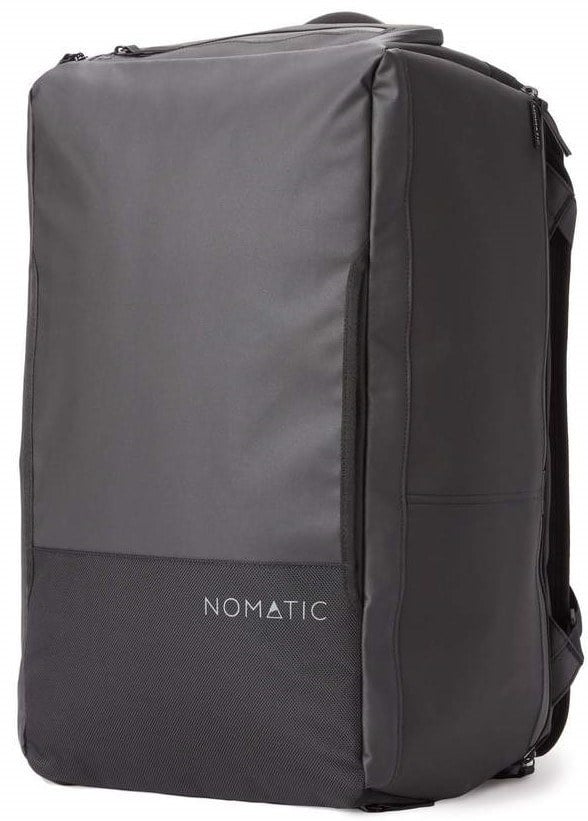 Pssssst! Not picked the perfect travel backpack yet? The Broke Backpacker team has tried out over thirty backpacks this year! Our favourite carry on backpack is the Nomatic Travel Bag.
Read our full review!
Brazil Travel Tips
Best Time to Travel to Brazil
Due to its huge size, Brazil has many different climates. Brazil can roughly be broken down into three basic categories though: South/Central, Northeast, and North.
1. South/Central Brazil Climate
Generally speaking, the southern half of Brazil receives most of its rainfall between November and March. This rainy season coincides with the southern hemisphere's summer. Each location will experience varying levels of precipitation, but you can pretty much count on getting wet during this time.
Though nearly every state in this region has a hot humid and summer, not everyone experiences the same winter. The southern states can be markedly cold in the winter. This is a relative chill though. People from Northern Europe or America will still feel very warm.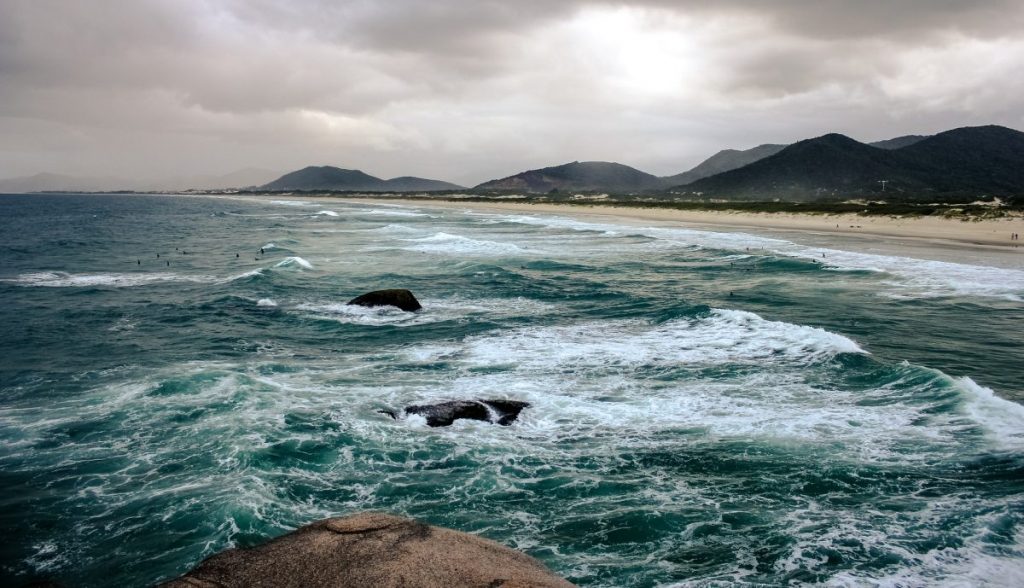 2. Northeast Brazil Climate
The Northeastern section of Brazil receives the majority of its rainfall between April and August. These are tropical rains. This means that it'll rain all at once – probably in the afternoon – and then go away, leaving lots of sunshine. Note that the temperature is very steady throughout the year in the Northeast.
If you leave the northeastern coast and travel inland, you'll end up in the sertão, or "Brazilian Outback." This is a desert and receives very little of the Northeast's tropical rain. Draught is a frequent occurrence in the sertão.
3. North Brazil Climate
The North consists mostly of the Amazon Rainforest. It pretty much rains all year in the Amazon. Some parts of the Amazon do see a more observable "dry season" between the months of July and December, but it still rains a lot. It is definitely hotter during the Amazon's dryer months as well.
Both seasons offer pros and cons. The Amazonian dry season has better access to trails and fewer mosquitoes. The wet season has easier river navigation and cooler temperatures. Depending on your preference, the north of Brazil can be visited year-round.
What to Pack for Brazil
On every adventure, there are six things I never go traveling without:
1. Security Belt with Hidden Pocket: I never hit the road without my security belt. This is a regular looking belt with a concealed pocket on the inside – you can hide up to twenty notes inside and wear it through airport scanners without it setting them off. This is hands down the best way to hide your cash.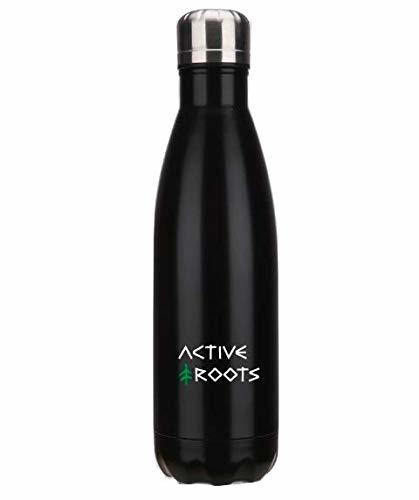 2.Travel Water Bottle: Always travel with a water bottle – it'll save you money and reduce your plastic footprint on our planet. AR bottle are tough, lightweight and maintain the temperature of your beverage – so you can enjoy a cold red bull, or a hot coffee, no matter where you are. For every AR bottle sold, we donate 10% to PlasticOceans.org – an initiative to reduce plastic in our oceans!
3. Microfibre Towel: It's always worth packing a proper towel. Hostel towels are scummy and take forever to dry. Microfibre towels dry quickly, are compact, lightweight and can be used as a blanket or yoga mat if need be.

4. Headtorch: Every backpacker should have a head torch! A decent head torch could save your life. If you want to explore caves, unlit temples, or simply find your way to the bathroom during a blackout, a headtorch is a must. Currently, I'm using the Petzl Actik Core rechargeable headlamp – an awesome piece of kit! Because it's USB chargeable I never have to buy earth polluting batteries.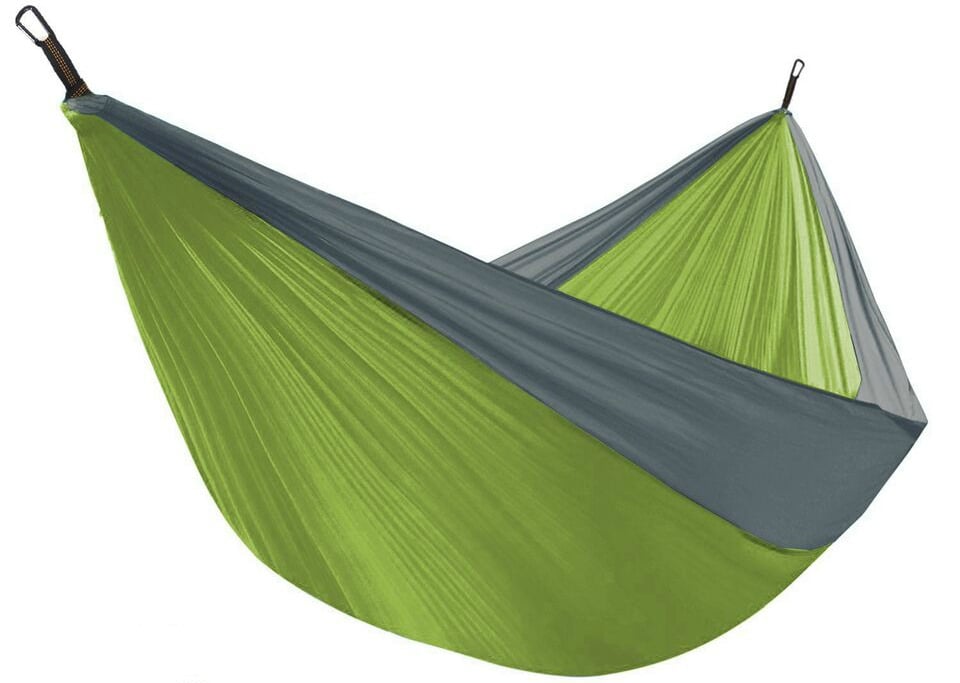 5.Hammock: Taking a tent backpacking is not always practical but hammocks are lightweight, cheap, strong, sexy (chicks dig hammocks) and allow you to pitch up for the night pretty much anywhere. Right now, I'm rocking an Active Roots parachute hammock – it's light, colourful and tough.
6. Toiletry Bag: I always travel with a hanging toiletry bag as it's a super efficient way to organise your bathroom stuff. Well worth having, whether you are hanging it from a tree whilst camping, or a hook in a wall, it helps to have quick access to all your stuff.
For plenty more inspiration on what to pack, check out my full backpacking packing list.
Look Awesome, Do Awesome!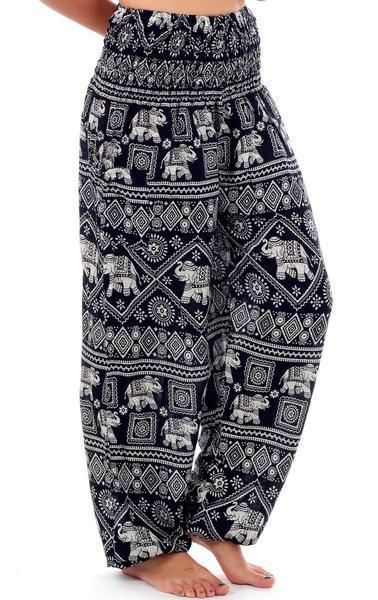 Want to embrace the hippy backpacker style and look?
Active Roots hippy trousers
are chic, comfortable and perfect for yogis, backpackers and adventurers alike. Help us
support the elephant conservation centre in Laos!
10% of your purchase goes towards saving the Asian elephant population so you can look awesome, feel awesome and do awesome - all at once. Pretty fucking awesome right?
Use the code ' TBB10 ' for 10% off your order.
Books to Read on Brazil
The Backpacker Bible – Get it for free! Learn how to ditch your desk and travel the world on just $10 a day whilst building a life of long-term travel with an online income. To inspire and help the next generation of Broke Backpackers, you can now grab 'How to Travel the World on $10 a Day' for free! Get your copy here.
Brazil Lonely Planet – It's sometimes worth travelling with a guidebook. Despite Lonely Planet's history of selling out and writing about places they haven't been to, they've done a good job with Brazil.
Nine Nights – A brilliant ethnologist commits suicide in the Amazon and leaves behind seven letters. A mystery unfolds as the narrator seeks an eighth letter, and the truth.
Captain of the Sands – One of Brazilian legend Jorge Amado's finest novels. Follows a group of young boys surviving the streets of Bahia. This is the Brazilian Lord of the Flies.
Dom Casmurro – A classic in Brazilian literature. Tells the story of Benito Santiago, who believes that his wife is cheating on him, and that is son is illegitimate.
The Alchemist – One of the ultimate travel novels! The author, Paulo Coelho, is one of Brazil's most famous artists. Follows a Spanish boy's spiritual journey through Northern Africa.
Crow Blue – A young girl traces her rebellious family's lineage from Brazil to Colorado. Appropriately, author Andriana Lisboa is also a Brazilian native who now resides in Colorado.
Futebol Nation: The Story of Brazil Through Soccer – Explores the parallel development of Brazil as a nation, and of it's favorite pastime: football.
The Slum – Another tour-de-force of Brazilian literature. Reveals intimate details of Brazilian poverty through the telling of two different tales
The War of the End of the World – A novel about the town of Canudos, a place with no laws or limits. Illustrates the history, revolt, and passions of South America.
Brazil Travel Phrases
People often make the mistake of thinking that Brazil speaks Spanish, much to the ire of the locals. Brazil was a part of the Portuguese Empire. Brazil speaks Portuguese, not Spanish. It is very important that you don't get this twisted. Brazilians can't stand it when you confuse their language with Spanish!
Portuguese is a gorgeous language. It's Latin based, and the written form does look a lot like Spanish. The pronunciation is very different though. Brazilian Portuguese uses a lot of nasal phonetics, and tends to blend sounds together in a sort of melodic tone.
Some people comment that spoken Portuguese can resemble singing. Others believe that the language sounds like a crazy blend of French, Slavic, and Italian. Such is the uniqueness of Portuguese.
Brazilian Portuguese is very colloquial, meaning that they use a lot of regional slang. Those who know Spanish and strictly European Portuguese may have trouble understanding Brazilians.
You may not comprehend their dialect, but if you can speak some Portuguese, the locals will really appreciate you. This is crucial to backpacking Brazil because English is rarely spoken, except by the educated. You will need to arm yourself with some key phrases. Here's a list of some of the most useful.
Bom dia/boa tarde/boa noite
– Good morning/afternoon/night
Tudo bem? – All good?
Meu nome é… – My name is…
Onde fica a banheiro? – Where is the toilet?
(O)brigado/(O)brigada** – Thank you
Até logo – see you later
Que saudades! – It's been so long (since I've seen you)!
Nenhum saco de plástico - No plastic bag
Nenhuma palha por favor - No straw please
Sem talheres de plástico por favor - No plastic cutlery please
Você fala inglês? - Do you speak English?
Quanto custo? - How much?
Valeu - Cool/thanks/cya
**Obrigado changes depending on the gender of the speaker. Men say obrigado. Women say obrigada.
Staying Safe in Brazil
Brazil is a safe country to visit right now if you keep in mind some safety concerns and plan accordingly.
People should still be cautious though. Take preventative measures when it comes to mosquitoes, in the case of Zika and any other mosquito-born illnesses.
Check out Backpacker Safety 101 for general tips and tricks to stay safe whilst backpacking.
Pick yourself up a backpacker security belt to keep your cash safe on the road.
Check out this post for plenty of ideas on ingenious ways to hide your money when travelling.
I strongly recommend travelling with a headlamp whilst in Brazil (or anywhere really – every backpacker should have a good head torch!) – check out my post for a breakdown of the best value headlamps to take backpacking.
Want to save the world? Single-use plastic bottles are a huge threat to Marine Life - Be a part of the solution and travel with a
filter water bottle
.
The GRAYL GEOPRESS water bottle is the ONLY all-in-one filter water bottle setup you'll need. Whether you need to purify the water from a hostel sink in Kathmandu or a stream trickle in the Andes, the Geopress has got you covered.
Sex, Drugs, and Rock n' Roll
If you've been paying attention to this guide, then it's pretty clear that Brazil loves to party. It's well-known, and obvious. If you weren't aware of this, see the Festival, Dating, and Food sections of this article for a recap. What we haven't discussed is how to party SAFELY while backpacking in Brazil. So, instead of talking about the irresponsible amount of coke and sex that you can have, I'm going to share some words of caution.
Taking Drugs in Brazil
South American drug dealers are notorious for cutting their product with lots of shit. They then sell this concoction to unsuspecting tourists who don't know any better. These mixes can really fuck you up. Be aware of who are buying them from. Maybe try and enlist the help of a local. Hostel staff, though apprehensive, will usually have your best interest in mind.
Don't ever go searching for a score on your own! You can easily wander into the wrong sector and be in danger. This means following a potential seller. A good example is the famous Escadaria Selarón. While the bottom of stairs is safe during the day, the top marks the division between the safe and dangerous part of the neighborhood at night.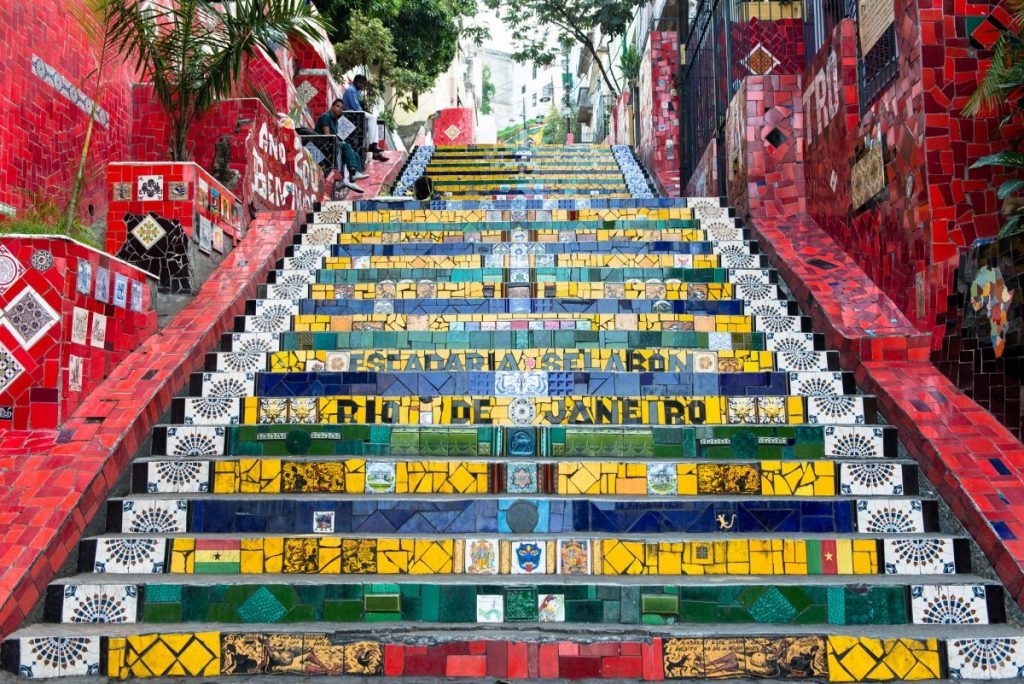 Drinking in Brazil
Criminals target drunks because they are easy targets. If you're of a paler shade (which most are compared to Brazilians) then they probably think that you're from a rich country too. By all means, drink and have fun; just don't be an idiot and put a target on your back. Having a buddy nearby to call you out on your shit is always a good idea.
Be aware that drinking is not as ingrained in Brazilian culture as in the rest of the Western World. Most of those backpacking Brazil can admit to going a little harder than usual as well. Brazilians may think you have serious problems if you keep taking those shots.
Drinking too much is also the quickest way to burn your cash. All of those beers and caipirinhas add up quick. Throw in some pô (cocaine) and drunchies, and you've just thrown away a lot of money. Saving all that cash on a bed and food was smart, but what's the point if you go and spend all the rest in one night?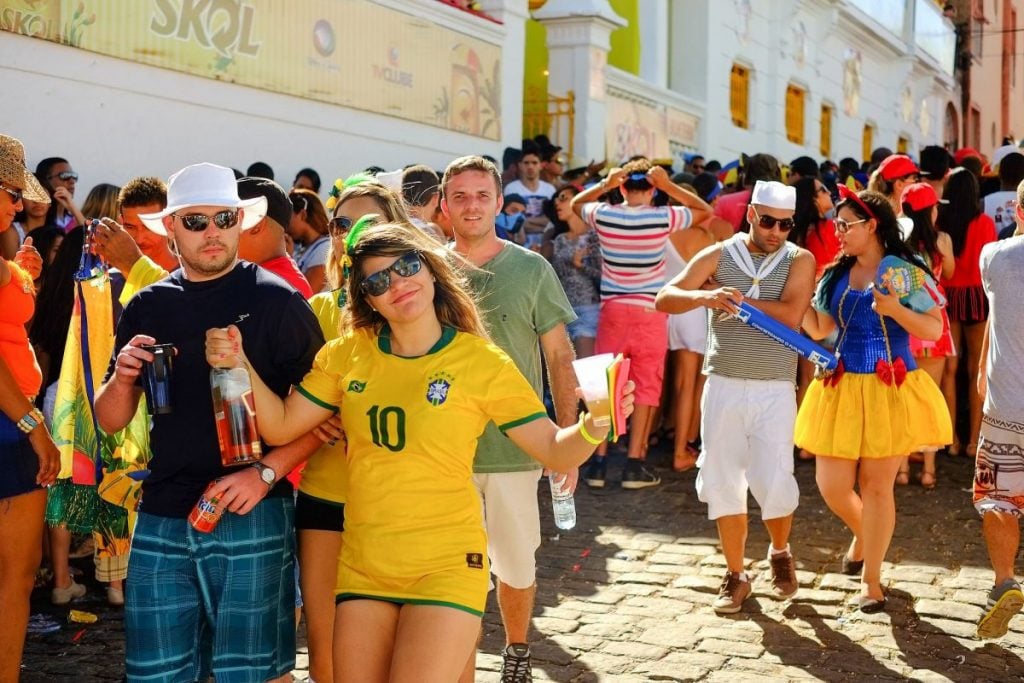 Prostitution in Brazil
Sex is one of Brazil's biggest exports. There are reportedly over a million prostitutes in Brazil, and they can be quite serious about their job. It's totally acceptable to enlist a lady of the night if you want. There are lots of risks involved with prostitution in Brazil though.
The HIV/AIDS epidemic has stymied in the last few years, but that doesn't mean the disease isn't completely eradicated. Prostitutes are still more likely to carry the disease. If you do lay with a hooker, please wrap your tool.
Also guard your things while staying with a prostitute. Sometimes, while you're knocked out from that wild ride, a hooker with an attitude will rob you blind and bolt. It's a common scam. It doesn't happen all the time, but be aware of it. Secure your belongings in a safe place, which you should be doing while backpacking around Brazil anyways.
Police in Brazil
These guys are underpaid, stressed out, and a lot of times just don't give a shit. A lot of them have become corrupt because they had no other choice. Now, I'm not saying that all policia are bad; there are always exceptions. I'm saying don't risk breaking the law, and dealing with the guy who's had a bad day.
Travel Insurance for Brazil
A wise man once said that if you can't afford travel insurance, you can't really afford to travel – so do consider backpacker insurance sorted before you head off on an adventure! Traveling without insurance would be risky. I highly recommend World Nomads.
I have been using World Nomads for some time now and made a few claims over the years. They're easy to use, offer the widest coverage, and are affordable. Also, this is the only company I know of that lets you buy travel insurance after leaving on a trip.
If there's one insurance company I trust, it's World Nomads. Find out why I recommend World Nomads, check out my World Nomads Insurance review.
Getting an estimate from World Nomads is simple – just click the button or image below, fill out the necessary info, and you're on your way!

Brazil travel guide to getting around
Arriving in Brazil
There are many ways to enter Brazil, by land and air. Almost every major Brazilian city has an international airport. São Paulo and Rio de Janeiro are the largest airports in the country, respectively. Chances are you'll probably fly into one of these.
You can fly directly to Brazil from pretty much every continent, with the exception of Australia. Note that plane tickets to Brazil can be quite expensive on average ($1000 round). Deals pop up all the time though. Look for cheap tickets after the Brazilian holidays are over in April.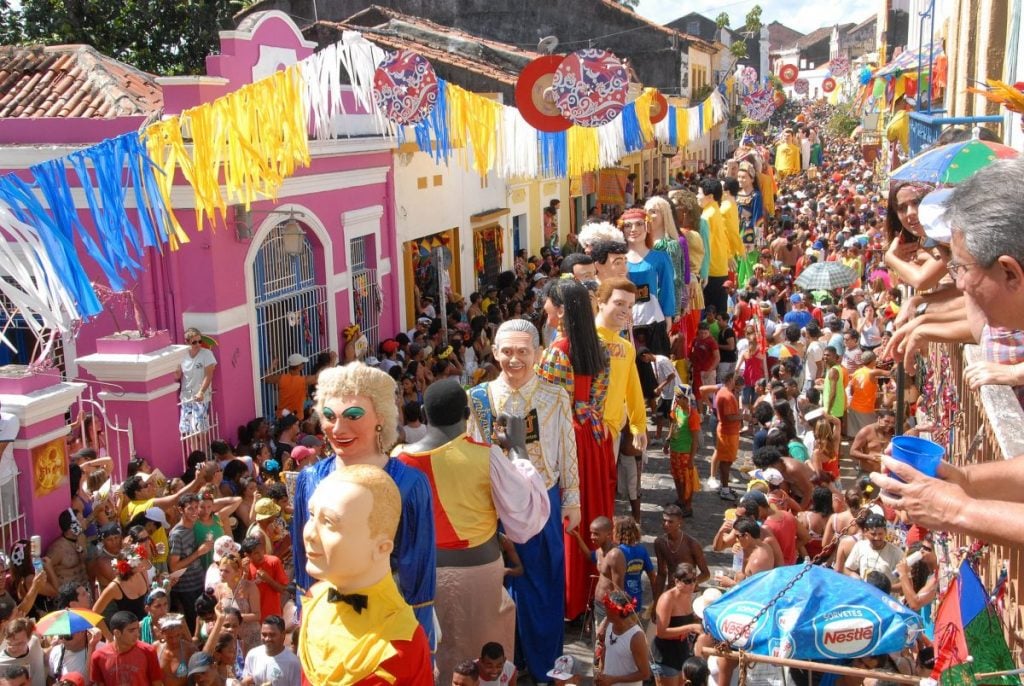 There are lots of ways to cross the border into Brazil. With the exception of Suriname and French Guiana – where there no roads – Brazil has one or more border crossings into every country that touches it. For those who aren't geographically aware: Brazil shares a border with every South American country besides Ecuador and Chile. This means you can start backpacking in Brazil from just about anywhere.
Note that travelling by road, especially by bus, can take a long time in South America. Journeying between capitals can take days.
Most of Brazil's border crossings are safe. The ones in the south are especially secure. Border crossings do become limited and tedious when you're in the Amazonas region, but the outposts shouldn't hassle you any more than usual. The Venezuelan border has become strict in the last few years following the nation's economic collapse. This increased security is mostly to control the influx of fleeing Venezuelan, so tourists shouldn't be targeted. Just know that process will take a little longer than usual.
Entry Requirements for Brazil
Depending on their nationality, visitors applying for a Brazilian tourist visa fall into one of three categories:
1) visa-free nations that require an ID card
2) visa-free nations that require a passport
3) nations that require a visa
Nearly every South American nation can enter Brazil visa-free with only an ID card. The exceptions are: Surinam, French Guiana, and Guyana. These nations require a passport, but not a visa. Aside from Venezuela, all South American nationals can stay in Brazil for up to 90 days. Venezuelans can only stay 60 days.
Many countries can enter Brazil visa-free with only a passport. Almost every European and Caribbean nation is included in this category. Some Asian and African nationalities are also included. Be sure to check your country's status.
Some nationalities unfortunately need to pay for a visa to enter Brazil. These fees are based upon reciprocity i.e. whatever your nation charges for Brazilians to enter, Brazil charges you. Depending on your nationality, the fees can also be quite high. Americans will have to pay $160 for a Brazilian visa that they receive from a consulate. Good news is that the length of stay is also reciprocal. Brazilian visas for Americans last 10 years.
Thankfully, Brazil has implemented an e-visa program in the last few years that has greatly streamlined the process. e-Visas for US citizens are now available too! These e-Visas are convenient, and sometimes cheaper. Before, you would have to visit the Brazilian embassy in person, and apply there. Now it can all be done over the web.
e-Visas are not available to every country though, so be sure and check the Brazilian immigration website.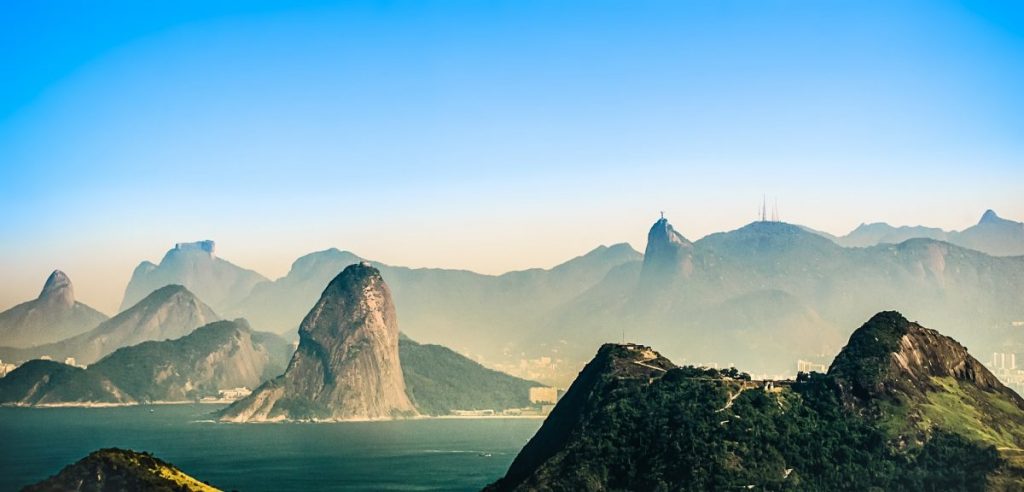 How to travel in Brazil
Buses are South America's bread and butter, and you can get just about anywhere with them. Journeys can be quite long (12+ hours) but most are very comfortable. The sleeper buses in particular are very nice. I slept through many a multi-day journey on these sleepers, and didn't feel inconvenienced at all. Long distance buses will of course have a bathroom, and stop for food every four hours or so.
Buying bus tickets in advance is highly recommended. Buses sell out much quicker in Brazil than other countries. Companies will sometimes charge you less if you book in advance.
For those who prefer shorter commutes, there are several local airlines that service the major Brazilian cities. Plane tickets will be more expensive though. When I was backpacking around Brazil, my impression was that tickets were overly pricey. These days, air travel is becoming more affordable though, so planes may be more realistic for newer broke backpackers.
Visiting Brazil? Don't risk having to sit on the floor or change your itinerary because you missed the last ticket at the station! Find the best transport, best time and the best fare with Bookaway. And why not use what you've saved to treat yourself to a cerveza helada on arrival?
It only takes 2 minutes! Book your transport on Bookaway now and guarantee your seat easily.
Hitchhiking in Brazil
Hitchhiking in Brazil is comparable to many other large, industrialized countries, risks and rewards included. Take the usual precautions, and use the same strategies. Note that Brazilian drivers do have a reputation for being reckless. You could also be mingling with dangerous types while waiting for a ride in the cities.
Onwards Travel From Brazil
As I mentioned earlier, Brazil shares a border with nearly every other South American country, apart from Chile and Ecuador. Note that when crossing borders you will need to have the following documents: a visa, proof of onward travel, and proof of vaccination.
If you want to start backpacking through Peru next, or take it even further to backpacking Argentina, then just make sure you're prepared with all necessary documents. If you're flying to your next destination, there might not be any issues. If you choose travelling by bus, it might be a bit cheaper, but being stopped and checked at the border is never fun.
Visas are either issued at the border, or are available as an e-Visa. Every passport has its own restrictions, so be sure to check with your government's website.
Some South American countries want proof of Yellow Fever vaccination. If you've received one, make sure to have the document with you for proof.
Providing proof of onward travel is sometimes enforced, and sometimes not. If you find yourself without an onwards tickets, chances are you'll be able to talk your way out of it. Being prepared though always makes things easier.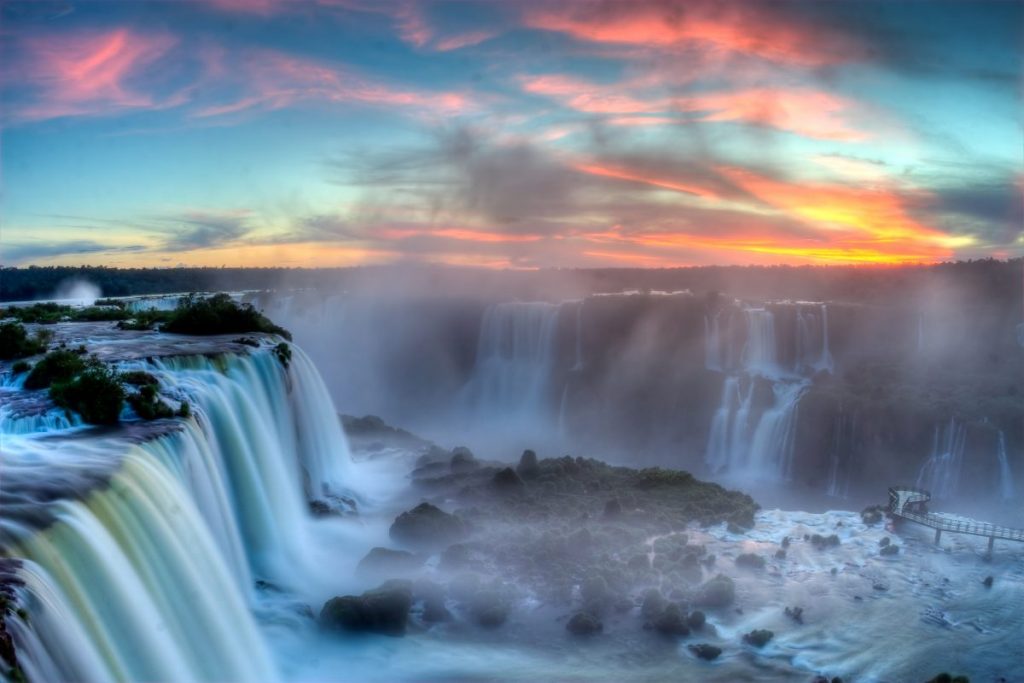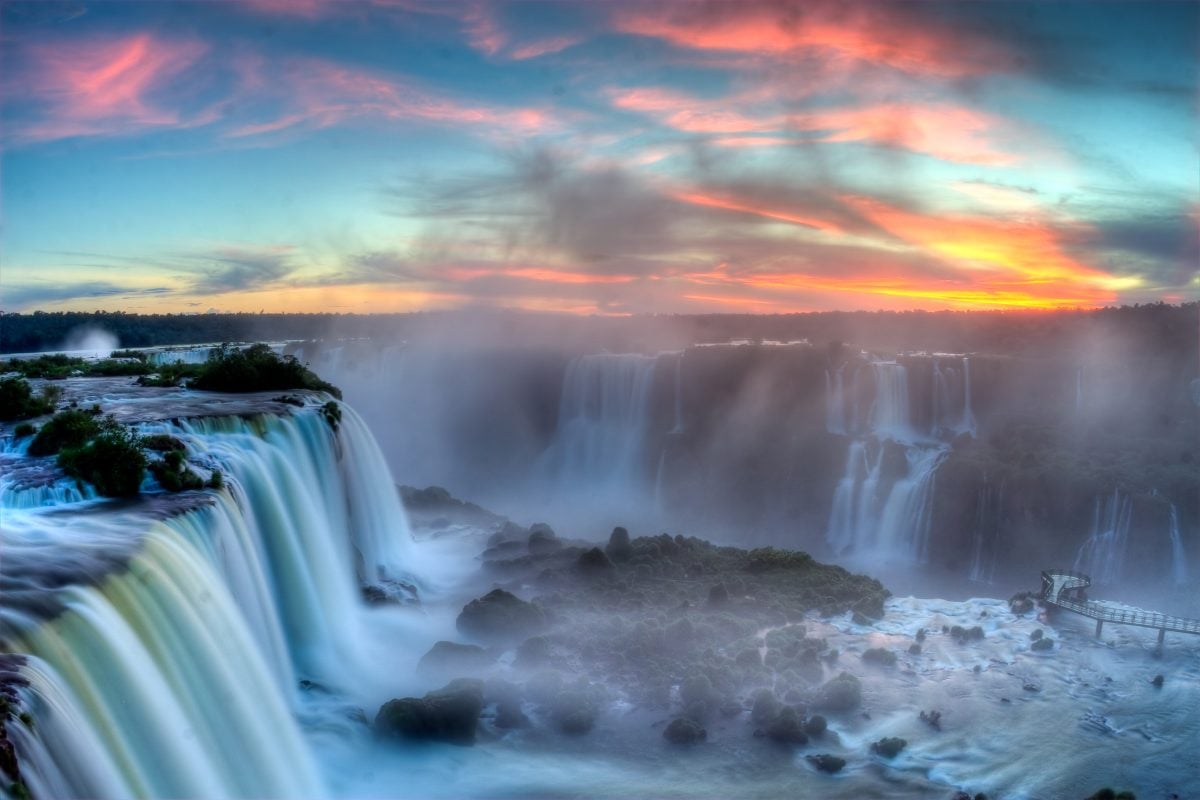 Brazilian Border Crossings

| Country | Crossings | Most Popular Crossing |
| --- | --- | --- |
| Argentina | 2 | Foz de Iguaçu/Puerto Iguazú. Relatively easy crossing to accommodate the mass of tourists. Be sure and check out the Three Borders Monument. |
| Paraguay | 2+ | Foz de Iguaçu/Ciudad del Este. Most people just use this border to visit the black market, and then return that day. |
| Uruguay | 2+ | Chuí/Chuy. Mostly used by surfers heading to Punta del Diablo in Uruguay. |
| Bolivia | 2+ | Corumbá/Puerto Quijarro. Kind of in the middle of nowhere. Four days in between La Paz and São Paulo. |
| Peru | 2 | Assis Brasil/Inapari and Tabatinga/Iquitos. First is a land crossing. Second is a river crossing. Both take forever. |
| Colombia | 1 | Tabatinga/Leticia. Amazon river crossing. Same station as river crossing from Peru. |
| Venezuela | 1 | Pacaraima/Santa Elena de Uairén. Difficult crossing following exodus of Venezuelans. |
Brazil Backpacking Costs
Daily Budget
By South American standards, Brazil is expensive to travel around. Day-to-day expenses can be limited fairly easily, but travel expenses will add up quick. If you're planning on seeing lots of Brazil, be prepared to pay for it.
Dorm Bed in a Hostel: $10-15
Small Basic Room for Two: $50-65
Short public bus ride (1 hour or less): $3-7
Long distance bus: $50-150
Set meal in a local restaurant: $4-7
Dinner in a western-style restaurant: $10-20+
Meal from a food stall: $1-4
Beer in the shop: $2-4
Bottle of water: $1-2
Activities and tours: $15-20 p/foreigner
Travel aside, those who want to go backpacking through Brazil with relative comfort should budget $40-$50 per day. That will get you a nice dorm bed, groceries, a meal in a restaurant, and some attractions.
Couchsurfing is a very reasonable option in Brazil, and I've heard lots of good things.
It should also be noted that prices in Brazil fluctuate heavily depending on the time of year. The peak season is between December and April when locals are gearing up for Carnaval, which is hwere your Brazil trip costs would be at the highest point. The price of a bed during the big holidays like New Years and Carnaval could triple or even quadruple. This effect is nationwide. Unless you are really keen to be a part of Carnaval (which is amazing), try to avoid these months.
Prices will fall dramatically around the end of April, and will be at their lowest for the whole year. July does see an uptick in prices again, as the Brazilian school holiday begins, but this is a brief period.
Money in Brazil
The real is the national currency of Brazil. As of February 2018, the official exchange rate is 1 real=0.30 USD.
ATMs are widely available throughout the country, and most charge a transaction fee for foreign cards. There are reports of people having their credit card information stolen at ATMs, but this can be avoided by exclusively using machines at official banks.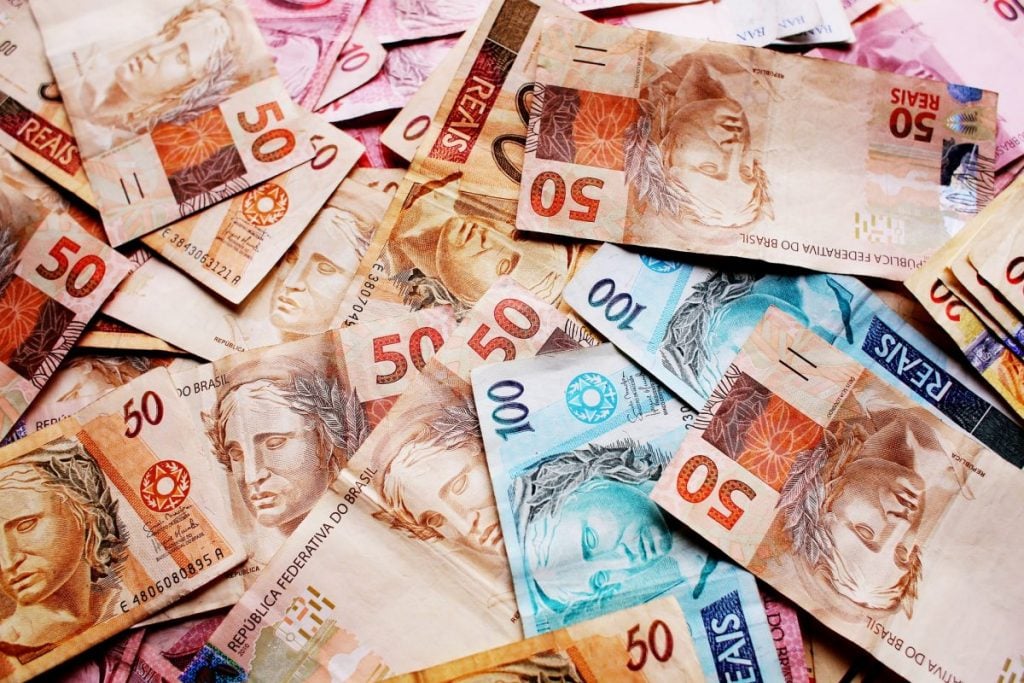 There are some remote parts of Brazil that have less cash withdrawal services or don't accept card. These locations are very remote though. It is always a good idea to have some cash on you, but don't take too much in the case of being robbed.
Robberies are very frequent in Brazil. To lessen the likelihood of being robbed don't flash a lot of cash in public spaces. Try and carry small amounts of cash on you, and spread them among multiple pockets. Be brief when flipping through cash. I've known people to actually carry a "dummy" wallet on them just in case a robbery should occur. As always, don't show off a lot of wealth, avoid wearing valuables, and be aware of your surroundings. Never resist if you're robbed. Most fatalities occur while doing so.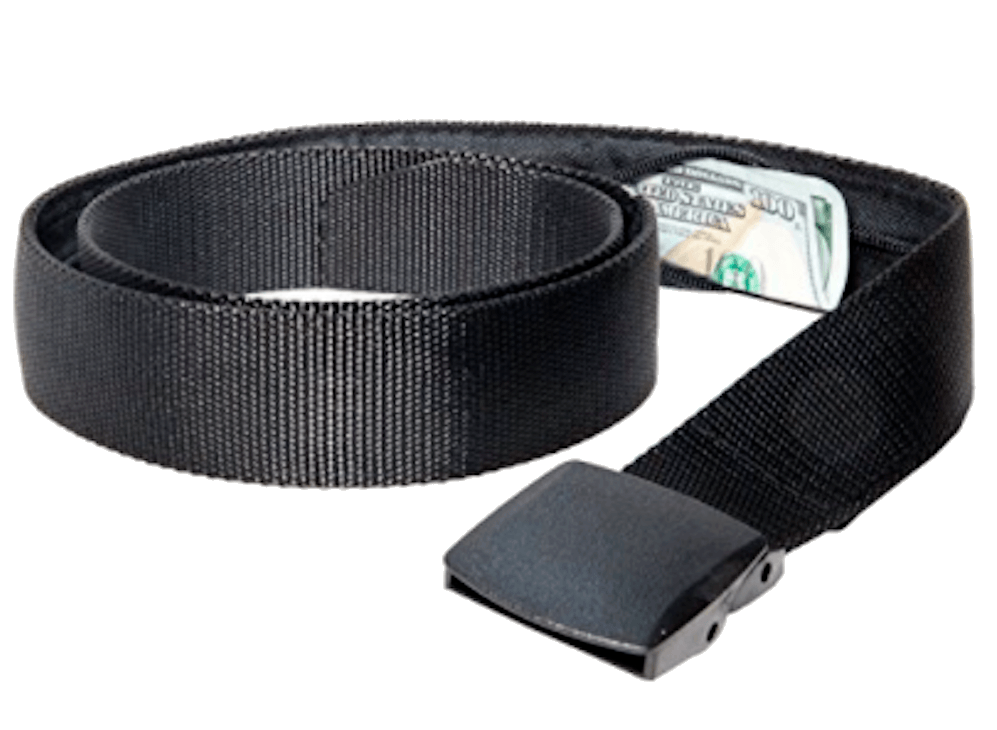 You should always have emergency cash hidden on you - pick up this awesome security belt with its hidden pocket before you travel, it's perfect for hiding money, a passport photocopy.
Top Tips for Broke Backpackers
To keep your spending to an absolute minimum whilst backpacking Brazil I recommend sticking to the basic rules of budget adventuring….
Hitchhike; In Brazil, it is relatively easy to thumb a ride. Hitchhiking is an ace way to keep your transport costs down.
Camp; With plenty of gorgeous natural places to camp, Brazil is a great place to camp. You can often pitch a tent for much cheaper than staying in guest house or for free all together. Check out this post for a breakdown of the best tents to take backpacking or maybe you prefer a camping hammock?
Eat local food; You can eat street hot dogs for next to nothing. If you're on a real tight budget; it's worth taking a portable stove – check out this post for info on the best backpacking stoves.
Pack a travel water bottle and save money every day!
To learn how to travel the world on $10 a day, check out the backpacker's bible.
Volunteer in Brazil
Long term travel is awesome. Giving back is awesome too. For backpackers looking to travel long-term on a budget in Brazil whilst making a real impact on local communities, look no further than World Packers. World Packers is an excellent platform connecting travelers with meaningful volunteer positions throughout the world.
In exchange for a few hours of work each day, your room and board are covered.
Backpackers can spend long periods of time volunteering in an awesome place without spending any money. Meaningful life and travel experiences are rooted in stepping out of your comfort zone and into the world of a purposeful project.
Worldpackers opens the doors for work opportunities in hostels, homestays, NGOs, and eco-projects around the world. We've tried and approved them ourselves – check out our Worldpackers in-depth review here.
If you're ready to create a life-changing travel experience and give back to the community, join the Worldpacker community now. As a Broke Backpacker reader, you'll get a special discount of $20. Just use the discount code BROKEBACKPACKER and your membership is discounted from $49 a year to only $29.
Joining an Organized Tour in Brazil
For most countries, Brazil included, solo travel is the name of the game. That said, if you are short on time, energy, or just want to be part of an awesome group of travelers you can opt to join an organized tour. Joining a tour is a great way to see a majority of the country quickly and without the effort that goes into planning a backpacking trip. However—not all tour operators are created equal—that is for sure.
G Adventures is a solid down-to-earth tour company catering to backpackers just like you, and their prices and itineraries reflect the interests of the backpacker crowd. You can score some pretty sweet deals on epic trips in Brazil for a fraction of the price of what other tour operators charge.
Check out some of their awesome itineraries for Brazil here…
Make Money Online Whilst Backpacking in Brazil
Traveling in Brazil long-term? Keen to make some cash when you are not exploring?
Teaching English online is a great way to earn a consistent income—from anywhere in the world with a good internet connection. Depending on your qualifications (or your motivation to obtain qualifications like a TEFL certificate) you can teach English remotely from your laptop, save some cash for your next adventure, and make a positive impact on the world by improving another person's language skills! It's a win-win! Check out this detailed article for everything you need to know to start teaching English online.
In addition to giving you the qualifications to teach English online, TEFL courses open up a huge range of opportunities and you can find teaching work all over the world. To find out more about TEFL courses and how you can teach English around the world, read my in-depth report on teaching English abroad.
Broke Backpacker readers get a 35% discount on TEFL courses with MyTEFL (simply enter the code BACKPKR), to find out more, please read my in-depth report on teaching English abroad.
Whether you are keen to teach English online or looking to take your teaching game a step further by finding a job teaching English in a foreign country, getting your TEFL certificate is absolutely a step in the right direction.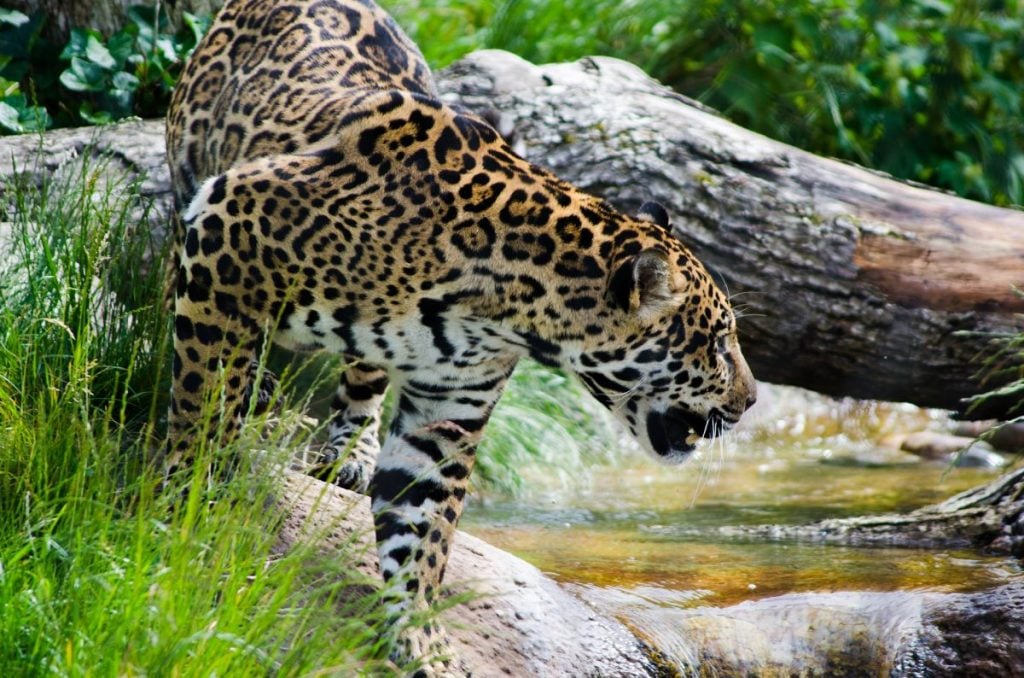 Internet in Brazil
Brazilians love the internet, in particular social media. In fact, Brazilians are one of the top 5 users of the internet in the entire world. For this reason, you should never have a problem accessing the web in Brazil. There's even internet in the jungle!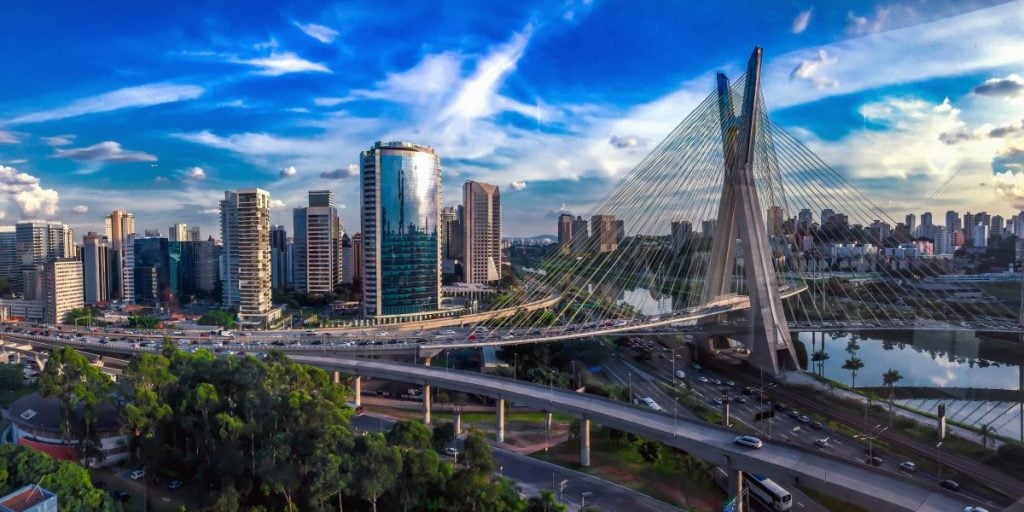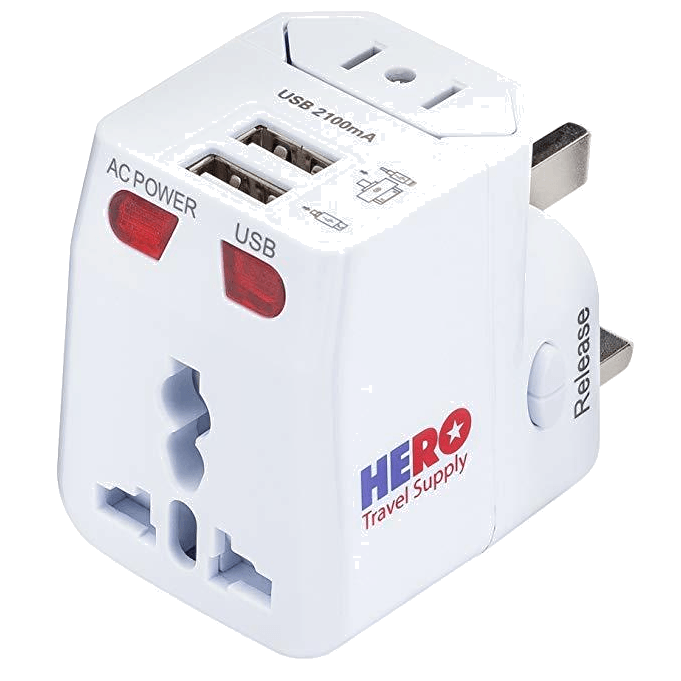 One of the best investments you can make is a
worldwide travel adapter
that will work anywhere! The one featured here is tough, reliable and a solid buy - Don't leave home without one.
GET IT HERE
Must-Try Experiences in Brazil
People in Brazil
There is something about the warmth of Brazil that goes beyond the weather. Brazilians are a famously lovely people. Expect them to be very up-front and touchy when having a conversation. Smiles will be abundant. Also expect very candid conversations. Brazilians love to share their deepest secrets with others, and have no shame in telling you how they feel.
Brazil is one of the most ethnically diverse places in the world. Every skin tone imaginable is present: black, brown, white, you name it. Brazil's breadth of color comes from its colonial roots. Fairer Europeans traveled across the ocean to the New World and settled into Brazil. They brought with them ebony slaves from Africa, and subjugated the local Amerindian people. Eventually, all of these cultures commingled and gave birth to a rainbow of offspring.
Diversity is sung in Brazil, and people are quite open about their race. Don't surprised to hear Brazilians cracking jokes about each other's ethnicity. Racism though is still an issue, and hateful behavior is never acceptable. There's a hazy line between bigotry and humor sometimes, so do yourself a favor and save the black jokes.
Having European roots, the Brazilian culture is actually quite western. There are some who argue it's place in Western society. In my opinion though, it's Western enough to warrant some worthy comparisons.
Brazil relies heavily upon an industrialized economy and workforce. In fact, more Brazilians live in an urban setting than North Americans – 87% vs 79%. It's safe to say that the Brazilian society is relatively modern. The Brazilian mindset is definitely in line with most of the developed world.
Dating in Brazil
Tanned. Black hair. Amazing bodies. These are just snapshots of one of the most beautiful people on earth. I was truly fortunate to have had the chance to hang with a particular Brazilian girl. We spent the day hiding from the rain, and the night following each other's fancies. It really made my time backpacking in Brazil extra special.
Brazilians are a sexual people. They've never been shy about flirting or making contact because it's not a shameful act in their culture. If a Brazilian likes you, you will know. They will make it obvious to you, and it is your job not to fuck it up. Kindly approach them, have a conversation, and see what happens. If they want to check into a motel: have fun. If they lose interest: better luck next time. C'est la vie.
If you've caught the fancy of a Brazilian, you must be aware of the nature of the relationship. Sometimes they want something long lasting. A lot of the time, it's just for fun. Commonly, Brazilians in a serious relationship will even see other people so long as their partner isn't present. They love their partner, but like to be sexually liberated. This is equally the case with men and women. The girls have just as much fun as the guys.
Food in Brazil
Traditionally, Brazilian food is a mix of European, Amerindian, and African styles. That being said, Brazilian cuisine is extremely variable. The food on your plate could be completely different depending on what region you're in.
Broadly speaking, each region will use more or less a specific culinary style. The Northeast will be lots of African food. The Amazon will have more Amerindian food. The Southeast will have more European food.
There are plenty of dishes though that seem to be known throughout the country. Here is a list of some important ones.
Popular Brazilian Dishes
feijão
– bean stew with meat and vegetables
acai – dark berry that is usually served pulverized
pão de queijo – cheese bread
Romeu e Julieta – guava paste in between cheese
coxinhas – meat croquettes
vatapa - creamy dish w/ shrimp, nuts, coconut
maracuja - passionfruit
pastéis - fried pastries
beijinho de coco - coconut truffles
churrasco - barbecued meats
Popular Brazilian Drinks
cachaça – distilled spirit made from sugarcane
caipirinha – mixed drink using cachaça, fruit, and sugar
cerveja – beer; famous brands include: Bohemia, Antarctica, Brahma, Skol
cerveja artesanal – craft beer; famous microbreweries include: Colorado, Baden Baden, DaDo, Wäls
Festivals in Brazil
Brazil likes to party. A lot. There is party of nearly every sort. Religious holidays. Cultural celebrations. Music festivals. Everything.
Here are a few that you should know about:
Carnaval (February/March) – The best party on the planet! Everyone is having as much fun as possible before abstaining for Lent. Rio, Salvador, and Recife host the most famous parties.
Festival Bananada (May) – Brazil's greatest alternative music festival. Represents folk, traditional, and many more genres. Held in Goiânia.
Festa Junina (June) – A great feast in honor of Saints John, Anthony, and Peter. Coincides with the Brazilian harvest.
Parintins (late June) – The second largest festival in Brazil. Celebrates tribal culture through the retelling of the famous story of Bumba Meu Boi (Beat My Bull). Held in the city of Parintins.
Festa do Peão (August) – Brazil's biggest rodeo. Celebration of all things cowboy and cattle. Even attracts famous American country folk like Garth Brooks. Takes place in Barretos, São Paulo.
Rock in Rio (September) – The biggest music festival in South America. Every single genre represented.
Oktoberfest (September-October) – Brazilian's own beer festival. Celebrated in the German city of Blumenau. Second largest Oktoberfest in the world.
Círio de Nazaré (October) – One of the largest processions of the Virgin Mary. Attracts more than a million pilgrims. Held in Belém.
Ultra Brazil (October) – Brazil's iteration of the famous electronic music fest. Hosts some of the world's most famous DJs. Held the Sambódromo of Rio.
Universo Paralello (late December) – Brazil's premier psytrance and psychedelic festival. Huge exhibition of art and music. Take place on the idyllic Pratigi Beach, Bahia.
Trekking in Brazil
Trekking probably isn't the first thing that pops into one's mind when they plan on backpacking through Brazil. It's a shame, because Brazil has some truly gorgeous trails spread throughout the country.
The best hiking opportunities are usually to be found in the parques nacionais (national parks). Brazil has over seventy national parks, so you should have plenty of options.
If you organize treks through tour companies, they will provide you with equipment. Bringing your own gear is always the best way to save cash though. Consider buying a tent and a sleeping mat, or ditch both by investing in a hammock. It will definitely be warm enough. A wilderness stove is also a good idea for that rice and beans.
Trekking Serra dos Órgãos, Rio de Janeiro
Large geological area located just north of Rio. Defined by picturesque spires that resemble organ pipes. Passionate climbers may attempt these challenging mountains, including the iconic Dedo de Deus (Finger of God).
Trekking Itatiaia, Rio de Janeiro
Oldest national park in Brazil. Good mix of rainforest (Mata Atlântica) and mountainous terrain. Hike up to the Prateleiras massif, or Pico das Agulhas Negras. Water lovers will enjoy one of many falls, including Poranga, and Maromba.
Trekking Aparados da Serra, and Serra Geral, Santa Catarina/Rio Grande da Sul
Twin parks created to protect the sensitive ecology of Brazil's southern canyonlands. Located in-between the states of Santa Catarina, and Rio Grande da Sul. Most impressive is Itaimbezinho. Hike either above the rim, or into the reaches via multi-day wilderness backpacking trips.
Trekking Chapada dos Veadeiros, Goiás
Huge waterfalls, and some of the oldest geology in the world. Latter is thought to have special properties. See the surreal Vale da Lua (Valley of the Moon), and picturesque Santa Barbara Falls. Hike via the park's two longest trails, Canyons (Canyons) and Saltos (Falls), for more encompassing experiences.
Trekking Chapada dos Guimarães, Mato Grosso
Dramatic highlands complete with waterfalls. Take a short trek to Guimarães' most recognizable falls, Veú de Noiva, or see several via the Circuito das Cachoeiras. Hike on the São Jerónimo trail for a complete panoramic view.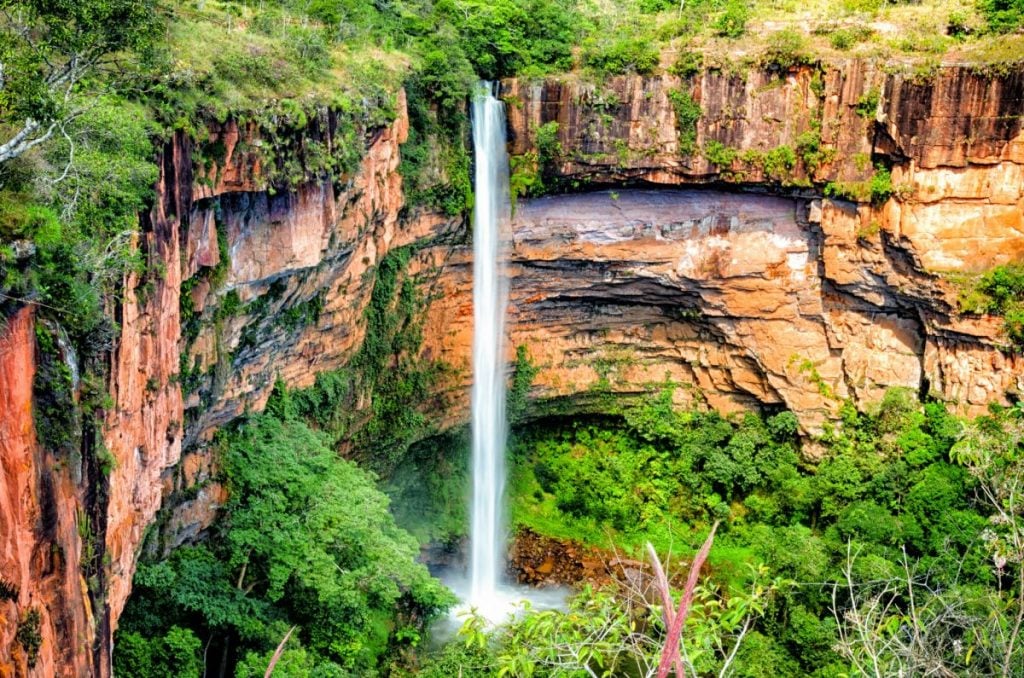 Trekking Chapada Diamantina
One of Brazil's premier outdoor areas. Consists of escarpments, waterfalls, and underground pools. Must see is one of Brazil's highest waterfalls, Cachoeira da Fumaça, and the perfectly blue water of Poço Encantado cave. Spend a few hours hiking up to Morro do Pai Inácio for a great view, or several days trekking into the Vale do Patí.
Diving in Brazil
Fernando de Noronha is the best place to go diving in Brazil. Noronha is an archipelago located about two hundred miles northeast of Recife in the middle of the Atlantic. Most arrive by plane, but there are ferries running during the high season.
There are lots of coral and sea caves to explore here. The coral isn't too bright, but the colorful tropical fish more than make up for this. Other aquatic creatures include dolphins, turtles, and the occasional whale shark.
Diving aside, Fernando de Noronha is one of the most beautiful places in Brazil. Many locals call it "the Hawaii of Brazil."
Because of its natural significance, Fernando de Noronha has been designated a national park. For that reason, the islands are very regulated in order to preserve the ecosystem. There are very few roads, and very few human settlements. Visiting some islands in the archipelago require permits. No matter where you go, expect high prices. Probably the highest prices that you'll find while backpacking Brazil.
A Brief History of Brazil
The history of Brazil dates long before the arrival of the Portuguese. For thousands of years, indigenous people – specifically, the tupi and guarani – inhabited this land. Unlike the Peruvian Maya, they were a nomadic people who moved frequently in pursuit of food and treasures, like the brazilwood, cherished for the red dye it yields. Most of these people died from disease brought by visiting Europeans. Many indigenous people never even met a European, though they still perished from their diseases.
Following the arrival of Europeans in the 17th Century, Brazil became a colony of the new world. The region was mostly controlled by the Portuguese Empire, though the Dutch held a few settlements in the north around Recife. For centuries to come, the Portuguese would fight with the Dutch, Amerindians, and revolting slaves. The discovery of sugar, gold, rubber, and other precious resources made Brazil a valuable place.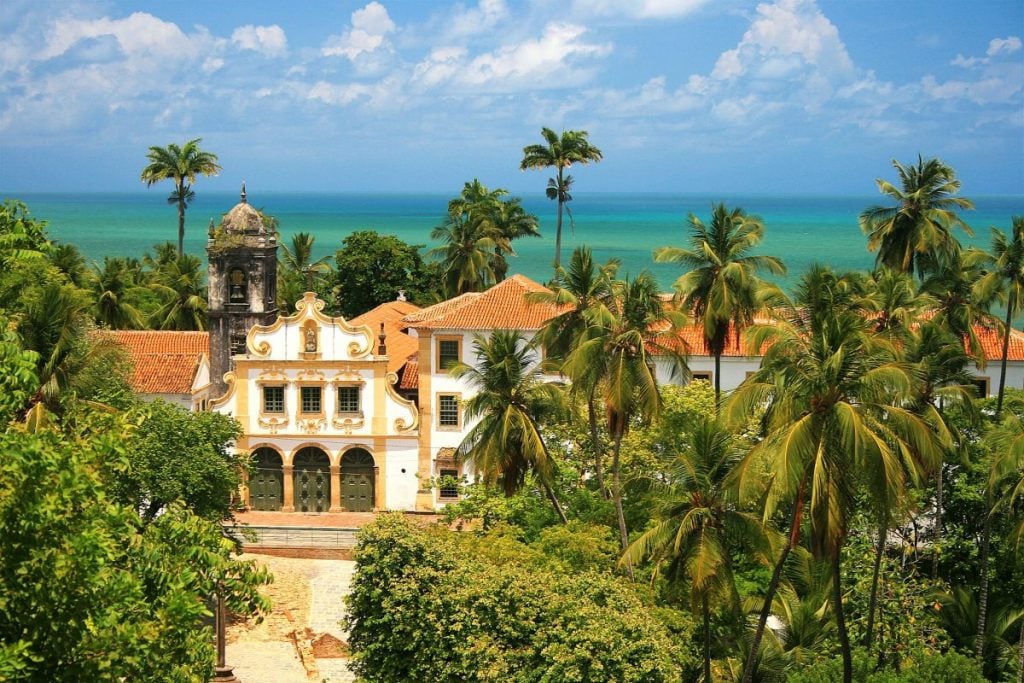 In 1822, Brazil became independent from Portugal. This iteration was labeled the Brazilian Empire, and included modern day Brazil and Uruguay. Slavery was widely practiced, more so than in the United States at the time. Over the next 150 years, Brazil would morph several times, from kingdom to republic to military dictatorship to what it is today.
Modern day Brazil is a democratic country. Years of imperialism followed by despotism have left Brazil a nation with much to consider. Though the nation is immensely rich, inequality is grossly apparent. Many have tried to reform Brazil for the betterment of the people, only to be setback by corruption and greed. Like many new world countries, Brazil is a question waiting to be answered. Can wealth and social equality coexist? Only time will tell.
Being a Responsible Backpacker in Brazil
Reduce your plastic footprint: Perhaps the best thing you can do for our planet is to make sure you do NOT add to the plastic problem all over the world. Don't buy one-use water bottles, the plastic ends up in landfill or in the ocean. Instead, pack a tough travel water bottle.
Go and watch A Plastic Ocean on Netflix – it'll change how you view the plastic problem in the world; you need to understand what we are up against. If you think it doesn't matter, get off my fucking site.
Don't pick up single use plastic bags, you're a backpacker – take your daypack if you need to go to the shop or run errands.
Bear in mind, that many animal products in countries you travel through will not be ethically farmed and won't be of the highest quality. I'm a carnivore but when I'm on the road, I only eat chicken. Mass-farming of cows etc leads to the rainforest being cut down – which is obviously a huge problem.
Recently, my gear-venture, Active Roots has started to sell water bottles. For every Active Roots water bottle sold, we donate 10% to PlasticOceans.org – an awesome initiative aimed at educating people on the risk of single use plastic and helping to clean up our oceans. Help save the planet, whether you take an Active Roots bottle or not – TAKE RESPONSIBILITY for your plastic footprint, don't be a dick.
Need more guidance? – Check out our post on how to be a responsible backpacker.
I think I've already covered most of the bases about being a good traveler while backpacking Brazil. Just remember: have some awareness when partying, don't assume the locals speak Spanish, and avoid racist comments. I'll also include my usual suggestion of don't be an asshole backpacker. Seriously, no one cares about how many people you've fucked, or about how much better your country is. Follow my advice, and you're golden.
Yay for transparency! Some of the links in this post are affiliate links. This means that if you book your accommodation, buy a book or sort your insurance, I'll earn a small commission at no extra cost to you. I only link to stuff I've actually used and never endorse crap. Your support helps me keep the site going.
---
Need More Inspiration?