Brazil is a pretty famous destination. With everything from the famed Carnival destination of Rio de Janeiro, a world wonder, the Amazon Rainforest, and a whole lot of culture and history, it is AWESOME.
That said, Brazil isn't always awesome. Crime in Brazil is a big deal. This country is just as famous for injustice, poverty, and favelas (slums) as it is for everything else. Violence, petty theft, dodgy Uber drivers, kidnappings are not rare.
You have every right to be sitting there wondering, "Ok, so is Brazil even safe to visit then?"
We want to help answer that question by providing a comprehensive guide to staying safe in Brazil. We have no issue with visiting destinations that may feel 'unsafe;' this just means that you need to travel smart.
This includes using your common sense when you're walking around cities as much as it includes understanding the local culture of a country. You may be worried about being a victim of crime in Brazil, and we are here to help you avoid that with a TON of safety tips.
Whether you are a solo female traveler thinking about a trip to this South American giant, or if you're wondering if you should be taking your family to explore the wonders that await in Brazil, don't worry – we've got you covered with our Amazon-sized guide to Brazil safety.
COVID-19 UPDATE
Whilst COVD 19 has not gone away, the world is opening up again to travellers. However, at this time Brazil remains blighted by the virus and travel is not recomended.
For the most up-to-date safety information and what you should be doing to help, please consult the WHO and your local government.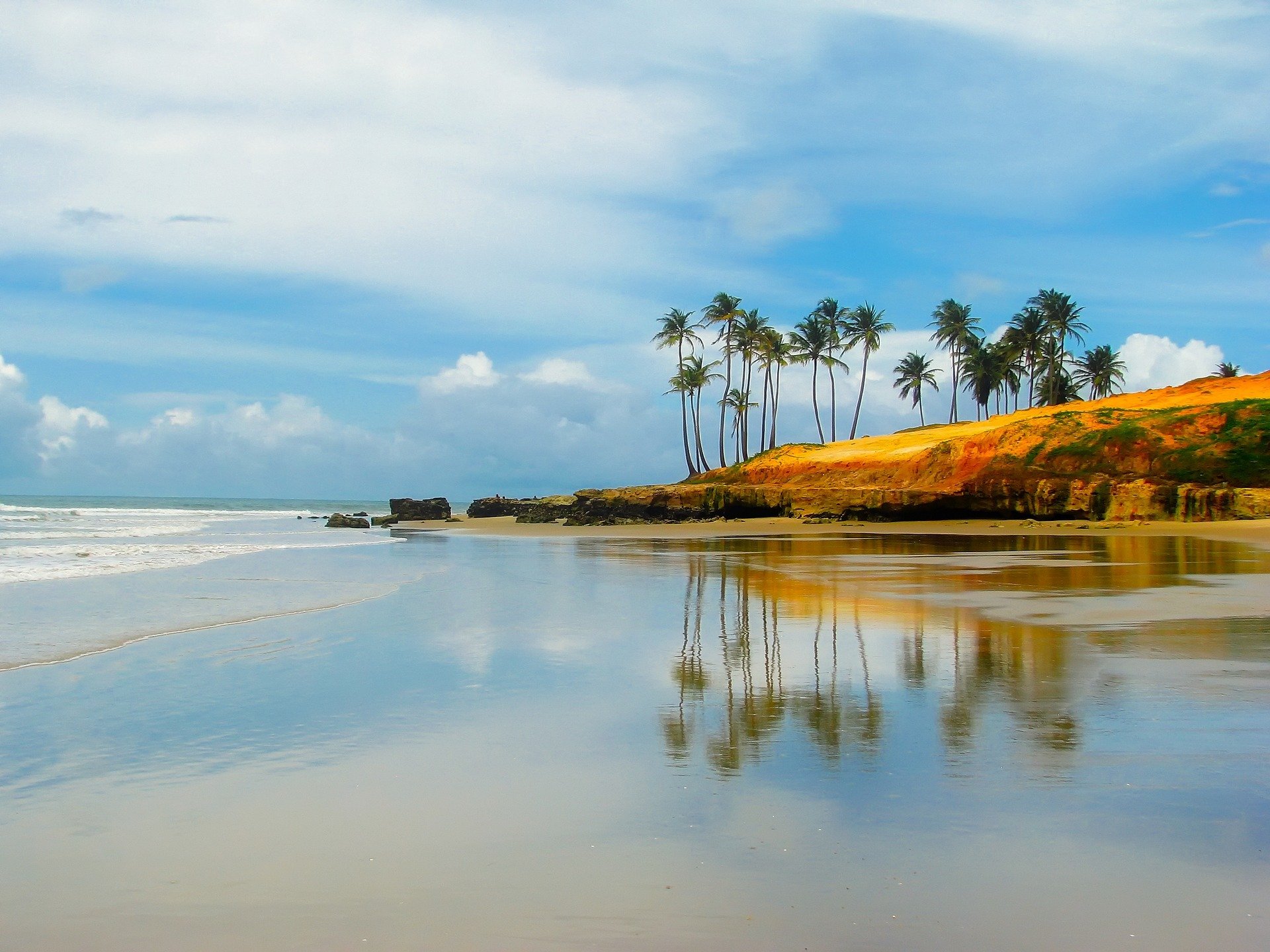 How Safe is Brazil? (Our take)
Brazil is perfect for backpacking and one of the coolest destinations in South America. The cities are famous for beaches, partying and vibrant culture, but Brazil is also home to the largest portion of the Amazon Rainforest. Biodiversity, anyone?
Brazil isn't what we'd call 'safe' though. Not really anyway.
There's A LOT of danger out there, people. Brazil has everything from untamed wilderness to a high crime rate. This means traveling to Brazil requires an extra bit of know-how.
Cities see a high level of crime, which means thefts, muggings, and clashes between gangs and police. You'll have to be ESPECIALLY vigilant during big festivals like Carnival, and around the favelas. The latter is essentially a shanty-town and can be very dangerous places.
We haven't even gotten to the natural disasters and dangerous critters…
Is Brazil Safe to Visit? (The Facts.)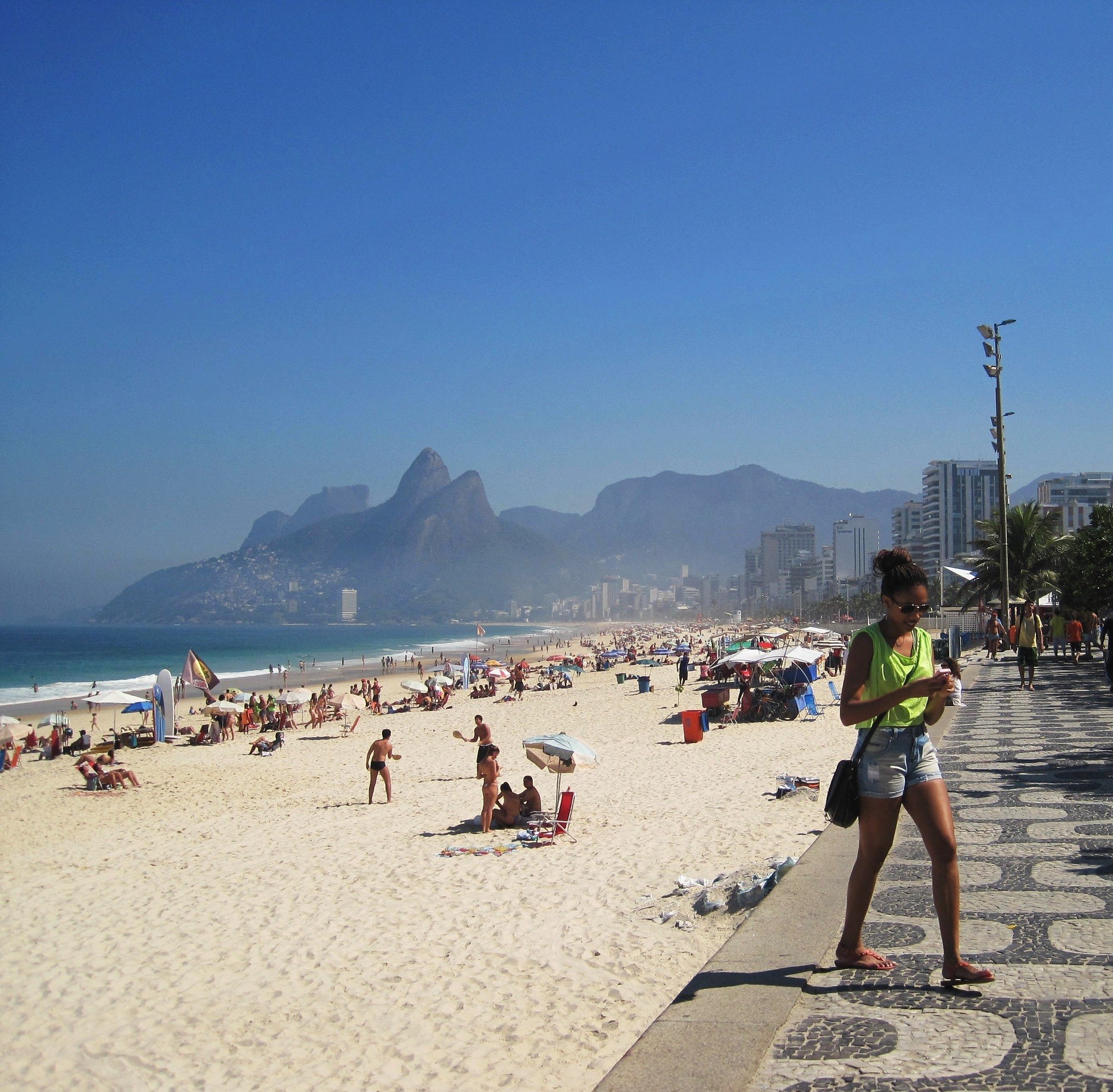 Whilst not exactly the safest country in the world, we would still say that Brazil is safe to visit. The visitor numbers sort of speak for themselves.
Tourism is growing each year and is a key part of the Brazilian economy. The 2016 Olympics, held in Brazil, boosted numbers to a record 6.54 million tourists. 2017, however, was an even better year: 6.58 million people visited the country.
It's one of the MAJOR South American destinations, and only second in the whole of Latin America after Mexico. Pretty popular.
The thing with Brazil though is that there is a high rate of violent crime. We mean robberies and murders.
According to the World Health Organisation, Brazil's homicide rate places it in the top 20 countries in order of most deadly. In fact, in 2017 there were a record number of murders – 63,880. That's a SCARY amount.
Brazil is an importer of cocaine and is part of an international drug trafficking route, so there are lots of gangs – and poverty – relating to that.
On the 2018 Global Peace Index, Brazil ranked 106th on a list of 163 countries. That's just above Uganda. So in terms of general peace, safety, security, it's not so hot.
Is it Safe to Visit Brazil Right Now?
Brazil is not always safe in terms of the weather. During heavy rains, flooding and landslides can occur and can actually cause a lot of deaths.
To put that into context, the 2018 rainy season brought major floods to Rio de Janeiro and other parts of Brazil. Some days have seen excess of 13 inches of rain! In this case, roads have been completely closed – or washed away – and some people are left stranded.
Aside from nature, lingering safety issues in the country mean that the military has recently been put in charge of security. They began this during the 2016 Olympics and only at the end of 2018 did they withdraw. There is still heavy police and military presence in the streets – especially in Rio de Janeiro. You may come across checkpoints.
Recently there have been protests, which tend to take place across Brazil. Roads get closed. Public transport is disrupted.
There's a rise in unrest along the border with Venezuela over immigration. The Venezuelan authorities have CLOSED the border since February 2019, which means any continuing immigration is illegal. Caution is advised traveling anywhere near this area.
Some favelas can be super dangerous. Volatile ones can have high levels of crime and the security situation can change from relatively safe to completely not without warning. Shootouts between police and gangs are regular and unpredictable.
All that being said, it's still possible to visit Brazil safely just so long as you know what you're doing. Being vigilant traveling smart, and avoiding certain perilous activities will help ensure that your holiday in Brazil is a good one. In the following sections, we're going to talk about just that.
Do you need Travel Insurance for your trip? Even if you're only going for a few days, that's more than enough time to get smote by wrathful angels. Have fun in Brazil, but take it from us, overseas medical care and canceled flights can be seriously expensive – insurance can, therefore, be a life-saver.
Travel mishaps can and do happen and it is well worth thinking about insurance before you leave home.
We have used World Nomads for years now and I have personally made several claims. Why not get a quote from them yourself?
Do be sure to read the terms and conditions to make sure that the policy covers your needs.
Getting an estimate from World Nomads is simple – just click the button or image below, fill out the necessary info, and you're on your way!

If you want to shop around a little, then read up on competing companies and what they can offer. There are lots of insurances out there, so don't feel limited.
Naturally, you are going to be worried about visiting Brazil. A high crime rate coupled with the unstable political situation and dangerous nature means there's a lot to think about.
But to help you stay as SAFE as possible on your Brazilian travels, we have compiled a list of our top safety tips for traveling to Brazil. Just because somewhere is statistically unsafe doesn't mean you should be AVOIDING it 100%.
Along with general personal safety tips, here are some specifics that will help you during your Brazil trip:
Be careful of your surroundings – pickpocketing is common, especially in cities. Minimize risk with a security belt.
Don't look rich – flashy jewelry, watches, SLRs, designer handbags, clothing, etc. All of this just advertises you as a target.
Don't use your smartphone walking around the street – it could easily get snatched
Don't take a tour around a favela – 1) they're not zoos, 2) the security situation within them is often unstable.
But know that some favelas are actually pacified – favelas can be peaceful but their safety status is often constantly changing.
Careful using Google Maps in cities – 'quickest routes' can go through favelas. People have actually come to harm by accidentally stumbling into a favela this way. Stick to the main streets – ALWAYS.
Familiarize yourself with the area – maybe your hostel has a walking tour, maybe you end up looking things up on your maps, but before you head out you should know a little bit about the lay of the land. It pays to look confident.
Hand over the goods – muggers could be very high and very armed. If someone demands your stuff, best give it.
Stay away from drugs – trafficking is WIDESPREAD. There are often checkpoints outside nightclubs. Severe penalties, people.
Don't leave your bags or anything else on a table/chair at a cafe – they're likely to go missing
Be aware of distraction techniques – even asking for a cigarette can be a way to get you to let your guard down. BEWARE!
Be VERY careful of your possessions on beaches – some people will just snatch your stuff and leg it
And don't go to beaches at night – it's basically a good way to get robbed or assaulted
Careful when using an ATM – keep your card in sight. Best to head to one in an official place, i.e. a mall, inside a bank.
Don't use the ATM if it looks tampered with – or if there are dodgy looking people around.
Steer clear of demonstrations – these can turn violent. Avenida Paulista, Largo da Batata, Historic Downtown (Sao Paulo), Copacabana Beach (Rio de Janeiro) and Esplanada dos Minesterios (Brasilia) are known for confrontational protests.
Learn some Portuguese – it will definitely help you get around, read menus, communicate with locals, etc.
Protect against mosquitoes – cover up and use a DEET-based repellent; dengue fever, yellow fever and zika virus are on the rise.
Watch out for warning flags on beaches – there are often strong currents, so be VERY careful going out too deep.
Shark attacks happen in Recife – so don't go into the water when there are warning signs. People have died.
Keep an eye on the news – heavy rains lead to flash floods and landslides, not only in the countryside but in poor urban areas too.
Be aware of rainy season – in the northeast, it's from April to July; in the south, it runs from November till March.
Do research on companies if you're heading out into the rainforest – it's a dangerous place, so only the best company will do.
There are OBVIOUSLY issues with crime in Brazil – as well as natural disasters to be worried about. But if you follow our tips, keep your belongings close to you, and don't do anything silly (like walking through sketchy areas of cities early in the morning or late at night), you should be fine. When it comes to staying safe anywhere in the world it's mostly about using your common sense!
Some General Safety Tips from the OG Broke Backpacker
Keeping your money safe in Brazil
Having no money is going to put a real big downer on any trip. And in Brazil, being pickpocketed or even mugged isn't a rare occurrence. Put yourself in the wrong sort of situation, and it could definitely happen.
There's one thing that CAN help you when it comes to not losing your money, however. Rather than keeping it in a wallet, or loose in your pocket, we've got a simple solution: a money belt.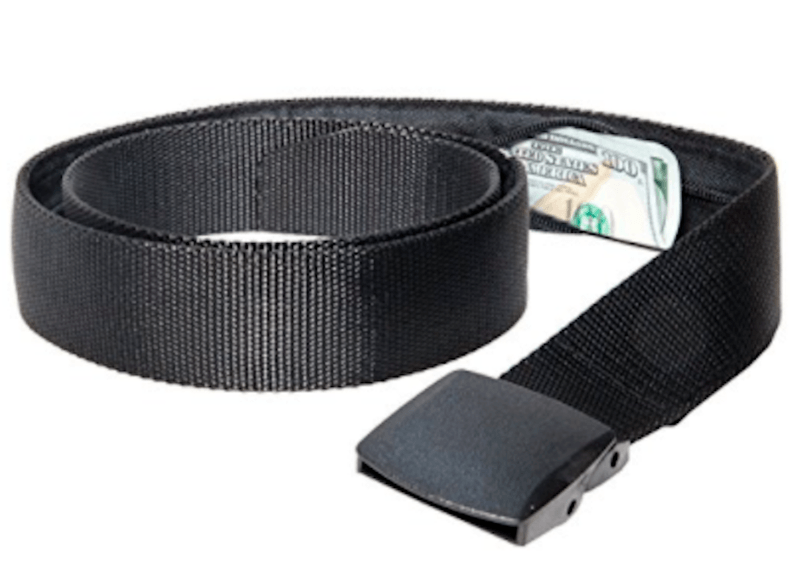 We are betting you're going to be pretty overwhelmed by the amount of choice out there when it comes to choosing a money belt that's right for you. TOO MUCH choice, we'd say. So we're going to recommend the Active Roots Security Belt.
This one is about as simple as they come. It looks and acts like a belt. It's not obvious. It's affordable. It's a sturdy piece of kit, too.
So if you're worried about keeping your money safe in Brazil, getting your hands on an Active Roots Security Belt – and using it (obviously) – is going to help you keep your budget intact and on your person. It won't bulge out or look like you're hiding something like some money 'belts' do. It just, you know, looks like a belt. Put a stash of cash in there and you'll ALWAYS have something to fall back on.
If you need a little more room for your passport and other travel valuables, have a look at a full-size money belt that tucks under your clothes instead.
If neither of those options appeals to your refined fashion sense, don't compromise! Opt for an infinity scarf with a hidden zipper pocket.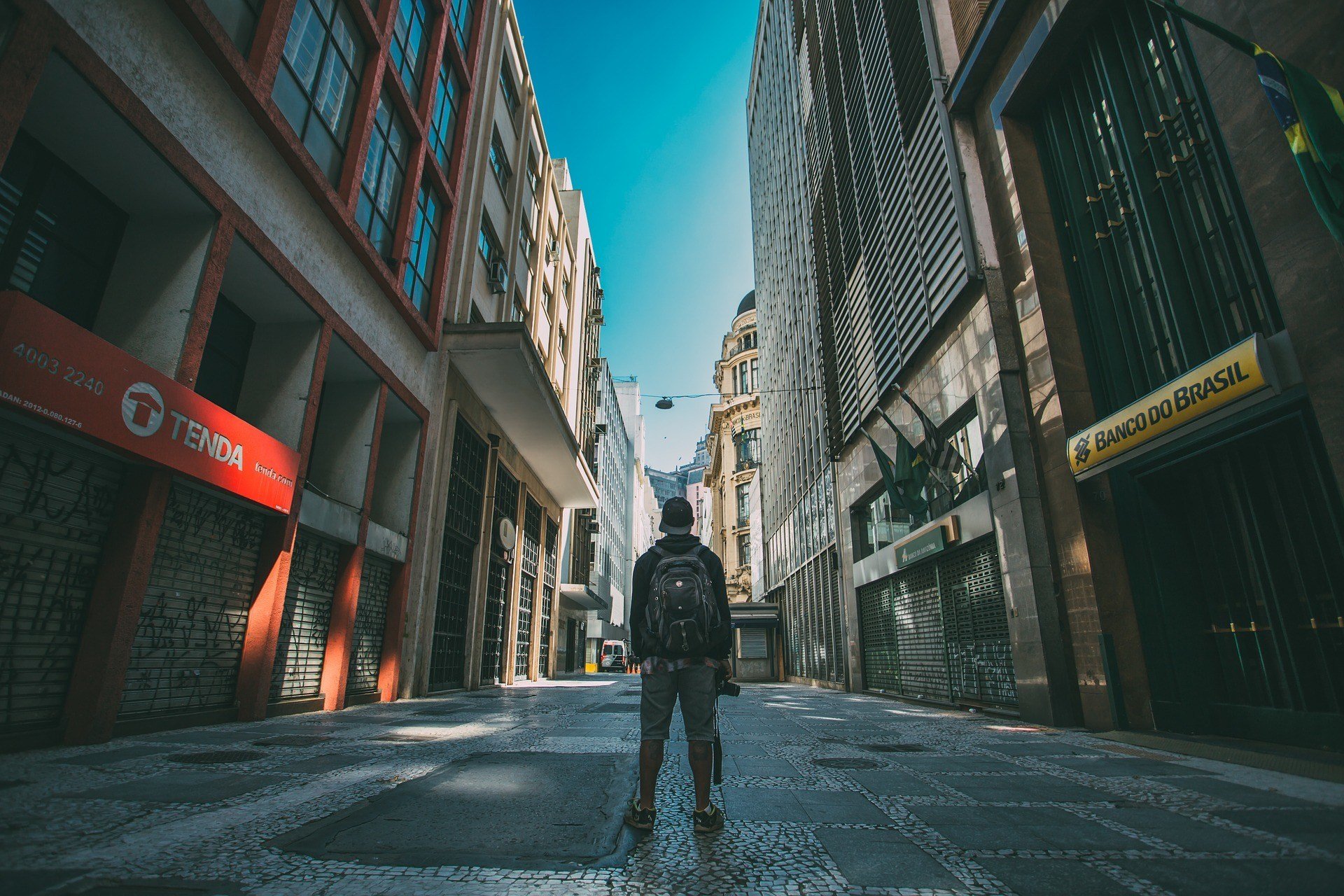 When it comes to solo travel, we're all about it. There are SO many benefits to traveling the world by yourself. You get to challenge yourself, get to do what you want, when you want; you may learn a thing or two about yourself and grow as a person!
But there are downsides. Aside from getting lonely and bored, you'll be more of a target by yourself.
Don't worry though; there are plenty of other solo travelers doing what you're doing in Brazil. And we're here to help, too, with some solo travel tips to make it a breeze.
It's easy to make friends with Brazilian people. Even if you don't speak Portuguese, you'll be able to have at least some sort of chat with a local. They'll be warm and open, so don't be shy: strike up a conversation and learn more about this cool country.
Book yourself into a social hostel. Make sure you do research, read reviews, and stay in a place that's perfect for you. No point staying somewhere social that's a mad party hostel if you DON'T like partying. It's a good way to get chatting to other travelers, maybe even make a travel buddy, and help to beat the solo travel blues.
Take a free walking tour if your hostel offers one (they probably will). This is a good way to get acquainted with the city you're in, learn more about the area and Brazil as a whole, and even make friends – or at least TALK to some fellow travelers. All good with us.
Ask the staff at your hostel about the safety of the area. They're likely going to be locals, or know A LOT more about the local area than you. Asking them where you can safely explore by yourself will help you get the most out of wherever you're staying. Ask for tips on where to eat and good things to see and do. You'll be amazed at what ISN'T in the guidebooks.
Try to travel as light as possible. Carrying too many things around is a) uncomfortable and b) will mean there is just more for you to keep tabs on. Try and keep everything in one bag – and not too heavy either. That's a dreamy way to travel solo anyway – trust us.
Don't walk around yourself at nighttime around sketchy areas. This is just ASKING for trouble. You are going to be so much more of a target if you walk around by yourself anyway, regardless of it being a dark and deserted area. Seriously.
We'd recommend not taking anything unnecessary to the beach if you're going by yourself. It's easy for things to go missing/get stolen, so we'd just suggest you don't take ANYTHING except what you really need when heading to the beach.
Keep in touch with people. If you don't have one, get yourself a data sim. You can pick these up from airports. Keeping in touch with people is a good way to keep you grounded as you travel around, making sure you don't get jaded with what you're doing. Plus it's nice to hear a familiar voice, right? So call your folks and friends back home once in a while and tell 'em what you're up to!
Though it's a pretty dangerous country in some respects, traveling solo around Brazil is doable; and awesome! The cities here are amazing and full of life, the beachside destinations are incredible, the food is immense, the nature is breathtaking, and there's a chance you'll have it all to yourself. Make a friend or two along the way, keep our tips in mind, and you're bound to have a trip you WON'T forget anytime soon!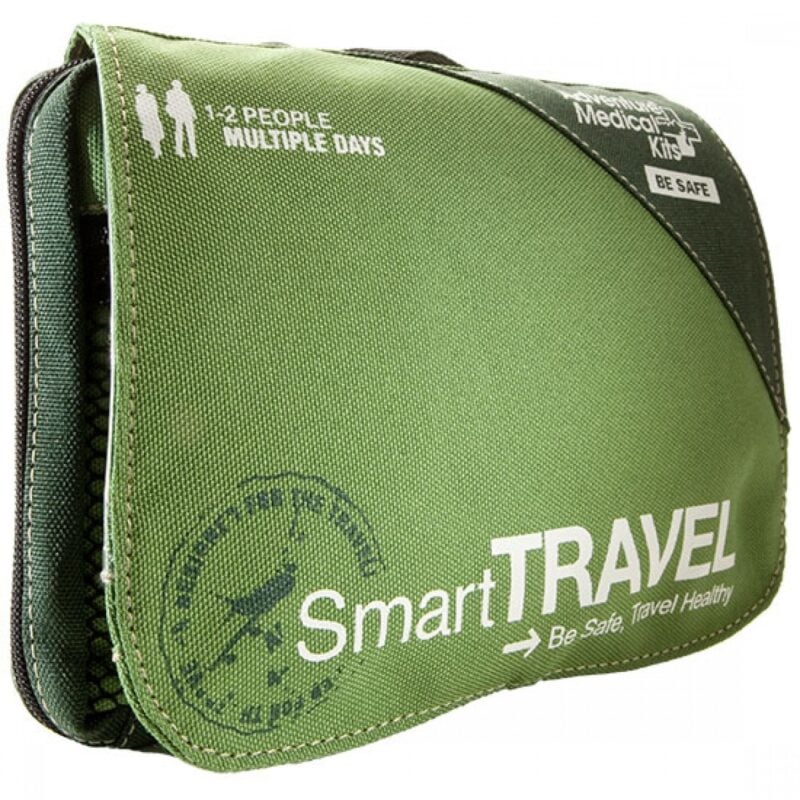 Be prepared for what life throws at you on the road. Pick up an AMK Travel Medical Kit before you head out on your next adventure.
View on REI
View on Amazon
Is Brazil safe for solo female travelers?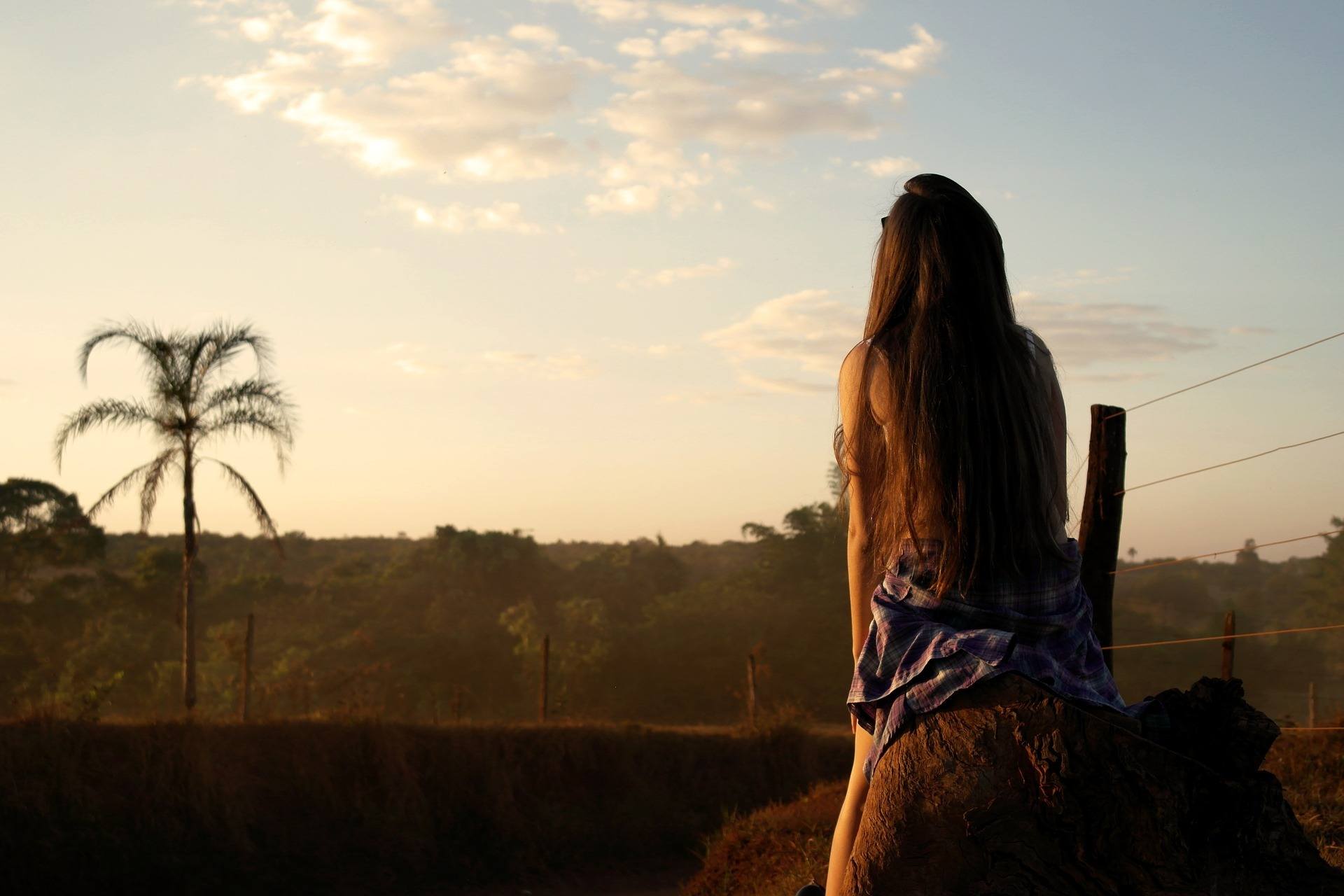 Like many other countries, it's no surprise that Brazil isn't the best place for solo female travelers. The crime rates aren't low, for one thing. Depending on where you go, you'll have a different experience. Big cities are more liberal, traditional areas… not so much.
Most of Brazil IS safe for a woman traveling by herself – especially if you stick to the well-trodden routes. But just like anywhere else in the world, there will be extra safety precautions you should take as a solo female traveler. So here are some tips to help keep you secure.
In some places, mainly in northeastern rural areas, there may be more curiosity about you being a solo FEMALE traveler. Being aware of the varying ethnic and cultural landscape of the country will definitely help you in your travels.
You should NOT be hitchhiking by yourself in Brazil. We wouldn't feel safe recommending anyone use this means of getting around here. In Brazil, this really isn't a safe thing to do and can end up very badly.
There are areas in the north and west of the country that seems to be dominated by men. If you were planning to go to these regions of Brazil, try not to go by yourself and instead find someone else to buddy up with.
It's not a good idea to go to bars and clubs by yourself in cities. Try to find some people to buddy up with if you want to head out to bars and clubs. You may receive hassle/unwanted attention whilst out; show disinterest, or that you're not happy with it and it's likely to stop.
So in order to get yourself some friends, stay at a well-reviewed hostel. Make sure there are favorable reviews from other solo female travelers. This will help you find the most secure place possible. If it's got a female-only dorm then that's a major bonus. You'll be able to chat and get to know other women doing what you're doing.
When you're out, keep an eye on your drink and DON'T accept drinks from strangers. Drink spiking is a reality. Also, drinking too much isn't a smart move either. Being completely wasted leads to bad situations, bad judgment calls, bad sense of direction. Not good in a place you don't know at all.
In places like Copacabana and Ipanema, you're going to be able to wear whatever the heck you want. Everyone else does (men included – those speedos!). But this is something of a microcosm in Rio de Janeiro. Other places aren't so liberal. Mainly in the northeast. A good rule of thumb is to look at how other women are dressed to gauge appropriate ways to dress.
Use Uber to get around at night. This is just the safest way to get around after dark in Brazil. Walking around by yourself at night, not so much.
If you're feeling overwhelmed, get yourself on a tour. This is a good way to see the country safely. It's not a cop-out by any means. Depending on the tour you book, you'll get to meet likeminded travelers who want to get the most out of Brazil whilst staying safe and learning about the country. Never a bad move!
Don't lose your money to a pickpocket! 
There are tons of ways to store valuables and goods while traveling but a travel scarf has to be the least obtrusive and the most classy.
The Active Roots Zipper Scarf is your run-of-the-mill infinity scarf but with a hidden pocket that's big and sturdy enough for a night's cash, your phone, a passport and (hell with it) some snacks too!
Though it may not seem like a safe place to travel, plenty of people do make their way to Brazil and have an AWESOME time. A lot of those people are solo female travelers. Like in other destinations, unfortunately, you'll be more at risk than your male counterparts.
So this means you'll just have to travel smart. In Brazil particularly, this means you won't really be able to do a lot of stuff outside of the big cities by yourself. Jump on a tour, but make sure you research and find the best company for you. This is probably the safest way.
If you really want to do the whole thing independently, and not stick to well-trodden trails, we'd recommend buddying up with a fellow traveler. Female, male, more than one other person… Book yourself into an awesome hostel and see how it goes. There's a lot to discover!
Is Brazil safe to travel for families?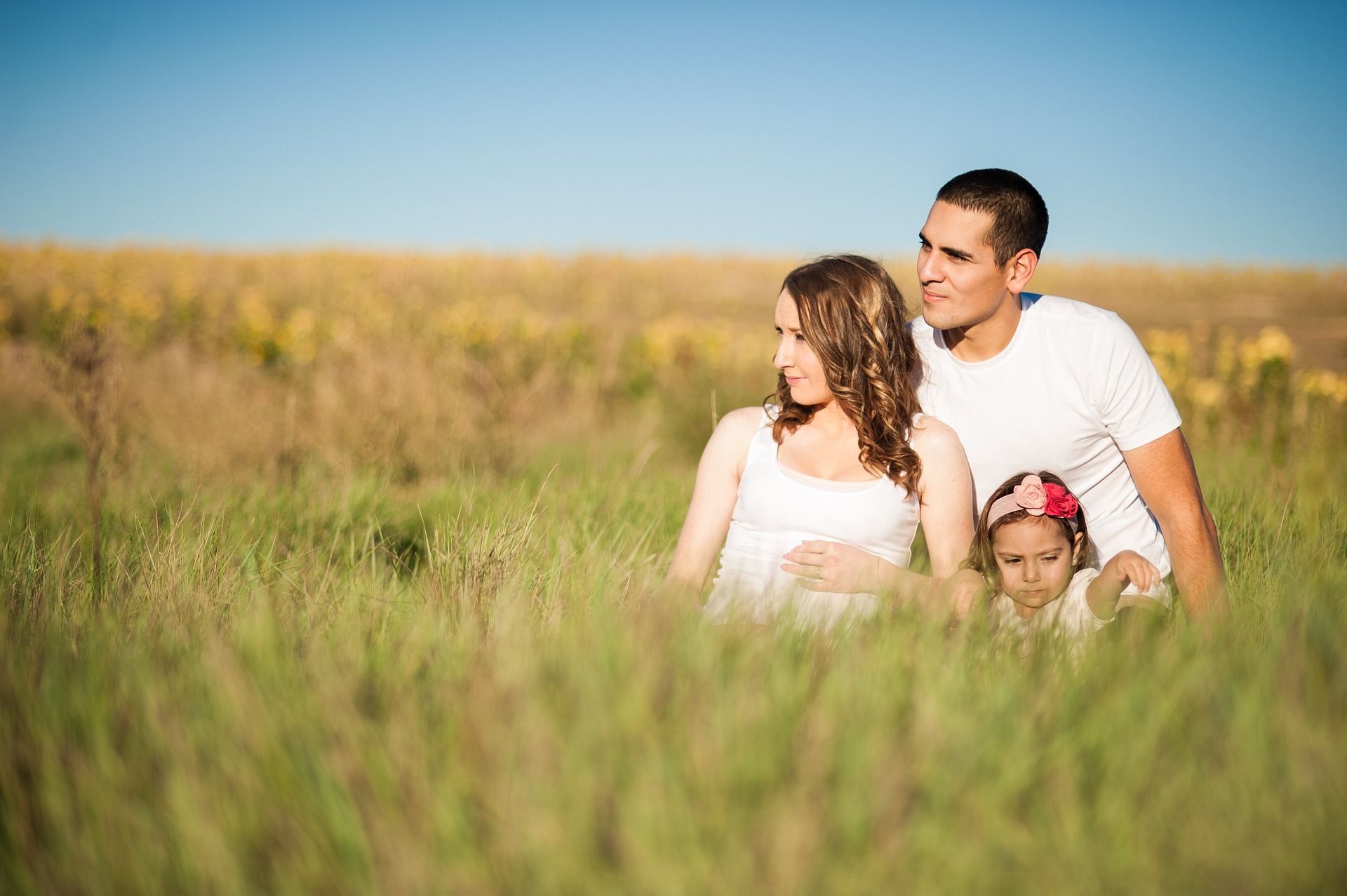 Well, Brazil can be a bit of a challenge, to say the least.
We're not going to lie though – it is an AWESOME destination. Beaches, rainforests, crazy cities… It's definitely going to be an experience for you and your family.
If you're heading to Rio de Janeiro there is an ABUNDANCE of things to do, including stunning views of the city after funicular rides and charming old streets; and don't forget Christ the Redeemer! The old colonial city and mountain retreat of Petropolis is worth a visit, too.
Then there's Paraty, a coastal town with beaches and a load of history. And the Parque Nacional do Itatiaia in the southeast of Brazil features some breathtaking views and is home to rare species of monkeys and birds.
There IS a family-friendly atmosphere in Brazil and it's a family-based society. Whilst there are things to do in Brazil with families, you will have to plan to ensure things run smoothly. It's easy for things to go wrong here.
Basics: you'll want insect repellent (complete with DEET), anti-malarial medication, sunscreen, and clothes that will cover your children up against critters and the sun. Dengue fever and malaria are both present, but mostly in the rainy season from November to March.
It's crucial to make sure your kids are eating clean food and keeping hydrated when in Brazil. Small children are more at risk from things like food poisoning. Eating in Brazil's many restaurants shouldn't be too much trouble though. There are plenty of places that serve up everyone's favorite, pizza! Mall food courts provide a clean, easy place to keep everyone from getting hangry.
Public transport can also bring up issues when traveling with children. Nightmare journeys on hot, sweaty buses versus forking out a lot of money for flights around the country. But then again, smaller children get to ride for free on buses, and if they're really small, it's a half-price plane ticket.
It can be handy to travel around Brazil by car, but you'll need your own car seats. This can be a lot of hassle, especially for short family trips.
Though challenging, Brazil is safe to travel for families. It's best to go between November and January, it's not as hot and crowded as other times in the year. You really will have to plan though.
Is it safe to drive in Brazil?
Driving in Brazil is doable, but it can be a MAJOR headache – especially in cities.
However, if you're the kind of person who likes to travel at your own pace, traveling by car in Brazil will be a rewarding experience. It definitely comes with a few risks though.
In cities and on busy roads, carjacking is an issue. It's important to keep your doors LOCKED and your windows CLOSED when driving – especially at traffic lights. Try not to drive around deserted, darker areas of the city that seem dodgy. If you're driving outside of cities, avoid stopping at the side of the road.
Brazilians can be quite passionate drivers. That means driving aggressively, not paying attention to road signs or one-way streets… All of that stuff.
Another issue is poor signage. Broken down cars also just get left in the road.
Oh, and torrential rain during the rainy season isn't exactly fun – it can be dangerous sometimes.
As you may have guessed, Brazil actually has quite a high proportion of road accidents; thousands of people are killed on the road each year. This indicates bad driving and road standards. To drive in Brazil, it'd REALLY help to be a confident driver.
Driving at night can be deadly. Although there's a zero-tolerance policy on drunk driving, nighttime drivers are often a little worse for wear.
High-trafficked roads such as the highway between Rio and Sao Paulo are particularly hazardous. Stay alert.
So, no. Brazil isn't the safest country to drive in. But if you really want to see the country at your own pace, driving yourself can be so much more convenient than public transport in Brazil.
Having driving experience in a Latin American country or lots of driving experience in general is pretty necessary. So is confidence in your driving abilities. Understanding that the dangers are probably different in Brazil than in your own country will help a lot, too.
Is Uber safe in Brazil?
Like in MANY countries, Uber has had some turbulent times in Brazil.
The relationship between Uber and Brazil has been a bit of a rollercoaster.
It arrived in 2014, BUT some rides ended up in kidnapping, robbery, and even murder. There have been some pretty nasty experiences of people using Uber in Brazil, and a whole string of complaints from Brazilian users.
However, Uber has responded by investing $70 million into a Sao Paulo office that supports Uber's efforts in Brazil.
For the most part, Uber IS safe to use in Brazil, but you shouldn't feel a false sense of security just because you're using Uber. BAD THINGS CAN HAPPEN.
To avoid trouble, only accept rides from drivers with lots of positive reviews. There will be tons of options to pick from, so don't be afraid to cancel if you don't feel good about a driver's record (or lack thereof).
Uber is available in an amazing 40 Brazilian cities. In Sao Paulo alone there are 50,000 registered cars – compare that to ONLY 32,000 licensed taxis. Speaking of which…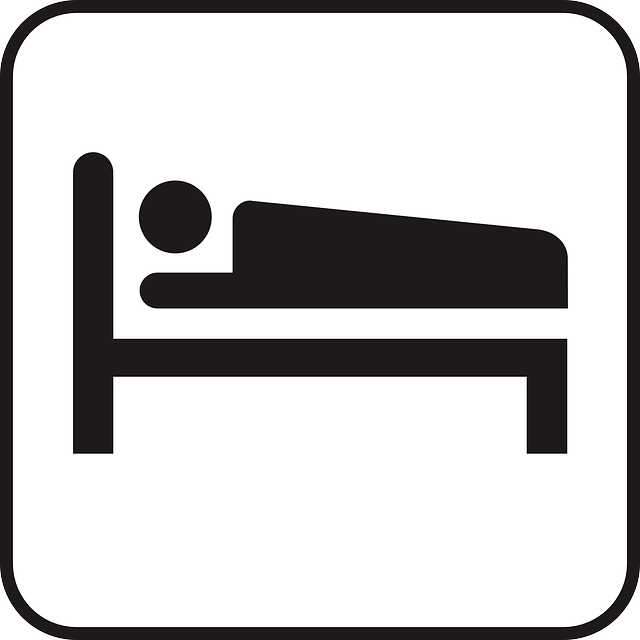 Sleep safe! Choose your hotel, hostel or Airbnb ahead of time so you're not last-minute booking a less-secure place.
You'll find our favorite accommodation sorted by neighborhood in the following guides:
Are taxis safe in Brazil?
It pretty much goes without saying, but getting a licensed taxi in Brazil is A MUST.
You'll see them at licensed taxi ranks around all of Brazil's cities. They come in a load of shapes, sizes, and colors. Make sure you check the company details on the side of the car.
Another way to get a licensed taxi in Brazil is by using a taxi app. These work like Uber, obviously. But hail it when you're inside a building so you're not hanging around on the street with your phone out – not a good idea.
One popular taxi app is 99Taxis. Very convenient. Usually safe since you can check the details of the taxi and even share the journey with a family member or friend. You can also track your journey (like Uber).
Outside of the big cities, the taxis won't have meters. This means having to negotiate a price. Do this BEFORE you get in, always.
When you arrive at an airport in Brazil you can usually get an official taxi at the taxi desk near the baggage claim. This saves a whole world of hassle dealing with taxis and touts outside.
Generally, taxis are pretty safe in Brazil. Safer than Uber even. They're cheap, they're reliable, and a good way to get home at night.
Is public transportation in Brazil safe?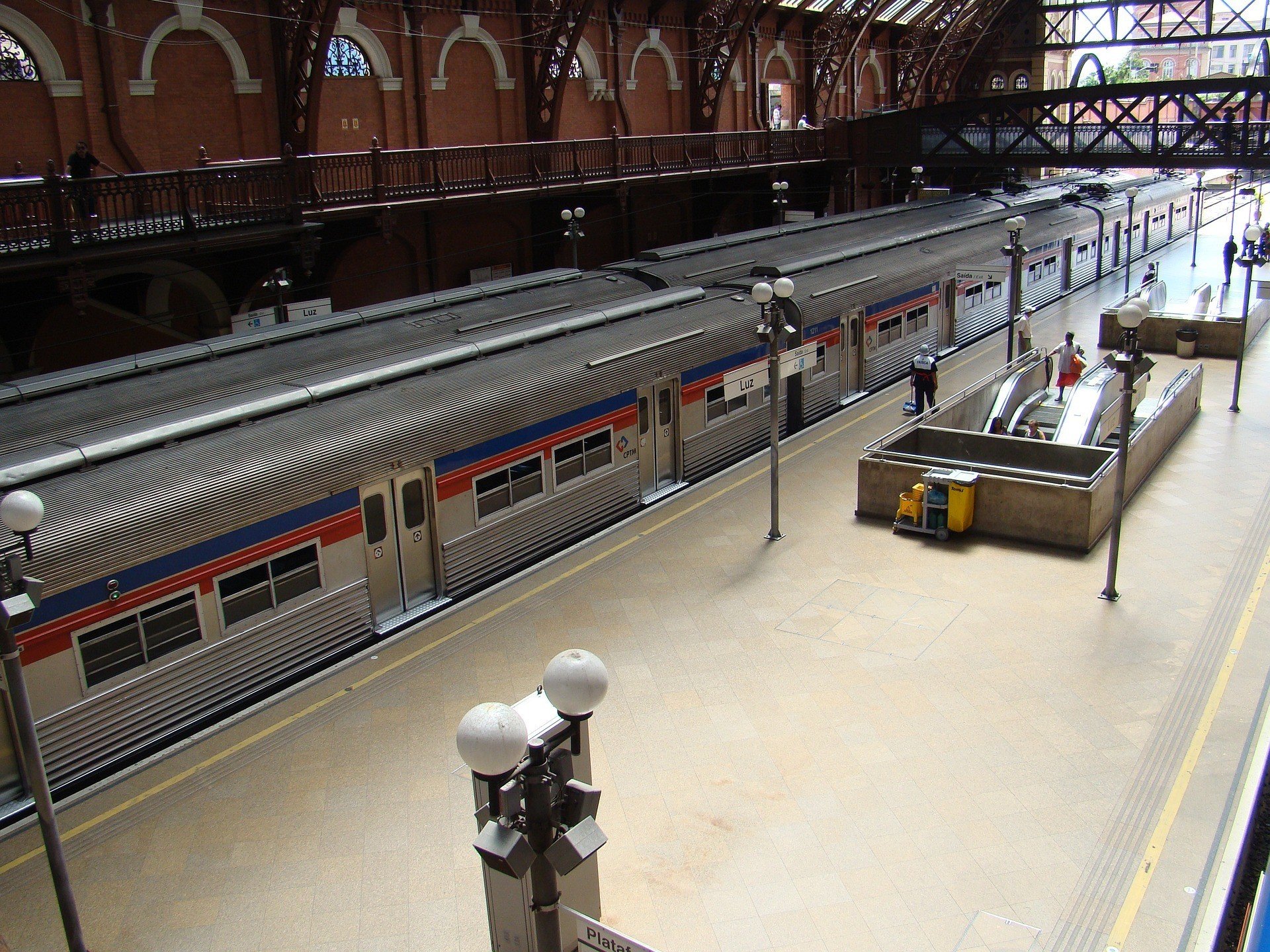 Public transport in Brazil is FAIRLY safe… depending on where you are and what type of public transport it is.
The city buses are pretty reliable. In any city, these will run frequently. For most Brazilians, this is what they use. Usually, you get on the front of the bus, give your money to the conductor, pass through a turnstile, and take a seat (or, more likely, stand).
On these local buses, crime can be an issue. Walking onto a bus flashing your wealth is probably NOT a good idea. Usually, things stolen on buses are smartphones, so keep them away. In urban areas, robberies occur more between 4 and 9pm. The evening rush hour(s) basically.
In Rio de Janeiro and Sao Paulo, you can use the metro!
Rio's was updated for the Olympics in 2016. It's new, efficient and fairly safe. In BOTH cities, the metro is a good alternative to public buses. This doesn't mean you shouldn't be vigilant, however. Rush hour sees HIGHER levels of petty crime, with clever gangs of criminals sweeping carriages and pickpocketing the large numbers of people crowding the train.
Protests can also affect public transport; in the face of large scale demonstrations, traffic can come to a complete standstill, which isn't great.
National railways have been scaled back and are now pretty limited. There have been a few 'security incidents' on the network, too. Unless you want to do a few scenic trips, we wouldn't really recommend getting the train anywhere in Brazil. There are a handful of those you can embark on, the steam train between Sao Joao del Rei to Tiradentes for example.
Trains can be expensive though.
Flying is also expensive, but probably the safest.
Keep everything on you in transit!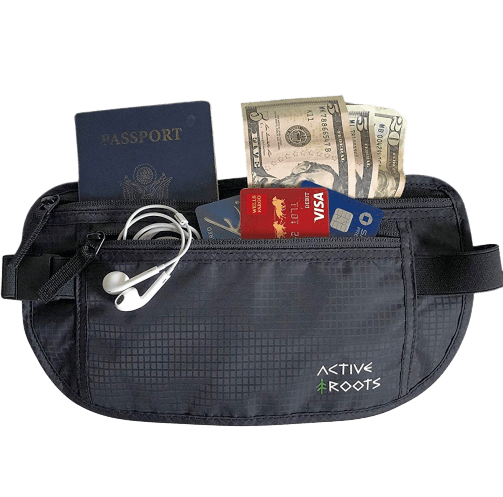 When moving from place to place, you shouldn't store travel documents in a bag, even if it's under your seat or overhead.
A full-sized money belt that stays tucked under your clothes keeps your documents and cash organized during your travels and assures nothing critical gets left behind or stolen.
Buses in Brazil
That leaves the humble traveler with intercity buses. These are surprisingly safe. Most are well maintained and comfortable. You'll be able to get a long distance bus from all the big transport hubs. Buses leave frequently between Rio and Sao Paulo. Even smaller cities have a TON of long-distance bus connections.
Long distance bus travel is popular in Brazil. But like in most places, do your research on companies before you travel. This is the kind of place where the cheaper the bus, the more likely you are to have random unscheduled stops as well as breakdowns. Consider the following:
On any bus, but especially the cheap options, do NOT put valuables under the bus. If the bus makes multiple stops, you might find your load lightened by one of your fellow passengers who got off earlier.
Keeping valuables within eyesight (i.e. under the seat in front of you or overhead and across the aisle) can save you from dishing out for a new phone or visiting the local embassy for a new passport.
Paying a little extra also helps with potential breakdowns. Go for a bigger company and they're more likely to have a back-up bus that will pick you up and carry on the journey.
There are three different classes for long distance buses. Companies that offer air-con, fully reclining seats, refreshments and pillows for long distance journeys can cost twice as much as the cheapest option. But then again… 24-hour PLUS journeys might deserve more than a rudimentary seat.
Book one of these by rocking up at the bus station. Though that's not traveling smart. We'd recommend booking one via ClickBus, a bus app/site. This will give you time to research as well. No-brainer.
So there are multiple ways to get around Brazil, most of them safe. Just be on HIGH ALERT when it comes to rush hour in cities. Crowds = crime. Between cities? Prepare yourself for LONG journeys!
Is the food in Brazil safe?
Food in Brazil is pretty dang tasty. There's loads to try. Visit padarias (bakeries) for a selection of amazing breads and cakes. Snack on the pao de queijo (cheesy bread) or the mouthwatering povolone a milanesa (fried cheesy balls of goodness). Wash it all down with fruit juices. That's just a tiny, tiny portion of what's to offer.
But you WILL want to stay safe in Brazil when it comes to dining as not everywhere will be up to scratch with food hygiene standards. We've prepped a list of our best food safety tips for Brazil so you can eat your way around the country with ease.
Eat at places that are busy with local people. These are likely to be trusted by locals (duh), therefore they will be very tasty, and you shouldn't have a problem with getting sick from eating there.
When it comes to street food vendors, try to go to places that are cooking up fresh food right before your eyes. Stuff that's cooked there and then is more likely to be better for your health than stuff that's been sitting around in the sun all day.
Sometimes the street food vendors selling on beaches can be a bit dodgy. Just make sure they at least SEEM clean and that they're following some hygiene procedures before you choose to submit your stomach to whatever they're serving up.
There is a REAL abundance of seafood in Brazil. Just be careful when it comes to shellfish. If it seems a bit off, smells weird, tastes weird, DON'T EAT IT. No point making yourself ill. Just leave it and order something else. Food poisoning from seafood is honestly NOT nice.
Make sure any fruit or vegetables that you buy can be cleaned and peeled by yourself before you eat them. Opting for stuff that's already been cut MIGHT not be the safest option. You can't tell how clean the preparation has been.
Watch out for tourist traps. These places often aren't as clean, are just out to make money, and won't be serving the tastiest food anyway. Three reasons to just avoid these completely.
And last but not least, WASH YOUR HANDS. You could eat at the cleanest place ever, but if your own hands aren't clean, you could be making yourself ill. To be extra careful, bring hand sanitizer.
Traveling with an allergy? Research ahead of time how to explain your allergy. Keep in mind that store owners and restaurant staff might not know all the foods that contain allergens, so it's helpful to know the names of some of these too. If you're gluten-free, pick up a handy Gluten-Free Translation Card with descriptions of Celiac disease, cross-contamination risk, and local Brazilian ingredients in Portuguese.
So, food in Brazil, huh? It's usually REALLY GOOD, and there's loads to try. There's a lot of BBQ stuff going on here. A whole variety of unique dishes and ethnic cuisine throughout Brazil. The feijoada is a popular Brazilian stew of beans and meat, almost a national dish.
Then there's a load of international cuisine. Let's not forget that Brazil has the largest Japanese population outside of Japan. Portuguese, African, and Italian influences abound. Just be smart with where you choose to eat and your tastebuds and tummy will thank you!
Can you drink the water in Brazil?
Drinking water in Brazil is safe…
…but not always.
It's safe to drink the water in Rio and Sao Paulo.
However, most hotels will offer filtered water. That's because the unfiltered stuff is pretty awful and does NOT taste good. You'll want to bring a reusable water bottle so you can take some of this liquid gold with you instead of using disposable water bottles.
Outside of these cities, and especially in remote areas, we wouldn't trust the liquid that comes out of taps. Bring iodine tablets, water purifiers, or just boil the water – a minute should do, but add some extra boil time for higher altitudes.
Another way to feel confident about your water is to bring along the GRAYL GEOPRESS. If you're ever unsure, you can light it up just in case for that extra peace of mind (and stomach).
It's always good to bring an insulated water bottle to take your clean water with you and keep it cool during your day adventures.
Want to save the world?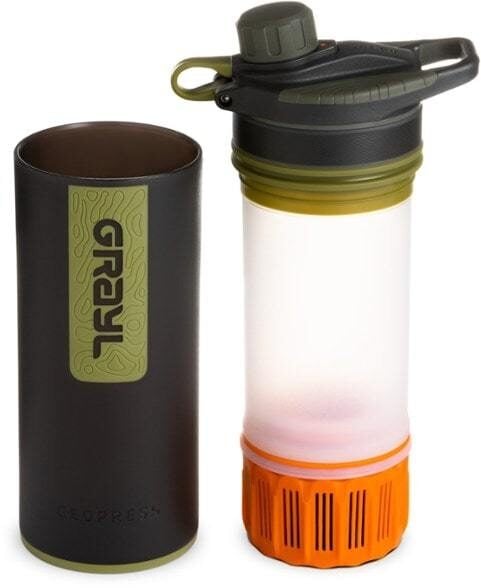 Single-use plastic bottles are a huge threat to Marine Life – Be a part of the solution and travel with a filter water bottle.
The GRAYL GEOPRESS water bottle is the ONLY all-in-one filter water bottle setup you'll need. Whether you need to purify the water from a hostel sink in Kathmandu or a stream trickle in the Andes, the Geopress has got you covered.
Read our full review of the GRAYL GEOPRESS!
Is Brazil safe to live?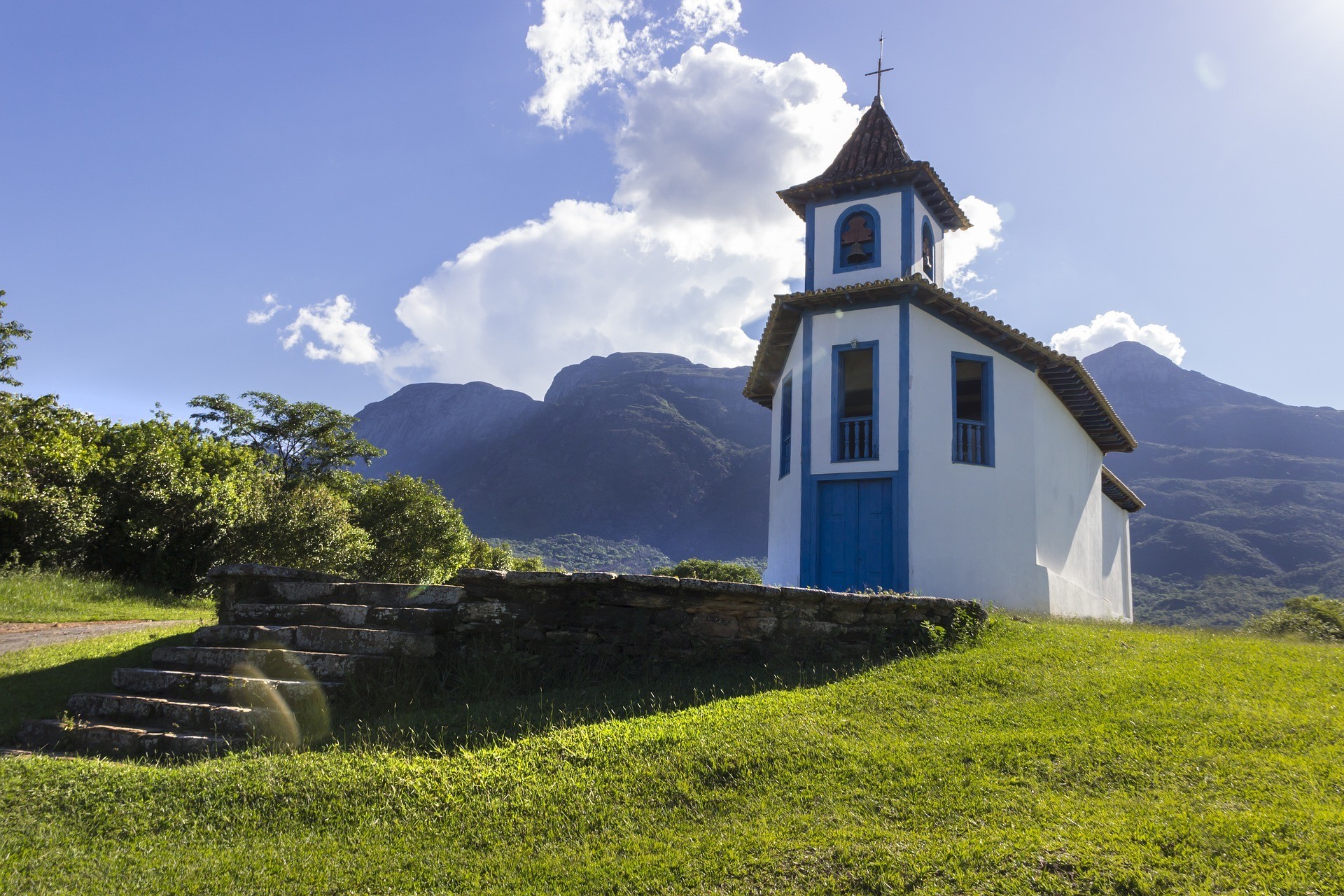 There are definitely some issues when it comes to living in Brazil. This is mostly to do with crime.
You will probably have to live very differently to how you're used to.
If you're looking for European-level safety, Brazil may NOT be the place for you. You'll have to be alert for crime at all times (even during the day).
It's the kind of place where everybody knows somebody who has been affected by crime in some way. And where lots of people live in apartments with security or in gated communities – or both.
Brazil has a culturally diverse landscape. A lot of foreigners DO live in Brazil. There will definitely also be cultural differences that you'll have to deal with when you're living here.
Most of all, getting used to living in a place where standards of safety will worry you is tough.
The Brazilian magazine Exame published a list of the 30 safest cities in Brazil in 2017. The top three safest, in descending order, are: Jaragua do Sul (Santa Catarina), Brusque (Santa Catarina) and Americana (Sao Paulo).
The thing is a place like Jaragua do Sul MIGHT be the safest, but it's not going to be the most fun. This is a small, conservative city. Maybe not the Brazilian adventure you were looking for.
In other places, like in Florianopolis, you'll have to put up with high levels of tourists in season.
Basically, it's not 100% safe to live in Brazil and your security will always depend on the city. Even then, it depends on where in that city you live. Even more specifically, what you can afford in terms of apartment, driver, whatever, contributes greatly to your safety as well.
Think long and hard about where you want to base yourself in Brazil before you take the plunge. This one deserves research. A LOT of it!
How is healthcare in Brazil?
Across Brazil, you're going to find quite a decent standard of medical care in the bigger cities. The provisions in healthcare facilities are pretty good and the doctors and medical staff are highly trained.
Brazil provides free healthcare to anyone who lives there. Whilst this is GREAT, it can mean long delays and underfunding. This leads affluent citizens of the country to seek private healthcare instead.
This is fairly affordable and often offered as a package with jobs.
If you're traveling Brazil and you need to get healthcare, make sure you have cash on you. Many places expect cash payment BEFORE treatment. Health insurance is a must so you can get that money back.
If you're in need of medical advice, take yourself to a pharmacy. This is for minor concerns only. The staff here can give you a quick diagnosis over the counter and you can pick up a load of different medications.
In more rural areas, healthcare in Brazil is not so good. Can be patchy for sure. In fact, 50% of Brazil's hospitals are to be found in only FIVE of its twenty-six states.
In the northeast, for example, healthcare can be practically non-existent.
Healthcare in Brazil is generally not a problem. Like most places, it's in the cities where you're going to find the best facilities.
Helpful Brazil Travel Phrases
People often make the mistake of thinking that Brazil speaks Spanish, much to the ire of the locals. Brazil was a part of the Portuguese Empire. Brazil speaks Portuguese, not Spanish. It is very important that you don't get this twisted. Brazilians can't stand it when you confuse their language with Spanish!
Portuguese is a gorgeous language. It's Latin based, and the written form does look a lot like Spanish. The pronunciation is very different though. Brazilian Portuguese uses a lot of nasal vowels and tends to blend sounds together in a sort of melodic tone.
Some people comment that spoken Portuguese can resemble singing. Others believe that the language sounds like a crazy blend of French, Slavic, and Italian. Such is the uniqueness of Portuguese.
Brazilian Portuguese is very colloquial, meaning that they use a lot of regional slang. Those who know Spanish and strictly European Portuguese may have trouble understanding Brazilians.
You may not comprehend their dialect, but if you can speak some Portuguese, the locals will really appreciate you. This is crucial to backpacking Brazil because English is rarely spoken, except by the educated. You will need to arm yourself with some key phrases. Here's a list of some of the most useful.
Bom dia/boa tarde/boa noite – Good morning/afternoon/night
Tudo bem? – All good?
Meu nome é… – My name is…
Onde fica a banheiro? – Where is the toilet?
(O)brigado/(O)brigada** – Thank you
Até logo – see you later
Que saudades! – It's been so long (since I've seen you)!
Nenhum saco de plástico – No plastic bag
Nenhuma palha por favor – No straw please
Sem talheres de plástico por favor – No plastic cutlery please
Você fala inglês? – Do you speak English?
Quanto custo? – How much?
Valeu – Cool/thanks/cya
Final thoughts on the safety of Brazil
Brazil is such a huge country that it's difficult to definitively say 'yes it's safe' or 'no it isn't safe'. The truth is that it's basically BOTH. Areas of some cities are just so unpredictably violent that it would be completely stupid to wander into them. Other times you'll wonder what all the fuss was about gangs and petty crime. The answer of whether or not Brazil is safe is therefore basically: it depends.
It depends what region of the country you're in (the northeast isn't so good for solo female travelers for example), it depends what CITY you're in, what part of that city, what time of day it is, what sort of public transport you're traveling on, what sort of clothes you're wearing, what sort of eatery you've chosen to dine in… Yep. You get the idea. There are a lot of variables for staying safe in Brazil.
We would say, then, that the best way to stay safe when you visit Brazil is to just be extra alert at all times. Do research about what areas of the city you should/shouldn't be in. Be aware of who is around you. DON'T walk around late at night. DON'T look rich, wealthy, lost or overly like an unsuspecting tourist. It's best to be on the safe side in Brazil; if that means less freedom, then that's worth it.
And have you thought about getting Travel Insurance for your trip? You can get a quote from World Nomads by clicking on the link below.
Disclaimer: Safety conditions change all over the world on a daily basis. We do our best to advise but this info may already be out of date. Do your own research. Enjoy your travels!
"Find out how YOU can support the site. We work hard to put out the best backpacker resources on the web, for free! It's all about helping out our tribe of awesome backpacker readers [that's you!]. Please visit the link to find out how you can help keep the site going 🙂
For the sake of transparency, some of the links in our content are affiliate links. This means that if you book your accommodation, buy a book or sort your insurance, we earn a small commission at no extra cost to you. I only link to stuff I've actually used and never endorse products or services that are not up to scratch. Thanks for your support.