A country rich in biodiversity, natural beauty, and unique geographical landscapes, Brazil is home to some of the most spectacular national parks in the world. The country has 72 national parks, 11 of which are listed as World Heritage Sites and three as Biosphere Reserves by UNESCO.
Brazil's national parks are a true testament to the country's diverse beauty, ranging from the Amazon forest to incredible marine parks to impressive deltas and waterfalls. As a testament to nature's eye-opening artistry, exploring the country's national parks is one of the best ways to travel the country.
While most visit the country for its incredible city scenes, carnival celebrations, and perhaps a journey into the Amazon, the more adventurous traveler would do well to spend time exploring Brazil's unique national park system.
From surging rivers to dramatic waterfalls and tropical oceans, I've put together a list of eleven of the country's national parks:
What are National Parks?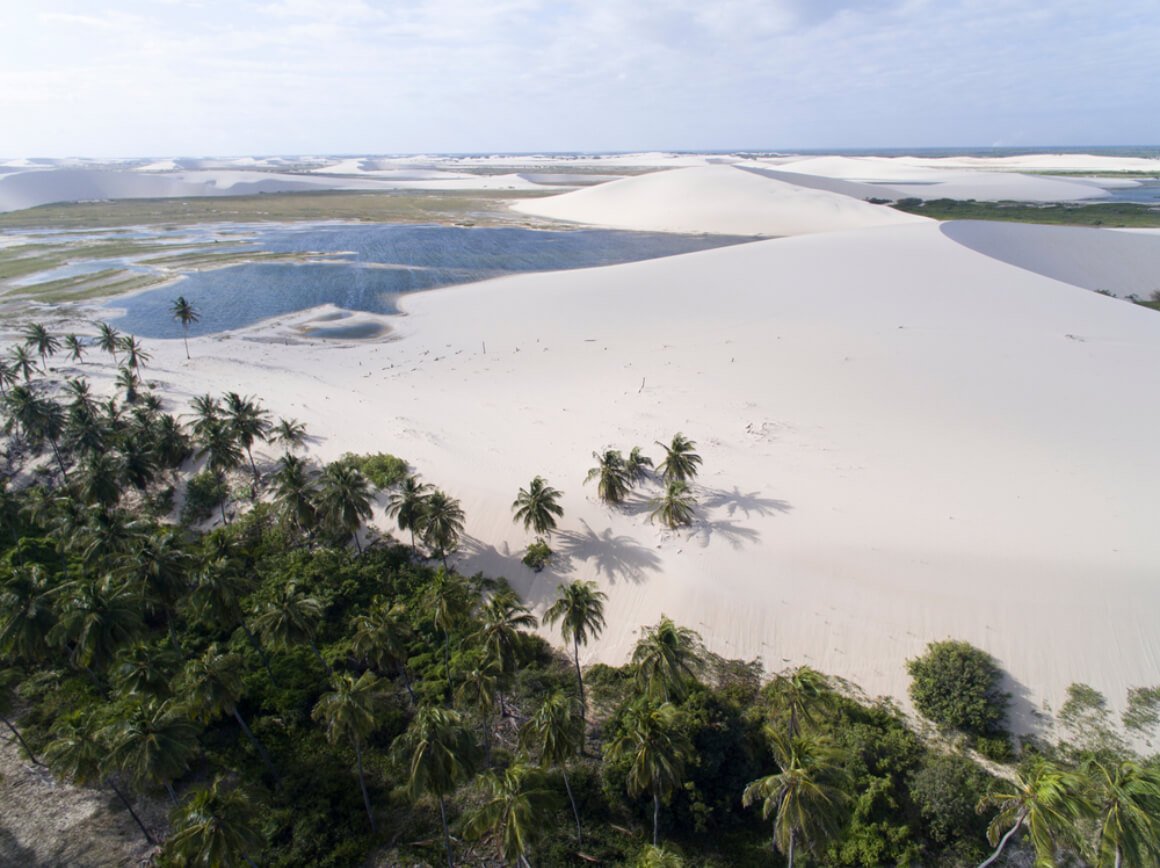 While parks are spread out across the massive country, most of the national parks are located in the northeastern and southeastern Brazilian states, of which 25 out of 26 are home to at least one park.
Brazil is listed as one of the most bio-diverse nations in the world, home to a wide variety of flora and fauna. Much of the animals and plants that live and grow here are endemic to the region, which means they can't be found anywhere else in the world.
Because of this (as well as the country's sheer size), Brazil's government has set aside portions of land to protect and preserve its unique wildlife and natural environment.
Known as national parks, the state protects these areas of land or water for the general public's enjoyment. Conveniently, Brazil's national parks are typically affordable, costing the equivalent of a few US dollars to enter, if anything at all.
As the fifth largest country in the world (and the biggest in South America), Brazil packs a lot of diversity into its expansive landscape. The country is home to the iconic Amazon rainforest, a bucket list destination for any adventurous spirit. However, it also houses arid grasslands, sprawling wetlands, pine forests, and an extensive coastal plain.
National Parks in Brazil
From the tropical coastline near iconic cities to isolated national parks only accessible by boat, here is an overview of eleven of the most spectacular national parks to experience when visiting Brazil:
Iguaçu National Park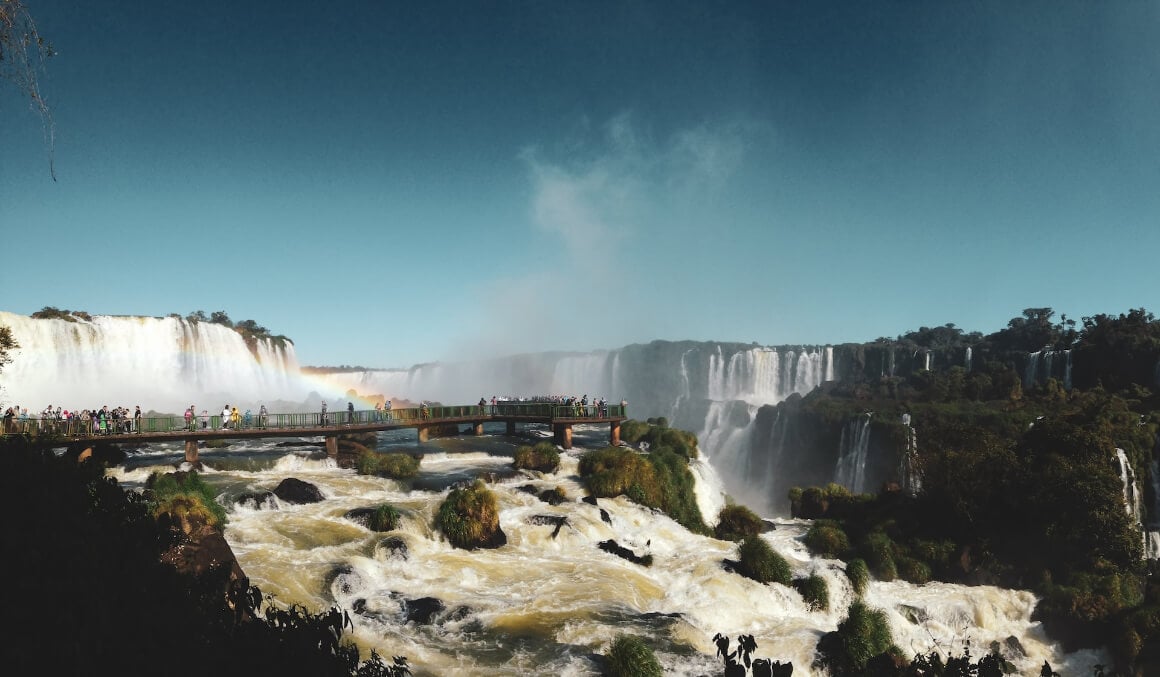 Size: 261 sq mi
Location: State of Paraná, Southern Brazil, on the border of Argentina
Entrance Fee: $18 for adults, $3 for children under 11
Located partly in Brazil and partly in Argentina, Iguacu National Park is the largest park in Parana state. Right at the border of the two countries lies the Iguacu Falls, which is undoubtedly the main attraction of this park.
Iguacu Falls is one of the world's largest and most impressive waterfalls, made up of around 275 separate cascading waterfalls (depending on the water flow at the time) fed by the Iguacu River. The waterfalls are a great impression of the force of nature, and this stunning site is even listed as a UNESCO World Heritage Site. You can visit the waterfall on foot, by boat, or take a draw-dropping (although expensive) helicopter ride for the ultimate views.
Other than these spectacular waterfalls, Iguacu National Park is also home to the Itaipu Dam, which provides hydropower to both Brazil and Paraguay.
Established in 1939, Iguacu is the second oldest national park in Brazil and features a range of conservation efforts that have been instrumental in maintaining biodiversity in the area. One of the main projects is a bird sanctuary, which houses some of the region's most exquisite tropical bird species.
The park covers an area of subtropical rainforest that is home to diverse wildlife, including jaguars, anteaters, tapirs, ocelots, and coatis. Plenty of trails and footpaths throughout the park make it easy and safe to explore on foot.
Where to Stay near Iguaçu National Park:
Just a short drive from the park and Iguacu Falls, La Floresta Iguazú offers gorgeous wooden cabins surrounded by greenery. Each cabin has a private kitchen and terrace and two bedrooms. This is also one of the few places in the area with a swimming pool.
Fernando de Noronha Marine National Park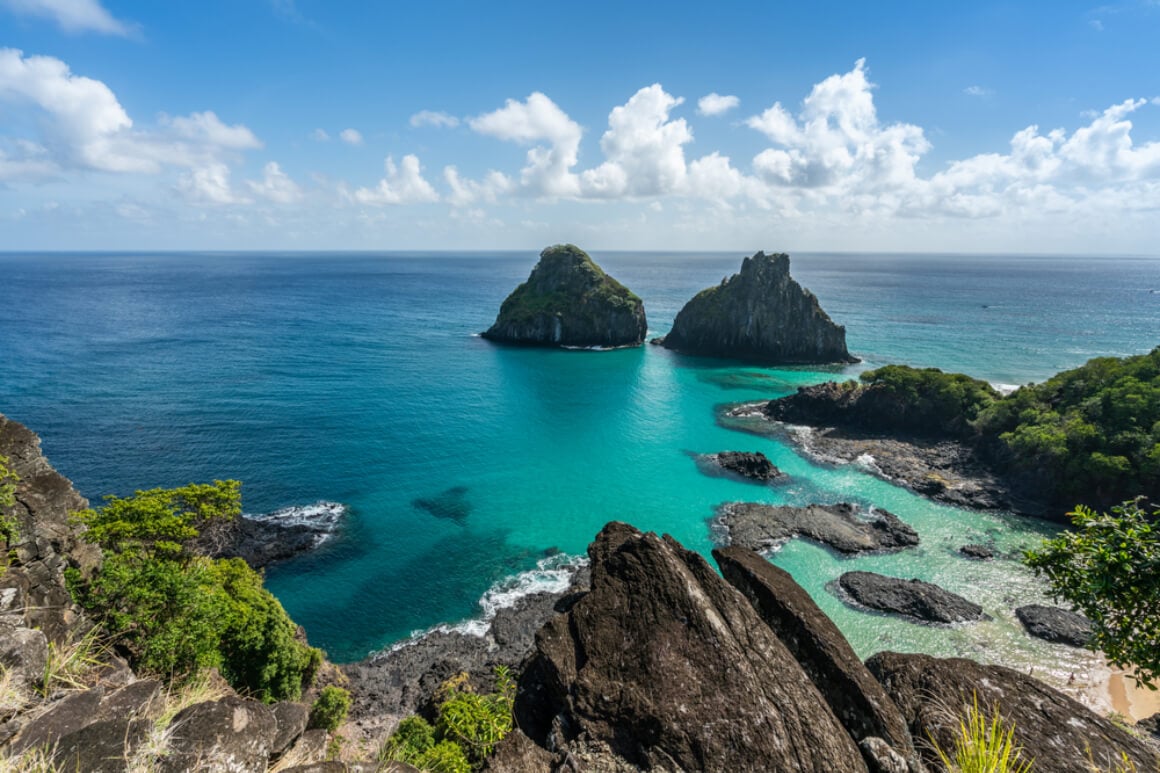 Size: 10 sq mi
Location: Fernando de Noronha, Pernambuco
Entrance Fee: $195 for foreigners, $95 for Brazilians for a ten-day pass
Set in the Atlantic Ocean, about 271 miles off the coast of Brazil, Fernando de Noronha is a national marine park in a league of its own. It's an island archipelago made up of 21 islands, of which only one is inhabited by a small population of 5000 people. The rest of the islands are home to only birds, reptiles, and exquisite white sand beaches.
You can travel to this Brazilian national park by boat or air, with domestic flights arriving on the main island daily. With crystal clear waters, empty beaches, and dramatic cliffs and rock formations as a backdrop, this is easily one of the most picturesque parks in the world.
Visitors must purchase a pass to visit this park, which costs just under 200 USD for foreigners for a week-long visit. Besides the natural beauty, the main attraction in the park is its marine environment, which provides sanctuary to dolphins, sharks, turtles, and a range of ocean birds.
Where to Stay near Fernando de Noronha Marine National Park:
Hidden in a jungle garden on the main island, Pousada Lenda das Águas is a charming homestay with clean and comfortable rooms. The hotel serves a wholesome breakfast each morning and is just a short walk from the center of town.
Serra Da Canastra National Park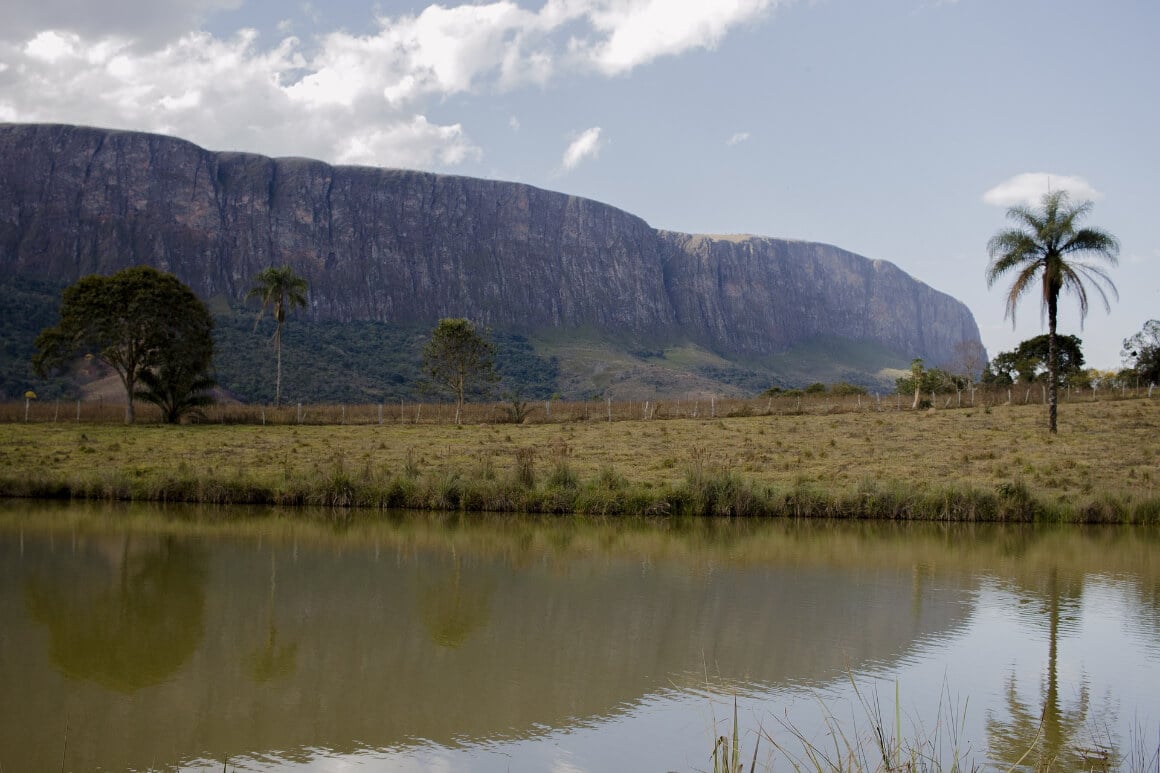 Size: 763 sq mi
Location: Passos, Minas Gerais
Entrance Fee: $3
Established as a national park in 1972, Serra Da Canastra is a massive piece of land set between the Sao Francisco and Parana Rivers. It belongs to the Cerrado Biome, which is known for its dramatic cliff and rock formations and scenic views.
If you love nature and are fascinated with geography, this park is a must-visit. Dedicated to environmental protection, Serra Da Canastra is home to incredible animals and flora that are endemic to the park – this means you should always be on high alert when exploring the park. There are over 45 endemic species of flora in the park, which makes this Brazilian park a plant lovers' dream.
When the Brazilian national park was established, many local families were displaced and (supposedly) compensated for their land. A truly complex socio-economic situation, it's worth taking the time to talk with some locals to hear more about this delicate situation.
The region consists mainly of rocky fields, with sections of forest near valleys and rivers. One of the main attractions in the park is the Cachoeira Rasga Canga, a series of waterfalls and rivers well worth a visit. The Sao Francisco waterfall is another cascading flow of water that makes the park famous.
Where to Stay near Serra Da Canastra National Park:
Glam up your camping experience and spend a night in this luxurious dome tent in Minas Gerais. Glamping Serra Da Canastra offers spacious accommodation right at the entrance to the park, with a kitchenette and a private bathroom.
Month to month payments, no lock-in contracts, and no itineraries required: that's the exact kind of insurance digital nomads and long-term traveller types need. Cover yo' pretty little self while you live the DREAM!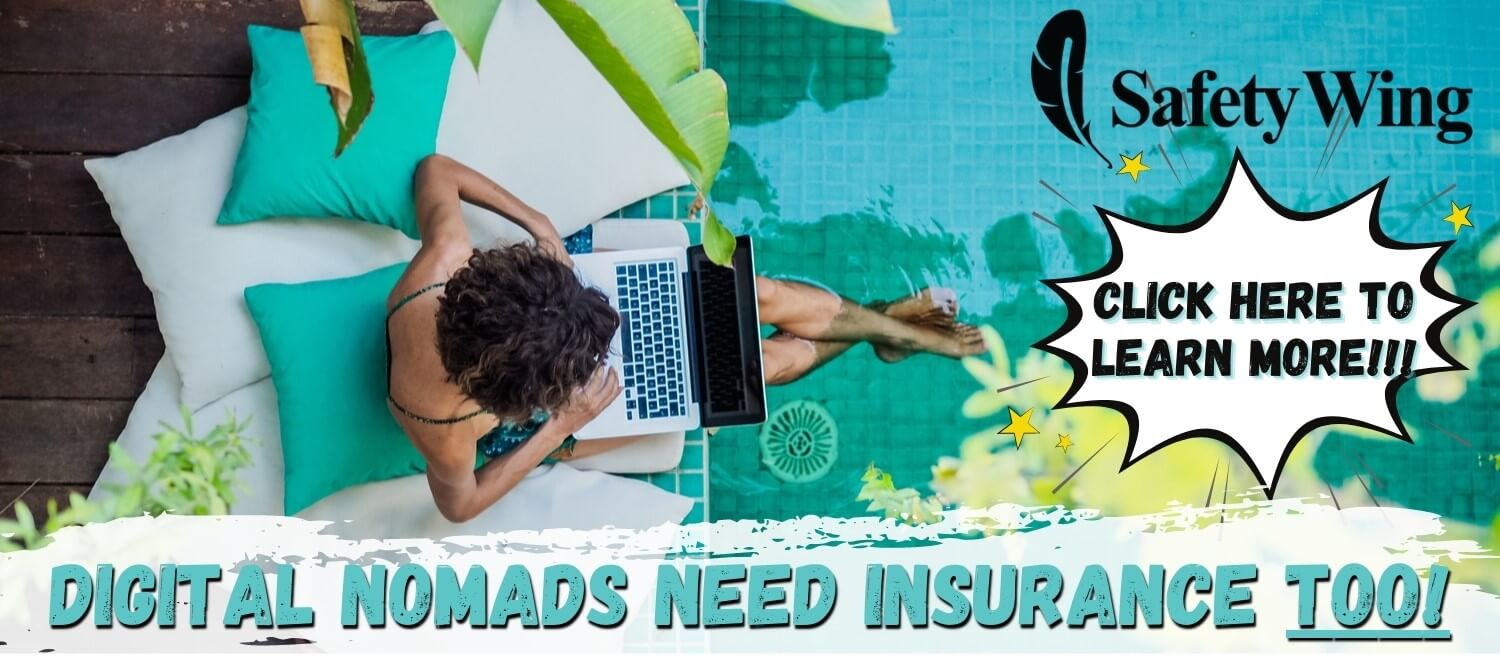 SafetyWing is cheap, easy, and admin-free: just sign up lickety-split so you can get back to work! Click the button below to learn more about SafetyWing's setup or read our insider review for the full tasty scoop.
Chapada dos Veadeiros National Park
Size: 929 sq mi
Location: State of Goiás
Entrance Fee: $2
Brazil isn't scarce on natural beauty, and the Chapada dos Veadeiros National Park only adds to its spectacular scenic appeal. The park is located in the state of Goias, spread out across nearly one thousand square miles.
Set on an ancient natural plateau that is an estimated 1.8 billion years old, this park was established in 1961 and is a dedicated UNESCO World Heritage Site for its natural beauty and grandeur.
Only 150 miles from the city of Brasilia, the park is known for its extraordinary waterfalls, scenic canyons, deep valleys, incredible flora and fauna, and unique rock formations that almost look like they belong on another planet. It's known for the Pedreidas Waterfall, a beautiful spot to take a dip and enjoy the traditional healing properties of the water.
If you're a sucker for a bit of adrenaline, this national park in Brazil is also a hotspot for abseiling, where you can join tour groups and expert guides as you make your way down the impressive waterfalls and cliffs hanging from ropes.
The combination of grassland and jungle landscape ensures that the park has its fair share of wildlife, too. If you're fortunate, you could run into a jaguar's swamp deer, wolves, or armadillos in the park.
Where to Stay near Chapada dos Veadeiros National Park:
Pousada Casa de Shiva is a fully equipped hotel located in Alto Paraiso de Goias, the closest town to the national park entrance. It has a pool, hammam, and sauna, perfect for a relaxing afternoon after exploring the park.
Serra dos Órgãos National Park
Size: 42 sq mi
Location: State of Rio de Janeiro
Entrance Fee: $3
Part of the Atlantic Forest Biome, Serra dos Órgãos National Park is known for its scenic beauty and fairy-tale-like views. Although relatively small, covering an area of around 42 square miles, it boasts incredibly rich vegetation and diversity in flora. As a matter of fact, the park is home to over 360 different species of orchids and 100 species of bromeliads, a brightly colored plant that takes several years to reach the flowering stage.
Serra dos Órgãos is an extensive mountain range just outside the boundaries of the city of Rio De Janeiro. Naturally, its close proximity to this sensational city makes the park popular with tourists. The rocky peaks of the mountain range are covered by Atlantic forest vegetation, which contains a few challenging hiking trails.
The small national park in Brazil squeezes ten impressive peaks into its area, each reaching over 2000 meters high. The most famous peak is called Gods Finger, or Dedo de Deus in Portuguese, because of its resemblance to a giant finger pointing toward the heavens.
With such an impressive natural landscape, the park is a significant hit with landscape photographers, who wait for the misty Atlantic air to coat the pointed mountains at sunrise and sunset.
Where to Stay near Serra dos Órgãos National Park:
Bromélia Sabiá & Cia is a boutique hotel surrounded by tropical plants in Teresopolis. With exquisite views of the lush forest, the accommodation has an outdoor pool, and all rooms have a private balcony.
Jaú National Park
Size: 8880 sq mi
Location: State of Amazonas
Entrance Fee: Under $1
Jaú National Park is the largest protected forest in South America, mostly made up of dense jungle and rainforest that is difficult to penetrate. It sits in the State of Amazonas and occupies a significant portion of the Amazon Jungle.
The park is heavily protected to preserve the Amazonian black water ecosystem for environmental education. It is also protected to give sanctuary to the Okampa people, a tribe who have lived in the area for nearly two centuries before the park was founded. This community is very private and secluded and will never show itself to tourists (or even other native groups).
It contains three main Amazonian rivers, the Jaú River, the Unini River, and the Carabinani River, all flowing east into the Rio Negro. While the Amazon will certainly be up there on your bucket list of places to see while you're in Brazil, I recommend dedicating at least two days to exploring this national park.
Flora and fauna are abundant in this Brazilian national park, which is home to over 400 species of plants and 260 different types of fish. This makes it one of Brazil's most biodiversity-rich areas.
The park is home to some unique protected species, including the margay, jaguar, giant otter, and Amazonian manatee. So dedicated to the animals that live within it, the park is even named after the gilded catfish found in the park's rivers.
Where to Stay near Jaú National Park:
While still a little drive away, Manaus is the closest city to the Jau National Park. Avoid the hustle and bustle of the city by staying in these unique wooden cabins crafted from local materials near Ponta Negra Beach.
Forget boring accommodation… book yourself an EPIC STAY!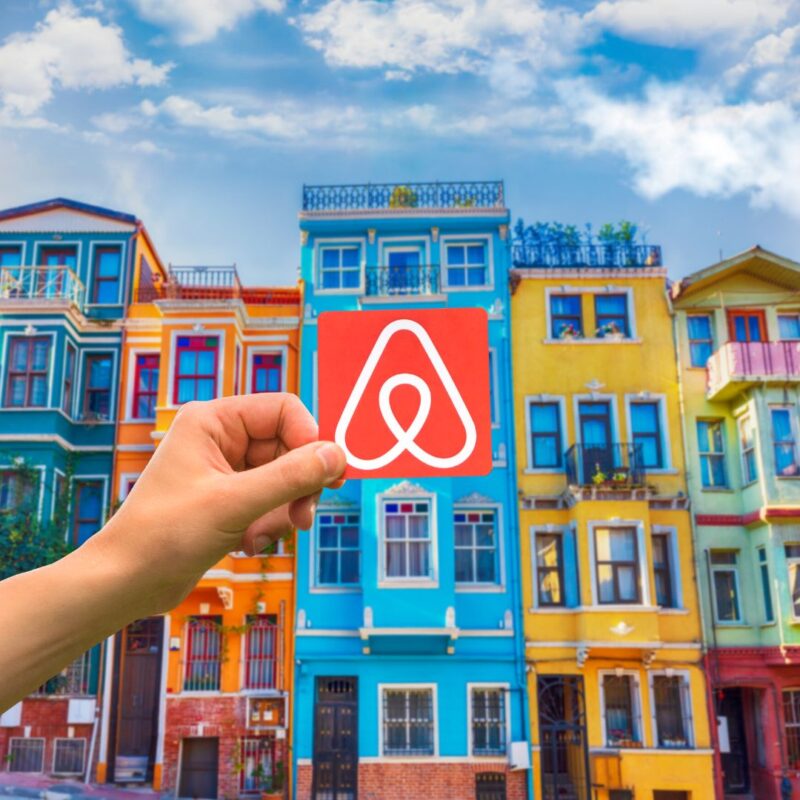 Why stay in a naff hotel when you can stay in a cosy, stylish local house instead? And for half the money too!
Stay somewhere EPIC and save your hard-earned dollars — from houses to barns to castles and caves, there is an Airbnb for every occasion!
Book an EPIC Stay
Itatiaia National Park
Size: 116 sq mi
Location: State of Rio de Janeiro and State of Minas Gerais
Entrance Fee: $7
For a change of scenery, head to the mountains at Itatiaia National Park. This protected area is home to some of Brazil's highest mountain peaks and was actually the first dedicated national park in the country, established in 1937.
The entire park has a unique rocky terrain characterized by lush Atlantic forests and tropical rainforests, lakes, waterfalls, and alpine meadows. Its diverse terrain is all thanks to the considerable variation in elevation, which ranges from just above sea level to over 9100 feet. The vegetation gets sparser the higher you are, making for magnificent views from the mountain peaks.
The park's tallest and arguably most famous peaks are Prateleiras and Agulhus Negras, which also offer some incredible mountaineering and hiking opportunities. Prateleiras is a straightforward hike, but Agulhus Negras is an expert-only climb, requiring some mountaineering skills and equipment.
Another one of the best things to do in this Brazilian national park is rock climbing. The steep rocky cliffs make for incredible rock climbing routes, varying in difficulty from easy to advanced. After a climb or a hike, you can enjoy a cool dip in one of the natural alpine rock pools, which are common at a lower altitude in the park.
The park is also a hotspot for bird watchers, who can catch a glimpse of over 350 bird species throughout the diverse park.
Where to Stay near Itatiaia National Park:
This gorgeous wooden cottage in Penedo is the perfect place to stay when visiting Itatiaia National Park. The charming self-catering rental has an open-plan living space that opens out onto the garden and is overflowing with natural light.
Chapada dos Guimarães National Park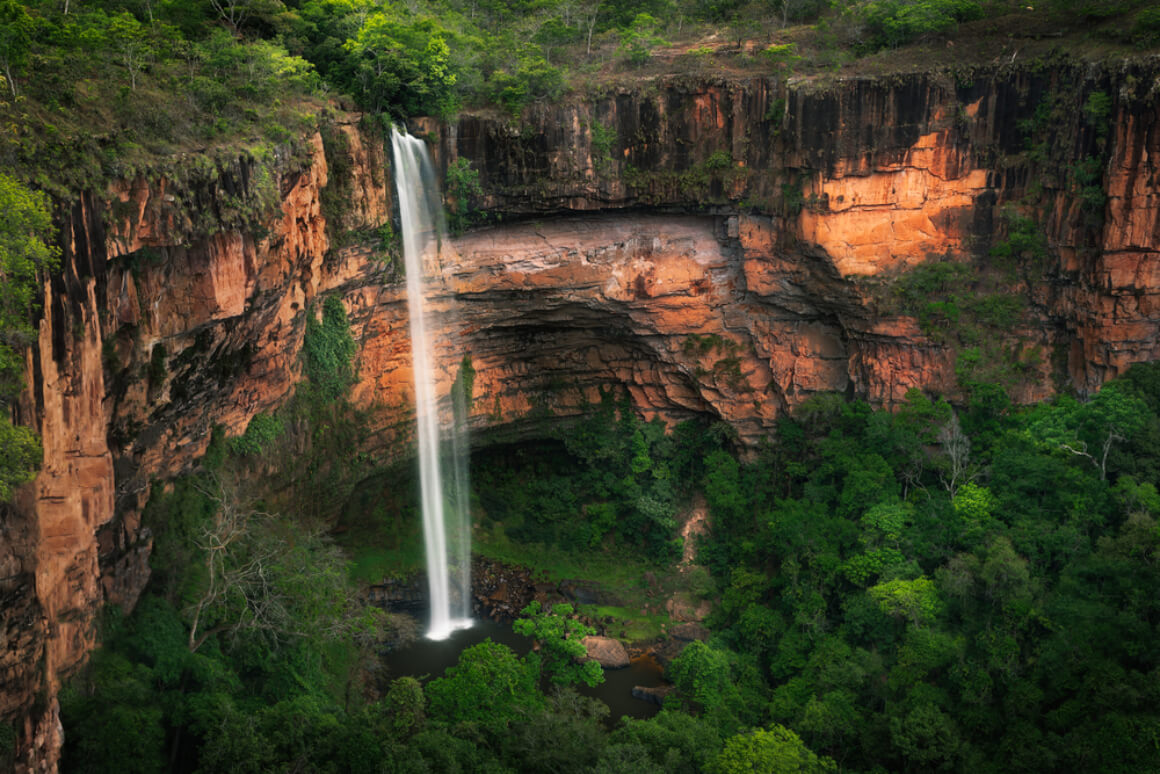 Size: 125 sq mi
Location: State of Mato Grosso
Entrance Fee: Donations welcome
Other than incredible flora and fauna diversity and natural attractions such as waterfalls, canyons, and cliff faces, Chapada dos Guimarães National Park is known for its well-preserved rock paintings that remain untouched in the park.
In fact, there are over 40 different archeological sites across the park, ranging from cave paintings to fossils digs, making it a dream come true for archeologists and natural history fanatics.
Although the park is relatively small, it packs a real punch when it comes to natural beauty, featuring some of the most draw-dropping red sandstone cliff faces and canyons in the country.
Located in the state of Mato Grosso, the cliffs drop hundreds of feet into the jungle landscape and are often dotted with hidden caves and waterfall spouts. The best place to experience the park's grandeur is from the Cachoeira Véu de Noiva (Bridal Veil Waterfall) viewpoint, which overlooks the Pantanal Plain.
When it comes to wildlife, there are some big and small animals roaming the Brazilian national park, including anteaters, deer, wildcats, eagles, and the elusive (and endangered) maned wolf.
Take note that this park is regularly closed to visitors during the rainy season, which falls between December and April. The best time to visit this national park in Brazil is between May and September. The park is free to enter, yet requires all tourists to visit with an expert guide.
Where to Stay near Chapada dos Guimarães National Park:
Nestled under the lush trees in Chapada dos Guimaraes, the Sossego Homestay offers comfortable and affordable accommodation with all the amenities you could wish for. The property has an outdoor pool and a barbeque.
Jericoacoara National Park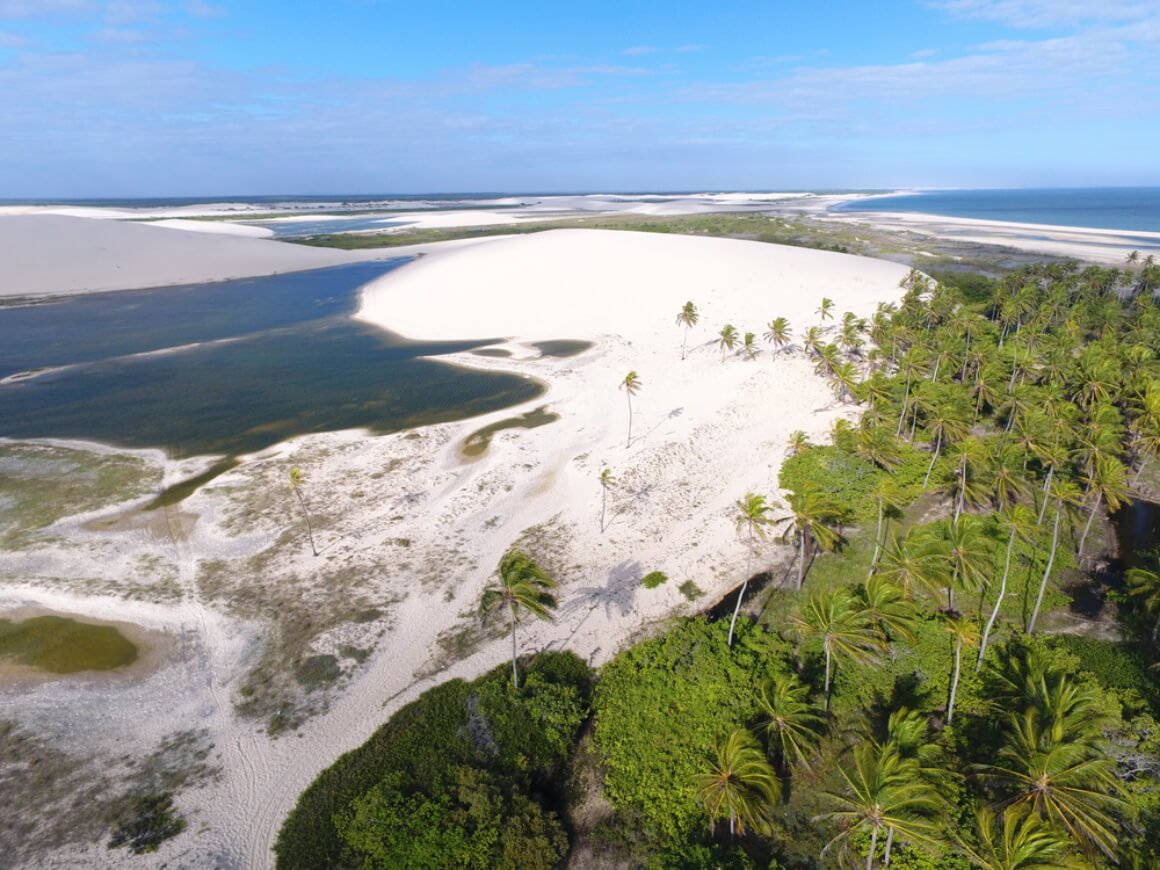 Size: 35 sq mi
Location: State of Ceará
Entrance Fee: $1
Let's take this list to the beach. Jericoacoara National Park is a relatively new park established in 2002, covering a small area of about 35 square miles. The park is most famous for Jericoacoara Beach, which has consistently been ranked as one of the most beautiful beaches in the world.
Other than being a popular place to enjoy the sunshine, windsurfing, sailing, and sandboarding, this world-class beach is naturally one of the most impressive places on the continent. The beach is a dreamscape that is rimmed with pearly white sand and bright turquoise water.
It even features unique red sandstone rock formations, caves, and arches known as the Trilha da Pedra Furada. You'll be snapping photos left, right, and center.
The name Jericoacoara comes from the indigenous language of the Tupi people and is roughly translated to the 'lair of turtles.' The national park in Brazil is sometimes called Jeri by locals and is a super popular place for locals and tourists.
Historically, the beach has been linked to the Captain of the Nau Nina, who was a part of Christopher Columbus's fleet in the 14th century. Supposedly, their boat anchored in the bay of Jericoacoara in 1499.
Where to Stay near Jericoacoara National Park:
CasaLo Hotel is a luxury boutique hotel in the heart of Jericoacoara, nestled between the beach and the jungle. The interiors are beautifully designed with bespoke furnishing and high-end linens and the rooms are overflowing with natural light.
Is This the Best Daypack EVER???
Lencois Maranhenses National Park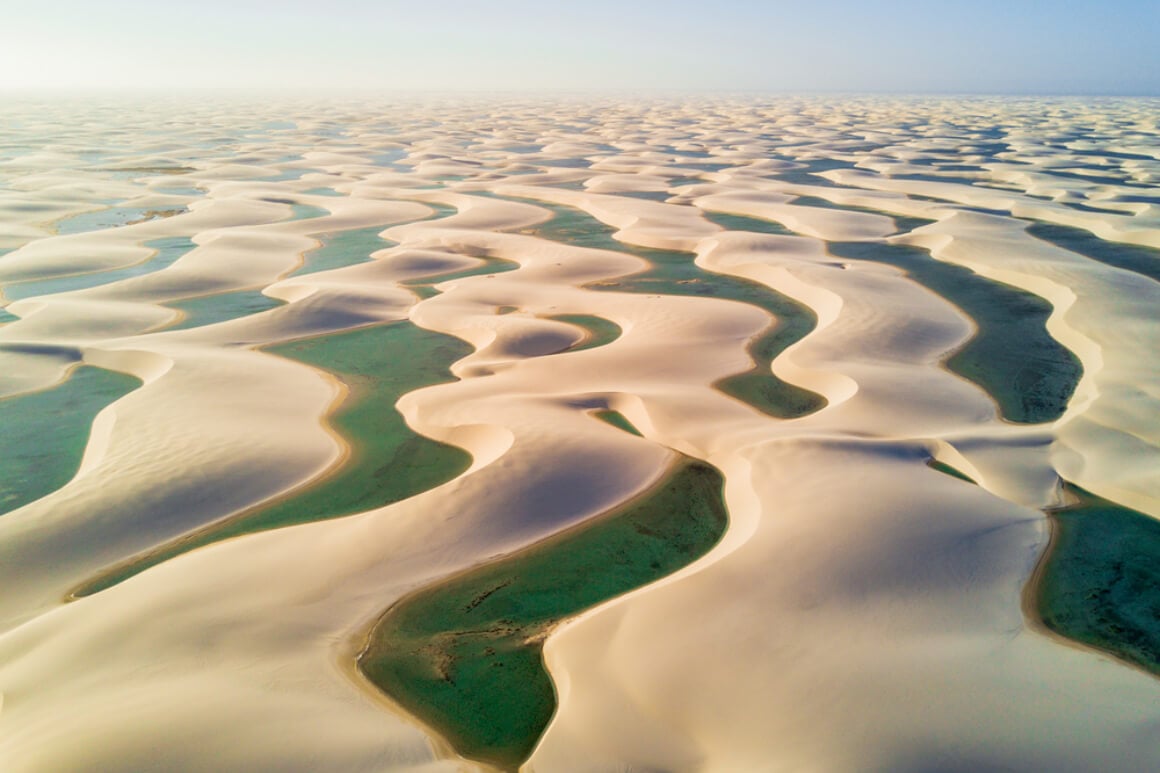 Located near the cities of Barreirinhas and Santo Amaro do Maranhao in northeastern Brazil, Lencois Maranhenses National Park offers visitors some of the most incredible views in the world. The park stretches nearly 600 square miles and comprises wavey sand dunes that create otherworldly-looking rainwater lakes during the wet season.
Little vegetation survives in this dry region, which is pretty much entirely made up of sand and water, creating a desert oasis effect. Temperatures soar in the afternoon, and visitors are welcome to cool off in some of the lakes, rivers, or lagoons.
The best time to visit this national park in Brazil is during the rainy season between July and September when the lagoons are at full capacity.
Other than unique natural beauty, the park is a popular spot for 4X4 drives, canoeing, and horseback riding. In fact, paddling through the intricate waterways is one of the most exquisite ways to experience the Brazilian national parks' natural beauty.
Another way to explore the area is by helicopter. Seeing the unique sand dune formations and color contrast of white sand and turquoise water from above is astonishing and well worth the price of the flight.
Where to Stay near Lencois Maranhenses National Park:
Only a few steps from Atins Beach, which borders the Lencois Maranhenses National Park, the Pousada Jurará e Vila Jurará is a gorgeous guest house that perfectly combines outdoor and indoor living. Wake up to the smell of freshly baked bread before venturing into the national park.
Aparados da Serra National Park
Size: 39 sq mi
Location: Serra Geral range of Rio Grande do Sul and Santa Catarina states
Entrance Fee: Donations welcome
In the very southern region of Brazil, Aparados da Serra National Park belongs to the Atlantic Forest Biome and is another park packed with natural beauty and rich biodiversity. Covering a relatively small area of land, it sits at the point of intersection of coastal forests, grasslands, and rainforests.
Although free to enter, the park is popular for ecotourism and relies on donations and government funding to survive. There are plenty of hiking and mountain biking trails throughout the canyons, forests, and rivers surrounding the Serra Geral mountain range.
One of the main attractions in the park is the Itaimbezinho Canyon, which is a subtropical rainforest section with two incredible waterfalls. Only 1500 visitors are permitted to enter the park per day. While you'll need to arrive early to get access to the park, this lack of crowds makes it a spectacular experience.
The park was founded in 1959 to protect this impressive canyon and its native flora and fauna from modern development.
Where to Stay near Aparados da Serra National Park:
Set against a forest backdrop on a lush estate, Pousada Aracema is an authentic guest house in the Praia Grande region. Guests can use the bicycles on site and enjoy a tasty breakfast served in the sunny breakfast room each morning.
Final Thoughts
As the world's fifth largest country by land area, it's no surprise that Brazil boasts some of the most incredible national parks in South America, let alone the world. From sprawling grasslands to the dense and lush Amazon rainforest, biodiversity is one of the country's biggest selling points for adventurous travelers.
If you're interested in the great outdoors, spectacular views, and unique flora and animals, Brazil will blow you away with its incredible climate, endemic species, and natural landscapes.
As a passionate ocean lover, the top park, in my opinion, would have to be Jericoacoara National Park. Hugging the coastline in the north of the country, this park boasts tropical beaches, lakes, and dunes and looks like something out of a Star Wars film.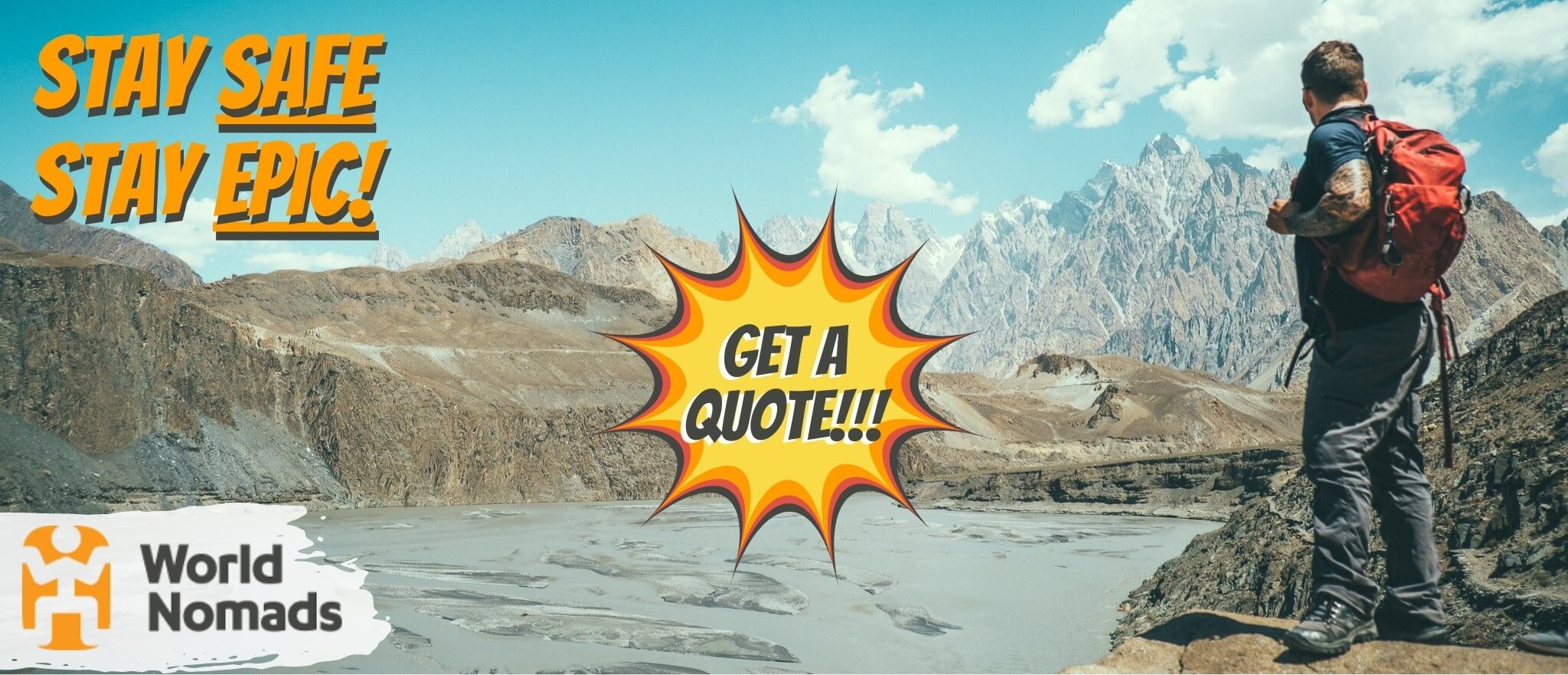 World Nomads' mission is to support and encourage travellers to explore their boundaries. They offer simple & flexible travel insurance, and safety advice to help you travel confidently.
They've been doing it since 2002 – protecting, connecting, and inspiring independent travellers just like you.
Get a quote below or read our in-depth review!
World Nomads provides travel insurance for travelers in over 100 countries. As an affiliate, we receive a fee when you get a quote from World Nomads using this link. We do not represent World Nomads. This is information only and not a recommendation to buy travel insurance.
---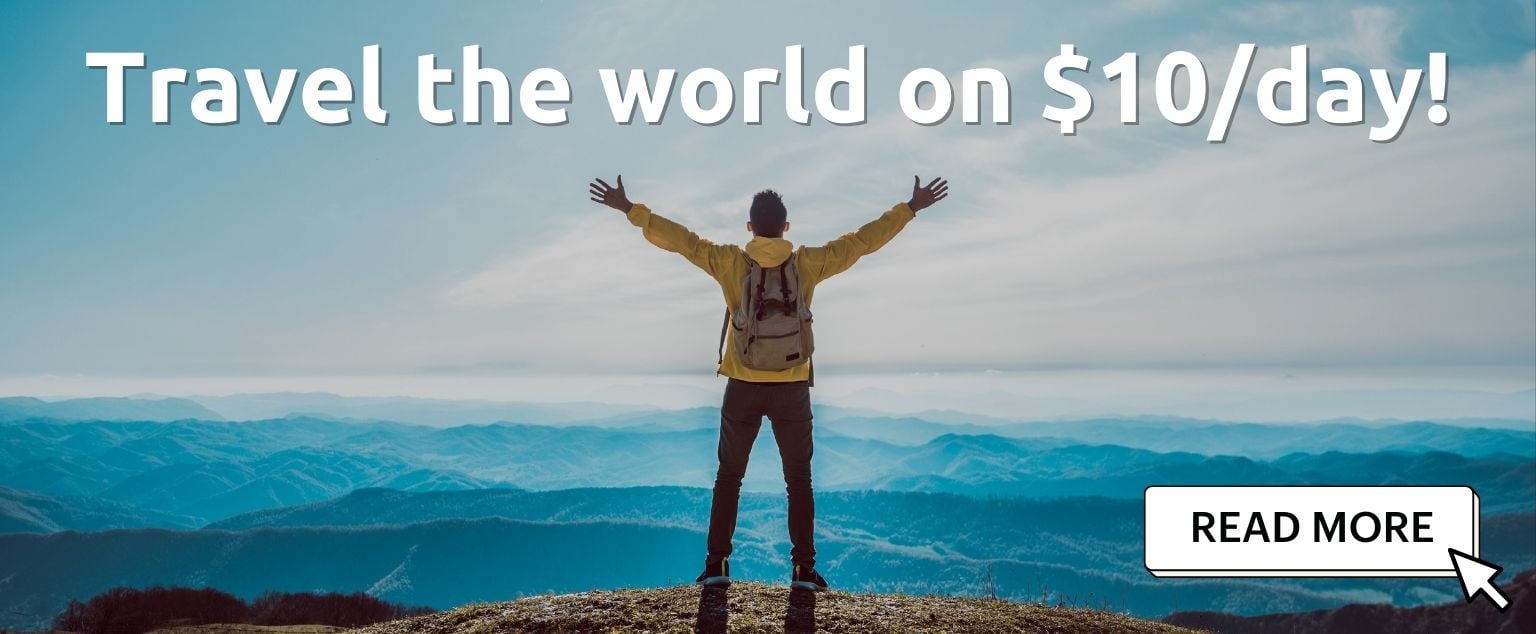 And for transparency's sake, please know that some of the links in our content are affiliate links. That means that if you book your accommodation, buy your gear, or sort your insurance through our link, we earn a small commission (at no extra cost to you). That said, we only link to the gear we trust and never recommend services we don't believe are up to scratch. Again, thank you!