Backpacking Ecuador was probably one of the greatest experiences of my life. The diversity of this country alone provides an opportunity for a lifetime worth of exploration. As the most bio-diverse country on earth, Ecuador has it all. And I do mean all.
From exploring the Amazon jungle and climbing the high snow capped Andes to the tiny beach towns where surfing and rum reign supreme, backpacking Ecuador ticks all the boxes.
When I first landed in South America, I hadn't really given Ecuador much thought. After a trip through Patagonia, I kept hearing about this fantastic country where things were relatively cheap and there was plenty of adventure to be had. That place was called Ecuador.
When I arrived there it completely blew my expectations out of the water and ended up setting me on a path of full-time travel as a lifestyle. Below is everything you need to know about traveling in this special corner of the earth…
Why Go Backpacking in Ecuador?
Ecuador is the perfect destination for budget backpackers looking to soak in the beautiful landscapes and culture of one of South America's true gems.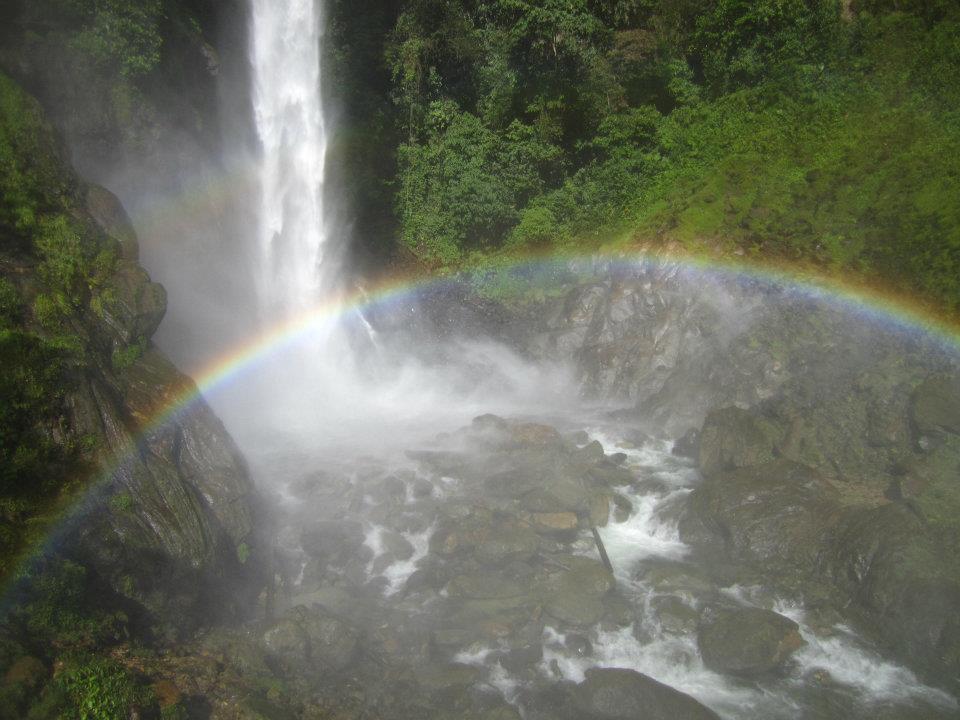 Whether you plan to take a canoe down some of the mighty river systems of the Amazon, ride some waves, or bag a peak or two in the Andes, this guide was written from the heart after I spent many months exploring Ecuador across a few different trips.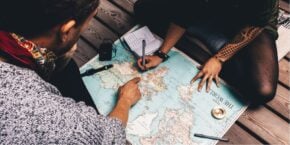 Heading Off-Grid? • Download This Guide as a PDF!
Sign up to The Broke Backpacker's EXCLUSIVE VIP AREA below and download our top backpacking guides as PDFs – go offline with peace of mind!
Best Travel Itineraries for Backpacking Ecuador
Looking for an Ecuador backpacking route? Whether you have a few weeks or a few months, I have assembled several (quick and rough) Ecuador backpacking itineraries to help you make the most of your time in this epic country. The backpacking routes can easily be combined as well.
Ecuador 2 Week Itinerary: The Pacific Coast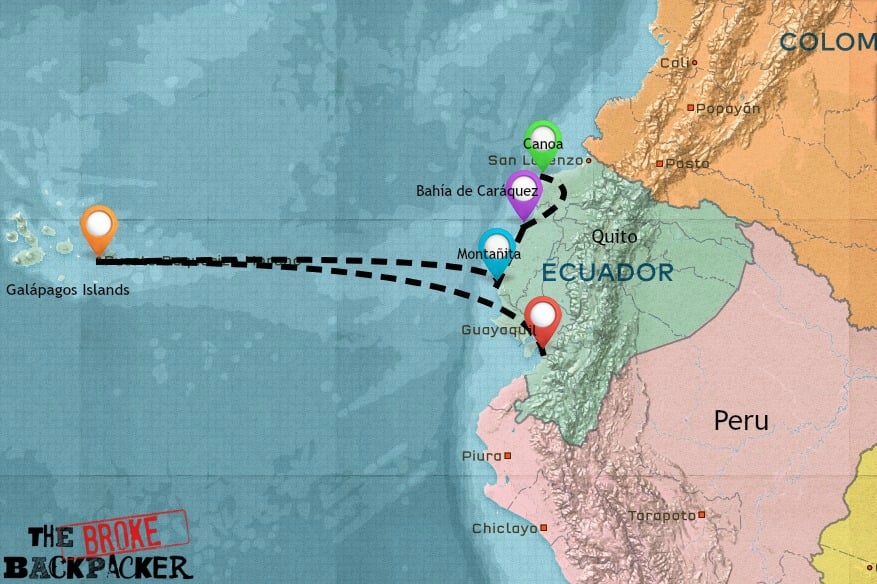 The stunning Pacific coast of Ecuador is the perfect place to get your bearings within the country. If you are entering Ecuador by bus from Peru, or intend to backpack the Galápagos Islands, then you will probably end up in Guayaquil at some point. This city is the nation's most populous and is considered a main transportation hub of the country.
This Ecuador backpacking itinerary follows the beaches and coastal towns heading north. Of course, if you are heading south from Colombia, the route works great in reverse as well.
If you are keen to explore some of the best beaches in all of South America, well my friends, you have come to the right place.
Ecuador 2 Week Itinerary #2: The Andes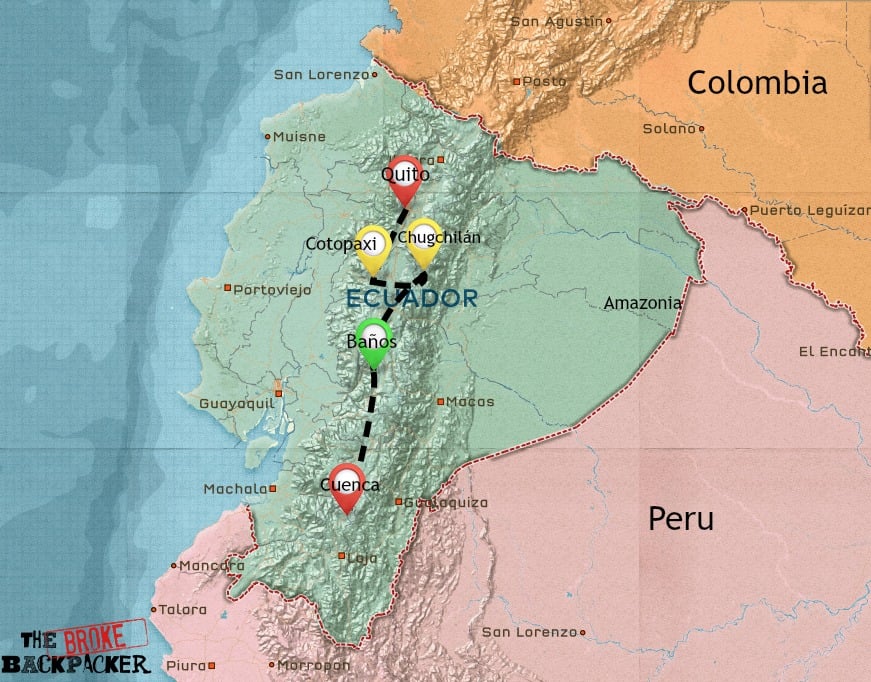 For the people who love being in the mountains, this is the Ecuador backpacking itinerary is for you. Backpacking in the Ecuadorian Andes offers the opportunity to get to know the rich culture of the highland communities and the breathtaking scenery the Andes have to offer.
Ecuador 1-2 week Itinerary : Ecuadorian Amazon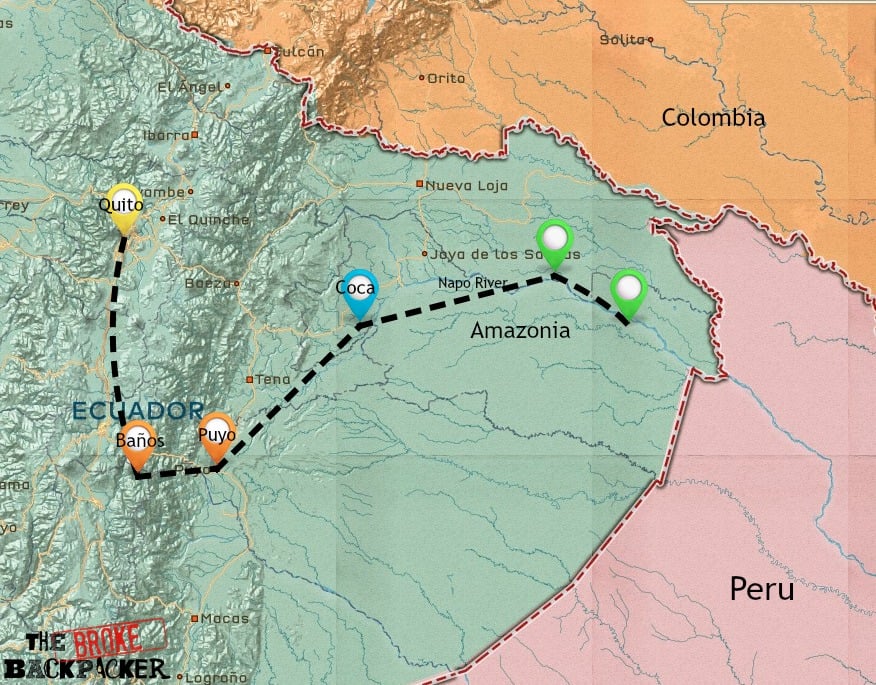 Due to the wild nature, the distances, and the travel options in the Amazon Basin, there is an infinite number of potential backpacking Itineraries for this region of Ecuador. Depending on your time frame, I recommend spending at least 2 weeks exploring the jungle.
Getting deep into the jungle and away from civilization requires time and effort. It is hot as hell, many creatures are capable of killing you, and you can't get anywhere quickly. With that said, obviously the rewards are the backpacking experiences of a lifetime.
Places to Visit in Ecuador
Backpacking Guayaquil
Whether you are stopping over for the night or wanting to explore the city some, Guayaquil has a few things to keep backpackers busy.
For me, Guayaquil is more of a stopover place than a destination. Though some of the best ceviche in Ecuador can be found at the tiny market stalls in the city center!
Being it is a big city, budget accommodation options are everywhere. For a hostel close to the airport and bus terminal, I recommend Casa Michael. Given its location, it would be hard to find another option for the value and atmosphere. A dorm bed costs about $10 and included free wifi, coffee/tea. The staff are super helpful and can field your questions about the city or onward travel.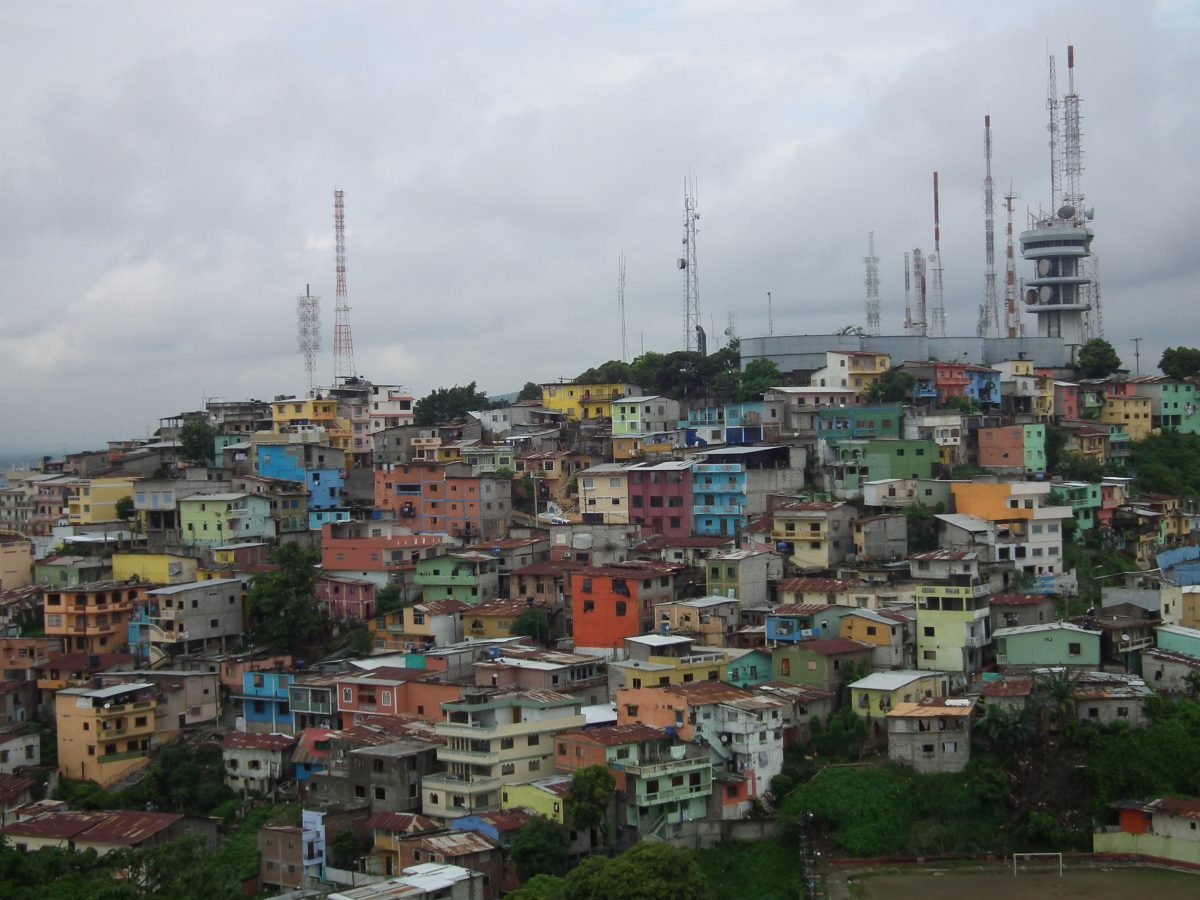 If you're looking for a hostel, we've rounded up our favorite hostels in Guayaquil, which all offer a comfy bed to rest your head. For a place to crash in the heart of the city, look no further than Tomo Hostel. From here you are close to all of the main attractions of Guayaquil. Perks include free wifi and a decent cafe on site.
The Las Peñas area is a fun neighbor hood to walk around in, and turns into a pretty fun bar scene at night. Find a bar or cafe that has a view of the coast and watch the sunset on the port.
Backpacking the Galápagos Islands
As dreamy as they sound (and they are dreamy), the Galápagos islands are just too damned touristy and expensive to qualify for this backpacking Ecuador budget guide. Just to set foot on the islands will set you back at least $450 USD. This is low-balling the flight cost to about $350 and includes the $120 per person conservation fee.
If you decide that the Galápagos are a must visit for you, then fair enough. Just be prepared to spend at least 3x what you would in the rest of the country.
Further Reading on the Galapagos Islands
Bear in mind that whilst it is possible to see this amazing place without spending thousands, you'll still definitely end up spending hundreds.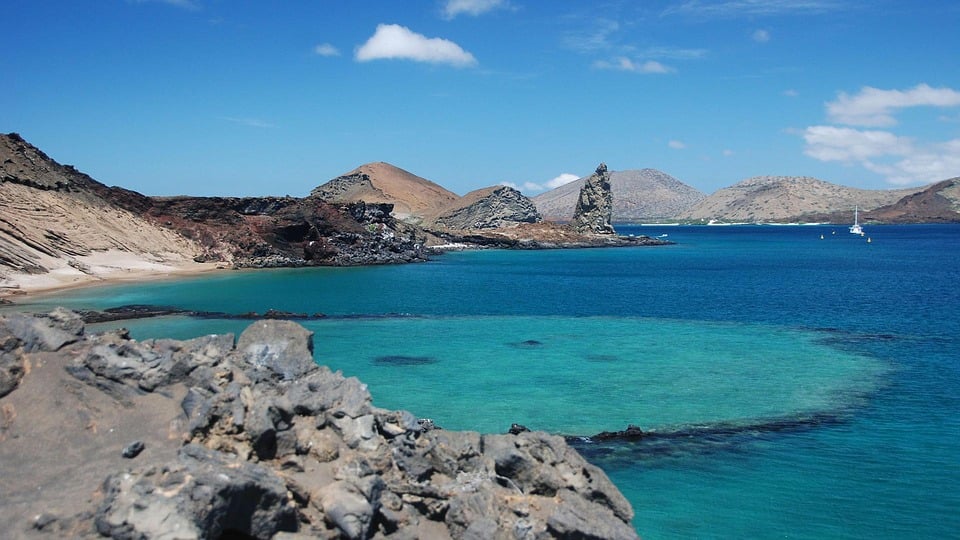 Budget accommodation is few and far between. I have heard that La Posada del Caminante is one of the best options around. Dorm beds start at $18 and includes fast wifi.
Backpacking Montañita
The legendary town of Montañita first became a hotspot for travelers and surfers in the 1960's. With a steady stream of nice waves all year around, Montañita is a magnet for folks who want to dive straight into the full on beach bum lifestyle. This is party and surf central for the coast of Ecuador and it is not surprising to learn that many travelers find themselves here long term.
Kamala Surf & Backpacker Hostel is a great place to land. A bed in the dorm here will set you back about $8. An obvious benefit being you get to wake up to the sounds of the waves! They offer free fast wifi and a fantastic restaurant with reasonable prices. Book this one in advance as it is popular. It is also possible to pitch a tent for a few bucks a night.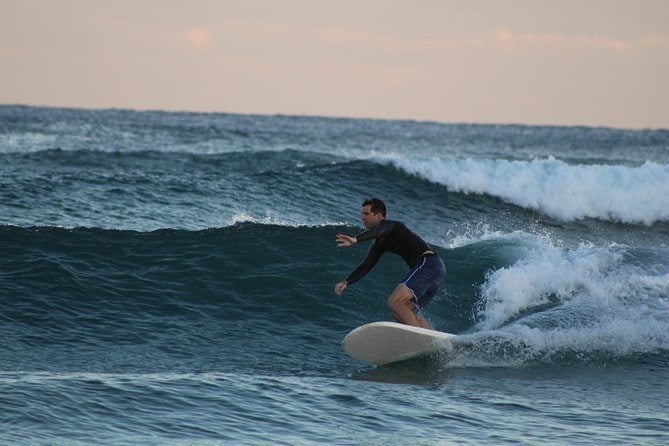 If you are motivated to give surfing a go for the first time, there are many surf schools offering boards and hands-on instruction. Shop around a bit to find the best price. Often, if the hostel you are staying at offers surf classes, you will get a cheaper rate if you are also staying with them. At Montañita Spanish School, you can learn Spanish and take surf classes.
Whilst backpacking Ecuador I highly recommend taking at least a few Spanish classes if you are wanting to really improve your Spanish level. I found classes to be super helpful as new languages don't come easy to me naturally.
Day Trips around Montañita
If you are keen to have break from the beach and explore the surrounding area head to Olon Waterfalls. You can rent a motorbike in Montañita and arrive there within 20-30 minutes. It is a three hour walk if you need some exercise! Ask any local how to get there.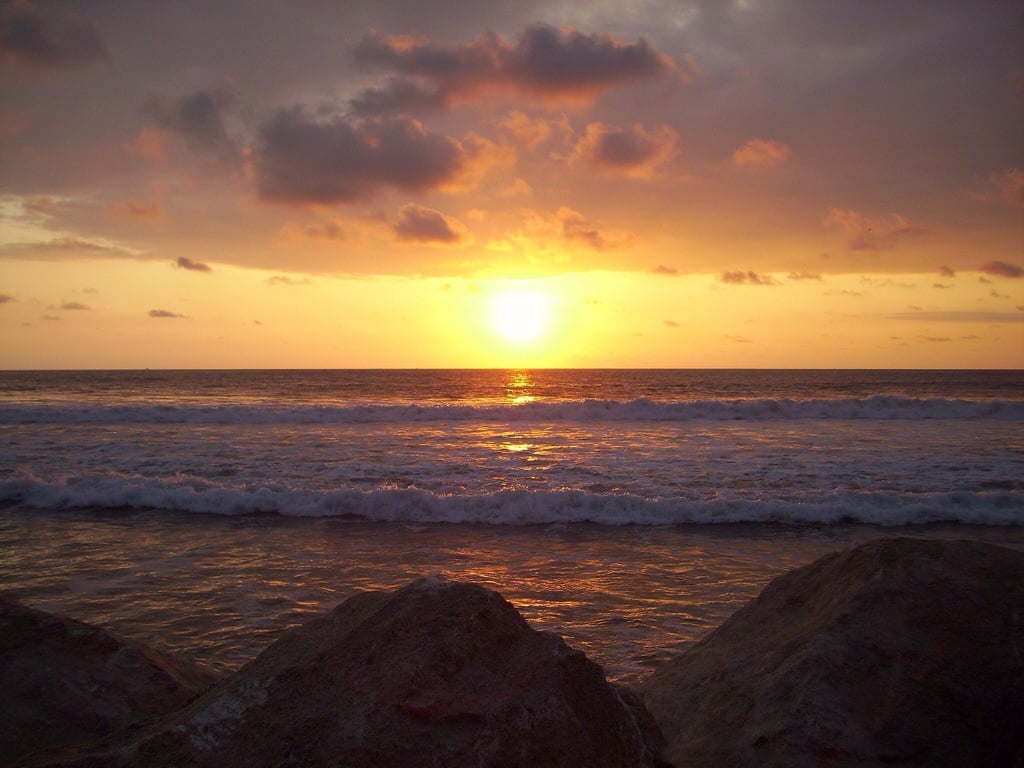 For a less party-based (only slightly less) environment, I can recommend staying at Hostel Moai. For $10 you have a bed and a small breakfast in a hammock if you choose. Located on the river, about a block from the beach, Hostel Moai was one of my favorite hostels I stayed in during my time backpacking Ecuador.
That said, there are plenty of other great hostels in Montanita. While Montañita remains the prime party town of the coast, don't get stuck there unless you fall in love with a person or the surf. It is quite easy to do. There are plenty of other amazing beaches to discover on your trip backpacking Ecuador!
Backpacking Bahía de Caráquez
Bahía, as the locals call it, is a small coastal town a few hours north of Montañita. The vibe couldn't be more different. This is more of a locals centered town, and a great place to come if you are wanting to discover a world away from beer-ponging gringos.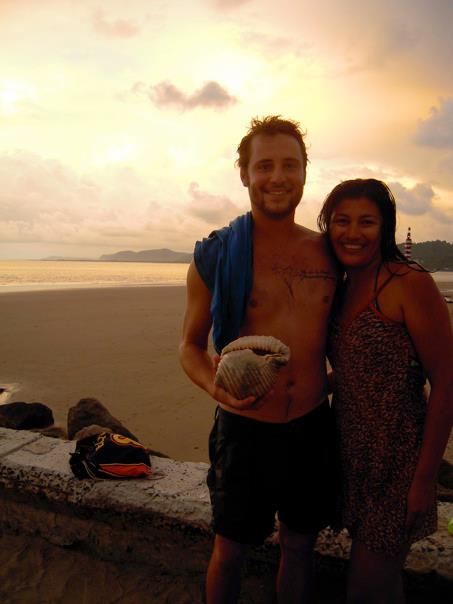 Hostel Coco Bongo is the one and only long-standing hostel in Bahía (as of the time of writing). Some ex-pats seem to live here full time!
For 10$ a night, you can have a great base in which to explore Bahia and the surrounding beaches. Rent a bike and cruise around town. A ride out to the bridge spanning the bay is definitely worth the trip. The bridge is the longest one in Ecuador.
There are also some great beaches in Bahía for chilling out, playing some football, or having sunset beers. Many locals just hang out along the sea wall in the evening putting back a few cold ones and chatting.
Normally I would not say this about an Ecuadorian town, but if you're in the mood for a great pizza, track down Pizza Claudia and tell her I said hi (that is Claudia in the photo above).
Volunteering in Bahía de Caráquez
I spent a few months in Bahía de Caráquez volunteering for the wonderful non-profit organization Planet Drum. Whilst living in Bahía, I stayed in a house with other volunteer backpackers and worked a few hours a day planting trees (amongst many other things) during the week. It was very rewarding working with the land and community here.
If you are looking to spend some time in one place on the coast, I recommend Bahía. The surf here is great as well and the locals were some of the most welcoming surfers around. A part of my heart is still in Bahía. If you're going to get stuck somewhere on the coast whilst backpacking Ecuador, Bahía is the place to do it.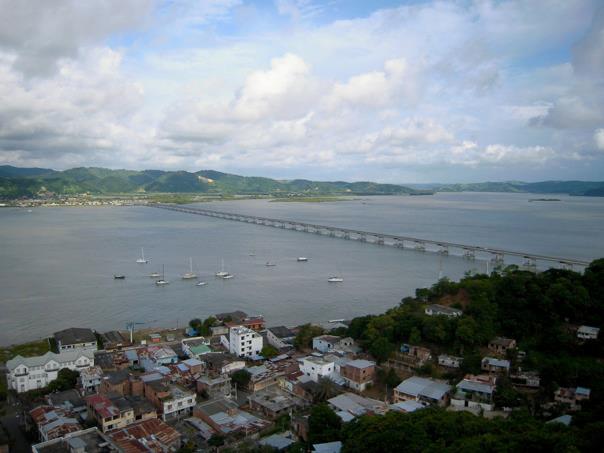 My journey backpacking Ecuador, and really all of South America really fell into place for me in Bahía. Leaving it behind was pretty tough in the end.
There is a pretty happening night life in Bahia on the weekends. Head down to the harbor or just cruise the streets. The give away will be the dance music drifting out of the establishment.
Frequent buses depart and arrive on the edge of town close to the bridge. You can catch a bus for about 75 cents from Bahía to Canoa (20 minutes).
Backpacking Canoa
Canoa feels the way Montañita probably did 30 years ago. Though small, Canoa is another quintessential Ecuadorian beach town. Surfing and beach time is still the main attraction, though the rowdy backpacker hordes are virtually non-existent. There are other backpackers here, but far less.
Feelglamping is among the nicer budget options in Canoa. They offer nice "glamping" tents for about $10 bucks. In my opinion, this is a little pricey, but the vibe of the hostel makes it worth it. It is much cleaner than some of the other budget backpackers in town. They also have bikes for rent here too for next to nothing. You can probably bring your own tent and pay a much cheaper rate.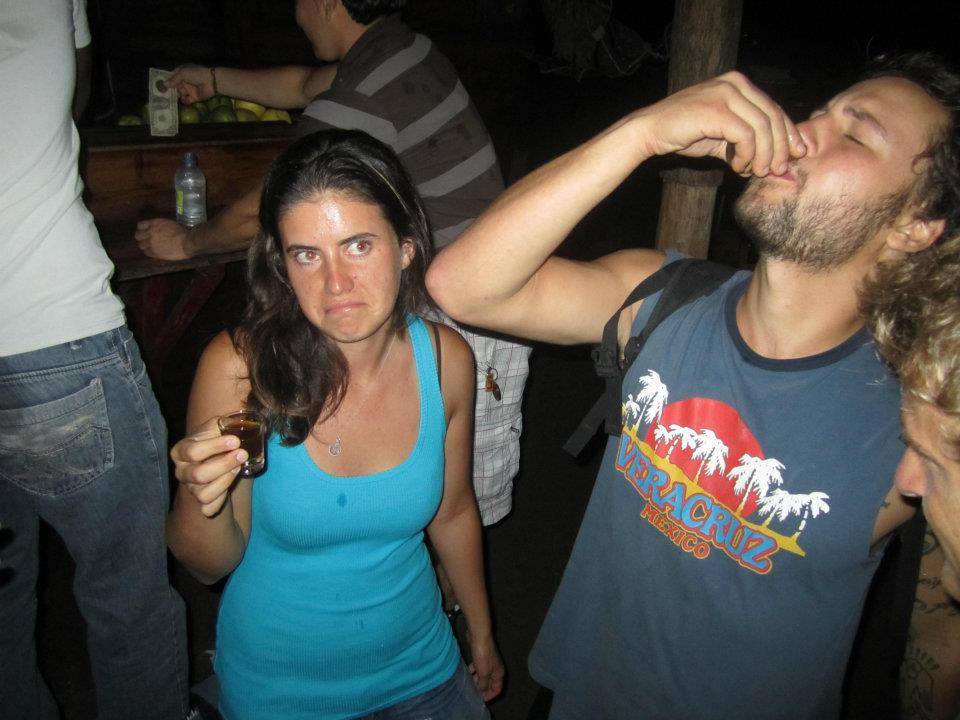 This is a great place to really dig your heels into the whole surfing culture. Over the last few years Canoa has been producing some of Ecuador's finest surfers. If surfing is not your thing, then the pros are still very fun to watch.
For the brave souls out there, try the famous Canoa beverage La Uña. This strange witchy brew is made with some interesting ingredients. Several vendors sell the concoction, made by marinating scorpions, giant millipedes, and marijuana stalks in moonshine before selling it for a dollar a pop. I advise keeping a squeeze of lime handy for a chaser.
Backpacking Rio Muchado
Rio Muchado is a tiny village just outside of Canoa and is home to a truly fantastic little hostel. It is set out on an organic farm and has the yoga/meditation/organic food vibe going for it. In a country defined by lots of partying, these sorts of peaceful/sober places are key to giving yourself a great place to truly relax. Very affordable private rooms start at around $15.
Remember, the coast of Ecuador has some of the best seafood and waves in all of South America. Treat the beach and surrounding areas with respect. Always pack your trash back to the hostel with you at the end of the day. Never break glass or leave cigarette butts on the beach. The coast is one of the treasures of Ecuador. Do you part to help keep it beautiful.
If you plan on also hitting up the Andes, this Ecuador backpacking itinerary can run right into the next backpacking route on the list. Soak in all the sun and beach you can and head for the highlands!
Backpacking Quito
When you step off of the bus from the coast in Quito you are met with delicious mountain air. At 2,850 metres (9,350 ft), Quito is the 2nd highest capital in the world. I enjoyed Quito a whole hell of a lot more than I did Guayaquil. Quito is where modern Ecuador meets the traditional Andean way of life.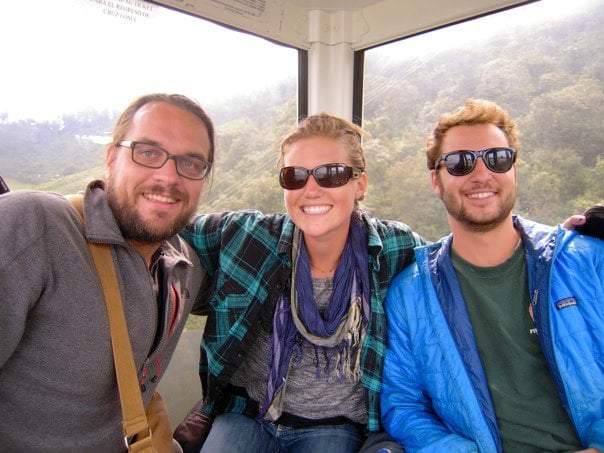 Backpacking Ecuador brings you in touch with a wide array of cultures, and in Quito there is a great mix of both worlds. That being said, you definitely want to be sure where to stay in Quito, as there are many cool areas and neighborhoods. Colonial House Quito was my favorite place to stay in the city. Situated right in the heart of Quito's lovely old town, this hostel offers dorm beds for $9 and free Wi-Fi in all rooms.
I especially enjoyed the garden and the balcony with views of the city. Booking in advance is a must if you are arriving on the weekend. If you didn't manage to book in time, don't worry, there are many great hostels in Quito that offer comfy beds and great locations. Take a day or two to walk the streets of old town.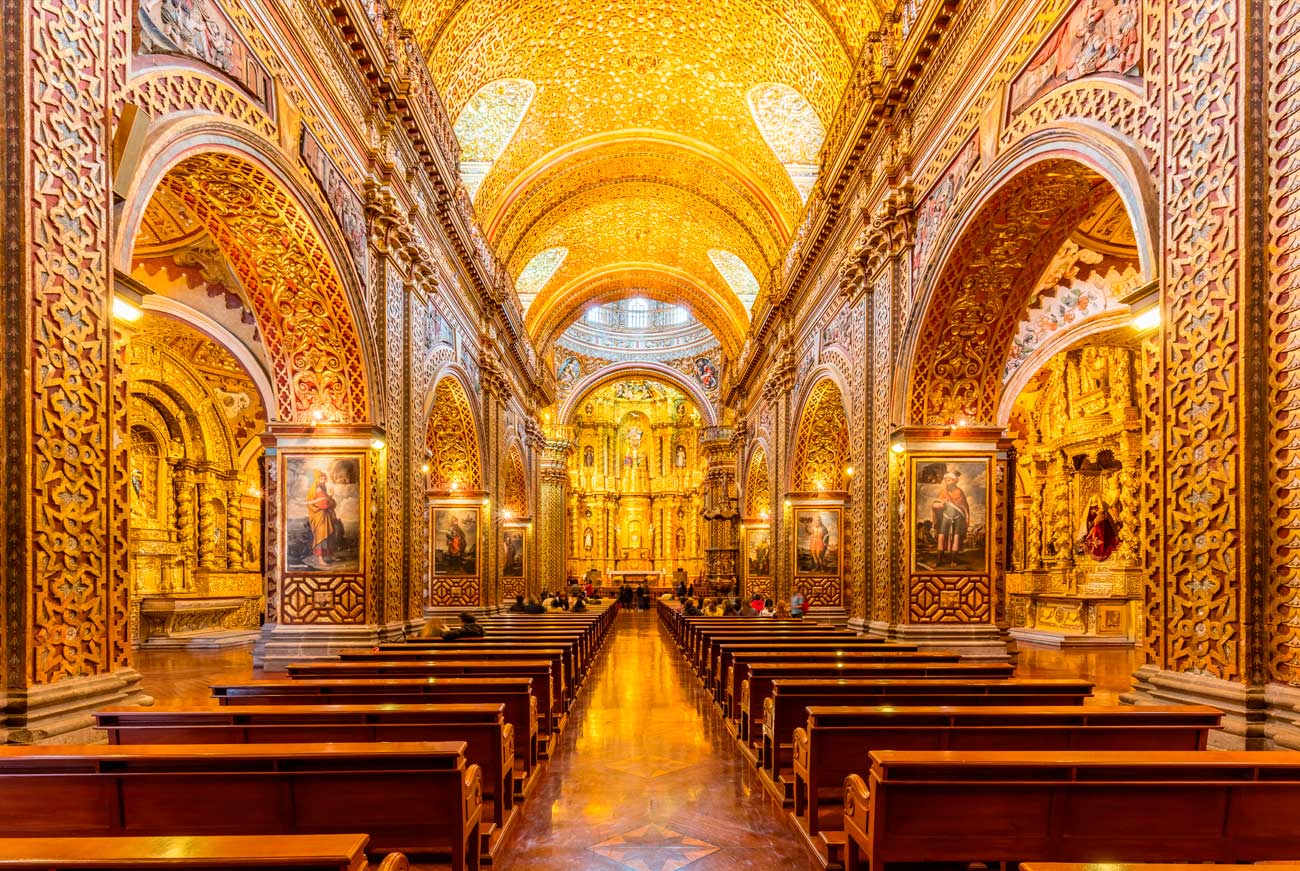 Check out a few cafes and sample the local beers. The Iglesia de la Compañía de Jesús is probably the most decadent church I saw in all of South America. It is a big golden relic from the Spanish colonial era that is definitely worth a visit.
Travel CHEAP and Make a Difference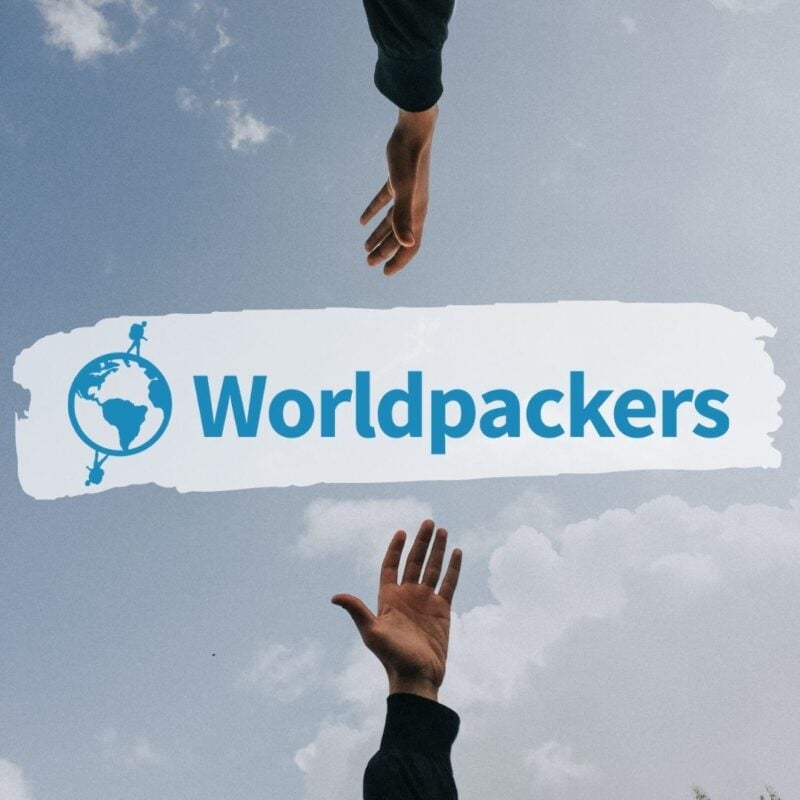 Worldpackers connects travellers with hostels, schools, NGO's and many more. Get free accommodation in exchange for volunteering a few hours a day. You won't just save serious $$$, you'll experience a different culture, cool projects, meet new people and integrate into the community in a different way.
Broke Backpacker readers get a $10 discount when you sign up. Use the discount code BROKEBACKPACKER. Plus, get 3 free months on your membership during their summer promo!
Travel well with Worldpackers
Backpacking Ciudad Mitad del Mundo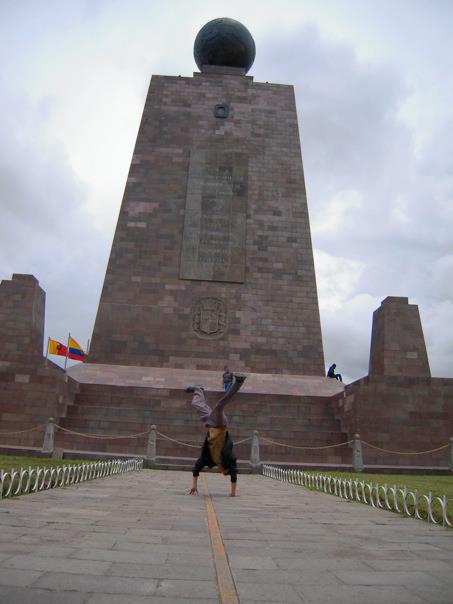 26 kilometers from the Quito city center lies the Ciudad Mitad del Mundo. This town literally translates into "city in the middle of the world".
Geographically, this is the exact center of the Equator. Take the Metrobus (25 cents) to La Ofelia bus terminal in the north of the city. Buses from La Ofelia run past MdM frequently. It is possible to hire a taxi to take you, however this will cost about $10-15. Seems silly if you ask me when the buses are so cheap.
The place has a bit of a tourist vibe, but lots of Ecuadorians come here too. An afternoon well spent in my opinion. At time of writing, the price of admission is $7.50 and includes entrance to the various other museum projects on site.
Avoid buying beer here. They jack up the price to $5 a glass! You can wait until you return to Quito to have a brew.
Backpacking Chugchilán
From Quito, you can start to get to grips with how spectacular the Andes truly are. The famous Quilotoa Loop is a great way to connect with the stunning landscapes and the Kichwa culture of the high mountains.
In the rural areas of the Andes, a traditional way of life is still the norm, and Spanish is often a second language to many of the inhabitants. You can catch a bus from Quito to ($1.50) Latacunga.
From there you can catch another bus to Chugchilán. It is also possible to hitchhike this stretch, and it might end up being faster than the bus. Hostal Cloud Forest is located towards the northern end of the town of Chugchilán. Dorm beds start around $17 (ouch!), but includes free breakfast.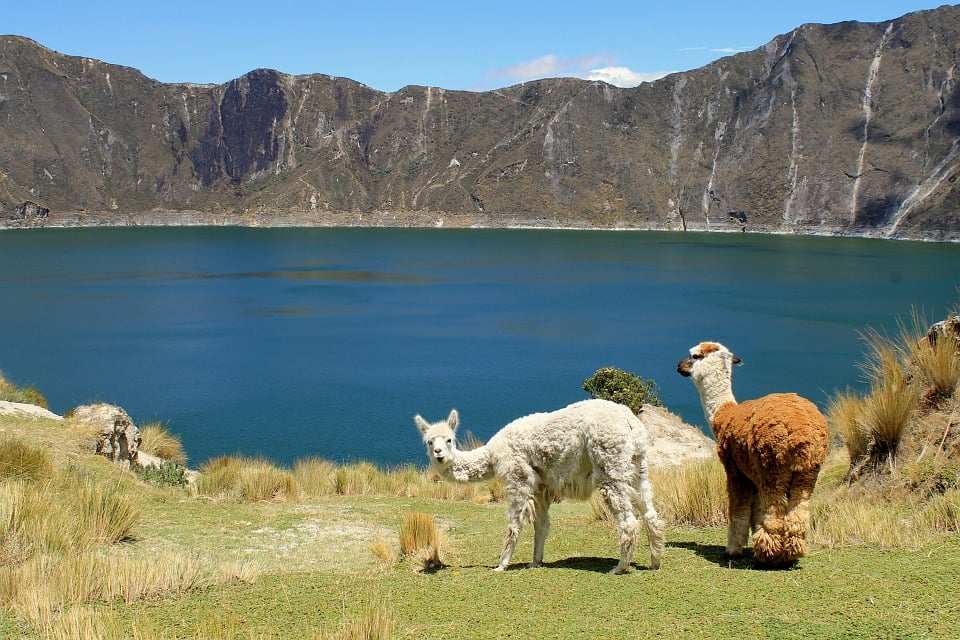 There is a lack of quality budget lodging here, but this hostel is filling the need for now. This is a beautiful hostel with very friendly owners, so if you can shell out the dough, it is well worth it. Booking in advance is a good idea due to the popularity of the Quilotoa Loop.
Since Chugchilán is the gateway town to starting the Quilotoa Loop trek, I am certain more budget options will appear in the area soon if they haven't already. Though this hiking route is quite well known, in my opinion, it will be a highlight of anyone backpacking Ecuador.
Backpacking Cotopaxi
Cotopaxi National Park is home to the massive glaciated volcano cone bearing the same name. Hiking in the park is abundant and wild camping opportunities abound.
The park is home to endemic Andean wildlife species including wild horses, llamas, fox, deer, Andean condor, and the exceedingly rare spectacled bear. A good home base to explore the park is Latacunga. The folks at Hostal Cafe Tiana run a nice little hostel in the town. Dorm beds start at about $10 and come with free breakfast and wifi.

Latacunga is not super close to the park, but you can easily make it there and back in a day if that is all you are after. There are various accommodation options in the park as well, but I found that most of them were very high end, luxury type places. Backpacking Ecuador on a budget is pretty easy most of the time, however, every now and then the only options available tend to be expensive.
If wild camping is not your thing (then it should be!), it is possible to camp at an "established" campground where you might have a few other folks around. Camping is officially 5 USD per person, per night, but nobody seems to actually ask you for the money.
Within the park there are countless trails to explore and get off of the beaten path. Check-in at the park headquarters for more information about the trail systems and maps.
Prepare for the high altitude in Ecuador
Bring plenty of warm/waterproof gear if you plan to camp out or do any serious trekking. I can not stress the importance of having some quality backpacking gear! Backpacking in Ecuador can be tricky because you have such a massive variety of climates in the country!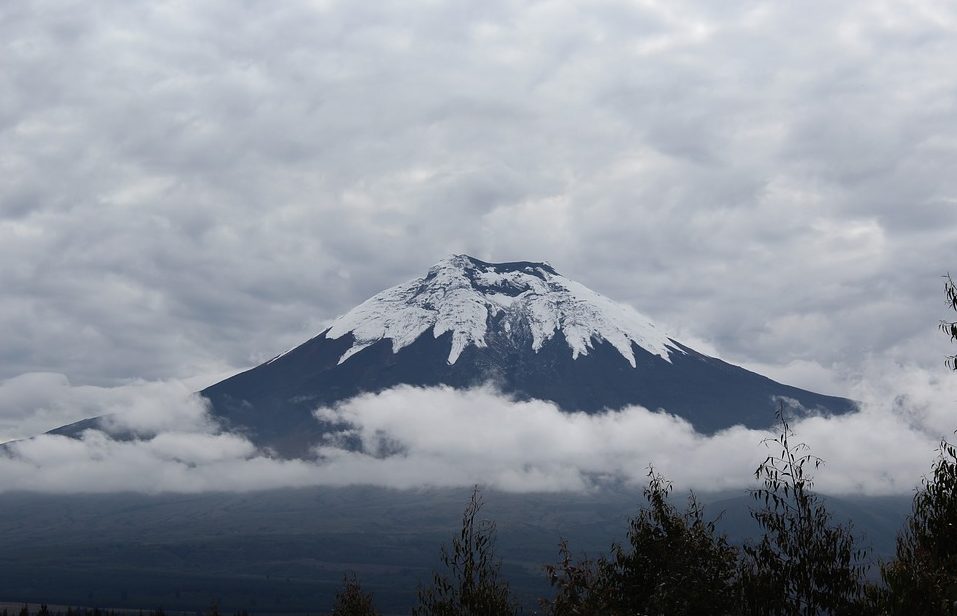 Investing in a solid tent and a good sleeping bag is always a good idea. These purchases won't just accompany you backpacking Ecuador, but will be stashed in your bag for years throughout your long and prosperous backpacking career! Hostel Sendero de Volcanes is another great budget option around Latacunga, free breakfast and a dorm bed for $9, if Hostal Cafe Tiana fills up.
Backpacking Baños
For better or for worse, the town of Baños feels like the unofficial backpackers capital of the Ecuadorian Andes. You will probably find yourself here at some point in your journey backpacking Ecuador and for good reason.
The town itself is crawling with tour operators, western restaurants, and budget accommodation. The center of Baños is rather pretty and you can easily walk to several waterfalls right from the main drag. Plantas Y Blanco Hostel is a great place to stay right in the mix of everything. Dorm beds run around $9. This hostel is fairly large, but I found it made for a good base to meet fellow backpackers looking to explore the mountains.
For a cozier environment, I recommend Hostal Cordillera de Los Andes. This place is family run and still big enough to meet fellow travelers, might not so massive as to disrupt your nights' sleep. Dorm beds cost about $8 and include wifi and kitchen access. If you are looking to get into some mountain-biking, hiking, hot springs, rafting, or one wild "Swing at the End of the World," Baños has you covered.
I found that talking with some of the smaller tour operators was a good way to get information about the area. It really just depends if you are looking to book an activity or be more on the do-it-yourself program.Prices for adventure sport trips vary across the board, so if you do decide to go with a tour operator, shop around and get a good deal for yourself.
Backpacking Cuenca
If you enjoyed Quito's old town, then you will certainly love the charm of Ecuador's 2nd most important colonial city. Cuenca's historic center is a Unesco World Heritage Site. The city is famous for its stunning architecture and many churches dating back to the 16th century.
The city is the center of many craft traditions, including ceramics, metalwork, and the internationally famous Panama hat – and the nearby villages offer many more handicrafts besides. The Malliki Hostel in Cuenca is a great sleeping option for the price.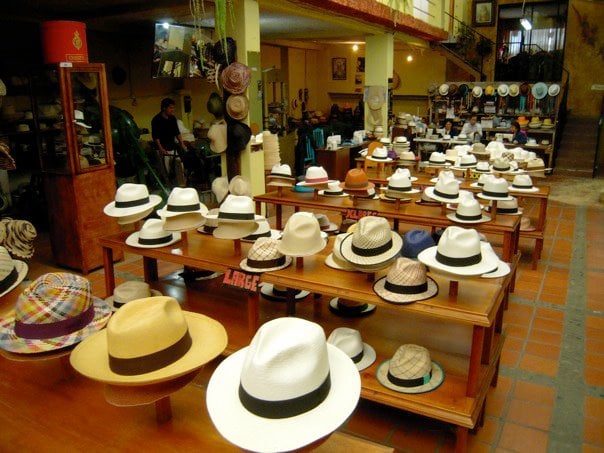 Dorm beds run about $6 and include a free breakfast! Beds at this hostel go quick because of low prices they offer. Book in advance so you know you'll have a spot when you arrive. When backpacking Ecuador on a budget, you really have to jump on these great hostel deals, especially when they include breakfast.
If you're into photography, then Cuenca will be a highlight for you. The city is super photogenic and is fun to walk around in, camera in hand. If Malliki Hostel books up, be sure to check out El Cafecito Cuenca. This hostel is situated in an excellent location for city exploration and has a terrific atmosphere. Dorm beds cost $10.
The rooftop terrance is a great place to have a coffee. You can sit, sip, and contemplate how much awesomeness you have endured in your time backpacking Ecuador.
Backpacking Puyo
Puyo is located about an hour drive down through the mountains from Baños. This bustling town on the edge of the tropical forest is dirty and noisy.
There are accommodation options here, but honestly I wouldn't recommend too many of them them. Around the town though is where the jungle really begins to take hold. Puyo is the capital of the Pastaza province and is the gateway to the Orient and the Amazon Basin.
If you plan on having your journey backpacking Ecuador takes you to the jungle, then certainly you will pass through Puyo. The Paseo de Los Manos monkey refuge is worth the day trip from Baños and can be coupled with a visit to some of the tiny indigenous river communities around Puyo.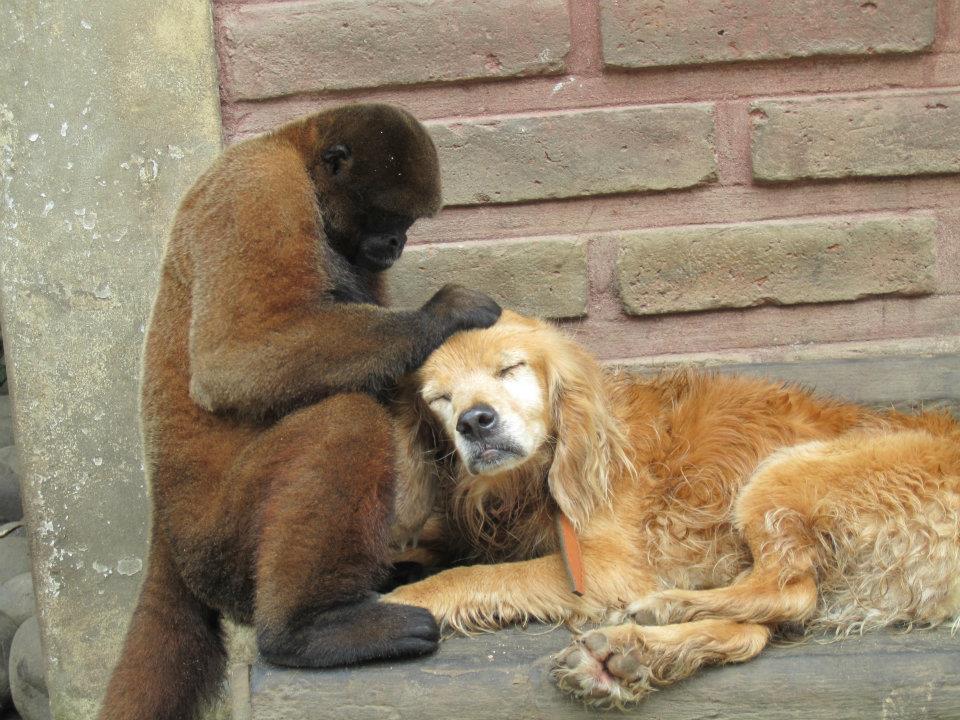 The monkeys here are pretty free to come and go as they please around the property. A super lazy dog can be found asleep on one of the patches of grass, with a few monkeys carefully picking him over for insects. If you want to stay in Puyo for a night, then I recommend staying at Hostal del Rio. The place is a little pricey, but for around $20 you can have a pretty nice private room.
Backpacking Coca
Coca was once a totally wild mass of Jungle. In the last few decades, oil companies have come in a changed the landscape into a town that feels very much out of place with all the concrete around. Yay capitalism!
Coca is the last real civilization before the Río Napo transports you deep into the rainforest to the Parque Nacional Yasuní and beyond into the Amazon basin. A bus journey here from Quito will take nine to 10 hours.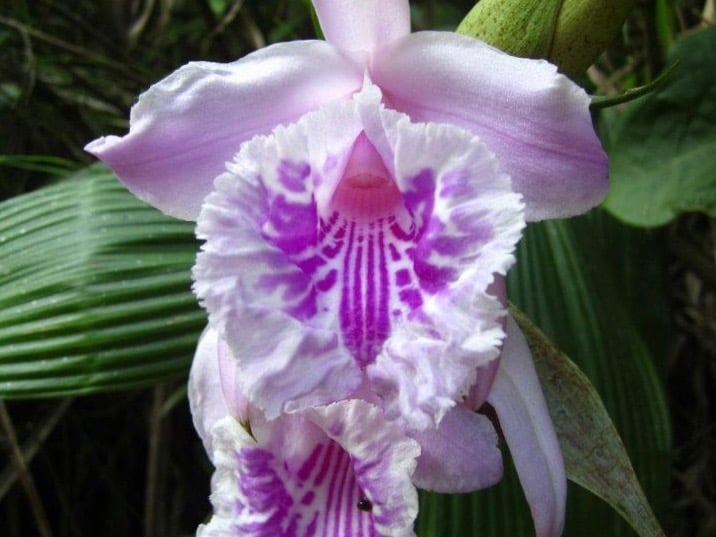 There is little in the way of budget accommodation in Coca. Expect to pay a minimum of $20-25 bucks, but also expect it to be quite comfortable. My advice is to get into town, rest, and get the hell out. It is possible to hire a guide here for a reasonable rate to take you downriver, and away from the concrete of Coca.
There is an endless breadth of possibilities for Amazon exploration in Ecuador. Do not opt for a generic jungle tour. While these might be easy and interesting to a degree, the real charm of the amazon lies in difficult to reach locations, and away from the hordes of eco-tourists.
Backpacking Amazonia
Whilst backpacking the Amazon of Ecuador, you will require a guide at times. The jungle is one fierce place to be lost or sick, so if you plan to come here be prepared to pay a bit for the pleasure. Make sure you take a local guide, not some hack from Quito who is only interested in the jungle because you want to pay him.
Ecuador's Amazon basis is one of the most bio-diverse places on the planet. This vast landscape known as Amazonia is hot, lush, green, and super humid. The river systems gush from snow-melt coming down from the Andes and some of the indigenous tribes carry on with a very traditional way of life in the 21st century.
This part of Ecuador couldn't be more different from the high Andes or the dreamy beaches. That is why I love it. I have not included any accommodation in this section because truth be told, the best spots to sleep are not found on the internet. Many amazon locals do not have regular internet access for obvious reasons.
Better to scout out places to sleep once you have boots on the ground. The jungle really is no joke. All of life's worthy adventures require a fair bit of effort. The Amazon is no different. Treat it with respect and you are sure to leave with the memories of a lifetime. This is what backpacking Ecuador is all about!
Off the beaten path travel in Ecuador
Certainly, backpacking in Ecuador provides numerous opportunities to explore away from the tourist crowds. The Amazon basin is one of the wildest places on earth. Civilization is far and few between. You can go for days or even weeks without seeing many other foreigners.
I recommend seeking out a good guide with at least one of your travel mates. That way you can split the cost and keep the trip budget-friendly. The mountainous terrain of the Andes is a whole other ball game. The highlands in the Andes are home to world-class trekking and mountaineering.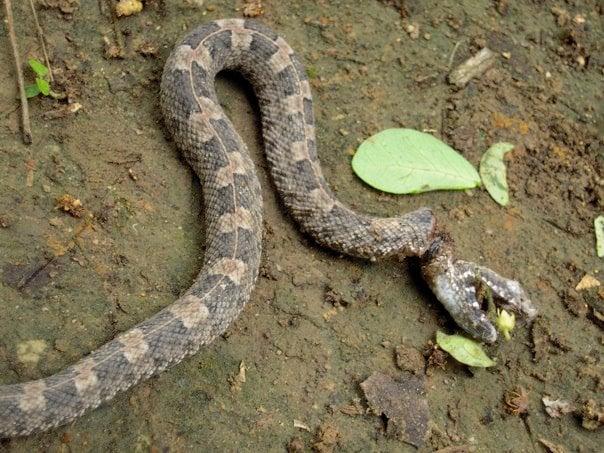 The majority of people traveling in Ecuador will not leave the comfort of the buses or look at points. All it takes is a little preparation and a little investment in the right gear, and you can be off exploring the wilds of Ecuador in a unique and personal way.
Is This the Best Backpack EVER???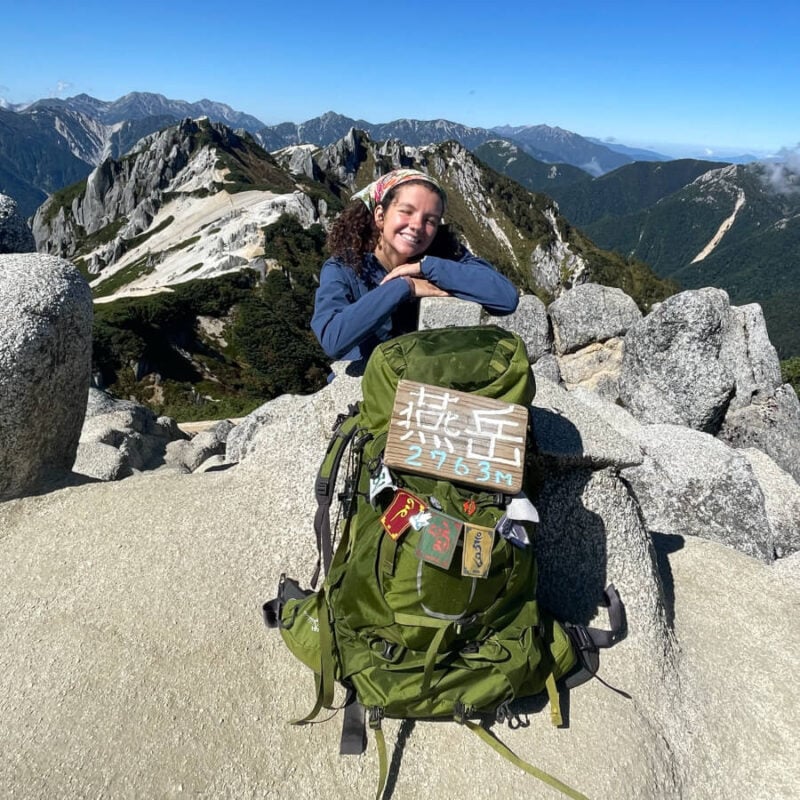 Top Things to do in Ecuador
A truly wonderful blessing sent from the backpacker gods is that there is something for every backpacker to do in Ecuador. It is easy to meet fellow travelers sharing your Ecuador itinerary in just about every place.
If you are looking for solitude, there are plenty of spots to escape from the crowds. I have listed the top 10 best things to do in Ecuador below that I personally enjoyed.
1. Learn How to Surf in Ecuador
Ecuador is brimming with world class surf breaks. The beach towns of Montañita and Manta offer a wide variety of surf schools to choose from. Want to learn how to surf for a few bucks? Rent a surfboard and make friends with some talented locals. The first time you stand up on surfboard it is pure magic, you'll see.
2. Go Scuba Diving in Machalilla National Park
The national park, which is the only coastal national park in Ecuador, incorporates fog forest, dry forest, small islands and two larger islands, Salango and the small Isla de la Plata. Large groups of giant manta rays, whales and dolphins are commonly seen here during the right season. Unfortunately, the same level of protection has not been given to Machalilla National Park as has been seen in the Galapagos.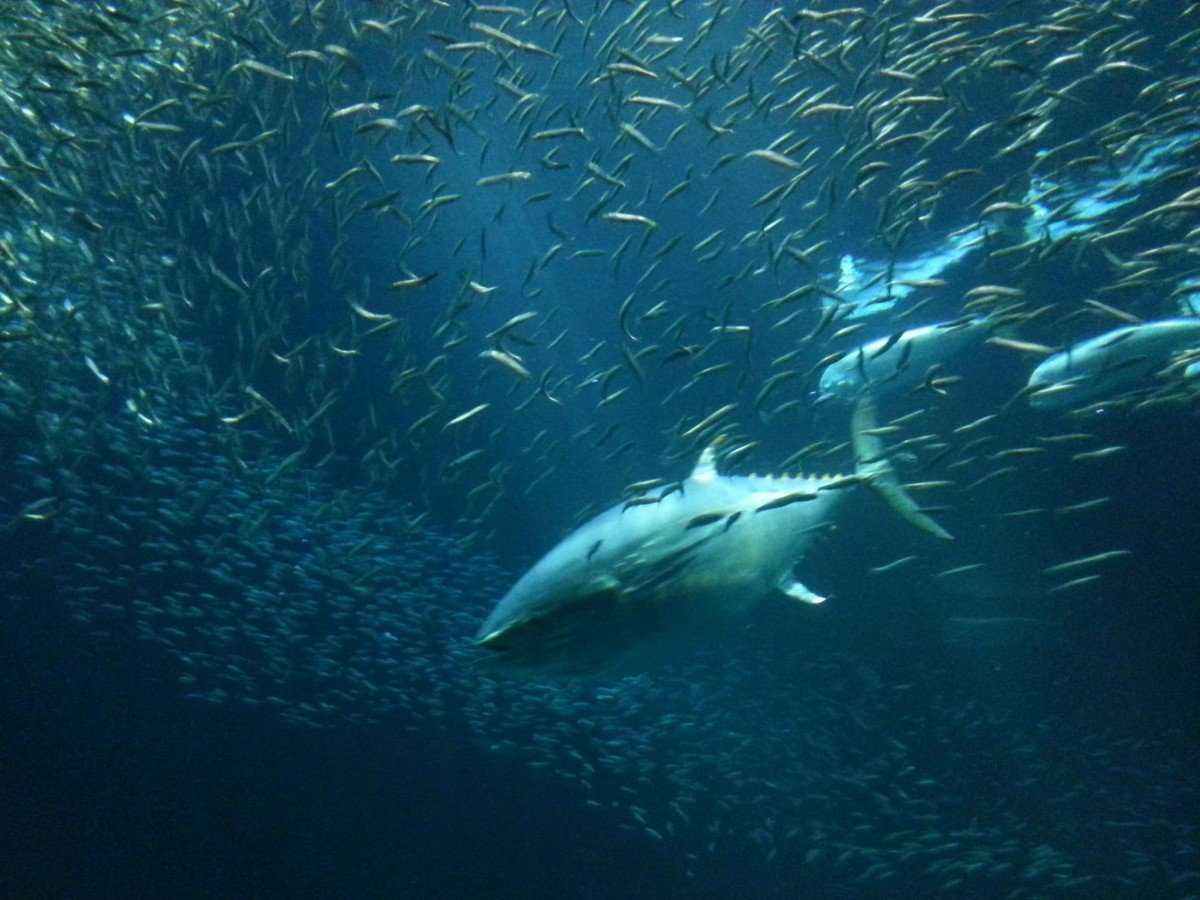 Overfishing, pollution, poaching and deforestation are common problems in the region. Scuba Iguana runs a pretty tight ship and offers reasonably priced dive tours in Machalilla National Park. With that said, scuba diving is usually a costly activity. In Ecuador this is quite true as well, however diving in some of the areas mentioned above is bound to be one of the highlights on your journey backpacking Ecuador.
3. Learn Spanish in Ecuador
Want to jump-start your Spanish language skills? As I mentioned before, at Montañita Spanish School you can learn Spanish and take surf classes. Two new fun skills at once? Sounds like the best of both worlds to me. If you are serious about learning Spanish, a language school is the way to go! Vamos pues!
4. Volunteer in Bahía de Caráquez
As mentioned, I spent a few months in Bahía de Caráquez volunteering for the non-profit organization Planet Drum. The experience was one of the best I have had in nearly a decade of traveling.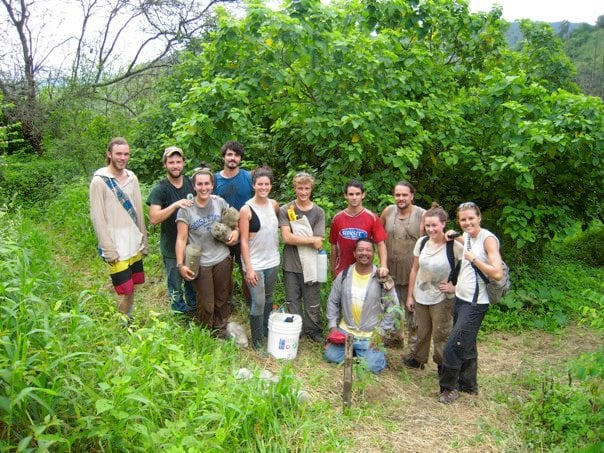 5. Backpack the Quilotoa Loop Trek
There is a reason while the Quilotoa Loop is the most famous trek in Ecuador. This 3 or 4-day trek is a great way to connect with the stunning landscapes and the Kichwa culture of the high mountains.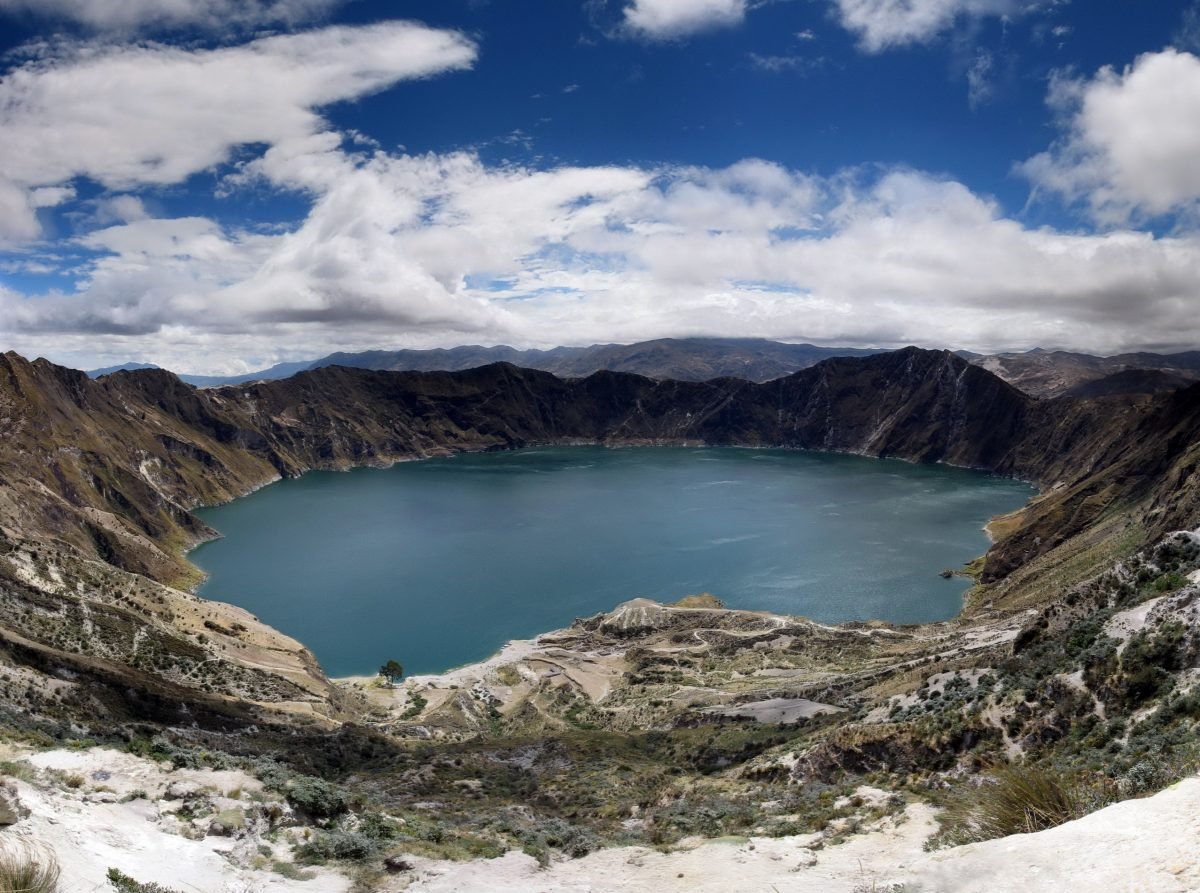 In the rural areas of the Andes, a traditional way of life is still the norm, and Spanish is often a second language to many of the inhabitants. Sunrise at the Volcanic crater lake is definitely worth the early start.
6. Eat Cuy in the Andes
Not the animal some of grew up with as pets. These guinea pigs are massive and usually cooked whole over a fire, BBQ style. They can be a bit greasy, though quite tasty. The best place to try Cuy al horno (baked) in Ecuador is without a doubt in the highlands.
7. Hunt Waterfalls in Baños
Around the town of Baños is pretty much waterfall heaven. There are even beautiful hikes to waterfalls one can tackle directly from town. Pack your swim shorts and a day bag with some lunch. Soon you will find yourself surrounded by more waterfalls and swimming holes than you know what to do with.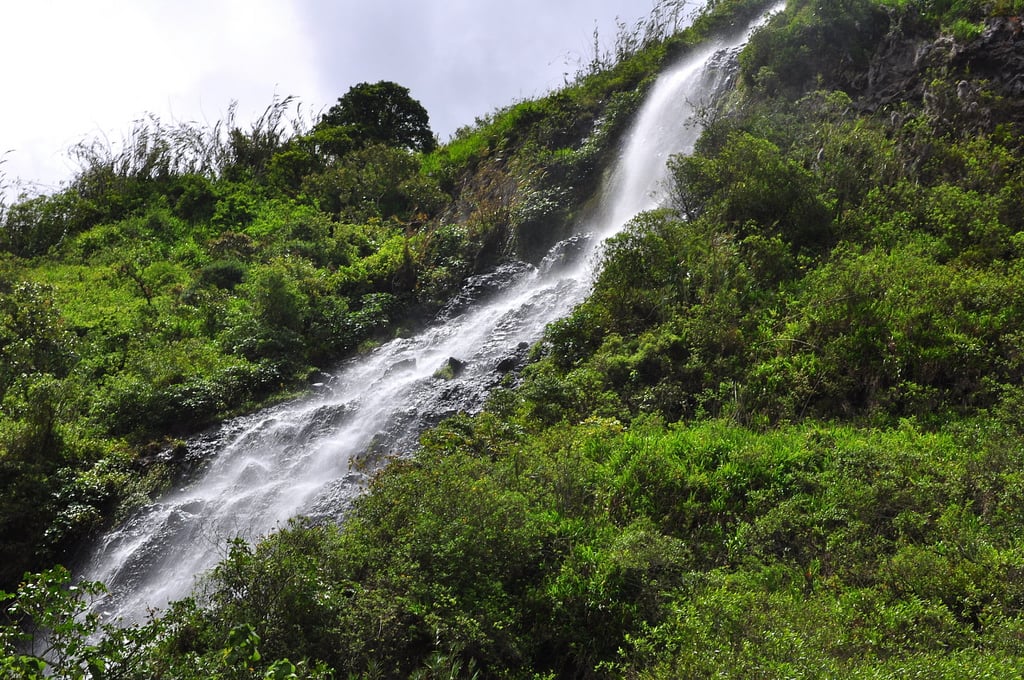 8. Explore the Amazon Rainforest by Boat
The primary means of transport within the Amazon river system is of course by boat. Hire a guide in one of the local towns and set off to explore the jungles of your wildest imagination. Just don't fall in the river!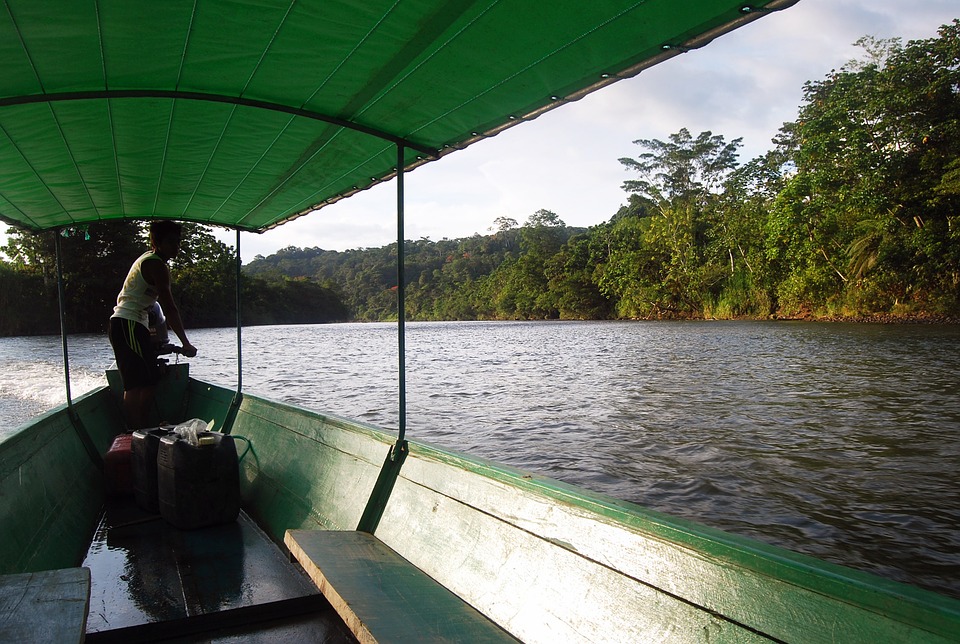 9. Check Out the Quito Cable Car
For spectacular views over Quito's mountainous landscape, hop aboard the TelefériQo cable car. The journey takes passengers on a 2.5km ride (10 minutes) up the flanks of Volcán Pichincha to the top of Cruz Loma. Once you're at the top (a mere 4100m), you can hike to the summit of Rucu Pichincha (4680m), a 4km (5-hour) round trip.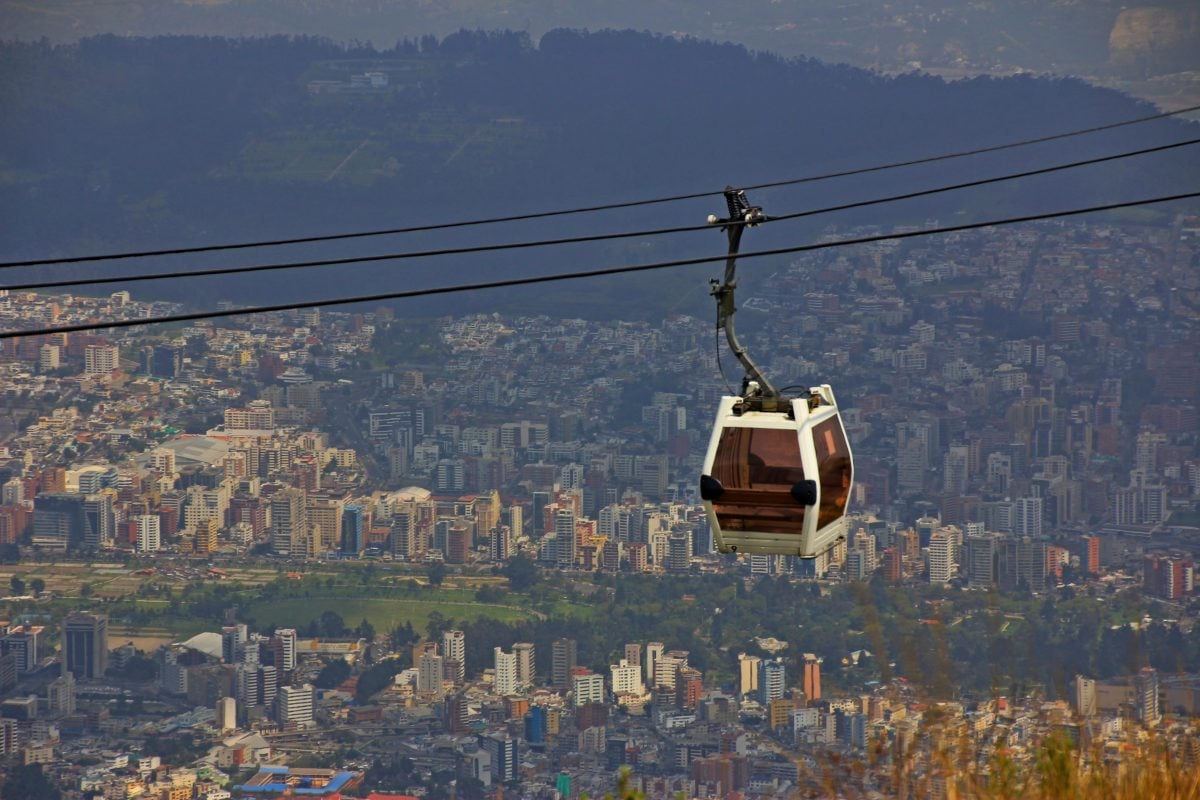 If you are fresh off of the bus from the coast, I strongly suggest you wait a couple of days before tackling this hike. Altitude sickness is horrible and can be quite serious if you happen to be sensitive to high elevations. Backpacking Ecuador is going to put you in high places most likely, so be prepared to properly acclimatize.
10. Camp Out in Cotopaxi National Park
A few nights out in Cotopaxi National Park is bound to be one hell of a good time. There are numerous hiking and camping options scattered throughout the park. Bringing along a good backpacking tent is essential if you want to have a successful trip!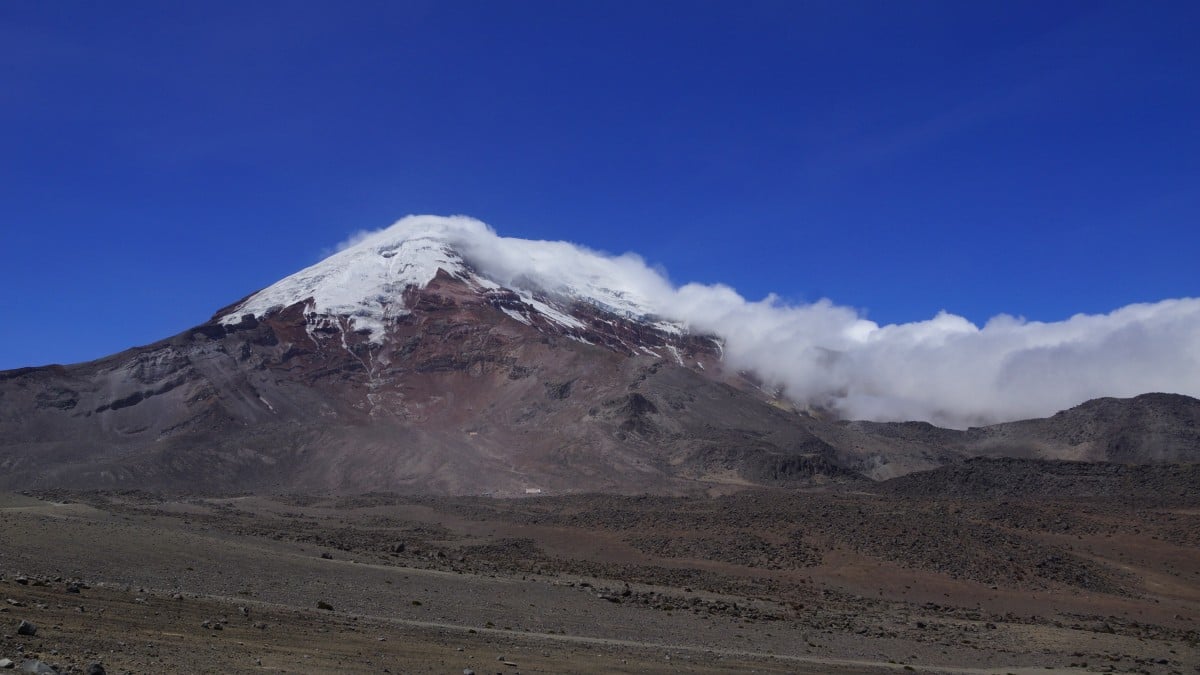 It is also possible to organize a climb of Cotopaxi, but this you will need to organize well in advance.
Small Pack Problems? 😉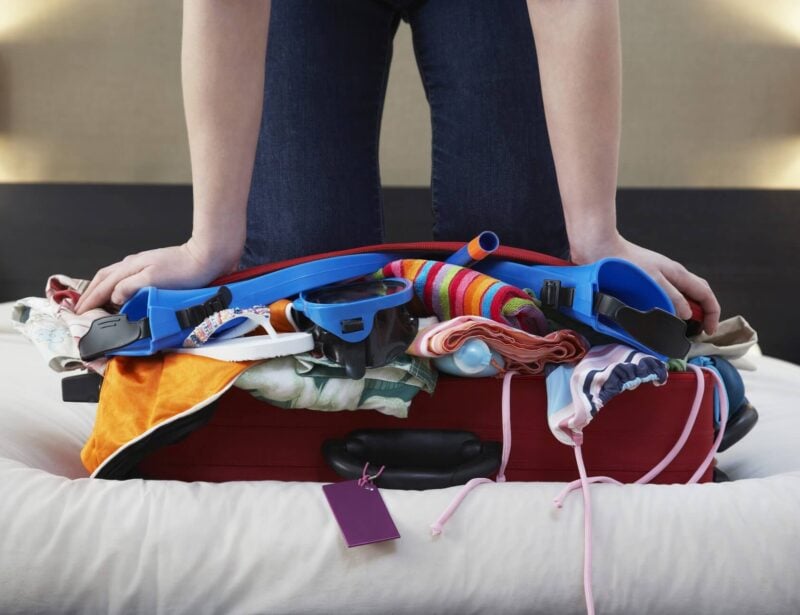 Wanna know how to pack like a pro? Well for a start you need the right gear….
These are packing cubes for the globetrotters and compression sacks for the real adventurers – these babies are a traveller's best kept secret. They organise yo' packing and minimise volume too so you can pack MORE.
Or, y'know… you can stick to just chucking it all in your backpack…
Get Yours Here
Read Our Review
Backpacker Accommodation in Ecuador
All across Ecuador there are a vast array of budget accommodation options. From beach surf shacks to cozy eco-friendly lodges, there are always interesting, affordable places to lay your head. Many of the hostels I stayed in were quite small, family-run affairs.
These are always best as they keep your money local. Booking in advance isn't always necessary whilst backpacking Ecuador, however in some of the popular destinations on the coast and in the Andes, it is a must if you want to get a cheap hostel.
The cheap hostels in Ecuador tend to book out and you are then left with the medium or high-end options, which aren't really options for budget backpackers. I strongly advise booking your hostels in advance if you know you are going to a destination popular with backpackers or tourists in general (like Baños, old-town Quito, or even Montañita).
Backpacking Ecuador on a budget requires a tiny bit of planning sometimes! If you want to save money on accommodation, make sure you pack your camping hammock, especially if you'll be trekking or hiking through the jungle or spending time at the beach.
Ecuador Backpacking Costs
My experience backpacking Ecuador was spread out over exactly 3 months. During that time I spent on average about $500 a month. This was in part due to the fact that I was volunteering for at least half of that time.
Traveling Ecuador on a budget is how I was able to stay in the country right up to my visa limit. I was also doing a lot of camping in the Andes and really used my tent often to avoid booking hostels every night. Food in Ecuador is wonderfully cheap and delicious. Avoid the touristy restaurants and you will save big time!
Eat what locals eat, not just because it's cheap, but because it's fucking delicious. Public transport is also very conducive to backpacking Ecuador on a budget.
A Daily Budget in Ecuador
Ecuador Daily Budget

| Expense | Broke Backpacker | Frugal Traveler | Creature of Comfort |
| --- | --- | --- | --- |
| Accommodation | $10-15 | $10-20+ | $25 – 50+ |
| Food | $5-10 | $10-20 | $15-35 |
| Transport | $0.50 – 2 (short local bus) | $5-10 (longer local bus) | $20-80 (long distance private transfer) |
| Nightlife | Stay Sober | $5-10 | $10-20+ |
| Activities | Surfing is Free (if you have a board) | $5-30 (depending on what you do) | $30- 100 (for scuba diving) |
| TOTAL | $20-30 | $30-55 | $50-100 (more on Galapagos Islands) |
Money in Ecuador
On January 7, 2000, after a complete crash of the national currency (Sucres), the government of Ecuador switched to the US dollar. Since US dollars are the official currency; they are identical to those issued in the USA.
Coins of one, five, 10, 25 and 50 cents are identical in shape, size, and color as their US equivalents. Both US and Ecuadorian coins are used in Ecuador. The $1 coin is widely used.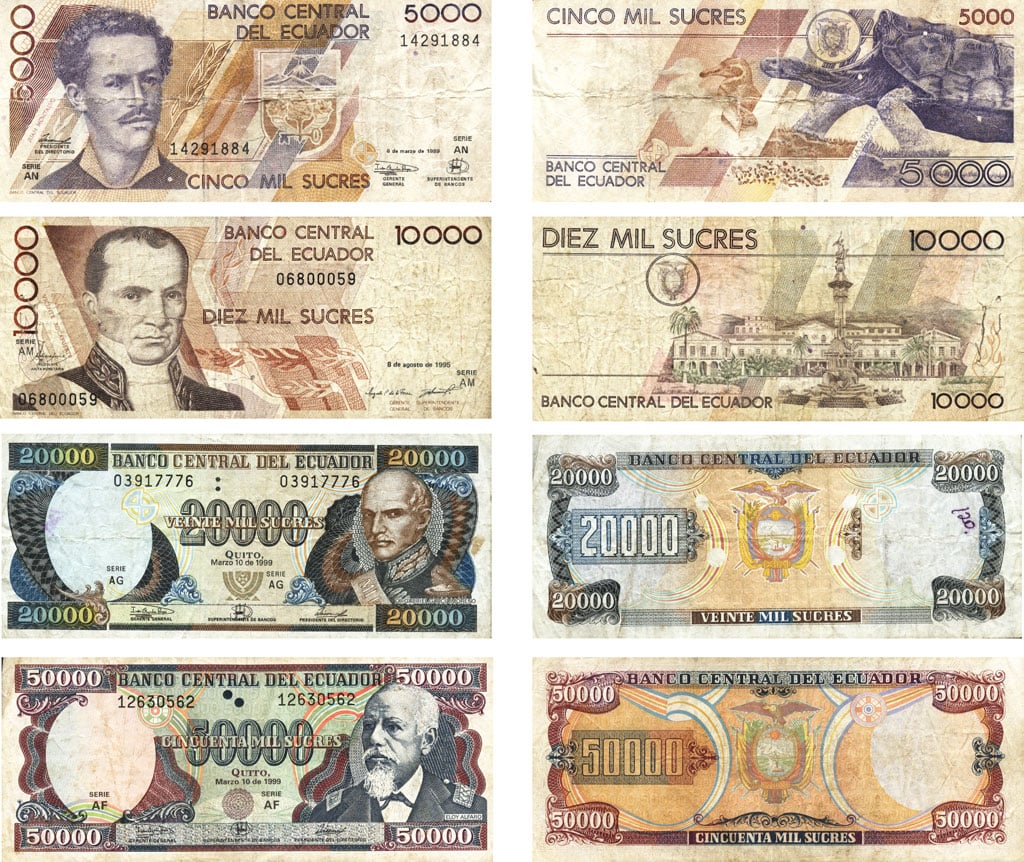 I found it so weird the first time I had US dollars again in Ecuador after leaving Peru and Argentina after many months. Lucky for us travelers though, the US dollar goes a lot further here than it does in the States.
ATMs are the easiest way of getting cash. They're found in most cities and even in smaller towns, though they are occasionally out of order. Make sure you have a four-digit Personal Identification Number (PIN); many Ecuadorian ATMs don't recognize longer ones.
Travel Tips: Ecuador on a Budget
Traveling in Ecuador can suddenly become more expensive take if you are staying at fancier hostels/hotels, traveling by plane, eating out for every single meal, or visiting the Galápagos islands.
If you are on a long term backpacking trip, budget accordingly, and don't forget to save a little cash for something spectacular that you really want to do!
Backpacking Ecuador on a budget is quite easy really. I would say that it is entirely realistic to backpack Ecuador for as little as $20 a day, for most of your days you are here if you are careful (not really including transport days).
Remember, budget-focused backpacking is all about managing needs vs. wants. It is ok to deprive yourself of luxury. I have found that most good things in life don't cost that much money anyway.
To keep your spending to an absolute minimum whilst backpacking Ecuador I recommend sticking to the basic rules of budget adventuring….
Hitchhike; In Ecuador, it is relatively easy to thumb a ride. Hitchhiking is an ace way to keep your transport costs down.
Camp; With plenty of gorgeous natural places to camp, Ecuador is a great place to sleep out – even on the coast (sometimes)
Eat local food; You can get a plate of rice and fish for about $2-3 bucks. If you plan on camping; it's worth taking a portable stove – check out this post for info on the best backpacking stoves. Personally, I love my Jetboil, but there are many great options out there.
Volunteer: Volunteering is a great way to stay in a place for a long time on a very limited budget.
Why You Should Travel to Ecuador with a Water Bottle
Plastic washes up on even the most pristine beaches… so do your part and keep the Big Blue beautiful
You aren't going to save the world overnight, but you might as well be part of the solution and not the problem. When you travel to some of the world's most remote places, you come to realise the full extent of the plastic problem. And I hope you become more inspired to continue being a responsible traveller.
Plus, now you won't be buying overpriced bottles of water from the supermarkets either! Travel with a filtered water bottle instead and never waste a cent nor a turtle's life again.
Save $$$ • Save the Planet • Save Your Stomach!
Drink water from ANYWHERE. The Grayl Geopress is the worlds leading filtered water bottle protecting you from all manner of waterborne nasties.
Single-use plastic bottles are a MASSIVE threat to marine life. Be a part of the solution and travel with a filter water bottle. Save money and the environment!
We've tested the Geopress rigorously from the icy heights of Pakistan to the tropical jungles of Bali, and can confirm: it's the best water bottle you'll ever buy!
View on REI
Read the Review
Best Time to Travel to Ecuador
Because Ecuador lies right on the Equator, it seasons tend to in the categories of wet and dry. Where you plan to go on your backpacking Ecuador adventure will of course determine what kind of weather to expect. Here is a basic run down of the seasons and the best time to go backpacking Ecuador:
Sunny, clear days in the highlands; less rain in the Oriente.
December to April is the high season on the coast: expect warm temperatures and periodic showers.
January to May is the high season in the Galápagos.
Cooler temperatures, more showers (usually sun in the morning and rain in the afternoon) in the highlands.
Cooler, rainier days in the highlands.
June to December is the low season in the Galápagos, with cooler, drier weather and rougher seas.
The low season is April to July in the Oriente, when heavy rains are common.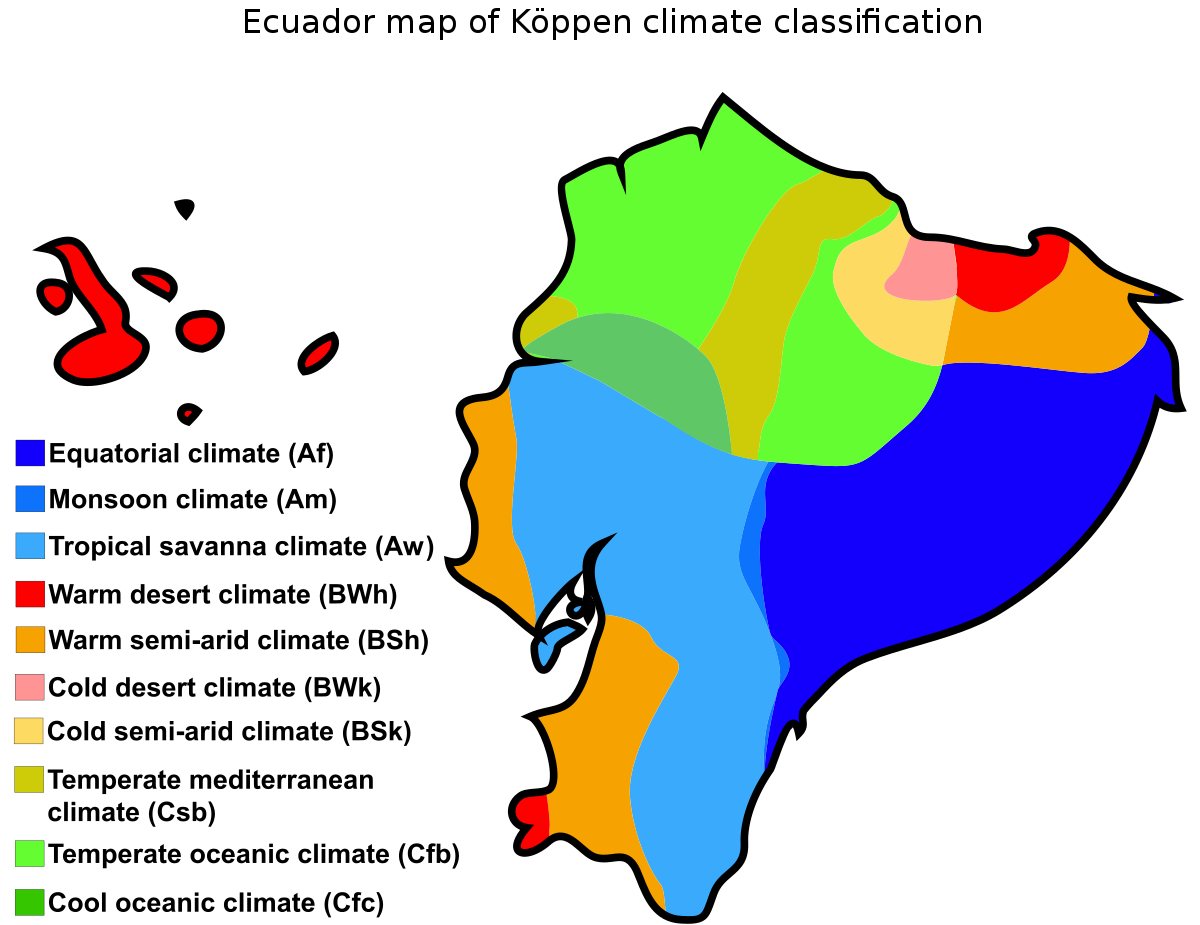 Festivals in Ecuador
A Month-Long Party in Cuenca: Every year, the city celebrates its founding with a massive festival. If you will be around in the month of April, you will be right in the center of it. In 2018, the Cuenca's foundation festival will be celebrated with activities from April 6-29th.
Carnival in Ecuador: While not quite as crazy as the Carnival happenings in Brazil, Ecuador is no bore when it comes to Carnival. Most towns and cities have parades and parties that feature elaborate costumes, music, dancing, food, and (lots of) drink. Carnival takes place 40 days before Easter each year, prior to the Catholic fasting period.
Santa Semana: Over 90 percent of the population of Ecuador is Catholic, so Santa Semana (Easter Holy Week) is the major religious event of the year.
Inti Raymi: Inti Raymi is the Festival of the Sun and has been held in Ecuador and Peru since Incan times. The main event takes place in the city of Otavalo (in Imbabura) on the Summer Solstice of June 21st and 22nd, and features indigenous people dressed in native costume "taking over" the plaza to represent the rebellion against oppression. The week-long celebration features large barbecues, bonfires, traditional dances, and parades
Dia De Los Muertos (Day of the Dead): The Ecuadorian Day of the Dead takes place on November 2 when families in rural areas engage in a picnic feast on the graves of their ancestors, with a plate of food being set out for the dead.
Corn Festivals in Ecuador: Several regional corn festivals take place at harvest time in Ecuador. Tarqui's Festival of the Corn is on August 16 and involves a Corn Queen competition, dances and music from local bands. The indigenous people in Otavalo hold the week-long Yamore Festival on September 1 to thank Mother Earth for the harvest and to pay homage to Nina Maria, the Catholic patron Virgin of Otalvo.
What to Pack for Ecuador
On every adventure, there are six things I never go traveling without:
Somewhere to hide your cash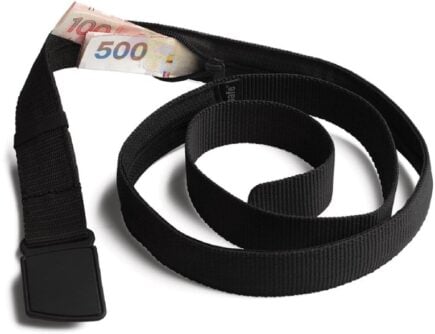 Somewhere to hide your cash
Travel Security Belt
This is a regular looking belt with a concealed pocket on the inside – you can hide up to twenty notes inside and wear it through airport scanners without it setting them off.
For those unexpected messes
For those unexpected messes
Microfiber Towel
Hostel towels are scummy and take forever to dry. Microfibre towels dry quickly, are compact, lightweight, and can be used as a blanket or yoga mat if need be.
When the power goes out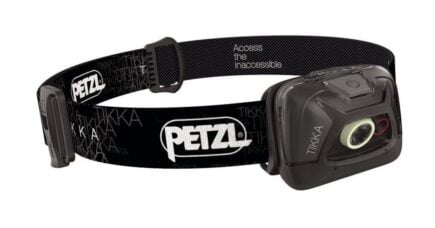 When the power goes out
Petzl Actik Core Headlamp
A decent head torch could save your life. If you want to explore caves, unlit temples, or simply find your way to the bathroom during a blackout, a headtorch is a must.
A way to make friends!
A way to make friends!
'Monopoly Deal'
Forget about Poker! Monopoly Deal is the single best travel card game that we have ever played. Works with 2-5 players and guarantees happy days.
To stay a clean backpacker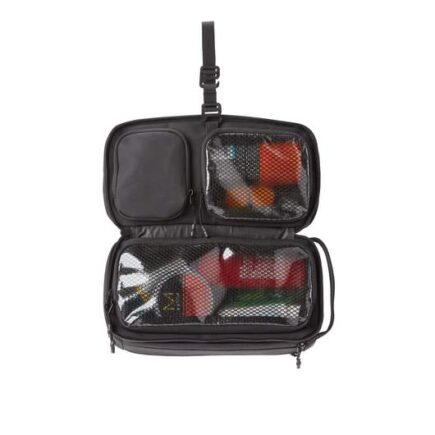 To stay a clean backpacker
Hanging Toiletry Bag
I always travel with a hanging toiletry bag. It's a super-efficient way to organize your bathroom stuff. This one by Nomatic is splash-proof and made to last.
Staying Safe in Ecuador
Ecuador is a safe country for the most part. I personally had one bad experience whilst backpacking Ecuador, but I still believe it is a very, very safe place to be traveling.
One night, I was standing out on the street talking with my partner (a local) at the time, just outside of the volunteer house in Bahía. Two dudes rolled up on a motorbike and stuck a gun to my head. I don't know if the gun was loaded or what, but I didn't not do anything that would make us find out. It was terrifying.
They took what we had (which wasn't much, I was only wearing swim shorts) and left. Thirty seconds and it was over. This could happen in any country in the world. Armed robbery happens all the time in the USA. I was not out late, drunk, or alone either. Just a normal moment where the unusual happened.
If you put yourself in good situations with good people (as much as you can control that aspect), odds are you will be just fine. What happened to me is not a portrayal of the country or its people overall.
To be honest, I would more focus on avoiding dangerous animals and poisonous snakes while you are out in nature.
Sex, Drugs, and Rock 'N' Roll in Ecuador
Ecuador borders Colombia to the north and Peru to the south. These countries, including Ecuador and Bolivia produce the whole supply of cocaine for the entire world. Coca, the plant cocaine is made from, only grows in the Andes of South America.
Backpacking Ecuador will definitely bring moments where cocaine is around. Cocaine is plentiful and it is cheap. I won't tell you to stay away from it completely because that would make me a hypocrite. The first time I was in Ecuador I was young and looking to get down – and get down I did.
However, cocaine can be super addictive and cause serious health problems including death from overdose.
A gram of Cocaine at the time of writing goes for about $10, less if the quality is shit. It is so fucking easy to love cocaine. It makes you feel amazing, for short periods. Cocaine for a gringo learning Spanish, provides the confidence that at least makes you perceive your Spanish is coming out better than it actually is. You must not kid yourself though. The drug trade in South America is truly a horrible industry.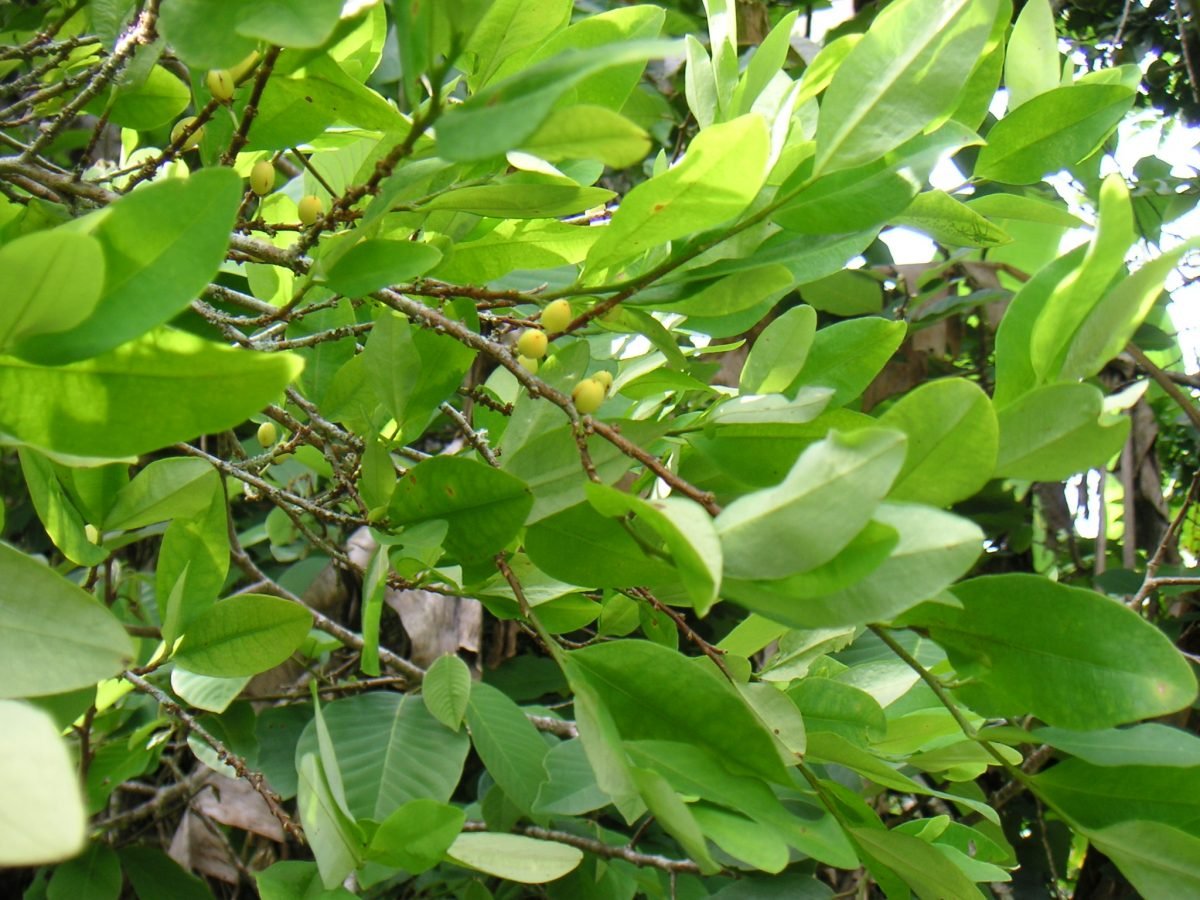 The toll on human life as well as the environmental destruction its production has caused has reached unimaginable levels over the years. Maybe one day they will have free-trade semi-organic cocaine (cocaine is made with diesel among other things) that one can use and not feel the justified pangs of guilt every time one buys a gram.
That day is not here yet, however, so act accordingly. Cheap, terrible-quality weed can be found in most regions as well pretty easily. Beer and caña are cheap and plentiful as well and they won't (usually) get you arrested.
If you choose to be sexually active in Ecuador, then you should always use some form of protection. This is the responsibility of both male and female backpackers.
Travel Insurance for Ecuador
Traveling without insurance would be risky so do consider getting good backpacker insurance sorted before you head off on an adventure.
ALWAYS sort out your backpacker insurance before your trip. There's plenty to choose from in that department, but a good place to start is Safety Wing.
They offer month-to-month payments, no lock-in contracts, and require absolutely no itineraries: that's the exact kind of insurance long-term travellers and digital nomads need.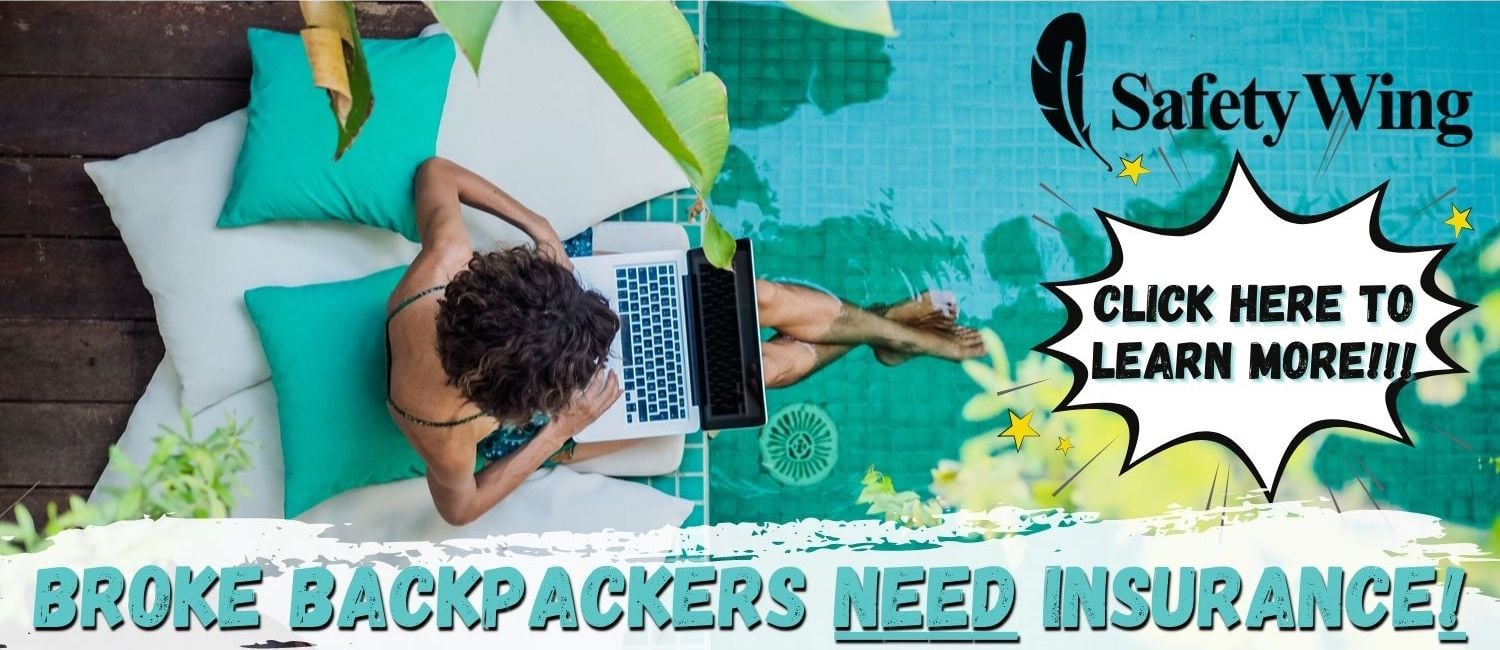 SafetyWing is cheap, easy, and admin-free: just sign up lickety-split so you can get back to it!
Click the button below to learn more about SafetyWing's setup or read our insider review for the full tasty scoop.
How to Get into Ecuador
There are two major international airports in Ecuador.
Aeropuerto Internacional Mariscal Sucre serves Quito and is the major airport of the highlands. The airport is located about 18km east of the center. This airport is one of the highest international airports in the world at 2400 meters/ 7,974 feet. Due to its location this relatively new airport is way safer and far less scary then the old one!
José Joaquín de Olmedo International Airport in Guayaquil is the other main international airport in Ecuador.
TAME Ecuador's main airline has had a good safety record in recent years. They are your go to airline if you plan on flying domestically within Ecuador.
LATAM flies internationally to New York and various cities in Peru, Argentina, Chile, Brazil and Bolivia
Peru and Colombia are the only countries sharing borders with Ecuador. If you are entering or leaving Ecuador, border formalities are straightforward if your documents are in order. No taxes are levied on tourists when entering or exiting overland.
If you've overstayed the allowed time on your T3 visa (90 days – consecutive or not – per year, beginning on your stamped entry date), you'll have to pay a hefty fine or you will be sent back to Quito. If you don't have an entrada (entrance) stamp, you will also be sent back.
The main border crossing to Colombia is via Tulcán in the northern highlands, currently the only safe place to cross into Colombia.
The border crossing north of Lago Agrio in the Oriente is unsafe due to smuggling and armed conflict in Colombia.
Huaquillas – This crossing, south of Machala, gets most of the international traffic between the two countries. It consists of side-by-side border posts on the highway a few kilometers north of town. Buses to Huaquillas don't stop at this border post, though international buses (Ecuador–Peru) do stop there and wait for everyone to complete the formalities. Another option is simply hiring a taxi from Huaquillas to take you out to the border post and back.
Busing into Ecuador from Colombia or Peru is straightforward and usually requires walking across one of the international borders and catching another bus once you're across (this is more complicated in Huaquillas, though). Some international bus companies offer direct, long-haul services from major cities such as Lima and Bogotá.
Macará – Increasingly popular because it's more relaxed than the Huaquillas crossing, and the journey from Loja in the southern highlands is beautiful. Direct buses run between Loja and Piura, Peru (eight hours) via Macará, and wait for you at the border while you take care of formalities; it's easy.
La Balsa at Zumba– South of Vilcabamba, this little-used crossing is remote and interesting and gets little traffic. People often hang out in Vilcabamba for a few days before heading to Zumba and Peru.
It is possible but time-consuming to travel down the Río Napo from Ecuador to Peru, joining the Amazon near Iquitos. The border facilities are minimal, and the boats doing the journey are infrequent.
It is also geographically possible to travel down Río Putumayo into Colombia and Peru. This region is said to be dangerous because of drug smuggling and terrorism and is not recommended by authorities. I
n my opinion, no one will bother you if you don't go around flashing wads of cash. I honestly can't think of a better way to arrive!
Entry Requirements for Ecuador
My border crossing experience at Huaquillas went pretty smoothly. I was coming in on a bus from Peru in the middle of the night. The bus stopped at the frontier and allowed everyone to get off.
I got my passport stamped in about 2 minutes after a few questions from the border guards. The guards played a bit of a tough guy act but I think it was probably because they were bored.
International airlines flying to Quito may require a round-trip or onward ticket or a residence visa before they let you on the plane; you should be prepared for this possibility, though it's unlikely.
Visitors from most countries don't need visas for stays of less than 90 days. Residents from a handful of African and Asian countries (including China) require visas. It is possible to get time extensions on your 90-day tourist visa. I have heard it is a real pain though and costs about $250 USD.
I think it is way easier to just head for one of the bordering countries for a few days and then come back if you're keen for more time backpacking Ecuador.
Have you sorted your accommodation yet?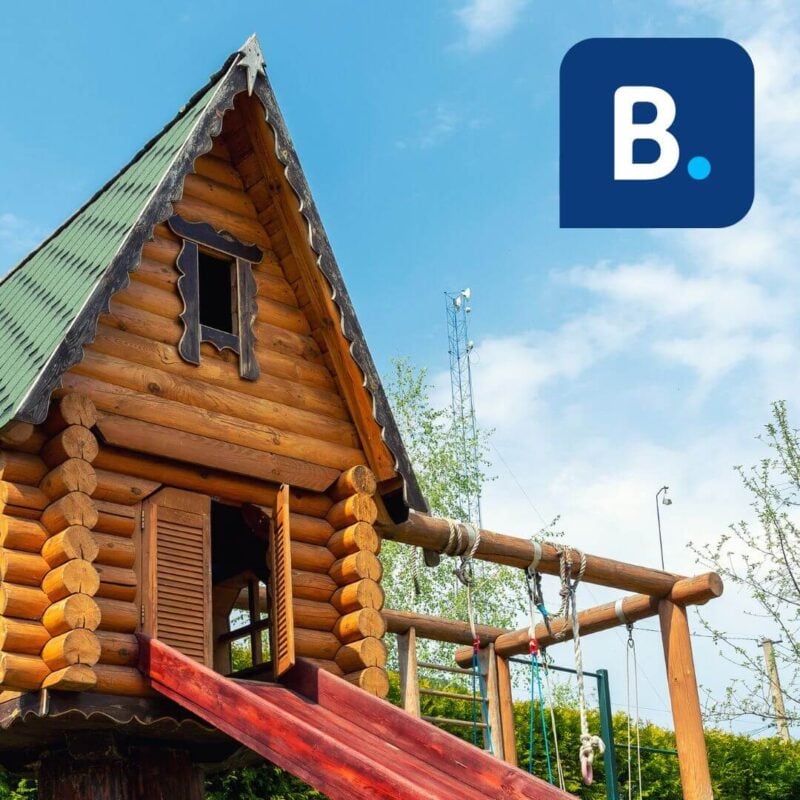 Get 15% OFF when you book through our link — and support the site you love so dearly 😉
Booking.com is quickly becoming our go-to for accommodation. From cheap hostels to stylish homestays and nice hotels, they've got it all!
View on Booking.com
How to Get Around Ecuador
No matter how you swing it, there are many different ways to get around this country…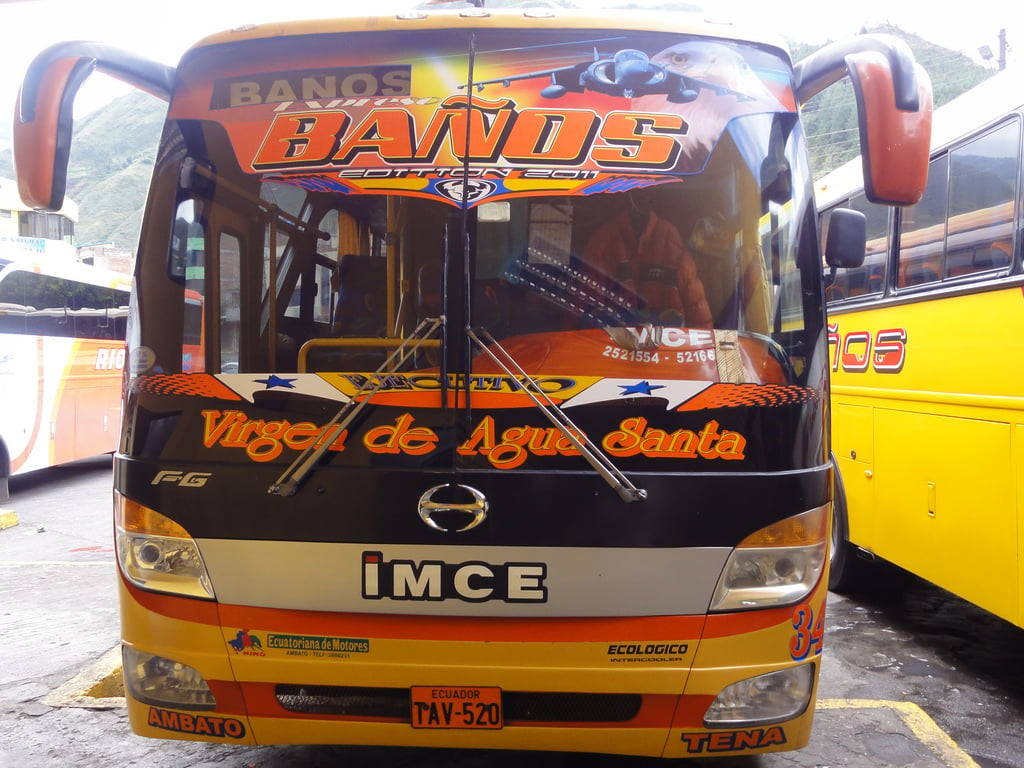 Various Modes of Transport in Ecuador
In Ecuador, you probably find yourself taking buses. Lots of buses! In many respects, Ecuador is pretty easy to navigate by bus.
They are frequent, cheap, and safe for the most part. Depending on the time of year, some of the coastal roads can be heavily flooded. The roads turn to soup and cannot be driven on for days even by the most determined bus driver.
Try to keep small change and bills to pay for your bus fare. Avoid pulling out wads of twenty-dollar bills on a crowded bus. Plan ahead and keep a few bucks handy when the time comes to pay. In my experience, flights within Ecuador were outrageously expensive.
I would only recommend flying if that is how you plan to leave the country. Backpacking Ecuador is at its cheapest when you are not in any hurry to get somewhere.
Taxis are very common in the cities and medium-sized towns. They can take the form of any kind of vehicle really, but usually, they are marked. If you are taking a taxi, always establish what the fare will be before you start out.
Unless you speak perfect Spanish and look Ecuadorian, the driver will probably (not always) try to overcharge you.  Welcome to South America! If your haggle game isn't activated by now, time to kick it into gear!
By the time your journey backpacking Ecuador is complete, you will be a professional haggler.
Motorcycles and scooters are a big part of the culture for young males in Ecuador. They are abundant in just about every place you go. You can find some pretty good deals if you are looking to score a bike.
Always use your best judgment when going through the process of buying a motorcycle. Don't buy a piece of shit that will leave you stranded in the middle of the Andes.
It is possible to rent motorbikes in some places where tourism is a bit more developed. The prices vary but typically aren't crazy expensive. Having your own wheels is a fantastic way to explore places that buses can't take you. It is generally a good idea to have some degree of familiarity with motorcycles before you set off down some mountain road in the Andes.
As always be safe and always wear a helmet!
Hitchhiking in Ecuador
Hitchhiking can be fairly common place for short distances. I would not recommend hitchhiking at all in the big cities. If you are picked up by a local, especially in a very rural area, it would be appropriate to give the guy or gal a few bits.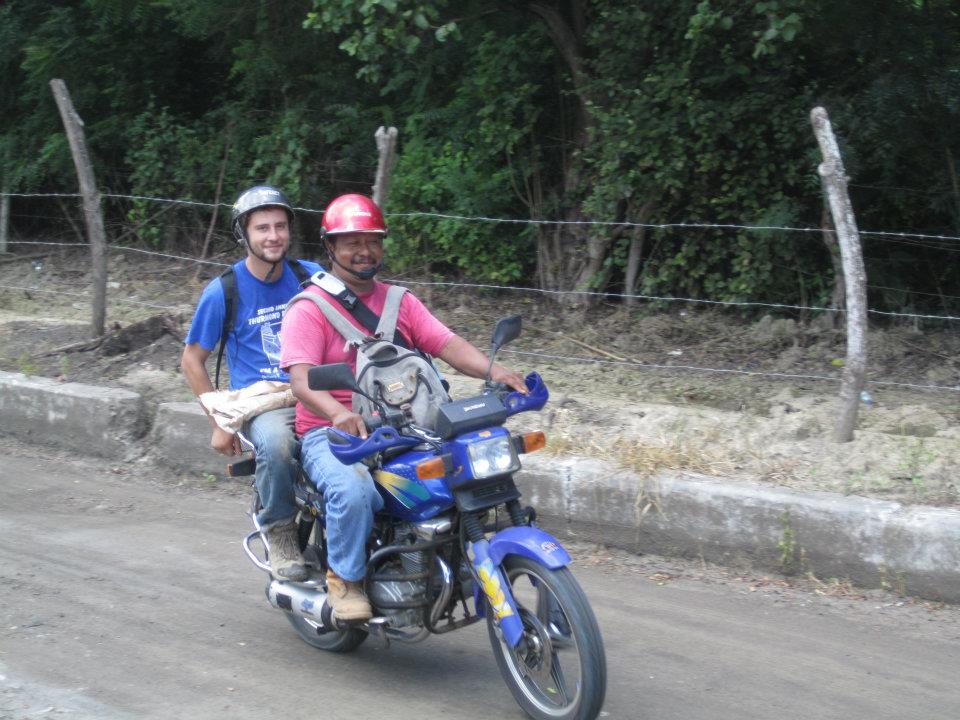 Rural Ecuador has high levels of poverty and petrol in the cars is just another high expense for locals. Don't take your ride for granted, but also avoid paying too much if the person suddenly decides his farm truck is now a taxi.
Use Bookaway to find the best deals on transport – buses, planes, trains, and ferries. It'll save you a load of time when organising transport and you'll probably nab an EPIC DISCOUNT too!
Book your transport on Bookaway NOW. Get the best price for the best ride… then use those savings to buy the best feed in town!
Book Your Transport Here!
Onwards travel from Ecuador
So you are continuing your South American odyssey after backpacking Ecuador eh? You have several options. If you plan to go backpacking in Colombia next, then it is pretty straight forward. The easiest option from the highlands would be to catch a long-distance bus from Quito to Bogota, but these buses can be quite expensive.
The cheaper option is to take local buses to the frontier and then cross over on foot at Tulcán. You can easily catch another bus on the other side at Ipiales. If you are spending time on the north coast of Ecuador towards the end of your trip, the Columbian border shouldn't be too far away depending on where you are.
The same goes for getting to Peru. You can take a long-distance international bus from Guayaquil to a town like Mancora on Peru's north coast. These seem to be more affordable, and it is possible to find buses doing this route for about $25.
Working in Ecuador
In terms of an up and coming digital nomad destination, Ecuador can be considered a top candidate for South America. The major hurdle might only be the fact that outside of cities, the internet is not excellent.
Most of the spots popular with foreigners have decent enough wifi to get some work done and can be compared to the internet situation in Colombia or Peru, both of which I have worked remotely from.
If you are looking to teach English in schools (or to adults), you may have to apply for a proper work visa in order to get an official position. Under the table English teaching gigs are also possible. Your clients are likely to be wealthy young adults living in Quito or other big cities.
The Future of the SIM Card is HERE!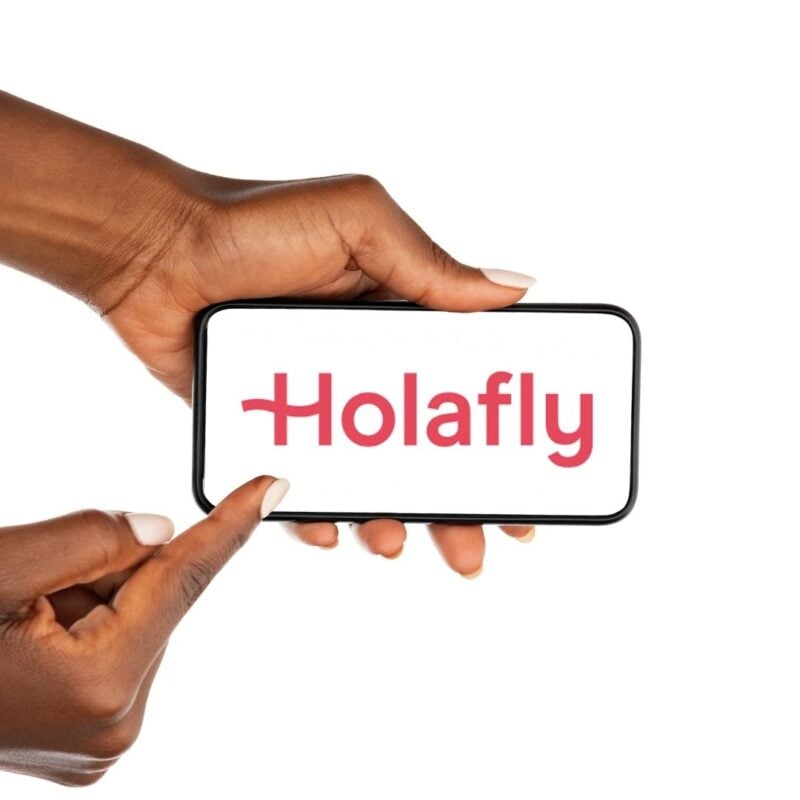 A new country, a new contract, a new piece of plastic – booooring. Instead, buy an eSIM!
An eSIM works just like an app: you buy it, you download it, and BOOM! You're connected. It's just that easy.
Is your phone eSIM ready? Read about how e-Sims work or click below to see one of the top eSIM providers on the market and ditch the plastic.
Grab an eSIM!
Teaching English in Ecuador
As mentioned, if you land the right gig, teaching English in Ecuador could be a cool paid option for you.
Depending on your qualifications (or your motivation to obtain qualifications like a TEFL certificate) you can teach English remotely from your laptop, save some cash for your next adventure, and make a positive impact on the world by improving another person's language skills!
In addition to giving you the qualifications to teach English online, TEFL courses open up a huge range of opportunities and you can find teaching work all over the world. To find out more about TEFL courses and how you can teach English around the world, read my in-depth report on teaching English abroad.
Broke Backpacker readers get a 35% discount on TEFL courses with MyTEFL (simply enter the code BACKPKR), to find out more, please read my in-depth report on teaching English abroad.
Volunteer in Ecuador
Volunteering abroad is an amazing way to experience a culture whilst giving something back. There are loads of different volunteer projects in Ecuador ranging from teaching, to animal care, to agriculture to pretty much everything!
Ecuador is a developing country that benefits greatly from the support of backpacker volunteers. There are some great opportunities that aid community development, including English teaching, social work, and conservation. If you plan to volunteer in Ecuador for more than 90 days, you'll need to apply for a volunteer visa before arriving.
Worldpackers
Want to find some awesome volunteering opportunities in Ecuador? Then signup for Worldpackers, a platform that connects local hosts with volunteer travelers. As a Broke Backpacker reader, you'll also get a special discount of $10. Just use the discount code BROKEBACKPACKER and your membership is discounted from $49 a year to only $39.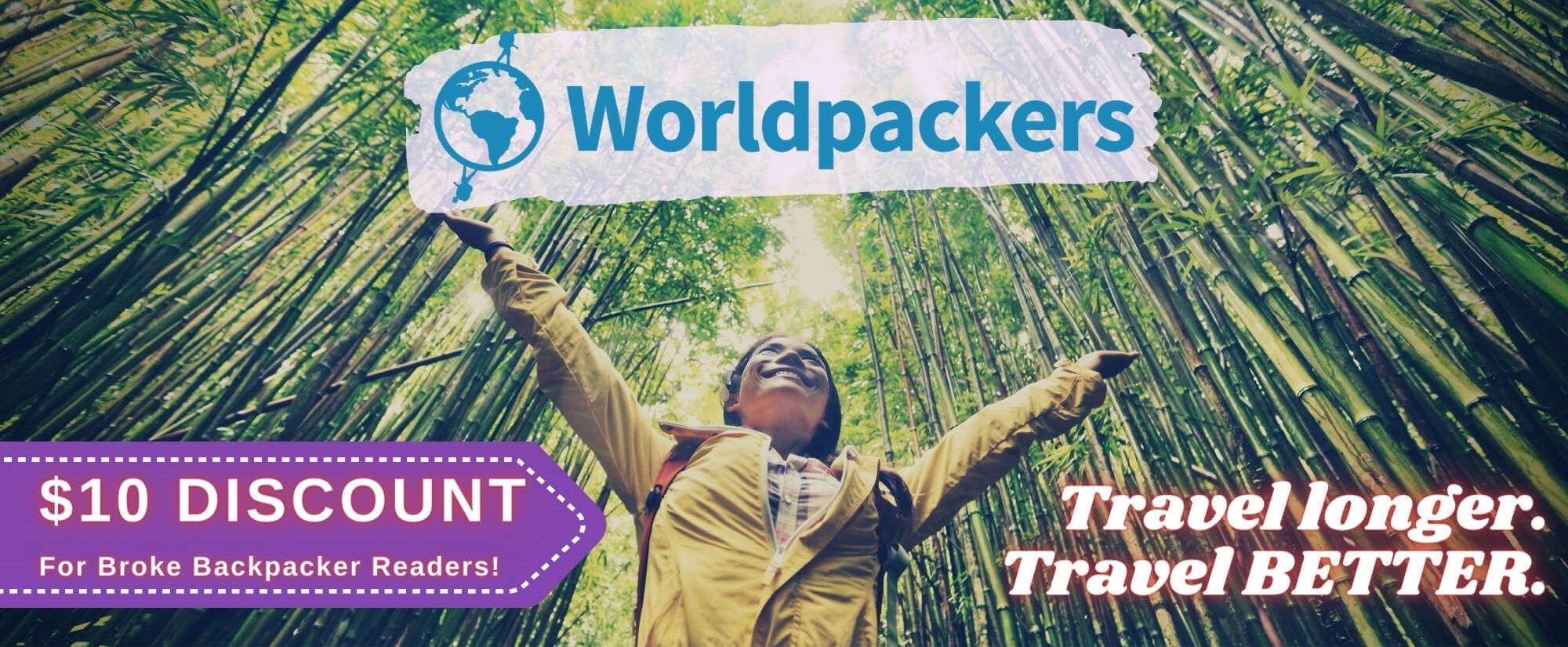 Worldpackers: connecting travellers with meaningful travel experiences.
Workaway

Alternatively, Workaway is another excellent common platform used by travellers searching for volunteering opportunities. Workaway is pretty massive, with over 40,000 hosts registered (that's 40,000 opportunities) and over 350,000 reviews on the site. With a database base that big, odds are you'll be able to find something that strikes your fancy. You can read our review of Workaway for more info on using this terrific platform.
Volunteer programs run through reputable work exchange programs like Worldpackers and platforms like Workaway are usually very well-managed. However, whenever you are volunteering do stay vigilant, especially when working with animals or children.
Global Work and Travel
Last, but certainly not least, Global Work and Travel is another viable option for finding volunteer opportunities in Ecuador. What sets Global Work and Travel apart from other volunteering platforms is the amount of assistance they give, from a 24/7 global help-line, help with VISA processing to airport transfers and continued support once you are in Ecuador. It may be a smaller platform, but the projects you'll find are high quality and immaculately organised. There are new programs and opportunities listed constantly as Global Work and Travel continues to grow its reach.
For those interested in volunteer work in Ecuador, Global Work and Travel offer a fantastic project one where you'll get to choose between community conservation or assistant teaching on the Galapagos Islands. There are options to stay anywhere from 2 to 10 weeks with weekends off. As with all volunteer abroad programs, there's a cost, but you'll be able to pay it off in interest-free instalments. Don't forget to bring your camera and make sure you are between the ages of 18-85 to qualify!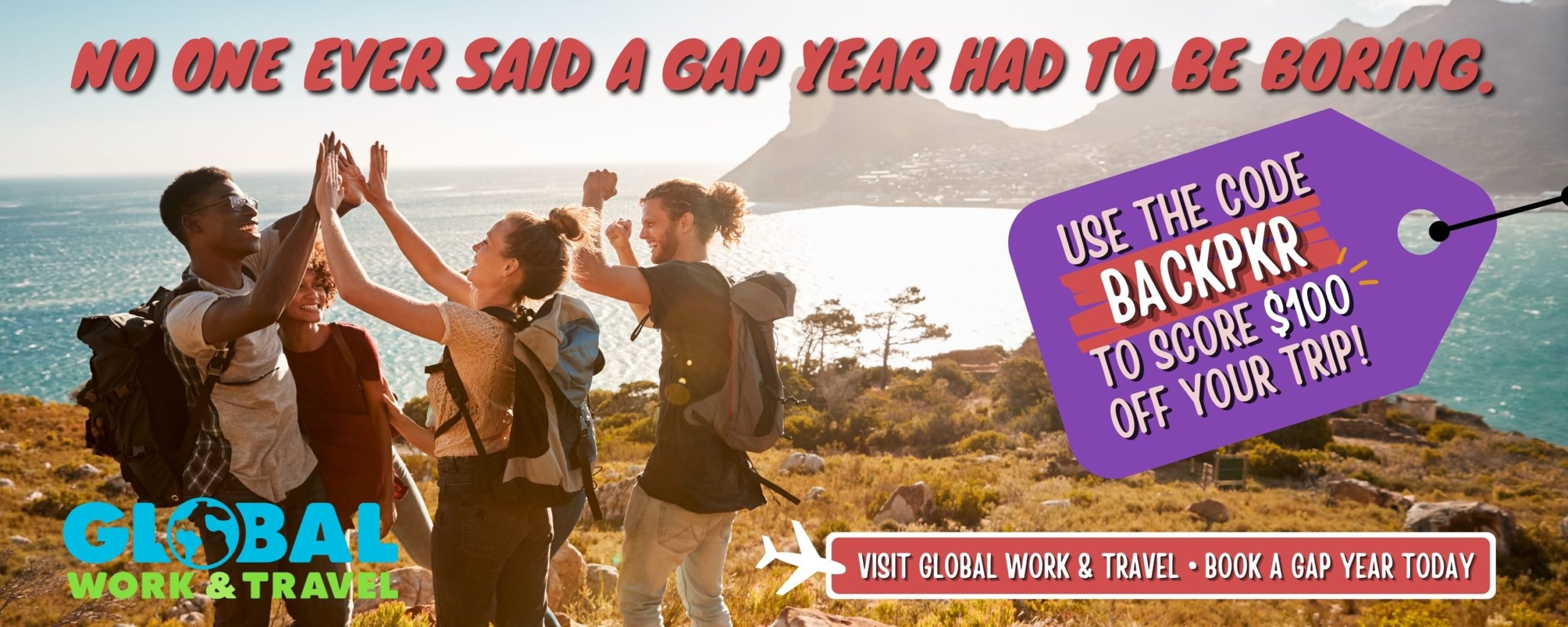 What to Eat in Ecuador
Encebollado: hearty, soul-soothing fish soup. It is regarded as a national dish. Although this dish is known in all of Ecuador, it is more popular on the coast of the country. It is served with boiled cassava and pickled red onion rings. A dressing of onion is prepared with fresh tomato and spices such as pepper or coriander leaves. Encebollado is commonly prepared with big chunks of albacore, but also tuna, billfish, or bonito. It may be served with ripe avocado. This was my go-to hangover cure every Sunday morning.
Ceviche: A personal favorite of mine, ceviche can come in many different styles, but the basic concept is prawn or raw fish "cooked" in lime juice, onion, chili peppers, salt, tomatoes, cilantro, and sometimes corn. It is best when served ice cold. Avoid eating noticeably old or stinky ceviche.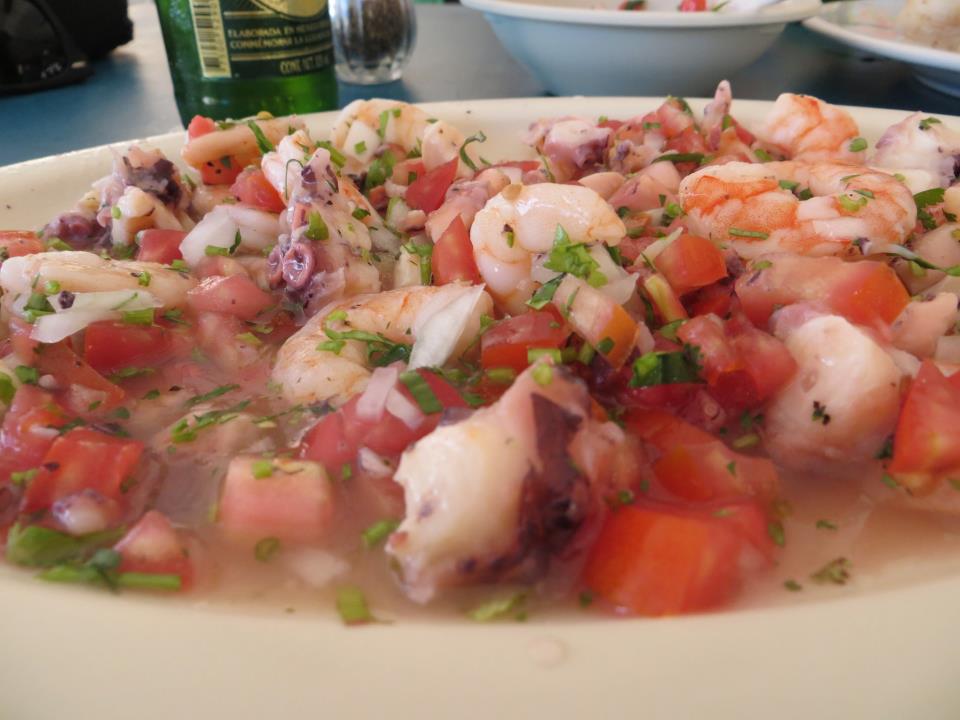 Chicha: Usually, Chicha is an alcoholic brew made from corn. It can be pretty tasty and is dirt cheap. You can find non-alcoholic versions as well. Patarashca: A highly renowned dish from Amazonia, consisting of fish grilled with a variety of vegetables such as onions, tomatoes, chilies and coriander, all wrapped and cooked to perfection in a large bijao leaf.
Ecuadorian Culture
People in Ecuador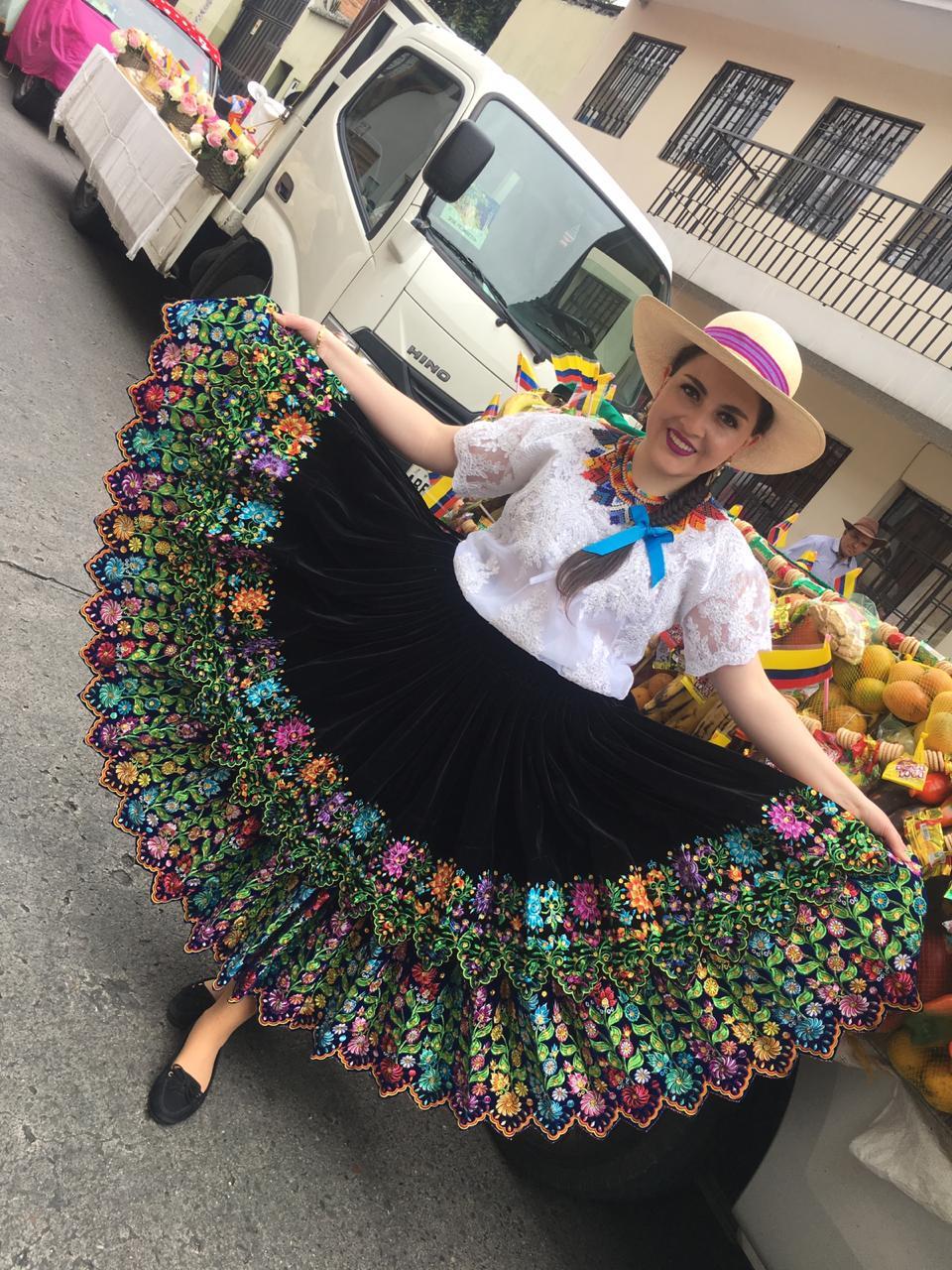 Whilst backpacking Ecuador I had the pleasure of getting to know many Ecuadorians on a deeper level. In general, the people of Ecuador have a positive outlook on life, they are kind, and they are generous.
I found that most people were always happy to help if I was in need. I had some great experiences Couchsurfing in the highlands as well. Get to know some of the fine people of Ecuador, and you may just find some solid friends for life.
Ecuador travel phrases
Besides Spanish, at least 20 other languages are spoken in Ecuador. Kichwa is one of the most common native languages spoken in the country. It has an estimated 1,000,000 speakers.
When I became semi-fluent in Spanish, it really changed the way I was able to travel in Ecuador and beyond. It is such a useful language to know! You can speak it in over 20 countries!
Here are a few useful phrases in Spanish for your backpacking Ecuador adventure:
Hello – Hola
How are you? – Como estas?
Good morning – Buenos dias
I don't understand – No entiendo
How much – Cuánto cuesta?
Stop here – Te detienes aquí
Where ss the toilet? –Donde esta el bano?
What ts this? – Que es esto?
No plastic bag – Sin bolsa de plastico
No straw please – No paja por favor
No plastic cutlery please – No hay cubiertos de plástico por favor
Sorry – Lo siento
Help! – Ayudame!
Cheers! – Salud!
Dick head! – Cabron!
Dating in Ecuador
I hadn't been in the country more than a couple days, when I fell in love with a lovely lady from Bahía. On the coast, it seems the rules of the dating game are not so different from what you would expect in a western country.
Though conservative catholic culture still hovers over relationships at times, for the most part I think that will be gone within a generation. Indigenous cultures in the Andes tend to be far more conservative in both dress as well as behavior.
You might get some big smiles from some of the young ladies in the hills, but don't take it as a come-on, mostly they are just curious about you. Ecuador, like most of Latin America, is dominated by machismo culture.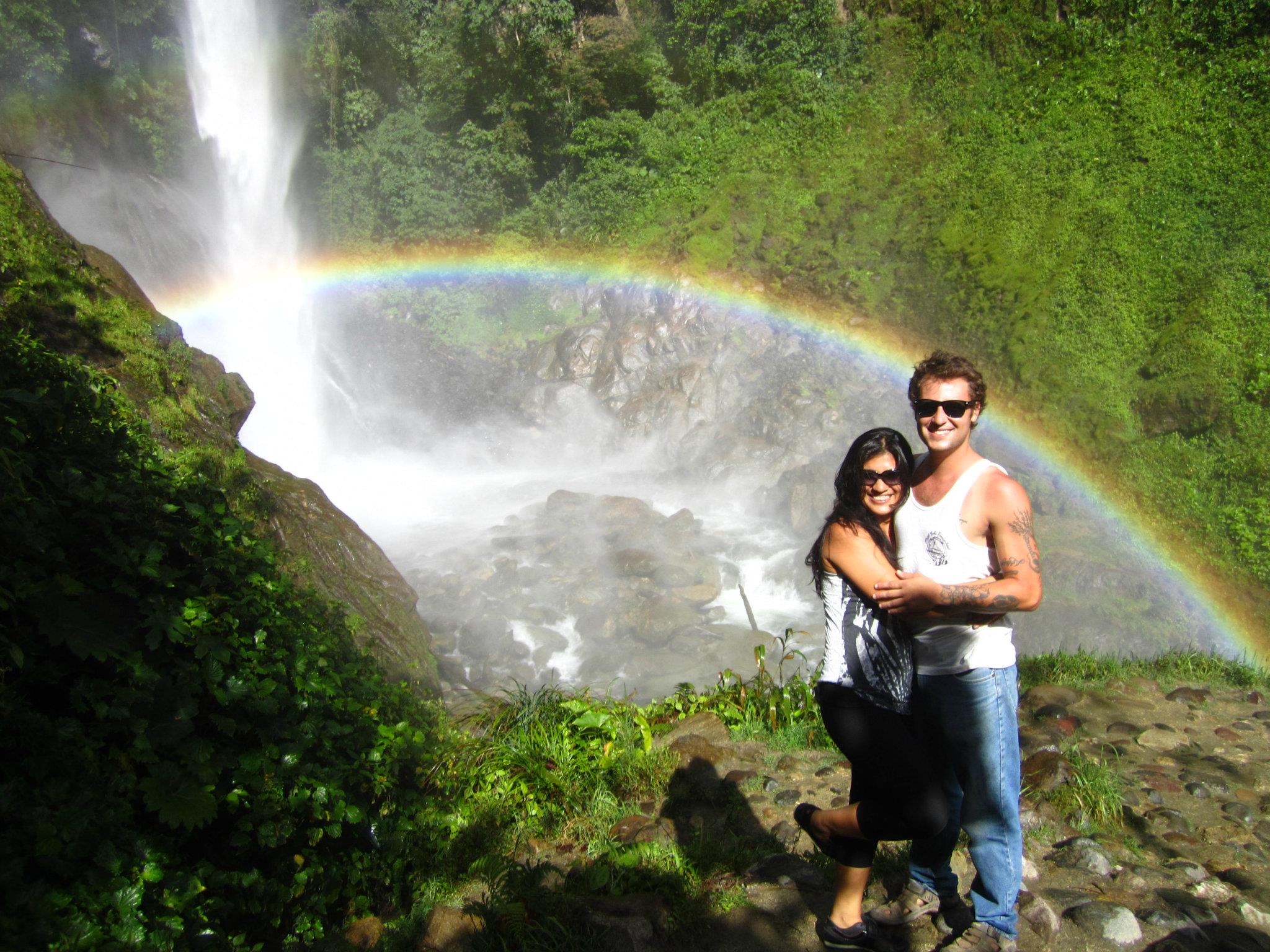 At many levels of society, women occupy a more traditional role as a stay at home mom. Sadly, sometimes dudes just straight up act like women are inferior and they themselves are God's gift to them.
In the big cities however, this generally is not the case. The balance seems to be going the way of equality regarding the status of men and women. This is a positive step for Ecuador, and for all of Latin America in general. I found that Ecuadorian people really like to have a good time.
If you are interested in meeting someone from the opposite (or same) sex, it shouldn't be too difficult if you just put yourself out there. I have heard positive reports for the use of social apps like tinder, especially in places like Quito and Cuenca.
Books to Read About Ecuador
A Brief History of Ecuador
After World War Two ended Ecuador saw an economic growth period driven by the banana trade. Large parts of the country began producing bananas for export markets, which began to damage native forests, but boosted the economy.
In 1963 President Carlos Arosemena Monroy was deposed by military junta, which began to implement agrarian reform. A few years later in 1972 oil production began and Ecuador emerged as a significant oil producer in the southern hemisphere.
In the same year General Guillermo Rodriguez Lara became president after overthrowing President Velasco. In 1982 there was a brief border war with Peru. Since that time relations with neighboring countries have been pretty stable for the most part.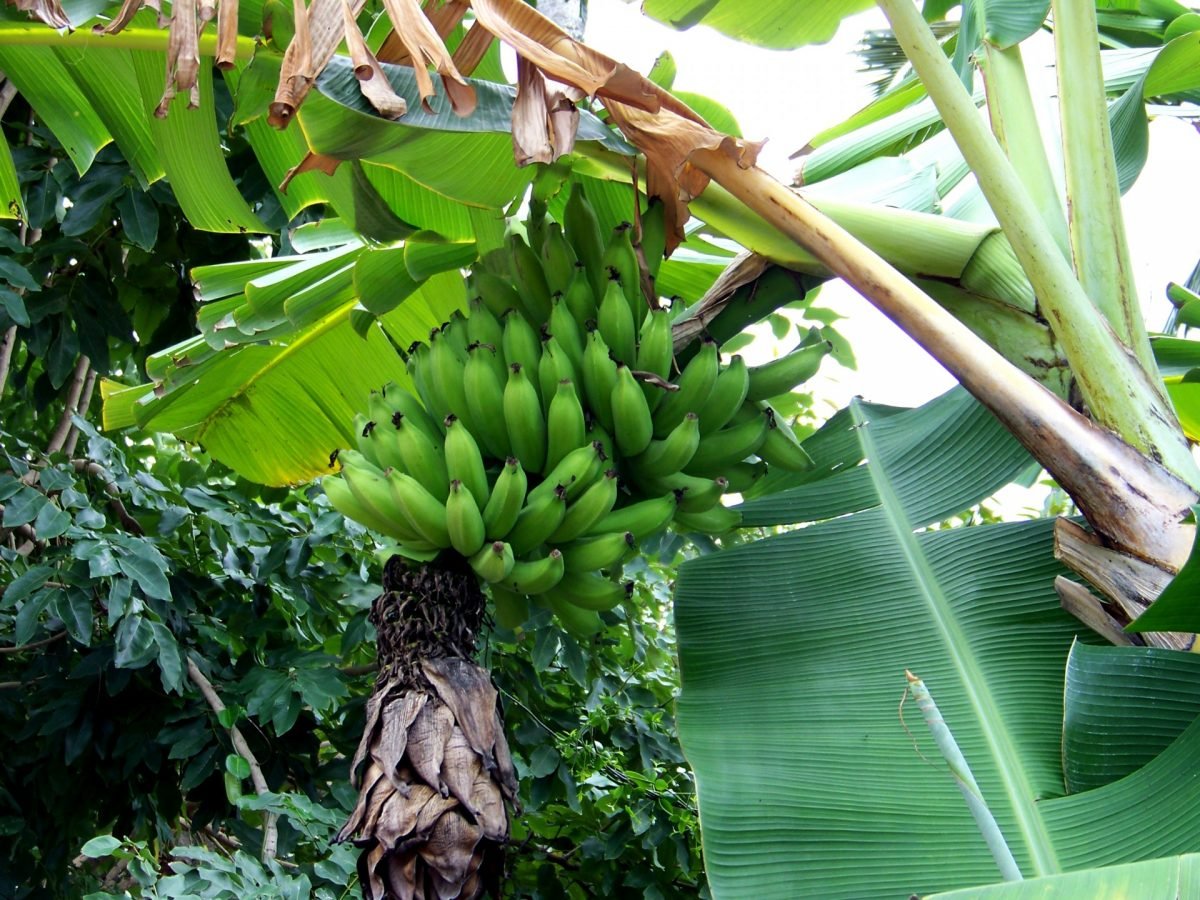 Mid 2000s-present
In 2000 Vice-President Gustavo Noboa became president after Mr Mahuad was forced to leave office by the army and indigenous protesters; Ecuador adopted the US dollar as its national currency in an effort to beat inflation and stabilize the economy.
In April 2005 anti-government protests mushroomed after a reformed, pro-government Supreme Court dropped corruption charges against two former presidents. Congress voted to oust President Gutierrez. Alfredo Palacio replaced him. 2012 brought Ecuador again into the global news. Founder of Wikileaks Julian Assange took refuge in Ecuador's London embassy and appealed for political asylum, in order to escape extradition to Sweden on rape charges.
The asylum was granted the following month, causing a diplomatic row with Britain.
April 2016 was a very rough period for many people in Ecuador, especially on the coast.
More than 400 people died and 2,500 were injured in the 7.8-magnitude earthquake on the Pacific coast. The town where I spent the majority of my time in Ecuador, Bahía de Caráquez, suffered huge losses.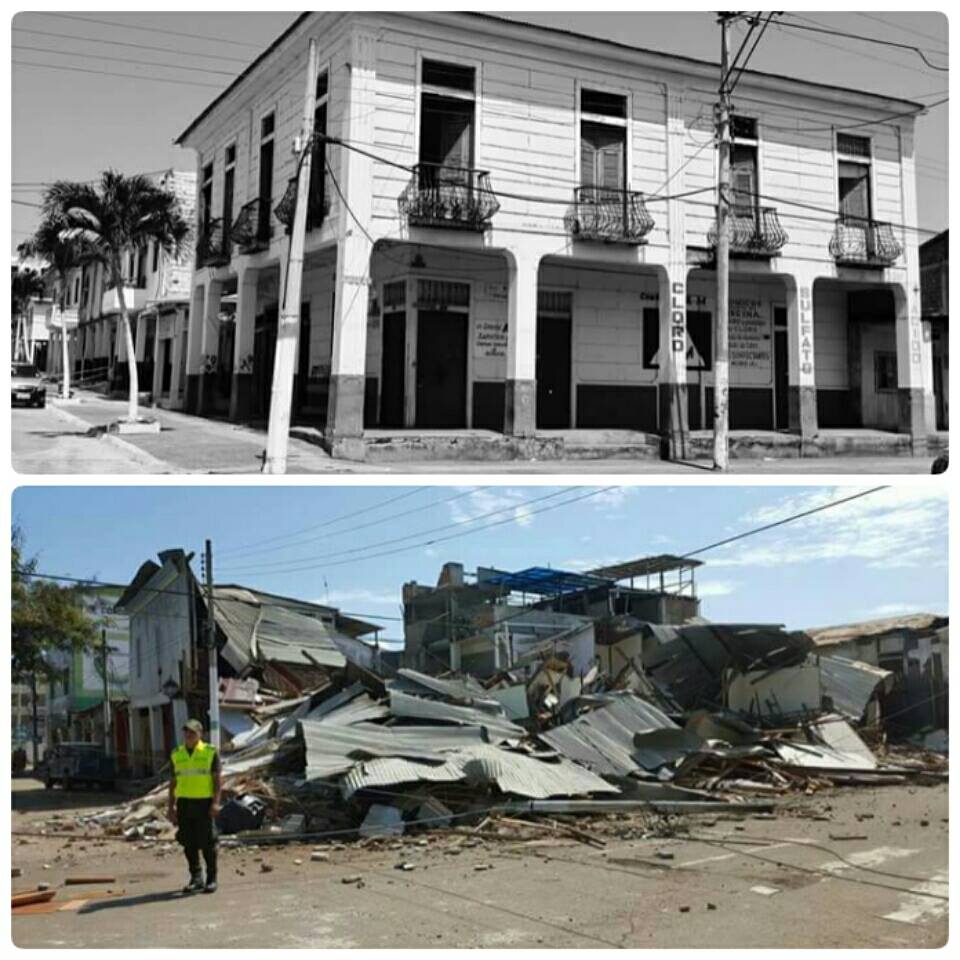 Now, four years removed from the quake, the strong people of Ecuador continue to forge ahead and life goes on.
Some Unique Experiences in Ecuador
Depending on the region you visit, there is always something new and exciting to try. Whilst backpacking the coast of Ecuador, you really should try to give surfing a go.
On many beaches the waves break for ages and catching a wave might be easier than you think. Renting a surfboard costs about as much as your bar tab for a night. Do yourself a favor, skip the booze (or not) for a night, and treat yourself to some fun attempting to shred the waves.
Hiking in the Andes is an absolute must. You won't believe you are in the same country once you leave the beaches for the Andes. Going from sea level to some of the highest mountains in the world in a few days is a real trip.
Then there is the food. While rice and some sort of meat or fish are pretty standard across the board, the culinary adventures awaiting you range from interesting to downright bizarre.
DON'T DIE OUT THERE! …Please 🙂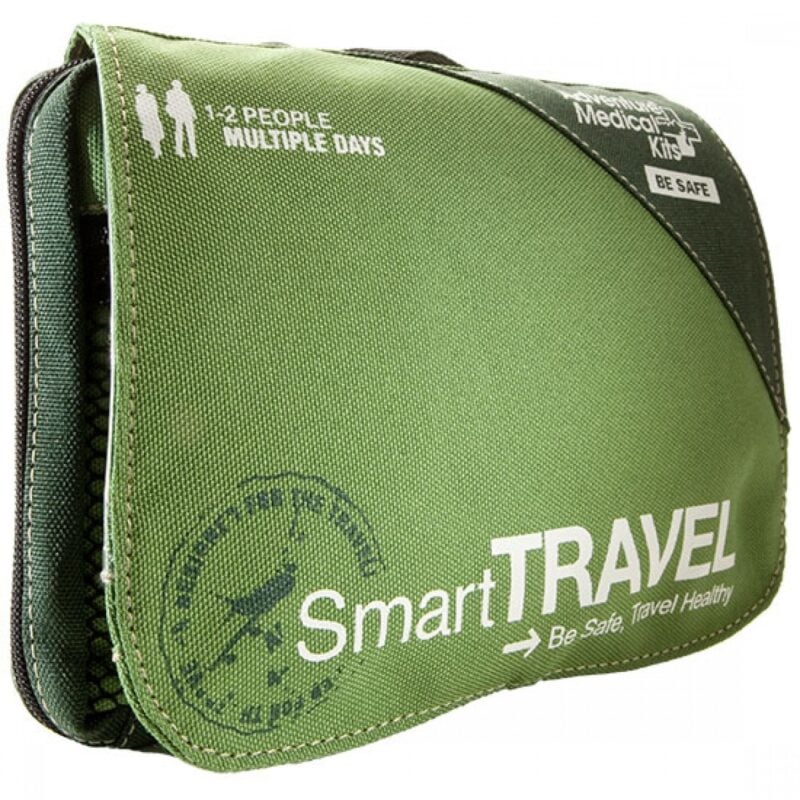 Things go wrong on the road ALL THE TIME. Be prepared for what life throws at you.
Buy an AMK Travel Medical Kit before you head out on your next adventure – don't be daft!
Buy on REI
Trekking in Ecuador
When you are exploring a country with the second highest mountain chain in the world, you will want to do some trekking no doubt. As I mentioned before, Ecuador is trekking paradise.
I found that in many areas of the highlands, trekking is accessible and quite easy to do on your own without the use of a guide. Half of the adventure of backpacking Ecuador is leaving your comfort zone. Hiking in the Andes was one of my favorite parts of traveling in Ecuador, hands down. One trek I must recommend is climbing Iliniza-Norte.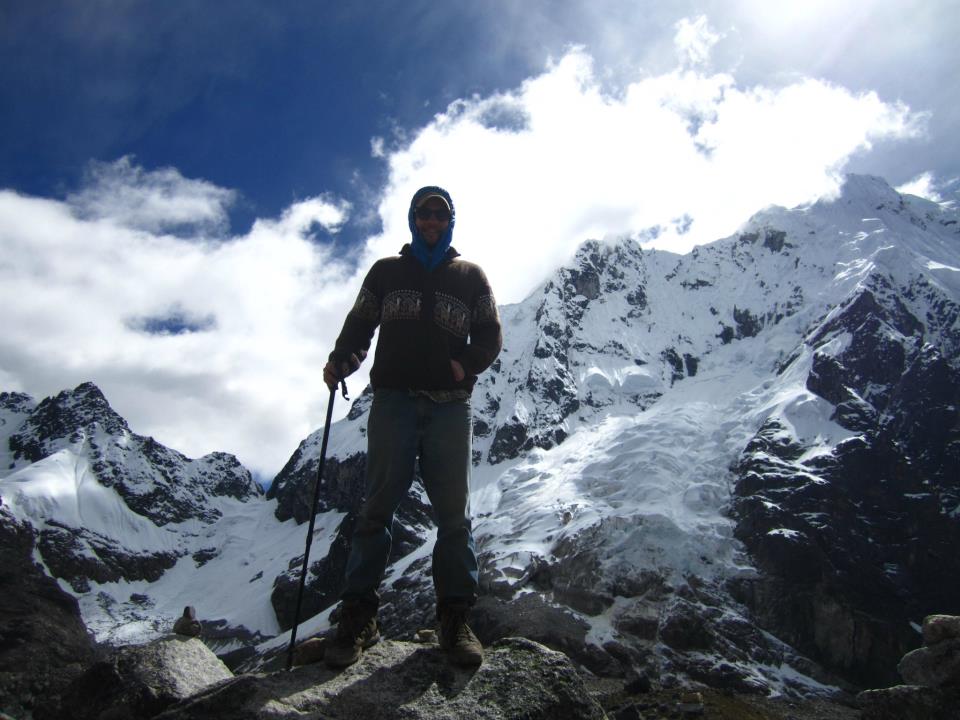 This is a fantastic 2-day trek that does not require any special gear or equipment. If you are planning to tackle Cotopaxi this is a great warm-up.
Trekking around the central highlands is quite different than trekking in the very high mountains. It tends to be a bit warmer and is very green. I recommend giving yourself ample time to explore both environments. Be prepared to wait out bad weather if the outlook looks poor for a couple days.
Hiking in the Andes is best done in groups of at least two. I understand the need to go off on your own sometimes, but use wise judgment and never undertake anything that is above your ability. I really loved getting to know some of the indigenous people while I was trekking in the Andes. The landscapes are dramatic and beautiful, yes, but it is the people that really make hiking in the Andes a special experience.
Hiking in Cajas National Park
If you visit Cuenca, then there is no reason why you shouldn't go to Cajas for at least a day or two. The park is large and there is much to see. Camping opportunities abound in Cajas National park!
The most popular hike starts at the information center and it takes you northeast past Lake Toreadora, through a beautiful forest and down past Lake Totoras and Lake Patoquinuas.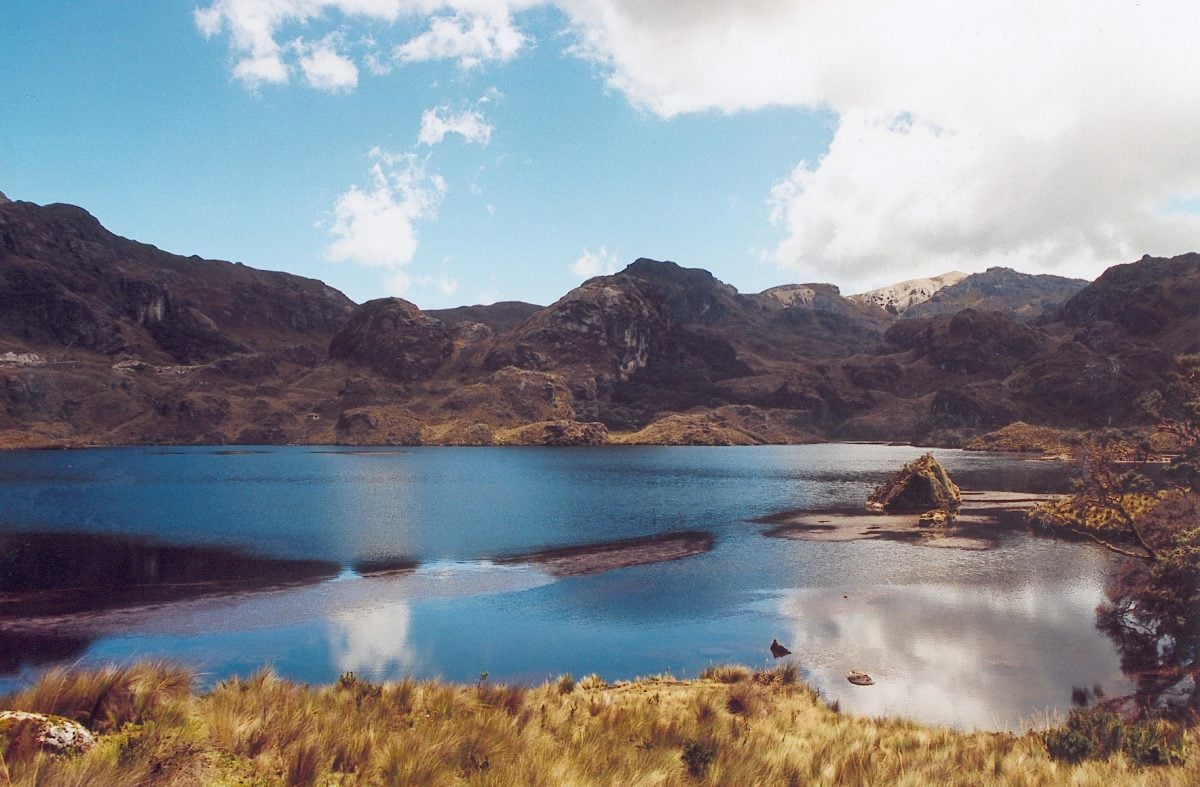 The trail ends back at the highway, around 8km east of the Information Center, at the Quinuas checkpoint, where you can catch a bus back to Cuenca if that's where you're headed. If you are keen to explore more beyond this popular trek, the sky is the limit. Pick up a map and other helpful information about trekking in the park at the info center.
Scuba Diving in Ecuador
The majority of divers head straight for the Galapagos Islands. The waters surrounding this group of deep-sea, volcanic islands form a protected marine reserve where virtually no commercial fishing has occurred in the last five decades.
This fact combined with the area's deep-sea upwellings creates one of the most biodiverse marine ecosystems in the world. For those who wish to dive in Ecuador without the cost of traveling to the Galapagos, Machalilla National Park is known as the "poor man's Galapagos" and features some of the same endemic species found in the famous archipelago.
Scuba Dive Ecuador on a Liveaboard Trip
Arguably the best way to go scuba diving in Ecuador is by joining a Liveaboard trip. There is no better way to experience the beautiful Galapagos Islands if that is what your going for.
These boats have the ability to travel to the northern dive sites, such as those around Darwin Island, Wolf Island and Punta Vicente Roca, which are too far from inhabited islands to be visited in a single day. Learning about Darwin's concept of natural selection while observing the beautiful mola mola and large schools of hammerhead sharks is a once in a lifetime diving experience.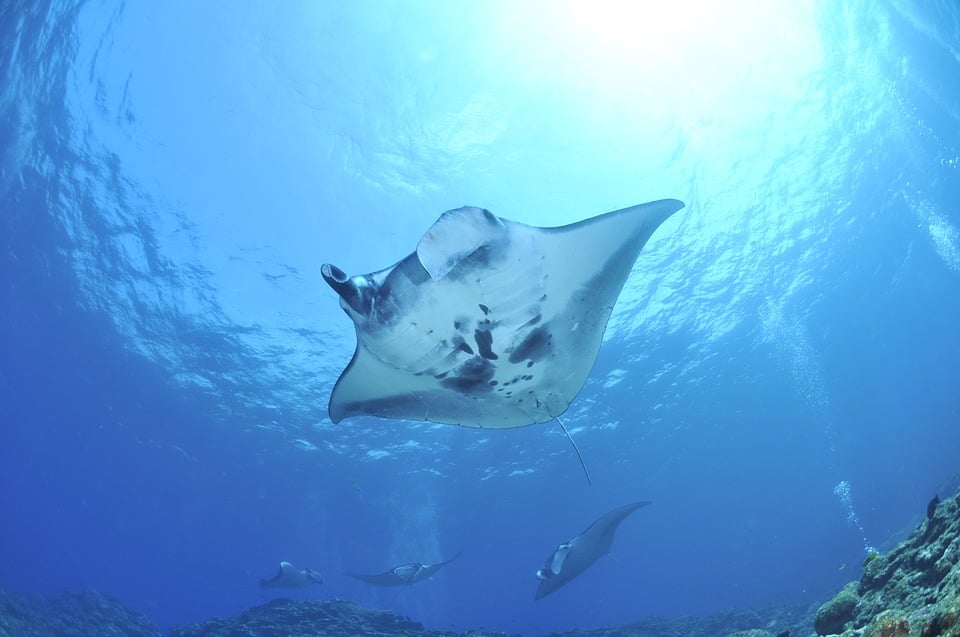 Wake up to the beautiful sights of the ocean all around you. Spend your days diving in some of the most marine life rich waters in the world.
Just be prepared to pay for the pleasure as with all things in the Galapagos. Eat, sleep, dive, and oh yeah, eat tons of tasty food all along the way. Sounds like a pretty sweet deal. Where do I sign up? For more information check out the Liveaboard scuba diving trips in Ecuador here
Joining an Organized Tour in Ecuador
For most countries, Ecuador included, solo travel is the name of the game. That said, if you are short on time, energy, or just want to be part of an awesome group of travelers you can opt to join an organized tour. Joining a tour is a great way to see a majority of the country quickly and without the effort that goes into planning a backpacking trip.
However—not all tour operators are created equal—that is for sure.
G Adventures is a solid down-to-earth tour company catering to backpackers just like you, and their prices and itineraries reflect the interests of the backpacker crowd. You can score some pretty sweet deals on epic trips in Ecuador for a fraction of the price of what other tour operators charge. Check out some of their awesome itineraries for Ecuador here…
Final Advice Before Visiting Ecuador
Backpacking Ecuador can be one hell of a party at times. Take it from me, it can be easy to get carried away. It is important to keep in mind that you are an ambassador for your country, which is awesome. We can make a positive impact on people when we travel and get rid of any ugly stereotypes that may be associated with your country.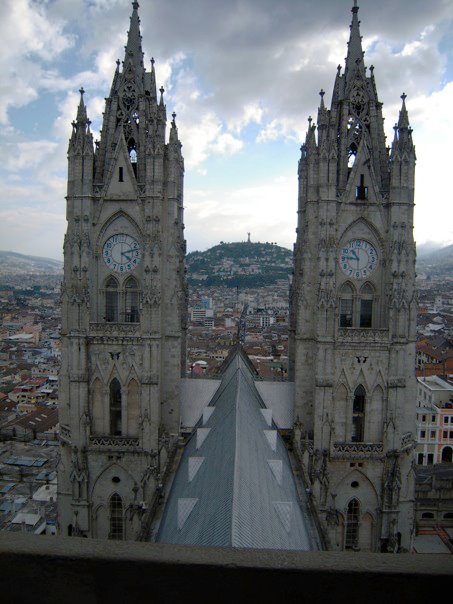 If you visit indigenous villages or small communities in the highlands always ask before taking photos. The people who live in these villages are not exhibits in a museum. They are normal folks just living their lives. Always show them the complete respect that they deserve. When buying a local craft, do not haggle so low that the price is unfair for the person who spent countless hours crafting it.
Pay people what they are worth and contribute to the local economies as much as possible. Avoid eating at fancy gringo-owned restaurants. I don't care how badly you want that lasagne and red wine. You make a choice with every dollar you spend.
Try to spend your money in places where the experience is mutually rewarding. Backpacking Ecuador or any country for that matter often illuminates some of the great socio-economic inequalities of the world. Never take it for granted that you are healthy and financially able to go traveling.
Show the world around you some gratitude and help to make a positive impact on it. Most of all, have an epic time and go as deep into your Ecuadorian adventure as you want to go.
---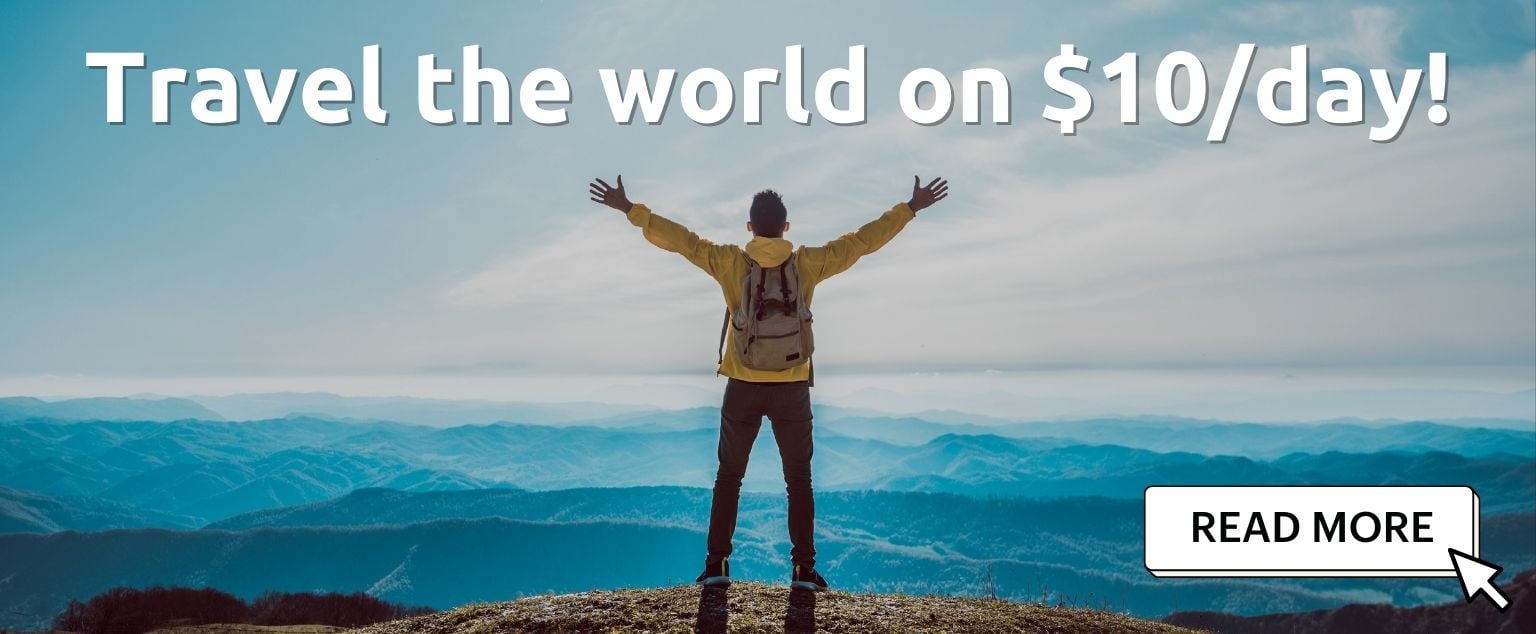 And for transparency's sake, please know that some of the links in our content are affiliate links. That means that if you book your accommodation, buy your gear, or sort your insurance through our link, we earn a small commission (at no extra cost to you). That said, we only link to the gear we trust and never recommend services we don't believe are up to scratch. Again, thank you!