Ecuador is a proper gem for anyone looking to get a huge dose of nature. You'll find a fair chunk of the Amazon Rainforest, the amazing Andes and – of course – the Galapagos Islands. Ecuador is truly one of the most biodiverse countries on Earth.
But it doesn't come without its issues – far from it. It's plagued by drug trafficking; there's a high rate of theft; the threat of seismic activity; hell, there are places you're simply not allowed to go in Ecuador.
All of this may have you asking yourself "is Ecuador safe to visit?"
That's why we've created this insider's guide. Learn how to travel safely in Ecuador, get to know the tips and tricks to have an awesome time and loads more.
We have packed heaps of Ecuador safety hacks into this guide. You'll find everything from the safest to the most dangerous areas, what to eat and drink, how to live, and even how safe it is to get around.
So let's get right to it!
How Safe is Ecuador?
There are a whole lot of reasons to take a trip to Ecuador: the beaches, the actual Amazon Rainforest, and don't forget the Galapagos Islands either. It's a beautiful place (we don't use that word lightly) and a definitive nature lovers' paradise. Ecuador even made history in 2008 when it became the first country in the world to recognise the Rights of Nature.
It's not always an easy place to travel though, or 100% safe for that matter either.
There's drug trafficking, violent attacks, petty theft, and scams. There are no-go areas in Ecuador – the border region with Colombia is one such place.
On top of that, there's a high risk of earthquakes, volcanic eruptions, and tsunamis, as well as bad (very bad) weather. The wildlife can be a little intimidating as well – anacondas roam the Amazon and can be dangerous, even to grown adults.
Backpacking in Ecuador could be risky but is totally worth doing. Just ask anyone who's been how much they love this place.
There is no such thing as a perfect safety guide, and this article is no different. The question of "Is Ecuador Safe?" will ALWAYS have a different answer depending on the parties involved. But this article is written for savvy travellers from the perspective of savvy travellers.
The information present in this safety guide was accurate at the time of writing, however, the world is a changeable place, now more than ever. Between the pandemic, ever-worsening cultural division, and a click-hungry media, it can be hard to maintain what is truth and what is sensationalism.
Here, you will find safety knowledge and advice for travelling Ecuador. It won't be down to the wire cutting edge info on the most current events, but it is layered in the expertise of veteran travellers. If you use our guide, do your own research, and practise common sense, you will have a safe trip to Ecuador.
If you see any outdated information in this guide, we would really appreciate it if you could reach out in the comments below. We strive to provide the most relevant travel information on the web and always appreciate input from our readers (nicely, please!). Otherwise, thanks for your ear and stay safe!
It's a wild world out there. But it's pretty damn special too. 🙂
Is Ecuador Safe Right Now?
Whether you fancy backpacking or you're just visiting for a short trip, we'd say Ecuador is generally safe as long as you're on top of things.
Use your common sense and you won't have any problems during your trip. In fact, more and more people are visiting every year. Since 1995, tourism numbers have steadily risen in Ecuador and culminated in more than 1.5 million people visiting in 2014.
The Galapagos Islands alone receive over 200,000 visitors per year, but the islands are actually in danger of being over-touristed, which results in massive inflation of prices. Luckily, there are many Galapagos Tours which offer guided excursions to the unique islands.
Pretty much ALL of Ecuador is safe except for the 20-kilometre exclusion zone along the Colombian border. However, this zone is not open for travel anyway, so you definitely won't get to see it.
On another note, seismic activity is a constant threat. Ecuador is jam-packed with volcanoes; tsunamis have been known to hit the coast; earthquakes can happen. Being clued up on how to deal with a disaster when it hits should be on your to-do list.
Safest Places to Visit in Ecuador
Ecuador is one of the most diverse and beautiful travel destinations in South America. Unfortunately, its 'dangerous' reputation often scares visitors away. However, there are a so many places you can visit while being perfectly safe, and the next three are our favorite ones.
Galapagos Island
The Galapagos Islands are a bucket list destination for lots of travellers. And for a good reason. The relatively new islands carry a mystical charm, with lots of different animal species that had to adapt to the harsh conditions to survive.
While it's definitely not a cheap place, staying on the Galapagos Islands is incredibly safe. There is hardly any petty crime and no countries have issued any warnings. The only thing you need to be cautious of is the sun, which can be brutal during midday.
Mystic Islands with Unique Charm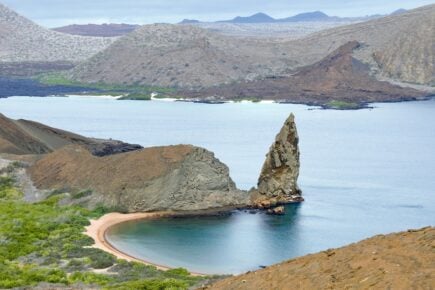 Mystic Islands with Unique Charm
The Galapagos Islands
The Galapagos Islands is a safe but expensive bucket-list destination with incredible natural attractions and amazing wildlife.
Montañita
For surfers, party lovers and night owls, visiting Montañita is a dream come true. The coastal town which was once just a small fishing village is now known for one of the best surf spots worldwide and amazing nightlife options once the sun sets. Unlike the main cities in Ecuador, Montañita is very safe and a great spot for solo travellers that want to meet new people.
There are countless affordable hostels in Montañita, which offer an additional safety level (if you choose the right one).
One of the Best Surf Spots
One of the Best Surf Spots
Montañita
Montañita is a world-class surf destination and a massive magnet for nightlife lovers.
Cuenca
Cuenca has a whole different vibe from the two destinations above. Ecuador's third-largest city and the economic center of the southern sierra is known for it's beautiful festivals, breathtaking scenery and being one of the UNESCO World Heritage Trust sites.
If you're travelling with kids, Cuenca is the perfect place. Not only is this city safe, but also a hotspot for expat living due to its amazing weather conditions and calm way of living.
A Safe Place for Families
A Safe Place for Families
Cuenca
With a massive expat community, Cuenca is a charming and peaceful place to visit with your family.
Places to Avoid in Ecuador
While there are many beautiful and safe places in Ecuador, unfortunately there are areas you should definitely avoid, or jus use as a stopover on your travels.
The Colombian Border: Don't even consider going near this area, as it's just not worth it. Most crimes occur in this area and you really don't want to get pulled into a drug war on your holidays. Luckily, getting into this exclusion zone is almost impossible for tourist anyway.
Areas in Quito: Ecuador's capital city, Quito, is known for pickpocketing, petty theft and taxi robberies. While most of the city definitely offers a unique charm and countless attractions, you should still need to be careful where you're staying. A basic rule of thumb: if there aren't any people around, you're in the wrong place and you need to get out!
Areas in Guayaquil: While the riverside in Guayaquil is pretty safe for tourists, there are areas in the city that you definitely want to avoid. The poorer the neighborhood, the more dangerous it is to stay there. The downtown and southern areas are known to be sketchy, as well as the El Guasmo district. Be careful when using public transport and watch your belongings, especially if you're out after dark.
Ecuador Travel Insurance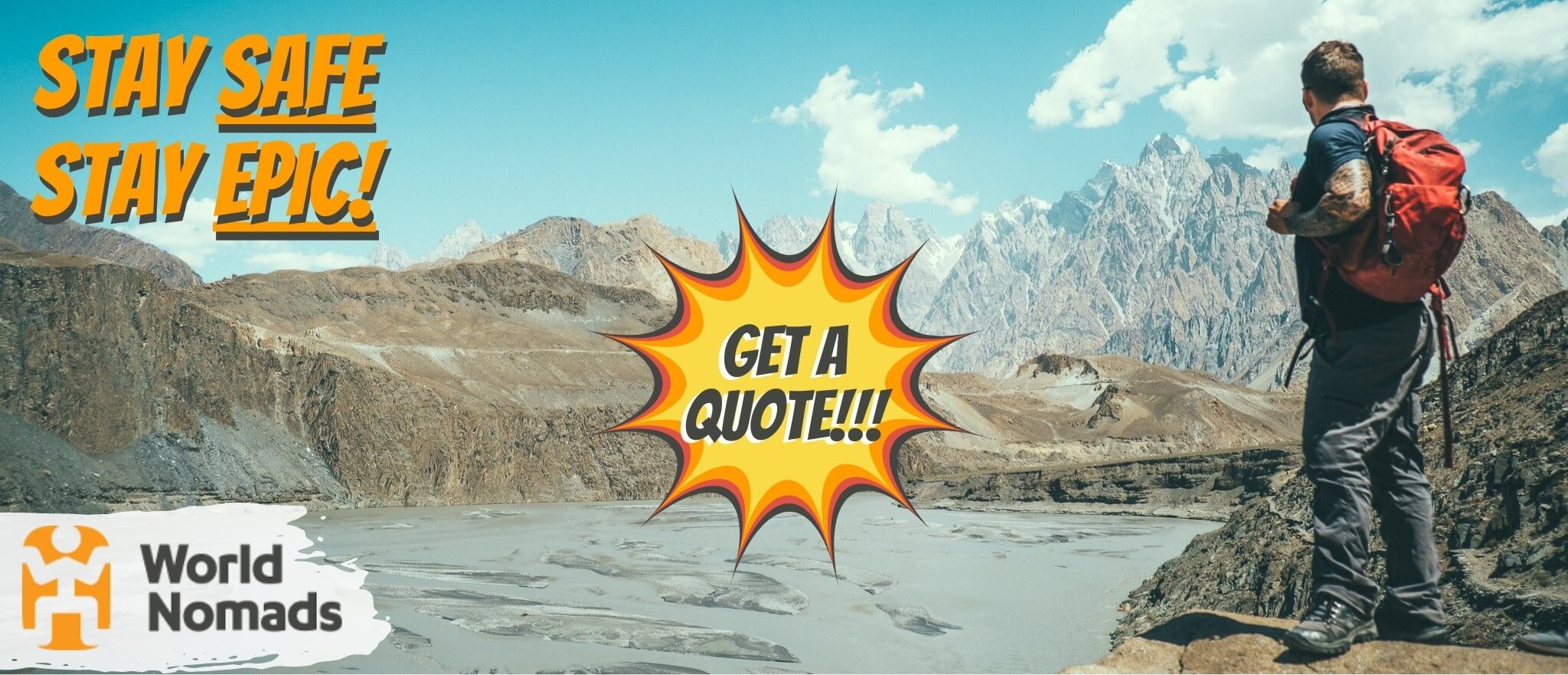 It's good to get lost sometimes, but it's also good not to get too lost. There are people that want you home in one piece.
There's one travel insurance provider The Broke Backpacker trusts for all his wildest shenanigans… World Nomads!
Click the button below to get a quote on your insurance or read our in-depth review of World Nomads' coverage. And then… let the shenanigans begin. 😉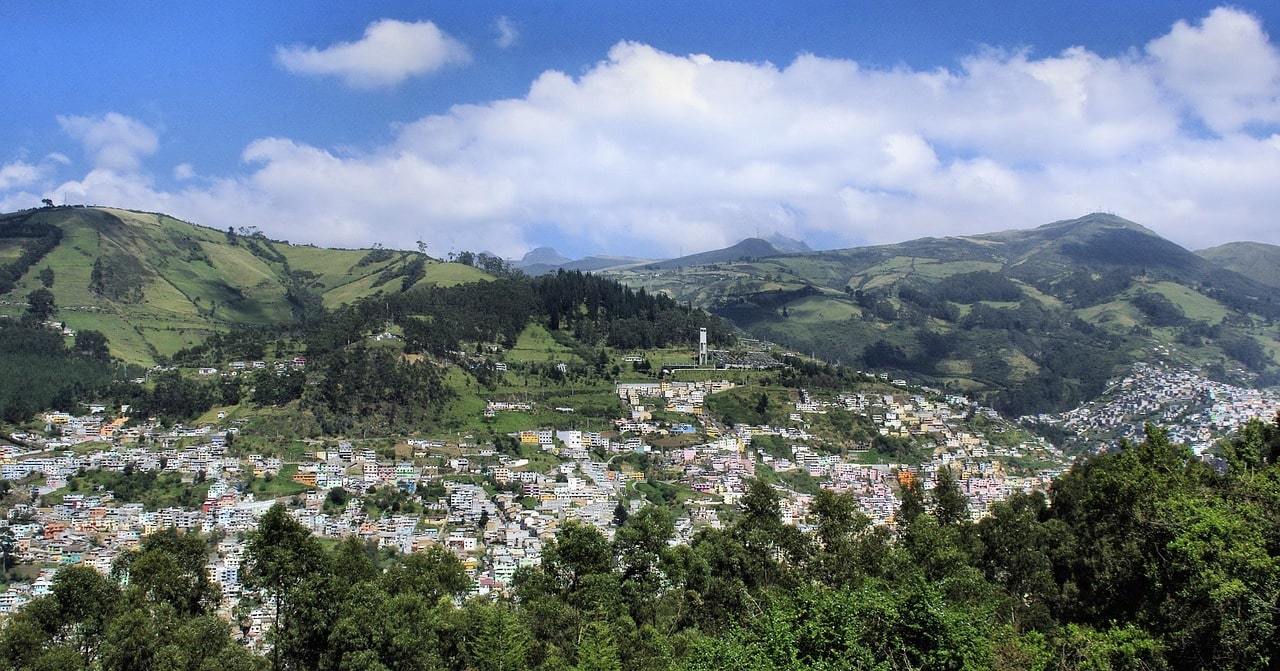 Ecuador offers up a huge serving of adventure and can be an amazing country to visit, but you need to know how to travel safely.
Ecuador Safety Tips for Travelling Smooth
Download yourself an earthquake app – these are usually free and will tell you when one is kicking off near you. Good to know.
Don't go around flashing your bling – you'll just make yourself a magnet for people who want your cash.
Basically, try to blend in – big ol' backpack and an SLR around your neck just scream "TOURIST" (just being honest).
Only carry around what cash you NEED – in case you get robbed, you'll lose a whole lot less.
Keep your belongings close to you – don't put your bags down, hang it on a chair, anything like that – keep them on you! Keep your money on you with a money belt.
Careful using your phone in public – these can get snatched. If you want to use them, head to a shopping centre, cafe, restaurant, etc.
Keep a copy of your passport and entry stamp on you – it's the law, actually.
Don't trek in the rainforest by yourself – just foolish. You may have no clue what's going on, so get a (good) guide.
Be careful when using drugs… – over 90% of foreign prisoners locked up in Ecuador are there for drug-related crimes.
Take care of high altitudes – even the capital is 2,850m above sea level! As a rule of thumb, anything above 3,000m requires extra acclimatization.
Don't go hiking up El Panecillo by yourself – it's not the mountain that will get you but the sketchy people that hang out around it. Go on a tour or get some good transport up.
Don't wander around after dark – mainly in certain areas of cities, because you'll just be putting yourself at risk.
Hand it over – if someone demands your things, hand it over. Your valuables are not worth your life.
Turn down cigarettes and drinks from strangers – no matter how they appear, these can be laced with drugs.
Don't leave your drink unattended – people sometimes get their drink spiked, which never leads anywhere good.
Get vaccinations – Yellow Fever is rife in Oriente Region. You'll want some malaria medication, too. Check to see what else you'll need.
Speak Spanish – even just the very basic stuff. Helps you get around, order food, ask for directions, be friendly to locals, etc.
At the end of the day, it's all about being aware of your surroundings – and that includes how you fit in!
Insider Safety Tips from the Broke Backpacker Team
Travel SAFE and Make a Difference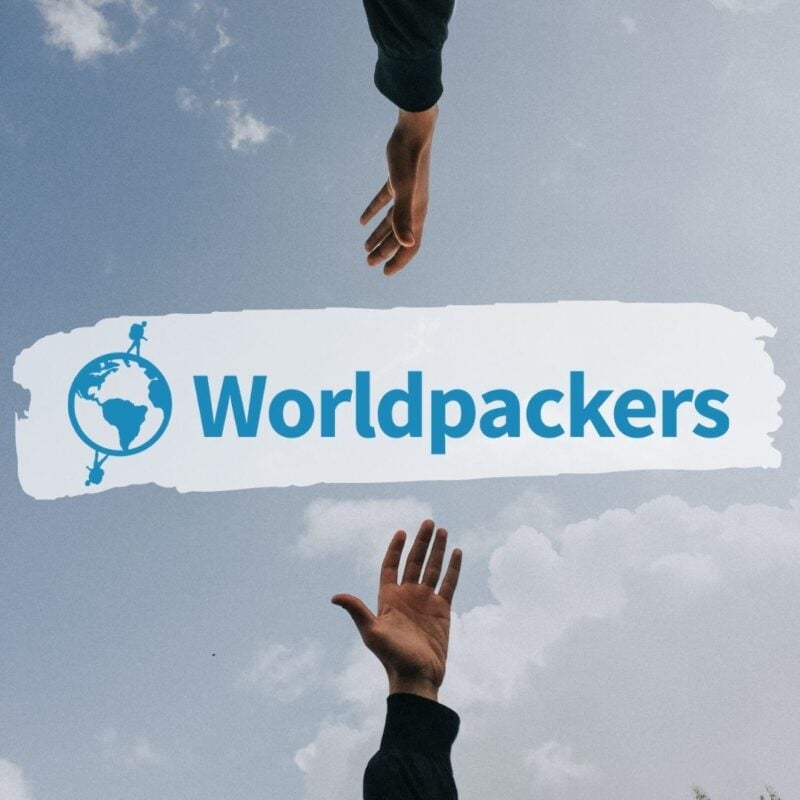 Worldpackers connects travellers with hostels, schools, NGO's and many more for work exchange opportunities. Chat with your host before you arrive to have a soft landing and then experience your destination differently! Local connections make your trip a lot safer – and open up a whole new culture experience.
Worldpackers trips are insured! They'll help you find a new host and cover up to 7 nights in a hostel so you're not left on your own if a host falls through.
Use the discount code BROKEBACKPACKER for a $10 discount. Plus, get 3 free months on your membership during their summer promo!
TRAVEL BETTER NOW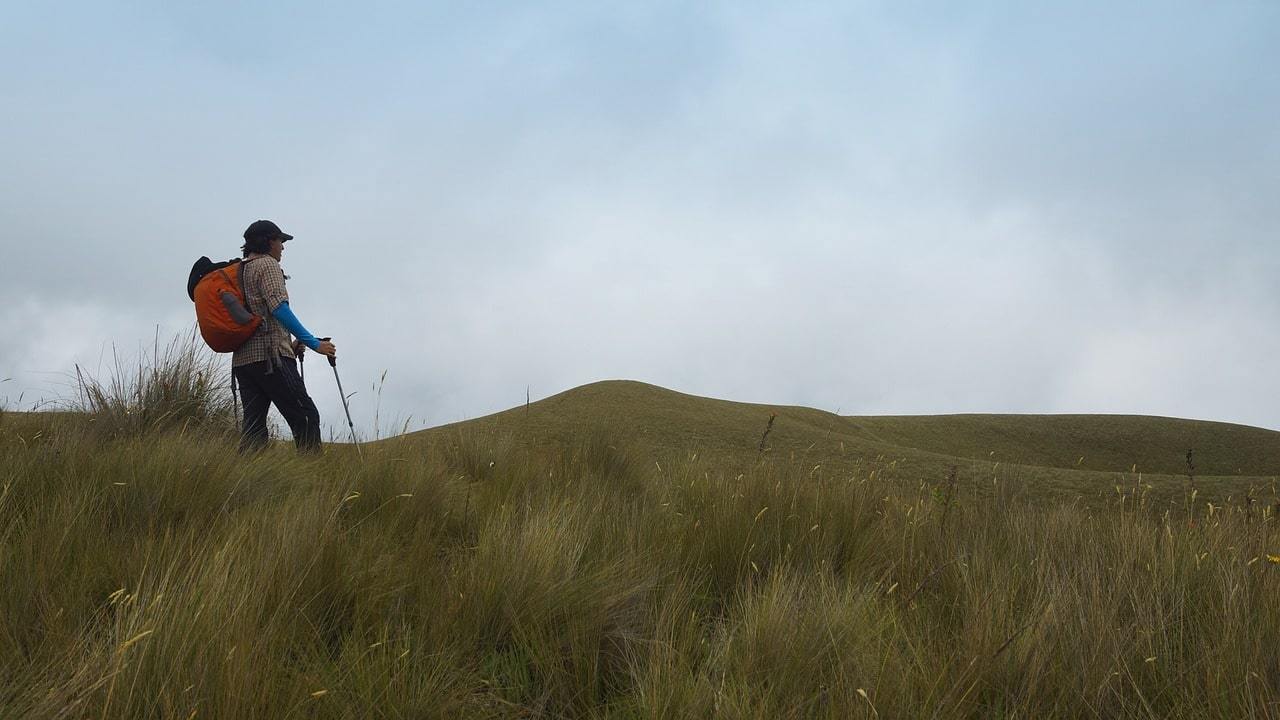 Solo travel is amazing – you get to do things your own way, at your own pace. What's even better, you'll get to learn stuff about yourself as well.
But solo travel does have its drawbacks, especially in Ecuador. So with that in mind, we've come up with some handy safety tips to make sure your trip is the best it can be.
Travelling to Ecuador Alone – Tips and Pointers
Don't push yourself and know your limits. Trekking up in the Andes one day, exploring Oriente the next; having a non-stop itinerary planned may feel like the best way to see the country, but you need to take breaks too.
Hiking by yourself may be really fun, but make sure you do your research. Especially if you're heading off the beaten track. Not only are robberies still possible, but nature can get the better of you. It's a jungle out there in the jungle!
Don't be afraid of taking tours or hiring a guide. You can meet some cool, like-minded people on tours and, on top of that, guides can really give more depth to a place.
Try to travel as light as possible. Having a load of stuff with you is going to make travelling pretty stressful. You'll have a load to carry, which is annoying, but it also just means more stuff to keep an eye on when you're on buses – or more stuff to worry about in your hotel room.
Get chatting to other travellers at your hostel, locals in a cafe, anyone that looks friendly. This is a good way to get tips on where to go next, what to see, and where to eat.
Don't go partying too hard. Drinks are cheap, so are drugs, and too much of anything is going to make you senseless. This is even more of an issue if you need to walk back to wherever you're staying at night. 
Don't walk around at night – it's really a no-brainer, whether you're alone or in a group!
Travelling solo means you'll be more at risk of getting scammed. Trust your gut and avoid situations that seem sketchy, because they probably are.
An offline maps app like Maps.me is a good idea. It's good for anything from finding your way on a hike to finding a historic site that's not in your guidebook.
Memorising the route to where your staying, or something you want to see, is a good shout as you won't have to keep getting your phone out. Which is kind of a no-no in public places.
Keep in touch with folks back home. Travelling solo doesn't mean having to go off-grid. It's not 'inauthentic' to call your friends and family back home once a week, at least just to check in and let them know you're alright!
The main thing to remember is that you need to be more careful than you would be in your own country. Be aware of your surroundings and you should be fine.
Travel with peace of mind. Travel WITH a security belt.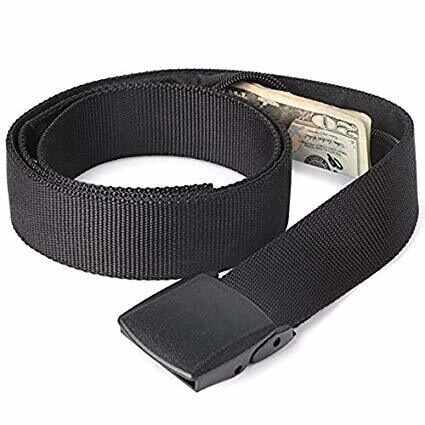 Get your cash stashed with this awesome Pacsafe money belt. It will keep your valuables safe no matter where you go.
It looks exactly like a normal belt except for a SECRET interior pocket perfectly designed to hide a wad of cash or a passport copy. Never get caught with your pants down again! (Unless you want to.)
Hide Yo' Money!
Is Ecuador safe for solo female travelers?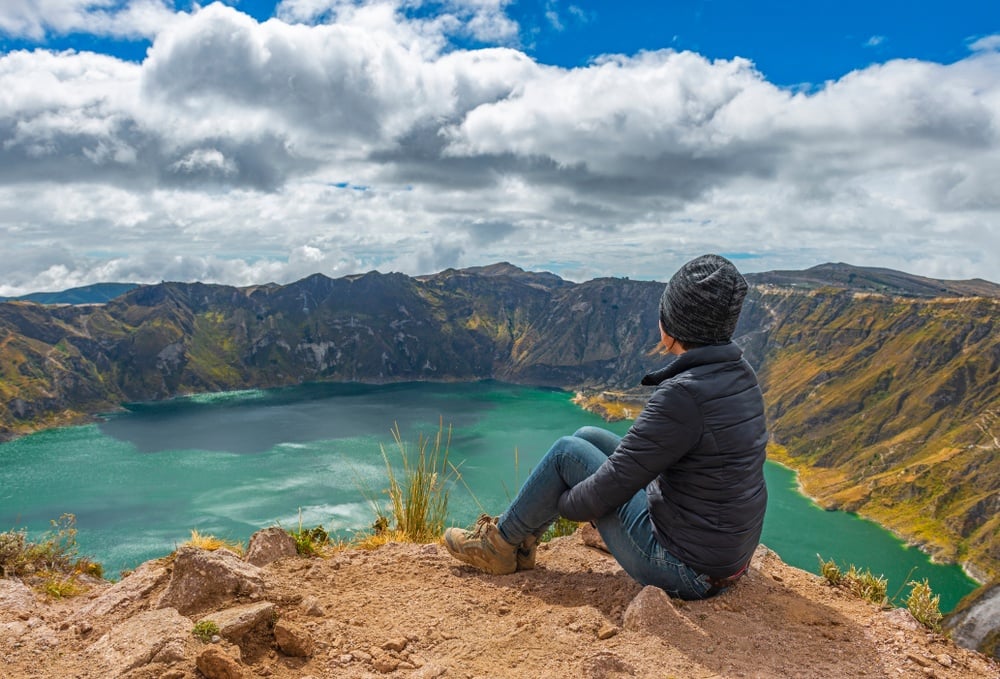 Travelling alone as a woman comes with a lot more risks. That goes for anywhere in the world, including Ecuador.
However, you shouldn't let scary stories keep you away from this stunner of a country. Yes, there are a lot of safety concerns for solo female travellers in Ecuador, but you can avoid these if you keep your wits about you.
Travelling to Jamaica Alone – Tips and Pointers
Sometimes it's good to take a tour. These help you learn about the local area, see some amazing sights, learn more about Ecuador, and meet some fellow travellers whilst you're at it. But make sure you do your research and go on a well-reviewed tour. There have been reports of women being harassed whilst on some.
If you're feeling alone when you're staying in a city – reach out to local communities. Visit a community centre or get involved in some volunteering. Check by the tourism bureau for events.
Don't walk around at night. If you have to go out after sunset, walk with someone you know or ask your accommodation to order you a taxi.
Ecuador is a macho society. Be prepared to receive comments and catcalls. This also happens to local women. Just ignore them and move on.
To fit in, it's best to dress conservatively. Shorts can actually be offensive in some places, not to mention mark you as a blatant tourist. Remember: tourists are more of a target than locals.
Beware of predatory men, especially in bars and clubs along the coast if you're by yourself.  
If you don't feel comfortable with a situation, speak up and let any fellow travellers around you know what's happened. Remove yourself from the situation if needed.
You don't have to tell everyone everything about you. If a taxi driver's asking if you're married, or anybody seems overly interested in where you're heading next, and it feels sketchy, don't tell them. Lie, be vague – it's better to be safe than sorry.
Don't leave your drink unattended. Date rapes have been known to occur across Ecuador. So don't accept drinks from strangers. It's not worth the risk.
Stay somewhere with good reviews and make sure that you have a look round before agreeing on anything. Are there other female backpackers staying there? Are there families staying there? Do the doors have locks? Do they work?
Ecuadorian people are very open and helpful and will usually help out a woman travelling by herself. Maybe even more so to a female than a male travelling by themselves. Anything from giving their seat up on the bus for you to helping you find your way if you're lost. People will be happy to help you.
DON'T DIE OUT THERE! …Please 🙂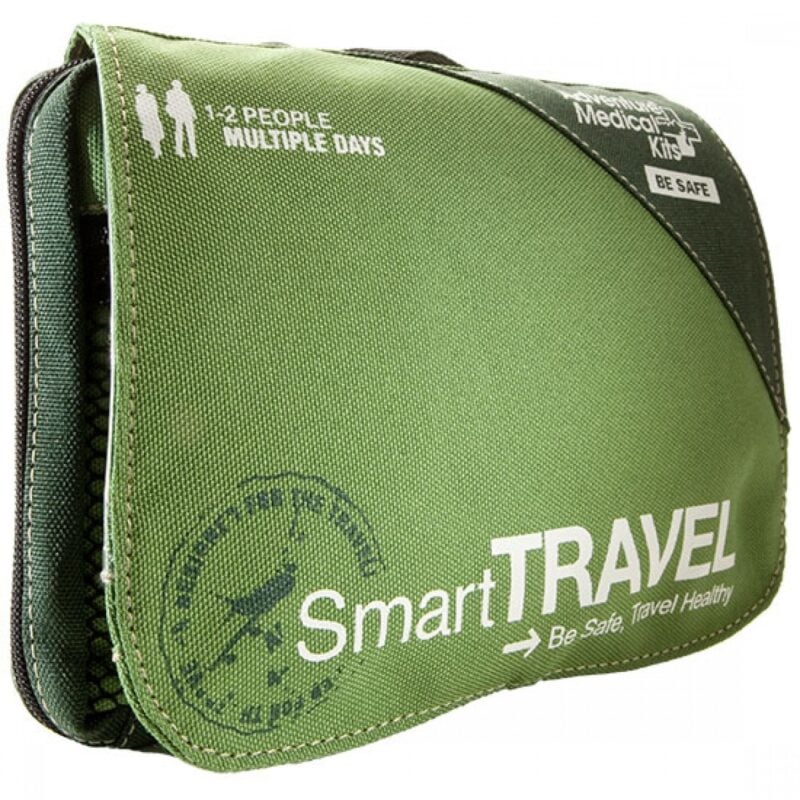 Things go wrong on the road ALL THE TIME. Be prepared for what life throws at you.
Buy an AMK Travel Medical Kit before you head out on your next adventure – don't be daft!
Buy on REI
More about Safety in Ecuador
We've covered the three main safety questions already, but there'plenty more to know. Read on to find more detailed information on how to stay safe in Ecuador.
Can Families Travel Safely in Ecuador?
Ecuadorians love children! You'll be welcomed with open arms. Your little ones are going to be great icebreakers and will probably lead you to have truly local experiences that you wouldn't have had otherwise. There are a few things we have to note:
Altitudes – keep an eye on your children. If they don't seem right or complain of headaches, get to a lower altitude. The Quito Cablecar, for example, goes 13,000 feet above sea level and children can't ride unless they're over 18 months old.
Wild animals – not just scorpions and poisonous frogs, but also stray dogs and cats. They can carry diseases.
Public transport – if your child can sit on your lap, then they ride free on public transport. If they take up a seat, that's a fare. Whilst a child sitting on your lap may not seem safe, buses don't have seatbelts at all. So you might want to just hold on to them anyway!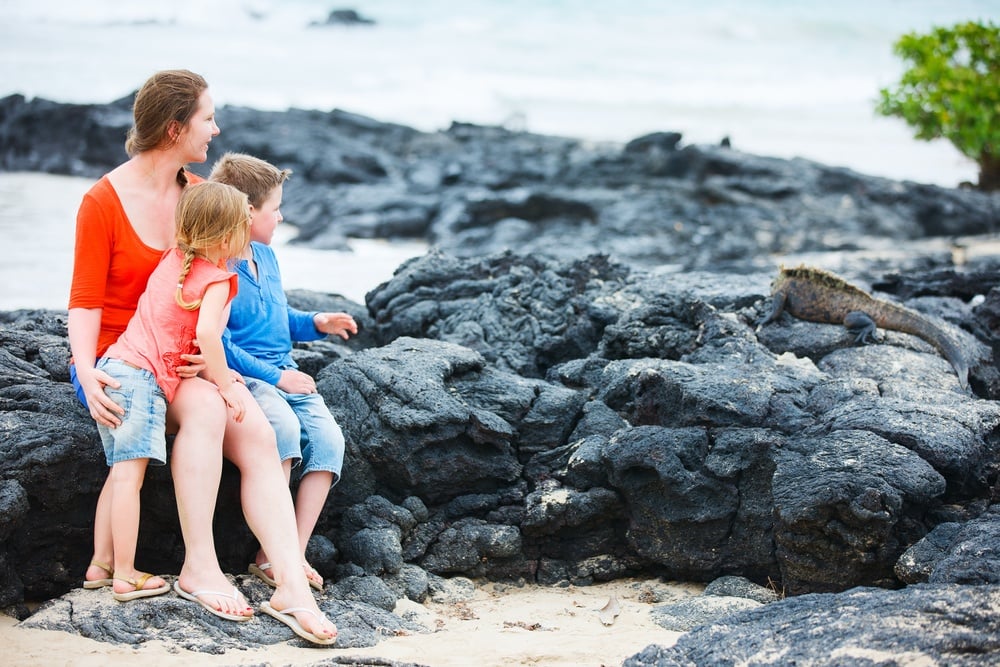 Is it safe to drive in Ecuador?
Driving in Ecuador is actually safer than you'd. There have been some improvements in infrastructure over the past few years and the roads themselves got a bit of an upgrade, too.
Road conditions aside, there are going to be some cultural differences when it comes to how people drive. Driving aggressively is one thing that you may not be used to, but you may have to adopt this style to survive.
Don't be surprised if you get overtaken by a bus or lorry, especially when driving on the Pan-American Highway. Just make space and carry on. Watch out for animals, people and speedbumps on the road (these can be homemade too). Keep your eyes open, especially when driving through cities or at night.
As long as you're a confident driver and adapt fast, driving in Ecuador is perfectly safe.
Is Uber safe in Ecuador?
Uber is definitely safe in Ecuador, but only available in Quito and Guayaquil.
Are taxis safe in Ecuador?
Taxis are safe in Ecuador, but they're not always the most straightforward.
First of all, they usually have no meters, except in some cities. This means having to agree on a price with the driver before you get in. That said, there's usually a flat rate.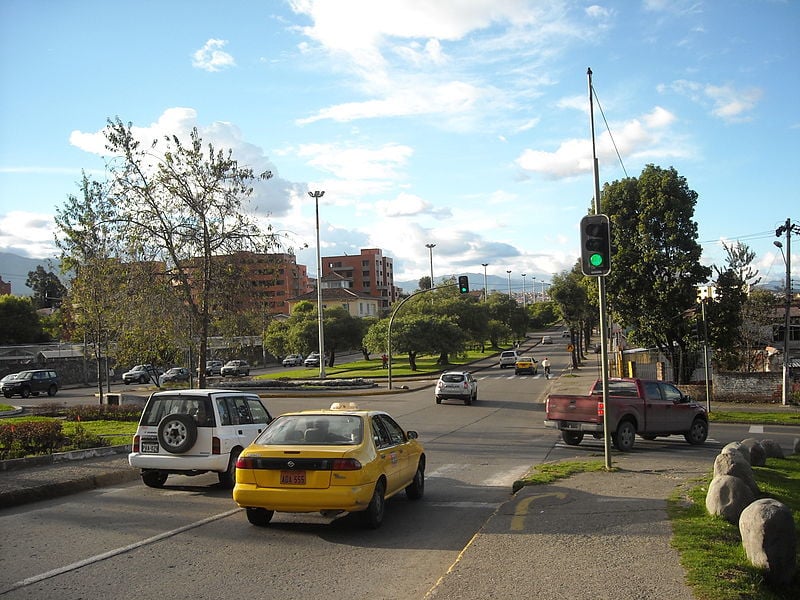 To spot a taxi in Quito or Guayaquil, know that these are yellow and should have licenses on the doors and in the windscreen. Otherwise, keep an eye out for an orange license plate or the newer version: a white plate with an orange strip at the top. Anything else is likely to be unofficial and therefore risky. 
There's a taxi app called Easy Taxi. It's kind of like Uber – when you book you'll see the driver, their name, the description of the car, which does help.
Is public transportation in Ecuador safe?
There are a few different options for public transport in Ecuador and these vary in safety levels.
Trains: Train lines have recently been restored. These travel along the Andean as well as the Coastal regions and are basically tourist trains. A nice idea for day trips and we'd count these as safe.
Buses: As long as you keep your eyes open and your belongings close, these are safe as well. They're usually fairly frequent and fairly cheap for long distances. Try to avoid the city buses is Quito as they're way too crowded. There are VIP buses as well, but the drivers are known to speed quite a bit since these buses have fewer stops.
Pickup Trucks: They are probably the lowest rungs of what we'd consider safe public transport in Ecuador. However, they ply rural, remote routes and can be pretty cool if you like a bit of adventure.
Use Bookaway to find the best deals on transport – buses, planes, trains, and ferries. It'll save you a load of time when organising transport and you'll probably nab an EPIC DISCOUNT too!
Book your transport on Bookaway NOW. Get the best price for the best ride… then use those savings to buy the best feed in town!
Book Your Transport Here!
Is the food in Ecuador safe?
Yep, food in Ecuador is safe and what's more: it's tasty. A Latin American feast of potatoes, rice, meat, and fresh fruit, like bananas, avocados, and tamarillos. Oh and don't forget seafood in the coastal regions!
Eating locally is definitely a good way to keep a budget. Seriously, Ecuadorian food (mainly street food) is cheap!
We've listed a couple of tips to keep your stomach safe.
Wash your hands before you eat! This is really a no-brainer…
Don't go crazy on the food the instant you arrive. Your stomach probably won't be ready for the Ecuadorian cuisine just yet. So in the first few days, ease yourself in. 
Make sure what you're about to eat is hot and cooked through. Food that hasn't been properly cooked is more likely to do bad things to your stomach.
Hit up the busiest food stalls. Better yet, if they're popular with locals, you should definitely go.
Give guinea pig a try (called "cuy"). If you want to taste it, go ahead, but make sure you eat at a reputable restaurant. Cuy is delicate meat and can be ruined.
Ceviche is another thing you might want to try. This involves raw seafood so you'll want to make sure it's very fresh.
Don't eat unpasteurized dairy products. If in doubt, avoid milk.
If you're gluten-free, pick up a handy Gluten-Free Translation Card with descriptions of Celiac disease, cross-contamination risk, and local Ecuadorian ingredients in Latin American Spanish.
Can you drink the water in Ecuador?
We're going to say no: you can't drink the water in Ecuador. Purified water is the way to go. Bottled water is the safest choice but creates extra waste.
You can boil water to make it potable, but remember you're going to have to do this for at least twice as long at higher altitudes. 
If you're out trekking, make sure you bring a water bottle with you.
Save $$$ • Save the Planet • Save Your Stomach!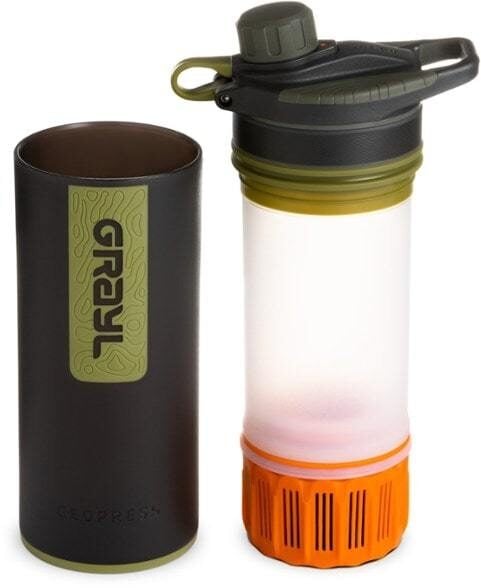 Drink water from ANYWHERE. The Grayl Geopress is the market's leading filtered water bottle protecting your tum from all the waterborne nasties. PLUS, you save money and the environment!
Single-use plastic bottles are a MASSIVE threat to marine life. Be a part of the solution and travel with a filter water bottle.
We've tested the Geopress rigorously from the icy heights of Pakistan to the tropical jungles of Cuba, and the results are in: it WORKS. Buy a Geopress: it's the last water bottle you'll ever buy.
Buy a Geopress!
Read the Review
Is Ecuador safe to live?
Ecuador is a relatively safe country to live in. But you should understand that not all of Ecuador is safe to live in and that larger cities see higher rates of crime.
In fact, there are many places in Ecuador that are safe to live. Some of those places include Vilcabamba, Cuenca, and Cotacachi. But expats settle all over the place, including coastal areas.
Ecuadorian people are very welcoming and friendly and will often help you out. Obviously, learning Spanish means you'll get much more out of your experience of living in Ecuador. And to be honest, why wouldn't you? 
The Future of the SIM Card is HERE!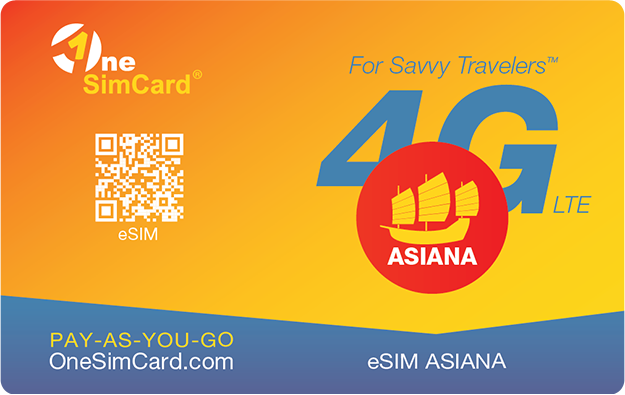 A new country, a new contract, a new piece of plastic – booooring. Instead, buy an eSIM!
An eSIM works just like an app: you buy it, you download it, and BOOM! You're connected. It's just that easy.
Is your phone eSIM ready? Read about how e-Sims work or click below to see one of the top eSIM providers on the market and ditch the plastic.
Buy an eSIM!
Is it safe to rent an Airbnb in Ecuador?
Renting an Airbnb in Ecuador is absolutely safe. We'll go as far as a saying it might be the safest accommodation option available. Airbnb's are often run by locals which know the area best and with the two-sided recommendation system of the platform, you know exactly what to expect of the place you're about to book.
Is Ecuador LGBTQ+ friendly?
Ecuador was one of the first countries to ban discrimination against all sexual orientations and legalize same-sex marriage. So yes, it's definitely a safe country for LGBTQ+ members. Of course, you might encounter the occasional closed-minded idiot, but the overall population is very tolerant.
Ecuador's Safety FAQ
For a travel destination like Ecuador, there are lots of different things you have to consider when it comes to safety. We've listed the most common question, answers and facts to make your trip as easy as possible.
So is Ecuador Safe for Travel?
Well we think yes! There may be a history of violent crime in Ecuador, but things have definitely improved and as long as you use your common sense, Ecuador is perfectly safe for travel.
However, trouble near the Colombian border has spilt into Ecuador creating a no-go area. And now trouble from that no-go area is spilling into neighbouring provinces. But you're going to find it difficult to get anywhere near the Colombian border anyway. 
Ecuador may be intimidating at times, but if you're careful and pay attention to your surroundings, you can have a safe visit. More than that, you can have an awesome time – you'll get to sink your teeth into rainforests, mountains, indigenous culture, beaches, and the famous Galapagos. 
Don't Forget your Ecuador Travel Insurance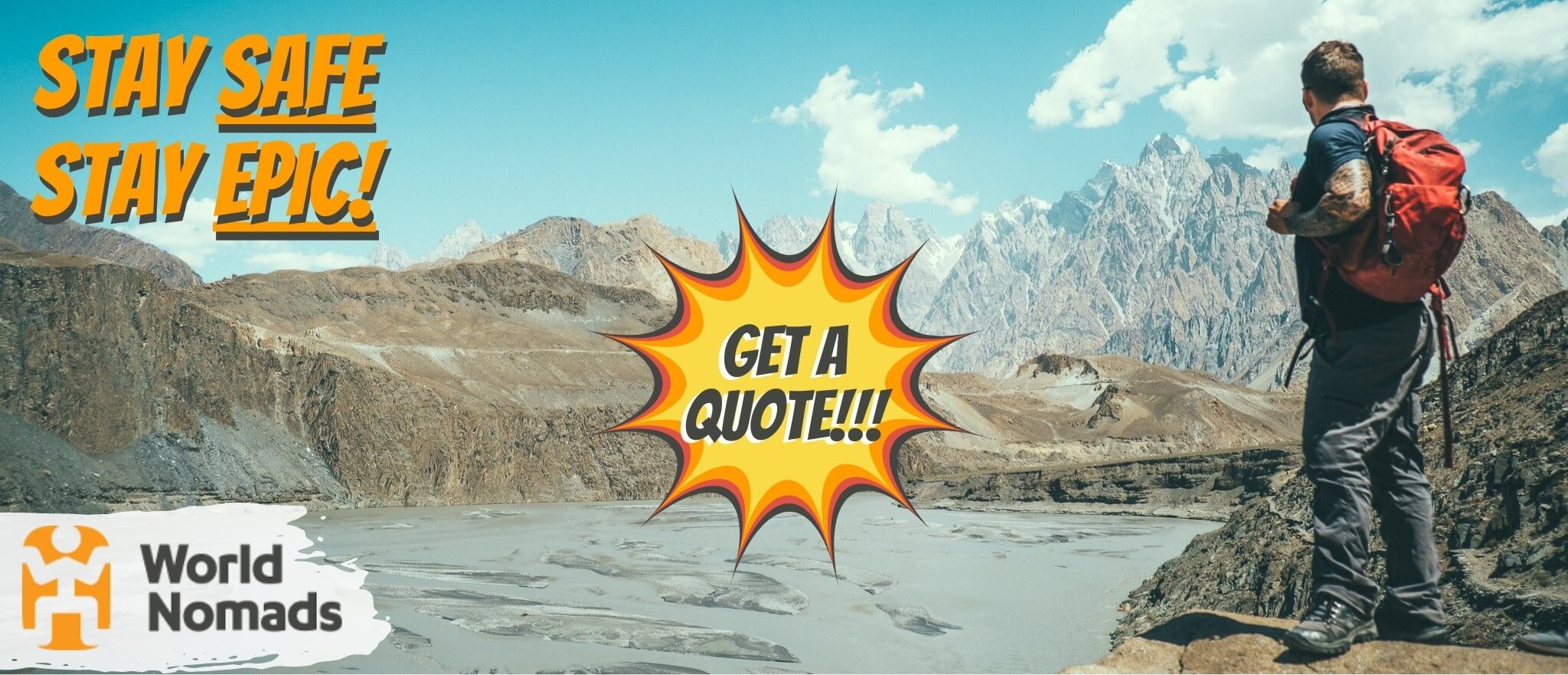 It's good to get lost sometimes, but it's also good not to get too lost. There are people that want you home in one piece.
There's one travel insurance provider The Broke Backpacker trusts for all his wildest shenanigans… World Nomads!
Click the button below to get a quote on your insurance or read our in-depth review of World Nomads' coverage. And then… let the shenanigans begin. 😉
Disclaimer: Safety conditions change all over the world on a daily basis. We do our best to advise but this info may already be out of date. Do your own research. Enjoy your travels!
---
Bye for now, but not forever!
If you want MORE top-tier Broke Backpacker content like this, then sign up for our weekly newsletter below to get the latest and greatest!
And for transparency's sake, please know that some of the links in our content are affiliate links. That means that if you book your accommodation, buy your gear, or sort your insurance through our link, we earn a small commission (at no extra cost to you). That said, we only link to the gear we trust and never recommend services we don't believe are up to scratch. Again, thank you!