Ecuador is a proper gem for anyone looking to get a huge dose of nature. You'll find a fair chunk of the Amazon Rainforest here, the amazing Andes and – of course – the Galapagos Islands. Truly, Ecuador is the one of the most biodiverse countries on Earth.
But it doesn't come without its issues – far from it. It's plagued by drug and human trafficking; there's a high rate of theft; the threat of seismic activity; hell, there are places you're simply not allowed to go in Ecuador.
All of this may have you asking yourself. "is Ecuador safe to visit?"
That's why we've created this insider's guide on how to stay safe in Ecuador. Lots of people backpack around Ecuador and have an awesome time. We think, with a few top tips and by travelling smart, that you'll be able to do the same!
We have packed heaps into this guide when it comes to safety in Ecuador. You'll find everything in here, from whether or not it's safe to eat the food in Ecuador, to whether it's safe to LIVE in Ecuador, and a whole lot more besides.
As a group of adventurers, enthusiasts and fearless travellers, it pains us to tell you this, but the fact is that most travel is currently not safe, and in many countries, not possible because of the COVID-19 outbreak.
Nations across the world are fighting to contain the outbreak and flatten the infection curve – an effort that every citizen and responsible traveller should be part of.
How Safe is Ecuador? (Our take)
So is it safe to travel to Ecuador? There are a whole lot of reasons to take a trip to Ecuador: the beaches, the actual Amazon Rainforest, and don't forget the Galapagos Islands either. It's a beautiful place (we don't use that word lightly) and a definitive nature lovers' paradise.
It's not always an easy place to travel though, or 100% safe for that matter either.
There's drug trafficking, violent attacks, petty theft, and scams. There are no-go areas in Ecuador – the border region with Colombia is one such place.
Ecuador actually made history in 2008 when it became the first country in the world to recognise the Rights of Nature.
But that nature can be dangerous. There's a high risk of earthquakes, volcanic eruptions, and tsunamis, as well as bad (VERY bad) weather. The wildlife can be a little intimidating as well – anacondas roam the Amazon and can be dangerous, even to grown adults.
Backpacking in Ecuador could be risky but, like anything worthwhile, is totally worth doing. Just ask anyone who's ever been how much they love this place.
Is Ecuador Safe to Visit? (The facts)
Still wondering whether Ecuador safe for tourists? Whether you fancy backpacking or you're just visiting for a short trip, we'd say Ecuador is generally safe so long as you're on top of things.
For example, you shouldn't be going to dangerous areas in the first place, thus you shouldn't be worried about them.
And when it comes to dangerous animals, chances are you'll be trekking in the heavily forested Oriente region with a guide – and they'll spot anything dangerous before you do!
Knowing common-sense practices like these allow people to visit Ecuador safely and frequently.
In fact, more and more people are visiting every year. Since 1995, tourism numbers have steadily risen in Ecuador and culminated in more than 1.5 million people visiting in 2014.
The Galapagos Islands alone receive over 200,000 visitors per year, but the islands are actually in danger of being over-touristed. Just BEING there puts a strain on the ecosystem, so we'll leave it up to your own conscience. Galapagos Tours are also expensive too, so we'll leave that up to your wallet.
Is it Safe to Visit Ecuador Right Now?
How dangerous is Ecuador at the moment then? Well for tourists, Ecuador is mostly safe to visit at the moment. However, autumn 2019 has seen widespread protests breaking out against the government. These have on occasion ended in violence and may result in curfews and closures. Life goes on, the protests have not crippled the county or tuned into a dangerous free for all. That said, it may be wise to check the news reports for updates before booking a trip to Ecuador at this time.
Pretty much ALL of Ecuador is safe except for the 20-kilometre exclusion zone along the Colombian border. To be fair, it's an exclusion zone, so you won't be able to travel there anyway.
A splinter group of FARC has been very active in this region. Troubles from Colombia (including drug and human trafficking) have spilt over into Ecuador.
Other areas that have been subject to recent attacks (2018) are Tarapoa, the Cuyabeno Reserve, El Angel Ecological Reserve, and the entire northern province of Esmeraldas. In these places, there have been reported cases of bombings, kidnappings, and the murder of journalists. As such, the UK government advises against travelling to any of these areas.
It doesn't sound great and, frankly, it's not ok to travel to those areas at the moment. We just wouldn't advise it.
On another note, seismic activity is a constant threat. Ecuador is jam-packed with volcanoes; tsunamis have been known to hit the coast; earthquakes can happen. Being clued up on how to deal with a disaster when it hits should be on your to-do list.
Do you need Travel Insurance for your trip? Even if you're only going for a few days, that's more than enough time to get smote by wrathful angels. Have fun in Ecuador, but take it from us, overseas medical care and canceled flights can be seriously expensive – insurance can, therefore, be a life-saver.
Travel mishaps can and do happen and it is well worth thinking about insurance before you leave home.
We have used World Nomads for years now and I have personally made several claims. Why not get a quote from them yourself?
Do be sure to read the terms and conditions to make sure that the policy covers your needs.
Getting an estimate from World Nomads is simple – just click the button or image below, fill out the necessary info, and you're on your way!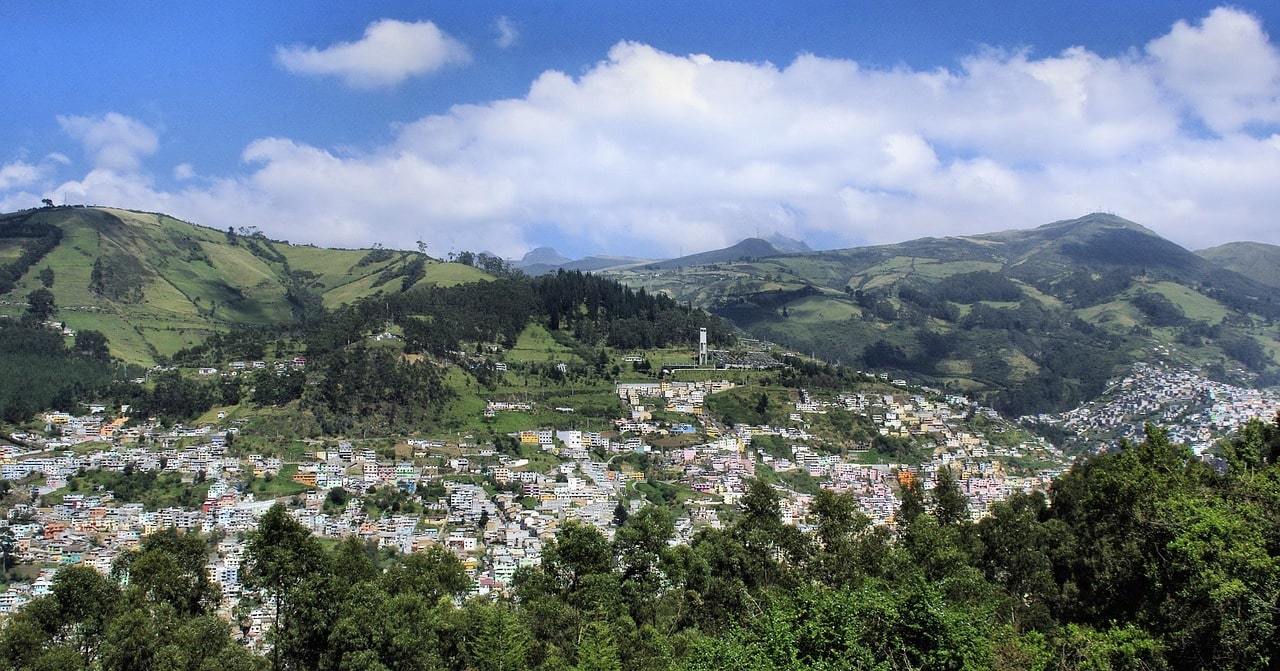 Ecuador offers up a huge serving of adventure and can be an AMAZING country to visit! There's a ton of stuff to see here, particularly if you're a nature fan, but you're going to love it here regardless.
However, Ecuador can be unsafe at times so it's good to know how to travel safely. Follow our Ecuador safety tips to stay safe;
Download yourself an earthquake app – these are usually free and will tell you when one is kicking off near you. Good to know.
Don't go around flashing your bling – you'll just make yourself a magnet for people who want your cash.
Basically, try to blend in – big ol' backpack and an SLR around your neck just scream "TOURIST" (just being honest).
Only carry around what cash you NEED – in case you get robbed, you'll lose a whole lot less.
Keep your belongings close to you – don't put your bags down, hang it on a chair, anything like that – keep them on you! Keep your money LITERALLY on you with a money belt.
Careful using your phone in public – these can get SNATCHED. If you want to use them, head to a shopping centre, cafe, restaurant, etc.
On a bus, keep your bag on your lap – under your seat or in the rack = no-no. Things have been known to be stolen.
Keep a copy of your passport and entry stamp on you – it's the law, actually.
Stay in NICE accommodation – a bus terminal hotel may be cheap, but it might end up being expensive when your stuff gets stolen. Also, they could be brothels. Opt for a little more expensive, well-reviewed places.
Ever heard of El Niño? – this irregular weather cycle can make things CRAZY in Ecuador.
Don't trek in the rainforest by yourself – just foolish. You may have no clue what's going on, so get a (good) guide.
Take caution with ayahuasca – you don't know how it's going to affect you. Be awarer of who's offering it to you and who you're doing it with. This stuff can be enlightening, or it could be a nightmare.
Speaking of drugs… – over 90% of foreign prisoners locked up in Ecuador are there for drug-related crimes. Now you know.
Watch out for forest fires – these can spread very quickly, so keep an eye out. These occur, especially, in Pichincha.
Take care of high altitudes – even the capital is 2,850m above sea level! As a rule of thumb, anything above 3,000m requires extra acclimatization.
Be careful in certain parts of Quito – in the bus terminals, parks, even the Old Town main square. Pickpocketing and muggings have happened in these areas. Read up on these because are a lot of dodgy areas.
And don't go hiking up El Panecillo by yourself – it's not the mountain that will get you but the sketchy people that hang out around it. Go on a tour or get some good transport up.
Don't wander around after dark – mainly in certain areas of cities, because you'll just be putting yourself at risk.
Hand it over – if someone demands your things, hand it over. Your valuables are NOT worth your life.
Turn down cigarettes and drinks from strangers – no matter how they appear, these can be laced with drugs.
Don't leave your drink unattended – people sometimes get their drink spiked, which never leads anywhere good.
Use your street smarts – distraction tactics abound. Mock fights, people falling over; you name it, they'll do it to get your attention and then pilfer your pockets. Watch out.
Get vaccinations – Yellow Fever is rife in Oriente Region. You'll want some malaria medication, too. Check to see what else you'll need.
Speak Spanish – even just the very basic stuff. Helps you get around, order food, ask for directions, be friendly to locals, etc.
It goes without saying, but don't go near the Colombian border – asking for trouble.
Ecuador is a developing country – this means things won't be as straightforward, or as safe, as you're (probably) used to. As long as you understand that, and understand that you should be blending in more than looking like a tourist, then you should be fine.
At the end of the day, it's all about being aware of your surroundings – and that includes how you fit in!
You'll find our favorite accommodation sorted by neighborhood in the following guides:
Some General Safety Tips from the OG Broke Backpacker
Keeping your money safe in Ecuador
A pretty common complaint is having your money stolen whilst being away. It's happened to us and a lot of other people too. And Ecuador isn't exactly exempt from petty theft.
Nope, it's not uncommon here at all. Bag slashing, bag snatching, pickpocketing, even mugging; this can all happen in Ecuador. But a simple way to combat having ALL your cash stolen is the humble money belt.
Want to keep your money safe?
You should always have emergency cash hidden on you – pick up this awesome security belt with its hidden pocket before you travel, it's perfect for hiding money, a passport photocopy.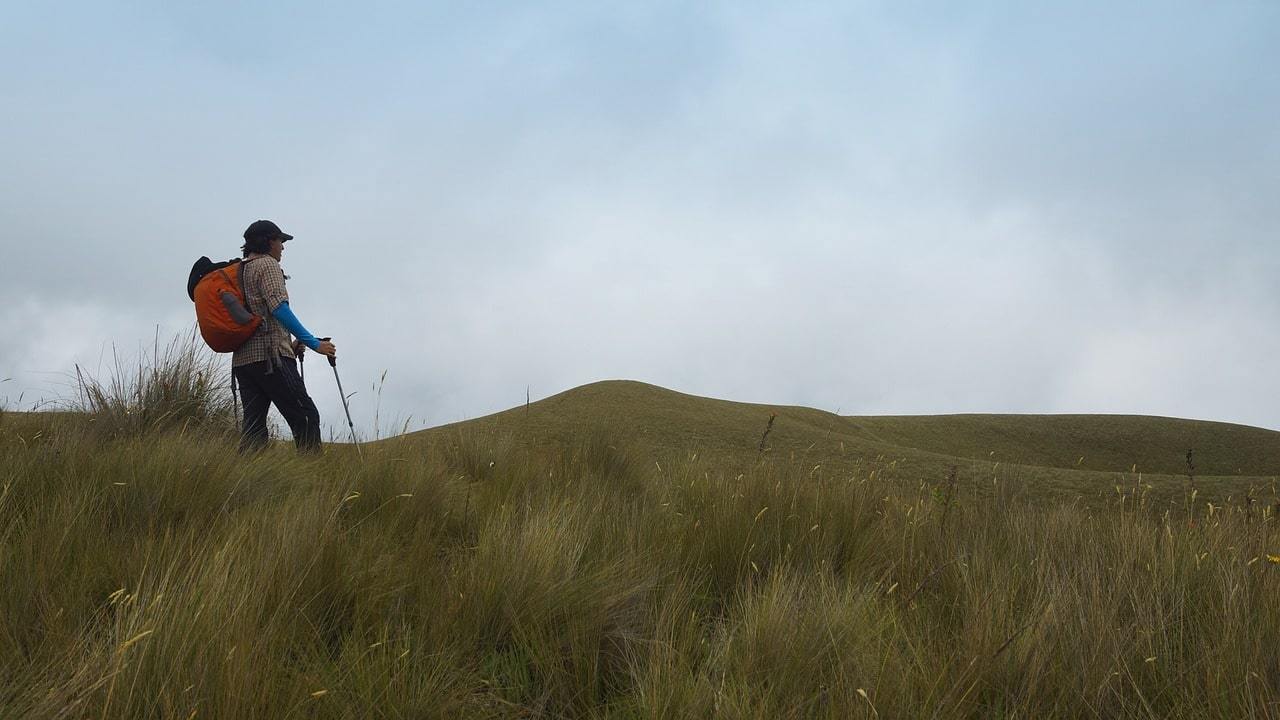 Solo travel is amazing – you get to do things your own way, at your own pace, and pretty much whenever you want. What's more, you'll get to learn stuff about yourself as well. What can we say – it's great!
But solo travel does have its drawbacks. So with that in mind, we've come up with some handy safety tips for Ecuador to make sure your trip is the best it can be.
So is Ecuador dangerous for solo travellers? With these tips to travelling in Ecuador safety, you should be just fine.
Don't push yourself and know your limits. Trekking up in the Andes one day, exploring Oriente the next; having a non-stop itinerary planned may feel like the best way to see the country, but you've got to know when to take a break. Have a day solely for the purposes of chilling and soaking it all up. Burning out is not a good way to go!
Hiking by yourself may be really fun, but make sure you do your research. Especially if you're heading off the beaten track. Not only are robberies still possible, but nature can get the better of you. It's a jungle out there in the jungle!
Don't be afraid of taking tours or hiring a guide. You can meet some cool, like-minded people on tours and , on top of that, guides can really give more depth to a place. You might be walking obliviously past something by yourself, whereas guide can offer up a wealth of knowledge. Plus they know where they're going! Even if it's just a walking tour of a town.
Try to travel as light as possible. Having a load of stuff with you is going to make travelling pretty stressful. You'll have a load to carry, which is annoying, but it also just means more stuff to keep an eye on when you're on buses – or more stuff to worry about in your hotel room.
Get chatting to other travellers at your hostel, locals in a cafe, anyone that looks friendly. This is a good way to get tips on where to go next, what to see, and where to eat. Plus you'll get to make some friends. A perfect antidote to the solo travelling blues.
Don't go partying too hard. Drink is cheap, so are drugs, and too much of anything is going to make you senseless. This is even more of an issue if you need to walk back to wherever you're staying at night.
And we'd advise AGAINST walking alone at night, for that matter.
Travelling solo means you'll be more at risk of getting scammed. Trust your gut and avoid situations that seem sketchy, because they probably are.
An offline maps app like Maps.me is a good idea. It's good for anything from finding your way on a hike to finding a historic site that's not in your guidebook.
Memorising the route to where your staying, or something you want to see, is a good shout as you won't have to keep getting your phone out. Which is kind of a no-no in public places.
Keep in touch with folks back home. Travelling solo doesn't mean having to go off grid. It's not 'inauthentic' to call your friends and family back home once a week, at least just to check in and let them know you're alright!
The main thing to remember is that you need to be more careful than you would be in your own country. Be aware of your surroundings and you should be fine.
Travelling solo in Ecuador is safe and pretty amazing as well. The chance to meet people along the way and to explore the landscape is going to make it even better we think!
Is Ecuador safe for solo female travelers?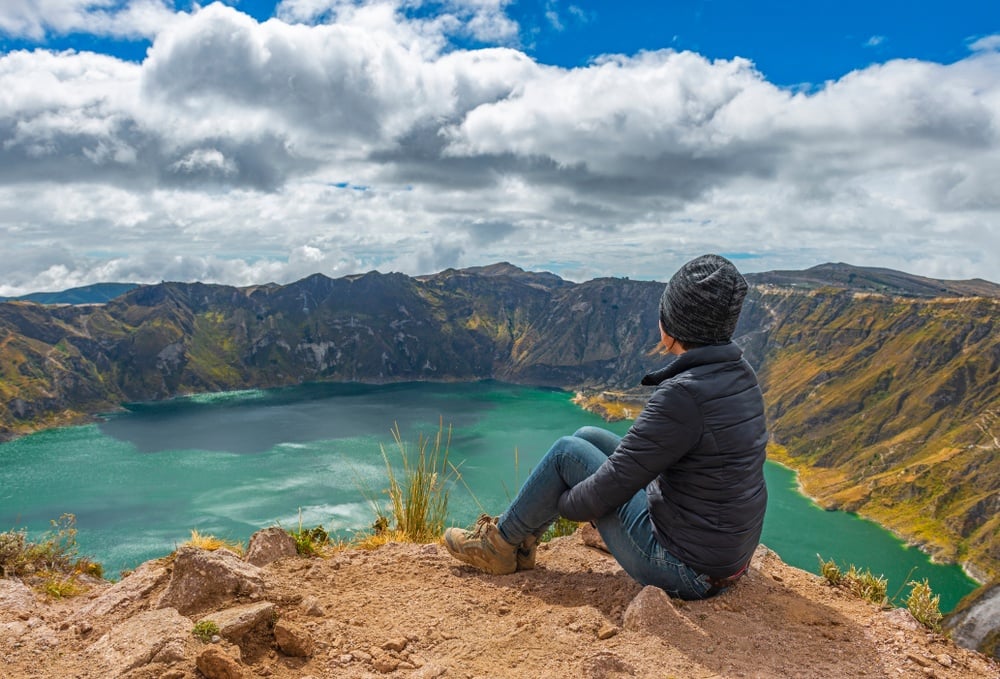 Travelling alone as a woman comes with a lot more risks. That goes for anywhere in the world, including Ecuador.
However, you shouldn't let scary stories keep you away from this stunner of a country. Yes, there are a lot of safety concerns for solo female travellers in Ecuador, but you can avoid these if you keep your wits about you.
Plenty of women travel in Ecuador by themselves and have no issues. Here are a few tips on how to do it;
Sometimes it's good to take a tour. These help you learn about the local area, see some amazing sights, learn more about Ecuador, and meet some fellow travellers whilst you're at it. But make sure you do your research and go on a well-reviewed tour. There have been reports of women being harassed whilst on some.
If you're feeling alone when you're staying in a city – reach out to local communities. Visit a community centre or get involved in some volunteering. Check by the tourism bureau for events. This can be a good opportunity to meet other people, have a chat, and learn more about Ecuadorian culture.
Travelling around by yourself at night time is NOT a good idea at all. Take a taxi if you need to go anywhere after dark.
Ecuador is a macho society. Be prepared to receive comments and catcalls. This also happens to local women. Just ignore them and move on.
To fit in, it's best to dress conservatively. Shorts can ACTUALLY be offensive in some places, not to mention mark you as a blatant tourist. Remember: tourists are more of a target than locals.
Beware of predatory men, especially in bars and clubs along the coast if you're by yourself. Either go with people or just keep clear.
If you ARE heading out at night, and you're worried at all, make sure people at the hostel know where you're going and around what time you plan to return.
If you don't feel comfortable with a situation, speak up and let any fellow travellers around you know what's happened. Remove yourself from the situation if needed. It's better to be out of a potentially dodgy environment than in one.
You don't have to tell everyone everything about you. If a taxi driver's asking if you're married, or anybody seems overly interested in where you're heading next, and it feels sketchy, don't tell them. Lie, be vague – it's better to be safe than sorry.
Keep an eye on your drink. Don't leave it unattended. Date rapes have been known to occur across Ecuador. So DON'T accept drinks from strangers. It's not worth the risk.
It's important to note that serious sexual assaults have occurred against foreign women in Montañita. Be aware that this has been increasing recently.
With that in mind, stay somewhere with good reviews and make sure that you have a look round before agreeing on anything. Are there other female backpackers staying there? Are there families staying there? Do the doors have locks? Do they work? Making sure where you stay is safe and secure should be a priority.
Ecuadorian people are very open and helpful and will usually help out a woman travelling by herself. Maybe even MORE so to a female than a male travelling by themselves. Anything from giving their seat up on the bus for you to helping you find your way if you're lost. People will be happy to help you.
Don't lose your money to a pickpocket! 
There are tons of ways to store valuables and goods while traveling but a travel scarf has to be the least obtrusive and the most classy.
The Active Roots Zipper Scarf is your run-of-the-mill infinity scarf but with a hidden pocket that's big and sturdy enough for a night's cash, your phone, a passport and (hell with it) some snacks too!
Travel smart and stay safe – your Ecuador adventure awaits.
Can Families Travel Safely in Ecuador?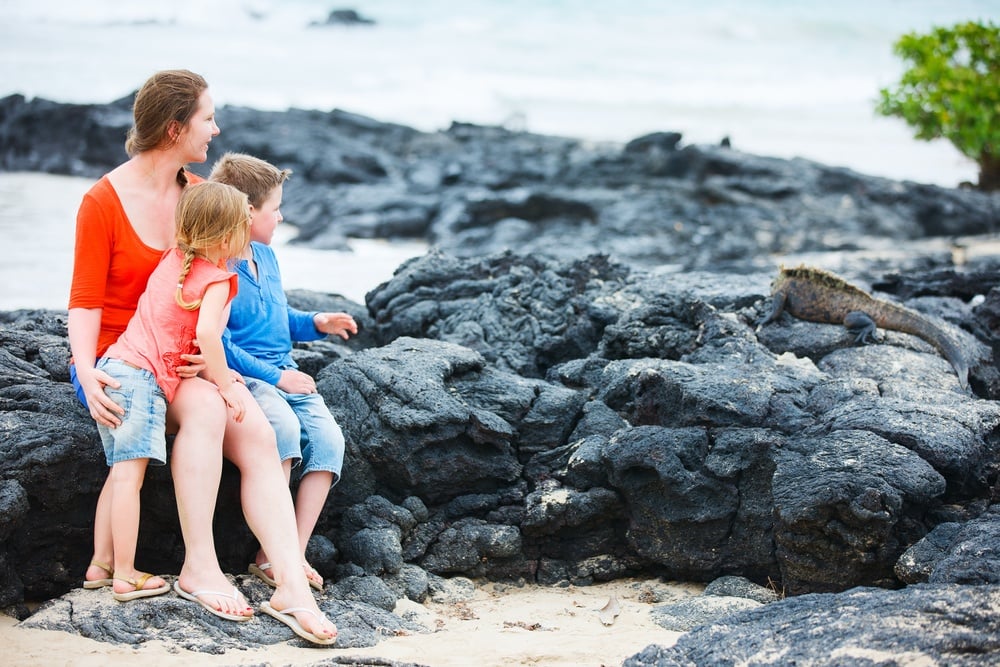 Is Ecuador a safe country for travelers? For a BIG serving of adventure and education, Ecuador is your place. Rafting, chilling out on the beach, exploring biodiverse rainforests, hitting up the markets, soaking up colonial architecture; there's LOADS to see to feed your kids' curiosity.
And Ecuadorians LOVE children! You'll be welcomed with open arms. Your little ones are going to be GREAT icebreakers and will probably lead you to have truly local experiences that you wouldn't have had otherwise.
It's not really the place to go to if you want all-inclusive resorts and waterparks. But that doesn't mean that Ecuador isn't safe to travel for families – It IS safe. Here's why –
But there are also a few things you should know.
Altitudes – keep an eye on your children. If they don't seem right or complain of headaches, get to a lower altitude. The Quito Cablecar, for example, goes 13,000 feet above sea level and children CAN'T RIDE unless they're over 18 months old.
Wild animals – not just scorpions and poisonous frogs, but also stray dogs and cats. They can carry diseases. Make sure they steer clear.
Public transport – if your child can sit on your lap, then they ride free on public transport. If they take up a seat, that's a fare. Whilst a child sitting on your lap may not seem safe, buses don't have seatbelts at all. So you might want to just hold on to them anyway!
The sun – covering up with sun cream, sun hats, and making sure everyone is hydrated is going to keep kids healthy. Remember, children are more susceptible to sunstroke than adults everyone has a water bottle.so make sure that
Do some research – find out what local families do with their time. Head to fun (and safe) local parks and markets to walk around together. It's a good way to go way.
Vaccines – even before you go, check to see what vaccines you need and what vaccines your children need. Yellow Fever is definitely one.
And of course, bring all the medication you think you might need. Everything from diarrhoea tablets to rehydration sachets, and hand sanitiser. You never know if you'll need them.
At the end of the day, whilst Ecuador is SAFE for families to travel, it's a much more…adventurous. As such, we'd advise AGAINST taking small children. It's definitely going to help if you've done this sort of thing before, even without children, but you're bound to have a blast!
Is it safe to drive in Ecuador?
Driving in Ecuador is actually safer than we expected. There have been some improvements in infrastructure over the past few years and the roads themselves got a bit of an upgrade, too.
Road conditions aside, there are going to be some cultural differences when it comes to how people drive. Driving aggressively is one thing that you may not be used to, but you may have to adopt this style to survive.
And there'll definitely be a few challenges when you're behind the wheel.
Lorry and bus drivers can be seriously speedy and overtake in places where you'd never dream of overtaking.
Then there's just plain old multiple overtaking. It can be chaos; it can be super scary; especially on the Pan-American Highway.
There are numerous hazards to watch out for. These include animals in the road, dogs running out into the street, speedbumps (sometimes even homemade speedbumps), and landslides. Mountain roads, especially in rainy season, can be very dangerous.
You'll also have to be VERY wary in cities, which can be confusing places. People might just ignore stop signs. Pedestrians might just wander across the road, or just be walking along the side of the road (pavements disappear). Horns are used A LOT. And what do you know – everything's written in Spanish, so start learning (or use an app to get the basics).
Stopping at traffic lights in cities can be risky. Don't leave your stuff on show; keep the windows closed and the doors locked.
Be aware of Pico y Placa – a program designed to keep certain cars off the streets in Quito's rush hours. This includes rental cars. You can get a fine for driving at the wrong time, so be make sure you know when NOT to drive.
Avoid driving at night, especially outside of cities. Drunk drivers, no headlights, speeding, unfamiliar winding roads; not worth the risk.
It is safe to drive in Ecuador, but only if you're a confident driver. Being used to these sorts of conditions, you'll be better equipped. And get to see some beautiful landscapes.
Is Uber safe in Ecuador?
Uber is definitely safe in Ecuador.
It's available in two cities: the capital, Quito, and in Guayaquil, the largest city.
As is usually the case, Uber is superior to taking a traditional taxi. Being able to track your ride, not needing to speak Spanish, not having to bargain with the driver, the cars being cleaner; all wins.
Speaking of which…
Are taxis safe in Ecuador?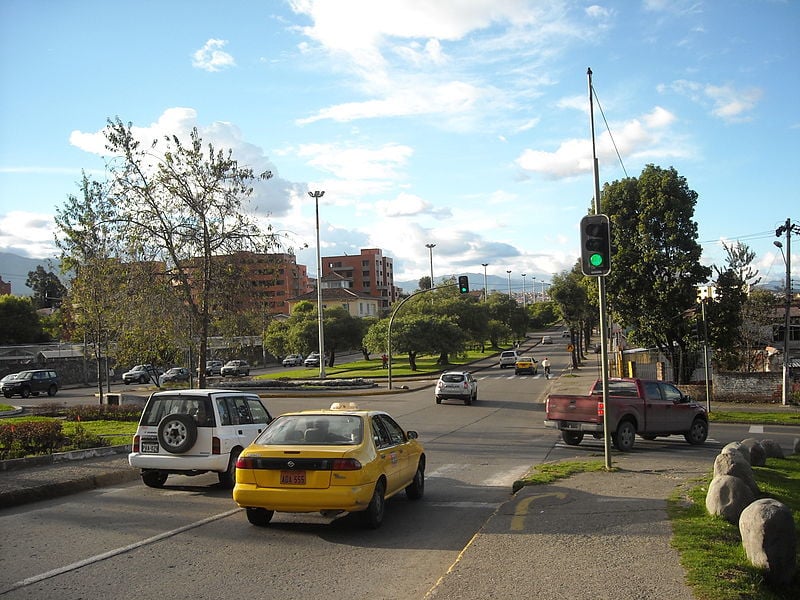 Taxis ARE safe in Ecuador, but they're not always the most straightforward.
First of all, they usually have no meters, except in some cities. This means having to agree on a price with the driver before you get in. That said, there's usually a flat rate.
To spot a taxi in Quito or Guayaquil, know that these are yellow and should have licenses on the doors and in the windscreen. Otherwise, keep an eye out for an orange license plate or the newer version: a white plate with an orange strip at the top. Anything else is likely to be unofficial and therefore risky.
The best way to book a taxi is through your accommodation. Hailing one on the street is NOT the best idea, but you can grab taxis at designated ranks, which are found in busy areas like at shopping centres or at the airport.
There's a taxi app called Easy Taxi. It's kind of like Uber – when you book you'll see the driver, their name, the description of the car, which does help.
If it makes you feel any better, there are panic buttons and security cameras inside registered taxis. They're also tracked with GPS. We imagine that these were installed because taxis were, at some point, unsafe. Clearly, people got fed up though and decided to do something about it.
So taxis are safe these days, albeit not as convenient as rideshare services.
Is public transportation in Ecuador safe?
There are a few different options for public transport in Ecuador and these vary in safety levels.
First of all, the train lines have recently been restored, which is good for train-lovers. These travel along the Andean as well as the Coastal regions and are basically tourist trains. A nice idea for day trips and we'd count these as safe.
Then there are a variety of other, less safe modes of public transport.
There are buses and these are ok. They aren't exactly luxurious and can attract thieves. Watch out for pickpockets at bus stations and bag slashings – even whilst on board. That said, they're usually fairly frequent and fairly cheap for long distances.
Travelling on buses at night carries its own risk. Best to avoid travelling overnight if you can.
There are also VIP buses. These don't stop everywhere or pick up food vendors, and you might even get air-con if you're lucky. But since you're on the road, it can get bumpy and the roads can be pretty windy. The bus drivers like to drive fast, also.
Minibusses also travel between cities. Ask your accommodation about it or use a reputable company.
City buses, such as those in Quito, aren't really recommended. They're crowded, you leave yourself open for pickpockets and other shady characters, and that counts DOUBLE at night. So we'd just say avoid and grab a taxi.
Pickup trucks and flatbed trucks are probably the lowest rungs of what we'd consider safe public transport in Ecuador. They ply rural, remote routes and can be pretty cool if you like a bit of adventure.
Bad road conditions and rainy season weather can make these even more unsafe. But like we said: good fun. And great views! A small amount of risk involved, however.
So as long as you do your homework on what company you're using, and keep your wits about you, you should be fine on public transport in Ecuador. It's generally safe – just know what you're getting yourself into.
Keep everything on you in transit!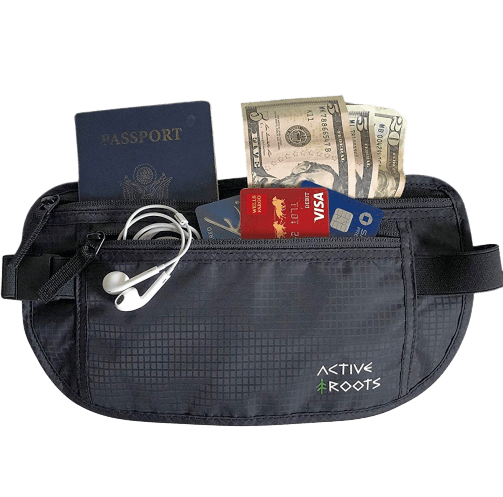 When moving from place to place, you shouldn't store travel documents in a bag, even if it's under your seat or overhead.
A full-sized money belt that stays tucked under your clothes keeps your documents and cash organized during your travels and assures nothing critical gets left behind or stolen.
Is the food in Ecuador safe?
Yep, food in Ecuador is safe and what's more: it's tasty. A Latin American feast of potatoes, rice, meat, and fresh fruit, like bananas, avocados, and tamarillos. Oh and don't forget seafood in the coastal regions!
Eating locally is definitely a good way to keep a budget. Seriously, Ecuadorian food (mainly street food) is CHEAP.
But knowing how to approach it in the safest, cleanest, most hygienic way possible is going to stop you from getting a bad stomach. And nobody wants that, do they?
First things first: WASH YOUR HANDS. It's probably the simplest way to NOT get ill. And if you can't wash your hands? Use sanitizer.
Don't go crazy on the food the instant you arrive. Your stomach probably won't be ready for the Ecuadorian cuisine just yet. Gorging yourself right away might make you pretty ill. So in the first few days, ease yourself in.
Make sure what you're about to eat is hot and cooked through. Food that HASN'T been properly cooked is more likely to do bad things to your stomach. Food that's been hanging around all day, is pre-cooked, uncovered – all that stuff – should be avoided.
Hit up the busiest food stalls. Better yet, if they're popular with locals, you should definitely go. Busy = good. Not only in terms of taste, but in terms of, you know, not getting ill.
You can get cuy here – that's guinea pig, by the way. If you want to taste it, go ahead, but make sure you eat at a reputable restaurant. Cuy is delicate meat and can be ruined.
If you're prone to bad tummies, or you're just worried, avoid fruit and salads. Go for fruits you can peel yourself – like a banana. Always good.
Ceviche is another thing you might want to try. This involves raw seafood so you'll want to make sure it's very fresh – anything less is going to give you more than just traveller's diarrhea – more like food poisoning. Make sure you eat at a place that looks like it's doing a good job of preparing it.
Don't eat unpasteurized dairy products. If in doubt, avoid milk.
Traveling with an allergy? Research ahead of time how to explain your allergy. Keep in mind that store owners and restaurant staff might not know all the foods that contain allergens, so it's helpful to know the names of some of these too. If you're gluten-free, pick up a handy Gluten-Free Translation Card with descriptions of Celiac disease, cross-contamination risk, and local Ecuadorian ingredients in Latin American Spanish.
Ecuadorian food is safe, hearty, and, above all else, tasty. With all the dishes on offer, you're likely to have a pretty wild time just discovering what's on offer in terms of cuisine. Even something as simple as empanadas are just irresistible!
By following our top tips on how to eat like a pro in Ecuador, you'll avoid getting ill. Bringing diarrhea medication might be necessary if you're prone to stomach ailments. But other than that, you're in for a treat.
Can you drink the water in Ecuador?
We're going to say no: you can't drink the water in Ecuador.
Purified water is the way to go. Bottled water is the safest choice but creates extra waste.
You can boil water to make it potable, but remember you're going to have to do this for at least twice as long at higher altitudes.
If you're out trekking, make sure you bring a water bottle with you. Also, consider bringing a Grayl Geopress to purify stream water.
Want to save the world?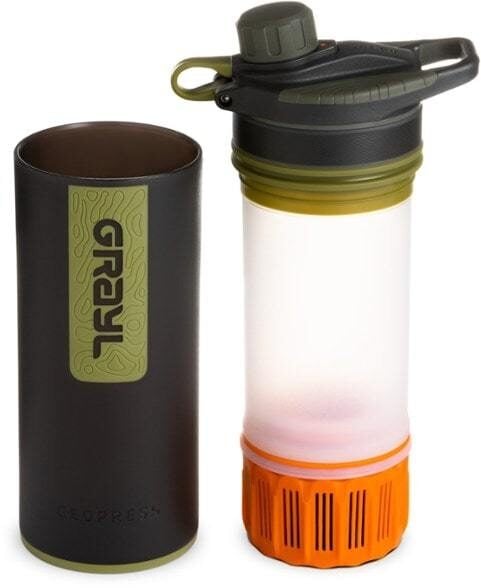 Single-use plastic bottles are a huge threat to Marine Life – Be a part of the solution and travel with a filter water bottle.
The GRAYL GEOPRESS water bottle is the ONLY all-in-one filter water bottle setup you'll need. Whether you need to purify the water from a hostel sink in Kathmandu or a stream trickle in the Andes, the Geopress has got you covered.
Read our full review of the GRAYL GEOPRESS!
Is Ecuador safe to live?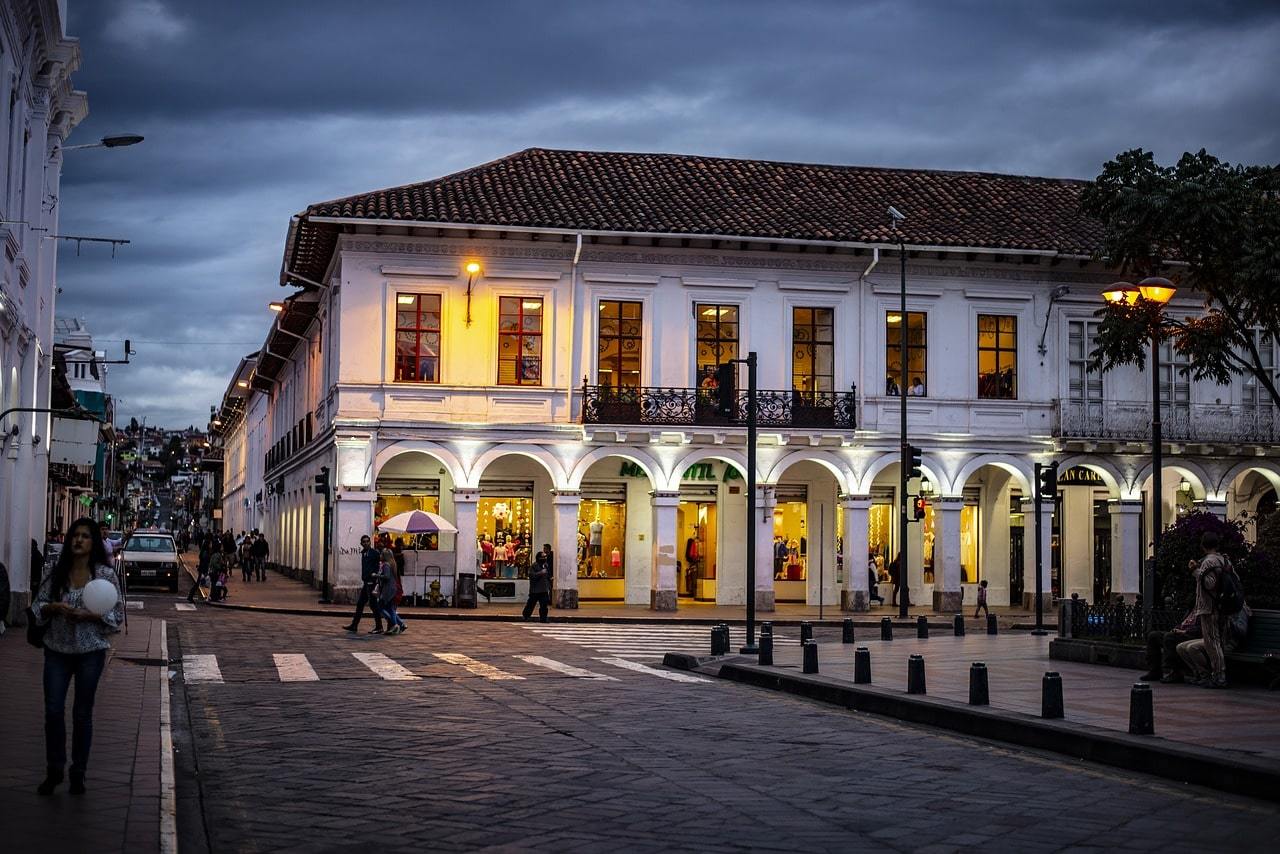 We have examined the safety of visiting Ecuador, but is Ecuador a safe place to live? Ecuador is a relatively safe country to live in.
But you should understand that not all of Ecuador is safe to live in and that larger cities see higher rates of crime. But that's much the same the world over.
There are crazy drivers, petty theft, chauvinists, and even no-go areas on the Colombian border. But that doesn't mean you won't be able to move and settle down here safely.
In fact, there are many places in Ecuador that are safe to live. Some of those places include Vilcabamba, Cuenca, and Cotacachi. But expats settle all over the place, including coastal areas.
Ecuadorian people are very welcoming and friendly and will often help you out. Obviously, learning Spanish means you'll get much more out of your experience of living in Ecuador. And to be honest, why wouldn't you?
If you're thinking of it: do your research, join Facebook groups, talk to expats. Better yet, take a trip. It's a pretty diverse place, from the highlands to the coastal areas, and there's no better research than getting to grips with the country first hand.
How is healthcare in Ecuador?
Ecuadorian healthcare has public and private sectors.
Public healthcare is so-so. It varies from place to place, usually, and is often better in cities than in rural areas. However, EVERYBODY gets free healthcare and that includes tourists!
There are public clinics in more rural areas. These are ok if you just have a minor ailment or need some patching up. For anything more serious, you'll need to go to the city.
IF you're travelling to the Galapagos Islands you should know there are fewer facilities. There's a public hospital on San Cristobal, but you might need to be airlifted if something serious happens. Make sure your insurance covers this!
Private healthcare is much better and it's very cheap. There's less waiting time, the doctors are more likely to speak English, and the standards of the hospitals are just going to be more what you're used to.
Unlike in other Latin American countries, health insurance isn't essential. While having healthcare is your prerogative if you intend to live here, we always advise that if have health insurance if you're travelling.
Helpful Ecuador travel phrases
Besides Spanish, at least 20 other languages are spoken in Ecuador. Kichwa is one of the most common native languages spoken in the country. It has an estimated 1,000,000 speakers.
When I became fluent in Spanish, it really changed the way I was able to travel in Ecuador and beyond. It is such a useful language to know! You can speak it in over 20 countries!
Here are a few useful phrases in Spanish for your backpacking Ecuador adventure:
Hello – Hola!
How are you? – Como estas?
Good morning – Buenos Dias
I don't understand – No entiendo
How Much – Cuánto cuesta?
Stop here – Te detienes aquí
Where Is The Toilet? –Donde esta el bano?
What Is This? – Que es esto? 
No plastic bag – Sin bolsa de plastico
Without straw please – No paja por favor
No plastic cutlery please – No hay cubiertos de plástico por favor
Sorry – Lo siento
Dickhead! – Cabron
Final thoughts on the safety of Ecuador
Is Ecuador Safe? Our Final Thoughts
So is it safe to go to Ecuador? Well we think yes! There may be a history of violent crime in Ecuador, but you'll be happy to hear that, statistically, the murder rate has decreased. On the downside, trouble near the Colombian border has spilt into Ecuador creating a no-go area. And now trouble from that no-go area is spilling into neighbouring provinces. Violence and bombings in Esmereldas, linked to FARC, are alarming.
Of course they are! Which is why we're saying, don't go to these places. In fact, you're going to find it difficult to get anywhere NEAR the Colombian border anyway. Avoiding violent zones will automatically make your trip to Ecuador much safer.
Ecuador may be intimidating at times, but if you're careful and pay attention to your surroundings, you can have a safe visit. More than that, you can have an AWESOME time – you'll get to sink your teeth into rainforests, mountains, indigenous culture, beaches, and the famous Galapagos.
Whilst being aware can help limit dangerous situations in Ecuador, there are times where things are out of your control. In these instances, it pays to have some travel insurance – it'll cover your back and help you out in case of emergency.
Disclaimer: Safety conditions change all over the world on a daily basis. We do our best to advise but this info may already be out of date. Do your own research. Enjoy your travels! Some of the links in this post are affiliate links which means we earn a small commission if you purchase your insurance through this page. This costs you nothing extra and helps us keep the site going.