The Galapagos Islands are one of the most impressive and untouched archipelagos found anywhere on the planet.
The islands' remoteness, abundant biodiversity, and historical importance all come together to make one hell of an adventure travel destination. Charles Darwin was onto something good when he first stepped foot on the islands more than 180 years ago.
Now, the Galapagos Islands are NOT a budget travel destination.
Whilst it is possible to visit the Galapagos on a budget, there is simply no ultra-cheap way to experience the islands, which is exactly why I bring you this in-depth guide on the best Galapagos tour companies.
Short of sailing on your own boat, the best way to get the most out of your Galapagos travel experience is to book some sort of a Galapagos tour.
Now, I am the first person to raise my eyebrows when I hear the word organized tour, but some of the world's most remote regions require tapping into outside forces.
I review the best Galapagos tours, including budget tours, liveaboard trips, luxury tours, and more, so you can find the right trip suited for your budget and style.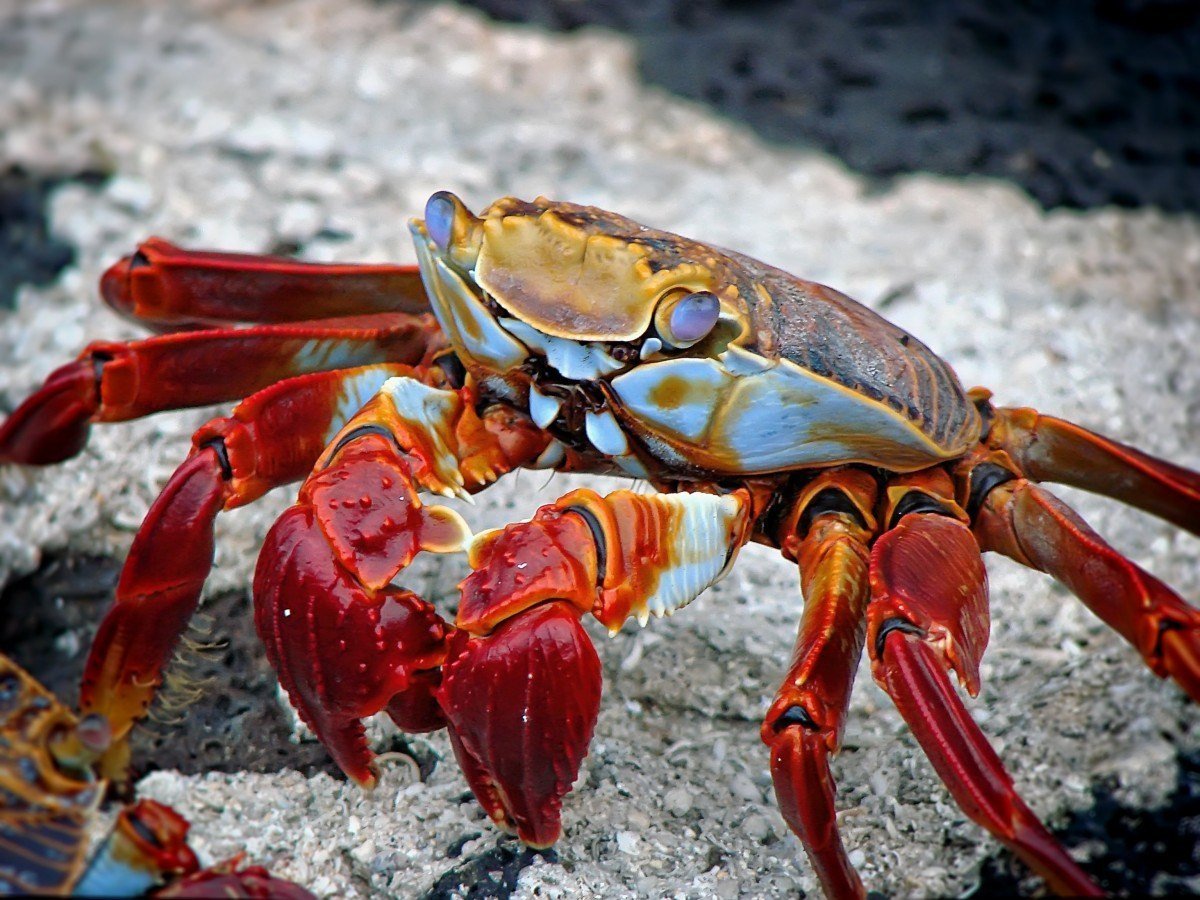 Quick Answer: Best Galapagos Tour Companies

Do You Want to Travel FOREVER??
Pop your email in below to get a FREE copy of 'How to Travel the World on $10 a Day!'.
How to Choose the Best Galapagos Tour
Every Galapagos tour company is different. This includes the activities they offer and the accommodation quality. Prices fluctuate like the ocean tides and each Galapagos tour company carries its own distinct vibe/style.
Below I cover the best Galapagos diving liveaboard trips, budget Galapagos tours, Galapagos camping tours, Galapagos luxury tours, boat cruise tours, and more.
The goal of this guide is to shine a light on the Best Galapagos tours so that you can spend less time researching and more time getting stoked for your backpacking Galapagos trip.
For most travelers, we predict the most important factor to consider when choosing the best Galapagos tour comes down to price. Galapagos tour prices range from $600-700 at the low end to an appalling $10,000-12,000+ (for just two weeks!) on the luxury end.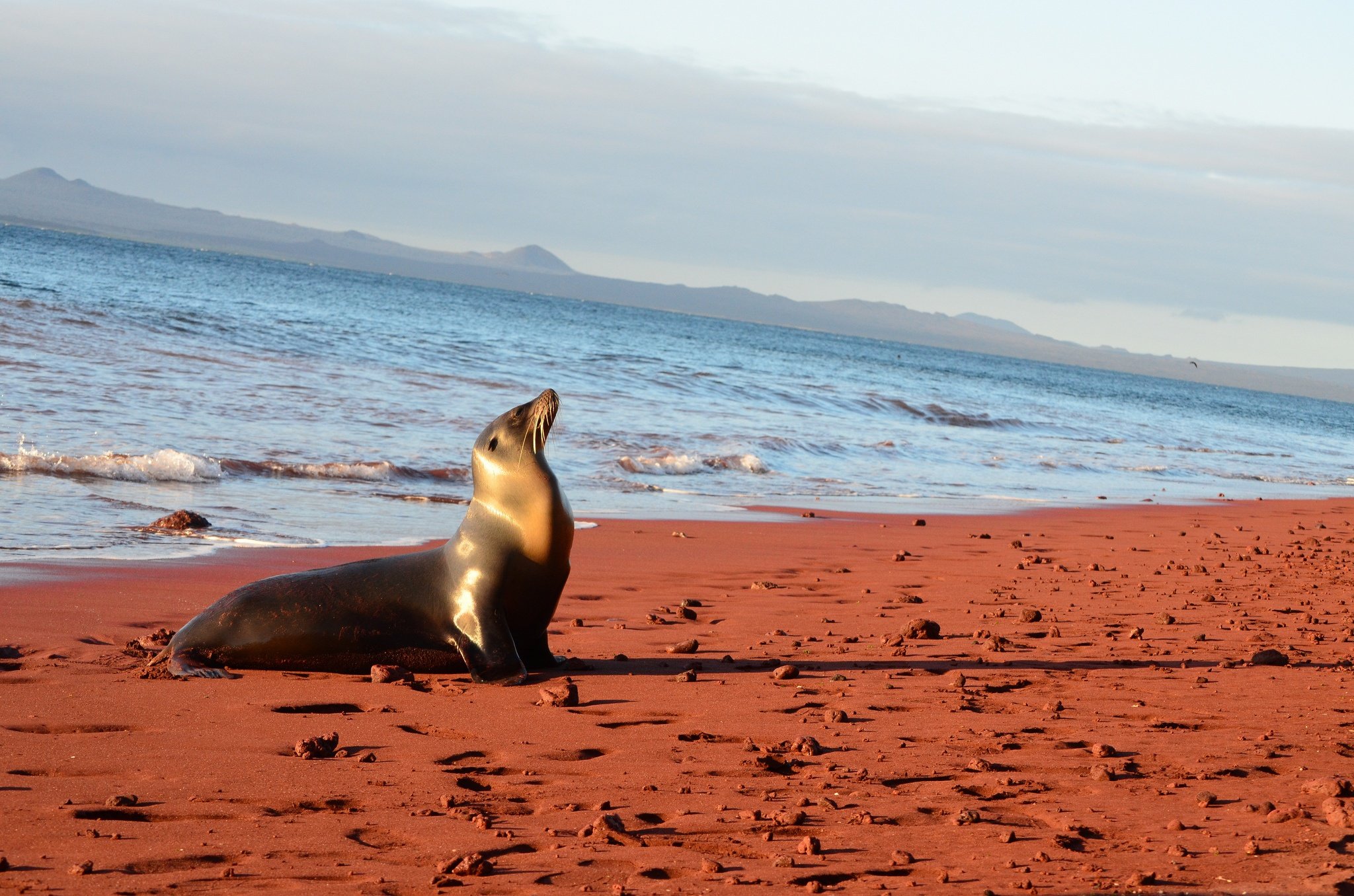 The next factors to consider are the activities/focus/itinerary of the tour. Some tours are very "cruise" heavy, meaning you spend lots of time sailing on the ocean around the islands. Other Galapagos tours are very scuba diving focused. A majority of Galapagos tours are mixed adventure trips. This means they offer activities like day hikes, camping, diving, and cruising, as well as historical and cultural components.
After you dial in your Galapagos tour budget, you can then start to sort through the various itineraries/companies to find your perfect match. And if you want to explore by yourself, there are amazing hostels in Galapagos as well that won't kill your bank account.
The Galapagos tour game all comes down to what you like to do and how much you willing to pay for it.
Best Galapagos Tours: Company Breakdowns
Below I highlight my top picks for the best Galapagos tour companies.
Each company I highlight has something special to offer. Remember there are LOTS of Galapagos tour companies out there. I DO NOT cover shit tours, ecologically unethical tours, or companies with poor reputations for customer service.
A visit to the Galapagos Islands is bound to be a highlight of your life and I want to make sure the tour company you choose meets your expectations in order to help make your Galapagos dream a reality.
Price: $2000-6000+
# of Days: 4-8
Main Activities: Scuba Diving
For scuba diving fanatics, few experiences can compare to a Liveaboard trip in the Galapagos. The waters around the Galapagos islands a protected marine reserve.
Protections have been in place for decades and the results are obvious. Ecosystems are intact. Abundant wildlife is thriving. The scuba diving is EPIC.
Liveaboard trips are great for fully immersing yourself in the world of scuba diving for a week or more. The boat you stay on goes to places that day trip scuba diving operators cannot. Basically, staying on a Liveaboard boat is the equivalent to staying at a luxury hotel. The food is amazing, the accommodation is top tier (for a boat), and you can expect multiple scuba dives every day of the trip. It's a beautiful thing.
There are cheaper liveabaord-style Galapagos tours out there, but none with the same track record of excellence as the Liveaboard company.
(If you're interested in liveaboard trips in other parts of the globe, we've covered that too.)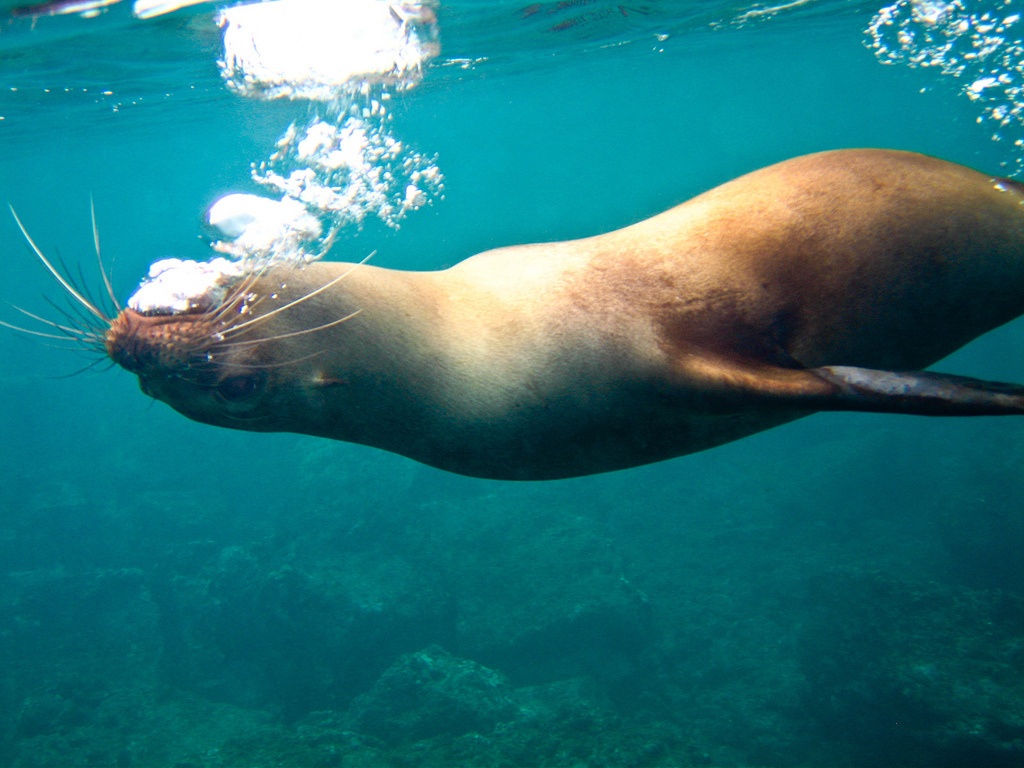 What is the Best Galapagos Tour Offered by Liveaboard?
Many of the Galapagos Liveaboard tours are much the same in terms of the itinerary (though they do have different itineraries). The main differences in price reflect the size of the boat, how many occupants the boat can serve, and the duration of the tour.
The cheaper Liveaboard tours are often 4 days or so, and can accommodate up to 50+ people. A crucial thing to note is that the cheap Liveaboard trips do NOT include any scuba diving. They are for pleasure cruising and snorkeling only. Scuba diving Liveaboard trips are more in the $4000-6000 range.
One of the best Galapagos Liveaboard tours for scuba diving is the Central Archipelago tour aboard the Humboldt Ship ($5400, 8 days/7 nights).
The Humboldt takes divers to the best dive sites of the Galapagos to discover Galapagos sharks, hammerheads, turtles, schools of tuna, manta rays, whale sharks and white tip sharks.
The boat offers 8 air-conditioned, double cabins with an ocean view, TV/DVD, private bathrooms and showers. The 7 member crew goes out of their way to ensure guests are comfortable. Guests can relax in the air-conditioned salon, the covered back deck, and a sundeck with Jacuzzi. All in all, this is a pretty high-end tour we're talking about.
For people who are serious about experiencing some truly once-in-a-lifetime scuba diving whilst living the high life, Liveaboard Galapagos is where it's at.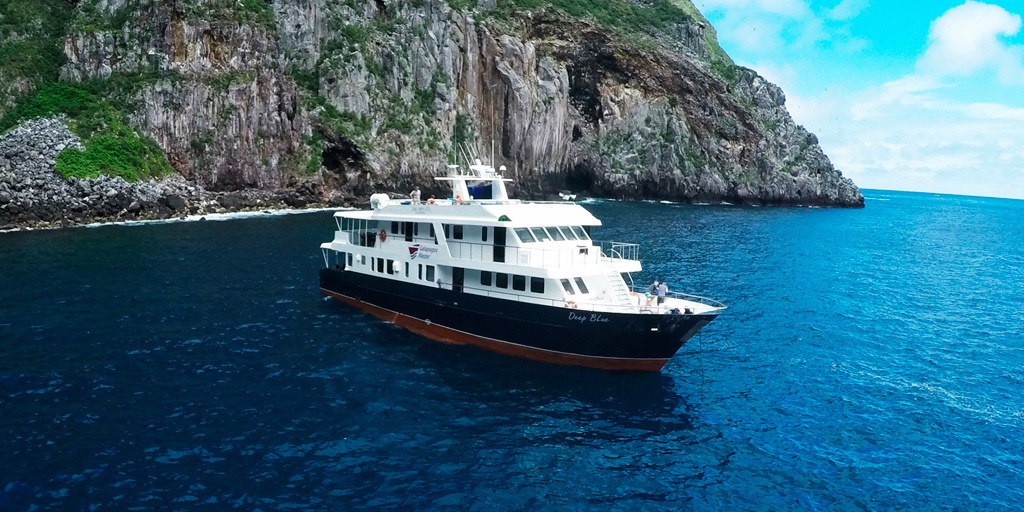 Best Budget Scuba Diving Tour: Terra Diversa
Price: $1250+
# of Days: 6
Main Activities: Scuba Diving
Good, you are still with me! If the prices of the above Liveaboard Galapagos tours nearly lead you to stop reading this article, I have. a tour company that will be music to your ears.
Terra Diversa is one of the best Galapagos tour companies for budget scuba diving trips. They cost significantly less than Liveaboard trips. That said, the overall style of the Terra Diversa tours are much different indeed.
First of all, you will not be based on a boat. This company runs its tours from a base on one of the islands. You still get to do loads of diving, just without all of the #shiplife luxury and moving around.
Every day of the tour you visit a different dive site and then return to "base camp" in the afternoon. Terra Diversa is an excellent option for backpackers lwho want to go scuba diving in the Galapagos without spending $5000 each.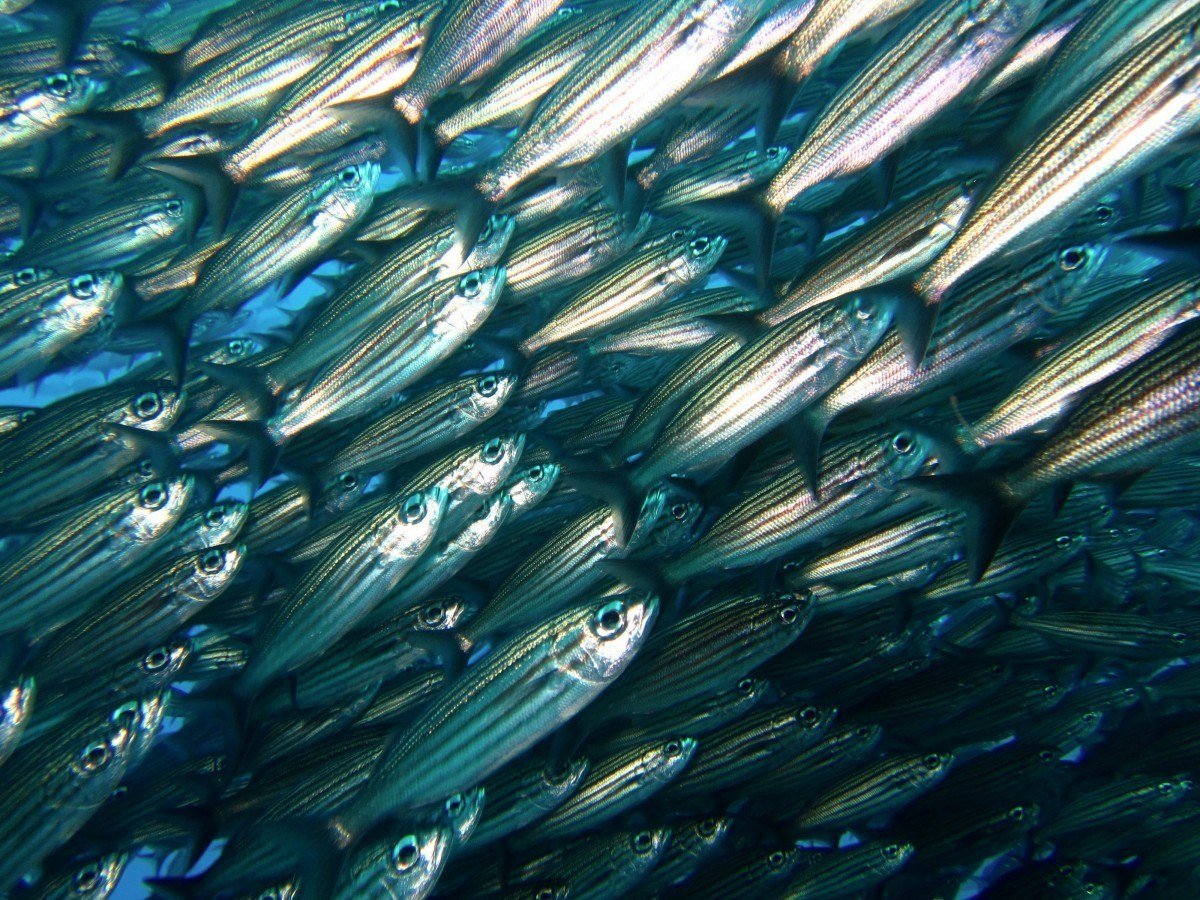 What is the Best Galapagos Tour Offered by Terra Diversa?
The Terra Diversa budget Galapagos diving package is perhaps the best budget diving tour you will find anywhere.
It's a six-day land-based tour with its base camp on Santa Cruz Island. You'll enjoy six dive immersions at dive sites throughout the surrounding area. Divers can expect to pack in lots of quality dive time at the most important sites near Santa Cruz Island.
Because this is essentially a bare-bones tour, there are additional costs involved. Whilst your accommodation, breakfast, light lunch, diving costs, and transport around the Galapagos are covered, several important components are not.
Your flight from mainland Ecuador is not included. Entrance to the Galapagos National park is not included ($100). Dinner and booze are not included. When you start adding up the costs, you are easily looking at another $1000, if not more.
Bearing all of this in mind, Terra Diversa tours offer great all-around value for backpackers interested in a Galapagos scuba diving trip.
Best Galapagos Budget Tour for Under 30 Backpackers: Intrepid Travel
Price: $1460- $2000
# of Days: 9
Main Activities: Hiking, snorkeling, beach chilling
Are you a backpacker between the age of 18 – 29 keen to discover the magic of the Galapagos? I have found the perfect tour for you.
Intrepid Travel offers affordable budget tours for younger backpackers. They have an age cut off to ensure the vibe stays youthful, highly energized, and open to debauchery without the possibility of offending older paying guests (my speculation).
The Intrepid Galapagos tour really keeps you on the move. The tour begins and ends in Quito (in the Andes), so in total you have six days to explore the islands.
The main activities for this Galapagos tour are hiking, chilling the F out on the beach, island hopping, and snorkeling (sometimes with sharks).
A cool aspect of this tour is the fact that you are traveling with like-minded backpackers your own age. As a kid, I use to go on trips with my parents and once I was stuck on a tour bus full of people over 70 years old for two weeks. You don't want that.
What is the Best Galapagos Tour Offered by Intrepid?
Be sure that Intrepid offers many other tours besides the Essential Galapagos budget tour for younger backpackers.
I am covering their budget tour here because 1) It is one of the cheapest around and 2) Intrepid tours are a whole lot of fun.
Like the Terra Diversa tour listed above, you need to be aware of what's included and what's not.
The Intrepid Essential Galapagos tour covers your transportation (including flights), 5 breakfasts, hostel accommodation, and activities like hiking and snorkeling.
What's not included: All meals except for 5 breakfasts, entrance fee to National Park ($100) and port fee ($10), and activity add-ons.
I am not a fan of all the meals guests need to pay for, but the tour does include your flights which is a huge saving. Plus you get a few days in the fantastic Andean city of Quito. Exploring the Andes and the Galapagos on one trip? Hell yes.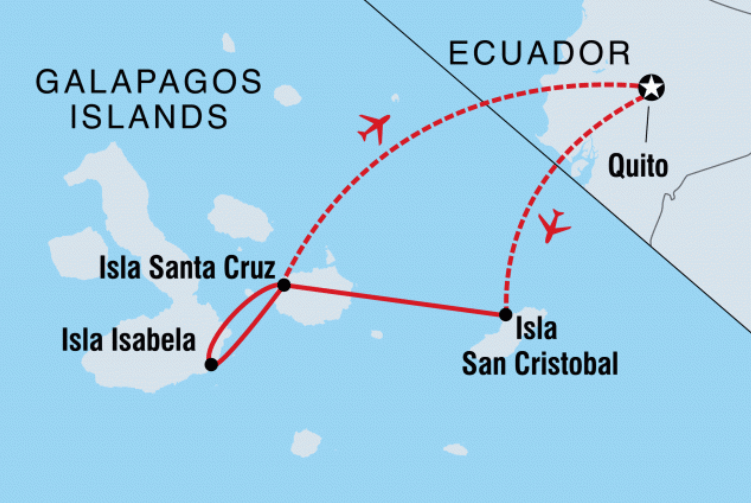 Save $$$ • Save the Planet • Save Your Stomach!
Drink water from ANYWHERE. The Grayl Geopress is the worlds leading filtered water bottle protecting you from all manner of waterborne nasties.
Single-use plastic bottles are a MASSIVE threat to marine life. Be a part of the solution and travel with a filter water bottle. Save money and the environment!
We've tested the Geopress rigorously from the icy heights of Pakistan to the tropical jungles of Bali, and can confirm: it's the best water bottle you'll ever buy!
View on REI
Read the Review
Best Galapagos Camping/ Adventure Tour: G Adventure Tours
Price: $1500+
# of Days: 9
Main Activities: Hiking, snorkeling, camping
Another company doing badass Galapagos tours with younger backpackers in mind is G Adventures. Like Intrepid, G Adventures offers up various Galapagos tour options for reasonable prices.
Several G Adventure Galapagos tours offer up a good mix of activities, including camping and hiking. Outdoorsy types will love all of the nature-based activities.
I like G Adventures as a company for several reasons. They offer the maximum enjoyment level at some of the lowest prices around. Perhaps even more importantly, they take pride in their solid environmental track record. Far too many companies that operate in South America couldn't care less about environmental ethics.
What is the Best Galapagos Tour Offered by G Adventures?
Again, G Adventures runs multiple tour itineraries. What equals the best tour for one person may not be the best for another. The Galapagos Adventure Tour is my favorite both in terms of price and activities offered. Few other tour companies offer camping experiences at this price point.
The campsites are located in the remote highlands of the Santa Cruz and Isabela Islands. During free time and included activities there are opportunities to explore the towns and coastal areas on these islands, but in an effort to create a wilderness experience, the camping is not located in the towns, which is awesome.
So, what's included and what's not? All internal flights, multiple meals, transportation, camping, and some hikes are included. Certain meals, national park fees, optional activities like snorkeling and some hikes are not included.
G Adventures estimates you'll need around $200 USD+ to cover the additional meal costs.
For an off the beaten track Galapagos camping tour experience, look no further than G Adventures.
Price: $4000 – 8000
# of Days: 4-9
Main Activities: Kayaking, wildlife watching, wining and dining
For those of you with a little more cash in your bank account than us, the broke backpackers, Adventure Life is a fine company running Galapagos luxury tours.
Most Adventure Life tours offer a touch of the finer things in life. Luxury accommodation, dining, and adventure sport activities are all on the menu.
The main two types of tours offered by Adventure Life are hotel based or ship based. This is exactly what it sounds like. For certain tours, you sleep in hotels and do activities by day. For ship-based tours, you are sleeping on the boat and making day trips from the vessel.
Like some of the above-mentioned tour companies, Adventure Life runs tours all over the world. They have an excellent reputation for providing outstanding customer service and activity opportunities.
Adventure Life Galapagos tours are not for everyone (and certainly not for everyone's budget), but if what they do interests you, there is no better company to enjoy a luxury Galapagos adventure.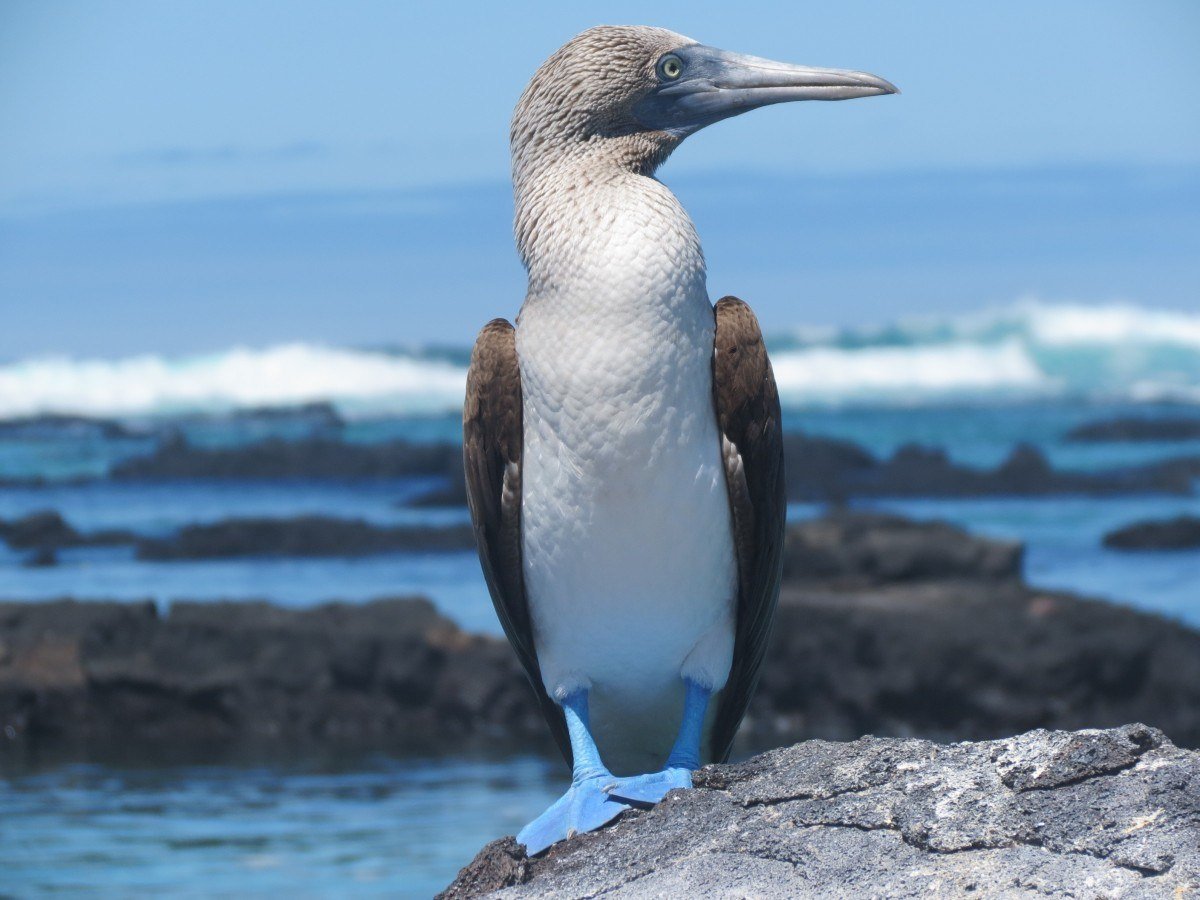 What is the Best Galapagos Tour Offered by Adventure Life?
For a traveler who enjoys outdoor physical activities paired with a very comfortable accommodation, the Galapagos Multisport tour is the perfect Galapagos itinerary.
The Galapagos Multisport tour provides a good mix of kayaking, paddle boarding, hiking, and snorkeling. Sea lions, marine iguanas, dolphins, turtles, and bountiful birdlife swoop around you while you paddle and play. Not bad, right?
This Galapagos Multisport Adventure is the ultimate combination of adventure, comfort, and wildlife interaction, and a perfect trip for active families and athletic groups of four or more.
Whilst your accommodation, most activities, and many meals are included in the tour price, some crucial bits are not included.
Internal flights are not included (which is crazy if you pay $5,000 for a tour!). Add on the entrance fees and estimated $200/person for meals and you are looking at an additional $1000 minimum.
The Adventure Life is such a great tour, c'mon guys! How hard would it be for you to include the damn flights within Ecuador? Regardless, if you are looking for an awesome, comfortable adventure, Adventure Life is ready to make that dream come true.
Price: $7,190 – 7,550
# of Days: 9
Main Activities: Kayaking, snorkeling, hiking, wildlife
Another Galapagos luxury tour company that should be on your radar is National Geographic Expeditions. Yes, that is National Geographic. You too can join the prestige of a luxury National Geographic "expedition!"
Whilst the term expedition isn't really accurate for this Galapagos tour, experiencing the Galapagos with a team of National Geographic naturalists from the comforts of a luxury ship is every bit as awesome as it sounds.
This tour very much focuses on learning about/experiencing the Galapagos Islands' diverse wildlife species. In addition to getting up close and personal with the islands' unique animals, there are plenty of outdoor activities on offer.
Kayaking, hiking, and snorkeling are all included in the tour. Certain National Geographic Expeditions tours offer scuba diving as well (at extra cost).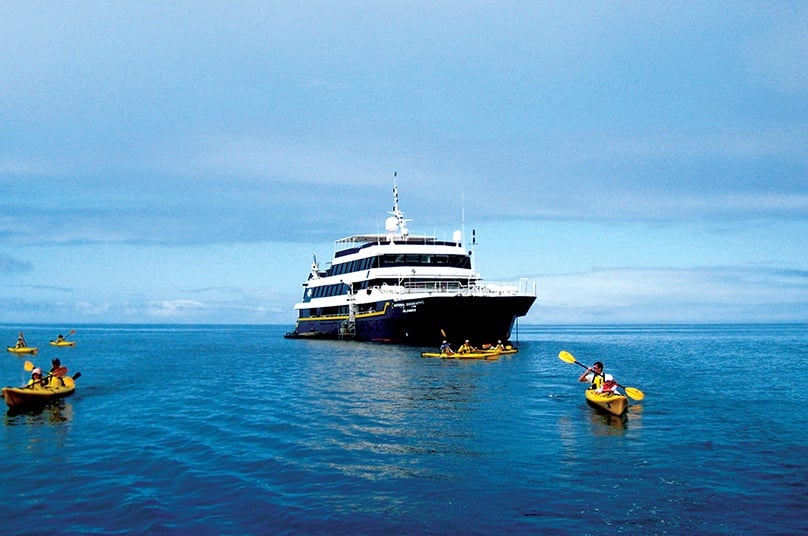 What is the Best Galapagos Tour Offered by National Geographic Expeditions?
The National Geographic Expedition Cruise to the Galapagos is an ultra-comfortable, luxury cruise tour with the associated price tag. As one of the most expensive tours on my list, this Nat Geo tour is also the most high-end in terms of luxury. This is not your typical backpacker adventure.
This tour offers accommodation on a luxury ship for 7 days (two nights on the mainland of Ecuador). Certainly, one of the highlights of the trip is getting to meet the endangered Galapagos giant tortoises at a National Geographic-supported captive breeding program.
What sets this tour apart from the rest of the pack is its unparalleled access to unique wildlife experiences with Nat Geo naturalists… that and the fact that you are cruising around in one of the most luxurious fleets in the Galapagos.
If you are interested in high-end luxury and learning about the unique biodiversity, history, and conservation efforts in the Galapagos, then the National Geographic Expedition Cruise will meet all of your needs and then some.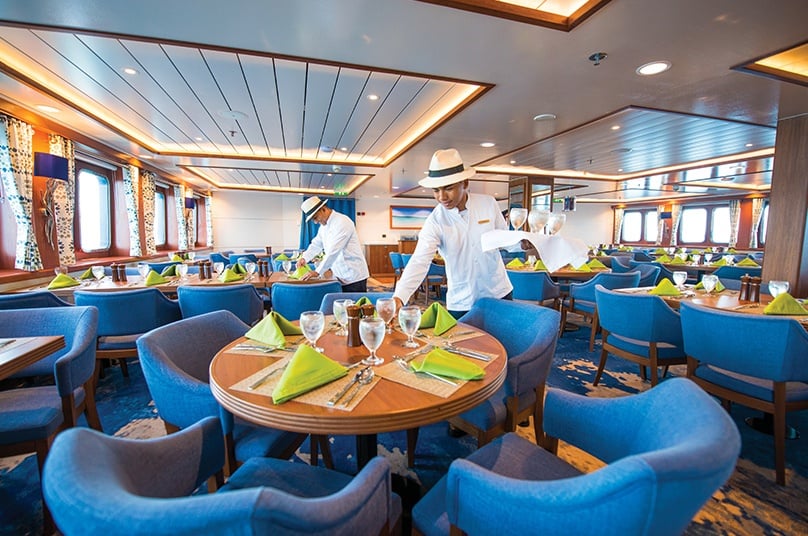 Small Pack Problems? 😉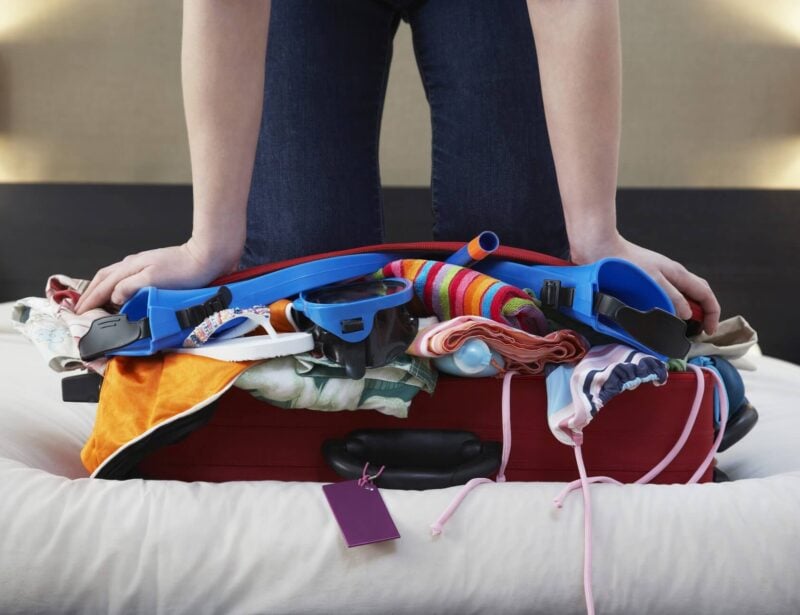 Wanna know how to pack like a pro? Well for a start you need the right gear….
These are packing cubes for the globetrotters and compression sacks for the real adventurers – these babies are a traveller's best kept secret. They organise yo' packing and minimise volume too so you can pack MORE.
Or, y'know… you can stick to just chucking it all in your backpack…
Get Yours Here
Read Our Review
Top Tips for Choosing A Galapagos Tour
Below, I have listed some tips/things to consider when selecting your own epic Galapagos tour adventure…
Keep in mind internal flights within Ecuador can be expensive. If a tour doesn't include flights to the islands, research how much flights cost for when you want to go and weigh the pros and cons.
Factor in any extra meals you will need to buy. Every Galapagos tour on my list includes at least some meals. Budget tours tend to seriously skimp in regard to meals. Restaurants on the Galapagos Islands are among the most expensive in the whole country, so be sure to budget for any extra meal costs.
The Galapagos National Park entrance fee is $100 per adult. Pretty much every tour will require you to pay this fee upon arrival.
Be wary of "side trips" or "optional extras." Again, both budget and luxury tours offer side trips or extra paid activities. Make sure you read the itinerary carefully and have a realistic idea of what is included and what is extra.
Budget for tips. As a tour guide myself (in Pakistan) I know how sweet it is to receive tips after a job well-done. Sometimes, people can forget about tipping guides altogether and simply don't think to budget for it. Tour guides work very hard to ensure you have an awesome time. If your guide does an amazing job, show him or her some love in the form of a decent tip. If the guide is shit, well, then don't give them anything.
Don't go with a company that has a poor record of unethical environmental practices. Touching any marine life of any kind is unacceptable. Feeding wildlife simply to attract fish is even worse. Like I said before, there are plenty of tour companies out there that will happily take your money. Do your homework, especially if you are considering a budget operator not featured on this list! Not only can these budget companies be unethical, but diving with them can also be very dangerous. Do your due diligence and you should be just fine.
What to Pack for the Galapagos and Ecuador
Whether you are just going to Ecuador for your Galapagos adventure or you are staying on to explore more of the country afterward, here are five things I never go traveling without:
Somewhere to hide your cash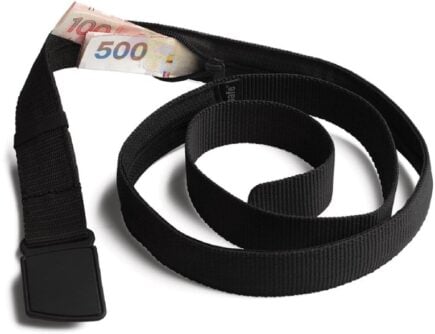 Somewhere to hide your cash
Travel Security Belt
This is a regular looking belt with a concealed pocket on the inside – you can hide up to twenty notes inside and wear it through airport scanners without it setting them off.
For those unexpected messes
For those unexpected messes
Microfiber Towel
Hostel towels are scummy and take forever to dry. Microfibre towels dry quickly, are compact, lightweight, and can be used as a blanket or yoga mat if need be.
When the power goes out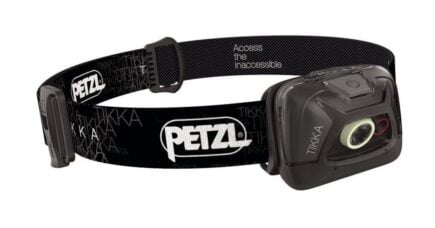 When the power goes out
Petzl Actik Core Headlamp
A decent head torch could save your life. If you want to explore caves, unlit temples, or simply find your way to the bathroom during a blackout, a headtorch is a must.
A way to make friends!
A way to make friends!
'Monopoly Deal'
Forget about Poker! Monopoly Deal is the single best travel card game that we have ever played. Works with 2-5 players and guarantees happy days.
To stay a clean backpacker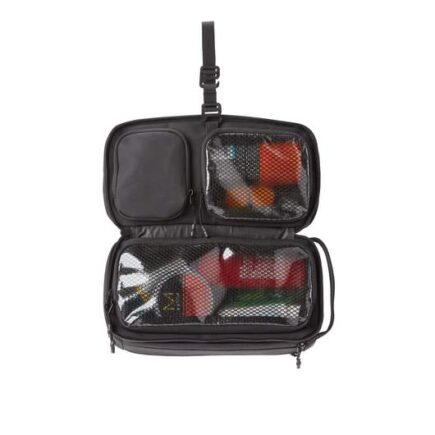 To stay a clean backpacker
Hanging Toiletry Bag
I always travel with a hanging toiletry bag. It's a super-efficient way to organize your bathroom stuff. This one by Nomatic is splash-proof and made to last.
For plenty more inspiration on what to pack, check out my full backpacking packing list.
Is This the Best Backpack EVER???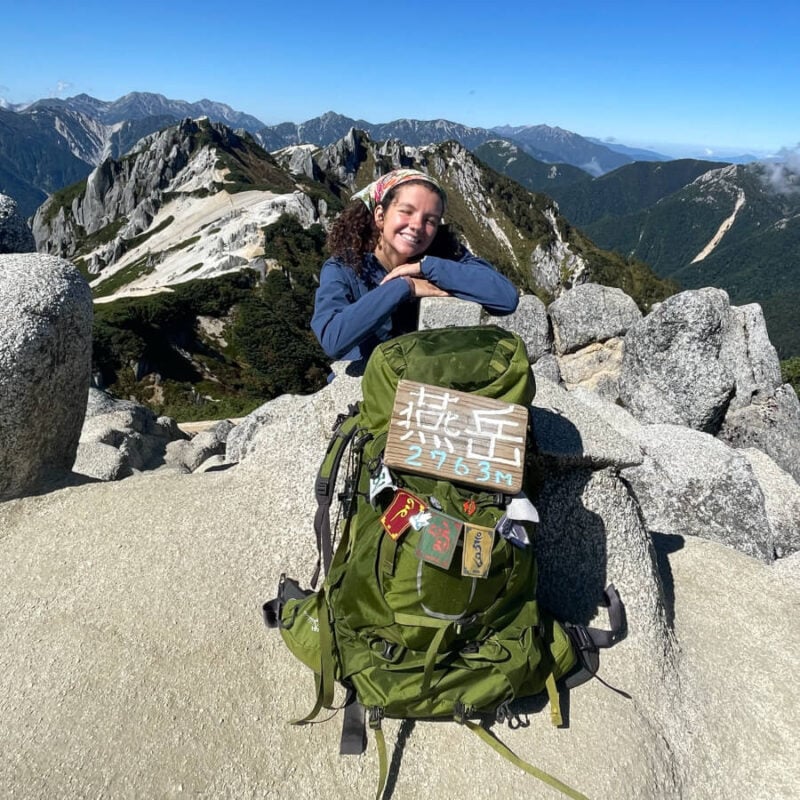 Books to Read on the Galapagos Islands
Here are some of my favorite book set in the Galapagos…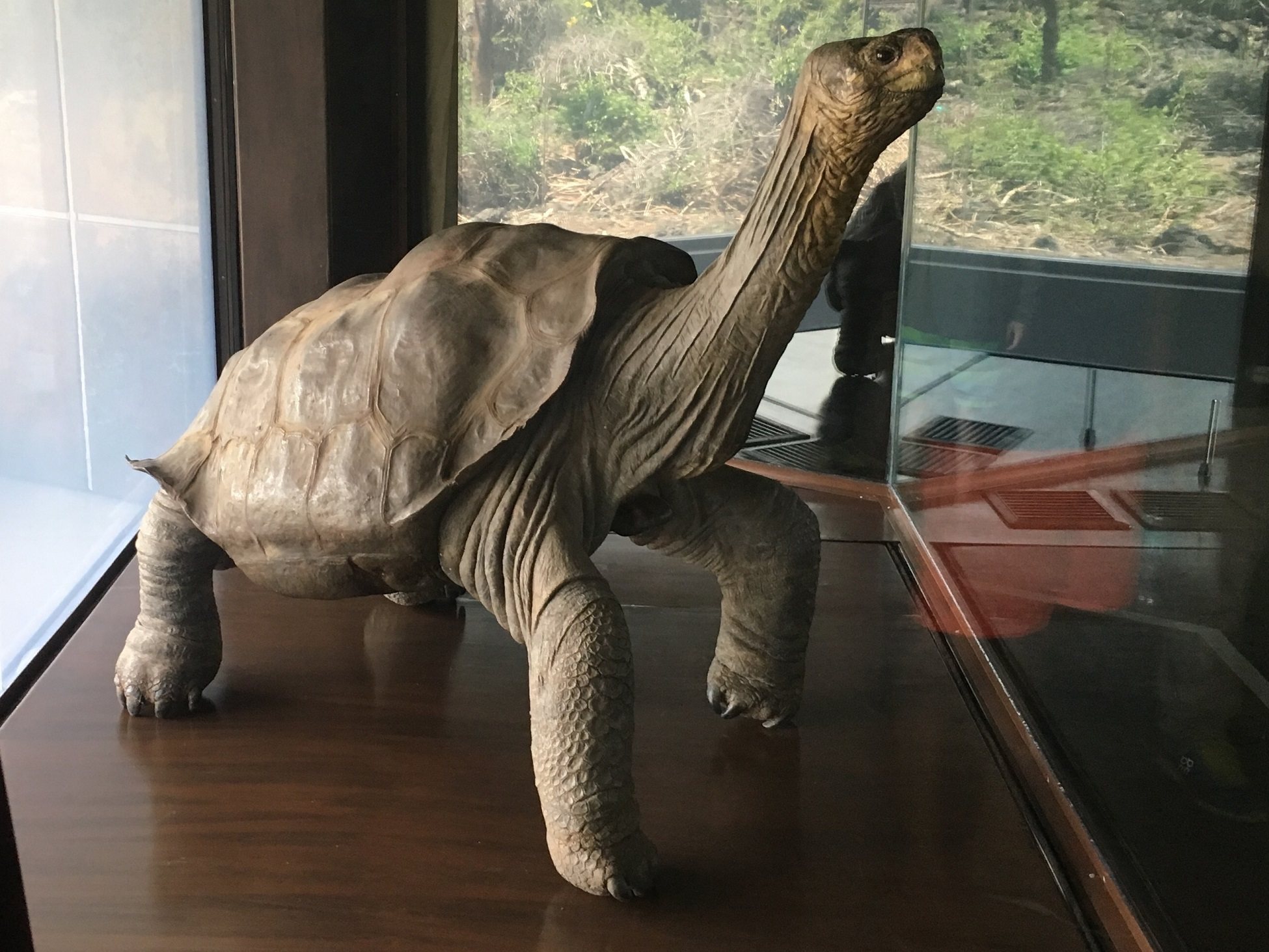 Get Insured before Visiting the Galapagos Islands
Even if you are only traveling to the Galapagos for a short period, you should consider travel insurance. Ecuador is pretty safe, but you can never be careful enough. Have fun on your backpacking adventure but please do buy insurance – take it from someone who has racked up tens of thousands of dollars on an insurance claim before, you may need it.
On a Galapagos adventure, odds are you'll be just fine, but given all of the outdoor activities you'll be getting into, it is very important to buy insurance.
I have been using World Nomads for some time now and made a few claims over the years. They're easy to use, professional and relatively affordable. They may also let you buy or extend a policy once you've started your trip and are already abroad which is super handy.
For even more inspiration (let's be honest, sometimes we need some inspiration to deal with travel insurance!), check out my new article on finding the best travel insurance for your adventures.
Being a Responsible Backpacker in the Galapagos Islands
The Galapagos Islands are truly one of the earth's last remaining refuges of mindblowing ecological biodiversity. There are countless species of wildlife found here that do not exist anywhere else on earth. As a visitor to these beautiful islands, you have a certain responsibility.
Whilst scuba diving, hiking, and camping in the Galapagos be respectful of the natural environment. Do not collect, touch, or disrupt any living creature or natural fixture. The entire Galapagos ecosystem is fragile and should be treated with the utmost care.
Have the time of your life experiencing the magic of the Galapagos. Just be thoughtful about how you do it. Almost unbelievably, there can be issues with rubbish on the islands (that's humanity for you). Always pack away your trash and avoid dropping little bits of plastic or cigarette butts!
Reduce your plastic footprint: Perhaps the best thing you can do for our planet is to make sure you do NOT add to the plastic problem all over the world. Don't buy one-use water bottles, the plastic ends up in a landfill or in the ocean.
Check out this post for more inspiration regarding how to be a responsible backpacker.
Have a wonderful time on your Galapagos Islands tour! See you down the road.
---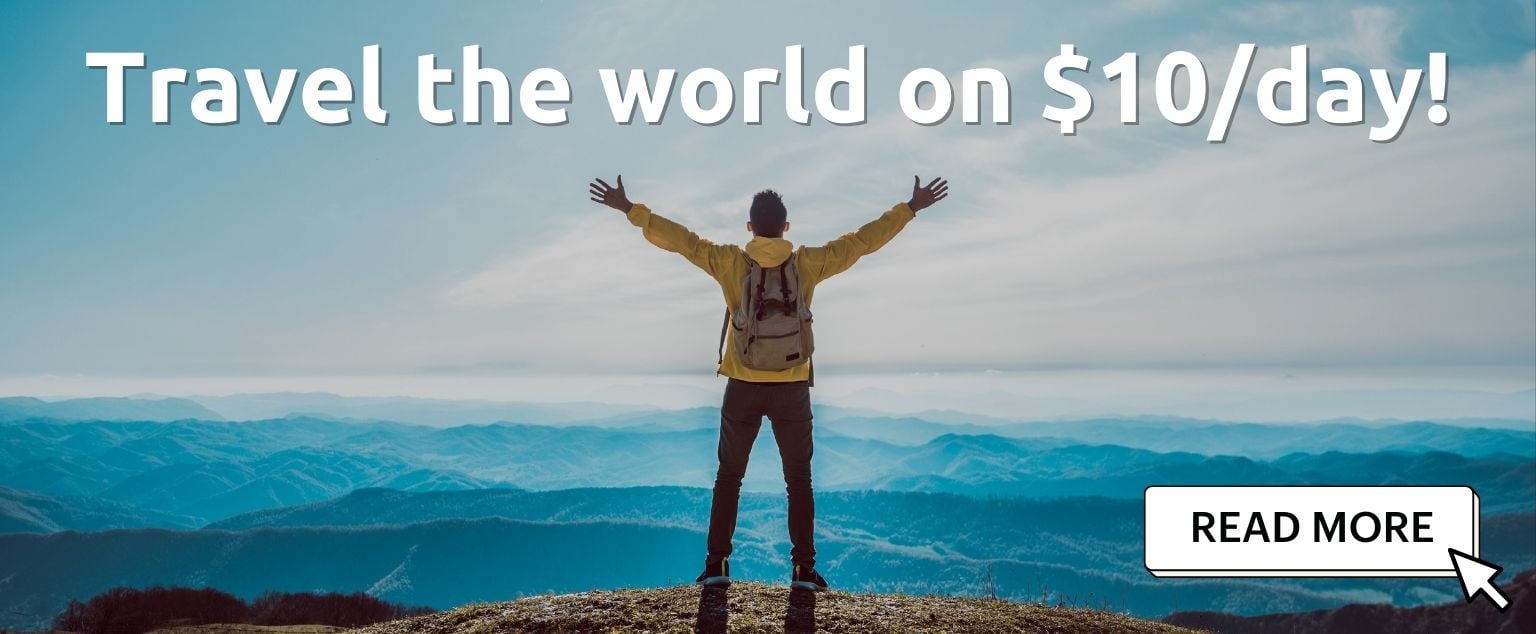 And for transparency's sake, please know that some of the links in our content are affiliate links. That means that if you book your accommodation, buy your gear, or sort your insurance through our link, we earn a small commission (at no extra cost to you). That said, we only link to the gear we trust and never recommend services we don't believe are up to scratch. Again, thank you!