The Galapagos Islands are a remote archipelago currently administered by Ecuador. These islands are known for their biodiversity, and are a great destination for tourists interested in nature, hiking and the environment! The remote location and small population also make them a great choice for visitors looking for some peace and quiet away from wider civilisation
There are nineteen islands in total – though only four of these are permanently inhabited. Getting between islands can be a pricey endeavour, so it's important to understand what each one has to offer before planning your itinerary. Two of the islands even have their own direct flights to Quito.
That's why we've created this guide! We've figured out what each inhabited island is best for, and categorised them to help you better plan your itinerary to this gorgeous Ecuadorian outpost.
So let's get started!
Looking for a specific place to stay? These are our highest recommendations for places to stay on the Galapagos Islands. If you're travelling on a tight budget, check out some of the amazing hostels in Galapagos – they offer quite a bit of bang for your buck!
This spacious house comes with excellent reviews – and the host has superhost status, ensuring only the best service standards! Right in the centre of the only town on Isabela, Flip Flop House is perfect for those looking for a calm beach vacation. It is also well-sized for families and groups.
Galapagos Dreams is the only traditional hostel in the Galapagos Islands allowing you to choose between staying in a dorm or having your own private room! Both options are very well priced given the location, and the hostel is well-rated thanks to their great facilities and social spaces.
Eco-tourism is the reason so many people visit the Galapagos Islands every year, so it goes without saying that we would include an eco-hotel in our top three! The relatively new hotel has been designed using local artists and architects, and most of the materials used are recycled from previous projects.
FIRST TIME IN GALAPAGOS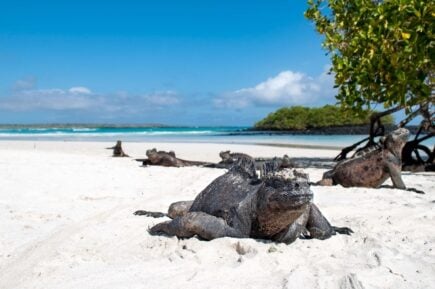 FIRST TIME IN GALAPAGOS
Santa Cruz
In terms of tourism, Santa Cruz is the most popular island in the entire archipelago! The main airport is actually on a separate island – Baltra – however, Santa Cruz is the closest inhabited island, and is only a short ferry ride away.
ON A BUDGET
ON A BUDGET
San Cristóbal
San Cristóbal is the most populous island in the Galapagos, and is home to the administrative capital – Puerto Baquerizo Moreno.
COOLEST PLACE TO STAY
COOLEST PLACE TO STAY
Floreana
Floreana is easily the most unique of all the islands in terms of culture! By far the least populated, and smallest in size of the inhabited islands.
FOR FAMILIES
FOR FAMILIES
Isabela
The largest island in the archipelago, Isabela is nevertheless quite small population-wise – making it a great pick if you want an easy going and relaxed beach holiday!
The Galapagos Islands are fairly close together, but ferries can be expensive. Though all of the islands are great for natural beauty, some have larger populations (and therefore more facilities) than others, so where you end up largely depends on what you want to get out of your trip to the archipelago.
Santa Cruz is one of the most popular destinations, especially for nature lovers! Of the inhabited islands, Santa Cruz houses the best-known nature reserves, and most attractions in the island can be easily reached by a short hike from the main town. Though all of the tourist accommodation is in Puerto Ayora, the other towns are also worth a visit.
In terms of population, however, San Cristóbal is the largest island in the archipelago! Backpacking the Galapagos Islands are notoriously expensive, however, a good way to save money is to base yourself in the largest town – Puerto Baquerizo Moreno, which is on this island. Facilities are also more widely available than other islands, making it a good choice for those that want their home comforts.
Isabela, on the other hand, is the largest island in terms of physical size. Though not as often visited as San Cristóbal and Santa Cruz, Isabela has a reasonably sized main town that comes with all the facilities you need for a short stay on the islands. This convenience, alongside the calm atmosphere and the great water sports facilities, make it an excellent choice for families.
Finally, there is Floreana. This island might be the smallest of the inhabited islands – both in terms of size and population – but it still makes for an interesting trip for those looking for something a bit different! The extreme isolation makes it feel somewhat like a time capsule but is ideal if you are looking to spend some time away from humanity. The few people that do live there are known for their friendliness, making this a rewarding choice.
Still undecided? Check out our extended guides below!
Galapagos's 4 Best Islands to Stay On
Let's take a look, in more detail, at the four best islands in Galapagos. Each caters to different interests, so be sure to pick the one that's right for you.
In terms of tourism, Santa Cruz is the most popular island in the entire archipelago! The main airport is actually on a separate island – Baltra – however, Santa Cruz is the closest inhabited island, and is only a short ferry ride away. This makes it the most convenient option if you are only staying for a few days.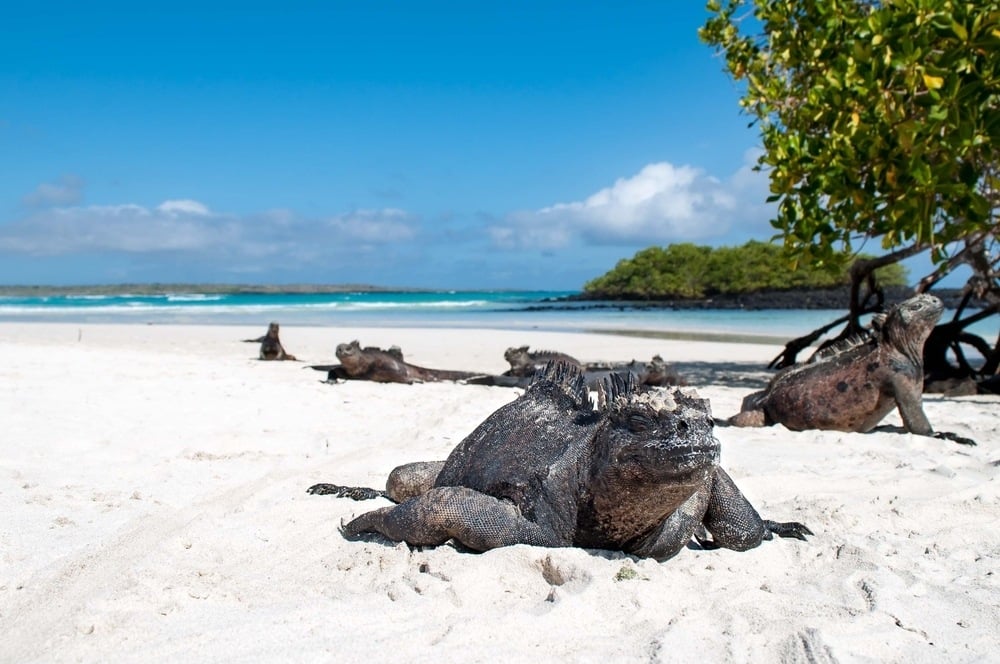 Convenience aside, Santa Cruz Island is home to the most popular nature reserves, and also has plenty of water sports activities! The island played a major role during the eco-tourism boom in the area, and has the largest collection of hotels in Galapagos as well as restaurants and shops for visitors to enjoy during their stay.
Things to See and Do in Santa Cruz
– Snorkel off the coast at Tortuga Bay – the perfect spot to check out native ocean life and possibly even a few turtles
– If you want a guaranteed turtle sighting, head to Charles Darwin Station – it is free for guests and is the largest breeding area on the islands
– There are plenty of bicycle hire places in Puerto Ayora – hire one for a day and take a trip around the coast of the island
– Garrapatero Beach is a black sandy beach that is accessible by a short 2.5km hike from the main town – perfect for spotting crabs and flamingos
– Climb to the top of Los Gemelos, two volcanic craters above the clouds where you can spot native birdlife
– Bongo is a popular restaurant and bar in the heart of Puerto Ayora – they have well-priced food during the day and live music in the evenings
This gorgeous bungalow is in a peaceful corner of Santa Cruz Island – only a couple of minutes away from Charles Darwin Station! It is surrounded by a luscious garden, letting you enjoy your own slice of the native fauna. Filtered water is also available – giving you extra peace of mind when cleaning.
This is the only typical hostel in the islands where you can opt to stay in a dorm, and it is also the best priced! Galapagos Dreams is within easy walking distance of all the main attractions on Santa Cruz, and they provide regular social events where you can mingle with others.
This gorgeous five-star hotel is easily the priciest on the island – but absolutely worth it for anyone willing to splurge! Rooms are kitted out with the latest technology, and many people claim the hotel has the fastest WiFi on the island. Breakfast is provided for free, as is bicycle hire.
San Cristóbal is the most populous island in the Galapagos and is home to the administrative capital – Puerto Baquerizo Moreno. For visitors on a budget, San Cristóbal is slightly cheaper than elsewhere in the Galapagos Islands thanks to this large population as most good from the mainland arrive here before continuing to the other islands!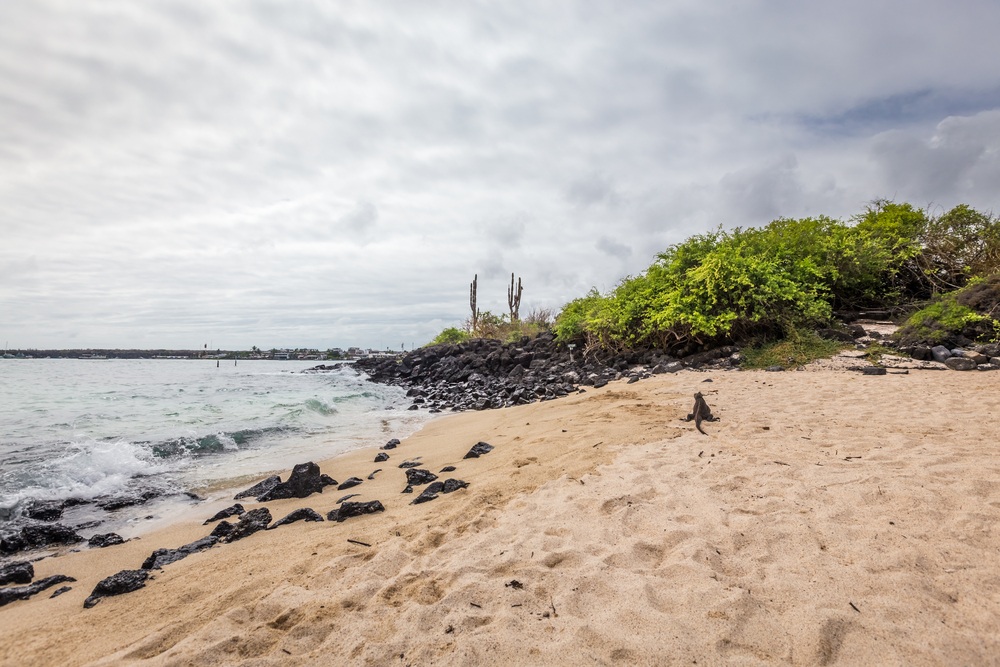 It is also the best island for discovering local culture! Though fairly similar to the culture of mainland Ecuador, the isolation has given the Galapagos Islands some quirks that can be best observed in the capital. This is the only part of the archipelago with multiple bars – and even a nightclub.
Things to See and Do in San Cristóbal
– Hop onboard the 360 Tour – one of the best highlight tours in Galapagos, this ride stops at four different sites around the island (though only lets you off at two due to government regulations)
– Want to try camping? Puerto Chino is your best bet – it's one of the few spots on the islands that doesn't require a licensed guide
– The Interpretation Centre is a great attraction if you want to learn about the history – both natural and cultural – of the islands
– Playa Mann is the main beach in the capital – popular with locals at weekends, you can also spot sea lions on quieter periods
– Calypso is the only 'nightclub' on the island – it is quite old fashioned, but an interesting way to mingle with locals and discover their culture
– If you need to nurse a hangover after a night at Calypso, head to Fresco Cafe where you can enjoy a cheap espresso overlooking the harbour
This spectacular penthouse apartment comes with unbeatable views across the harbour – giving you the perfect space to wake up every morning! There is a private patio, as well as a king-sized bed to provide ultimate comfort. It is only a five-minute walk away from the town centre, and a stone's throw from the beach.
Best Hostel San Cristóbal: Hostal Gosen
Like most hostels in the Galapagos Islands, Hostal Gosen only provides private rooms – but nevertheless has a sociable atmosphere and great communal facilities! Hostal Gosen actually has the cheapest private rooms in the entire archipelago, making them a great choice for backpackers that want some privacy.
Aside from the obvious environmental benefits of the Eco Hotel Katarma, there are plenty of fantastic facilities to ensure you enjoy your stay! There is a great outdoor pool, and a buffet breakfast is provided every morning. Rooms come with blackout curtains, as well as luxury toiletries.
The largest island in the archipelago, Isabela is nevertheless quite small population-wise – making it a great pick if you want an easy-going and relaxed beach holiday! For families, there are plenty of activities across the island to keep the kids entertained, whilst adults will love the white sandy beaches and laid-back bars.
The entire population is based in Puerto Villamil. As such, this is where all of Galapagos's best restaurants, bars and hotels are located. There are no banks on the island, so make sure to bring plenty of cash with you! If you can handle it, this just adds to the secluded paradise atmosphere of Isabela.
Things to See and Do in Isabela
– The hike to the Wall of Tears is packed with highlights – including beautiful lakes, flocks of flamingos and iguana filled beaches
– The Giant Tortoise Breeding Centre on Isabela is smaller than others on the islands, but still has some great information about the native species
– Head to Los Tuneles – a tour is advised, but the day-long excursion involves walking through volcanic tunnels, snorkelling and shark spotting
– Concha de Perla is another great snorkelling spot – and you are even permitted to play with the native sea lion population
– Encantado de Pepa is a hugely popular cafe with locals, not least because of its owner who is somewhat of a local character – the location also helps
– Bar Casa Rosada is a great hangout spot in the evening – with live music, a laid back atmosphere and volleyball
Spacious Family House in Isabela: Flip Flop House
The ideal size for a family of four, Flip Flop House is well located – giving you easy access to the local shops and restaurants! The lounge area comes with a large television, as well as a collection of DVDs. There are two bathrooms – perfect if you want a separate area for the kids.
This family-owned hostel is perfect for backpackers and families looking to enjoy a cosy and local atmosphere! They offer single, double and triple rooms – making them perfect for both solo travellers and groups. Rooms are basic but come with full air conditioning and warm filtered water in the bathroom.
This stunning four-star Galapagos hotel is located right on the beachfront and is perfect if you are packing for a beach holiday of sun and relaxation whilst on the Galapagos Islands! There is a hot tub on-site, as well as a large sunbathing terrace with a well-equipped bar. A complimentary breakfast buffet is included each morning.
Floreana is easily the most unique of all the islands in terms of culture! By far the least populated, and smallest in size of the inhabited islands, Floreana is a destination for visitors that want to experience true solitude. Tourism has picked up somewhat in recent years, but still nowhere near the level of other islands.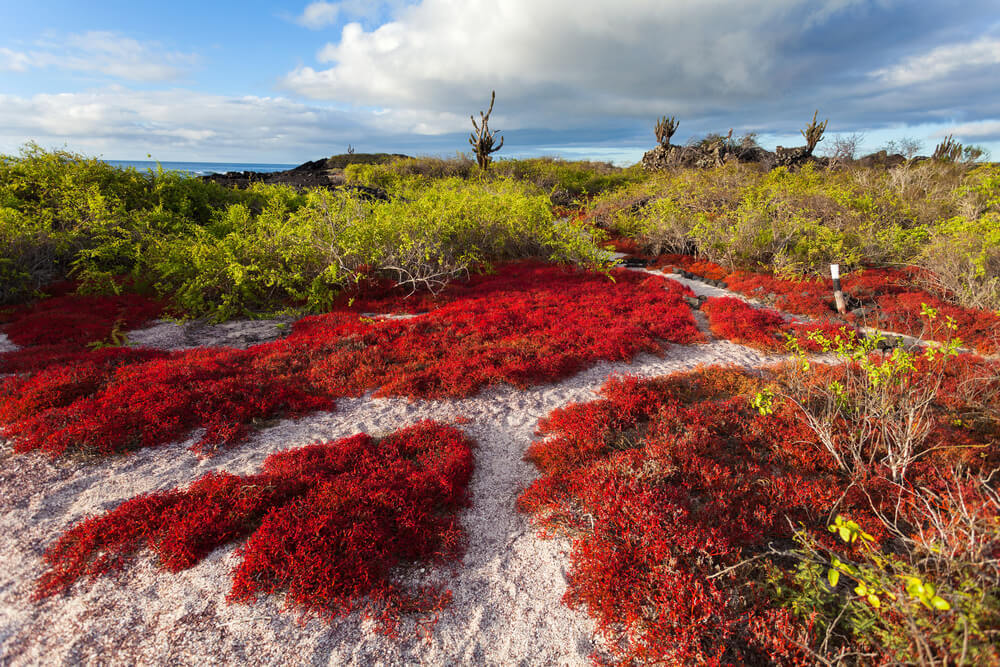 Floreana has an interesting history involving the first Norwegian settlers in the islands, and has gone from being one of the least desirable islands to a fulfilling getaway spot! There might not be as many activities as on other islands, but it is certainly an adventurous experience.
Things to See and Do in Floreana
– Post Office Bay is a unique attraction where visitors leave postcards addressed to themselves – whilst new visitors take old postcards and aim to hand-deliver them
– Punta Cormorant is the only notable hiking trail on the island, but it is often touted as the best route for spotting flamingos – as well as green volcanic gems
– Devil's Crown is an excellent snorkelling area filled with native sea life amongst a collapsed volcano – and what's more, it doesn't have as many tourists as others
– The Wittmer Family Hotel is the only shop and restaurant on the island – it's expensive and takes cash, but has some truly unique souvenirs
Well, it's literally the only Airbnb on Floreana, so lucky it's a nice one! The photos for this listing are… nonexistent… but the host has received rave reviews and the coveted 'Superhost' status. The rooms are basic, but you just can't look past that location: perched on the edge of a paradisical black beach just two minutes from the dock.
The Hosta Santa Maria is the first guesthouse on the island – and a great option for backpackers wanting to enjoy the seclusion of Floreana! It is located right on the coast and is a short walk away from the only town on the island – giving you an added sense of isolation.
Until recently there was only one hotel on the island – until Casa de Lelia opened their doors! This is a very basic hotel, due to the limited facilities available on the island, but is locally owned and well-rated by previous guests. A small buffet breakfast is provided every morning.
Whilst there aren't many Airbnbs on Floreana, Black Beach House is a private villa that can be reserved through Booking.com! The two-bedroom villa can sleep up to six people and is only a short walk away from most of the activities on the island. There is also a terrace overlooking the ocean.
FAQ about Finding a Place to Stay in Galapagos
Here's what people usually ask us about the areas of Galapagos and where to stay.
Final Thoughts on Where to Stay on Galapagos
The Galapagos Islands have managed to successfully retain their natural beauty – and in a world increasingly looking for more environmentally friendly travel options, the islands provide plenty of options. They also have an interesting culture that often goes overlooked but is well worth exploring.
In terms of the best island, we are going to go with San Cristóbal! It has the most facilities available and has a great selection of all the fantastic attractions that make the Galapagos Islands a worthy destination. As for where to stay on Galopgas Islands after you arrive?
Book yourself into the Galeodan Penthouse Suite on San Cristóbal for an amazing retreat in your own little garden of paradise. For a more budget choice, however, you'll have to head over to Santa Cruz Island and check into Galapagos Dreams – the best hostel in the Galapagos Islands.
That being said, depending on how isolated you want to be each of the inhabited islands has their own charms and are well worth exploring. We hope we've helped you narrow down your options.
Did we miss anything? Let us know in the comments!
And don't forget to take out Travel Insurance for your trip! I have been using World Nomads for some time now and made a few claims over the years. They're easy to use, professional and relatively affordable. They may also let you buy or extend a policy once you've started your trip and are already abroad which is super handy.
Getting an estimate from World Nomads is simple – just click the button or image below, fill out the necessary info, and you're on your way!

For more info on their plans, policies, and how we rate them, check out our comprehensive World Nomads Insurance Review before making the smartest decision of your travel career.
Do you own an awesome hostel, hotel or apartment? Want to be featured in our list? Email [email protected] to find out how.
---
Find out how YOU can support the site.
We're a big site with a big team and this job isn't always easy. But we do it because we love it – we love providing epic and free content. We love the knowledge that our content keeps you adventuring. We don't ask for money, but if you'd like to find out how you can help the site in more organic ways, click the button below.
Thank you for your support 🙂
And for transparency's sake, please know that some of the links in our content are affiliate links. That means that if you book your accommodation, buy your gear, or sort your insurance through our link, we earn a small commission (at no extra cost to you). That said, we only link to the gear we trust and never recommend services we don't believe are up to scratch. Again, thank you!