For many years in Brazil, the stunning beaches and tranquil waters of Florianopolis (also known as Floripa) have been overlooked by the rest of the world for the more popular beaches of the country. It wasn't until just recently that the soft sands and rich culture has been unveiled to the world!
This small island off of mainland Brazil is so much more than just another cookie-cutter beach town. Culture runs deep in Florianopolis, this means that just because you aren't on the beach doesn't mean you can't experience all the local flavor!
Travelers are arriving in Florianopolis in droves, all seeking those beautiful coastal views and chill vibes of Brazilian island living. Despite the tourist boom which has swept Florianopolis, there is still a lack of proper backpacker hostels.
Get back to planning on what beaches to hit first and leave the rest to us! We brought all the best hostels in Florianopolis to one place with our one-stop guide!
Have your cameras ready and get ready to dive headfirst into our list of the best hostels in Florianopolis!
Quick answer: The Best Hostels in Florianopolis

Do You Want to Travel FOREVER??
Pop your email in below to get a FREE copy of 'How to Travel the World on $10 a Day!'.
What to Expect from the Best Hostels in Florianopolis
First of all, let's talk about why you should be staying at a hostel in the first place.
Of course, there's the super affordable price. Florianopolis hostels are the cheapest form of accommodation on the island, so if you're a budget backpacker, that should work out perfectly. However, this is not the main perk. Hostels in general offer an incredible and unique social vibe. You get the chance to meet like-minded travellers, make new friends and exchange cool travel stories. No other accommodation can offer you the same.
Since Florianopolis is known for its stunning beaches you'll be able to find quite a few surf hostels along the coast. These normally offer surf rentals, surfing lessons or at least a spot to store your board. Just like everywhere else in the world, you can mainly choose between staying in a dorm or a private room. While dorms are great for socializing and meeting new people, private rooms also have their charm thanks to, well, privacy!
When it comes to pricing, you'll be happy to hear that the hostels in Florianopolis are very affordable (dorms and private rooms alike). Of course, you'll find one or the other that jumps out of line, but overall, it's a broke backpackers paradise. We've listed some of the average prices below for the different room types:
Dorms (Mixed and female only): $8-12 USD/night
Private rooms: $16-22 USD/night
You should note that these prices also depend on whether you're visiting during on or off season.
When looking for a hostel, you'll find most hostels on HOSTELWORLD. There you can check out photos, detailed information about the place and even reviews from previous guests. Just like other booking platforms, each hostel will have a rating, so you can easily pick out the hidden gems!
There's not really a specific region for where to find the most hostels. You can find accommodation pretty much everywhere on the island, but along the famous beaches seem to be quite a few of them. However, these are our favorite neighborhoods to stay at when visiting Florianopolis:
Lagoa da Conceição – perfect for budget travellers and first time visitors
Canasvieiras – ideal for crazy nightlife with epic bars and clubs
Centro – a great base to explore all of the island
Keep in mind that it's always smart to figure out where to stay in Florianopolis first, instead of just rocking up and being clueless about what to do and where to go.
Top 5 Hostels in Florianopolis
If you're backpacking your way through Brazil and find yourself in Florianopolis, check out the amazing hostels below. Each of them offers a safe space with comfy beds – perfect to recharge and start your next adventure!
1. Best Overall Hostel in Florianopolis – Floripa Surf Hostel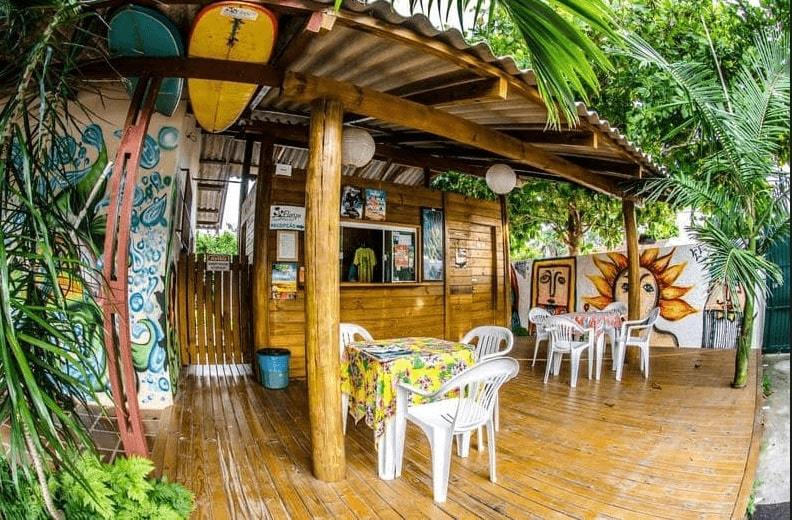 At Floripa Surf Hostel you will not only get one of the cheapest beds in town, but you will also be just minutes away from the beach! Regardless if you are looking to surf the waves or just lounge about on the beach, this backpackers hostel won't have you running back and forth from the sea to your dorm room every day!
It's not just the location that makes Floripa Surf one of the best hostels in Florianopolis, but you will also have access to their very own bbq pit, hammocks, and even hiking tours taking you all over the island!
Why you'll love this hostel:
Incredibly kind staff
Super homely vibe
Free Wifi
Surfing the waves is one of the main activities in Floripa, but what about surfing the web? Luckily, this hostel offers free and fast Wifi to keep in contact with your loved ones, share your amazing adventure on Instagram and maybe even get some work done.
Too recharge properly stay at one of the hostel's dorms. We're not gonna lie, they're quite basic, but offer the essentials: a locker that is big and secure enough for all of your stuff, a comfy bed and an aircon – perfect for those hot and humid summer days.
Since this hostel is relatively small, you can enjoy a really unique vibe here. Everyone knows and looks after each other, so it really feels like you're part of a big family. If you're travelling solo and you've just arrived, join one of the hostel's outdoor activities and you'll make friends in no time!
If you're looking for a laid-back, chill beach hostel, Floripa Surf is the ideal place for you. If you enjoy a bit of luxury and bling, you might not be fully satisfied though.
2. Best Hostel for Solo Travelers in Florianopolis – Pup Hostel SC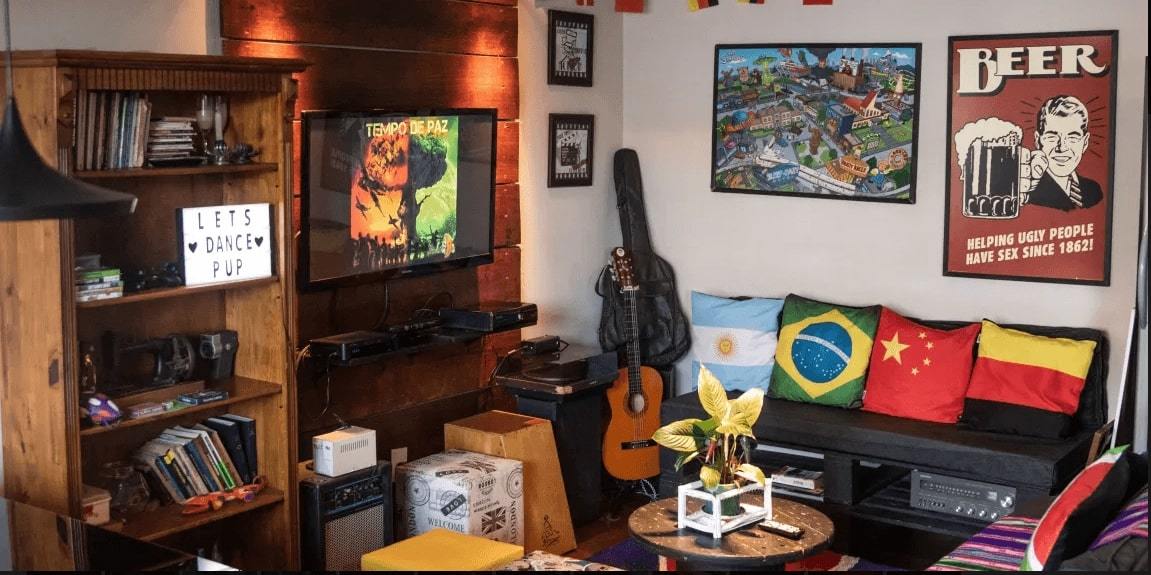 Can't quite decide if you want to be closer to the tranquil turquoise waves by the beach or at the heart of the party in downtown Florianopolis? Pup Hostel puts you right smack in between the city center of Floripa and the gorgeous golden beaches!
With a rooftop terrace offering stunning views of both the city and the coastline, you will be truly getting the best of both worlds! After a night of partying, be sure to grab the free breakfast before heading out to the beaches to get rid of that nasty hangover!
Why you'll love this hostel:
Ocean views
Central location
Close to public transport
Alright, let's get the not so nice stuff out of the way. If you're visiting Floripa mainly for the beaches and surfing, you won't be happy at this hostel. The location is very central with one beach nearby, but to reach the other ones, you'll have to hop on a couple of buses.
However, if your goal is to visit ALL of the island, this is a great base for exploring as pretty much all attractions and hidden gems are the same distance away.
All rooms, dorms and private rooms are equipped with small lockers for valuables and massive closets that are also lockable. During the hot summer months, you'll especially appreciate the cool aircon in each room. The private rooms are actually pretty affordable so if you're feeling like a bit of alone time, it's a great deal!
Now, since this hotel is roughly 20min from downtown, you can enjoy a super peaceful sleep at night. The common area offers plenty of entertainment options too, such as guitars, a massive TV, books to read and a couple of board games. It's the perfect place to meet new people and make new friends.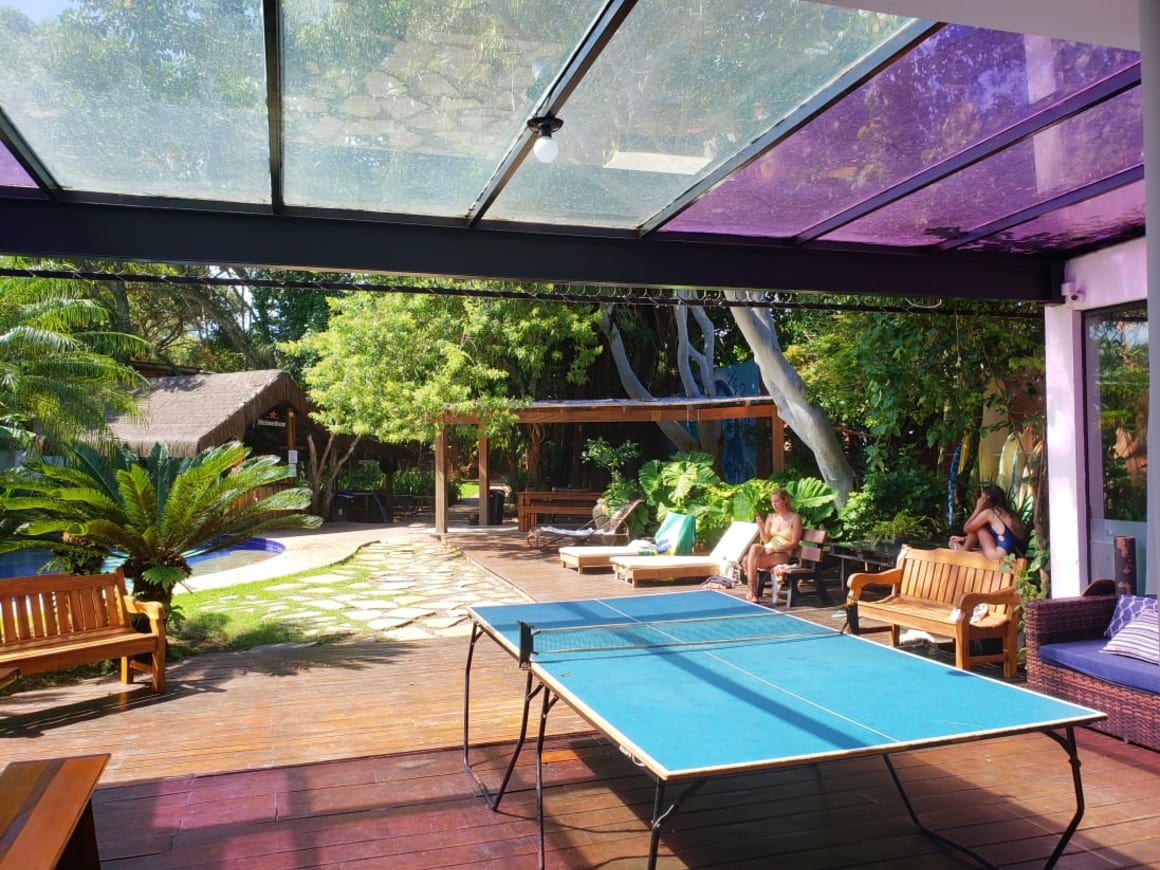 Beach access
Shared Kitchen
Needing a place to plug into the wi-fi for a few days and catch up on some work? The Search House Beachfront Hostel is one of the best places to chill out and edit that new video or blog post while traveling through Florianopolis! With its very own pool, spacious common area, garden, and terrace, you will find tons of room to relax and spread out in!
Looking to take a day off from working and enjoy a little bit of Florianopolis? The Search House Beachfront Hostel will have you right at the beach, with its private access and close to the central hub of Lagoa Da Conceição, where you have a wide selection of restaurants, bars and clubs.
Why you'll love this hostel:
Honestly… there are too many reasons
Skate ramp
Outdoor bar and sound system
Alright, now to the details. If we're being honest, you're probably better off reading through the description on Hostelworld yourself since there is just SO MUCH to mention. But we'll try to keep it short.
Live concerts, a skate ramp, direct beach access, an outdoor bar, discounts and direct shuttle transfer to the best nightclubs in the area… You see what we mean. This hostel, or should we say massive villa that got turned into a hostel, is so glamorous and special that previous guests rated it as the best hostel they've ever stayed at.
The rooms are exceptionally clean, beds are comfortable, the location is super secure and safe, and the overall vibe couldn't be better at this place. One thing you do have to make sure of though is to book well in advance. The Search House Beachfront Hostel is known for its incredible value and booked out most of the time.
Use the early morning to sit on the terrace with your computer and get your work done, so you can enjoy the rest of the day with the other travellers or by yourself exploring the beach and the area. Think about booking a few extra days, because once you're there you might not want to leave.
4. Best Party Hostel in Florianopolis – Booz
Discount Club Access
Buffet Breakfast
We are still not sure if Booz is supposed to be short for "booze" or not, but this backpackers hostel is sure to get the drinks flowing and the party started! With its very own bar as the heart of the party, you will get cheap drinks and even free caipirinha or Fridays! The fun doesn't stop there! With discount club access you will be able to dance all the way through Florianopolis!
After the night (or nights) of your life, brush off that hangover with a buffet breakfast!
Why you'll love this hostel:
Plenty of outdoor activities
Amazing beach location
Eco-friendly
Feeling up for more? Booz will hook you up with tours of the island including anything from scuba diving to paragliding! You really won't have a boring minute at this hostel. We especially recommend joining the hiking tours as Floripa offers some really cool treks and stunning views.
You can choose between different room options too. As always, you can find a comfy and spacious dorm with either mixed or female-only occupancy. For those that prefer a bit of alone time (also great to cure your hangover), stay at one of the awesome private rooms. They're equipped with aircon, a comfy double bed and even a TV – and the best thing, they're incredibly affordable too!
For a chill day, just walk a couple of minutes to two of the most popular beaches in Floripa, Mole and Joaquina. Stop at the supermarket on the way to pick up some freshly cut fruit. You'll also walk past the main bus station that'll easily connect you to the rest of the island if you decide to explore a little bit further. You see, the location of Booz hostel is ideal too.
Booz is one of our favourites in Florianopolis but they're not taking guests right now. We're not sure if they're closed for good but we hope they'll come back soon.
5. Best Cheap Hostel in Florianopolis – On The Road Hostel
Traveling on a budget isn't too hard while backpacking through Brazil, but if you are really wanting to stretch out your money be sure to check yourself into the On The Road Hostel! At this budget youth hostel, you won't only get some of the cheapest beds in Florianopolis, but you also get your very own swimming pool and access to the beach a mere 50m away!
The fun isn't only in the water. On The Road has loads of games in its lounges, a snooker table, and even hundreds of LPs to set the tone for each and every night!
Why you'll love this hostel:
Library
Super welcoming staff
Triple bunk beds
Scared of heights? Make sure to choose your room wisely as some of the dorms offer triple bunk beds. Personally, we find them quite cool and space-efficient, but you do have to climb quite high. But don't worry, there are plenty of other room options.
As soon as you arrive you'll quickly notice the super chill and friendly atmosphere. We have to give a very big shout out to the incredibly kind and attentive staff. They're known to go above and beyond for their guests. And they also know some of the best hidden gems on the island, so don't hesitate to each out!
We've already mentioned the great location above. The property is located at 50m of Campeche's beach – one of the trendiest beaches of Florianópolis. Campeche is famous for its incredible surfing waves and concentration of people in the summer. It has easy access to Lagoa da Conceição which is known for its nightlife and tourism and to the south of the island – a place full of hiking tracks in nature and gastronomic references.
You see that On The Road Hostel offers you everything you could ask for during your stay in Floripa.
On The Road Hostel is one of our favourites in Florianopolis but they're not taking guests right now. We're not sure if they're closed for good but we hope they'll come back soon.
Is This the Best Backpack EVER???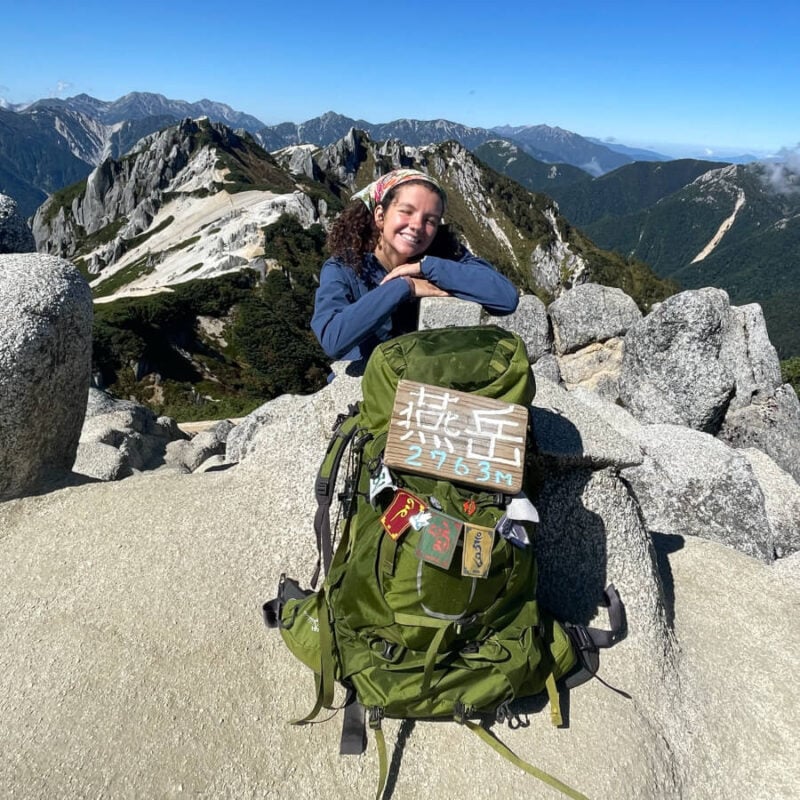 More Best Hostels in Florianopolis
Stay in the middle of the action (or in an off the beaten path location) by knowing exactly where to stay in Florianopolis. Trust us, there are many awesome neighborhoods in the city that you don't want to miss out on!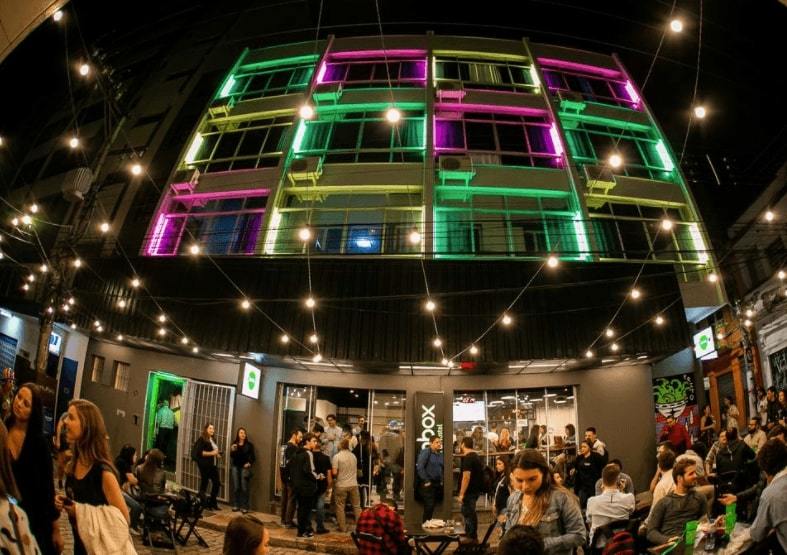 The Innbox Hotel and Hostel located in downtown Florianopolis is the second of the Innbox change. Both of these hostels could be named some of the best places to stay in Florianopolis, but Innbox Hostel – Centro is truly something special. Located in the center of downtown, Innbox attracts both an international and local Brazilian crowd to its bar and lounge.
The bar is just the tip of the iceberg, at Innbox, you will also have a Mexican restaurant onsite as well as views which overlook the stunning city of Florianopolis. Regardless if you are looking to drink each night away or just kick back and relax with other travelers, Innbox is the hostel for you!
Best Hostel for Couples in Florianopolis – Patamar Hostel
Let's get all you love birds out there into a backpackers hostel which is sure to have you taking long walks on the beach and enjoying candlelit dinners. Patamar doesn't just have you near the beach, you are literally ON the beach.
It doesn't matter if you choose to cozy up into a single room or go the cheap route and bunk up in the dorm room, each morning you will wake up to a sea breeze and the sunrise! With a large terrace overlooking both the beach and the sea, a BBQ pit, and even a bar, Patamar Hostel is THE place to go if you are wanting to spice up your holiday!
Patamar Hostel is one of our favourites in Florianopolis but they're not taking guests right now. We're not sure if they're closed for good but we hope they'll come back soon.

Our GREATEST Travel Secrets…
Pop your email here & get the original Broke Backpacker Bible for FREE.
Best Hostel with a Private Room in Florianopolis – Vintage Hostel Florianopolis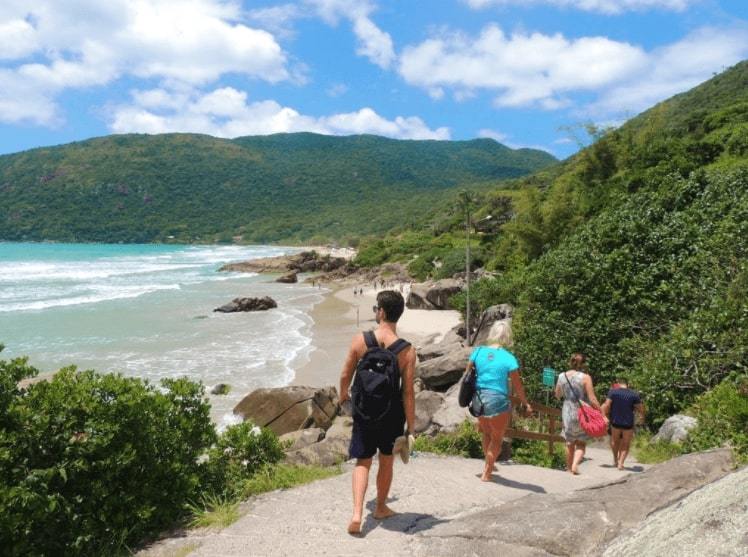 Needing to take a break from the overbearing hostel atmosphere and the pressure to be social? Vintage Hostel is one of those places where you can lock yourself up in your budget private room to decompress, and emerge refreshed and ready to go! With vibes which makes the place feel more like a home than a hostel, Vintage Hostel is by far one of the most down-to-earth places to stay in Florianopolis!
It's not just the decor and general friendliness which makes Vintage Hostel beat the rest, but you will also be pampered with a shared kitchen, a bar, and even free yoga lessons!
Plus, the hostel is located right next to one of the best beaches in Florianopolis!
Vintage Hostel Florianopolis is one of our favourites in Florianopolis but they're not taking guests right now. We're not sure if they're closed for good but we hope they'll come back soon.
Caapua Hostel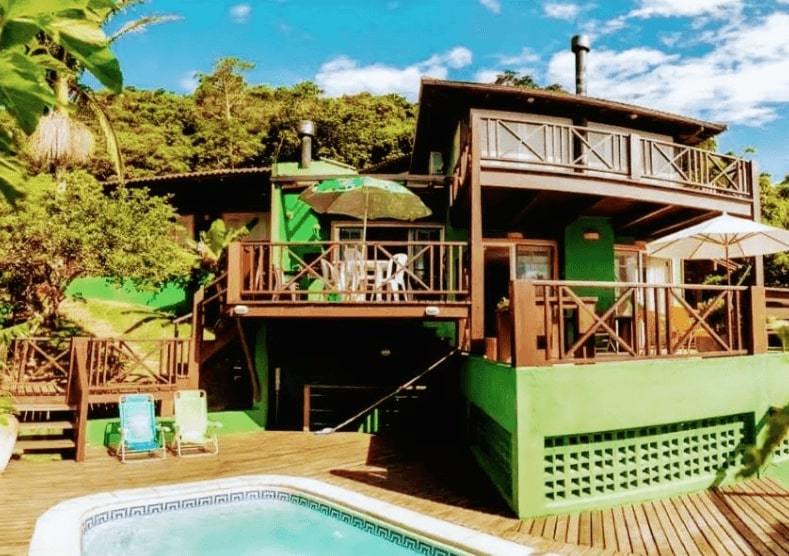 Swimming pool? Check. Bar? Check. Oceanview? Check. Caapua Hostel already probably has you clicking that "book" button with its stunning coastal views alone, but this backpackers hostel will never cease to amaze you! With laid back vibes and a home-like atmosphere, Caapua Hostel will have you extending your stay night after night!
End every day relaxing on the hostel's outdoor terrace, beer in hand, barbeque over the fire, and a breathtaking sunset over the sea!
Caapua Hostel is one of our favourites in Florianopolis but they're not taking guests right now. We're not sure if they're closed for good but we hope they'll come back soon.
HI Floripa Barra da Lagoa
With Hosteling International, you know well before you arrive in Florianopolis you are going to have the kind of stay that will truly make your trip! With its very own terrace, lounges, and pool table topping the list of things to do at HI Floripa, you are sure to never go bored!
More importantly, this backpackers hostel will have you just minutes away from the beach, meaning you will be scarfing down that free breakfast and hitting the waves in no time at all!
HI Floripa Barra da Lagoa is one of our favourites in Florianopolis but they're not taking guests right now. We're not sure if they're closed for good but we hope they'll come back soon.
FAQ's on the Best Hostels in Florianopolis
Finding the right hostel for your travels sounds easy, but it's the complete opposite most of the times. We've listed some of the frequently asked questions on hostels in Florianopolis and did our best to answer them below.
Travel Safety Tips for Florianopolis
ALWAYS sort out your backpacker insurance before your trip. There's plenty to choose from in that department, but a good place to start is Safety Wing.
They offer month-to-month payments, no lock-in contracts, and require absolutely no itineraries: that's the exact kind of insurance long-term travellers and digital nomads need.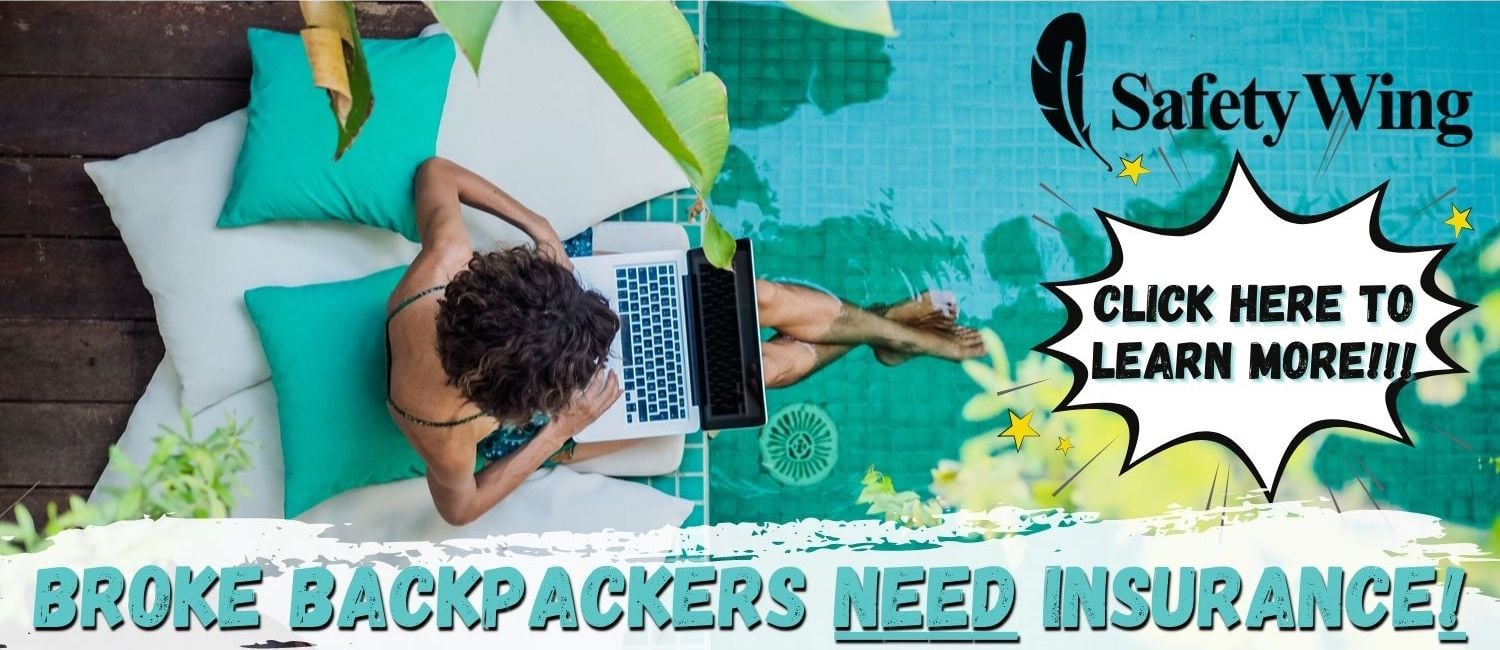 SafetyWing is cheap, easy, and admin-free: just sign up lickety-split so you can get back to it!
Click the button below to learn more about SafetyWing's setup or read our insider review for the full tasty scoop.
Final Thoughts on the Best Hostels in Florianopolis
Grab your surfboards or just your umbrella, the beaches of Florianopolis await you! From stunning natural beauty to clubs downtown where the music never stops. When you travel to this Brazilian island, you will find so many different ways to have the time of your life!
Wanting to stay in town or by the beach? Looking to meet other travelers or hand out on your own? These are important questions to ask yourself and we understand if you are still uncertain on where to call home while staying in Florianopolis.
If you are wanting that best Brazilian island experience possible, you best check yourself into Floripa Surf Hostel, our pick for the best backpackers hostel in Florianopolis!
Crack open that beer and lay out your towel, Florianopolis is all about cold drinks and a good time!
Do you own or run a kick ass hostel? Want to be featured in this list? Get in touch at [email protected]
---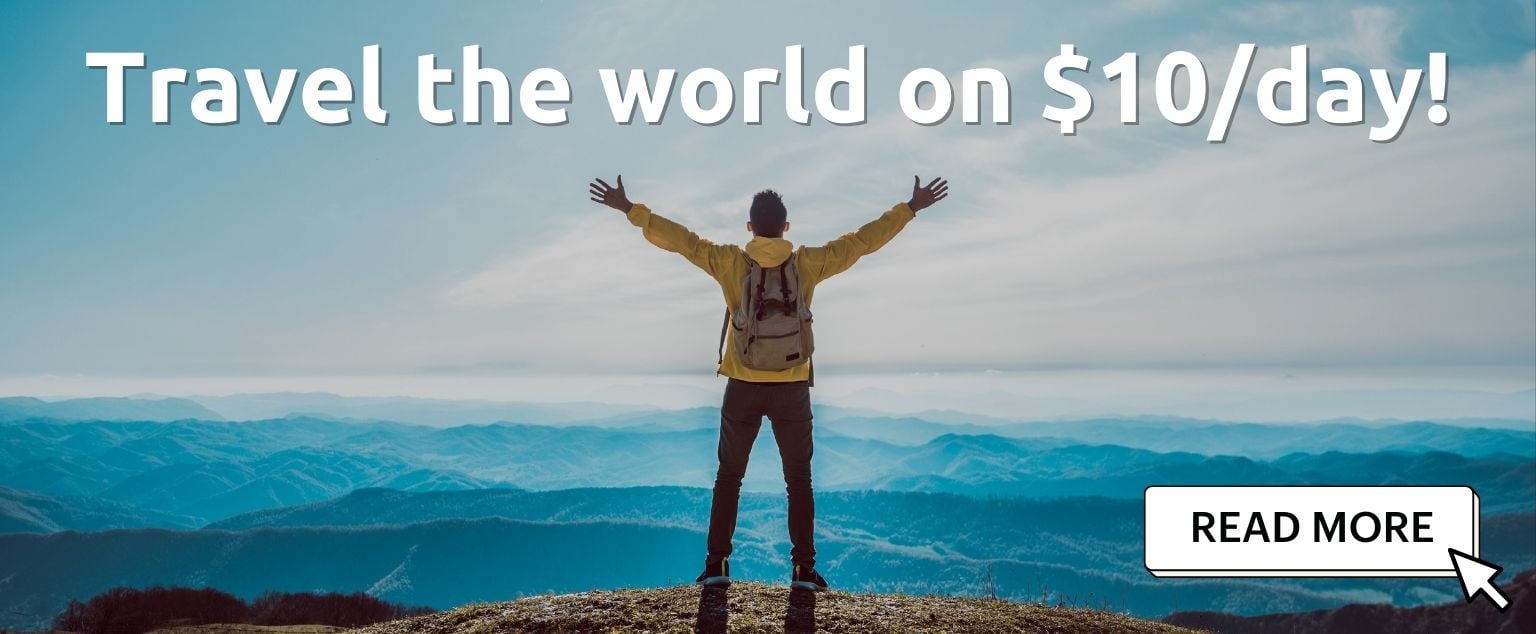 And for transparency's sake, please know that some of the links in our content are affiliate links. That means that if you book your accommodation, buy your gear, or sort your insurance through our link, we earn a small commission (at no extra cost to you). That said, we only link to the gear we trust and never recommend services we don't believe are up to scratch. Again, thank you!