At first glance, Iran's capital city of Tehran can feel like one big smoggy traffic jam. Indeed, it is a far cry from the classic Persian Jewels of Shiraz and Esfahan and many travellers don't hang around for too long. However, Tehran actually has a lot to say for itself with attractions ranging from ancient palaces, massive bazaars and relics from the Iranian revolution. The abundant coffee shops also provide the ideal meeting place for you to get to know Iran's youth.
Our 'Things To Do in Tehran' guide has been compiled over multiple visits to Iran and takes contributions from a number of our writers. We have also taken time to seek out the more Unusual Things To Do in Tehran, as well as some things to do with children, and some romantic things to do in Tehran.
So, without further ado, grab yourself a strong, sweet tea (Persian style of course) and let's get started with our things to do in Tehran rundown!
Most Iran backpacking trips do start and finish in Tehran. Underneath its modern exterior, Tehran does have a few classical treasures which you cannot miss as well as some top class, National museums. Let's start with looking at the top things to do in Tehran.
1. Explore Golestan Palace
The poster boy of Tehrani tourism has to be the 500-year-old, Golestan Palace complex. Once the seat of the ruling royal dynasty, the palace was originally built in the 16th century and has been added to and revised ever since. It now contains several collections of royal treasures as well as a number of royal, and classic Iranian artifacts.
There are a number of buildings in the complex so be sure to purchase a ticket that allows you access to them all – with the current exchange rate, it is great value believe us. Highlights are the Marble Throne, the mirrored rooms and the murals painted in the courtyards.
Guided tours are available and will provide a lot more context. The exchange rate also makes them very reasonably priced.
2. Haggle In The Grand Bazaar
There are quite a few big ass bazaars in Tehran but this is the king amongst them. The Grand Bazaar is centrally located and is within walking distance from Golestan Palace. The oldest parts of the Tehran Grand Bazaar date back to the 17th century although there are several, obviously, modern additions too.
It spans over 10km on several floors and has over 180 different shopping centres and countless individual stores. It sells everything, modern clothes, bleach, spices to antiquities. One of the most popular sections is the carpet Bazaar where you can pick yourself up a genuine Persian rug.
This is the definitive Shopping in Tehran experience. Haggling is a part of Iranian culture and is very much expected. As a rule, offer half of what they ask for and go from there. There is also a great Falafel store located by the Northern entrance as well as a number of cafe's and restaurants.
For more Places to Stay, check out our full Tehran Neighborhood Guide!
3. Delight Your Taste Buds at Khoshbin
Little Khoshbin is a Tehrani eating institution and is an endlessly popular lunch spot amongst locals. It specializes in Gilaki food (from the Gilan region) served very fast for working people. The fried fish (served whole) is delicious and vegetarians delight as there is mashed eggplant and olives in Pomegranate molasses.
It's a no frills, utterly authentic, delightfully cheap delicious dining experience.
4. Count The Stones at National Jewellery Treasury
Situated inside the Central Bank of Iran bang in the city centre, the National Jewellery Treasury is basically where the Iranian Crown Jewels are stored. This truly is an impressive collection of gemstones to rival even the British Crown Jewels although yes, they are just as heavily guarded!
The collections date back through Iran's imperial history and now belong to the people of Iran. The display is open Saturday – Tuesday between 14:00 – 17:00, although the ticket counter shuts at 16:30.
I am not sure whether photographs are permitted at this time for security reasons but nevertheless, this is one of the best things to do in Tehran.
5. Learn All About Iran at National Museum
Firstly, the building itself is one of the most impressive in Tehran. Although it only dates back to the 20th century, although it was made to recall the much older, Sassanian Vaults. The museum consists of 2 complexes – the Museum of Ancient Iran and then the Museum of the Islamic era.
As one would expect, the museum tells the story of the history of Iran featuring all manner of pieces from across the ages stretching back into antiquity. Exhibits include a dog statue from Persepolis, a statue of Darius I and some excellent 18th-century water colours.
Iran is a fascinating, complex, ancient civilisation and this is the perfect introduction to it. Not to be missed.
Once you have admired Golestan Palace and got totally, utterly lost in the bazaar, you will probably be wondering what's next? For something a bit left field and out of the ordinary, check out these unusual things to do in Tehran.
6. Shout 'Death To The West!' At The Former American Embassy!
As you may know, the American's were formally expelled from Iran following the 1979 Revolution and have not been invited back since. Immediately following the revolution, some rather zealous students kidnapped 52 diplomats and held them hostage inside the embassy building. The hostage crisis lasted for 444 days until 1981 when they were eventually released.
These days, the former embassy is now a museum dedicated to showing the world how the US uses espionage to interfere with the affairs of Iran and other sovereign nations. Whether you believe the exhibits to be genuinely insightful or pure propaganda, you can't deny the fact that this quirky museum is one of the more unusual things to do in Tehran.
7. Be Politicised By The Metro Propaganda Art
For me, one of the more striking things in Tehran was the unusual anti-American, political, cartoon propaganda art which lines the cities metro stations. From caricatures of Donald Trump to cartoon depictions of New York on fire, this is both a very amusing and alarming into the Iranian regime's efforts to politicise its populace as they go about their day to day lives.
If you use the metro, you are certain to come across the Metro Art making it a great free thing to do in Tehran. Unfortunately, none of it seems to be for sale.
Note that the Metro is a great way to get around once you get your head around it. It does get severely crowded though so avoid rush hours whenever you can.
8. See Iran's Dark Side at Museum of the Qasr Prison
Originally built as an 18th-century palace, Qasr shot to Iranian infamy in the 1930's when it was re-purposed as a political prison, where critics of the ruling regime were detained, interrogated, tortured and sometimes murdered.
The prison was used by the last Shah, Mohammad Reza Shah and a number of his enemies were executed here by lethal injection including the Iranian poet, Mohammad Farrokhi Yazdi. Following the revolution in 1979 the prison was stormed and 1000 women were liberated.
It has now been opened as a museum by the revolutionary government to show the corruption and brutality of the Shah's regime. Sadly though, all evidence suggests that the revolutionary regime is not exactly above the occasional detention and torture of its own political opponents.
Safety in Tehran
Despite its' reputation in the West as a hotbed of terrorism, corruption, and uranium enrichment, Iran is in fact incredibly safe for travelers. A very strict policy regime ensures that crime is minimal. Furthermore, as well as been petrified of the police, most Iranian's are very polite, helpful and welcoming to foreigners.
There are of course some issues to look out for including occasional pick-pocket and bag snatchers in crowded places such as the metro.
Female travelers can expect a lot of attention which may feel uncomfortable – Iranian men can be very direct and persistent. Be firm and be ready to make a scene if anybody crosses any lines of acceptability. Saying you are married may also help.
Take care when changing money and always count your change. You may end up with a lot of bank notes and the Rial/Toman system can be confusing for newcomers to the country.
There are a few horror stories of foreign nationals been arrested by the authorities and used as political bargaining chips. These instances are rare and the full circumstances around them are not clear, However, avoid all political demonstrations, keep a lid on your personal opinions, and do not criticize the regime on social media whilst in the country.
If you are offered drugs or alcohol, do consider that the penalties for consumption range from flogging to imprisonment. Have a look at the Iran Safety Guide before you fly and always get travel insurance. Check out our roundup of the best travel insurance.
Whilst there are no bars or booze, that doesn't mean that there is no fun to be had at night. In fact, it's quite the opposite and you will soon see that Iranians are quite a nocturnal bunch. Get ready to see for yourself just how much fun can be had without the assistance of alcohol!
9. Walk-Up The Darband
Formerly an independent village close to Tarjish, Darband has now been absorbed into Tehran's greedy sprawl although the mountainside retreat very much retains its air of tranquility and charm.
Darband translates as "door of the mountain" and is a trail peppered with cafe's, restaurants and viewing platforms. It is popular with locals coming up for breakfast, ice-cream or in the evening to take in the views and smoke Hookah pipes.
When you have Darbands hookah, ice cream and coffee shops, who needs pubs?! Iranian's are very sociable people even without booze so don't be afraid to get chatting.
10. Spend The Evening Coffee Shopping
You presumably know that alcohol, bars and nightclubs are banned in Iran and have been since the revolution in 1979. Therefore, the socialising is done partially right on the street but increasingly in the many, high-quality coffee shops which are dotted across the city.
Iranians will sit sipping cappuccinos and macchiatos into the night and you are more than welcome to join them for a chat, or for a round of backgammon which is insanely popular across the country.
Iran's youth are educated and offer an interesting world perspective. Come here to meet and hang with them – it is one of the highlights of Tehran, hands down. If like me, you can't drink coffee near bedtime, there are plenty of herbal teas.
Iran is a conservative Islamic society and public displays of affection are not encouraged. However, the mingling of the sexes is very common and you will see many an Iranian out on a date or trying to pick up one. We have listed the best romantic things to do in Tehran.
11. Snatch Some Privacy up at Darakeh
What is Darakeh? Darakeh Valley is a popular hiking trail north of Tehran near to Evin and Velenjak. It is very popular for young couples wanting a bit of privacy – there are afterall, plenty of wooded, secluded spots for holding hands and plenty of places to discreetly park up ones car so you can both admire the air freshener together.
The most romantic time to visit is before sunset when the birds are singing and the light changing. There are plenty of cafes and hookah joints to unwind in as well.
12. Swipe Yourself a Tour Guide On Tinder
Whilst Tinder is technically illegal in Iran this needn't stop anybody. With the strategic deployment of a VPN you can get around the firewall and this is exactly what the plucky youths of Tehran do to find themselves a cyber date.
Even if you don't meet a future wife, you should have no problem finding yourself a personal tour guide who will show you an insider's perspective on this multifaceted city.
13. Take an Evening Stroll on Tabiat Bridge
Tabiat Bridge is an assortment of winding, raised pathways purposefully designed for pedestrians to "get lost" upon. It is a bold and progressive example of civic planning which is actually typical for Iran.
The bridges don't really lead anywhere in particular. It is simply a great place to wander on either alone, with your headphones or with your significant other holding hands and whispering sweet nothings.
In some ways, Tabiat Bridge feels like Iran's response to not having bars and nightclubs – outdoor, civic spaces designed for simply hanging out in. If you don't have a significant other, this is therefore possibly a good place to come meet one.
14. Accept The Inevitable With an Iranian Kebab
Kebab isn't exactly the most inspired food in Iran but it is pretty much everywhere. At some point, you will have to try it, most probably when you the language barrier gets too much and you just point at the skewers in the shop window.
To be fair, Iranian kebabs are made from fresh meat and are pretty tasty. They are also served with a mountain of saffron rice and endless helpings of bread. I suggest you wash it down with Dugh, a delicious milky yoghurt drink.
Because of the exchange rate and black market for delicious Euros, Iran is a pretty cheap country to backpack. That said, if your budget is $0, we have you covered with our list of the best free things to do in Iran.
15. Climb The Azadi Tower
The Azadi Tower (formerly the Shahyad Tower) is one of the most iconic landmarks in Tehran. It is simultaneously beautiful and garish, a modern yet classical example of architecture built to commemorate the 2500th year or royal Iran. Cut entirely from marble, the tower was commissioned by the last ever Shah before the revolution forced him into exile.
There is an (OK) museum on the ground floor. The statue reaches 45 metres high and you can climb the Azadi Tower to take in some awesome views. Note that entering the museum and climbing the tower is not free. However, the Tower itself is pretty photogenic and makes for some class Instagram fodder so climbing is not essential in my opinion.
16. Get Lost in Tehran's Backstreets
At first, Tehran can feel crowded, traffic jammed and ugly. One way to peel behind this facade though is to quite literally go behind the facade and get lost in the city backstreets. This is where you will find crumbling old buildings, traditional crafts workshops and see the Tehran which most locals don't even ever get to see.
There isn't a particular backstreet to follow, simply follow your instinct here and see where it takes you. Do not do this after dark and listen to your guy if you feel you are straying somewhere you shouldn't; Tehran is a safe city but still use some common sense.
Books to Read in Tehran
Backpacking Iran can be a much more enlightening experience if you know a little bit about the countries history and customs, I strongly recommend throwing a couple of the below books into your backpack before travelling in Iran.
A History of Iran: Empire of the Mind – An in-depth look at how the country was formed, encompassing historical, cultural, social and religious factors.
Lonely Planet Iran (Travel Guide) – I rarely travel with a guide book, I was however impressed with the Lonely Planet for Iran; it's well worth picking up a copy before you go backpacking across Iran.
Understanding Iran: Everything You Need to Know – An overview of regional history and involvement with the west from past to present and into the future.
Iranians are family oriented people and they absolutely love kids. Wherever you go in Iran, you will find your children are more than welcome. We have set out some of the best things to do in Tehran with kids.
17. Play At Park-e Jamshidieh
Jamshidieh is a large park in the foothills of the Alborz Mountains located in the most northerly reaches of the city.
Fresh mountain air and lush greens are enough to merit a trip to this out-of-the-way spot. However, is is the outstanding views of the city below are what makes it a must-see and the views only improve the higher up you get.
If you can't be bothered hiking up then there are plenty of spots for tea and picnics. The best time of year to visit is perhaps early in winter when the first snows have arrived. If you need to tire your over energized kids out, then this is the place to bring them!
18. Saadabad Palace
The 300 hectare Sa'dabad Palace Complex was built by the Qajar and Pahlavi monarchs and formerly used as a summer residence. It is located in Shemiran, Greater Tehran near the Darband.
Today, the official residence of the President of Iran (not the Ayatollah) is located adjacent to the complex.
The grounds are extensive mixing green spaces and some museums. There are loads of museums here including the Military Museum, the Royal Kitchen Museum, the Fine Arts Museum, Green Palace Museum and the Water Museum. I would set aside at least an afternoon for this.
Looking for a specific place to stay? Wondering what the top hostels in Tehran are? These are our highest recommendations for places to stay in Tehran.
Hi Tehran is not just a hostel but a Tehrani tourism institution. This is the place to be for international travellers in Iran. The dorm rooms are spacious and comfortable and there are even privates available. This epic Iran hostel has a common area is frequented by locals who come to mingle with foreigners, there is free tea and a decent breakfast included.
See you in Iran is well located, has good Wi-Fi, free breakfasts and helpful staff. They have a rooftop terrace, free laundry and you can book trains and busses from the desk. They can even help you get a Sim Card.
Airbnb in Iran
Note that Because of Financial Sanctions, there are no Airbnbs in Iran at this time.
Booking.com in Iran
As above, because of Financial Sanctions there are no Tehran properties featured on booking.com at this time.
Need more stuff to do in Tehran? Well the city does have layers to it and so we are not out of cool shit yet. This is the list that just keeps on giving! Here are some other, unmissable things to do in Tehran.
19. Seek a Treasure at The Jomeh Bazaar
Located on Ferdousi Street, this Friday only antiques market is as much a stroll through a living museum as it is a shopping experience. It is basically a multi story carpark which is taken over by traders from across Iran, Central Asia and the occasional local clearing out their grannies house.
You will find all kinds of stuff here. Tribal clothing, jewellery, coins. Iranian pop records and hand bags. If you have a good eye, then you may even find yourself a real treasure.
Again, haggling is essential. My recommendation is to try to pick up some cassette tapes or vinyl records of Iranian music – this kind of thing is becoming quite valuable.
20. Fill Your Pickle Tray at an Iranian Falafel Joint
Falafel is the ubiquitous food of the middle east and is found all across the region, They all claim they invented it and they all claim theirs is the best. What makes Iranian falafel unique is 2 things. Firstly, it is generally served in a baguette or torpedo role. Secondly, you get a to fill a plastic tray from the salad/pickle counter with whatever you want.
Iranian falafel is a delicious, filling and very well priced meal guaranteed to keep you going all day long.
21. Tajrish Mosque
We couldn't write an Iran post and not recommend a Mosque now could we?! Tajrish Mosque is the final resting place of Saleh, a holy figure in Shi' Islam. Built in the classical Persian style, the Mosque is a beautiful mix of blue mosaics and minarets. It is perhaps not as impressive as the shrines at Esfehan, Shiraz and Yazd, but then again what is?
This is a oasis of classic Islamic architecture in an otherwise modern metropolis.
Whilst there is quite a lot going on in Tehran itself, the real magic of Iran lies outside of the capital. From old villages to snow capped mountains, there are amazing day trips from Tehran for everybody.
Spend The Day Driving To Chaloos
The town of Chaloos (Chalus) is situated in Mazandaran Province. It is a smallish town which is very popular with Iranian holidaymakers owing to its pleasant climate and natural charms.
Historically, Chalus was renowned for rebellions and silk production (not at the same time) but these days is known as a spot to chill for a few days, get some fresh air and hike in the meadows.
The road to Chalus winds up and round the mountain and is perhaps not for the faint hearted. However, if you are looking for a great Iranian road trip and some seriously epic panoramic travel snaps, then a Chalus day-trip is exactly what you are looking for.
Hit The Piste up at Tochal Ski Resort
Most people think of Iran as a giant sandbox and would never guess that there is actually some first rate skiing to be bad. But there is, and just a short distance from Tehran too!
The ski resort of Tochal in the Alborz mountain range is buzzing all winter long with Iranians getting some winter sports in. The highest point is 3,964 metres and there is some first rate ski-ing to be had here.
There is accommodation up at Tochal or you can do it as a day-trip. Take a taxi or bus from Velenjak.
Get Pious at Qom Holy City
There are quite a few Holy City and Holy Shines across Iran for devotees of Islam, Ba'thism and Zoroastianism. The city of Qom is considered sacred as it houses the shrine of Fatimah Musa, sister of one of Shia Islam's major patrons.
Qom is situated just 89 miles south of Tehran, meaning it can be done in a day trip. The bus takes around 3 hours each way and costs about 5 Euro return. Or you can commandeer a driver for the day for around 20 – 30 euro which will speed things up a bit.
Qom is the largest seat of Shi'a Islam Scholarship in the world and is the where the clerics and Ayatollahs come to study. It is also popular for pilgrims. Qom is significantly more conservative than Tehran and you will notice the women tend to wear black, chaudors rather than the funky hijab's of Tehran.
If you have 3 days in Tehran, then that is plenty of time to see what the city has to offer. In order to make things easier for you, we have taken the liberty of preparing a handy Tehran itinerary for you.
Day 1
After filling up on the free hostel breakfast, take the metro towards Golestan Palace admiring the propaganda art as you do. Spend an hour or so taking in the treasures before exiting. Next up is the Grand Bazaar for some hardcore bartering. Try not to get too lost. If you are feeling peckish by now, then either grab a falafel and find a bench or dive into one of the tea houses or cafes at the side of the Bazaar.
If you have the energy amble through the high-streets and backstreets for an hour before taking the metro towards Azadi Tower. Get your pictures and make the climb if you wish.
Afterwards, go home, get changed and find a coffee shop or two to while away your evening.
Day 2
Today is all about the museums as we re going to the National Museum of Iran, the former American Embassy and the Qasr prison. The quickest way to get between them is by using cabs but the metro is the cheaper option. Plan your route and order of museums depending on where you are staying.
For lunch, get yourself to Khoshbin before making your way to Qasr prison. As evening begins to fall, it's time to hike up Darband for some delicious food, hookah and chit chatting with locals. Grab a taxi from the foot of the trail to get home.
Day 3
If you fancy a change of scenery then head for Qom for a long but rewarding day trip to one of Iran's holiest cities.
If you want to stay in Tehran, then great! If it's Friday, hit the antique market at Jameh Bazaar and then make your way to see the stone collection at the Treasury. If it isn't, then go to Sabadaad Palace to see the Presidential house and a couple of museums.
When evening comes, we're going to grab a Kebab from pretty much anywhere and then stroll on Tabiat Bridge until our legs are tired.
Iran is currently a theocracy ruled by a Fundamentalist Shi' Islam regime. It also has a fraught relationship with the rest of the world. Because of these factors, there are some things you need to know before you visit Iran.
Islamic Law in Iran
Because of Islamic Law, Iranians and all visitors must adhere to the "modest" Islamic dress code. For men, it means no shorts and no vests. For women, it means covering their hair with a hijab at all times. Women must also wear long, loose-fitting pants and sleeves.
Alcohol is illegal in Iran. Do not bring it with you or try to find it. Also note that blasphemy is punishable by death – do not get into theological discussions with anybody.
Finally, pre-marital sex is also forbidden. If you are travelling with a partner, say you are married but keep a lid on public displays of affection.
Money in Iran
Iran is currently subjected to what are perhaps the harshest financial sanctions in world history. This means that none of your bank cards will work in Iran. Therefore, you need to bring cash with you from home and then change it when you arrive. There is a booming black market for Euros and Dollars so bring these with you and then find a black market changer.
You will need to change some cash in the airport but try to keep it to a minimum – say $20.
Visa For Iran
If you are flying into Tehran, then many nationalities can now get a Visa on arrival. In order to obtain this you need Travel Insurance along with proof, and will probably have to show your wad of cash to somebody to prove you can survive.
Note that citizens of the USA, Canada and UK cannot get an Iranian visa unless they book an organised Iran tour with an authorised provider. If you have an Israeli stamp on your passport you will not be allowed into Iran. Note that an Egyptian or Jordanian exit stamp may also mean you cannot enter if the authorities suspect you entered Israel.
Taarof
Iranians are very kind, generous and hospitable towards foreigners. However, there is a quaint custom engrained into Iranian society known as "Taarof" whereby sometimes people will offer one another things they can't really afford, or don't really want to give. For example, if somebody offers to pay your coffee, they may be sincere or it may be "Taarof" – acting more generous than they actually are. This can be bit sticky for foreigners as it's confusing as hell.
The trick is to refuse the offer a few times – if they are genuine, they will persist. Another way is to simply say "No Taarof?". If you are offered a ride, it is probably genuine. If on the other hand, a stranger offers to pay for your whole meal, it may well be Taarof.
Don't forget your travel insurance for Tehran
ALWAYS sort out your backpacker insurance before your trip. There's plenty to choose from in that department, but a good place to start is Safety Wing.
They offer month-to-month payments, no lock-in contracts, and require absolutely no itineraries: that's the exact kind of insurance long-term travellers and digital nomads need.
SafetyWing is cheap, easy, and admin-free: just sign up lickety-split so you can get back to it!
Click the button below to learn more about SafetyWing's setup or read our insider review for the full tasty scoop.
Here are some quick answers to common questions about what to do and see in Tehran.
So that's it! Tehran is a very lively, busy and layered city which makes a great introduction to Iran. After 3 days here, you will be ready to explore the rest of the country and see what else this amazing and misunderstood land has to offer. Whether you are going to Estefan, Shiraz or Tabriz, you are sure to have an awesome time in Iran.
---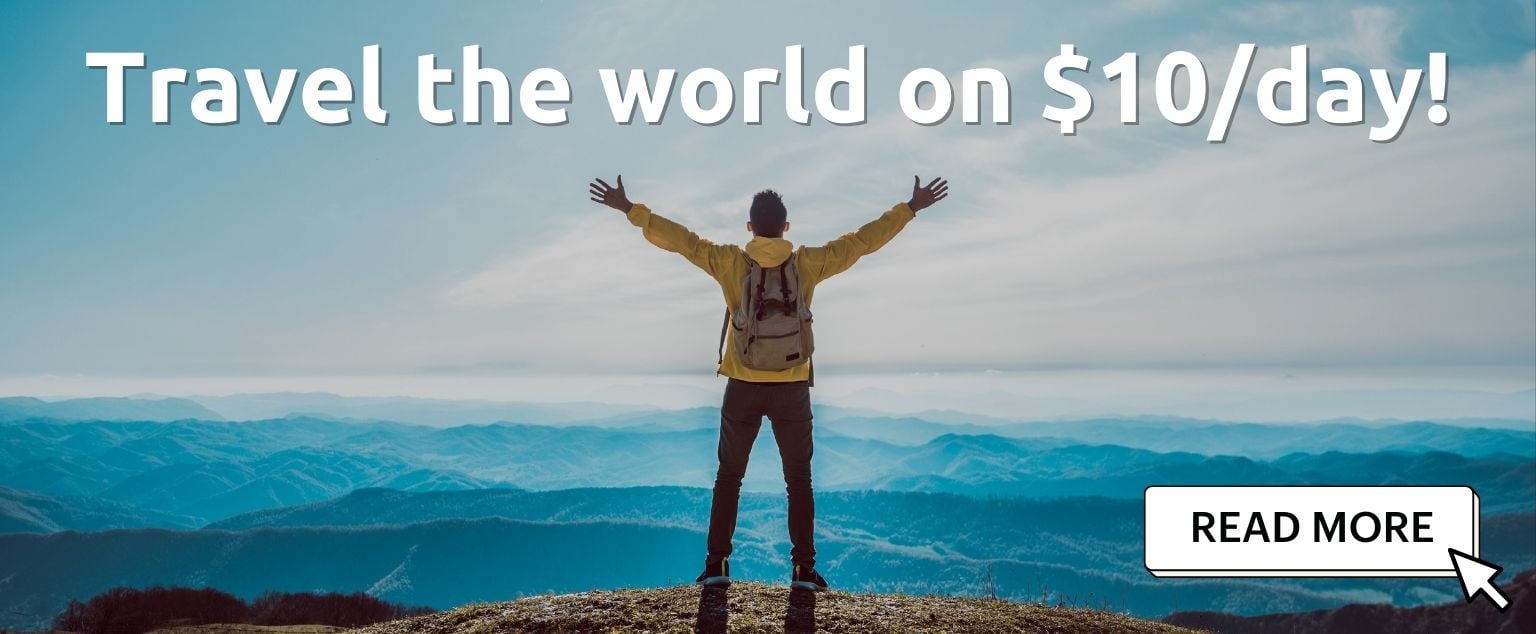 And for transparency's sake, please know that some of the links in our content are affiliate links. That means that if you book your accommodation, buy your gear, or sort your insurance through our link, we earn a small commission (at no extra cost to you). That said, we only link to the gear we trust and never recommend services we don't believe are up to scratch. Again, thank you!