Germany is a land of deep forests, medieval towns, and hearty cuisine. Narrowing down the many options of things to see and do is almost as hard as choosing the best time to visit Germany.
Whether you're planning an Alpine escape among half-timbered houses, a city tour to take in the culture and architecture, or party up a storm at Oktoberfest, Germany offers something to suit all tastes.
Of course, like most destinations, different seasons bring a different perspective, and it's good to know these before you begin planning your German vacation. While summer brings great weather for sightseeing, it's also the most popular time for travel, so prices are inevitably higher and crowds are much larger.
Choosing the best time to visit Germany will largely depend on the experience you've been dreaming of – visiting historis sites? Hitting the Christmas markets? We've gathered all the info to make your decision easier.
Best Time To Visit Germany – April and May, September and October
Best Time To Go To Berlin – April and May, September and October
Best Time To Go To Munich – Autumn (September and October)
Best Time To Go To Oktoberfest – September and October
Best Time For Sightseeing – Spring (April, May)  and Autumn (September, October)
Cheapest Time To Visit Germany – January
When is the Best Time to Go to Germany?
Germany is a country of contrasts – from abundant natural beauty to thriving cosmopolitan cities, from hard-hitting history to contemporary cool. There's such an abundance of experiences to be had, that whenever you choose to visit Germany, you won't leave disappointed.
The summer months (between May and September) are the best months to visit Germany in terms of weather. Wherever about in Germany you stay, the weather will be pleasant. The later in the season you visit, the higher the chances are that you'll experience some rain, but from May to June conditions are ideal for sightseeing.
While this is the best time to visit Germany in terms of weather if you're hoping to avoid large crowds and peak season pricing on flights and accommodation, it's probably best to plan your trip for the shoulder seasons in spring and autumn.
Spring (April to June) is a good option if you want to find that sweet balance between fewer crowds and lower pricing, while still enjoying pleasant weather. The weather in the spring can be somewhat unpredictable, sometimes offering you a glimpse of all seasons in just one day.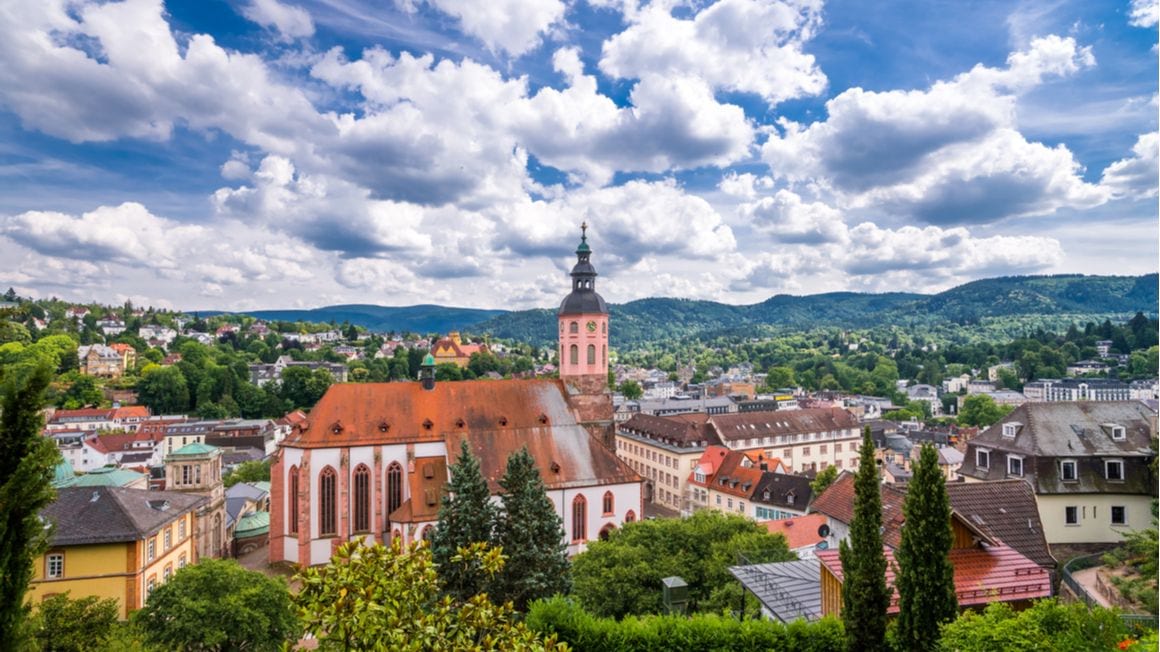 But if you're not deterred by that, you can pick up some really good deals on flights and accommodation, and will enjoy a much more laid back experience without long queues.
Autumn (September to mid-October) starts off warm and mild in September but by October the cold is moving in and the weather can be slightly gloomier. Dazzling Autumn colors blanket the landscape, crowds are few, and you may even pick up a good deal on your room.
Winter is the quietest time to travel to Germany unless you're hitting the Bavarian Alps for some winter sports or hoping to take in one of the many renowned festive markets. Germany gets fairly cold in winter, with snow and rain and grey skies. Dress warmly and check out our Germany packing list for insider info.
While it's technically low season, the Christmas period does see a spike in tourism, so expect bigger crowds and inflated pricing around that time. November is very quiet, but be warned that a lot of hotels close at this time for maintenance before the Christmas rush, so plan ahead to avoid disappointment.

Unlock Our GREATEST Travel Secrets!
Sign up for our newsletter and get the best travel tips delivered right to your inbox.
Best Time to Go to Berlin
The edgy and the contemporary exist alongside historical monuments and reminders of the city's tumultuous past. There is a lot to do in Berlin offers an abundance of museums, architecture, art, and nightlife, enough to warrant more than one visit to fully explore this enchanting city.
If you are wanting to sample Berlin's raucous Techno and nightlife scene – then you will not be disappointed at it is one of the best parties in Europe.
Between May and October, you'll enjoy great weather that's perfect for being outdoors. It can get muggy and humid in June and July, with rain possible at any time. From July onwards, the air dries out as does any potential for rain. Temperatures hover in the low 20s (Celsius) so it's not overwhelmingly hot.
The city really comes alive in the summer with loads of events and festivals across Berlin. This is the peak season in Berlin, so expect crowds of tourists, longer queues, busier streets, and high pricing on everything from rooms to flights, and taxis.
Winters are particularly grey and rainy and can get quite chilly. It does snow occasionally but usually not more than a light dusting. Low prices and crowd-free experiences are the order of the day in winter, except over the Christmas holidays when tourism spikes. The Christmas markets are a real treat at this time, renowned as some of the best in Europe.
Spring and autumn offer mild and warm conditions with the added benefit of great pricing and fewer tourists. The weather can be a little variable at this time, so pack for all seasons.
The city is popular so maybe book your Berlin accommodation ahead of time.
Best Time to Go to Munich
Beer, BMW, and oodles of quirky Bavarian charm make Munich a popular destination with tourists. With a history dating back to the Roman Empire, the city features ornate architecture that will appease art lovers, while history buffs head out on a World War II walking tour. Each Munich neighbourhood has its own character.
A great year-round destination, Munich sees its peak tourist season in September and October as a result of the famous Oktoberfest. If you're looking to avoid those crowds and still enjoy pleasant weather, early September is the ideal time for a visit, and you may find some good deals on rooms and flights too.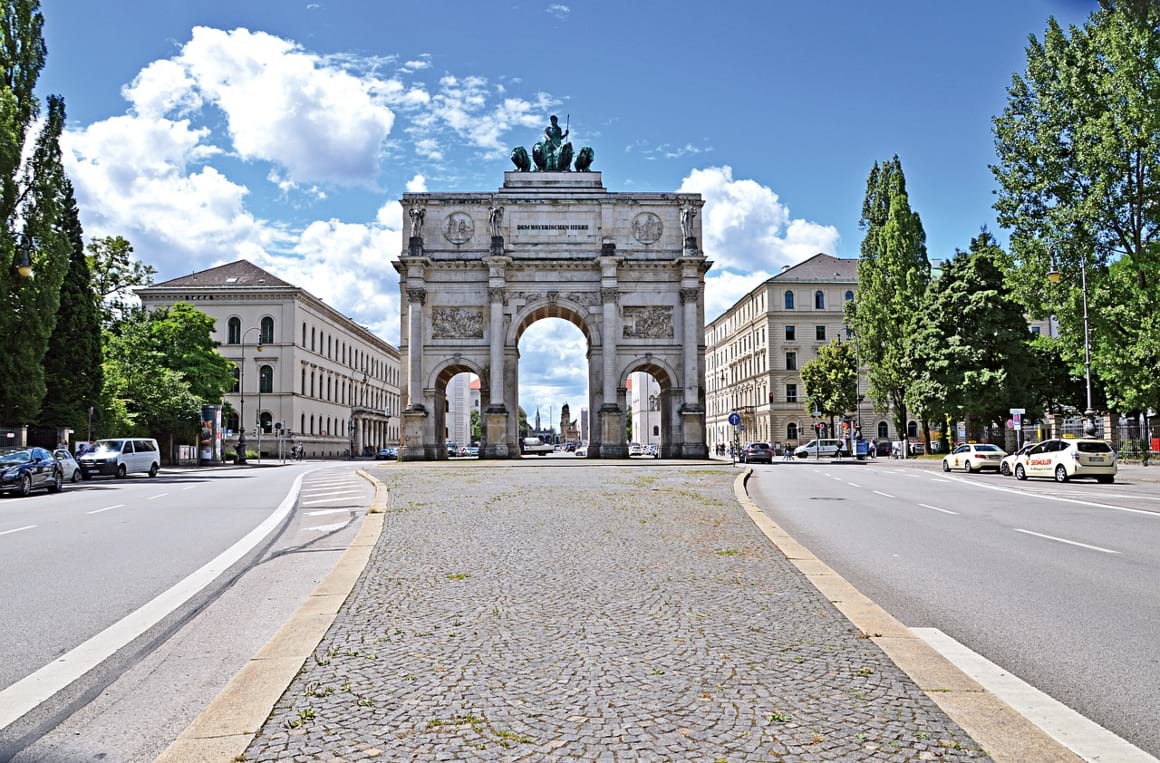 Winter is very quiet in Munich in terms of tourists. The days are short, grey, and wet, but the city is blissfully free of tourists and rates are good. The only exception is over the Christmas period when the city sees a peak in visitors coming to enjoy the festive markets.
Summer is when the city sees its peak rainfall, with June and July receiving the most precipitation. However, the temperatures are pleasant, lingering in the low 20s (Celsius) – perfect for sightseeing. The only downside is that it's a busy time for tourism so expect long waits, queues at attractions, and heftier pricing – book your hostel in Munich early to lock in the best prices.
Best Time to Go to Oktoberfest
Giant frothy mugs of beer and tasty German delicacies are the star of the show at this famous two-and-a-half-week-long festival in Germany. This celebration of Bavarian culture has been in existence since the early 1800s and has grown into a world-renowned and heavily-bucket-listed event.
Contrary to what the name would suggest, the festival begins in mid-September and ends in the first week of October. Due to its popularity, it's essential to plan thoroughly and book well in advance to avoid disappointment.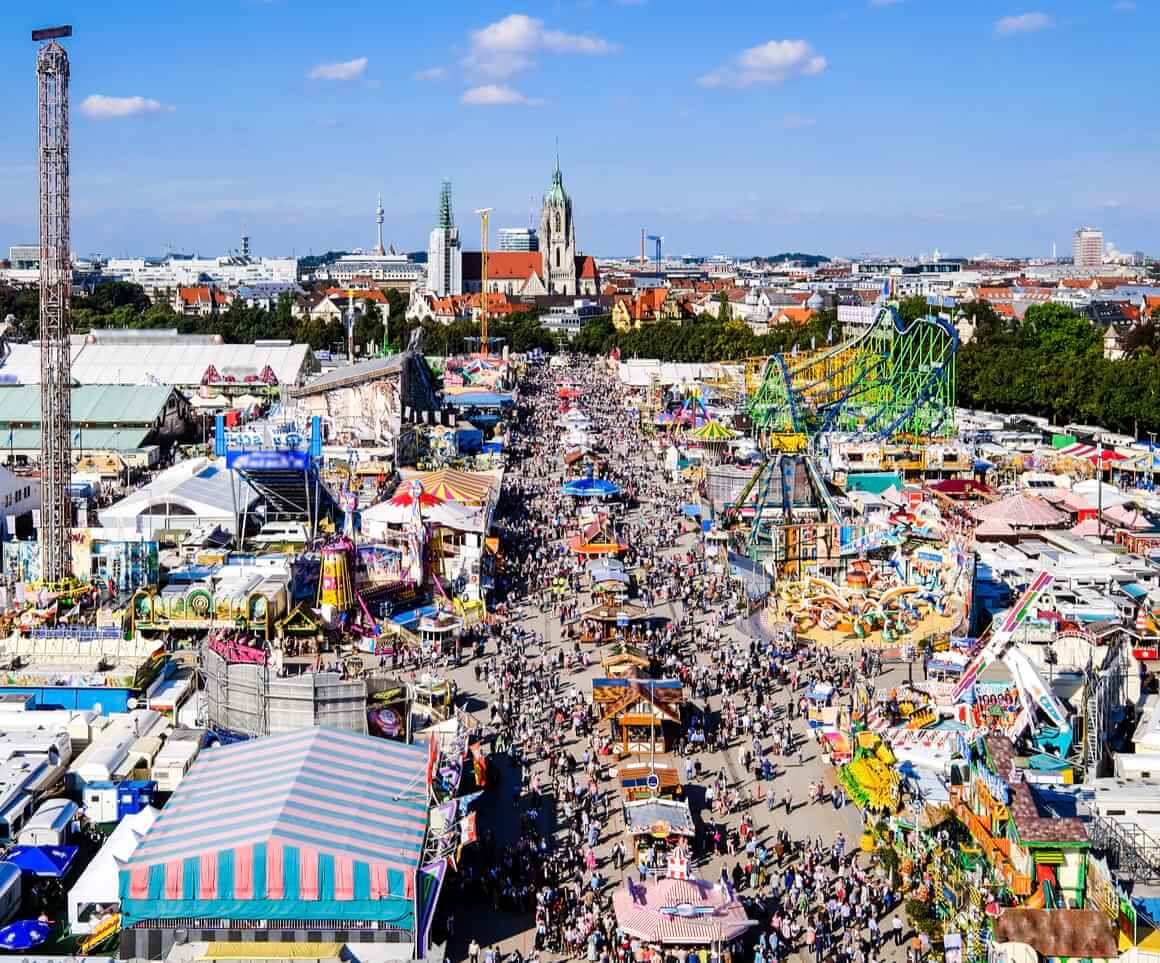 Large crowds and pricey accommodation are to be expected, but careful planning can still help mitigate the costs.
The best time to go to Oktoberfest is as early as possible in the day. Weekends can get very busy, especially later in the day, starting from just before lunch. Weekdays are fairly quiet and pick up after 18:00 when it can get very busy.
It's a good idea to book a table – this saves you having to hover and wait in extremely long lines for a drink.
Book Your Berlin Hostel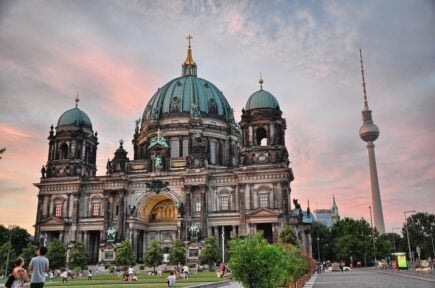 Epic Berlin Hostel
Headed to Berlin and need a hostel? This is one of our fav hostels in Germany. Well located, comfortable and clean, it also attracts a good crowd of fun backpackers.
Best Time for Sightseeing in Germany
Sightseeing in Germany is best enjoyed in the summer months when the weather is warmer. However, this is the peak season when prices are higher than at other times of the year. Expect long lines at popular tourist attractions and jostling crowds wherever you go.
Late spring is a good time to enjoy pleasant (if a little variable) weather before the major crowds hit in summer. This will mean a much more enjoyable sightseeing experience without long queues. April and May can also yield some good deals on hotels and flights.
Similarly, October can be a very good time for sightseeing once the Oktoberfest crowds have departed. It's still warm and mild, with rain becoming more frequent towards the end of the month. Sightseeing at this time will be much more laid back without the throngs of other tourists.
Small Pack Problems? 😉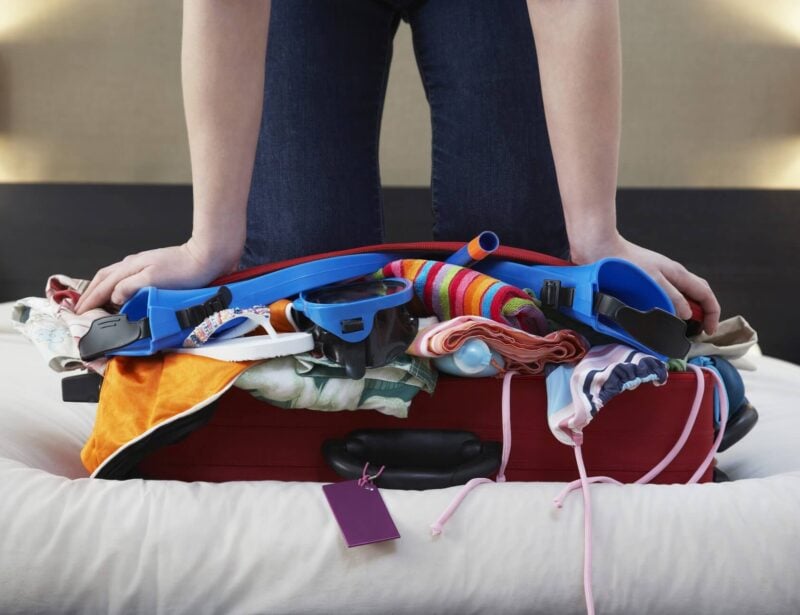 Wanna know how to pack like a pro? Well for a start you need the right gear….
These are packing cubes for the globetrotters and compression sacks for the real adventurers – these babies are a traveller's best kept secret. They organise yo' packing and minimise volume too so you can pack MORE.
Or, y'know… you can stick to just chucking it all in your backpack…
Get Yours Here
Read Our Review
Best Time for Visiting Munich
Munich can get quite warm during the summer with temperatures in the mid-to-high-20s. While this would ideally be a good time to visit Munich, the crowds of peak season will be at their largest, making it slightly less appealing.
The shoulder seasons of spring and autumn offer visitors the chance to enjoy relatively uncrowded sightseeing while still enjoying mild and pleasant weather. Of course, the chance of rainfall is an ever-present reality, but April and October both offer slightly less chance that your plans will be rained out.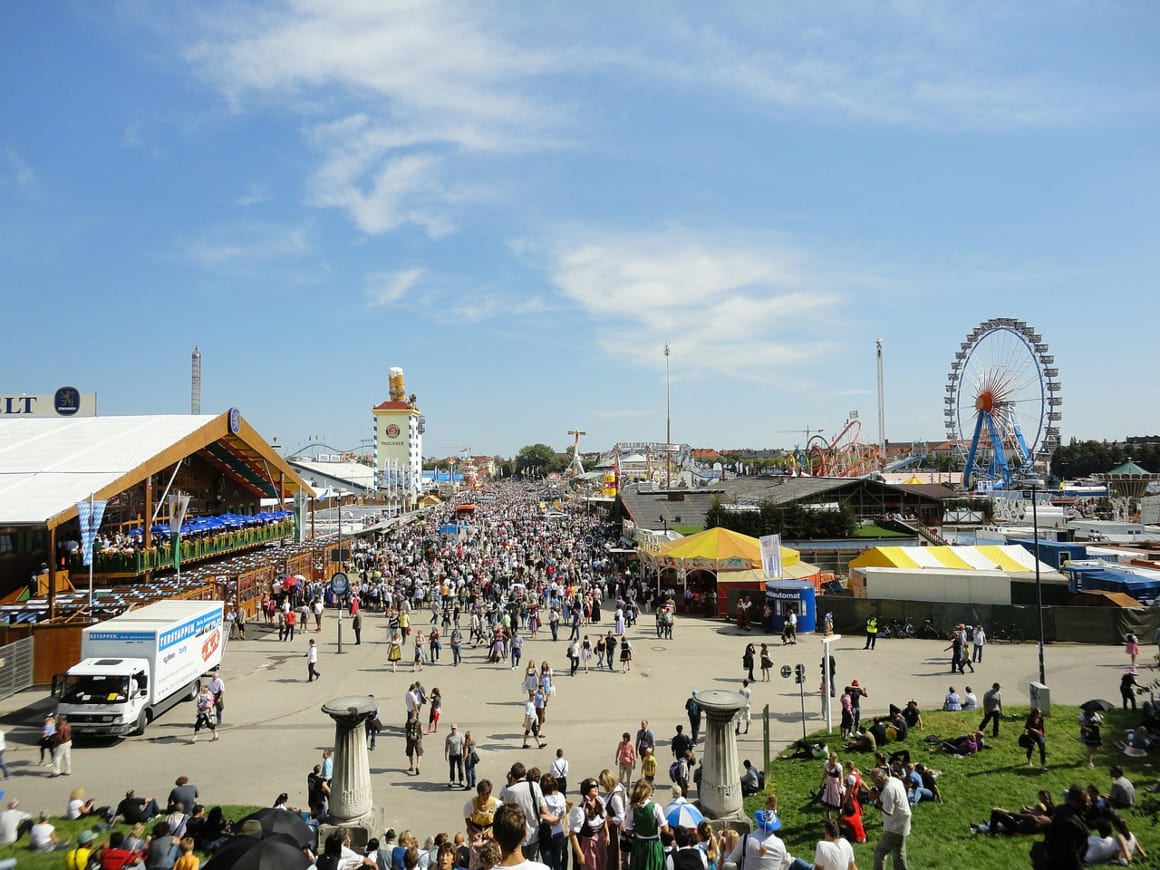 The first week of October in Munich is still very much Oktoberfest, and likely to be very busy. Accommodation and transport will likely come at a premium during this popular time.
The winter season is cold and wet and gloomy. Occasional snow is possible, but usually, it doesn't stick around for too long. While this isn't the kind of weather that lends itself to pleasant outdoor sightseeing, it does offer you the chance to see the sights without fighting through thick crowds of other tourists.
The Christmas period is an exception to this. Tourism peaks over this time, raising prices and filling the cities up. The famous festive markets attract visitors from all over Europe at this time. While this is a lovely time to be in Munich, if you're not up for crowds, maybe give it a miss.
Cheapest Time to Go to Germany
Cheapest Time To Go To Germany

| Expense | Oct-Feb | Mar-Jun | Jul-Sep |
| --- | --- | --- | --- |
| Hostel | $24 | $24 | $25 |
| One way flight to Berlin from Europe | $37 | $77 | $33 |
| Private hotel room | $322 | $232 | $264 |
| Museum Island ticket | $22 | $22 | $22 |
The incredible variety of things to see and do in Germany make it a popular destination all year round. There's rarely a time during the year when you won't be among other visitors, but there are most certainly times of the year when you can visit Germany at a lower cost.
Generally, the winter months are the cheapest time to visit – unless you're headed to the mountains for some winter sports, or hitting the cities over Christmas. This is also the least crowded time on the calendar to visit.
Summer is always more expensive as throngs of tourists make their way to Germany for their summer vacation.
Booking well in advance for peak season and event-related travel is always advisable, and a good way to try to keep costs down. If you're heading to Germany in the low season, you could change your luck and hold out for a last-minute deal. The low season is the best time to visit Germany for good value.
Busiest Time to Visit Germany
The peak summer season (June to August) is the busiest time to visit Germany. Hordes of tourists flock to the many attractions and sights, making sightseeing sometimes very difficult. While the weather at this time is ideal, it comes with the downside of long waiting times and jostling for a glimpse of the sights.
Outside of the high summer, Germany sees a spike in tourism over mid-September and October for the annual Oktoberfest. Large (very jolly) crowds and higher pricing are expected over this period, and anyone wishing to attend should book well in advance to avoid disappointment.
Germany's cities are well known for hosting some of Europe's best Christmas markets. As a result, tourism sees another healthy spike over the December and early January period. This is a magical time to visit for a healthy dose of Christmas spirit, but if you're wanting to avoid crowds, think twice. It can also be dammed cold so dress up warm in order to stay healthy in Germany!
More tourists always guarantee elevated pricing on rooms and airfare, as well as much longer queues and waiting times at popular attractions.
Weather in Germany
Germany's weather is generally quite temperate and mild. The summers are warm and not overly hot, and the winters are cold but not too icy. Of course, parts of the country lie at much higher, Alpine elevations, causing temperatures here to plummet in the winter.
The east of Germany generally experiences cooler conditions – winters are harsher here and summers milder – while the southwest of the country is warmer all-round, feeling decidedly Mediterranean.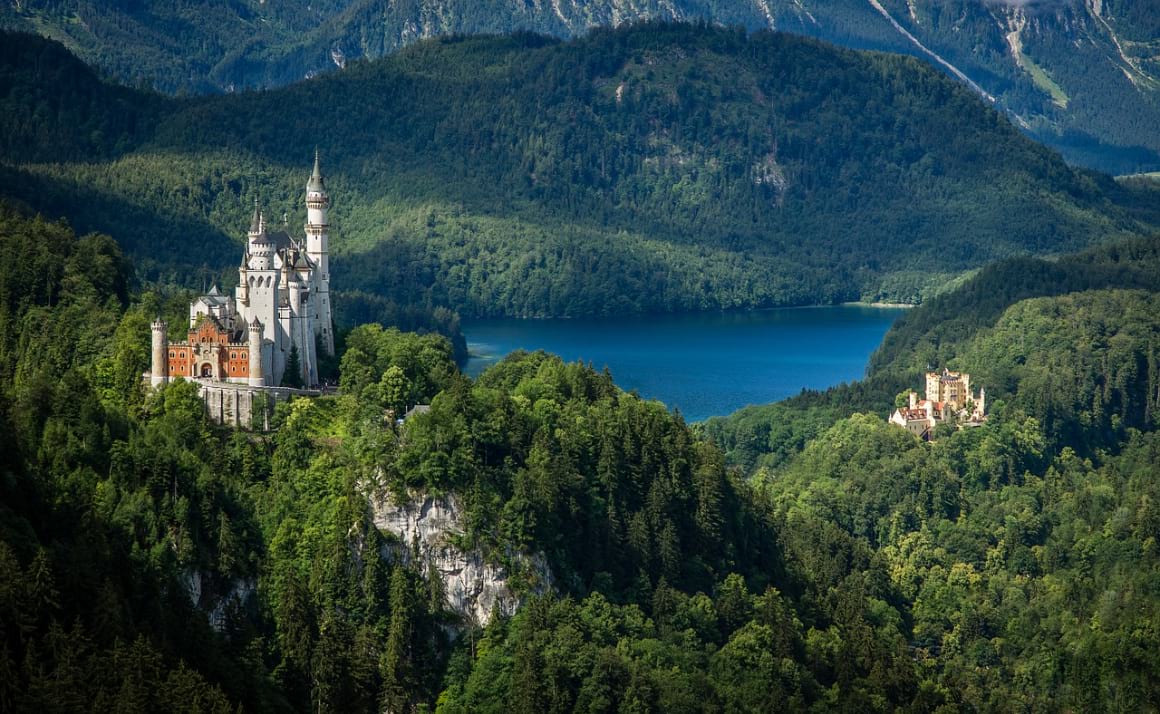 Rain falls throughout the year, but the rainiest season is by far the high summer. Between rainy days, the summers are characterised by warm and sunny days, reaching the mid-to-high-20s (Celsius).
Winters are gloomy and cold and wet for the most part. The further east one travels in Germany, the harsher the winter conditions become. The Alpine regions in the south also see harsher winter conditions due to altitude.
Between March and April, temperatures warm steadily with occasional afternoon thunderstorms becoming more frequent. The autumnal month of September can still offer lovely warm weather, but this peters off significantly towards late October when the first hints of winter start to make themselves known.
Where is the Best Weather in Germany?
Germany's weather is impacted by a number of factors – the cool coastal currents in the north, Siberian cold waves coming from the east, and Alpine altitudes in the south.
The mildest weather in Germany is found in the south-west. This is the prime wine-growing region of the country as a result, with the climate feeling distinctly Mediterranean and warm.
Summer, while warm and mild, is also the peak rainfall season in Germany. While rain can be expected throughout the country at all times of the year, the northernmost regions of Germany expect more frequent rain. In the rest of the country, summer rain arrives in the form of late afternoon thunderstorms which can serve to cool things down.
September is considered a lovely time to visit Germany – not only is the autumn foliage at its most spectacular, but there's less chance of rain while still being pleasant and warm.
Festivals in Germany
In a country with such a proud beer-drinking tradition, any reason to come together and celebrate over a beer is welcomed. Celebrations include historic festivals, age-old traditions, and more contemporary celebrations, enough so that there's something to suit just about any traveler.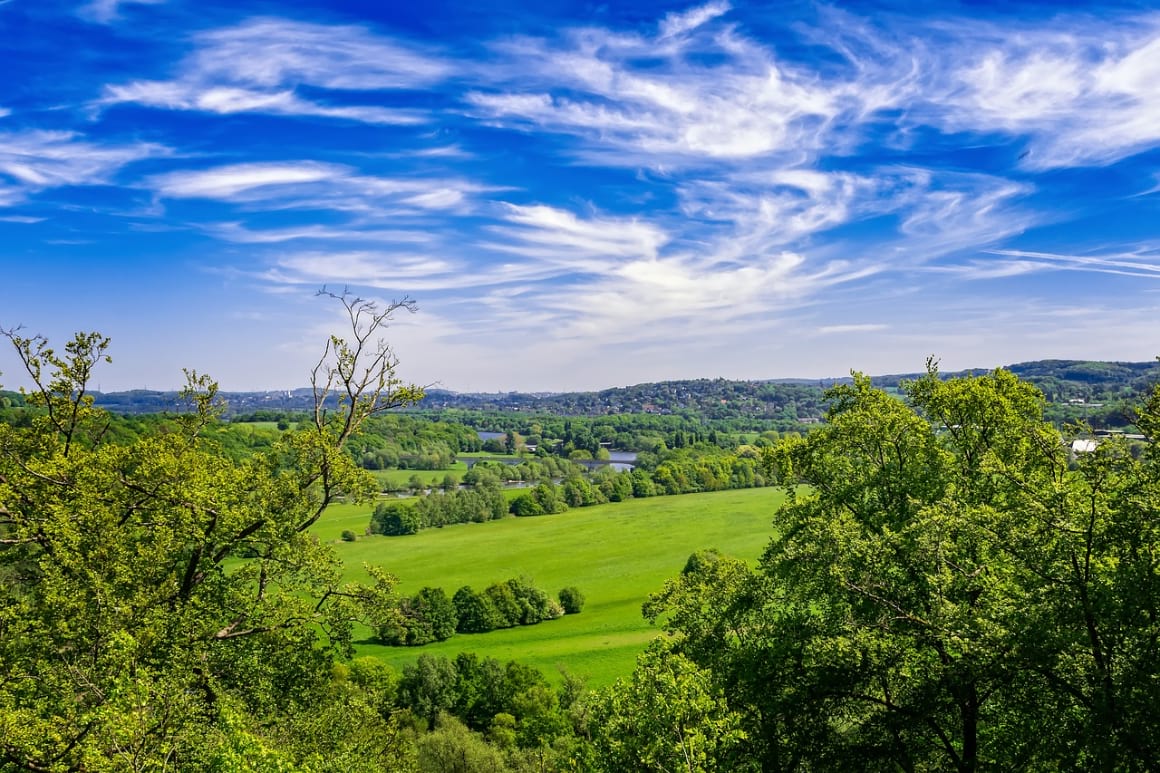 The most well-known of all German festivals is the age-old Oktoberfest. This festive gathering has been going since the early 1800s and continues to draw large crowds of over six million visitors each year.
Traditional food, authentic beer, and a great vibe are the order of the day, along with amusement rides, stalls, and games.
Germany's Christmas markets are renowned as some of the very best in Europe. Across the country, quaint town squares are lit up with twinkling lights and adorned in decorations to create the perfect winter wonderland. Visitors come from far and wide to shop for gifts, enjoy a gluhwein as they browse, and soak up the festive cheer.
Berlin, in particular, is a treasure trove of over 60 markets.
This medieval market has been in existence since the 14th century and is a popular Easter-time event that attracts almost three million visitors annually. The fair does in fact take place twice a year – once in April, and again in September.
What started as a market where potters would come to peddle their wares, the event gradually expanded to include carnival rides and booths and is now known for its high-tech fairground rides. Don't miss the rollercoaster and the amazing view of Frankfurt from the top of the Ferris Wheel.
Berlin Culture Festival and Carnival:
This vibrant and colorful celebration takes place over four days in Berlin in the spring.
Celebrating cultural diversity and the many ethnic groups that come together in this dynamic city, the carnival includes parades, street festivals, dancers, and musicians.
One of the world's top Jazz festivals, the Berlin Jazzfest attracts top musicians, big bands, and ensembles from all over the world to delight jazz lovers over four days.
Running since 1964, the festival is the longest-running of its kind in Europe. Performances are staged at a number of venues throughout the city and are usually filled to capacity.
Meaning 'free market', the Freimarkt is one of the oldest fairs in Germany. Every year since 1053 AD, the fair has taken place in Bremen over October and November. Today, the celebration includes a street party, carnival rides, a street parade, and fragrant stores selling pastries and treats.
When to Visit Germany – A Month by Month Breakdown
Every month of the year offers something slightly different for travelers to Germany. If you haven't yet settled on the ideal time to travel, we've broken things down by month to further assist you with choosing the best time to visit Germany that will give you the experience you've been dreaming of.
January in Germany
January is usually the coldest time of year in Germany. The northern parts of the country are more likely to experience steady rain instead of snow, while in the southern regions of the country, towards the higher altitudes, snow is more common.
Days are generally grey and gloomy, and only feature on average less than eight hours of daylight. Of course, this does have the pleasant side effect of attracting fewer tourists, which means you're more likely to snag a good deal on rooms and flights.
February in Germany
The weather in February is similar to that in January – cold and wet, although slightly warmer. It's likely that the sun may peek out more often too. If you're visiting the east or the south, you've more chance of seeing snow.
It's still low season, so you'll have some relief from the crowds and expense of the peak, but you'll need to dress warmly.
March in Germany
The beginning of the month will still feel decidedly wintery, but this changes gradually towards the end of March. The days get steadily longer, and the temperatures can frequently surpass the single digits (Celsius).
You can expect rainfall during March, and still, the occasional chilly snap – dressing in layers is highly recommended.
April in Germany
By April, there's no doubt that spring has arrived. Temperatures rise to the mid-teens, and while there's still some rainfall about, outdoor sightseeing is far more pleasant. The summer crowds haven't yet arrived in full force so you'll be spared the long queues and throngs of peak season.
Sunny, warm days are more dominant, but the occasional rainfall is to be expected. Nights and early mornings can still be a bit chilly. This is the ideal time to head to one of Germany's National Parks.
May in Germany
From a weather perspective, May is the best time to visit Germany. The landscape is in full bloom, the mercury is hovering in the low 20s, and sunny skies are plentiful. There is a high chance of rainfall, but usually in the form of an afternoon shower.
With the good weather, tourism starts to pick up. This means larger numbers of other tourists and an increase in hotel prices. If you're planning to visit Germany in May, book well in advance.
June in Germany
Summer in Germany is fairly mild with temperatures in the mid-20s. It's not too hot, but it can, depending on where you are, get somewhat humid. Southern Germany experiences much warmer summers, while the north can still get chilly on occasion.
Tourists are everywhere, and things can start to feel crowded. If you're visiting in June, make sure to plan well in advance.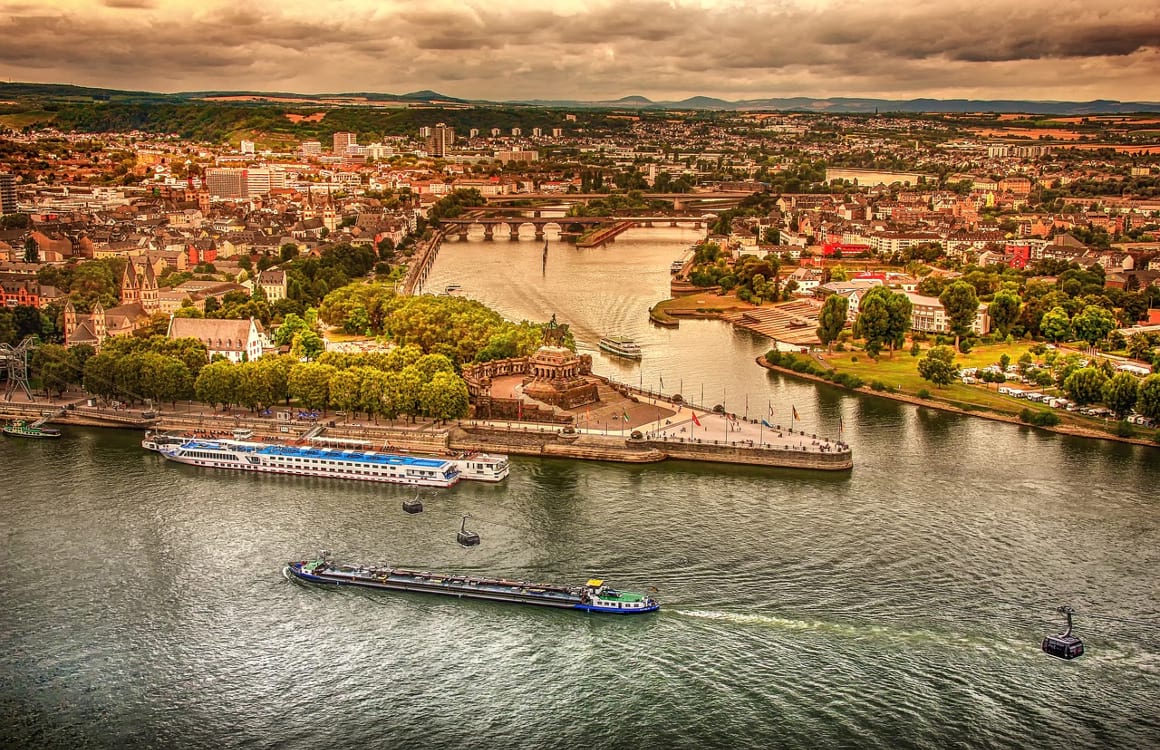 July in Germany
Lovely hot days cooled by a nice breeze are common in July. Temperatures hit the high 20s, and if you're visiting inland, expect higher humidity. Occasional rainfall is possible but serves to cool things off pleasingly.
July is the peak season, so you'll almost always be among crowds of other tourists. Expect long waits, seemingly endless queues, and heavier prices on airfare and accommodation.
August in Germany
August is one of the rainiest months of the year in Germany. While this doesn't decrease the average temperature too much, it increases the humidity, meaning it can start to feel warmer than it is.
It's still high season in Germany, so attractions will still be busy and bustling.
September in Germany
Temperatures drop into the low 20s – still pleasant and warm – and rainfall tapers off slightly. It's a great time to do some sightseeing in the first half of the month as it still feels very summery and most of the summer crowds have departed.
Mid-September gets busier again as the Oktoberfest crowds begin to stream in. If you're planning an Oktoberfest holiday in Germany, make sure to research where to stay during Oktoberfest well in advance to avoid disappointment.
October in Germany
The leaves begin turning and autumn colors transform the landscape. Days are getting noticeably shorter, and the temperatures dip to the low teens. While rain isn't all that common at this time, the mornings and evenings can be quite fresh. Pack for all seasons and dress in layers to ensure you're comfortable all day.
In addition to the lovely autumnal landscape, this is the best time to go to Germany as there aren't too many crowds about, and you can enjoy great value on hotels and travel.
November in Germany
Grey skies and temperatures in the single digits herald the arrival of winter. It's cold and occasionally, you can expect snow. The daylight hours are short, so you'll need to factor that into your sightseeing plans.
Many hotels do their maintenance in November in preparation for the Christmas rush, so you may experience limited availability. Book well in advance even though this isn't technically a peak period.
December in Germany
Germany transforms into a Christmas winter wonderland. It's cold and grey, but the streets are adorned with decorations and the festive markets bring a magical element. Temperatures are likely to dip into the negatives, snow is likely, and the days are short.
The renowned Christmas markets attract many tourists, so expect peak season conditions with longer queues and pricier hotel options.
The Future of the SIM Card is HERE!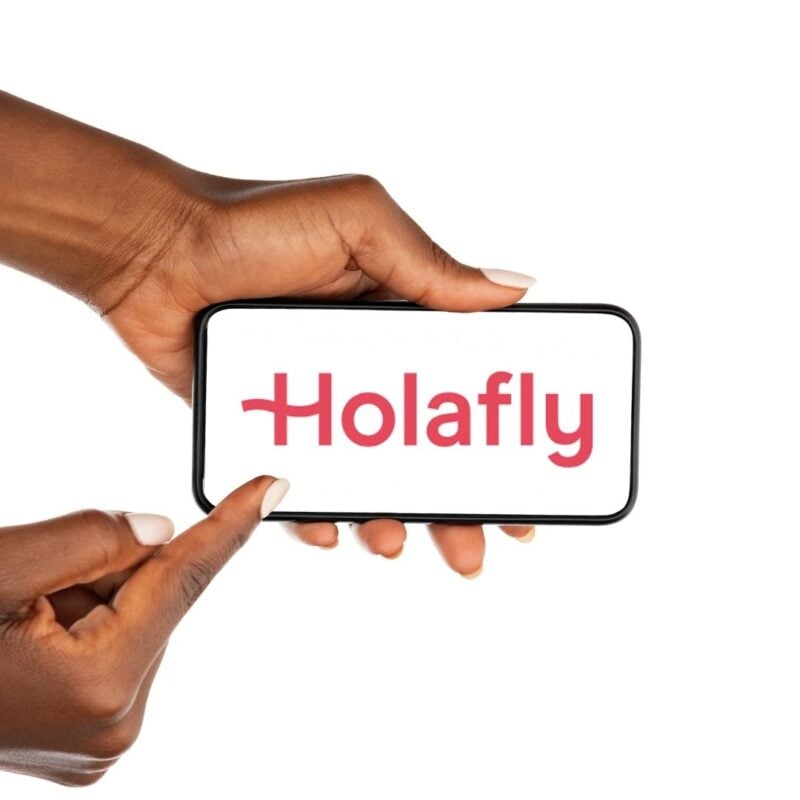 A new country, a new contract, a new piece of plastic – booooring. Instead, buy an eSIM!
An eSIM works just like an app: you buy it, you download it, and BOOM! You're connected. It's just that easy.
Is your phone eSIM ready? Read about how e-Sims work or click below to see one of the top eSIM providers on the market and ditch the plastic.
Grab an eSIM!
FAQ About the Best Time to Visit Germany
Don't Forget your Germany Travel Insurance
ALWAYS sort out your backpacker insurance before your trip. There's plenty to choose from in that department, but a good place to start is Safety Wing.
They offer month-to-month payments, no lock-in contracts, and require absolutely no itineraries: that's the exact kind of insurance long-term travellers and digital nomads need.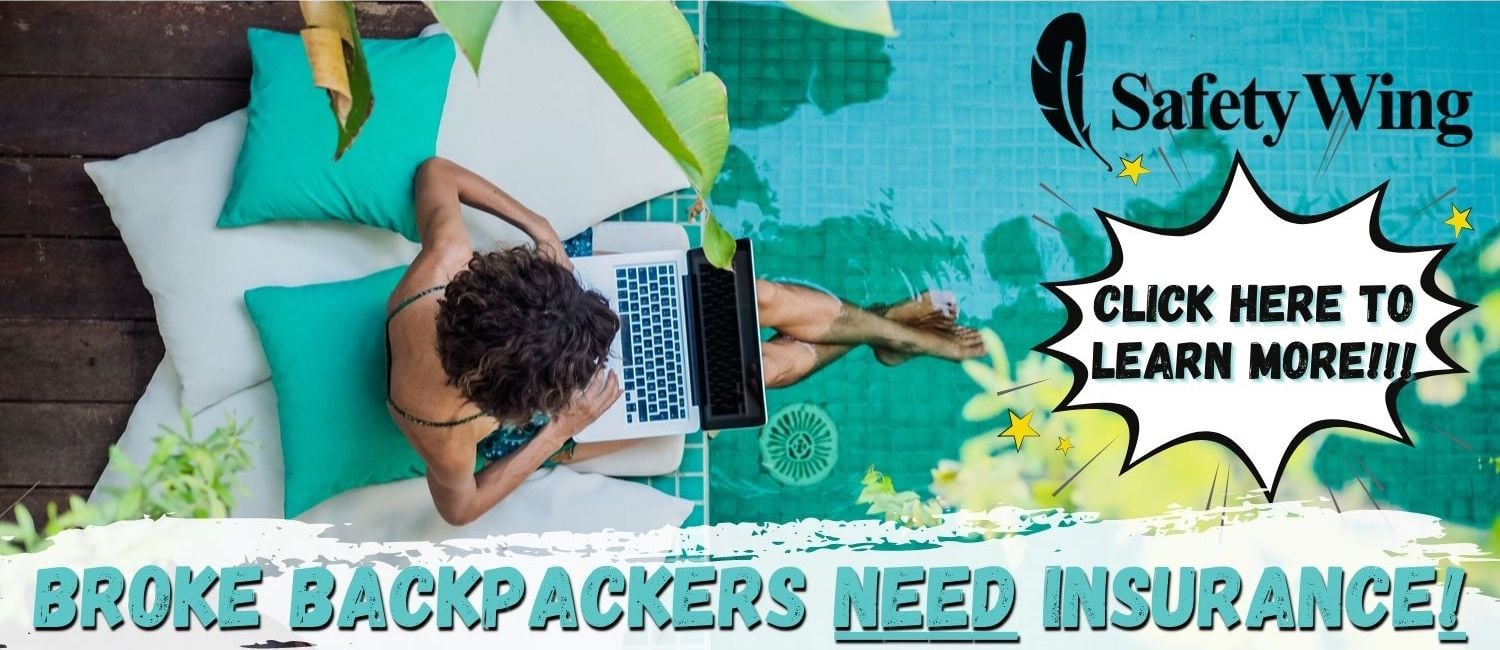 SafetyWing is cheap, easy, and admin-free: just sign up lickety-split so you can get back to it!
Click the button below to learn more about SafetyWing's setup or read our insider review for the full tasty scoop.
Final Thoughts on the Best Time to Visit Germany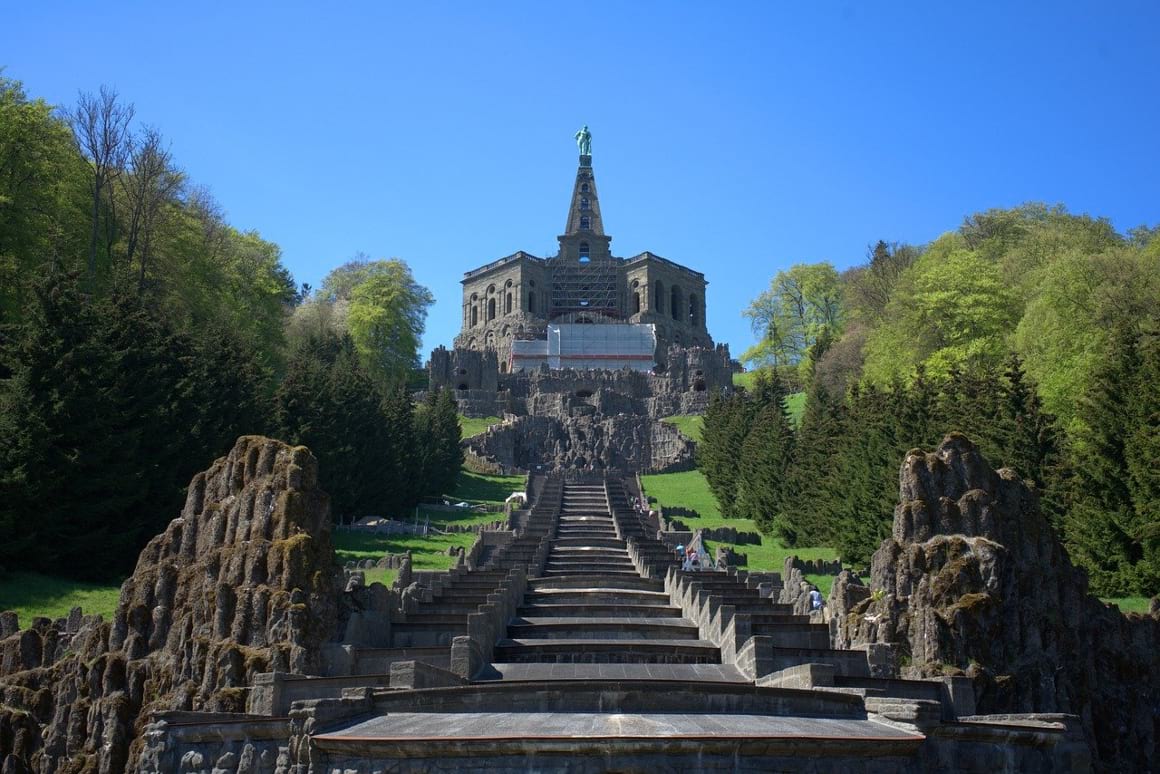 Germany's rich offering of incredible landscapes, turbulent history, abundant art and architecture, and soulful cuisine make a trip here something truly memorable, no matter when you choose to visit.
Each season delivers a unique experience of this fascinating country and may leave you wanting to return to explore more.
If you're planning a visit in the peak seasons, it's advised to book well in advance to avoid disappointment. If you're wanting to enjoy a low season adventure, consider holding out for some really great last-minute offers.
Either way, there's always something to see, experience, taste, and explore in Germany at any time of year.
---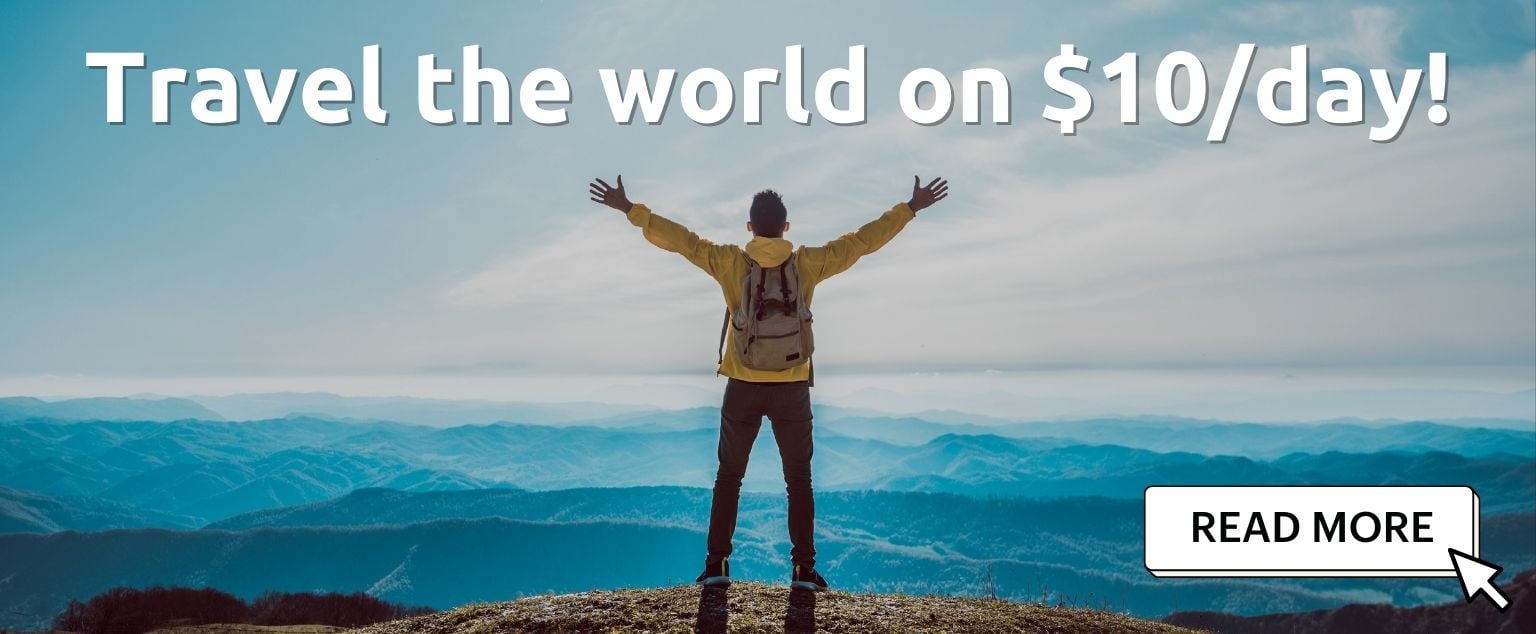 And for transparency's sake, please know that some of the links in our content are affiliate links. That means that if you book your accommodation, buy your gear, or sort your insurance through our link, we earn a small commission (at no extra cost to you). That said, we only link to the gear we trust and never recommend services we don't believe are up to scratch. Again, thank you!