Germany is one of those countries that has always been close to my heart – and Munich, in particular, is one of my favorite cities in the world.
It's got beer. It's got nightlife and clubs. Do I have more to say?  And some of the best hostels in Munich are some of the best hostels in Germany as a whole.
With nearly 14 million annual visitors and 400 lodging options, it can seem overwhelming to know exactly where to stay in Munich.
This is exactly why I made the list of the 5 best hostels in Munich. I break down Munich's hostel scene, category by category, so you know exactly where you need to stay, allowing you to focus on more awesome stuff. Drinking German beer. No. Exploring Munich. That's what I meant.
Let's look at the 5 best hostels in Munich, and maybe even a bit more.
Grab your Brezn, and let's go!
Quick Answer – The Best Hostels in Munich

Do You Want to Travel FOREVER??
Pop your email in below to get a FREE copy of 'How to Travel the World on $10 a Day!'.
What to Expect from Hostels in Munich
First of all, let's go into why you should be staying at a hostel in the first place. One of the main, and also the most obvious, benefits you get is the super affordable price. Hostels are the cheapest form of accommodation you can find on the market, so it works perfectly for budget travellers and backpackers.
However, there's an even bigger perk that comes with a hostel room – the unique social vibe and atmosphere. You can meet like-minded travellers from all over the world, make new friends and exchange travel tips without having to leave the building.
Now, the Munich hostel scene is quite developed and you can expect all sorts of different hostel types. While most places are focused on travellers that mainly want to explore the city, you can also score one or two party or Digital Nomad hostels.
A small side note from my side. As you'll see below, there are a lot of hostels I mention are situated near the Munich Central Station, which gives you the perfect opportunity to discover other German cities like Nuremberg with its cool hostels. It's just a 1-to-1.5-hour journey by train. I highly recommend it.
We've mentioned the price above, so let's go a bit into detail on what you can expect to pay for your Munich hostel. The general rule is: the bigger the dorm, the cheaper the nightly rate. Private rooms are often double the price as a dorm, but they're still more affordable than a room in a hotel. Check out the average price range for hostels in Munich:
Private Rooms: 49-62€/night
Dorms (mixed or female-only): 20-44€/night
When looking for a hostel, you'll find most hostels on HOSTELWORLD. There you can check out photos, detailed information about the place and even reviews from previous guests. Just like other booking platforms, each hostel will have a rating, so you can easily pick out the hidden gems!
As in typical German fashion, Munich is gorgeously designed and has a strong, navigable infrastructure. Munich is also not overwhelmingly large so it isn't 100% imperative to book a hostel in a specific location. Stay in a neighborhood that is close to public transport and you'll be fine. These are our three favorite neighbourhoods in Munich:
Altstadt – the historical and geographical centre of Munich
Isavorstadt – lively budget neighborhood and part of Munich's second district
Maxvorstadt – artsy student area with Munich's best nightlife scene
Once you find out where you want to stay, let's have a look at some awesome hostel options.
The 5 Best Hostels in Munich
These are some of the top hostels in Munich. I've organized them into separate categories so you can book the best hostel for you based on your specific needs.
1. Overall Best Hostel in Munich – Euro Youth Hostel
Free Wifi
Tours and Travel Desk
Euro Youth Hostel is a firm favourite hostel with backpackers from around the world and an easy choice for the overall best hostel in Munich! With a ton of onsite facilities and freebies you'll never want to leave! Literally, right next to Munich Central Station, the Old Town, and even the city centre, the Euro Youth Hostel is hands down one of the best hostels in Munich in 2023.
Let's not forget the beer garden bar, perfect for mingling and meeting fellow travellers; and open whatever the weather! One major bonus of Euro Youth Hostel is the free, super-fast wifi that is available throughout the building.
Why you'll love this hostel
On-site bar
4-hour happy hour
Very central location
Whether you're here for exploring Munich, connecting with other travellers or just stopping over, you'll absolutely love the Euro youth Hostel. Spend the day making new friends over some friendly board games or a Wii tournament in the comfy common area.
In case there's a big soccer match, you can watch that on a Flat-Screen TV while sipping on a cold drink. Speaking of, you can bag yourself a seat in their bar, where you can try Munich's famous beer during the epic four-hour-long daily happy hours.
You can choose between two room options: dorms and private rooms. No matter what you book, you can expect the high standard cleanliness and super comfortable beds. The bunk beds are equipped with a reading light and a plug socket to charge your phone, as well as a curtain for some extra privacy.
2. Best Hostel for Solo Travellers in Munich – The 4You Hostel Munich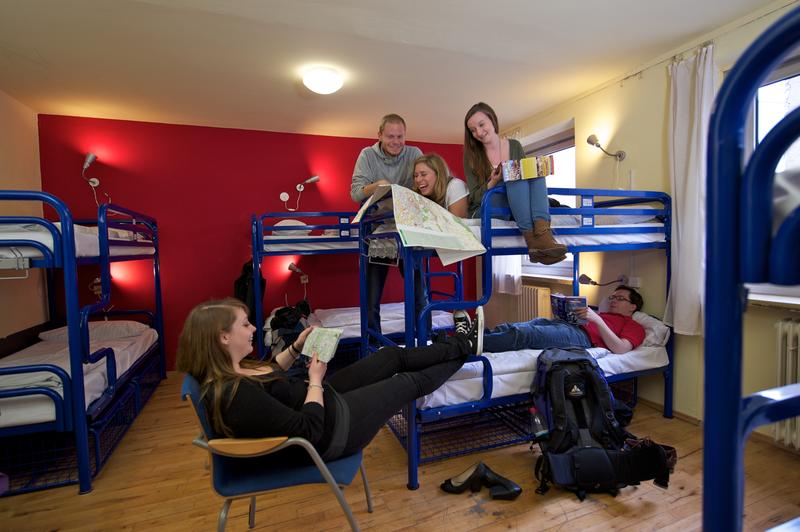 Free Wifi
Travel & Tours Desk
Situated near the city centre, the 4You Hostel Munich is one of the top hostels in Munich regardless of your travel style. With an onsite bar and cafe, The 4You Hostel is the best hostel for solo travelers in Munich; there are a few vending machines too to satisfy your midnight munchies!
The free breakfast buffet is huge too. The best way to fuel up before exploring Munich. Be sure to head to their travel desk to find out about tours of Munich, another great way to mingle and meet people. No age limit, curfew or lock-out; you'll feel right at home!
Why you'll love this hostel:
Free city maps
Vending machine
Bike rental
From amenities to location – there's nothing this hostel can't offer you. From Munich Airport, it's a direct 45-minute train or bus ride to Munich Central Train Station. Hop off here and you can find the hostel after a 7-minute walk.
If you want to head out to explore the city, make a quick stop at the reception and pick up one of the free city maps. In case you don't feel like walking, ask the staff if the rental bikes are available. It's a great and efficient way to get around the city without having to pay for public transport.
There are mixed and female-only dorms or private bedrooms with en-suite bathrooms. Dorms come with a built-in locker under each bed that fits even the biggest travel backpack. In case you forgot your padlock, you can rent one at the reception and keep your valuables secure.
3. Best Cheap Hostel in Munich – Jaeger's Munich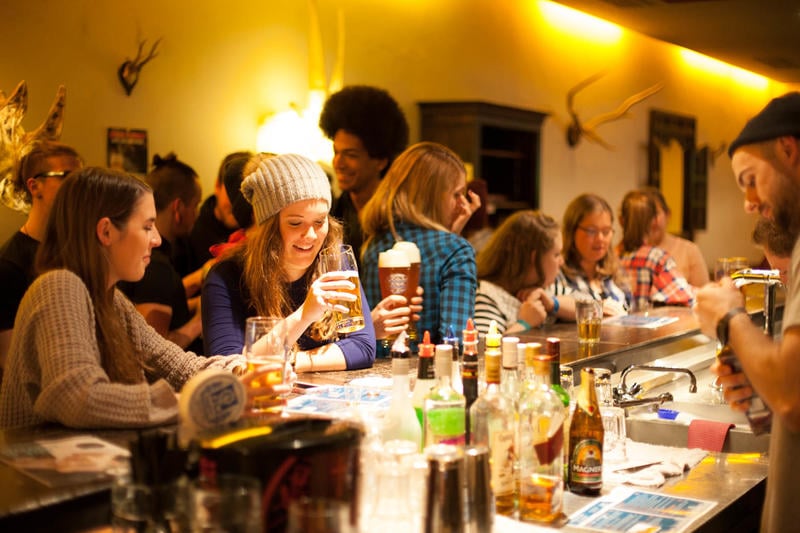 Easily the best cheap hostel in Munich, Jaeger's Munich has consistently cheap dorm rooms and never scrimps on quality. Keeping it cheap, there is a great buffet spread for just €4.95. Jaeger's is one of the most recommended hostels in Munich mostly due to its great location, you guess it, near the city centre. I also liked the laid-back vibes and super clean spaces.
The late check-out service is a must for any traveller who plans on making the most of Munich's epic nightlife! Be sure to take a moment to enjoy the steam room, especially during a chilly German winter's day.
Why you'll love this hostel:
On-site bar
Free city tours
Close to the October Fest
Germany is known for its expensive cities, and Munich is no exception. Staying at this hostel won't just save your bank account, you can also enjoy quite a bit of bang for your buck. Whether it's the free walking tours or the super comfy common room, Jaeger's Hostel will definitely make its way into your heart.
If you're a very social traveller, book into one of the spacious dorms. You'll have your own locker and linen are free as well – so no need to bring your sleeping bag. In case you forgot your towel, just head to the reception and rent one. If you prefer a bit more alone time, you can also opt for one of the comfy private rooms. They come with the towel included and, on top of that, your own TV.
You'll love the location as well. The hostel's just steps away from Munich's Hauptbahnhof (central station): ideal if you're arriving by rail or heading on to explore other German cities. It takes 50 minutes to reach Jaeger's from the airport, using the S1 overground train.
There are lots of museums and bars within 10 minutes' stroll, and it only takes 15 minutes to wander to Frauenkirche – a huge cathedral and one of Munich's most famous attractions. If you're visiting in late September or early October, Oktoberfest is a 15-minute walk away.
Laundry Facilities
Bar & Pool Table
At the 2017 Hoscars awards Wombats City Hostel was voted as the most popular youth hostel in Munich, and it's easy to see why. Super friendly staff and being 'two stone's throw' away from the old town makes Wombats City Hostel the best party hostel in Munich. Not only are you close to some of Munich's best nightlife spots but Wombats City has its own bar and atrium which can house what seems to be half the city for an awesome party! Happy hours and free drinks are the names of the game at Wombats, making it one of the best hostels in Munich.
Why you'll love this hostel:
Bike rental
Multiple awards
Airconditioned courtyard
We've mentioned the Hoscars, but let's go into detail on what this hostel really had to offer to win the most popular and the cleanest hostel. Let's start with the airconditioned courtyard! Grab a drink, a book or some friends to hang out in this cool common area underneath the glass roof. There are beanbags and hammocks to relax in – perfect for a lazy day inside.
All rooms, private ones and dorms, come with their own private bathroom, which is something you don't normally see in Munich's hostels. If your budget allows it, book yourself into a private double room and enjoy your morning coffee on your own terrace.
When it comes to exploring the city, the hostel's got your back as well. Head to the reception and grab a free city map. If you're not keen on using your own feet, you can also rent a bike for the day. The Hauptbahnhof (main train station) is a five-minute walk away, so you can easily get to all other parts of the city.
And for those that come in September, the Oktoberfest is only 10min by foot from the front door!
5. Best Hostel for Digital Nomads in Munich – HI Munich-Park
Free Breakfast
Postal Service
Digital Nomads have a slightly different agenda than backpackers and HI Munich-Park is the perfect fit. With super fast wifi available throughout the building and a quiet cafe to help you focus, HI Munich-Park is the best hostel for digital nomads in Munich.
Being away from the main touristy centre means that digital nomads get to experience more of 'real' Munich. The free breakfast is the perfect way to get those creative juices flowing for working online. With a modern and clean-cut design, HI Munich-Park is also one of the coolest hostels in Munich.
Why you'll love this hostel:
Super calm vibe
Lovely garden
Spacious common areas
One thing we have to note about this hostel is that a Hostelling International Membership is required. You you don't have one, you can either purchase it at the reception or pay a little extra (3,50€ per night). The membership will guarantee you the use of more than 4.000 Youth Hostels worldwide.
As one of the biggest hostels in Munich (it offers 374 beds in total) you can even arrive with a couple of friends or maybe even your family, and you'll still be able to stay together. The hostel offers 13 dorm bedrooms with a capacity of 6 guests each, that can be booked as a private room as well.
There is a massive outdoor area with a beautiful garden, perfect to sit around, read a book or share travel stories during Germany's spring or early summer months. On a rainy day, head to the basement where you can find ping-pong tables, a pool table and loads of other entertainment options. If you get done with work early and want to socialize a little bit, this hostel offers you the perfect chance to do so.
Is This the Best Backpack EVER???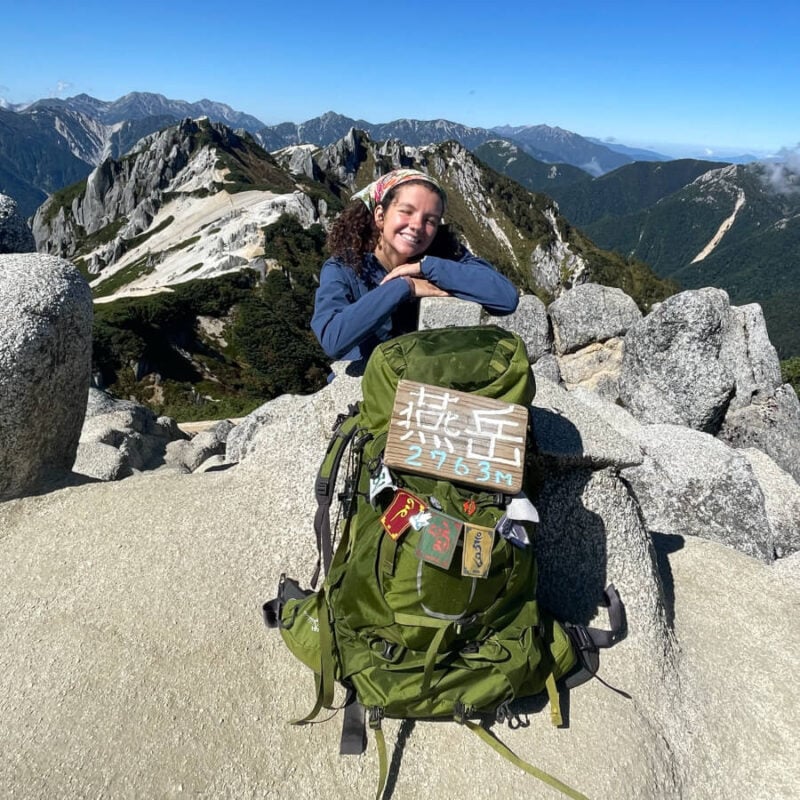 More of the Best Hostels in Munich
Not quite happy with your options yet? Don't worry, we've got loads more awesome hostels in Munich coming right at you. You'll easily find the perfect one for you!
It doesn't get much better than A&O München Hackerbrücke when it comes to the best hostel for couples in Munich. With options for cosy dorms or private ensuite rooms there's room to suit every budget; some with bathtubs too. From the rooftop terrace on a clear day, you can even see the Alps towering in the distance. You can find A&O München Hackerbrücke one stop away from Central Station on the intra-city train making it a great base for exploring Munich. Get competitive on the table football or pool table with a Bavarian beer!

Our GREATEST Travel Secrets…
Pop your email here & get the original Broke Backpacker Bible for FREE.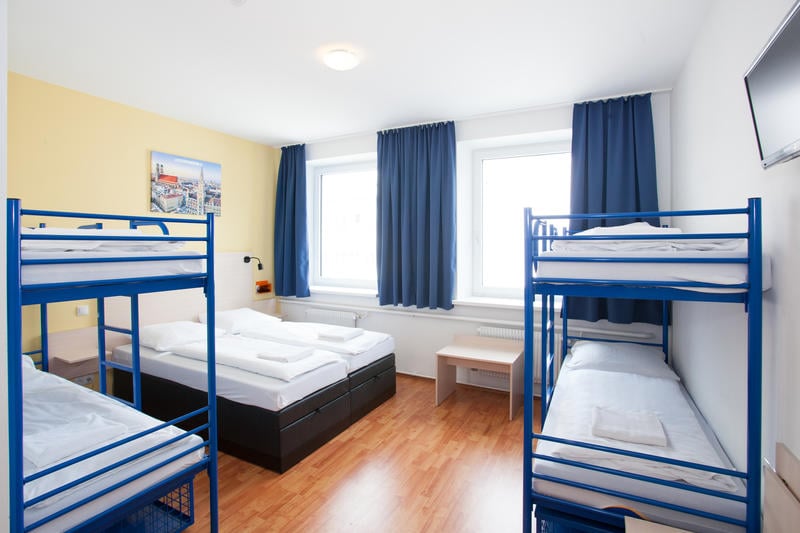 Bar & Pool Table
Tours & Travel Desk
A&O Müchen Laim Munich backpackers hostel is simple, bright and super clean and has quickly solidified itself as one of the best hostels in Munich. As one of the newest youth hostels in Munich places fill up fast so be sure to snap up your bed as soon as possible. They offer a tasty all-you-can-eat breakfast buffet for just €7 and the bar is open 'til late. A&O Müchen Laim have onsite parking and a travel desk to help you plan your next destination. You can find fellow backpackers in the games room; perhaps a chance to plan some European adventures together?
24-Hour Reception & No Curfew
As the name would suggest, Smart Stay Hotel Station is right next to the train station, just 100m away, in fact, meaning there's no need to fork out for a taxi. They have 6-bed dorms available but most guests opt to stay in one of the single or double rooms. Be sure to get your fill before you hop on the train and enjoy the €6,90 fill ya boots breakfast buffet. Smart Stay Hotel Station is a highly recommended hostel in Munich for those catching early trains out of the city.
More Cheap Hostels in Munich – The Tent Munich
Laundry Facilites
24-Hour Reception
I arrived in Munich late at night, and every hostel was full. My only option was "The Tent" – two big circus-type tents, one with beds and the other with a common area. I was skeptical at first, but I ended up having a great time. The price was also reasonable for Munich, with a dorm bed starting at just $18 per night.
The Tent is located in the heart of Munich, just a short walk from the Marienplatz and the Hofbräuhaus. It's a great location for exploring the city, and it's also close to public transportation.
The hostel itself is clean and comfortable. The beds are in bunks, and there are shared bathrooms. There's also a common area with a kitchen, a TV, and a pool table.
The staff at The Tent are friendly and helpful. (Even at midnight) They're always happy to give recommendations for things to see and do in Munich. They also organize a variety of activities, such as pub crawls and day trips.
I stayed at The Tent for three nights and had a great time. I met some great people, which is very easy there, from all over the world, and I made some lasting memories. If you're looking for a fun and affordable place to stay in Munich, I highly recommend The Tent.
Self Catering Option
2-mins walk to Oktoberfest
Backpackers hostels in Munich rarely have self catering options which is what makes Smart Stay the perfect choice for travellers who are trying to cut down on their food budget, in turn making it one of the best budget hostels in Munich.
Private rooms are on offer if you are needing some personal space to unwind. Free wifi and an onsite cafe and bar make for a great hangout for digital nomads or those on a working holiday. No curfew means you can make the most of Oktoberfest without a long trek back to bed, making it one of the best hostels in Munich. But, if you are in search of more privacy, these charming bed and breakfasts in Munich may be better suited for you.
FAQ's for Munich's Hostels
Booking a hostel is never an easy decision. To help you out we've listed the most frequently asked question about hostels in Munich and I did my best to answer them.
Travel Safety Tips for Munich
ALWAYS sort out your backpacker insurance before your trip. There's plenty to choose from in that department, but a good place to start is Safety Wing.
They offer month-to-month payments, no lock-in contracts, and require absolutely no itineraries: that's the exact kind of insurance long-term travellers and digital nomads need.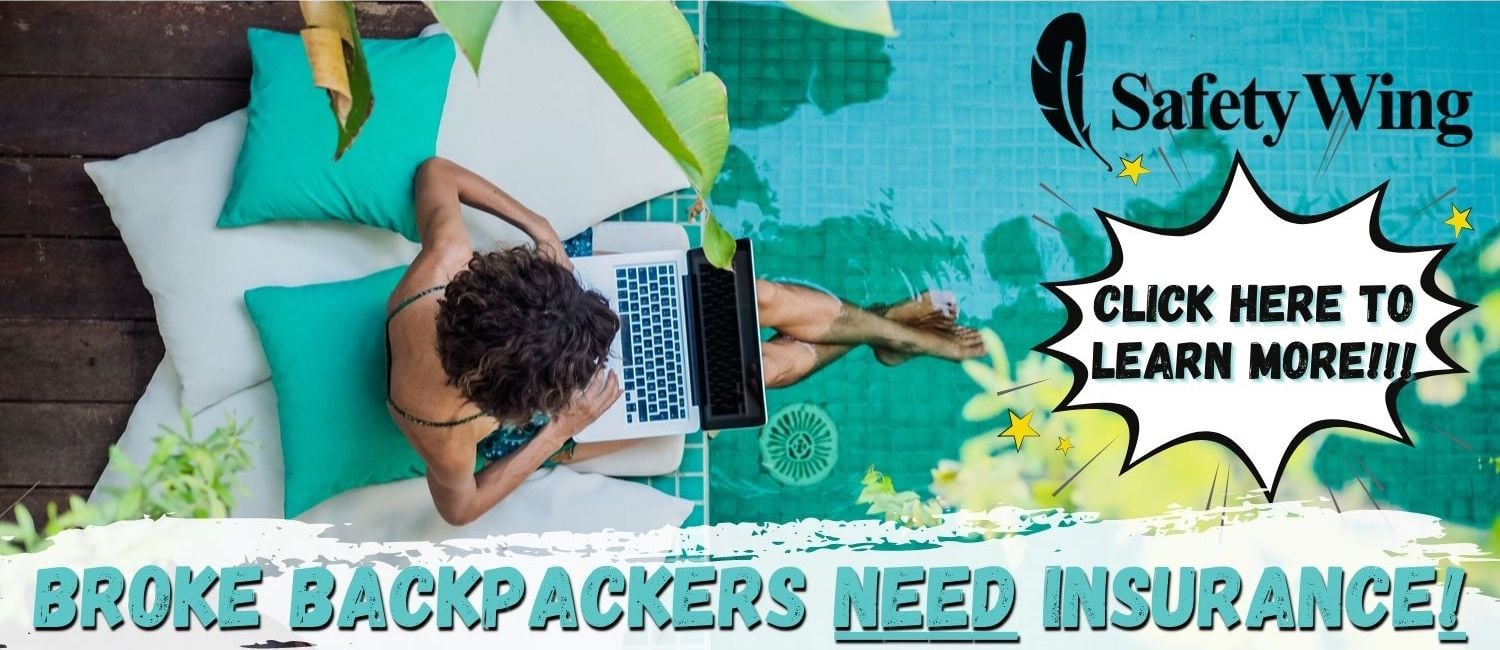 SafetyWing is cheap, easy, and admin-free: just sign up lickety-split so you can get back to it!
Click the button below to learn more about SafetyWing's setup or read our insider review for the full tasty scoop.
More Epic Hostels in Germany and Europe
Hopefully by now you've found the perfect hostel for your upcoming trip to Munich.
Planning an epic trip all across Germany or even Europe itself?
Don't worry – we've got you covered!
For more cool hostel guides around Europe, check out:
Final Thoughts on the Best Hostels in Munich
While a bit on the pricey side, Munich is nothing short of brilliant and great time. With this list of the best hostels in Munich, you'll hopefully have a solid idea of where you want to stay so you can start drinki… I mean exploring!
If you didn't quite find the best hostel for you, then there are also some great Airbnbs in Munich.
And as a reminder, while the hostels in Munich are truly amazing, out of all the best hostels in Munich, our favorite is the Euro Youth Hostel.
If you think we've missed anything or have any further thoughts, hit us up in the comments!
Ps: Don't forget to eat a "Brezn"! See ya
Updated May, 2023.
---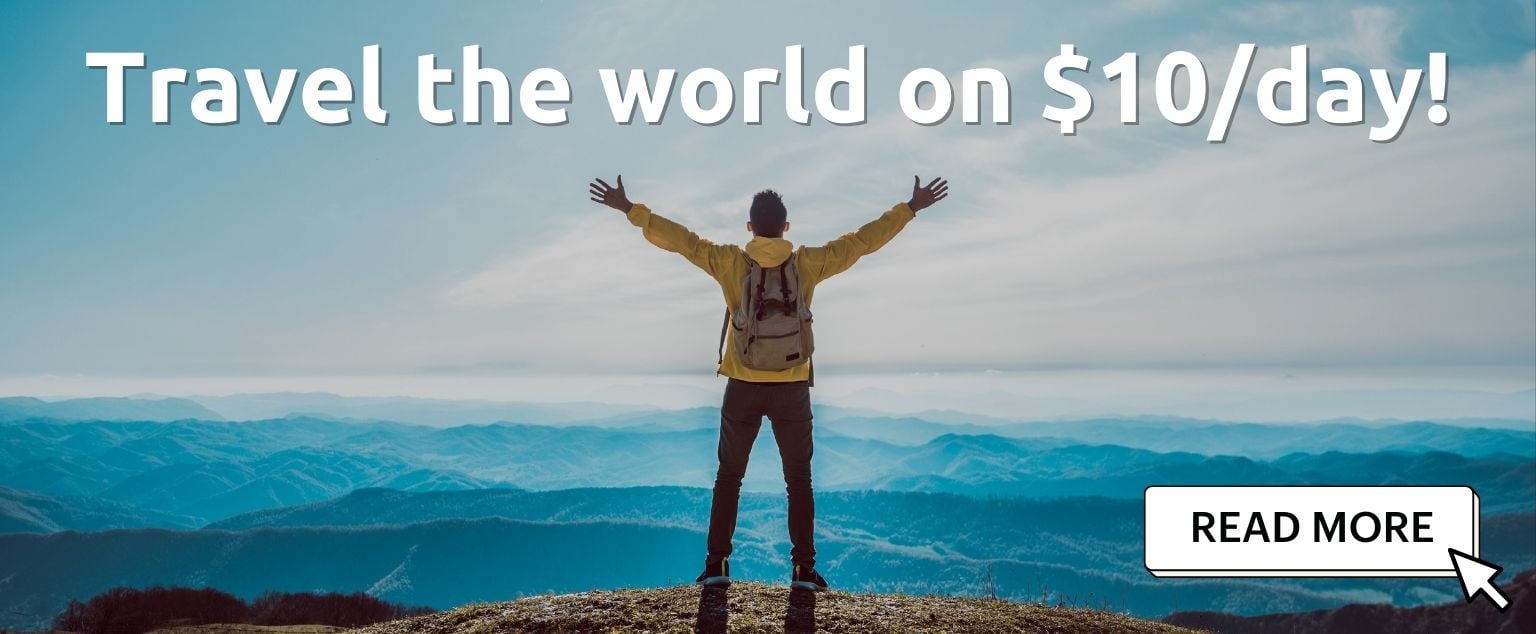 And for transparency's sake, please know that some of the links in our content are affiliate links. That means that if you book your accommodation, buy your gear, or sort your insurance through our link, we earn a small commission (at no extra cost to you). That said, we only link to the gear we trust and never recommend services we don't believe are up to scratch. Again, thank you!