There's so many people who never make it out of their childhood towns. Living boring, humdrum lives, with the same people they've always been around. Here on TBB we crave adventure, and getting out of our comfort zones. Let us introduce you to moving to Germany.
It has everything you need for the perfect work/life balance. You can spend your weekends exploring the deep, intense histories, and wandering fascinating landscapes. While your work days could include working hard in coworking spaces, or getting to know your new colleagues in modern high rises.
Moving anywhere new comes with stress, but luckily for you, this guide will take you through all the ins and outs of moving to Germany. Learn which area best fits your vibe, how to get a visa, and where to put the kids in school.
For a breakdown of the cost of living in Germany, keep on reading!

Do You Want to Travel FOREVER??
Pop your email in below to get a FREE copy of 'How to Travel the World on $10 a Day!'.
Why Move To Germany?
Germany has long been a popular destination for those traveling to Europe. From their rich culture, incredible beer, and multitude of landscapes, Germany has so much to offer.
Several German cities rank in the top 10 for the best quality of life in the world – it is no wonder expats are choosing it as a permanent base.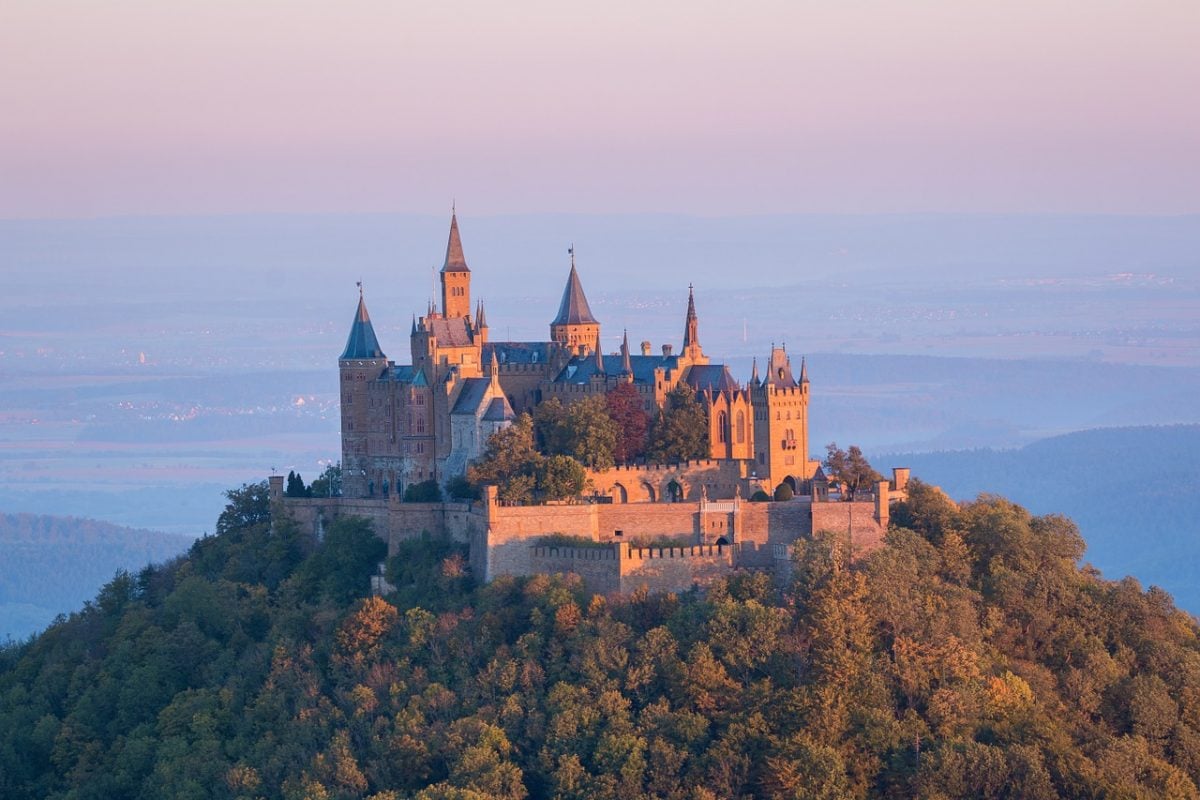 Germans are known for their punctuality and high standards, and the facilities and amenities are designed to keep up. As a European economic powerhouse, this country is the perfect place to work remotely. Whether you are working from home, as a freelancer, or as an ever-growing entrepreneur, the German atmosphere and mentality creates a productive and successful spot for you to call home.
The hardest part about moving will be deciding where to stay in Germany. Do you crave a high rise in Munich, a slow-paced life in Hamburg, or an all-out adventure in Berlin? Regardless of which city you choose, this country will give you the perfect work/life balance to take back your life and enjoy every single day!
Cost of Living in Germany Summary
Germany has a strong economic system. It continues to be successful, while keeping the cost of living lower than other major European countries. You will find that the cost of living varies widely among its 16 states, but the average is still lower than most western countries.
It's important to have a good idea of how much moving to Germany will be. In general, your budget will be based on how luxurious your life is, and where you choose to splurge. If you choose to stay in Dusseldorf, you may find your budget a bit more flexible. If you choose to settle in Berlin, you may want to account for the festivals and nights out you will be attending regularly, because I can promise you won't want to miss out!
This table will help you develop an initial budget and summarize the cost of living in Germany. These numbers will help you get familiar with your expenses, and create a realistic goal. They have been sourced from a variety of user data.
Cost of Living in Germany

| Expense | $ Cost |
| --- | --- |
| Rent | $600-$1,200 |
| Electricity | $150 |
| Water | $50 |
| Mobile Phone | $40 |
| Gas | $40 |
| Internet | $40 |
| Eating out | $250-$300 |
| Groceries | $200 |
| Housekeeper (3x per week) | $200 |
| Transportation | $70 |
| Gym | $35 |
| Total | $1,600+ |
What Does it Cost to Live in Germany – The Nitty Gritty
Now that you have an idea of what to expect, let's dive in further to give you the full scope of what it will cost to live in Germany.
Rent in Germany
Your biggest expense in Germany, like anywhere, is going to be your accommodation. This number will highly depend on where you want to be located – a high rise in the city, countryside, a cabin in the Bavarian Alps etc. It will also depend on if you will be sharing a living space or wanting to live alone.
For example, living in Frankfurt will cost you 40% less than living in Berlin. This is expected as Berlin is a hotspot for not only Germans, but expats looking to establish themselves in a new thriving city. If you are on a tight budget, you may want to consider shared housing, or a place outside of the city center. This will help you lower your accommodation costs by 30%, regardless of the German city you choose!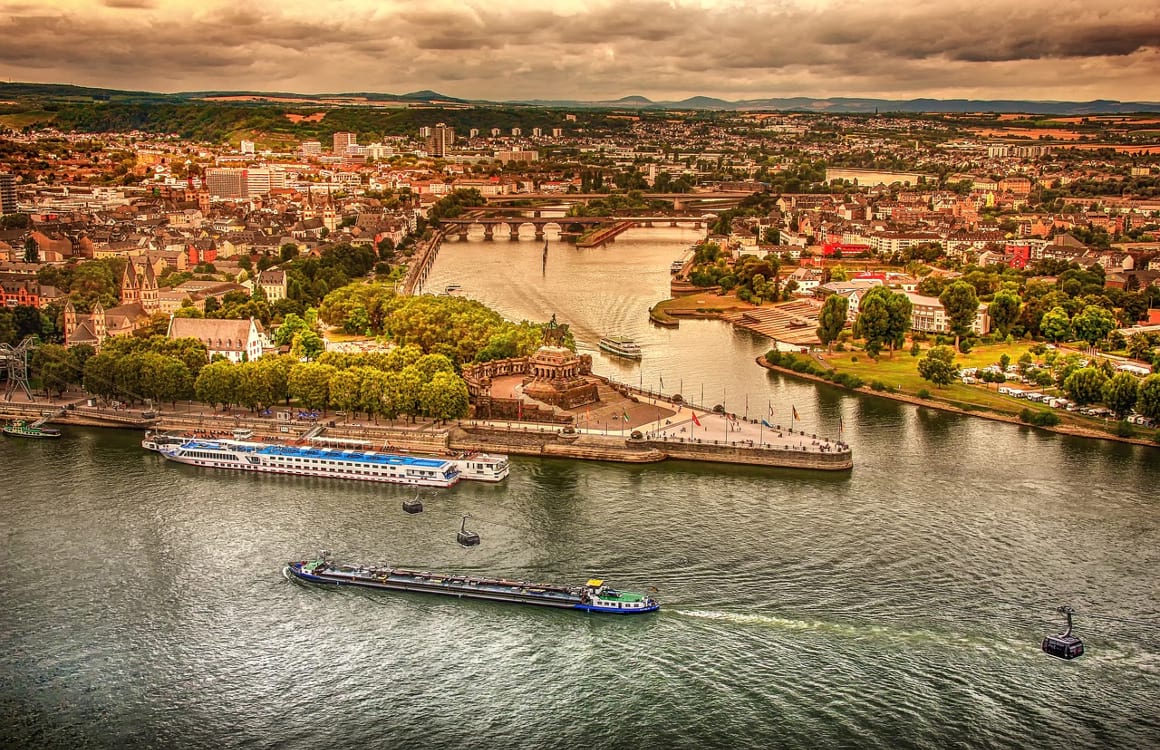 If you aren't quite sure where you want to live, consider your situation. Do you want to live alone? Are you moving with a partner or children? This will give you a realistic look into what you are able to afford.
I recommend heading to the cities you are considering for a stay before biting the bullet. Stay in a hotel or hostel to get a feel of the area, and check out some homes. You are more likely to get a good deal on a long-term rental by getting in touch with the owner vs inquiring online.
Private Room in Berlin – $600
Private Apartment in Hamburg– $1,100
Private Villa in Munich – $2,600
Need a Crash Pad in Germany?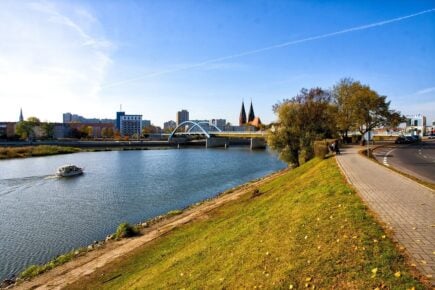 Need a Crash Pad in Germany?
Home Short Term Rental in Germany
This studio is a perfect base for when you first land in Germany and want to find your new home. Located in Dusseldorf, you can explore all the best places in Germany to find the best spot for you. It is quaint and comfortable with everything you need for a short stay.
Transport in Germany
Luckily, getting around Germany is very easy! They have an incredible public transportation system that makes the transfer from city to city, or street to street, very accessible. You will find it super easy, practical and affordable to travel by public transportation rather than purchasing a car.
If you choose to live in a smaller city, don't fret. They too have the same great public transportation. There are plenty of buses, trams, and trains to get from point A to point B.
Germany's public transport operates on an honor system, you don't have to scan a ticket when you board – which may seem a bit weird. While it can be tempting to not pay for your ticket and catch a free ride, you never know when an officer will be on your cart and do a random ticket check. If you are caught without a ticket it is a fee of 60 euros (67 USD), which is rough when the original ticket is just 2.70 euros.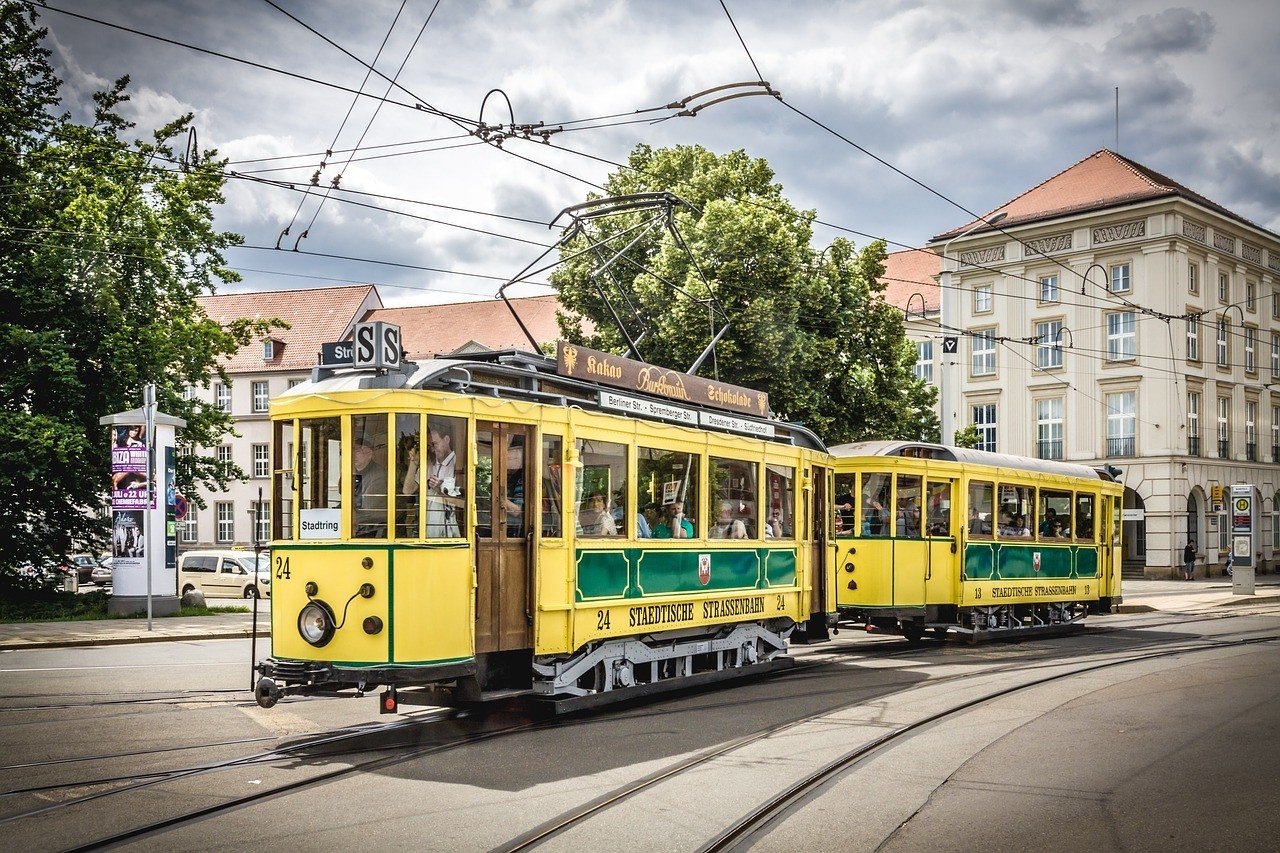 Now, if public transportation isn't your thing, no worries. The best roads in the world are located in Germany! Can you say Autobahn, anyone? It is Germany's free highway, and technically, it has no speed limit. However, is advised to remain around 80 mph.
If you don't have your own car, Uber is available in four major cities, and the local competitor, Chauffeur Privé, has plenty of drivers to make sure you aren't late. Remember, Germans are punctual and will definitely let you know if you're late.
Public Transportation (Berlin Airport to Center) – $4
Uber Ride (Berlin Airport to Center) – $50
Car Rental – $25
Food in Germany
All I can say is get ready for carbs, carbs, and – you guessed it – more carbs! The German cuisine is not a healthy one, but it sure is tasty! From their potato pancakes to a juicy brat, you will never go hungry in Germany!
Over the years, German cuisine has remained very traditional. You will find it hard to find a German meal without meat, usually pork. Most meals are accompanied by rich sauces, buttered rolls, and a big glass of beer to wash it all down. Schnitzel and currywurst are my absolute favorite.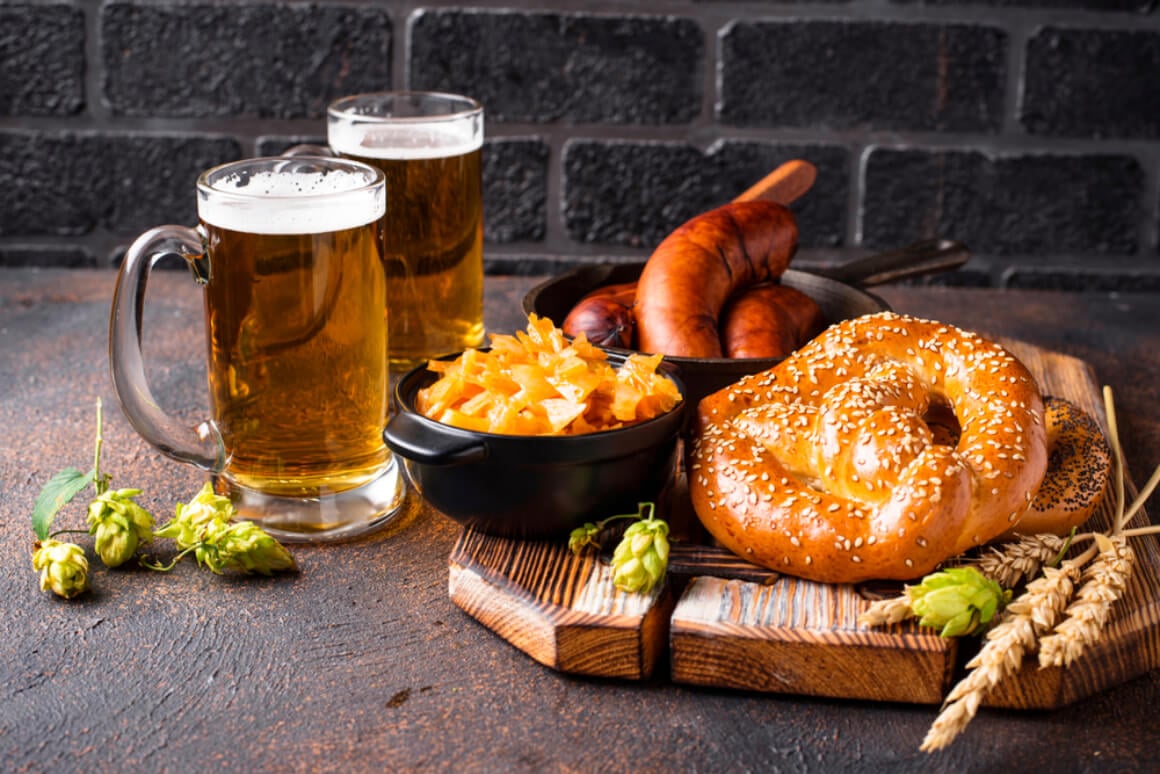 Many people in Germany spend a good amount of money on having meals out. Surprisingly, dining out is pretty easy on the bank account – if you are just having food. Restaurants make their money on the high-priced drinks..
You will find a variety of restaurants to match every budget, from cheap and cheerful to fine dining. Eating out is a great way to meet people, and get involved in the culture.
Once you grow tired of sauerkraut and Schweinshaxe (pork knuckle) – or not – you can find other cuisines in the major cities. If you are on the hunt for your favorite food, check out the supermarkets in Germany. They are extensive and have everything you need to whip up your own international cuisine. Aldi is my favorite supermarket to get what I need at a reasonable cost!
Milk (1 gallon) – $4.00
Bread (loaf) – $1.50
Rice (1lb) – $1.00
Eggs (dozen) – $2.60
Local Cheese (p/kg) – $4.80
Tomatoes (1lb) – $0.70
Bananas (1lb) – $0.85
Drinking in Germany
The tap water in Germany is safe to drink, and some of the best water in the EU. It is the most controlled beverage product in Germany, coming from the same source as mineral water.
At some restaurants, your water will cost as much as a mid-shelf bottle of wine. Why not just take the wine at that point, am I right? I recommend getting a Brita filter and filtering your tap water.
While water might break the bank, beer certainly will not! At a pub or bar, you will pay, on average, $4 for a pint of beer. If you go to the supermarket, you can grab that same beer for $0.75, sometimes as cheap as $0.25! With prices like that, it is easy to see why so much beer is consumed in the country.
Why Should You Travel to Germany with a Water Bottle?
Plastic washes up on even the most pristine beaches… so do your part and keep the Big Blue beautiful!
You aren't going to save the world overnight, but you might as well be part of the solution and not the problem. When you travel to some of the world's most remote places, you come to realise the full extent of the plastic problem. And I hope you become more inspired to continue being a responsible traveller.
Plus, now you won't be buying overpriced bottles of water from the supermarkets either! Travel with a filtered water bottle instead and never waste a cent nor a turtle's life again.
Keeping Busy and Active in Germany
With so much change coming your way, you want to make sure you make the time to enjoy yourself and step away from the hustle and bustle of moving to a new country!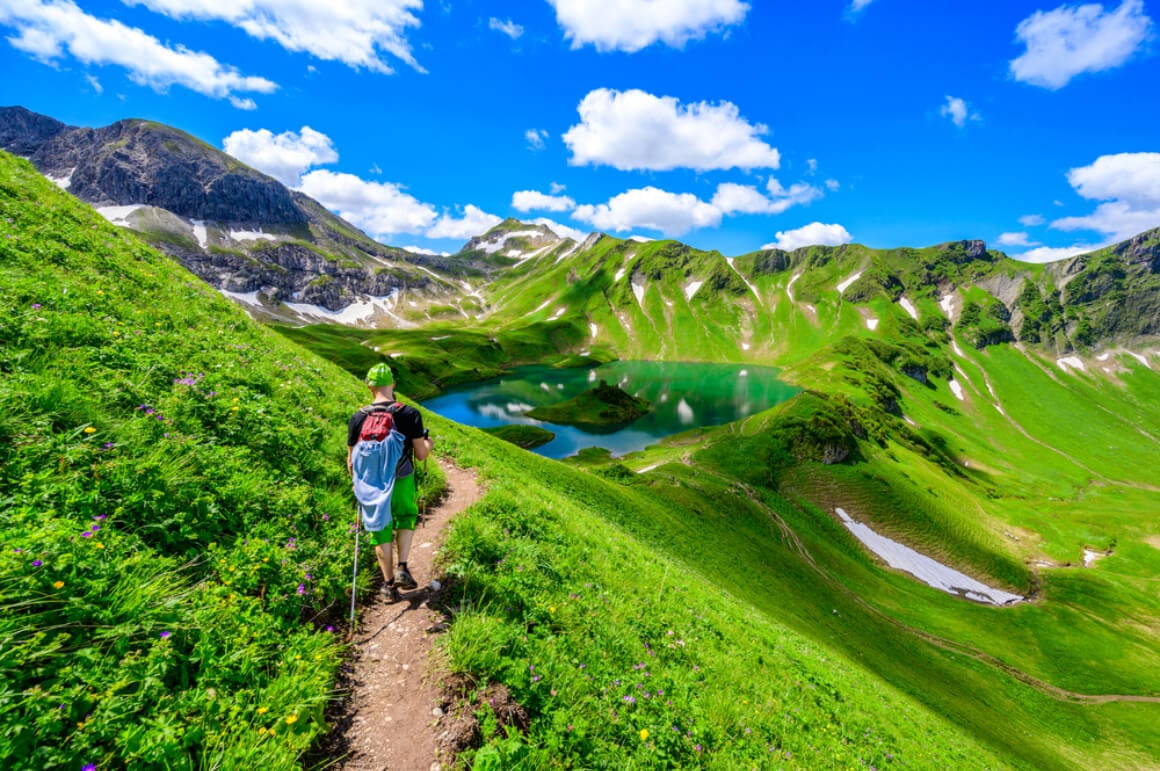 Germany has so much to offer both outdoor enthusiasts, as well as gym rats! Since the country has all four seasons, you will be able to try winter and summer sports, and become a regular at the local cycling club. Head to the Bavarian mountains in the winter for snowboarding on the fresh pow-pow, and once it starts getting warm, make your way to the incredible lakes for some weekend canoeing. Each weekend is going to be jam-packed with activities!
I have found the more involved I get with recreational groups, the faster I acclimatize to the country and really find my routine. So whether you are just going for a walk or joining yoga in the park, make sure to get out there and enjoy the world.
With so many options, there is something for everyone in Germany.
Ski Pass (1 day) – $25
Bike Rental (1 day) – $25
Canoe Rental (Per Hour) –$9
Hiking Group – FREE
Yoga Class – $12
Gym Membership(1 month) – From $35
School in Germany
Germany has a reputation for having a very good public education system! The only concern you may have with public schools is the classes are taught in German. If your child is unfamiliar with the language, they could run the risk of falling behind in their classes.
There are plenty of international schools in Germany if you would prefer your child learns in their mother tongue. Private schools come with a high tuition fee that you will need to prepare for when budgeting. There are multiple options such as the American Curriculum or British curriculum.
If you are on the fence about your schooling options for your kids, many of the schools will give day tours. Take some time to let your kids get familiar with the school, and choose the environment they will thrive best in.
Fees for international schools in Germany range from $5,000 to $15,000.
Is This the Best Backpack EVER???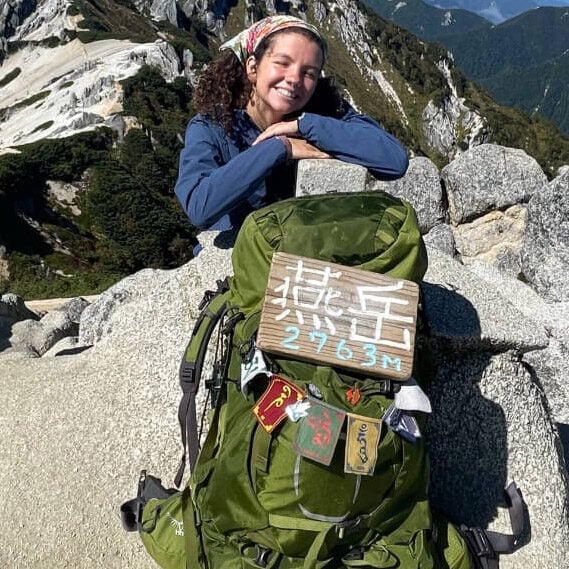 Medical Costs in Germany
Germany has excellent healthcare for its citizens and residents. Providing public health insurance for all those who live in the country has made Germany a leader in the distribution of healthcare. With a high-quality and ample public hospital coverage, you can put any healthcare worries away!
If you are not a resident, you will need to apply for private insurance to make sure you are covered should something happen. This is also an option should you want quicker access to specialists and priority in situations.
SafetyWing offers a monthly healthcare plan which covers Digital Nomads, expats, and long-term travelers. We have been using it ourselves for a while now, and find it of great value.
Visas in Germany
Depending on your home country, you will most likely be able to have a tourist visa that allows you to stay in the country for 90 days within a 180-day span. This is not a permanent solution if you are moving to Germany for the long term.
You will have a few options with regards to visas. The first is applying for a resident visa. The regulations in Germany are a bit more relaxed compared to other EU countries. For instance, you can apply for this visa after entering the country. This will allow you to take your time finding a place to live, and decide if this is the right place to call home.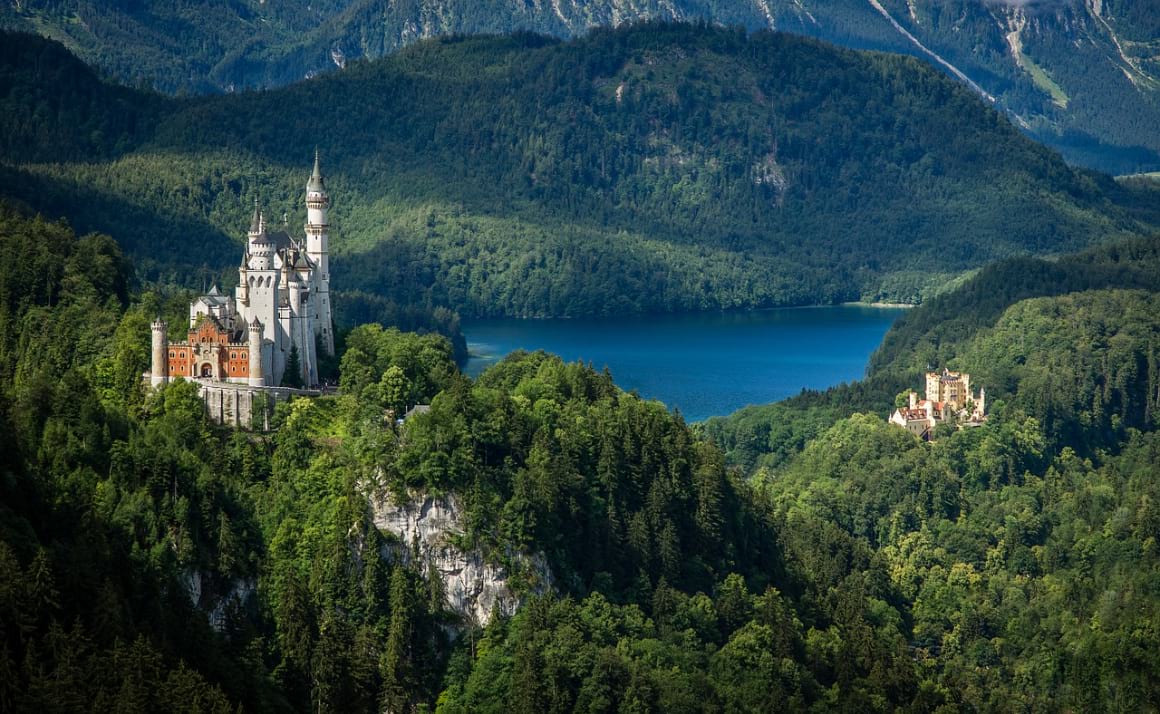 If you are being hired in Germany by a German company, the corporation will handle the process of getting you a work permit – which is in the form of a resident visa. Make sure to check with your employer that this will be completed before your tourist visa is up!
Another option is the freelance visa. This is a great option for business owners, or freelancers. The requirements are quite easy – you must reside in Germany, have health insurance, proof of income, and have at least one client in Germany.
Banking in Germany
Germany has one of the most efficient banking systems in the world, however, it has become rather difficult for non-residents to open accounts. The local banks such as Deutsche Bank require a hefty amount of documentation that have proven to be quite the hassle, making many expats question if it is worth it.
Thankfully, as an international hub, you will find plenty of international banks all over the country. Some of these include Barclays and Santander. If you are wanting to open a new account, I recommend using one of these banks. You will be able to deposit and withdraw money in Germany, and use the account in other countries.
Be aware that Germany still has a lot of establishments that are cash only. With that being said, to avoid spending heinous amounts of money on ATM fees or foreign transaction fees with your home country's bank, we recommend getting a few different travel banking cards as they all offer a certain level of fee-free ATM withdrawals. If you get yourself a Transferwise, Revolut, or Monzo card, you'll be able to withdraw around $600/month and have an unlimited card payment allowance.
For making and receiving international bank transfers without incurring any fees, we recommend using Payoneer.
Taxes in Germany
All residents in Germany are required to pay state taxes on their income regardless of where the money was earned. If you are employed by a German company, they will apply an income tax to your paycheck taking away the end-of-year headache from you.
However, if you are self-employed, you will need to file your taxes accordingly at the end of the year. Non-residents of Germany are subject to income tax on any German income, and are not required to declare any income made outside of the country.
Always make sure to check in with your home country to know the rules and regulations of how to properly file your taxes in both places of residency.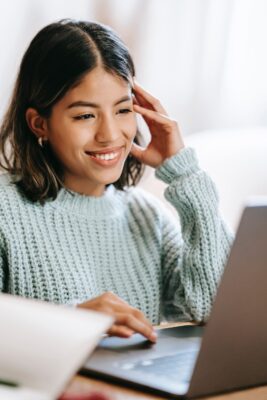 Earn $$$ ONLINE Whilst Travelling the World!
Keen to live the digital nomad dream while travelling the world? Who the hell isn't?
Teaching English online is a surefire method to earn a consistent income on the road. Work from anywhere, change some lives, and earn some dollaridoos while you do it!
Check out this detailed article for everything you need to know to start teaching English online.
Sometimes big changes come with some unexpected bumps in the road. When preparing to move it's important to take into account those pesky costs that are bound to pop up. Let's dive a little deeper into how to best prepare when the inevitable happens.
I can't predict your future or give you exact numbers, but I want this section to give you a moment to consider the finances you need to make the leap!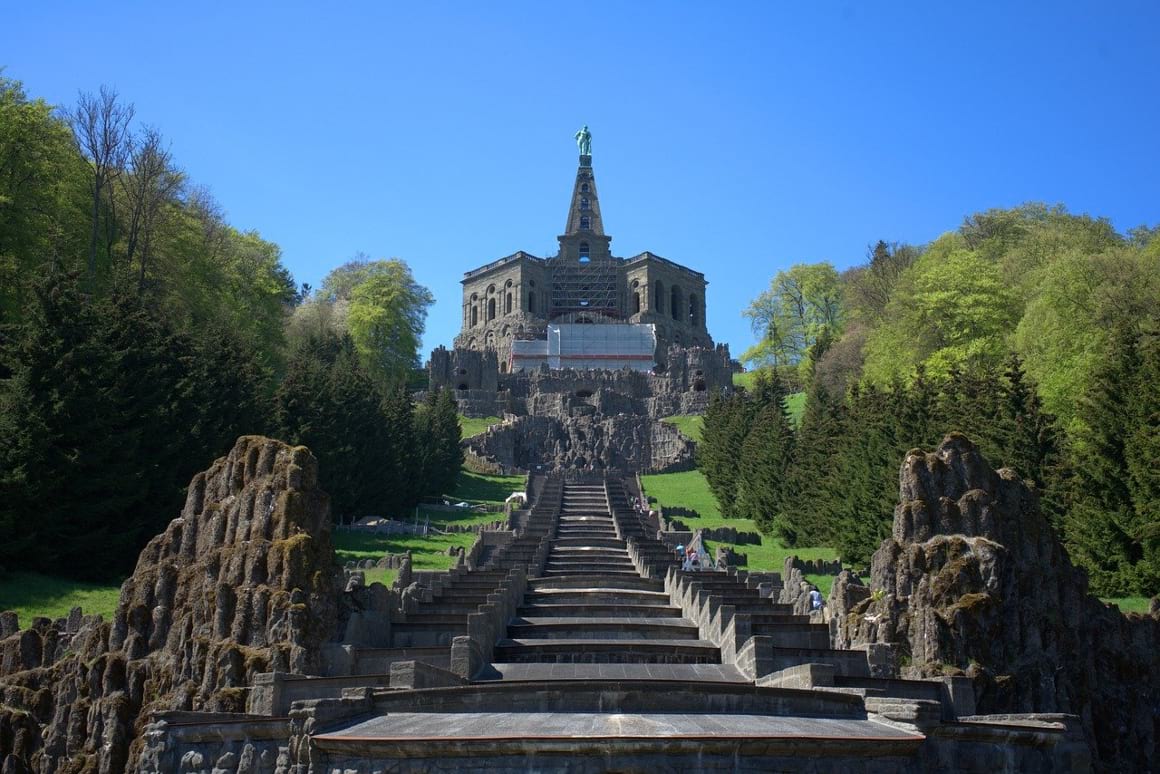 With the cost of living in Germany being lower than the US, UK, and most EU countries, it still comes with expenses you might not be expecting. What if your family needs you home immediately? Flights can be expensive, especially if your home country is on another continent.
If you are choosing to live with others, you may not get along, and need to break your lease to get a flat of your own. This could cost you double the rent and a lot of headaches!
Don't let a last-minute expensive flight home sneak up on you, or a unexpected contract break. Make sure to maintain your savings account and give yourself a buffer during those more expensive months. Your future self will thank you. I recommend having at least 2 flights home in your savings at all times, and three months worth of rent.
Insurance for Living in Germany
Ranked as having one of the lowest crime rates in the world, Germany is incredibly safe. Germans are very respectful of the law, and those that enforce it. You may see some petty theft or someone catching a free ride on the U-Bahn, but that is about it.
With that being said, you can never be too prepared. The best way to take care of yourself is making sure you are insured should anything happen. Be it a bicycle crash, or your phone being pickpocketed, we never think these things will happen to us, but being prepared will help you to feel at ease.
As mentioned before, a great option for digital nomads to stay prepared is by getting Safeteywings insurance. They have affordable plans for nomads, travelers, and expats. Click the button below to see which plan works best for you.
Month to month payments, no lock-in contracts, and no itineraries required: that's the exact kind of insurance digital nomads and long-term traveller types need. Cover yo' pretty little self while you live the DREAM!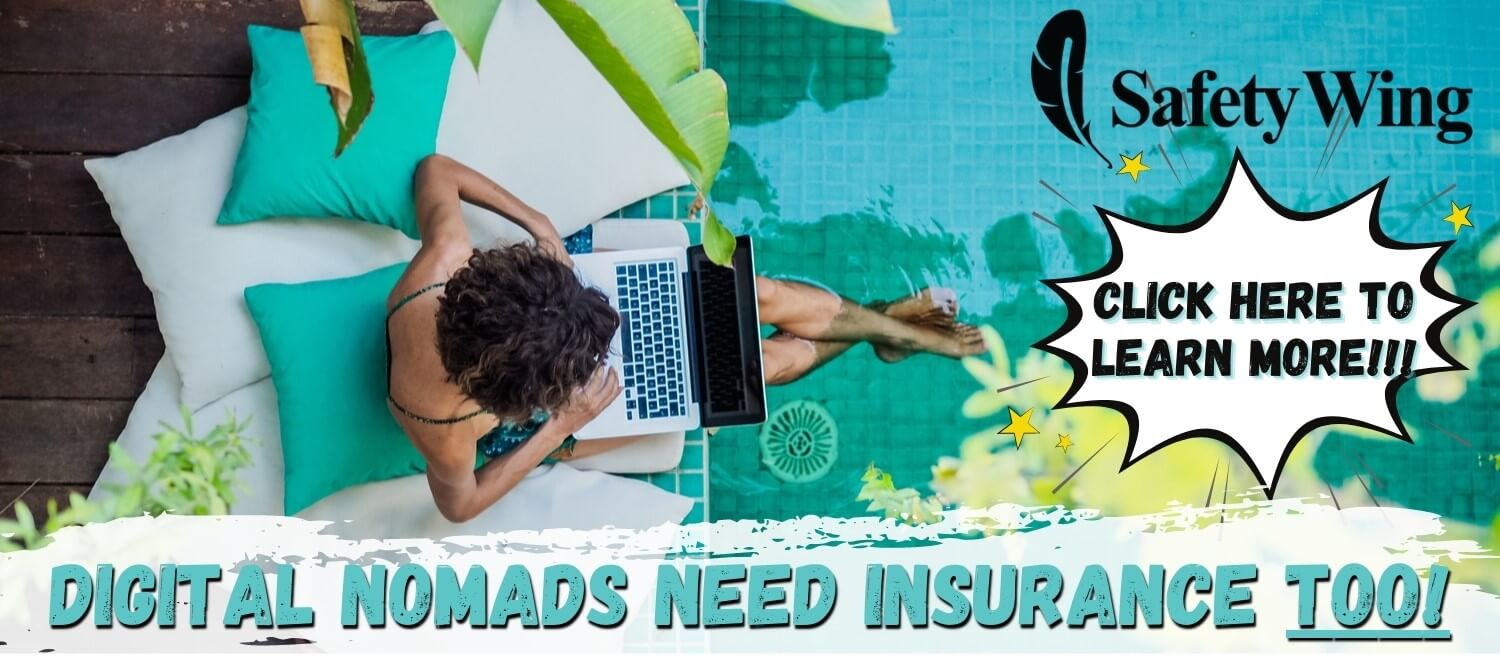 SafetyWing is cheap, easy, and admin-free: just sign up lickety-split so you can get back to work! Click the button below to learn more about SafetyWing's setup or read our insider review for the full tasty scoop.
Moving To Germany – What You Need To Know
Now that we have covered the nitty gritty of living, let's get to the culture, the city life, and all the most beautiful places in Germany! There are so many options when it comes to living in Germany, and hopefully, by the end of this section, you will have a much better idea of where you want to be calling home in the near future.
Finding a Job in Germany
As the fifth-largest economy in the world, Germany has one of the lowest unemployment rates in all of Europe. This can be daunting when applying for jobs considering the country doesn't have much demand. A great way to land a job in Germany is by being transferred by your current employer, if they have an international branch in Germany that is.
If this isn't an option for you, consider working remotely in Germany. The major cities have a huge digital nomad scene, and plenty of coworking spaces.
If you are still unsure, but have your heart set on Germany, take a look into English teaching opportunities. As German is the main language, you will find many private and international schools looking for English teachers to engage and teach primary learners. You can get TFFL certified online, and start applying.
If you're interested in teaching English in Germany, check out our comprehensive guide.
Where to Live in Germany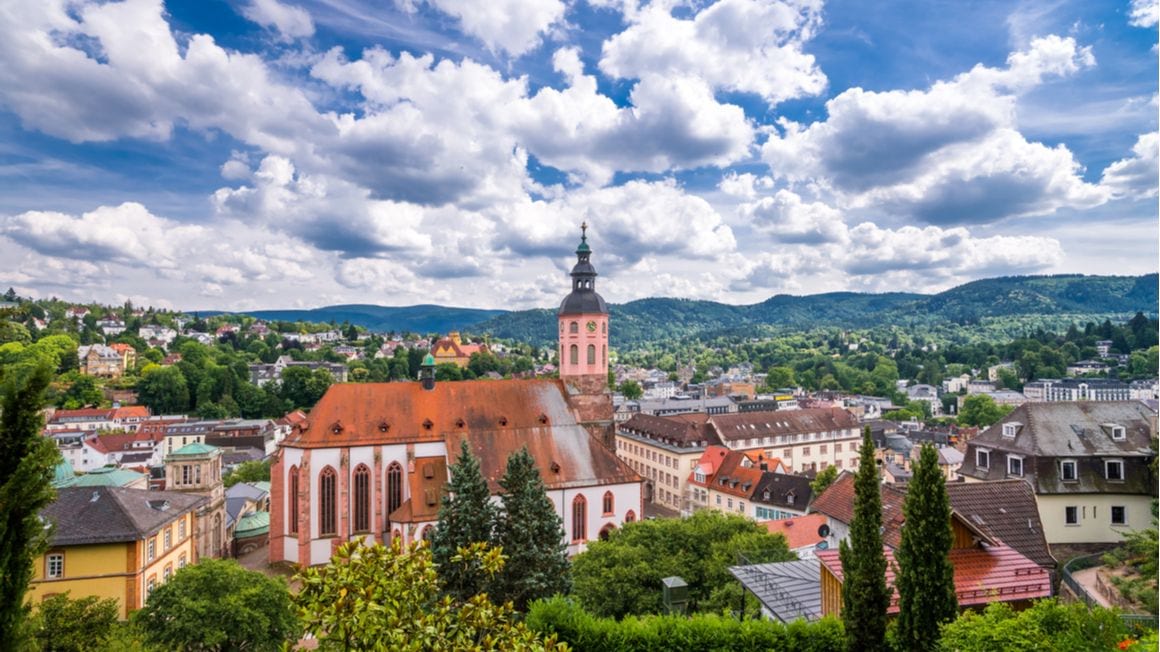 Berlin
An incredibly trendy city full of history, Berlin is one of the most progressive cities in Germany. It is stealing the hearts of locals, tourists, and expats alike. There is a place for everyone in Berlin – with its intense history and the full embrace of what once was, Berlin has become one of the most popular destinations in the world.
Home to the Brandenburg gate, Checkpoint Charlies, and the Berlin Wall, this city is continually growing and making art out of its past. As Berlin becomes one of Germany's economic hubs, more and more expats are showing up.
English is widely spoken, co-working spaces are popping up every single day, and the cost of an apartment here is rather cheap compared to other major European cities. You will be amongst many other expats, and I can promise you will never grow bored in this eclectic city.
Trendiest City in Germany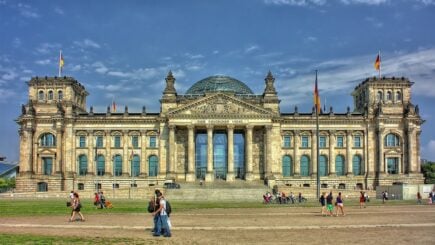 Trendiest City in Germany
Berlin
Filled with history, modern accommodations, amazing facilities and incredible public transportation, Berlin is the perfect place to live for a young digital nomad who will be working in the city's coworking spots. Explore the beautiful streets, enjoy the buzzing nightlife, and let loose in your new German home.
Hamburg
My favorite city in Germany is the port city of Hamburg. The city is lined with cobblestone, and the most fairytale-like houses I have ever seen. In the summers, this place is thriving with outdoor markets and plenty of fishing at the port. The town is much smaller than Berlin or Munich, but will give you a beautiful sense of community.
Over the years, the digital nomad community in Hamburg has come alive. You will find plenty of co-working spaces and some of Germany's highest internet speeds. This city is also known for its incredible nightlife. From fancy cocktail bars to the city's not-so-shy Red Light District, you are more than guaranteed to have a good time, but maybe some not-so-good mornings. Luckily, you will find plenty of yoga studios to sweat off that hangover.
Best Area for Digital Nomads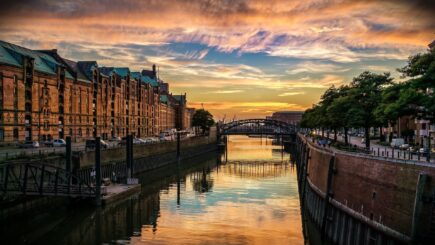 Best Area for Digital Nomads
Hamburg
A lot of the major cities in Germany are great for digital nomads, but Hamburg stands out for its huge selection of coworking spaces and amazing amenities. Home to a Red Light district and a thriving nightlife, you can make the most of an epic work/life balance exploring after the sun has set.
Munich
Bavaria's capital has so much to offer its residents. What feels like a large village, Munich is an incredible city full of expats, students, and locals, making it the perfect place to set your sights on. Wake up and walk the square, take in the gothic architecture, and be transported to the 20th Century. Thankfully, it only looks like the 20th century, as you will find plenty of co-working spaces and cafes to get your work done.
For a big city, Munich has a very relaxed feel. Every night feels like a celebration – with beers flowing and brats roasting, you will get the true German experience every night. Keep in mind that this is the most expensive city live in in Germany. The atmosphere is well worth it, but budgeting should become your top priority when considering Munich for your new home!
Most Historic City in Germany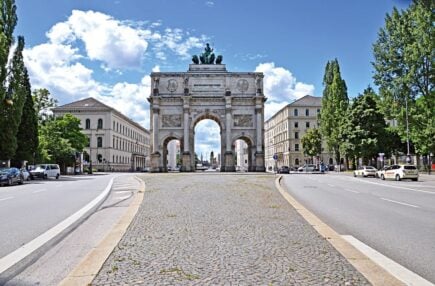 Most Historic City in Germany
Munich
Filled with beautiful scenery, amazing gothic architecture and a rich history, Munich is a place for the history buffs. Although a more classic style, you will still find a lot of modern amenities including coworking spaces, bars and cafes. A lot more expensive than other areas, be sure you have an appropriate budget before you settle in here!
Stuttgart
If you love green spaces and plenty of parks, look no further than Stuttgart. A lesser-known city in Germany, with a lovely expat community, the city has everything you could need as a digital nomad – from cute working spaces and incredibly high-speed internet, to incredible views in every direction.
Stuttgart is known as one of the safest cities in Europe. If you are moving alone, and are concerned about walking alone or catching a ride late, you can put your mind at ease. You can walk at night, enjoy your neighbors, and feel at home.
Something to consider if you are thinking that Stuttgart is your new home – apartments are in very high demand, making it very difficult to get one, especially at a good price. I recommend applying for multiple, and getting in touch with the owner as soon as possible to heighten your chances.
Safest City in Germany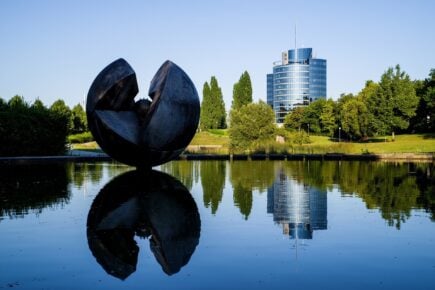 Safest City in Germany
Stuttgart
If you are moving to Germany on your own, having never visited before, Stuttgart is the perfect place to live. It is one of the safest cities in Europe, with a high-speed internet and comfortable apartments. Be sure to get in quickly on newly listed properties as they are snapped up quickly!
Düsseldorf
Located 40km from Cologne, Dusseldorf is the perfect location for those that love luxury. Home to high-end stores, and known as Germany's fashion capital, the city sits on the majestic Rhine river with beautiful skyscrapers lining the sidewalks.
While the city is lovely to visit, the lack of co-working space and expat community makes this a difficult place to live as a digital nomad. I would recommend renting an Airbnb before committing to an apartment, to see if you will meet friends and enjoy the city after the shiny stores and beautiful lake wears off.
Most Luxurious Place to Live in Germany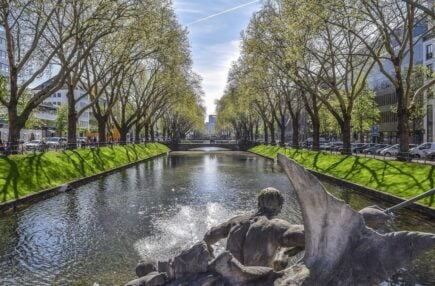 Most Luxurious Place to Live in Germany
Düsseldorf
If you are already a successful nomad and have some cash to splash on a luxury lifestyle, Düsseldorf is the place in Germany for you. The high-end stores, sky scrapers and fashionable style makes it seem like New York rather than Europe. Sip wine beside the river, lounge in your sprawling apartment, and bask in the beauty of the magnificent city.
German Culture
I hope you have thick skin, because Germans can be very frank. They are known for their punctuality and logical thinking, and aren't afraid to let you know if you're doing something wrong – be it arriving late or taking a wrong step in life. However, please don't take offence. It is just in their nature to be blunt and direct.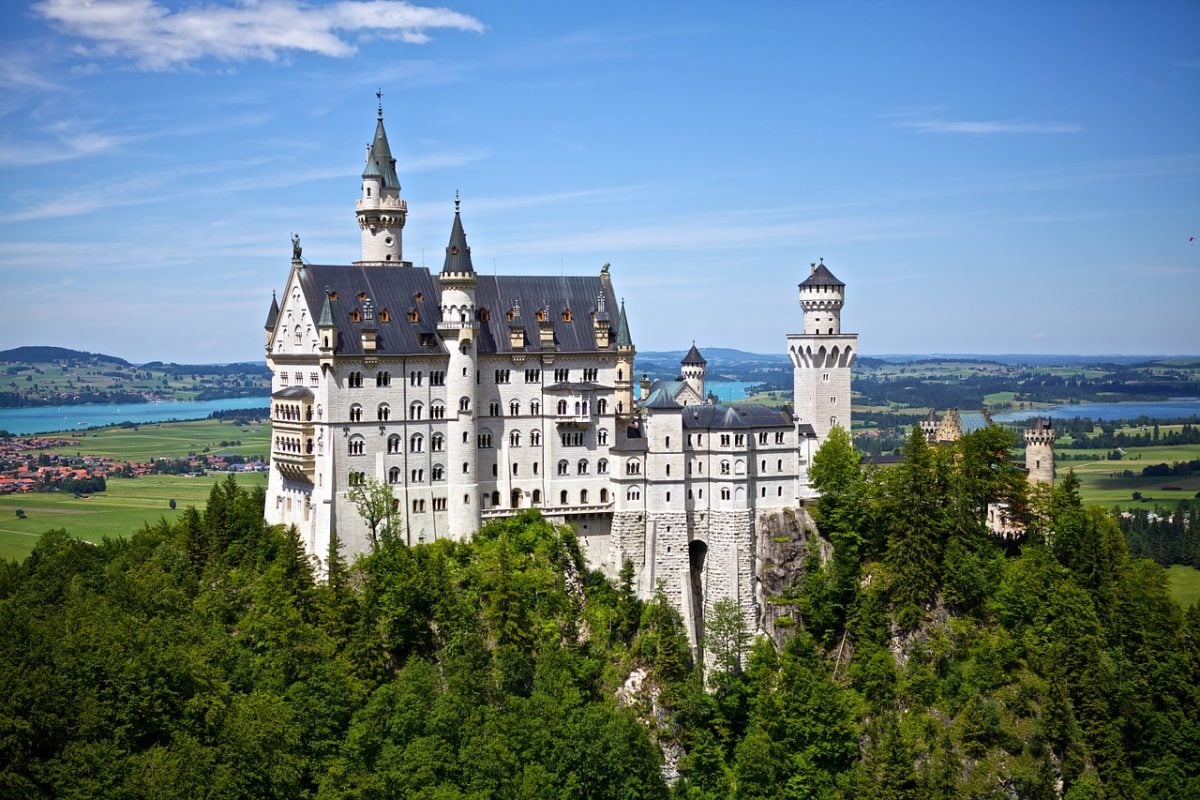 Now, I know it can be hard going from one culture to the next, but the more you know, the easier it will be to respect and cherish. You will find Germany really respects law and order, and expects you to as well. You will get yelled at if you cross the street before the light turns, just trust me on this.
In German culture there is a HUGE importance to family and tradition. This is one of the really special things about the culture – the openness and honesty they have with one another. I can see how it helps band them together across the whole country.
Be prepared to learn some basic German at least, as many small towns will only speak their own language, and the older generations will not know English. They will really appreciate it if they can see you are making an effort to learn the language.
Pros and Cons to Moving to Germany
We know everywhere can not be perfect all of the time, no matter how excited we are! Let's jump into the pros and cons of living in Germany.
Pros
Quality of Life – With high salaries, low cost of living, and easy access to the rest of Europe, you will find yourself traveling and enjoying life much more, it is inevitable.
Nature – Pristine lakes, rugged mountains, and fairy castles in Bavaria, you will always find an outdoor adventure!
Job Availability – Getting a job in Germany is one of the easiest places to find employment in the EU.
Cons
Schooling – International schools are very expensive.
Harsh Winters – The winters in Germany are gray skies, windy, and freezing cold! You will experience snow and days where getting out of bed feels like a chore.
Culture shock – There are beautiful things about each culture, but having someone correct you on a daily basis can become draining.
Language Barrier – Many Germans don't speak English, especially in the smaller town.
Living as a Digital Nomad in Germany
Internet in Germany
Compared to other EU countries, the rollout of WiFi it is still relatively slow. For a good speed you will need to pay around 40 euros a month! Telekom is the number one provider , and the most commonly used.
You will be able to do everything you need for work, but prepare for your zoom calls to occasionally lag.
While a regular connection is slower than many EU countries, I wouldn't consider this a deterrent. If this is one of your highest priorities, Munich has the best fibre optic connection and would be your best option.
The Future of the SIM Card is HERE!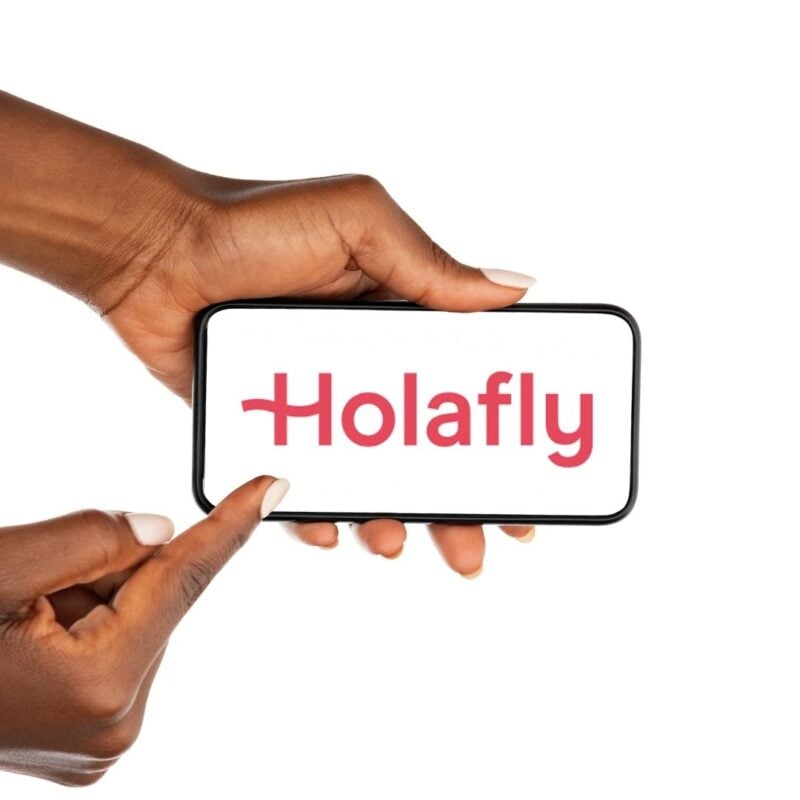 A new country, a new contract, a new piece of plastic – booooring. Instead, buy an eSIM!
An eSIM works just like an app: you buy it, you download it, and BOOM! You're connected. It's just that easy.
Is your phone eSIM ready? Read about how e-Sims work or click below to see one of the top eSIM providers on the market and ditch the plastic.
Grab an eSIM!
Digital Nomad Visas in Germany
A great option for digital nomads is the freelance visa. The requirements are quite easy – you must reside in Germany, have health insurance, proof of income, and have at least one client in Germany.
If you are working for another company outside of Germany, I recommend the resident visa.
Co-Working Spaces in Germany
The best thing about working remotely is working from wherever you want, but sometimes I miss that office camaraderie. Thankfully, co-working spaces are becoming more accessible.
You will find loads of co-working spaces all throughout the country, especially in the digital nomad community hubs like Berlin and Munich. Many of these spaces are bi-lingual, and offer fun perks like free yoga, or coffee carts on Fridays. They give you the perfect opportunity to meet digital nomads in the area.
The coworking spaces typically range from $100 a month to $150, and are normal Monday-Friday working hours.
Final Thoughts on Germany Living Costs
If you are looking for some fairytale charm, or late nights in Berlin, then it's time to pack those bags and make the leap to Germany!
It is the perfect place for digital nomads and freelancers, with inexpensive flats in the city, and a plethora of coworking spaces will help you to stay on track and hit all your quotas. Germany's easy transportation system with its incredible access to the rest of Europe will give you the chance to travel on the weekends.
Germany will give you the perfect work/life balance!
---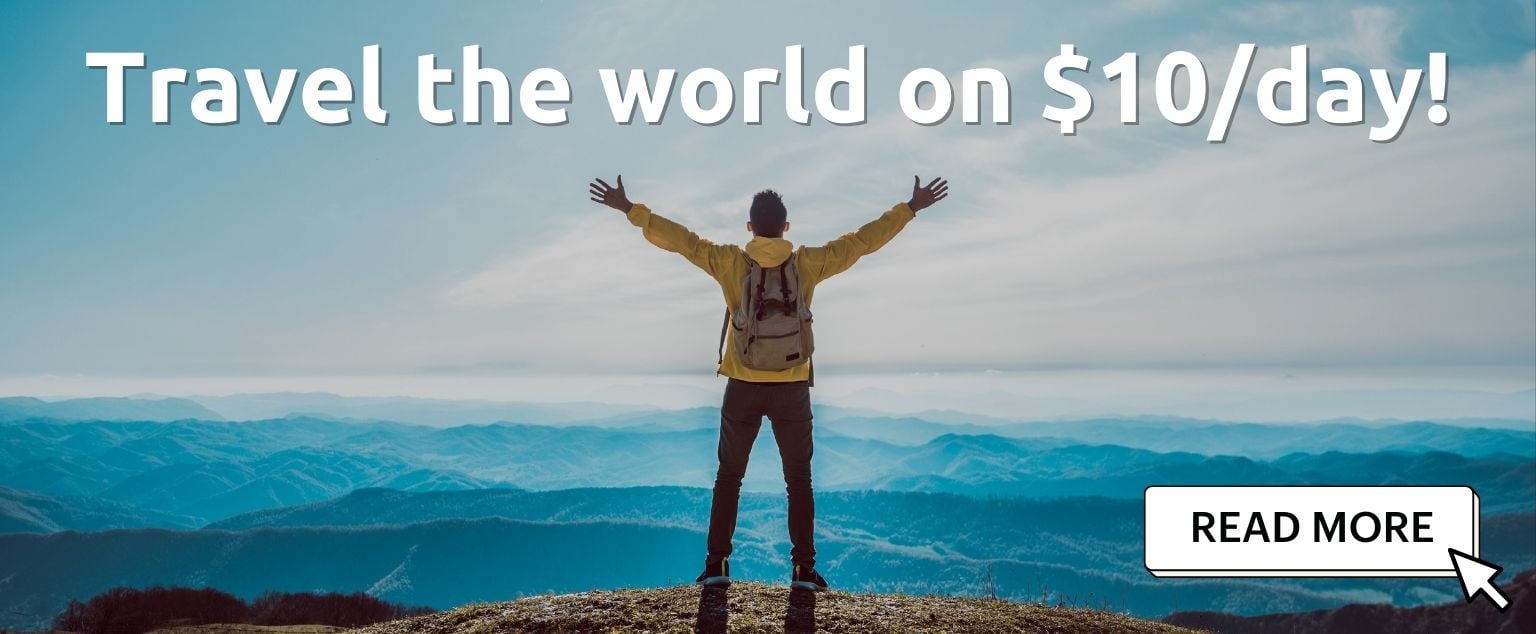 And for transparency's sake, please know that some of the links in our content are affiliate links. That means that if you book your accommodation, buy your gear, or sort your insurance through our link, we earn a small commission (at no extra cost to you). That said, we only link to the gear we trust and never recommend services we don't believe are up to scratch. Again, thank you!