It's home to all the beer, mountains and incredible castles you could wish for in Bavaria, amazingly cool cities with epic nightlife like in Berlin, a reputation for efficiency, plus a wealth of history and culture that makes it impossible not to fall in love with. It's Germany!
But with all the cleanliness and efficiency and safety, Germany is gradually growing a bit of a reputation for being unsafe. There have been terrorist attacks in this European country, and there's a rapid rise of right-wing politics here.
Now you may be wondering, "Is Germany safe?", which is exactly why we have created this safety guide for Germany. We are going to be covering a whole lot of ground in our safety guide, from answering questions like "Is it safe to drive in Germany?" or "Is it safe to visit Germany right now?" to more info and tips for your trip.
You may be simply worried about visiting Germany, you may be more specifically worried about your safety as a solo female traveller in Germany, or maybe you're thinking of moving there and want to know if Germany is safe to live in. Whatever it is, we've got you covered.

Unlock Our GREATEST Travel Secrets!
Sign up for our newsletter and get the best travel tips delivered right to your inbox.
How Safe is Germany? (Our take)
A land of castles, beer, sausages and techno (all true), Germany is a pretty cool destination. There's a lot going on here, from its cities to its mountainous nature. And as you probably were thinking, Germany is pretty safe. In fact, it's one of the most popular countries to visit in Europe.
Up until recently, however, most you would have to deal with in Germany were pickpockets in big cities. Sadly in recent times, Germany has seen its fair share of terrorism, which has understandably left a lot of people wondering if Germany is safe?
There is no such thing as a perfect safety guide, and this article is no different. The question of "Is Germany Safe?" will ALWAYS have a different answer depending on the parties involved. But this article is written for savvy travellers from the perspective of savvy travellers.
The information present in this safety guide was accurate at the time of writing, however, the world is a changeable place, now more than ever. Between the pandemic, ever-worsening cultural division, and a click-hungry media, it can be hard to maintain what is truth and what is sensationalism.
Here, you will find safety knowledge and advice for travelling Germany. It won't be down to the wire cutting edge info on the most current events, but it is layered in the expertise of veteran travellers. If you use our guide, do your own research, and practise common sense, you will have a safe trip to Germany.
If you see any outdated information in this guide, we would really appreciate it if you could reach out in the comments below. We strive to provide the most relevant travel information on the web and always appreciate input from our readers (nicely, please!). Otherwise, thanks for your ear and stay safe!
It's a wild world out there. But it's pretty damn special too. 🙂
Is Germany Safe to Visit? (The facts.)
Germany is safe to visit, but let's have a look at the stats.
This country has the largest economy in the whole of Europe. With a population of 83 million people and a powerful economy, Germany doesn't need tourism. However, it welcomed over 37 million foreign visitors in 2017, and it continues to grow year on year.
Many tourists who visit obviously feel very safe. No wonder: the 2018 Global Peace Index ranked it number 22 out of 163 countries. Pretty safe (and peaceful).
Violent crime isn't the norm here at all. Crime rates are low compared to southern Europe especially.
Overall, Germany is definitely safe to visit.
Is it Safe to Visit Germany Right Now?
It's safe to visit Germany right now, however, it's also important to know about some of the issues this country has recently faced.
In 2016 there were two separate terrorist attacks; Daesh claimed responsibility. German authorities have also managed to foil other plans for terrorist attacks since then.
Security has been increased at transport hubs, public buildings, and major events as a result. But of course, it still pays to be vigilant and listen to local police advice.
Some people have speculated that there's been an increase in crime with the influx of migrants and asylum seekers into the country, even though the population of asylum seekers makes up just 2% of the population. This has led to anti-immigrant sentiment, and a political party dedicated to that has emerged.
Street protests often erupt after alleged crimes by migrants, which represents big social issues at the moment.
Other than that, Germany's pretty safe to visit.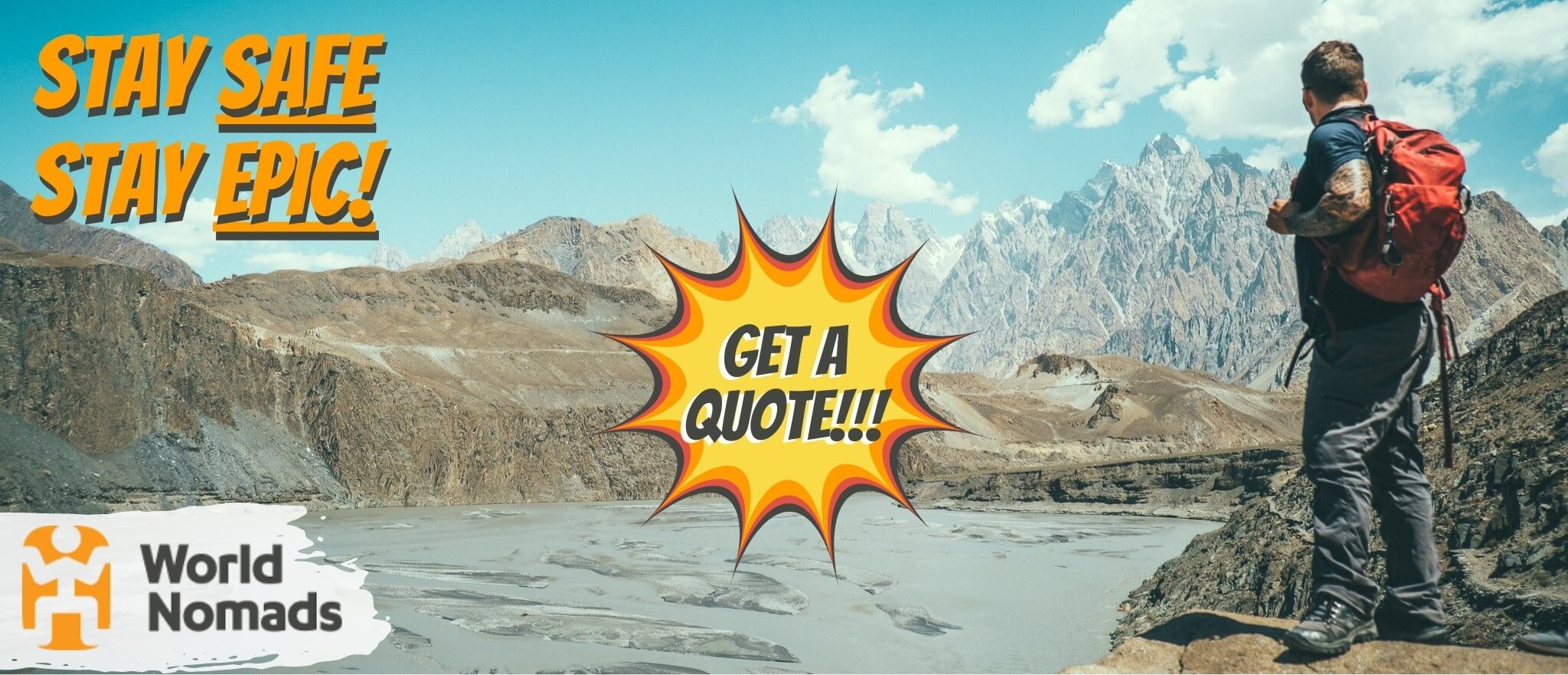 World Nomads' mission is to support and encourage travellers to explore their boundaries. They offer simple & flexible travel insurance, and safety advice to help you travel confidently.
They've been doing it since 2002 – protecting, connecting, and inspiring independent travellers just like you.
Get a quote below or read our in-depth review!
Germany is definitely a safe place for your next backpacking adventure. So if you were thinking about it, we don't want to put you off. At the same time, there are issues in Germany that are probably issues in your own country as well such as petty crime or being in the wrong place at the wrong time. We have a few safety tips for travelling to make sure you stay extra secure when you're visiting Germany.
Don't cross a pedestrian crossing on a red light – this is illegal in Germany and can land you with fines.
Be careful of women inviting you into places – like clubs or bars; you might end up with a massive bill at the end and be forced to pay it.
Staying in a cheap hostel isn't always good – it can be a bit sketchy, especially other people staying there. Bring your own padlock, and if you're staying in Berlin, do some prior research on neighborhoods beforehand.
Keep your belongings close to you in tourist areas or on transport – pickpockets are around and will target you. Wear a money belt to hide your cash.
Try to blend in – you'll avoid pickpockets. Also, don't go around in all your activewear.
Be careful at ATMs when you're getting money out – be alert, take note of who's around you, if the machine itself looks dodgy, etc.
Don't linger around train stations – groups of homeless people, crowds of people drinking… It can be more than a little sketchy.
And don't walk around deserted areas in cities after dark – places like parks are where you may meet people who aren't very nice.
Copy your passports/travel documents – if these go missing it can be a big headache.
Travelling overnight on a train? Keep your bags close and secure – make sure your valuables aren't easily get-able
Weed is not illegal – but the sale of it and possession is. Small quantities won't matter too much. Still, don't get in trouble; it's not your country!
Learn a bit of German – a lot of people speak English, but learning the lingo can really help you if you're travelling outside of cities. Plus, it can be fun to learn a new language!
Get yourself a German sim card – so you can use maps, research, and keep in contact with people.
Always check with local authorities about weather conditions – if you're heading out skiing. Things can get dangerous.
Take your avalanche beeper with you – especially if you're heading off-piste. It's the best way for you to be located if the worst happens.
So there you have it. Our travel tips for making sure you stay safe in Germany. Regardless of its current issues, it's still actually pretty safe. The same applies here as it does anywhere else: travelling smart and making sure you're not oblivious to your surroundings. This means abiding by Germany's rules (remember: don't cross on a red!) as much as avoiding dodgy looking people. Do this and you'll be completely fine!
Keeping your money safe in Germany
The thing that's probably the most common complaint or worry for backpackers is losing your money. Whether that's because you lose it yourself or you're a victim of a pickpocketing doesn't matter. Either way, it's super frustrating and inconvenient.
In Germany, there's somewhat of a risk of petty theft when it comes to public transport in cities. At the same time, forgetting to lock your stuff up in a less reputable hostel may mean you lose your cash, too. So here's an idea: a money belt.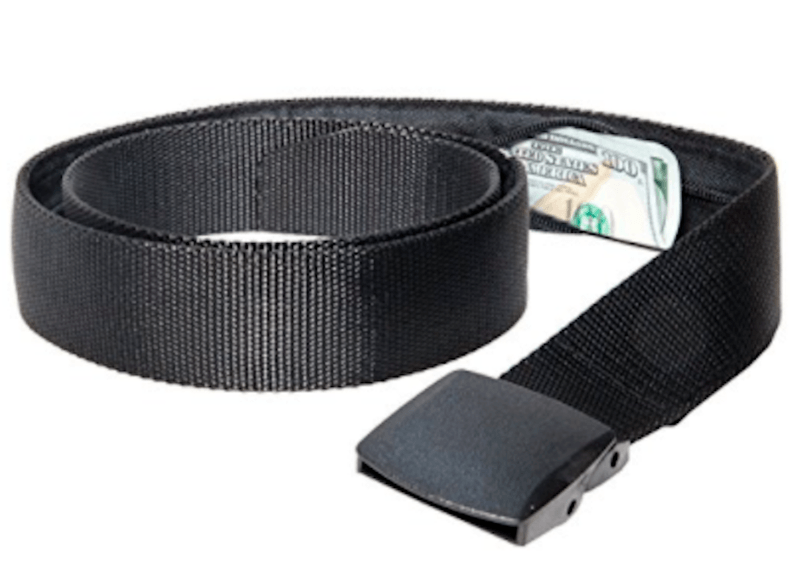 You are definitely going to be faced with a whole world of choice if you start googling that now. The Pacsafe Money Belt is our best bet. It's affordable, it looks and acts like a belt, and it's sturdy – what more could you ask for out of a money belt!
Three reasons we like this one: it's simple (looks like a belt), sturdy (won't break easily) and affordable (easy on the wallet).
It's absolutely our top choice when it comes to money belts. And in Germany, though you may not be pickpocketed at all, it still pays to be sensible. Having a stash of cash in your money belt is going to be invaluable. You'll have money to fall back on if it all goes wrong and you get something stolen from you or even if you just forget your wallet one day.
If you need a little more room for your passport and other travel valuables, have a look at a full-size money belt that tucks under your clothes instead.
Absolutely, Germany is safe to travel alone. It's a developed country where you won't have to stress out much at all when it comes to getting around or fearing for your safety. There are low crimes, the trains work, it's easy, it's fun… So don't worry too much!
There's not particularly any problems you'll find travelling alone in Germany, but still, it can't hurt to know how to stay safe in Germany as a solo traveller – and how to make your most out of your trip. So here are a few of our tips for solo travellers in Germany.
Book yourself into a social hostel. Solo travel is generally awesome: you can challenge yourself, learn stuff about the world, do things at your own pace… But you can also get lonely. The solo travel blues are a real thing. Make sure you stay somewhere where you can meet new people and maybe have a travel buddy in no time. Read reviews and find the place that's best for you. Not all hostels are created equal!
Head out on a tour. Either through a company (do research if so) or a walking tour, food tour or bar crawl organised by your hostel. You'll have fun, learn about wherever you're staying, and maybe make a few new mates.
Be careful of your belongings in hostels. It's not the staff but other people staying there who you'll have to watch out for. Things can go missing. So bring your own padlock and make sure anything you don't want to be stolen is safely under lock and key.
Don't keep all your stuff in one place. Spread your money and cards around. Having them all in one wallet, and then losing that wallet, is an easy way to mess up. So put it in different places (but remember where it is). Consider an emergency credit card, too.
Stay grounded whilst you're travelling by yourself. It's easy to lose touch so keep in contact with your friends and family back home. Tell them what you're up to, where you're going, or even just update the family Whatsapp group. This is also a good safety tip; in case something does happen to you, people knowing where you are definitely helps.
Germans aren't always open and chatty at first but don't be disheartened. If you do have a chat with people, you'll find they open up pretty quickly. And don't worry if you need help; asking for it is usually enough!
If you're stuck for someone who speaks English, don't panic. Just find someone young! Most likely they'll have a better knowledge of English than any older German citizen.
Don't get crazy-wasted if you're out by yourself – or with people, you don't know very well. You'll have to be looking out for your own safety, and doing this when you're super drunk is not easy. Keep your senses intact and know how to get home, as well.
At the end of the day, Germany is safe for solo travellers, very safe actually. There's not a lot of crime or anything like that you'll have to be concerned about. Basically, the most you'll have to actually worry about is maybe your stuff going missing at your hostel. So be smart and lock it away, keep it in different places. Get chatting to people, make friends, keep in touch with the fam and it'll be all good!
Is Germany safe for solo female travellers?
Travelling through Germany is a good option to learn about a new country by yourself. It's a big adventure and it may seem a little bit scary, but even a first-time solo female traveller can have a great trip around this cool country. There's plenty of stuff to see and do.
However, Germany does have some issues when it comes to women. It has one of the largest wage gaps in the whole of Europe. On average, women earn 21.6% less than men. With that in mind, let's have a look at how female travellers can stay safe in Germany.
Watch your surroundings. If you're alone as a woman, you're more likely to be seen as a target for thieves and pickpockets, so make sure you keep your belongings close to you.
Don't stand out like a tourist. Look at what the other women are wearing around you and try your best to follow suit. It's always best to blend in. This is pretty much a good rule of thumb for any country you visit.
Make sure you stay somewhere with female-only dorms or otherwise favourable reviews from women. This means it'll be a safe hostel for female travellers. The last thing you want is to be sharing the dorm with some sketchy guys.
When you're out having fun at night, keep an eye on your drink and don't leave it unattended. Drink spiking happens in Germany, like everywhere in the world, there are definitely some weirdos out there.
Don't tell strangers unnecessary details about yourself. People really don't need to know your travel plans, the address of your hostel, or anything personal. So if you're feeling uncomfortable, and whoever you're talking to seems sketchy, just tell some white lies or make an excuse and leave the situation entirely.
If someone's hassling you just say 'NO' – or ignore them and move away. Find somewhere that you feel is safe and ask for help if someone is just getting too much.
Don't walk around by yourself at night around quiet, poorly lit streets and deserted parts of towns. You probably don't even do this at home., but don't forget this in Germany. Bad things can still happen here.
Overall, Germany is safe for solo female travellers. There aren't really going to be many more issues (if any at all) than your home country has in terms of safety for women. There's a low crime rate and you should feel safe walking around – especially outside of big cities.
However, Berlin is safe and is a great place for a solo female travel trip. There are great hostels, a ton of fun stuff to do, and a load of other female travellers doing what you're doing, so it's a perfect place to chat, share travel tips and make friends to explore Germany with.
Despite any issues it may have with gender inequality, it's nothing compared to many places around the world. Women enjoy equal social standing (most of the time), with Angela Merkel as a chancellor. It's a liberal, progressive country that's fun to be in!
Is Germany safe to travel for families?
Germany is absolutely safe to travel for families.
There are so many fun things you can be getting up to with your children in Germany, like rocketing down the side of a mountain valley on a roller coaster, ziplining, kayaking, fairytale castles… It's all here. And it's easy!
Being a developed Western country, transport links are super straightforward. Everything's very well set up for families, too.
The home of Brothers Grimm, it's like delving into a bedtime story. Bavaria is rife with picturesque, storybook villages, for example. Cities have a wealth of zoos, museums, and parks to keep kids happy. Most places are well equipped, with things like baby changing facilities, highchairs, and children's menus.
Children's discounts are available for pretty much all attractions. Children under 5 go free – this goes for transport and hotels as well.
But children should be well behaved, it's not the norm for children to be too loud here. Things like running around in restaurants won't go down well.
There are also malls with food courts and snacks when you can get out and about for something less formal.
In cars and taxis, children under 12 have to travel in the back. Don't worry about car seats though: they're usually provided by the companies anyway.
If you want to travel with your family by train and your kids are under 15, they will get to travel for free. This makes it an amazing way to get around and great for budget travellers, too.
There are even family compartments on trains called Kleinkindabtil – complete with all the stuff you'd need for everyone on a train trip.
Basically, Germany is the perfect place for a family holiday, whatever age your kids are.
Is it safe to drive in Germany?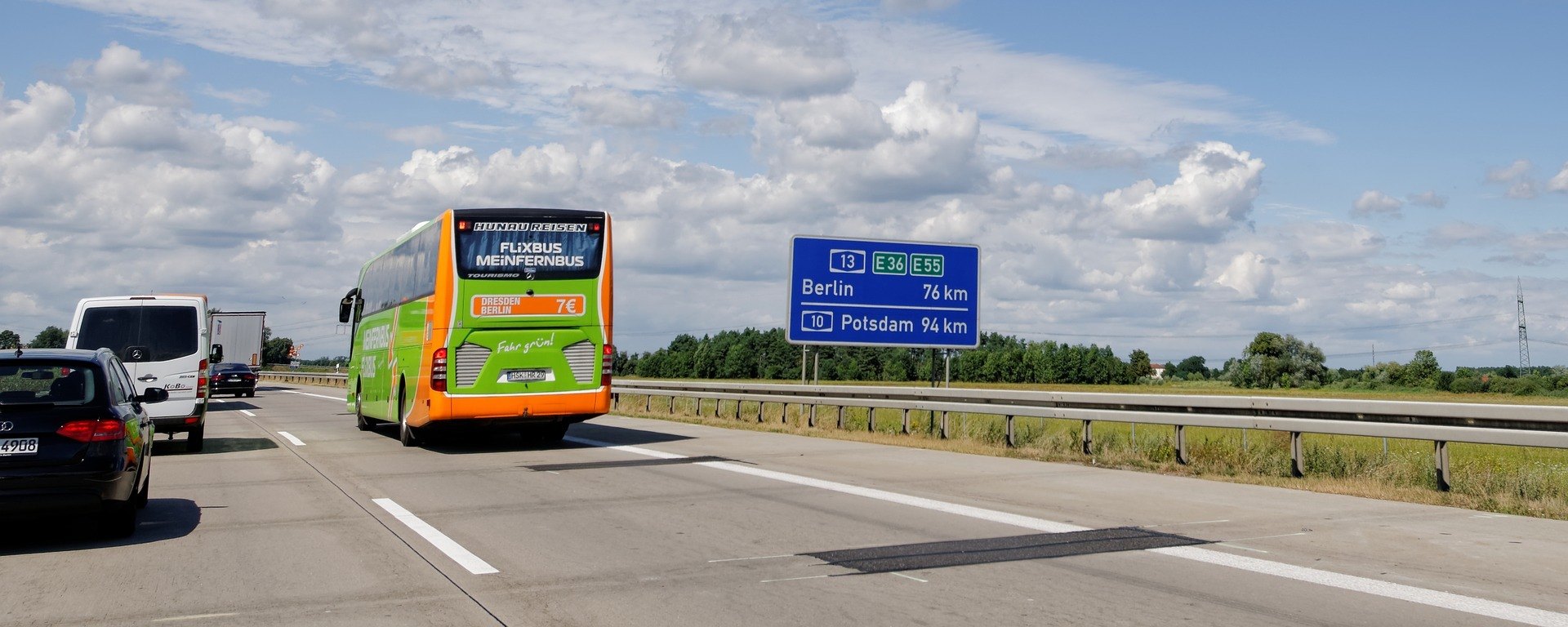 Obviously, Germany is famous for its autobahns and its car manufacturing.
Naturally, driving is safe in Germany but it's also an awesome experience, especially outside of the cities. Inside cities, there's not a lot of need for driving. In fact, you'll probably come up against the Umweltzone. This is all about exhaust emissions, meaning it gets complicated knowing if you need to pay or even allowed in or not. Often people just cycle around anyway, so consider doing the same.
Outside of the cities, the autobahn can seem daunting, but it's not that scary – it's very organised. Also, the rumours aren't true: you can drive at whatever speed you want to drive, but it's not all about racing and going as fast as possible! Keep to the right if you don't want to drive too fast.
Surprisingly, sometimes the autobahn does have speed limits. Speed cameras are present in these places, so going too fast means getting snapped and receiving a fine.
But generally, rental cars are great, the roads are great, the driving standards are great.
Driving through Germany is a perfect way to see it.
Is Uber safe in Germany?
Yes, Germany has Uber and it's safe. It's currently in operation in Berlin, Dusseldorf, Frankfurt, and Munich.
UberX – basically a chauffeur-licensed driver – and Uber Taxi, the regular kind, can be hailed in Germany. All the usual benefits of safety with Uber apply in Germany too: reading drivers' reviews, tracking your journey, paying in the app, etc.
Are taxis safe in Germany?
Taxis are also safe in Germany, but you might not need to use them often. The public transport in Germany is that good. And really, you won't have to worry about the safety of taxis in Germany. There are over 50,000 taxis in the country and it's heavily regulated.
The taxis are usually cream-coloured with a black and yellow 'TAXI' sign on the roof.
If you want to hail one, just get yourself to a taxi rank at any kind of transport hub, town centre, tourist sight… Just get the first taxi and go for it. Possibly they'll speak English, if not you'll have to show an address or have a business card for your accommodation handy.
If there's no taxi at the taxi rank, there's a phone! It's called a Taxirufsaule. You can call and they'll send a cab to that location.
You can hail taxis in the street, but nowadays you might as well use the Mytaxi app. It works like Uber but it covers a lot more ground: 30 cities, to be exact.
The funny thing about taxis in Germany is that it's illegal for them to refuse you. They have to pick you up, unless you look scary, you can't pay, have an aggressive dog, or are too drunk.
You'll be charged by the meter. Taxi drivers in Germany are honest, hardworking people, but if you're not happy, just look at the license number (near the meter) and report them to the Taxi-Zentrale.
Other than that, taxis are totally safe in Germany.
Is public transportation in Germany safe?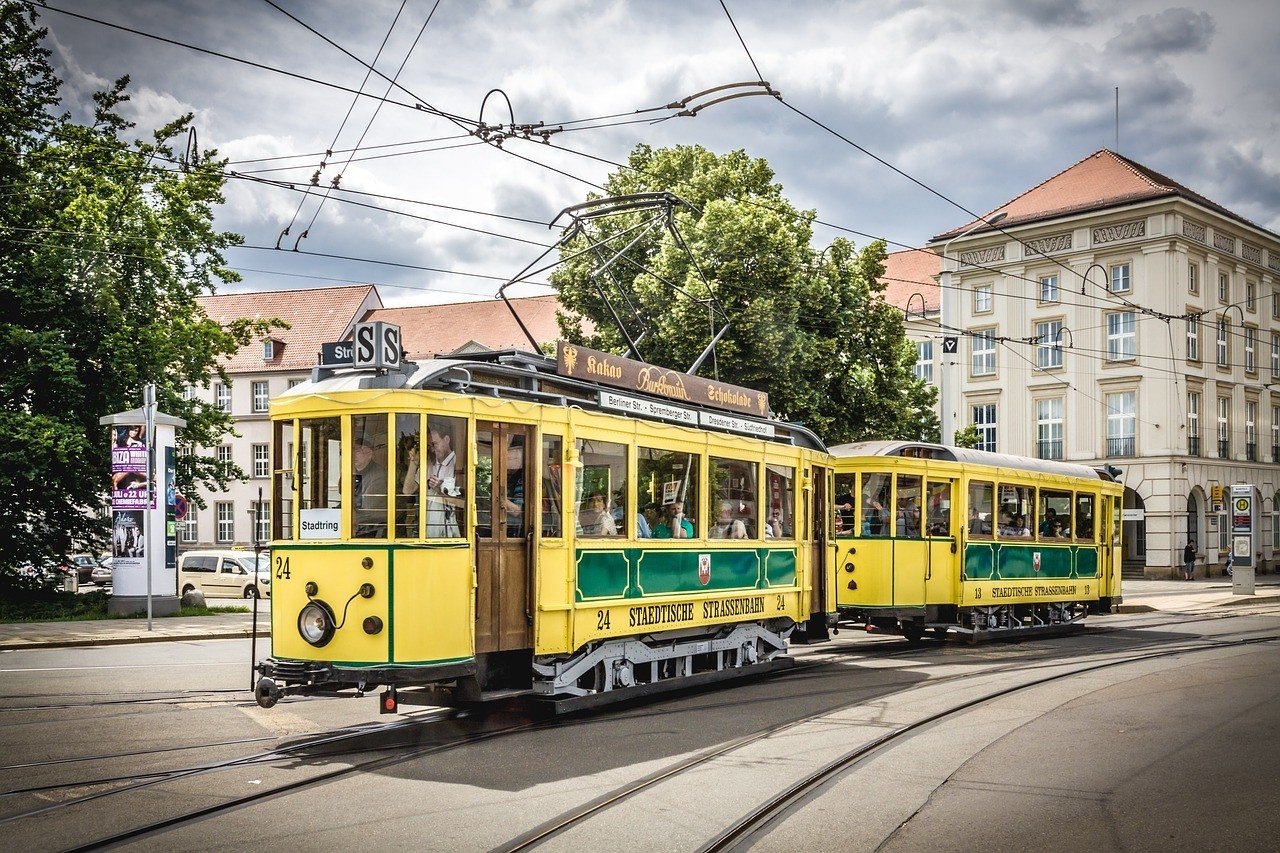 As you might expect, the public transport in Germany is safe, and pretty dang efficient – as you also might expect.
There are buses, the U-Bahn (the underground) and the S-Bahn (suburban trains), and they all connect together seamless and work like clockwork!
Most of them are safe, but you should keep an eye on your belongings on busier buses and trains, especially in larger cities. You basically have to do this on any public transport in any big city anyway, so no surprises here.
In cities, you'll find buses and trams. Some cities even boast night buses, which run till very late and are usually a safe way to get home at night. When it comes to trams you won't have to worry about getting stuck in traffic, so these may be the quicker option.
The S-Bahn runs in big cities like Munich and Berlin and connects up with the national rail network, too.
The U-Bahn – subway, underground, metro, whatever you want to call it – is a very quick way to get around. However, these can get very busy during rush hours. Probably best to avoid when it's super busy.
Travelling between cities is also pretty easy, safe and efficient.
First of all, there are inter-city buses. These are reliable and straightforward.
High-speed trains are also awesome and super quick (obviously) but also super expensive. The regular inter-city trains are much cheaper, around half the price of their high-speed counterparts. If you really want a budget experience, go for an overnight bus.
At the end of the day, public transport in Germany is safe and very comprehensive.
Is the food in Germany safe?
Again, you were probably expecting this, but: yes, the food in Germany is safe. And though there's a lot of these things, you'll find a lot more than sausages and sauerkraut to tuck into. That said, there are a whole lot of different sausages to try in Germany.
We're all about the kartoffelpuffer, which is an amazing potato pancake, and the delicious rinderroulade, a beef roll. And, of course, there's a whole lot of beer to wash it all down with. It's safe, but there are still ways to get ill in Germany. So here's our food safety tips.
Beware of tourist traps galore. You'll be able to spot these for how tacky they look, basically. You won't be getting the best quality food here and hygiene won't necessarily be a top priority – moneymaking will be instead. On top of that, they'll be pricey, so try to avoid them.
Do eat at street vendors. They're cheap and tasty but just go to the places that are busy with locals. These are going to be tastier and most likely more safe for your stomach. The ones with long lines are always going to be better, so don't find one that doesn't look popular just so you don't have to wait. Stand in line and enjoy it!
Germany has a wealth of Turkish and Middle Eastern food. And just because it's 'not German' you shouldn't be avoiding them. Some are downright delicious. Find popular ones, read reviews on Google Maps, TripAdvisor, and make sure your food's nice and fresh when you get it, and you'll be fine.
If somewhere looks pretty grimy and dirty, then maybe give it a miss. There's a good chance it'll be fine, but then again if where customers sit is not very clean, then imagine the kitchen. Best avoided.
If you're not used to heavy food – especially a lot of meat – then go slowly. A change in diet can cause you to get a bad stomach, so make sure you're not completely going crazy and eating everything when you first arrive!
Wash your hands. This is the most basic tip ever, but you don't want to be the one making yourself ill – even if the establishment you're in is pretty hygienic.
There are a lot of sausages in Germany. But as we said, there's more to life than meat in Germany. Prepare yourself for a lot of different cuts of different meat from different animals. There's a lot going on here! If you're vegetarian, don't worry too much, you'll also be able to find a lot of vegetarian/vegan options.
Really, you're going to be safe eating the food in Germany. There's not a lot of things that are going to give you a bad stomach unless you already know you've got a bit of a delicate stomach. You can still get ill in Germany, like anywhere. So be smart with where you eat!
Can you drink the water in Germany?
Yes, you can drink the water in Germany.
Bring a refillable bottle with you and make your trip a plastic-free one (at least when it comes to water). Read our in-depth review of the best travel water bottles here if you don't already have one.
Is Germany safe to live?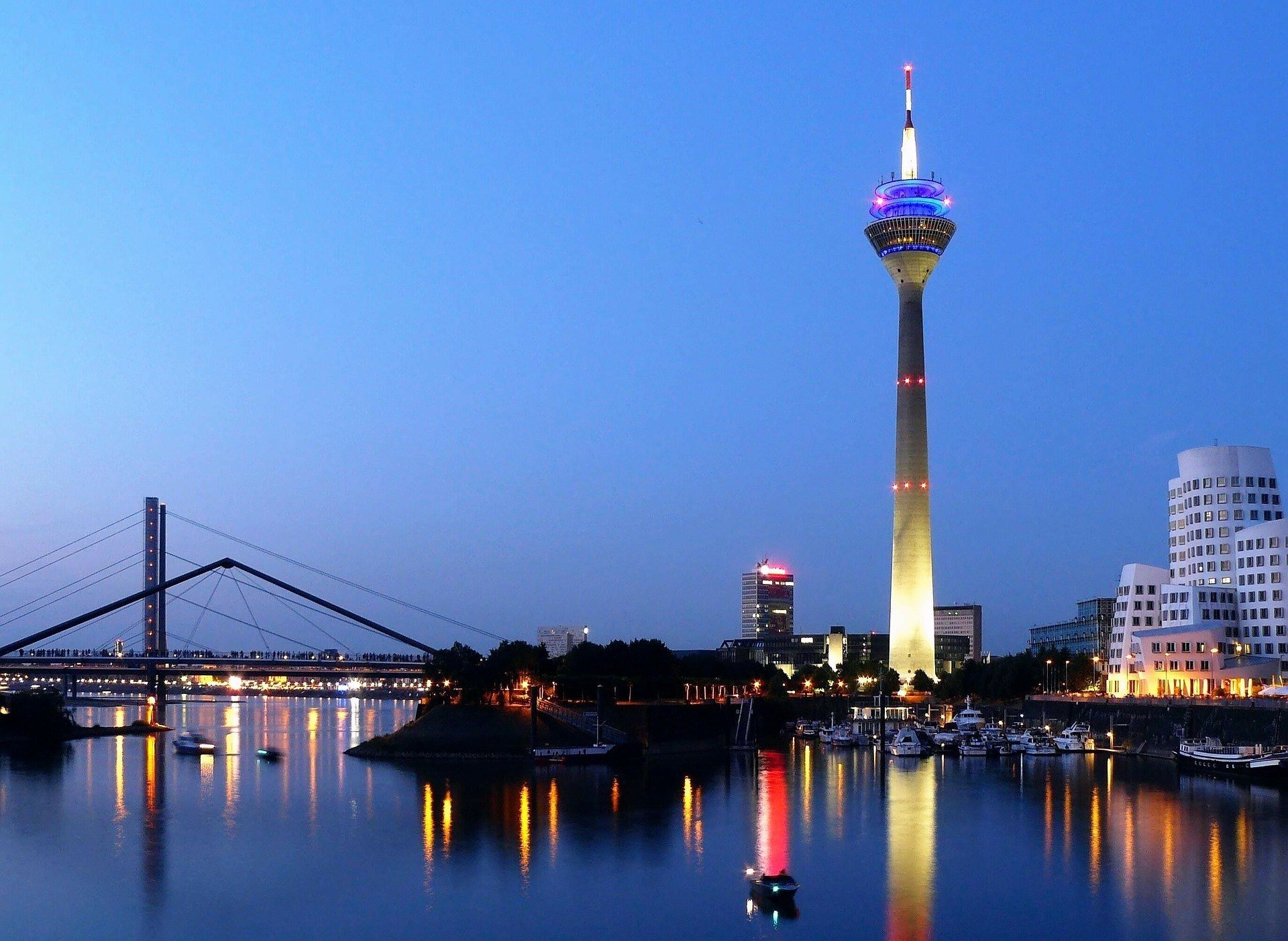 Germany is very safe to live in! It's got a high quality of life.
In a survey in 2017 covering cities' quality of life, 7 German cities featured in the top 10. These include Frankfurt, Dusseldorf, and Munich.
But pretty much all of the cities in Germany have awesome public transport, good public services and a range of amenities. There's not a lot you're going to be missing out on if you chose to base yourself in any German city.
Dusseldorf was ranked 6th in the world for its quality of life, it's a chilled place to live. A harder place to live, however, if you don't know German. Plus the taxes in this city are pretty high and can make it a pretty expensive place to live. On the other hand, that means its transport and healthcare are amazing.
However, if you want a city with a bit more buzz, Berlin is the German city for you. It's cool, home to tons of hipster cafes, a great nightlife, and is home to 14,000 British expats alone. There's a relatively good level of English spoken across the city.
Speaking of which, you should probably learn some German. It looks hard, but like any language, it's going to be challenging. Just do what you can to at least order food and things like that. Survival German, basically.
Another thing you should know: everything is closed on Sundays in Germany. If you're used to be able to do pretty much anything you want on any day of the week, you might have to change your routine!
To get yourself set up, look online, join Facebook groups, do some research before you choose a place to live. It pays to choose somewhere that properly suits you.
But Germany is great. People love living there. Clean, orderly and safe. That's enough to attract anyone, right? Plus, the cost of living in Germany is totally reasonable!
The Future of the SIM Card is HERE!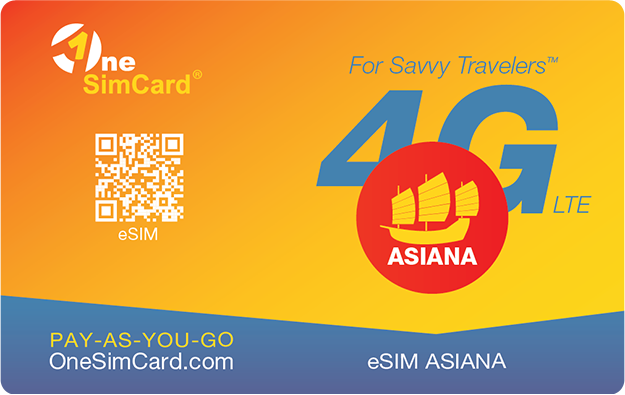 A new country, a new contract, a new piece of plastic – booooring. Instead, buy an eSIM!
An eSIM works just like an app: you buy it, you download it, and BOOM! You're connected. It's just that easy.
Is your phone eSIM ready? Read about how e-Sims work or click below to see one of the top eSIM providers on the market and ditch the plastic.
Buy an eSIM!
How is healthcare in Germany?
So, when it comes to healthcare in Germany, it is of a high standard.
The country boasts universal healthcare and alongside its standard, public hospitals, there is the option for private, too. You shouldn't have any problem finding treatment (or a doctor) anywhere in the country.
Pharmacies in Germany will be able to assist you over the counter if you have a minor ailment you're not sure about. They'll be able to tell you where to go if you need further advice.
But these are only open from 8 am to 6 pm and will close early on Saturday afternoons, and completely closed every Sunday. If you need to get to a pharmacy, there will be a list on the door of closed pharmacies of emergency pharmacies.
In need of a doctor? You can go to an English-speaking university hospital. You'll find these in most university towns and cities. In a proper emergency, just go to the A&E department of a hospital.
And when it comes to paying, make sure you either have insurance or your European Health Insurance Card, if you're European.
To sum up, healthcare in Germany is of high quality. You won't have any trouble at all.
Helpful Germany Travel Phrases
I have listed a few help phrases to use while backpacking Germany:
Hallo! – Hello!
Guten Morgen! – Good Morning!
Ich heiße – My name is…
Wie heißen Sie? – What is your name? 
Wie geht's? – How are you? 
ja – yes
nein – no
bitte – please
danke – thank you
Keine Plastiktüte – No plastic bag
Kein Stroh bitte – No straw please
Kein Plastikbesteck bitte – No plastic cutlery please
Bitte schön – You're welcome
Sprechen Sie Englisch? – Do you speak English?
Ich verstehe nicht – I don't understand.
Ich brauche Hilfe – I need some help.
Bier – Beer
As a native English speaker, I find the German language fascinating. The German language has way more words than English. I've listed a few German words that do not have a direct English translation.
Wegbier – Beer for the road (as it's legal to drink in public in Germany).
Fernweh – This word describes the feeling of wanting to be somewhere else, like reverse homesickness.
Weltschmerz – The feeling of having the weight of the world on your shoulders, or a deep inability to do anything about a large problem (like the state of our planet, world hunger, etc.).
Sprachgefühl – An instinctive or intuitive grasp of a language.
Treppenwitz – What you should have said in a conversation, but only occur to you when it is too late.
FAQ about Staying Safe in Germany
Here are some quick answers to common questions about safety in Germany.
Final thoughts on the safety of Germany
Let's be totally honest here: Germany is crazy safe. There is really nothing happening in this country that is going to be keeping you away, and nothing's likely to be happening anytime soon. Yes, there have been terrorist attacks and these could potentially continue, as they will in most other Western countries, however sporadically. It should never stop you from travelling, though.
More than just safe, Germany is clean too, and it's got an awesome infrastructure in place that means you'll be whizzing around the country without a care in the world. Everything's easy here, making it easy to soak up a different culture and only having to worry about sticking to a budget.
That said, no place is ever 100% safe and just because it is pretty safe in Germany, that does not mean that you should be completely off-guard. In fact, some of its cities are quite known for petty crime -, especially on crowded trains. Use your common sense and make sure you avoid places pickpockets like to operate. Keep our travel tips in mind and you'll be absolutely fine in Germany.
Disclaimer: Safety conditions change all over the world on a daily basis. We do our best to advise but this info may already be out of date. Do your own research. Enjoy your travels!
---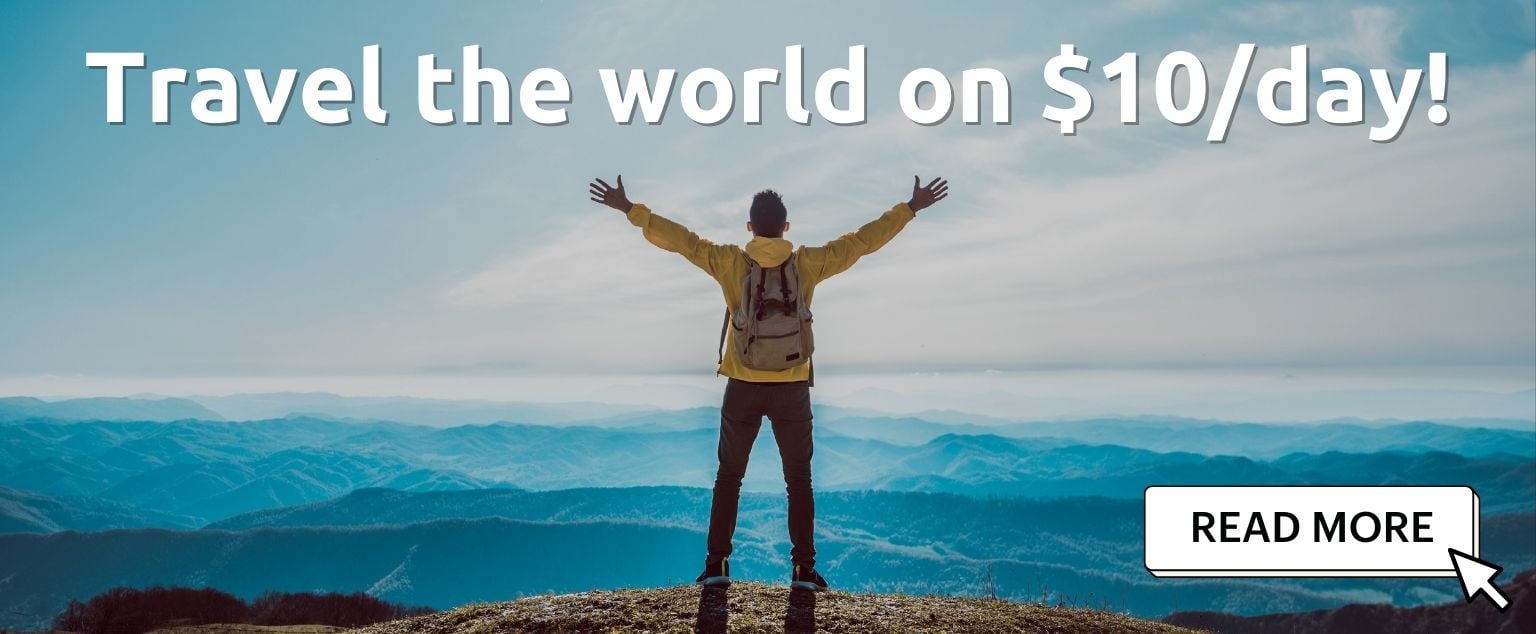 And for transparency's sake, please know that some of the links in our content are affiliate links. That means that if you book your accommodation, buy your gear, or sort your insurance through our link, we earn a small commission (at no extra cost to you). That said, we only link to the gear we trust and never recommend services we don't believe are up to scratch. Again, thank you!