Berlin is the capital of Germany, known for round the clock clubbing, stern architecture, and for its general coolness. This is the city that was formerly split by the Berlin Wall, but today there are decidedly no walls at all and a big atmosphere of liberalism in the streets here.
It's far from a paradise though. There are petty crime and pickpockets in Berlin, a big homeless community, organised crime, combined with recent terrorist attacks.
Now you probably are wondering "Is Berlin safe to visit?", and with reason. We will be tacking this question in our epic guide to staying safe in the German capital. We are all about travelling smart – and think you should be too, so you'll find information and insider tips for all kinds of traveller in our Berlin Safety Guide, from families and first-time travellers, to those who feel like renting a car or even living in the city.
Whether you are looking for some tips for solo female travellers in Berlin, or if you want to read our helpful safety guide from top to bottom to get a good idea of the safety situation in Berlin, we've got you covered. Ready? Let's get started.
How Safe is Berlin? (Our take)
Berlin is the largest and most populous city in Germany. Everyone's here for the architecture, galleries, must-see landmarks, hipster neighbourhoods, shopping, city parks and so on. You get the picture.
There is a "but" though. This fascinating German city has some issues when it comes to safety.
The German authorities have successfully "disrupted planned attacks" related to terrorist incidents. It's a real threat and has become a big issue in the city. Then there's theft, of bicycles (for example), and pickpocketing to worry about. There are also some shady neighbourhoods that you should be steering clear of.
Mainly, though, this is a safe city for visitors. Let's see what the numbers have to say, shall we?
Is Berlin Safe to Visit? (The facts.)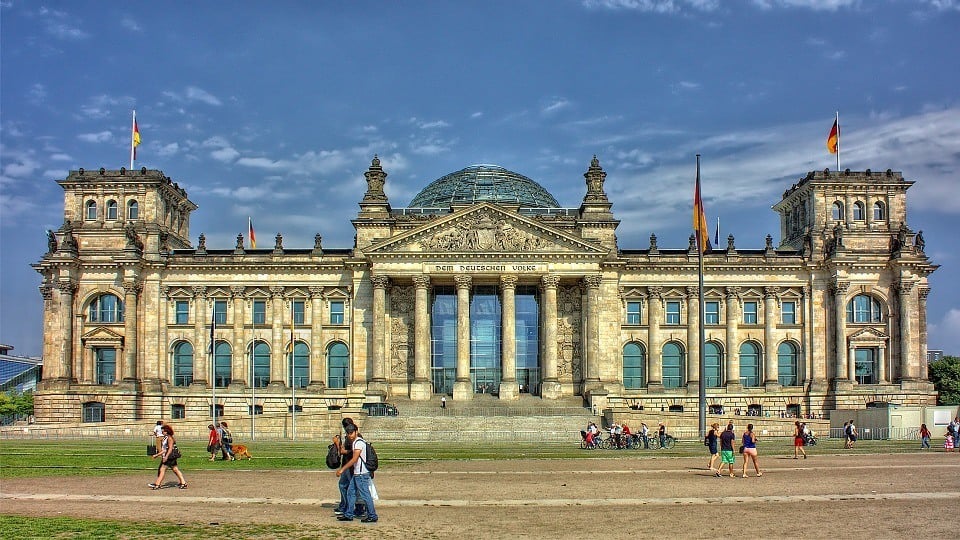 Berlin is a city of new and old and in recent years Berlin has grown in stature as a fun, funky, fashionable hangout. People love coming here to party and backpackers add Berlin to their itinerary.
Tourists have been flocking to the city. Berlin has seen record numbers of visitors; in summer 2018 Berlin counted 23 million overnight stays in the city. It's a number that's been rising steadily every year – in fact, tourism has become one of the most important of the city's industries. It makes sense, given that the city is a magnet for tourists from all over the world.
As a whole, Germany is a pretty safe country. It's ranked 22/163 on the Global Peace Index, which means it's pretty peaceful – and shows the general mindset of the country.
Nationwide, in 2018 there were 5.55 million criminal offences, a decrease of 3.6% in 2017's figure. Berlin reflects this gradual fall in crime figures, with 806 fewer incidents in the city during the 2017-2018 period.
That's the lowest level since records began, just after German reunification in 1990.
There are, however, other factors at play in Berlin. There's an organised crime scene going on here that sometimes rears its head: it's all about money laundering and controlling drugs. This kind of thing isn't going to affect you if you're just making a trip to the city, though.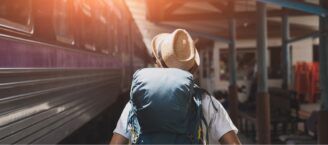 Unlock the The Broke Backpacker's GREATEST Travel Secrets
Sign up for The Broke Backpacker Newsletter to receive weekly tips on how to travel on a budget + a FREE copy of The Backpacker Bible!
Is it Safe to Visit Berlin Right Now?
Currently, Berlin is pretty safe but there are issues, one of the biggest ones being terrorism.
The city is currently on a level of high alert and increased security after actual terrorist attacks on the city. Notably in 2016, at Berlin's Christmas Market, and on 3rd June 2018.
The police have urged vigilance at places like airports, transport hubs, big public gatherings. You should keep an eye out for changes in the news and listen to local advice and warnings.
Another thing to be aware of is protests. These can be pretty big, pretty tense, and people can get injured. We'd advise against getting involved with these.
Aside from that, you're not going to find a lot – other than terrorism – that's going to put you off a trip to the city. So to conclude: yes, it is safe to visit Berlin right now.
Do you need Travel Insurance for your trip? Even if you're only going for a few days, that's more than enough time to get smote by wrathful angels. Have fun in Berlin, but take it from us, overseas medical care and canceled flights can be seriously expensive – insurance can, therefore, be a life-saver.
Travel mishaps can and do happen and it is well worth thinking about insurance before you leave home.
We have used World Nomads for years now and I have personally made several claims. Why not get a quote from them yourself?
Do be sure to read the terms and conditions to make sure that the policy covers your needs.
Getting an estimate from World Nomads is simple – just click the button or image below, fill out the necessary info, and you're on your way!

If you want to shop around a little, then read up on competing companies and what they can offer. There are lots of insurances out there, so don't feel limited.
Berlin may be a relatively safe city in a relatively safe country, but that doesn't mean you should be walking around without a care in the world. It pays to know some of the do's and don't's in the German capital, so we are sharing with you some of our very best safety tips for travelling to Berlin so you can travel smart. Wandering around and discovering Berlin isn't always a picnic, as you're about to find out…
Don't walk around with expensive stuff on the show – bound to make you a target of petty theft.
Don't show wads of cash when paying for stuff – same thing: gold dust to a potential thief.
Limit the amount of cash you take around with you – don't be a walking ATM. In fact, wear a money belt (we have a recommendation below).
Be aware of your surroundings on public transport – pickpockets can lurk on these. Guards patrol stations, but still: you need to look out for your own belongings!
Keep your bag close to you at cafes/restaurants – never on the back of your chair because that is easily yoinked.
Watch out around historical centres – like Brandenburg Tor, Museum Island, and Alexanderplatz. Especially at night time as they can get a bit sketchy.
Other areas to watch out for include – Gorlitzer Park and around Neukolln, as well as Kreuzberg; some parts of these areas have been known for violent crime and robberies. Know where to stay in Berlin (and where not!)
Know your distraction techniques – pickpockets often work in groups and sometimes pretend to be collecting money for a charity; another obvious one is getting in your way sort of stuff, asking to take your picture, etc. is the precursor to pickpocketing.
Keep your eyes peeled for bicycles – they're everywhere! Make sure you're not an idiot and don't walk in cycle lanes.
Don't fall asleep on the S- or U-Bahn at night – that's when your stuff is easily stolen.
Dress down and try to blend in – so you don't stand out like an unsuspecting tourist!
Don't leave your luggage unattended – at the airport or even your hotel lobby because it may go missing.
Learn a few German phrases – lots of people speak English but it just pays to have at least a few words in German to get by.
Make sure you know where you're going – and don't just be on your phone the whole time; a good way to get hurt or be a victim of crime.
Taking shortcuts isn't always a good idea – especially at night. Stick to busy, well-lit streets.
Be aware of homeless communities around large stations – plus groups of people that sit around drinking. Best avoided.
Get a sim card – this way you can use the internet, call people, etc. It'll keep you safe.
Remember: bike theft is a big issue – if you rent a bike, lock it up safe and secure when it's parked up.
Be careful what you take at night – Drug use is popular in Berlin but there is some nasty stuff out there. Know who you're buying from and what.
There's a lot to keep in mind when you're travelling to Berlin. It may seem all fun and trendy and well ordered, but at the same time crime definitely exists here. Often when you're least expecting it. So the best thing to do would be to travel smart; make sure that you DON'T look like a tourist (= like a target), be aware of your surroundings and don't put your safety at risk. Remember our tips!
Some General Safety Tips from the OG Broke Backpacker
Keeping your money safe in Berlin
Though your actual person might not be at risk safety-wise around the world, a lot of the time your money is. That's the sort of thing that fuels petty crime: getting at unsuspecting travellers' and tourists' money.
In Berlin, it's no different. There are pickpockets, like we've said, and not just a few. You can keep your valuables close, you can avoid crowds, but sooner or later you'll be somewhere the pickpockets are… so we'd suggest a travel money belt.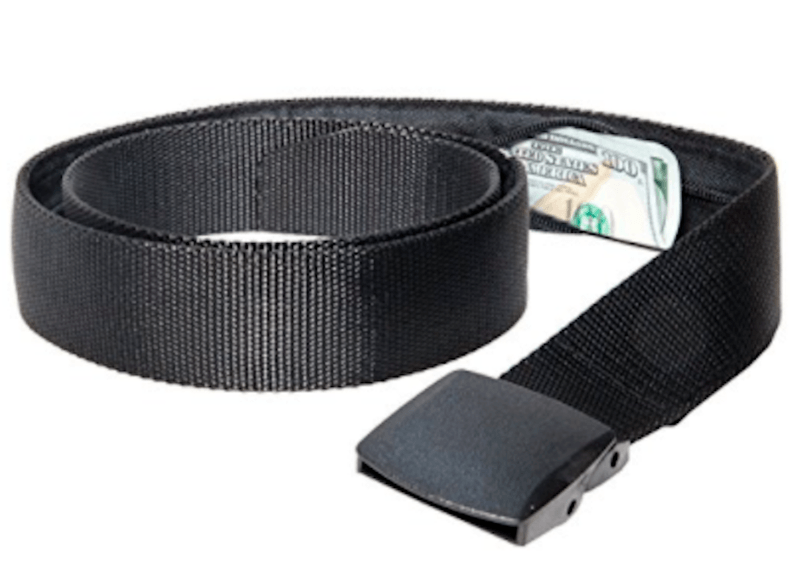 It's the simplest solution to the problem of "how do I stop people taking stuff out my pockets?" By putting stuff in a money belt, you've solved the problem: there's nothing in your pockets in the first place!
When it comes to choosing the right one, however, there are loads. Our favourite by far is the Active Roots Security Belt.
Not only is this thing pretty affordable, but it's the simplicity of it that we're super in to. First of all, it looks like a normal belt: no zillions of pockets, no obvious bulk, no chest straps – just a regular old belt. Second of all the actual compartment, you put your money into consists solely of a little zip pocket. As a bonus, this thing is sturdy, too. Overall this is definitely a money belt to consider! You can read our in-depth review here.
If you need a little more room for your passport and other travel valuables, have a look at a full-size money belt that tucks under your clothes instead.
There's a load of cool stuff about travelling by yourself that easily makes it one of the best ways to see the world. Obviously, there's the stuff like getting to do what you want, when you want, but on top of that, you challenge yourself and develop as an actual person.
There will be times when it won't be all gravy though. Often it can be super tiring, you can get lonely, homesick, and with no one to balance you it can be tough. It definitely applies to a city like Berlin. So here is some advice for solo travellers in Berlin to keep you sane and safe.
Book a cheap social hostel in Berlin. These are great for meeting fellow travellers, which is always a good thing if you're feeling isolated or the 'solo travel blues' are creeping up on you. Obviously, read reviews before you book; no use staying in a party place if you're not a party person, or a quiet "alternative" sorta place if that's not your vibe either.
Go on a free walking tour. These are super cool for a number of reasons. First of all, they help you get to grips with the layout of your local area – helpful when it comes to finding your way around. You also get to learn some actual stuff about where you're staying. Finally: you get to meet and mingle with fellow travellers at the same time. Win-win-win.
If the sun's shining, head to one of Berlin's parks. For example, we'd suggest Templehof. There'll be people laying out, enjoying the sun, relaxing, chilling out… Surprisingly it's a pretty good way to get chatting to other people, so get your best icebreakers out and talk to some people who look like they won't mind you chatting to them.
Carry a lighter with you. Even if you don't smoke. "What? Why?" you're asking. Being the person with the lighter when someone wants to spark up a ciggy, or something stronger can lead to a conversation, can lead to invitations to nights out – all manner of friendly stuff!
Don't be afraid to put yourself out there and start talking to people. Just go ahead and socialize. It might be in your hostel, it might be at a bar, it might be in the park. What've you got to lose?
Hit the cultural events/museums. There are a ton of galleries and museums here where you can learn all about German history and see a load of different art – whatever you feel like. Being by yourself means spending as much time as you want in any sort of cultural place like that.
If you're going for a night out, don't get too drunk. If you're by yourself, you'll lack a group of friends who can help and/or advise you on when it seems like you might have had enough. Plus getting home will be a little tricky. Basically, we don't need to tell you this, but being totally wasted is a good way to get into a stupid (i.e. bad) situation.
Travel as lightly as possible. Not only will having a load of bags may make you more of a target if you're by yourself, but it will also just be super annoying lugging all that stuff through a city. Try to keep it to one bag travel; looking like a lost hiker in an urban environment is neither a good look nor is it fun.
Those were our top tips for solo travellers in Berlin. There's obviously a whole ton of stuff to think about, but the key thing is to take it easy. Take a few days off here and there to chill. Don't do everything the guidebook tells you to do. Experience Berlin at your own pace. Do you want to sit in a cafe all afternoon instead of hitting up "the sights"? Do it! This is your trip, so do what you want (but definitely do keep our tips in mind!).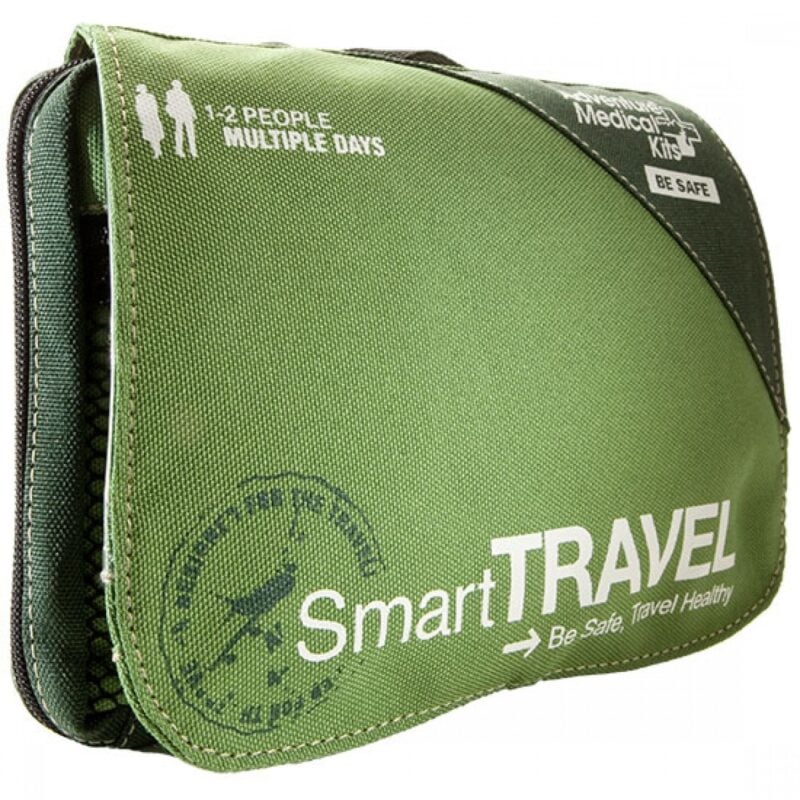 Be prepared for what life throws at you on the road. Pick up an AMK Travel Medical Kit before you head out on your next adventure.
View on REI
View on Amazon
Is Berlin safe for solo female travellers?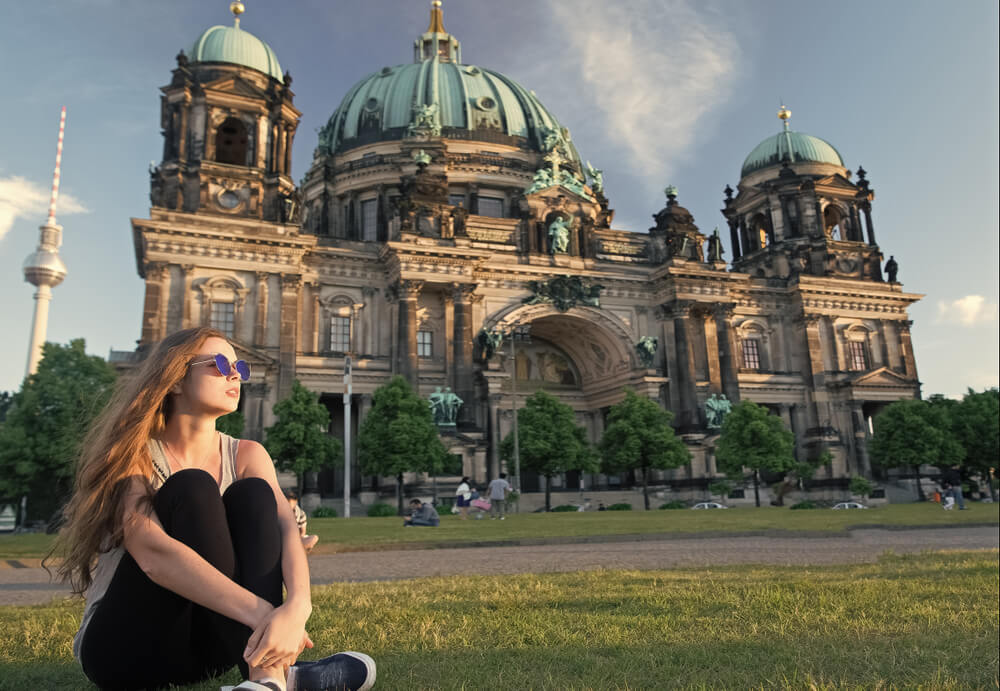 Women visit, live and work in Berlin on the daily, so of course – it's safe for solo female travellers. This is a pretty cool city with a liberal, open attitude and for the most part, you're going to be pretty safe exploring what it has to offer you. At the same time, it's still a city.
That means you will have to take some precautions – stuff you probably already have to think about as a female, right? Nothing to worry about though, and we've got some handy tips for solo female travellers in Berlin to help you get to know this cool city like a pro.
When it comes to accommodation… cheaper doesn't always mean better. Having a secure place to stay should be a top priority, especially in Berlin. The city can attract some weirdos, if not some outright unsavoury characters, most likely found in its lower cost accommodation. Don't skimp on your security.
Do your research. You'll want to be staying somewhere in a decent/safe location, with female-only dorms, that's a comfortable place to return after a day in the city, and (most importantly) that comes highly recommended from other solo female travellers. That's the best way to find a good place to stay in Berlin.
Don't be worried about doing anything by yourself in Berlin! It's actually totally normal to check out cultural sights, wander around museums, check out a film, go to a bar, go clubbing – do whatever – by yourself. Don't be afraid to do what you feel like doing, no matter if you've got people to do it with or not.
Try and dress as much as possible as a local lady. Looking like a backpacker might get you hassle from guys looking to "hook up" with travellers. Plus you'll just stand out more anyway.
Don't walk around deserted streets away from the city centre by yourself at night. This is the obvious sort of stuff, and probably what you already do in your own country anyway.
Make sure you tell people what your plans are. Your friends back home, your mum, your gran, your sister – whoever it is, you shouldn't let them worry too much about you, because they probably will. So keep them informed of your travel plans, what you've been up to… It's never good to go off-grid when you're travelling solo. Plus hearing a familiar voice is always a nice thing!
Get on a tour. You could even hire a tour guide for yourself. A group tour is a good way to go since you get to interact with other human beings, but if you want a more personal experience a guide could be best for you. Remember, as always, research and find the most reputable, well-recommended tour/guide going.
Being in a city by yourself, no matter how easy it is to travel around solo, can get lonely. Never fear: there are ways to meet up with other, like-minded travellers. There are a ton of solo female travel groups out there – online, on Facebook, on Instagram. For instance, you could hit up Girls Love Travel.
Being a solo female traveller in Berlin doesn't mean you should be concerned about… well, about MUCH at all really. The German capital city may be a little bit rough around the edges sometimes, but that doesn't mean you shouldn't be exploring this cool city by yourself.
As we said, it's often totally fine to do stuff by yourself in Berlin – so we would recommend taking full advantage of that and taking the opportunity to do whatever you want to do. Of course, Berlin is still a city and it goes without saying that there are risks here.
Avoid jeopardising your security with simple stuff, like finding a well-reviewed, recommended, female-friendly hostel or guesthouse to stay at; get yourself on a DECENT tour; make some friends on solo female travel groups online; be aware of your surroundings… Simple!
Is Berlin safe to travel for families?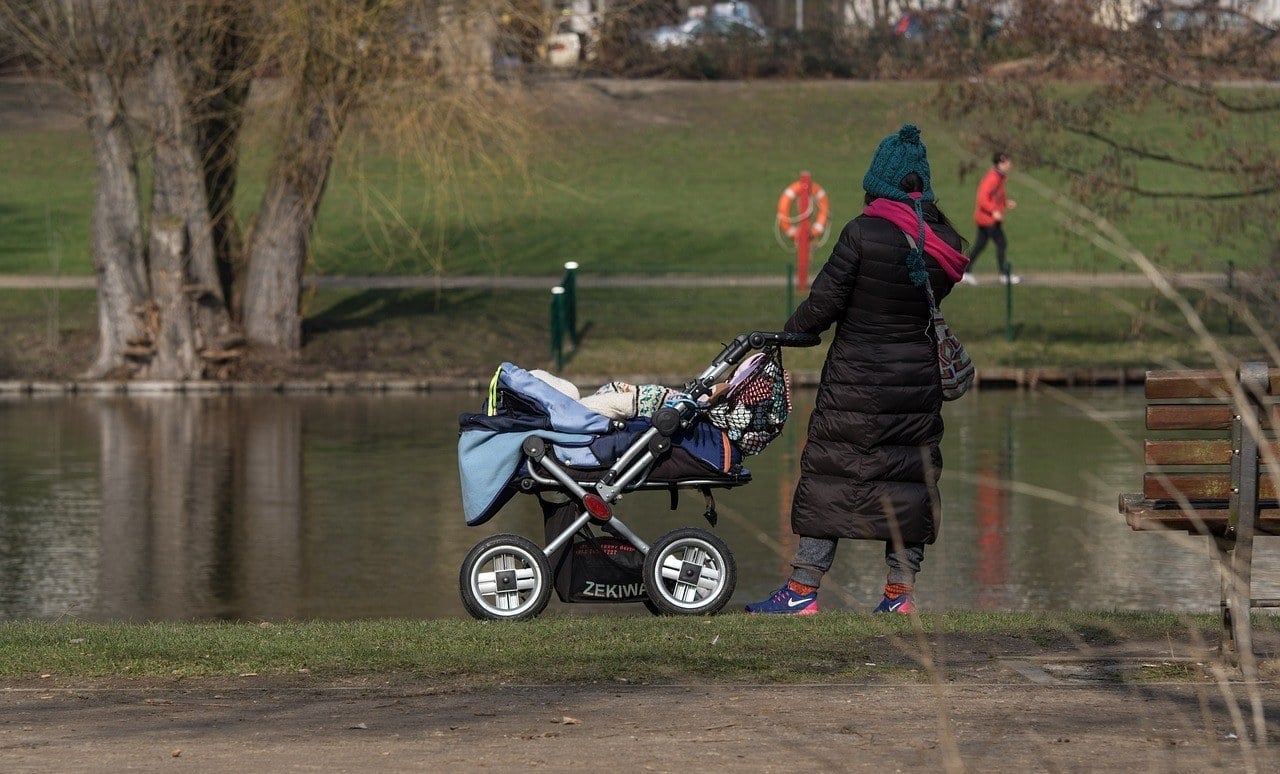 Being a capital city of a developed country that's pretty peaceful on the whole, travelling to Berlin with your family is safe. Not only is it safe, but it's also easy too.
Get your kids out and about in the city and experience the culture. Tuck into a load of tasty delights on offer. You and your family are going to love it!
Don't worry too much about not having anything to keep your children occupied: there's a ton of stuff to keep all ages entertained in Berlin.
You could go to Legoland Discovery Centre (for real – who doesn't like Lego?) or to the Computerspiele Museum, which is a museum totally dedicated to computer games (again, awesome option), or you could also go to the Naturkundemuseum, where you can see a T-Rex and a polar bear.
Otherwise, you could head to the very family-friendly Gliesdreiesk Park, with its skate park, nature garden, and adventure playgrounds. You could head to the Kollwitzplatz to grab an ice cream. Oh and don't forget the Berlin Zoo.
Basically, there's so much to do for families in Berlin that you won't run out of ideas.
When it comes to eating out in Berlin with children in tow, don't worry: many restaurants will have a children's menu (or kindermenu), and others will serve up to half portions for children. There are also food courts and farmers markets where everyone can enjoy all sorts of grub.
Formula, nappies, baby food… This can all be purchased easily throughout the city in many pharmacies and supermarkets.
Having children won't add much to the cost of your Berlin trip. No, really: children under 6 ride FREE on public transport and (often) under 18s get free admittance into a ton of different museums, galleries, and attractions. Pretty awesome if you ask us, even if you're not on a budget.
So in conclusion, Berlin is safe for families. Nothing to worry about. In fact, it's super cool and you and your family are going to have an awesome stay!
Is it safe to drive in Berlin?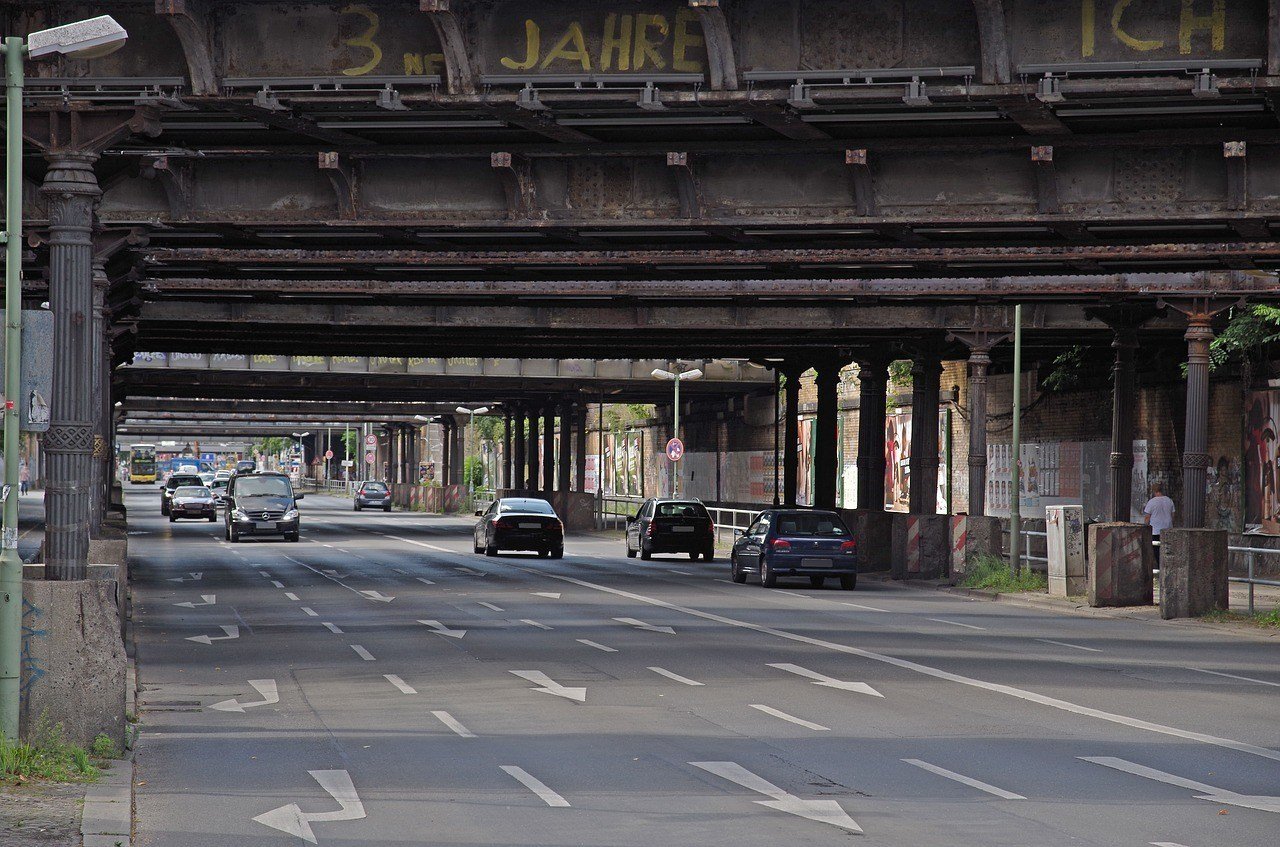 Thinking about driving in Berlin? Here's a fun fact for you… Berlin has one of the lowest cars to person ratios in the West. Which is cool – and it definitely shows when you're in the city, with a traffic landscape that looks very different compared to other car-clogged metropolises.
Having said that, it doesn't mean driving around Berlin is a great idea.
Like many other cities, there's already a comprehensive public transport network in place, so driving isn't really worth your time.
However, if you really want to hire a car in Berlin to drive either around or out of the city (or both), it's not a terrible idea.
In general, the drivers in Berlin are pretty good at sticking to the rules of the road. They're quite well-mannered drivers. The streets are well signposted. If anything, the bad driver is going to be you! And that's because you don't know about the rules and you're not a German driver!
One thing, or hazard really, to take note of are Berlin's cyclists. They are literally everywhere. Even though they usually ride on the cycle paths, you still definitely need to be aware of their presence at junctions and right-hand turns.
Berlin is characterised by its wide streets and many lanes. You won't have to worry too much about dead-ends and one-way streets. Just be aware that these roads, no matter how wide they are, still get clogged during rush hour. Not a good time to drive anywhere in the world.
You were probably waiting for this, but here's when we mention the infamous Autobahns. There are actually some of these in the west part of the city. Make sure you don't end up on it if you don't need to be, as it can be a pretty speedy experience if you don't know what you're getting yourself into. However, if you do head out further afield, do note that: yes, it's true – these roads don't have speed limits. That doesn't mean you should be a speed demon and go mental; you should still drive well.
So if you're in Berlin and you only really want to stay in the city centre, it ain't worth driving. Not only is it going to be expensive to rent a car in the first place, but parking isn't easy to find and when you do find it and that's expensive too.
To conclude: driving in Berlin = safe, but pointless. (Unless you want to go on a road trip out of the city).
Cycling in Berlin
Cyclists have been taking over the capital city of Germany for the last couple of years. Nowadays, people in Berlin tend to leave their cars at home and choose their bike to get from A to B. This isn't just an easy way to stay fit, it's also more eco-friendly, and you're faster and safer.
But how is it safer? Since Berlin's streets are pretty wide (thanks to the Prussian military), cars and bikes can easily fit next to each other. That's why the city decided to have designated lanes for the normal traffic, for bikes, and for people on foot.
If everyone is following the rules, uses common sense and is aware of their surroundings, riding your bike in Berlin is a breeze. However, you should always prepare for the worst-case scenario, so make sure to wear your helmet!
Where can you rent a bike?
Bike Sharing: There are a couple of bike-sharing stations in the city, each offering a different type of bike and conditions. Lot's of tourists rent their daily bikes this way, which is super affordable and easy to do.
Rental shops: In case you're visiting the city for the first time, you'll be better off renting a bike from a normal rental place. These rentals can give you great tips, introduce you to the traffic rules in Berlin and help you find the right bicycle for you.
Is Uber safe in Berlin?
Uber in Berlin is available and yes, it's safe.
It's cheaper than getting a taxi. It's easy to get hold of an Uber. There's less hassle involved. You can pay in-app. It's a pretty safe service to use since you can read reviews of drivers, track your journey, know exactly what car is picking you up. There's no language barrier.
Basically, Uber is safe and super handy in Berlin.
Are taxis safe in Berlin?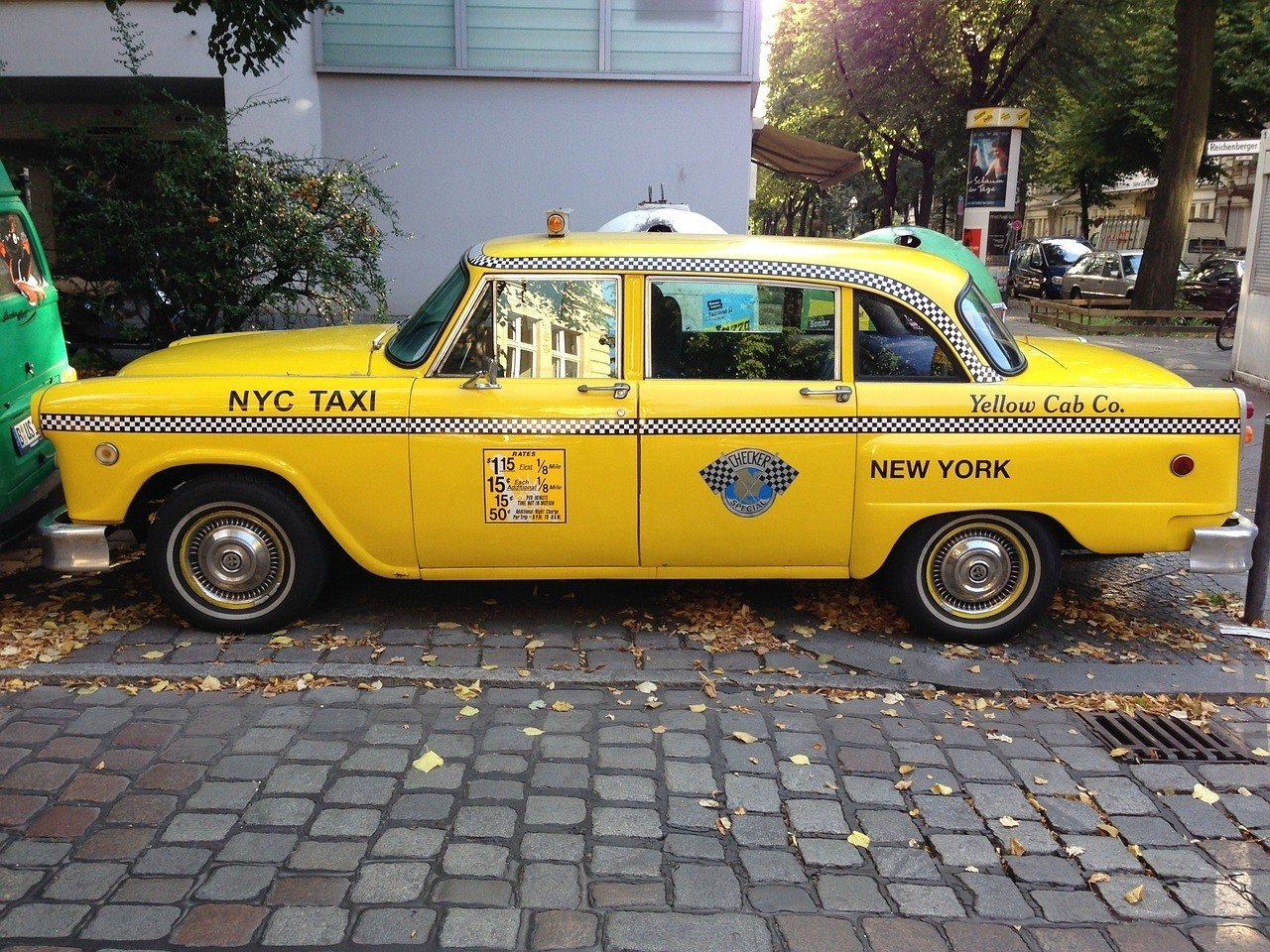 When it comes to getting a taxi in Berlin, you'll be spoilt for choice: the city boasts more than 7,000 licensed taxis.
You can spot them easily thanks to their beige colour. They're fairly reasonably priced (though Uber is still cheaper like we said) and easy to get hold of.
You can hail a taxi in the street and the drivers are pretty laid-back and happy to deal with different requests, like luggage, asking them to wait etc. Pretty chill.
And whaddya know: you can even use an app. It's called Mytaxi. It works like Uber and you can pay in-app, all that sort of stuff. Without the app, you can still pay for your fare not just with cash but with a credit or debit card.
If you can't find a taxi, get your hostel, guesthouse or hotel to call one for you, or simply head to a taxi rank. You'll find one of these in places near clubs, shopping malls, theatres – that sort of thing.
A good tip for Berlin taxis: they usually have meters, but for short trips (up to 2 kilometres) you can ask for a special, fixed-price tariff. This is called a kurzstrecke (pronounced sort of like Curt's trekker). You'll only have to pay 5 Euros, no matter how long it takes!
At the end of the day, there's no monkey business with the taxis in Berlin. They're what taxis should be: normal cars with drivers that take you places for money, safely. No haggling, no hassle, all good.
Is public transportation in Berlin safe?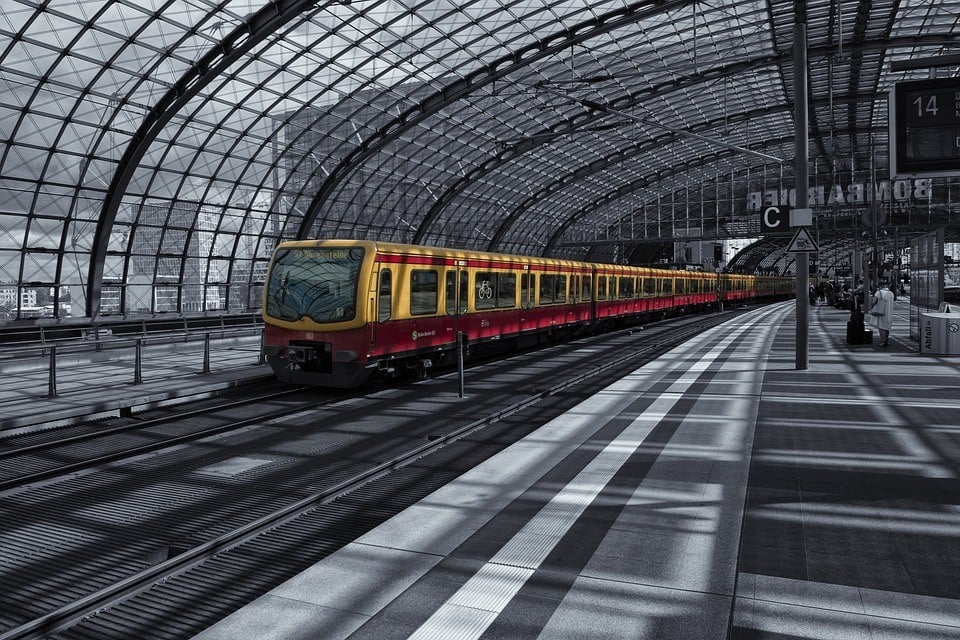 It's a big city, so as you might expect, Berlin has a pretty extensive public transport system.
To put that into numbers for you, there are 120 kilometres of tram lines, 473 kilometres of railway track, and more navigable waterways than Amsterdam, Stockholm and even Venice – put together! And Berlin makes good use of it all.
The public transport in Berlin is straightforward, clean and reliable.
First of all, there's the S-Bahn, which is a mostly above-ground railway network running in and around Berlin. It runs from 4:30 AM to 1:30 AM and is a top way to get to see a lot of Berlin's different landmarks that you want to add to your Berlin itinerary.
Then there's the U-Bahn, Berlin's metro system. There are 9 lines with trains that run every 2-5 minutes during peak hours. These run from 4:30 in the morning till 12:30 at night. Luckily, if you miss the last train on a night out, night buses replace the metro lines and run between stations.
Berlin also has a tram network. This is cool and mainly runs in the eastern neighbourhoods of the city. It works well in areas that U- and S-Bahn don't quite reach and they run 24 hours a day. Spotting one is easy; there's a big "M" on the front, the route number, and it looks like a tram.
To use the tram, they only accept coins. But you might want to consider getting a pass – there are different types that you can pick up at transport hubs, even the airport.
Then there are buses. Berlin has 151 bus routes that also run 24 hours a day. These are an easy and cheap way to get around Berlin's top sights, particularly the 100 route, which goes past a lot of them.
That's the round-up of Berlin's public transport.
Though most of the time they're safe, it's on the U- and S-Bahn – mostly in rush hour or when it's really busy in general – that you'll have to be on the lookout for pickpockets. It's difficult to notice someone rifling through your pockets on a packed train, so it's best to have nothing in your pockets (money belt, people).
All in all, public transport is safe in Berlin. And very convenient!
Keep everything on you in transit!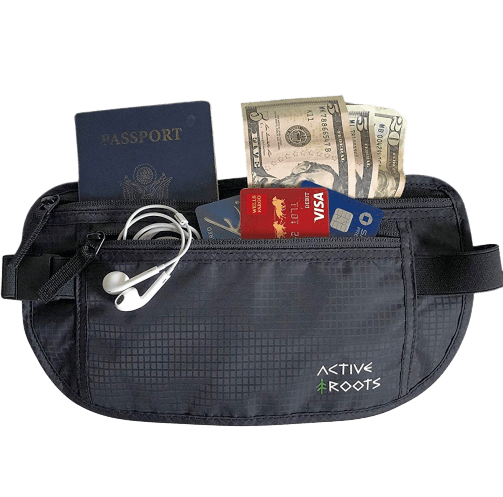 When moving from place to place, you shouldn't store travel documents in a bag, even if it's under your seat or overhead.
A full-sized money belt that stays tucked under your clothes keeps your documents and cash organized during your travels and assures nothing critical gets left behind or stolen.
Is the food in Berlin safe?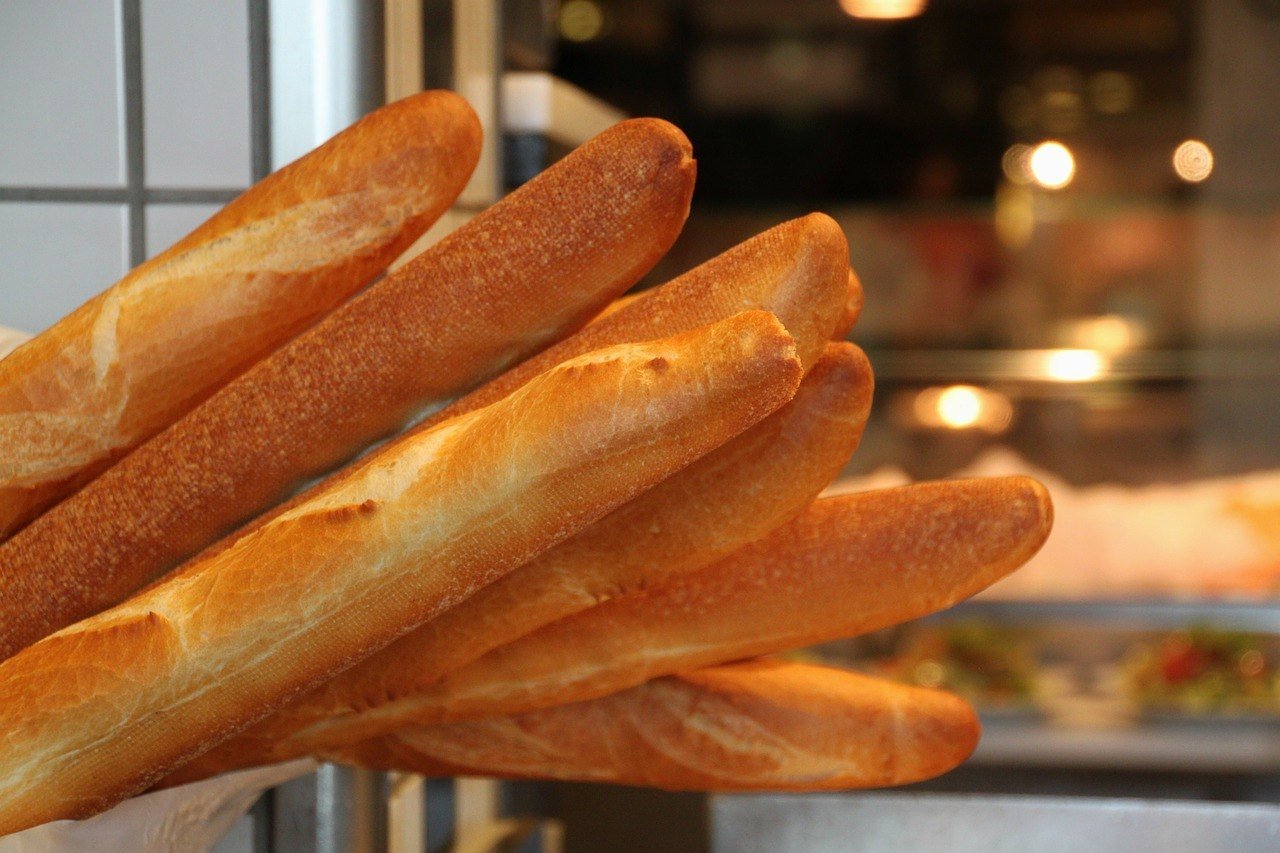 The food in Berlin is pretty darn tasty and it's definitely not all about German food. It's an international, multicultural city, so there are different cuisines on offer, loads of different cheap eats to sample, mouthwatering street food and an array of restaurants to sample. Yum!
That said, you'll definitely want to make sure you don't get sick whilst you're in the city. Otherwise, you won't get to try out the best dishes on offer. Basically, some food is better than others (even hygiene-wise) so we've got some pointers for keeping your tummy safe in Berlin…
Head to food stalls busy with a string of locals. This means it's good, simply put. The more people who want to sample the food, the more likely it's well known and a well-reputed spot to chow down. The opposite applies to places that look quiet: don't bother.
Try a bratwurst whilst you're in Berlin. This German sausage is eaten from a grillwalker, guys with orange grills serving up the tasty snack around places like Alexanderplatz. Our tip? Head to those with groups of people around them rather than those with English menus.
Avoid tourist traps. You'll find them in all good tourist sights. They feature inflated prices, deflated tastiness, and possible hygiene lapses. If someone's trying to get you in one of these places, it's even more cause for concern.
Another thing to avoid is kebabs. They might be a drunken late-night feast where you're from (they definitely are in the UK), but in Berlin, they're not to be sniffed at. Turkish food here is the real deal. For the best places to get a delicious Turkish kebab, or other delicacies, check reviews online or failing that, go to places that seem busy and that at least look clean.
Currywurst is something else you might want to try. These make the perfect accompaniment to a beer in a biergarten. Just make sure where you're buying it from is clean and busy. Other than that don't be afraid: a currywurst is more like a currybest.
Eat outside. In Berlin's parks, and streets, it's ok to eat and drink (alcohol or otherwise), as long as you're not causing a nuisance. So if you're visiting Berlin on a budget, you can always grab a few snacks and a few beers or whatever and head to the nearest grassy area for a cheap afternoon people-watching and merry-making.
If you're staying at a hostel with a shared kitchen, you don't have to cook for yourself. In other places, it's cheap to cook for yourself, but honestly – in Berlin, it's cheap to eat out, often cheaper than making yourself something. Plus you'll just be avoiding the culinary cultureof Berlin by making something lame like pasta by yourself in the hostel.
Wash your hands! Walking around a city all day, no matter how clean you think you've been, is bound to make your hands all sorts of grubby. Give 'em a scrub before you eat.
For the most part, Berlin actually has pretty good hygiene levels when it comes to food. Tucking into all the different ways of eating, from food windows to trucks and markets, is part of what makes Berlin tick. Street food is super popular here.
Don't forget the beer gardens! There are a ton of those. Basically, if you are into tasty, hearty snacks, and if you are into beer, you're definitely going to like it in Berlin. That said, go easy on it all. Don't overeat yourself into oblivion, go to decent places, and you'll have a great time.
Can you drink the water in Berlin?
Tap water is completely safe in Berlin.
There's no problem filling up a refillable bottle from a tap or even a public drinking fountain. We've put together a list of best travel water bottles to bring with you on your trip if you don't have one yet.
A lot of Berliners actually do like sparkling water quite a lot. You can find this, and regular old bottled water, just about anywhere. But we'd recommend paying attention to the environment and bringing your own bottle.
Want to save the world?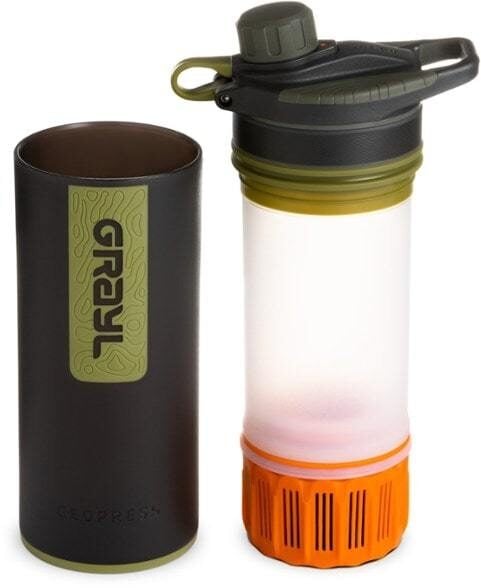 Single-use plastic bottles are a huge threat to Marine Life – Be a part of the solution and travel with a filter water bottle.
The GRAYL GEOPRESS water bottle is the ONLY all-in-one filter water bottle setup you'll need. Whether you need to purify the water from a hostel sink in Kathmandu or a stream trickle in the Andes, the Geopress has got you covered.
Read our full review of the GRAYL GEOPRESS!
Is Berlin safe to live?
Berlin is a pretty safe place to live in general. In fact, many cool artistic and creative types tend to make it their home for short periods of time.
The most crime you'll probably come into contact with is bicycle theft, so make sure you lock your bike and invest in a good chain/lock.
Some parts of the city can get a bit dangerous after dark. But in most places, you won't feel threatened. Somewhere like Kottbusser Tor is a dangerous place with a reputation for criminal activity. Areas around Neukolln, which is generally a pretty hipster-friendly neighbourhood, do also have underlying gang issues.
The main advice? Steer clear of places like parks after dark and don't get so drunk that you can't find your way home and your belongings end up getting stolen.
If you're looking for somewhere to rent in Berlin, there's an array of distinct suburbs that may take your fancy. Teltow has a lot of heritage, affordable housing and good access to colleges. In the west, there's Rathenow, a friendly, local place with cheap housing and historic charm – and with easy rail links into the city.
Overall, Berlin is a safe place to live. It's home to a plethora of different nationalities, so it's not like you're going to stand out too much; it's also pretty liberal, which is pretty good to hear.
Yes, it's been on the receiving end of terrorist attacks, but – aside from security – it hasn't affected everyday living in Berlin. You can still live normally here.
As with anything: do your research. Make friends with people before you head out to Berlin, join some expat Facebook groups, see what you can get for your money accommodation-wise… all the stuff that will dictate how comfortable your life is when you get here!
How is healthcare in Berlin?
There are no two ways about it: healthcare in Berlin is top class.
This is a huge, metropolitan city with countless specialist care clinics, hospitals, and general care providers spread across its neighbourhoods. There's a lot on offer here.
For a bit of knowledge: The name of the emergency department is Rettungsstelle and a hospital is called a Krankenhaus. One of the top hospitals for medical care is Charite in Berlin Mitte, a university hospital where people will almost certainly speak English.
When it comes to seeing a doctor in Berlin, just take yourself to a doctor's surgery or a walk-in clinic, depending on how severe your illness is. For anything else, you can head to the ever-reliable pharmacy.
In German, these are called Apotheke. You'll find them pretty much everywhere. Whilst they won't be able to give you any medication, other than what they sell over the counter, they will be able to give you advice – and that's always handy, right?
If you need a pharmacy late at night check the window of a closed pharmacy. There will probably be a notice telling you where to find the nearest after-hours or Sunday pharmacy.
The healthcare in Berlin is among the best in Europe. If you're an EU citizen don't forget to take your EHIC Card. If you're not, make sure you've got travel insurance! Other than that: nothing to worry about.
FAQ about Staying Safe in Berlin
Here are some quick answers to common questions about safety in Berlin.
Final thoughts on the safety of Berlin
It's always a bit tricky judging the safety of a place that's dealing with a terrorist threat. Whilst, obviously, it's good to acknowledge that it's happened and that the threat is real (not act completely oblivious to the fact), at the same time it shouldn't stop you from going to that place. So if it shouldn't – and doesn't – stop you, does it really make somewhere any less safe than where you're sitting right now?
We're going to say not overly. That sort of thing can happen (these days) pretty much anywhere in the world. Right now, as far as Berlin citizens and the millions and millions of visitors who go to Berlin everywhere year are concerned, Berlin is safe. Like most cities, yes there are pickpockets, yes there's a bit of organised crime going on, and yes – some areas are even just a little bit dangerous.Most of that stuff can be avoided though. How you choose to explore a city determines your safety. Following a shortcut just because your maps app is telling you to isn't a good idea if it's late at night and the street seems sketchy. Looking bamboozled with a backpack on and money in your pocket as you try to navigate some busy, touristed area will make you a sitting duck for thieves. Travel smart, however, and your trip will be trouble-free.
And have you thought about getting Travel Insurance for your trip? You can get a quote from World Nomads by clicking on the link below.
Disclaimer: Safety conditions change all over the world on a daily basis. We do our best to advise but this info may already be out of date. Do your own research. Enjoy your travels!
---
Find out how YOU can support the site.
We work hard to put out the best backpacker resources on the web for free! It's all about helping out our tribe of awesome backpacker readers (that's you!). Please visit the link to find out how you can help keep the site going 🙂
For the sake of transparency, some of the links in our content are affiliate links. This means that if you book your accommodation, buy a piece of gear, or sort your insurance through our link, we earn a small commission at no extra cost to you. We only link to stuff that members of the Broke Backpacker team has actually used and never endorse products or services that are not up to scratch. Thanks for your support!