"Berlin is poor but sexy." That's one of the common phrases you'll see in souvenir shops as you explore this mesmerizing city. Tourists flock from all walks of life to see the Brandenburg Gate, Alexanderplatz, and the iconic Berlin Wall.
And the world is taking notice. With hundreds of hostels in Berlin and an exploding tourism scene, it can be difficult to determine which hostel to stay at. This is exactly why I wrote this guide on the best hostels in Berlin.
Never judge a Berlin hostel by its cover – yeah the outside might be crumbly and full of graffiti – but they are some absolute gems on the inside. This guide will help to find out which of the top Berlin hostels suit your personal travel needs the best.
Let's get right to it.
Quick answer: The best hostels in Berlin

Do You Want to Travel FOREVER??
Pop your email in below to get a FREE copy of 'How to Travel the World on $10 a Day!'.
What to Expect from the Best Hostels in Berlin?
No matter where you are in the world, hostels are some of the best accommodation options for budget backpackers, solo travellers and holidaymakers.
You'll almost always get the most affordable prices, but the unique social vibes are what's really making hostels stand out. Meet like-minded travellers from all over the world, share travel stories and tips and make new friends – without even having to leave the building!
Hostels are a great way of saving money in Berlin, and you'll have plenty of options to choose from. From party focused to digital nomad paradise, you'll find so many different types of hostels in the city.
Most of them offer shared dorms (mixed or female-only) and private rooms. Another option would be a Pod Hostel, where everyone stays in one room, but you can shield off your bed with a blind or curtain and create a private space – it's the best of both worlds!
As we mentioned above, hostels are the cheapest accommodation on the market. The same goes for this city. If you're backpacking Berlin, chances are you'll stay in a hostel! The general rule here is: the bigger the dorm, the lower the price.
Private rooms are definitely more expensive but still range below the cost of a hotel or Airbnb (with a few exceptions). A sleeping pod will be around the same price as a dorm bed unless it's super modern and you get individual amenities. Here are some of the average costs:
Dorm (mixed or female-only): 9-20€/night
Private Room: 35-52€/night
Sleeping Pod: 12-22€/night
When looking for a hostel, you'll find most hostels on HOSTELWORLD. There you can check out photos, detailed information about the place and even reviews from previous guests. Just like other booking platforms, each hostel will have a rating, so you can easily pick out the hidden gems!

Berlin is a very well connected city, but each neighborhood has its own vibe. When you're looking for accommodation, you'll have to find out where to stay in Berlin first, before you can plan any further. Here are some of the best neighborhoods:
Berlin Mitte/Prenzlauer Berg – for party enthusiasts
Neukölln/Kreuzberg – the uprising hipster area
Friedrichshain – perfect for low budget travellers
Since there are so many things to do in Berlin, you want to be sure to stay close to the buzz. Planning and preparing your trip will pay off in the long run.
Ready? Auf geht's!
The 19 Best Hostels in Berlin
With over 150 choices, picking only 5 was difficult, so we took all the hostels in Berlin with the highest reviews, and separated them to meet your personal travel needs. There's a little something for everybody!
From the depths of the hostelsphere, we bring you… the Hostel Card!
HostelPass has spent years & years looking for the best places to stay in Europe, and they just came back with something GREAT.
The Hostel Card is a hassle-free solution with up to 25% discount at the most amazing hostels, tours, and experiences. Any-where-you-go.
Don't sleep on the ultimate budget travel card — use code "brokebackpacker" at checkout for 25% off!
Get the Card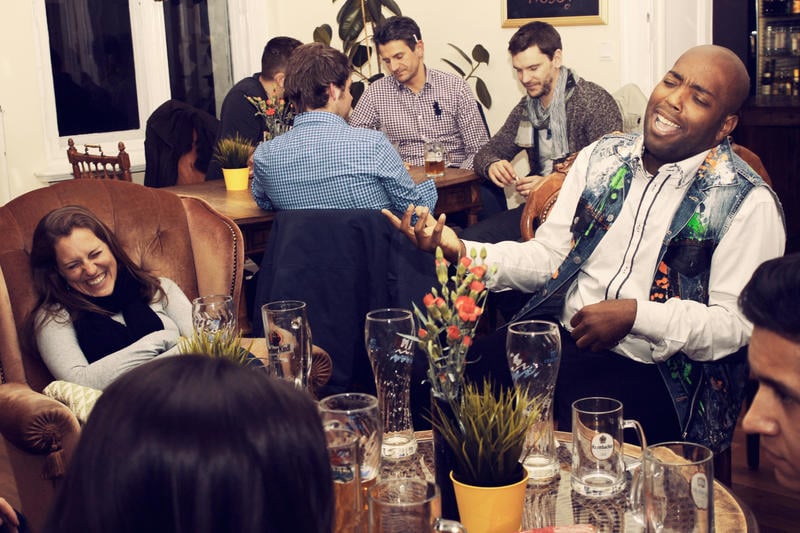 Free luggage storage
Incredible location
This hostel is the best overall hostel in Berlin and ideal for the backpacker with a mission – have a clean place to rest your head and connect with other travelers.
Not only does this hostel continue to win awards for its customer service and cleanliness, but it's right in the heart of the city – Berlin Mitte. Enjoy many of the events they host and connect with other travelers. It definitely deserves the top spot on our best hostels in Berlin list!
Why you'll love this hostel:
Stunning historical building
Pub crawls and free tours
On-site bicycle rental
Starting with the building itself, you'll realize quickly that this place offers some really cool value. The hostel is situated in a building from 1877 with historical heritage, super high ceilings and original ornamental furnishings. Note that there's no escalator, but the first floor is wheelchair accessible.
There are also quite a few different room options. Dorms range from 4-6 beds and start at 16€ (breakfast included). Private rooms are slightly pricier but do come with shared bathrooms.
One thing that really makes this hostel stand out is how many awesome amenities it offers. From bicycle rent to laundry room, outdoor terrace to pub crawls and free sightseeing tours with the staff and even a happy hour at the library bar – you really do get a lot of bang for your buck at the Grand Hostel!
2. Best Cheap Hostel in Berlin – Circus Hostel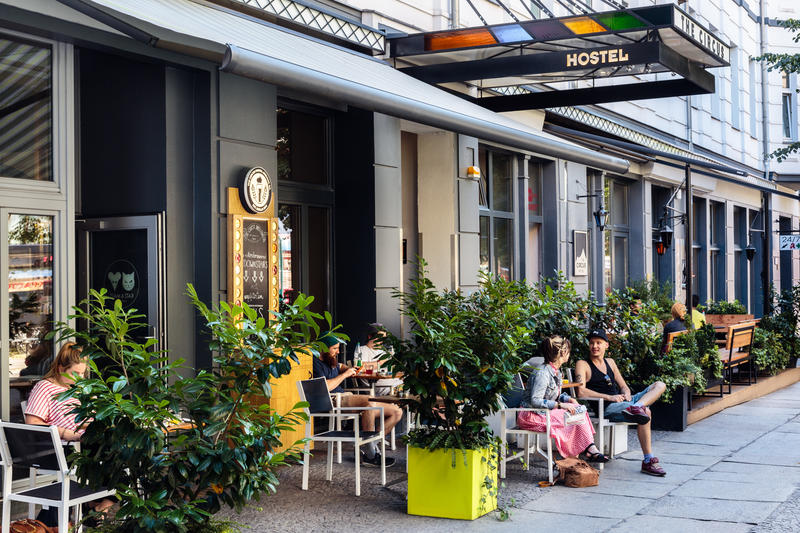 Home-brewed beer
Onsite cafe
If you want the most for only a little money, then check out the best cheap hostel in Berlin – Circus Hostel. The most notable feature of this hostel is the Circus Cafe and Microbrewery. Chill out with a cheap home-brewed beer and chat with your new friends.
They also offer organized events like karaoke, live music, and trivia nights. Circus hostel is the absolute perfect place to unwind after a fun day of exploring.
Why you'll love this hostel:
Very modern design
Stunning rooms
Top location
Now, where do we even start? Circus hostel has so much to offer that they're still going strong with a 9.4/10 rating, although they've been reviewed over 5000 times. If that doesn't sound promising, I don't know what is!
It's one of the largest hostels in Berlin, with 5 different levels and plenty of rooms. Speaking of, the hostel is known for their private ensuites (which are quite pricey we have to admit). These rooms are so big and spacious, that you're pretty much living in your own flat.
Apart from the tasty beer, you can also enjoy an incredible breakfast every morning, with plenty of options to choose from. If you wake up past breakfast serving times, no worries, there's also an on-site cafe that offers snacks, coffee and plenty of other things to get you energized and ready to start the day.
You're also located right next to two main public transport stations, which makes it super easy to get around the city. Ask the reception or the staff for help if you don't know what ticket to buy and they'll be happy to show you your best options.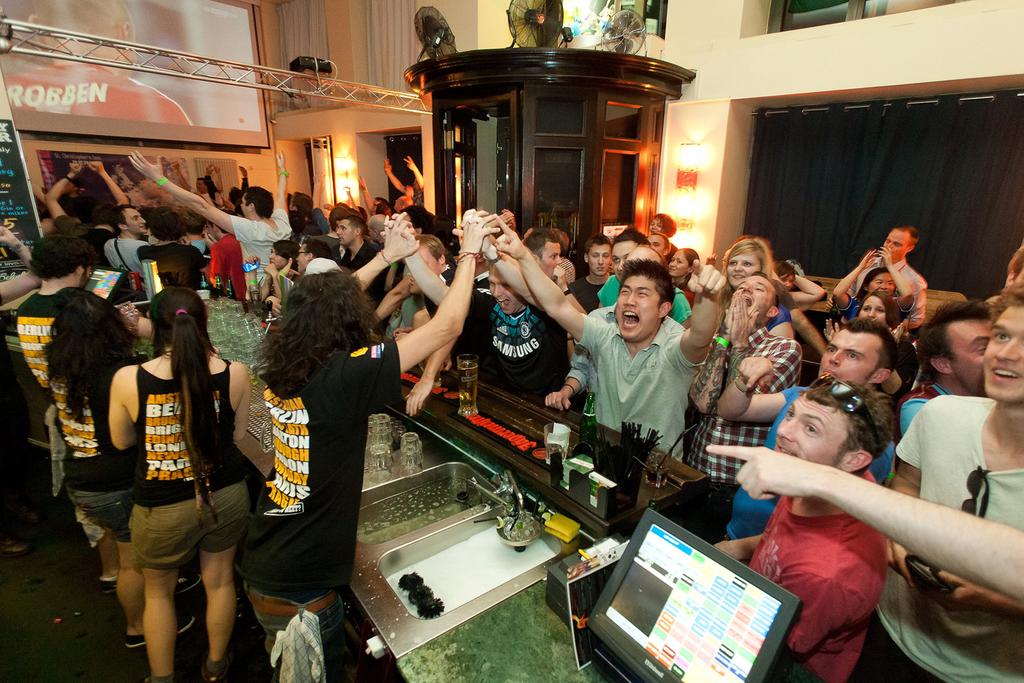 Great for privacy
Cheap breakfast
St. Christopher's is one of my favorite hostels and also one of the best party hostels in Berlin. The ground floor is Belushi's bar, which doesn't just offer drinks, but also a delicious burger another soul food. As a female, this hostel is ideal for getting ready, with tons of mirror space.
If you want to experience some real crazy nights, St. Christopher's is the place to be! Oh, and when it goes off, it goes off! Feel free to bring some friends along too.
Why you'll love this hostel:
Private apartments!!!
Food discounts
Most helpful staff
Now, we've already told you how much party is going down at this hostel, but what about the day after? St. Christopher's doesn't just offer dorms and private rooms, you can also book a whole apartment (note that it is not super cheap) to cure your hangover. If you want that extra bit of luxury and privacy, you'll definitely find it at this hostel.
To boost your recovery, head down to the common area for a super cheap but tasty continental breakfast. There is no kitchen to prepare your own meals, but the Belushi bar downstairs offers amazing food and drink deals all day long.
If you want to skip the party for the day and explore the area instead, you'll find yourself in an ideal location, right in the heart of Berlin. You've got famous attractions like the TV Tower, Alexander Platz and Museum Island pretty much around the corner, as well as lots of different public transport stations.
4. Best Digital Nomad Hostel in Berlin – Pfefferbett Hostel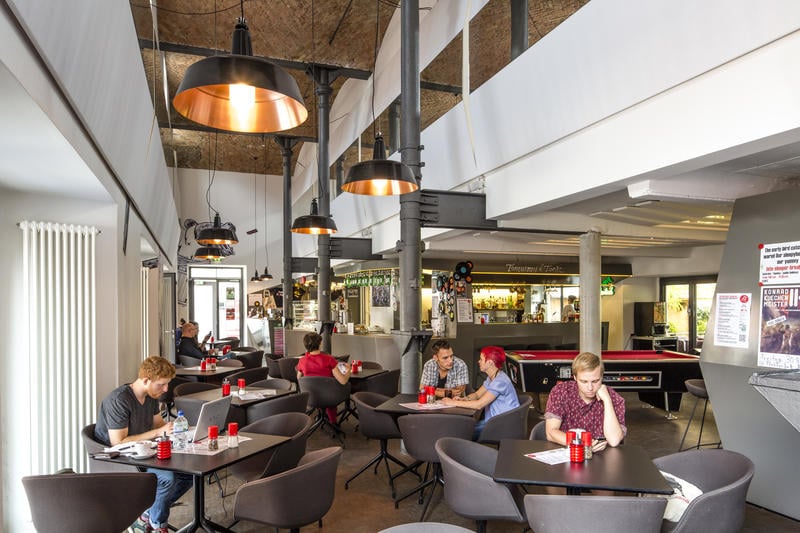 Situated in the heart of P-Berg (Prenzlauer Berg), Pfefferbett Hostel offers a one of a kind experience inside a former brewery! With loads of workspace and great internet, it's the best hostel in Berlin for digital nomads.
This one of a kind hostel provides a cool ambience with mid-nineteenth century architecture, gardens, and open fireplace. You're also just at the doorstep to the party scene in Berlin when it's hight-time for a break.
Why you'll love this hostel:
Amazing design
Daily bicycle rental
Free city tour
Apart from the incredibly cool style, this hostel actually has a lot more to offer. If you're visiting during the warm summer months, you can make use of the outdoor terrace and the BBQ. Fire up a tasty meal and join the other travellers in the common room.
Previous guests have absolutely loved the super comfy beds in the dorm rooms. Check out their comments yourself!
The bright and airy design of each room really makes this place feel like a home away from home. And with over 4500 reviews and a 9.4/10 rating, you can be sure that your expectations of this hostel can be set super high without being disappointed!
If you want to explore the area bit further without having to use your feet too much, just rent one of the bicycles at the reception. The central location and the good travel connections make the Pfefferbett particularly attractive for all Berlin travellers.
5. Best Hostel for Solo Travelers in Berlin – EastSeven Berlin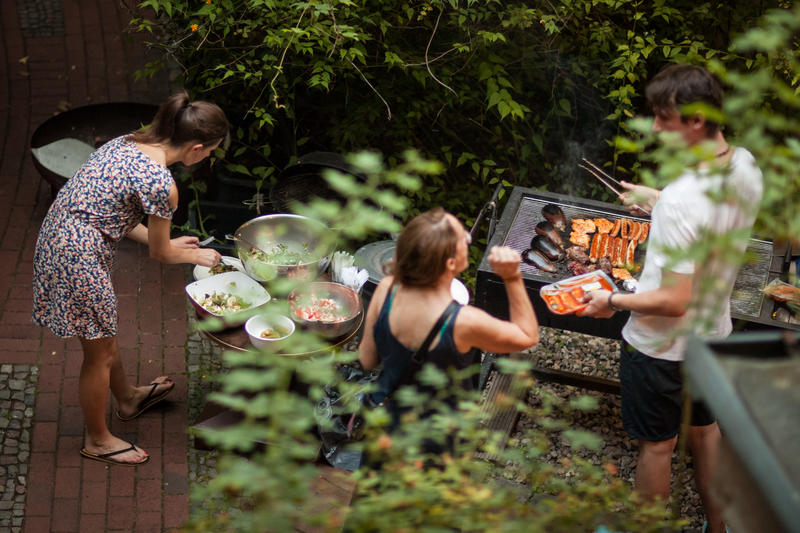 This top-rated hostel provides everything from hair dryers, happy hours, umbrellas, late checkout, and an awesome kitchen to do your cooking. EastSeven Berlin is the best hostel in Berlin for solo travelers because of all their hangout spots. Unwind from the day with a beer and chat with your newest friends in the outdoor BBQ area.
Why you'll love this hostel:
Incredible location near Mitte
Adults only policy
Garden with BBQ
One thing that we just HAVE TO mention is the incredible rating of this hostel. With more than 6500 reviews, this place is still going strong with a solid 9.5/10, which is pretty rare! But it is very deserved since the hostel is offering you so much bang for your buck.
Both dorms and private rooms are very affordable considering the central location. The comfy beds are equipped with reading lights, a wall socket and a spacious locker that fits even the biggest travel backpack.
Note that this is not a party hostel. There is an adults-only policy, which is a shame for the younger backpacker generation, but a blessing for everyone that wants a chill vibe and a peaceful stay.
When it comes to socializing, you've got plenty of options at East Seven. As mentioned above, there is a beautiful green garden with a BBQ and hammocks, which is where you'll find loads of travellers mingle during the warm summer nights.
Once you've made some new friends, head on out and explore the city together. You're located within walking distance of some of the most famous Berlin sights.
EastSeven Berlin is one of our favourites in Berlin but they're not taking guests right now. We're not sure if they're closed for good but we hope they'll come back soon.
Is This the Best Backpack EVER???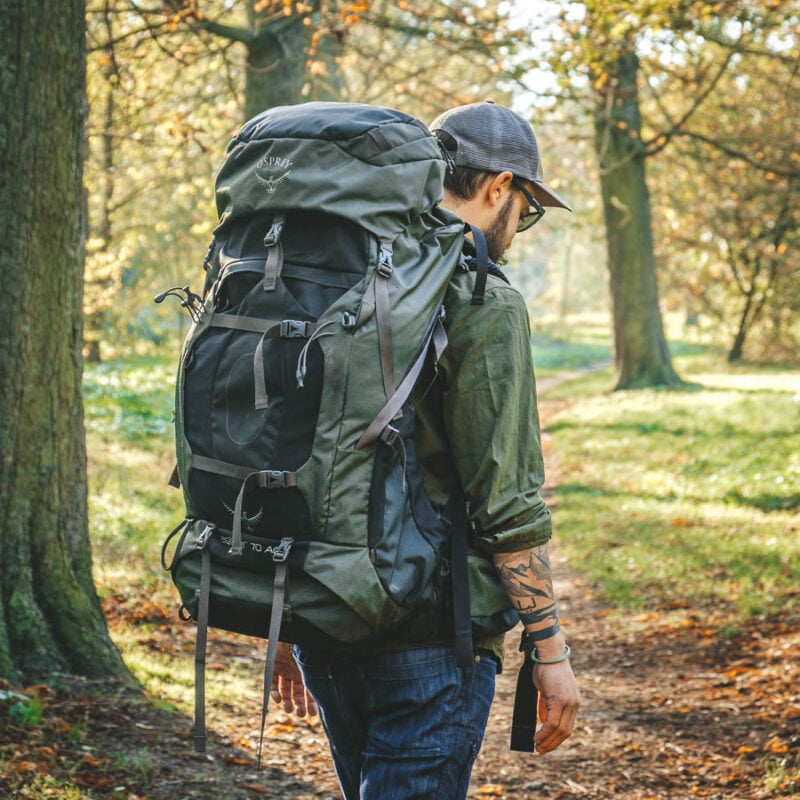 More of the Best Hostels in Berlin
So, now that we've talked about the best, let's talk about the rest! (Of the best). These are some more picks from the top Berlin hostels to rest your weary head at when exploring the city.
Are you after more information about all the areas to stay? There are heaps of places you have to visit in Berlin – there's no way around it. Each city hotspot is unique and definitely worth having a look at.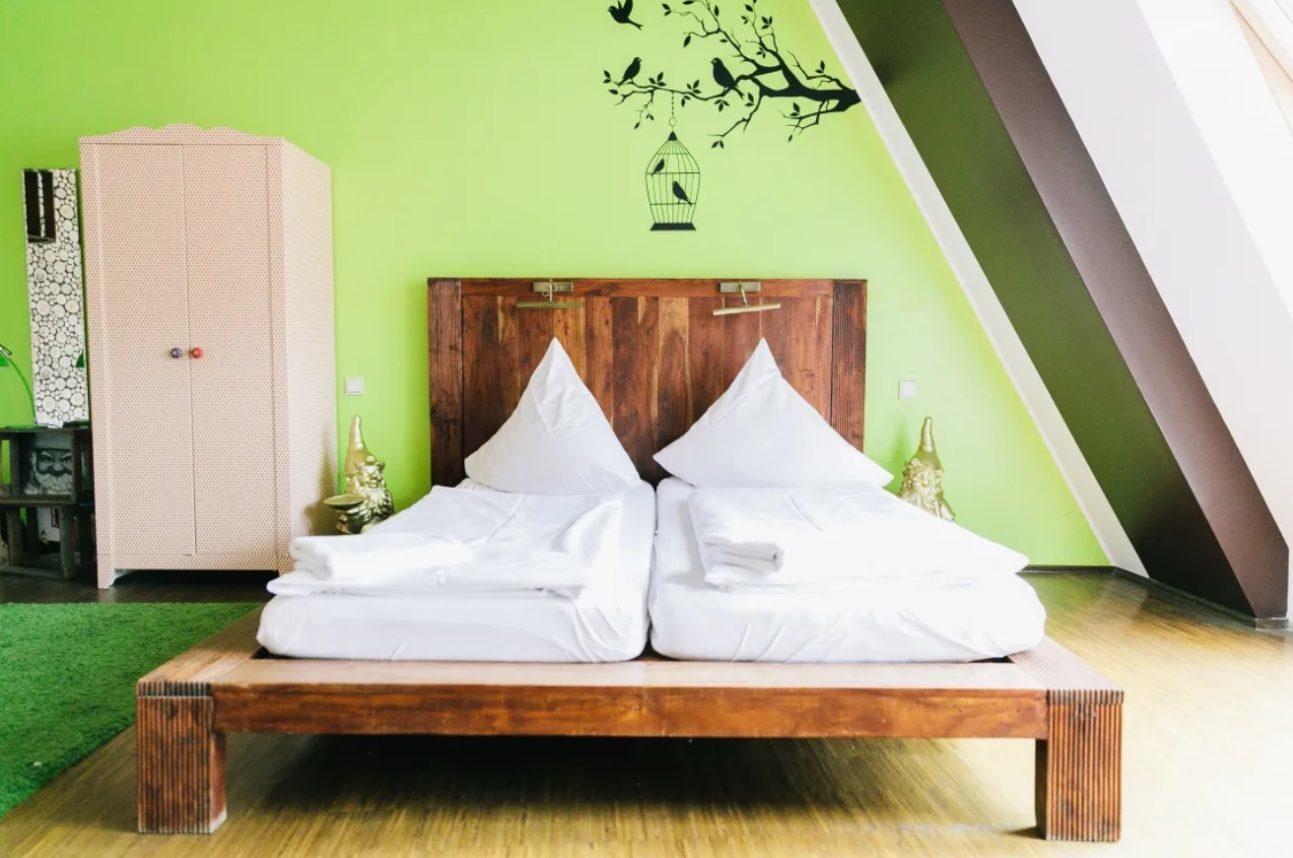 St Christopher's Berlin Mitte is great for students and backpackers alike. This laid back Berlin hostel offers lots of amenities and a steady flow of travelers to meet. Best of all, the rooms are comfortable and cheap!
Enjoy the attached restaurant and lounge, or curl up in your comfy bed in a cheap private room.
Just a 5-minute walk from Museum Island and a 3-minute train journey to Brandenburg Gate, this modern backpacker hostel is the perfect location for sightseeing. You can also get into all other parts of Berlin quickly thanks to the nearby public transport stations.
$
Funky and welcoming design
This is a cheap Berlin hostel with an electric and original vibe. Each of the rooms has colorful murals painted by different artists and the staff is crazy friendly. There's a sheer excess of toilets and showers too meaning no waiting to get fresh and ready!
It's more of a laidback place, but that doesn't mean it lacks entertainment options. There's a pool table and a computer work corner, as well as a courtyard – the ideal place to hang out with your bunk buddies!

Unlock the The Broke Backpacker's GREATEST Travel Secrets!
You pop your email here, and we promise to send you only travel content that's actually relevant — sounds like a pretty good deal to us!
Right in the center of nightlife, tourist attractions, galleries, and cafes Generator Berlin in Mitte is hard to beat. You'll see your fellow hostel-mates, but also locals, which makes this hostel a perfect hangout. Comfy beds and cool, trendy atmosphere gives Generator Berlin two thumbs up from me. Make sure to stop by the Kupfer Bar and try one of their fresh, seasonal cocktails.
You couldn't get a better location if you tried. Great for everything that is a must-see in this Berlin as well as the nightlife. Oranienburger Strasse has become Mitte's hub for nightlife, galleries, art, cafes and restaurants. The hostel sits in the centre of this grand street and is a terrific hangout for locals.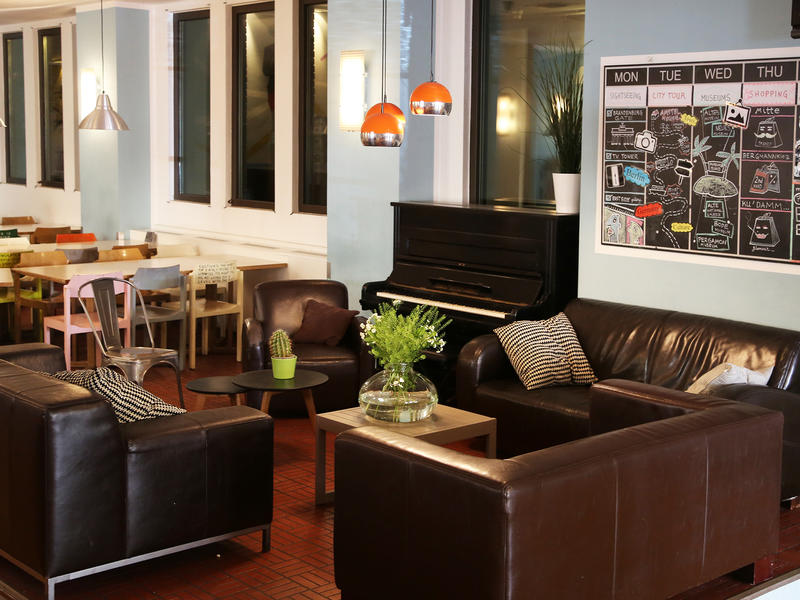 $
All-you-can-eat burger night
Amstel House Hostel offers a number of clean and comfortable room sizes to fit any party. My favourite aspect is their fully equipped kitchen. When I travel, I love to make friends and cook dishes from their homes – it's a cheap and easy way to connect.
In the summer, they even offer an all-you-can-eat burger BBQ. It's a homely hostel with great and friendly staff. They're always happy to help!
Once you're done exploring the city, why not head to the on-site bar for a sneaky drink? If you're lucky, you even get to experience one of their awesome DJ nights!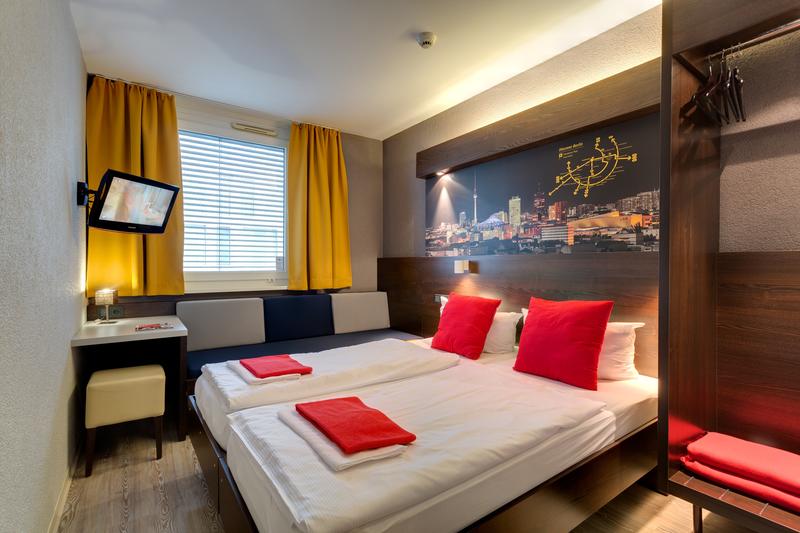 $$
Perfect for short term stays
Meininger at Berlin Central Station is ideal for travelers that need a quick place to rest their heads. What it lacks in originality and charm it makes up for with cleanliness and efficiency. Just how the Germans like it!
The proximity to Berlin Central Station is ideal if you're just passing through or have an early train the next morning. Make sure to enjoy not one but two bars, including a rooftop bar with excellent views of the city.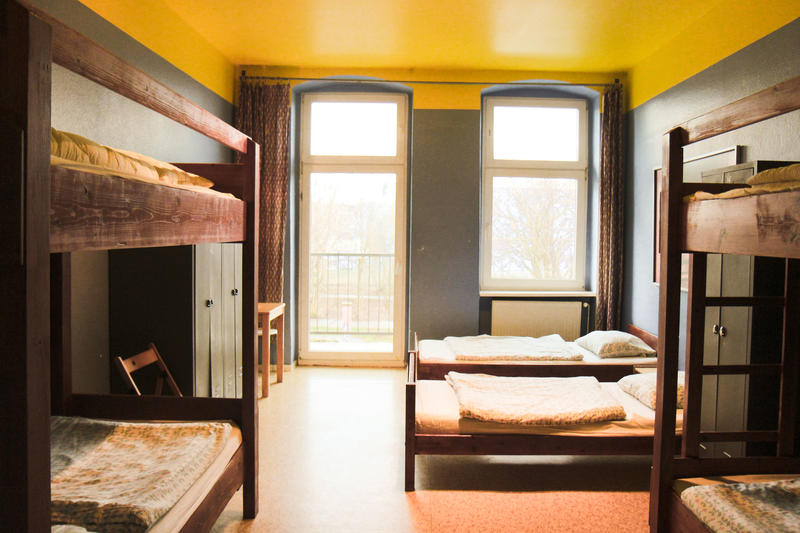 Enjoy the wonders of Friedrichshain. There are tons of cool bars, cheap eats, and cultural activities in the area and it's an awesomely cozy youth hostel. It's perfect for those backpacking Berlin on a budget and offers free walking tours of the city!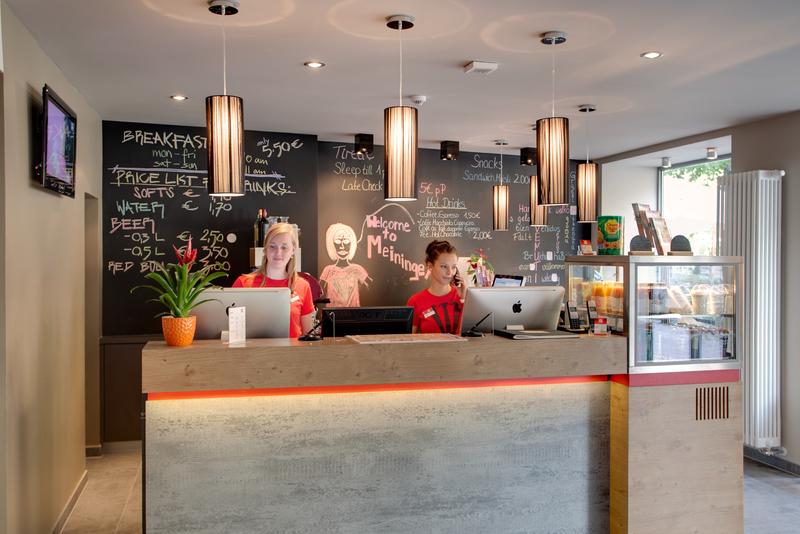 If you like the convenience of a hotel, but want the city at your doorstep, Meininger Berlin in Mitte is perfect for you. The cleanliness of the hostel is superb and they have incredibly friendly staff. Being near Oranienburger Strasse is what truly makes this hostel special and deserving of a spot on our best hostels in Berlin list.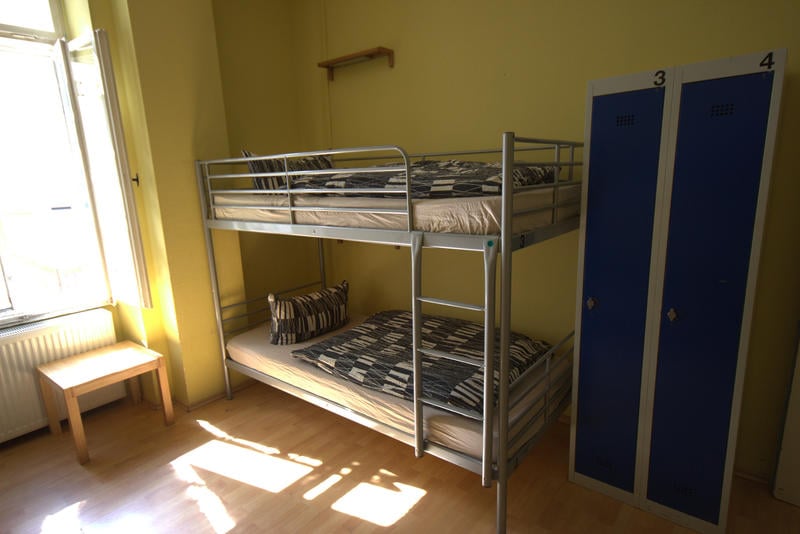 Eastener Hostel is a great place to sit back, relax and enjoy the city. The hostel rooms aren't large but offer everything you need for a comfortable stay. Please note that the Eastener does not have 24-hour reception, so make sure to confirm your check-in time.
More Cheap Hostels in Berlin – ONE80° Hostel – Alexanderplatz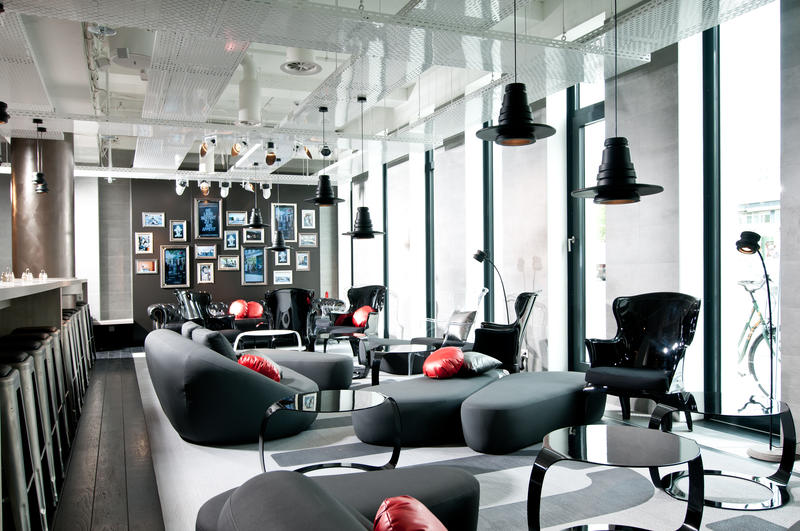 ONE80° is another cheap Berlin hostel that also just happens to be ultra-trendy. Right next to Alexanderplatz – the heart of Berlin – embrace your inner Berliner at ONE80°. Stylish shared spaces and a funky bar will keep you entertained and satisfied.
Just because you're paying for cheap accommodation, doesn't mean it has to look like it! You'll definitely get great value for your money in this Berlin hostel.
ONE80° Hostel – Alexanderplatz is one of our favourites in Berlin but they're not taking guests right now. We're not sure if they're closed for good but we hope they'll come back soon.
Best Hostel for Couples in Berlin – Wallyard Concept Hostel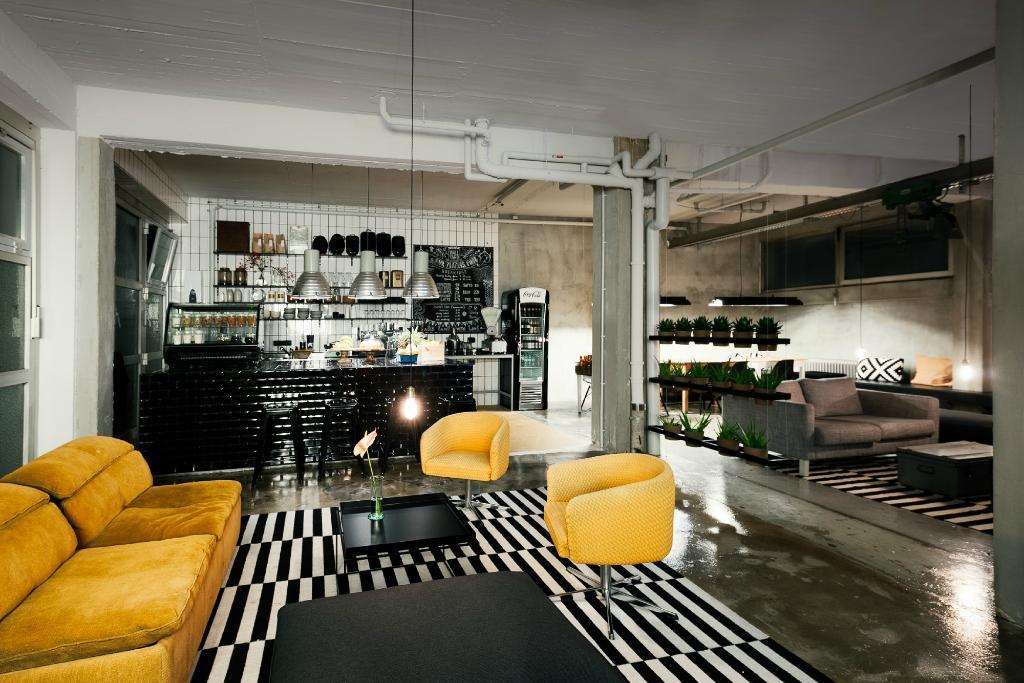 Onsite cafe
Centrally located
It's a bit more expensive than other youth hostels in Berlin, but Wallyard Concept Hostel is totally worth it. Besides, as a traveling couple, you can just go halfsies on the private room!
Wallyard is very centrally located and near several public transit lines. The ultra-modern design screams Instagram-worthy but the space is also quite laid back. That may or may not be due to the hostel's policy of "No groups larger than 6 people and no Stag parties allowed."
Some people do complain that the amenities are bit basic – no free breakfast or toiletries – but, all things considered, these can be forgiven. It's a sexy and smooth place, especially when you're in Berlin for a romantic weekend!
Wallyard Concept Hostel is one of our favourites in Berlin but they're not taking guests right now. We're not sure if they're closed for good but we hope they'll come back soon.
Berlin's Backpacker Hostel with a Bonus Sauna – PLUS Berlin
If you want to explore the more cultural side of Berlin, PLUS hostel is the right place to start. Located between Friedrichshain and Kreuzberg, you're steps away from the greatest shopping and the Berlin Wall. We especially like that PLUS has a sauna – hello spa day! It is a favorite on HostelWorld for backpackers.
And there's really nothing that PLUS Berlin doesn't offer… free welcome shots, a courtyard to hang out, super fast Wifi, onsite bar and cafe… I could really continue this forever. Point is, PLUS Berlin is a great place to stay at!
PLUS Berlin is one of our favourites in Berlin but they're not taking guests right now. We're not sure if they're closed for good but we hope they'll come back soon.
Cityhostel Berlin
$
Close to many attractions
Cityhostel is known for its location right in the city center. It's a perfect place to rest your head at night and at a great price!
Enjoy a quick stroll to Checkpoint Charlie, Brandenburg Gate, and the Jewish Museum. There aren't a lot of hangout spots in this hostel, but you didn't come to this famous city to sit in your room all day! Make sure you plan your Berlin itinerary, so you don't end up pointlessly wandering around.
Cityhostel Berlin is one of our favourites in Berlin but they're not taking guests right now. We're not sure if they're closed for good but we hope they'll come back soon.
FAQ on Hostels in Berlin
Booking a hostel in a big city is never something easy. Especially in capital cities, you'll find yourself surrounded with countless options, and it's not always easy to filter out the best one. Depending on your travel style, you'll have different preferences so not every hostel will fit your travel needs. We've answered some of the frequently asked questions about hostels in Berlin so booking will be a breeze for you.
Travel Safety Tips for Berlin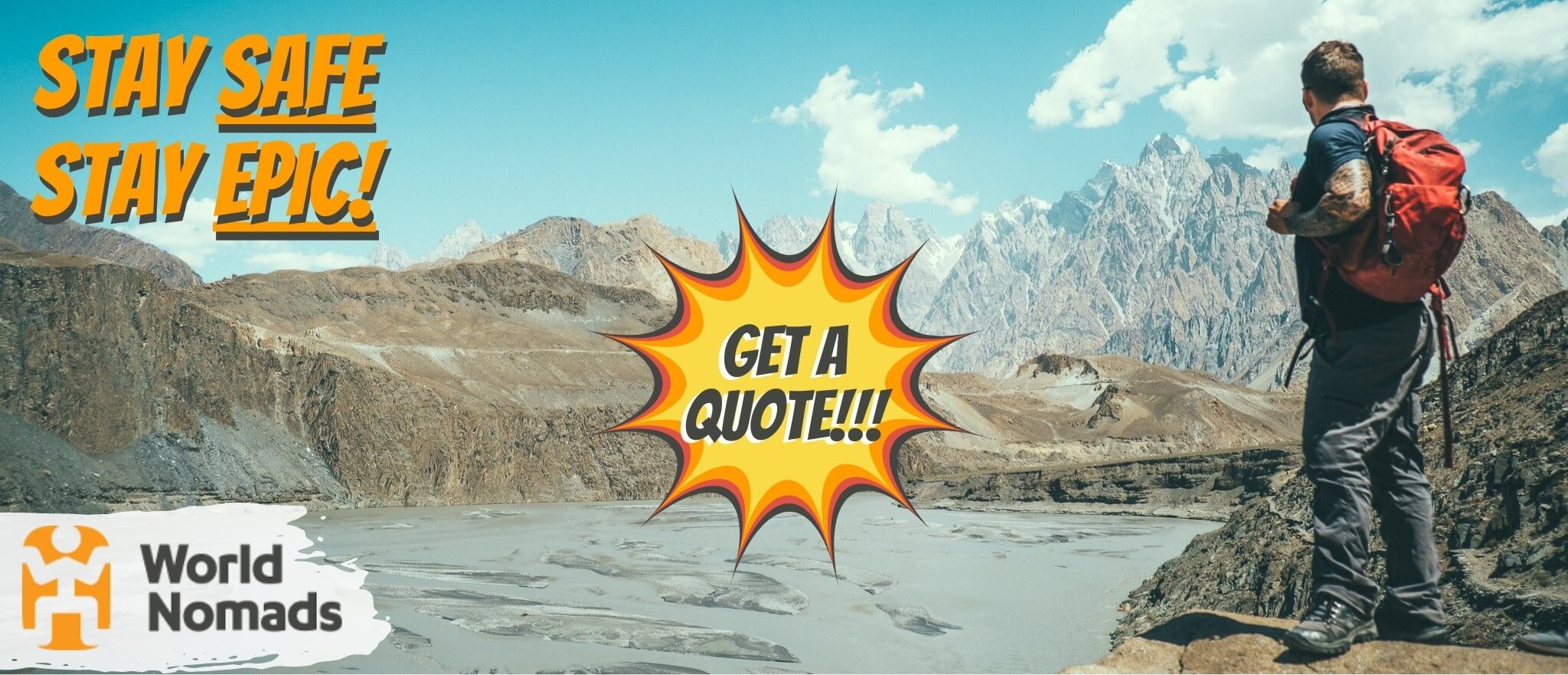 It's good to get lost sometimes, but it's also good not to get too lost. There are people that want you home in one piece.
There's one travel insurance provider The Broke Backpacker trusts for all his wildest shenanigans… World Nomads!
Click the button below to get a quote on your insurance or read our in-depth review of World Nomads' coverage. And then… let the shenanigans begin. 😉
More Epic Hostels in Germany and Europe
Hopefully, by now, you've found the perfect hostel for your upcoming trip to Berlin.
Planning an epic trip all across Germany or even Europe itself?
Don't worry – we've got you covered!
For more cool hostel guides around Germany and Europe, check out:
Final Thoughts on the Best Hostels in Berlin
What are you waiting for? Berlin is ready to be explored! With hundreds of hostels and an exploding tourism scene, it can be difficult to choose where to stay, but hopefully, with the help of this guide on the best hostels in Berlin, you'll have a much better idea choosing. That way you can spend time on what matters most – exploring Berlin!
Walk along the wall that divided the East and West, have a picnic in the abandoned Templehof airfield, get lost in a museum, enjoy the culture and the history in this timeless city.
Wondering if Berlin is a safe city to stay at? No need to worry! Generally speaking, all cities in Germany can be considered over the top safe and especially clean.
If you can't decide which hostel to stay at, my top recommendation is the Grand Hostel Berlin. It's one of the cheapest hostels in Berlin, and a great all-rounder when it comes to budget accommodation.
---
Bye for now, but not forever!
If you want MORE top-tier Broke Backpacker content like this, then sign up for our weekly newsletter below to get the latest and greatest!
And for transparency's sake, please know that some of the links in our content are affiliate links. That means that if you book your accommodation, buy your gear, or sort your insurance through our link, we earn a small commission (at no extra cost to you). That said, we only link to the gear we trust and never recommend services we don't believe are up to scratch. Again, thank you!