Sprawled out over 344 square miles in the northeastern corner of Germany, lies the country's vast, beautiful, and historically convoluted capital city.
Built on the banks of the meandering River Spree that runs through its center, Berlin is the second most populous city proper in the EU! However, thanks to its size, Berlin still manages to feel incredibly spacious and spread out, unlike many other European cities.
The story of Berlin is dark and winding: the city at the center of two world wars and divided for almost 50 years.
However, it has since come a long way! Modern-day Berlin is Germany's cultural hub. A patchwork of architectural styles, with a dynamic culture, incredible nightlife, and lively fashionable arts scene. It's an extremely popular tourist destination and perfectly suited for a weekend city break.
The sparse urban landscape hangs gracefully between large patches of greenery, so residents and visitors are never far from nature. The city is filled with historical landmarks, incredible museums, top-notch nightlife venues, amazing restaurants, and plenty of sporting and cultural establishments. It's an incredible city, ready for you to drop by for an awesome couple of days!
This Berlin guide has all you'll need to fill make the most of your weekend!
Berlin is a vast city that has a whole lot to offer. With so much to see and so many things to do, it can be daunting and difficult to know where to start and how to organize your visit. This is especially the case when you're visiting for a limited amount of time. I've put together this Berlin city break guide to help you squeeze the most out of your two days in Berlin!
Know Where to Stay in Berlin
Seeing as you'll only be spending two or three days in Berlin, I suggest that you find accommodation near the attractions, shopping, restaurants, and public transport connection points. Ideally something affordable, so you can go all out on other things. Berlin's hostel scene is incredibly good and definitely worth checking out.
Berlin is big, and whilst the public transport system is world-class, it makes sense to stay somewhere centrally located in order to avoid traveling long distances. By doing so, you'll be able to minimize travel time and maximize the time you'll have available to explore this magnificent city.
I've put together a shortlist of some of my favorite places to stay in Berlin, all of which are ideally located for an incredible time!
Chic and stylish with access to a shared pool and cool rooftop garden, this apartment is located in the heart of Berlin, in the neighborhood of Mitte.
The compact apartment has a modern kitchen and the large windows provide plenty of natural lighting. There's a separate desk and dining table and the apartment has free Wi-Fi. The monochrome is the best place to stay in Berlin for a couple.
Right in the heart of the city, probably the best location out of all the hostels in Berlin.
Named 'Best hostel in Germany' at the 2016 HOSCARS
Clean, comfortable, and welcoming with friendly staff and homely atmosphere
Centrally located near many of Berlin's attractions, Grand Hostel Berlin consistently wins awards for its cleanliness and customer service. The rooms are stylish and comfortable, the bar is well stocked, and a delicious daily breakfast is available for a small fee. Kick back in affordable luxury in this homely historical hostel.
Located in the heart of Berlin, just a few minutes walk from the main station
Stylish bar and a leafy rooftop terrace with stunning views
Rooms are large and comfortable with a sleek modern purist design
Perfectly located in the heart of the city, this hotel offers clean and comfortable accommodation and exceptional value for money. The rooms are fully kitted out with the usual amenities including air conditioning and a flat-screen TV. Enjoy the incredible views and atmosphere on the rooftop terrace, which overlooks the River Spree.
Close to Berlin's main railway station and the beautiful Tiergarten park
Easy and quick public transport connections to all of Berlin's main tourist and cultural attractions
Stunning terrace with views of the River Spree
Set on the banks of the River Spree, this luxurious and elegant hotel offers beautifully designed suites and modern amenities. The interior is gorgeous, the suites are large and comfortable, and the customer service is exceptional!
ABION is in an excellent location, and well connected by public transport. Guests have access to the sauna and fitness room, and there is even a private yacht that will take you up the river.
Know How to Get Around in Berlin
Considering its size, Berlin is relatively easy to get around in. The public transport system is well organized, the roads are easily driveable, taxis are numerous, and there is an abundance of bicycle paths (especially in West Berlin).
Berlin also has very few hills and stringent traffic regulations, making it a comfortable city to explore on foot or by bike.
While walking is generally a great way to get around and explore Berlin and it's districts (especially the main central borough of Mitte), you'll need to make use of public transport if you want to travel between them.
Berlin's efficient and extensive public transport system consists of buses, trams, a subway network (U-Bahn), and a light rail network (S-Bahn). The public transport system is affordable. Day tickets for zone A and B (it's unlikely you'll travel outside of these zones) are available for just 7 euros.
You can buy tickets at the ticket machines in each of the stations or at one of the many BVG (public transport operator) and S-Bahn Berlin retail outlets. Find out more about tickets and plan your journeys on the BVG website.
You'll be pleased to know that the U-Bahn lines run every 15 minutes all through the night on Fridays and Saturdays (as well as public holidays). This means that your weekend evening activities won't be interrupted by travel restrictions or inconvenient timings!
Although there is some occasional congestion, driving in Berlin is also an option. It is, however, important to remember that trams always have right of way. You should also be mindful that drivers must yield to traffic coming from the right unless signaled otherwise or when at crossings marked with a yellow diamond-shaped sign.
It is common knowledge that Berlin has a vibrant and progressive nightlife, that offers endless diversity and an anything-goes attitude. In fact, the city's thriving nightlife is often considered one of the most exciting in the world. Each weekend in Berlin offers a non-stop party for all types of individuals to enjoy.
From thumping techno mega-clubs in warehouses to underground bars and classy venues, Berlin has your nightlife covered for the weekend. Rather than listing the best nightlife venues, I've gathered the best nightlife districts and explained their individual vibe with one or two of the best clubs found there.
Mitte
Centrally located and near to my recommended accommodation, making it quick and easy to get around
A variety of venues which make for a unique nightlife experience
Offers more upmarket and classy venues that other parts of the city
Mitte is the first and most central borough of Berlin, and it offers a plethora of options for an incredible night on the town.
Tausend, one of the city's few upmarket clubs, has a beautifully unique interior design and stellar lighting. The club plays a blend of disco, house, and r&b and serves delicious cocktails.
If you're after something a little heavier, Tresor is an exceptionally popular nightclub that specializes in heavy techno and is open from midnight till mid-morning.
Kreuzberg
The original anarchic and arty hub of Berlin
Offers an incredible diversity of nightlife options from grungy punk bars to techno clubs
Late-night food is cheap and easy to come by
Kreuzberg offers a great range of nightlife options, offering every music genre in existence across its many stunning venues.
Watergate, with its stylish interior and LED-filled ceiling, is one of the city's longest-running electronic music clubs. Here, you'll hear minimal techno and tech-house bubbling from the top-notch sound system, and enjoy the gorgeous wooden deck that juts out into the River Spree.
If you're after something a little different, SO36 regularly welcomes big-name and local rock and indie bands to its stages.
Friedrichshain
Has a strong artistic and alternative vibe
Famous for hosting Berlin's most rambunctious nightlife
Home to world famous night clubs and a surplus of late night venues
Just across the river from Kreuzberg, Friedrichshain is home to the world-famous Berghain/Panorama Bar.
Set in a former power station, this nightclub has an industrial aesthetic and a notoriously stringent door policy. Don't be disheartened if you don't get in, the Berlin club scene is weird. Berghain is a hotspot for hardcore clubbers, and its cavernous main room can hold 1500 people!
Cassiopeia has a more relaxed vibe and offers a variety of music genres, from reggae and rock to hip-hop and funk. Grab some late night grub at the beer garden bar and enjoy the music!
Berlin has become a melting pot for culinary exploration, offering an incredible array of foodie experiences and hearty local cuisine. Most restaurants don't accept cards so it's best to carry some cash when you head out to eat.
Berlin Food Tour
Offers a small range of food tours to suit all kinds of tastes
Takes you on an incredible culinary and cultural adventure, packed with stories and peppered with information
With every tour, they donate meals for children in need
Berlin Food Tour offers a range of exceptional food tours that each takes you on a culinary journey through the vibrant capital city. The founder, Bastian, is a food expert and will be your local guide on the tour. You'll get to taste a delicious range of food while learning about Berlin culture and German food craftsmanship.
Get off the well-beaten tourist track and explore a culturally diverse and culinarily fascinating side of Berlin!
Hackethals
Delicious, wholesome German food in welcoming space
Arguably the best local food in the whole of Berlin
Unfortunately closed on Saturdays
Try out some delicious authentic German food at this unique and cozy restaurant, tucked away in a Berlinese sidestreet. Frank and Nils are a father and son duo who are exceptionally passionate about the food that they make. The experience is very personal and the food is amazing.
Boxhagener Platz Food Market
Weekly outdoor market, hosted every Saturday
A delicious range of food from around the globe
Awesome atmosphere and fun to wander between stalls
Set amongst the leafy streets of Friedrichshain, this weekly Saturday food market offers a great selection of delicious eats.
The local vendors are set up by around 9 am to form a welcoming network of boutique stalls, fresh produce, and tasty street food offerings. The buzzing atmosphere sets a wonderful backdrop for you to enjoy a range of local flavors and international favorites.
Berlin is a significant sporting hub, not only for Germany but for Europe. It offers a wide range of sporting activities, whether you want to participate or simply spectate!
Mellowpark
Europe's largest outdoor skating and BMX park
Offers a wide range of other sporting activities from table tennis to basketball
Incredible skating and BMXing opportunities
This sports park is a serious affair, comprehensively equipped with a plethora of sporting installations. From dirt jumps, half pipes, and empty pools, to beach volleyball courts and ping pong tables, this park is a sporting paradise. They even offer Stand Up Paddleboarding and have an onsite camping ground.
Jungerheide High Rope Forest Garden
Located in the idyllic Volkspark Jungfernheide
A thrilling range of obstacle courses nestled high up in the trees (between 10 and 22 feet)
Nine courses for adults and three courses aimed at children
Connect with nature while you get a full body functional workout on these awesome high rope courses. You'll get to experience a range of natural climbing elements and obstacle courses high above the forest floor. Don't worry, you'll be harnessed in safely!
Mercedes-Benz Arena Berlin
Located pretty much in the city centre, right by the Spree and has its own landing dock
Hold plenty of different events, from famous sport events to concerts and more
Offers arena tours with insights behind the scenes
Whether you're into hockey, basketball, horse riding, MMA or even motocross, the Mercedes-Benz Arena Berlin is worth having a look at. The former O2 stadium is one of the best-known sporting event locations in the city and Germany. Amongst the annual events, the arena also hosts famous singers and artists such as Rihanna, Justin Bieber and Adele.
Berlin is a multicultural landscape that is commonly recognized as a world center for culture and creative industries. The city is bursting at the seams with creative energy, and there is always something artistic to see, hear, or experience.
Konzerthaus
There is usually at least one classical concert taking place each day
A beautiful building with a stunning interior
The dress code is relatively formal
Often considered one of the finest classical concert venues on Earth, Konzerthaus is a breathtaking space. The ceilings, furnished with large chandeliers, soar far overhead in this neo-classical masterpiece. The venue hosts everything from contemporary classical to symphonic works, and there isn't a better space in which to experience them.
B flat
Expertly performed live jazz music on a nightly basis
A bar that serves well-priced delicious drinks
Best to make reservations for weekends
Founded in the mid-1990s by three musician friends, B flat is a quaint jazz club in Mitte that hosts some kind of live music every night. On weekends, you'll generally find international jazz artists performing live. The atmosphere is lively and welcoming, and the music is always top-notch.
Friedrichstadt Palast
A rich and distinguished history reaching back over a century
Offers a range of Broadway and West End productions, amongst other performances
The dress code varies depending on the performance
With roots as a 19th-century circus and vaudeville theatre, this theatrical venue is now one of the largest in Europe. There is pretty much always something awe-inspiring and exciting to experience at Friedrichstadt Palast. Be sure to check their website for more information and to prebook tickets.
I recommend checking out VIVID Grand Show. It's an incredible spectacle of music, movement, and lights without words on the biggest theatre stage in the world.
Looking for more great ways to spend your 48 hours in Berlin? I've compiled a list of some of my favorite things to do in Berlin, to help you get the most out of your trip!
#1 – Eastside gallery
Once a solemn symbol of political and social division, now a vibrant and colorful artistic masterpiece, the East Side Gallery is the longest open-air gallery in the world.
The gallery, which is understood as a monument to the fall of the Berlin wall, takes the form of hundreds of murals painted on a 4,300 foot long remnant of the Berlin wall: the longest continuous section that still stands.
One of Berlin's most popular places to visit, the gallery sees over 3 million visitors each year and is completely free for the public to view.
Occupying the northern half of an island in the meandering Spree River, Museum Island, a UNESCO World Heritage Site, is home to five museums, all specializing in different periods of human culture, the arts, and the sciences.
A visit to the museums is an adventure back in time, offering a detailed and fascinating exploration of ancient cultures and artifacts dating back thousands of years.
Between them, the Bode Museum, Altes Museum, Alte Gallery, Neues Museum, and Pergamon Museum hold everything from 19th-century paintings to ancient Greek and Roman decorative art and the famed Ishtar gate (one of the original Seven Wonders of the Ancient World). The Museum Island has such an important collection of knowledge, history and artefacts that it's been announced as one of the UNESCO World Heritage Sites in 1999.
Insider tip: You can get a museum pass that grants access to all museums, but if you're only interested in one or two, you can buy individual tickets as well.
#3 – Tiergarten
With its beginnings stretching back nearly four centuries, the Tiergarten is Berlin's most popular inner-city park, and one of the largest urban parks in the country. The park is veined with lazy lakes and meandering paths which weave amid the trees and grass lawns.
It is also home to the Berlin Zoo, which is one of the most visited zoological gardens in Europe and holds one of the most comprehensive collections of animal species in the world. The 20, 200 animals are housed in spacious enclosures.
Plunge yourself into East German (German Democratic Republic or DDR) life at this immersive, interactive museum. The museum offers reconstructions of DDR apartments, where you can rummage through draws, sift through cupboards, and explore to your heart's content.
In doing so, you'll learn about daily life under the communist regime, and develop an understanding of the hardships of the time. The experience is incredibly immersive. Amongst many other things, you'll get to drive a classic Trabant, turn on the television in a typical communist-era East-German living room, and smell the spices on the shelf.
#5 – Berlin Wall Memorial
This one-mile-long stretch of the Berlin wall commemorates the division of Berlin and the lives that were lost over the course of Germany's separated past. The memorial offers visitors the chance to experience the wall as it was during the division and boasts a variety of amazing exhibitions along its length.
The memorial honors those affected by the DDR regime and explains to visitors some of the ways in which victims attempted to cross the border.
Berlin is a great city to explore by foot – it's very walkable, and wondering around it really connects you with your surroundings. Your explorations will be enhanced by taking a comprehensive walking tour, with a well-informed guide.
This four-hour walking tour starts in central Berlin and passes by all of the city's major sights, from Checkpoint Charlie to the Brandenburg Gate. Throughout the tour, your friendly Berlin city Guide will tell stories and facts as you explore and admire the sights. You'll even have the opportunity to stand over the site of Hitler's suicide.
#7 – The Holocaust Memorial
The Memorial to the Murdered Jews of Europe is a memorial covering an entire city block in Berlin. 2,711 concrete slabs, each varying in height, are arranged artfully in a 19,000-square meter space in the middle of the city.
Walking along the uneven ground and narrow alleys between the towering slabs of concrete is a striking and somewhat disorientating experience. The memorial is expansive, and without a distinctive central point, it allows each individual to confront the challenging topic in their own personal way.
Berlin is not a city of many skyscrapers, but its 1,200 foot tall TV Tower is the tallest building in Germany. A trip up the striking TV tower is the best way to get a different vantage point of the city, as you ascend up to 650 feet above its streets.
When you get up to the 'Sphere', you'll be able to look out over Berlin and admire the beauty of its many landmarks. You'll also enjoy an exclusive window seat in the Sphere Restaurant, as you dine on some delicious food. Just be careful with your budget – it's not the cheapest restaurant to eat at, but definitely worth the experience.
With the original center of Berlin built on its banks, The River Spree is an important part of the city's rich history and modern way of life. The river meanders through the whole of Berlin, presenting the perfect opportunity to explore the city from the water.
This 2.5-hour boat tour allows you to kick back and admire the city in comfort. Enjoy a light lunch on board the boat and listen to interesting facts about the city as you pass by many of its famous landmarks. If you prefer to explore most of the city by yourself, you can also opt for the quicker 1-hour tour.
#10 – Brandenburg Gate
A weekend in Berlin isn't complete without snapping a pic at the Brandenburg Gate. The monstrosity is one of Germany's most famous monuments and stands as a reminder of Berlin's Cold War division into East and West – and, since the fall of the Wall, a reunified Germany.
The Brandenburg Gate is also starting point of the famous avenue "Unter den Linden", which goes straight through the city centre and past many other important sights. The Berliner Reichstag is just opposite the Brandenburg Gate and can easily be combined when exploring. You can take guided tours to learn more about both buildings, the history behind it and the importance they still carry.
Insider tip: The Brandenburg gate looks way more impressive at night when the light shines from below and makes the building look even bigger than it already is. There will also be fewer tourists around if you come after sunset.
By now, you're probably stoked and ready for your upcoming Berlin travel experience, but you may have a few questions before you depart. I've done my best to try and answer some of the pressing questions you may have.
Don't Forget Your Travel Insurance
ALWAYS sort out your backpacker insurance before your trip. There's plenty to choose from in that department, but a good place to start is Safety Wing.
They offer month-to-month payments, no lock-in contracts, and require absolutely no itineraries: that's the exact kind of insurance long-term travellers and digital nomads need.
SafetyWing is cheap, easy, and admin-free: just sign up lickety-split so you can get back to it!
Click the button below to learn more about SafetyWing's setup or read our insider review for the full tasty scoop.
Berlin is a vast, vibrant, and multicultural city with an incredible amount to offer. Its streets and buildings are steeped with a rich and convoluted history, yet make up a refreshingly modern city with a vibrant atmosphere and a fashionable, forward-facing, and creative outlook. Need a little more inspiration? Check out our 27 Cool Things to do in Berlin to get yourself excited!
Berlin is the perfect city for a whirlwind weekend adventure. The nightlife is world-class, public transport runs all night, there are enough cultural activities to keep you entertained and in awe for a lifetime, and the food will leave you sublimely satisfied with a smile on your face.
The city offers more than enough to fill up a weekend break, and it's unlikely that you'll be able to check off all of the activities in this Berlin travel guide. I do, however, hope that after reading this guide to Berlin, you're feeling well equipped with options and excited to embark on your Berlin weekend break.
---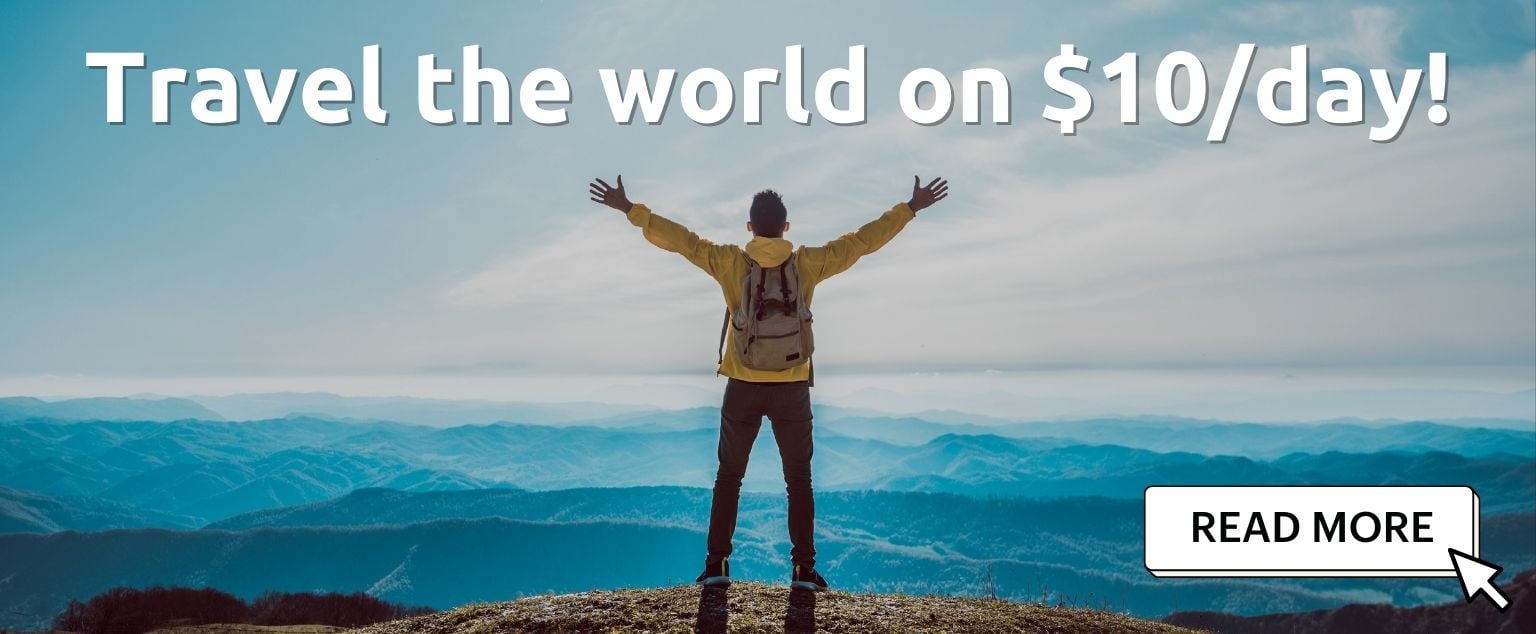 And for transparency's sake, please know that some of the links in our content are affiliate links. That means that if you book your accommodation, buy your gear, or sort your insurance through our link, we earn a small commission (at no extra cost to you). That said, we only link to the gear we trust and never recommend services we don't believe are up to scratch. Again, thank you!