Germany is one of the most traveled countries in Europe and for good reason! With a long history, fantastic culture, and breathtaking scenery, it's no wonder why so many people love to visit. However, choosing between two of its most popular cities—Munich and Berlin—can be difficult.
And getting an unbiased opinion, especially from Germans, can be even harder. The North and South of Germany are quite different, with Bavarians and Berliners harboring some healthy rivalry. To make the decision easier, let's take a look at Munich and Berlin side by side.
When it comes to culture, Munich is known for its Bavarian charm while Berlin is associated with art and music scenes. Munich has a rich history in literature and art, but also offers plenty of contemporary attractions like museums, theaters, and churches.
On the other hand, Berlin is an exciting mix of art galleries, museums, and some clubs that have been named some of the best in the world. Berlin is also the center of Germany's painful history and a must-visit for anyone interested in WWII.

Unlock Our GREATEST Travel Secrets!
Sign up for our newsletter and get the best travel tips delivered right to your inbox.
Munich vs Berlin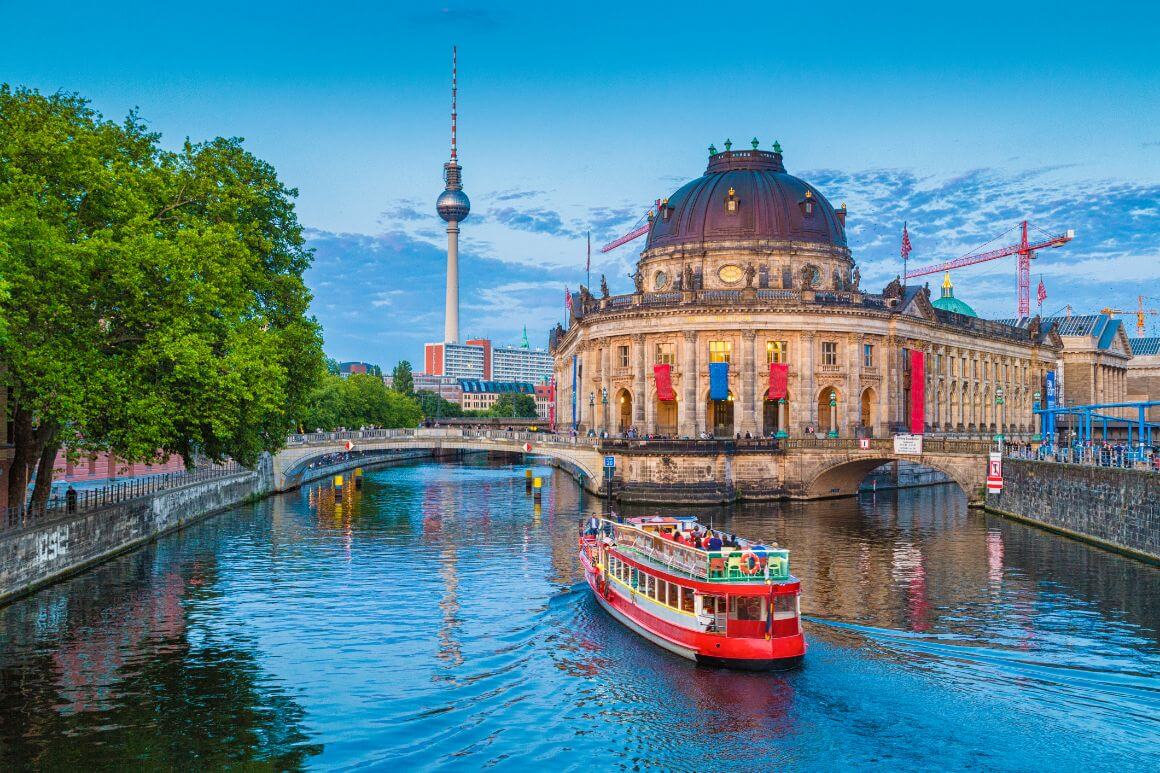 Both of these major German cities offer completely different experiences, making it difficult to compare Berlin and Munich; however, it seems like Germans have been doing so since the dawn of time, so we are throwing our hat into the ring!
Munich Summary
Munich is the capital of the Bavaria region and spans over 119.86 sq miles. It's the 3rd most populated city in the country with over 1.5 million residents.
Munich is well-known for its charming Bavarian culture, which can be seen through the city's traditional crafts, festive celebrations, and unique architecture. Munich is renowned for its bustling festivals and events such as Oktoberfest and Tollwood.
Munich is served by Munich Airport (MUC). It's the second-largest airport in Germany and a major hub for international airlines.
Getting around Munich is very easy. Trains, buses, and trams are the main transportation methods in Munich while car-sharing, bike rentals, and taxi services are also available.
Munich is full of places to stay from cozy Airbnbs to budget-friendly hostels and luxury hotels.
Berlin Summary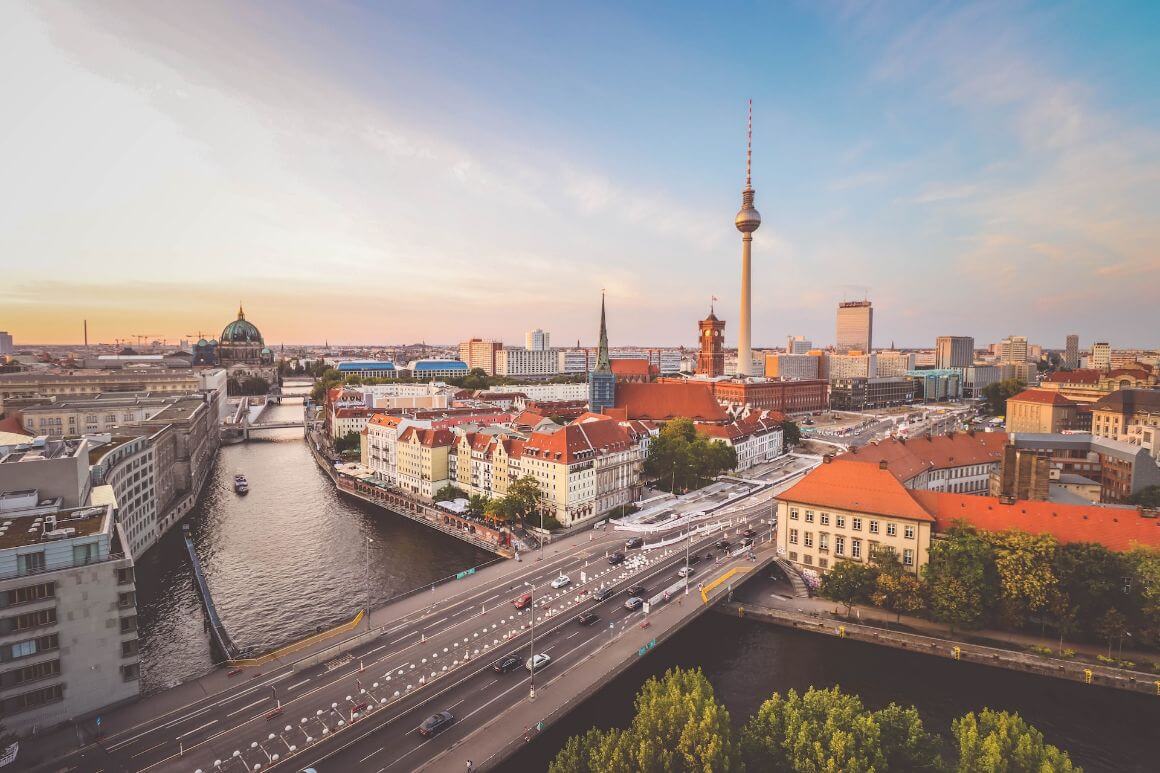 Berlin is the largest city and capital of Germany, spanning over 891.85 sq miles with a population of over 3.7 million people.
Berlin has been often referred to as the "center of Europe" due to its fascinating mix of art, history, and culture. Berlin is home to world-class museums, galleries, and theaters as well as unique shopping districts like Mitte and Kreuzberg.
Berlin also has several airports including Tegel (TXL) and Schönefeld (SXF) which offer a number of international flights.
Berlin's public transportation system is one of the best in Europe, with buses, trams, and trains covering all parts of the city. There are also bike rentals and car-sharing services available.
When it comes to accommodation, Berlin offers something for everyone from high-end hotels to budget-friendly hostels.
Is Munich or Berlin Better?
Although there is no foolproof method to fairly compare these two cities, let's consider how they measure up when it comes to some of the most significant travel elements:
For Things to Do
When debating Munich and Berlin it isn't necessarily which one has more things to do, but which city offers the best attractions for different types of travelers.
Munich is renowned for its Bavarian culture and can feel like what many of us have imagined Germany to be, while Berlin is more diverse and eclectic with a wide range of museums, galleries, clubs, and shops.
Berlin will appeal to those who have an affinity with World War II history. You can spend your days exploring the city and all of the sites and attractions that tell the story of a country divided and subsequently reunited. So many of the things to do in Berlin are linked to this history, and there are many excellent museums dedicated to the war.
Munich's main appeal is in its culture, so if you're looking for a city steeped in tradition and Bavarian charm then Munich could be the perfect spot for you. It also has plenty of attractions, from stunning churches to modern art galleries, ensuring there is plenty to keep you busy on your travels.
Berlin is also a great place to explore if you're looking for a city with an exciting nightlife scene. From underground clubs to chic bars, Berlin has something for everyone when it comes to partying and nightlife.
And those traveling with kids should consider Munich, as there are a variety of family-friendly attractions available such as the Munich Zoo and the Sea Life Aquarium.
If you've been dreaming of brats and currywurst, Munich is the place to go. You can find traditional German food all around the city, including a variety of beers and schnitzels. Berlin also has its fair share of restaurants, but its food scene is much more diverse with different types of cuisine from around the world.
The Winner is: Berlin
For Budget Travellers
The cost of living in Munich and Berlin are comparable, with both cities offering affordable prices for food and accommodation. However, the type of accommodation available will vary depending on location.
Munich offers a variety of hostels and Airbnb to suit the needs of budget travelers, while Berlin is renowned for its abundance of cost-effective lodging options. Since it's much bigger than Munich, Berlin provides more opportunities to find accommodations that fit your budget.
Berlin also offers much better value for money when it comes to public transportation. The city has an extensive network of trams, buses, and trains that can easily get you around town or out to the suburbs. In Munich, there is a good public transportation system but it can be more expensive than in Berlin.
There are a lot of options when it comes to cost-effective meals in both cities. Berlin is great for street food and it's some dang good street food while Munich provides plenty of classic German specialties that you can enjoy without breaking the bank.
On average, traveling in Munich cost 15.8% more than traveling in Berlin, making Berlin a better option for budget travelers.
The Winner is: Berlin
Stay centrally located in Berlin for around € 120 and thankfully for not a big difference, you can stay in Munich city center for around € 130.
Getting around both cities on the metro is very easy and relatively cheap. You can grab an AB zone ticket in both cities for around € 3
In Berlin, you can expect to spend €15-25 for a mid-level meal while in Munich it will be a little higher at €20-30 for a mid-level meal per person.
When in Germany, you know beer is being drunk. Thankfully in both cities, it only costs about €4 a beer. No wonder everyone is always drinking it.
Small Pack Problems? 😉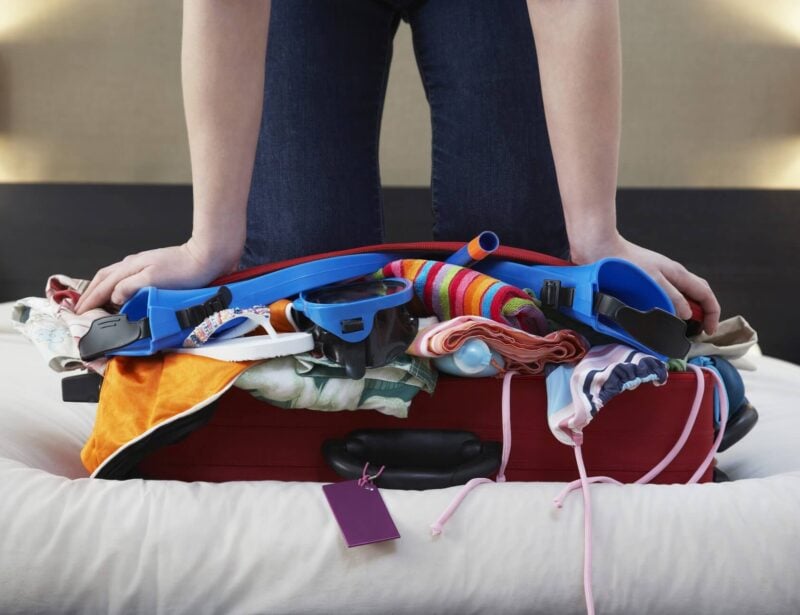 Wanna know how to pack like a pro? Well for a start you need the right gear….
These are packing cubes for the globetrotters and compression sacks for the real adventurers – these babies are a traveller's best kept secret. They organise yo' packing and minimise volume too so you can pack MORE.
Or, y'know… you can stick to just chucking it all in your backpack…
Get Yours Here
Read Our Review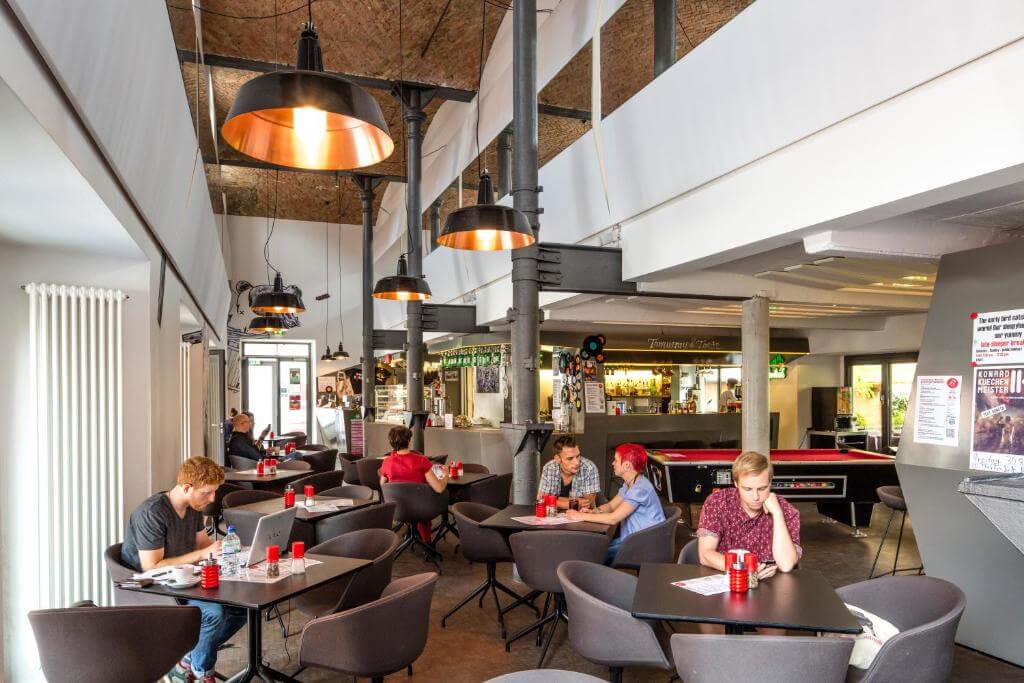 Exploring Berlin doesn't have to break the bank! This hostel is a mere 2.7 km away from Alexanderplatz and Brandenburg Gate, making it an ideal location for sightseeing that won't empty your wallet – dorm rooms are only €22 per night. Plus, its central placement ensures you'll never miss out on any of the city's exciting attractions!
For Couples
In terms of romantic getaways, both cities offer couples plenty to explore and enjoy. For those looking for a traditional German experience, Munich is the perfect choice with its iconic churches, well-preserved Gothic architecture, Bavarian culture, and lively beer halls.
The many beer gardens in Munich are perfect spots to relax and enjoy the great outdoors. Plus, you'll get to try some of the region's delicious beers as you soak up the atmosphere. Munich is also perfect for those who love enjoying nature together. The bavarian region has beautiful landscapes with plenty of hiking and biking trails to explore.
Berlin, on the other hand, is a great place for couples who want an urban experience. The city has something for everyone when it comes to shopping and entertainment. From street art galleries to vibrant markets, there are plenty of things that you can do together in Berlin.
The iconic landmarks such as the Brandenburg Gate, the Reichstag, and Checkpoint Charlie are all must-see attractions. Additionally, there are plenty of parks and gardens to explore, like the Botanical Garden or Tiergarten Park.
The Winner is: Munich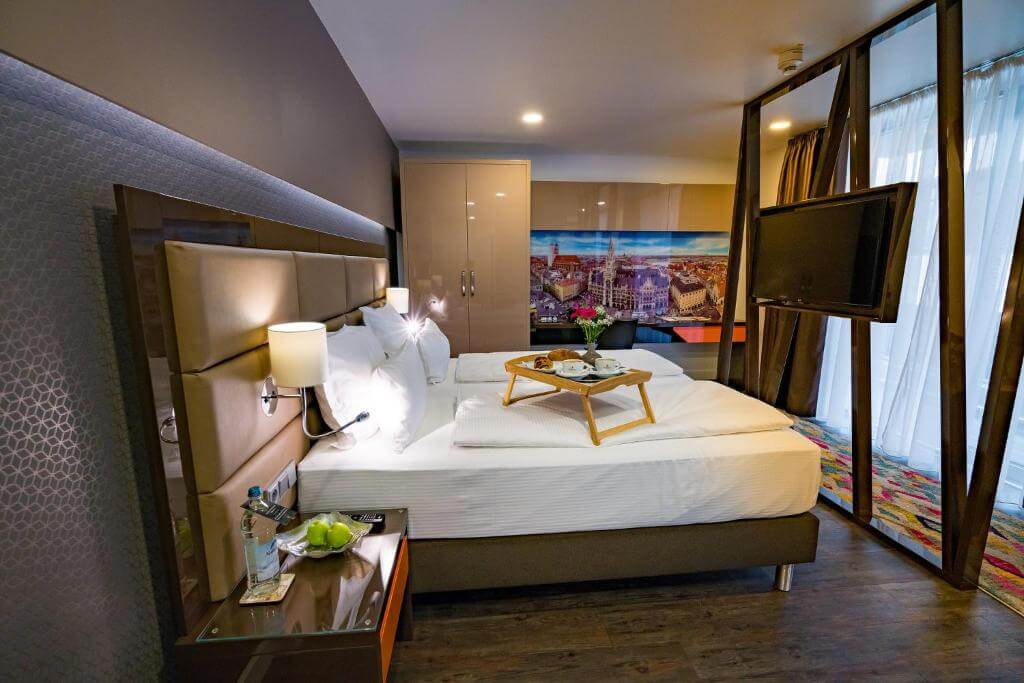 This 4-star hotel is the perfect place for couples looking to share a romantic getaway in Munich. The hotel is conveniently located close to many attractions and activities. Plus, its modern rooms with comfortable beds will ensure you and your boo have the best time in the room together 😉
For Getting Around
Getting around Munich and Berlin is relatively easy, though both cities have different transportation networks that cater to different needs.
Munich has an extensive public transport network composed of trams, buses, trains, and subways. This makes it easy to get around the city and explore its various attractions. Most of the main attractions in Munich can be reached by public transport so you don't have to worry about renting a car.
Nonetheless, the Autobahn is renowned for its location in Munich and draws travelers from all over to experience what it has to offer. So maybe renting a car is exactly what you need!
Berlin also has an extensive public transport network, with trams, buses, and subways. It is also possible to rent a bike in Berlin for very affordable prices if you choose not to use public transportation. Additionally, most of the main attractions in Berlin are relatively close to each other and can be reached on foot.
Both cities offer affordable transportation tickets, but Berlin's AB-zone ticket is slightly cheaper than Munich's prices.
The Winner is: Berlin
For a Weekend Trip
For a quick weekend getaway, both Munich and Berlin have a lot to offer. While each city has its own unique attractions, both can be explored in just a few days.
Munich is an ideal choice for those looking to spend a weekend diving into German culture. Because it's the smaller of the two when debating which to visit for a weekend trip, Munich offers a more intimate and charming atmosphere.
It is also easy to explore many of the city's main attractions in just one or two days. In a day you can visit the iconic churches, well-preserved Gothic architecture, Bavarian restaurants, and lively beer halls.
On your second day, you can explore the city's beautiful parks and gardens or take a bike tour through the cobbled streets. Munich has enough to offer for a full weekend of fun and exploration.
On the other hand, even though Berlin is bigger, it is possible to explore the main attractions in 2 or 3 days.
It's perfect for those looking for an urban weekend getaway. The city has plenty to offer when it comes to shopping, entertainment, and sightseeing. You can explore iconic landmarks such as the Brandenburg Gate, Checkpoint Charlie, and the Reichstag.
The Winner is: Munich
For a Week-Long Trip
If you have more time to spend in the city, Munich and Berlin are both great choices for a week-long trip but I think Berlin stands above Munich.
While Munich offers plenty of attractions, many of them are quite close to each other and can be easily explored in just a few days. On the other hand, Berlin is much bigger and has so much more to explore – from cultural institutions to hidden gems away from the city center.
In addition, Berlin's art and music scenes also make it an ideal destination for travelers looking for more than just sightseeing. There are art galleries, museums, music festivals, and nightlife spots that are sure to keep you entertained for days on end. Plus, Berlin's food scene is also something you don't want to miss out on – with a variety of cuisines from all around the world for you to explore.
However, If you're looking for more cultural experiences, a trip to Munich will grant you the opportunity to attend events like Oktoberfest and Fasching which can last longer than a few days.
The Winner is: Berlin
Visiting Munich and Berlin
Munich and Berlin are two of the most popular cities to visit in Germany, so if you have the time why not visit both? The cities are located approximately 450 km (280 miles) apart. As such, there are several different forms of transportation available for travelers looking to get from one place to the other.
The most popular option is by train. Both Munich and Berlin have extensive railway systems that connect. Trains from Munich to Berlin take approximately 4–5 hours, depending on the type of train and the number of stops.
You can also choose to fly between these two cities – flights typically take less than an hour, but are usually more expensive than trains.
Finally, if you're looking for a more flexible option, there are also car rental services available in both cities. This can be a great option if you want to explore some other places along the way, such as stops between Munich and Berlin.
Is This the Best Backpack EVER???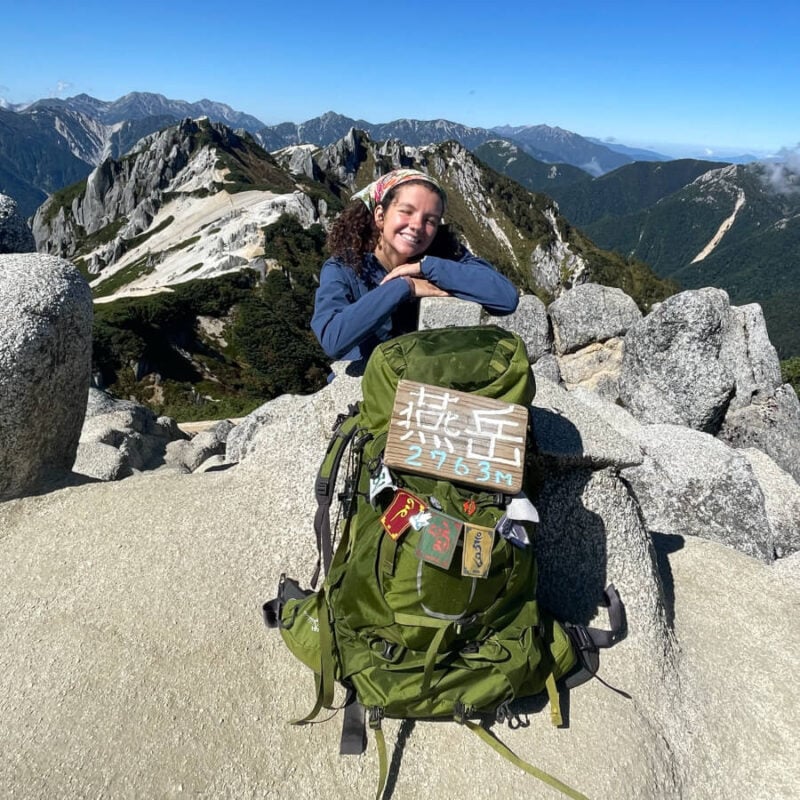 FAQs About Munich vs Berlin
Final Thoughts
Berlin is known as one of the most diverse cities in the world, and it's easy to see why. From its pulsing nightlife scene to its vibrant art galleries, I don't know anyone who doesn't have a good time when they visit.
Munich is a more traditional city with plenty of attractions and activities that will delight both culture seekers and casual travelers alike. It brings out all of the best parts of German culture and provides visitors with an intimate experience.
When you look at Munich and Berlin, it's hard to pick a clear winner. Each city has its own unique charm, and depending on what type of traveler you are, either one could be the perfect destination for your next trip! But as someone who loves them both, I just think Berlin is a can't-miss-stop on a European vacay!
ALWAYS sort out your backpacker insurance before your trip. There's plenty to choose from in that department, but a good place to start is Safety Wing.
They offer month-to-month payments, no lock-in contracts, and require absolutely no itineraries: that's the exact kind of insurance long-term travellers and digital nomads need.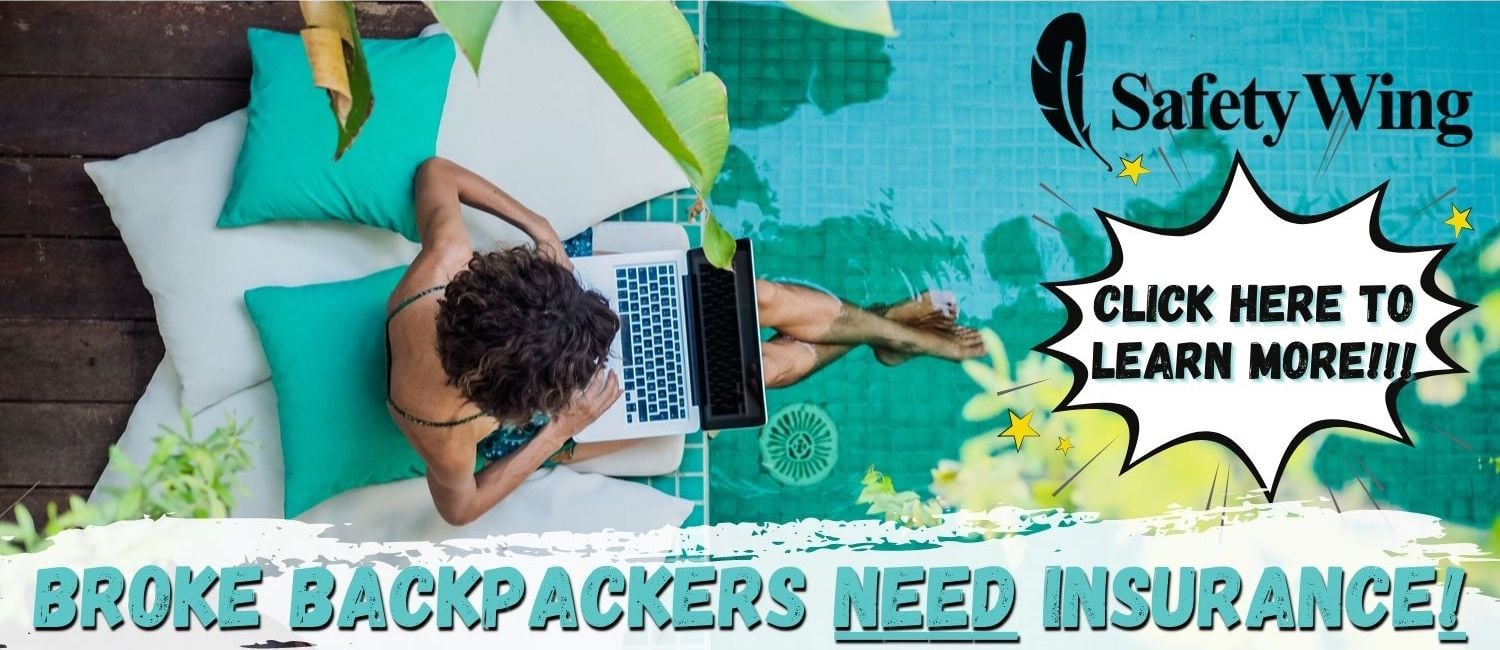 SafetyWing is cheap, easy, and admin-free: just sign up lickety-split so you can get back to it!
Click the button below to learn more about SafetyWing's setup or read our insider review for the full tasty scoop.
---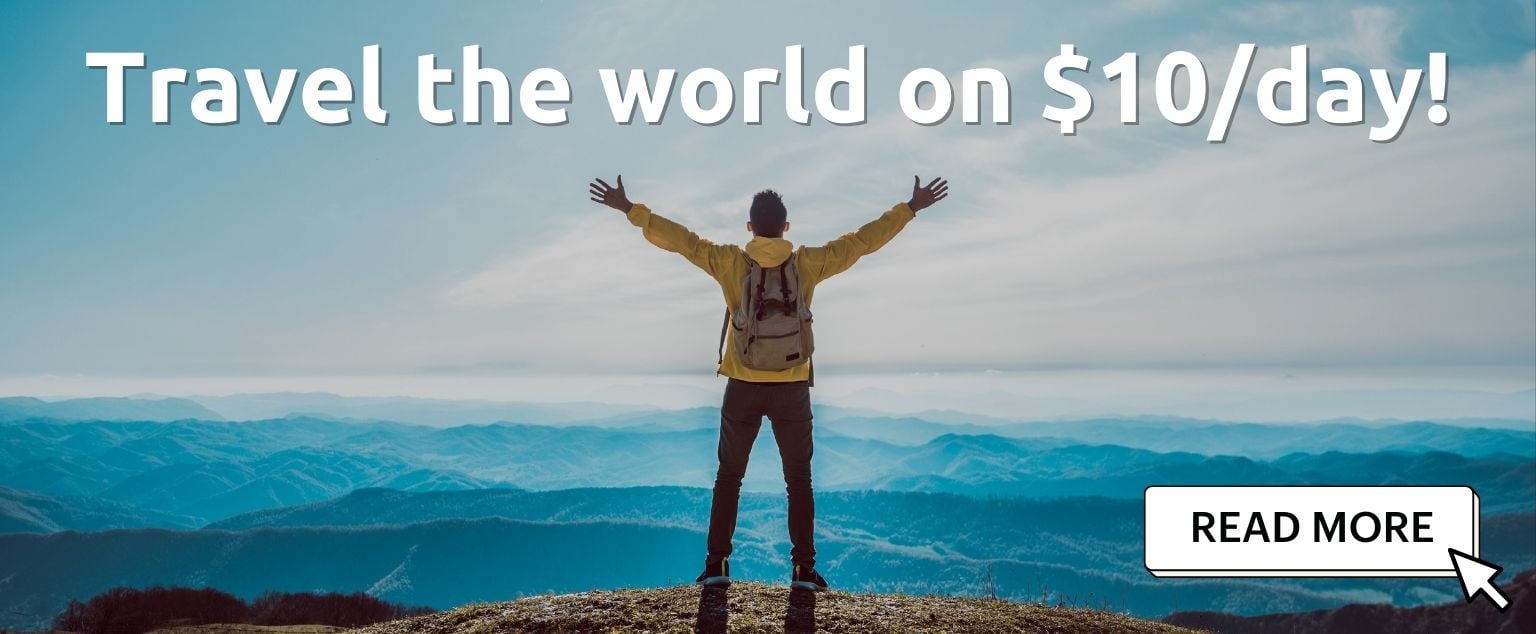 And for transparency's sake, please know that some of the links in our content are affiliate links. That means that if you book your accommodation, buy your gear, or sort your insurance through our link, we earn a small commission (at no extra cost to you). That said, we only link to the gear we trust and never recommend services we don't believe are up to scratch. Again, thank you!