Berlin is a hip and captivating city. Once you've thoroughly explored the vibrant culture, incredible food and historic landmarks of the enigmatic capital city, you might want to spread your wings a little and see more of Germany.
Luckily there are many incredible day trips from Berlin in the pursuit of adventure and new experiences. There are also heaps of half-day trips if you're short on time too.
If you find yourself in love with Berlin, then you'd enjoy spending a day in Leipzig, a city that exudes a similar coolness and charm but with a much more local vibe. You can also opt to take a half-day trip to the beautiful Potsdam and rejoice in the views of Dutch Quarters, Sanssouci Palace.
When in Berlin, there's a lot to see and do both in the city itself as well as within a few hours travel. You can not only take in the gritty streets of Berlin on your trip but you can see magnificent castles, charming lakeside villages, stunning palaces and some of the darker history of Germany too.
Here are 11 of the best tours and destinations just a few hours from the city.

Unlock Our GREATEST Travel Secrets!
Sign up for our newsletter and get the best travel tips delivered right to your inbox.
Half-Day Trips in Berlin
When you're in Berlin, no time goes to waste! Even if you've only got a weekend or a few days on your hands to explore there are many memorable trips that are just an hour away from the city.
These short Berlin day trips are fun, unforgettable, and best of all, they only take half a day! So you've got plenty of time to explore all the great things to do in Berlin as well as the surroundings.
Day Trip to Sachsenhausen Concentration Camp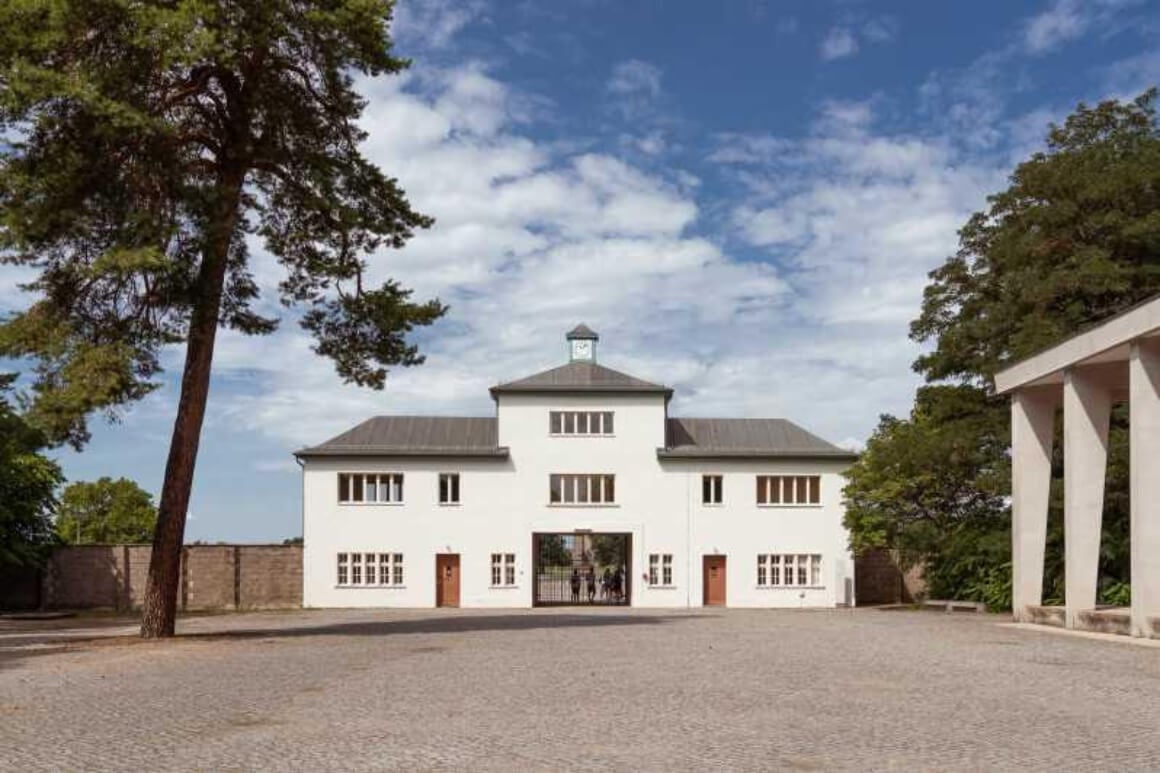 On July 12, 1936, the Third Reich transferred 50 prisoners to a location near Oranienburg to begin the construction of one of the first concentration camps in Germany. This became the infamous Sachsenhausen Concentration Camp which served as the primary death camp for the Berlin area.
For all those visiting Berlin, this grim national memorial is a sorrowful sight not to be missed. Just a short 45-minute train ride from the city centre, the camp is a brutal and hard-hitting reminder of the worst time in human history.
A sombre visit offers a glimpse of the sickening living conditions experienced by more than 200,000 people imprisoned here. See the grim reality of the gas chambers, Station Z and the punishment cells in an experience that will surely never leave your memory. Learn stories of both tragedy and heroism as you not only leave here moved in sorrow but inspiration too.
For a more detailed and historic insight, you can also take a guided tour and learn more deeply about the dark past and all the horrific events that went down in the very place you stand. Whether you are a history buff or just someone visiting with family, this camp is a sobering reminder of what should never be repeated.
Suggested trips – Private Tour to Sachsenhausen Concentration Camp Memorial, Small-Group Sachsenhausen Memorial Walking Tour
Day Trip to Muskau Park, Bad Muskau
Bad Muskau is a spa town in Germany just two hours away from Berlin. One of its top attractions is the legendary Muskau Park, a mesmerizing UNESCO World Heritage Site. Its landscaped gardens and classic Neo-Renaissance German castle make the magical site feel more like a fairytale.
Muskau Park is kingly, magnificent, and breathtaking. Much of the credit for creating this masterpiece goes to the horticulture designer, Prince Pueckler. He designed the park after being influenced by landscape paintings and used only local plants to enhance and merge with the surrounding landscape.
Muskau Park offers such a different ambience and scenery than urban Berlin. The quiet and serene grounds, with their tranquil landscape and lush English Garden, are a perfect escape. Meander the paths that criss-cross this idyllic park before coming across the striking Schloss Muskau dating back to 1815. While this makes for a perfect half-day trip if you find yourself enamoured by Bad Muskau and need another day to explore the town, stay at the highly-rated Am Schloßbrunnen, located just minutes away from the park.
Day Trip to the Tropical Islands
What's the first thing that comes to mind when you think of visiting Berlin? The wall, checkpoint charlie, The Brandenburg Gate… or what about flamingos and palm trees?! Yeah, you read that right! Whatever time of year you're visiting, pack your budgie smugglers because you're in for a tropical treat!
Just an hour from the city, there's a whole other world to discover, one that seems out of place in Northern Europe! Here is the world's largest indoor waterpark where you can take a Caribbean-style mini-vacation in the Tropical Islands Resort in Krausnick and be back in your bed before bedtime!
The tropical resort came to life when a former Soviet aircraft hangar was transformed into a resort where it's summer all year round. Once you walk through the doors you'd be forgiven for thinking you were in the depths of the rainforest. With a constant balmy temperature, it's no wonder the Tropical Islands are a popular place to escape the brutal Berlin winter.
You'll find 13 different bars and restaurants at your service for after your adventure. That's not all. If you end up changing your mind about heading back home, you can also choose accommodation in the Tropical Island Resort with themes such as South America, Africa, or Asia-Pacific.
Day Trip to Spreewald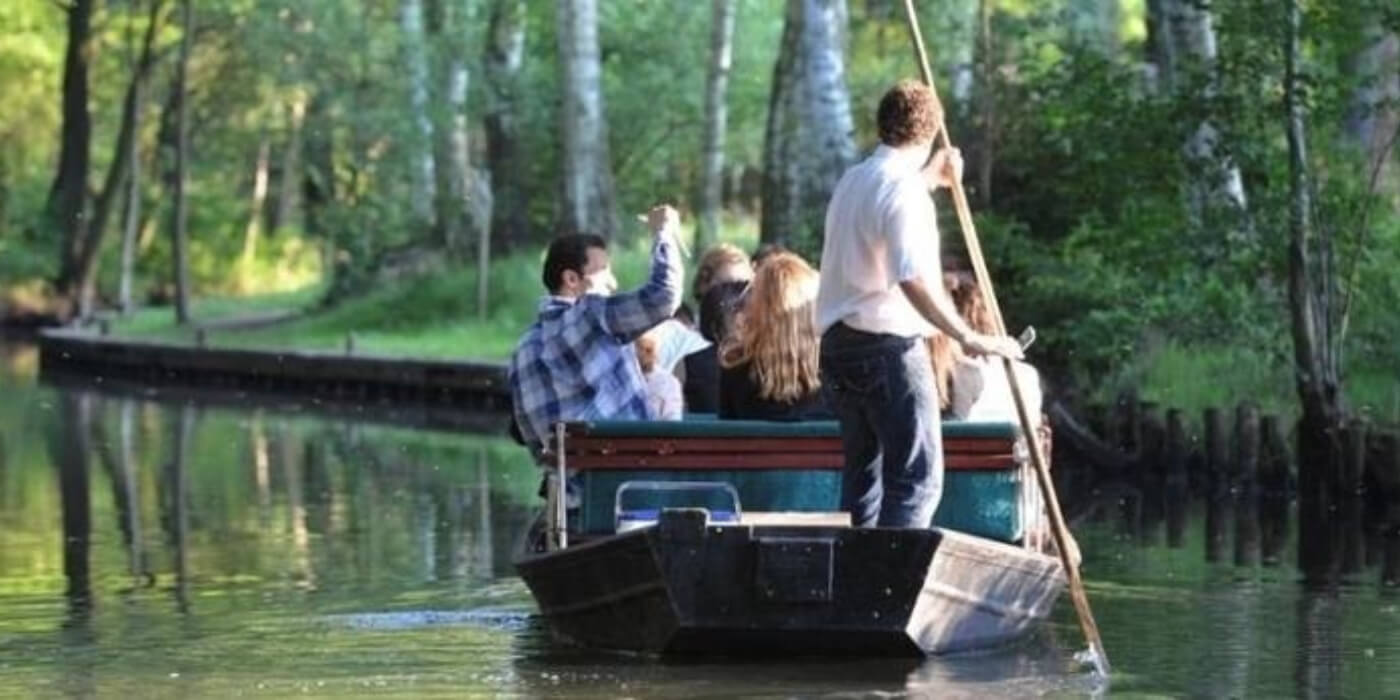 Berlin is one of the coolest cities in the world and is well known for its energetic character. The lively ambience of the city is certainly one of its charms, but now and then there comes a time when you want to escape the concrete, tall buildings and noise. Thankfully less than two hours from the city you can unwind amidst an ancient forest and explore the many peaceful waterways.
Spreewald is a picturesque biosphere reserve with breathtaking views and endless opportunities for adventure. This day trip from Berlin promises pure relaxation and serenity amongst nature, it's the perfect escape after a few days exploring the exhilarating but often exhausting capital.
One of the most popular ways of exploring the canals and waterways of Spreewald is on Kahn – a punt-like boat. You can also go kayaking or explore the beautiful location while on the many incredible bike trails. There are also many opportunities for hiking and camping here should you want to indulge more in the natural surroundings.
There's a lot to do in this quaint retreat, you can spend half a day here and still have so much more to see. If you end up extending your stay, we would highly recommend choosing quality accommodations such as Hotel Ebusch for the night.
Day Trip to Neuruppin, Germany
One of the loveliest little towns in Germany, it's located just an hour northwest of Berlin. It might be little, but this town was the birthplace of one of the biggest German poets and writers in Theodor Fontane whose work often spoke of the beauty of his hometown.
What makes this town even more beautiful is its lakeside location. The best way to enjoy this town is to take a stroll along its old town centre and behold the well-preserved historic architecture. Along your stroll, you'll also find local markets and food stalls as well as the historic St. Trinity Church, which dates back to 1246, along the waterfront promenade.
Finish your trip with an easy and relaxed afternoon by the lake, you can even take a dip in the waters depending on the time of the year or your levels of bravery! The town also offers hiking and cycling in forests surrounding the idyllic 'Ruppiner See'. If the history buff in you couldn't help wanting to stay in one of these historic houses, we suggest booking this cosy city apartment near Lake Neuruppin for an unmatched experience.
Is This the Best Daypack EVER???
Full-Day Trips in Berlin
Berlin is a magnificent city to visit, but it's also buzzing and unrepentantly lively. If you want a break from the beautiful chaos of the German capital, we've got you covered. Escape from the city and find yourself amidst the serene lakes and scenic forests of Germany, all within a few hours' drive from Berlin.
Day Trip to Potsdam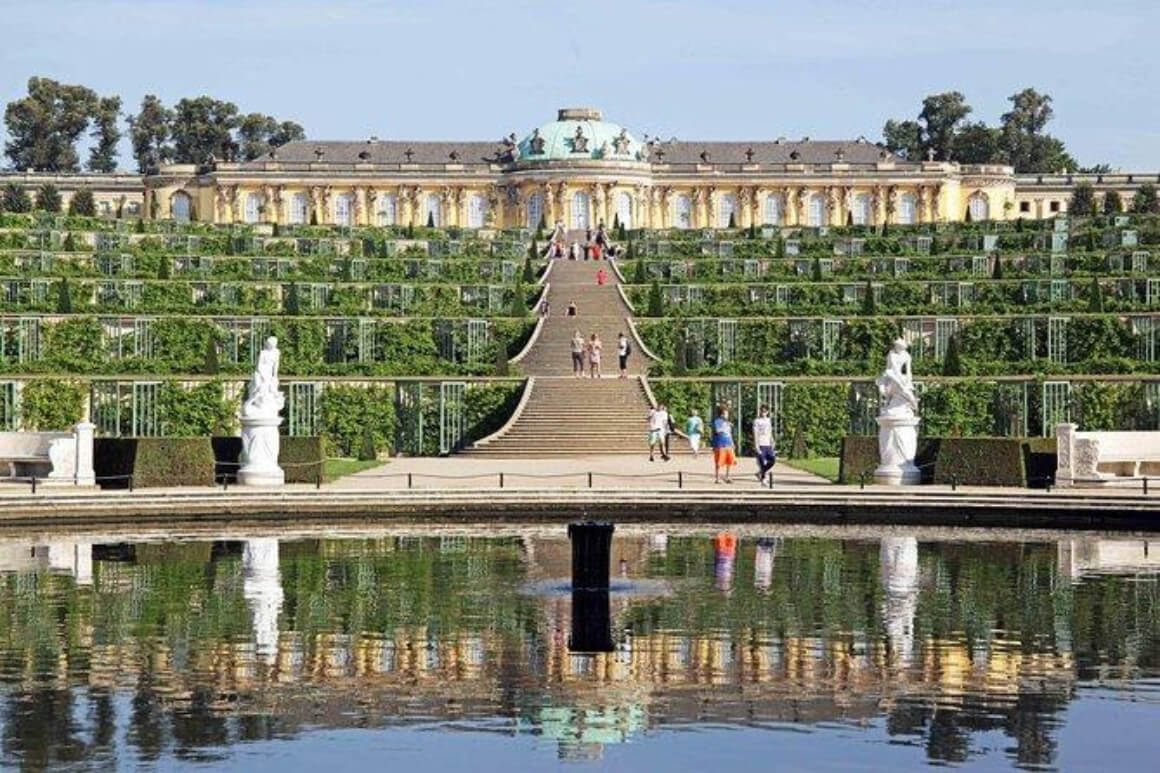 When busy Berlin makes you crave quietness and solitude, the best place to run away is just 30 minutes by train. Potsdam has so much to offer its visitors so you'll need an entire day to explore the World Heritage city with its palaces and parks belonging to the Prussia kings.
While this city has its place in the history books as the home to some of the most significant historical events. It also has a serenity and stillness about it which makes visiting here all the more special.
On your trip to Potsdam, you must visit Sanssouci, the summer home of Frederick the Great, former King of Prussia. From there, continue to explore the enormous Sanssouci Park, surrounding the palace. Not to be missed in Potsdam are the Dutch Quarters – an entire neighbourhood of beautiful Dutch-style homes. Another point of interest in the city is Cecilienhof, the final palace of the House of Hohenzollern.
Every step of the city tells a story that took place centuries ago. If you are especially tickled by history and the old sovereign rulers, Potsdam is an excellent choice for one of your Berlin day trips.
Suggested trips – Discover Potsdam
Day Trip to Dresden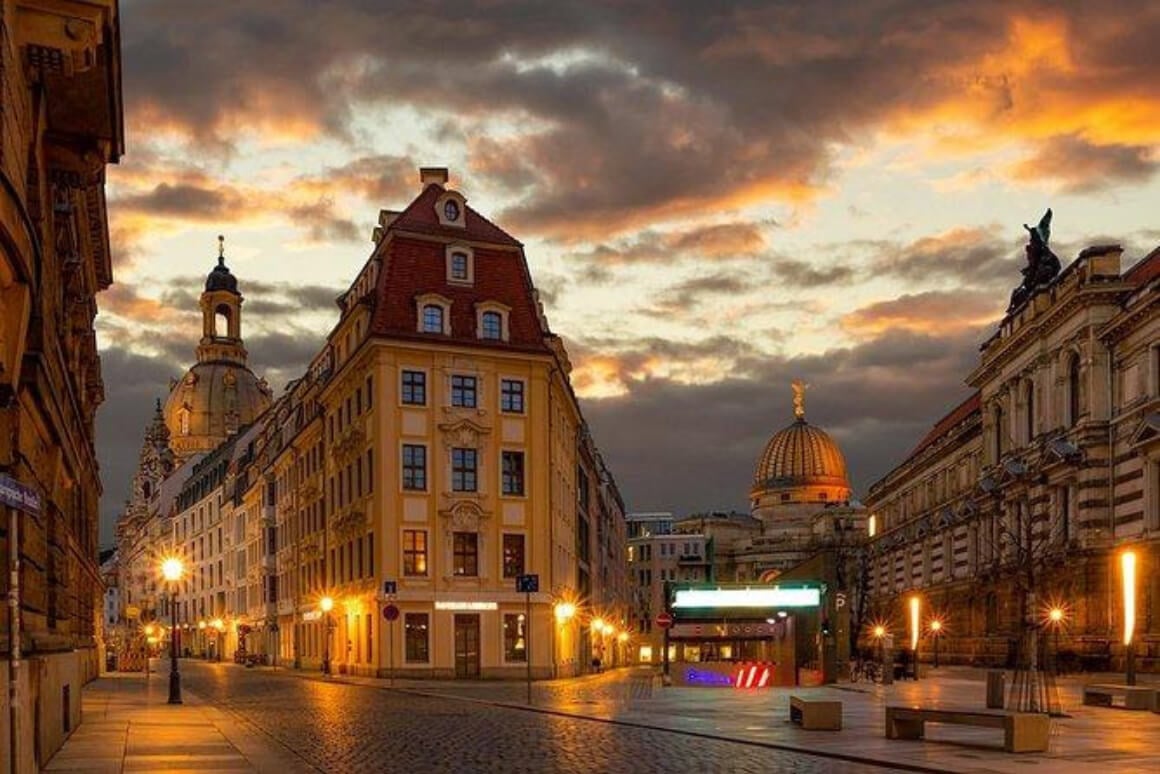 Dresden often doesn't get its due credit, it is in fact one of the greatest Baroque cities in the world. If you are especially a fan of stunning old-world European architecture then you'll love it. There's a good reason behind it being nicknamed "the Florence on the Elbe".
It would be a shame not to visit the charming city of Dresden when you are just a little over two hours away in Berlin. A stroll along the vibrant riverfront and into the Old Town takes you back to the grand past of this magnificent city. It really does make for an excellent weekend day trip from Berlin.
In Dresden, the biggest point of interest is the Zwinger Palace, which is believed to be inspired by Versailles with its ornate gardens, courtyards and houses.
Another highlight is the magnificent Frauenkirche with its impressive stone dome and 67-metre-tall viewing platform. Some of the most majestic buildings in Germany are located in the city square of Schloßplatz. It is here that you'd stumble across the famous Dresden Cathedral. If you still have time, don't miss out on the Semperoper opera house and the Brühl's Terrace promenade by the Elbe River.
Suggested trips – Dresden Highlight – Big City Tour with Bike, Dresden Private Walking Tour, Dresden City Tour with Hotel Pick up and Drop off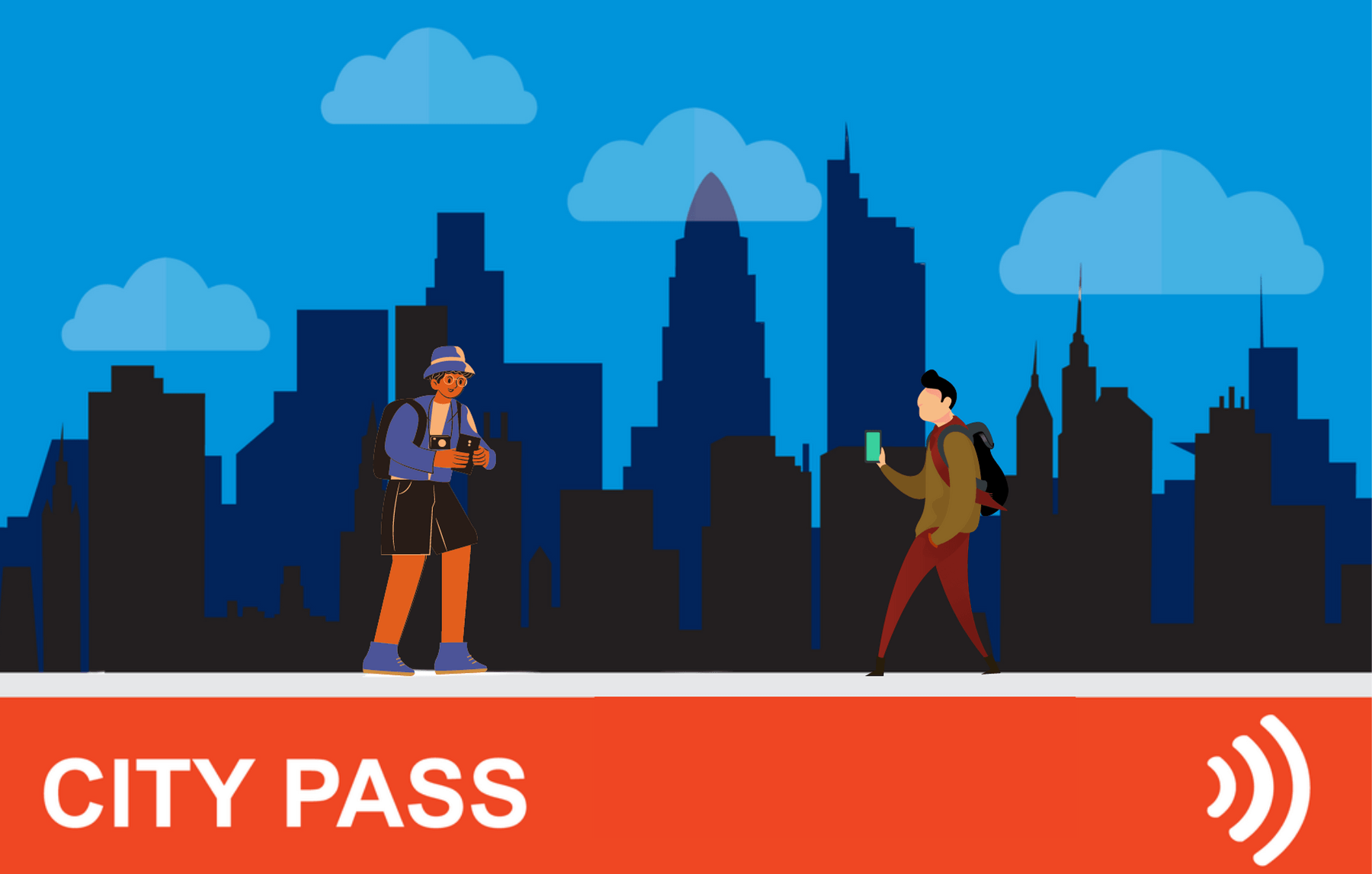 Travelling to Berlin? Then plan yo' trip the smart way!
With a Berlin City Pass, you can experience the best of Berlin at the CHEAPEST prices. Discounts, attractions, tickets, and even public transport are all standards in any good city pass – be sure invest now and save them $$$ when you arrive!
Buy Your Pass NOW!
Day Trip to the Azalea and Rhododendron Park, Kromlau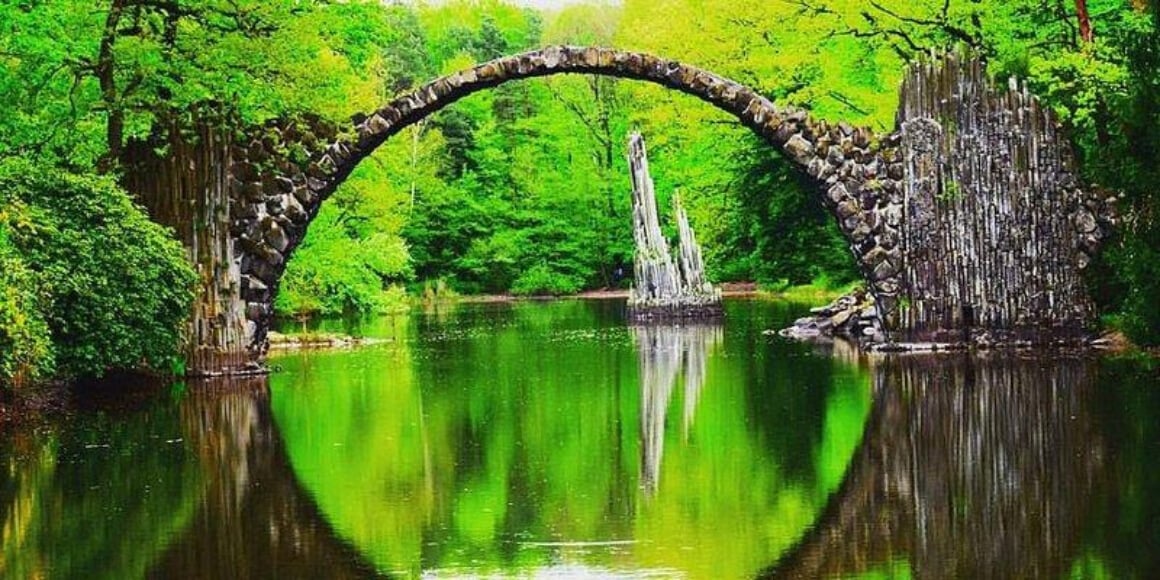 If off the beaten path adventures and hidden gems are something you crave on your travels, then this is the day trip from Berlin for you. This spot is the perfect place to de-stress and unwind. The serenity and beauty it offers make it a hard place to part from!
To reach the famed Devil's Bridge in Azalea and Rhododendron Park, you'd need to drive or take a train to the small town of Kromlau – located on the border of Germany and Poland. The distance is easily covered in just over two hours.
From there, make your way to the 200-acre park, and behold the sight of Rakotzbrücke (Devil's Bridge). The bridge is shaped in a semicircle, the other half being completed by the reflection in the water. Legend has it that this bridge was built by the devil himself!
The best thing about this trip is that it's not actually all that popular despite how magnificent it is. This means that the peace and tranquillity you come here to experience is unlikely to be spoiled by hordes of tourists.
If you get the chance, be sure to visit in Spring as the park is in full bloom with red, yellow and purple hues. While you're visiting this magical place, enjoy comfortable accommodations in the Grüne Villa, which is only 8 minutes away from the infamous Devil's bridge.
Day Trip to Magdeburg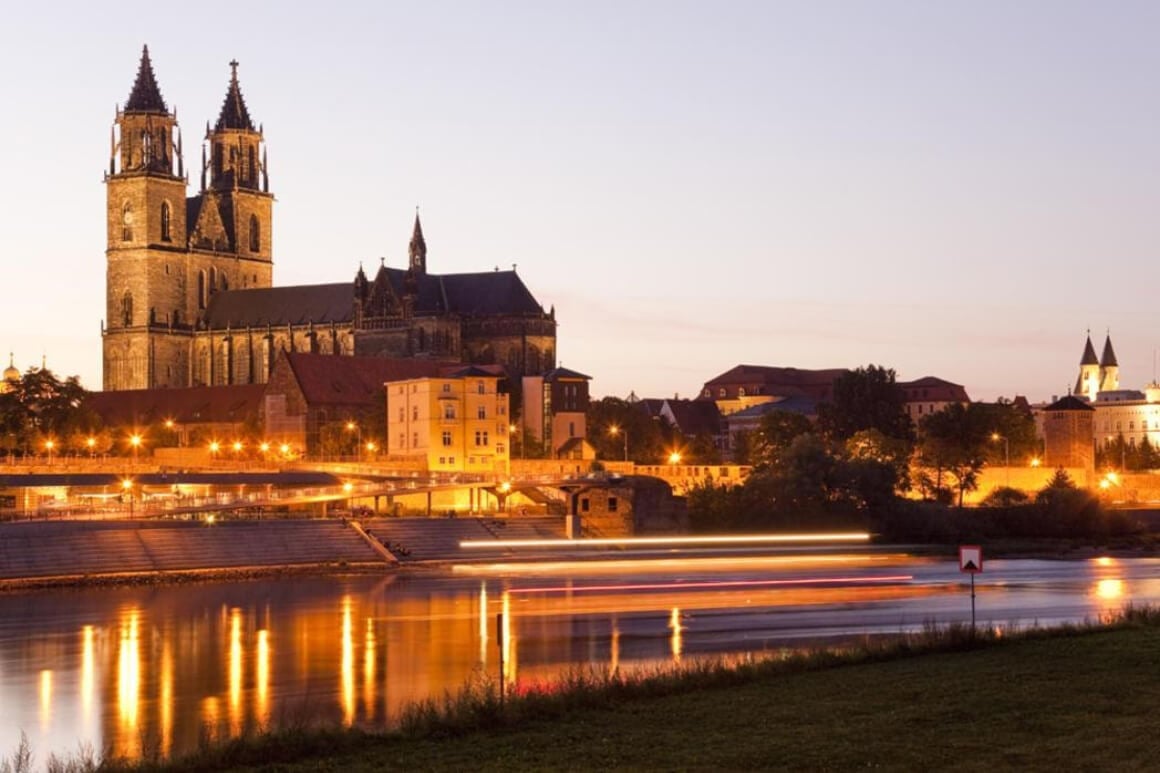 The lesser-known city of Magdeburg is often overshadowed by its more popular neighbouring cities. Make no mistake though because though it might be less popular, Magdeburg is by no means boring. If anything, it is the complete opposite!
This humble city is just a short train ride away from Berlin and is one of the oldest cities in Germany – 1200 years old to be exact. The entire city is steeped in history and anyone would feel revered strolling down its streets.
This is a day trip from Berlin that will forever be stamped on your memory. In the past, Magdeburg held a special position in the ancient Holy Roman Empire. You'll find evidence of this in all the cathedrals dotted around the city and the large numbers of Emperors buried there.
The best way to explore this remarkable city is by biking or strolling down the streets and observing all the gothic medieval architecture from up-close. All the modern additions in the city serve as a reminder of the bombings of World War II that partially destroyed it. The past and present are interwoven on the streets of Magdeburg.
You need a whole day to explore this amazing city, so make sure your accommodation for the night is comfortable and aesthetically pleasing like a Condo in Helles Apartment.
Day Trip to Leipzig
A trip south to the city of Leipzig is a classic day trip from Berlin. Leipzig is a lot like the capital, but it has a character and charm of its own that makes it stand out. For all those who fall head over heels in love with Berlin (and who doesn't), a visit to Leipzig is sure to be a roaring success!
You can take an express train from Berlin and reach Leipzig in just 90 minutes. The first thing you'll notice once you jump off the train is the distinct architecture of the old East German style. That, combined with the university culture, youth population, cheap cafes and markets, guarantees good times even on a budget.
This city has everything to entertain the adventurous traveller with the touch of the past and an alternative look at Germany beyond the palaces and castles. Here it's all about cutting-edge attitudes combined with that Eastern Bloc aesthetic. There's lots to explore and enjoy in Leipzig beyond the cold war, the city is also famous for the timeless music of Bach, Mendelssohn and Wagner.
Suggested trips – Leipzig Private Walking Tour, Leipzig: 70-Minute Motorboat Canal Sightseeing Cruise
Day Trip to Rüdersdorf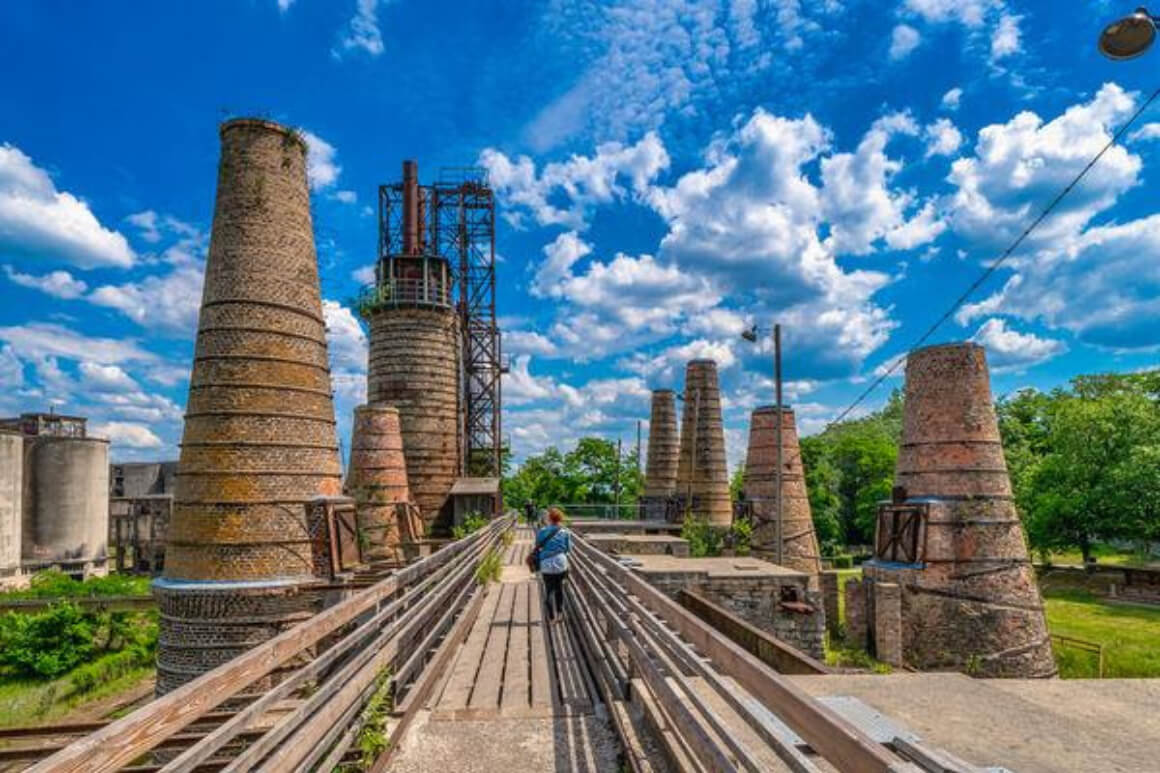 How about taking a unique day trip from Berlin on a boat rather than by train or road. You can make a memorable trip to Rüdersdorf from Berlin through the waterways.
This mode of travel brings a whole new level of adventure, and the trip becomes just as exciting as the destination itself. Located on the outskirts of the city the journey gives you an alternative look at many areas you might have otherwise missed.
Make your first stop at the Museum Park and watch firsthand how limestone is extracted from the largest deposit in Germany. Go back in time and see the industrial heritage of the town and marvel at the historic architecture here used over centuries by hard-working miners. Limestone has been mined and processed here for over 765 years and it was from here the materials that make the Brandenburg gate came from.
Rüdersdorf is also just the place for outdoorsy people and you can spend some time by the lake at Flakensee or visit Woltersdorfer Schleuse, the historic water lock, and the pedestrian bridge along the scenic canal.

Once you reach Rüdersdorf, book into a snug little room in Gästehaus am Kleinen Stienitzse. Once you are well-rested, get ready to explore this diverse district.
Day Trip to Brandenburg an der Havel
If you are fond of nature, have a desire to explore new places or fernweh as Germans' would call it, then we suggest planning a trip to Brandenburg An Der Havel. This federal state of Germany is less than two hours away from Berlin and is flanked by the stunning Westhavelland Nature Park.
Here you'd find picturesque lakes, historic charm and an off the beaten track city to explore away from large groups of tourists. It's a perfect spot for those backpacking through Germany.
Begin your weekend inBrandenburg An Der Havel by visiting the famed gothic Brandenburg Cathedral and behold the architecture of the 11th century. Another stunning piece of historical architecture is the Old Town Hall that dates back to 1470. You can also explore the remains of the medieval fortifications of Brandenburg, four towers still remain, the most impressive is the 17-metre cylindrical Plauer Torturm.
Suggested Trips – Walking tour of Brandenburg an der Havel
Small Pack Problems? 😉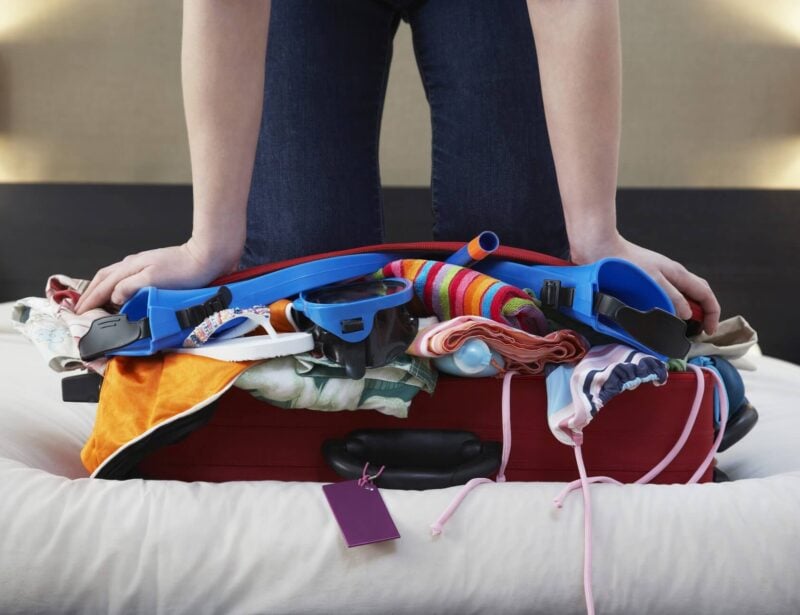 Wanna know how to pack like a pro? Well for a start you need the right gear….
These are packing cubes for the globetrotters and compression sacks for the real adventurers – these babies are a traveller's best kept secret. They organise yo' packing and minimise volume too so you can pack MORE.
Or, y'know… you can stick to just chucking it all in your backpack…
Get Yours Here
Read Our Review
Don't Forget your Berlin Travel Insurance
ALWAYS sort out your backpacker insurance before your trip. There's plenty to choose from in that department, but a good place to start is Safety Wing.
They offer month-to-month payments, no lock-in contracts, and require absolutely no itineraries: that's the exact kind of insurance long-term travellers and digital nomads need.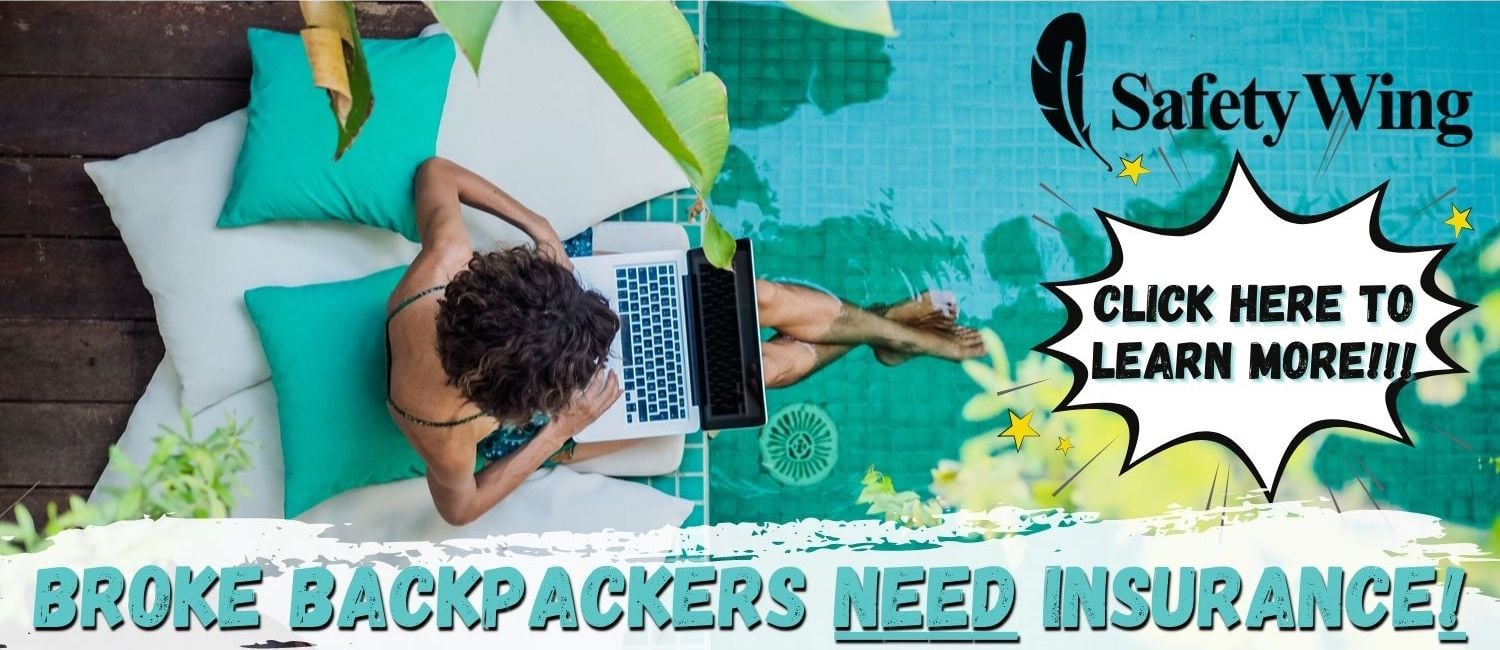 SafetyWing is cheap, easy, and admin-free: just sign up lickety-split so you can get back to it!
Click the button below to learn more about SafetyWing's setup or read our insider review for the full tasty scoop.
Final Thoughts
With such a vast array of choices on offer to explore both within and around Berlin, you'll have some tough decisions to make. It's one of the reasons Berlin is a city you just seem to be drawn back to time and time again whether you come to Berlin for a weekend or much longer.
Berlin has not only so much to take in but it's situated so close to some of Germany's ultimate attractions. If you're visiting during the cold Berlin winter you might be tempted to head straight for the Tropical Islands Resort after exploring the city's streets. It's a great escape and a fun way to recharge and combine a city break with a more conventional holiday!
However, if you want to explore the wonders of Germany out in the open air then take the revitalising journey to Azalea and Rhododendron Park. This mesmerizing retreat in nature, with few souls around, allows you to truly escape somewhere magical.
But we'll be honest, there's no place on this list that you will regret going to, whichever you end up choosing! When planning your day trips, be sure to pick an area of Berlin close to public transport so you can maximise your time.
---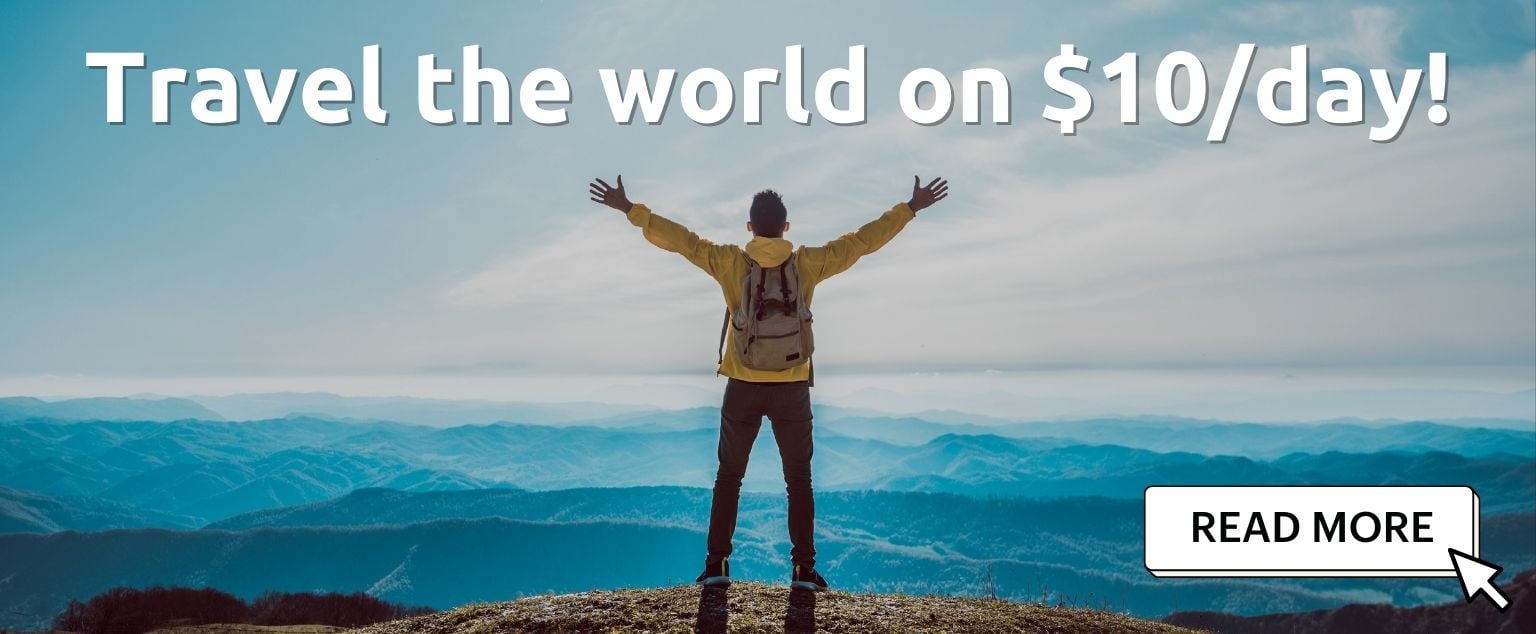 And for transparency's sake, please know that some of the links in our content are affiliate links. That means that if you book your accommodation, buy your gear, or sort your insurance through our link, we earn a small commission (at no extra cost to you). That said, we only link to the gear we trust and never recommend services we don't believe are up to scratch. Again, thank you!