Let's face it, Germany is a pretty cool place to visit. There's Oktoberfest, for one thing, a huge amount of history (old and modern) going on, and a load of hearty food to try out. Couple it with great nightlife and you got yourself a destination and a half.
However, it's the sorta place that's been heavily backpacked over the years. It might not seem like it, but there are loads of hostels through this European country. The trick is finding the good ones. So we've lovingly crafted this epic guide to the 35 best hostels in Germany.
Hopefully you won't get stuck somewhere ropey in any of Germany's major cities. In fact, we reckon this guide is going to pretty much prepare you for backpacking this awesome country.
What are you waiting for? Let's dive into the world of Germany's cool hostels!
Quick Answer – The Best Hostels in Germany
The 35 Best Hostels in Germany

Do You Want to Travel FOREVER??
Pop your email in below to get a FREE copy of 'How to Travel the World on $10 a Day!'.
$$
Bicycle Hire
Bar/Restaurant
Outdoor Terrace
Yeah, we're having trouble pronouncing that too. But don't worry: all you need to is that Pfefferbett Hostel is actually one of the best overall hostels in Germany. No jokes. It's in this old industrial building that used to be a brewery, which is pretty cool. But it's not uber cool.
It's clean, modern and the common rooms have stuff like pool tables and stuff. It's part of a cultural centre so there's loads galleries and cafes and bars and stuff literally on the doorstep. It's all very comfy inside. There's even a big open fireplace for when it gets proper chilly.
$$
Book Exchange
24 Hour Reception
Luggage Storage
This youth hostel in Munich is right next to the Hauptbahnhof which is perfect if you're planning to arrive or leave or even get around by train. Sure it's not overly cool but it's super comfy and clean, and the location is decent, which makes it one of the best overall hostels in Germany.
Other stuff that helps it get that title is the fact that it's in an old pre-WWII building, which means tons of character and creaky floorboards. It also has a bar with a happy hour and there's a free walking tour, which is always nice.
FYI Munich gets BUSY at Oktoberfest so you may wish to book early depending on when you visit Germany.
$$
Laundry Facilities
Cable TV
Tours & Travel Desk
Whoever would've guessed that this top Cologne hostel was in the downtown area. Hmm. But anyway, top notch location here. It's right on, like actually on, one of the longest shopping streets in the whole actual country. So, yeah, it's pretty lively around here.
There's a big ol' balcony at this place, where you can see Cologne Cathedral, which is nice if you like views and stuff. Each dorm has its own bathroom (always handy), plus there's a massive kitchen (also always handy). All that, plus it's super neat and tidy, well how could it not be one of the best overall hostels in Germany?
$$
Common Room
Cafe
Location, Location, Location
Another cool hostel in Germany, this time in St Pauli, Hamburg. This one comes complete with its own hostel cafe, where they really do serve up a decent breakfast in the morning. By night time this place is a hive of activity with every backpacker here planning their nights out together.
St Pauli is a pretty vibey area of Hamburg, so if you were looking for one of the best hostels in Germany – even for location alone – this is definitely one of 'em. You're never too far from a decent bar here. And the absolutely poppin' Reeperbahn literal steps from here.
$$
24 Hour Reception
Bicycle Hire
Bar
Well, well, well, if it isn't one of the best overall hostels in Germany. Yep, this very cool hostel in Berlin (in Hermanplatz to be exact) is the perfect place to base yourself on a trip to the capital. Expect very high standards here and an easygoing vibe.
It's got loads of stuff going on. There's pub crawls, bike tours, city tours, all that sorta stuff to get you out and exploring Berlin. Plus it's close to Berlin's best bars and clubs and all that. Plus if you wanna get around a bit more the U-Bahn station is pretty dang close.
From the depths of the hostelsphere, we bring you… the Hostel Card!
HostelPass has spent years & years looking for the best places to stay in Europe, and they just came back with something GREAT.
The Hostel Card is a hassle-free solution with up to 25% discount at the most amazing hostels, tours, and experiences. Any-where-you-go.
Don't sleep on the ultimate budget travel card — use code "brokebackpacker" at checkout for 25% off!
Get the Card
Best Hostel for Solo Travellers in Germany – East Seven Berlin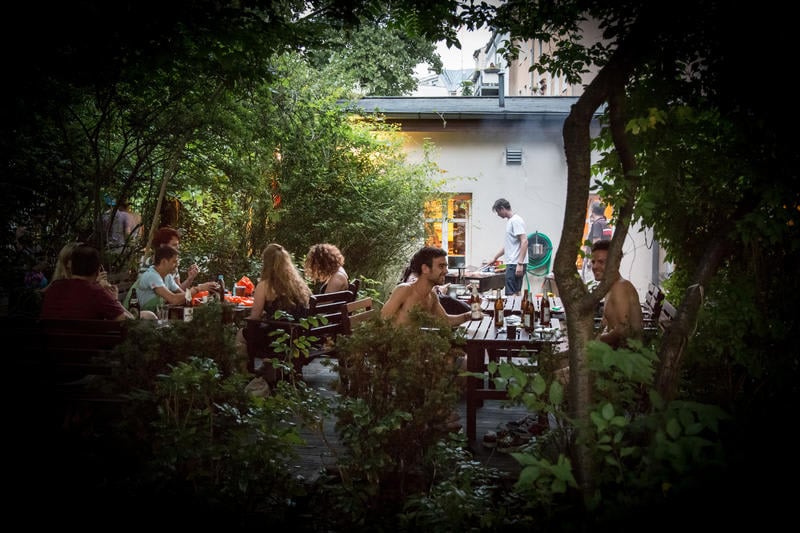 Definitely, a cool Berlin hostel to hang out in, these guys have thought of everything when it comes to all the things backpackers are gonna need. The building is huge, old, and there's loadsa space to spread out and chill in. There's a beer garden where you can drink and have a BBQ in the summer.
Walking tours (TWICE daily) and its communal spaces, plus the friendly atmosphere, easily make this one of the best hostels in Germany for solo travellers. There's also bike rental, which is good to get out. Happy hour definitely helps you get chatting to other backpackers here.
$
Bar
24 Hour Reception
Tours/Travel Desk
RIGHT in the middle of Munich, this is definitely the place to be if you want one of the best overall hostels in Germany for solo travellers. Staff are proper welcoming here and will give you a ton of advice for doing cool shiz in the city.
It's right near the central train station, which is always a plus. But more about their social vibe: they have a bar, which is a decent place to meet people. And it's also close to a few bars and a market, so you can easily head out to explore with your new mates.
If you're traveling through Munich, check out our recommended Munich itinerary!
$
Games Room
Book Exchange
Outdoor Terrace
Instant Sleep. We love it. And this place has been providing just that since 1999 apparently. It's, um, a bit quirky (think Buddhas painted on the wall for some reason) but it's one of the best hostels in Germany for solo travellers. They even say that themselves, so… yeah.
The lounge here is a decent place to hang out and get chatting to the other backpackers looking for instant sleep at this place. Well, the beds are comfortable (we guess that's the instant sleep part), but there's also free coffee, which is more like instant wake-up but we won't argue.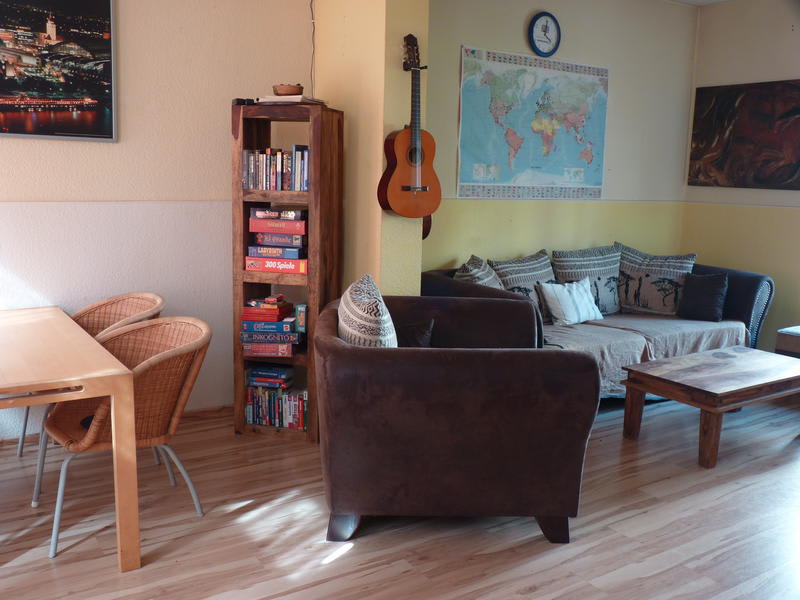 $
Free Breakfast
Book Exchange
Free Linen (Paying For This Is A Thing In Germany)
Isn't 404 like an internet error? Dunno what the connection is but this is a great place to meet other people. It's pretty small and cosy so you kinda can't help but get friendly with everyone else staying here.
This top hostel in Germany is set in a pretty quiet neighbourhood, so you'll be able to get a decent night's sleep here. That also means it's a pretty safe and secure place, which is good especially if you're by yourself in the city. This Cologne backpackers hostel also comes equipped with a V nice owner, which also helps.
$
Free Breakfast
Bar/Cafe
Pool Table
Wow, well you can't get much closer to the train station without actually sleeping there. It's next to it. So we reckon this Munich backpackers hostel is a great shout if you're arriving (or leaving) by rail. It's a busy sorta place as a result and a decent place to meet people.
We rate it. In fact, it's one of the best hostels in Germany for solo travellers. It's secure and safe, thanks to the decent lockers (you don't have to bring your own padlocks). But the crowning glory here is the pretty chill bar, complete with pool table and nice staff. Can't go wrong for a train station hostel TBH.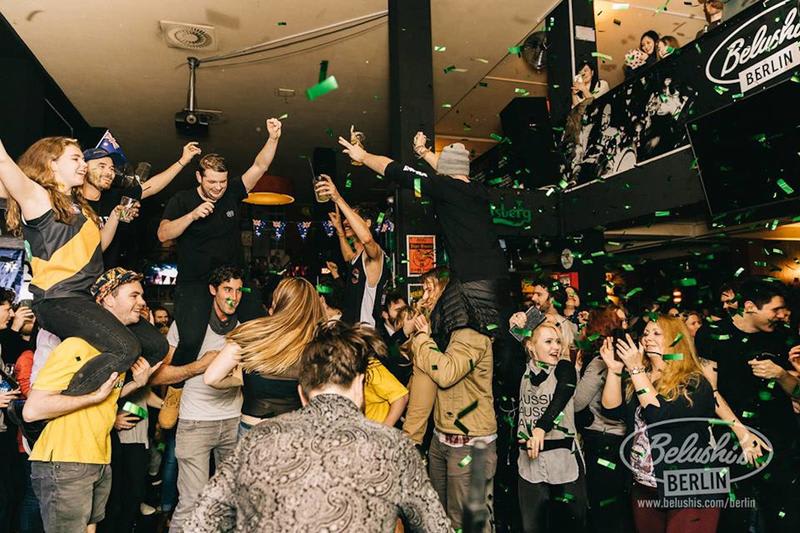 $
Free Drinks
Restaurant/Bar
24 Hour Security
St Christopher's is a pretty famous chain of hostels, so TBH this is already one of the best cheap hostels in Germany. There's definitely quality when you're packing that name, so this definitely a recommended hostel in Berlin if you're looking for a budget stay in the city.
The staff here are super helpful and the vibes here are pretty friendly, we gotta say. Location, dang, it's right near a metro station and there's tons of stuff on the doorstep. For extra cheapness (and fun) we must tell you that there's free mojitos on a Monday. There's also a 25% discount on food at the onsite bar – win.
Is This the Best Backpack EVER???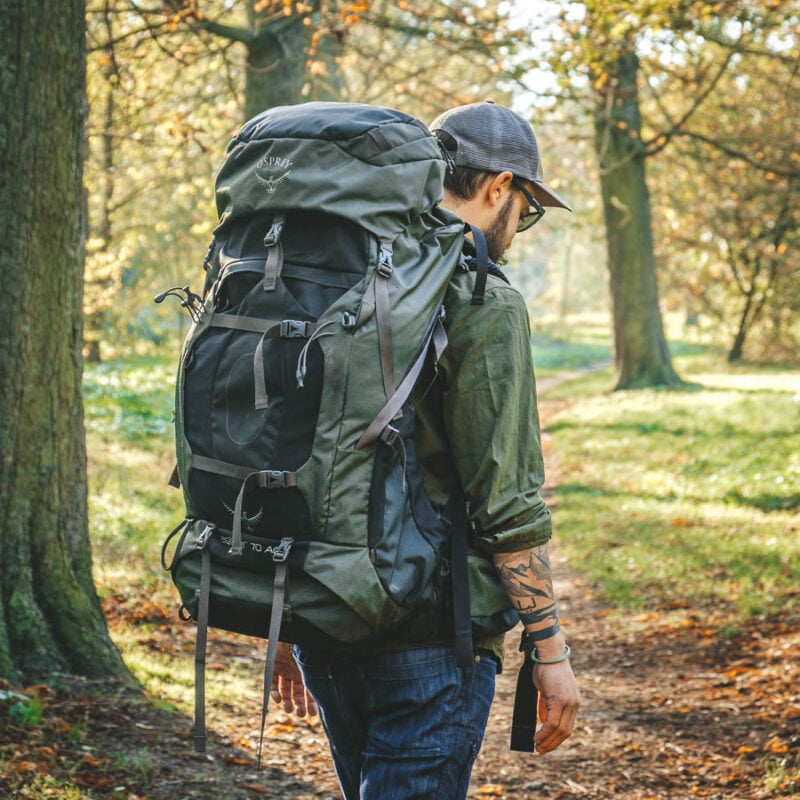 $$
Bicycle Hire
Bar/Restaurant
Free Breakfast
The name's a bit of a tongue twister, but whatever. It's one of the best cheap hostels in Hamburg, so you can't complain about the name. The location is amazing. It's right near the old fish market, which is cool to explore, and it's also near a load of galleries and shops.
And, wow, this place is HUGE. It can sleep up to 357 people. That's loads. So don't be expecting any intimate backpacking experiences at this youth hostel in Hamburg. It's actually IN a park, which is nicer than being right on the street. No pub crawls or events and not greatly social, but for a shoestring budget, it's FINE. Free brekkie, too.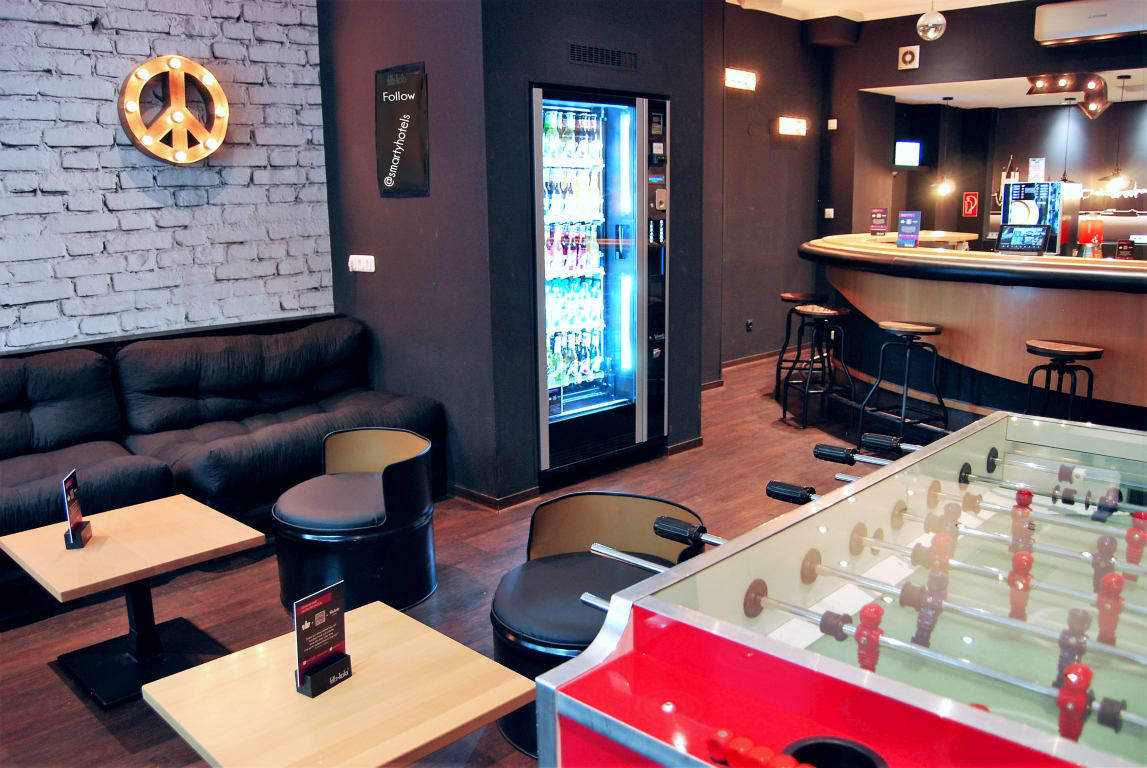 $$
Bicycle Hire
Cable TV
Snack Bar
It actually is a pretty smart place to stay. It's… not exactly oozing charm. In fact, it's kinda more like a budget hotel. But it's modern and it's got all the things you could ever want. This Cologne backpackers hostel (again – more like a hotel) is nicely located though. Kinda makes it one of the best cheap hostels in Germany.
One thing we do rate is the 24-hour snack and coffee bar. So you can always head back for a bit of munchies after a night out. That's actually one of our fav things about this place NGL. There's a kitchen, a gaming room, decent facilities all round. But lacks the vibe.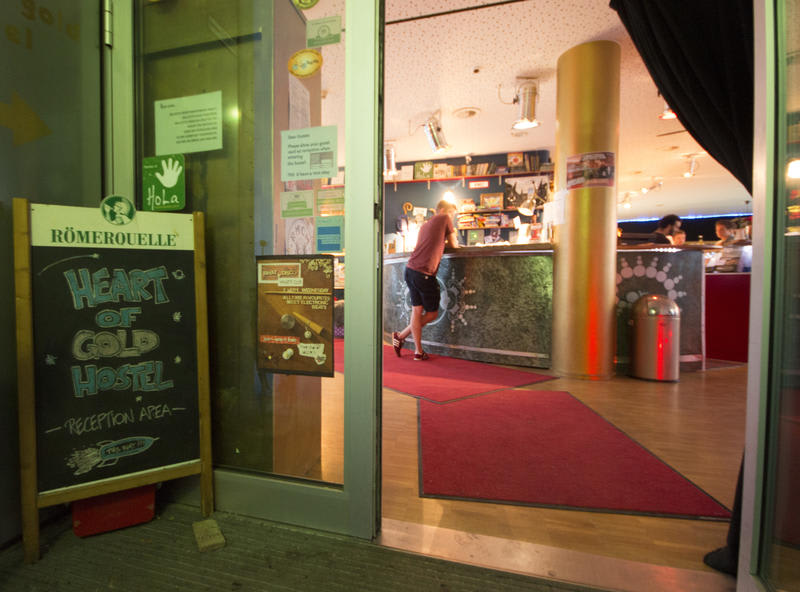 $
Bar
Cheap Beer
24 Hour Reception
Located just off Friedrichstrasse, this top hostel in Berlin is all about being definitely budget. Heart of gold? We're not so sure if we'd go THAT far but it's got a pretty friendly vibe. A good place to get chatting to other backpackers.
One of the best cheap hostels in Germany, this place is definitely social, there's cheap beer in the lil' beer garden onsite, the location is decent so you can save money by WALKING to top attractions (Museum Island, for example). Lots of space to find your own spot to chill out for when it all gets too much.
$
Common Room
Tours/Travel Desk
Free Breakfast
It is actually quite fun to stay at this YMCA. It's one of the best cheap hostels in Germany, but don't expect a super amount of fun. Actually, it's not that fun to stay at this YMCA (though it does see its fair share of guests in Oktoberfest).
It's never gonna be a party hostel here though. It's pretty basic but it's really clean and safe and secure (important). Staff are very kind and actually seem to care about the guests staying here. Free breakfast, let's be honest, is never, ever a bad thing. Ever. EVER.
$$
Pool Table
Luggage Storage
Bicycle Hire
Meininger is this franchise in Germany that's basically a hostel crossed with a budget hotel. The rooms here are budget hotel-esque, which is kinda cool if that's what you're looking for. Backpacking Germany as a couple? This is probably one of the best hostels in Germany for couples actually.
But don't go expecting tons of, um, social vibe. Even the dorms here are quiet. But if you basically wanna stay in a hotel-y kinda place that is still actually a hostel, and looks pretty decent, and is modern and clean, you can't really go wrong at this budget hostel in Munich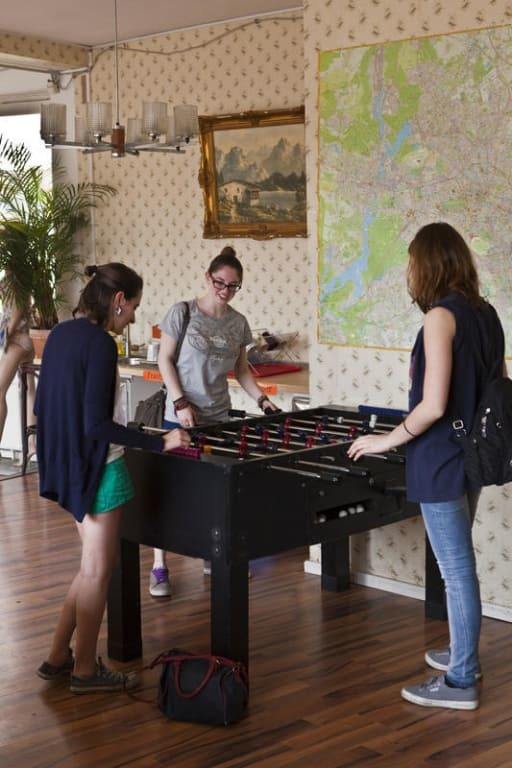 $$
Foosball
Bar/Cafe
Cool AF
Wait, no, actually THIS is one of the coolest hostels in Berlin. Lots of design touches here, Insta friendly decor, and basically feeling like it's just pretty cool makes it one of the best hostels in Germany for couples. Couples love that stuff right? Right?! Oh, and the atmosphere is V nice, too.
Set in the cool Kreuzberg district, you couples are also gonna literally love wandering around here pretending you live here. There's loadsa cafes, cool little bars, galleries, and lots of other people wandering about just looking pretty hipstery and doing whatever they do. It's cool. Couples will love it. What more do you want?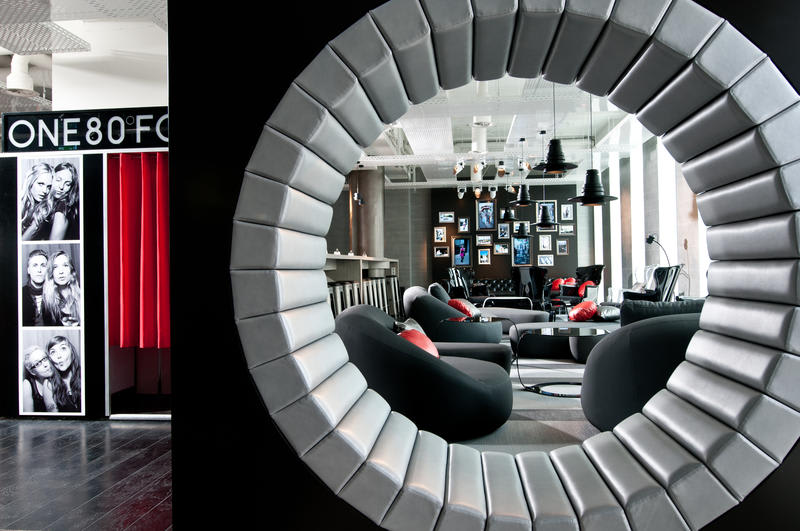 $$$
Bicycle Hire
Bar/Cafe
Design Hostel
Urban style interiors and loadsa places to hang out, comfy seating areas and all that stuff. It's more like a hotel kinda. Actually, this hostel even says they're "more like a hip hotel" and we agree. In fact, we reckon it's one of the coolest hostels in Berlin.
Not THE coolest. But still, all that nice design and modern luxury vibe definitely help make it one of the best hostels in Germany for couples. The dorms here come with ensuites, they're spacious, and there's actually a pretty nice restaurant for a few beers after a busy day. And if you're a couple that likes a drink there's a pub crawl here.
$
Free Breakfast
Cafe
24 Hour Reception
Hmm, well, now, this really is a youth hostel in Cologne. That means it's, very… youth hostel-y. Not a great deal of character going on, and sometimes it's invaded by groups of students from high schools and stuff, but it's big enough that it won't matter that much.
The hotel feels here kinda make it one of the best hostels in Germany for couples. As long as you're not expecting an actual hostel atmosphere you won't really care at all. You also have to PAY for the wi-fi. Boo. But the breakfast is free. And the train station is right close too.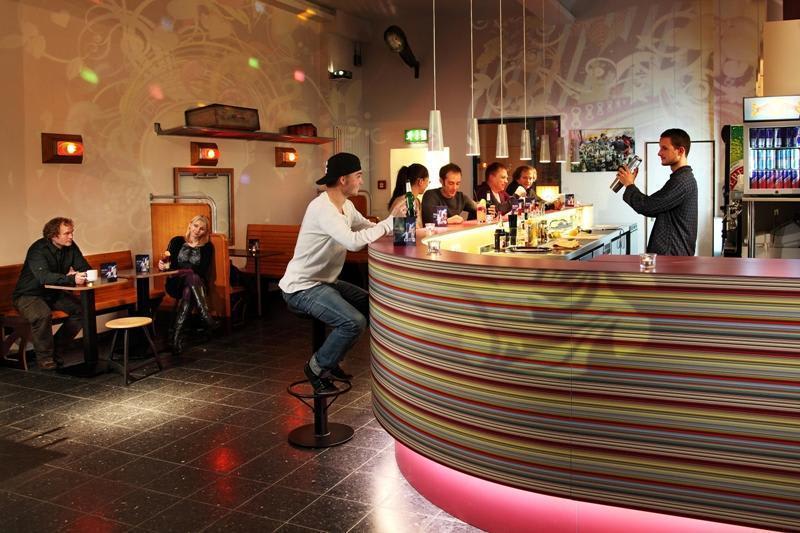 $$
Games
Outdoor Terrace
Bicycle Hire
Seems that Berlin is where it's AT when it comes to cool hostels in Germany. But why is this one of the best hostels in Germany for couples, too? Well, it's in an old red brick building, which makes it all heritage and stuff, and is a good place to base yourself 'cause the location is proper good, too.
Start nights here with a few drinks at the bar, get competitive with each other with a spot of ping pong or a game of pool, or do something allegedly romantic like watch the sunset on the roof. Then you can head out to see what's what in the city. Nice.
Best Party Hostel in Germany – Circus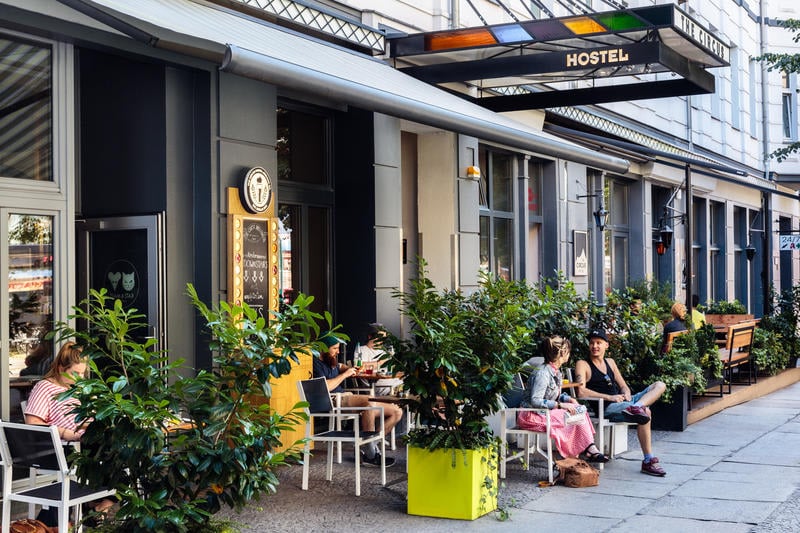 You'll be having a lot of fun at this place. It's one of the best party hostels in Germany, and it's also award-winning, so… The artwork and murals are a bit, um, crazy but then again so's the vibe. Maybe more "crazy" than crazy, y'know.
But still, it's a decent place to have fun and drink and get silly. We mean, they have their own microbrewery, a bar with karaoke (god help you), plus nighttime tours where the staff take you round their favourite drinking holes. The bar is actually very good here. All you can eat breakfast buffet till 1PM – five euros.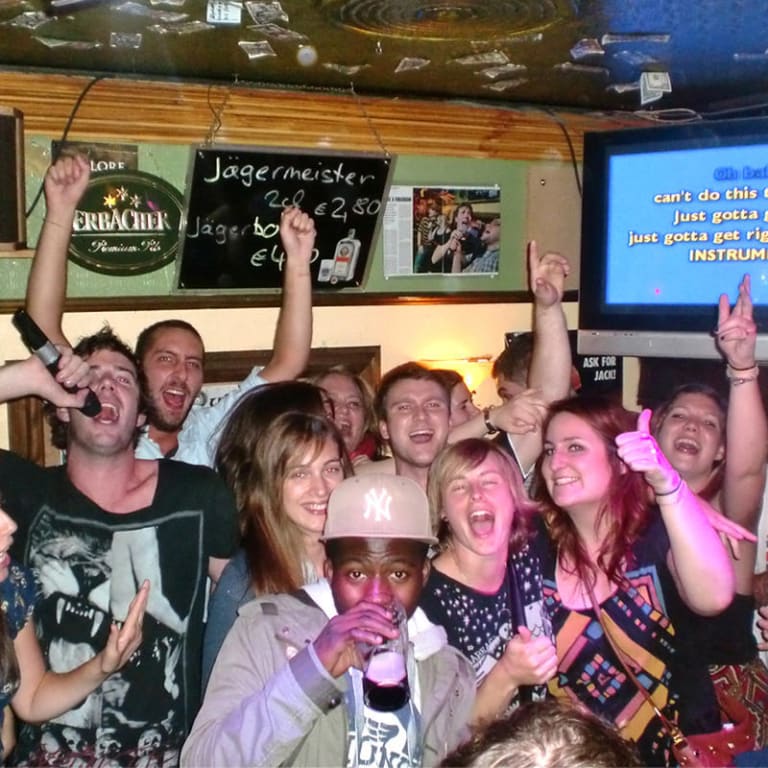 $$
Free Food
Free Drinks
Bar
The fifth element was supposed to be love we think (y'know, that film) but we think here the fifth element is alcohol. At this Frankfurt hostel, there's games, foosball, free food, free homemade dinners and different events every night. So there's beer tasting night, game night, movie night. And everyone's brought together with that – and a few drinks.
It's one of the best party hostels in Germany. It may be RIGHT in the middle of the red light district, but the hostel itself is pretty secure and there's a load of good places to eat and more importantly drink nearby. Other than that it's spacious, fresh feeling, pretty cool actually.
$$
Bar
Pool Table
24 Hour Reception
Wombats is another one of those global chains of hostels that seems to be doing pretty well for 'emselves when it comes to plying backpackers with drink and giving 'em a good time. So, yeah, this is easily one of the best party hostels in Germany.
BUT it's actually a good all-rounder. The rooms are clean (thankfully), the decor is pretty dang cool, and the staff are really lovely. The bar at this top hostel in Munich is pretty extensive. But when Oktoberfest is on, you won't be here at all – the grounds for the festival are a 5 min stroll away. Boom.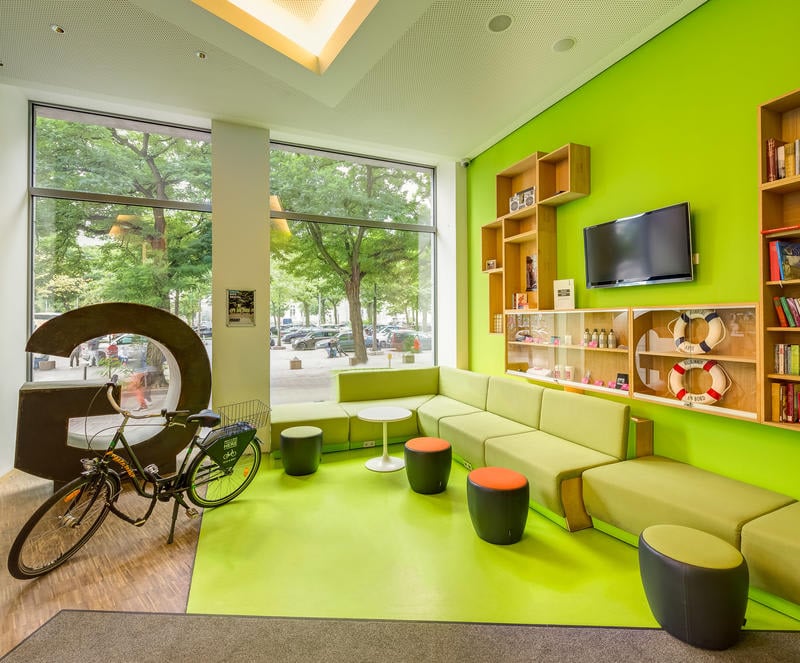 $$$
Bar
Bicycle  Hire
Outdoor Terrace
Ah, another one. Generator is another franchise, so it's kinda automatically good and you know what you're gonna get, but they tend to be on the cooler end of the spectrum. And this branch ends up being a pretty much one of the coolest hostels in Hamburg.
And, actually, you're gonna have a lot of fun here. That's because it's all geared for being one of the best party hostels in Germany. It's got a large (and we mean large) bar which is great for socialising/drinking. The bar is also where you'll get down with some live music, or get silly with one of the hostel's many activities. It's fun.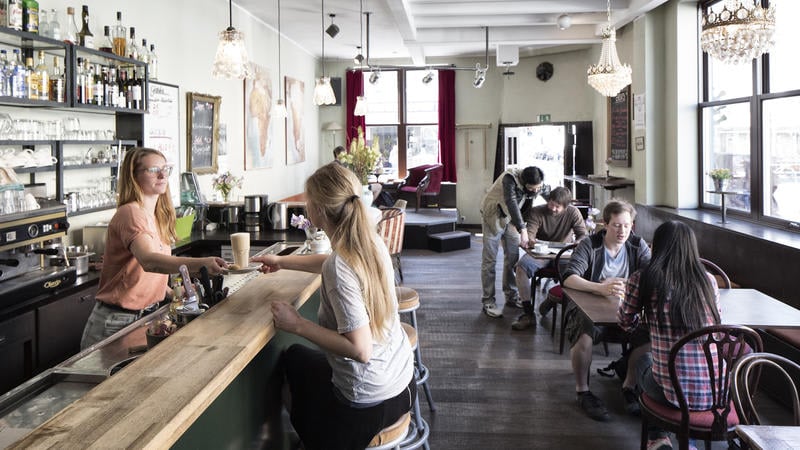 $
Public Transport V Close
Live Music
Bar/Cafe
This Cologne backpackers hostel is on the edge of the city, which isn't actually a bad thing. It really means that you'll be extra close to a ton of local bars and places to hang out. So if you like your party times to be more of a hilarious experience of cultural exchanges with locals, stay here.
So yeah it's one of the best party hostels in Germany, but not necessarily because it's right in the centre of the city or anything. It's just got good old-fashioned drinking spots nearby. The hostel itself is pretty chill, but it's got a nice bar (live music here sometimes) and V good vibes.
$$$
Bar/Cafe
24 Hour Reception
Bicycle Hire
Another Meininger, hey, you know what you'll be getting here. A hostel-hotel hybrid. Which we think makes for one of the best hostels in Germany for digital nomads. This Berlin backpackers hostel is very near to the East Side Gallery, which is always a fascinating spot to check out / get a selfie next to.
Inside this place, well, it's pretty cool actually. It's all urban and industrial with loads of exposed pipes and concretes. Pretty cool, like we said. There's also huge spaces with plenty of tables and chairs so you and your trusty laptop can have some alone time.
$$$
Swimming Pool
Laundry Facilities
Sauna
PLUS Berlin is pretty cool. It's in an old building with big common spaces and large windows and stuff. There's tons of space for you to sit and work. Another hostel that's pretty much like a cool hotel, it's one of the best hostels in Germany for digital nomads.
Seriously, this place is actually massive. PLUS by name, PLUS by nature. They even have a swimming pool. They put on nightly pub crawls, it's got a bar and restaurant where you can sink a few drinks after you've done enough typing for the day. So it's secretly a very good party hostel in Berlin, too.
$$
Laundry Facilities
Bicycle Hire
It's An Old Church
There's a lot going for this Cologne backpackers hostel. For one it's set in an old church – a heritage building, no less. That's, like, heresy, isn't it? Well, we dunno, but it makes it pretty cool. So there's so much space in this old holy building for you to plug in and get working.
One of the best hostels in Germany for digital nomads, there's not a load of vibey lively atmosphere going on, but you're not here for that, are you? You're here to KNUCKLE DOWN! Then again it's pretty friendly and social, too. Good kitchen to rustle up some, we dunno, instant noodles or something.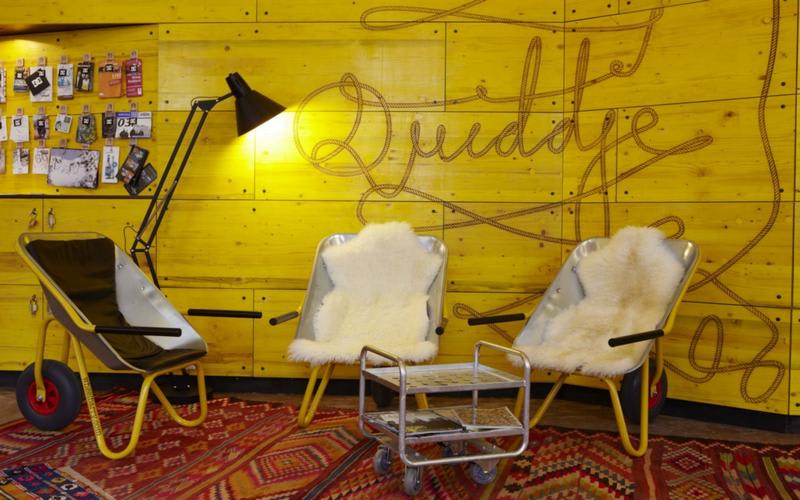 $$$
Bar
Laundry Service
Big Common Rooms
Kick back and get your work done in a winged leather armchair like you're in a motherflippin' gentleman's club in this place. It's one of the best hostels in Germany for digital nomads. You'll love how kooky it is. They've even made seats out of wheelbarrows here. Who's idea was that? Who cares.
It's very clean at this Hamburg backpackers hostel. It's also located in St Pauli so when you've just had enough of the (actually strong) internet here, just head out and hit whatever cool cafes of this cool district you feel like drinking a soy latte at or whatever it is you drink.
$
Cafe/Bistro
Free Breakfast
Security Lockers
This youth hostel in Cologne is big. You'll never walk downstairs into the common room and get MAD that there's no space for you and your laptop. So that's good. It also makes for a good base for exploring the city too, since it's just opposite the Old Town with its cathedral and all that jazz.
Whilst it's a social place, so you'll be able to meet other peeps here probably, it's also one of the best hostels in Germany for digital nomads. And the cherry on top? A very, very, very good free breakfast.
$$
Bar/Cafe
Luggage Storage
Wheelchair Friendly
Another of the hipster's favourite, this branch of Generator is oozing with contemporary cool. So to start with at this cool Berlin hostel there's a hotel feel. That extends to the rooms. And so, yeah, it's one of the best hostels in Germany with private rooms. They're, well, they're cool.
There's a surprisingly good atmosphere here if you fancy making friends and meeting other backpackers. Though if you want to just spend time in your private room and not talk to anyone when you sit in the common room, um, fine, no one's gonna force you to be social. It HAS got good vibes though.
$$
Bar
Games Room
24 Hour Reception
You might think A&O hostels are a bit Laim (Lol – sorry) but what they lack in flair and any sort of social atmosphere they make up for in having decent, hotel quality private rooms. So if you're just looking for one of the best hostels in Germany with a private room, here it is.
There IS a bar here, with a bit of a games room going on, so if you're here with some mates – or as a couple – you can still have at least a bit of fun onsite. The reception is 24 hours, too, which is just peachy.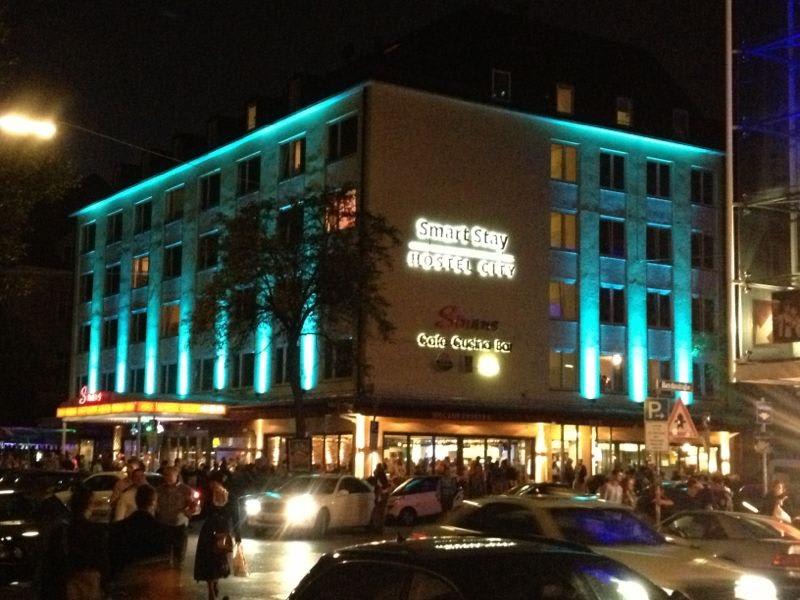 $$
24 Hour Reception
Luggage Storage
Tours & Travel Desk
This recommended hostel in Munich has a nice vibey bar area with a pool table and sofas to chill out on, so there's the social and drinking side of things covered. As for the private rooms, they come with TVs, comfy beds and ensuites (hooray).
It's one of the best hostels in Germany with private rooms. Not just 'cause of the rooms, though they ARE nice, but that vibey bar we were talking about too, as well as a good location pretty much in the middle of Munich. That means bars, restaurants AND the central station right on the doorstep.
$$
Book Exchange
24 Hour Security
Bar
If you were looking for one of the best hostels in Germany with a private room, stop right there. Here's one. You know the drill by now. This is a Meininger. But it's pretty cool, pretty bright, and actually, a pretty fun place to stay.
The rooms are hotel quality, but there's a chilled atmosphere going on throughout the hostel. Location wise, staying here puts you in the Altona district of Hamburg, which is like a city in itself, but more laid back. Though there's plenty of bars and restaurants to get stuck in to round these parts, too.
$
Bar
Outdoor Terrace
Laundry Facilities
Cute! A Berlin backpackers hostel that's one of the best hostels in Germany with a private room that DOESN'T feel like a hotel! Wow. Now that's a surprise. It's got a lot of heart, a lot of charm, and a lot of wall paintings you may or may not appreciate.
The rooms are sweet (and immaculately clean). They've got wooden floors, bright colour palettes, ensuite bathrooms, pretty homely feeling all in all. The hostel serves up cheap beer at happy hour, staff are V nice, the vibe is decent. A very good all-rounder for privacy in an actual human setting. Also cheap.

Unlock the The Broke Backpacker's GREATEST Travel Secrets!
You pop your email here, and we promise to send you only travel content that's actually relevant — sounds like a pretty good deal to us!
What to Pack for your Germany Hostel
Pants, socks, underwear, soap?! Take it from us, packing for a hostel stay is not always quite as straight forward as it seems. Working out what to bring and what to leave at home is an art we have perfected over many years.
Check out our definitive Hostel Packing list for our top packing tips!
Why you should travel to Germany
So, Germany has a whole load different hostels to stay in. Some of them super slick and modern and others just simple but cheap places to spend a night or two. Overall, though, they're all great to stay in, Germany being a safe destination.
A good place to start your Germany adventures is at our best overall hostel Backpackers St Pauli, it's a brilliant introduction to the cool side of the city, surrounded by cool bars, places to eat and good sites.
What do you reckon about our selection of the 35 best hotels in Germany? Comment below with the one you'd pick.
And have you backpacked Germany before? Anything we've missed? Definitely let us know if we've neglected an absolute hidden gem of a hostel you've stayed at on your travels, we wanna know the absolute best places to stay!
Travel Safety Tips for Germany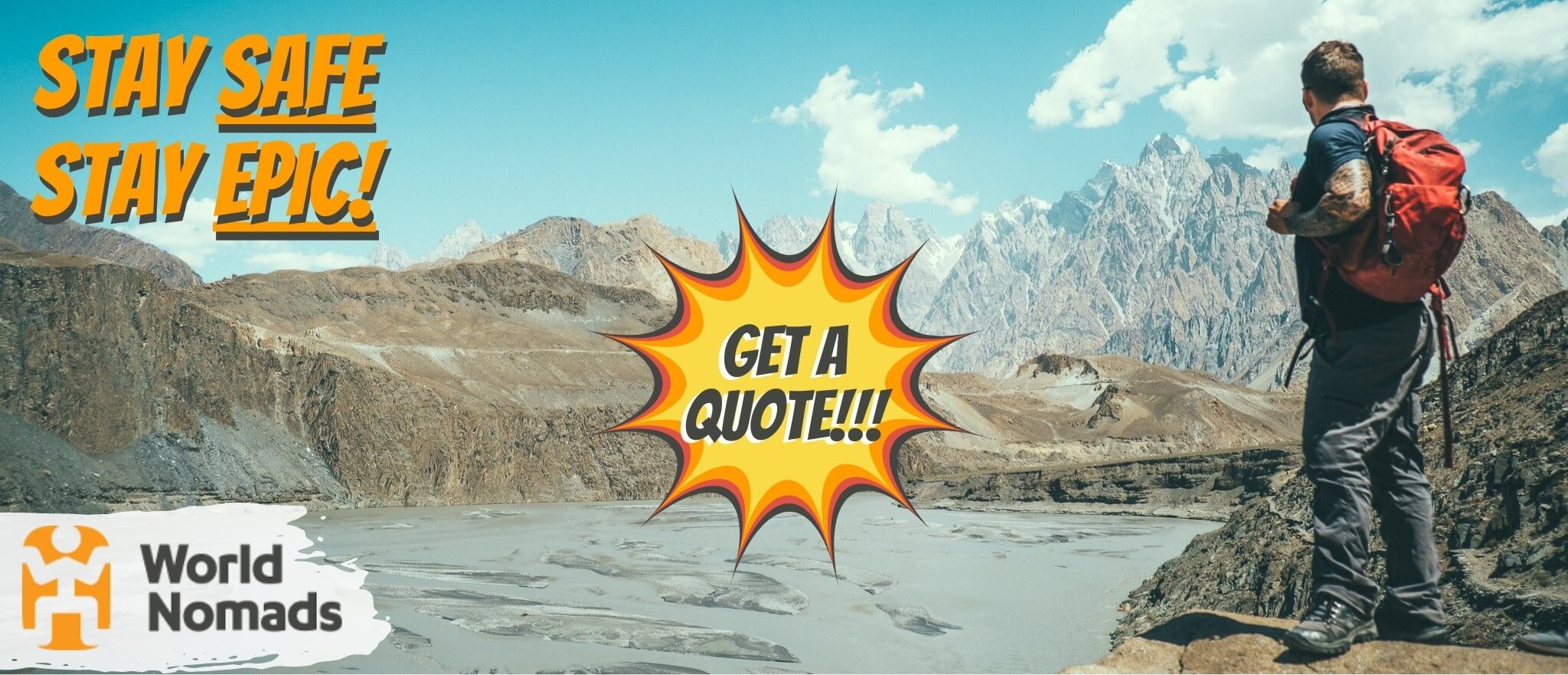 It's good to get lost sometimes, but it's also good not to get too lost. There are people that want you home in one piece.
There's one travel insurance provider The Broke Backpacker trusts for all his wildest shenanigans… World Nomads!
Click the button below to get a quote on your insurance or read our in-depth review of World Nomads' coverage. And then… let the shenanigans begin. 😉
More Epic Hostels in Germany and Europe
Hopefully by now you've found the perfect hostel for your upcoming trip to Germany.
Planning an epic trip all across Germany or even Europe itself?
Don't worry – we've got you covered!
For more cool hostel guides around Europe, check out:
Over to you
By now I hope our epic guide to the best hostels in Germany has helped you choose the perfect hostel for your adventure!
If you think we've missed anything or have any further thoughts, hit us up in the comments!
---
Thanks for reading – that was fun! 😀
We bring you epic FREE content!
Find out how YOU can help support us.
We're a big site with a big team and this job isn't always easy. But we do it because we love it – we love providing epic and free content. We love the knowledge that our content keeps you adventuring. We don't ask for money, but if you'd like to find out how you can help the site in more organic ways, click the button below.
Thank you for your support 🙂
---
Bye for now, but not forever!
If you want MORE top-tier Broke Backpacker content like this, then sign up for our weekly newsletter below to get the latest and greatest!
And for transparency's sake, please know that some of the links in our content are affiliate links. That means that if you book your accommodation, buy your gear, or sort your insurance through our link, we earn a small commission (at no extra cost to you). That said, we only link to the gear we trust and never recommend services we don't believe are up to scratch. Again, thank you!