One of the most historically significant cities in Europe, Berlin holds a certain mysterious feeling. As the epicenter of many wars, shifting from being the once capital of Prussia to the partitioned West and East sides of the city to the modern metropolis we see today, Berlin has a storied past worth learning about.
It's also known as one of the most fun and vibrant cities on the continent, with a lively young population and incredible nightlife and festival scene to go with it. But there is more to see and do than wait in line at the iconic Berghain Club. Berlin houses some of the world's best restaurants and the most unique and diverse cuisine, from currywurst to doner kebab.
Not to mention, the abundance of parks and outdoor spaces makes this a dream city for active travelers. The city houses all the international shops you could dream of, as well as endless museums showcasing its unique history, culture, and art.
As popular with backpackers and budget adventurers as it is with seasoned luxury travelers, this European city has just about every type of accommodation in the book. Luxury hotels, cozy guesthouses, lively hostels, homestays, and self-catering vacation rentals. You name it; Berlin has it.
Staying in one of the best bed and breakfasts in Berlin is a great way to experience the vibrant local culture of the city while benefiting from hotel-like amenities. To make your accommodation search easier, I've compiled a list of the top fifteen B&Bs in the city.
Best Bed and Breakfast for Couples in Berlin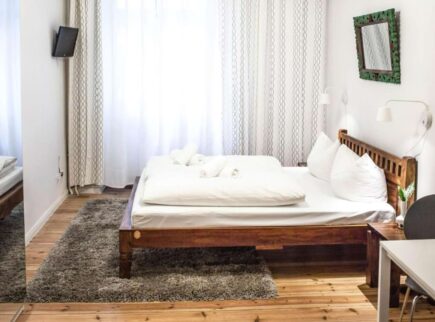 Best Bed and Breakfast for Couples in Berlin
Double Room at Pension Absolut Berlin
> $$$
> 2 Guests
> Shared tea and kitchenette facilities
> Boutique-style guesthouse in the Prenzlauer Berg district, close to public transport
Best Budget Bed and Breakfast in Berlin
Best Budget Bed and Breakfast in Berlin
Angels Room at Bikes and Berlin
> $
> 2 Guests
> Dedicated workspace and well-working Wi-Fi
> In a historic building in Old Prenzlauer Berg, bicycles included in the rate
Over-the-Top Luxury Bed and Breakfast in Berlin
Over-the-Top Luxury Bed and Breakfast in Berlin
Superior Zimmer at Louisa's Place
> $$$$
> 2 Guests
> Serviced apartment featuring turn-of-the-century interiors
> Indoor pool and sunny garden terrace
Staying in a Bed and Breakfast in Berlin
Berlin is one of Europe's most multicultural and diverse cities, packed with an exciting culture, unique history, and beautiful nature.
There aren't as many bed and breakfasts in this region as expected. Instead, self-catering vacation rentals and hotels dominate the city's accommodation market. However, if you're looking for a taste of home in Berlin, staying in a B&B will be your best bet.
The term 'bed and breakfast' is used interchangeably with guesthouses, pensions, and boutique hotels here. Typically, this type of accommodation offers a few rooms or suites fitted with a bed, closet, and desk with a private bathroom. However, unlike a classic hotel setup, B&Bs usually have fewer rooms and shared spaces.
Instead of a lobby, spa, or on-site restaurant, you can expect a homey atmosphere with a shared living room and dining room. Some B&Bs even allow access to the kitchen. However, this space is usually reserved for the property owners to prepare breakfast each morning.
Since bed and breakfasts are typically owned and run by locals as small businesses, you can expect a warm welcome and hospitality with personalized touches. With pride in their business, B&B owners tend to keep their properties clean and well-maintained, offering a homey environment.
What to Look For in a Bed and Breakfast in Berlin
So, what can you actually expect from B&Bs during your visit to Berlin?
The best bed and breakfasts in Berlin are located in or around the city center, within proximity to major tourist attractions, or at the very least, easy to connect to using public transport. That said, the majority lie outside the center in more residential neighborhoods. Be careful to check the location of your B&B before you book.
While you'll have access to a private suite, most bed and breakfasts also offer access to shared spaces, including living rooms, outdoor terraces and gardens, and dining rooms.
Those traveling on a budget should look out for B&Bs with access to a kitchen, as this will make it easier to save on dining out. Similarly, if you plan to spend an extended period of time in a bed and breakfast, find a spot with self-catering and laundry facilities.
B&Bs are pretty much the perfect combination between a self-catering vacation rental and a hotel. With a more personalized atmosphere, you can also make use of hotel-like amenities, including daily breakfast, advice or tips from the owners, complimentary toiletries, and early check-in.
Driving isn't advised in the city, which is well connected with trains, underground metro, buses, and taxis. However, if you are on a road trip and are planning to bring a car, check that the property offers private parking, as parking in the city center can be expensive and hard to find.
The easiest way to narrow down your options and find the perfect place to stay is to browse Airbnb and Booking.com for the best bed and breakfasts in Berlin. Both websites offer a wide selection of properties across the city.
The Top 15 Bed and Breakfasts in Berlin
Bed and breakfasts offer the perfect combination between privacy and a homey atmosphere. Now that we've covered the basics, let's dive into our list of the top fifteen B&Bs in the city:
Overall Best Value Bed and Breakfast in Berlin – Double Room at Henri B&B
Luxurious interiors with antique furnishings
Home from the Gründerzeit period, in the heart of West Berlin in Charlottenburg
Henri B&B is a boutique property located in the heart of the popular Charlottenburg neighborhood in West Berlin. It's a short walk to a range of luxury shops and boutiques, as well as some of the top restaurants in the city.
Set in a historic home from the Gründerzeit period, each room in the bed and breakfast is elegantly decorated with a blend of belle epoque furniture and modern amenities, including a TV, personal workspace, and a small seating area.
Wake up to the sound of birds outside your window before heading to the grand salon for a freshly prepared breakfast.
Dedicated workspace and well-working Wi-Fi
In a historic building in Old Prenzlauer Berg, bicycles included in the rate
If you're looking for the best bed and breakfast in Berlin on a budget, look no further. Bikes and Berlin offer private rooms with hostel-like facilities. The B&B is located in an old building with a distinctly historical flair in the heart of Prenzlauer Berg, close to public transport. If buses and trains aren't your vibe, the owners will lend you bicycles to explore the area on two wheels.
The B&B is dedicated to inclusivity, welcoming all guests, and is LGBTQ+ friendly. They also allow pets in the home! While the staff don't serve breakfast, guests will find everything they need to prepare a tasty breakfast in their room.
Shared tea and kitchenette facilities
Boutique-style guesthouse in the Prenzlauer Berg district, close to public transport
With neutral tones, contemporary furniture, and warm wooden accents, Pension Absolut Berlin provides a romantic sanctuary in the heart of the city. Just a short stroll from a major metro line, it is set in a historic building in the trendy Prenzlauer Berg district, close to everything you might want to see in the city.
Natural light streams through the bedroom windows, which includes a comfortable bed, personal workspace, and a spacious closet. Guests are also welcome to use the shared tea and coffee-making facilities and prepare basic meals in the kitchenette. Although, with so many restaurants nearby, you might not need to!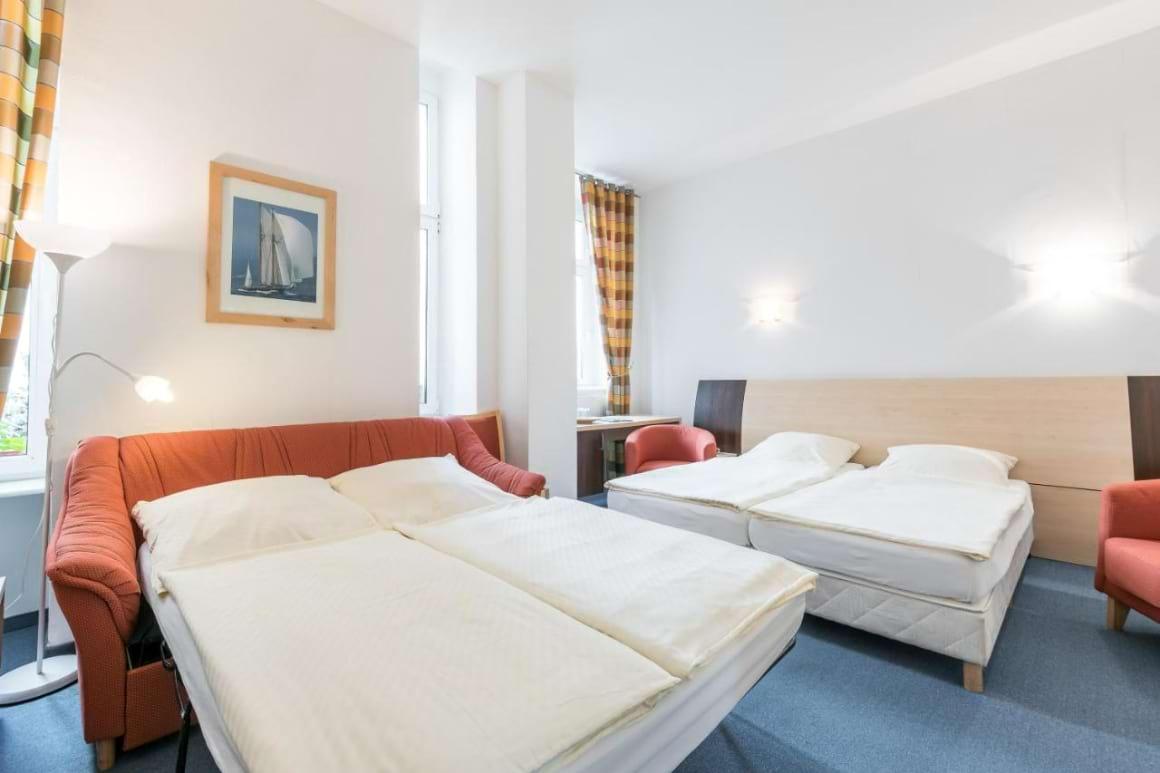 Delicious breakfast served daily
Private garden and parking
One of Europe's most diverse and lively cities, Berlin is a top destination to visit with friends – especially if you enjoy the dynamic nightlife. Pension Prenzlberg is a unique accommodation in Berlin that offers comfortable rooms in the heart of the city.
The quadruple room has two beds with space for four guests to sleep comfortably and is designed in a basic yet functional style. It has an ensuite bathroom and windows overlooking the street.
Before heading off to tackle the city's main attractions, enjoy a tasty breakfast prepared daily in the dining room.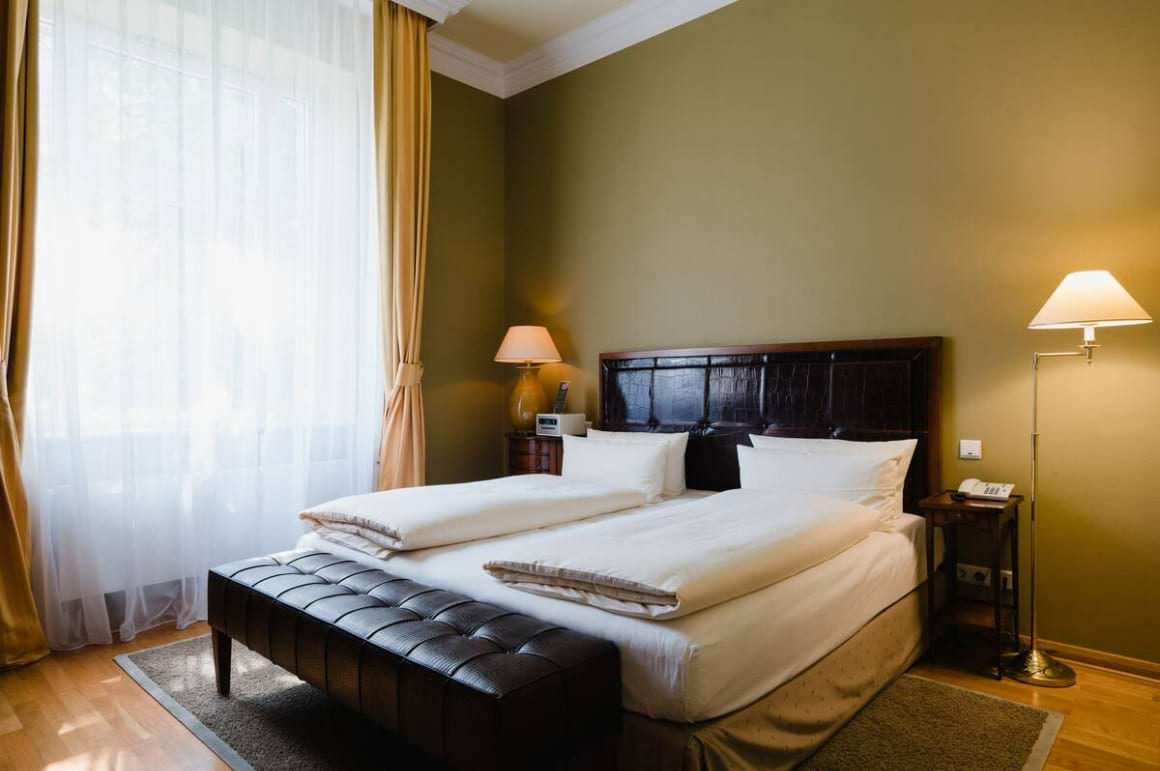 Serviced apartment featuring turn-of-the-century interiors
Indoor pool and sunny garden terrace
Luxury just hits differently in Berlin, where elegant old homes are filled with valuable antique pieces and furniture. Louisa's Place is located on Kurfürstendamm, which makes it a great place to base yourself for accessing the West District with public transport.
Guests can use the entire serviced apartment, including a fully-equipped kitchen, shared pool, gym, sauna, steam room, living room, and garden. The building also offers underground parking, a restaurant and bar, and a wellness center.
Other opulent features include underfloor heating in the bathroom, high-quality linens, and plush bathrobes to bring you into a state of ultimate relaxation.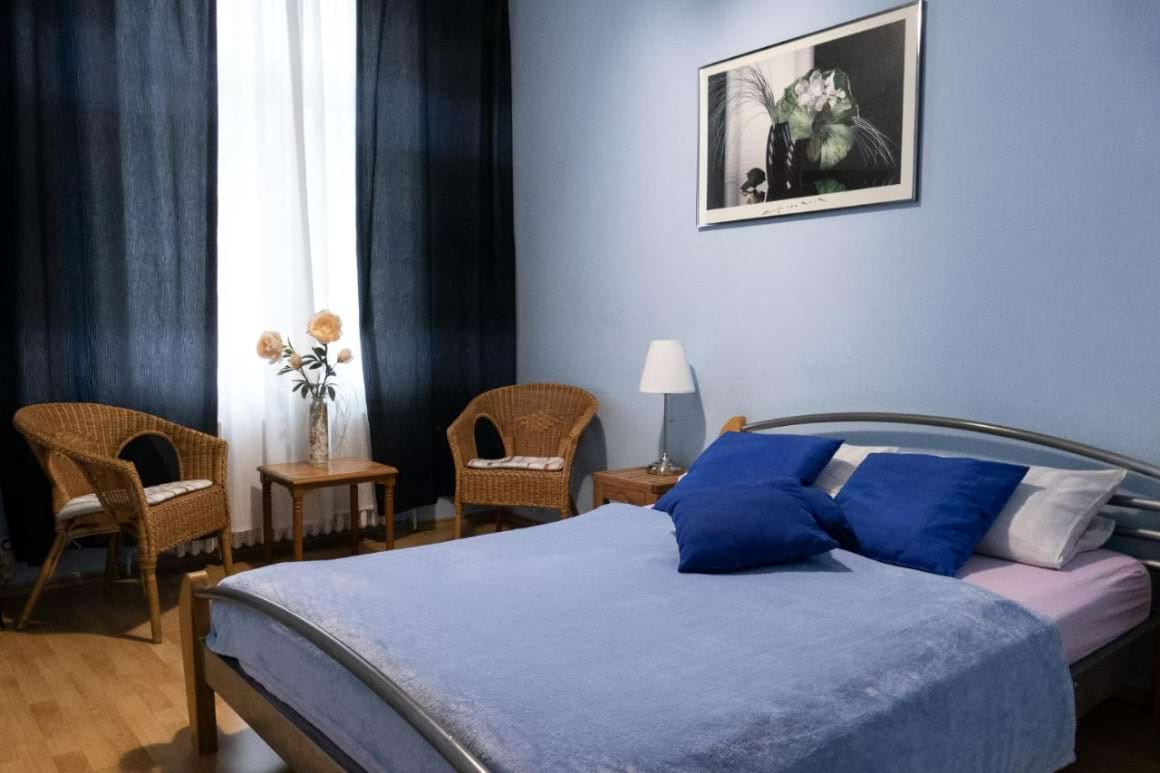 Private check-in/check-out, luggage storage
In the heart of the city, a short distance from the Zoologischer Garten station
Set in the heart of Berlin's trendy Charlottenburg neighborhood, Hotel Pension Charlottenburg is just a short stroll from two main metro stations and various shops, parks, restaurants, and bars. Although it's super central, the guesthouse offers quiet lodging that will make you feel like you're in a suburban area.
One of the best bed and breakfasts in Berlin for those traveling with children, the guest house has spacious family rooms, each of which is equipped with a TV, a small seating area, and private bathrooms. Some rooms even feature a balcony with courtyard or street views.
Common living area and restaurant with quirky decorations
In a historic building in the vibrant Oranienburger Strasse neighborhood
Since the city is so popular with young travelers and backpackers, Berlin is home to some of the best hostels on the continent. One of many, Meininger Berlin Mitte Humboldthaus offers clean and spacious shared rooms in the heart of the city center.
The area is known for its abundance of cafes, galleries, bars, restaurants, clubs, and shops. The hostel offers private suites and shared dorms, all for a bargain of a price. If you're visiting as a solo female, you might benefit from booking a smaller female-only dorm.
With a bar and restaurant on site, 24-hour reception, housekeeping services, and bicycle hire, this hostel is the perfect spot to base yourself as a backpacker in Berlin.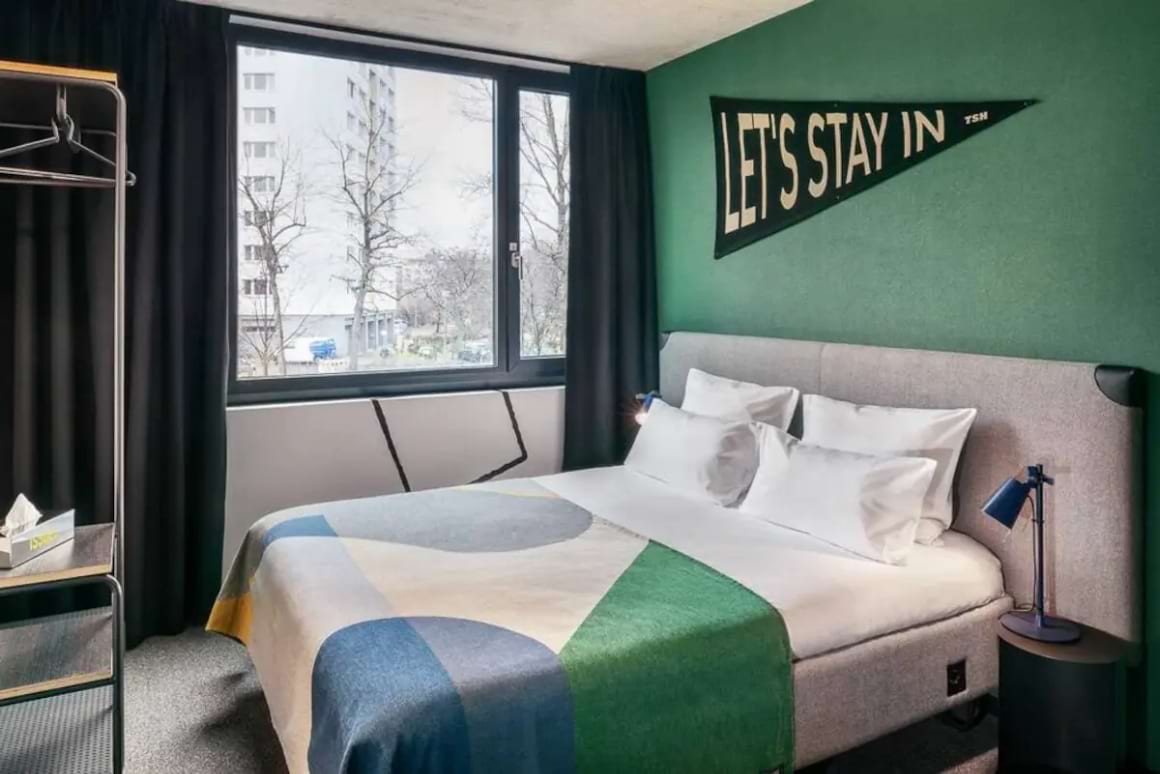 Suite with air conditioning and private bathroom
Shared workspace, gym, and bar on site
Home to many dynamic industries and a buzzing social scene, Berlin is a top place to visit as a digital nomad. The double room at The Social Hub is the best bed and breakfast in Berlin for these types of travelers, with a personal workspace and well-working Wi-Fi reaching every suite.
When you feel like a social work scene, head to the airy and brightly lit shared lounge/workspace downstairs, fitted with plenty of power points. With a restaurant and shared lounge on site, The Social Hub offers the perfect combination of a coworking space and a bed and breakfast.
Cozy interiors with a simple yet delicious breakfast
In the trendy Tempelhof-Schoneberg neighborhood with good transport connections
If you only have a few days to spare in this incredible city, Tempelhof-Schoneberg is the place to base yourself. This hotel/guesthouse is located close to the city rail and underground and is a short stroll from an iconic old airfield that has been upcycled into a park.
The rooms are spacious and lit up with abundant natural light. Warm wooden tones and luxurious linens bring a sense of home into the space. Guests can enjoy a delicious breakfast each morning in the sunny parlor and are welcome to ask the staff on duty anything about the location, B&B, and the best local spots to visit while in the area.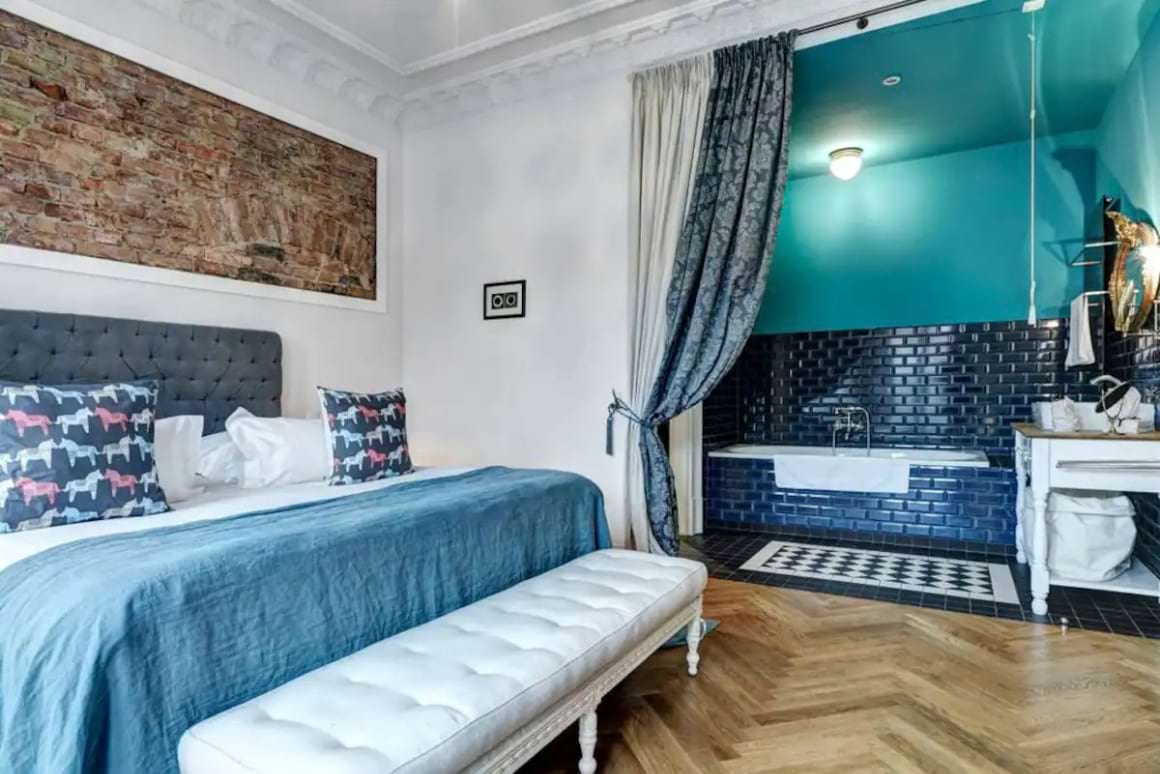 Kitchenette and dining room with a balcony and outdoor terrace
In a turn-of-the-century building a short walk from Berlin Mitte (the center of the city)
The city's center is undoubtedly the best spot to be based in, and this gorgeous historic bed and breakfast is set right in the heart of Berlin Mitte. It is a serviced apartment that combines the privacy of a self-catering vacation rental with the convenience and hospitality of a boutique hotel.
Breakfast is provided daily and can be enjoyed on the sunny courtyard terrace or in your apartment dining area.
Just a short distance from some of the city's best restaurants, shops, and cultural attractions, this is the best bed and breakfast in Berlin, with an incredibly central location.
Family rooms and facilities for disabled guests
Bicycle rental service available, close to public transport in Prenzlauer Berg
With warm lighting, neutral tones, and a blend of contemporary and antique interiors, Pension Parlamento offers gorgeous rooms in the bustling center of Berlin. Each guest suite is spacious and flooded with natural light, featuring a wardrobe, flat-screen TV, seating, dining area, and an ensuite bathroom.
Choose from double rooms, family rooms, and rooms with facilities for disabled guests. Among other amenities, guests can use luggage storage at the front desk, as well as daily housekeeping and complimentary Wi-Fi throughout the property.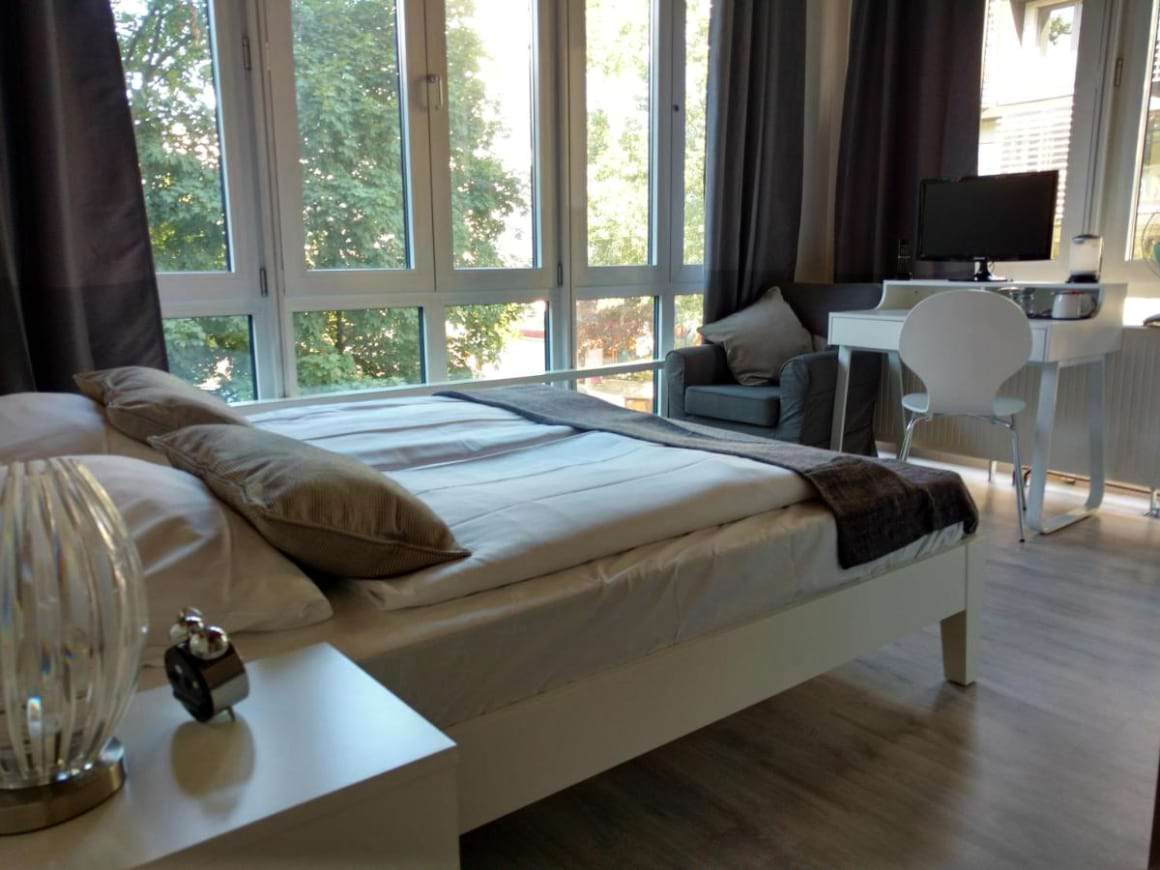 On-site cafe offering food and drinks throughout the day. Daily housekeeping
In the heart of the city center, a short walk from UNESCO Museum Island
If you're traveling solo but don't feel like sharing a dorm room with strangers, Midi Inn Parkhotel is one of the best bed and breakfasts in Berlin on a budget. Located in the trendy Prenzlauer Berg district, just a short public transport ride into Berlin Mitte, this spot features comfortable accommodation with private bathrooms.
There is a cafe on site that serves a tasty breakfast as well as a range of meals over the course of the day. If you're craving some vitamin D, enjoy your piping hot coffee and complimentary breakfast on the sunny terrace overlooking the Weinbergpark.
Luxury interiors inspired by natural elements
Seating area, outdoor dining, BBQ area, and kitchenette
Located off the beaten track just a short drive into the center of Berlin, Gut Leben Landresort offers luxurious accommodation set in a historic building in the residential Bernau bei Berlin district.
Recently remodeled, featuring minimalistic and nature-inspired interiors with wooden accents, this accommodation is one of the most romantic in the area. It also has an outdoor fireplace, a terrace, and a restaurant on site.
An a la carte champagne breakfast is served daily, perfect for those celebrating a honeymoon or special occasion. The staff will also gladly pack you a takeout lunch to enjoy during your day in Berlin.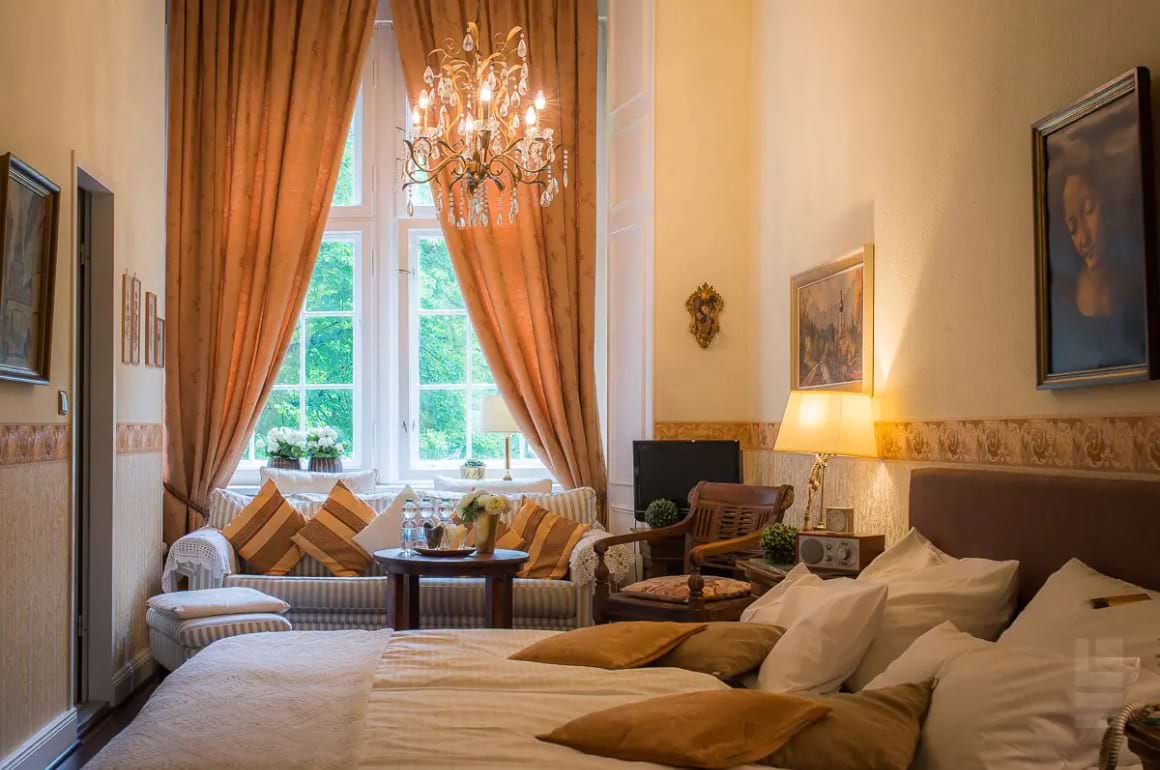 High ceilings, garden views, and a chandelier in the bedroom
Close to shops and restaurants in a quiet neighborhood in Rheingauviertel
Take a step back in time and spend a few nights at this historic home in the suburban Rheingauviertel neighborhood. Set in a traditional German house with high ceilings, crystal chandeliers, and bespoke antique furniture, this unique accommodation in Berlin will make you feel right at home.
While located in a lush suburban area surrounded by parks and trees, it is also conveniently near to a subway station that can take you directly into the city.
Outdoor pool, fitness center, and free bicycle rental
Out of the city center in Steglitz-Zehlendorf, on a public transport line
Summer tourists or families visiting with young kids should seriously consider booking a room in a bed and breakfast with a swimming pool. This accommodation is housed in a local home just outside the city's center in the lake-studded Steglitz-Zehlendort district. But don't worry; you'll still be just a short train ride away from the city center at any time.
It's a sustainable B&B run by a local family, featuring an outdoor swimming pool, gym, and complimentary bicycles to explore the lake towns. Other than your private unit, with a fully equipped kitchen, dining, and seating area, guests can use the outdoor fireplace, garden, picnic area, and private parking.
Don't Forget Your Berlin Travel Insurance
ALWAYS sort out your backpacker insurance before your trip. There's plenty to choose from in that department, but a good place to start is Safety Wing.
They offer month-to-month payments, no lock-in contracts, and require absolutely no itineraries: that's the exact kind of insurance long-term travellers and digital nomads need.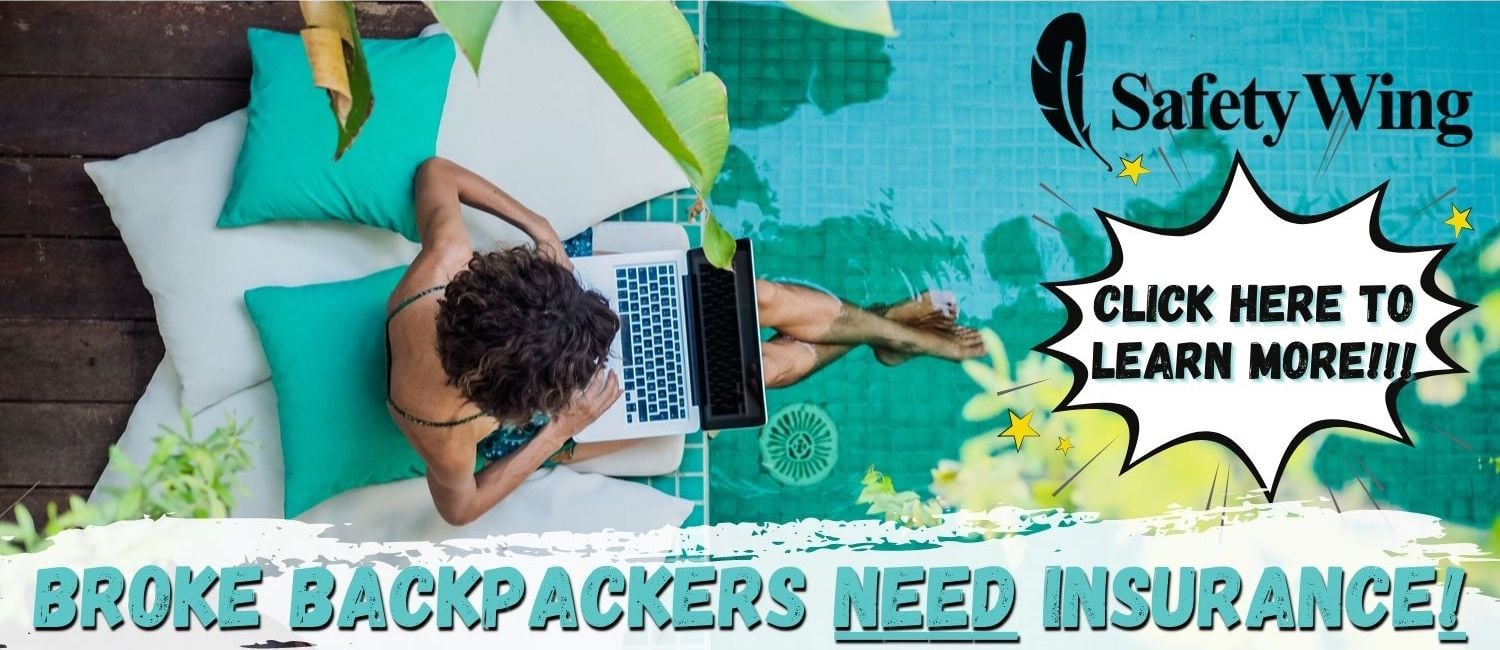 SafetyWing is cheap, easy, and admin-free: just sign up lickety-split so you can get back to it!
Click the button below to learn more about SafetyWing's setup or read our insider review for the full tasty scoop.
Final Thoughts on Bed and Breakfasts in Berlin
From century-old buildings to top art museums to lakeside beaches, lush green parks, and a world-class food scene, Berlin is packed with activities, places to see, and restaurants to eat at.
If you want to stay in the heart of the action and experience living in the city, stay in one of the best bed and breakfasts in Berlin over a stuffy hotel. Bed and breakfasts offer private suites with personalized touches and include hotel-like amenities without making you feel like another guest on the roster.
Now that we've come to the end of our list, I hope you have your eyes on at least one of these unique accommodations in Berlin, be it a hostel in the center of the city or a romantic and historic home turned B&B in a residential neighborhood.
Before you visit, ensure you have a good travel insurance plan. Berlin is a relatively safe destination, but there is always the chance something might go wrong along your journey. As they say, it is well worth your time and money if something goes wrong on your trip.
---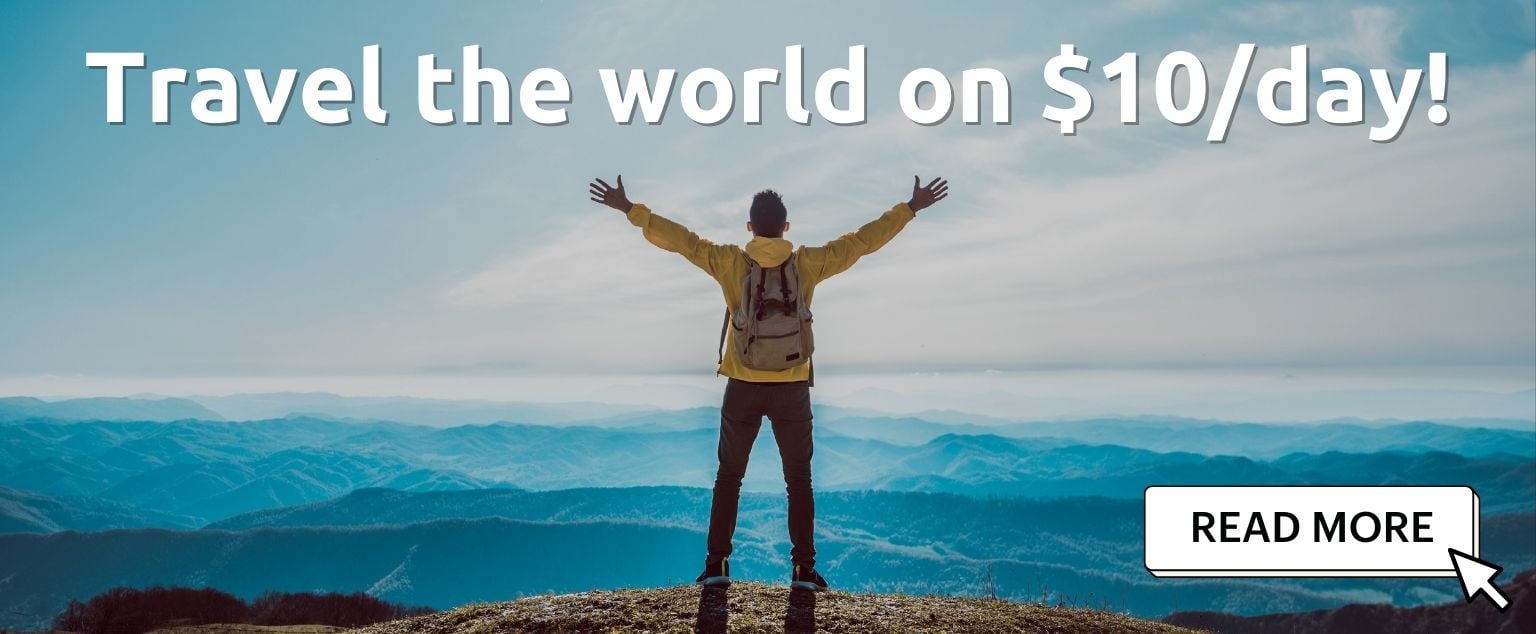 And for transparency's sake, please know that some of the links in our content are affiliate links. That means that if you book your accommodation, buy your gear, or sort your insurance through our link, we earn a small commission (at no extra cost to you). That said, we only link to the gear we trust and never recommend services we don't believe are up to scratch. Again, thank you!