The city of art and beer doesn't sound like a bad place to take a break, right? Germany's third-biggest city and the capital of Bavaria has plenty to offer tourists – whatever they expect from a city break. Not only is there beer and art, but world-class museums, exciting festivals, and a whole load of quirky and unusual attractions thrown in for good measure! Because Munich's economy is more affluent than some countries, you can be assured that the infrastructure is second to none too!
As one of the richest cities in Germany, it can be quite an expensive place to travel. But the good news is that you can pick up a bargain Munich Airbnb when looking for a place to stay. And there's a lot of choice! Whether you want a loft in the Old Town, a cool pad in Schwabing West, or just a place to crash after a few steins at Oktoberfest, Munich has it all.
In this post, we'll take a look at the 15 best Airbnbs in Munich. We've thought about different travel styles, budgets, and tastes. So, let's take a closer look!
In a Hurry? Here's Where to Stay in Munich for One Night
First Time in Munich
Central and Quiet Studio Apartment
This Munich Airbnb offers all you could need for a short stay. It's right in the centre and has a bicycle you can use! This one is great for Digital Nomads and Couples alike!
Places to Visit:
Visit Munich's glorious historical centre.

There are plenty of pubs and micro-breweries nearby.

Tickets to watch Bayern Munich FC are very well priced.
Is this amazing Munich Airbnb booked for your dates? We've got your back with our other favorite properties below!
Quick Answer: These are the Top 5 Airbnbs in Munich
Overall Best Value Airbnb in Munich

Overall Best Value Airbnb in Munich

Central and Quiet Studio Apartment

>

$$

>

2 Guests

>

Central location

>

Backyard and Balcony

>

$$

>

2 Guests

>

Central location

>

Backyard and Balcony

VIEW ON AIRBNB

Best Homestay in Munich

Best Homestay in Munich

City Centre Munich Penthouse

>

$$

>

2 Guests

>

Great location

>

Awesome views

>

$$

>

2 Guests

>

Great location

>

Awesome views

VIEW ON AIRBNB

Best Airbnb for Couples in Munich

Best Airbnb for Couples in Munich

Artist Studio in Central Munich

>

$$

>

2 Guests

>

Fully equipped kitchenette

>

Essentials provided

>

$$

>

2 Guests

>

Fully equipped kitchenette

>

Essentials provided

VIEW ON AIRBNB

Best Airbnb for Families in Munich

Best Airbnb for Families in Munich

Family Apartment in Steinhausen

>

$$$

>

6 Guests

>

Free Bike Rental

>

Wall-mounted TV

>

$$$

>

6 Guests

>

Free Bike Rental

>

Wall-mounted TV

VIEW ON AIRBNB

Best Luxury Airbnb in Munich

Best Luxury Airbnb in Munich

Historic Old Munich Loft

>

$$$$$

>

4 Guests

>

Great location

>

Decorated with contemporary art

>

$$$$$

>

4 Guests

>

Great location

>

Decorated with contemporary art

VIEW ON AIRBNB
Why stay in an Airbnb?
Local Experience
Whether you're staying in a private apartment or shared house, visitors can get in touch with their hosts through the Airbnb mobile app. Use the chat for fast and efficient communication. Any questions about your trip, what to do or where to go – your host can help.
Lots of Airbnbs provide city or neighbourhood guides with helpful suggestions for things to do in your destination – like a favourite coffee shop or unique (or cheap) pubs and restaurants. Some even include transit information, directions to amenities like grocery stores or gas stations and the availability of public transport. This is a great way for travellers to find the best local spots as hosts usually include what they've come to love about their city from years of living there!
Save some time by booking with Airbnb rather than spending years on Google to find out what's around you.
Affordability
No matter your budget, Airbnb has a place for you to stay – from entire apartments to single rooms, houseboats and even castles. There are over six million places worldwide to choose from.
Don't split up into two to three hotel rooms! The Airbnb platform accommodates any size, from single travellers to large groups. Everyone gets to stay together, which makes the travelling experience much more comfortable and at the same time way more affordable. Save your money by paying per night, rather than per person.
A lot of rentals have more than one bedroom or an extra pull-out couch, futon or trundle bed. Hosts also provide a nice set of clean sheets, a good quality comforter and extra pillows and blankets.
You don't want to spend a lot of money on having to eat out every night either? Just add the filter "kitchen" into your search and you can choose any home that lets you cook at home with all the cutlery, glasses, pots and pans provided.
Safety
Are Airbnb reviews legit? Airbnb wants every guest to be safe so they created a world-class review system where tenants are encouraged to be honest about their experience because it stays invisible until the reviewing period has locked.
Guests are given the power to tell the truth and "make or break" the place they stayed at since the platform forbids the owner to change or remove the review. Every comment you can read on Airbnb is based on finished stays and experiences. Plus, some hosts often depend on the money they earn renting their property and one bad experience from any guest would devastate their income. It might be a bleak perspective, but hey, that's something of a guarantee you'll be cared for!
Airbnb also has a 24/7 emergency line with someone ready to assist you. In the worst case, Airbnb will provide a driver or make sure you find a safe place. If you choose this booking platform, you will always be in good hands, without any doubt.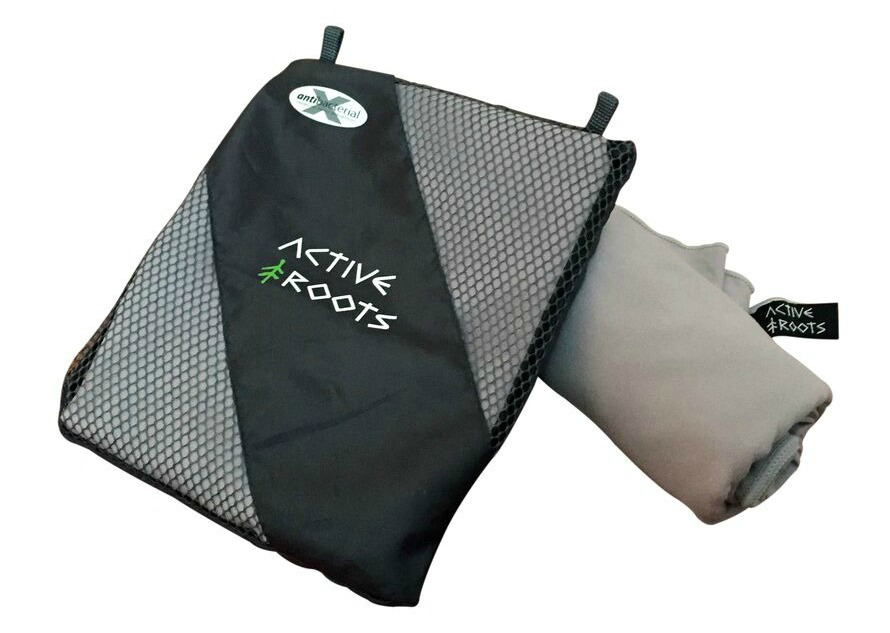 You should always have emergency cash hidden on you – pick up this awesome security belt with its hidden pocket before your next trip. It's perfect for hiding cash, card and a passport photocopy.
The Top 15 Airbnbs in Munich
$$
2 Guests
Central location
Backyard and Balcony
Let's kick off with a Munich Airbnb that offers everything you could want from a short stay. Right in the centre of town, there's a huge bed and… a bicycle hanging from the ceiling. Of course! A large space with plenty of light means the apartment is a very pleasant space, and it's just a hop, skip, and a jump from the city centre attractions. It's good for digital nomads – as there is a laptop-friendly workspace and quick Wi-Fi. Or, it's also suitable for couples, thanks to that comfy and welcoming king bed!
$
2 Guests
Awesome location
Kitchen with balcony
If there's one thing that can cause anxiety for travellers to Bavaria, it's cost. There's no getting away from the fact that it's expensive, but this Munich Airbnb will calm your nerves if you're travelling on a budget. You've got Marienplatz, Oktoberfest, and the Central Station all within a ten-minute walk from the flat, so you're certainly not compromising on location. To further keep your costs down, whip up some food in the host's kitchen, which you're welcome to use. You could even eat out on the balcony if it's a sunny day!
$
2 Guests
High-Speed Internet
Tea and coffee
Forgotten your laptop? To be honest, you're probably not a digital nomad if you've done that. But never fear! This place offers the use of an iMac and a printer, as well as super-fast Wi-Fi. So, it's perfectly set up for you to work as much as you need to. Not only that, but there's complimentary tea and coffee so you can keep up your caffeine fix till the early hours of the morning! Want to relax after a hard day of work and exploring the city?
This Munich apartment also has a sunk-in bathtub where you can properly pamper yourself!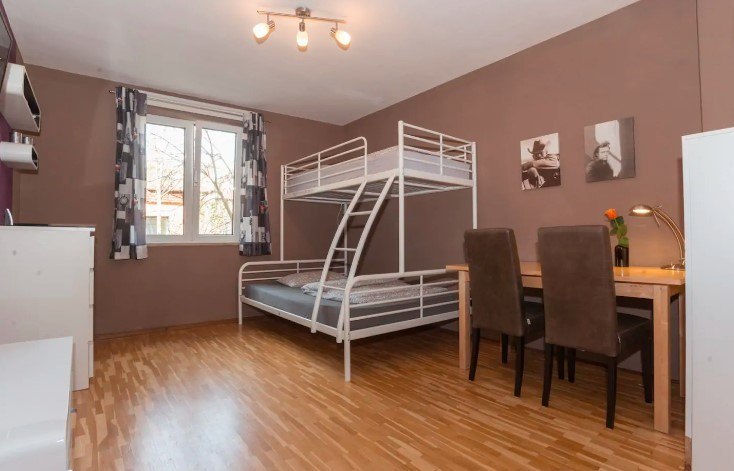 $
3 Guests
Well-equipped kitchen
High-speed Wi-Fi
Travelling on your own? Most people will tell you to stay in a hostel. But not us! We've found the perfect Munich apartment that will make it easy for you to meet new people, without the irritation of having to share a smelly and noisy dorm. That's because this is right in the middle of Munich's university area – where there's lively nightlife and plenty of people to meet and chat to. There's a comfortably equipped kitchen too, so you can prepare your own meals and save a bit of cash too!
The Best Travel Backpack?!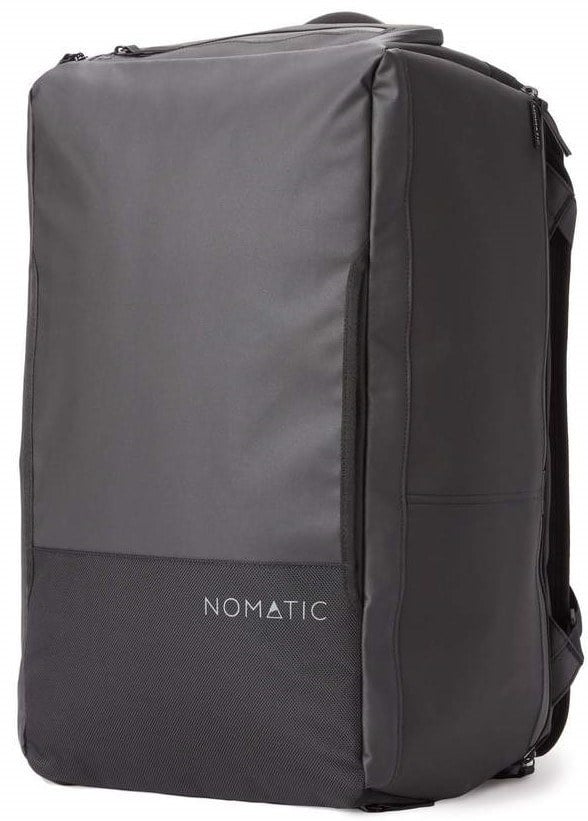 Pssssst! Not picked the perfect travel backpack yet? The Broke Backpacker team has tried out over thirty backpacks this year! Our favourite carry on backpack is the Nomatic Travel Bag.
Read our full review!
$$$
4 Guests
Near all the nightlife
Washing machine and dryer
It's hard to pick one particular area for the best nightlife in the Bavarian capital, but Glockenbach is right up there. So, with this Munich Airbnb being right in the thick of all that, it's a no-brainer! In fact, all the bars are in the streets surrounding this homely apartment. If you're feeling a bit tender after a few too many steins, you'll be pleased to know that there's a comfy queen-sized bed. Can't make it to the bedroom?
That huge sofa is a more than adequate alternative. There's a washing machine and dryer too in case you spill any of your drinks on your best outfit!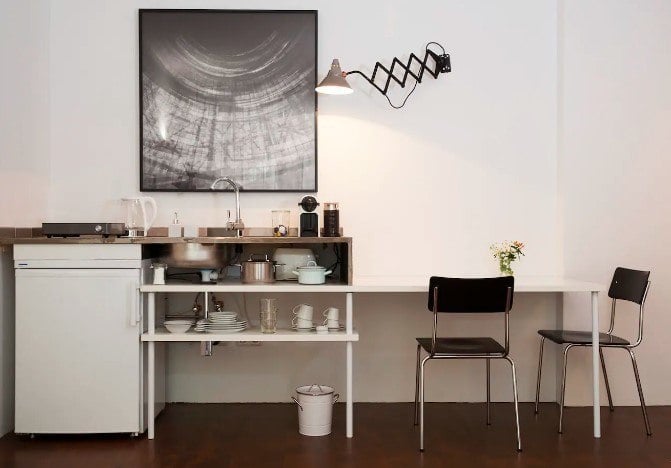 $$
2 Guests
Fully equipped kitchenette
Essentials provided
If you're staying with the love of your life, any old apartment won't do. Here's something with a little bit of the wow factor that you'll both fall in love with! Just a stone's throw away from some of the best places to eat, drink, and be merry, this Munich apartment boasts style and class. There are lots of useful amenities, including a kitchenette, a laptop-friendly workspace and fast Wi-Fi, and the key essentials to make your stay a pleasant one!
$$
2 Guests
Great location
Awesome views
If you're looking for a way to save money and have an authentic experience, then why not check out a Munich homestay? And this is the best one! Your friendly hosts have made not only this comfortable private room available, but you can chill out in their open plan living area too! There are two bathrooms too, so there's no need to wait for your hosts to finish and miss out on any time exploring the attractions.
However, it's not like they're far away – the central location of this penthouse is second to none!
$
2 Guests
Huge Terrace
Friendly and welcoming hosts
With so many great homestays in Munich available, we wanted to give you a couple of nice choices. If you'd prefer to stay in a more residential area, this is the one for you. Between Maxvorstadt and Schwabing, it's easy to get to the Old Town on public transport! Your private room comes with a huge terrace, the perfect place to head out if you fancy a smoke. The friendly and welcoming hosts have travelled extensively – so they know a thing or two about how to make you comfortable!
$$$$
2 Guests
Right in the centre
Gorgeous décor
How does an Alpine Hunt in the centre of town sound? Great, right?! One of the most unique and characterful Airbnbs in Munich, this awesome apartment is in one of the few buildings that survived World War II! You can kind of guess from the decor – it's a mixture of ancient wood and modern style.
If you're visiting in the winter, this place is extra magical. Especially if you enjoy it with a hot chocolate or mulled wine with snowflakes fluttering down onto the windows! Even though it's in the heart of the city, you won't find it hard to disconnect, relax, and imagine you're on the slopes of the Alps!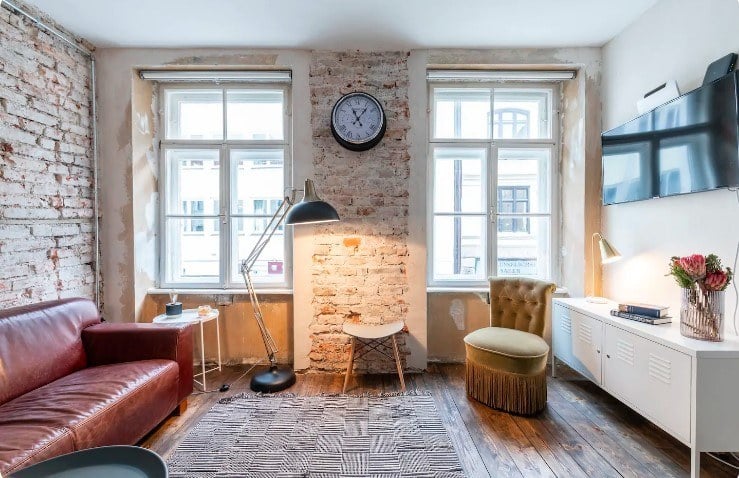 $$$$$
4 Guests
Great location
Decorated with contemporary art
Have you always wanted to be surrounded by contemporary art in a structure dating back to the 16th century? If you hadn't before, you certainly will now after seeing this incredible Munich Airbnb! You have the choice of two queen-sized beds in this cosy apartment – that's if you can tear yourself away from the living area and indoor fireplace! If you don't fancy heading to the range of restaurants and bars nearby, which up something tasty in the kitchen.
It's got all the top gadgets, including a Nespresso coffee machine – the perfect way to start your day!
$$$
6 Guests
Free Bike Rental
Wall-mounted TV
Visiting Munich with the family? This excellent short term rental in Munich isn't right in the city centre, but it's got great public transport links. However, if the weather is sunny, take advantage of the bikes that are offered to you at no extra cost! It's perfectly set up for families of all ages and sizes (up to 6 at least), and the fully equipped kitchen means you can keep costs down by preparing a meal all together. Once you've eaten, settle down in front of the wall mounted TV for everyone's favourite series or movie!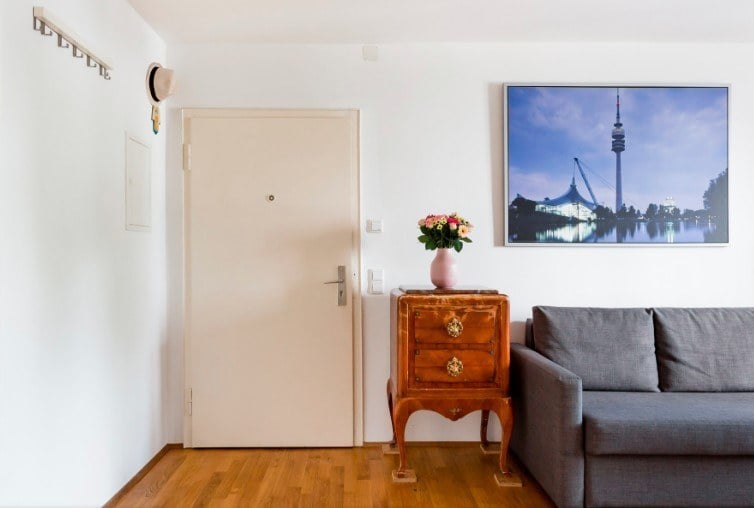 $$$
6 Guests
Fully Equipped Kitchen
Vintage style furniture
On the basis that you're probably most likely to visit Oktoberfest with your best pals, we've picked a Munich apartment just 150 metres from the festival as the best place to stay with friends! This Munich Airbnb plus listing has space for you and 5 mates. If you're the first one up, take advantage of the comfy living room. Watch an episode of your favourite series or indulge in one of the many books on those comfy sofas!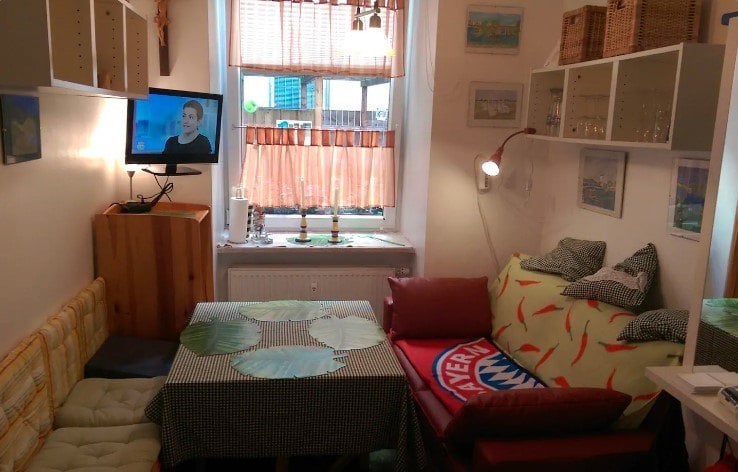 $$
2 Guests
Kitchen and Dining Area
Pet Friendly
We've already shown you quite a few Airbnbs in Munich's Old Town, but that's because it's the centre of all the action! And we've got a couple more that we think might interest you. If you're travelling with a furry friend, there's nowhere better as this place will happily welcome your cat or dog. We're not sure where they stand on Burmese pythons though! It's a small and compact apartment, but it's a very fair price and you can't beat the location!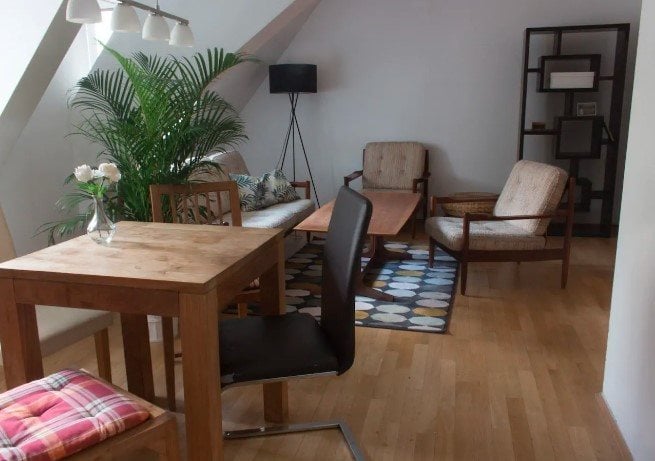 $$
3 Guests
Laptop-friendly workspace
Moments from Marienplatz
We promise this is the last Old Town Munich apartment we're going to show you. Honest! A private room just a hop, skip, and a jump from Marienplatz is a great option for keeping your costs down and being in the most desirable part of the city at the same time. Digital nomad? You'll be happy to know there's a spot for you to work, and of course there's Wi-Fi! If you're looking for any recommendations, your host will be happy to help you out!
$$
2 Guests
Fully equipped kitchen
Lovely Balcony
Last but not least is a Munich apartment in one of the coolest areas in town – Schwabing West. Although it's not in the city centre, there's a tram which runs 24 hours a day, so you can stay out at Oktoberfest or in Munich's legendary clubs until whatever time you like! If you'd prefer to stay in, why not just take advantage of the huge balcony? It's a great place to enjoy a glass of wine and a pretty sunset!
What to Pack for your Munich Airbnb
Pack these things for a nicer stay in your Airbnb.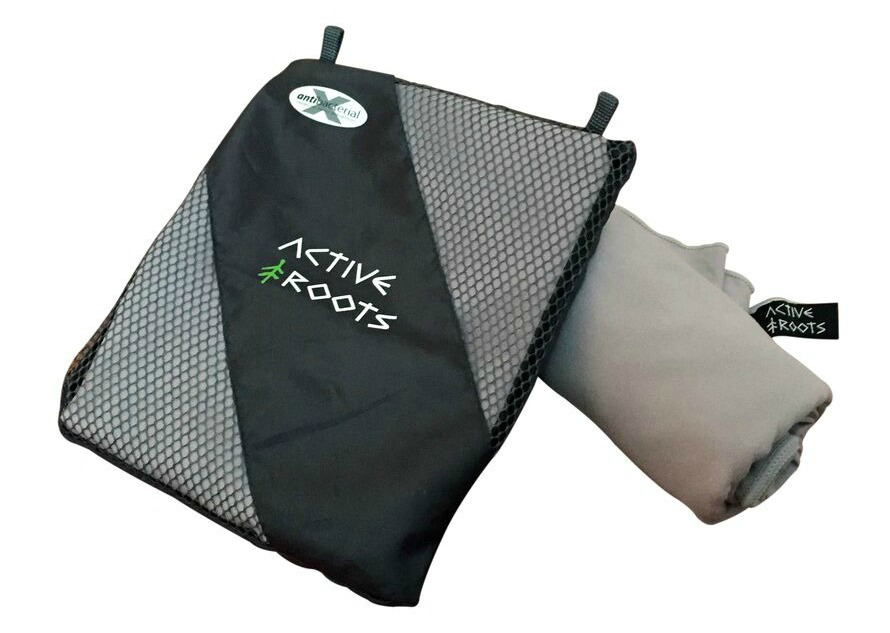 1. Active Roots Microfiber Towel: If you don't want to trust your Airbnb to provide clean towels, it's always smart to bring your own. Problem is, most towels take up a lot of space in your suitcase. The Active Roots Microfiber Towel is made of super-light material, which hardly takes up any space. Plus, it's incredibly comfortable and quick-drying. Great for a day around the pool or at the beach. The material is antibacterial, so it won't smell funny, even on long holidays.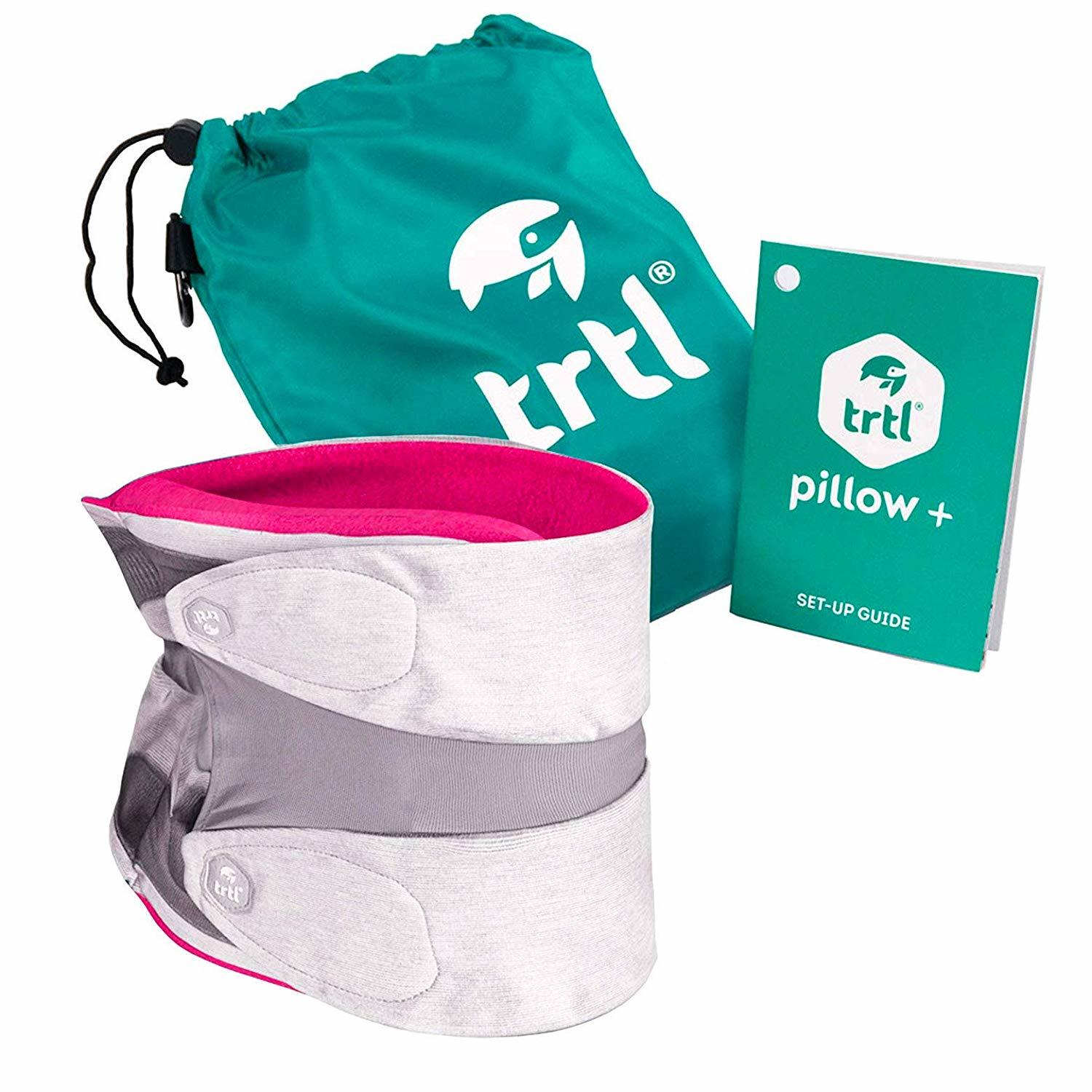 2. TRTL Travel Pillow: Being on a plane or bus for a long time, especially overnight, can be pure torture. Instead of arriving at your Airbnb with red eyes and a grumpy mood, you should have a look at this TRTL Travel Pillow – it actually fulfils all of its promises. The ergonomic design supports your neck and head in a comfortable and safe way. Getting some proper sleep, even while sitting upright, will be a massive relief on your next holiday.
3. Active Roots Toiletry Bag: To prevent the loss of your toothpaste in the depths of your bag, you should get a hold of the Active Roots Toiletry Bag. With large compartments, see-through and enclosed sections, you can have all of your stuff in the right spot, easy to find and accessible at all times.
4. Travel Journal: Write down your plans, thoughts, inspirations or experiences – the list doesn't stop here. Journaling while travelling is a great way to keep memories, calm down and reflect after a long day, or simply doodle around while waiting at the airport. Try it out yourself with this elegant Travel Journal.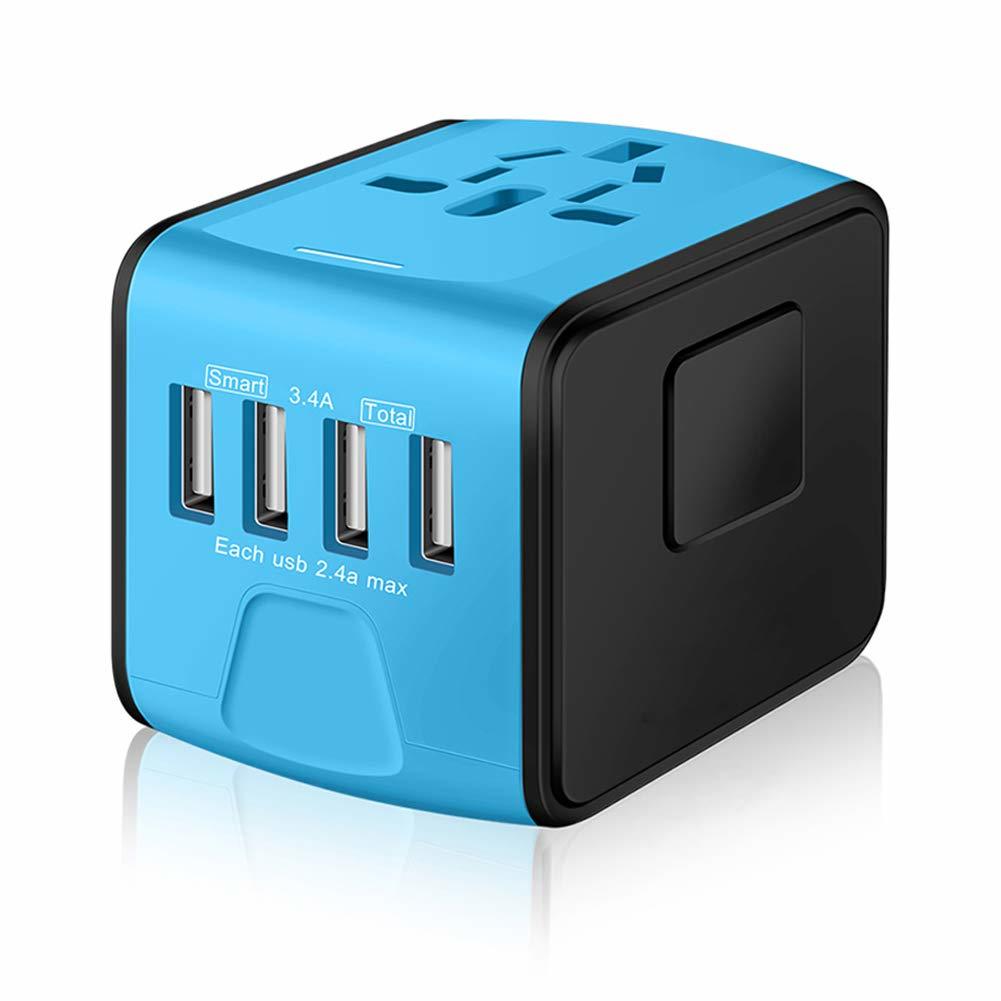 5. Universal Travel Adapter: Don't land in a new country without the right adapter to charge your devices. This can be a logistical nightmare as your phone runs out of juice but you still need to plot a course to your rental. This universal travel adapter covers 150 countries, and you'll always be able to charge your phone (and 4 more devices simultaneously), no matter where you are in the world.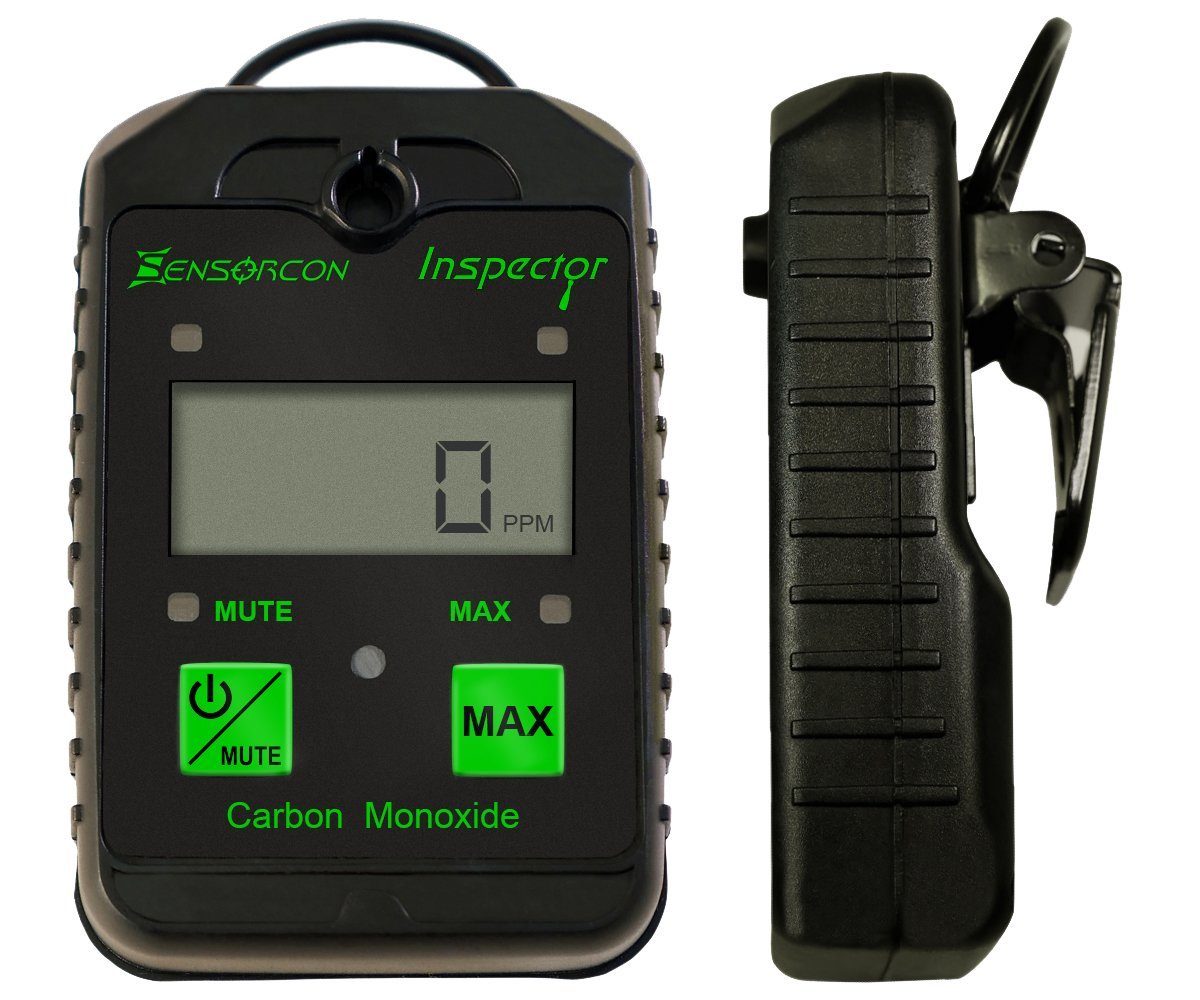 6. Carbon Monoxide Detector: Many homes already have CM detectors hardwired in, but regulation hasn't caught up to technology in some areas. Most accommodations are not obligated to install protections or monitors, which is why owning your own portable device comes in very handy. The waterproof and long-lasting monitor will send out visual and audible alarms, before the carbon monoxide reaches a dangerous level.
Check out these other great resources
We have loads more information to help you plan your trip.
Final Thoughts on Munich Airbnbs
So, that's all from our extensive list of the Best Airbnbs in Munich. We think you'll agree that we've included places that suit every different travel style, budget, and personality. We just hope there's something big enough for your group!
Remember, whether you want to be within a hop, skip, and a jump of the famous Marienplatz, in a romantic hideaway for you and your other half, or in the perfect spot for shooting off some emails and working before exploring the city, there's a short term rental in Munich for you. In fact, you might think we've given you too much choice!
If that's the case, then take a deep breath and stop panicking. Just pick our best value Airbnb in Munich – Central and Quiet Studio Apartment. It's the dream combination of an awesome location, cool flat, and very good price!
Now, all that's left is for us to wish you a safe trip to Munich and an incredible experience. We might even be waiting for you at one of the beer halls!
And don't forget to sort your travel insurance before heading to Munich! We've put together a roundup of the best travel insurance for backpackers – check it out here, or if you're low on time, get a quote from World Nomads, our favorite travel insurance provider.
Getting an estimate from World Nomads is simple – just click the button or image below, fill out the necessary info, and you're on your way!

Yay for transparency! Some of the links in this post are affiliate links. This means that if you book your accommodation, buy a book or sort your insurance, I'll earn a small commission at no extra cost to you. I only link to stuff I've actually used and never endorse crap. Your support helps me keep the site going.
---
Need More Inspiration?
Like this post? PIN ME!!!
Ralph is a former manager in the hospitality industry turned wild child. With a desire to experience all things unconventional, Ralph enjoys visiting the lesser-known landscapes of the world and has ended up in some pretty strange and wonderful places. Recently, he spent eight months travelling around Africa, the Middle East, and Europe, spending as much time as possible in the wilderness and doing everything to avoid the crowds.
You can follow his adventures at Roaming Ralph or get in touch via his social media pages on Facebook and Instagram.