When you think of Germany, national parks might not be the first thing that comes to your mind. By the end of this list that is going to change. National parks in Germany are filled with breathtaking scenery, towering mountains, shimmering lakes, and lush forests teaming with wildlife.
Visiting this majestic country without seeing some of its national parks would be a trip incomplete. So where should you go? Let me give you some of the best options below. (Hint- There are no wrong answers!)
What is a National Park?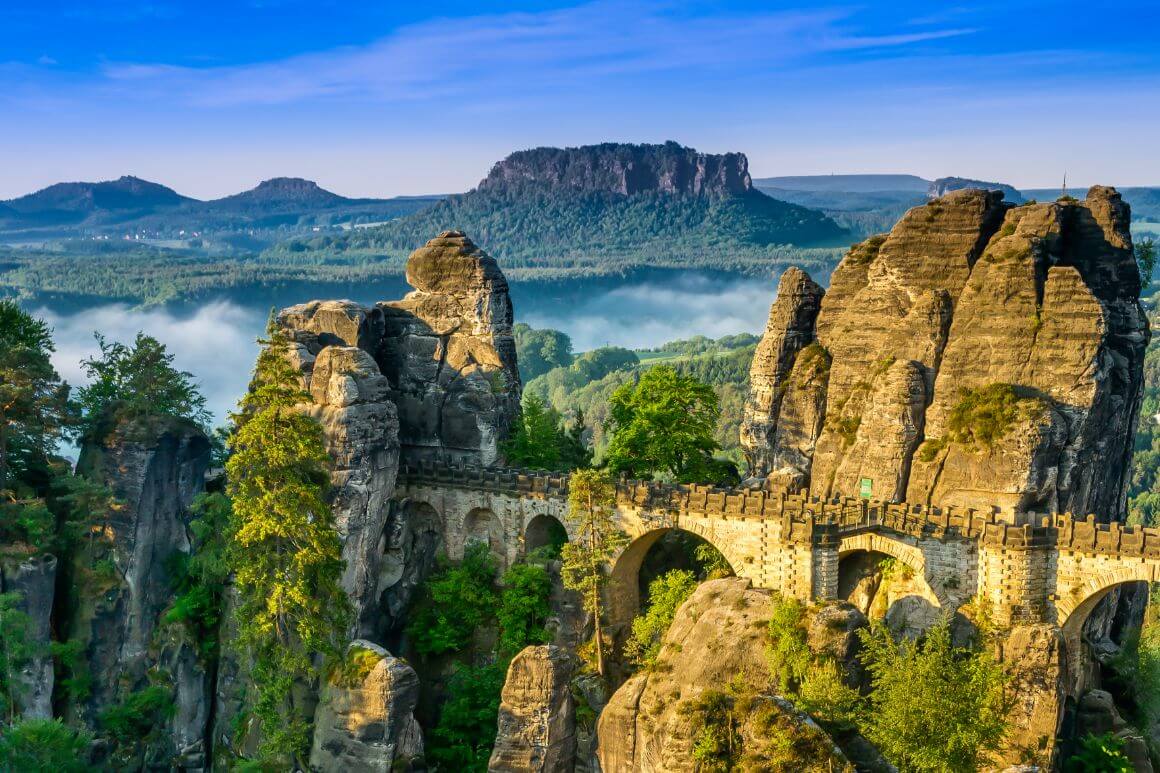 A national park is a piece of land set aside by the government to be protected and conserved. Many areas are looked after by local municipalities but these are ones deemed important enough to the country for the national government to take control.
These national parks are designated as such due to either natural beauty, wildlife conservation, unique geological formations, or cultural or historical significance. There are other categories as well such as nature reserves, biospheres, or wildlife sanctuaries. However, these come with varying levels of protection.
This means that these lands cannot be used for commercial gain and cannot be privately owned. Having these guidelines in place helps to safeguard against activities that can be harmful, such as logging, oil drilling, and deforestation. It also means that anyone has access to the land and it can be enjoyed by all.
Germany takes its parks seriously with 16 national parks, 14 biospheres, and 98 nature reserves, making 25% of the land protected zones.
National Parks in Germany
Grab your hiking boots and come with me as I show you the best of what German national parks have to offer. Let me know which one you are most excited to explore, down in the comments.
Berchtesgaden National Park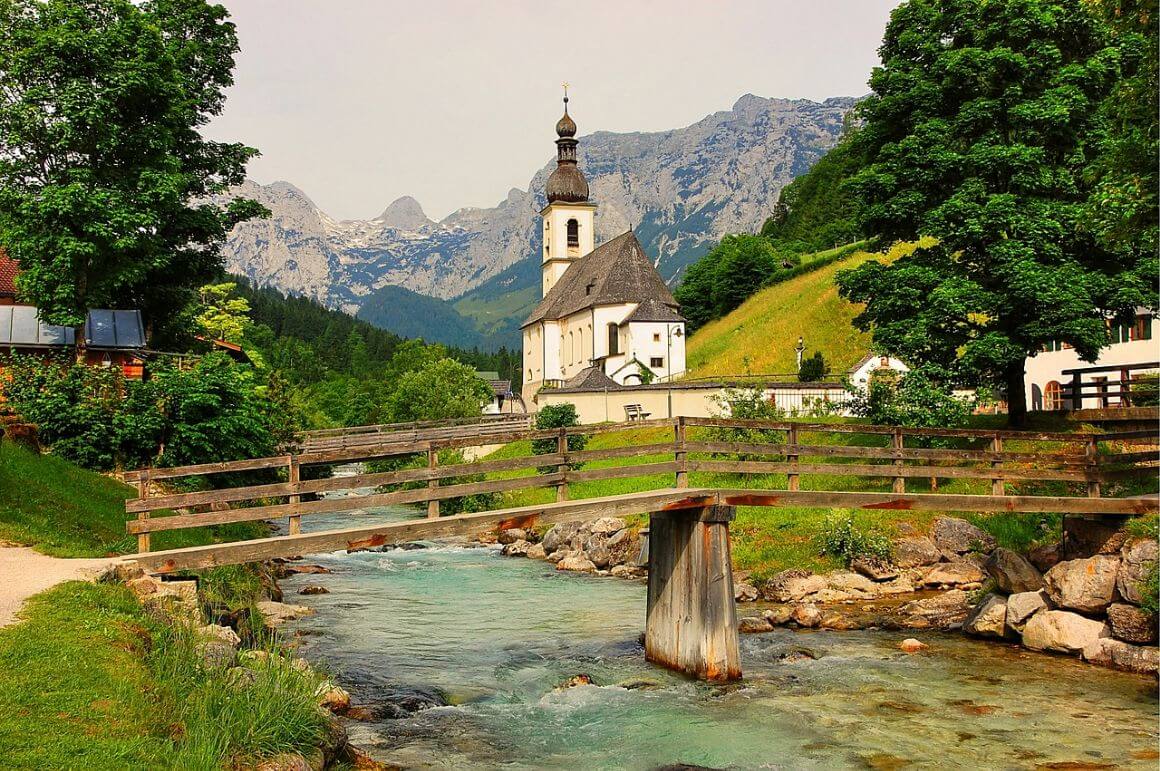 Size: 21,000 acres
Location: Bavaria
Why save the best for last when you can start with it? The views at Berchtesgaden National Park are simply otherworldly. The Alps tower over this place, and they are a sight to behold. I think I got a kink in my neck from staring up so much while I was here.
When you finally take the time to gaze down you will find one of the clearest lakes you have ever seen, all while being surrounded by majestic forests. The National Park Centre is even made of glass so you never have to take your eyes off your surroundings. Very thoughtful.
A huge expanse of land and with not as many visitors as it deserves, you won't have to work too hard to get away from the crowds and just be alone with nature. Go up the many trails that crisscross the park and just keep on walking, they have every level of difficulty your heart desires. If you're lucky you might see some of the golden eagles that call this place home.
Where to Stay
This is a view you can't get tired of so you might as well see it from your room too. Besides the incredible view, this charming guesthouse offers rooms that are cozy and there is a pub downstairs for you to enjoy a pint after a long day exploring the park.
Eifel National Park
Size: 26,400 acres
Location: North Rhine-Westphalia
Located in both Germany and Belgium, Eifel National Park is too gorgeous for just one country to handle. The woodlands are some of the best in all of the national parks in Germany.
As it is a huge place, I would highly recommend taking advantage of their free guided tours that take place eight times a week. No booking is required, just show up! The walks with the tour are quite easy as they are meant to accommodate everyone even children, but even the most adventurous trekker would have a hard time getting bored with the surroundings and surprisingly personable guides. They also know the best places to spot our animal friends, such as owls, beavers, and wildcats.
This is a place to slow down, admire the wild orchids and cherry trees, and just take it all in. They even have "sense benches" at some of the most picturesque parts for you to do just that. Lie down, take a deep breath, and maybe even close your eyes and see what you can hear or smell.
It honestly feels like walking through a storybook.
Where to Stay
The cute old-world design and closeness to the park make this beautiful hotel a no-brainer. The rates are nice and the hosts even nicer, you won't be able to wait to come back.
Bavarian Forest National Park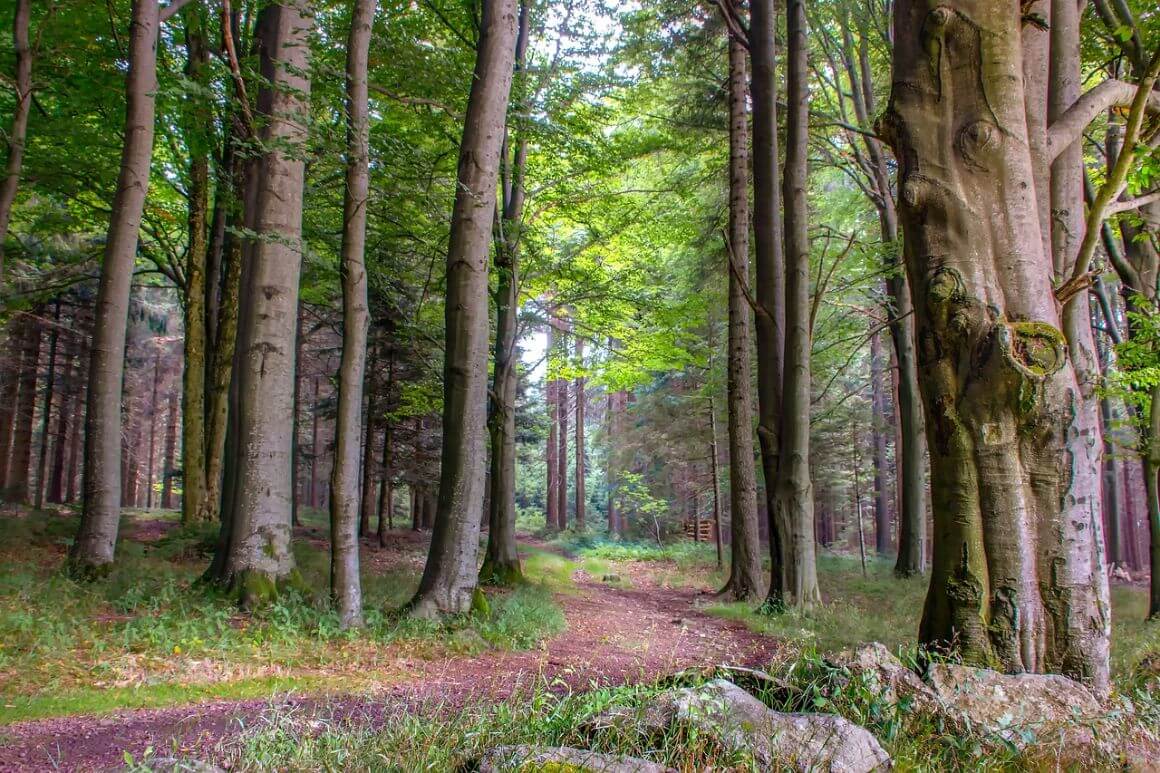 Size: 59923 acres
Location: Bavaria
If you are looking for forests with massive trees that seem to touch the sky then you have come to the right German national park. Dominated by Norway spruce, European fir, and beech trees, these giants completely envelop you.
The woods can be completely silent but in a calming non-eerie sort of way. Everyone once in a while you will suddenly stumble across a lake or peak you had no idea was coming but is always a welcome surprise.
So untouched and remote, there are many species of animals that are thriving in these forests that are gone from most other places including lynx, wolves, and moose. The Bavarian Forest is the first national park in Germany, gaining this status in 1970 to protect against deforestation and logging. I for one am so happy they did because we would have lost something truly special.
Where to stay
The name may be a mouthful for non-German speakers, but don't let that put you off the great place. A superb accommodation that tries to match the peace and tranquility found in the forest. You won't regret staying here! It's the closest room to the park and has beautiful wooden interiors as well, it literally could not be any more perfect.
Saxon Switzerland National Park
Size: 23104 acres
Location: Saxony
Looking for something a little bit different? Well, it might be time to check on Saxon Switzerland National Park. The sandstone formations are far and away one of the most unique features of a national park in Germany. Nature has chiseled the stone into all kinds of shapes. Tabletops, columns, and cliffs all dot this wonderful landscape. Some of the tabletops even have medieval castles on them. As if it couldn't get any more impressive
When you have this type of rocky terrain, what do people want to do? They want to climb! With over 15,000 marked routes, this park has some of the best rock climbing in all of Germany. The porous nature of the rocks makes them a joy to scramble up, and the view from the top isn't half bad either.
If you aren't well-versed in climbing or if heights give you the creeps, there are still plenty of other ways to explore. Mountain biking and hiking trails are abundant around these parts and are just waiting to be used. Another good way to see everything is by hiring a row boat and looking from the river. Things just look better from the water sometimes.
Where to Stay
While the park is amazing, during several months it can get quite chilly. That's why I recommend booking Hotel Elbresidenz an der Therme. Right on the river, and about as picturesque as you can get, it also comes with a thermal spa and heated pool, so you can warm up and loosen up your body after a day of adventure.
Hamburg Wadden Sea National Park
Size: 33976 acres
Location: Hamburg
If you are somehow tired of trees, mountains, and lakes, let's take a break and head to the coast and the Hamburg Wadden Sea National Park.
It's kind of hard to describe to someone who hasn't been there but it is essentially mudflats and shallow creeks, with sand dune islands cropping up in between. It stretches out for kilometers and it can be very hard to see where it ends and when the North Sea begins.
This area is very important ecologically as it is a rare habitat, and it has a unique and diverse ecosystem. With more than 2000 species of animals and 250 native only to these specific marshes, this place is bursting with life. Some of the highlights are the two types of seals and the multitude of sea birds that call this park home. Bird watchers will rejoice as this is a breeding ground for millions of migrating birds, so bring your binoculars and watch to your heart's content.
If you want to get a close-up view, there are specific routes where sea hiking and carriage rides are permitted.
Where to Stay
Pool with a view and a color scheme that could make it into any Wes Anderson movie, Hotel Strandperle is an absolute pleasure to stay at. Exploring all the nooks and crannies of this eccentric yet cozy hotel might be almost as fun as the park
Jasmund National Park
Size: 492.5 acres
Location: Sassnitz
Staying seaside, let's hop on over to Jasmund National Park. Germany's answer to the white cliffs of Dover, these rock faces are just as breathtaking. The smallest of all the German national parks, this one sure does punch above its weight class.
These cliffs have been infamous since ancient times. Join a free guided tour run by the and learn about the lore and the way they make an appearance in folk tales and stories from Gods and Goddesses, to pirate legends.
The forest growing on top have fantastic hiking and cycling trails going through them. Watch as ecosystems change drastically over a very short distance. However, no matter what part you're going through, the constant ocean backdrop is truly majestic.
In the summertime, the cliffs are a nice slice of shade while taking a dip in the water, though the water never really does get super warm. But if you can brave it you will be generously rewarded. Or you know, you could take the easy out like me and hop in a boat, your choice!
Where to Stay
Only 2 minutes away from Rügen's coast, this superb hotel is the perfect base for exploring the park and the cliffs in particular. They also organize boat trips so you can see them in all their splendor.
Have you sorted your accommodation yet?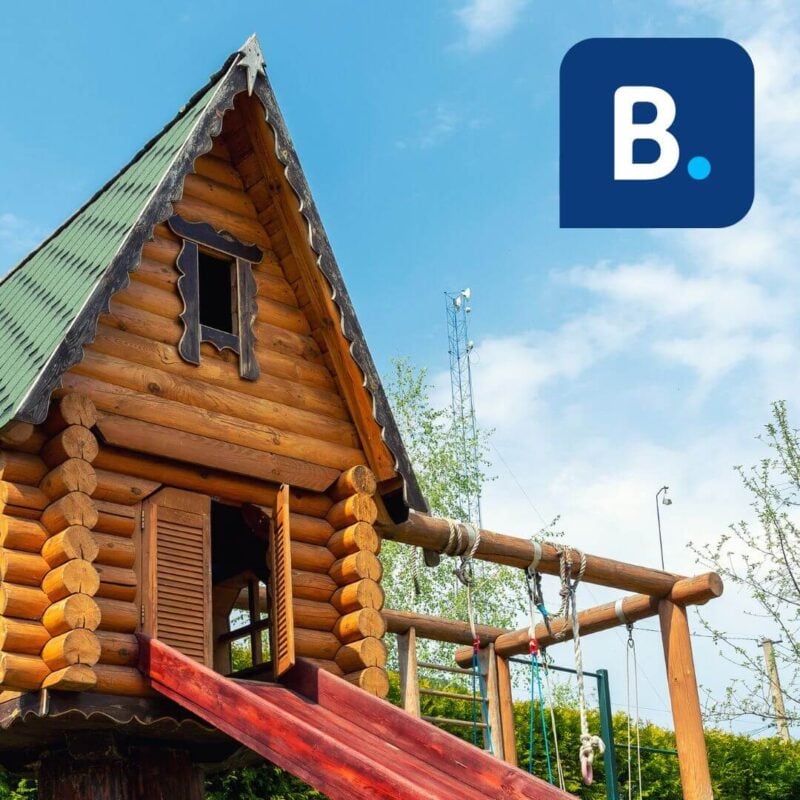 Get 15% OFF when you book through our link — and support the site you love so dearly 😉
Booking.com is quickly becoming our go-to for accommodation. From cheap hostels to stylish homestays and nice hotels, they've got it all!
View on Booking.com
Müritz National Park
Size: 78579 acres
Location: Mecklenburg-Vorpommern
Nicknamed the land of a thousand lakes, there are only about 130, but it sure feels like there are way more. Just a plethora of shimmering green, blue and clear dots, all more beautiful than the last. And it's not just me who thinks that! This park was also put on the UNESCO World Heritage list in 2011.
Only a few hour's drive from the city of Berlin, this is the perfect day trip to get out of the city and into mother nature's loving embrace.
Although other woods get all of the credit don't sleep on these epic woods here either as they still make up around 80% of the park. Lovely, dark, and deep, some of the ancient beech wood forest areas are undisturbed since the last ice age.
All the usual hiking and cycling activities are here as well, but I would also encourage you to check out the town of Waren on the north side of one of Germany's best national parks. Quaint, friendly, and calm; it's a real hidden gem.
Where to Stay
Since I asked you to visit Waren, might as well stay there too! And you would be hard-pressed to find a nicer stay. Right on the Marina, near downtown, close to the park, this fabulous hotel has some of the best rooms you've stayed in. Stop reading, just book.
Black Forest National Park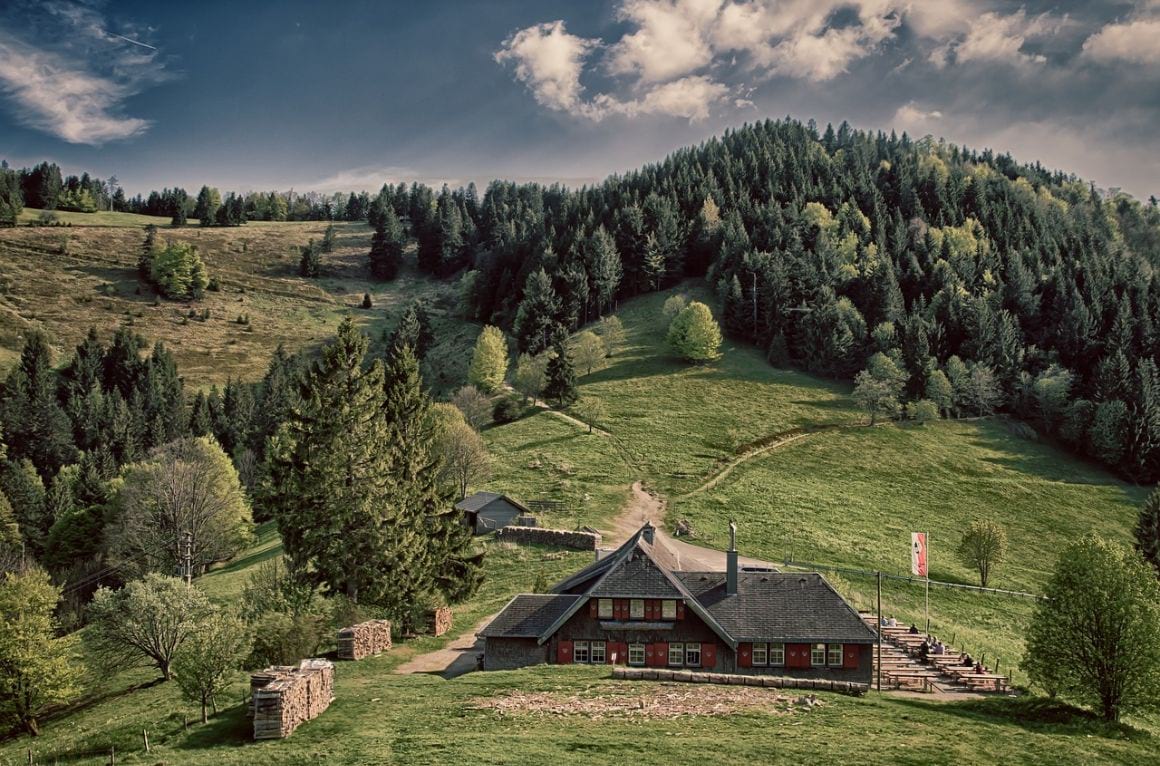 Size: 24,860 acres
Location: Baden-Württemberg
The whole Black Forest region is worth a visit and the national park is simply the icing on the cake. One of the last national parks to be opened in 2014, large swathes of this already popular land were protected from the timber industry to preserve the pristine environment. Glacial lakes, deep valleys, and undisturbed forests make this park almost dreamlike.
One of my favorite parts is a hike up to Allerheiligen waterfalls, which cascade down the rocks with reckless abandon. Autumn is a fantastic time to visit as the leaves change, and the whole area becomes a kaleidoscope of colors.
Ok, it's not in the park, but I would be remiss if I didn't mention some of the attractions in the Black Forest but outside the limits of the preservation. In the wintertime, the surrounding area is one of the most beautiful places in Germany and some of the best in all of Europe for winter sports. Also, you can take in a football match at the Black Forest Stadium. This open-air arena in the heart of the forest with trees and hills in the background is simply stunning.
Where to Stay
Stay in the heart of the forest in the sleepy town of Wolfach. The location is right near the national park and is a fabulous property. I would highly suggest getting a room with a terrace to enjoy the view to its fullest.
Hainich National Park
Size: 18532.9 acres
Location: Thuringia
Hainich is the last on our list of national parks in Germany but is certainly not the least. Located smack dab in the middle of the country, it is a short hop over Liepzig and one well worth your while.
Some of the best cycling I've done in Germany is in the park, and what's really cool is they also have e-bikes so if you want to, you can just zip through and enjoy the scenery without being worried about getting tired!
Another cool feature present here is the treetop walk which is a bridge that takes you up above the tree line. Looking down from another perspective gives you a better appreciation for the massive trees and colorful flora down below.
Be sure to also explore the medical houses, walls, and monasteries within the park, along with the ancient trees, these make you feel like you have stepped back in time.
Where to Stay
Myself, I'm a sucker for a unique stay and this hotel cum spa is definitely that. The shape of the sauna, pool, and even the hotel itself gives this place so much character. This B&B also takes the breakfast part of their job seriously, with an awesome spread in the mornings.
Final Thoughts
National parks in Germany have really captured my heart. Each season you go is something magical, the bursting of life in spring and summer, the fall foliage in autumn, or the magical blankets of snow in winter, there truly is no time to not go. The wildlife and the landscapes of this place are exceptional.
If I had to choose my favorite, or if you only had time to see one, my answer to both would be Berchtesgaden National Park. I had to pick my jaw up off of the floor more than once.
---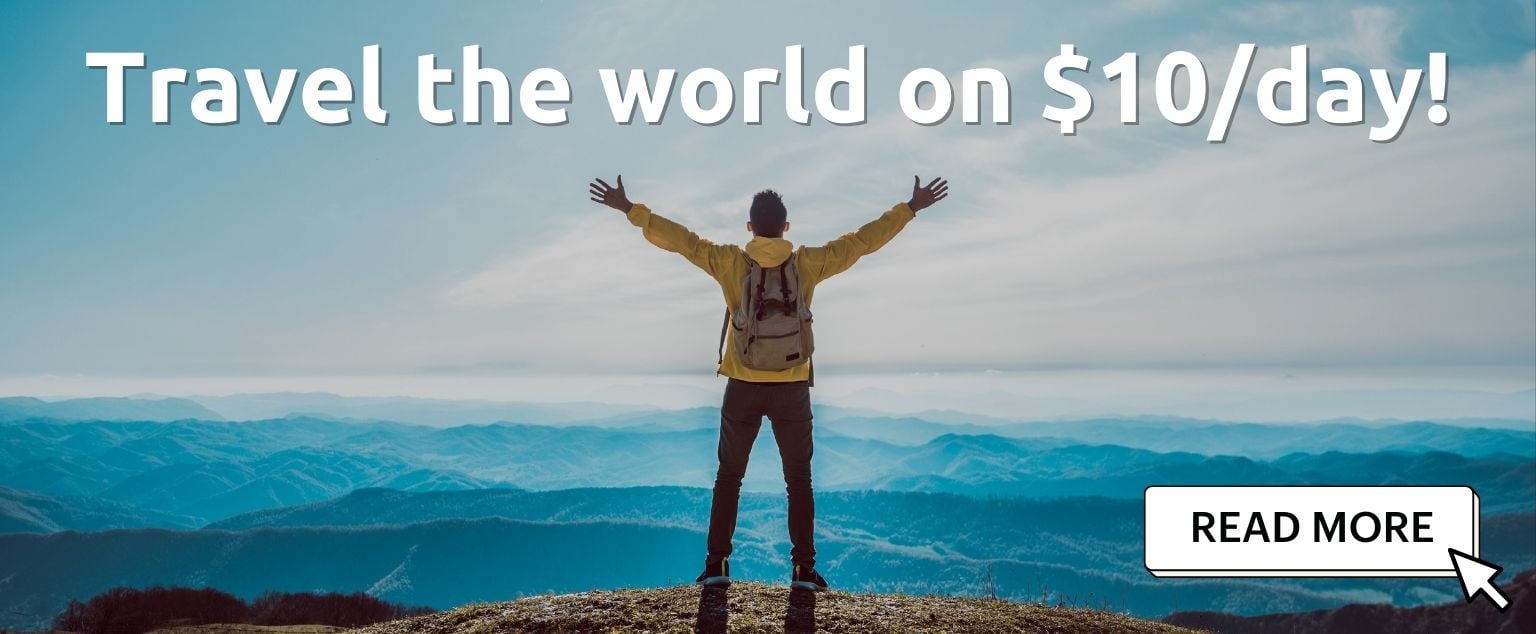 And for transparency's sake, please know that some of the links in our content are affiliate links. That means that if you book your accommodation, buy your gear, or sort your insurance through our link, we earn a small commission (at no extra cost to you). That said, we only link to the gear we trust and never recommend services we don't believe are up to scratch. Again, thank you!