The Peak District is one of the UK's most magical places. Staying true to its name, this rugged area of the country is pockmarked with fells and valleys, covered by sprawling moorlands, forests, and old farmlands.
With a range of trails that go all the way from challenging hikes to relaxing riverside strolls, walking in the Peak District is a must for any traveler exploring this part of the world.
Long associated with the country's nascent love of hiking in the early 20th century, today the park is a warren of well-marked trails crossing craggy landscapes and meandering through charming historic towns and villages!
If all that sounds delicious to you, but you have no idea where to start, we've got you covered. This guide is packed full of all the information you'll need: how to stay safe, what to expect, and all the best hikes in Peak District that we love.
Get those boots on and let's go a-rambling!
Comprising 555 square miles of uplands in the north of England, the Peak District — or more properly, Peak District National Park — is a wonderful place to go for a walk if you're backpacking the UK.
In fact, Peak District was the UK's first-ever national park, designated as such in 1951. The place was the stage of a famous mass protest in 1932, against the prohibition of hiking in its free open land.
You can thank the protesters because now you get to enjoy all of the best hikes in Peak District without a single worry! The only thing you need is to decide which ones are best for you.
The park is made up of roughly two sections. The Dark Peak comprises the northern reaches of the park and is generally higher and wilder; the White Peak, on the other hand, is located in the south and is better known for its beautiful valleys and gorges.
While not as extreme in inclines as some other crazy hikes, nor as far-flung or remote, the Peak District has enough natural intrigue and hilly trails to keep even veteran hikers mesmerized.
Trails here are well kept but do get muddy after rain, and that's something the Peak District gets a lot of… UK weather, baby! Woo! Try to visit during summer or late spring, where temperatures will probably go around 20ºC.
But enough with the chitchatting! We're gonna run you through some basic safety information quickly before moving on to the real goodies.
Peak District Trail Safety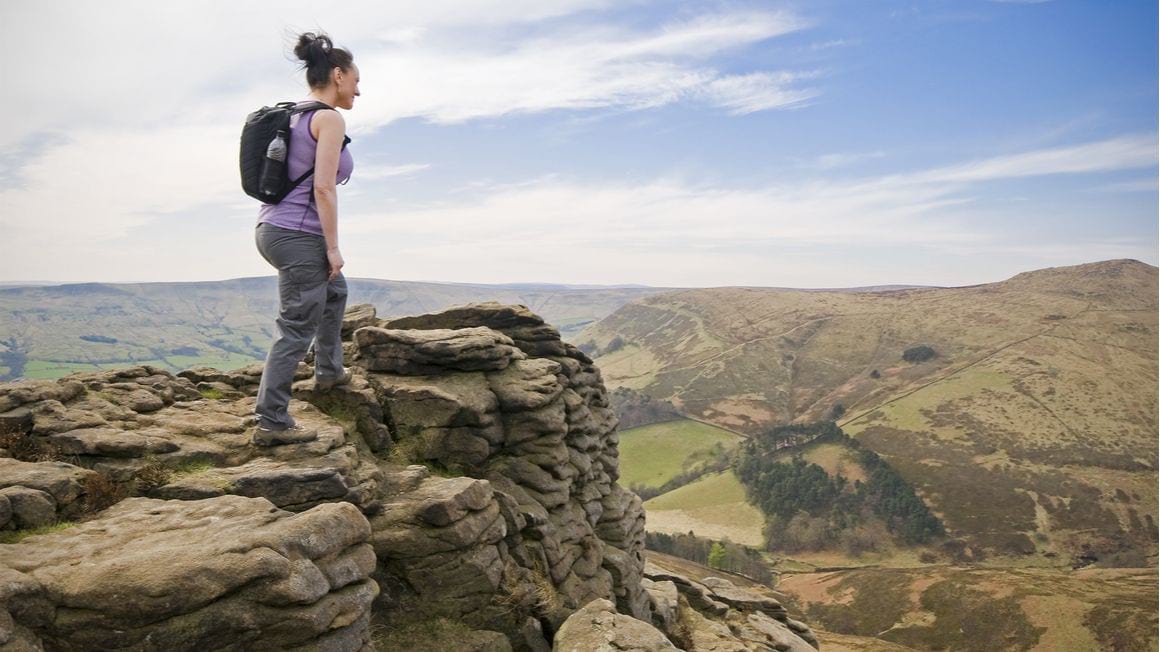 There's no doubt at all that Great Britain is an absolutely beautiful place to hike: after all, this is a nation that has enshrined the Right to Ramble in law!
The multiple routes that cross the epic Peak District are a perfect showcase of the green landscapes and ancient isles. And hiking here is totally safe. The routes are well-trodden, well-signposted, and the weather is never too extreme.
But that doesn't mean you should just hotfoot it off on a hike without thinking twice. The Peak District is a wild environment, so it pays to know what you should expect and what you should prepare in advance.
Before you set off on your epic journey, take a moment to read through some of our tips and helpful safety advice:
Always plan ahead – Make sure you know what challenges might lay ahead of you. Take some time to study your walk in Peak District, stay alert to the notoriously changeable UK weather, and give yourself enough time to complete the trail safely.
Come prepared – A phone for guidance is good most of the time, but bring an actual map or GPS if you can — it's not uncommon to lose signal out in the wild (a satellite phone is a real bonus). Carry a few layers in your daypack, a nice waterproof jacket, and plenty of water to keep you hydrated!
Respect the natural environment – The Peak District is a protected area, and hiking among this slice of nature means leaving no trace behind. Do not disturb the natural environment, and keep away from animals — they're minding their own business, so you should too.
Get some insider advice – If you've got any questions during your trip, check for tips at the visitor centers, ask at your accommodation, ask people on the trails themselves, or get chatting with locals at the pubs… Chances are, they'll know best!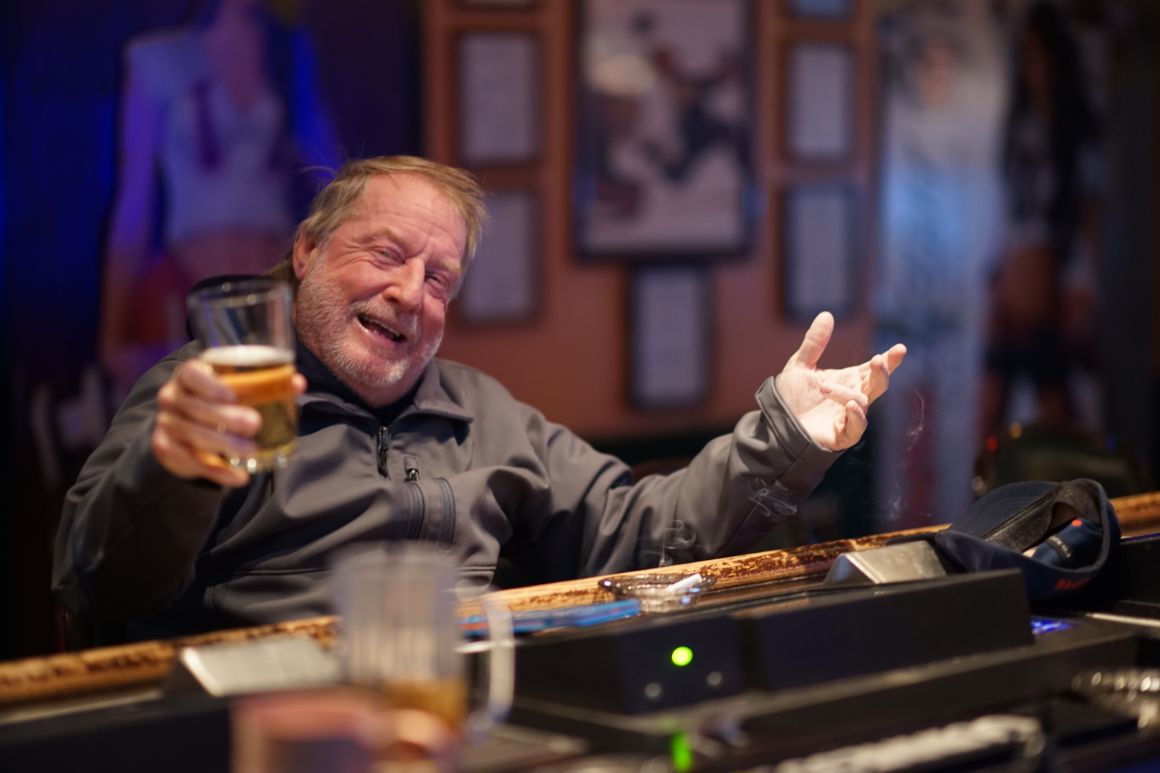 Bring extra supplies with you – What would you do if you got lost in the wild? Just in case something goes south: bring a torch, a small first aid kit, extra food, and a whistle. The snacks are the most important, but the rest might save your life!
Don't push yourself too hard – If you feel like you're not capable of completing a hike, don't be afraid to turn back and choose a different one — this is not a competition. And try to hike with a buddy! Otherwise, always let somebody know where you're going and when you plan to return.
Get your ass insured – It's better to be safe than sorry — you've probably heard that from mom a few times. If you want to enjoy all the walks in Peak District without worrying too much, consider covering up with a solid travel insurance policy for the trip.
ALWAYS sort out your backpacker insurance before your trip. There's plenty to choose from in that department, but a good place to start is Safety Wing.
They offer month-to-month payments, no lock-in contracts, and require absolutely no itineraries: that's the exact kind of insurance long-term travellers and digital nomads need.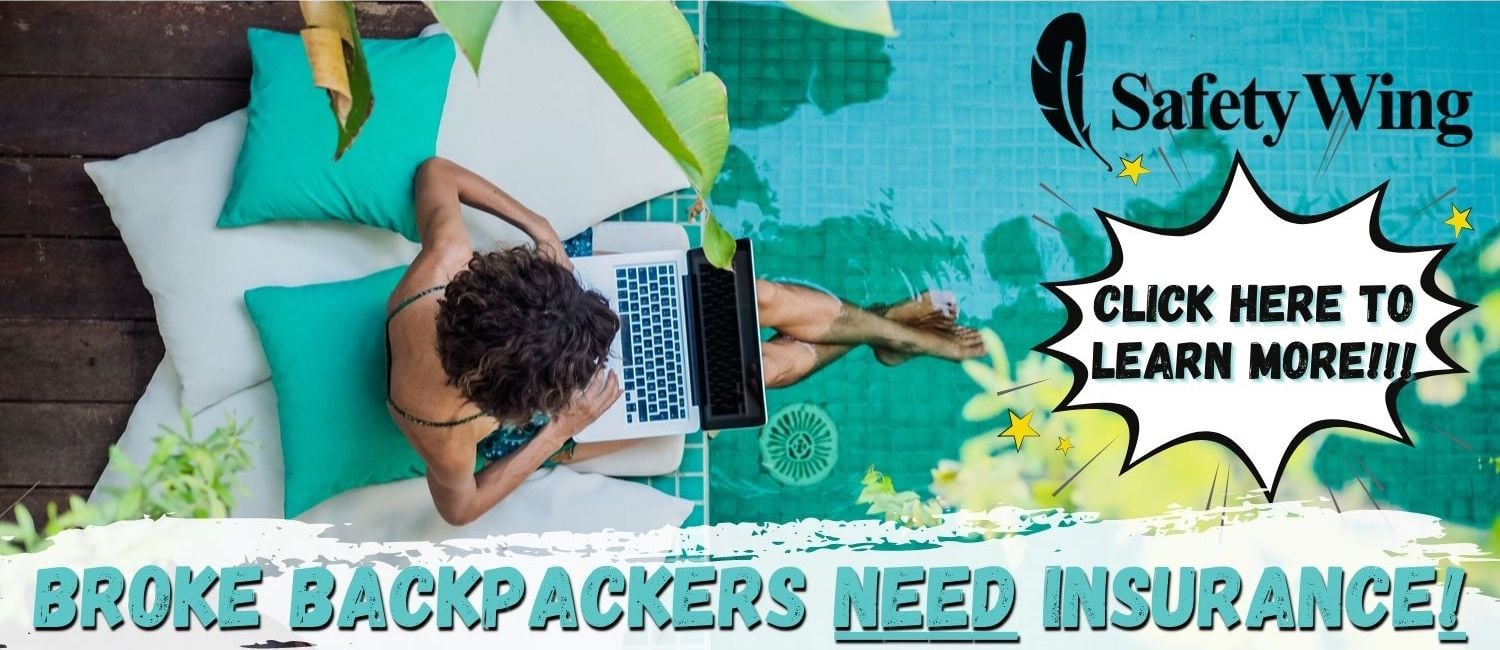 SafetyWing is cheap, easy, and admin-free: just sign up lickety-split so you can get back to it!
Click the button below to learn more about SafetyWing's setup or read our insider review for the full tasty scoop.
So, at this stage, you're definitively clued up on all things Peak District. You know a bit of history, you know how to stay safe, and you have a rough idea of the wonders you have ahead of you…
It's time to get to them. To the best walks in Peak District!
We've carefully curated some of our favorite trails in this British national park, to make sure there's something for just about every hiking ability. There are short strolls, bracing hill walks, mystical moorland adventures, and challenging multi-day treks.
Take a Peak. 😉
1. The Great Ridge Walking Route – The Best Day Walk in Peak District
The Great Ridge Walking Route is one of our favorite Peak District walks. It goes along a ridge that separates two valleys and offers some pretty spectacular sights of the area.
With views over Edale and Hope Valley, the trail kicks off in the village of Hope and begins by winding through the country lanes. Generally, the route is roughly paved, so it is passable even in muddy, wet conditions. But it's well signposted and quite easy to follow!
However, there is one steep section you need to tackle, and that's at Back Tor. There's also Mam Tor, which you detour to for an extra challenge, but we'll cover that one a bit later.
Here, you'll be walking past ancient walls, old monuments, through farmers' fields populated with sheep, and winding through forest tracks. It's idyllic, really — like something straight out of The Hobbit.
This is quintessential Peak District!
Length: 13.6 km
Duration: 4 – 5 hours
Difficulty: Moderate
Trailhead: Bowden Lane, Hope (53°21'04.9″N 1°44'36.1″W)
2. Lud's Church Trail – Most Beautiful Walk in Peak District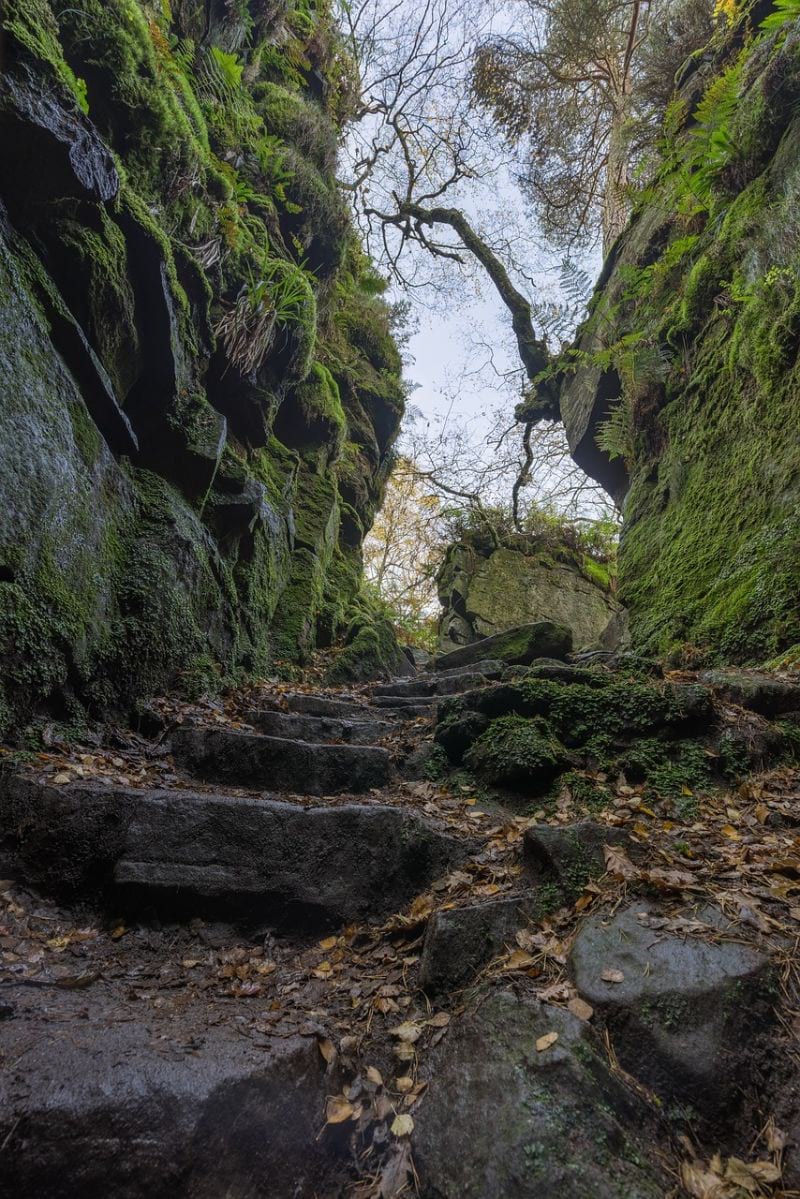 This Peak District walk allows you to explore one of the most mystical, picturesque, and charming spots in the entire park: Lud's Church.
It sounds like an old chapel, we know, but it's actually a narrow rocky chasm that slices through the bedrock. And it's frickin' awesome!
This is a Jurassic, mythical world, where moss covers the towering stone walls and trees wave above the gaps. There are a number of legends associated with this site — and you can really imagine the journeys of old English knights and travelers making their way through.
You'll be starting alongside the scenic River Dane. Following downstream past Gradbach Mill, you'll then be walking the public footpath, close to the river and through some green meadows. Eventually, you'll reach Lud's Church itself.
And don't rush it; not only is the descent into the gorge always slippery, but it's also got some epic atmosphere. Slow is the way to go!
Length: 4.8 km
Duration: 1.5 – 2 Hours
Difficulty: Easy to Moderate
Trailhead: Gradbach Carpark (53°11'34.8″N 2°00'10.3″W)
3. The Boundary Walk – The Best Multi-Day Walk in Peak District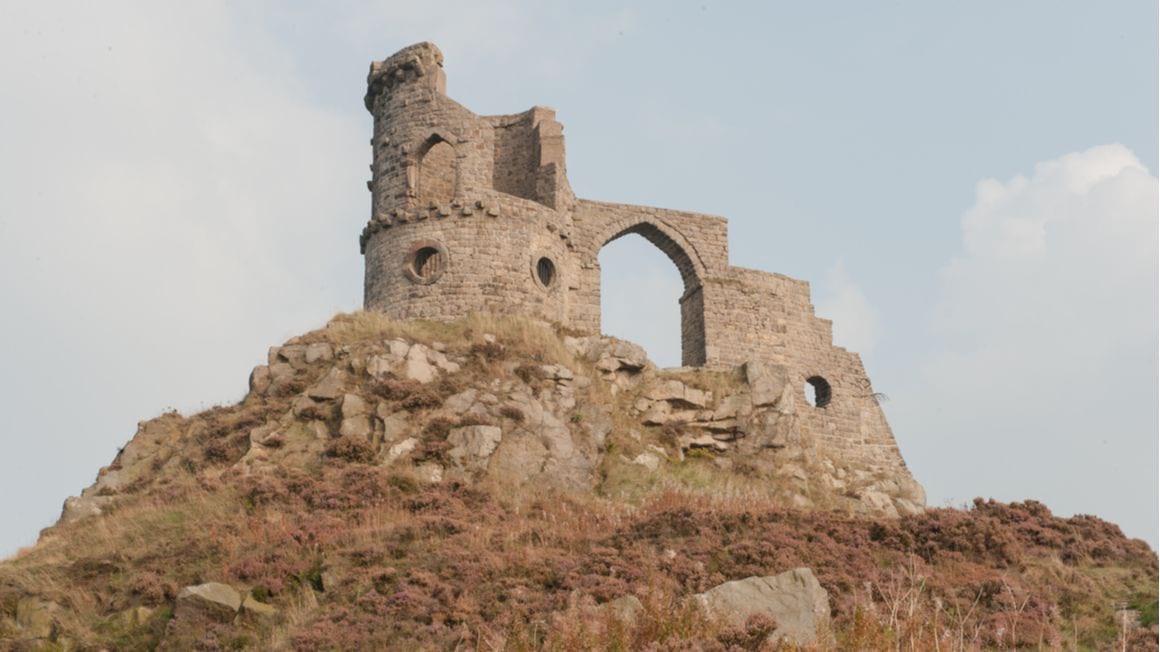 For one of the most epic walks in Peak District, we recommend this beast of a trek. It circumnavigates the entire boundary of the park, taking in some of its more off-the-beaten-track corners along the way.
The route follows old railway lines, footpaths, and a canal towpath. Embarking on this one also means seeing some of the urban fringes around Sheffield and Oldham, as well as the slopes of Cheshire and the moorlands of Staffordshire.
It's divided into 20 sections, each one a good day hike in itself (around 16 kilometers each). Many people choose to tackle it in bite-sized stages, but it is just as possible to complete the whole thing — if you've got the time, that is. Otherwise, just hike for as many days as you wish!
Stage 1 kicks off in Buxton, a town surrounded by the national park. It leads you all the way to Peak Forest, following a centuries-old bridleway and zigzagging down into Deep Dale. Stage 16 — Waterfall to Tittiesworth Reservoir — is one of our favorites. It features a waterfall (duh) as well as some charming villages and churches.
If you do the whole thing, you'll complete the loop back to Buxton in the final leg, Stage 20. There's even a little passport you can get stamped along the way, as proof of your epic journey!
Length: 321 km
Duration: 20 Days
Difficulty: Moderate to Hard
Trailhead: Buxton Town Hall (53°15'25.2″N 1°54'49.9″W)
4. Cromford Walking Route – Must-Visit Walk in Peak District
If you only have time for one of the many walks in Peak District, this one is a great pick. It takes in much of the rich history of the area and offers hikers the chance to stop off at UNESCO World Heritage Sites and amble through charming, quintessentially English villages.
It kicks off near a millpond called Cromford Wharf, and it's a quick stroll from here to Arcwright's Mill. The route then takes you down into the center of Cromford itself, a village built by Richard Arkwright — known as the father of the factory system — for the workers at his mill.
After strolling through the charming streets and quaint shops of Cromford, you'll connect up with the High Peak Trail. This traces a former railway track, which leads down to High Peak Junction along a canal originally built for transporting limestone — all part of the industrial history of the area.
If you want to make it longer, you can continue along the canal to Lea Hurst; a 17th-century farmhouse turned manor that doubled up as Florence Nightingale's summer home. Needless to say, this must-do walk in the Peak District is virtually littered with heritage — and it's charming as hell!
Length: 9.6 km
Duration: 3 hour
Difficulty: Easy
Trailhead: Cromford Wharf (53°06'31.6″N 1°33'19.5″W)
Save $$$ • Save the Planet • Save Your Stomach!
Drink water from ANYWHERE. The Grayl Geopress is the worlds leading filtered water bottle protecting you from all manner of waterborne nasties.
Single-use plastic bottles are a MASSIVE threat to marine life. Be a part of the solution and travel with a filter water bottle. Save money and the environment!
We've tested the Geopress rigorously from the icy heights of Pakistan to the tropical jungles of Bali, and can confirm: it's the best water bottle you'll ever buy!
View on REI
Read the Review
5. Woodland Explorer Walk – A Fun, Easy Walk in Peak District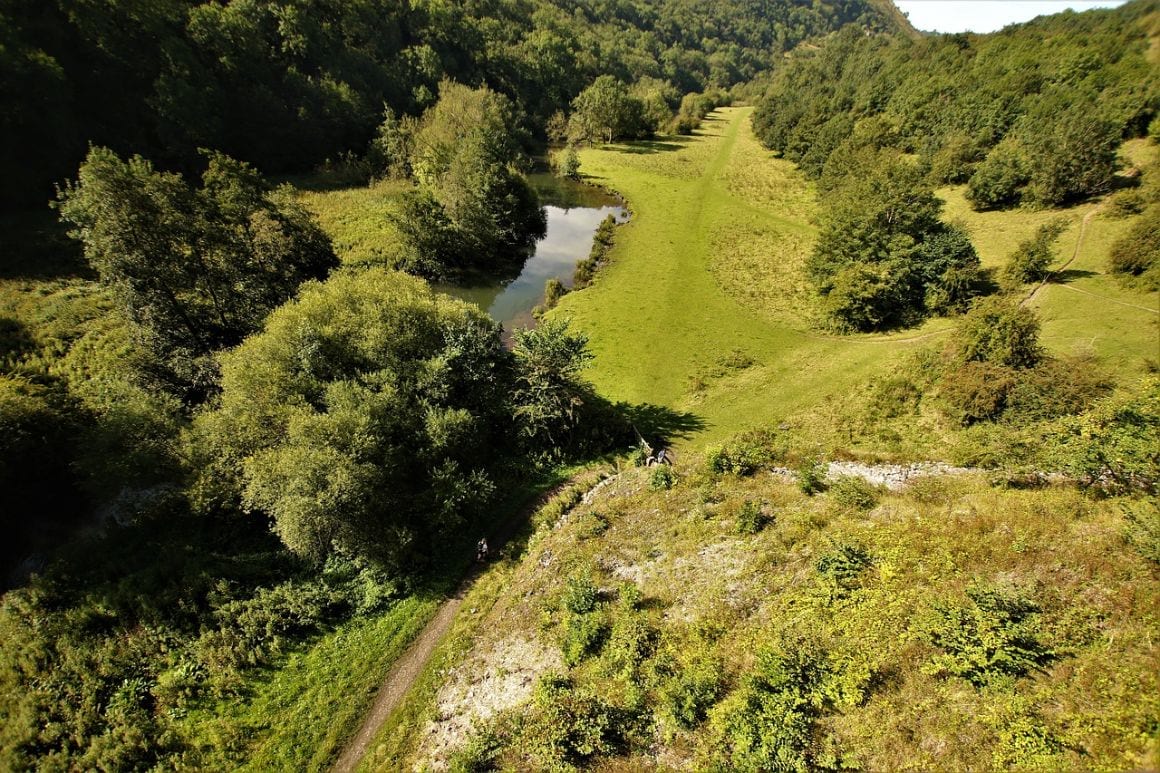 The Longshaw Estate is sometimes referred to as the Gateway to the Peak District. This picturesque area is made up of 1,600 acres of farmlands, moorlands, and woodlands. Perfect for a little countryside ramble!
On this particular trail, you can soak up striking views of the Derwent Valley on a route that runs through ancient woodlands, a medieval archaeological site, and along an old holloway.
From the estate's visitor center, you'll follow a path down towards a pond and an old barn. From there, the charming path runs downhill to a bridge that crosses Burbage Brook to the entrance of Hollowgate.
At the top of the Hollowgate, there's a natural tower of boulders called Owl Tor, which is a pretty good spot to chill for a minute.
After it, the route carries on to Lawrence Field, a medieval archaeological site, before going past a quarry and descending into Padley Gorge. Soon it'll lead you up to a wide-open area strewn with boulders. And voilà!
Length: 4.8 km
Duration: 2 Hours
Difficulty: Easy to Moderate
Trailhead: Longshaw Estate Visitor Centre (53°18'54.9″N 1°36'17.6″W)
6. Kinder Scout Loop – The Toughest Walk in Peak District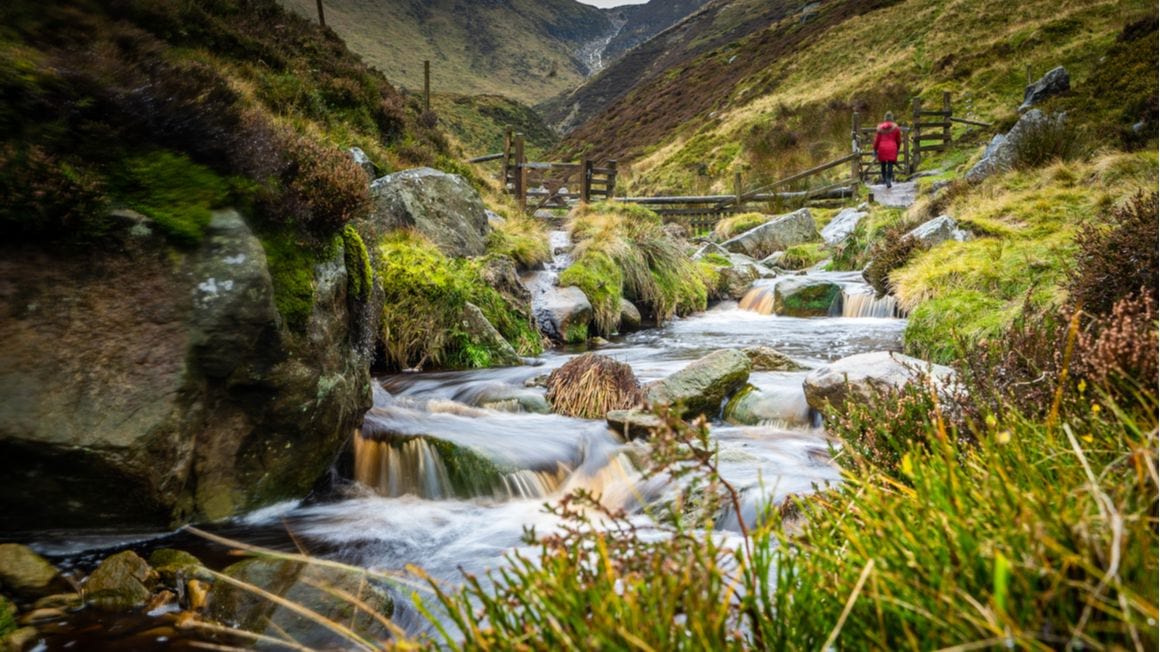 Kinder Scout doesn't sound like a tough trek at all — but trust us, it's quite a challenge. The plateau sits at 636 meters above sea level, making it the highest point not just in the Peak District, but also in Derbyshire and the entire English East Midlands.
From the top of this hill, you can see as far as Manchester, Bolton, and all the way to Snowdonia in North Wales. It's an epic vantage point!
Starting out close to Hayfield, this trail Scout traces a historic route once taken back in 1932, when a mass trespass of what was then private land demanded that hikers be allowed public access to such beautiful spots. This resulted in the UK's "Right to Roam" on any private, uncultivated land.
Lace up your hiking boots and exercise your own right to roam as you trundle along this particularly tough trek to the peak. It's not too hard to follow, but it is definitely challenging in both length and incline.
Length: 14.5 km
Duration: 5 Hours
Difficulty: Hard
Trailhead: Bowden Bridge Carpark (53°22'45.3″N 1°55'42.0″W)
7. Rushup Edge to Mam Tor Route – Best Walk for Views in Peak District
There's no shortage of beautiful views in Peak District National Park. Narrowing down the best hike for views in the Peak District is definitely not easy, but Mam Tor has to be our #1 contender.
Mam Tor, meaning "Mother Hill," is located in the High Peak area and stands at 517 meters above sea level.
The trail kicks off at Barber Booth, with the path running through fields until you reach the hill that is Rushup Edge. After this, you'll climb up a hill and arrive at the Lord's Seat. Prepare for breathtaking expansive views!
From the Lord's Seat, you descend onto the trail that winds along the ridge to Mam Tor itself, before making the short, steep ascent up the stone path to the summit. The scenery on all sides, including the Loose Hill at the far end of the ridge, makes the effort well worth it.
Length: 10.4 km
Duration: 2.5 – 3.5 Hours
Difficulty: Moderate
Trailhead: Barber Booth Carpark (53°21'33.5″N 1°50'22.7″W)
8. The Wild Edges Walk – Best Off the Beaten Track Walk in Peak District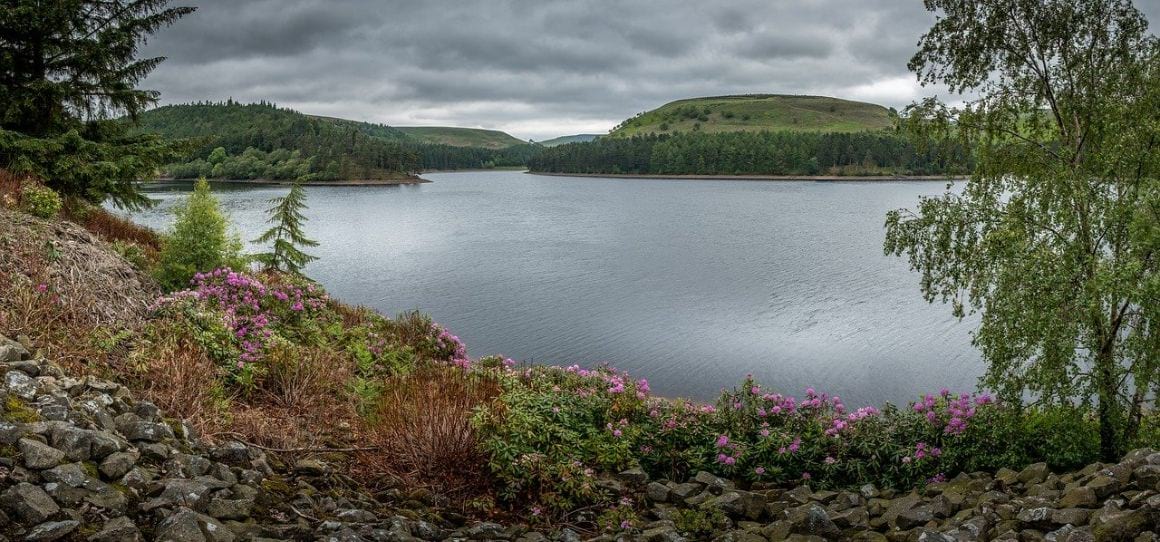 If you really want to get away from the crowds that you can find in some of the Peak District's most popular walks, you need to consider hitting this trail.
It's not necessarily the easiest, but it will have you exploring a lesser-visited corner of the park for some real peace and quiet. It explores wooded pathways through charming villages and up beautiful hillsides.
You start at the Longshaw Estate, and shortly after you'll be heading out into the countryside on this well-marked trail. You'll pass a charming area of woodlands on Froggatt Edge, that gives the trail an extra fantasy touch.
Here you'll find an ancient stone circle dating back to the Bronze Age (five thousand years or so), and further along, the scenery opens up into the vast moorlands known as Big Moor.
Later on, you'll head your way up onto Baslow Edge with views across the valley; sometimes you can see Highland cattle grazing here for a truly picturesque scene!
This is the site of the Eagle Stone, a giant boulder once used by local young men to prove their fitness for marriage. You certainly won't have to do that, but you can also stop nearby for a cheeky picnic!
Length: 12.8 km
Duration: 4-5 Hours
Difficulty: Moderate to Hard
Trailhead: Haywood Carpark (53°17'46.0″N 1°37'04.7″W)
Is This the Best Backpack EVER???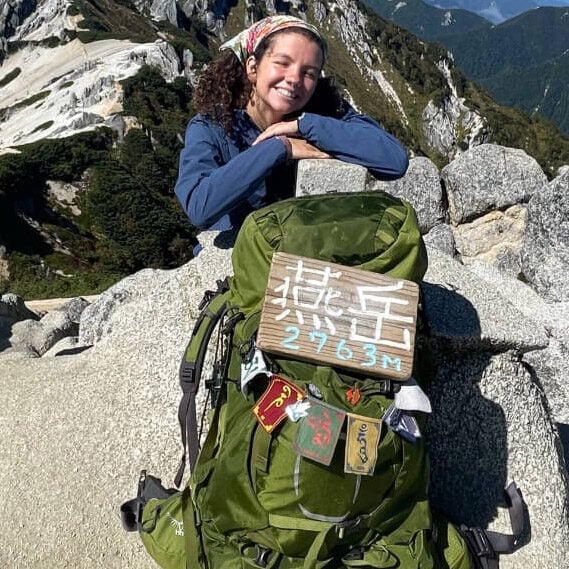 So, there you have it, you've got a good grip on all the best walks in Peak District — now it's just a matter of choosing the one that fits you best!
With all these awesome trails ahead, the next thing you need to figure out is where to stay in the Peak District. It can be tricky because it's hard to pin down the absolute "best" place to stay. It all depends on where you plan to head.
If you prefer cities, you're pretty well served around here. To the west of the park you've got Manchester and Macclesfield; to the east, there is Sheffield and Chesterfield. North is Huddersfield and Leeds, and south is Stoke-on-Trent, Derby… You get the point.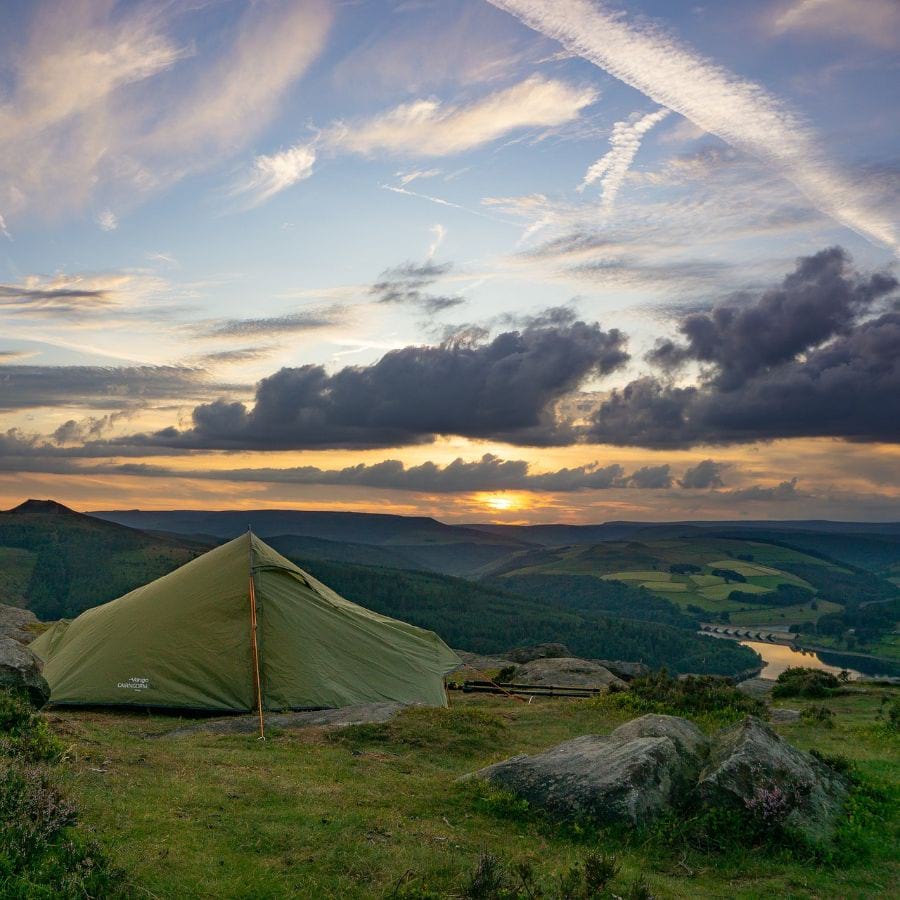 Staying in Manchester is a good option if you like having everything at your fingertips. You're well served with accommodation, plenty of entertainment, and you'll be close enough to the park.
Within the park itself and its immediate surroundings, there are also plenty of small towns and villages where you can crash. With pubs and bed-and-breakfasts, you'll get a more local experience and one that feels that much more wholesome.
Airbnbs dotted around the area do the same. Granted, you may not get to stay in an old English pub (and get the benefits that come with that), but you do get more freedom to come and go as you want.
There are also a few official campsites dotted around, in case you're planning to camp in the Peak District. They're mainly in the southern part of the park, and wild camping isn't really a thing here — in fact, it's against the law to do so anywhere in the park.
Spacious Shepherd's Hut in the Peak District – Haddy's Hut
This retreat is an excellent choice for a romantic Peak District getaway. The charming interior creates a warm and inviting atmosphere where you can relax after a long day of exploring. It's situated on a working farm, so you'll also get a little taste of rural England during your stay. Pop the kettle on, light the fire, and put your feet up!
Modern Cottage in the Peak District – The Old Sawmill
The Peak District is packed with stunning conversions and cottages! The Old Sawmill is our top pick: its beautiful balance of traditional interiors and modern furnishings create a stylish yet cozy vibe. Nestled in the center of Bakewell, you'll be rewarded with gorgeous views of the river here.
Luxury Bed and Breakfast in the Peak District – Foxlow Coach House
As one of the few five-star hotels in the Peak District, it's no wonder Foxlow Coach House takes our top spot for B&Bs! The idyllic setting on the outskirts of Buxton makes this the perfect choice for a quaint country retreat in the heart of the Midlands.
From the moss-covered walls of the mystical Lud's Church to the challenge of tackling the highest peak in the park, each of these trails is as amazing as the next. But before you get out there, take a second to think about what to pack.
Some of the tougher treks might require some more specialized gear, but mostly the walks in Peak District require just a basic kit that'll keep you safe and happy.
You need to make sure you're prepared for all weather conditions: waterproof and windproof jackets are a must for all seasons. In the winter, make sure you have a good coat, thick socks, gloves, and a warm hat.
The wet ground and cold temperatures that come with winter also mean wearing proper hiking boots. Whatever you get, just make it has a good grip and is waterproof!
Make sure the bag you're carrying is comfortable and fits you properly. Get a stash of snacks, a nice head torch, and a handy first aid kit.
And water. Drink that shit! You may not always be able to find places to fill up on potable water along the way, so do think about getting a filter water bottle — that way, you can drink from ANYWHERE.
Here's a rundown of the ultimate essentials:
Trekking Poles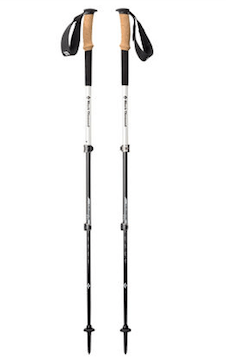 Trekking Poles
Black Diamond Alpine Carbon Cork
Price > $$$
Weight > 17 oz.
Grip > Cork
Headlamp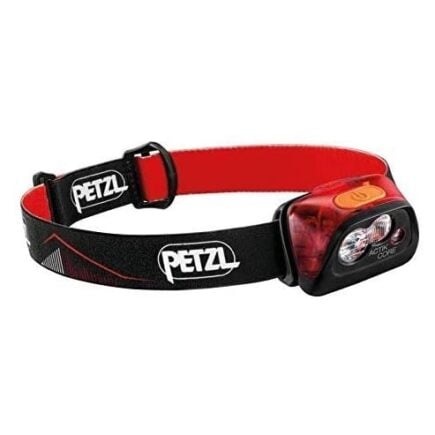 Headlamp
Petzl Actik Core Headlamp
Price > $$
Weight > 1.9 oz
Lumens > 160
Hiking Boots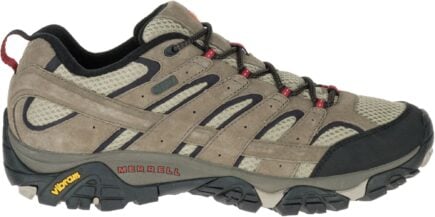 Hiking Boots
Merrell Moab 2 WP Low
Price > $$
Weight > 2 lbs 1 oz
Waterproof > Yes
Daypack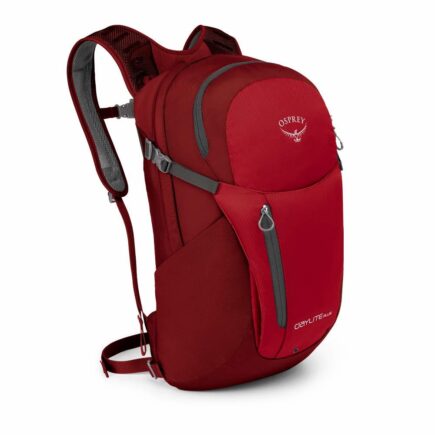 Daypack
Osprey Daylite Plus
Price > $$$
Weight > 20 oz
Capacity > 20L
Water bottle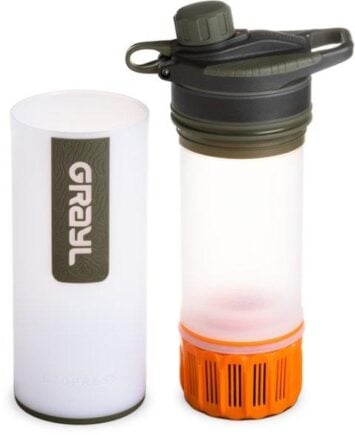 Water bottle
GRAYL Geopress
Price > $$$
Weight > 16 oz
Size > 24 oz
Backpack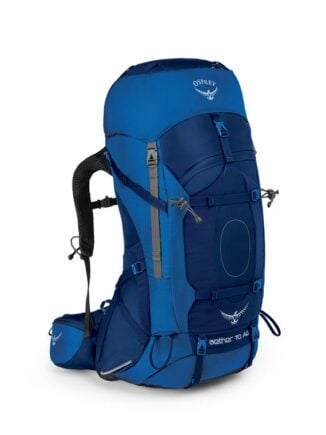 Backpack
Osprey Aether AG70
Price > $$$
Weight > 5 lbs 3 oz
Capacity > 70L
Backpacking Tent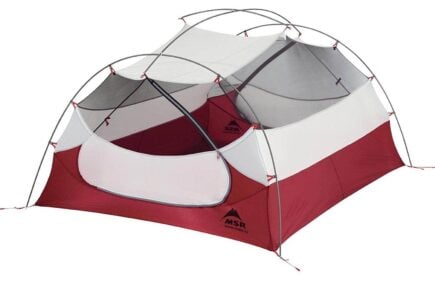 Backpacking Tent
MSR Hubba Hubba NX 2P
Price > $$$$
Weight > 3.7 lbs
Capacity > 2 person
GPS Device
GPS Device
Garmin GPSMAP 64sx Handheld GPS
Price > $$
Weight > 8.1 oz
Battery Life > 16 hours
---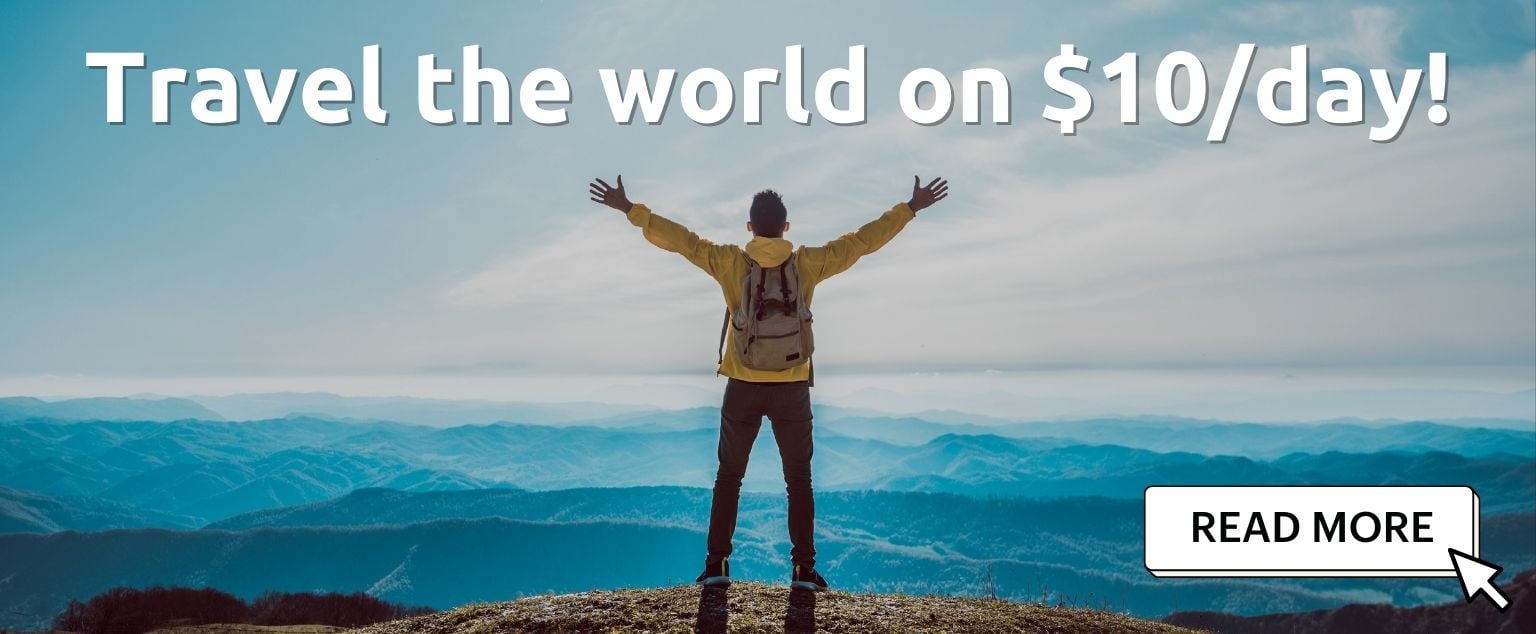 And for transparency's sake, please know that some of the links in our content are affiliate links. That means that if you book your accommodation, buy your gear, or sort your insurance through our link, we earn a small commission (at no extra cost to you). That said, we only link to the gear we trust and never recommend services we don't believe are up to scratch. Again, thank you!