London is ineffable.
Created by a bunch of pagan Italians, savaged by a rogue bread guy (1666) and refurbished through the wonky morals of the British Empire, London has a history that is utterly perplexing.
Of course, none of this helps you with the inexorable bane of travellers, the eternal question: Where in Mary's holy heels are you going to find a cheap piece of foam, a tin roof, and companionship for the cold winter nights?
Thankfully, I have collected an excellent array of the best hostels in London, created to wow, surpass expectations, and prove the British are still able to have fun. Failing that, you might at least enjoy the crassness of my salesmanship.
Let us roam the soggy streets of London…
Quick answer: The Best Hostels in London

Do You Want to Travel FOREVER??
Pop your email in below to get a FREE copy of 'How to Travel the World on $10 a Day!'.
What to Expect from Hostels in London
It is a little-known fact that in order for someone backpacking though London to enter into this great capital, they must be dressed to the 9s.
Or at least it would be fun if everyone was. Alas, London is home to just as many underdressed and slightly dirty backpackers as any other city on the planet, perhaps more. With a deadly roster of outstanding places to visit, excellent opportunities for chaos, and a bunch of places to sit down and get wonky, it is one of the most visited cities on Earth.
And while this can be bad for queues, prices and the occasional weak claustrophobic, it also means there is a bucketload of backpacker accommodation. Some are cheap, some are fun, some will keep you up until you are as mentally capable as a computer from the 1940s.
So even if you kill plants in your free time, eat raw garlic, or have multiple excellent personalities, there will be a hostel out there for you. Do you want to be near the primary London activities? Have a bar downstairs? Eat communal dinners? I'll leave that up to you…
The 5 Best London Hostels
Okay, without further filler, let us tackle the top 5 hostels in London, so we can move on to better things. Like building a legendary London itinerary…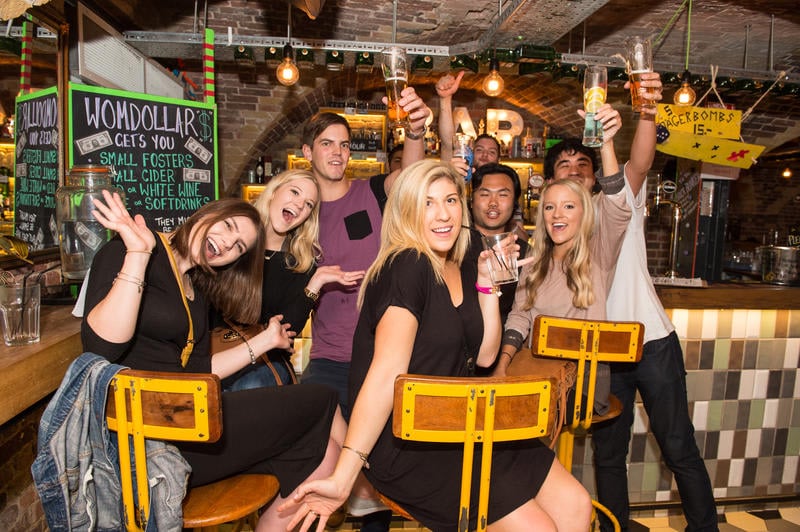 Making the call on the overall best hostel in London was easy, of course, it's Wombats City Hostel, London! The Wombats team have won countless awards for their top-notch service and on-point hostel vibe.
With an on-site bar and tons of board games, there's never a dull moment around here and you'll make plenty of friends. You can find Wombats right in the heart of London which is partly why it is one of the most recommended hostels in the city! Light, bright and still cosy enough to relax, there's a place for everyone at Wombats City Hostel, London!
Why you'll love this hostel:
Evening Entertainment
Prime Whitechapel Location
Buffet Breakfast
This top-rated hostel is fast becoming one of the best London hostels, and a backpackers' favourite. Wombats City Hostel is one of the few places that has kept its cleanliness, value and amazing hospitality over the years. It's one of the cheapest hostels in London and is great value for money.
You can choose from three different room types: dorms (mixed or female only), private double rooms or private single rooms. And the best thing is: they all have their own private shower! No more sharing a smelly bathroom with loads of other travellers.
If you want to meet like-minded travellers, no place is better than the on-site bar. Share travel stories over an ice-cold beer and relax in the courtyard or comfy lounge. You'll be located in a prime spot in Whitechapel, close to the famous Tower Bridge, Tower of London and the iconic Wilton's Music Hall. With the free city map, it'll be a breeze to get around and explore the rest of London's top attractions as well.
2. Best Hostel for Solo Travellers in London – Hostel One Notting Hill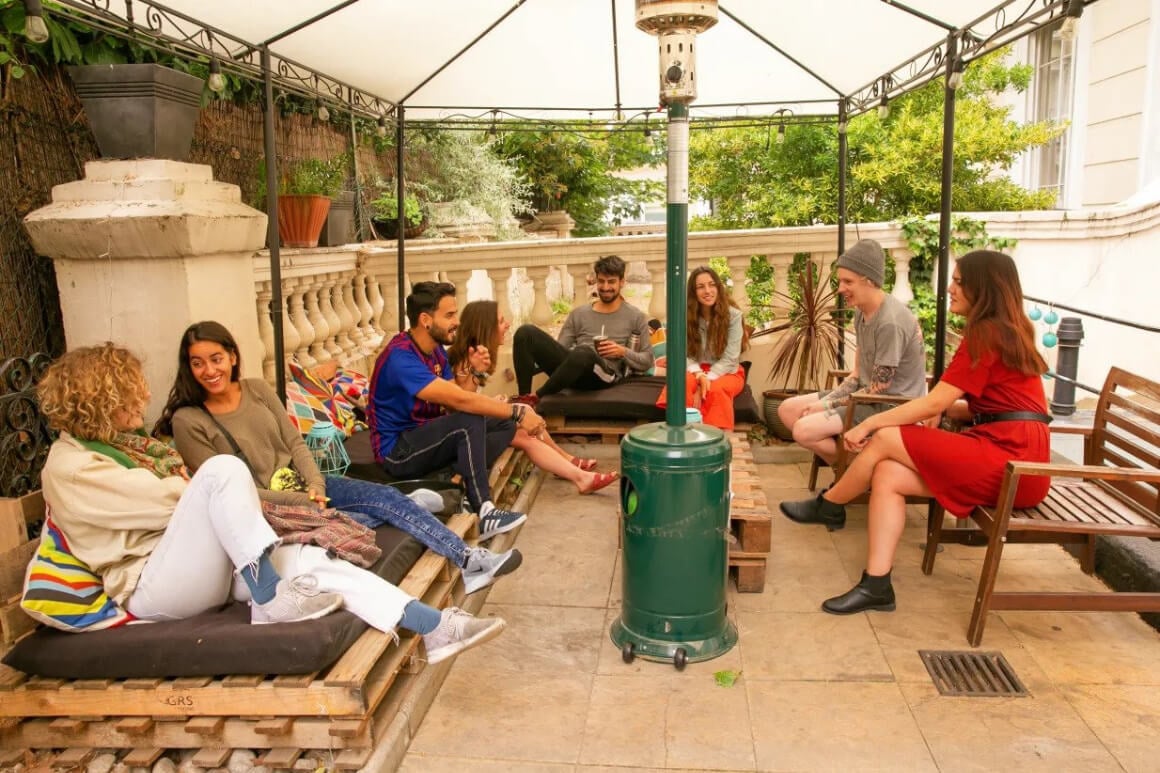 Incredible social atmosphere
Notting Hill!
Hostel One is genuinely one of the best hostels in London, no questions asked. The staff and setup make it super easy for solo travellers to meet new people, get involved, and live it up in London! To help make this easier, staff often cook dinner for guests, and there is a great choice of common spaces to put you in the right mood!
If you are looking to be social and explore London in the right way, this hostel is a great choice. While the prices are typically London hostel, the group dinners, activities, and atmosphere contribute to some serious value for money.
Why you'll love this hostel:
Multiple hangout zones
Drinking games and pub crawls
Free communal dinners
The location is still top-notch (Notting Hill), with major attractions like Hyde Park and Kensington Palace just a short walk away. Other parts of London can be reached via the London Underground, which will take you all over the city! If you're only staying for a cheeky London weekend, you should be able to cover all the bases.
The hostel does operate amongst some great parties, but there is also a very active and social vibe, meaning that there is more to do than just wait for the following evening. Although you can do that too.
There is a fully equipped kitchen, laundry facilities, personal lockers, outlets and lights on bunks, and private room availability. Sadly (or not) they also have a strict 18-36 policy. If you're travelling outside these bounds, there ain't no room at the inn. Sorry!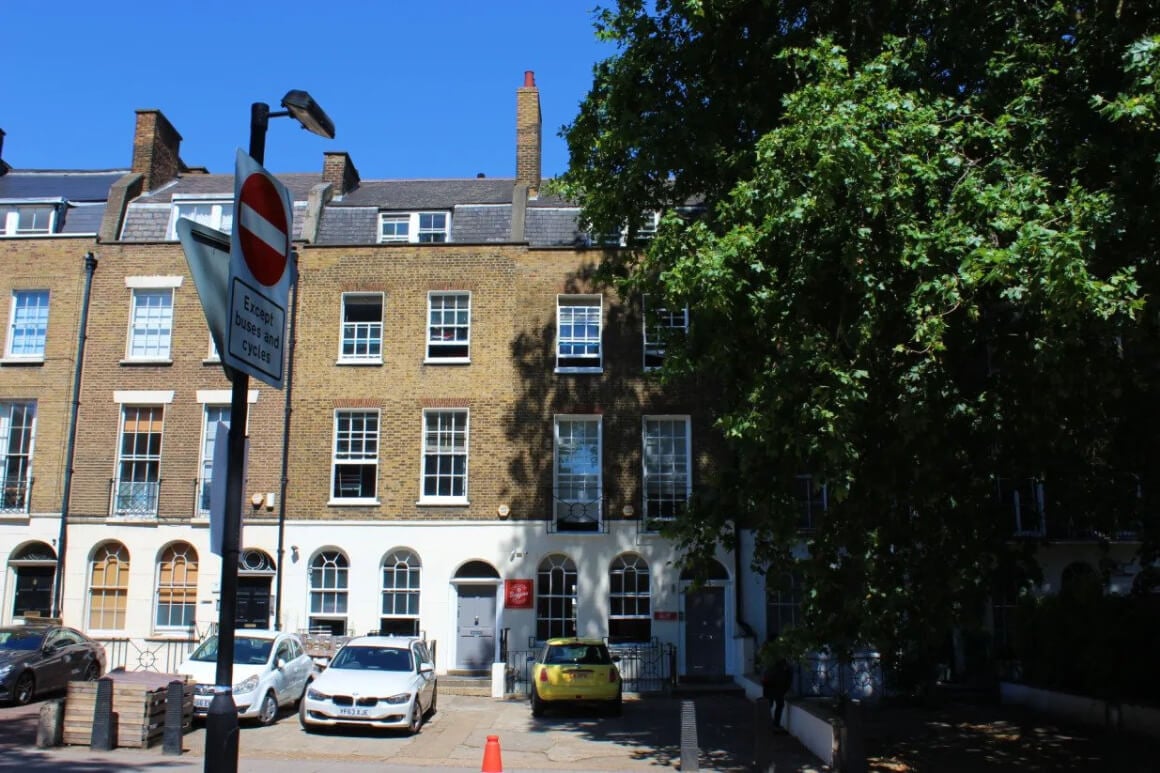 Cheaper than other hostels
Evening events
Next to top nightlife (Upper Street/Shoreditch)
Comfy setting
If you're looking to extend that backpacker budget as far as it can go (and it is no secret the costs of London are high), you'll want to stay at Prime. While there remain many cheaper options, none will be as comfortable, accommodating and classy as this London Hostel.
Another factor which makes this stay a great choice is the Angel underground station, which is only 150 metres away! You can ride into the excitement and buzz of London whenever you fancy. There is a super common room, a massive well-equipped kitchen, and a barrage of pubs nearby…
Why you'll love this hostel:
Close to unbelievable nightlife
Cheap
The underground is super close!
There is free high-speed wifi, free tea and coffee all day and lockers for making sure your stuff stays safe! There is both male and female dorm availability. And private rooms.
You can get involved with the activities that are run at the hostel regularly, including game evenings, movie nights and delicious dinners. Of course, the staff will be happy to offer advice about exploring London too!
The thing about going any cheaper is that you will undoubtedly compromise with unsavoury characters, a low-tier location, and administrative mix-ups. This hostel is the perfect balance of money sensitive, well-located, and straightforward. Definitely one of the best cheap London hostels. Thank me later 🙂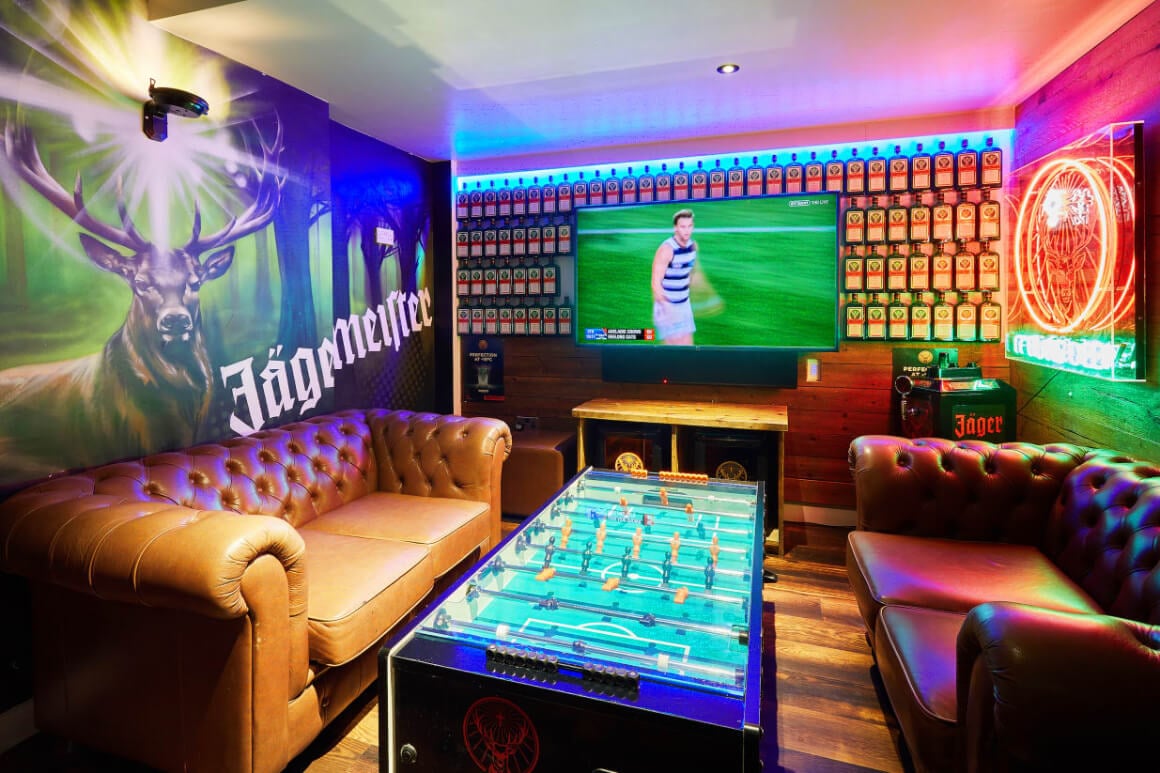 'Place to go if you are young and want to have fun'
One of the best party hostels in the world
UK's first capsule hostel
Rooftop chill zone
Regardless of the title of 'best party hostel in London', this hostel is host to excellent facilities. There is a restaurant, bar, nightclub, common room, and rooftop chill area. If you fancy throwing caution to the wind and getting exceptionally loose, this is where you should do it.
The hostel's party bar (Belushi's) offers a range of live events, from local bands to ear-melting DJ sets. Even if you want to go elsewhere, the quality of hostel connections is astounding, with two London Tube stops nearby.
Why you'll love this hostel:
Top-tier partying facilities
Two underground stops nearby
World-class burgers
The capsule bed formula means that you can get your own mood lighting, locker, outlets and night lights. It is also a little more private than an average hostel bed, although there are those available too.
If you head downstairs to the dugout, you can indulge yourself in live sports and some truly awesome burgers. There is an area for making basic food but isn't well equipped enough to be a proper kitchen. Tea and coffee are no trouble though!
There are board games, free wifi, washing facilities, and high standards of cleanliness. If you get tired of eating burgers, you can always head out on a London food tour. A class A method of staving those hunger pangs…
5. Best Hostel for Digital Nomads in London – The Walrus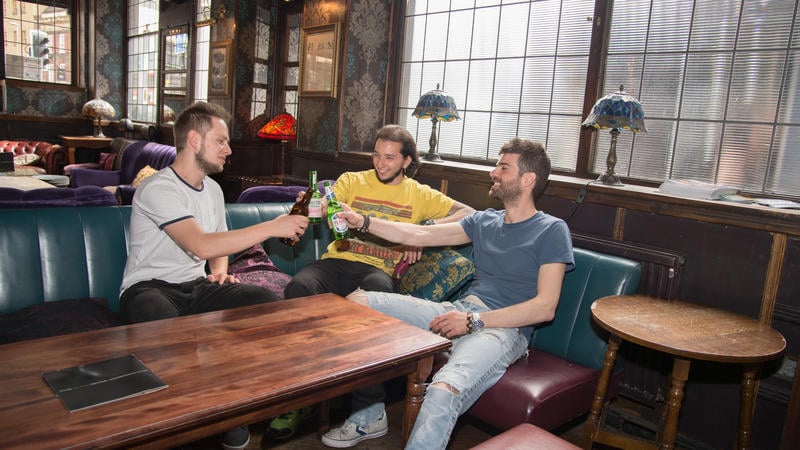 Towels Included
On-Site Bar
The top hostel for digital nomads in London is The Walrus because it's quirky and charming, but quiet enough that online workers can knock the work out before exploring the city.
Digital Nomads are a bit different from budget backpackers, they're usually looking for somewhere interesting to pitch up for a little while so they can knuckle down to work. This certainly fits the bill, and if you ever need a change of scene, great transport links make it an awesome place for taking down London daytrips!
Why you'll love this hostel:
Super spacious dorms
One of the best locations in London
Amazing staff
Luckily, The Walrus Hostel offers you everything you could wish for as a Digital Nomad. Starting with the onsite pub (which has its own unique style by the way), you can sit behind your laptop all day without being disturbed. However, at night it turns into a great local spot that is ideal to socialize, sip on a couple of affordable drinks and make new friends.
The rooms at Walrus Hostel are worth a mention themselves. The super spacious and bright dorms are some of the cleanest and nicest in London according to previous guests.
On top of that, you can also enjoy a complimentary breakfast every morning – the perfect way to start the day. Once you're recharged, head out to explore London. You'll find yourself in a super convenient location, within walking distance of all major attractions.
Is This the Best Backpack EVER???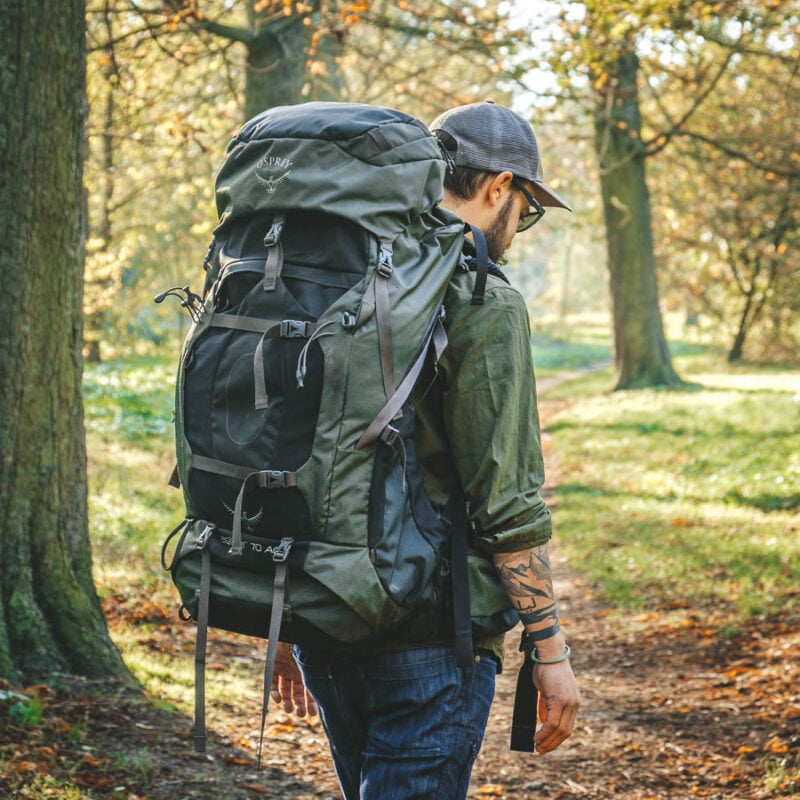 But we ain't done yet! If you have questioned my choosing skills (which is unlikely because they are wicked) there are some extra great juicy options right here…
Or you could grab a hotel with a hot tub? DISCLAIMER: not a backpacker option 🙂
Self-Catering Facilities
Luggage Storage
Urbany Hostel London is another good London hostel with a great location in Notting Hill. With dorm rooms hosting up to 8 people, solo backpackers are definitely gonna find new buddies at Urbany.
Perhaps you prefer a bit less chaos in your sleeping space? No worries! Urbany has private rooms available too. The communal area has plenty of seating and places to hang out, making it the perfect place for travellers looking to find some drinking buddies or a coffee companion.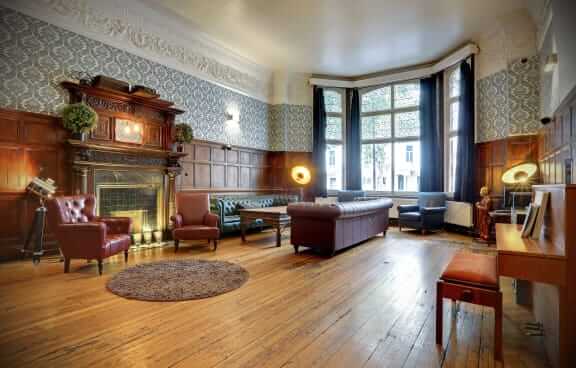 Vending Machines
Laundry Facilities
Centrally located and full of quaint antique furniture. This is the epitome of a storybook, an old English home. Astor Hyde Park is the last of my picks because I am saving one of the best, for last. This award-winning hostel in London has clean dorm rooms offering guests enough room to wriggle and secure storage lockers.
Astor Hyde Park is one of the finest hostels for backpackers visiting the English capital who want to experience history at its finest.
Located in South Kensington, you're only a stone's throw away from The Natural History Museum and Victoria and Albert Museum, as well as the stunning Kensington Gardens.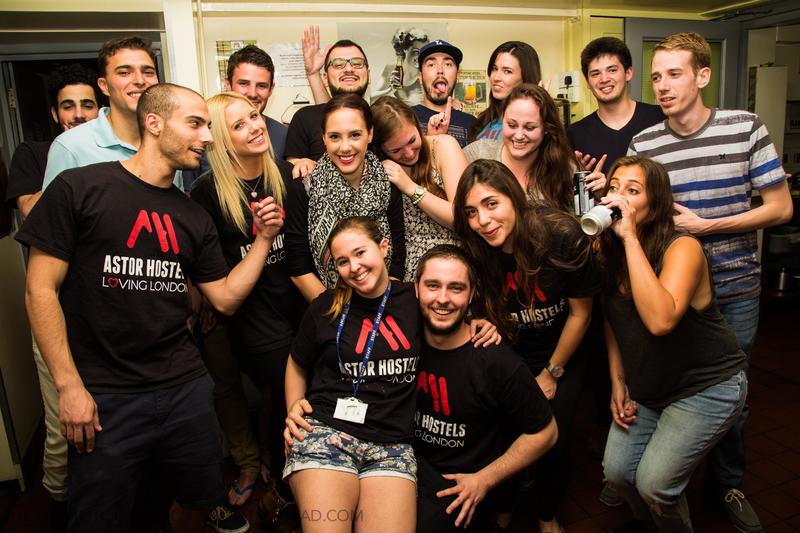 Priding itself on its service and good vibes, Astor Victoria is a little more civilised than other hostels. Although breakfast isn't free, guests are invited to donate £1 to charity and then fill their boots with the breakfast spread. The staff are super helpful and vow to give extras for free, if not, then for as cheap as possible.
They have comfortable, albeit simple, private rooms for one or two coming in at a good price. It's the top of London's hostels with a private room offering travellers a bit more privacy.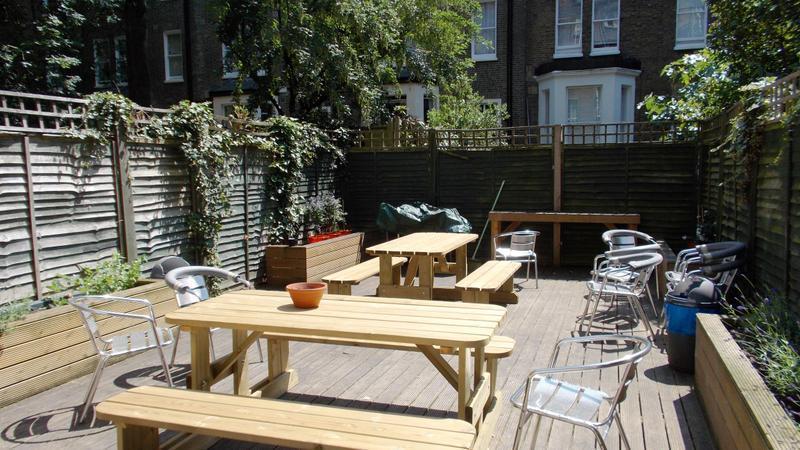 Self-Catering Facilities
Ultra-Fast WiFi Throughout the Hostel
Another perfect hostel for digital nomads in London coming up! With free breakfast, a great guest kitchen and ultra-fast WiFi throughout the building, Barmy Badger Backpackers is a haven for working travellers.
Barmy Badger has two USB sockets per bed AND two power sockets too, ideal! Free tea and coffee throughout the day are perfect for keeping those creative juices flowing or simply for fuelling the hard graft. The outdoor terrace is lovely if you like working in the fresh air. It's another top backpackers hostel for those who still got a job to do!
Bar & Cafe On-Site
Self-Catering Facilities
Looking for a charming and cheap hostel in London? For those looking to keep costs down, the free breakfast and the clean guest kitchen are ideal. New Cross Inn comes highly recommended is just 15-minutes by bus from the world-famous O2 arena – be sure to check out who is performing while you're in town. The New Cross Inn team are super clued up about London and how to and will give you all the cheap local tips if you ask.
Late Checkout
Laundry Facilities
PubLove @ The Exmouth Arms offers couples a cute and cosy room for a great price and is super close to Euston train station too. As one of the best hostels in London for couples, a stay at The Exmouth Arms is a great opportunity for lovers to escape the busy dorms and enjoy a bit of privacy.
If you're looking to mingle too, you're in the perfect place. The Exmouth Arms is a cracking little pub with a bar that attracts locals and backpackers. This classic British pub is a nice hostel in the city, especially for couples.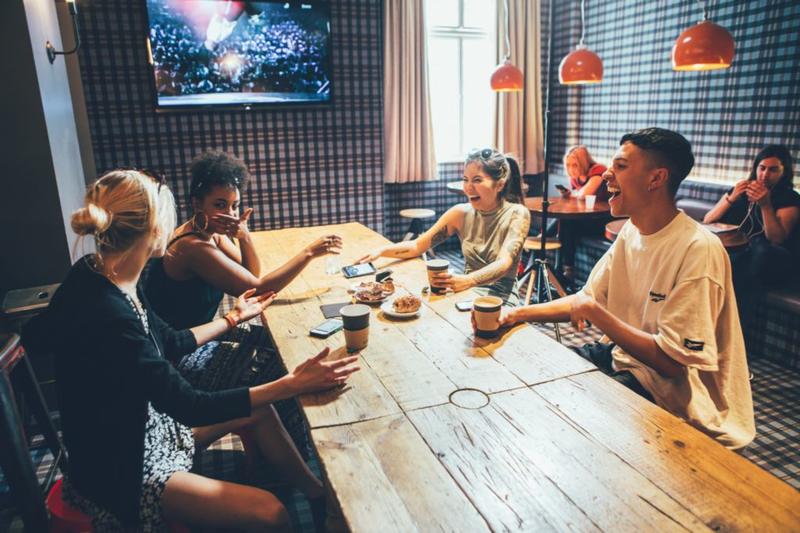 Bar With Pool Table
Restaurant & Cafe On-Site
If you're looking to make some new friends while you're in London you best get yourself to Generator Hostel for it is social and jammin'. No excuses to not get mingling as they have their own bar, restaurant, and mini-nightclub too!
The awesome staff are always on hand to help you figure out travel plans and suggest which of London's landmarks to hit up and when. If you want a classic London backpackers hostel you'll fall in love with Generator!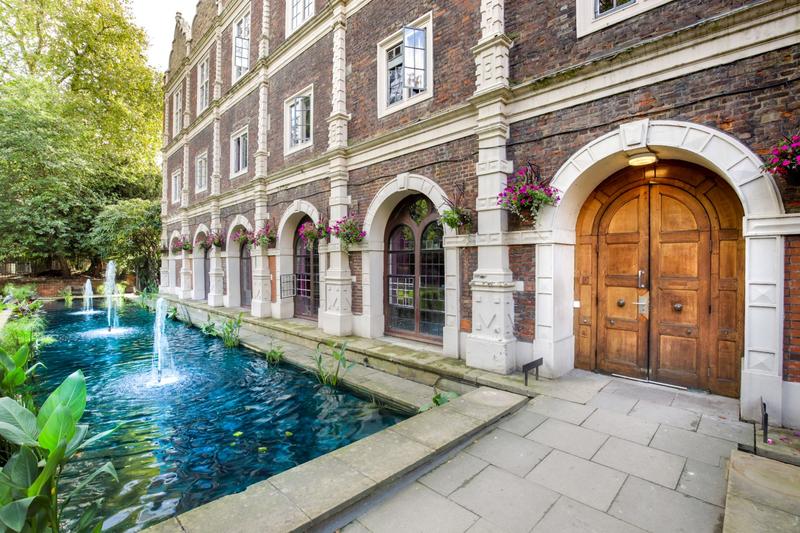 If you're travelling as a big group then you can stop your search now as Safestay is the best London hostel for big groups. The grand old building will make you feel like a king or queen for the night, even if you do opt for a 30-bed dorm room!
If you're headed to London in the summer you'll love exploring the Kyoto Japanese Garden; be sure to try a G&T on the roof terrace too! Sheets and pillows are provided but towels are £2 to hire. Safestay Holland Park is a brilliant youth hostel and the staff are super helpful too.
Travel Safety Tips for London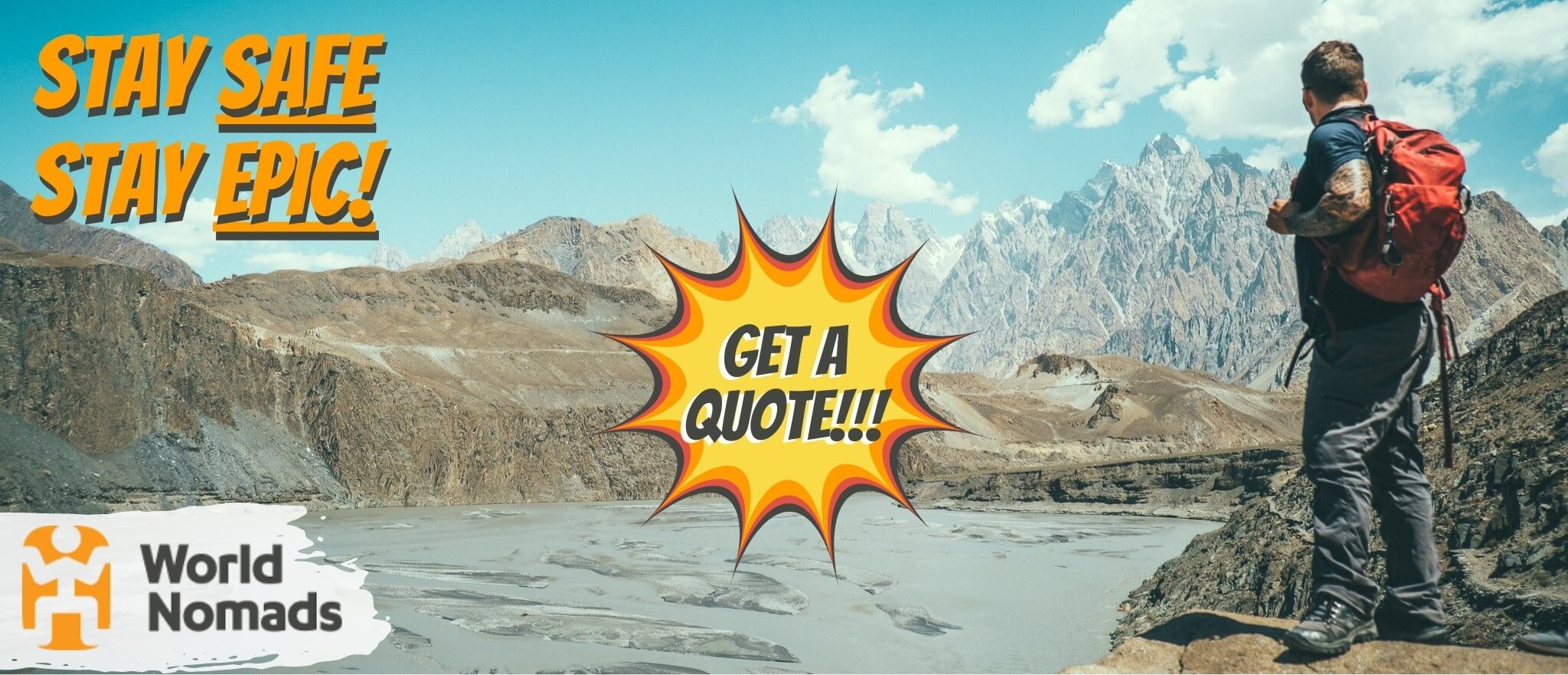 World Nomads' mission is to support and encourage travellers to explore their boundaries. They offer simple & flexible travel insurance, and safety advice to help you travel confidently.
They've been doing it since 2002 – protecting, connecting, and inspiring independent travellers just like you.
Get a quote below or read our in-depth review!
World Nomads provides travel insurance for travelers in over 100 countries. As an affiliate, we receive a fee when you get a quote from World Nomads using this link. We do not represent World Nomads. This is information only and not a recommendation to buy travel insurance.
FAQ on London's Best Hostels
Here's what we're usually asked about the best hostels in London.
Final Thoughts on the Best Hostels in London
And to think this is just the tip of the iceberg! While it's difficult to pick only thirty out of hundreds, I am confident that one of these quality hostels here will be the hostel of your dreams while staying in London.
With the help of this guide, you'll be able to know exactly which of the top hostels best suits your travel, so you can travel through England like a boss while saving some money!
Again, if you still can't decide, our #1 recommendation for the top London hostel is Wombats City Hostel.
If you think I've missed anything or have any further thoughts, hit me up in the comments!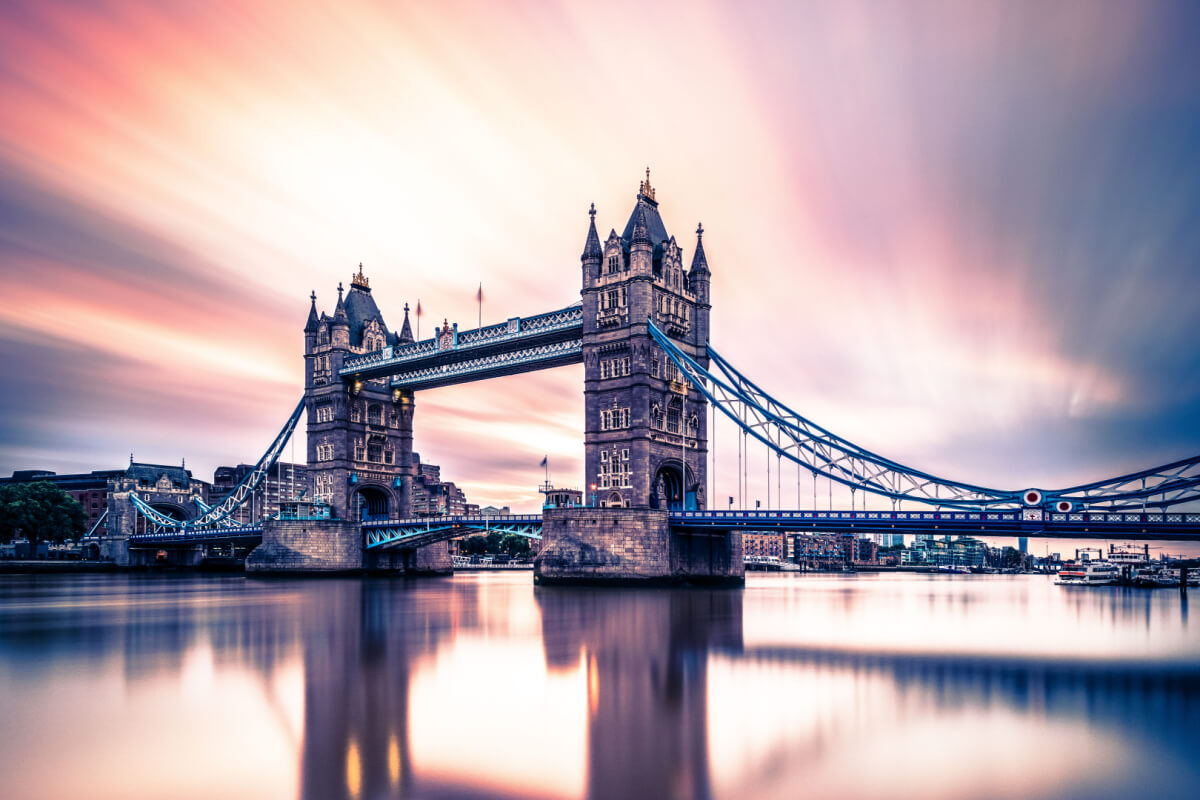 ---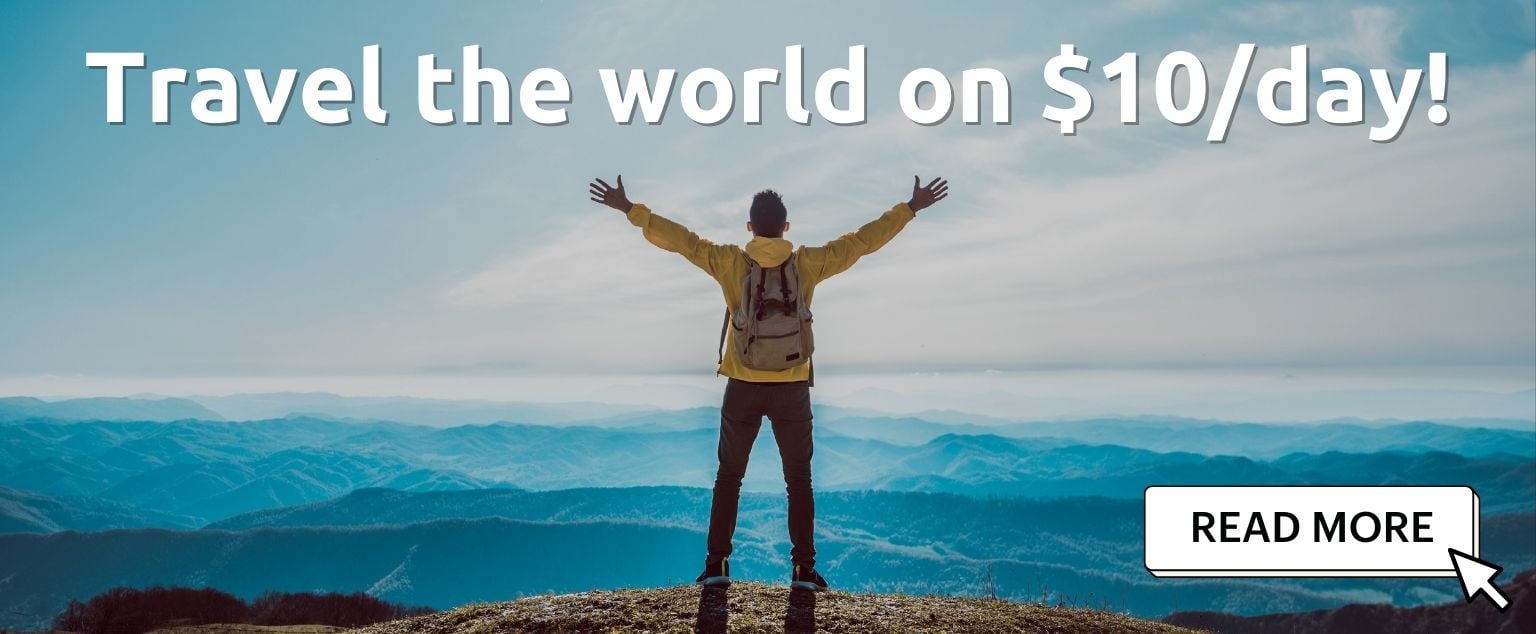 And for transparency's sake, please know that some of the links in our content are affiliate links. That means that if you book your accommodation, buy your gear, or sort your insurance through our link, we earn a small commission (at no extra cost to you). That said, we only link to the gear we trust and never recommend services we don't believe are up to scratch. Again, thank you!