London is an iconic city. Famous for its treasured history, multi-cultural community and unmissable museums and galleries, there is no greater city to spend a week or two than England's capital.
Every year, more than 30 million people flock to the city to see all its world-famous attractions, making it one of the most visited city in the world. It's hard not to see why. 
London has kept a lot of its history, with some of the best preserved architectural buildings in the world. It also has more than 100 museums, Buckingham Palace and the Houses of Parliament complete with the mighty Big Ben make for epic backdrops, and the nightlife is comparable to none. We can all agree, London has it all.
Except one thing: affordability.
Backpacking London is has become favourable in recent years due to the price of accommodation in the city. More and more hostels are popping up, offering the most affordable accommodation and a comfortable nights sleep. 
Whether you're in town to meet some friends to hang out with or just want a cheap place to sleep, there's a hostel for everyone. 
The difficulty is, there are over 200 hostels in London to choose from, and that can be overwhelming. That's exactly why I have created this list of the best hostels in London.
With the help of this guide, I want you to find a place that meet your budget and standards.. This article is organized by travel-needs, so you can find aLondon hostel that best suits you!
So, if you're ready to book accommodation in London, and quickly, let's get at it!
Quick answer: The Best Hostels in London

Do You Want to Travel FOREVER??
Pop your email in below to get a FREE copy of 'How to Travel the World on $10 a Day!'.
What to Expect from the Best Hostels in London
Staying at one of London's epic hostels comes with a lot of perks. Almost always you'll be guaranteed super comfortable beds for a low price, incredibly helpful staff that can tell you all about the city's hidden gems and, most importantly, the chance to meet like-minded travellers and make new friends. The social aspect of hostels is what makes them so special and ideal for backpackers.
Of course, there are different types of hostels in the city. You'll find anything from extremely low-budget and basic, to stylish, luxurious and equipped with amazing amenities. Most of London's hostels are obviously set up for backpackers on a budget, which is why you'll find loads of them offering complimentary breakfast, big dorms, and maybe even free tours or on-site bars and cafes.
When speaking about the costs of a hostel, it'll depend on the location and room type that you want to book.
The further away you are from the centre of the city, the less money you'll have to pay for your bed. There are a few low-budget hostels in the city centre as well, but they're normally so popular that you'll have to book way ahead in order to score a place to rest your head.
Obviously, a private room will cost way more (almost three times as much) than a bed in a big dorm. While dorms are an incredibly good opportunity to meet new people, you won't get a lot of privacy. But for backpacking London on a budget, this will be the best option.
There are a few sleeping pod hostels that offer your own bed in a dorm, but you can close it with a curtain or a blind, so you get at least some space completely to yourself. Below you can see the average price range of private rooms and dorms.
Private rooms: 30-50€/per night
Dorms: 10-25€/per night
You'll find the best hostel options on HOSTELWORLD. There you can check out photos, detailed information about the place and even reviews from previous guests. Just like other booking platforms, each hostel will have a rating, so you can easily pick out the hidden gems. You can also filter for specific needs, like a pool, air-conditioned rooms or free breakfast. That makes it a lot easier to find a place that fits your personal travel needs.
As we've mentioned before, your hostel options will depend on where you're staying in London as well. While you'll find hostels in pretty much all parts of the city, there are a few neighborhoods that are especially known for great hostels.
Covent Garden – the main tourist district
Southbank – perfect for budget backpackers
Soho – for an awesome night out
You'll find the best hostel options on HOSTELWORLD. There you can check out photos, detailed information about the place, and even reviews from previous guests. Just like other booking platforms, each hostel will have a rating, so you can easily pick out the hidden gems. You can also filter for specific needs, like a pool, air-conditioned rooms, or complimentary breakfast. That makes it a lot easier to find a place that fits your personal travel needs.
As I've mentioned before, your hostel options will depend on where you're staying in London as well. While you'll find quality hostels in pretty much all parts of the city, there are a few neighborhoods that are especially known for great hostels.
The 30 Best Hostels in London
I've made you wait long enough! To make the search for the perfect hostel a bit easier, I've listed the top 5 down below (and a few more). Each hostel is good for different reasons, so I'm sure you'll find one that suits your needs from this list.
From the depths of the hostelsphere, we bring you… the Hostel Card!
HostelPass has spent years & years looking for the best places to stay in Europe, and they just came back with something GREAT.
The Hostel Card is a hassle-free solution with up to 25% discount at the most amazing hostels, tours, and experiences. Any-where-you-go.
Don't sleep on the ultimate budget travel card — use code "brokebackpacker" at checkout for 25% off!
Get the Card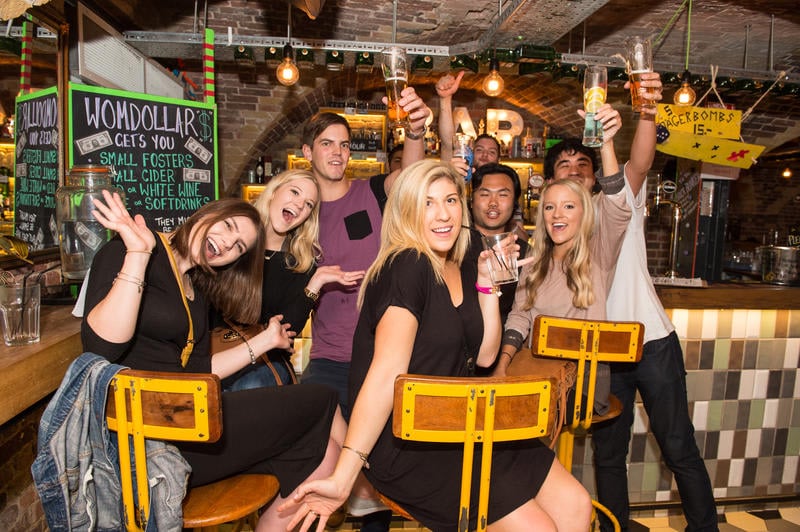 Making the call on the overall best hostel in London for 2021 was easy, of course, it's Wombats City Hostel! The Wombats team have won countless awards for their top-notch service and on-point hostel vibe.
With an on-site bar and tons of board games, there's never a dull moment around here and you'll make plenty of friends. You can find Wombats right in the heart of London which is partly why it is one of the most recommended hostels in the city! Light, bright and still cosy enough to relax, there's a place for everyone at Wombats City Hostel, London! 
Why you'll love this hostel:
Football table, boardgames and pool table
Breakfast Buffet
Free welcome drink
This top-rated hostel is fast becoming one of the best London hostels, and a backpackers' favorite. Wombats City Hostel is one of the few places that has kept its cleanliness, value and amazing hospitality over the years. It's one of the cheapest hostels in London and great value for money.
You can choose from three different room types: dorms (mixed or female only), private double rooms or private single rooms. And the best thing is: they all have their own private shower! No more sharing a smelly bathroom with loads of other travellers.
If you want to meet like-minded travellers, no place is better than the on-site bar. Share travel stories over an ice-cold beer and relax in the courtyard or comfy lounge. You'll be located in a prime spot in Whitechapel, close to the famous Tower Bridge, Tower of London and the iconic Wilton's Music Hall. With the free city map, it'll be a breeze to get around and explore the rest of London's top attractions as well.
Best Party Hostel in London – Clink78
$
Basement Bar and Live Music Venue
Late Checkout
Cheap Breakfast – £4
There are several party hostels offering a top night out, but the best party hostel in London is without a doubt Clink78. This old courthouse building is the perfect party venue, and the basement is where the action is. Throughout the week Clink78 hosts DJ nights and live music too. Complete with unbeatable drinks offers and you're onto a winner.
Why you'll love this hostel:
Discounts on city attractions
Free walking tours and city maps
Prison-cell private rooms
Alright, before you freak out about the prison cells, let me explain! Clink78 offers three different types of rooms: backpacker dorms (mixed or female only), normal private rooms, and the special ones which are former prison cells, but don't worry, they have been renovated and are perfectly comfortable to live in!
Clink78 is a great youth hostel in London that appreciates the shoestring budget many backpackers need. If you're looking to save some cash be sure to use their kitchen rather than fork out on restaurant meals. The breakfast is a steal for just £4.
If you decide to skip the previous night out and want to explore London a bit more, head down to the reception and ask for discounted tickets to the city's top attractions. Since you're located only a couple of minutes from Kings Cross underground, it'll be a breeze to get around the city. Loads of the best hotspots are only a couple of stops away!
Best Hostel for Solo Travellers in London – Hostel One Camden
Pool Table
Self-Catering Facilities
For solo travellers looking to see the more indie side of London and mix with locals and backpackers simultaneously, then Hostel One is the place to book. Hostel One is set above a pub with a fully stocked bar, darts board, pool table and a footie table too. Camden Town is one of the most vibrant areas of the city, a definite place to visit in London especially if you love live music and hipster bars. Hostel One is the place to stay in London to party, to meet new people and to have a great time.
Why you'll love this hostel:
Free dinner (often vegetarian friendly)
Three common rooms 
Free walking tours and bar crawls
As a solo traveller, being in a socially active environment can sometimes be a real-life changer, especially if you're feeling a bit lonely at times. Luckily, with the three common rooms, there's loads of space to share travel stories, meet like-minded travellers, or even get some work done on your laptop. Each common room has its own purpose – for relaxing, working on partying. 
If you're one of the shy backpackers, just join one of the nightly bar crawls the hostel holds and you'll be guaranteed to make friends and get integrated in the group in no time. 
The hostel offers two different room types. Typical dorms with bunk beds and normal private rooms, each of them super spacious, clean and equipped with private lockers. 
You can start the day fully recharged with some free coffee and a super cheap breakfast. But that's not all! On top of that, you'll also get free vegetarian dinner every night. You'll definitely be taken care of when staying at this amazing hostel!
Self-Catering Facilities
Laundry Room
Cheap, cheerful and party central, No.8 Willesen is a fantastic budget hostel. If you're looking to stretch your budget but still party hard, No.8 is the perfect backpacker's hostel for you. 
If you're heading to London for a weekend you'll love the live music put on by No.8; this goes a long way into making it a cheap London hostel to get silly at.
Why you'll love this hostel:
ATM on-site
Amazing common spaces for socializing
Beer garden with BBQ
For digital nomads seeking a budget but buzzing London hostel, you'll be happy to hear No.8 has free, super-fast WiFi for all guests in all corners of the building. You can get a spot of work done between the late-night boogies.
For everyone that's coming to the party, you won't be disappointed either. Order a pint (or maybe 5) from the on-site pub and take it to the outside beer garden. Feeling hungry? Fire up the BBQ and have a tasty dinner while socializing with your bunk bed buddies!
Speaking of, if you prefer to cure your hangover with a bit of privacy, you can book one of the awesome and spacious private rooms. If you don't mind a bit of company, there's always a comfy bed in the mixed dorms.
The only downside of this hostel is the location. You'll find the hostel in peaceful Willesden, northwest London, 20 minutes on the underground from Wembley. Quirky Camden town, with its market stalls and vibrant nightlife, is about a 30 minute trip on the underground – so you do have to travel quite a bit. But it's definitely worth it!
That being said, staying out of the center is the best way to keep the costs of living in London down, and you'll find restaurants and bars will be cheaper nearby this hostel. If you're travelling on a budget, this will really help your wallet out.
Best Hostel for Digital Nomads in London – The Walrus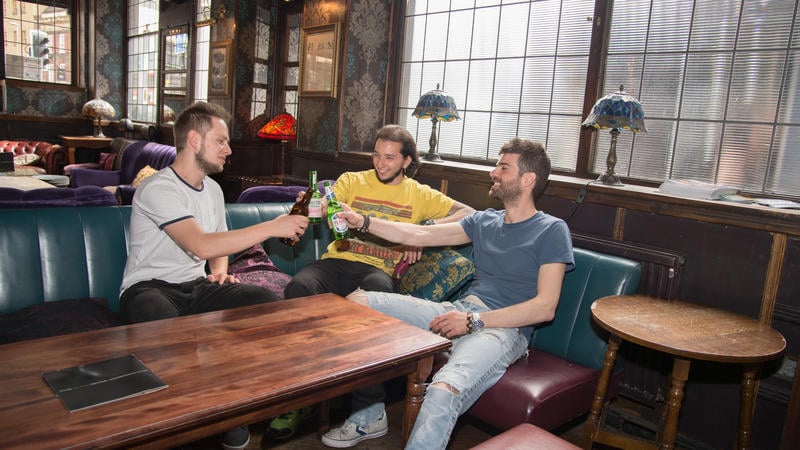 Towels Included
On-Site Bar
The top hostel for digital nomads in London is The Walrus because it's quirky and charming, but quiet enough that online workers can knock the work out before exploring the city.
Digital Nomads are a bit different from budget backpackers, they're usually looking for somewhere interesting to pitch up for a little while so they can knuckle down to work. However, once work is done, there's enough time for exploring the area, so it's not just about fast wifi and a desk.
Why you'll love this hostel:
Super spacious dorms
One of the best locations in London
Amazing staff
Luckily, The Walrus Hostel offers you everything you could wish for as a Digital Nomad. Starting with the onsite pub (which has its own unique style by the way), you can sit behind your laptop all day without being disturbed. However, at night it turns into a great local spot that is ideal to socialize, sip on a couple of affordable drinks and make new friends.
The rooms at Walrus Hostel are worth a mention themselves. The super spacious and bright dorms are some of the cleanest and nicest in London according to previous guests.
On top of that, you can also enjoy a complimentary breakfast every morning – the perfect way to start the day. Once you're recharged, head out to explore London. You'll find yourself in the absolute heart of the city, within walking distance to all major attractions.
Is This the Best Backpack EVER???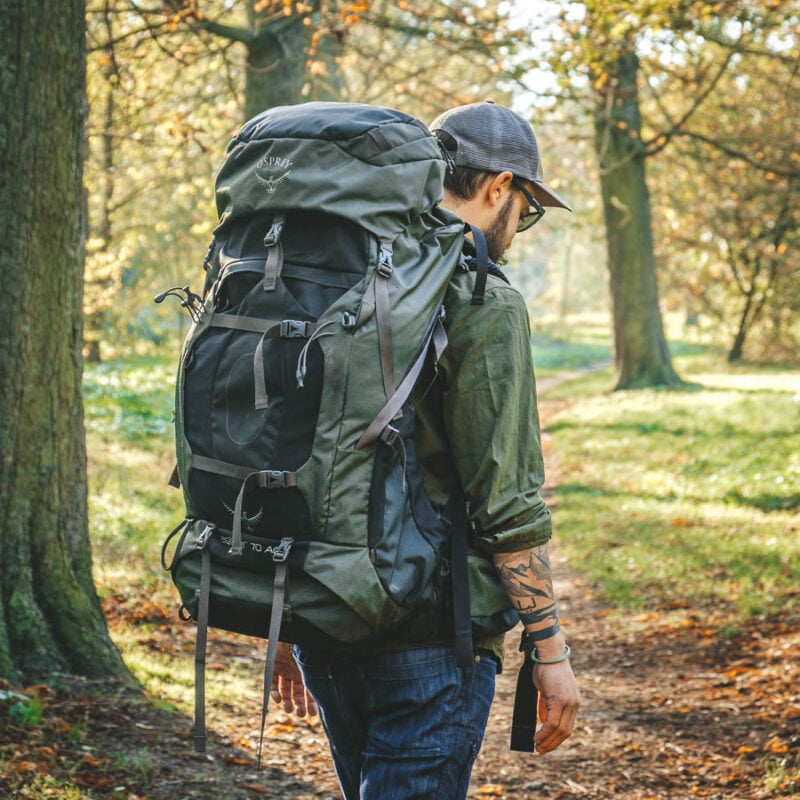 More Epic Hostels in London
Moving away from my favourite picks, here are some more awesome hostels in London! They may not be the best for me, but they are still top-rated places to stay in London. Something in there oughta tickle your fancy!
More Cheap Hostels in London – Rest Up London
$
On-Site Cafe & Restaurant
Laundry Facilities
Pool and Foosball
In some parts of the world, a cheap hostel would mean a grim hostel, that's definitely not the case here. Rest Up is a cheap London hostel that brings the British in spades: there'll be no doubt in your mind where you are when you walk through the door!
Naturally, the bigger dorms are the cheaper dorms, so if you're happy to share with 32 other people you'll save yourself some cash to splash when you hit up Camden markets! Rest Up is easily the best budget hostel in London, if only for the fact it is bang in the middle of Zone 1.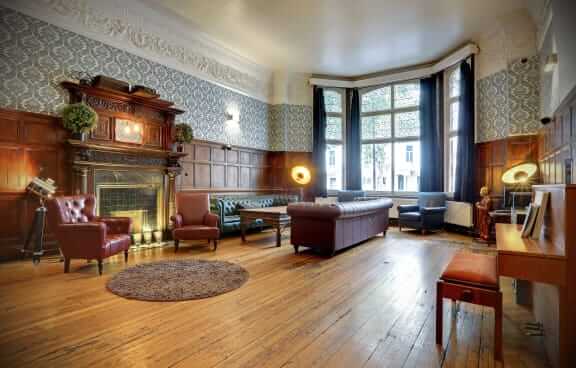 Vending Machines
Laundry Facilities
Centrally located and full of quaint antique furniture. This is the epitome of a storybook, an old English home. Astor Hyde Park is the last of my picks because I am saving one of the best, for last. This award-winning hostel in London has clean dorms rooms offering guests enough room to wriggle and secure storage lockers.
Astor Hyde Park is one of the finest hostels for backpackers visiting the English capital who want to experience history at its finest.
Located in South Kensington, you're only a stone's throw away from The Natural History Museum and Victoria and Albert Museum, as well as the stunning Kensington Gardens.
Best London Hostel for Couples – SoHostel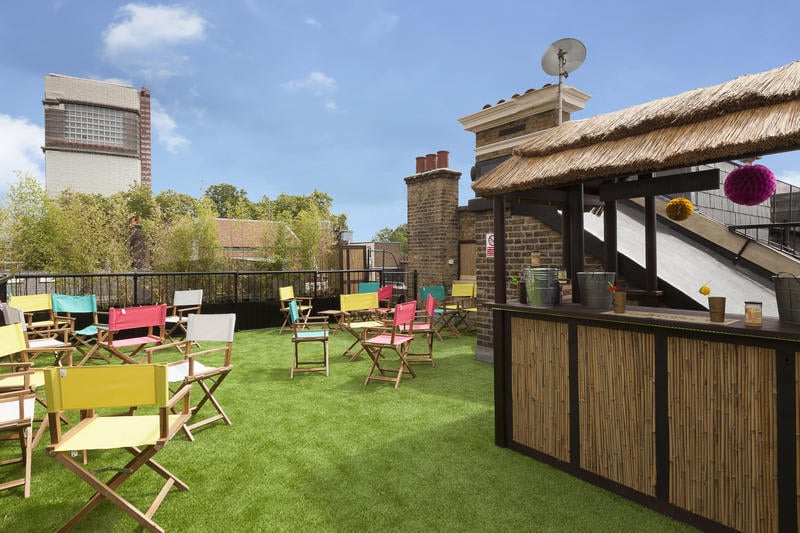 On-Site Bar and Roof Terrace
Tours & Travel Desk
The best London hostel for couples has to be SoHostel. With both dorms and private rooms available, couples have the option of nabbing a bit of privacy! The added bonus of SoHostel is the complimentary breakfast which makes the slightly punchy price tag a little easier to swallow, as does someone to share a room with.
The cool and colourful roof terrace, complete with fake grass, is a great spot for a date night overlooking an illuminated London. SoHostel is considered to be one of the best London hostels so whether you're travelling as a couple, solo travelers, or with your crew be sure to check out SoHostel.
Best Hostel with a Private Room in London – Astor Victoria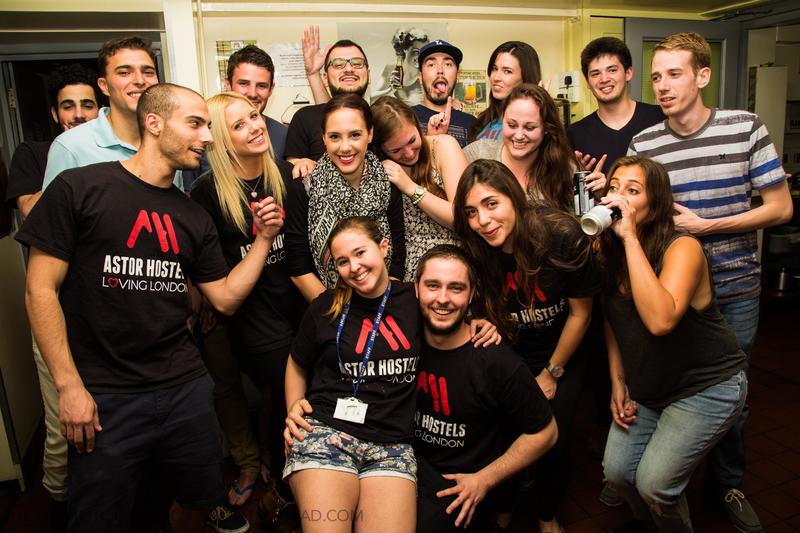 Astor Victoria prides themselves on their service and good vibes. Although breakfast, isn't free guests are invited to donate £1 to charity and then fill their boots on the breakfast spread. The staff are super helpful and vow to give extras for free, if not, then for as cheap as possible.
They have comfortable, albeit simple, private rooms for one or two coming in at a good price. It's the top of London's hostels with a private room offering travellers a bit more privacy.
Another Top Hostel in London for Working Travellers – Barmy Badger Backpackers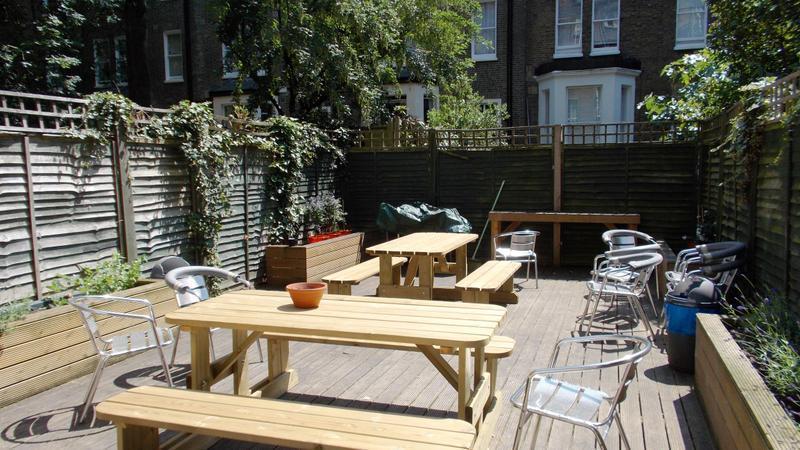 Self-Catering Facilities
Ultra-Fast WiFi Throughout Hostel
Barmy Badger Backpackers is another perfect hostel for digital nomads in London. With free breakfast, a great guest kitchen and ultra-fast WiFi throughout the building, Barmy Badger is a haven for working travellers.
Barmy Badger has two USB sockets per bed AND two power sockets too, ideal! Free tea and coffee throughout the day is perfect for keeping those creative juices flowing or simply for fuelling the hard graft. The outdoor terrace is lovely if you like working in the fresh air. It's another top backpackers hostel for those who still got a job to do!
Bar & Cafe On-Site
Self-Catering Facilities
Looking for a charming and cheap hostel in London? For those looking to keep costs down, the free breakfast and the clean guest kitchen are ideal. New Cross Inn comes highly recommended is just 15-minutes by bus from the world-famous O2 arena – be sure to check out who is performing while you're in town. The New Cross Inn team are super clued up about London and how to and will give you all the cheap local tips if you ask.
Self-Catering Facilities
Luggage Storage
Urbany Hostel London is another good London hostel with a great location in Notting Hill. With dorm rooms hosting up to 8 people, solo backpackers are definitely gonna find new buddies at Urbany.
Perhaps you prefer a bit less chaos in your sleeping space? No worries! Urbany has private rooms available too. The communal area has plenty of seating and places to hang out, making it the perfect place for travellers looking to find some drinking buddies or a coffee companion.
Late Checkout
Laundry Facilities
PubLove @ The Exmouth Arms offers couples a cute and cozy room for a great price and is super close to Euston train station too. As one of the best hostels in London for couples, a stay at The Exmouth Arms is a great opportunity for lovers to escape the busy dorms and enjoy a bit of privacy.
If you're looking to mingle too, you're in the perfect place. The Exmouth Arms is a cracking little pub with a bar that attracts locals and backpackers. This classic British pub is a nice hostel in the city, especially for couples.
The Best Cheap Hostel in London for Couples – Abercorn House
$
Self-Catering Facilities
Laundry Facilities
Outdoor Terrace
Abercorn House is the best London hostel for couples on a tight budget. With private rooms for under £35 a night throughout the year you really can't find better than Abercorn House. Basic it may be but it's super budget-friendly, ultra-clean, and ideally located as a Central London hostel.
Being in the Hammersmith area means guests at Abercorn House are just a few minutes walk from bus stops connecting them to all of the things to do in London. The outdoor terrace is a cool little hangout and with WiFi reaching that far so couples who work on the road will feel right at home at Abercorn House.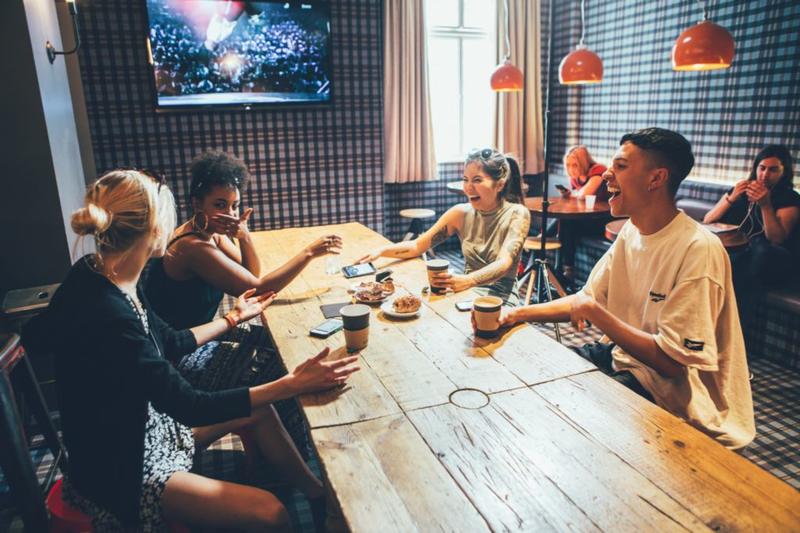 Bar with Pool Table
Restaurant & Cafe On-Site
If you're looking to make some new friends while you're in London you best get yourself to Generator Hostel for it is social and jammin'. No excuses to not get mingling as they have their own bar, restaurant, and mini-nightclub too!
The awesome staff are always on hand to help you figure out travel plans and suggest which of London's landmarks to hit up and when. If you want a classic London backpackers hostel you'll fall in love with Generator!
Self-Catering Facilities
Laundry Facilities
Not only does YHA London Earls Court offer backpackers spots on the best pub crawls in the city, but there are free walking tours too. The Earls Court area of London is home to some awesome live music and party venues. Although there is no bar on-site there are countless pubs and boozers within a few minutes' walk of YHA Earls Court.
It's also located in central London within close proximity to the Natural History Museum and Hyde Park.
As one of the best party youth hostels, YHA Earls Court has no curfew, no lockout and a 24-hour reception meaning whatever time you stumble in, you'll be welcomed with a friendly face!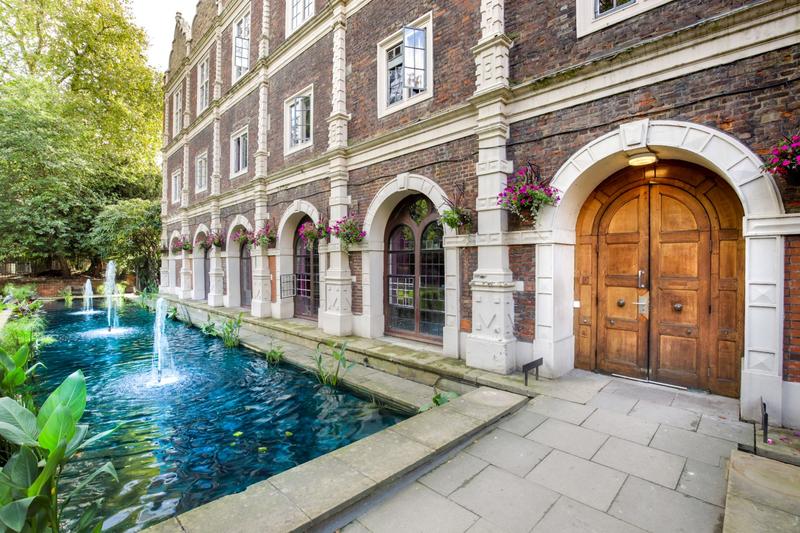 If you're travelling as a big group then you can stop your search now as Safestay is the best London hostel for big groups. The grand old building will make you feel like a king or queen for the night, even if you do opt for a 30-bed dorm room!
If you're headed to London in the summer you'll love exploring the Kyoto Japanese Garden; be sure to try a G&T on the roof terrace too! Sheets and pillows are provided but towels are £2 to hire. Safestay Holland Park is a brilliant youth hostel and the staff are super helpful too.

Unlock the The Broke Backpacker's GREATEST Travel Secrets!
You pop your email here, and we promise to send you only travel content that's actually relevant — sounds like a pretty good deal to us!
TV, Board Games and Book
Exchange Free tea and coffee all day
You will find Prime Backpackers Angel hostel in the prime location near Shoreditch, ideal for those visiting London for a night out. Because of its comfortable beds, sociable atmosphere and affordable price, this is one of the best hostels in London to meet fellow travellers.
The best feature at Prime Backpackers is the massive fully equipped kitchen that allows several people to cook at once (don't you just hate queuing up for the microwave?). There's also a spacious chill-out lounge with a TV, board games, book exchange and free computer for guests to use. If you feel like being sociable, they organise events throughout the week including movie nights, games evenings and hostel-family dinners.
$$
Restaurant, Cafe & Bar On-Site
Laundry Room
Nightclub/Music Venue
St Christopher's Village has been one of the coolest London hostels for the last 20 years and it is something of an institution. They have hosteling down to a fine art and know exactly what the budget backpacker needs for a good time.
Free wifi, free linen, and free laundry, coupled with no curfew make for the perfect hostel combo. On top of this, guests get 25% off food at the St Christopher's Village cafe, restaurant, and bar. No complaints here!
Onsite Restaurant
Communal loft space with stunning balcony
It is safe to say there's always room at the Selina Hostel in Camden for not only travellers, but anyone looking for a wellness experience that will leave them feeling rejuvenated. Located in the live music capital of London, Camden can be chaotic, which is why a daily yoga session in the Selina basement after enjoying a vegan breakfast at the onsite restaurant is a good way to start the day.
If you're booking totally last-minute and need somewhere cosy, comfortable and in the centre of London, Selina Hostel should be your first port of call. Simple, friendly and around the corner from some of the city's top music venue, Camden Market and London Zoo, this is one of the best hostels in London for sure.
$
Restaurant, Cafe & Bar On-Site
Laundry Facilities
Free City Tour
Palmers Lodge Swiss Cottage is another London hostel not only for the laid-back vibe but because it's super affordable too. You're spoiled for choice as to where you wanna hang out; the bar, the restaurant or the cafe? An hour in each perhaps?
Although breakfast isn't included you can dive into the continental buffet for just £4.50. Palmers Lodge Swiss Cottage is a top youth hostel and has won heaps of awards too.
A Fantastically Located London Youth Hostel – London Waterloo Hostel
Bar On-Site
Tours & Travel Desk
London Waterloo Hostel is proud as punch to be the closest youth hostel in London to Big Ben, Westminster and, of course, the London Eye. What a goddamn location!
On top of that, they have super fast wifi in all areas of the hostel, including the dorms. Each bed has its own UK plug socket meaning you can charge up and scroll to your heart's content! London Waterloo Hostel also offers a free walking tour of London, both a great way to explore the city and meet fellow travellers.
Tours & Travel Desk
Self-Catering Facilities
Clink261 is the sister hostel to one of the most epic party hostels in London, Clink78. Ideally located just a 5-minutes walk from St Pancras International Station, Clink261 is a great base for any traveller in London.
The kitchen is the perfect place to meet new people and it's where you'll find the crowds gathering before they hit the bars that are close by. Clink261 also offers a cracking breakfast.
If you're looking for a super chilled out backpacker hostel Saint James Backpackers is the perfect fit. Not only is breakfast included in your room rate but there's nightly dinner too; just make sure you sign up at the reception before 4 P.M. or else you won't get fed! Taco Tuesday is not to be missed!
Saint James Backpackers is on Longridge Road in Kensington which is a very rich neighbourhood. Fans of Chelsea will certainly see some famous faces around here. It's also just a 20 minute walk away from the Natural History Museum and two underground stops away from Hyde Park.
Bar & Restaurant On-Site
Self-Catering Facilities
If you're all about causing FOMO for your mates at home when you travel, be sure to book a bed at The Dictionary Hostel. Probably the coolest hostel in London in terms of decoration, it was the first boutique hostel in London.
Art lovers will be chuffed to hear that The Dictionary Hostel is dead close to a few of Banksy's most famous pieces; just ask the staff for directions. This is the perfect hostel for hipsters, it's gotta be said. Shoreditch is the home of indie culture in London.
Late Checkout
Breakfast Available for £5
YHA has for decades been the go-to hostel option for backpackers all over the world and YHA London Oxford Street is no exception. This YHA is one of the most highly recommended youth hostels in London mostly because of its awesome location and lovely staff.
They offer guests free walking tours of London which are the perfect opportunity to meet fellow travellers and connect the landmark dots! Plus, guests get discounted rates for entrance to loads of London's top attractions just for staying with YHA.
$
Self-Catering Facilities
Late Checkout
Travel & Tours Desk
If you think you're going to be whizzing here and there while you're in London be sure to think about Smart Russell Square Hostel. It's a 2-minute walk to Russell Square Tube Station which links directly to Heathrow Airport and St Pancras International Train Station too.
The dorm rooms are all under £20 a night making it one of the best budget hostels in London too. The fully kitted-out kitchen is perfect for travellers who want to cut down on the food spending and breakfast can be added to your stay for just £2 a day.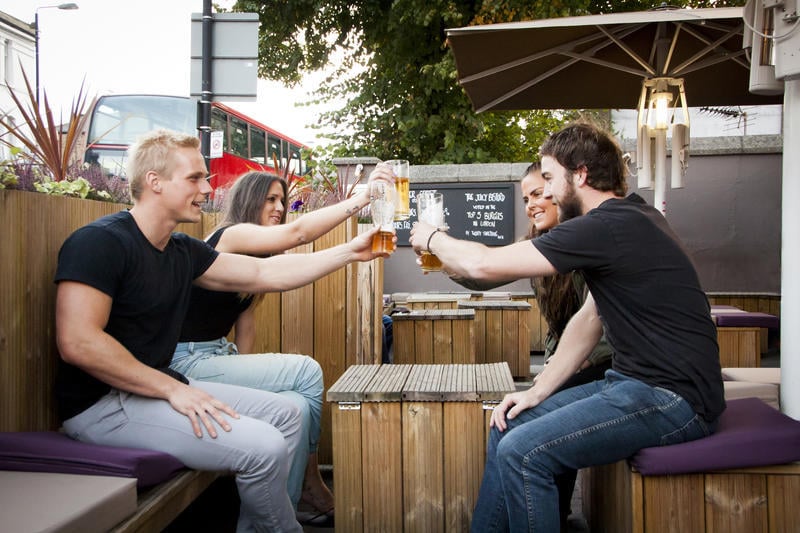 Late Checkout
Meals Available
Pub Love is exactly as it sounds: a hostel above a traditional English pub. The Steam Engine is home to an epic burger kitchen that is loved by locals and travellers too. Guests get a decent discount on food and on booze which is always a bonus.
If you need to burn off those burger calories, you can wander down to Big Ben or the London Eye in a matter of minutes. For foodies and beer lovers, Pub Love @ The Steam Engine is a great London backpackers hostel.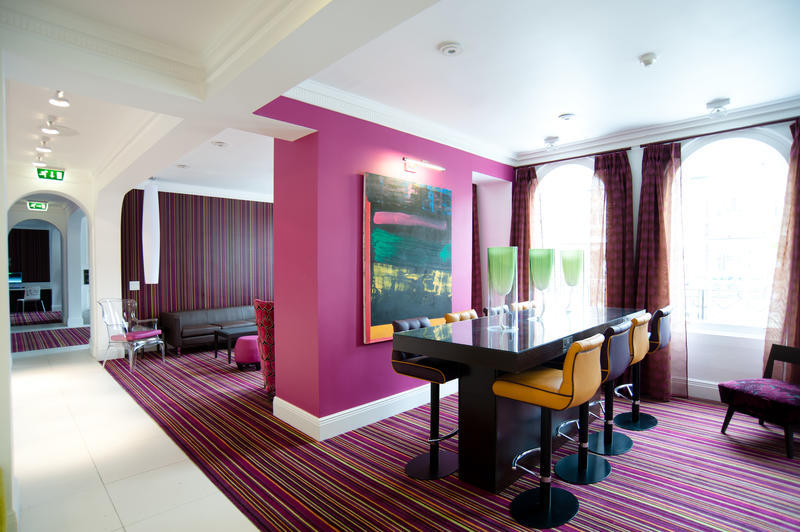 Bar & Cafe On-Site
Outdoor Terrace
SafeStay at Elephant & Castle is, as the name suggests, a safe hostel. While London is already pretty safe, this place just adds another level to it. It's super close to the world-famous Ministry of Sound, the Imperial War Museum, and London Dungeon so if you want to be at the heart of the action, be sure to book at bed at SafeStay Elephant & Castle.
Although not included in the room rate, you can fuel up in the morning for just £4. The outdoor terrace is an ideal place to meet your fellow hostel inhabitants and plan your adventures in the English capital. The SafeStay team are always around to help give you tips on how to make the most of your time in London no matter what your budget is.
Travel Safety Tips for London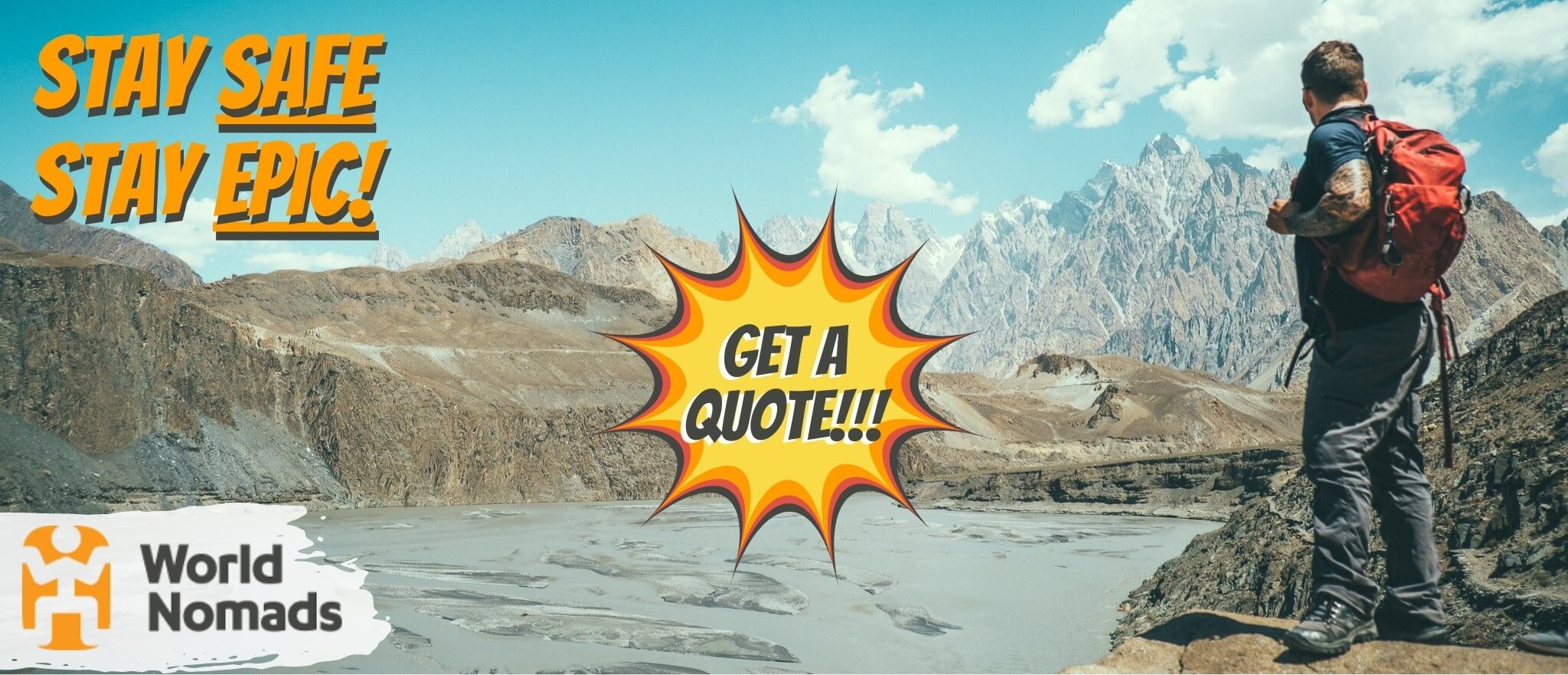 It's good to get lost sometimes, but it's also good not to get too lost. There are people that want you home in one piece.
There's one travel insurance provider The Broke Backpacker trusts for all his wildest shenanigans… World Nomads!
Click the button below to get a quote on your insurance or read our in-depth review of World Nomads' coverage. And then… let the shenanigans begin. 😉
FAQ on London's Best Hostels
Booking a hostel in a big city is never something easy. Especially in capital cities, you'll find yourself surrounded with countless options, and it's not always easy to filter out the best one.
Depending on your travel style, you'll have different preferences so not every hostel will fit your travel needs. I've answered some of the frequently asked questions about hostels in London so booking will be a breeze for you.
Final Thoughts on the Best Hostels in London
And to think this is just the tip of the iceberg! While it's difficult to pick only thirty out of hundreds, I am confident that one of these quality hostels here will be the hostel-of-your-dreams while staying in London.
With the help of this guide, you'll be able to know exactly which of the top hostels best suits your travel, so you can travel through England like a boss while saving some money!
Again, if you still can't decide, our #1 recommendation for the top London hostel is Wombats City Hostel.
If you think I've missed anything or have any further thoughts, hit me up in the comments!
---
Thanks for reading – that was fun! 😀
We bring you epic FREE content!
Find out how YOU can help support us.
We're a big site with a big team and this job isn't always easy. But we do it because we love it – we love providing epic and free content. We love the knowledge that our content keeps you adventuring. We don't ask for money, but if you'd like to find out how you can help the site in more organic ways, click the button below.
Thank you for your support 🙂
---
Bye for now, but not forever!
If you want MORE top-tier Broke Backpacker content like this, then sign up for our weekly newsletter below to get the latest and greatest!
And for transparency's sake, please know that some of the links in our content are affiliate links. That means that if you book your accommodation, buy your gear, or sort your insurance through our link, we earn a small commission (at no extra cost to you). That said, we only link to the gear we trust and never recommend services we don't believe are up to scratch. Again, thank you!